You are leaving
You will be redirected momentarily.
Share on Twitter
Share on Facebook
Email this page
See the Research
Safety in Numbers is our new monthly newsletter highlighting all things Team Research here at Everytown. Get to know our work and get to know us!
ATF's Final Rule to End the Proliferation of Dangerous, Untraceable Ghost Guns
Learn more:.
Background Checks on All Gun Sales
Downloadable Guns
Stop Downloadable Guns
The federal Bureau of Alcohol, Tobacco, Firearms and Explosives (ATF) announced a final rulemaking that would end the proliferation of untraceable ghost guns by clarifying that their core building blocks are firearms under the law—ensuring they are traceable and that licensed dealers conduct a background check before their sale. The rulemaking was first proposed in May 2021 as part of a slate of lifesaving executive actions announced by President Joe Biden to address the nation's gun violence crisis.
Ghost guns are do-it-yourself guns made from readily available, untraceable building blocks.
Ghost guns are very easy to make: their core building blocks (nearly-complete frames or receivers) can be bought online or at a gun show and are designed and marketed to be easily converted into a fully functional firearm with little skill.
Ghost guns are the fastest-growing gun safety problem facing our country and have emerged as a weapon of choice for violent criminals , gun traffickers, dangerous extremists , and other people legally prohibited from buying firearms. Ghost guns are also the thread connecting a recent increase in gunfire on school grounds . Schools in Arizona , New Mexico , Maryland , and Kansas have been devastated by school shootings involving ghost guns – highlighting a scary trend and another important reason to regulate these dangerous weapons.
This final rule would shutter many of the ghost gun companies that flooded the market with untraceable ghost guns intentionally designed to evade regulation.
Everytown's research has revealed over 100 companies selling ghost gun parts online. And despite years of headlines making clear that ghost guns were being bought and used by mass shooters , extremists , and children , ghost gun companies continue to sell untraceable ghost gun kits and parts online with no questions asked.
This rule corrects ATF's previous interpretation of federal law to ensure that these companies can no longer evade regulation. Under federal law, the definition of "firearm" includes both operable weapons and the core building block of a weapon—the frame of a handgun or the receiver of a long gun. The law also covers nearly-complete weapons and kits that can readily be converted into an operable firearm or an operable frame or receiver.
ATF had previously taken the position that certain frames and receivers do not qualify as firearms, even if they only require a minimal amount of drilling or milling to "finish" them. The rulemaking cures this flawed interpretation by clarifying that nearly-complete frames and receivers are firearms if they can be easily turned into one and by revoking ATF's prior flawed determination letters.
This rule also confirms that all-in-one ghost gun kits are "firearms" under federal law and it codifies a list of factors that courts have used to determine if a core building block may be "readily" converted into an operable firearm, ensuring that nearly-complete frames and receivers, such as 80% receivers, are regulated as firearms under federal law.
When the rule goes into effect in August, ghost gun sellers will be required to abide by the same rules and regulations as any other gun seller
Under the rule, manufacturers and dealers of ghost gun building blocks must be federally licensed, the building blocks marked with serial numbers, and purchasers must pass a background check before buying these parts from a licensed dealer.
The rule does not ban the possession of ghost guns altogether. People who already own ghost guns can still have them, so long as they aren't legally prohibited from owning guns. But any dealers that have ghost guns in their inventory must serialize them, as well as any unserialized ghost guns they acquire in the future.
10 states and D.C. already have laws on the books regulating ghost guns, and several of those laws go further than this rule by banning the possession of ghost guns. But states on their own are unable to cut off the national supply chain for ghost guns, which this rule will finally do.
The rule does not infringe on Second Amendment rights, nor does it prevent hobbyists from building their own guns.
Every federal court to have considered a Second Amendment challenge to a state or local ghost guns regulation has rejected it. Federal courts agree that there is also no Second Amendment right to an unserialized gun or a gun purchased without a background check. Further, companies have no Second Amendment right to sell unserialized guns.
Nearly-complete frames and receivers and ghost gun kits are intentionally designed and marketed to require as little technical expertise, time, and effort as possible to assemble, unlike home-built firearms made by gunsmiths and hobbyists. Hobbyists can still acquire nearly complete frames and receivers to build a firearm, the only difference is that the parts will be serialized and companies will do a background check.
The call for action on ghost guns has grown significantly in the past couple of years and Everytown has been at the forefront of the fight.
December 2019
August 2020, december 2020, february 2021, august 2021.
Everytown Research & Policy is a program of Everytown for Gun Safety Support Fund, an independent, non-partisan organization dedicated to understanding and reducing gun violence. Everytown Research & Policy works to do so by conducting methodologically rigorous research, supporting evidence-based policies, and communicating this knowledge to the American public.
Two Decades of Suicide Prevention Laws: Lessons from National Leaders in Gun Safety Policy
In order to understand the variability in state-level firearm suicide rates, Everytown has examined the role of state gun safety policies.
The Smoking Gun
An online resource committed to exposing the gun industry's role in our gun violence epidemic today.
Ghost Guns Recoveries and Shootings
Everytown Research & Policy has collected examples of reported murders and shootings using ghost guns since 2013.
Inside the Gun Shop: Firearms Dealers and Their Impact
This report spells out the basic facts about licensed dealers and the relationship between these dealers and gun crimes.
Did you know?
Every day, 120 Americans are killed with guns.
Centers for Disease Control and Prevention, National Center for Health Statistics. WONDER Online Database, Underlying Cause of Death. A yearly average was developed using four years of the most recent available data: 2018 to 2021.
Last updated: 2.13.2023
Mobile Menu Overlay
The White House 1600 Pennsylvania Ave NW Washington, DC 20500
FACT SHEET: The Biden Administration Cracks Down on Ghost Guns, Ensures That ATF Has the Leadership it Needs to Enforce Our Gun Laws
Today, President Biden and Deputy Attorney General Lisa Monaco will deliver remarks in the Rose Garden to announce additional steps the Administration is taking to combat gun crime.
Ensuring that ATF has the leadership it needs to enforce our commonsense gun laws and fight gun crime.
The Bureau of Alcohol, Tobacco, Firearms and Explosives (ATF) is our top federal law enforcement agency responsible for enforcing our commonsense gun laws. Today, the President is nominating Steve Dettelbach to serve as Director of ATF.
Dettelbach is a highly respected former U.S. Attorney and career prosecutor who spent over two decades as a prosecutor at the U.S. Department of Justice. He has received bipartisan praise and support from law enforcement for his work. In 2009, he was unanimously confirmed for his position as U.S. Attorney for the Northern District of Ohio. He has a proven track record of working with federal, state, and local law enforcement to fight violent crime and combat domestic violent extremism and religious violence – including through partnerships with the ATF to prosecute complex cases and take down violent criminal gangs. Dettelbach also worked closely with local law enforcement and community leaders to develop and implement data-driven and neighborhood-based efforts to prevent and fight violent crime. His leadership and his record of innovation in fighting crime and violence make him ready from day one to aggressively and creatively address these pressing issues at the Director of ATF.
Cracking down on ghost guns – the weapon of choice for many violent criminals
Today, the President and Deputy Attorney General will also announce that the U.S. Department of Justice has issued a final rule to rein in the proliferation of "ghost guns" – unserialized, privately-made firearms that law enforcement are increasingly recovering at crime scenes in cities across the country. Last year alone, there were approximately 20,000 suspected ghost guns reported to ATF as having been recovered by law enforcement in criminal investigations – a ten-fold increase from 2016. [1] Because ghost guns lack the serial numbers marked on other firearms, law enforcement has an exceedingly difficult time tracing a ghost gun found at a crime scene back to an individual purchaser.
This final rule bans the business of manufacturing the most accessible ghost guns, such as unserialized "buy build shoot" kits that individuals can buy online or at a store without a background check and can readily assemble into a working firearm in as little as 30 minutes with equipment they have at home. This rule clarifies that these kits qualify as "firearms" under the Gun Control Act, and that commercial manufacturers of such kits must therefore become licensed and include serial numbers on the kits' frame or receiver, and commercial sellers of these kits must become federally licensed and run background checks prior to a sale – just like they have to do with other commercially-made firearms.
The final rule will also help turn some ghost guns already in circulation into serialized firearms. Through this rule, the Justice Department is requiring federally licensed dealers and gunsmiths taking any unserialized firearm into inventory to serialize that weapon. For example, if an individual builds a firearm at home and then sells it to a pawn broker or another federally licensed dealer, that dealer must put a serial number on the weapon before selling it to a customer. This requirement will apply regardless of how the firearm was made, meaning it includes ghost guns made from individual parts, kits, or by 3D-printers.
This rule builds on the Biden Administration's prior executive action to rein in the proliferation of ghost guns. In February 2022, the U.S. Department of Justice launched a National Ghost Gun Enforcement Initiative, which is training a national cadre of prosecutors and disseminating investigation and prosecution tool to help bring cases against those who use ghost guns to commit crimes. As President Biden said during an event at the New York Police Department headquarters, if you use a ghost gun to commit a crime "not only are state and local prosecutors going to come after you, but expect federal charges and federal prosecution as well."
Additional executive action to reduce gun violence
Today's final rule includes two additional actions to make our communities safer.
First, the final rule ensures that firearms with split receivers are subject to regulations requiring serial numbers and background checks when purchased from a licensed dealer, manufacturer or importer. Decades ago, ATF issued a regulation defining the "frame or receiver" of a firearm as the part that is regulated by the Gun Control Act – meaning that is the part that triggers federal serialization, background check, and other requirements. At that time, many firearms in the United States were single-framed firearms, like revolvers, that house key components in a single structure. However, we have seen the increasing popularity of firearms using split or multi-part receivers that house key components in multiple structures. Some courts have recently interpreted decades-old regulatory text in a way that, if broadly applied, could mean that as many as 90 percent of firearms in the United States today would not have a frame or receiver subject to federal regulation. The final rule updates the regulatory definitions of "frame" and "receiver" to ensure that firearms using split or multi-part receivers continue to be covered by our common-sense gun laws.
Second, the final rule requires federally licensed firearms dealers to retain key records until they shut down their business or licensed activity. At that time, these dealers must transfer the records to ATF, just as they are currently required to do at the end of licensed activity. Previously, these dealers were permitted to destroy most records after 20 years, making it harder for law enforcement to trace firearms found at crime scenes. According to ATF's National Tracing Center, on average more than 1,300 firearms a year are untraceable because the federally licensed firearms dealer destroyed the relevant records that were more than 20 years old.
Implementing the President's comprehensive gun crime reduction strategy
This final rule is part of the President's comprehensive gun crime reduction strategy. President Biden made more progress on executive actions to reduce gun violence than any other President during their first year in office. You can read more about the Administration's whole-of-government approach to reduce gun crime here .
President Biden's fiscal year 2023 budget calls on Congress to deliver the funding needed to implement the President's comprehensive strategy to reduce gun crime and make our communities safer. These additional resources will fund accountable policing, including by putting more police officers on the beat, and making essential investments in crime prevention and community violence intervention.
Congress needs to do its job by passing this budget and other essential legislation to reduce gun crime, including legislation to require background checks for all gun sales, ensure that no terrorist can buy a weapon in the United States, ban the sale and possession of unserialized firearms — ghost guns, ban assault weapons and high-capacity magazines, and repeal gun manufacturers' protection from liability.
Stay Connected
We'll be in touch with the latest information on how President Biden and his administration are working for the American people, as well as ways you can get involved and help our country build back better.
Opt in to send and receive text messages from President Biden.
US Supreme Court restores Biden's curbs on homemade 'ghost guns' — for now
[1/2] U.S. President Joe Biden holds up a ghost gun kit while announcing new measures by his administration to fight ghost gun crime at the White House in, Washington, U.S., April 11, 2022. REUTERS/Kevin Lamarque/File Photo Acquire Licensing Rights
Aug 8 (Reuters) - The U.S. Supreme Court on Tuesday granted a request by President Joe Biden's administration to reinstate - at least for now - a federal regulation aimed at reining in privately made firearms called "ghost guns" that are difficult for law enforcement to trace.
The justices put on hold a July 5 decision by U.S. District Judge Reed O'Connor in Fort Worth, Texas that had blocked the 2022 rule nationwide pending the administration's appeal.
The decision was 5-4, with Chief Justice John Roberts and fellow conservative Justice Amy Coney Barrett joining the court's three liberal justices to grant the administration's request. Conservative Justices Clarence Thomas, Samuel Alito, Neil Gorsuch and Brett Kavanaugh dissented from the decision.
O'Connor found that the administration exceeded its authority under a 1968 federal law called the Gun Control Act in implementing the rule relating to ghost guns, firearms that are privately assembled and lack the usual serial numbers required by the federal government.
The rule, issued by the Bureau of Alcohol, Tobacco, Firearms and Explosives (ATF) to target the rapid proliferation of the homemade weapons, bans "buy build shoot" kits that individuals can get online or at a store without a background check. The kits can be quickly assembled into a working firearm.
The rule clarified that ghost guns qualify as "firearms" under the Gun Control Act, expanding the definition of a firearm to include parts and kits that may be readily turned into a gun. It required serial numbers and that manufacturers and sellers be licensed. Sellers under the rule also must run background checks on purchasers prior to a sale.
A Justice Department spokesperson praised the court's decision, saying that the rule "is about public safety - helping law enforcement solve crimes and reducing the number of untraceable ghost guns flooding our communities."
One of the rule's challengers, the Firearms Policy Coalition gun rights group, said in a statement it was "deeply disappointed" with the decision but remained confident it would again win on appeal.
A Reuters/Ipsos poll completed on Tuesday found that 70% of Americans support requirements that ghost guns have serial numbers and be produced only by licensed manufacturers. The idea had bipartisan support among respondents, with 80% of Democrats and 61% of Republicans in favor.
There were about 20,000 suspected ghost guns reported in 2021 to the ATF as having been recovered by law enforcement in criminal investigations - a tenfold increase from 2016, according to White House statistics.
Biden's administration on July 27 asked the justices to halt O'Connor's ruling that invalidated a Justice Department restriction on the sale of ghost gun kits while it appeals to the New Orleans-based 5th U.S. Circuit Court of Appeals. Alito, who handles emergency matters arising from a group of states including Texas, the next day temporarily blocked O'Connor's decision to give the justices time to decide how to proceed.
Plaintiffs including various gun owners, parts manufacturers and two gun rights groups - the Firearms Policy Coalition and Second Amendment Foundation - filed suit to block the rule in federal court in Texas. They claimed that the rule violated the Gun Control Act, portraying the policy as a threat to the long history of legal private gunsmithing in the United States.
O'Connor blocked the rule as an overreach, concluding that the congressional definition of a firearm "does not cover weapon parts, or aggregations of weapon parts, regardless of whether the parts may be readily assembled into something that may fire a projectile." The judge also rejected the administration's concern that such a ruling would allow felons, minors and others legally prohibited from owning a firearm to easily make one.
"Even if it is true that such an interpretation creates loopholes that as a policy matter should be avoided," O'Connor wrote, "it not the role of the judiciary to correct them."
The United States, with the world's highest gun ownership rate, remains a nation deeply divided over how to address firearms violence including frequent mass shootings.
In three major rulings since 2008, the Supreme Court has widened gun rights, including a 2022 decision that declared for the first time that the U.S. Constitution protects an individual's right to carry a handgun in public for self-defense.
Read Next / Editor's Picks
Fight over Texas anti-abortion transport bans reaches biggest battlegrounds yet
Who will be the next U.S. House speaker? A look at the top candidates 
Republicans drop Jim Jordan's US House speaker bid after third failed vote
US senator asks 23andMe for details after reported data for sale online
Reporting by Andrew Chung in New York; Editing by Will Dunham
Our Standards: The Thomson Reuters Trust Principles.
More from Reuters
Industry insight.
Henry Engler
Diana Novak Jones
Andrew Goudsward
Sara Merken
Israel-Hamas War
Flight Scare
House Speaker Vote
Synagogue Leader Killed
CBS News Live
Managing Your Money
Newsletters
Watch CBS News
Fire Sale: Dealers rush to sell ghost gun parts before restrictions take effect
By Chris Hacker, Stephen Stock, Aparna Zalani
August 17, 2022 / 6:00 AM / CBS News
With just days remaining until new federal rules will effectively ban so-called ghost guns on Aug. 24, many companies are scrambling to sell parts needed to make the largely untraceable firearms — and gun enthusiasts continue to build them.
In April, President Joe Biden announced new regulations that will treat ghost guns — which can be made from parts bought online or with 3D printers — like any other firearms sold in the U.S.
Typical firearms must include a serial number that lets law enforcement trace them if they're used in a crime, but ghost guns don't have serial numbers. Also, anyone can buy ghost gun parts online without a background check, allowing criminals to bypass restrictions designed to prevent them from purchasing a traditional firearm from a licensed dealer.
Online, many websites that sell ghost gun parts have posted countdowns to the date the rule takes effect and have posted information for enthusiasts who want to continue building firearms at home.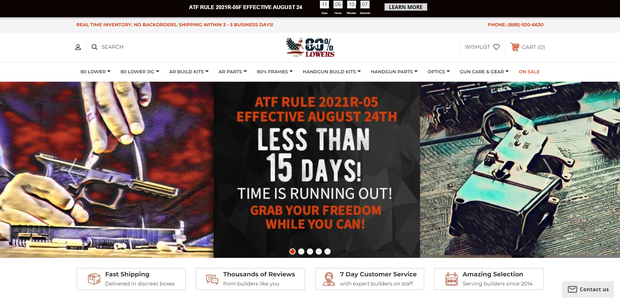 The sites include companies like 80-lower.com, which urges visitors to "grab your freedom while you can" and links to product listings of AR-15 receivers. A similar site, 80percentarms.com, promises to continue shipping ghost gun parts until the day the rule begins. Representatives from 80-lower.com and 80percentarms.com didn't respond to CBS News' request for comment.
The number of ghost guns in the U.S. has been on the rise in recent years. While there's no data on how many ghost gun parts are sold, the number turning up at crime scenes in recent years has soared, according to the Bureau of Alcohol, Tobacco, Firearms and Explosives (ATF), which regulates firearms.
In its latest report on the U.S. gun market, the ATF pointed to jumps in Google trends data in recent years that suggest increasing interest in ghost gun parts.
That data shows key searches related to specific ghost gun parts soared by more than 600 percent in the last decade.
The ATF report also said ghost guns are making it possible "to make a firearm at home without any records or a background check." Bob and Hugh are two of the people doing just that. They asked CBS News to only use their first names because they fear backlash.
In their garage in California's Central Valley, they make functioning AR-15-style rifles out of what appear to be gun parts but, under current federal law, are just pieces of metal.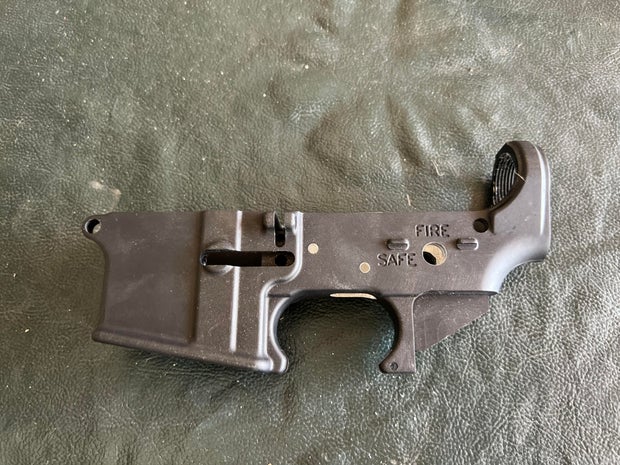 Once assembled, guns like the ones Bob and Hugh make are essentially identical to those sold in stores, with one key difference: privately made firearms don't have serial numbers.
Bob and Hugh started putting serial numbers on all the guns they made in 2018, when California began requiring ghost guns to have serial numbers. It's one of only a handful of states that regulate ghost guns at all.
Rules like California's will soon extend to every state once the new ATF regulations take effect. That doesn't mean privately manufactured firearms will be illegal, but rather that ghost guns will have to be serialized, meaning they must contain a serial number. The regulations will also require anyone who buys the parts to submit to a background check.
Bob said he's concerned the new rules will dissuade law-abiding citizens from making guns like he does. He also said he fears criminals simply won't comply, but rather continue to make unserialized guns illegally.
"The laws are going to discourage a lot of people like me who like to make sure everything is above board," he said. "They're going to be discouraging people from going out and participating in this hobby."
Activists and federal officials hope these new regulations will help curtail the use of ghost guns in violent crime.
David Pucino, the Deputy Chief Counsel at Giffords Law Center, which advocates for stricter gun control laws, said it's "a strong rule" that will make it harder for criminals to build ghost guns while allowing hobbyists like Bob and Hugh to continue to do so.
"For the end user, if you're a responsible gun owner who wants to make their own weapons, you're not going to have any effect - no change, really," Pucino said. "It's just going to make it the same process you'd go through to buy a finished gun. However, if you're a criminal actor, somebody who's trying to skirt those laws, you're not going to be able to anymore because you're not going to be able to get sourcing for the parts used to make these ghost guns."
Ghost guns have presented an increasing problem for law enforcement in recent years. Nearly all ghost guns recovered at crime scenes — more than 99% — can't be traced at all, according to the ATF. At the same time, the number of ghost guns used in crimes has risen sharply — jumping 1,000% since 2016, though they still make up just 3% of all guns recovered by police.
Charlie Patterson, the Special Agent in Charge of the ATF's Washington Field Division, called the trend "very troubling."
"Right here in [Washington, D.C.], 41% of all privately made firearms that are recovered link to another shooting."
Patterson said he's confident the new rules will make a difference.
"I think that any tool that law enforcement has that can disrupt firearms trafficking and prevent one life from being lost to gun violence will make a difference," he said.
The key for the new rules to be truly effective, Pucino said, is "implementation."
"What we're going to need is for ATF to be really careful about implementing the rule," Pucino said. "To make sure that folks who are selling weapons by another name, that are selling the parts … that can be used to make guns are regulated as if they're selling weapons. And if ATF does that, I think the rule will be very effective."
But gun owners and advocates like Bob and Hugh maintain their belief that the new rules aren't the way to reduce crime.
"It's not going to work," Hugh said. "Because it's the same thing. Criminals don't obey the law."
For this story, CBS News consulted with The Trace, a nonprofit journalism organization that reports on guns. The Trace correspondent Alain Stephens examined the ATF's efforts to reduce the criminal use of ghost guns in the run-up to the federal rule change. Read the full story here .

Chris Hacker is an investigative data journalist at CBS News.
Advertisement
Supported by
By 5-4 Vote, Supreme Court Revives Biden's Regulation of 'Ghost Guns'
The federal government, citing a rise in violence involving untraced firearms, had asked the justices to step in. The court provisionally allowed the regulation while a challenge moves forward.
By Adam Liptak
Reporting from Washington
The Supreme Court on Tuesday temporarily revived the Biden administration's regulation of "ghost guns" — kits that can be bought online and assembled into untraceable homemade firearms.
In defending the rule, a key part of President Biden's broader effort to address gun violence, administration officials said such weapons had soared in popularity in recent years, particularly among criminals barred from buying ordinary guns.
The court's brief order gave no reasons, which is typical when the justices act on emergency applications. The order was provisional, leaving the regulation in place while a challenge moves forward in the courts.
The vote was 5 to 4, with Chief Justice John G. Roberts Jr. and Justice Amy Coney Barrett joining the court's three liberal members — Justices Sonia Sotomayor, Elena Kagan and Ketanji Brown Jackson — to form a majority.
Justices Clarence Thomas, Samuel A. Alito Jr., Neil M. Gorsuch and Brett M. Kavanaugh noted dissents. Like the justices in the majority, they did not explain their reasoning.
The regulation, issued in 2022 by the Bureau of Alcohol, Tobacco, Firearms and Explosives, broadened the bureau's interpretation of the definition of "firearm" in the Gun Control Act of 1968.
The change, Solicitor General Elizabeth B. Prelogar wrote in the Biden administration's emergency application , was needed to respond to "the urgent public safety and law enforcement crisis posed by the exponential rise of untraceable firearms."
The new regulation did not ban the sale or possession of kits and components that can be assembled to make guns, she wrote, but it did require manufacturers and sellers to obtain licenses, mark their products with serial numbers and conduct background checks.
Gun owners, advocacy groups and companies that make or distribute the kits and components sued to challenge the regulations, saying that they were not authorized by the 1968 law.
That law defined firearms to include weapons that "may readily be converted to expel a projectile by the action of an explosive" and "the frame or receiver of any such weapon."
What Do Homemade Guns Mean for Gun Laws? We Made One to Find Out.
Virtually anyone can buy a kit online to build a gun from parts — without a background check. that raises questions about the future of gun regulation..
[GUN CLICKS] This is a gun I made myself. The government doesn't know I have it, but it's totally legal. You can buy a kit online with all the parts you need to build a Glock 19. You don't need a 3-D printer or fancy tools, and you don't need a background check. I purchased the Glock 19 during Glocktober, so I got $100 off. People call these ghost guns. And they're becoming more popular, especially for people who want a gun, but don't want any record that it exists. I'd like to see how easy it is to build one of these guns and to find out what these kits mean for the future of gun regulation. Order is confirmed. All that's left to do is build it. I don't have a handgun license in New York, so I sent the kit to Virginia, where you don't need one. Let's make a gun. I get the appeal of making a gun. I like building stuff. And for a lot of people who buy these kits, that's the point. They're fun to make. "Hey, guys. Today we're going to be going over how to build your Full Conceal Polymer80 frame. So it's actually fairly quick to do this." "Kind of paint by numbers in a sense." The lower receiver or frame is the only part of the gun that's technically considered a firearm under U.S. law. Gun kits aren't regulated like firearms because they come with unfinished lower receivers. "So this is the lower receiver, and it's in this jig. So what we'll need to do is remove the extra pieces that are sticking up out of the jig." [SNAPPING] Yeah, instead of shop, I took early childhood development. It was actually really awesome. The finished lower receiver looks almost identical to the unfinished one. You just drill a few holes and remove these extra bits of polymer. Then you assemble and add the rest of the parts. If you do it right, you'll have a working firearm. On a factory-made gun, the serial number would go here. But the gun I'm building won't have one, so there's no way to trace it. Gun kits aren't regulated at all in most states. There are no records of sales. And for a lot of people, that's the appeal. "Hey." "Hey." "Andy Lander." "Jeremy White." Andy Lander is a firearms expert who worked for the N.R.A. for 13 years. He's built guns before. "We're still technically a free country. And I think that one of the greatest freedoms is having privacy. To me, if you bought 100 guns, it's none of my business." It's impossible to say how many ghost guns are out there or who owns them. Last year, nearly a third of all firearms seized by law enforcement in California were homemade without serial numbers. Still, Andy says the kits aren't the problem. "A criminal is going to steal a gun. He's going to either rob somebody and get a gun. He's going to get a gun anyway. I'm not worried about a guy building a Glock 19 in his garage." "Nope. Drop it in from the top." "Drop it in." "Straight down." "Oh, it has to be all the way —" "You have to clear that, yeah. Push down till it pops. Yeah, that's it." [GUN CLICKS] "There you go. You're done." "Wow. Thanks for your help." [GUN CLICKS] It took me about six hours to build my ghost gun. [GUN CLICKS] If I had to do it again, I could do it much faster. Still, there's no guarantee that it will work. "Scot Thomasson." "Jeremy White." "Nice to meet you." "Good to meet you." "How are you?" "Good." "Good. It's the same damn gun." "Really is." "The difference is right there, serial number. And that's important." Scot Thomasson is a retired A.T.F. agent. He's letting me try out my new gun on his property. "Looks O.K. Looks like it's not going to blow up anybody's hand, so that's a good thing." "Let's go test it out." [GUN CLICKS] [GUN FIRES] "Hit." [GUN FIRES] "Hit." [GUN FIRES] "O.K." "That's a working gun." "Yeah, sure enough is. Listen, I worked violent crime my whole career for 26 years. You want those officers to have every means possible bringing to justice those who use that firearm to commit acts of violence. And without a serial number on that firearm, you can't do it." "So if these kits had a serial number and were sold through licensed dealers, do you see any problem with that?" "No problem whatsoever. So what?" "Right now we really don't know what we don't know, because these guns are completely untraceable." Jennifer Wexton is a representative from Virginia's 10th district and a co-sponsor on two bills that would broaden the definition of firearms to include assembly kits. so you couldn't buy them without the government knowing. "Normally the serial number would be here." "No. And look, there's nothing there." "There's nothing there." "Yeah. That's part of the allure of these kinds of ghost guns, by the way. So when they're picked up in crime scenes and things like that, we know that they are out there. And we're seeing it happen more and more." "What do you say to the Second Amendment advocate that says, these laws are an invasion of my privacy when it comes to gun ownership?" "I think that guns should be traceable. So I think that weighing the interest in not having a serial number on your firearm versus the overall public safety, I come down on the side of public safety." In the end, the government does find out about my ghost gun. Without a handgun license, I can't bring this gun back to New York, so I'm turning it in to the local police. They interview me, do a background check and file a police report. That's a lot more screening than I went through to get the gun in the first place. For most people, this isn't the easiest way to get a gun. It takes time and skill. Some people may like that challenge. Most people would rather just buy one from a gun shop or a licensed dealer. But if you're a felon, or underage, or you can't legally buy a gun for some other reason, these kits make it remarkably easy to get one anyway.
Judge Reed O'Connor, of the Federal District Court for the Northern District of Texas, sided with the challengers and struck down the regulation in July, saying that "a weapon parts kit is not a firearm" and "that which may become or may be converted to a functional receiver is not itself a receiver."
He added: "Even if it is true that such an interpretation creates loopholes that as a policy matter should be avoided, it is not the role of the judiciary to correct them. That is up to Congress."
A three-judge panel of the U.S. Court of Appeals for the Fifth Circuit, in New Orleans, refused to stay key aspects of Judge O'Connor's ruling.
When the Supreme Court struck down a New York gun control law last year on Second Amendment grounds, it split along familiar lines, with the six Republican appointees in the majority and the three Democratic ones in dissent. The vote in the new case revealed a different fault line, with Chief Justice Roberts and Justice Barrett taking a more cautious approach than the other four conservatives.
In the government's emergency application, Ms. Prelogar asked the justices to consider an analogy.
"Every speaker of English would recognize that a tax on sales of 'bookshelves' applies to Ikea when it sells boxes of parts and the tools and instructions for assembling them into bookshelves," she wrote.
A Supreme Court brief from one set of challengers said the comparison was flawed.
"A better analogy would be to a 'taco kit' sold as a bundle by a grocery store that includes taco shells, seasoning packets, salsa and other toppings, along with a slab of raw beef," the brief said. "No one would call the taco kit a taco. In addition to 'assembly,' turning it into one would require cutting or grinding and cooking the meat — and until that was done, it would be nonsensical to treat it as food and the equivalent of a taco."
The two sides also differed on whether there has been a spike in homemade firearms.
Ms. Prelogar wrote that there had been "an explosion of crimes involving ghost guns," pointing to a sworn statement from an A.T.F. official . More than 19,000 firearms without serial numbers were recovered by the authorities in 2021, the official said, compared with about 1,600 in 2017. He added that in the 11 months ending in July, "a total of approximately 23,452 suspected privately made firearms were recovered at crime scenes and submitted for tracing."
Such weapons are particularly attractive to criminals and minors, Ms. Prelogar wrote, adding that they "can be made from kits and parts that are available online to anyone with a credit card and that allow anyone with basic tools and rudimentary skills (or access to internet video tutorials) to assemble a fully functional firearm in as little as 20 minutes."
The challengers' brief questioned the Biden administration's data.
"The government's alleged 'epidemic' of privately made firearms traced by the police appears to be largely an artifact of police departments changing their tracing practices in response to A.T.F. pressure," the brief said, adding that "nothing in the government's submission demonstrates that firearms made by individuals for their own personal use are fueling an increase in crime."
The brief also objected to the phrase "ghost guns," calling it "a propaganda term that appears nowhere in federal law" and one that includes both firearms "that are manufactured lawfully by individuals and those that have their serial numbers illegally obliterated."
Adam Liptak covers the Supreme Court and writes Sidebar, a column on legal developments. A graduate of Yale Law School, he practiced law for 14 years before joining The Times in 2002. More about Adam Liptak
Gun Violence in America
The Liability Argument: The lawyer Josh Koskoff's victory against Remington has raised the possibility of a new form of gun control: lawsuits against the companies that make assault rifles .
Makeshift Machine Guns: Popular devices known as "switches" are turning ordinary pistols into fully automatic weapons , making them deadlier and a growing threat to bystanders.
'Stand Your Ground' Laws: The shootings of two people  in Missouri and New York earlier in 2023 have renewed attention to self-defense laws across the country .
The Emotional Toll: We asked Times readers how the threat of gun violence has affected the way they lead their lives. Here's what they told us .
A Growing Tally: Gun violence is a persistent American problem . A partial list of mass shootings this year offers a glimpse at the scope .
Gun Control: U.S. gun laws are at the center of heated exchanges between those in favor and against tougher regulations. Here's what to know about that debate .

Federal Court Tosses Biden 'Ghost Gun' Ban
Stephen gutowski.
The ATF's attempt to redefine what counts as a firearm has been vacated.
On Friday, Federal District Court Judge Reed O'Connor ruled in favor of the gun companies and gun-rights groups challenging the ban. He found the ATF exceeded its authority when it decided to treat unfinished firearms parts, often used to build homemade guns President Joe Biden called "ghost guns" due to their lack of serial numbers, the same way as completed and functional firearms.
"This case presents the question of whether the federal government may lawfully regulate partially manufactured firearm components, related firearm products, and other tools and materials in keeping with the Gun Control Act of 1968," Judge O'Connor wrote in Vanderstok v. Garland . "Because the Court concludes that the government cannot regulate those items without violating federal law, the Court holds that the government's recently enacted Final Rule… is unlawful agency action taken in excess of the ATF's statutory jurisdiction. On this basis, the Court vacates the Final Rule."
The ruling is another loss for President Joe Biden's gun agenda. It comes after several federal appeals courts have struck down the bump stock ban , which was instituted by former President Donald Trump but defended by Biden's administration. It also casts a further legal shadow over Biden's other ATF rule banning unregistered pistol-brace-equipped guns, which has seen enforcement forestalled by multiple federal courts and is awaiting a ruling on the merits.
Judge O'Connor's decision was not based on Second Amendment claims. Instead, it was based around whether the ATF had the authority under the Administrative Procedures Act to reinterpret the way it enforces federal gun laws to regulate unfinished parts and whether that reinterpretation fit with the law's language. On both fronts, he determined it did not.
"[T]he definition of "firearm" in the Gun Control Act does not cover all firearm parts. It covers specifically 'the frame or receiver of any such weapon' that Congress defined as a firearm," he wrote. "And that which may become or may be converted to a functional receiver is not itself a receiver. Congress could have included firearm parts that 'may readily be converted' to frames or receivers, as it did with 'weapons' that 'may readily be converted' to fire a projectile. But it omitted that language when talking about frames and receivers."
The ruling against the ATF's ban will allow manufacturers to begin selling the unfinished parts again, even in kits alongside other tools.
"Congress's definition does not cover weapon parts, or aggregations of weapon parts, regardless of whether the parts may be readily assembled into something that may fire a projectile," Judge O'Connor, a George W. Bush appointee, wrote. "To read § 921(a)(3)(A) as authorizing ATF to regulate any aggregation of weapon parts that may readily be converted into a weapon would render § 921(a)(3)(B) 's carveout for "frame[s] or receiver[s]" superfluous. Accepting Defendants' interpretation would be to read the statute as authorizing regulation of (A) weapon parts generally, and (B) two specific weapon parts."
Gun-rights advocates celebrated the ruling. The Second Amendment Foundation, a plaintiff in the case, called it "another court blow to Joe Biden's anti-gun agenda."
" This case is one more example of the Biden administration's ongoing effort to exceed its authority in an effort to place as many restrictions as possible on the rights of law-abiding gun owners," Adam Kraut, the group's executive director, said in a statement. 
The Firearms Policy Coalition, another plaintiff, said it was "thrilled to see the Court agree that ATF's Frame or Receiver Rule exceeds the agency's congressionally limited authority."
"With this decision, the Court has properly struck down ATF's Rule and ensured that it cannot enforce that which it never had the authority to publish in the first place," Cody J. Wisniewski, the group's counsel in the case, said in a press release.
Ultimately, Judge O'Connor said the case came down to a simple conclusion.
"Because the Final Rule purports to regulate both firearm components that are not yet a 'frame or receiver' and aggregations of weapon parts not otherwise subject to its statutory authority, the Court holds that the ATF has acted in excess of its statutory jurisdiction by promulgating it," he ruled.
Join For Sober, Serious Firearms Reporting & Analysis

Free Weekly Newsletter
Get the most important gun news
Reload Membership
Weekly News & Analysis Newsletters
Access to Exclusive Posts
Early Access to the Podcast
Commenting Privileges
Exclusive Question & Answer Sessions
Two Months Free
Weekly News & Analysis Newsletter
Related Posts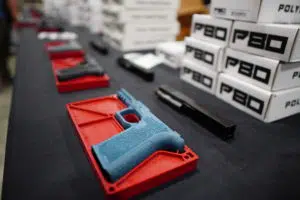 SCOTUS Again Intervenes to Keep Biden 'Ghost Gun' Ban in Place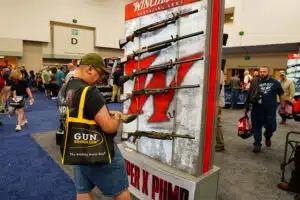 Biden Signs Law Restoring Funding to Hunter Safety Programs in Schools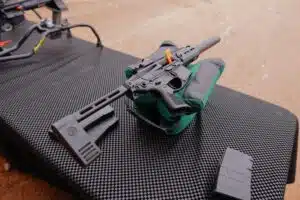 Federal Judge Rules Biden Pistol Brace Ban Violates Second Amendment
Comments From Reload Members
Get your copy of our free weekly newsletter.
The only newsroom dedicated to covering gun violence.
Dealers are already skirting biden's ghost gun rule.
Less than a month after the ATF required serial numbers and background checks for "buy-build-shoot" kits, sellers have found a workaround.
Go beyond the headlines.
Your weekly briefing on gun violence..
Share on Twitter
Share on Facebook
Email a link to this page
Ghost gun dealers have already found ways around the Biden administration's effort to curb the sale of homemade, untraceable firearms.
A rule that went into effect on August 24 requires sellers to serialize "ready to build" ghost gun kits and conduct background checks on prospective buyers. As The Trace and CBS News reported , the impending regulation from the Bureau of Alcohol, Tobacco, Firearms and Explosives prompted a fire sale of kits from dealers looking to offload their inventories. Now that the rule is in effect, sellers are simply offering ghost gun parts for sale individually. "We're still shipping!" reads one dealer's website. "ATF Rule Change has no impact on our business," declares another. Both sellers offer nearly finished rifle receivers, which can be put together to make a functional firearm in a few hours with readily available tools.
The Biden administration directed the ATF to regulate ghost guns after they were used in a spate of high-profile shootings and increasing evidence emerged that homemade weapons are being used in crimes. A recent ATF report found that ghost gun recoveries increased 1000 percent between 2016 and 2021. A total of 45,000 unserialized weapons were recovered in that time period; nearly 700 were linked to homicides or attempted homicides.
The White House presented the rule change as an effective way to reduce the number of homemade, untraceable weapons in circulation and save lives. But experts say sellers' behavior shows the regulation may have little tangible effect on the criminal use of homemade firearms.
"It is broadly ineffective," said Bernard Zapor, a retired ATF special agent in charge who now teaches at Arizona State University. "Ghost guns will continue to provide a significant hurdle to tracking gun violence and solving crimes." 
Zapor said the rule speaks to the Biden administration's inability to marshall Congress to pass gun legislation. "[The White House is] exploiting the vulnerability of a regulatory agency by not having a national legislative effort to impact firearm violence." 
The Gun Control Act of 1968 allows individuals who can lawfully possess a firearm to manufacture their own weapons for personal use, without the need of serialization or background checks.
Parts to create firearms can be sold by dealers without regulation from the ATF and purchased without a background check. The most important part of a gun is the receiver, the core component that houses a firearm's controls. The ATF has held for nearly 20 years that it will not regulate a receiver unless it was more than 80 percent completed. This prompted the gun industry to start selling "80 percent receivers," which can easily be finished at home with the help of a few additional parts. Because the receivers fell at or below the 80 percent threshold, both buyer and seller avoided any form of regulation.
In the last decade, sellers made the process simpler, offering kits containing an 80 percent receiver alongside the parts required to finish the firearm. These parts kits allowed consumers to purchase an entire unassembled firearm without a background check, and they soon exploded in popularity among criminals.
In response to a request for comment, the ATF pointed to the new rules, which now define ghost gun parts kits as completed firearms. "There are no such requirements for anyone selling items that are not defined as firearms, frames, or receivers ," said Erik Longnecker, a spokesperson for the ATF.
At least 10 states have passed their own laws to regulate or ban the sale of ghost guns. Several cities, including Washington., D.C ., New York , Los Angeles , and Baltimore , have also filed lawsuits against ghost gun manufacturers whose products have been used in crimes.
The federal rule change was hotly contested by the gun industry, which argued that the move could lead to an eventual federal firearm owner registry . In August, a federal judge in North Dakota rejected a lawsuit levied by gun-rights groups and 17 states to block the new regulations.
"This is sort of the standard pattern," said John Donohue, a professor of law and economics at Stanford University. "The industry fights regulation, then guts regulation, and at the very least, leaves themselves an easy workaround."
The only newsroom dedicated to reporting on gun violence.
Your tax-deductible donation to The Trace will directly support nonprofit journalism on gun violence and its effects on our communities.
Ghost Gun Dealers Race to Offload Inventory Ahead of New Federal Rules
On August 24, the Biden administration's requirement to serialize ghost guns and require background checks on their sale goes into effect. But the regulation won't apply to the estimated millions of weapons already in circulation.
Pre-Markets
U.S. Markets
Cryptocurrency
Futures & Commodities
Funds & ETFs
Health & Science
Real Estate
Transportation
Industrials
Small Business
Personal Finance
Financial Advisors
Options Action
Buffett Archive
Trader Talk
Cybersecurity
Social Media
CNBC Disruptor 50
White House
Equity and Opportunity
Business Day Shows
Entertainment Shows
Full Episodes
Latest Video
CEO Interviews
CNBC Documentaries
CNBC Podcasts
Digital Originals
Live TV Schedule
Trust Portfolio
Trade Alerts
Meeting Videos
Homestretch
Jim's Columns
Stock Screener
Market Forecast
Credit Cards
Credit Monitoring
Help for Low Credit Scores
All Credit Cards
Find the Credit Card for You
Best Credit Cards
Best Rewards Credit Cards
Best Travel Credit Cards
Best 0% APR Credit Cards
Best Balance Transfer Credit Cards
Best Cash Back Credit Cards
Best Credit Card Welcome Bonuses
Best Credit Cards to Build Credit
Find the Best Personal Loan for You
Best Personal Loans
Best Debt Consolidation Loans
Best Loans to Refinance Credit Card Debt
Best Loans with Fast Funding
Best Small Personal Loans
Best Large Personal Loans
Best Personal Loans to Apply Online
Best Student Loan Refinance
All Banking
Find the Savings Account for You
Best High Yield Savings Accounts
Best Big Bank Savings Accounts
Best Big Bank Checking Accounts
Best No Fee Checking Accounts
No Overdraft Fee Checking Accounts
Best Checking Account Bonuses
Best Money Market Accounts
Best Credit Unions
All Mortgages
Best Mortgages
Best Mortgages for Small Down Payment
Best Mortgages for No Down Payment
Best Mortgages with No Origination Fee
Best Mortgages for Average Credit Score
Adjustable Rate Mortgages
Affording a Mortgage
All Insurance
Best Life Insurance
Best Homeowners Insurance
Best Renters Insurance
Best Car Insurance
Travel Insurance
All Credit Monitoring
Best Credit Monitoring Services
Best Identity Theft Protection
How to Boost Your Credit Score
Credit Repair Services
All Personal Finance
Best Budgeting Apps
Best Expense Tracker Apps
Best Money Transfer Apps
Best Resale Apps and Sites
Buy Now Pay Later (BNPL) Apps
Best Debt Relief
All Small Business
Best Small Business Savings Accounts
Best Small Business Checking Accounts
Best Credit Cards for Small Business
Best Small Business Loans
Best Tax Software for Small Business
Best Tax Software
Best Tax Software for Small Businesses
Tax Refunds
All Help for Low Credit Scores
Best Credit Cards for Bad Credit
Best Personal Loans for Bad Credit
Best Debt Consolidation Loans for Bad Credit
Personal Loans if You Don't Have Credit
Best Credit Cards for Building Credit
Personal Loans for 580 Credit Score or Lower
Personal Loans for 670 Credit Score or Lower
Best Mortgages for Bad Credit
Best Hardship Loans
All Investing
Best IRA Accounts
Best Roth IRA Accounts
Best Investing Apps
Best Free Stock Trading Platforms
Best Robo-Advisors
Index Funds
Mutual Funds
Federal 'ghost gun' regulations go into effect after judges reject challenges
New Biden administration rules that put homemade firearm kits used to build "ghost guns" in the same legal category as traditional firearms went into effect on Wednesday.
The regulations require that the main components used to manufacture ghost guns – the frames and receivers – be assigned serial numbers.
They also require that buyers undergo background checks before purchasing the components and that dealers be federally licensed to sell the kits and keep records of sales.
New Biden administration rules that put homemade firearm kits used to build "ghost guns" in the same legal category as traditional firearms went into effect on Wednesday after federal judges declined requests to pause the change. 
The regulations require that the main components used to manufacture ghost guns — the frames and receivers — be assigned serial numbers. They also require that buyers undergo background checks before purchasing the components and that dealers be federally licensed to sell the kits and keep records of sales.
The rules, which the White House announced in April, went into effect despite injunction requests from plaintiffs to stop the Bureau of Alcohol, Tobacco, Firearms and Explosives from enforcing them. 
On Tuesday, Chief U.S. District Judge Peter Welte in North Dakota denied a request for a preliminary or permanent injunction as a part of a suit filed by a coalition of state Republican attorneys general, gun groups and a gun store owner. The judge determined the Biden rule "was and remains constitutional under the Second Amendment." 
In a federal lawsuit filed in Texas, a judge ruled that seller Division 80's prediction that the rule would "destroy" its entire business was not enough to grant the company's request to block the rule with a nationwide injunction.
The National Rifle Association, the country's largest gun-rights group,  has criticized the regulations .
In recent years, sales of ghost gun kits have caused concern for all levels of law enforcement. From the federal Justice Department to city police departments, authorities struggled to curb the proliferation of these weapons, which were increasingly being recovered at crime scenes across the country. According to the White House, there were approximately 20,000 suspected ghost gun recoveries reported to ATF last year alone.
"These guns have often been sold as build-your-own kits that contain all or almost all of the parts needed to quickly build an unmarked gun. And anyone could sell or buy these guns without a background check," Attorney General Merrick Garland said in a statement Wednesday.
"That changes today. This rule will make it harder for criminals and other prohibited persons to obtain untraceable guns," he said. "It will help to ensure that law enforcement officers can retrieve the information they need to solve crimes. And it will help reduce the number of untraceable firearms flooding our communities." 
In recent weeks, ghost gun retailers were racing to offload their inventory ahead of the deadline , with some online dealers selling out completely. 
Besides the new federal rule, several states and territories already restrict or ban ghost guns, including California, Connecticut, Hawaii, New Jersey, New York, Rhode Island, Washington and the District of Columbia.