Ghost Ranch – Box Canyon and Mesa Montosa
Ghost ranch – box canyon and mesa montosa hike in ghost ranch region.
Map File Source:
Scenic vistas of the Jemez Mountains, the Rio Chama Canyon, and Abiquiu Lake; view from above of a normally dry waterfall about 200 high at the end of Box Canyon, hike in the canyon floor with yellow and red canyon walls ascending over 1000 ft, and hike along creeks, small waterfalls, and pools.
Trekking poles recommended for rocky sections with steep ascents and descents, and creek crossings, and sun protection and ample water for mesas with little shade.
From Albuquerque, go north on I-25 towards Santa Fe to exit 276 for NM 599 N. Left onto NM 599 and travel north 13 miles on NM 599 to the US-84N and US-285 exit for Espanola. Travel north 22 miles on US-285 to Espanola. In Espanola, follow the signs to US-84. Travel north on US-84 about 36 miles passing through Abiquiu to Ghost Ranch. Turn right and drive 1 mile on the dirt road to the fork and turn left following the signs to the Welcome Center for Ghost Ranch where someone will need to register the group. At the Welcome Center, there is a sign for a suggested donation of 5 dollars per person.
Follow the Ghost Ranch map to the trailhead for Kitchen Mesa and Box Canyon and park there.
From PARK, proceed through the gate at the trailhead sign and follow the dirt road. In 100 ft, there is a sign on the right for Kitchen Mesa. Continue straight on the dirt road as it skirts the base of a monolith of Entrada Sandstone. At a fork in the road, take the right fork to the bottom of Arroyo del Yeso. Hike upstream crossing the stream many times until you reach a trail juncture at mile 1.2. At this juncture, you can take the trail to the right to hike in Box Canyon, continuing to cross the stream several times. Due to a severe flood several years ago, one is no longer able to hike to the end of the canyon. At a pool and a large boulder field, turn around and return to the trail juncture.
At the trail juncture, take the Upper Camp trail on the right that goes over and around some boulders and begins a steep ascent in another canyon. Small ponds, waterfalls, and seeps on the canyon wall are visible to the left of the trail. Ascend to a sagebrush flat called Mesa Montosa. A viewpoint overlooking the top of Box Canyon will be to the right of the trail. Continue on the trail. The trail will parallel the high cliff of the brown Dakota Sandstone to the left. The trail will then cross again the Arroyo del Yeso before climbing around a knoll. After reaching a low saddle, the trail will begin dropping into the upper Arroyo del Yeso. Before reaching the canyon bottom, bear left, cross the canyon, and climb the opposite canyon wall on an old road. There will be several branches of the trail that climb the hill. The old road contours around a point of Mesa Montosa, then climbs to the mesa top. Look for a road to the right that leads to the point of the mesa. Return to the trail juncture and then to the trailhead.
There is now a $10 user fee to hike on Ghost Ranch. Day visitors are asked to reserve in advance.
The Story Behind This Haunted New Mexico Canyon Will Give You Chills
Juliet White
Staff writer for Only In Your State and freelance writer. Juliet can be reached on Twitter @JulietWrites.
More by this Author
Ghost Ranch in Abiquiu has become synonymous with its most famous resident: Georgia O'Keefe. But did you ever stop to question the name of this property? Or that fact that its logo is an animal skull? Seems kind of creepy when you think about it.
Related Stories
One Of The Oddest Geological Wonders Is Located Right Here In New Mexico
The Scenic Byway That Leads To Some Of The Most Underrated Scenery In New Mexico
These 9 Scenic Overlooks In New Mexico Will Leave You Breathless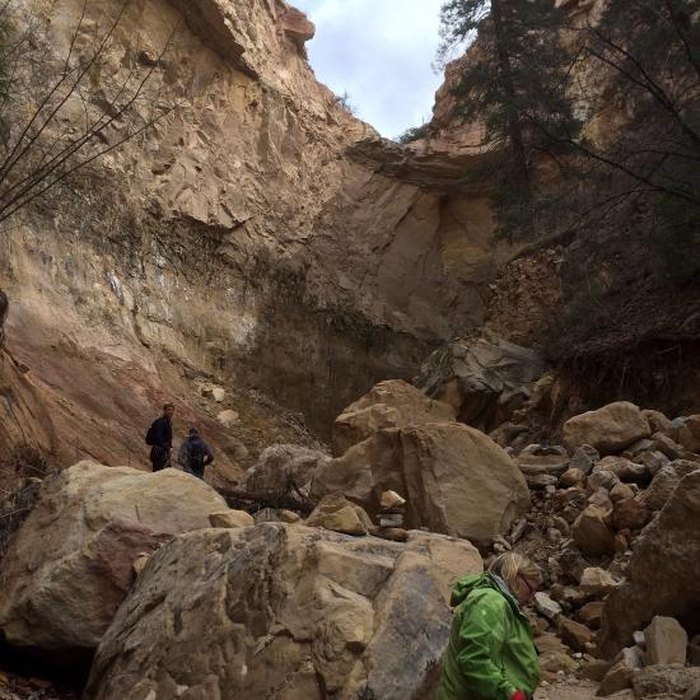 You can actually hike the Box Canyon Trail – it's four miles round trip and involves stream crossings. Paying a $5.00 conservation fee at the Ghost Ranch welcome center grants you access to this trail and several others, including the stunning Chimney Rock Trail. Here is more information about hiking at Ghost Ranch.
Had you heard of the Archeluta brothers before?
What ghost story or New Mexico legend keeps you up at night?
It's easy to tag a visit to Abiquiu on to our terrifying Northern New Mexico road trip for an unforgettable drive, packed with chills and thrills.
OnlyInYourState may earn compensation through affiliate links in this article.
Want more New Mexico in your inbox?
Get the latest on things to see, do, and eat around New Mexico!
Thank you! You'll receive your first newsletter soon!
An error occured.
Related Articles
The Sangre de Cristo Mountains In New Mexico Take You Above The World
A Trip Inside New Mexico's Frozen Cave Is Positively Surreal
The Little Known Cave In New Mexico That Everyone Should Explore At Least Once
The Unique Cave Trail In New Mexico That's Full Of Beauty And Mystery
The Incredible Ancient Ruins In Chaco Canyon, New Mexico Will Blow You Away
What's Hiding Underground In New Mexico Will Drop Your Jaw
10 Of The Most Enchanting Man Made Wonders In New Mexico
10 Terrifying Views In New Mexico That Will Make Your Palms Sweat
Explore New Mexico
National & State Parks
Natural Wonders
On the Water
Parks & Gardens
State Parks
Featured Addresses
Skip to primary navigation
Skip to main content
Skip to primary sidebar
Skip to footer
TravelAwaits
Our mission is to serve the 50+ traveler who's ready to cross a few items off their bucket list.
17 Reasons To Include Ghost Ranch In Your New Mexico Vacation
Adam Springer / Shutterstock
Activities and Interests
Destinations
History and Culture
Outdoor Activities
Religious Sites
Ruins and Archaeology
United States
The stunning canyon and cliff country of New Mexico's Ghost Ranch has ensnared some of the greatest artists of the 20th century for good reason. Ansel Adams captured the landscapes on his large-format cameras. The most famous female artist of the 20th century, Georgia O'Keeffe, made the ranch her home for the last decades of her life.
I could see why she found the space so inspiring and why filmmakers continue to gravitate toward locations in the area. While I was there a short time on a press trip, it was long enough to experience the power of the scenery and get a sense of adventure. I'd like to join those who return often to learn in workshops and rejuvenate at retreats. Here are 17 reasons to visit Ghost Ranch during your New Mexico vacation, inspired by my press trip experiences and subsequent research.
a. v. ley / Shutterstock
1. Follow Georgia O'Keeffe's Footsteps
Georgia O'Keeffe painted the hills, bones, and stone walls relentlessly and over decades at Ghost Ranch. She said that she worked at her home in Abiquiú but Ghost Ranch was where she lived. Fleeing the pressures and distractions of New York City, Georgia first visited friends who lived in New Mexico and then returned often.
This broad and barely accessible land gave her the space to focus on drawing and painting. Inspiration sprang from long walks exploring the canyons, rock formations, and distant mountains. I found that the very things which drew O'Keeffe to the remote landscape remain for the rest of us to enjoy. The current owners work to preserve both her legacy and the country that captured Georgia's heart.
2. Immerse Yourself In Local History
Ghost Ranch wasn't always so tranquil. At one time in the early 1800s, it was feared as Rancho de los Brujos (Ranch of the Witches). People disappeared in the recesses of the stone formations that tower over the broad plains of the region. However, the frightening reputation was more by design than nature. Two bandit brothers, violent to their dusty boots, stole livestock and horses from nearby ranches then hid the animals in nearby Box Canyon until they could be sold. Anyone who came looking for their missing animals went missing themselves.
The subterfuge lasted until one brother was murdered in anger and his wife fled to the nearest village. She inspired a posse to find the survivor. Hanging Tree, which still stands over a small cabin in the center of the ranch, earned its name before the villagers returned home.
Carol Bishop Stanley eventually opened the acres to the public as a dude ranch and changed the name. Other families came and went until Georgia O'Keeffe landed there. By the time she passed, the dude ranch had become a retreat and adventure center. The energy of peace and contemplation still reigns over the rugged acres.
3. Enter The Georgia O'Keeffe Landscape
My introduction to Ghost Ranch was with a guide and motorbus ride to actual locations of O'Keeffe's paintings. The enthusiastic guide expertly pointed out O'Keeffe's favorite spots. It was thrilling to get off the bus and stand close to the same vistas framed in O'Keeffe's masterpieces then get a glimpse of her home from a distance. There was ample time for questions as well.
Our guided walk took me through O'Keeffe's backyard and past many of her painting locations. This activity is limited to eight guests, which makes it easy to learn about the history, plant life, geology, and culture of the area. I was glad to be wearing my walking shoes and to have filled up my water bottle before the trek. A fountain with filtered water is available inside the Visitor Center.
4. Spend A Wednesday With O'Keeffe
One of the highlights of this area is a chance to see O'Keeffe's home in Abiquiú. There are Wednesday tours with pre-registration which start at the O'Keeffe Welcome Center near the Abiquiú Inn. While I couldn't take pictures inside, it was still a thrill to walk through O'Keeffe's Abiquiú house and have lunch before joining the O'Keeffe Landscape tour at Ghost Ranch. The tour returns to the Welcome Center, which has a great gift shop and screens a historical video.
5. Make The Most Of Art Intensives
Clay, glass, and other artistic workshops are offered as seasonal Art Escapes at the ranch. I spent a few hours one evening learning about painting and pastel with local artist Diane Arenberg and wished I was staying longer for her immersives. Most of her sessions run from a weekend to a week long. Other classes include Composition, Plein Air work, and critiques that culminate in a Masters' Show. The classes are held in the ranch's Art Center. For more information, check the Ranch schedule .
6. Pay Your Respects At The Pack Memorial
One morning, I took a short walk from my comfortable lodging along the mesa trail behind the Ghost House to a stone memorial dedicated to Arthur and Phoebe Pack. Arthur Pack owned the ranch in its early days and negotiated with Georgia O'Keeffe on the sale of his first house. He bequeathed the ranch to the Presbyterian Church in 1955.
GUILLAUME LECLERC / Shutterstock
7. Take To The Trails
There are nine trails that crisscross the ranch campus. I wandered the land before the day's activities began. On my return trip, I'll be certain to take the Kitchen Mesa Trail, a challenging five-mile loop with 600 feet of elevation. It rises to a lookout with views of the Piedra Lumbre basin and Mount Pedernal in the distance. Box Canyon Trail is an especially tempting four-mile round-trip trail that rises 500 feet while winding back and forth across the property's central stream. The most popular trail to Chimney Rock is a challenging three-mile round trip walk that rises about 600 feet to the sculpted pinnacle.
8. Experience Retreats And Landscape Meditations
There are two labyrinths on the Ghost Ranch site. I found the main labyrinth near the central road along a path that begins at the Arts Center Building. The stone spiral is a tool for contemplation drawn from many traditions across the world. It was a lovely practice as the dawn's light illuminated Orphan Mesa. There's a second labyrinth at Casa del Sol. It weaves uniquely in and out of the Piedra Lumbre landscape. I also passed a ceremonial water wheel set along the trail between the Arts Center and the main labyrinth.
9. Enter A Karesansui Garden
As a fan of Japanese landscape design, I was thrilled to hear about this garden created of rock, gravel, and stone, which abstractly represent water and the elements. Typically, this type of garden is found near residences of Zen abbots. This Karensansui space is not allied with a residence but set independently near the main labyrinth at Ghost Ranch.
Monastery Of Christ In The Desert
10. Visit A Monastery
The Monastery of Christ in the Desert is an autonomous abbey following the Benedictine traditions. It's a quiet space with a guesthouse for private retreats. Both men and women are welcome to join the monks at Mass in the Abbey Church. Religious and artistic articles are available in the gift shop. The monastery is 15 miles northwest of Ghost Ranch.
11. Explore A Mosque Near Abiquiú
For over 40 years, Dar al Islam, a non-profit Islamic organization, has been committed to cultivating understanding, compassion, and empathy among non-Muslims and Muslims alike. The campus, which is near Abiquiú, hosts retreats and meetings in buildings designed by the world-renowned architect Hassan Fathy. Visit Dar al Islam's website to arrange a visit. I was thrilled to discover that the Dar al Islam property contains The Black Place and The White Place , two paintings by O'Keeffe.
12. Tour The Ruth Hall Paleontology Museum At Ghost Ranch
Perhaps the ancient monsters that frightened the first inhabitants of Ghost Ranch were dinosaurs. Georgia O'Keeffe created notable paintings from more recent bones she collected at the ranch, and just north of the property is one of the best-known digs in the Northern Hemisphere. I could imagine joining one of the dig workshops and discovering remnants of creatures over 200 million years old. One new species, a small archdinosaur, was named Effigia (O'Keeffe's Ghost). Even if you can't join a dig, it's exciting to get close to the bones and equipment inside the ranch's small museum.
13. Anthropology Comes To Life In The Ranch Museum
The Florence Hawley Ellis Museum of Anthropology , adjacent to the Ghost Ranch Visitor Center, is named for the woman who led a group of students to the world-class discovery of the largest collection of Gallina artifacts in the world. The museum displays other artifacts from Paleo Indian people who lived here 10,000 years ago in addition to current creations. It's a small exhibit, but I was excited to learn about the ladies of the canyon via vintage pictures and artifacts from local pioneering women, including Ghost Ranch founder Carol Bishop Stanley.
14. Take A Trail Ride
Two ranch rides are inspired by Georgia O'Keeffe — the Landscape Trail Ride and the Sunset Trail Ride. Riding a gentle steed through the low brush was a quiet joy. We stopped for pictures with the cliffs behind us and rode past O'Keeffe's low adobe home. Our guide filled us in on the area's history and colorful stories as we loped along. I'd love to return for a private ride up into the foothills one day.
15. Enjoy Water Fun
When the lifeguard is on duty, ranch guests can escape the desert heat in the immense, unheated pool next to the dining hall. I was there for cool fall days, so the pool wasn't open. If I were there during the summer months, it would be such fun to kayak or canoe Abiquiu Lake. Swimming lessons and hikes can be arranged as well.
Wikimedia Commons ( CC BY 2.0 )
16. Challenge Yourself On A Ropes Course
As I entered the Ghost Ranch Property, we passed a loose grid of tall posts slung with ropes. High- and low-rope and wall-climbing activities are available during the summer when staffing allows. It's easy to imagine how fun teamwork and problem-solving adventure courses can be.
17. Indulge In Self-Care And Body Work
Ghost Ranch's nationally certified and licensed massage therapists offer integrative bodywork, massage, and spa treatments daily. Appointments must be made at the Welcome Center in advance. The treatments would make a welcome conclusion to long hikes and adventures at Ghost Ranch.
From a pure country experience to an artful retreat, I can see returning again and again for a Ghost Ranch vacation.
Elaine of Trip Well Gal has been jumping into travel and living in the most unexpected places for decades -- from suburban Southern California to a cold-water cabin in SE Alaska. While others were planning retirement, she took every chance to explore, taste, meet, and share her discoveries. Ever curious about life and the world, Elaine founded Trip Well Gal nearly ten years ago as a commuting yoga teacher and used her public radio experience to produce the Indie-Excellence Award Winning audiobook, Drivetime Yoga and then Flytime Yoga .
As a freelancer, she focuses on finding the stories underneath issues and those who can tell them best. She's written for Hidden Compass , Edible San Diego , San Diego Home and Garden , Luxury Living International Magazine , Trivago , Roam Right , Hipmunk and other online outlets. Enamored with the storytelling possibilities of video, she's an obsessive photographer and filmmaker for her YouTube channel with over 50k views. The blog has evolved to focus on helping Boomers get out into the world and do it well with consciousness and care for the planet and our neighbors.
For details on Quillt's privacy and cookie policies, please visit our privacy policy page.

Travels in Geology: Unearthing the ghosts of Ghost Ranch, New Mexico
by Mary Caperton Morton Thursday, June 7, 2018
For centuries, Ghost Ranch, N.M., was known as "Rancho de los Brujos" or Ranch of the Witches. Both monikers suit this stunning place well, as all sorts of creatures have left their bones behind here in the 400-meter-high cliffs layered with red, yellow and white Mesozoic rocks.
Once the haunt of horse thieves and cattle rustlers, and home of Georgia O'Keefe — not to mention dinosaurs and sea creatures in an earlier age — Ghost Ranch, an hour north of Santa Fe, is a treat for geology, paleontology, archaeology, history and art buffs alike.
Hiking a Mesozoic Layer Cake
Driving north from Santa Fe on Highway 84 is like driving through a museum's worth of Georgia O'Keefe paintings. O'Keefe spent 50 years living at Ghost Ranch and in nearby Abiquiu, immortalizing the surrounding landscapes in paintings such as "The Black Place" and "The White Place."
Such straightforward titles fit the clearly defined layers of black, white, gray, red, yellow and pink rocks lining the Chama River Valley, which runs along the far eastern edge of the Colorado Plateau; the layers here are as distinctly drawn as diagrams in a textbook.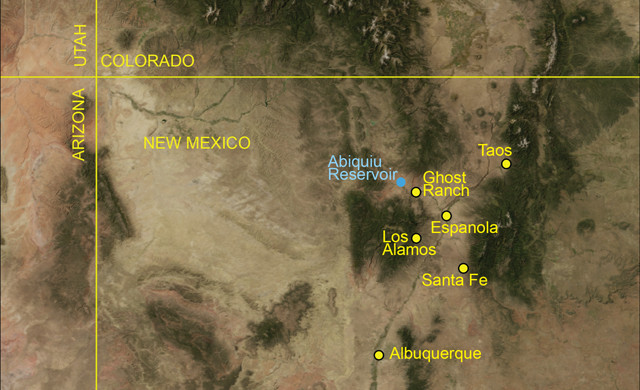 Credit: AGI/NASA
Visiting Ghost Ranch is far better than paging through a textbook, of course, because you can actually hike through the Mesozoic layer cake and witness firsthand the rocks and fossils left behind from the Age of Dinosaurs. The towering layers of rock span a period of 130 million years and preserve evidence of a constantly evolving landscape of river systems, vast deserts, saline lakes, broad mudflats and ocean shorelines.
The exquisitely stratified layers can be seen from Highway 84, but to get a better look, pull into Ghost Ranch (now a privately owned education and retreat center that welcomes the public), stop by the visitor center to sign the trail log and head out on one of three spectacular hikes: Chimney Rock, Kitchen Mesa or Box Canyon.
At just under five kilometers round-trip, the Chimney Rock trail is the shortest option. The relatively easy path starts behind Ghost Ranch's cluster of museums and ascends through time on a gradually rising ridge to reach an overlook of Chimney Rock.
The lower part of the trail crosses badlands formed from the soft, multicolored fine-grained shale and siltstone known as the Painted Desert Member of the Petrified Forest Formation. These rocks, also more famously exposed at the Painted Desert in northern Arizona, are eroded from the red, green and purple Chinle Formation, which formed in river valleys in the Late Triassic between 225 million and 220 million years ago.
As you hike toward Chimney Rock, the trail passes through layers of orange and yellow Entrada sandstone, laid down during the Early Jurassic. These sandstone deposits are the remnants of a vast dune field that covered much of northern New Mexico, southwestern Colorado, southeastern Utah and northeastern Arizona about 160 million years ago. If you look closely, you might be able to see cross-bedded layers sweeping downward and to the north, evidence of the strong winds that continuously swept over the ancient desert.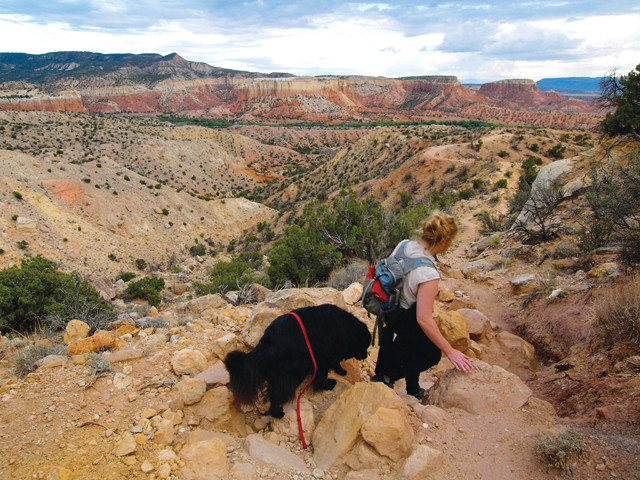 Descending the Chimney Rock trail is like traveling back through Mesozoic time. Credit: Mary Caperton Morton
Researchers have found that the dune fields were flooded about 159 million years ago by a runaway lobe from the nascent Western Interior Seaway, which, by the Cretaceous, covered much of what is now the middle of North America. Some geologists interpret the sharp, even transition capping the Entrada layers as evidence that the invasion of the interior seaway occurred relatively quickly, without reworking of the Entrada sand dunes. For 14,000 years after this catastrophic flooding event, limestone and gypsum precipitated out of the salty water and were deposited in annual layers called varves.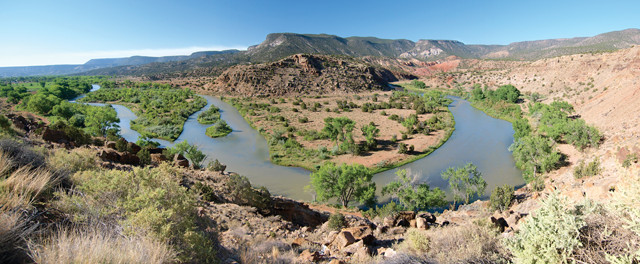 The Chama River runs along the far eastern edge of the Colorado Plateau. The Chama Valley is about as green as northern New Mexico gets. Credit: Mary Caperton Morton
This dramatic change in the Middle Jurassic landscape is preserved along the Chimney Rock trail in the Todilto Formation, the darker lip capping the yellow Entrada layers. Here, the Todilto Formation is dark gray, made up of organic matter that has only partially decayed. If you pick up one of the soft rocks along the trail and break it open, you'll smell the rich aroma left by algae, aquatic plants and other marine creatures.
Eventually, in the Mid- to Late Jurassic, the saline lake dried out and became an arid coastal plain, where rocks of the Summerville Formation, a thick section of maroon mudstone and poorly cemented pinkish sandstone, were deposited. The Summerville Formation is topped by Bluff Sandstone, another deposit of wind-blown sand. Cross-bedding in this layer dips toward the east, suggesting that North America had drifted north by the Late Jurassic, placing the Ghost Ranch region into the path of prevailing westerly winds.
Finally, the Jurassic layers at Ghost Ranch give way to the Early Cretaceous, about 125 million years ago, when shoreline and marine deposits were laid down by braided streams flowing along a coastal plain on the western margin of the Western Interior Seaway. As the shoreline moved back and forth across the area, ripple marks and the pockmarks of burrowing animals were left behind in tan and yellow layers of shale, mudstone and sandstone.
The trail ends at a spectacular overlook of Chimney Rock and the colorful valley below. The 150-meter-tall Chimney Rock is hewn from Entrada sandstone and capped by the Todilto Formation, juxtaposing ancient deserts and inland seas. To the north you can see Echo Amphitheater, a naturally carved acoustical dome just a short drive up Highway 84 that offers campsites beneath towering yellow cliffs.
Ghost Ranch boasts two other stunning hikes: Kitchen Mesa and Box Canyon. The hike up Kitchen Mesa is longer and more strenuous, requiring some scrambling through a narrow passageway in the Entrada cliffs. But once on top, you'll be rewarded with a stroll over the crunchy white gypsum capping the mesa. This gypsum layer is the Tongue Arroyo Member of the Todilto Formation. It was deposited when the saltwater of the young Western Interior Seaway was sufficiently concentrated by evaporation.
The views from Kitchen Mesa are among the most stunning at Ghost Ranch. To the southwest, across the Chama River Valley, you'll see the Abiquiu Reservoir, which supplies water to much of north-central New Mexico and is one of the state's few places for recreational boating, fishing and swimming. Behind the reservoir lie the Jemez Mountains and Cerro Pedernal — a flat-topped mesa made famous by O'Keefe, who painted the distinctive peak so many times she declared, "It's my mountain. God has given it to me."
If you're visiting Ghost Ranch in winter, consider hiking to Box Canyon, a dead-end canyon surrounded by 60-meter-tall Entrada cliffs that are seasonally covered by impressive columns of ice seeping from the canyon walls. This hike is level and follows a lovely year-round stream — a rarity in New Mexico — though icy conditions can make the hike slow going.
Finding Fossils in O'Keefe Country
Ghost Ranch is not only geologically attractive, but also productive — a plethora of fossils have been unearthed from the ranch's four major quarries.
Paleontology at Ghost Ranch began in 1928 with a series of excavations at the Canjilon Quarry led by University of California at Berkeley paleontologist Charles Camp. Over a six-year period, Camp and colleagues uncovered dozens of highly articulated phytosaur and aetosaur skeletons in the Late Triassic Chinle Formation.
Phytosaurs were 6-meter-long crocodile-like reptiles, with a long, narrow head and nostrils just in front of the eyes, that lived in rivers and lakes. Three-meter-long aetosaurs, armored reptiles also with crocodile-like bodies but with pig-like snouts, also lived near water.
In the nearby Snyder Quarry, the phytosaur and aetosaur fossils are unique because most of the bones are blackened, suggesting that the reptiles were killed by a wildfire and buried soon afterward by rapid sedimentation.
Ghost Ranch is perhaps most famous for its Whitaker Quarry, which has yielded a remarkable assemblage of Coelophysis bauri fossils since it was first excavated in 1947. The 2- to 3-meter-long Coelophysis was a primitive carnivorous, bipedal dinosaur from the Late Triassic.
The fossil record at the Whitaker Quarry is exceptional in that as many as a quarter of the skeletons are found articulated, with the bones roughly assembled, and specimens range from juveniles to fully grown adults, with both males and females represented. Coelophysis fossils from Ghost Ranch are on display in museums all over the world, and in 1981, the dinosaur was declared New Mexico's state fossil.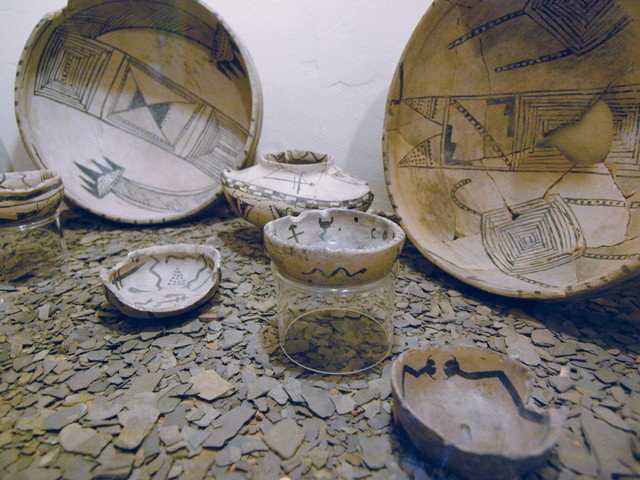 This type of black and white pottery is found throughout northern New Mexico. Credit: Mary Caperton Morton
Excavation at Ghost Ranch is ongoing in the Hayden Quarry, where the oldest dinosaur fossils in North America — dated to the Early Triassic, 214 million years ago — have been found. Ongoing research at the quarry is also yielding one of the most diverse assemblages of Triassic fauna yet discovered on the continent, providing new insight into the period when dinosaurs emerged. Digs led by the American Museum of Natural History in New York City, the Field Museum of Natural History in Chicago and the University of California at Berkeley have uncovered dozens of different species of dinosaurs, amphibians, reptiles and fish.
To learn more about Ghost Ranch's rich history of paleontology and to see some of the fossils, visit the ranch's Ruth Hall Museum of Paleontology or get hands-on by signing up for one of Ghost Ranch's paleontology workshops (see sidebar, p. 47).
Something for Everybody: Archaeologists and Artists
Long after dinosaurs ceased to roam the deserts and river valleys that sculpted the modern-day landscape at Ghost Ranch, many different people lived here among the red, white and yellow rocks. At different times, this region was occupied by the Ute, Navajo, Apache and Pueblo tribes, and later by Spanish missionaries and Anglo ranchers.
Ghost Ranch's Florence Hawley Ellis Museum of Anthropology displays artifacts from more than 10,000 years of human history, including pottery, baskets and arrowheads, as well as 16th century relics from the Spaniards, who established the first capital of Nuevo Mexico at the nearby San Juan Pueblo.
If you have only a passing interest in rocks and your real passion is for paint on canvas, Ghost Ranch should still fall high on your list of places to visit. From the moment Georgia O'Keefe laid eyes on Ghost Ranch in 1934, it was love.
O'Keefe began spending summers at the ranch, renting a place from the then owner, Arthur Pack, co-founder of the American Nature Association. In 1940, she bought a house from Pack on seven acres of land that she called Rancho de los Burros. For the next 50 years, until her death in Santa Fe at the age of 98, O'Keefe split most of her time between Ghost Ranch in the summer and the nearby town of Abiquiu in the winter.
Ghost Ranch offers a number of options to visitors interested in O'Keefe's time there. These include a landscape tour by Jeep to some of her most recognizable painted vistas and a hiking tour of the areas where she lived and worked. Be sure to also stop at the Georgia O'Keefe Museum in Santa Fe, where many of the painter's original Southwest and Ghost Ranch landscapes are on display.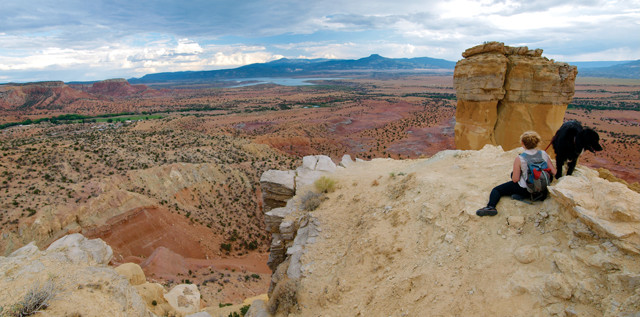 The view from the summit of the Chimney Rock trail features the Jemez Mountains, O'Keefe's favorite mountain, Cerro Pedernal, and Abiquiu Reservoir, not to mention Chimney Rock itself. Credit: Mary Caperton Morton
With its endlessly rocky terrain and wide-open vistas, New Mexico has no shortage of beautiful and geologically interesting places, but Ghost Ranch might well be the Land of Enchantment's crown jewel. Whether you see this colorful country through the eyes of a geologist, paleontologist or painter, the place is a sight to behold.
© 2008-2021. All rights reserved. Any copying, redistribution or retransmission of any of the contents of this service without the expressed written permission of the American Geosciences Institute is expressly prohibited. Click here for all copyright requests.

CHECK AVAILABILITY
3 of the most fun ghost ranch hikes in new mexico.
With 21,000 acres of stunning red and yellow cliffs and what seems to be an endless skyline, is New Mexico's Ghost Ranch. This area is a peaceful place for many activities but hiking the trails at Ghost Ranch is a memory you'll never forget. Ghost Ranch hikes are not only great for exercise, but you'll see picture-perfect views, wildlife, and the flora unique to this specific area. Hiking enthusiasts take note. You will definitely want to experience Ghost Ranch hikes in New Mexico.
In addition to  Ghost Ranch hikes , the area is filled with activities for those who love the great outdoors. To find out more, check out our  Chimayo, New Mexico Vacation Guide ! You'll be living like a local with this free guide. Included in this vacation guide is our recommendation for local restaurants, upcoming events you'll want to attend, and outdoor recreation to enjoy!
Check Out This List of 3 of the Most Fun Ghost Ranch Hikes!
Chimney rock.
Chimney Rock is one of Ghost Ranch's most popular trails. At around 2.5-miles in length, the trail offers hikers a view of the Piedra Lumbre basin. This trail is rated as difficult because it climbs up to 7,100 feet, but all that hard work pays off because of the amazing views.
Kitchen Mesa
Kitchen Mesa is another moderate to difficult hike. This trail is 5-miles round trip and features a 15-foot chimney. The hike can take as long as 4 hours to climb so be sure to come prepared with plenty of water and a picnic lunch. Some people claim that Kitchen Mesa is one of the most beautiful hikes in New Mexico. Check it out for yourself!
The Box Canyon hike, which is best to see from March to November, is a moderate hike in Ghost Ranch. The trail, which runs for 4.8-miles, goes from 6,400 to 6,900 feet. If you're not up for the full hike, look for the small pond to do a turnaround and head back. As with the other fun hikes in Ghost Ranch, Box Canyon offers hikers stunning views making all those steps worth it!
Finish the Day With a Stay at Casa Escondida Bed and Breakfast!
After a long day of hiking, you'll want a peaceful room to kick up your feet. Let us host you at Casa Escondida Bed and Breakfast. Our B&B is home to 9 cozy guest rooms complete with all the amenities you'll need to make you feel at home. When booking your reservation, be sure to ask us about our  New Mexico High Country Hiking Package . Included in this package are a New Mexico hiking guide, bottled water, use of daypack and trekking poles, binoculars, snacks, and a first aid kit. And what's a stay at a bed and breakfast without mentioning the breakfast portion! You'll awake in the morning to a  full breakfast  sure to start your day off on the right foot. Come and see why guests return year after year. We look forward to your visit to Casa Escondida very soon!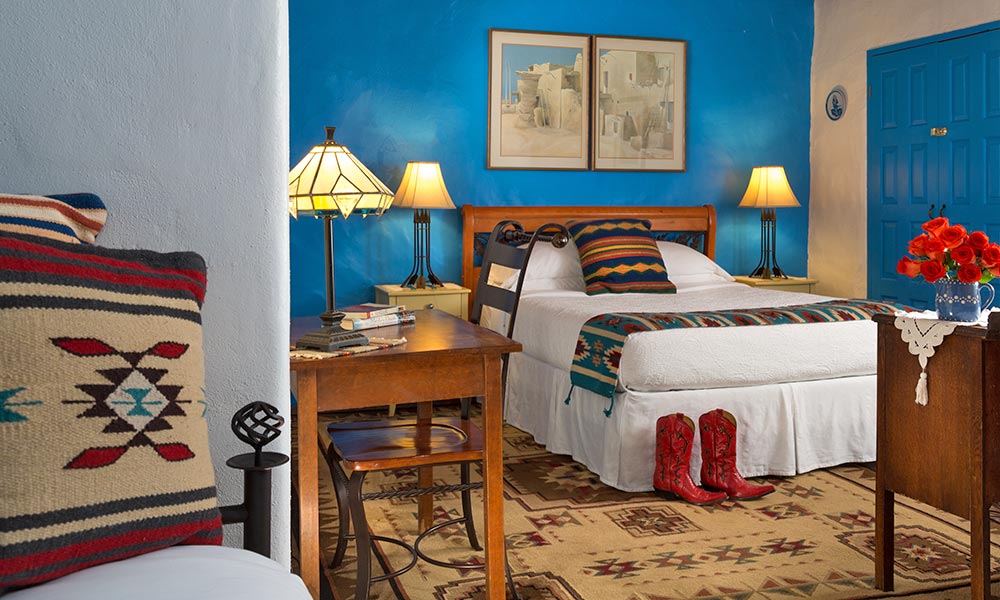 View Our Rooms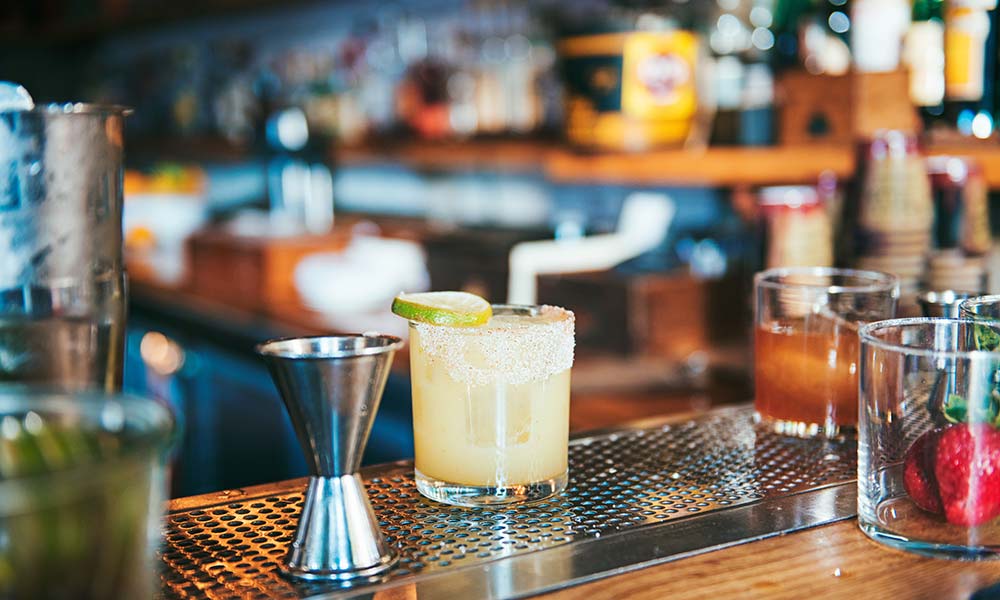 View Our Specials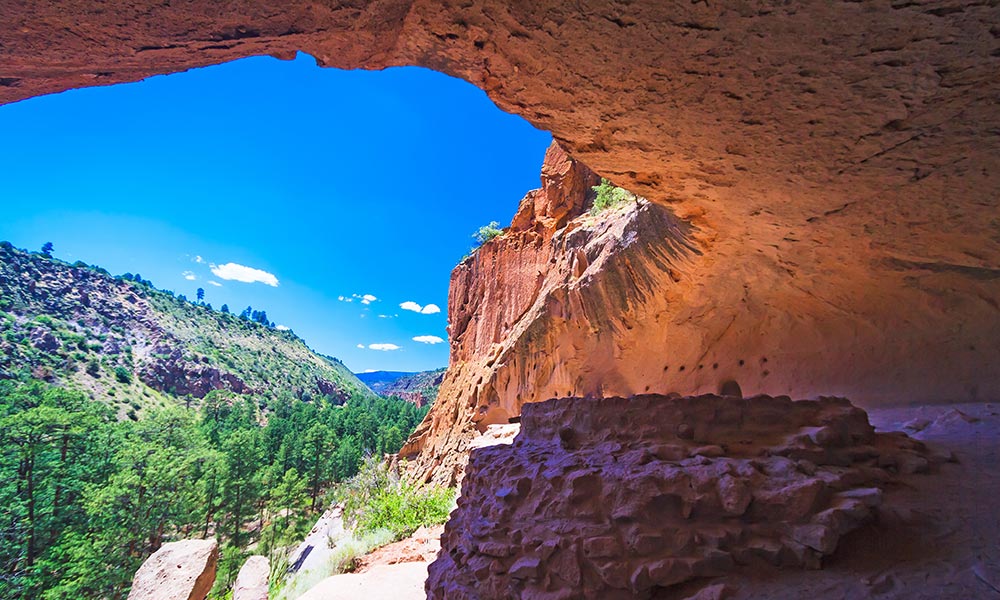 Check Availability
Recent posts, northern new mexico's best bed and breakfast, just 30 minutes to santa fe & 1 hour to taos, makes our location ideal for exploring northern new mexico..

Email Newsletter
Get the latest news from Northern New Mexico, Santa Fe, Taos & Casa Escondida Bed and Breakfast.
Get In Touch
505-351-4805 - VOICE
505- 351 -4805 - TEXT
64 Co Rd 100, Chimayo New Mexico 87522
GPS: 36.007742, -105.932110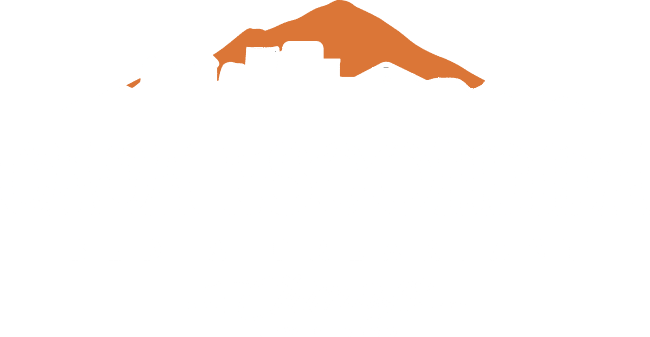 Copyright 2023 – Casa Escondida Bed and Breakfast
505-351-4805 - Voice
505- 351- 4805 - Text
64 Co Rd 100 Chimayo, New Mexico 87522
GPS: 36.007829, -105.932321
Guest Rooms
Packages & specials.
Things to Do
Restaurants
Vacation Rentals
Travel Stories
Rental Cars
Add a Place
Travel Forum
Travelers' Choice
Help Center
Gorgeous hiking, interesting history... - Ghost Ranch
United States
New Mexico (NM)
Abiquiu
Abiquiu - Things to Do
Ghost Ranch
Gorgeous hiking, interesting history- try the Box Canyon Trail
We spent a beautiful winter day at Ghost Ranch and recommend it highly as a day outing from Santa Fe. One of our party was unable to do a challenging hike so we went partway along the mostly flat Box Canyon Trail and were awed by the spectacular scenery. We also took the walking tour of the property which was about 45 minutes and mildly interesting but probably not essential to one's enjoyment of the area.
Thanks for writing a review for Ghost Ranch! We are happy you enjoyed some time on the Box Canyon trail. Please join us again soon for a meal, an overnight stay and more adventures.
I hiked two trails for a total of 10 miles on a beautiful day. If you only have the time/energy to hike one trail, make it the Chimney Rock Trail. You will not be disappointed with the scenery. The trail itself varies from relatively easy to moderately steep, but is easily doable by anyone in decent shape. (If not, you can enjoy the scenery when you stop to catch your breath.) I also enjoyed sitting outdoors on the patio, perusing the gift shop, and exploring the property which includes an RV park.
Donna, thank you for taking time to review Ghost Ranch. You are right, the Chimney Rock trail affords some of the best scenery in our area. Come back again soon for an overnight stay and even more hiking adventures!
Ghost Ranch has a colorful history beginning with its cattle rustler legacy and moving through its famous resident Georgia O'Keefe and including its more modern guest Robert Oppenheimer. There are many educational events that can be enjoyed or you can do as we chose to do... strike out on your own, selecting from the many beautiful hiking trails in this amazing countryside.
Thank you for taking time to review Ghost Ranch! Hiking is one of the best ways to enjoy this beautiful scenery. We hope to see you again soon.
My family, husband and daughter and son-in-law, took a guided horseback tour with Daniel on New Year's eve day out at Ghost Ranch. We went around perimeter of Georgia O'keefe's home and Daniel told us stories about where she painted, the landscape, the history of Ghost Ranch. it was great fun, and the horses were very tame. My horse, Dusty, of course was the best. Regrettably none of us are experienced riders, as they offer custom trips for those that can ride and that would be magical to be able to go further and faster! highly recommend doing whatever level you are though.
Thanks for taking the time to write a review. We are thrilled that you enjoyed your time here at Ghost Ranch!
You cannot go wrong here. We, my wife and I, took the O'Keeffe Landscape Tour, a small group of people - 18 maybe with a docent, that drove around the ranch looking at various sites of Georgia O'Keeffe paintings. You all get out of the bus. The docent holds a painting up to view and says, "OK, look to the right of the tree, at 1:00 now look just to the right at the cliff." It is the painting. Our docent was well versed in O'Keeffe and provided so much detail to questions that were asked by the group. She was, without a doubt one of the best guides I have ever had. There is something special about having the question answered as well as getting additional anecdotal information. O'Keeffe was in my mind, after spending an afternoon at the museum in Santa Fe and then this convinces me that she is indeed an icon of 20th-century art. Well worth the drive and the expense.
Our Landscape Tours are one of our most popular attractions. We are glad to hear you enjoyed your time here at Ghost Ranch. Thanks for writing a review!
Going to the Ghost Ranch on Christmas Day was a a shot in the dark, but we hit a bulls-eye. The hike up Chimney Rock was stunning. I was totally unaware of the movies shot at Ghost Ranch (City Slickers, Magnificent 7, 3:10 to Yuma), and that Georgia O'keefe both lived there and had her ashes scattered on the ranch. Take the hour drive on your visit to Santa Fe, it's well worth it.
What a great way to spend Christmas Day! The Chimney Rock hike is unbeatable. Thanks for spending time here at Ghost Ranch.
Outdoor Activities
…a world of fun,  get outside and enjoy.
Hiking all year-round. Choose from five trails, a few start on Ghost Ranch property and end on U.S. Forest. Hiking on U.S. Forest property is at your own risk.  If you want to come and enjoy the Ghost Ranch trails, museums and other amenities on your own, please select the per-person Day Pass.
Rio Arriba County Residents enjoy free day visits using their zip code at check-out.
Other outdoor adventures happen seasonally: waterfront canoeing and kayaking, guided hikes- check our calendar below for availability .
Guided Waterfront Activities
Kayaks, Paddle-board and Canoes – Join the adventure, with knowledgeable Ghost Ranch Guides, as we travel across the highway from our the main ranch campus to our private waterfront on Abiquiu Lake. Mornings on the lake bring a great sense of calm, beauty and fun. Sunsets provide a beautiful and colorful end to the day. Enjoy the 21,000 acres of stunning views and time to explore the quiet end of the lake. View availability on calendar below.
2 to 2.5 hours | $45/Adults & Youth Ages 8-17
Private waterfront paddles available upon request and if availability allows. Please contact [email protected] for more information and for pricing.
SEASONAL SWIMMING POOL
Our pool is closed for the season.
Purchase a Day Pass to explore the ranch. Hike one of five trails. Most begin on Ghost Ranch property and transition to U.S. Forest Service property. Hiking on U.S. Forest Service property is at your own risk. If you are at Ghost Ranch as an overnight lodging guest or for another paid activity like a tour or trail ride, the day pass is included in your fee.
Guided hikes are available on the Ghost Ranch Peace Corps trail. This is a half-day hike that ends on the lakeside. Purchase your ticket on the calendar above. Ages 8 and above.
Kitchen Mesa Trail
Location: The trailhead is located just beyond the parking lot behind the Arts Center and the Long House.
Distance: 5 miles round-trip with 600 feet of elevation gain.
Difficulty Level: Hard
While the trail begins on Ghost Ranch, the majority of the trail is on U.S Forest Service property and is hiked at your own risk.
This challenging and rewarding trail will bring you to the top of the Grand Entrada Sandstone cliffs that sit behind the Dining Hall and overlook the entire Piedra Lumbre basin.
The trail begins easy enough by crossing the Yeso Creek and meandering around the back of the cliffs, past the dinosaur pit and up the canyon.
From the base of the mesa, the trail becomes more steep and challenging and a certain amount of dexterity is required for the final ascent. The ascent requires a significant rock scramble.
Keep a lookout for green metal cans that mark the trail up this rocky section and through the final narrow slot to the top of the mesa. From here, it is a relatively flat walk back toward the front of the mesa with a spectacular view of the ranch from atop the Gypsum rock beneath your feet. Keep an eye out for a cairn on the left of the trail that will lead to Packs Point, another wonderful peak overlooking the Ranch.
Box Canyon Trail
Location: The trailhead is located just beyond the parking lot behind the Arts Center and the Long House. Continue past the Kitchen Mesa trailhead, the Hogans and Camposanto.
Distance: 4 miles round-trip with 500 feet of elevation gain.
This trail joins the Rito Del Yeso, passes underneath the aquaduct and follows the canyon back, winding its way back and forth across the stream.
Matrimonial Mesa Trail
Location: This trail can begin at the trailhead (Matrimonial) on the road into the ranch across from the High Ropes Course or the trailhead (Cliffside) that starts behind the Staff House near the Dining Hall. 
Distance: 1-2 miles with 150 feet of elevation gain.
This short, easy-to-access trail system affords spectacular views of the ranch, Orphan Mesa and the Piedra Lumbre basin. Peace and tranquility are found just minutes into this hike as you are transported out of the ranch and into the rolling red mounds at the base of the sandstone cliffs that surround Ghost Ranch.
There are a number of trails around and along the top of Matrimonial Mesa, which will give you the freedom to create your path. Feel free to roam and explore but stay on the clear trails.
Chimney Rock Trail
Location: The trailhead is located at the arroyo behind the Museums and the Lower Pavilion, past the Corral Block Complex.
Distance: 3 miles round-trip with 600 feet of elevation gain.
This most popular trail follows a series of short uphill climbs and flat benches, like steps, up the ridge and to the top of a narrow sculpted mesa just behind Chimney Rock.
From the top, you will be rewarded with breathtaking views of the Piedra Lumbre basin, Abiquiu Lake, Cerro Pedernal, and the ranch below.
Location: The Camposanto wall is located along the Box Canyon trail, which begins beyond the parking lot behind the Arts Center. Follow the trail until you reach a wire fence, turn left and walk for approximately 100 yards.
Distance: A short 15-25 minute walk.
Location: This trail begins on the top-most end of the upper mesa behind Coyote.
Distance: 1-2 miles with 200 feet elevation gain.
This ridgeline hike offers views of Kitchen Mesa and back into Box Canyon. It then travels steeply upward to end in an arroyo formed by a rain reliant waterfall.
505.685.1000 [email protected] 280 Private Drive 1708 Abiquiu, NM 87510 -->
9 am - 5 pm
Trading Post / Day Visitors / Museums / Hiking Trails (Museums are closed all day on Monday and Sunday mornings, closed daily from 12-1)
9 am - 9:30 pm
Newsletter sign up, pin it on pinterest.

Wildflowers
Where I'm Located
Commissions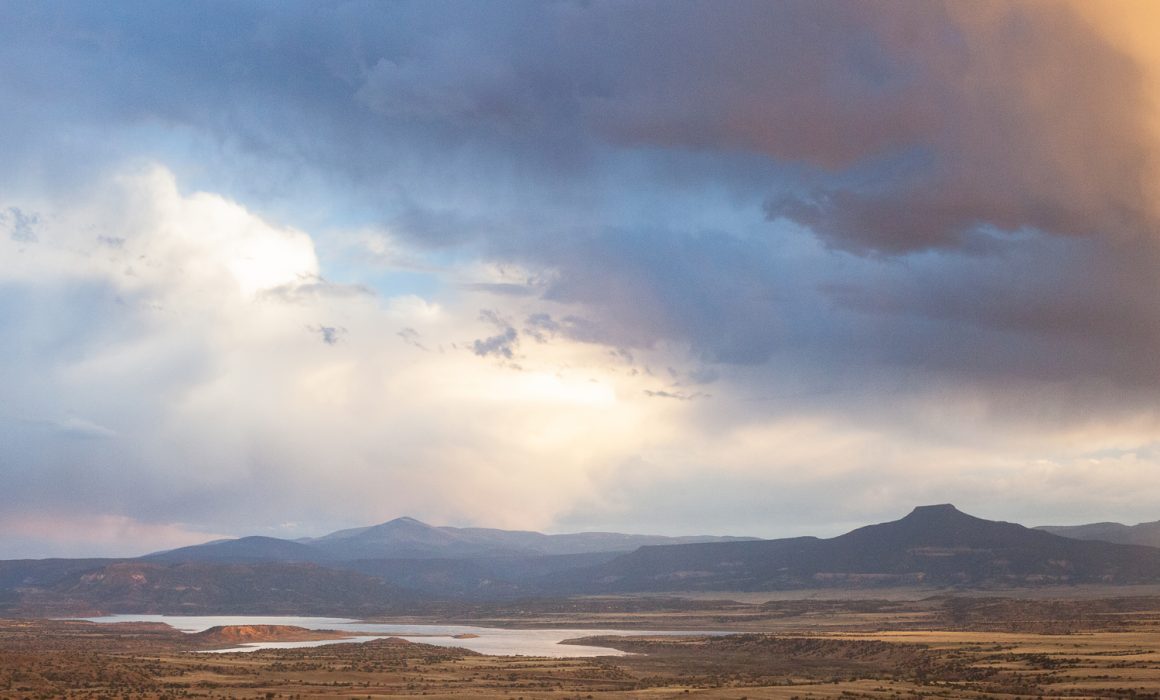 Adventure Begins at Ghost Ranch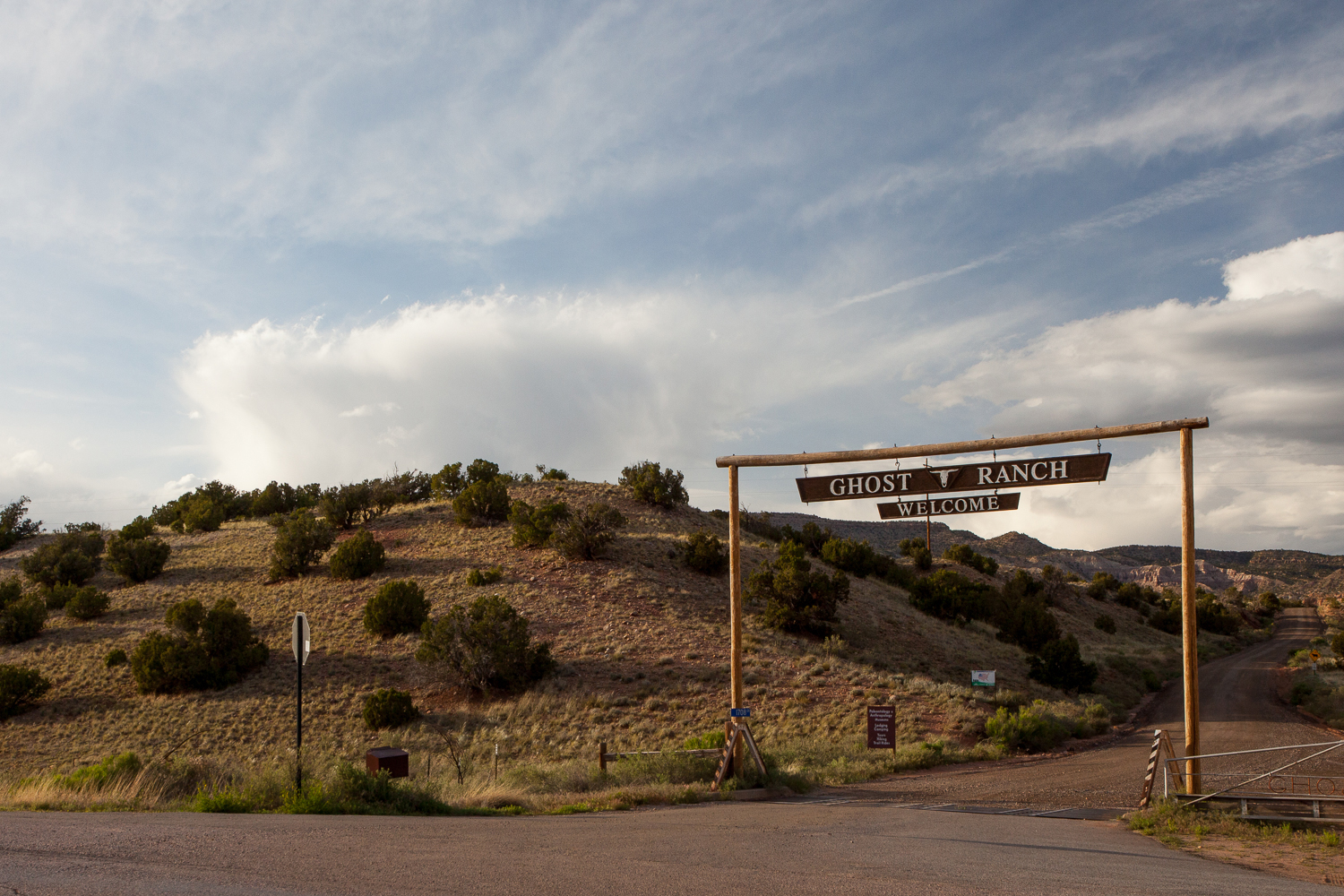 The gate to Ghost Ranch.
Decades of Inspiration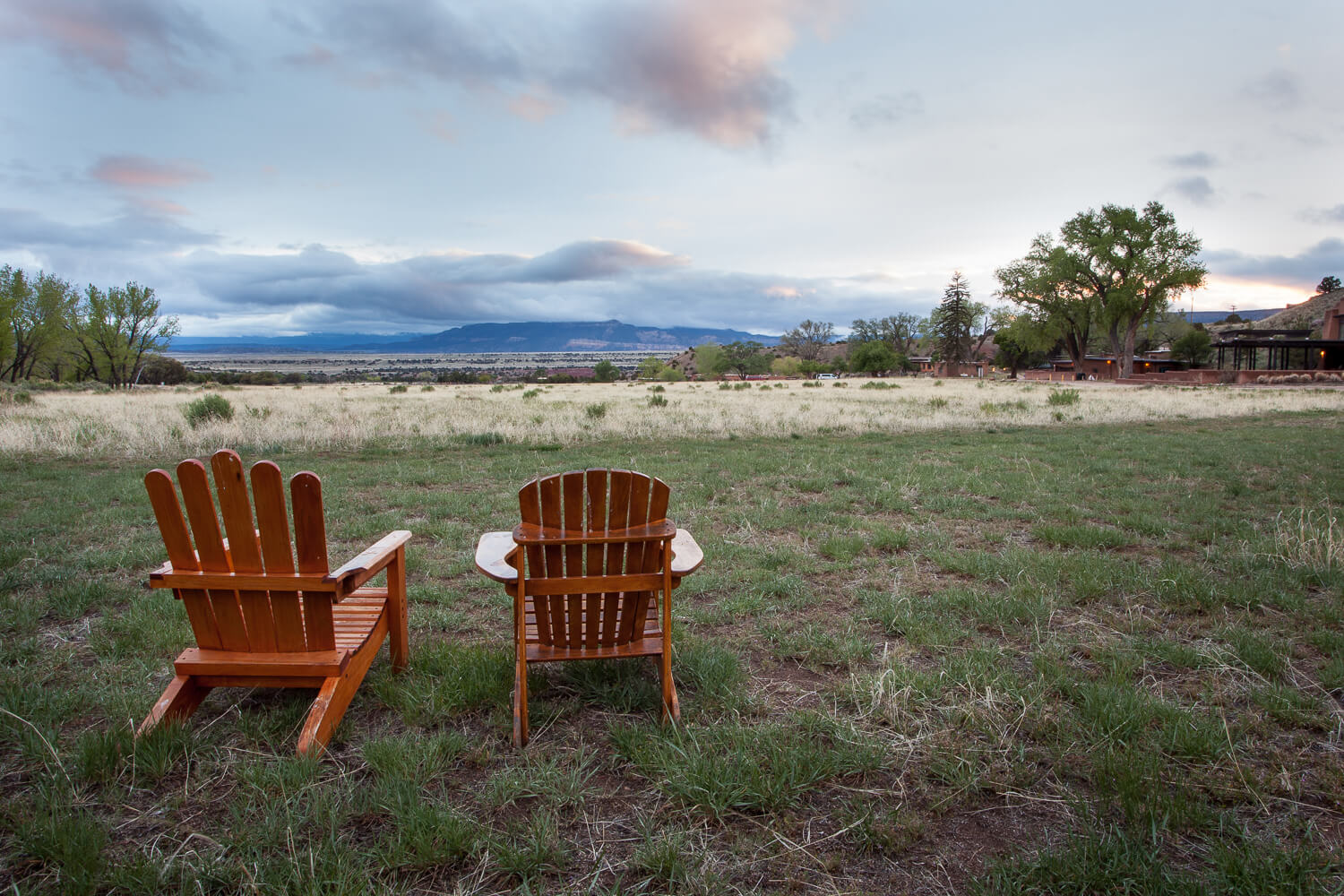 Scattered throughout Ghost Ranch are chairs that allow you to soak in the spectacular views.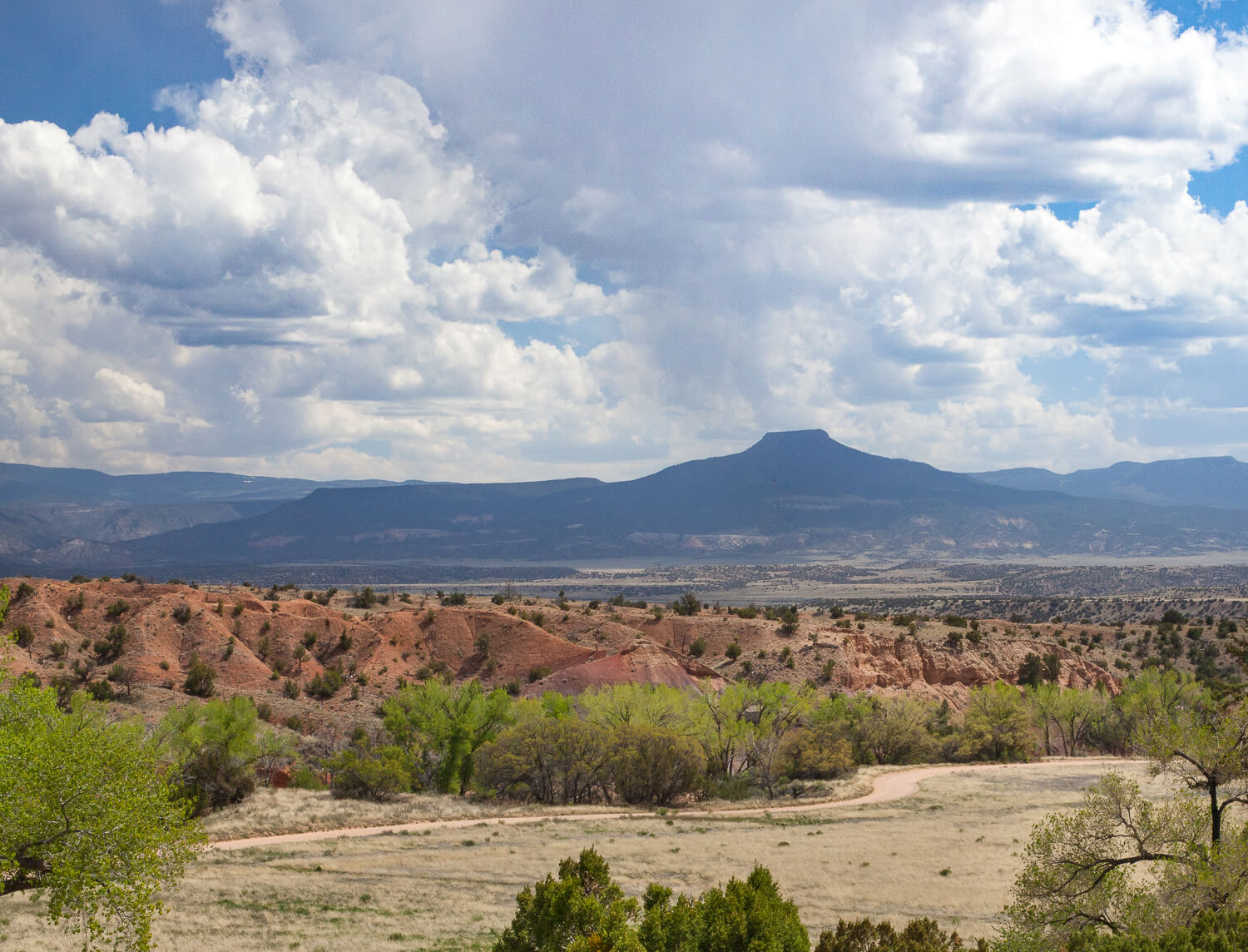 Cerro Pedernal looms over the Piedra Lumbre basin.
Hiking at Ghost Ranch
Chimney rock trail:.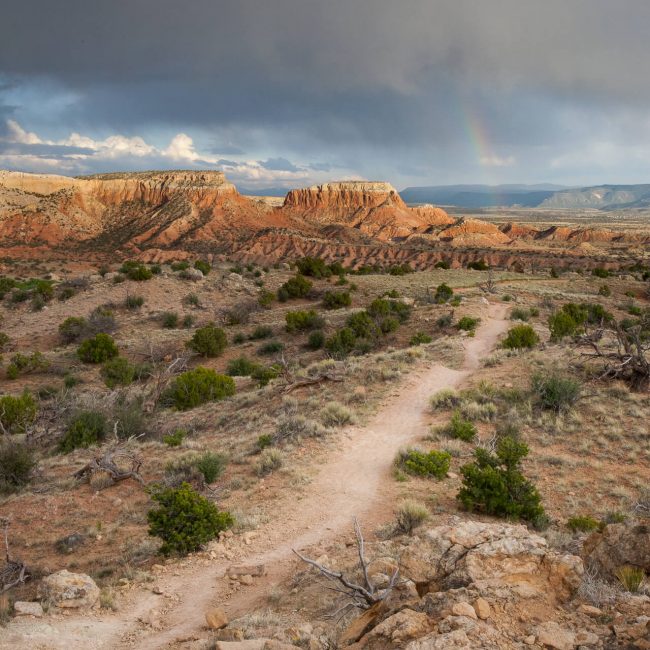 Matrimonial Mesa: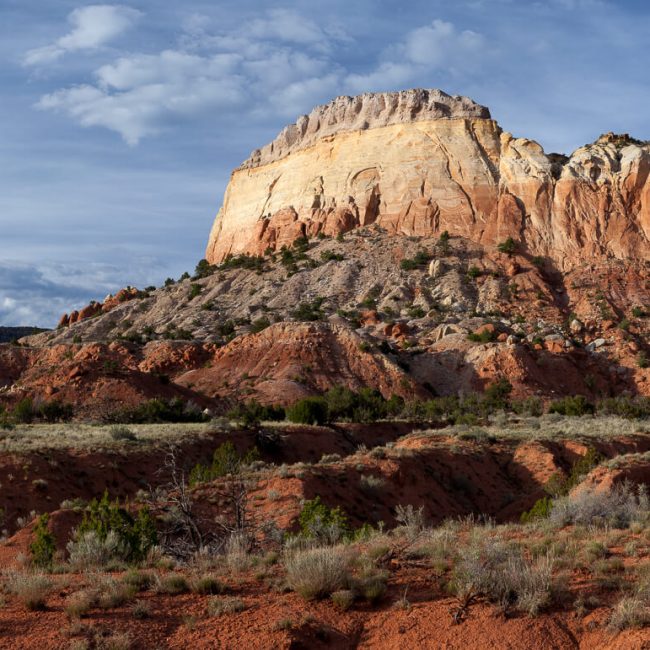 Plan Your Visit
Cellular signal is limited at Ghost Ranch. Within the campground (which is in a canyon) we were able to get extended Verizon service with our cellular signal booster but not ATT. If you need access, you can walk to the library and use their free WiFi. The library is open 24/7. Besides providing internet access, it also has a wonderful book collection. Their website states that the WiFi isn't always reliable, but we didn't have any issues. Throughout the week it worked well, even during thunderstorms.
The ranch offers three daily meals in the dining hall. It's a great place to meet people and to get a quick, delicious meal. The food is served cafeteria style and it's all-you-can-eat. We're new to RVing and we couldn't have asked for a better place to start our journey. Some days we didn't feel like cooking and near the end of the week, we ran low on food. At the dining hall, we were able to eat a quick meal, which gave us more time to explore.
If you're a full time RVer and need to receive a package, the ranch will typically lend a hand. Many Continental Divide Trail (CDT) hikers stop at the ranch to use the campground and to get a warm meal. Before continuing on the CDT, they ship supplies to the ranch to refuel their packs.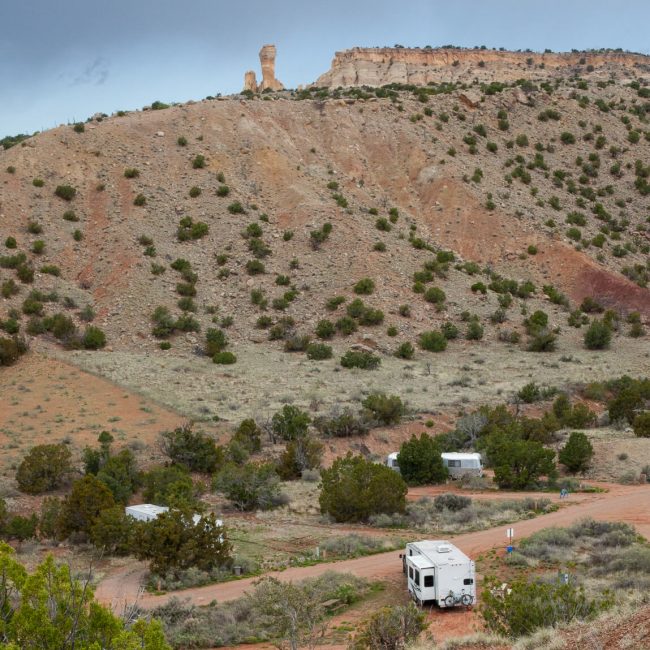 Ashley Moore
A garden photographer passionate about plants, Ashley Moore travels full-time, seeking out beautiful gardens and wild landscapes. She shares photographs, stories, and travel advice so you can experience them too.
Recent Posts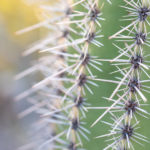 Botanical Road Trip
Photography
Wild Spaces
Northwest New Mexico Hiking Trails
Area trail systems.
➠ Ah-shi-sle-pah Wilderness
➠ Alien Run (Aztec)
➠ Angel Peak Scenic Area
➠ Bandelier National Monument
➠ Bloomfield
➠ Cerrillos Hills State Park
➠ Chaco Culture National Historical Park
➠ Crow Canyon
➠ Cuba
➠ El Malpais National Monument
➠ El Morro National Monument
➠ Farmington
➠ Gallup - High Desert
➠ Ghost Ranch
➠ Grants
➠ Jemez Springs
➠ Kasha-Katuwe Tent Rocks
➠ La Cieneguilla Petroglyphs
➠ Los Alamos
➠ Ojito Wilderness
➠ Ojo Caliente
➠ Red Rock State Park
➠ San Juan River Quality Waters
➠ San Pedro Parks Wilderness
➠ San Ysidro
➠ Santa Fe National Forest (near Los Alamos)
➠ Taos Ski Valley
➠ Valles Caldera National Preserve
➠ White Rock
➠ Back to Hiking Trails Page
Ghost Ranch Trails
Ghost Ranch is an education and retreat center dedicated to spiritual development, peace and justice, honoring the environment and exploring family through the celebration of art, culture and nature. On the property are several trails that offer various level of experience. Visitors, not staying overnight can access the trails by paying a small fee at the welcome center. Trail Name Difficulty Distance Elev. Gain 1. Chimney Rock Trail Moderate 2.6 mi / 4.2 km 715 ft 2. Pack Memorial Trail Easy 0.1 mi / 0.1 km 90 ft 3. Box Canyon Trail Moderate 2.6 mi / 4.2 km 310ft 4. Kitchen Mesa Trail Difficult 4.0 mi / 6.4 km 630 ft 5. Labyrinth Easy 0.1 mi / 0.1 km ft 6. Mesa Trail Easy 0.2 mi / 0.3 km 50 ft 7. Camposanto Trail Easy 0.4 mi / 0.6 km 100 8. Matrimonial Point Trail Easy 2.3 mi / 5.0 km 265 ft 9. On a Lark Trail Easy 0.6 mi / 1.0 km 50 ft ➠ More Information and Photos on Ghost Ranch ⇩ Ghost Ranch Hiking Trails Map (PDF 793 KB) Download Files ⇩ Ghost Ranch Hiking Trails Map (PDF 793 KB) ⇩ GPX File (ZIP 13 KB)
Birding Hotspots
Ghost ranch--box canyon trail, about this location, about ghost ranch.
See all hotspots at Ghost Ranch
Ghost Ranch is a place of magnificent natural beauty. It is comprised of deep, multicolored canyons and cliffs, plains, grasslands, and streams. The Ranch is located on the far eastern end of the Colorado Plateau. Its colorful rock formations are a result of its escaping the infamous uplift of the Laramide Orogeny and subsequent erosion events.
Ghost Ranch is an Education and Retreat Center associated with the Presbyterian Church and operated by a non-profit corporation. There is a daily fee to enter the property.
Content from Ghost Ranch Official Website