This Day in Aviation
Important dates in aviation history, tag archives: mcdonnell f4h-1 phantom ii, 3 april 1962.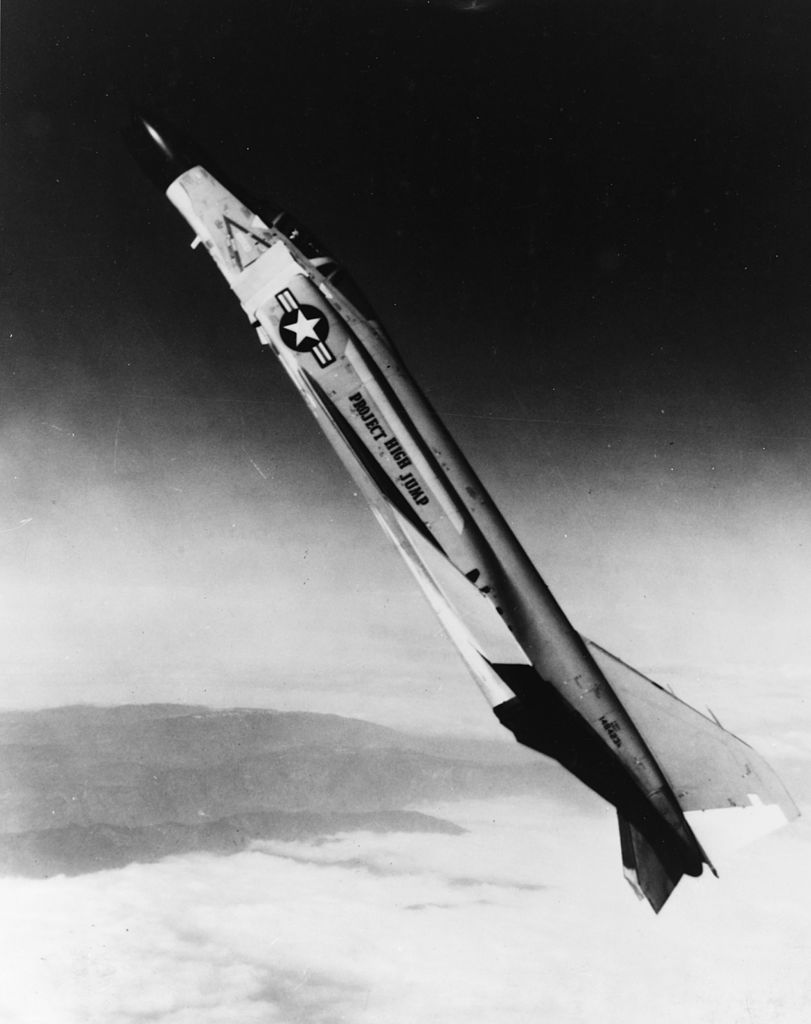 John Young had set another FAI record on 21 February, reaching a height of 3,000 meters (9,843 feet) in 34.523 seconds with the Phantom II at NAS Brunswick, Maine.³ Young set a total of 21 FAI records. Three remain current.
This was one of a series of time-to-altitude record flights flown at with F4H-1 149449 during February, March and April 1962. Flown by four other pilots, 149449 also set time-to-altitude records for 3,000, 6,000, 9,000, 12,000, 15,000, and 20,000 meters.
A bridle restrained the F4H-1 on the runway while its engines were run up to full afterburner. The pilot fired an explosive bolt to release the airplane for flight.⁴
Point Mugu's Runway 21 ends on the edge of the Pacific Ocean and the elevation is 9 feet (2.7 meters) above Sea Level. The restricted airspace of the Pacific Missile Test Range assured that these flights could be conducted safely and without interfering with civilian air traffic. The U.S. Air Force had used the same runway when it conducted time-to-altitude record flights with a Lockheed F-104A Starfighter in 1958.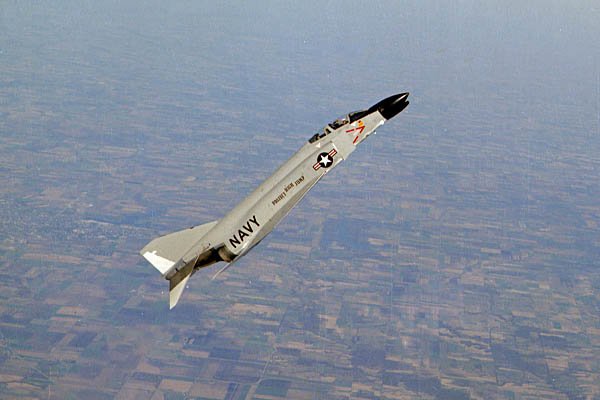 John Young was a test pilot assigned to the Naval Air Test Center, NAS Patuxent River, Maryland, where he was a project officer for F4H and F8U armament systems. He was selected as a NASA astronaut and served as Pilot of Gemini III; backup pilot, Gemini IV; Commander for Gemini 10; Command Module Pilot on Apollo 10; back-up commander for Apollo 13; Commander, Apollo 16; and back-up commander for Apollo 17. Later, he was Commander of the maiden flight of the space shuttle Columbia STS-1 and again for STS-9. He was in line to command STS-61J.
McDonnell F4H-1 Phantom II Bu. No. 149449, redesignated F-4B-11-MC, served with VF-96 aboard the aircraft carrier USS Ranger (CV-61), VF-151 aboard USS Coral Sea (CV-43) and was later assigned to Marine Air Group 13, VMFA-323, "Death Rattlers," based at Chu Lai Air Base, Republic of South Vietnam.
On 2 August 1968, 149449 was hit by small arms fire near An Hoa, 17 miles southeast of Da Nang. On returning the damaged airplane to Chu Lai, the Phantom's landing gear could not be extended. The pilot, Major DanieI I. Carroll, USMC, and Weapons System Officer, First Lieutenant R.C. Brown, USMC, ejected one mile (1.6 kilometers) off the coast. Both were rescued by a U.S. Army helicopter.
The record-setting Phantom II was lost in the South China Sea.
Another F4H-1 Phantom II flown during Project High Jump was Bu. No. 148423, shown in the photograph above (top). In 1971, -423 was withdrawn from service and used as a ground trainer at the Naval Air Technical Training Center (NATTC) at Millington, Tennessee. It was later converted to the QF-4B drone configuration. It was reported preserved at the Herlong Airport, near Jacksonville, Florida. In 2002, part of the airplane was used as a cockpit display at the USS Hornet (CV-12) Museum, Alameda, California. In 2004, the nose section was transferred to the Pacific Coast Air Museum, Santa Rosa, California.⁵
¹ USN McDonnell Douglas F-4 Phantom II , by Peter E. Davies, Osprey Publishing, Oxford, United Kingdom, 2016, Introduction, Page 10
² FAI Record File Number 9092
³ FAI Record File Number 9078
⁴ Engineering the F-4 Phantom II: Parts into Systems , by Glenn E. Bugos, Naval Institute Press, Annapolis, Maryland, 1996, Chapter 5, Page 105
⁵ Warplane Survivors USA: Florida Warplanes, by Harold A. Skaarup, https://www.silverhawkauthor.com/post/warplane-survivors-usa-florida-warplanes-book
© 2017, Bryan R. Swopes
24 January 1962

Two Phantoms were delivered to the Air Force for evaluation at Langley Field, Virginia. They were U.S. Navy F4H-1 Phantom IIs, Bureau of Aeronautics serial numbers 149405 and 149406. Initially the aircraft retained the Navy serial numbers but eventually were assigned Air Force numbers 62-12168 and 62-12169. The Air Force bailed them back to McDonnell to develop the YF-4C prototypes.
62-12169 (ex-Bu. No. 149406) was converted to a JF-4B (a special test aircraft). Operated by the McDonnell-Douglas Aircraft Center at Holloman Air Force Base, New Mexico, it suffered an engine explosion, 8 March 1967. McDonnell test pilot Charles ("Pete") Garrison successfully ejected. The airplane crashed and was destroyed.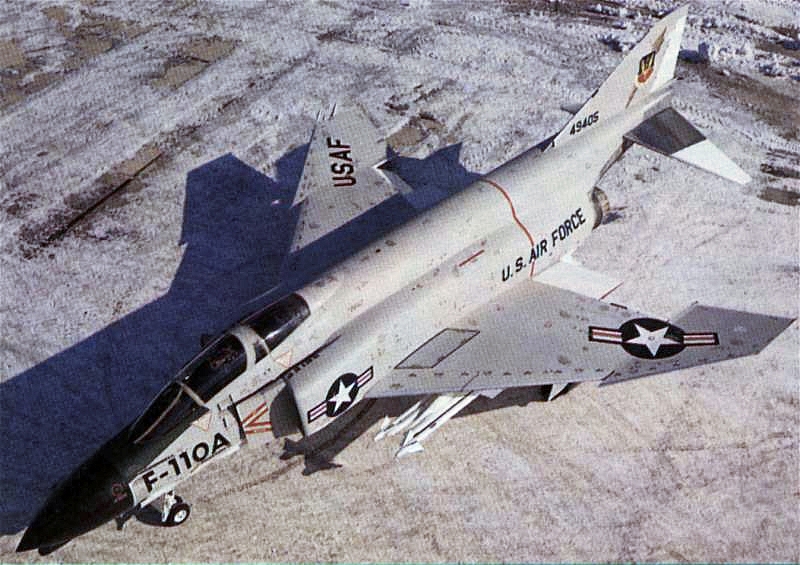 McDonnell built 5,057 Phantom IIs. They served with the United States Navy and Marine Corps, the U.S. Air Force, and many allied nations. The last Phantom II, an F-4E, was completed 25 October 1979. The U.S. Air Force retired its last operational Phantoms from service 20 December 2004, 42 years, 10 months, 27 days after receiving the first F-110A.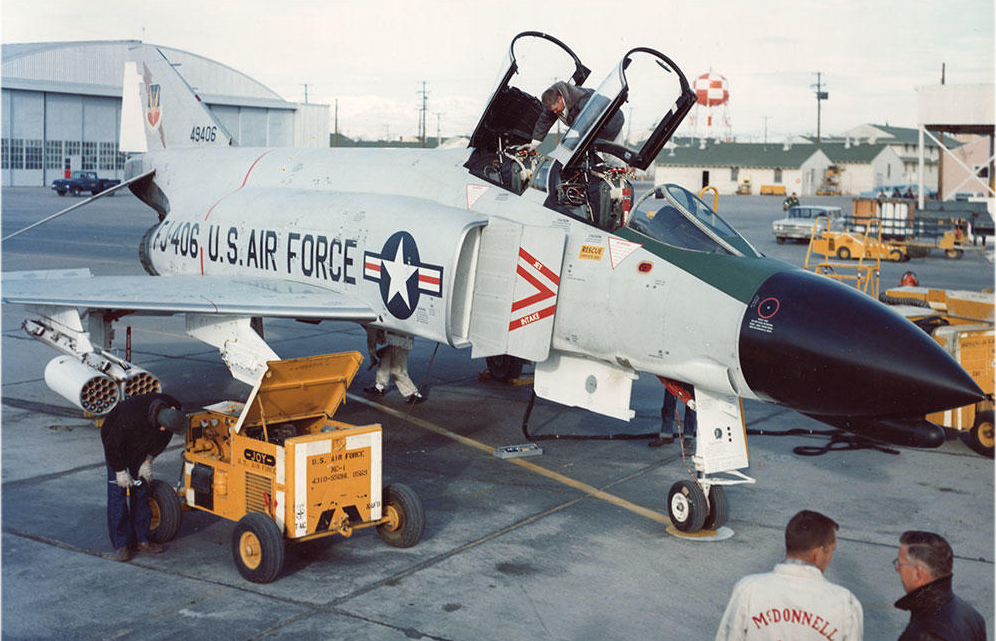 © 2018, Bryan R. Swopes
1959 McDonnell F4H-1F Phantom II
"World's Only Privately Owned F-4 Phantom Capable of Flight"
Aircraft FAQ
461 Hrs. TTSN
0 Time Since restoration – currently 80-85% completed
To be overhauled
General Electric J-79-8 upgraded to -15
3x engines currently at Aero Turbine awaiting overhaul
2x engines in California as spares
Ejection Seats: Will be Hot
Martin Baker Mk 7 seats "0/0"
New Crew Parachutes and Survival Kits
Pyro Charges Available
Painted – United States Navy – Excellent Condition
Centerline and Outboard droptanks
2x Drag Chutes
RESTORATION
Currently 80-85%  completed
Airframe has undergone a complete IRAN per U.S. Navy standards
Dual Controls installed in the rear cockpit
All components overhauled to "0 time" condition
Aircraft has been completely rewired
Fuel system rebuilt with new fuel cells
All hydraulics rebuilt with Stainless Steel lines
All three hydraulic systems overhauled
2 pneumatic systems overhauled
New wheels and brakes
Additional Info
F4H-1F '145310' was delivered to the Navy in 1959 and was the 11th pre-production aircraft built. 1961 was a memorable year for the jet. On 22nd April 1961, it carried a very impressive 22 Mk83 500lb bombs on various hardpoints under the aircraft and dropped them on a range at Fort Bragg, North Carolina. This demonstration was the deciding factor for the United States Air Force to also order the aircraft.
In August 1961, 145310 was one of three F4H-1F Phantom II's used by the U.S. Navy to commemorate the 50th Anniversary of U.S. Naval Aviation. Operation "Sageburner" was sanctioned to set a new low-altitude speed record. On August 28, 1961, BuNo 145307 (sister ship to 145310) set a new low-altitude speed record at an average speed of 902.760 mph over a 3 km course at the White Sands Missile Range in New Mexico. The maximum height reached during this record was 125 feet, hence the name "Project Sageburner". The record setting airframe, 145307 is currently in storage at the National Air and Space Museum's Paul Garber facility in Maryland.
Later, during a weapons test, BuNu 145310 had part of the undercarriage door and pylon were burnt by a Sidewinder missile and later that year, the aircraft suffered an engine failure. Thankfully landing safely. BuNu 145310 last saw use in September 1964 when the Navy retired their test aircraft. It had completed 461 hours.
Never demilled, BuNu 145310 has been under restoration to airworthy condition for the past 10 years by Aircraft Restoration Services LLC at the French Valley Airport, CA. It is being offered for sale As Is, Where Is.
Sales may be subject to local Sales Tax / V.A.T. / G.S.T.
Aircraft maybe subject to prior sale, lease, and/or removal from the market without prior notice.
Specifications subject to verification upon inspection.
Inquire Now
Like what you see?  Fill out our convenient form today!
Inquiry Request