Fantasmic! (Walt Disney World)
Fantasmic! is a Disney nighttime show at Disney's Hollywood Studios in Walt Disney World . The show features fireworks, live actors, water effects, fire, music, several boats, decorated rafts, and projections onto large mist screens featuring reworked Disney animation. It originated at Disneyland in 1992 after Disneyland's entertainment department was asked to create a nighttime spectacular involving water and fireworks to invigorate the space in front of the Rivers of America .
In 1996, Walt Disney Entertainment in Florida partnered with Imagineering and Feature Animation to bring a new version of the show to Disney's Hollywood Studios, featuring new animated and live action scenes. The Rivers of America at the Magic Kingdom was not conducive to a replication of the layout at Disneyland, so a new purpose-built 6,900 seat amphitheater was built at Disney's Hollywood Studios. Intended to boost low attendance numbers at that park, the new Fantasmic! show was also seen as a needed replacement for Sorcery in the Sky , an aging nighttime fireworks show.
1 Show Description
3 Alternative Show
4 Soundtrack
5 Sources & External Links
Show Description [ ]
The show is located at the Hollywood Hills Amphitheater. An enormous mountain with surrounding trees is the set for the show. As the lights fade, a female voice gives a brief welcome and mentions of the powers of imagination. "Welcome to Fantasmic! Tonight, our friend and host Mickey Mouse uses his vivid imagination to create magical imagery for all to enjoy. Nothing is more wonderful than the imagination. For, in a moment, you can experience a beautiful fantasy. Or, an exciting adventure! But beware -- nothing is more powerful than the imagination. For it can also expand your greatest fears into an overwhelming nightmare. Are the powers of Mickey's incredible imagination strong enough, and bright enough, to withstand the evil forces that invade Mickey's dream? You are about to find out. For we now invite you to join Mickey, and experience Fantasmic -- a journey beyond your wildest imagination..."
A very faint musical note is heard, swelling and growing into a dramatic chord as the chorus sings the intro. in the complete darkness. Once the chord strikes, two tall columns rise on stage left and right, with roving spotlights, until finally Mickey appears centre stage in formal attire. He dances and conducts various water fountain effects as "Conductor Mickey" to the show's theme, until bringing up the giant water-mist screens, which, in conjunction with a few flares, fade into the famous Sorcerer's Apprentice scene from Fantasia .
From there, the falling stars of the Sorcerer's Apprentice scene morph into flowers, and a female voice sings the imagination theme. A giant, white flower appears on stage as animated blooming flowers appear on the projection screens. After, music of the jungle is played, the show transitions into a jungle scene. Elephants, giraffes, monkeys, birds, ostriches, rhinos, crocodiles, and cheetahs begin to herd in the mountain. These 2D black-light puppets make noise and dance around on the island while Rafiki and other black-light monkeys do a dance on floats traveling across the water. Simba and Nala from The Lion King run through the jungle in a short projection which transitions into a montage of clips of many classic Disney movies appearing in floating bubbles. Scenes from The Lion King , The Jungle Book , Dumbo , Snow White and the Seven Dwarfs , Alice in Wonderland , Hercules , Pinocchio , Aladdin , Mulan , Cinderella , Lady and the Tramp , Fantasia , Tangled , The Princess and the Frog , Bambi, Beauty and the Beast , The Little Mermaid and Frozen pop and float across the screen.
Jiminy Cricket appears in a bubble and pops it with his umbrella to get to his hat in a separate bubble. An animated Monstro next appears onscreen, accompanied by a heavy musical score as he crashes through the waters. The chaotic sea morphs into the flood scene from "The Sorcerer's Apprentice". As Mickey looks around in the dark, a ship caught in a storm appears. The screens disappear, and the lights immediately darken.
A loud cannon blast erupts. Live characters re-enact battle scenes from the film, Pocahontas . Governor John Ratcliffe and his fellow Englishmen fight against the Native Americans, followed by John Smith. As John Smith climbs to the very top of the mountain, a Native American warrior moves to strike Smith when Pocahontas arrives; the water screens spring back up, and Grandmother Willow appears, with a quote from the movie; the lights dim on the battle, and the "Colors of the Wind" scene plays out on the screens. The show then moves into classic dancing scenes with Princess Aurora and Prince Phillip, Cinderella and Prince Charming, and Princess Jasmine and Aladdin on the water screens to a reprise of the theme.
Three small floats now arrive, with Belle and the Beast, Ariel and Prince Eric, and Snow White and her Prince each contained in their own float. As each float reaches the centre, the spotlight shines on it, with the accompanying signature melody from each movie — "Beauty and the Beast", "Part of Your World," and "Some Day My Prince Will Come", respectively floating stage takes the foreground on the water. While in the foreground, LED lights on each floating stage turn from white to multicolored.
The music takes on an ominous tone as Mickey's dream takes a turn for the worse. The Wicked Queen from Snow White and the Seven Dwarfs on stage, calling for her magic mirror — which appears onscreen in animated form. The mirror informs the Queen that the three princesses are fairer than she, and that "in Mickey's imagination, beauty and love will always survive." Angered by this, she runs to a cauldron, concocts a spell amidst pyrotechnics and other special effects, and turns herself into the hag to turn Mickey's dream into a "Nightmare Fantasmic". Upon being told by the Magic Mirror that she now has the power to control Mickey's mind, On the water screen, she invokes some of the most infamous Disney villains:
Ursula from The Little Mermaid  
Cruella de Vil from 101 Dalmatians
Scar from The Lion King
Judge Claude Frollo from The Hunchback of Notre Dame
Jafar from Aladdin
Jafar uses his magic to send Mickey (in his classic attire) to the Cave of Wonders. After escaping a wave of lava, Mickey encounters Jafar, who transforms into a giant black cobra appearing on both the stage and the mist screens. Seeing a magic lamp, Mickey rubs it, assuming it will help him, hoping that the nightmare would end. But unfortunately, it only made matters worse, Jafar is transformed from a cobra into a powerful genie and calls upon Hades ( Hercules ) who mockingly summons Chernabog ( Fantasia ), summoning the spirits from the dead to his theme from Fantasia . Animation from the Night on Bald Mountain sequence from Fantasia accompanies Mussorgsky's score.
He summons a blast of fire which appears on stage as Maleficent's classic entrance-by-fire. She prepares Mickey, now in his Brave Little Tailor outfit, to deal with the powers of HER imagination. She rises into the air and the water screens show her transforming into a dragon as all the villains laugh maniacally at the powers of imagination. On stage, the 40-foot-tall fire-breathing dragon sets the waters ablaze breathing fire onto the river. Natural-gas piping allows the flames to burn on top of the water as they spread to take over the stage. Sometimes when the dragon is not present, Maleficent stays as herself, still with the evil powers and ignites fire on the moat not by her mouth, but by her glowing stick. She still gets destroyed the same way. Guests as far as halfway back in the theater can feel the heat from the fire. Mickey, faces the dragon, claiming "You may thing you're so powerful... well, uh...This is my dream!" He uses the powers of his imagination to conduct the water as he did at the beginning of the show and create a wall of water around the island, smothering the flames. He pulls the sword from the stone which shoots sparks through the wall of water, defeating it,  As the dragon screams, and as the water screens show all of the villains scream and explode. Maleficent also dies as the water splashes with a large firework bang.
All is quiet, until Tinker Bell appears and flies to restore the mountain. Magical stars sparkle in the mountain as the  Steamboat Willie  riverboat approaches with sparks falling from the side. Then a spark of pyrotechnics ignite from Steamboat Willie, revealing black and white Mickey in "Steamboat Willie" attire, controlling the boat.
As it glides past the audience, various Disney heroes appear aboard the riverboat, dancing with streamers. A celebratory atmosphere prevails amid a flurry of fireworks and the chorus singing. The sequence is accompanied by searchlights, fountains, fire, and pyrotechnic effects.
With another flash of pyrotechnics, Mickey appears atop the highest point of the mountain as the Sorcerers Apprentice as fireworks, fire, lasers, and water light up the stage. As the finale concludes, Mickey disappears from the top of the mountain with another spark of pyrotechnics, there is a small explosion in the main center stage and Mickey simultaneously reappears in his formal attire from the beginning of the show. Mickey says, "Some imagination, huh? Ha ha!" Pyrotechnics shoot out of the main stage and barges on the moat, as he vanishes one last time to the final notes of the music while a cone of lights and searchlights bright up the stage for a few seconds. On the last note of the musical score, bright low-level mines go off. The show is concluded. The audience is lit back up as a rendition of the theme plays as the exit music.
History [ ]
The original version of Mickey destroying the dragon was said to involve Mickey walking on the surface of the river and rising up in a column of water to slay the dragon. While some say the effect suffered from technical problems, others suggest former Disney CEO Michael Eisner felt the concept had too many religious parallels. A simpler ending of Mickey using the sword in the stone was used instead. However, the "Fantasmic! Good Clashes with Evil in a Nighttime Spectacular" soundtrack had already been produced with the last track called "Mickey Walks On Water/Evil Destroyed."
In January 2009 the show's schedule was reduced from 7 to 2 nights a week to selected nights each week. These schedule cuts coincided with the opening of the American Idol Experience . It was announced in 2010 that during peak park attendance periods it would be performed three nights a week with two shows per night. The Florida version of the show, unlike the California version of the show, has not undergone a major refurbishment. However, since 2008, the show has been upgrading and replacing some of the technology, without any changes to show elements.
The Steamboat Willie riverboat originally had "spinning fireworks" that ignited on the side of the riverboat. In 2007, an incident occurred when one of the spinning fireworks flew off of its stand and into the trees. Due to this incident, waterfall fireworks replaced the spinning fireworks when the show entered its 2008 season. In November 2022, the Spinning Fireworks returned to the show.
In summer 2009, the sound system was upgraded.
In summer 2010, new (low smoke) pyrotechnics have been added to the entire show. At the last second of the show, mine blasts (used in the Disneyland finale) ignite after the stage goes dark.
In fall 2013, the new show barges featuring LED lighting arrays.
In Summer 2015, New brighter projectors, New scenes and New Bubble Scenes was upgraded.
The show's schedule will return to seven days a week from July 3 to September 30, 2011.
Alternative Show [ ]
The Florida version has a four minute-long substitute show, colloquially named Taste of Fantasmic!, that plays when inclement weather prohibits the presentation of the regular show. The alternative show does not showcase any of the performers, floats, puppets, or the mechanical dragon, due to the dangerous conditions that are posed to the performers because of the possibility of rain accumulating on the stage. Instead the ancillary show is a brief summation of the conventional show; including a fountain display synchronized to "Little April Showers," a sequence integrating the "Night on Bald Mountain" music, and a finale orchestrated with all of the usual pyrotechnics and musical fanfare from the original show's conclusion.
Soundtrack [ ]
Conceived and Directed by Barnette Ricci
Original Score Composed and Conducted by James Horner
Original Fantasmic! Theme Composed by Bruce Healey
Music Supervisor: Julianne Jordan
Performed by the Hollywood Studio Symphony
Soundtrack Recorded at Barbra Streisand Scoring Stage , Sony Pictures Studios Culver City , California , US , Capitol Studios , Hollywood , California , US , The Newman Scoring Stage , 20th Century Fox Studios , Los Angeles , California , US , Paramount Scoring Stage "M" , Hollywood , California , US
Soundtrack Mixed at Robert Wise Mixing Stage 20th Century Fox Studios , Los Angeles , California , US
Supervising Music Editor: Jim Henrikson
Music Editors: Tanya Noel Hill , Dick Bernstein , Philip Tallman , Joe E. Rand , Barbara McDermott
Temp Music Editor: Mark Wlodarkiewicz
Additional Music Editors: John Finklea , Michael K. Bauer
Synthesizer Programming: Ian Underwood, Randy Kerber
Orchestrations by James Horner, J.A.C. Redford, Steven R. Bernstein, Carl Johnson, Edward Karam, Gary K. Thomas, Nicholas Dodd, Peter Boyer, Randy Kerber, John Neufeld, Conrad Pope, David Slonaker, Don Davis, Jon Kull, Bruce Babcock, Jim Honeyman
Soundtrack and Album Produced by James Horner and Simon Franglen
Executive Vice President of Entertainment: Ron Logan
Album Executive Producer: Chris Montan
Score Recorded and Mixed by Shawn Murphy, Simon Rhodes
Soundtrack Editing, Sound Effects, and Surround Sound Services by Skywalker Sound A Lucasfilm Ltd. Company, Marin County , California
Soundtrack Editing, Sound Effects, and Surround Sound Design by Ben Burtt
Music Production Manager: Tom MacDougall
Orchestra Contractors: Sandy DeCrescent, Peter Rotter, Debbi Datz-Pyle
Vocal Contractor: Sally Stevens
Music Preparation: JoAnn Kane Music Service
Assistant To James Horner: Sylvia Patrycja
Sources & External Links [ ]
Official website
1 The Haunted Mansion (Walt Disney World)
2 The Empress Lilly
3 Walt Disney World Monorail System
Walt Disney World Resort
'Fantasmic!' Returning to Disney's Hollywood Studios Nov. 3
by Joey McElroy , Communications Manager, Disney Live Entertainment
"Welcome to Fantasmic! … "
I know a lot of people have been waiting a long time to hear those iconic words again. That's why I could not be more excited to share that "Fantasmic!" returns to Disney's Hollywood Studios on Nov. 3.
Back and better than ever, the larger-than-life, open-air nighttime musical will boast the live performers, stunning effects, rousing music and dazzling pyrotechnics you know and love – complete with a brand-new show sequence!
"Through this entire sequence, we go on a journey with our heroes. We see them faced with a decision, and how hard that can be for them, then watch as they find that strength within themselves to push through in a truly spectacular way," says Disney Live Entertainment Show Director, Matthew Hamel.
And spectacular it is. The new heroes sequence features a high-energy Aladdin chase with stunts never before seen on the "Fantasmic!" stage, a powerful scene with Elsa set to the song "Show Yourself" that is sure to thaw the most frozen of hearts, and stirring moments with Pocahontas, Moana and Mulan. Fun fact: To help choreograph the authentic Chinese martial arts you'll see in Mulan's scene, the creative team brought in Mimi Chan – the original muse and model animators used when bringing the character of Mulan to life for the 1998 animated film.
"We know this show means so much to people, and we've kept that in mind every step of this journey." says Disney Live Entertainment Producer, Laurice Marier. "Even beyond the new scene, we've taken this time to upgrade the lasers, the lighting, the sound, all to bring this show back even more beautiful than it's ever been. We're all really just so excited for guests to see it."
And not just our guests – our cast members are also thrilled about the return of "Fantasmic!". To celebrate the homecoming of this beloved show, Walt Disney World cast members will be among the first to see "Fantasmic!" with special previews … so, to all my cast member friends, stay tuned! We'll share more about that later.
So, will the powers of Mickey's incredible imagination still be strong enough, and bright enough, to withstand the evil forces that invade Mickey's dreams? We are about to find out. See you there!
And don't miss out! Beginning Oct. 26, "Fantasmic!" dining packages for select restaurants at Disney's Hollywood Studios will be available for performances Nov. 30 and beyond.
Destinations: Walt Disney World Resort
I love when martial arts are included in movies and stage performances. I loved practicing martial arts as a kid and it's a great way to get the younger generation excited about it. Please continue promoting martial arts at Disney.
http://www.edwardsmartialartsacademy.com
When will Fantasmic Dinner packages open for February 2023?
Is there not going to be a show Dec 4th?
Really excited to see the new stuff. Disneyland's original Fantasmic has gotten many updates and upgrades over the years, especially with all the lighting and sound and even a new dragon. The Studios has needed some tender love & care for a while, I'm anxious to see the renewed show! Will there be a new finale boat too?
Hi! If we already have dining reservations at Hollywood and Vine will we be able to change these to the Fantasmic dining package? Thanks!
This is great news! As soon as I heard I went to the Disneyworld website to find the hours the show will be performing and was unable to find any schedule at all, not even for the first night – November 3rd. Do you where I can look to find the performance schedule?
Comments are closed.
Related Stories
All-day park hopper access coming back to walt disney world.
by Eric Scott , Senior Manager, Communications
Disney Eats: Tasty New Bites Coming to Disney's Animal Kingdom Theme Park Oct. 11
by Nicole Cantore , Digital Integration Specialist, Global Food & Beverage
New Candlelight Processional Celebrity Narrators to Headline 2023 EPCOT International Festival of the Holidays Beginning Nov. 24
by Brooke Fehr , Walt Disney World Public Relations Manager
Other Stories by
Meet the Artists Extending the 'Happily Ever After' Story Beyond the Castle Walls
Full lineup: 2023 disney on broadway concert series at epcot, sign up to get interesting news and updates delivered to your inbox from the disney parks blog.
By submitting this form, you are granting Disney Parks Blog permission to email you. You can revoke permission to mail your email address at any time using the unsubscribe link, found at the bottom of every email. We take your privacy seriously. For more information on our data collection and use practices, please read our Privacy Policy .
By providing my email address I'd like to receive updates, special offers, and other information via electronic messages and postal mail from Disney Destinations, LLC and other members of The Walt Disney Family of Companies.
You can withdraw your consent for these messages at any time. For more information on our data collection and use practices, and managing your preferences, please read our privacy policy .
Pirates of the Caribbean Wiki
IMPORTANT! Please read the latest PotC Wiki blog , and take a look at the following ongoing votes:
Talk:Joshamee Gibbs
Talk:Pintel
Martin Klebba (Marty) and Lauren Maher (Scarlett)
Filmmakers Terry Rossio and Jim Byrkit
In other LATEST NEWS: Wordplayer.com: PIRATES 5 Script & Annotations by Terry Rossio are here!
Stay tuned, and keep a weather eye!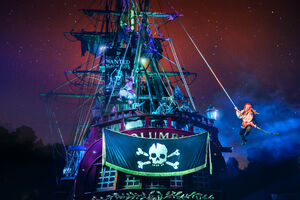 The Pirates of the Caribbean part of the show.
Fantasmic! is a nighttime show at Disneyland Park at the Disneyland Resort, Disney's Hollywood Studios at Walt Disney World Resort , and formerly at Tokyo DisneySea at Tokyo Disneyland . It features fireworks, characters, live actors, water effects, pyrotechnics, lasers, music, audio-animatronics, searchlights, decorated boat floats, and mist screen projections. The narrative of Fantasmic!—although there are differences between the three versions—centers on a voyage through Mickey Mouse's imagination that culminates in a battle against the Disney Villains.
1 Attraction description
2.1 Individuals
2.2 Objects
3 External links
Attraction description [ ]
Fantasmic! transpires on the waters of the Rivers of America at Disneyland and on a stage across the waterway on Tom Sawyer Island .
The show begins with a faint musical note that swells into a lush fanfare, revealing Mickey Mouse onstage. Two light towers come out from the ground where Mickey is transported into his dream. He dances and orchestrates various water fountain, pyrotechnic, projection, laser and lighting effects to the show's theme. Mist screens rise from the water, acting as projection surfaces for the animated "Sorcerer's Apprentice" sequence from Fantasia. The scene's falling stars bloom into flowers, and Mickey appears on the mist screens, standing in front of the sunset from The Lion King. The show then transitions into a jungle scene from The Jungle Book, featuring a 100-foot-long (30 m) puppet of Kaa and three floating barges carrying King Louie and black-lit monkeys (that are also seen in the Tokyo version) across the river stage. The song transitions into "Hakuna Matata". The music then segues into a dubstep rendition of "Pink Elephants on Parade" from Dumbo, as animated pink elephants appear onscreen and in the form of performers on the island. The scene then transitions to "Friend Like Me" from Aladdin. Sorcerer Mickey watches the Genie perform tricks. Then they go under the sea as they head into the world of The Little Mermaid and Finding Nemo. A bubble floats by and Jiminy Cricket appears onscreen, searching underwater for Pinocchio. An animated Monstro appears suddenly, accompanied by a heavy musical score as he crashes through water. The sea morphs into the "Sorcerer's Apprentice" flood scene. As Mickey looks around in the dark and asks "What's going on?", a ship caught in a storm appears. Captain Barbossa then appears on the mist screens.
The Sailing Ship Columbia portrays the Black Pearl .
A cannon is fired from Sailing Ship Columbia, portraying the Black Pearl from the Pirates of the Caribbean films . Jack Sparrow , Elizabeth Swann , and other pirates participate in a stunt sequence. The scene ends with fountains that look like explosions and a cannon fired from the Sailing Ship Columbia. As the scene concludes, Mickey paints the moon, with silhouettes of Peter Pan and the Darlings flying over it. Mickey's sorcerer hat is painted on the mist screen and the hat turns to clouds as Aladdin and Jasmine are on a physical magic carpet flying through the clouds while a rendition of "A Whole New World" plays. Then the carpet fades away and three small barges arrive carrying Belle and the Beast, Ariel and Prince Eric, and Rapunzel and Flynn Rider, with the accompanying signature melody from each film—"Beauty and the Beast," "Part of Your World," and "I See the Light".
Mickey Mouse faces off against Maleficent in her dragon form in the previous version of the show. The music takes on an ominous tone as Mickey's dream takes a turn for the worse. The magic mirror appears onscreen in animated form. The mirror tempts Mickey to enter the darker realms of his imagination, "where powers far greater than yours may awaken". When asked if he has the courage, Mickey accepts the challenge, and the mirror traps Mickey inside its dark depths. The Evil Queen, disguised as the old hag, calls all the villains to partake in Mickey's nightmare, invoking a riled Ursula (from The Little Mermaid), who ecstatically joins the Queen's plot to destroy Mickey. Ursula calls upon Chernabog (from Fantasia), who summons deceased spirits. He then summons Maleficent (from Sleeping Beauty), who threatens Sorcerer Mickey as she transforms herself into an enormous dragon. Onstage, the 45-foot dragon sets the waters ablaze, breathing fire onto the river. Mickey faces the dragon, claiming that he is in control of his imagination, and defeats the dragon, destroying the villains in the process.
Tinker Bell then appears. Magical stars sparkle on the island as the Mark Twain Riverboat approaches. Pyrotechnics ignite from the Mark Twain as all of Tom Sawyer's Island is lit up in rainbow colors, revealing black and white Mickey in Steamboat Willie attire. The Mark Twain glides past the audience carrying several dozen Disney characters, and a celebratory atmosphere prevails. With another flash, Mickey appears atop the highest point of the tavern as the Sorcerer's Apprentice and he conducts a final series of water, fireworks, laser and light orchestrations. Mickey disappears and reappears onstage in his tuxedo from the beginning of the show, bidding the audience farewell before disappearing once again in a bright blast of fireworks.
Appearances [ ]
Individuals [ ].
Hector Barbossa
Jack Sparrow
Elizabeth Swann
Talking Skull
Objects [ ]
Jack Sparrow's compass
Jolly Roger (flag)
Wanted poster
Black Pearl / Columbia
External links [ ]
Fantasmic! at Disney Wiki

1 Jack Sparrow
2 Edward Teague
3 Davy Jones
Fantasmic! Will Return to Disney World Later This Year with New Scene
by Timothy Moore | May 5, 2022 | Disney's Hollywood Studios , WDW Blog , WDW News
Wondering when Fantasmic! will return to Disney World? Scroll on to learn more about the return of this classic Hollywood Studios show — and what new things will be in store when Fantasmic! comes back.
The iconic Hollywood Studios show Fantasmic! has not delighted guests since the temporary closure due to the COVID-19 pandemic in 2020 . Slowly but surely, Disney World has been resurrecting discontinued shows and experiences, but Fantasmic! remains one of the last experiences still yet to be revived .
While Disney hasn't announced a hard date, we do know that Fantasmic! will return to Disney World later this year — and when it does, it'll have a brand-new scene.
Fantasmic! – Returning 2022
Fantasmic! is an epic entertainment extravaganza in Disney's Hollywood Studios that is equal parts show and fireworks display . The experience includes more than 50 live performers, inspirational music, stunning pyrotechnics, and massive sets — all set over a canvas of water and light.
Fantasmic! will return to Disney World in 2022. Photo by Cliff Wang
Fantasmic! is a great place to see your favorite Disney Villains, including Maleficent in her 40-foot dragon form . You'll also see characters from beloved Disney animated movies like  Beauty and the Beast ,  Aladdin ,  The Little Mermaid ,  Snow White and the Seven Dwarfs ,  The Lion King , and  Sleeping Beauty .
The Evil Queen is one of many Disney Villains in Fantasmic! at Disney World. Photo by Cliff Wang
Maleficent appears in dragon form. Photo by Brett Svenson
And of course, this is the iconic place where you can experience Sorcerer Mickey , controlling water, color, and magic.
Check My Disney Experience for showtimes (Fantasmic! doesn't run every night), and be sure to get to the amphitheater as early as 90 minutes before the show to get a good seat.
The show is outdoors, so if there is inclement weather, it may be canceled, or showtimes may change .
Sorcerer Mickey will return to Disney World with Fantasmic! later this year. Photo by Cliff Wang
Wondering where to find Fantasmic at Disney World? Check out the Hollywood Studios map before your park day. The amphitheater sits behind the Tower of Terror attraction at the front of the park. (Hang a right d
own Sunset Boulevard after entering the park and keep to the right.)
Updates to Fantasmic! in 2022
Fantasmic! returns as part of the 50th Anniversary Celebration. Photo courtesy of Disney
The Fantasmic! stage has been dark for two years, so when Disney brings it back to life, it will do so with a whole new dose of magic. Disney has promised a new show sequence that includes some newer Disney characters: Mulan, Elsa, Aladdin, Pocahontas, and Moana, all in the heroic moments of their own journeys.
Disney has also promised new technical enhancements.
Thanks to Disney for hosting us on a 2-night The Celebration Continues: Even More Magic Media Event where we got to conduct interviews, learn about exciting updates made for Walt Disney World's 50th anniversary, stay at Gran Destino Tower, and experience new entertainment offerings. #SaveTheGalaxyTime #CosmicRewind #DisneyWorld50
Today in Disney History, 1992: Fantasmic Premieres
Mickey's Magical Friendship Faire: Showtimes, Location, and Viewing Tips
Disney Adventure Friends Cavalcade: How to See Magic Kingdom's Newest Parade
All things Disney, delivered weekly to your inbox.
Latest Posts
New Fall Cocktails and Food Available in Disney Springs
First look at new mural coming to tiana's bayou adventure, walt disney world ticket prices 2024, disney world incredi-pass: blockout dates, price, and perks, disney world sorcerer pass: blockout dates, price, and perks, disney world pirate pass: blockout dates, price, and perks, posts by timothy moore.
Authored by Timothy Moore
Explore our print subscriptions, dlr fan starter pack, gift subscription – dlr magazine annual print subscription, dlr magazine annual print subscription, gift subscription – wdw magazine annual print subscription, wdw magazine annual print subscription.
WDW Magazine 3-Month Print Subscription
WDW Magazine Monthly Print Subscription
Our WDW Magazine Wall Calendar is Off the Press - Order Today! Dismiss
When Dreams Come to Life
As darkness falls, dazzling special effects transform the Rivers of America into an epic canvas for this extravagant live show.
Fast asleep, Mickey dreams he is the Sorcerer's Apprentice. With a wave of his hands, he conducts scenes from Fantasia across enormous screens of water while brilliant sparks burst overhead. Pink elephants, swashbuckling pirates, princesses and more—including memorable scenes from Disney classics such as Aladdin, The Lion King, Tangled and Pirates of the Caribbean —appear on and around the Rivers of America.
When Mickey is suddenly pulled into the Magic Mirror, his dream takes a dark turn. The Evil Queen from Snow White conjures up some of Disney's most dastardly villains! Mickey must use the power of his imagination to vanquish his foes—and save the day.
Featuring a fantastical array of live performers, beloved Disney characters, enhanced special effects, state-of-the-art projections and superb pyrotechnics, this show will wow the entire family.
Know Before You Go
Fantasmic! may not occur daily and showtimes are subject to change. Please check our Entertainment Schedule or the Disneyland app for dates and showtimes.
Theme park reservations and valid admission for the same park on the same day are required for park entry. Park reservations are limited, subject to availability and not guaranteed. View important information to know before your visit .
Entertainment, experiences and offerings may be modified, limited in availability or unavailable, and are subject to restrictions, change or cancellation without notice. Park admission and offerings are not guaranteed.
Disneyland App
Related Activities
Meet up with mickey mouse and minnie mouse, fantasmic on-the-go package, fantasmic dining packages, frontierland, fireworks at disneyland park, world of color, safety, accessibility and guest policies, times for fantasmic.
Remember this site
Embed dictionaries into your website
Academic Dictionaries and Encyclopedias
Wikimedia Foundation . 2010 .
Porky's Badtime Story
List of best-selling music artists
Share the article and excerpts
Direct link.
Disney Magic Kingdoms Wiki
✨ The Black Cauldron Event Update has arrived! ✨ Visit this page to learn all about what's coming up in Disney Magic Kingdoms!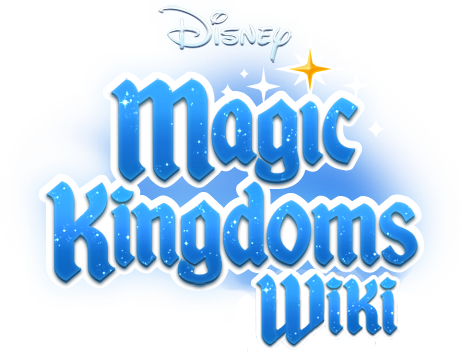 Fantasmic! is an attraction released with Winnie the Pooh Event Update on 7th March 2018.
Fantasmic!  is a highly acclaimed nighttime spectacular performed in Disneyland, Disney's Hollywood Studios, and Tokyo DisneySea (the design of the third being the inspiration for its appearance here). The show takes place inside the dreams of Mickey Mouse, who uses his vivid and powerful imagination to create magical imagery and to battle the Disney Villains that invade to turn his dream into a "nightmare phantasmic".
The show makes use of a wide range of special effects, including pyrotechnics, animatronics, boats, lasers, and mist-screen projections, culminating in a climactic battle between Sorcerer Mickey and Maleficent as a dragon.

Interactions [ ]
Gallery [ ]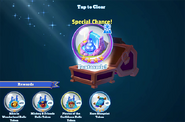 1 The Black Cauldron Event 2023
3 Content Updates
Review: Walt Disney's World re-imagined 'Fantastmic!' is simply spectacular
"Fantasmic!" is back at Walt Disney World, and super-fans, fear not, for you will be very happy with these new changes and updates. The classic storyline holds strong, the music is just as iconic, the new lighting and projections enhance the story, and the updated scenes were done just right. Walt Disney World just solidified this classic, fan-favorite show for many years to come, and I couldn't be happier.
"Fantasmic!" has been closed at Disney's Hollywood Studios since March of 2020. Closing in on three years later, the show has returned stronger than ever. I expect that major Disney fans, and first time viewers, will both be really satisfied with this new version of the show. Warning, spoilers for this new show lie ahead. Head to our Instagram page to see a line-up of clips from the show.
New heroes scene
New Disney heroes showcase their skills in the replacement for the longer "Pocahontas" fight scene. But fear not, Pocahontas still has a highlight scene to start it all. Aladdin swings overhead. Moana jumps into the water. Elsa controls the elements. And Mulan begins her training. Each hero is highlighted with a signature song from their film. And the use of the upgraded lighting and new lasers amplifies these scenes even more.
Upgraded projections, lasers and lighting
One very noticeable change was the upgrade to the lighting and projection effects, and the addition of numerous lasers. These new, vibrant spotlights, combined with the fog and mist from the water projectors, set the mood of a scene very quickly. And finally, the water projection screens have been upgraded and now offer a near crystal-clear video of the projections. Special lighting effects are done for each scene, but the Elsa and "Pocahontas" scenes stood out most. They excellently used these new effects to their fullest and brought the action closer to the guests. The entire "Fantasmic!" mountain shimmers and illuminates with each scene.
Classic storyline and music
Many people were worried a new show could mean a loss of the classic storyline and music. But don't be scared, for this show generally runs the same way as it did before the reimagining. The iconic music still blasts in the stadium, and the grand finale is the same as you have seen before, but with new lighting effects. I think this will keep most fans quite happy, as many parts of the show were loved, but just needed some updating.
Tips for attending
As you may know, "Fantasmic!" is a massive show, with a outdoor stadium holding close to 10,000 people. If you have not been before, or not for many years, be prepared; this show will be packed for many months to come. It is usually recommend you head towards the show about an hour before it begins (the theater opens 90 minutes ahead of time.) Remember, guests sitting in the first few rows may get wet during the performance.
Once inside the stadium, there are places to buy snacks, drinks and merchandise. And, you won't want to miss the famous crowd wave . You can also get a reserved seating area by purchasing a dining package . They are available to reserve now for dates starting Nov. 30, 2022. You can book in the MyDisneyExperience app or at DisneyWorld.com .
"Fantasmic!" Facts
"Fantasmic!" originally opened at Disney's Hollywood Studios on Oct. 15, 1998.
The show features animation and characters from more than 25 films.
The moat surrounding the "Fantasmic!" island stage contains 1.9 million gallons of water.
Maleficent, in dragon form, stands 40-feet tall.
In addition to Maleficent, 10 other villains appear in the show.
Mickey Mouse and 35 other characters appear on a steamboat inspired by the one seen in "Steamboat Willie."
Located off Sunset Boulevard, the Hollywood Hills Amphitheater seats 6,900 guests with additional standing room for about 3,000 guests.
Steamboat Willie, and this huge cast of characters, are ready to welcome you back for dreams and imagination. This show officially returns Nov. 3, 2022 and is expected to offer at least two shows a night for the foreseeable future.
Leave a Reply Cancel reply
Your email address will not be published. Required fields are marked *
Get the latest news direct to your inbox. Simply submit your email address below.
Thanks, but I'm not interested
Tagged Posts
24 Votes in Poll
During the dragon explosion during that fantasmic how the heck did Mickey survive the fire
So, I didn't really know about this until just now. But, as the title says, Disney World's Fantasmic had came back after almost three years. It originally closed in 2020 (along with Disney world as a whole.), and since WDW reopened, there was no Fantasmic in sight. But, in those three years of its absence, the creators were planning something, that being AN UPDATE! And I will talk about it's update!
How much I love Fantasmic.
This isn't related to the show's update, but it will kind of make sense.
So for those who don't know what the heck Fantasmic even is, then I must say one thing: go and read it's page on this wiki. It's incredibly detailed and it will help you out! (Maybe?)
One Disney World vacation (More specifically, March 2019.) I was at Hollywood studios. And I was like, "What's that sign of Mickey defeating that dragon? And why is it sponsored by Pop Secret?" And I decided to go watch that show. One hour later, I was like, "That✨was✨AMAZING!" And right after that day, I fell in love with that show. Sadly tho, the last ever time I watched the show live was in October of 2019. (Hey, that was the same time I discovered what fandom was! Cool fact!) I really loved this show because of the whole concept of "imagination" I really seemed to liked it. (Similarly, there's an anime I like relating to imagination! I referenced it before on this wiki! If you are able to find out what it is, then good job to you!)
But now, the show came back better than ever, and I watched it in my room! So enjoy this little review/commentary!
The commentary/review:
Here's the link to the updated version of the show: https://m.youtube.com/watch?v=Hp1VoUmVgP4
And here's the link to the original version: https://m.youtube.com/watch?v=9iTbz2R2oCo
So not much has changed (like about 1/4th of it). The only thing they changed was what used to be the Pocahontas section, and replaced it with something entirely new, so I'll just focus on that.
Before we get to the section, we see Mickey in the dark, asking help from someone. Now, this is where we would've gotten Monstro from Pinocchio, but instead, we actually see Pocahontas herself instead! She sings her iconic song, and then we get a small montage that includes Tiana from The Princess and The Frog, Tarzan from well…Tarzan, Mirabel Madrigal from Encanto (Encanto representation! YAY!), Quasimodo from The Hunchback of Notre Dame, and Hercules from Hercules! And the best part is? None of these characters appear as live characters! Yep, they only appear on water projections! Yeah…this part is probably the weakest part of the update sadly. This was a missed opportunity to include these characters in as actual actors on stage. (And yes, I know that the creators had a budget, but really Disney? Really?) Oh, I should also mention that Mulan also appears on the water projections AND as a live actress! So we get a little Mulan segment, and it's pretty cool if I do say so myself! Next is a Aladdin section, which is fine I guess? The actor playing Aladdin swings on a rope from one side of the stage to the other (which is what John Smith did in the original version of the show). Next we get a (excitingly) Frozen section! Yippee!!!!!!!!!!!!! Yeah, I've never understood the hype for Frozen, but to everyone's surprise, this is my favorite part of the update! Why? Well, you should watch it to see for yourself, because it was really amazing honestly. Next there's a Moana section, with Moana herself singing her iconic song. The cool part is, is that the actress goes into some shallow water! I mean, I think that's cool! But sadly, we get to see all of those aforementioned characters who never appeared on stage as live actors for one last time, and that's how the updated section ends. The rest of the show is entirely identical to the original.
In conclusion…:
I thought that the updated show was actually better than the original version! Mainly because it fills in a long section from the original (the Pocahontas one). And plus, it's got a little more imagination and magic with it!
15 Votes in Poll
The one I'm talking about is the Hollywood Studios version/the original California version.
So in the end, Sorcerer Mickey appears on the mountain. Then, he disappears and pops up on the ground in his tuxedo, says his closing line and disappears again. For those of you who didn't know, Mickey gets there with the help of hydraulic lifts while under the cover of pyrotechnics. So if the lifts malfunction, there's a Plan B prepared. If the lift on the mountain malfunctions, there's more of the water wall and lights display until Tuxedo Mickey shows up. If the lift on the ground malfunctions, Sorcerer Mickey will finish off the show and say the closing line. But my question is: What happens if both lifts happen to malfunction at the same time?
When will Disney's Hollywood Studios Fantasmic & Typhoon Lagoon Reopen? Bcause I heard Disney's Hollywood Studios Fantasmic would return on September 5th but I don't know that it's true, Also when will Typhoon Lagoon reopen?

It's been 23 years from now and Walt Disney World's Fantasmic! has not been updated recently like the Disneyland version. And that probably won't happen after it reopens at Disney's Hollywood Studios. But it probably will when it's about to turn 25 in 2023 to coincide with the 100th anniversary of Walt Disney Animation Studios.
But if they were to update it like they did at Disneyland, they could replicate some of the elements from it like the flow of the fountain nozzles, and the scenes from that version, as well as add Disney TV shows like TaleSpin , DuckTales , etc.
This version will have the stage remodeled similar to the attraction from the Disney app, Disney Magic Kingdom in which it will have the hat tower similar to that of the Tokyo version and waterfalls which show animation projections behind it.
The lights turn out as a female narrator welcomes everybody to the show. A small note is heard then Soon, Mickey, in his traditional tuxedo, appears onstage getting ready to discover colorful fountains and toy with them which causes him to laugh. He moves to the second floor of the stage and shoots pyrotechnics from his index fingers. He then makes a comet and proceeds to his famous Sorcerer's Apprentice scene where he continues conducting stars and shooting ones. Then a projection of him appears on top of the mountain and he brings several brooms carrying buckets and splashing the entire place.
Stars then morph into beautiful flowers and plants from Alice in Wonderland as Alice falls down to the music of "All in the Golden Afternoon". The mist screens depict Judy Hopps and Nick Wilde getting ready for a mission as "Try Everything" plays, and Sorcerer Mickey in his CGI form follows the duo which takes him to a bright colorful jungle where animals move around on the stage; and Rafiki and the neon monkeys (originally seen in the Tokyo version and currently used in the California version) dance on the barges while Baloo and Louie fly on the seaduck pulling Kit Cloudkicker air surfing gliding past them behind, to a catchy remix of "I Just Can't Wait to Be King" and the TaleSpin theme song. on the barges. A project mapping of Simba, Timon, and Pumbaa walking to "Hakuna Matata" appears on the mountain. The projections then show "The Circle of Life".
When Rafiki is about to raise a new baby cub, Stitch pops up instead performing "Hawaiian Roller Coaster Ride" on his guitar while Moana appears singing "How Far I'll Go" sailing on her raft through the waves. The two characters perform a mashup together. Then the waves transition to Mickey swimming through underwater worlds of The Little Mermaid and Finding Nemo and Dory followed by Jiminy Cricket who is on his way to find Pinocchio. A moment later, Monstro swims by which causes a whirlpool to suck Mickey in.
For a short while, Mickey notices everything is dark and asks himself "Hey! What's goin' on?" A magical explosions transitions to a scene from Frozen II where Anna, Kristoff, and the Arendelle citizens stop Elsa from fooling around but getting rid of the fires. After the sisters' conversation, Mist screens show Elsa starts singing "Into the Unknown" and "Show Yourself" while transforming into a spirit and then depict the ending where the sisters reunite. Meanwhile, Olaf notices a magic lamp and rubs it to make the Genie (Will Smith) come out from it. He encounters Mickey in his sorcerer outfit joined by Scrooge McDuck, Huey, Dewey, Louie, and Launchpad McQuack. The Genie starts singing his hip-hop remix "Friend Like Me" from the 2019 version of Aladdin with a slight mashup of the defunct Tokyo DisneySea version. As he does it, he shapeshifts into Donald and Goofy and showcases special scenes such as:
The White Rabbit
Dancing ladies
Peter Pan and his friends flying by
Next, Launchpad picks up Mickey, Scrooge, and his nephews on his plane and it flies across the horizon transitioning into a princess-related segment where they see Aladdin and Jasmine fly on their Carpet performing "A Whole New World". Three gondolas instead of barges carry Belle and the Beast, Tiana, and Rapunzel and Flynn doing "Beauty and the Beast", "Down in New Orleans", and "I See the Light" respectively.
Mickey then encounters the Magic Mirror who brainwashes him to come closer and traps him inside his lair including the following Disney villains such as The Queen from Snow White who turns into an old witch , Ursula, Cruella De Vil, Scar, Shere Khan (in his TaleSpin form), Captain Hook, The Big Bad Wolf, Mother Gothel, Hades, Jafar, and Maleficent brings him to the voodoo room where Dr. Facilier sings "Friends on the Other Side" who persuades Mickey to choose a certain card that would probably save his dream, but it unfortunately reveals The Queen of Hearts and her card minions who chase Mickey through the labyrinth. Near the end of the maze, the cards flips and depict Flintheart Glomgold, the Beagle Boys, Magica De Spell, Mark Beaks, Fat Cat, Don Karnage, Dr. Drakken, and Shego cackling and sending him to Chernabog who shows many evil spirits. After a moment, Mickey manages to escape from the mirror. Soon after, Mickey sees Pete rising up, who says "Now you will deal with me!" and Pete, appearing on the balcony, hollers "And all the powers of our imaginations!". Pete transforms into a furious gargantuan. Mickey, still in his Sorcerer outfit confronts the two and uses his magic and controls to defeat them as well as the others in reverse order quickly.
Tinker Bell in her CGI form flies around to restore everything being followed by a cast of characters on a huge boat resembling Little Toot filled with Disney and Pixar, characters, including Mickey in his Steamboat Willie form. Near the end of the boat segment, Mickey can be seen exiting the boat downstairs. After all the other characters have disappeared, Mickey in his Sorcerer variant on the peak of the mountain conducts fireworks and fountains. Once it is done, he makes his signature hat with fountains with a projection of the moon and stars on it and signs off by saying "Haha! So long, everybody! See ya real soon!" He disappears in a zap and a few fireworks shoot up concluding the show.
Characters appearing in the finale:
The boat, like the engine from Mickey's Storybook Express is a lot colorful and receives a makeover resembling Little Toot. Mickey as Steamboat Willie pilots the boat at the helm. Here is a list of the other characters who have specific locations.
Bottom front: Belle, Beast, Aladdin, Jasmine, Tiana, Rapunzel
Row 1: Stitch, Pluto (as a quadsuit), Minnie Mouse, Donald Duck (in his classic DuckTales outfit), Goofy (in his Goof Troop outfit), Chip and Dale (Rescue Rangers), Scrooge McDuck, Launchpad McQuack, Baloo ( TaleSpin ), King Louie ( TaleSpin ), and Timon
Bottom back: Huey, Dewey, and Louie
Top front: Kristoff, Anna, Elsa, and Moana
Row 2: Peter Pan, Wendy, Merida, Snow White, Cinderella, Aurora, Alice, The Mad Hatter, The White Rabbit, Genie/Mariner, Pinocchio, and Jiminy Cricket
Stairs (from bottom to top, front to back): Rafiki and Ariel
Top back: Bo Peep, Woody, Jessie, and Buzz Lightyear
Oswald, Ortensia, Clarabelle Cow, Horace Horsecollar, Max Goof, Clarice, Ludwig von Drake, Webby, Rebecca Cunningham, Roger Rabbit, Mary Poppins, Mr. Incredible, Elastigirl, Dash Parr, Violet Parr, and Elena sometimes appear.
Voice cast:
Bret Iwan as Mickey Mouse
Hynden Walch as Alice
Chris Sanders as Stitch
Auli'i Cravalho as Moana
Eddie Carroll as Jiminy Cricket
Olivia Holt as Anna
Phillipa Soo as Elsa
Troy Baker as Kristoff
Josh Peck as Olaf
Will Smith as the Genie
John Kassir as Scrooge McDuck
Cristina Vee as Huey, Dewey, and Louie
Terry McGovern as Launchpad McQuack
Corey Burton as the Magic Mirror, Captain Hook, and Shere Khan
Louise Chamis as the Witch
Pat Carroll as Ursula
Chiwetel Ejiofor as Scar
Jim Cummings as the Big Bad Wolf and Pete
Marwan Kenzari as Jafar
James Woods as Hades
Keith David as Dr. Facilier
Tress MacNeille as The Queen of Hearts
Susan Blakeslee as Cruella De Vil and Maleficent
Films and TV shows represented:
The Lion King (2019 version)
Lilo and Stitch
The Little Mermaid
Finding Nemo and Dory
Aladdin (2019 version)
Beauty and the Beast (2017 version)
The Princess and the Frog
Chip 'n Dale Rescue Rangers
Kim Possible
37 Votes in Poll

Once again it comes to this moment. You could say this whole poll series was a rollercoaster. But really it was kind of stressful. Maybe because it's just me being paranoid. But sometimes the polls' results are just straight up fishy, And I should post rules for my future polls to avoid this problem. And I think it was more changeful than my last poll. Also here to see all the rounds and branches of the series.
https://disney.fandom.com/wiki/User_blog:Geek_from_Hell/Geek%27s_From_Hell%27s_List_of_Polls
And the winner of the Best's Disney Attraction, according to the Disney Wiki, is the attraction when hinges creak in doorless chambers, and strange and frightening sounds echo through the halls. Whenever candlelights flicker where the air is deathly still — that is the time when ghosts are present, practicing their terror with ghoulish delight! You foolish mortal had chosen the Haunted Mansion !
This series was harder to predict. I suspect it is going to be one of the classics. I was between The Pirates of the Caribbean or Peter Pan's Flight and the Haunted Mansion.
Other Honorable Winners :
Spaceship Earth (Branch 1| Epcot)
Expedition Everest (Branch 2| Animal Kingdom)
The Twilight Zone: Tower of Terror (Branch 3| DCA & Disney's Studios)
Nemo & Friends SeaRider (Branch 4| Tokyo OverSea)
Fantasmic (Branch 6| Frointerland)
The Pirates of the Caribbean (Branch 7| Adventureland)
Star Wars: Rise of the Resistance (Branch 8| Tomorrowland & Galaxy's Edge)
Seven Dwarfs Mine Train (Branch 9| Fanastayland, USA)
Enchanted Tale of Beauty & The Beast (Branch 10| Foreign Fantasyland)
Roger Rabbit's Car Toon Spin (Branch 11| Toontown & Toy Story Land)
Honorable Mention
Tree of Life
Minnie & Mickey's Runaway Railway
The Little Mermaid: Ariel's Undersea Adventure
Journey Center of the Earth
The Magic Lamp Theater
Walt Disney's Railroad
Space Mountain
Cinderella's Castle
Peter Pan's Flight
Enchanted Storybook Castle
Mickey's House
34 Votes in Poll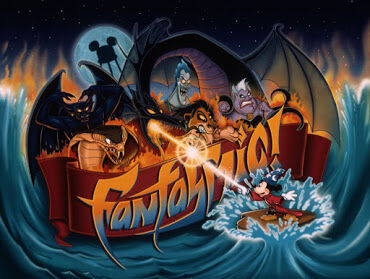 31 Votes in Poll
Sorcerer Mickey and maybe his friends will celebrate the dream of his imagination, but suddenly they notice the Disney Villains have returned to bring back a curse to this land are Maleficent, Jafar, Ursula and more, see if you can work on with the CGI animation or cartoon/live action visual effects like same thing as the spectacular nighttime show such as Fantasia and Sleeping Beauty !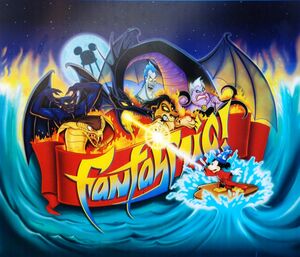 It's their Nightmare and this is our Dream!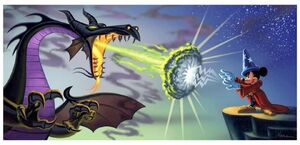 The Spell is casted, the Magic is real and a kiss (awaken the sleeping princess) it will change everything.
So, I could combine the 4 different Versions of Fantasmic into the one Ultimate Mix.
The first scene with Mickey Mouse with his Sorcerer's Apprentice Montage, then the combination of the 1967's The Jungle Book and the 1994's The Lion King scene, then "The Pink Elephants on Parade" scene from 1941's Dumbo, then The Genie from 1992's Aladdin, when He sings "Friend like Me" scene, then Stitch and Angel from 2002's Lilo & Stitch Scene, then Pinocchio's Puppet Show Scene and Monstro Scene from 1940's Pinocchio, then the combination of the 1953's Peter Pan and the 2003's Pirates Of The Caribbean: The Curse Of The Black Pearl scene, The 10 Disney Princesses Scenes with "A Whole New World" from 1992's Aladdin, "Beauty and The Beast" from 1991's Beauty and The Beast, "Part Of Your World" from 1989's The Little Mermaid, "I See The Light" from 2010's Tangled, "Almost There" from 2009's The Princess and The Frog, "Reflection" from 1998's Mulan, "Colors of the Wind" from 1995's Pocahontas, "Someday My Prince Will Come" from 1937's Snow White and The Seven Dwarfs, "This Is Love" from 1950's Cinderella and "Once Upon A Dream" from 1959's Sleeping Beauty, Then the Villains Scene with The Evil Queen Grimhilde from 1937's Snow White and The Seven Dwarfs, Ursula from 1989's The Little Mermaid, Mother Gothel from 2010's Tangled, Cruella De Vil from 1961's 101 Dalmatians, Yzma from 2000's The Emperor's New Groove, Dr. Facilier from 2009's The Princess and The Frog, Jafar from 1992's Aladdin, Hades from 1997's Hercules, Chernabog from the Night on Bald Mountain, and Maleficent from 1959's Sleeping Beauty, and Finally the Mark Twain Riverboat Finale.
Since Disneyland has recently launched a newly enhanced version of Fantasmic! (which I did see recently, and it was a great enhancement although I miss the original 1992 version), I do got a feeling that Disney World's version at Hollywood Studios will also get its own enhancement too. They haven't thought of it yet, but I bet they will by the next decade.
I'm already imagining the similar enhance changes to the familiar sequences, as well as new sequences in place of some older ones. Like the songs  Be Our Guest , Part of Your World , and Under the Sea playing huge parts in place of the bubble montage.
I haven't thought of a new sequence that would be in place of Pocahontas, but maybe one where Mickey would enter into the world of Frozen with the song Let It Go . But you guys may not like that idea since most Disney fans are getting tired of Frozen being frequently used in the parks and merchandising today, but feel free to reply on a better idea of either adding a new scene for Pocahontas' replacement, or just enhance the sequence instead.
And they might do some changes to the villains, like I was mostly thinking of both Captain Hook and Dr. Facilier , in place of Claude Frollo and Hades .
That's all I can imagine for now, and I'm expecting this to happen if they think about it.
There are some Comparisons and Differences between Fantasmic in Disneyland, Anaheim, California from 1992 and Fantasmic in Walt Disney World Resort In Florida from 1998.
The One in California has got The Jungle Book Sequence, Pink Elephants On Parade Sequence, Pinocchio's Puppet Show Sequence, Live-Action Re-Enactment of Disney's 1953 Version of Peter Pan Sequence, Disney Villains like Captain James Hook, The Evil Queen Grimhilde, Ursula, Chernabog and Maleficent.
The One in Florida has got The Lion King Sequence, Bubbles Clips of The Disney Animated Canon Movies Sequence, Live-Action Re-Enactment of Disney's 1995 Version of Pocahontas Sequence, Disney Villains like Governor John Ratcliffe, The Evil Queen Grimhilde, Ursula, Cruella De Vil, Scar, Judge Claude Frollo, Jafar, Hades, Chernabog and Maleficent.
As for me, I prefer The Disneyland, Anaheim, California Version, Because it is the Original and it is the Best.
TheFreeDictionary
Word / Article
Starts with
Free toolbar & extensions
Word of the Day
Free content
phan•tasm
disembodied spirit
Flying Dutchman
flying saucer
unidentified flying object
Fanning mill
Fanny Adams
Fanny Wright
Fanon Frantz
fantabulous
fantail goldfish
fantastical
fantasticality
fantastically
Fantastic-alness
fantasticate
fantastication
fantasticism
Fantasticly
Fantasticness
fantasy life
fantasy prefix
fantasy suffix
fantasy world
fantasyland
Fantin-Latour
fantasising
fantasizing
fantasmally
fantasmically
Fantastic 4
Fantastic 4 Cracking Group
Fantastic Adventures In Trusting Him
Fantastic architecture
Fantastic Beasts
Fantastic Fantasy Football League
Fantastic fiction
Fantastic Film Festival
Fantastic Flying Fish Dance Company
Fantastic Four
Fantastic Four (game)
Fantastic Hair Company
Fantastic literature
Fantastic Locations Hellspike Prison
Fantastic Mr. Fox
Fantastic Network Solutions
Fantastic Plastic Elastic
Fantastic Plastic Machine
Fantastic Plastic Machine Best
Facebook Share
A Legendary Tale
A night when dreams come true.
The fantastic fantasy includes Disney Characters from some of your favorite animated films:
Beauty and the Beast
The Little Mermaid
The Lion King
Know Before You Go
For showtimes, please check our Entertainment Schedule or the My Disney Experience app .
The amphitheater curves around the lagoon, so wherever you're seated, you're perfectly situated to experience the action. Guests sitting in the first couple of rows may get wet during the performance.
Please have your entire party together before entering the amphitheater. You may arrive as early as 90 minutes prior to each show. Be sure to arrive early to get a seat!
Since this is an outdoor show, it is also subject to cancellation due to inclement weather. Showtimes are subject to change.
Related Activities
Mickey and minnie's runaway railway, wonderful world of animation, fantasmic dining package, add to my plans, safety, accessibility and guest policies, times for fantasmic.