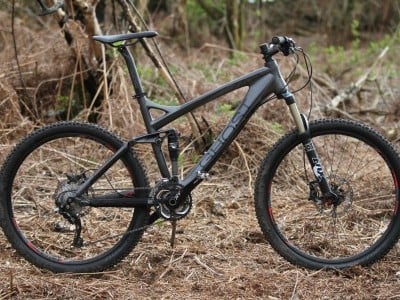 Ghost Bikes AMR Lector 7700 2012
Reviews / Trail Bikes
At a glance
Ghost are a German company so it is fair to say that I was expecting a well thought out bike that put function over form. I was genuinely surprised as I pulled the AMR Lector from the box, what a looker, I have always been a sucker for understated colour schemes and this two-tone grey and black added stealth to what is a beautiful looking bike.

The purposeful stance and impression of strength had me checking to ensure this was the 120mm travel bike I had been expecting, it was, this only served to increase my excitement as I like a bike that can tough it out when asked to do so.
The AMR Lector 7700 is the lowest spec'd incarnation of this carbon front-ended model, but the detail regarding the frame stays the same throughout.
Frame features include a tapered head tube, which is the starting point for a huge down tube that is married to the top tube via a massive hunk of carbon that ensures the front end is super stiff. The top tube then slopes off to join the seat tube quite low down to give good standover with a brace to ensure strength. The down tube bows slightly on its way to the bottom bracket area where a Press Fit bottom bracket is utilised, the shock mount is located at the junction of the down tube and seat tube. The entire carbon front end is oversized giving the AMR a strong, stiff front end.
Out back things are made of aluminium, the seat stays drop from the linkage plate to the QR rear axle, but there are no replaceable drop outs, a surprising oversight on such a well thought out frame. The chain stays are a deep bladed affair that promise stiffness and direct power transmission as they run back to the Horst Link.
Cable routing is under the down tube, this looks neat but does expose them to possible damage from rock strikes.
Torx head caps protect all the pivot point bearings including the needle bearings used to mount the Fox RP23. The RP23 is at the heart of a Horst link suspension system that is well proven and highly regarded, Ghost claim to have placed the pivot points with a view to reducing pedal bob, the RP23 comes with a large air can which when matched to the AMRs 2.1 leverage ratio should ensure a supple rear end while the pivot placement takes care of squat.
Up front a Fox 32F FIT RL with 15mm thru axle offers rebound and lock out, the lock out lever is progressive so it can be used to adjust compression.
Shimano XT 3 x 10 is used for all the drivetrain duties and the brakes are also XT with 180mm rotors both front and back. XT hubs are also used and are laced to Alex FD rims, these are shod with Schwalbe Nobby Nics 2.25s.
Ghost's own brand 90mm alloy stem grips a good looking Ghost 680mm medium rise carbon bar, Ghost lock on grips round out steering duties, a carbon Ghost 34.9 seat pin is topped off with a Ghost saddle.
Ghost AMR Lector 7700 19'' 48cm
Seat tube 480mm Effective top tube 595mm Head tube 135mm Chain stay 435mm Front triangle 680mm Wheel base 1115mm BB height 335mm Head angle 69° Seat angle 73°
Weight w/out pedals 26.4lbs
On the trail
I wasted no time in getting the bike in the back of the van and heading for some of my favourite trails.
First impressions I liked the grips but not the bars, a little too much sweep for me. But that's a subjective thing and some riders may appreciate it. However, as I rode I soon became accustomed to them.
For general riding I ended up running the bike with correct sag and made use of the Propedal depending on terrain and trail type.
Climbing there is good traction at the rear wheel and the reasonably long stem kept the front end under control, I would say it climbed steadily rather than encouraging any balls out race to the top and on long climbs in the saddle flicking on the Propedal helped stop the AMR from sitting down into its travel.
On those wonderful bits of flowing trail that undulate along the hillside the Ghost was fast and comfortable with the supple suspension taking care of business with the minimum of fuss, smoothing out the trail beautifully. Through rough ground the stiff front end meant that once I had chosen a line I could stick to it as it tracked accurately without being bumped off line, the rear followed without being kicked out as the supple back end just soaked up the abuse.
Once heading downhill the frames stiffness matched to the suspensions subtlety came together to allow me to push harder than I should, again the bike oozed composure at speeds where I would have expected things to get a little intimidating.
A fantastic frame that offers stiffness, suspension that hits the spot in terms of suppleness and control and cracking kit at a great price, what is not to like?
We would like to see replaceable dropouts on the frame, these limit all future rear wheel choices to being QRs and may have missed a trick regarding stiffening up the rear triangle. This of course will be no issue for the majority of riders, but as bikes move closer to a 142mm rear end with a 12mm axle it may be nice to have the option to upgrade in the future.
Elsewhere it is just the normal spec choices that may well be distinct to the UK market. As usual I would like to see a dropper seat post spec'd, it would need a shim to fit into the 34.9mm seat tube, a slightly shorter stem with wider bars would bump up the fun factor too.
As with all things mountain biking the final possible minus is also the AMR Lectors greatest asset. The attention Ghost has paid to ensuring that the suspension is sensitive and wonderfully supple has paid off in spades and the result is a bike that is smooth and calming. This will not suit everyone, if your bag is trying to leap off from every root and undulation then the Lector might not be what you are looking for. That is my normal default setting, but the AMR Lector 7700 seduced me and I soon found myself enjoying the overall 'going for a ride' experience and found the sense of flow rewarding.
The AMR Lector is a bike that behaves impeccably, building the riders confidence and gently encourages them to ride smoother, faster and with a fluidity that delivers a real sense of quiet pleasure. Superb.
This review was in Issue 17 of IMB.
Ghost Bikes ASX 5500
Ghost bikes kato fs 3, merida bikes one twenty carbon xt-d, cube bikes ams 130 race, cube bikes sting super hpc race, transition bikes bandit 29er, scor 4060 st gx, bold cycles linkin 135, merida bikes ninetysix rc xt, bmc switzerland fourstroke lt 01, santa cruz bicycles tallboy cc x01, marin bikes rift zone carbon 2.
By Nigel Garrood Nigel Garrood was one of the instigators of the IMB project and has been with us since the very beginning. This loveable rogue has more stories than the Bible and is known to enjoy a beer or two. On the bike, he's fast and loose and often puts younger riders to shame. Equally he's been known to suffer from the odd crash and carries the scars to prove it. He was once referred to as being a robot sent from the future to save us all!
Tried this? What did you think?
Pinkbike.com
Register New User
First Looks
Friday Fails
Community Blogs
Places Directory
Ghost AMR Lector 7700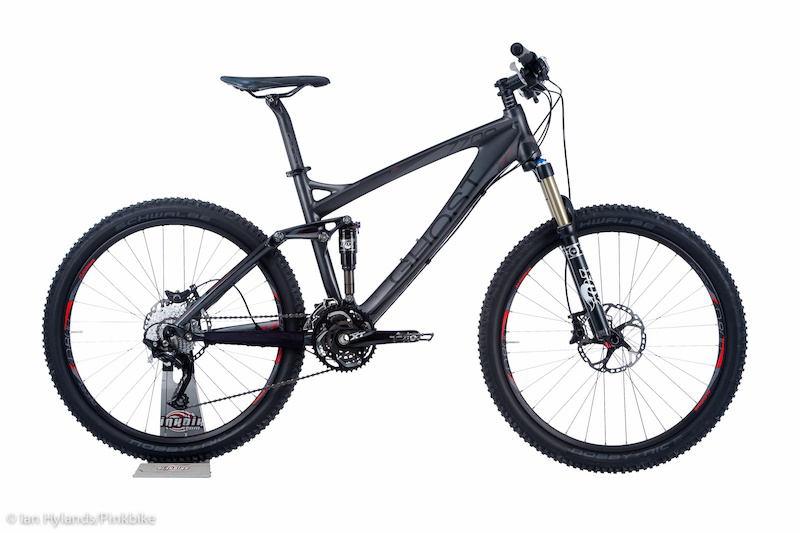 Review AMR Lector 7700
No reviews yet, be the first to write a review!
Specifications Compare to other All Mountain/Enduro/XC
Where to buy.
Pinkbike BuySell
Ghost Website
Cool Features
2011 Ghost AMR Lector 7700 (discontinued)
Specifications
More products.
2022 Marin Rift Zone 29 1 Bike
2022 Commencal Meta HT AM Origin Bike
2021 Vitus Sentier 27 VRX Bike
2021 Marin Hawk Hill 2 Bike
2021 Growler Bikes American Pale Ale SX Bike
2021 Salsa Timberjack XT 27.5+ Bike
2021 Sonder Signal St SLX Bike
2022 Sonder Signal St Deore Bike
Mountain Bikes
Ghost Mountain Bikes
2011 Ghost AMR
Most Popular
Ghost AMR Plus Lector 7700 Bicycle - Unisex
Compare ( 0 )
Rocky Mountain
Specialized
YT Industries
Allied Cycle Works
Black Market
DALLINGRIDGE
Diamondback
Early Rider
EVO Bicycles
Growler Bikes
Guerrilla Gravity
iGO Electric
Intense 951
Juiced Bikes
View all brands
Production Privee
Rad Power Bikes
Rambo Bikes
Riese & Müller
Soul Fast E Bikes
State Bicycle Co.
Structure Cycleworks
Surface 604
Van Nicholas
Vintage Electric
We Are One Composites
Ghost AMR Lector 7700
AUS $ NZD $ USD $ CAD $ GBP £ EUR €
At a glance
- Ghost AMR Lector 7700 Suspension Bike 2011. Bikes Suspension Mens. Are you looking for the perfect fullsuspension? You have come to the right place
- we offer the right bicycle for everyone, whether you like tours, marathons or downhills! With the AMR, anything is possible. Low overall weight, travel of 120 mm …. .
Where To Buy
Specifications
Q: how much is a 2011 ghost amr lector 7700.
A 2011 Ghost AMR Lector 7700 is typically priced around $2,065 USD when new. Be sure to shop around for the best price, and also look to the used market for a great deal.
Q: What size 2011 Ghost AMR Lector 7700 should I get?
No comments on this bike yet. Why not be the first?
Leave a Reply Cancel reply
Your email address will not be published. Required fields are marked *
Want more MTB in your mailbox?
The latest on mountain bikes delivered straight to your mailbox.
More Bikes in Range View All
Ghost AMR 5900
- Ghost AMR 5900 Suspension Bike 2011. Bikes Suspension Mens. Are you looking for the perfect fullsuspension? You have come to the right place - we offer the right bicycle…
Ghost AMR 5700
- Ghost AMR 5700 Suspension Bike 2011. Bikes Suspension Mens. Are you looking for the perfect fullsuspension? You have come to the right place - we offer the right bicycle…
Ghost AMR Lector 9500
- Ghost AMR Lector 9500 Suspension Bike 2011. Bikes Suspension Mens. Are you looking for the perfect fullsuspension? You have come to the right place - we offer the right…
More Trail Bikes View All
Focus THRON² 6.7 EQP
Lynskey Live Wire SRAM X01 Eagle 1x12
Niner SIR 9 - 4-Star X01 Eagle - 27.5+
Deals view all, view all deals, recent posts view all.
Blackburn Honest Digital Pressure Gauge Review
It's 2020 people. The squeeze and bounce test doesn't cut it anymore (and this is…
Comparing Mountain Bikes
Mountain Bikes are complicated machines. They have parts from hundreds of different manufacturers, come in…
Undomestic Mountain Bikes: Here's what we know
Update March 2020: Undomestic has announced that they are manufacturing frames "at this moment" and…
Send Feedback
Have a suggestion? Looking for a bike that's not on MTB Database? Or perhaps you've spotted an error?
We'd love to hear from you. Let us know with the form below.
This website uses cookies to ensure you get the best experience possible. Learn more.
About MTB Database
Explore, search and compare thousands of the world's best mountain bikes here on Mountain Bike Database.
Compare prices, components, suspension, reviews, images and more on current and past MTB's. You can even share reviews, comments and questions on mountain bikes. View and compare a huge selection of bikes from brands such as Trek , Specialized , Giant , Santa Cruz , Norco and more .
We strive to provide accurate and up-to-date information for mountain bikes on MTB Database. If you've spotted any issues, please let us know . We also include helpful tools, such as our frame size calculator, to assist you in choosing the right mountain bike. Bear in mind that these tools serve as a guide and simply provide a general indication. Refer to information provided by your bike manufacturer for the most applicable information for your bike.
Bikes By Brand
Bikes by year, bikes by riding style, bikes by wheel size, popular bikes.
2022 Specialized Epic EVO Comp
2022 Trek Marlin 6
2022 Specialized Enduro Comp
2022 Specialized S-Works Epic EVO
2022 Specialized Epic EVO Expert
2022 Giant Fathom 29 1
2022 Trek Marlin 7
Latest Bikes
2024 Trek Fuel EXe 9.9 XTR
2024 Trek Fuel EXe 5
2024 Trek Fuel EXe 8 XT
2024 Trek Fuel EXe 8 GX AXS T-Type
2023 Commencal Meta V5 Race
2023 Trek Fuel EXe 9.9 XX AXS
2023 Mondraker Factor 24