Let the ride begin

Unbiased Bike Reviews, Guides & How-To's
We are reader-supported. We may earn an affiliate commission when you buy through the links on our site. Read More...
Review Of Ghost Kato Series
Just a few years ago, Ghost was not a too well-known bike brand in the US. However, these competitive German-made mountain bikes are now becoming a go-to choice for more and more Americans.
The Ghost Kato series is a beginner mtbr's dream as it consists of entry-level and mid-range hardtail and full-suspension bikes that don't cost an arm and a leg.
Packed with quality Shimano, SR Suntour, and RockShox components, as well as Schwalbe tires at the higher price points, all Ghost Kato bikes have excellent value propositions.
All Katos have 100 mm of travel, but they roll on 29″, 27.5″, and even 26″ wheels and tires. They have a balanced geometry and are super-fun to ride.
These bikes are a good choice for any mountain biker who is just starting out on the trails. If you want a real no-frills MTB that will get you out more and help you have some fun in your free time, check out the Ghost Kato Series.
Read our review of the entire Kato lineup below to learn more and start riding as soon as possible!
Kato Base 26″
26″ Model for Junior Riders
Juniors and shorter riders finally have a proper MTB to ride to the trails. Ghost Kato Base is an attractive-looking XC Tour bike with 26″ wheels.
It's a fast and agile bike with nimble geometry that can climb and tackle twisty flats equally well. As you can guess from the name, this Kato comes with an aluminum frame. It's available in two colors — blue and red — so juniors will love it.
With a 31.5 lbs. total weight, we can't really say Kato Base is lightweight. However, it's packed with high-quality and durable parts that require little maintenance and have low upkeep costs.
The SR Suntour front plush gives you 100 mm of travel and the Shimano Tourney drivetrain equips you with a total of 24 wide-range gears.
You also get Shimano BR-MT200 disc brakes which are a bargain at this price point. This setup opens up most mountain, gravel, and dirt roads to you, as well as moderate trails without severe jumps and drops.
The 26″ tires are 2.10″ wide , which makes Ghost Kato Base ride well on both paved and unpaved roads. If you plan to stay off-road, wider tires would be a good upgrade.
Get it if you're hunting for your first MTB!
Kato Essential 27.5
Cheapest 27.5 Model for Adults
Budget mountain bikes for adults start with the Ghost Kato Essential 27.5 model. This 27.5″ XC bike comes in two color solutions (light grey/black and light blue/orange), packed with Shimano components and an RST Blaze fork.
At the front, this bike has an RST Blaze fork with 100 mm of travel. This model does not provide a lot in terms of adjustability but offers good vibration dampening.
Ghost Kato Essential is a foolproof choice for beginners and casual riders who want a simple bike they can ride anywhere. A ride with the kids? Check. A ride on the trails? Check. A trip to the store, to work, or to school? Check, check, check.
The drivetrain gives you 24 speeds and consists of Shimano Tourney (front) and Shimano Acera (rear) derailleurs. The brakes are Tektro HD-M275 with 180mm rotors, which are definitely off-road ready.
Ghost Kato 2.7 AL maintains contact with the ground with Rodi Excalibur XC 19 wheels and Mitas Ocelot 27.5 x 2.10 tires . These wheels lean toward the heavy side and the tires are a bit skinny, but they're more than fine for recreational riders.
If you're looking for a do-it-all mountain bike , you will love Kato Essential the moment you leave the paved roads.
See Available Models on REI
Most experienced mountain bikers nowadays swear by 29ers. They rely on them for climbing, descending, XC and trail rides. Ghost made the Kato 29 model for beginner riders to get a taste of the big wheels and big rides.
Kato 29 is pretty much the same as Kato Essential in terms of appearance, there are some differences in components. It sports an SR Suntour 100 mm fork, and Shimano Tourney components, and Shimano MT200 hydraulic disc brakes.
The biggest difference is the wheels and tires. They're the same brand and model, but 29ers are much beefier than 27.5″ tires.
The question is — do you need bigger or smaller tires?
If you plan to take your Ghost Kato 29 to rough trails and forest roads with big bumps, roots and rocks, its bigger wheels will make you happy and content.
Ghost Kato 29 is better for flatter XC rides with a lot of twisty bends, as its handling is nimble and responsive. Kato 29 will gobble descents a lot better and roll over obstacles more easily.
Whichever you choose though, you'll end up with a quality budget bike that will ride well on a variety of terrain.
Kato Pro 29
Widest Gear Range 29
Better Shimano components and a more capable SR Suntour fork characterize the Ghost Kato Pro 29 model. On the trails, that translates to more efficient flat riding and climbing , but also better performances and more confidence when descending.
To be more precise, this bike touts a Shimano Deore drivetrain, which much higher on the Shimano hierarchy and offers more than Tourney groupset.
The RockShock Judy fork on Ghost Kato Pro is a rather entry-level option, but its 100 mm of travel will feel velvety smooth on moderate dirt roads and trails.
Another improvement Ghost Kato Pro has seen is bigger rotors. Shimano MT200 hydraulic brakes clamp 180mm rotors which is a big improvement in terms of stopping power and braking precision.
The tires are Mitas Ocelot 29″ x 2.25″ wide, which is a go-to choice for most Kato models.
As a result of these upgrades, Kato Pro gives beginner riders more confidence to wander deeper into the forest and explore bike paths that were off-limits before.
Kato Universal 29
Most Versatile 29er
Entry-level mountain bikers who are buying their first bicycle or upgrading from a Walmart bike should give Ghost Kato Universal a serious consideration.
This is a versatile aluminum bike with remarkable specs for the money. As a budget model, it has some downsides, but these are negligent for recreational cyclists.
Thanks to massive 29″ wheels and not too thick 2.35″ tires, Kato Universal rides well on tarmac and on dirt. If you want a comfy MTB to commute and ride trails on the weekend, this is the one.
Just like its smaller brother Kato Essential, this bike boasts Tektro HD-M275 brakes with 180mm rotors, a RockShox Judy fork (100mm of travel), and reliable Shimano Alivio components.
You can choose from two colors — a greenish blue combination and a black/blue paintjob — both of which look modern and give the bike an expensive appeal.
Buy it if you don't want to pay through the nose but want to ride every day and then some.
Kato Advanced 29
Top Value Upgrades
Ghost Kato Advanced 29 is where the real improvements begin to show. This model comes with almost better everything, except for the fork which is still an SR Suntour XCM with 100 mm of travel and remote lockout.
First of all Kato Advanced has received better shoes compared to its Ghost siblings, so it now wears Schwalbe Smart Sam tires that are 29″ in diameter and 2.25″ in width. They'll provide you with more grip, stability, and maneuverability on the trails. The wheels, however, are the same Rodi Excalibur XC.
Ghost Kato Advanced comes with many improvements in terms of components, but still maintains a reasonable price.
The rear derailleur on this bike is a Shimano Deore 10-spd, which is considered to be an excellent low mid-range option. It shifts smoothly and is quite durable. Compared to previous models, all the components on this model are from the Shimano Deore family.
The brakes are similar to the previous models – Shimano MT200 disc brakes with 180 mm rotors take care of stopping the bike.
These upgrades make Ghost Kato Advanced more capable on the trails and allow beginner and intermediate riders to feel more confident and head out for longer and more challenging XC rides.
Ghost Kato FS
Cheapest Ghost Double-Squish
The majority of Ghost Kato models are excellent hardtails, but this German company also offers some affordable full-suspension models .
Kato FS has an SR Suntour XCR 34 fork with 130 mm of travel and an SR Suntour Raidon rear shock also with 130 mm. These are light and nimble suspension parts that lean toward the mid-range spectrum, so they are a good deal.
Learn more: Suspension Explained
Ghost Kato FS is an affordable trail bike intended for beginner riders who are considering a purchase of their first FS MTB.
The groupset on this FS bike is SRAM SX Eagle . The rear derailleur has a flatter profile, so it is more resilient to falls and impact. In total, you get a solid range of gears.
When it comes to rubber, Kato FS has WTB Ranger tires. This combo gives you the best balance of speed and grip you can get. The wheels are Schürmann Yak, which is pretty new compared to other models.
Buy this bike if you want to experience front and rear suspension and push the limits on your trail rides.
Ghost Kato FS Universal
Best Kato FS You Can Get
If you have a few extra dollars to spare and you want the best Kato FS has to offer, you should end your search with the Kato FS Universal model.
At the front, Kato FS Universal eliminates vibrations with a RockShox Recon Silver RL 130 mm fork. At the back, it improves comfort and trail performance with a RockShox Deluxe Select R 130 mm shock.
Shimano XT and Deore components give a mix of reliability, making sure to get you through every situation.
Ghost went all out with Kato FS Universal and equipped it with the best components money can buy for this much money.
When it comes to braking, riders will get a pair of Shimano BR-MT501 hydraulic discs with 180 mm rotors and dual pistons. These brakes will stop you on a dime when you need them to.
The wheelset and the tires are the same as on the cheaper Kato FS model, but they're an excellent deal for the money.
So, if you're getting deep into the trail riding rabbit hole and you need a bike that can follow along, we recommend Ghost Kato FS Universal.
Ghost Kato Series For Kids

The love of trails and off-road cycling should be nurtured from an early age. Ghost gives you the tools to do that with the Kato Kid lineup of four affordable and capable models.
These 20″ and 24″ XC machines can go anywhere and do anything, painted in colors that all kids will love.
Kato Base 20″ – This 20″ kids' mountain bike is everything a kid needs if they love exploring forest trails and fire roads. Kato Base 20″ has frame geometry tailored toward kids and a saddle that's comfy for their hips. It sports wide tires, 8-speeds, and Shimano components that can handle some abuse.
Kato Essential 20″ – Some kids take riding seriously from an early age and need a bike that can handle it. Kato 2.0 has a 40mm front suspension that will make off-road rides more comfortable. But that doesn't mean this 20″ MTB is not a good choice for neighborhood rides and trips to the school.
Kato Essential 24″ – Older schoolkids and teenagers can choose Kato 2.4 AL which comes with 24″ wheels, wide tires, Shimano components, and front squish. It's an all-around good bike that does not weigh a lot and costs reasonably low.
Kato 24 Full Party – This bike is almost the same as some of the models we've seen previously. Quality Shimano components and wide tires give kids confidence and high performance on the trails.
Our Thoughts About the Kato Series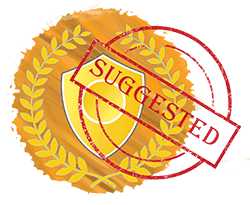 We love the low prices and quality brand names such as Shimano, RockShox, SR Suntour, and Schwalbe. We think riders will also love the excellent XC and Trail geometry, as well as the choice of colors.
What we don't like as much is the weight of some cheaper models that sometimes exceeds 33 lbs. However, that's a common problem with many XC bikes in this price category.
All in all, our conclusion is that the Ghost Kato series is comprised of thoughtfully-created bikes that don't cost much. They'll allow budding riders to go out more, practice their skills, and return home muddy and happy with their choice.
Related series: Ghost Square Cross
Where to buy Ghost Kato bikes?
Unfortunately, Ghost isn't as popular in the US (yet) as it is in Europe. We've only found them available on REI and on Wiggle (and they sell at the speed of light!). So act fast!
CLICK TO SHARE THIS ARTICLE
There are no comments yet, add one below.
Leave a Reply
Cancel reply.
Name (required)
Email (required)
Currently Popular
–  Bicycle Guider on Facebook
– hello(at)bicycle-guider.com
Over 10,000,000 visitors…
Bicycle Guider has gained more than 10,000,000 readers and has sold more than 500,000 cycling-related items so far, with the support of
Want to get started? Proceed  to Step 1 .
Recent Posts
24-Inch Bike for What Size Person? Is It for Adults or Kids Only?
What Is a Hybrid Bike and How to Choose the Best One?
26-Inch Bike for What Size Person: Is It Right for You?
8 Best ChatGPT Uses for Cyclists
Review of Rad Power Bikes RadTrike
Mountain Bikes
Hybrid Bikes
Cycling Advice
Best Bike Brands
All Articles & Reviews…
Most Popular Reviews
Best Gravel Bicycles
Best Electric Bikes of 2022
Best Hybrid Bikes
Best Mountain Bikes Under $500
Best Entry-Level Road Bikes
TreeLineBackpacker
Backpacking, and hiking gear reviews and tips, ghost kato fs 3.7 review.
The Ghost Kato FS 3.7 provides a great value for a mid level mountain bike, including 130 mm of travel, a dropper post and a solid suspension, but makes some curious sacrifices to achieve it at this price. This is my review.
Starting with some of the more important basics, the Ghost Kato FS 3.7 is a full suspension mountain bike built around 27.5 inch tires and a generous 130 mm Rockshox Recon AIR MXL Stealthy fork and the popular Monarch R air shock in the rear. The drivetrain consists of a Shimano SLX 11 speed 1 x shift set, while the brakes are Shimano MT 500s with 180 mm rotors, front and back. The kit is finished off with a JD dropper post, Selle Italia X saddle, Continental Mountain King 27.5 2.4″ tires, and comes in at 31 pounds for the medium. MSRP is $2000.
What I liked
Riding the Kato FS has been a blast. It has a mostly modern geometry, with some slack in the front and a relatively high bottom bracket. This translates into a bike that's not only agile and playful in the turns and over jumps, but also slack enough to handle speed pretty well also. Whipping through flat turns, steep berms or simply crushing through rock gardens, the Kato is always predictable and reacts pretty much exactly how I would expect. It also has a certain amount of error correction built in, snappily straightening up after botched landings or stumbling through technical sections, but still reacts quickly without requiring over-correction. The handlebar is on the conservative side at 760 mm, but keeps the make responsive and nimble. The geometry as a whole is not as slack as some modern day bikes geometry, but does find a fun, exciting middle ground of stability and excitement. Pedals strikes and bottoming out the crank-set isn't an issue here either, thanks to the elevated profile.
The suspension system as a whole has been rather impressive. Despite not having top of the line components in the front or back, the revamped Rochshox Recon series provides surprisingly good results. The 130 mm of travel does an excellent job of sucking up huge rocks, never ending courtyards of ruts and roots, and especially loves chunky falloffs and drops. The motion is smooth and ramps up perfectly, helping to prevent bottoming out or jarring on smaller bumps. Having ridden much higher spec'd bikes, I went into this expecting harshness and sloppiness in technical sections, but was surprised to find the MXL Stealth to actually ride smoother in gentle to moderate conditions, where I spend most of my time, yet still handles big hits impressively well also. I was also happy to find that the suspension was exceptionally easy to setup, only having to put the correct air pressure in, and perhaps adjust the dampeners to fit particular riding styles or environments. After a quick adjustment, it provided consistently good results without having to constantly adjust it to find that happy spot. The traction is very consistent, provides excellent traction in corners and over choppy sections, and generally is just smooth and enjoyable. I was very impressed here.
Braking is mostly great, and the power of the Shimano MT 500 brakes cannot be overstated. A gentle squeeze the index finger is plenty enough to bring the bike to a fast and mostly predictable stop. It's strong enough to lock up the rear brake basically at any time, without the front feeling ornery or dangerous to bear down on when needed. On one of my favorite local downhill runs that consists of a 4.5 mile descent, the brakes never overheated or faded, and provided consistent performance the entire way down, despite having to ride them most of the way down due to the speed of the trail system.
The Continental Mountain Kings tires provide excellent grip on hard packed dirt, muddy sections and loose, loamy dirt, and do an excellent job of absorbing chatter on the trail too. There is some debate as to if these are tubeless compatible, but I prefer tubes anyway due to the ease to trail side repairs, and have yet to experience a flat when running between 30 and 35 psi. I have experienced some unexpected skidding when cutting across angle rocks, but the tires quickly regained traction and kept me, generally, facing forward.
Pedaling efficiency is very good in general, with the rear suspension handily preventing bobbing on the uphills when pedaling hard, and the twin pivot suspension system isolating the chain and shifting from shock travel. There is no rear lockout, but I honestly never felt myself wanting one as it has climbed every ascent I've thrown at it (including a 4.8 mile local peak bag) without ever feeling sluggish or overly tiring.
The included dropper post is exceptionally fluid and smooth, especially considering it is included at this price point, and the seat paired with it is very comfortable, even after long multi-hour rides.
The Shimano 1×11 drivetrain provides just enough range for steep climbs and hard, fast pedaling descents while also providing fast, reliable operation. It definitely has an affinity for speed, with most of the gears being targeted at gaining speed. Very steep climbs are doable, although an extra gear low end gear would have been nice after a few hours of tireless riding, but at this price point it's hard to complain with a 1×11 setup.
So far, not a single component has failed me. Hammering the chunkiest rock sections I can find, splashing my way through muddle ruts and even dumping the bike into steep shale laced rock inclines hasn't yet affected it, despite accumulating some scuffs and scratches (as appropriate).
What I didn't like
While the brakes are definitely powerful, they do lack some nuance and modulation. There is a fairly steep cut off between hard braking and locking them up, which upon the first few rides does require some adapting. It takes some practice to find that point of maximum braking, without sliding or skidding along the trail. In steep declines over chunky sections this can be particularly demanding, and does take some skill to prevent skidding all the way down them. With some practice, this can be overcome, mostly.
The included grips, while functional, were not very comfortable. After my first couple rides I ditched them and never looked back. I replaced them with some ESI Chunky grips as the stock grips felt like I was wrapping my hands directly around a metal bar, with the shock and vibrations traveling directly into my wrists. They really provide no shock absorption and to me, that's a deal breaker. The grips in the images are their replacements as the sock grips didn't make it far enough into the review process for photos.
The Shimano SLX rear derailleur, while reliable, does occasionally offer some chunky shifting. Despite dialing it in, my self and a local professional, I occasionally find it shifts a little rougher than the competitively priced SRAM 1×11 system. However, I have found that the Shimano system does perform more reliably in general and provides less tweaking to stay functional, despite having worse transitions between gears, especially under load.
The rear wheel is not a modern thru axle, instead opting for an older, skewer style quick release dropout. While I honestly didn't find this to affect the stiffness in the rear too much, it will limit wheel options for those who look to upgrade in the future as most wheels now use thru axles, or even the newer Boost standards. As far as I can tell, there is no way to convert this to a thru axle setup, even by replacing the swing arm as no Kato in the line seems to have a compatible one. Thankfully the front, where it really matters, is a thru axle, but the lack of one in the rear is a minor bummer.
The Ghost Kato FS 3.7 is an interesting bike. It's a blast to ride, has excellent specs, and has been exceptionally reliable like no other bike I've ridden. The frame and geometry are impressive, and feel exceptionally built and engineered. But, it does ditch the rear thru axle (a cost saving measure that allowed for a dropper post at this price range) which limits future upgrades to an extent. For me, however, this isn't an issue. I personally prefer to swap entire bikes when upgrading as it is actually more cost efficient than trying to upgrade individual components over time, and there is nothing like new bike day. Thankfully, despite not having that rear thru axle, the back end of the bike is still impressively stiff (stiffer than some thru axles I've ridden), which is a testament to the excellent frame design and engineering of this bike in general. It's a solid bike that performs outside of it's price range, and has features that really make a huge difference, like a solid stock seat and a dropper post, making it easy to recommend.
Highly recommended
For information on our rating system and our testing procedures, check out our About us/ Contact us page .
I purchased this bike for myself with no obligation to review.
Our full disclosure can be found here . Thanks as always for reading! Don't forget to follow our blog for future updates and reviews.
If you have any questions, comment below, send us an email, or find us on Twitter or Facebook (links on the right)
Share this:
6 thoughts on " ghost kato fs 3.7 review ".
So you've have it 4 months or so. How does it feel now?
Hi, Still really loving this bike. It feels just as good today as when I bought it actually. It's required no tuning or repairs and I've ridden it decently hard. I've changed out the grids but otherwise entirely stock. The seat has started to creak a little (or perhaps the dropper) but otherwise no complaints.
I bought this bike based on your review and am so glad I did. Ive ridden similar spec'd Specialized and Trek bikes and this bike was several hundred less. Love this bike!
Hi Mark! I'm really glad to hear that. I test rode Trek, Specialized and a few others. Something about this one just sings! Did you also get the Sora?
I was apprehensive about buying this bike but my REI had it for $1300 so I pulled the trigger after I read your review. Seems like a good deal for the build/components. Did you ever end up converting to tubeless? Any issues with that rear QR? Thanks again for the awesome review!
That's a great deal! Congrats on that. Nope. I have stayed tubed as I really don't like the mess of tubeless, and trail side repair is a real pain when something goes wrong. So far, not a single flat with my tubes. I run between 30-35 PSI normally. No issues with the QR, and really don't expect to see any. It's a proven technology, was used for a very long time. The only reason companies really moved away from it was stiffness, but the frame here seems to be plenty stiff without it. Thanks for reading! I'm glad I was able to help.
Leave a Reply Cancel reply
This site uses Akismet to reduce spam. Learn how your comment data is processed .
Already have a WordPress.com account? Log in now.
Follow Following
Copy shortlink
Report this content
View post in Reader
Manage subscriptions
Collapse this bar
Ghost Kato 2.9 Hardtail Bike 2020 Review
Ghost kato 2.9 hardtail bike 2020 reviews, review score: 9.5/10 – updated october, 2023, latest price: £519 (rrp: £519).
Take a look now to discover what makes Ghost Kato 2.9 Hardtail Bike 2020 worthy of a review score of 9.5 out of 10.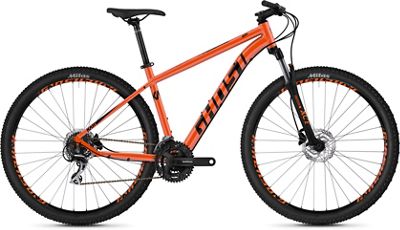 Skip to content:
Brand – Ghost
Alternatives
View reviews at Chain Reaction Cycles
Ghost Kato 2.9 Hardtail Bike 2020 features
Quality is without doubt one of the most important factors that we consider when buying bikes, parts, accessories or clothing. As you'd imagine it's especially important when buying Mountain Bikes. Let's take at a look at the sort of things you can look at when trying to ascertain the quality of Ghost Kato 2.9 Hardtail Bike 2020.
The first thing is material . Looking at what Ghost Kato 2.9 Hardtail Bike 2020 is made of will give you a really good idea of the quality overall. Take a look at the specs above and you should be able to see the material. It's then up to you to decide if it meets your expectation.
Similarly you'll also want to spend some time looking at the features too. Again the table above, listing the features will give you a really good overview. However you should think about the sort of features that you'd expect when buying new Mountain Bikes. It's worth writing a list of the "must-have" features so that you don't end up compromising and missing some important features, or alternatively end up buying an unnecessarily high specced product.
There's also a lot of merit in checking out the brand of the product and looking at the various brands that are selling Mountain Bikes. Brands like Ghost are of courses extremely well respected in the cycling community so you know you're getting a fantastic product with them. But if you're undecided on your product you should write up a list of brands that you'd be happy to buy. It's a great way of filtering and narrowing down the number of products when you're searching.
Next up you'll want to think about the price and use that as a guide to set your expectations of the quality. If you're buying the cheapest of the options in the Mountain Bikes category you should probably expect it to not be of as good quality as the most expensive. It sounds obvious of course. But this is where you can get a bit clever and use your combination of features, specs, materials and other factors to work together to get a really good quality product at the best price. We often draw up a list of "must-haves" and use these as filters when shopping online so that you're only seeing products that meet your criteria. You can then sort by Price>Low to get the best deals.
Comparing Prices
Price, as you would imagine, is the most popular reason for someone buying one product over another. It is the single most important factor in choosing the majority of products we buy. The same goes for Mountain Bikes.
It's at this stage of the buying process, when you're looking at different options, that you should set a budget. Do some research to understand how much roughly you can expect to pay for the sort of level of product that you're looking for. Then match that to your own personal circumstance and how much you can afford to spend. This will really help you in narrowing down the right product for you.
Price of Ghost Kato 2.9 Hardtail Bike 2020
So the first aspect of price that we're going to look at is the price of Ghost Kato 2.9 Hardtail Bike 2020.
We run regular scans across the web to find the best prices for the products that we review, from a range of cycling retailers. The best price we managed to find Ghost Kato 2.9 Hardtail Bike 2020 was over at Chain Reaction Cycles where the price was £519 in our latest search.
Based on this price we've scored it 9.3 out of 10 for price.
Average price of Mountain Bikes
Next we wanted to look at how much you can expect to pay, on average, for Mountain Bikes.
We found 124 in the Mountain Bikes category over at Chain Reaction Cycles. We looked at the average price of the products within this category and found the average is £1985.77, making it below average at £519.
It's sometimes helpful to look at how much the prices can vary. Especially when setting yourself a budget, or when trying to understand just how much you could spend on Mountain Bikes. We found that the most expensive product currently available was £5849.99, whilst the cheapest we managed to find was £379.99.
With 124 products available we worked out that 114 cost more than Ghost Kato 2.9 Hardtail Bike 2020 and 7 were cheaper.
Cost of Ghost products
At Chain Reaction Cycles we found 25 products from Ghost, of which 5 were in the Mountain Bikes category.
For now though we're looking at Ghost branded products in all categories. The average price of these products was £1495.12 making this product below average.
You'll also be interested to know that the cheapest Ghost product we found was £60.99 and the highest price we could find from them was £5299.00.
Of the 25 from Ghost, 15 were more expensive than Ghost Kato 2.9 Hardtail Bike 2020 and 7 were cheaper.
How much are Ghost Mountain Bikes?
We then wanted to get a bit more specific and only look at Ghost products that are listed in the Mountain Bikes category.
The average price of the 5 products that match this search was £611.00, with the cheapest coming in at £519.00 and highest price was £849.00. With the average being £611.00, Ghost Kato 2.9 Hardtail Bike 2020 comes in below average.
2 products that meet this search were more expensive than Ghost Kato 2.9 Hardtail Bike 2020 and 0 were cheaper.
Reading reviews is an amazing way of getting a good feel for a product without actually being able to try it or see it first.
There are two different types of reviews, and we also recommend reading both.
1. Expert reviews – In the cycle industry there are loads of really reliable trusted resources for expert reviews. For example if you're looking to buy a new bike, BikeRadar Bike Reviews are great.
2. Customer reviews – these are probably your best resource for information. There's no finances or influence involved, they're purely just honest reviews from customers that have bought and used the product. The reason we love customer reviews so much is because no matter if their view is good or bad, there's a very good chance that it will be honest and unbiased.
Our best advice is to head over to Chain Reaction Cycles and read the Ghost Kato 2.9 Hardtail Bike 2020 reviews there.
Based on what we've seen in terms of reviews for Ghost Kato 2.9 Hardtail Bike 2020, it really does look like a great buy. So for the review score, we've scored it 9.3 out of 10. The average review score for all products in the Mountain Bikes category at Chain Reaction Cycles is 4.3 out of 5.
Owner reviews, as we say, are one of the most important pieces of research that we can do before we buy. So, with that in mind, if you do go on to buy Ghost Kato 2.9 Hardtail Bike 2020 or another similar product, like Goodyear Tyre Sealant reviews or Goodyear Peak Premium Tubeless MTB Tyre reviews we'd love you to leave a review in the comments below. It will really help future buyers just like you, when they're looking to buy Mountain Bikes.
As we said in the pricing part of the review, brand is a really important consideration, but especially so when looking to buy Mountain Bikes. But as you're probably already aware, you're on to a great choice if you do go with Ghost , as they're a fantastic brand, making amazing products.
YouTube Video of Ghost Kato 2.9 Hardtail Bike 2020
Overall, we've been hugely impressed by the quality, price, reviews and features of Ghost Kato 2.9 Hardtail Bike 2020. We'd say that as long as it fits your budget and meets your expectations in terms of features/spec…it's a really strong contender. That's why we've scored it a massive 9.5/10 overall.
Further product details
Product ID 1: 25503799001
Product ID 2: 770354UK
Brand: Ghost
Model number: 65KA1047
EAN: 4052968295642
Description: Ghost Kato 2.9 Hardtail BikeThe Kato 2.9 Hardtail Bike from Ghost offers an extremely fast, stiff and versatile ride with all the finest quality components and technologies in its DNA. Whether you're tearing it up on the trails or trying to beat your times in your training session, this rebellious ride can tackle everything from uphill climbs to letting yourself loose on the tours.SR Suntour Suspension with 100mm TravelDesigned to push your mountain pursuits to the max, it boasts an impressively strong lightweight alloy frame for years of long-lasting use, while its trail-ready SR Suntour SF19 XCT30 forks with 100mm travel provide awesome responsiveness when bursting over rocks and roots, for a more balanced and smooth riding experience. You'll ace every single descent from the top of the hill to the bottom, as the Kato's top-quality and robust construction performs just as amazing as it looks.Shimano 3×8-Speed Drivetrain and Hydraulic Disc BrakesReliable Shimano Drivetrain and Disc Brakes Fully equipped with a reliable Shimano Tourney/Acera drivetrain, you'll be blasting up to speed in a flash, while its Shimano BR-MT200 hydraulic disc brakes provide outstanding stopping power when needed. To top it off, this stunning ride comes with a bold set of Rodi Excalibur XC wheels, which are wrapped in Michelin Country Race R 29×2.10″ tyres for out of this world grip and stability in any weather conditions.Features: Frame: KATO AL Forks: SR Suntour SF19 XCT30 100mm Chainset: Shimano FC-TY301 42-34-24 Cassette: Sunrace CSM400 12-32 Shifters: Shimano SL-M315 Front Derailleur: Shimano Tourney FD-TY700-TS6 Rear Derailleur: Shimano Acera RD-M360 8-S Front Hub: Shimano HB-TX505 QR Rear Hub: Shimano FH-TX505 QR Rims: Rodi Excalibur XC 622x19mm 32H Tyres: Mitas Ocelot 29 x 2.10 Brakes: Shimano BR-MT200 2/2 Piston 160mm Disc Handlebars: XLC 720mm Rise 15mm Dia. 31.8mm Stem: XLC MTB Dia. 31.8mm Saddle: DDK 2373A Seatpost: GHOST SP-DC1 31.6mm Weight: 14.9kg Easy AssemblyWhen you order a bike, one of our trained mechanics will carefully prepare and pack your bike for shipping. Upon delivery, the assembly is simple and all necessary tools are conveniently included in the box.Depending on the delivery service and destination, bikes will either be delivered in a large or a small box. Below is a guide as to how your bike will arrive: All bikes for delivery within the UK and Republic of Ireland will be delivered in a large box, except for kids' bikes and BMX bikes, which are always delivered in manufacturer's boxes. All bikes for delivery within the EU on a standard service will be delivered in a large box. If an express delivery option is chosen, your bike will be packed into a small box. Again, the exception is kids' bikes and BMX bikes, which are always delivered in manufacturer's boxes. All bikes for worldwide delivery outside the EU will be delivered in small boxes.This video demonstrates assembly from a SMALL BOX.This video demonstrates assembly from a LARGE BOX.Buy Ghost Bikes from Chain Reaction Cycles, the World's Largest Online Bike Store.
Full Category: Bikes > Mountain Bikes
Other options for Mountain Bikes
As you'd imagine there are so many options out there when buying Mountain Bikes. 124 in fact.
A few of our other favourites that we spotted when researching Ghost Kato 2.9 Hardtail Bike 2020 included, Goodyear Peak Ultimate Tubleless MTB Tyre reviews , Goodyear Newton ST EN Premium Tubeless MTB Tyre reviews , or we really liked the look of Goodyear Newton ST EN Ultimate Tubeless MTB Tyre reviews as another alternative.
Leave a Comment Cancel Reply
Your email address will not be published. Required fields are marked *
Save my name, email, and website in this browser for the next time I comment.
Ghost Kato FS 5 review
Mid-travel mid-ranger with a great spec
Share on Facebook
Share on Twitter
Share on Pinterest
Share on Whatsapp
Share on Reddit
Email to a friend
By Seb Rogers
Published: April 13, 2015 at 8:00 am
Latest deals
Occupying a slot in the middle of Ghost's Kato full-suspension trail bike range, the FS 5 is the kind of bike that should have broad appeal. With 120mm (4.7in) of rear and 130mm (5.1in) of front wheel travel, Fox Float CTD air springs at both ends and a kit list that majors on Shimano Deore but throws in a smattering of XT stardust for good measure, it'll tick a lot of boxes on a lot of riders' wishlists.
The question is, does the experience live up to the spec?
Frame and equipment: quick-release niggles mar an impressive build
Ghost hasn't tried to reinvent the wheel – or even the full-suspension trail bike – with the Kato, which marries elegantly curved hydroformed tubes to a classic four-bar rear end. The low pivot point, Horst Link style chainstay pivots and rocker-driven, vertically-mounted shock are all straight out of the How To Build a Full-Suspension Bike book. It's a tried, tested and trusted system that's been around, in one form or another, for more than 20 years now.
Neat touches include pivot bolts with visible torque settings and that Fox Float CTD rear shock – a comparatively rare sight on a full-susser at this price. Even though most riders will probably leave the shock's CTD lever in the 'trail' setting most of the time, it's good to have the option of adding more low-speed compression damping for non-technical climbs and road sections ('climb'), or running the shock fully open for the downhills ('descend').
We'd prefer to see a shorter stem and wider handlebar on the Kato FS 5 to make the most of the relaxed head angle and 130mm fork
Plugged into the chunky, tapered head tube up front is a matching Fox 32 Float CTD fork. Aside from the novelty of finding a paired Fox set-up at this price, there are no surprises here in terms of performance. What is a surprise is Ghost's choice of a standard quick-release axle at both ends. We're used to seeing a 135mm axle at the rear at this price in a nod to cost cutting, but a 130mm fork with tapered steerer but no 15mm axle is an anachronism. The improved torsional rigidity of the steerer is pretty much cancelled out by the flexy noodliness of the QR axle – it's a bit like locking the front door but leaving the back door wide open to all and sundry.
Elsewhere, full Shimano Deore stop-go bits, with a crowd-pleasing upgrade to an XT rear derailleir, make for a good looking, slick operating set of controls that should provide many, many miles of trouble free service. Schwalbe's ubiquitous Nobby Nic treads work reasonably well in any conditions you care to throw at them too, while the own-brand finishing kit gets on with the job in hand – although by current standards the 700mm bar is a bit narrow and the 80mm stem a tad long.
Ride and handling: appealingly lively but less capable when the going gets rough
With an all-up weight (13.4kg/29.5lb) that puts the Kato at the lighter end of its mid-travel, full-sus peer group, you'd expect a lively ride. You won't be disappointed. Grippy tyres on reasonably light wheels hook up well and accelerate quickly, giving the Ghost a hint of XC racing inspired eagerness that's lacking from a lot of trail full-bouncers at this price. It's still nudging the psychological 30lb barrier, but the Kato can be hussled along a trail in a way that some of the heavier competition struggles to match.
It's unusual to see a pair of Fox CTD shocks at this price, but a shame that Ghost couldn't spec the fork with a 15mm axle
Backing up this get-up-and-go liveliness is a rear end that walks the fine line between responsiveness and comfort. The conventional four-bar suspension configuration paired with the CTD shock in 'trail' mode delivers a fairly firm feel that some riders will love, taking the edge off hits without ever descending into wallowy mushiness. The downside to this firm connectedness is the need for more rider input on slower, more technical lines – the Ghost isn't a bike that you can simply sit down and pedal up a rocky, steppy climb on.
It's as the pace picks up and the trail gets trickier that the Kato begins to come unstuck. Despite a fashionably relaxed head angle, the combination of a comparatively short wheelbase with a long stem, narrow handlebar and noodly fork makes for a squirelly handful on fast, steep or rocky descents.
The rear end's 120mm of travel doesn't have the bottomless feel of some of the competition, but the fork would easily handle more if only it were possible to keep it pointing in the right direction. Some of the nervousness could be tamed by fitting a slightly shorter stem and wider bar, but what the Ghost really needs is what most mid-travel full-sussers have had for a while – a 15mm thru-axle holding the front wheel in the end of the fork. And that's not an easy or cheap upgrade to make.
Product Specifications
Sponsored Deals
2021 · Ghost KATO Base 29
A 29″ aluminum frame hardtail crosscountry bike with mid-range components.
For This Bike
View more similar bikes →
A bike with lower gearing will be easier to ride up steep hills, while a higher top end means it will pedal faster down hills. Learn more
used for climbing
KATO Base 29
Similar Bikes
used for descending and sprinting
Add custom gearing
Based on build material and quality level of the frame, fork, wheelset, groupset, suspension system, and more.  Learn more →
158cm – 171cm
168cm – 180cm
178cm – 189cm
186cm – 199cm
🐐 Estimated
Do you have this bike? Help other riders make a decision about which size will work for them by sharing your own size and fit notes. Report your fit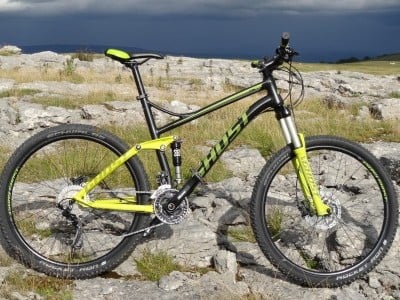 Ghost Bikes Kato FS 3 2015
Reviews / Trail Bikes
At A Glance
The Kato is Ghost's entry-level price offering for the full suspension trail market. It comes in multiple builds and this is The Kato 3, yours for £1259.99. With a suspension design inherited from its bigger brother the AMR, it features 120mm travel out back paired with a 130mm fork courtesy of RST, a manufacturer I haven't seen much from in years.

The strong colour scheme looks smart and is matched throughout the bike's components. Designed with the intermediate rider in mind, the geometry would appear to be pretty forward thinking for a bike at this price point, featuring a long(ish) front centre and a relatively slack head angle. Combined, this suggests a nod towards stability at speed as well as having fun on steeper trails.
The Kato features a tried and tested Horst Link suspension set up, controlled by an X-Fusion shock with a compression switch to firm up the suspension on the fly. The frame has some great attention to detail: neat welding and a good paint job; there are even torque ratings on all pivot bolts for servicing.
For a full suspension bike of this price, components will never be top shelf, but some clever speccing puts some quality where it's most needed, e.g. an XT rear mech matched with some work-horse Deore drive-train, brakes and hubs. Wheels are finished off with some Rocket Rons and the RST fork does the honours up front with 130mm of travel.
The fork features a rebound adjustment and a remote lockout, but on a modern bike, the lack of a bolt-through axle is a shame. Finishing kit is functional rather than flashy, with some narrow bars paired with a rather elongated 80mm stem.
On The Trail
The Kato looks like a bike that should feel at home heading up the hills, especially with its long stem, and with a triple chain ring, running out of gears would not be an excuse. From the off, the Kato pedals well, offering a good return on power through the pedals with little bob. The fast rolling tyres make light work of roads and fire trails and the bike has a great feeling of efficiency.
From the Front
The fork is impressively supple in its initial travel and has a bar mounted lockout, which may be of interest to some riders wanting to stiffen things up on long climbs. The rear suspension works remarkably well, finding traction and staying glued to the ground. However, as the trails get steeper and the climbs more technical, the rather skinny Rocket Rons found it hard to keep turning pedal power into grip.
Shifting from Shimano is always accurate, and speccing an XT rear mech is nice to see, but the triple chain-ring gives more gears than I knew what to do with. I managed to complete an entire ride without shifting out of the 30t middle chain ring, but it's nice to have a 22t just in case for when the legs tire.
I wasn't expecting too much as I pointed downhill, imagining that the bike and I would survive rather than perform on the descents, but as the terrain became more exciting the Kato performed surprisingly well, the handling is reliable and predictable, however it isn't exactly inspiring, for reasons explained below.
The reasonably long front centre keeps it stable, but this is then coupled with a long (by modern standards) 80mm stem, narrow bars and a lot of stack height. This combination of frame geometry and cockpit set up left the bike feeling a bit tall and stretched.
In an experiment to inject a bit more fun into the handling, I swapped out the long stem for something shorter and headed out for some trail centre action. Immediately it became apparent that things had improved, and the handling and feel of the bike changed dramatically, making cornering sharper and front wheel lifts more controlled.
When things got rough away from the trail centre, the limits of the RST fork could be found quickly and although supple in its travel, it easily gets bogged down when required to respond to multiple big hits. The lack of a bolt through axle means the front end has a degree of flex you need to keep on top of.
On the second ride out the rebound adjuster fell out of the bottom of the fork, which was an easy fix, but it didn't inspire confidence. In stark contrast to the front, the rear suspension works really well, staying responsive even under hard peddling and braking, making for a very comfortable ride.
Another modern touch missing was a clutch rear mech, which made for a noisy time and numerous chain drops from the middle chain ring. With clutch mechs now commonplace throughout the Shimano range, it was a shame not to see one specced on this model. However, you do have to bear in mind the price point of the Kato FS 3, and when that is considered you can't really complain at the niggles.
This bike really does well on long days out where it can stretch its legs and cover the distance, efficiently climbing and reliably descending providing the trails don't start getting overly technical. Modern bikes are a wonderful thing; and these days you can get a lot of bike for your money.
The trickle down effect is clear in the Kato's geometry and rear suspension and it is a very competent package. However, it lacks a few modern touches in the cockpit set up and fork that would really help it perform.
That being said this bike has a good frame and rear suspension set up, which is a great base from which you can upgrade the cockpit and fork at a later date if you desire. The next bike up in the range, the FS 5 features a Fox Float Evolution that should prove more capable.
Frame: Kato FS 27.5 aluminium Fork: RST First GTRL Air RLO 130 mm Shock: XFusion O2 RL 120 mm Stem: GHOST AS-GH2 31.8 mm Handlebar: GHOST Low Rizer light 700 mm 31.8 mm R. Derailleur: Shimano XT 10-Speed F. derailleur/chainguard: Shimano Deore Shifter: Shimano Deore SL Crankset: Shimano Deore 40-30-22 Cassette: Shimano CS-HG50 11-36 Brake: Shimano 396 Disc 180 mm Tire: Schwalbe Rocket Ron 2.25 Rims: Ryde Rival 19 Hub front: Shimano Deore QR Hub rear: Shimano Deore QR Seatpost: GHOST light SP DC1 31.6 mm Saddle: GHOST VL 3315
This review was in Issue 37 of IMB.
Ghost Bikes ASX 5500
Commencal meta trail race 650, rose bikes ground control 2, scott bicycles genius 950, trek bikes fuel ex 9.8 27.5, lapierre bicycles zesty 429 tr, trek bikes lush carbon 27.5, ghost bikes amr lector 7700, scor 4060 st gx, bold cycles linkin 135, merida bikes ninetysix rc xt, bmc switzerland fourstroke lt 01.
By Ewen Turner Ewen Turner is a self-confessed bike geek from Kendal in the Lake District of England. He runs a coaching and guiding business up there and has a plethora of knowledge about bikes with an analytical approach to testing. His passion for bicycles is infectious, and he's a ripper on the trails who prefers to fit his working life around his time on the bike.
Tried this? What did you think?
WordPress.org
Documentation

Mountain Bikes
Gravel Bikes
Hybrid Bikes
Electric Bikes
Commuter Bikes
Exercise Bikes
Women's Bikes
Kids' Bikes
All Best Bike Brands
Mountain Bike Brands
Electric Bike Brands
Bike Rack Brands
Brand Review: Rad Power Bikes
Brand Review: Ride1UP Bikes
Disclaimer: Bikexchange is reader-supported . We may earn an affiliate commission when you buy through the links on our site.
Ghost Kato Hardtail & Full-Suspension Bikes Review

The Kato series is part of Ghost Bikes midrange trail mountain bicycles which are defined by it's affordable and great build from quality components. Many reviewers of the Ghost Kato range note the surprisingly low price for what you get!
The range is specifically aimed at providing bikes to the more discerning group of intermediate riders or first-time buyers with bigger budgets. Ghost Bikes manages to keep costs low by saving on higher-priced items like carbon frames without scrimping on important details like quality gearing systems.
Table of Contents
Ghost Kato 5.9
Ghost Kato FS 2.7
Ghost Bikes & Kato series
Alternatives
Kato Hardtail Range
The Kato hardtail range includes nine bikes, from the junior 1.6 AL and 2.7 AL bikes to the top-of-the-range 7.9 AL U. It is perfectly suited to entry-level and intermediate riders. They are fast, agile, and handle varied terrain without hassle.
Kato FS Range
In the full suspension range, you'll find the Kato FS 2.7 AL U and Kato FS 3.7 AL U. Both bikes are built around the same tough aluminum frame with SR Suntour front and rear suspension.
The 3.7 is a mild upgrade from the 2.7 with slightly better drivechain components and peripherals. Both bikes will appeal to riders who want to dedicate more time to hit big mountain trails.
What The Kato 5.9 and FS 2.7 Both Share in Common?
As both of bikes are designed for riding on demanding and technical trails, they share a bunch of similar components such as:
Bike Frame Material – Aluminium
Number Of Gears : 12
Shifters – SRAM SX Eagle
Rear Derailleur – SRAM SX Eagle
Brakes – Hydraulic Disc Brakes
Handlebar Shape – Riser Bar
Pedals – NOT INCLUDED
Stem – Alloy, 31.8mm
Headset – Strummer semi-integrated
Chain – SRAM SX Eagle
Down below you'll find the FS & Hardtail comparison
Ghost KATO 5.9 Review
The Ghost Kato 5.9 is a 29″ hardtail mountain bike at a decent price for intermediate or entry-level riders. It's a lightweight but solid bike built to charge over all kinds of terrain, from hardpack to rocky trails.
For hardtail MTB trail riders looking to get out and explore the great outdoors, the Ghost Kato 5.9 won't disappoint.
While it may not be a full-blown mountain machine, it will tackle any kind of rough dirt track or rocky trails without a problem.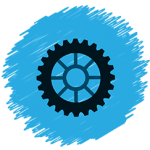 If you're looking for a well-specced all-terrain charger at an affordable price , you can't go wrong with this Ghost Kato 29er hardtail. It's an excellent introductory bike for new riders or those looking to upgrade their existing hardtail.
For a decent mountain bike near the $1,000 price range, there's a lot on offer here. On many MTB bikes below the $1,000 mark, you'll probably find cheaper components like mechanical disc brakes or sub-par tires.
However, on the Kato 5.9, Ghost manages to pack in high-quality parts from top-to-toe without breaking the bank. It's an impressive feat and if you're looking for a bike below $1,000, it's worth spending that little extra to get a lot more.
Kato 5.9 Main Features
SRAM SX Eagle drivetrain
The Ghost Kato 5.9 benefits from SRAM's excellent SX Eagle drivetrain with 12 gears. The single front ring is 34t with 10-50t cogs on the rear cassette for an extended range of gearing. Although the combination only provides the rider with 12 speeds in total, you'll find the low-range 50 tooth rear cog provides easy uphill pedaling ability.
Lightweight aluminum frame
The Ghost Kato 5.9 is built around a lightweight aluminum frame with reliable hardtail geometry and front suspension. Come rain or shine, you'll have no trouble tearing through even the roughest terrain on this beast of a bike.
29" Maxxis Tires and Alexrims
With trail-ready Maxxis Ikon 3C 29 x 2.35″ tires wrapped around Alexrims MD19 wheels, the ground quickly softens beneath you on this Ghost Kato 29er. The combination of strong wheels and large tires eat up the rocks while making short work of mud or sand. It's the addition of quality components like these that really give this bike value for money.
RockShox front suspension
The front suspension on the Ghost Kato 5.9 is provided by a RockShox 30 Silver fork. It gives the bike a relatively good 100mm of tunable travel and includes a lockout option.
Shimano BR-MT201 hydraulic disc brakes
Shimano's BR-MT201 hydraulic disc brakes offer excellent braking power in any weather condition. The 180mm rotors lock into position at a moment's notice from the sensitive and adjustable single-finger levels.
FULL SPECIFICATIONS
Best Use Mountain Biking Mountain Bike Style Trail Bike Frame Material Aluminum Frame Ghost Kato aluminum Bike Suspension Front Suspension Fork RockShox FS 30 Silver, 100mm travel Fork Travel 100 millimeters Crankset SRAM SX Eagle, 34t Bottom Bracket SRAM Dub Shifters SRAM SX Eagle Rear Derailleur SRAM SX Eagle Rear Cogs SRAM SX Eagle, 10-50t Number of Gears 12 gear(s) Brake Type Hydraulic Disc Brake Brakes Shimano BR-MT201, 180mm rotors Brake Levers Shimano BL-MT201 Rims Alex TD19, 32h Front Hub Shimano HB-RM35, 100mm Rear Hub Shimano RH-RM35, 135mm Wheel Size 29 inches Tires Maxxis Ikon 3C, 29 x 2.35 in., 120tpi Tire Width 2.35 inches Handlebar Shape Riser Bar Handlebar Alloy, 31.8mm Stem Alloy , 31.8mm Seat Post Alloy, 31.6mm Saddle GHOST Pedals Not included Headset Strummer semi-integrated Chain SRAM SX Eagle Gender Unisex
Ghost KATO FS 2.7
Packed with essential components for the rough trails, the Kato FS offers a super fast and smooth trailblazing experience
The Ghost KATO 2.7 full suspension mountain bike is part of Ghost Bikes' mid-range mountain bike offerings. Fitting in slightly below professional level but above entry-level, it's a very high-quality mountain and trail bike with impressive components for advanced riders.
Considering the wide range of quality features that it boasts, the Ghost Kato FS 2.7 is an excellent piece of equipment for the price . High-quality build materials combined with SRAM components ensure that you will have very few issues with the bike after purchase.
Usually, with mountain bikes in this price range, you might find you'll need to upgrade the wheels or put on new tires. However, with the Ghost Kato FS 2.7, you are ready to hit the trails right out of the box!
The aluminum rather than carbon fork does add a bit of weight but this also helps to keep costs down, leaving the bike at around 30 lbs (13.6kg) in total . Besides that, Ghost doesn't cut any corners on peripheral or other parts, offering nice touches like a decent Selle Italia saddle, JD dropper seat post, and quality Alex MD27 rims.
When compared to some of the top of the range full suspension ghost mountain bikes, the Ghost Kato FS 2.7 comes in slightly heavier than some might expect. Also, advanced riders will probably find the frame geometry slacker than usual as it aims to provide a more comfortable position for intermediate riders.
In addition to that, the single front ring leaves you with only 12 gears which some might feel is a bit limiting. While the 11-50t range of rear cogs does provide some high range, some riders would likely appreciate more gearing options when riding steep terrain.
Kato FS 2.7 Main Features
SRAM SX Eagle is one of the most popular and well-known gearsets with excellent shifting controls that are optimized for mountain bikes. The 1 x 12 drivetrain on the Ghost Kato FS 2.7 provides a decent range of gears with 11-50t size cogs on the rear cassette. Some riders might feel that only 12 speed on a mountain bike is limited but with the low-range 50 tooth cog on the rear, you'll have no trouble getting up steep hills.
Hydroformed Aluminum frame
The Ghost Kato FS 2.7 features a hydroformed aluminum with a slack head tube and steep seat tube angles. This helps to improve efficiency on hill climbs while also providing excellent downhill control. This makes the bike better suited to all-around gravel and trail riding rather than pure downhill charging.
Front and rear suspension
Fitted with an SR Suntour XCR 34 coil fork on the front and SR Suntour DUAIR rear shocks. Both shocks are tunable and provide 130mm of travel with a lockout option on the front.
Despite the lightweight material on the suspension, the lack of a carbon fork makes it a bit heavier than other Ghost MTB full suspension bikes.
Hydraulic Disc Brakes
Braking on the Ghost Kato FS 2.7 is provided by Tektro HD M285 hydraulic disc brakes with 180mm rotors. The Tekro levers provide quick and instant one-finger braking with modulation control. For a bike in this price range, it's great to see hydraulic disc brakes as they make a real difference over cheaper mechanical disc brakes.
27.5″ wheels and tires
The Ghost Kato FS 2.7 comes with 27.5″ wheels wrapped in Maxxis Forekaster 27.5″ x 2.35″ tires. They make short work of any terrain, including mud, dirt track, and rocks. The 60 psi, 120 TPI tires feature an EXO reinforced sidewall protection layer and dual-density tread for added safety and comfort.
Dropper Seatpost
The JD dropper seat post on the Ghost Kato FS provides easy seat adjustment while riding so that you can prepare for steep descents. Simply use the lever on your handlebars to drop or raise the bike saddle when needed.
Mountain Biking Style : Trail Bike Frame Material Aluminum Frame Ghost Kato FS aluminum Bike Suspension Full Suspension Fork SR Suntour XCR 34 coil, 130mm travel, 15 x 110 boost, tapered steerer Fork Travel 130 millimeters Rear Shock SR Suntour DUAIR, 130mm travel Crankset SRAM Style Eagle, 32t Bottom Bracket SRAM PowerSpline Shifters SRAM SX Eagle Rear Derailleur SRAM SX Eagle Rear Cogs SRAM PG1210 Eagle, 11-50t Number of Gears 12 gear(s) Brake Type Hydraulic Disc Brake Brakes Tektro HD-M285, 180mm rotors Brake Levers Tektro HD-M285, 180mm rotors Rims Alex MD27 Front Hub Formula alloy disc boost, 15 x 110mm Rear Hub Formula alloy disc Wheel Size 27.5 inches Tires Maxxis Forecaster 27.5 x 2.35, 60tpi Tire Width 2.35 inches Handlebar Shape Riser Bar Handlebar Alloy, 31.8mm, 760mm wide Stem Alloy, 31.8mm Seat Post JD dropper with remote Saddle Salle Italia X-Base Pedals Not included Headset Strummer semi-integrated Chain SRAM SX Eagle Dropper Post Yes Gender Unisex
Why Should You Buy the Kato?
Are Ghost Bikes any good?
Aggressive riders, in particular, will probably find the Kato frame geometry to be too relaxed for their needs.
Overall, Ghost Bicycles is a well-established and trusted brand that is known for its excellent trail riding MTB bikes. The Kato series continues this tradition by offering a range of bikes that promise to open up trail riding to a new wave of bikers.
If you are looking for an alternative for the same price as the Ghost Kato 5.9 – I recommend considering the Co-op DRT 1.2 bike, which is their only 29er mountain bike in this series (on M/L/XL frames). It is actually cheaper and comes with pedals, but the Ghost in my opinion looks more aggressive for trails, plus it's got the RockShox forks!
If the Ghost Kato FS 2.7 didn't light the spark yet, the REI Co-op DRT 3.1 might do it for you! Or, check out the full Co-op DRT -series review
Related: Best Full-Suspension Mountain Bikes Under $3,000
Hardtail vs Full Suspension Mountain bike
FS 2.7 vs F 5.9
Why Get the FS 2.7 – If you are willing to pay more and want to conquer rougher trails, the full-suspension trail bike offers better control and speed on technical tracks!
Why Get the hardtail Kato 5.9 – Best on gravel, smooth singletracks, and longer distances. Hardtail mountain bikes have better climbing capabilities as well (No extra bouncing fork on the rear, that adds weight)
Buy Ghost Kato on REI
Share this on:

Leave a Reply Cancel reply
Your email address will not be published. Required fields are marked *


Review: The Affordable Ghost Kato FS 7 Delivers
Ghost is a German brand that's aiming to make inroads into the US market via an exclusive relationship with REI. A smart move, I might add. But, does the Kato FS 7 hold its own or is it simply a budget bike that's skimped too much of the good stuff?
2015 Ghost Kato FS 7 Features:
27.5″ wheel size
Hydroformed aluminum frameset utilizing a classic 4-bar Horst linkage
Fox Float CTD XV rear shock delivers 120mm travel
Fox Float Evolution CTD fork features 130mm travel
Near-full Shimano XT 2×10 drivetrain (Deore cassete, chain and BB)
Shimano XT hydraulic disc brakes
Ghost-branded cockpit items
Wheelset uses Alex MD 21 rims with Shimano XT center lock hubs
Schwalbe Nobby Nic 2.25 tires
Weight: 29.2 lbs (actual)
Price: $2599 ( exclusively at REI )
Let the Ghost Out of the Box
For over 20 years, the Ghost brand has made hay — just not in the United States. With the Kato FS 7, Ghost is entering the US market with a ton of value for the money (and making a bit of hay in the process). That value was at the forefront of my mind as I unpacked this bike and scanned through the parts spec. A full-suspension, aluminum, 4-bar 27.5 bike with full a Shimano XT group outfitted with a Fox Evolution Series shocks for an affordable $2599?  **head scratcher**
To achieve that price point, Ghost employs several house-brand parts and does make careful selections elsewhere. While the overall spec is impressive, there are some omissions including a lack of thru axle front and rear, a bit of an outmoded bar width/rise and a rather chunky saddle.
Out of the box, the Kato FS 7 tips the scales at 29.2 lbs. — very respectable at this price. I've tested carbon bikes that weigh that much, so kudos to the product managers at Ghost for delivering a really solid value that won't bog you down on the trail.
All This for $2599?
Indeed. That's what I kept telling myself as I began to ride the FS 7. I've honestly not ridden a full suspension bike in this price range in, well , a long time. So it was good to get back into the meat of the market where most consumers live. No, $2599 is not pocket change, but for what you're getting, it's a fantastic deal and it has performed beyond my expectations.
As an aside, bike companies are delivering a ton of value these days on both the road and mountain side — allowing riders to either extend their budget and get a lot more or stay on a tight budget while still getting excellent performance. The Kato FS 7 is a great example of that.
Solid Trail Manners
With the Goldilocks of wheel sizes, the Kato has an advantage out of the gate. And when you add the predictability of a true Horst link suspension design on top of that, you're going to get a reliable performer. In my case, I've been particularly impressed with the responsiveness of this bike. Pedaling efficiency is solid as I've found myself climbing up steep terrain and nabbing PR's on a handful of my test loops.
As far as shock settings go, I found myself climbing in Trail Mode most of the time. In fact, I only switched out of that mode on long descents. As usual, I only put it in Climb Mode for the fun of it, but never utilized that setting for real. The active nature of the suspension design is such that it certainly climbs best in Trail Mode. While you can't get past the weight of the FS 7 (compared to the 23 lb. bikes I'm used to), it is a respectable dance partner on long climbs. Going tubeless may reduce rolling weight a little and provide a little extra shot in the arm on climbs.
While I am admittedly a 1×11 fan, the workhorse Shimano XT kit performed flawlessly with responsive shifting and appropriate gearing for any terrain I've ridden. I spent most of my time in the big ring, but did find it nice to have the granny as a bailout. In all gear combinations, the suspension remained active and supple — again a great attribute of a proven suspension design.
Overall handling has been solid — I just wished for a little wider bars. Regardless, this bike is easy to throw around at all speeds, but particularly when descending. The Fox fork and shock provide a smooth and progressive feel with enough of a platform to manual and flick the bike around when necessary. Rolling, twisting singletrack is a blast on this rig.
High-speed cornering is when you'll realize that the lack of thru axles does make a difference. It's been quite some time since I've ridden a full-suspension bike without them and now I know why. That said, it's a flaw that's livable and only really noticeable by someone who has ridden bikes that cost three times as much. The reality is, that small amount of flex doesn't detract from the bike's solid overall trail manners.
And, while the suspension design here is predictable, it lacks some of the bottomless feel that you get with the DW-Link or VPP platforms. Further tweaking might improve it slightly, but it still yields to those (more expensive) designs.
Bits and Pieces
Again, it's worth noting that this bike features a near-complete Shimano XT kit — including the venerable XT hydraulic disc brakes . Shifting and stopping were never a problem for this bike. Kudos for going with 180mm rotors for extra power — it came in handy.
Again, I'll add that the full Fox Evolution treatment (fork and shock) is really nice at this price point. Again, it sports a standard QR up front, but the quality of travel is fantastic. All too often you'll find low-quality, oversprung suspension at this level, but the Evolution series units are consistently smooth throughout their travel.
Some of my minor gripes (like the relatively narrow bars and the huge saddle) are easily changed for not much money. You likely have your favorite cockpit items anyway, so those pieces are really a wash.
A heck of alot of bike for $2500
Smooth and responsive suspension design
Fox Evolution fork and shock delivers quality travel
Can take abuse like a champ
Efficient and fast climber
Lay it down and it responds
No-fuss Shimano XT drivetrain and brakes
Nimble handling
Stealth dropper post routing (nice for a future upgrade)
Excellent tires that roll well and hook up nicely
Plenty of room for a large water bottle
No thru axles?!? (front or rear)
Bars are a bit narrow by today's standards
Saddle is too wide — really hard to drop off the back
The Bottom Line: Ghost Kato FS 7
Bringing this bike to the US market should prove to be an instant win for Ghost, and consumers alike. There is a ton of value here with a few quibbles I'm willing to overlook and others that are easily remedied. If you're not looking to spend an arm-and-a-leg but want true performance, head into your local REI and swing a leg over this one and I dare you to find a better value for your hard-earned money.
Buy Now: Available Exclusively at REI  
The Ghost Kato FS 7 is something of an anomaly in a world of high-dollar machines. You could certainly spend more, but this bike is a flat-out awesome value. It pedals efficiently, isn't too heavy and is a barrel of fun on the trails. Once you get past the lack of thru-axles, all you need to do is swap out the bars and saddle and you're golden.
Descending 8
Pedaling Efficiency 8
Fun Factor 8
A native of the Pacific Northwest, Jason quickly developed a love for the outdoors and a thing for mountains. That infatuation continues as he founded this site in 1999 -- sharing his love of road biking, mountain biking, trail running and skiing. That passion is channeled into every article or gear review he writes. Utah's Wasatch Mountains are his playground.
You Might Also Like
Canyon neuron al 6 review, pearl izumi attack barrier vest review, the north face wander 1/4 zip pullover review, 13 comments.
I own a 2016 and it is a very respective full suspension MTB for its price point compared to its competitors with identical out fittings and specs. It definitely handles as advertised and has been able to withstand the beating I put it through with jumps and neck-breaking cornering.
Did Ghost finally upgrade to a Thru- axle on your new model?
They have added a 15QR up front, but it remains a standard QR out back.
The 2016 switched to Deore brakes and added a through-axle up front.
Just got my Kato a few weeks back and really loving it (the seat had to go though)!
Sorry to be critical, but "bottomless feel" has nothing to do with whether a suspension is VPP, DW, or Horst
Good point indeed. It is a combination of the type of suspension and the tuning of the shock that makes that "feel". Any suspension design coupled with a crappy shock will perform, well, crappy.
Both the suspension platform and the shock work together to deliver the "feel" that the bike is intended to achieve. I will say that some suspension designs do have better kinematics than others and lend themselves to that bottomless feel.
How would you compare to this to an almost identically priced 2016 Scott Genius 750? I'm in the pre-owned for something in the $1000 price range and both the Ghost and Scott are on Craiglsist.
Well, that's a tough call between the two. The Genius is a little more high-zoot but with a little lower parts spec. Things can be upgraded over time, but having proper thru-axles would tip things in favor of the Genius in my mind.
I bought a very lightly used XS size, 2015 model for my 12 year old son. $1,000 CDN! Absolutely outstanding value. He weighs 95lbs, and I can tune the air in the Fox front & rear to work perfectly for him. This is a LOT of bike for the price…
Nice find! I agree… definitely a killer value.
Jason do you think this bike would do well in Leadville 100? I have this one and hoping I don't need to go out and get an XC bike. I would be willing to throw money at it to get it up to date .
Well… you certainly could. You will regret it when Columbine comes though. But, you can certainly use it for Leadville. There's no need to spend a ton on something new if you like what you've got. The extra girth will only make you stronger and make for great stories afterward.
Leave A Reply Cancel Reply
Save my name, email, and website in this browser for the next time I comment.
Notify me of follow-up comments by email.
Notify me of new posts by email.
Type above and press Enter to search. Press Esc to cancel.