How To Start A Ghost Kitchen In 10 Steps
Dark kitchens are optimized to take in online orders efficiently and quickly produce meals for delivery. Here are the ten fundamental steps to get started with your own ghost kitchen.
10 STEPS TO STARTING YOUR DARK KITCHEN
SET YOURSELF UP FOR SUCCESS WITH A SOLID FOUNDATION
Whether you call them dark kitchens, cloud kitchens, ghost kitchens, or virtual restaurants, delivery-focused production units are popping up everywhere.
The global ghost kitchen market is predicted to almost double from 2019 to a staggering $71.4 billion industry by 2027.
Dark kitchens are optimized to take in online orders efficiently and quickly produce meals for delivery. Capitalizing on the restaurant industry trends towards more off-premise dining, better tech solutions, and omnichannel ordering, the sector is seeing massive investment.
So it's no surprise that many entrepreneurs are looking at opening their kitchens. It's easy money. Well, there are a few things to get in place before you can press go and start cranking out orders.
10 steps to starting your dark kitchen
For anyone thinking about starting a dark kitchen, the first thing to do is look at the pros and cons of dark kitchens and read up on the fundamentals .
Then it's time to look at the data and choose your dark kitchen business model . It would be best if you found the right ghost kitchen business model for your business . This will depend on the type of kitchen you want to run.
It could be a shared kitchen that houses multiple third-party brands or a dedicated production kitchen out of which you run one or more virtual restaurants.
Whichever way you utilize the concept, here are the ten steps to get started.
#1 Choose your location
One of the most significant benefits of the dark kitchen model is that you don't have to pay top dollar for prime high-street real estate. You can look at the raw search and ordering data from delivery apps and search engines and choose a location to suit the demand best.
This often means a cheaper out-of-town spot where you can get more space for your money . As long as there are enough hungry residents nearby, you are good.
Consider the physical limitations and benefits of your chosen location:
Does it have parking and access for meal delivery drivers?
Is there enough room for larger trucks and vans for incoming stock deliveries?
Are the utilities adequate? You may need a higher electricity and water capacity in a busy commercial kitchen.
Is there enough space for the equipment you need? Will that pizza oven fit through the door!?
Do you need to modify the building to meet safety requirements? For example, by adding ventilation ducts or fire escapes.
If you are housing multiple independent brands, are there enough food businesses in the area to fill your kitchen with tenants?
This is a lot to consider. But once you decide on your physical location, you can start putting flesh on your concept's bones.
#2 Find your unique angle or niche
The next step is to find your unique selling point . You're already aware of the demand in the area, so now you can look for gaps in the market.
Either do something new or take something popular and do it better. Perhaps you can find innovation in a fusion of different cuisines or take a popular product and put a new spin on it.
Who would have thought a croissant-doughnut hybrid would capture the world's imagination? Yet the Cronut was a viral sensation.
If your business model involves multiple concepts, you can create several virtual restaurant brands to capture a bigger slice of the market. It's essential to find the right mix of brands to satisfy customer demand while keeping operations efficient.
#3 Plan your dark kitchen design and layout
Your choice of cuisine and business model will determine your design and layout. The advantage of a dark kitchen is that you can optimize the form just for delivery orders . You don't give most of your space to the dining room, bar, and serving stations.
You can have orders straight into the kitchen with a super-efficient production line leading to an order packing and driver pick-up area.
You don't have to worry about the decor or guest toilets. But don't forget to look after your staff with a break-out area and other comforts to keep them happy!
Check out our previous guide for a more in-depth look at kitchen design and optimization for delivery.
#4 Food safety and other paperwork
The less glamorous side of ghost kitchens is the part that could come back to haunt you.
You will need a health inspection before you can operate. You'll need to document safe procedures for storage, food prep, and cooking, and provide workflows. Then there's other paperwork around ridge temperature monitoring, pest control, and more.
ServSafe certification is the standard recognized in the US. But check out the rules and regulations in your area for the exact details.
If you plan on running a kitchen to house multiple tenants or businesses, remember that you alone are responsible for food safety . The buck stops with the kitchen owner, so don't expect the delivery partners or even the virtual restaurants cooking the food to take responsibility if there is a food safety issue.
#5 Choose your delivery partners or go solo
The debate between using third-party delivery providers or in-house delivery rages on in the restaurant business.
Taking delivery in-house means taking control of the entire process end-to-end but managing an entirely different operation.
Third-party delivery platforms are easy to set up and offer access to a broader customer base. But they take a commission on each order, and you rely on their drivers for your final customer interaction.
One of the most significant advantages of the delivery platforms is the reliability and ability to cope with large volumes of orders at peak times. Both in terms of accepting orders and having the driver numbers to deliver them on time.
If you plan on making a good profit from your ghost kitchen, it may be necessary to use multiple delivery partners to cope with the busiest periods.
#6 Staffing your dark kitchen
Staffing is one of the most significant costs and headaches for restaurant operators. Getting it right from the start is a big plus. One of the benefits of the cloud kitchen model is the saving on labor costs compared to a traditional restaurant with a dining room and table service. But staffing your kitchen is still a significant cost.
Because you don't need front-of-house staff, you can deploy people in other areas to focus on consistency, efficiency, and quality . Apart from a solid kitchen team running like clockwork, you may consider a production supervisor or a staff member focused on quality control.
In any case, taking the time to write detailed job descriptions, thoroughly vet and interview candidates, and provide good benefits and treatment to keep them happy is the key to finding – and keeping – a reliable team.
#7 Optimize your menu for delivery
The look and content of the menu are one of the most significant decision factors for customers comparing different restaurants online.
It should be simple, enticing, and optimized for delivery. This means streamlining your menu only to include items that travel well . And looking at the data to see which items are the most popular, profitable, and efficient to produce.
It's unlikely all your dishes will tick all three boxes, but you need to know the numbers before making informed decisions. Once you know which dishes perform best, you can optimize your production line to work harmoniously with your menu . And include a mix of popular, profitable, and efficient dishes. Then monitor the data in the future and constantly adjust your pricing and dishes for maximum profitability and efficiency.
Check out our previous post for more on how to optimize your delivery offering.
#8 Get on board with the latest technology
Dark kitchens, more than any other type of restaurant, are driven by technology. From the ordering platforms to the POS to the kitchen display system and delivery tech. Just as you need an efficient physical workflow through the kitchen, your tech stack also needs efficient data flow .
That means all your systems need to be able to communicate well and provide feedback and accurate data for you to analyze. The specific combination of tech solutions you use will depend on your business, but you want a future-proof platform that integrates well in order to have a streamlined data flow and the opportunity to add new tech solutions as they emerge.
Deliverect aggregates orders from all the major delivery platforms and provides you with all the tools you need to efficiently manage orders from one dashboard. Deliverect is the master of APIs and seamlessly integrates with all the major POS providers and restaurant management solutions to give you one seamless kitchen management platform.
#9 Optimize for efficiency
Once your cloud kitchen is up and running, it starts to get really interesting. You go from theory to reality, and you can really see how well your layout and tech decisions are working.
This is where having a solid tech platform is key. You can now analyze the data at every stage of order processing and production to streamline operations and optimize your offerings.
There are opportunities to optimize in every area of the business, including:
Efficient order management to maximize order volume
Streamlining order flow through the kitchen
Optimizing your menu pricing and dish choices
Automating back-of-house tasks like procurement and temperature monitoring
Standardizing recipe data to improve margins and reduce food waste
Managing inventory more effectively to minimize spoilage
#10 Marketing your ghost kitchen
Without the physical storefront and footfall of a traditional restaurant, you might wonder how to build a community of loyal customers around a virtual restaurant. The answer is you have to build the community online .
That means setting up a strong online presence, both on your own website , on delivery platforms, and on review sites and social media .
If you have the resources, it's a good idea to be as active as possible online:
Be active on as many social media platforms as you can – Facebook, Instagram, LinkedIn, Twitter, TikTok – starting conversations, interacting with customers to build a community of engaged users
Actively monitor and respond to online reviews – both positive and negative
Encourage customer referrals
Use loyalty programs and email marketing to foster repeat business
It sounds daunting but if you take control of your digital marketing, you'll be steps ahead of the competition from the get-go.
For more on marketing your dark kitchen online, read our ten steps to success.
Set yourself up for success with a solid foundation
The dark kitchen is the physical manifestation of the digital restaurant. As such, the latest tech should be built right into the brickwork of your kitchen, from how you take orders, to your kitchen display system, to the way you interact with delivery drivers.
A dark kitchen offers the perfect opportunity for data-driven success. It allows you to keep evolving as the technology continues to drive the industry forward. But only if you build your tech stack on solid foundations.
Deliverect specializes in operational efficiency for delivery-focused brands. Find out more about building your strong dark kitchen foundations around Deliverect's order management tools.
RELATED ARTICLES
There's plenty more to read
Dynamic Pricing for Restaurants: Benefits and Challenges
Online food delivery, Restaurant management
How to Solve 8 Challenges Delivery Restaurants Face (2023)
POS systems, Industry news
Online Order Management Now Simplified with NCC and Deliverect's Integration
Ready to get started?
Get in touch with us to discuss the particular details of your organization and set up a free guided demo to see Deliverect in action.
Opt out of sale of personal data and targeted advertising
Manage consent preferences, strictly necessary cookies.
These cookies are necessary for the website to function and cannot be switched off in our systems. They are usually only set in response to actions made by you which amount to a request for services, such as setting your privacy preferences, logging in or filling in forms. You can set your browser to block or alert you about these cookies, but some parts of the site will not then work. These cookies do not store any personally identifiable information.
Sale of Personal Data and Targeted Advertising
Third party trackers collect information used for analytics and to personalize your experience with targeted ads. Under the Virginia Consumer Data Protection Act, you have the right to opt-out of the sale of your personal data to third parties. You also have the right to opt out of targeted advertising related processing. You may exercise your right to opt out of the sale of personal data and targeted advertising by using this toggle. If you opt out, we will not be able to offer you personalized ads and we will stop sharing your personal information with third parties. Additionally, you may contact our legal department for further clarification about your rights as a Virginia consumer by using this Exercise My Rights link.
Performance Cookies
These cookies allow us to count visits and traffic sources so we can measure and improve the performance of our site. They help us to know which pages are the most and least popular and see how visitors move around the site. All information these cookies collect is aggregated and therefore anonymous. If you do not allow these cookies we will not know when you have visited our site, and will not be able to monitor its performance.
Social Media Cookies
These cookies are set by a range of social media services that we have added to the site to enable you to share our content with your friends and networks. They are capable of tracking your browser across other sites and building up a profile of your interests. This may impact the content and messages you see on other websites you visit. If you do not allow these cookies you may not be able to use or see these sharing tools.
Targeting Cookies
These cookies may be set through our site by our advertising partners. They may be used by those companies to build a profile of your interests and show you relevant adverts on other sites. They do not store directly personal information, but are based on uniquely identifying your browser and internet device. If you do not allow these cookies, you will experience less targeted advertising.
Cookie List
Restaurant Type
Reports & Guides
Tools & Templates
Case Studies
Become a Partner
Design Inspiration
New Openings
How to Open a Ghost Kitchen
September 22, 2021
Tap into the growing delivery market with the industry's fastest-growing revenue model.
Picture this: A diner is scrolling through a delivery app for somewhere new to dine. He or she stumbles upon a restaurant they haven't heard of and decide to look it up online before placing an order. Upon digging, they learn that this restaurant doesn't even allow guests to sit in a dining room, because it has no dining room. Instead, it operates completely within the confines of a commercial kitchen. 
This restaurant, like thousands of others, is a ghost kitchen . 
Ghost kitchens are on the rise due to small real estate needs, optimal back-of-house efficiency, the popularity of delivery apps and a myriad of other factors. But what exactly is a ghost kitchen – and what's the most efficient process for how to open a ghost kitchen?
Online Ordering for Restaurants
Drive more revenue with unified, branded, commission-free online ordering.
What is a Ghost Kitchen?
A ghost kitchen is a restaurant that serves its food exclusively for consumption off-premises. Most ghost kitchens are delivery-only and solely accept orders online through first-party and third-party platforms. Some ghost kitchens, however, do offer takeout or drive-thru options – though these restaurants are the exception to the norm. By 2030, it's expected that ghost kitchens will make up 50% of the takeout and drive-thru dining sectors . 
Ghost kitchens can operate as a stand-alone business for new restaurateurs to test their concepts. However, they can also act as brand extensions from notable restaurant businesses. For example, ghost kitchen It's Just Wings actually shares a parent company with Chili's . 
Sometimes referred to as "dark," "cloud," "shadow" or "virtual" kitchens, ghost kitchens offer restaurateurs multiple benefits, including:
Lower real estate costs , such as overhead, property, maintenance, cleaning and other front-of-house-related expenses. 
Smaller staffs , since there are no servers and delivery can be outsourced.
A simplified startup process , as ghost kitchens have lower setup needs and expenses. 
However, ghost kitchens do have their drawbacks. Some of the most noteworthy are:
Limited customer interactions , as most ghost kitchens won't ever see their guests in person. As a result, ghost kitchens sacrifice direct customer feedback and control over the dining experience.
High delivery costs due to high third-party delivery commission rates .
Constrained menu options , since not all foods are best consumed off-premises (i.e., don't "travel well"). 
Despite these cons, the advantages of ghost kitchens are so evident that thousands of them are currently operating around the country. It's no wonder why current and aspiring restaurateurs are looking to open one of their own. With that said, here's a step-by-step process for how to open a ghost kitchen and start capitalizing on their growing demand.
1. Choose a Concept and Develop a Menu
First and foremost, a ghost kitchen concept needs to be:
Unique, and…
Appealing to off-premise diners. 
Successful ghost kitchens prioritize foods that are high-selling and feasible options for delivery and takeout. Popular delivery options include:
Fried chicken dinners and sandwiches. 
Comfort food like mac 'n' cheese.
Asian cuisine like sushi, pad thai and chicken tikka masala. 
Mexican cuisine like tacos, burritos and chips & guacamole. 
Breakfast sandwiches and beverages.
On the other hand, some food options aren't suitable for delivery due to diner preference and their inability to travel well in to-go packaging. These less-than-favorable delivery items include fried foods, eggs and fine-dining entrees like steak. 
With these restrictions in mind, ghost kitchens should create a menu of options that are intended for consumption up to an hour after being prepared and will fare well with local tastes. Your initial menu can also be limited in order to see what resonates with diners and optimize inventory management and kitchen operations. 
2. Write a Business Plan & Source Funding
The first actionable step to starting a ghost kitchen is to create a business plan. It doesn't matter if the ghost kitchen is an extension of an existing brand or if it's a totally new concept – every new restaurant needs a business plan. 
Experienced restaurateurs know that the business plan is the first legitimate step in creating a thriving business. It encourages its writer to think through major topics like funding, financing and operations before breaking ground on the business. Restaurateurs can use this restaurant business plan template to start crafting a plan. 
In addition, most businesses require funding to get off the ground – and that includes ghost kitchens. While expenses may be smaller than a typical restaurant, ghost kitchens can still cost tens or hundreds of thousands of dollars for equipment, a location, proper licenses, marketing and other early purchases. 
When stuck on this step, here are some restaurant financing tips to help get funds faster.
3. Choose a Location
Selecting a location for a ghost kitchen harkens back to its concept. If the operation is simply a brand extension, it's completely acceptable to run the restaurant in an existing restaurant's kitchen, similar to what Chuck E. Cheese does with its ghost kitchen concept, Pasqually's Pizza & Wings . This option makes the hunt for space, staff and equipment much simpler. However, it runs the risk of overwhelming back-of-house staff and misleading customers when offering the same food from a different brand name. 
Selecting a unique location is the only option for new restaurateurs, and the choice on where to operate should be based on the availability of kitchen space, alongside a feasibility study to see if the concept would succeed in its proposed location. 
Kitchen space can be bought and converted to meet the needs of the restaurant, but this is time-consuming and expensive. The other option is to rent kitchen space, which would involve utilizing an established kitchen for a short period of time. Companies like The Kitchen Door , Kitchen United and Cloud Kitchens allow up-and-coming concepts to enter the ghost kitchen market by renting space in licensed commercial kitchens to prepare and sell their food.
4. Adhere to Restaurant Regulations
Despite not having a front-of-house, ghost kitchens are subject to the same regulations and licenses that affect restaurants. Preparing and serving food must be done safely and with the proper precautions, which often requires permits. 
The restaurant permits and licenses needed to legally operate include, but are not limited to, a:
Business license. 
Food service license. 
Employee health permit. 
Seller's permit. 
Resale permit. 
One final note: Without seeing customers day-in and day-out, the focus of the ghost kitchen can quickly become output rather than ensuring the quality and integrity of dishes. This mindset can be a ghost kitchen's downfall. Food safety and quality should never be overlooked since doing so can cost a restaurant repeat customers and potentially get it shut down. 
5. Develop a Distribution Strategy
Ghost kitchens need an ironed-out plan for how food will get to customers. The first decision is whether to offer direct customer pickup. Most ghost kitchens forgo this option to streamline the process for drivers and spend less time and money perfecting the restaurant's facade. However, there are financial benefits to offering pickup or drive-thru options. For example, if a third-party delivery app charges a 30% commission for delivery, offering a 10-15% discount for pickup ordered directly from the business can save the restaurant and the guest money. 
The other decision is which delivery methods to utilize. Using one or more delivery partners like Uber Eats, Grubhub or DoorDash means order volume will almost certainly be higher than if they were not used. However, not every delivery app is right for every ghost kitchen, so third-party options should be evaluated for their merits and drawbacks before signing up. It's important to factor commission costs into menu prices when partnering with these services, 
As an alternative, ghost kitchen businesses can use in-house delivery solutions that eliminate third-party commission fees. The drawback, however, is that restaurants sacrifice exposure and opportunity for new customer acquisition inside a third-party's marketplace. These first-party delivery solutions might also be hosted via a third-party delivery app, which further simplifies the back-end management of this software. 
Regardless of how food gets to customers, it's imperative that meals are sent out of the kitchen in takeout-friendly packaging and containers that preserve intended temperature and keep specific foods separated until they're ready to be consumed. 
6. Get the Right Technology
Like all restaurants, ghost kitchens need a suite of tools and technology in order to run smoothly. Naturally, this means POS software, as well as an integration system like ItsaCheckMate or Otter to sync online ordering directly to the POS.
If orders are accepted directly from guests, online ordering software is a must, alongside a restaurant analytics platform to easily analyze sales and produce actionable insights to improve the business. Finally, online loyalty programs can incentivize first-time diners into becoming repeat customers for a restaurant by rewarding takeout purchases with discounts or free items.
7. Create a Marketing Plan
A detailed marketing strategy should touch upon all of the ways a ghost kitchen will stand out in its market, acquire new customers and retain existing ones. 
There is a sea of general restaurant marketing tips on the internet, but here are some marketing ideas specifically for ghost kitchens :
Create a restaurant website to boost SEO and discoverability, allow curious diners to learn more about the business and link to online ordering options. 
Build a social media presence and promote social accounts on order receipts. Food pics, discount codes and menu specials are quick and easy fodder for filling up a social media feed.
Promote the restaurant on delivery apps by paying a premium to place higher than competitors on customer searches. Although financially unsustainable, it's a good practice for newly opened restaurants to build awareness and acquire new customers.
Fill out a marketing plan unique to the ghost kitchen.
8. Staffing and Training
The good news for ghost kitchens is they require less staff than their full-service counterparts do. With no need for servers, order-takers or counter workers, employees can focus solely on cooking, packaging and organizing orders for pickup. 
However, that means the pressure is on to run the kitchen as smoothly as possible. This starts with staffing the right employees and training them to strictly adhere to your operating model. 
As the restaurant staffing crisis persists, ghost kitchens need to take proactive measures to appeal to job-seeking cooks and gig workers . Such steps include:
Offering competitive pay and benefits. 
Being transparent about advancement opportunities. 
Fostering a healthy and supportive working environment. 
If these offerings are not presented to potential employees, a ghost kitchen will have tremendous difficulty hiring reliable talent. Plus, great hires bring value due to easier training and a better chance of employee retention. 
Restaurant Job Description Templates
Hire faster with 33 templates for front-of-house, back-of-house and specialized restaurant job postings.
9. Source Suppliers
For restaurants that already have a trusted food supplier, it's simple to utilize that same supplier for a new ghost kitchen concept. If the supplier offers bulk discounts, its even easier to gain a quick profit from the ghost kitchen, as lower food costs mean higher margins for menu items. 
New restaurants, however, might struggle to find the same discounts, which is why starting off with a limited-sized menu is so important. Ordering a surplus of a few ingredients (rather than a smaller amount of multiple ingredients) streamlines kitchen operations and creates an opportunity for high-volume discounts from suppliers. Shopping around to find the supplier who offers the best value (i.e., quality for the price) gives ghost kitchens the financial breathing room they need when starting out. 
10. Open Your (Virtual) Doors
Mission accomplished! Once the previous nine actions have been completed, your ghost kitchen will be fully stocked, staffed and prepared to serve hungry customers. And with ghost kitchens set to be a one trillion dollar industry by 2030, there's no better time to build a foundation for this emerging restaurant trend.
BentoBox Marketing & Commerce Platform
Deliver Smarter Hospitality
Want to stand out online, bring in more money, engage your diners, and streamline operations?
Recommended
How to Open a Bakery: The 6 Key Steps
June 20, 2023
A step-by-step guide to planning, financing, designing, staffing, and marketing a new bakery.
How To Expand Into A Multi-Unit Concept
June 30, 2017
Advice from The Meatball Shop, Tacolicious and Next Door on growing your restaurant business
How to Find Restaurant Investors
June 14, 2017
Tips and tricks from pros who've done it themselves
How to Start and Run a Ghost Kitchen
A ghost kitchen is a food service provider that only offers delivery, with no front-of-house dining or staff. Here's how to start one.
The right tools can make running your ghost kitchen a breeze. Make sure meals get delivered fast with Circuit for Teams .
If you dream of owning your own restaurant but lack the capital to get started, a ghost kitchen might be the answer.
All you need is a great idea, the right kitchen, and the drive to see it through. 
Since you're already researching ways to start a ghost kitchen, I'm sure you already have an idea and the drive. What you need to know is how to get started with building your fast-food empire.
In this article, I'm going to discuss how ghost kitchens work and why they're a worthy business venture — plus, seven tips on how to start one.
What is a ghost kitchen?
I'm going to give you more detailed information on each step in the process below. But first, I want to give you a quick rundown of what a ghost kitchen is.
Also known as a delivery-only restaurant, dark kitchen, or shadow kitchen, a ghost kitchen offers professional food preparation for restaurant-worthy meals — except there's no dine-in option. 
People can only get the food delivered.
This trend has been disrupting the restaurant industry for over a decade, but really became popular during the COVID-19 pandemic. 
Funding of ghost kitchen concepts took off throughout 2020 ($9 million to Zuul, $20 million to Virtual Kitchen, $120 million to Ordermark, and a whopping $700 million to Reef Technology).
Now, even big restaurant brands are ditching storefront restaurants and getting into the ghost kitchen game.
For example, celebrity chef Guy Fieri has launched his " Flavortown Kitchen " string of ghost restaurants across the country. By partnering with local restaurateurs and running out of their existing kitchens, Fieri promotes his own brand while also supporting their businesses.
How do ghost kitchens typically work?
A ghost kitchen prepares food for customers in a space that doesn't offer any public dining access. 
It's basically a virtual restaurant.
Ghost kitchens may have their own brick-and-mortar restaurant kitchens to prepare food. Since you don't have to be centrally located to attract diners, you can set up your kitchen where the real estate is cheaper, like industrial warehouses on city outskirts. 
They can even share such a space with other ghost kitchen owners, further cutting costs.
Alternatively, you could even rent your ghost kitchens temporarily. 
For example, companies like Ikcon, Karma Kitchen, CloudKitchen, and WeCook help ghost kitchens secure shared kitchens, cutting startup costs while getting them a spot for food prep. 
It's also possible to sublease space in an existing restaurant kitchen.
But just who is delivering?
Enter delivery apps.
Ghost kitchens are often found on delivery platforms like Uber Eats, GrubHub, and DoorDash. Other ghost kitchen models rely on their own delivery services, with an in-house team of drivers fulfilling last-mile delivery .
For example, Guy Fieri's ghost kitchen concept allows you to order through popular food delivery apps like Grubhub, Bite Squad, Waitr, Postmates, Uber Eats, and DoorDash. 
Ghost kitchens have a few key benefits, including:
Save money on staffing. Since there's no need to pay service staff or run a dining room, a ghost kitchen can be more affordable than a traditional restaurant model.
Cut real estate costs. With a traditional restaurant, location matters. You want to be in a place with plenty of foot traffic, which often means being in a city center — where commercial real estate prices tend to be high. With a ghost kitchen, location doesn't matter, cutting real estate costs.
Focus on the food. When you don't have to stress about issues like dining room decor and managing front-of-house staff, you can devote more time and energy to the best part — the food! After all, isn't that why you got into restaurants in the first place?
Cater to a larger audience. When you run a dining room, you have a set cap on how many people you can serve in a night. When you're delivery-only, you can cater to more people.
That said, ghost kitchens also have some drawbacks. Disadvantages include: 
Customer retention can be tough. When you're delivery-only, you can't impress customers with atmosphere or great service. You rely solely on your food to win them over and keep them loyal. In a market flooded with delivery options, customer retention can be a challenge.
Delivery errors can leave your customers dissatisfied. For example, if a delivery driver can't find the address fast enough, the food might be cold when it arrives. You can minimize delivery errors using software like Circuit for Teams.
Online reputation is king. When you're an online-only business, you have to manage your internet presence vigorously. Online branding and reviews can make or break your market presence. You have to devote extra time and energy to this process, for example, by replying to customer reviews, good and bad, in a constructive manner.
Quality maintenance can be tough. Sometimes, ghost kitchens open multiple locations. For example, in a huge city like New York, a restauranteur might open one kitchen location in Brooklyn and another in Queens, making it easier to serve both burroughs. However, it's important to maintain consistency and quality across all locations.
How to start a ghost kitchen in 7 steps
Think starting a ghost kitchen might be for you? Here's what you'll have to do to get started.
Step 1: Choose a ghost kitchen concept 
As of 2021, Uber Eats had more than 900,000 restaurants on its platform. DoorDash had 390,000. 
And that's only two of the many food delivery apps out there! 
The point is: If you want to make it in the competitive food delivery marketplace, the first step is to have a unique concept that stands out from the competition.
To develop a winning, stand-out concept, start by figuring out what food will be on your menu — and how it will be different. 
For example, if you're starting a pizza restaurant, you might be flooded with competition. 
How can you stand out? You might make it a pizza restaurant that only uses organic, farm-to-table ingredients. 
The demand for organic food is on the rise worldwide , and so is the demand for locally sourced, farm-to-table goods. In keeping with these trends, an organic, farm-to-table pizza restaurant is unique and caters to a clear market demand.
To develop your concept, take these steps:
Do market research. Find out what restaurants are already delivering food in your category in your area by browsing food apps. This will allow you to identify a gap in the market. Learn more about doing market research .
Draft your menu. Once you've got your niche, start cooking to test out menu concepts. Keep in mind that you want menu items that will travel well. Sending a three-layer cake by bike courier ? Not such a great idea. Sending a tray of cupcakes? Much easier.
Establish a ghost kitchen brand. Once you have your kitchen concept and menu, pick a restaurant name ( this business name generator can help ) that reflects your brand. For example, you don't want to name your restaurant Pizza King if you're primarily selling salads. Make it accurate and easy to remember.
Step 2: Legally form your ghost kitchen business 
It's the last thing you want to think about, but consider this: Someone eats your food and gets sick — so sick that they end up in the hospital. 
Soon after, you've been named in a personal injury lawsuit, demanding you recoup them for their medical bills and more.
Hopefully, this kind of scenario never happens. But being prepared can bring you peace of mind. 
To help protect your personal assets in this kind of situation, it's important to establish your ghost kitchen as a formal business entity.
The U.S. Small Business Administration (SBA) has a guide to the different types of business models and their pros and cons. Common options include:
Sole proprietorship 
Partnership
Limited liability company (LLC)
Corporation
Many food businesses opt for an LLC since it's more straightforward and simple than other options but still protects your personal liability. 
You'll have to register your business with the state where your ghost kitchen operates. This is usually done through the relevant Secretary of State's office .
Step 3: Find a kitchen location 
Now for the big question: Where will you prepare your food? You have a few options.
Establish your own kitchen. Creating your own free-standing kitchen lets you customize details like the appliances, equipment, and layout. Plus, you won't have to share storage and other spaces. However, it's the priciest option, requiring a large investment. undefined
Use a shared commercial kitchen. You can rent a spot in a shared commercial-grade kitchen, saving money. Plus, since this kitchen space will already be licensed, you won't have to worry about taking steps to make sure it's up to code (fire, health, safety). As a drawback, though, you can't control the location, and you may need to buy some extra equipment, depending on your restaurant's needs. Plus, shared kitchen spots tend to fill up fast. undefined
Sublease an existing restaurant kitchen space. Some restaurants partially sublease their existing kitchen spaces to ghost kitchens. Again, this saves money and time, as you don't have to worry about making sure the space is up to code. Plus, sublease options tend to be more plentiful than shared kitchen spaces. However, subleased restaurant kitchens can present problems like limited hours of operation, restrictive storage spaces, and a lack of accessibility for delivery drivers. undefined
Step 4: Secure relevant business permits, licensing, and insurance 
To make sure your ghost kitchen is legal and doesn't get into any issues, there are a few licenses and permits you'll need. While requirements will vary based on your location, here's a quick roundup of some basics.
Business license: This is issued by your state, usually by the local Secretary of State . 
Employer identification number (EIN): An EIN is like a Social Security number (SSN) but for companies instead of individuals. You need it for staffing. You can get it from the Internal Revenue Service (IRS) online .
State tax ID: This is like the EIN but for state taxes. You can use this directory listing to find out who to apply to for the EIN in your state.
Sales tax license: If you plan to purchase wholesale goods (like restaurant equipment or foodstuffs), you want a state sales tax license. You can then purchase wholesale goods without paying added taxes. You can likely get this through your state comptroller or department of revenue. For example, in Colorado, it's handled by the Department of Revenue .
Food manager certificate: As a business owner dealing with food, this is mandatory in most states. Check your state's local guidelines to be sure. The Department of Health usually manages this ( see Oregon , for example). You can get the certificate by taking a course and passing a test. ServSafe lets you do it quickly online.
Food handling license: Many states require employees who prepare food to have this license. You'll have to check your state's requirements. Usually, this information is provided by the Department of Health ( see Texas , for example). If needed, your employees will likely have to take a quick course and test — for example, through ServSafe — to get their license.
Note that if you decide to set up your own kitchen, you'll need additional licenses and permits. For example, you'll have to make sure that the kitchen is set up according to fire and safety codes, and your state's health department will have to certify safety.
Finally, don't forget to get insurance for your ghost restaurant! 
Common types of insurance you need will likely include general liability, workers' comp, and commercial auto insurance if you have your own delivery team. Learn more here .
Step 5: Get established on food delivery apps 
Once you have the logistics above set up, it's time to sign up with delivery vendors. Third-party platforms like Caviar, Uber Eats, Grubhub, Postmates, and DoorDash can list you on their platforms — boosting visibility — and take care of delivery.
The precise sign-up process for each one differs, but you'll likely have to give some basic information to get started, such as:
Your location address
Contact information
Business bank account details
Web link or PDF of your menu
Working with an existing food delivery app has some pros and cons.
First, the good: You'll have a wide online reach, thanks to the strong presence of an existing app. These apps are also convenient for customers, which can help with client acquisition and retention. 
Finally, with the apps, you don't have to worry about hiring and managing drivers.
However, apps can also have major drawbacks. 
When you're in an app, you're placed in direct competition with many other food providers. 
You also don't have access to customer data, which limits your marketing opportunities — for example, people who order by app may not visit your website or sign up to your newsletter. 
Finally, apps take hefty commissions — up to 30% per order in some cases .
Step 6: Create a delivery strategy 
If you don't want to make use of third-party delivery services, you can also deliver the food yourself. 
This gives you complete control over the process and can be reassuring, as you'll know that your own team is handling the food and getting it from your kitchen to the customer safely and securely.
Plus, you won't have to compete with other food providers on the app. 
For example, if the number of delivery people working on a given day is limited — or demand is high due to bad weather — getting a driver can take time, which leaves your customers waiting. 
Hangry, impatient customers? No thanks!
If you decide to handle deliveries in-house, routing software like Circuit for Teams can help you manage the process. You can assign routes to drivers and track their progress in real time. Plus, you can send delivery notes and updates to customers directly, so they know exactly when their food will arrive.
Circuit for Teams can also help your drivers get their delivery orders done faster . The software maps out the fastest route for drivers to follow, taking into consideration everything from traffic patterns to construction sites. 
Faster food delivery means happier customers — and more seamless ghost restaurant operations.
Circuit for Teams has already helped plenty of providers get a grasp on their delivery operations. 
Roll This Way is one great example . The custom sushi catering company set up their own team of drivers to deliver sushi kits throughout the Greater Toronto Area. 
Planning a single driver's route could take 45 minutes to 1.5 hours. With a team of five drivers, this could mean six-plus hours of planning on a heavy delivery day. 
With Circuit for Teams to take care of route planning, the Roll This Way team saved valuable hours — and got added peace of mind with features like proof of delivery.
Learn more about starting a good delivery business .
Step 7: Market your ghost kitchen business 
The first step in marketing is establishing a strong brand. We discussed this in step one — it starts with your restaurant name. 
You also want a visually compelling logo and a color scheme, which you'll use on all your branding materials, including your website, menus, and business cards. Learn more about branding .
You can further boost your brand and get people excited about your food with visuals. Yummy food photos are a great way to stand out from the crowd. 
Take a hamburger, for example. A juicy burger on a crisp toasted bun can be a great visual. But if the bun is soggy, the lettuce is wilted, and the burger meat is burned? 
Not so attractive. Photos can make or break the sale.
While you can hire a professional food photographer, you can also create your own culinary images. Here are some tips to get it right.
Set food against a plain background like a white plate.
Avoid distractions like cutlery and glasses and focus the images on the food.
Make the food look great with the right lighting. Natural light is easiest and looks best. Alternatively, you can use indoor lighting and diffuse it with parchment paper.
With your marketing materials ready to go, it's time to spread the word. Most third-party delivery platforms offer marketing tools to help. 
For example, you might be able to offer temporary deals and get your restaurant a highlighted listing. However, note that the platform will likely charge a higher commission as a result.
You can also do your own marketing using your website, search engine optimization (SEO), and social media. Partnering with local food bloggers or influencers is another option. 
Discover how Circuit for Teams can optimize your ghost kitchen delivery process
Get your ghost kitchen restaurant business off to a strong start with Circuit for Teams. You won't have to worry about delivery drivers getting lost or taking too long. This routing software tells them the fastest way to get from point A to point B, and you can track their progress live.
About the author
Heather Reinblatt is a managing editor currently living in St. Louis, Missouri. She spends her free time reading, trying new recipes, and cuddling her cat Paisley. You can find Heather on LinkedIn .
Like this? Then try these 👇
Earn more in less time with circuit for teams.
Discover why so many choose Circuit for their business
Reduce your delivery costs by 20% with Circuit for Teams
Customized onboarding
Instant account setup
Unlimited dispatchers
Driver analytics
Customer notifications
Live track of delivery drivers
Optimized routes
Edit live routes

Kitchen Equipment
Design Build
Paper & Disposables / Chemicals
Parts Services Installation
Used Equipment
Takeout & Delivery Supplies
Commercial Cooking Equipment
Refrigeration & Ice Machines
Commercial Kitchen Food & Drink Prep
Front Of The House
Back Of The House
Admiral Craft
Advance Tabco
American Metalcraft
Amerikooler
American Panel
Anchor Hocking
Bakers Pride
Beverage-Air
Carter-Hoffmann
Chef Revival
Chef-Master
Continental Refrigerator
Cooper-Atkins
Crown Steam
Dexter-Russell
Dispense-Rite
Doyon Baking
Grindmaster
Hamilton Beach
Ice-O-Matic
Imperial Brown
International Tableware
Janico Manufacturing
John Boos & Co.
Louis Tellier
Magikitch'n
Market Forge
Moyer Diebel
Olympic Storage Company
Perfect Fry
Piper Products
PizzaMaster
Robot Coupe
Sapphire Manufacturing
Spaceman USA
Structural Concepts
T&S Brass and Bronze Works
Thunder Group
Toastmaster
Tomlinson Industries
Vertex China
Victorinox Swiss Army
Menu Expansion
How To Set Restaurant Goals
Embracing Earth Month: Energy Efficiency & Sustainability in Restaurants
Energy Savings
Beginner's Guide To Opening a Restaurant
5 Ways To Survive the Evolving Restaurant Industry
Secrets To Restaurant Survival
Outfit Your Restaurant For Food Delivery & Takeout
Maximize Food Delivery Services For Your Restaurant Business
Guide To Ghost Kitchens
Best Practices In Food Safety & Sanitation
Water Savings For Restaurants And Commercial Kitchens
Outdoor Seating Trends
Stainless Steel Commercial Kitchen Fabrication
A Designer's Perspective On Ghost Kitchens
How to Maximize Commercial Kitchen Storage Space
Equipment Solutions For Small Spaces
Fitting Foodservice Into Challenging Spaces
Firing Up An Incubator
Dining Room Furniture
Commercial Refrigeration Buying Guide
Commercial Convection Cooking
Choosing A Commercial Ice Machine & Ice Trends
Commercial Kitchen Ventilation Systems Guide
Walk-In Cooler Buying Guide
Deep Fryer Buying Guide
Pizza Deck Oven Options
Equipment Trends For Emerging Chains
Commercial Dishwashers
Ice Machines: Sizing for Application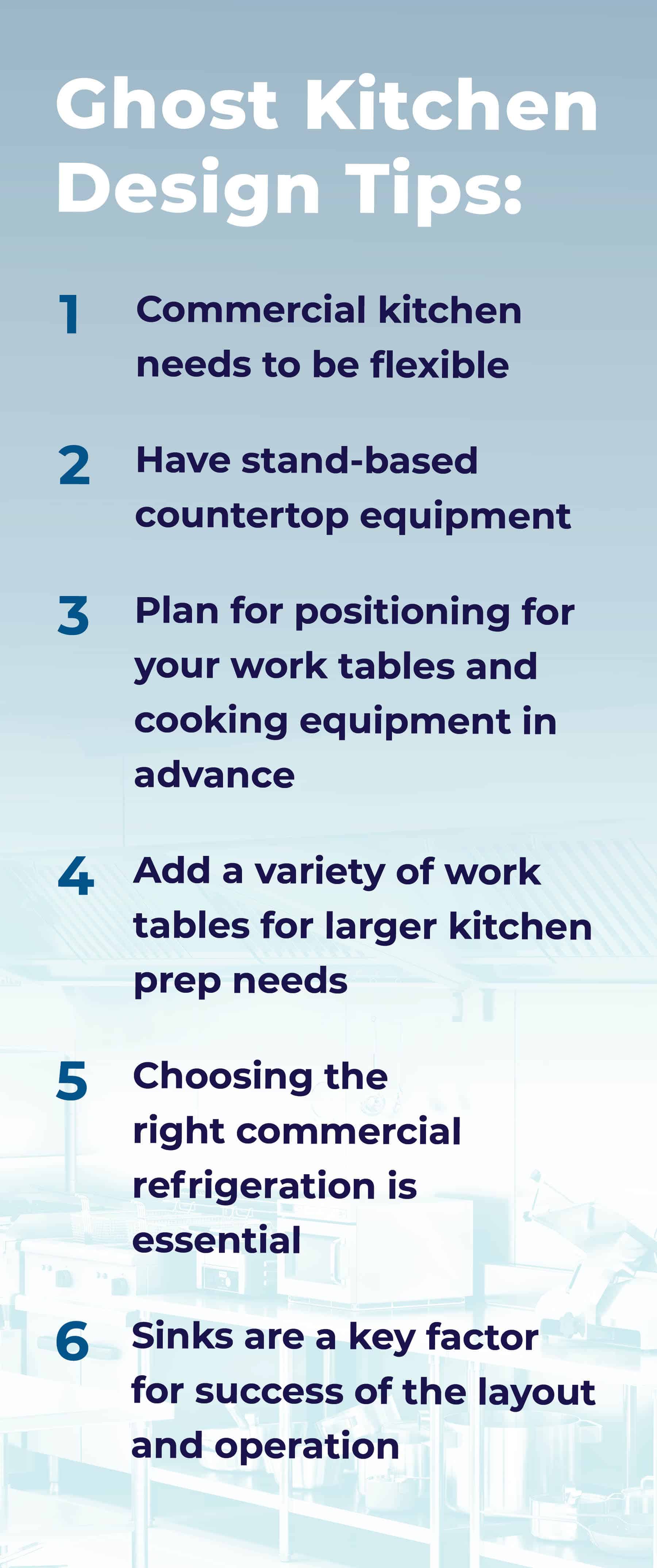 If you are wondering what ghost kitchens are or know something about them but want to hear from someone who has helped design and implement one, you have come to the right place. We were excited to hear from Nick Pasquarello at Deacon Foodservice Solutions about his experience designing and implementing changes to create a ghost kitchen. He shared valuable insights to help support restaurants and foodservice operators in understanding how to design a successful ghost kitchen.
Keep reading to learn how to work with a designer for your kitchen — but first, check out these tips that we learned during our interview:
Ghost Kitchen Design Tips:
Commercial kitchen needs to be flexible
Have stand-based countertop equipment
Plan for positioning for your work tables and cooking equipment in advance
Add a variety of work tables for larger kitchen prep needs
Choosing the right commercial refrigeration is essential
Sinks are a key factor for success of the layout and operation
Sign Up For More Great Content In Your Inbox
Ghost Kitchens
Briefly stated, a ghost kitchen is a professional food preparation and cooking facility set up for preparing delivery-only meals without a dining area for walk-in customers. Restaurants that use ghost kitchens may have a different physical location for walk-in customers, or a delivery-only ghost restaurant. Shared commissary spaces focusing on delivery are also referred to as central kitchens, rent-a-kitchens, ghost kitchen facilities, dark kitchen facilities, virtual kitchen facilities, or cloud kitchens.
If you are going to use some extra space from your existing brick and mortar restaurant and turn it into a space for ghost kitchen operations, this will make branding a little less complicated. Whether you are using extra space or you are an entrepreneur on a new mission, make sure to follow words of wisdom from this designer to develop a successful takeout or food delivery option for your customers.
Ghost Kitchen Tips: From The Designer
Nick Pasquarello at Deacon Foodservice Solutions told us, "While flexibility is a consideration for all kitchen designs, it becomes more important for commissary kitchens as the needs of the clients will probably change. The clients served in these locations include mostly caterers and food trucks."
The clients and projects he worked on contained one or two main cooking lines considered "shared-use" that include large exhaust hoods outfitted with double-stack convection ovens, combi ovens, an electric smoker, a tilt skillet, and some combination of countertop cooking equipment (hotplates, griddle, charbroiler, etc).
Kitchen Space
Space, aside from equipment space, is your most important element. Here is some feedback that was given to the designer by the owners and how this can help you when looking to design or hire a designer for your ghost kitchen project:
Based on feedback from Nick's clients, here are some tips on kitchen facilities:
Use countertop equipment with an equipment stand base as opposed to an oven base because those ovens rarely get used. Therefore, they're not worth the extra cost and are more suited to have separate convection ovens for easier access.
Typically, there are work tables on casters opposite the cooking equipment that serve as a prep space/landing area.
It's unnecessary to have sandwich/salad prep refrigeration in these areas, as the food is not being plated or served immediately.
Ghost Kitchen Design Elements
Kitchen facilities and other aspects to think about and discuss with your designer:
A centrally located office with windows to view the main cooking production area
A large shared dish area
High-capacity ice machine for shared-use
Lockable dry storage cages
Lockers for clients
Large prep area with plenty of work tables on casters
Outlets for prep equipment
Good real estate or place to rent with ample sized parking lots for food trucks and clients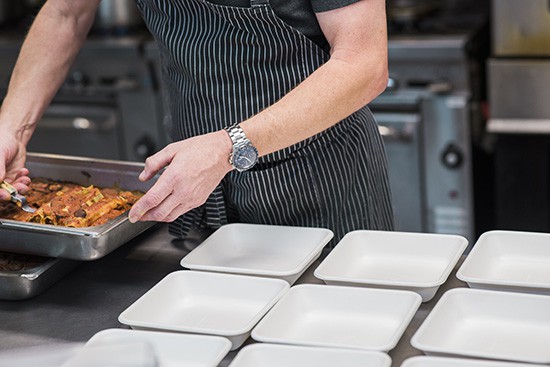 Ghost Kitchen Equipment
Taking on a project or a start-up ghost kitchen as an entrepreneur or chef will require a change in equipment, especially if you are more accustomed to a brick and mortar restaurant. So while we interviewed Nick, he had some other insights in not just what kitchen equipment and space was needed — he talked specifically about refrigeration.
Walk-in refrigeration and freezer space are vitally important, and he recommended having a redundant system with temperature alarms in place. This allows the space to sell as an insurance policy to help ensure they don't lose valuable products. Within these walk-ins, shelving with dividers or labels becomes helpful to show which products go where.
What else? Of course, there will be the main cooking lines, but Nick had some good ideas on the extras, like sinks and oven recommendations for your ghost kitchen.
Besides the main cooking lines, there are several condos or private suites for individual clients that include:
6–8 foot exhaust hood
Double stack convection oven
Hot plate with equipment stand
Reach-in refrigerator & freezer
Worktable & hand sink
Three-compartment sink
Pro Tip: "Depending on how the owner of the space wants to handle the suites, these can either be outfitted with a standard cooking equipment package or no cooking equipment added until the clients bring or purchase their own. If you choose the latter scenario, it's important to check with local regulations regarding the future equipment on the plans. Ansul nozzle location is another consideration that will need to be determined after you select the equipment or in place."
Labor Costs
After Nick shared his experience and insight, we did a little of our own research on the labor costs. It will relieve you to know that a start-up ghost kitchen is a lot cheaper to start than a brick and mortar location restaurant. This is especially true if you lease versus purchase real estate. Owners typically face $750,000 to $1.2 million in expenses to open a small restaurant in a high-demand urban area in places like Chicago, for example. For your ghost kitchen start-up, you can typically lease in a less expensive area, or even rent a finished commercial kitchen for under $20,000.
Keep in mind that running a ghost kitchen will typically rely heavily on third-party delivery service, for example, UberEATS, Doordash, or GrubHub to name a few delivery platforms. Next, consider the labor costs of employees. It may sound counter-intuitive, but maintaining staff at all times versus seasonal may be cheaper in the long run, as seasonal help will more than likely charge more for their services. Similar to a brick and mortar restaurant, you will still have payroll and other similar expenses to manage that include labor costs.
Nick states, "I think it's important we embrace change and focus on educating both our clients and ourselves so we can better serve the industry. Ghost kitchens will continue to increase in popularity, and we will provide more value if we continue to share best practices."
Whether you are just beginning your journey to startup your business venture in a ghost kitchen or you are expanding your branding of an existing business, take the words straight from the designer and make the most out of your new beginnings.
Email Signup
Sign up for promotions and specials on our best in class brands..
Phone This field is for validation purposes and should be left unchanged.
Retail | How To
How to Start a Ghost Kitchen in 13 Steps
Published March 9, 2023
Published Mar 9, 2023
REVIEWED BY: Mary King

WRITTEN BY: Ray Delucci
1. Create Your Concept
2. Incorporate & Set Up Your Business
3. Brand Your Business
4. find a location.
5. Get Permits, Licenses & Insurance
6. Raise Funds
7. Take Mouthwatering Food Photos
8. Decide Ordering, Payment & Delivery
9. Consider Additional Software
10. source suppliers.
12. Market Your Ghost Kitchen
13. go live.
Bottom Line
Ghost kitchens, delivery-only restaurants that rely on third-party delivery platforms or other online ordering sites for sales, have become a major force in the food industry. They drive sales for food businesses and give customers more food variety. With no physical space for customers to dine, ghost kitchens have generally low overhead costs and are relatively inexpensive to start ( $20,000–$60,000 on average compared to $40,000–$200,000 for food trucks, for example).
You can run an independent ghost kitchen from a freestanding commercial kitchen space, a shared commercial kitchen, or sublease space from an existing restaurant.
Learning how to start a ghost kitchen is pretty simple. Let's walk through the steps.
The first step to getting your ghost kitchen off the ground is choosing a concept. Your ghost kitchen concept is, essentially, your menu and brand name. Unlike traditional brick-and-mortar restaurants, ghost kitchens' names and menus need to be optimized to perform well in online searches.
When thinking of your concept, your goal is to hone in on a niche product that you can execute extremely well. Keep your menu streamlined and targeted to consumers looking for that exact product. A chicken wing concept is more likely to attract repeat orders with a name like Wing King rather than Third Street Bistro.
There are a couple of steps to creating your ghost kitchen concept.
Research your customer
Knowing your customer base and what they like to eat is key when creating your concept. Are you in a college town? Or do you offer food in a high-income, family-oriented community? Before settling on a concept, you should understand what customers are looking for, their lifestyle choices, and their price point.
Consider travel
All food from ghost kitchens travels to the customer. Consider the distance your food will likely travel and the time it will take to make the journey. For example, in a busy city, it may take twice as long for your food to travel short distances at the height of the dinner rush. So, think about foods that stand up to transport. Pizzas and wings are popular options for this reason. Curries, empanadas, and chicken sandwiches are also excellent choices.
Draft your menu
Create a group of dishes that will travel well and appeal to your likely customers. If you rely on third-party ordering and delivery platforms, you don't need to worry about designing a menu layout at this point; the sites all have standard templates. On the other hand, if you'll be using your own online ordering website, you'll need to design a menu layout later.
Name your ghost kitchen
Your ghost kitchen name should be catchy, be easy to read on a page of search results, and mention the type of food on your menu. To get your creative juices flowing, check out our restaurant name generator .
2. Incorporate Your Business & Set Up A Bank Account
Once you've settled on a concept and a name, you'll need to get some business bits out of the way. If you are adding a ghost kitchen as an additional revenue stream to an existing restaurant, you can skip this and move to step 3. But if you are operating as a new, independent ghost kitchen, you'll need to incorporate so that your business can be licensed and insured.
Incorporating your Business
Setting Up Your Business Bank Account
There are several types of business structures; the most common are:
Sole proprietorship
Partnership
Limited Liability Company (LLC)
S corporation
Corporation
Most ghost kitchens will find that an LLC is the best fit since it protects your personal assets in the event of a lawsuit or bankruptcy. If you plan to pay yourself more than $20,000 per year from your ghost kitchen, designating your LLC as an S corp may also be a good idea. You can explore other business structures in more detail by checking out our guide to choosing a business structure .
You can find all the forms you need to register your LLC on your state's official business registration website. The costs range from around $50 to $500, depending on where you are located. If you find your state's website confusing or tricky to navigate, you can also use legal sites like LegalZoom and Rocket Lawyer to guide you through the process.
For step-by-step guidance, see How to Set up an LLC using LegalZoom .
You need a business bank account to receive payments from third-party platforms or payment processors and to pay suppliers. You can start by inquiring at the bank that handles your personal accounts or look for a bank that caters to small businesses. For step-by-step instructions, see our guides How to Open a Business Bank Account and The Best Small Business Checking Accounts .
Now that you have some of the dry business stuff out of the way, it's time to get creative. Your ghost kitchen needs an eye-catching logo that is easy to read in search results and will look good printed on bags, stickers, and to-go containers. You don't have to be a creative genius yourself; you can hire freelance designers easily via websites like Fiverr and Upwork.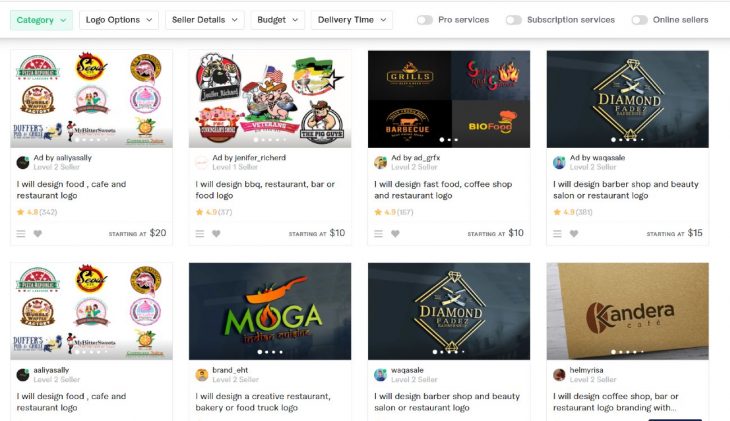 A quick search for "ghost kitchen logo" on Fiverr yields portfolios from several eye-catching designers.
You can find freelancers in virtually every price range, but you should plan to spend anywhere from $50 to $400 for a logo design. For ghost kitchens, getting a complete brand kit is also a good idea. A brand kit typically comes with multiple copies of your logo that are optimized for various social media platforms, printed media, and website use. A brand kit for a ghost kitchen might also include stickers for sealing to-go bags, business cards, and menu designs that you can use in social media ads. Brand kits tend to be pricey, but you can generally find them for around $350 to $800, depending on the designer's skill level.
Ghost kitchens can be housed in freestanding, independent delivery-only kitchens, shared commercial kitchen spaces, or subleased restaurant kitchens. Freestanding, delivery-only kitchens are the most expensive. You'll need to buy all of your equipment and secure all required licenses, and you may need to secure building permits.
Shared commercial kitchen spaces are easier to find in recent years. The COVID-19 pandemic encouraged a boom in commercial kitchen construction, and ghost operators can now find spaces in co-working kitchens built especially for ghost operations by CloudKitchens , Reef , and Kitchen United . You can also find general commercial kitchen spaces in your area by checking sites like the Kitchen Door and Commercial Kitchen for Rent.
Suppose commercial kitchens are filling up in your area. In that case, you can reach out to restaurants that operate during limited hours (breakfast only, dinner only, etc.) and ask if they would be interested in subletting their kitchen to you during the off-hours. Shared spaces offer one benefit that freestanding kitchens do not: they are often all set with the DOH on many of the rules considering owning a food operating space.
Freestanding
Commercial Kitchen
Subleased Restaurant
5. Get Permits, Licenses & Insurance
Like any restaurant, your ghost kitchen will need several permits and licenses from your local fire, health, and tax authorities. Some permits are tied to the building itself and require site inspections. If you operate your ghost kitchen from a new, freestanding, independent location, you'll need to obtain these.
If, however, you sublease from an existing restaurant or lease space in a shared commercial kitchen, you'll want to verify that the kitchen has the proper permits in place before laying down rent and security deposits. On the other hand, if you are adding a ghost concept to your existing restaurant, your existing licenses should cover your ghost operation.
Additionally, your space will be inspected and graded by the local health department and you'll need HACCP ( Hazard Analysis and Critical Control Point ) plans and other food and employee safety requirements before operating. Many states require a manager on site to have a food safety manager's certification, and you need an established system for food safety monitoring and traceability.
Typical Licenses Ghost Kitchens Need
Insuring your Ghost Kitchen
Business license: This license comes from your state or county and authorizes your business to operate in your location. Prices vary from state to state.
Employer identification number (EIN) : This number is given by the IRS and used to file your federal business taxes. There is no charge to obtain an EIN, and you can find directions and forms on the IRS website .
State tax ID: This is your state's version of an EIN. This number can be found through your local state government, or use the Small Business Administration's directory to locate your state's appropriate website.
Sales tax license : This license allows your business to purchase wholesale goods tax-free.
Food Manager's certification: Most states require that any business serving food to the public have a food service manager's certificate. You'll need this even if you sublease space from a commercial kitchen. The certification requires you to take an in-person or online course and pass a test. You take the course and test through ServSafe; the cost is $179 for the course and test combined.
Food Handler's license: In many states, any employee who handles food must have a food handlers certificate. Like the Manager's Certificate, this document requires the worker to take a class (usually around two hours) and pass a test. Your staff can take the course and test online or in person via ServSafe; the cost is $15 to $18.
The licenses required can vary by location. If you are opening a new, freestanding ghost kitchen and unsure about which licenses are required in your area, consider hiring an online legal service for help. For example, Incfile offers a research package that finds the necessary licenses for your business type in your location and includes all the paperwork you need to file, along with instructions. Pricing for Incfile's Business License Research Package is $99.
Like all small businesses, ghost kitchens need insurance to cover them in case of accidents, food-borne illness, or employee injury. Suppose you lease your ghost kitchen from a shared commercial kitchen or sublease from an existing restaurant. In that case, you will likely be asked to provide proof of your liability insurance (and workers' comp if you have employees).
At a minimum, most ghost kitchens need:
General Liability: this type of insurance protects you in the case of a third-party driver injuring themselves on your premises, as well as from Property damage and claims brought by nonemployees. Pre-existing restaurants likely already have a general business liability policy but should check with their provider to ensure that adding a ghost kitchen is covered in their current policy.
Workers' Comp: If you have employees, you will be required by law to have workers' comp insurance to cover medical bills and lost wages if an employee injures themselves at work.
Commercial Auto or Hired Not Owned Policy : If you employ a team of delivery drivers, you will need a commercial auto policy if they drive company-owned vehicles. If your drivers use their personal vehicles, you will need a "hired not owned" policy to cover your business if these drivers get in an accident during work hours.
6. Raise Funds (If Needed)
Ghost kitchens are generally a low-cost affair— $20,000 to $60,000 depending on how much of a premium kitchen you build out. If that is outside your budget, you'll need to raise funds. Crowdfunding is a great option, as is reaching out to friends and family for contributions or loans. If you plan to approach a bank for a small business loan, you should create a business plan to strengthen your loan application.
Most ghost kitchens are housed within existing commercial kitchen spaces, so it is entirely possible to open a ghost concept without building or renovating a kitchen space. However, many ghost kitchens may discover that they need additional storage, especially if the business is busy. For example, if your chicken wing concept takes off, you may need to purchase additional freezers or reach-in refrigerators to hold enough stock for weekend rushes. If you work in a shared commercial kitchen like CloudKitchens, you may also need to supply your own equipment.
Mouthwatering food photos are an absolute requirement for ghost kitchens. To encourage new orders, your food needs to stand apart from competitors on the same ordering site. It is a good idea to hire a professional food photographer to assist. Costs range from $500 to $50,000, depending on your market and the photographer's popularity.
You don't need a photo of every item on your menu; great images of your top five to 10 items are usually enough to get started. Prioritize photos of signature dishes, dishes that turn the best profit for your business, and partnerships with other brands.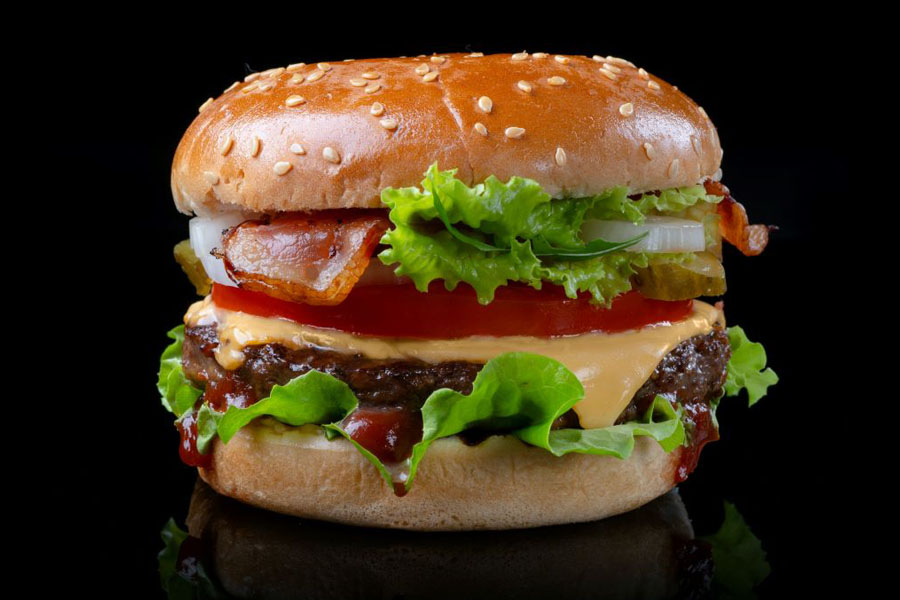 (Source: Unsplash)
The lowest-cost option, of course, is to take the photos yourself. If this is your only option, keep these food photography tips in mind:
Choose a simple background: Nothing should distract from your food. When in doubt, a white plate on a bright background is a good idea.
Focus on the food: Sides of sauce and garnishes are fine, but for your online ordering menu, you don't want extra items like cutlery, wine glasses, and hands in the shot.
Use even lighting: Good lighting does a lot to make a dish look appetizing. If you don't have access to lighting equipment, photograph your food under natural light, diffused with parchment paper (which any kitchen should have on hand).
If your menu is filled with common comfort foods, you might be tempted to use stock images. If your finished dish doesn't look like the image, however, your customers may be disappointed, and you may get many complaints and requests for refunds. Your food images should look like your actual finished dishes—and they should look as good as possible.
8. Decide Your Ordering, Payment & Delivery Strategy
There are three basic ways to accept online orders and payments and deliver your food: third-party platforms, direct internal systems, or a hybrid strategy. One of the most compelling aspects of a ghost kitchen business is extreme flexibility. You can start with one ordering and delivery strategy—say, relying on third-party platforms exclusively—and shift to another as your business grows.
The most straightforward online ordering, payment, and delivery strategy for fledgling ghost kitchens is to sign up with third-party platforms like DoorDash, Grubhub, and Uber Eats. The platforms handle your online orders, process payments, send delivery drivers, then deposit your portion of the revenue into your business bank account. Like many small business solutions, third-party platforms have pros and cons , though.
Third-Party Platform
Direct Online Ordering and Delivery
Hybrid Strategy
Signing Up With Third-party Platforms
Signing up for third-party platforms is easy, and the contracts are nonexclusive. Most ghost kitchens rely on several third-party delivery platforms to boost their visibility. You can list your ghost kitchen on every third-party platform that operates in your location. When you sign up with DoorDash, Grubhub, Postmates, Uber Eats, Caviar, or others, you will be prompted to enter your restaurant information, like hours and phone number, along with your menu and sometimes menu photos.
To speed the signup process, you'll need to have a few things handy:
Your location address, phone number, and email address
A PDF copy of your menu or a web link to your menu
Business bank account information
You start by navigating to the platform site and finding the area designated for "merchants" or "partner restaurants." Most platforms' signup pages operate similarly, so let's take a look at DoorDash as an example: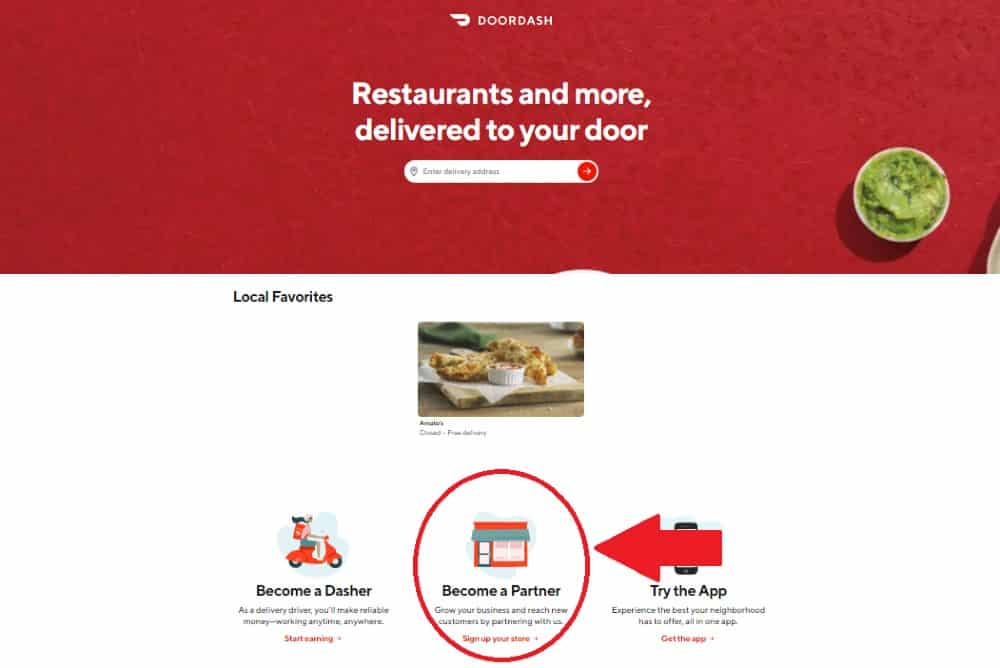 First, navigate to the Partner sign up page from the DoorDash homepage. (Image from DoorDash)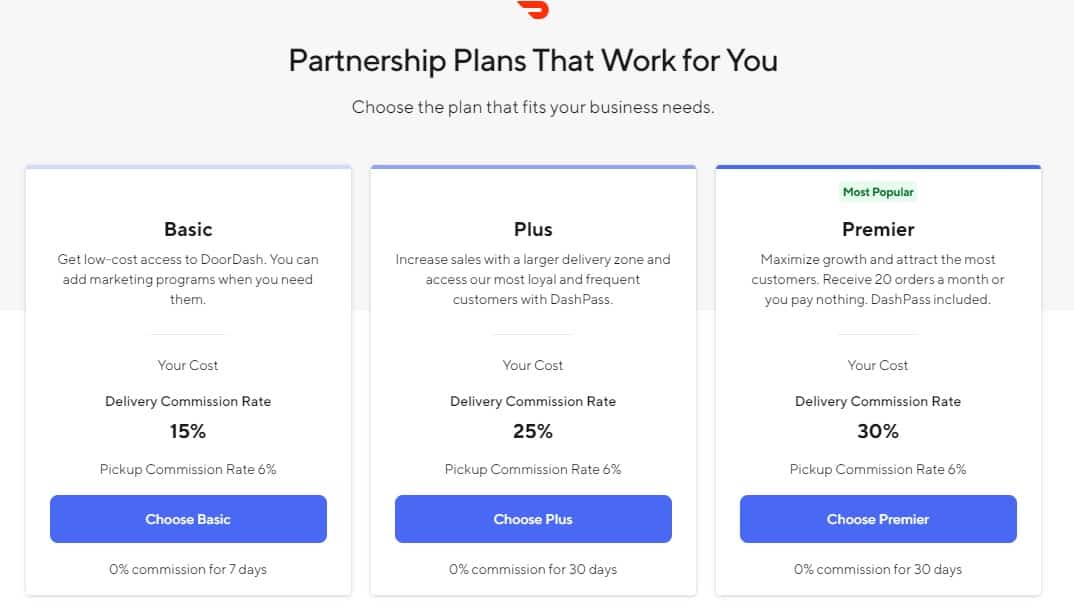 The signup screen will prompt you to choose a plan; either Basic, Plus, or Premier. (Image from DoorDash)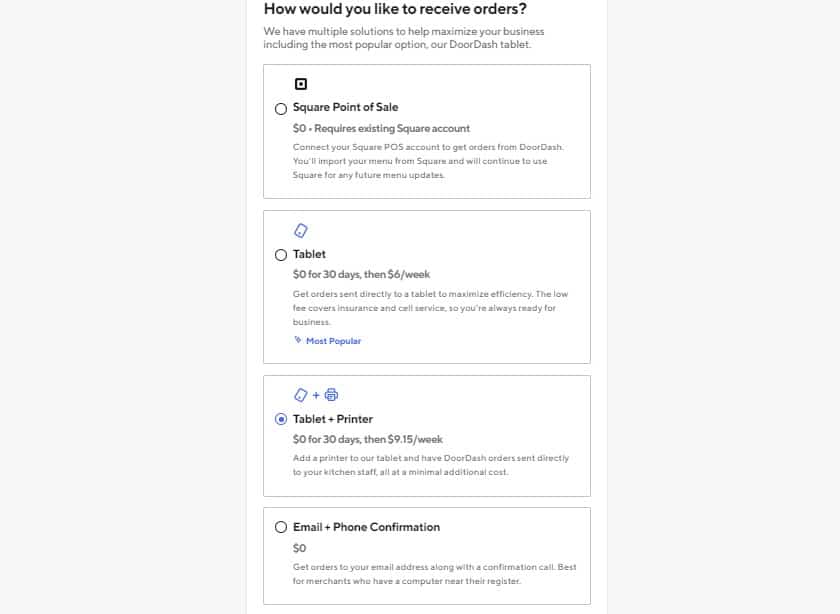 After choosing a plan, you will be prompted to select your preferred hardware for receiving orders. (Image from DoorDash)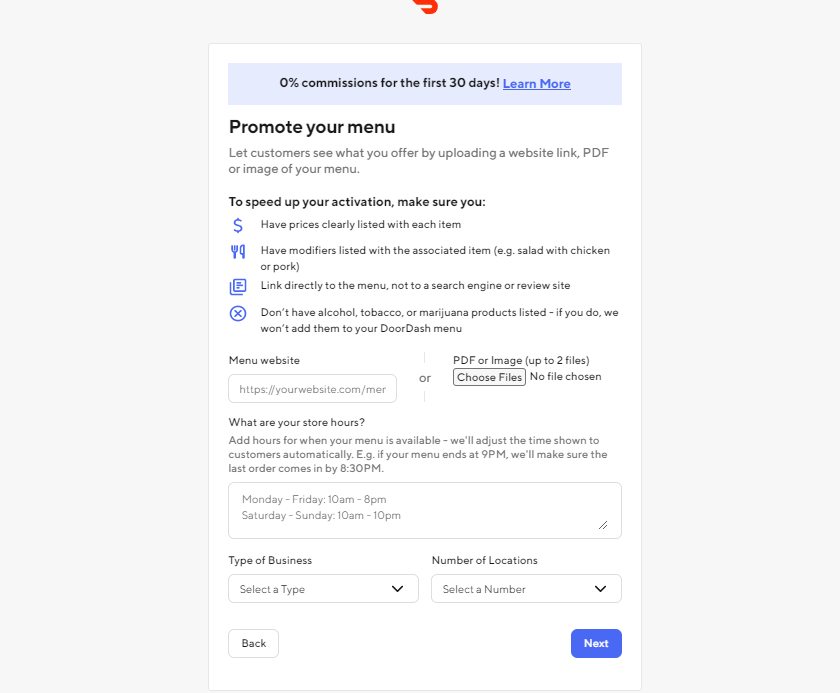 Once you have selected your hardware, you will be prompted for your menu, location hours, number of locations, and business type. (Image from DoorDash)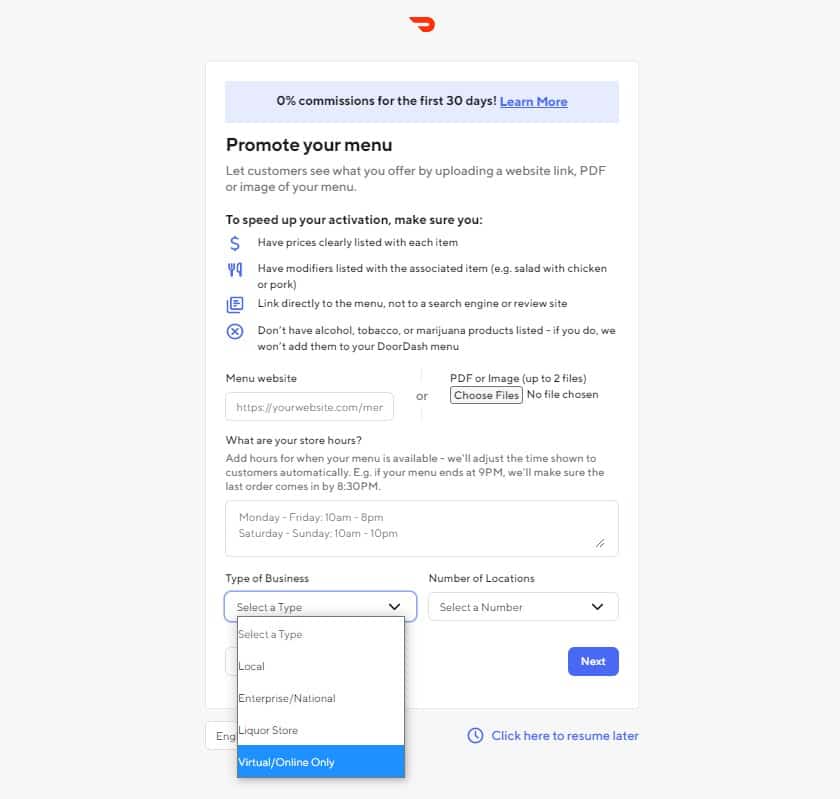 Ghost kitchens should select "Virtual/Online Only" as their business type. (Image from DoorDash)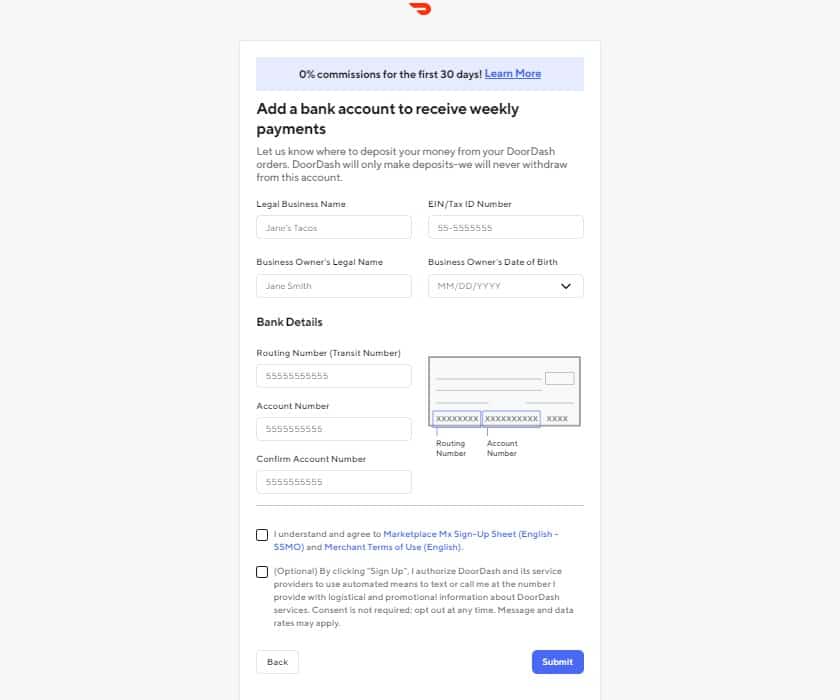 You'll next be prompted to enter your business bank account information and confirm that you agree to DoorDash's Terms and Conditions. (Image from DoorDash)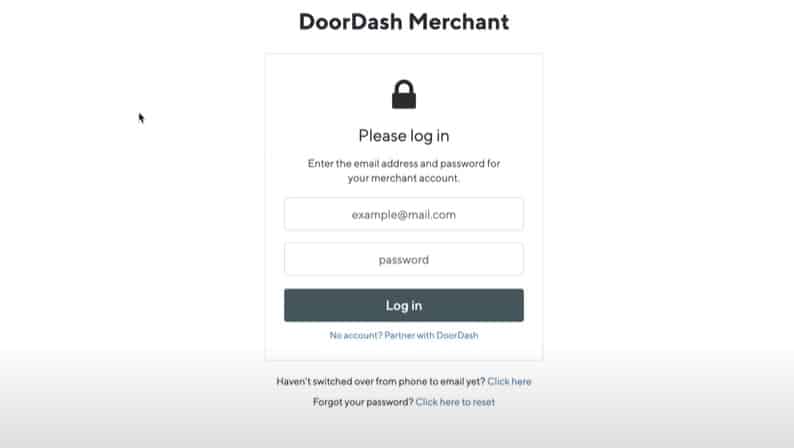 Once your sign-up is complete, you'll receive an email with a link to your DoorDash Merchant portal. (Image from DoorDash)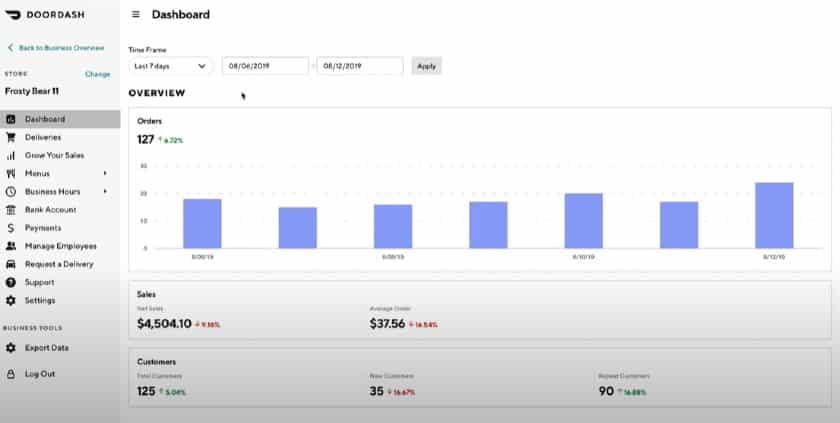 From the Merchant portal, you can view your sales, edit your menus and business hours, and explore other data. (Image from DoorDash)
Most third-party platforms grow so quickly that they cannot maintain an accurate list of all the ZIP codes they service. In most cases, you'll have to begin the signup process to see if the app operates in your area. However, once you enter your business address, the system will generally let you know if its service is unavailable in your location.
Recently, third-party platforms like DoorDash and Grubhub have carved out varying levels of delivery service. On those platforms, ghost kitchens can choose to use the sites only for online ordering and handle deliveries with an in-house driver team. Alternatively, ghost kitchens that accept online orders and payments via their own online ordering site can hail third-party drivers on-demand for a flat rate per order. Some sign-up sites will prompt you to choose delivery preferences as well.
Setting Up Direct Online Ordering & Delivery
Setting up direct online ordering and delivery is more involved than signing up with third-party delivery platforms, but not by much. We'll walk you through the process using Square Online. It is a good fit for ghost kitchens because it integrates with Square's POS, includes online payment processing, and is free to use when you create a Square account. All you pay are the card processing fees. There are additional fees for delivery, which we'll explore in detail below.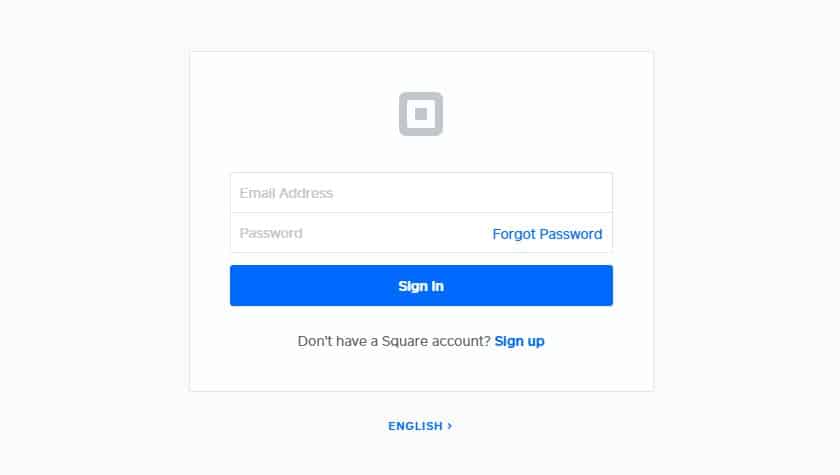 First, you'll need to create a Square account. (Image from Square)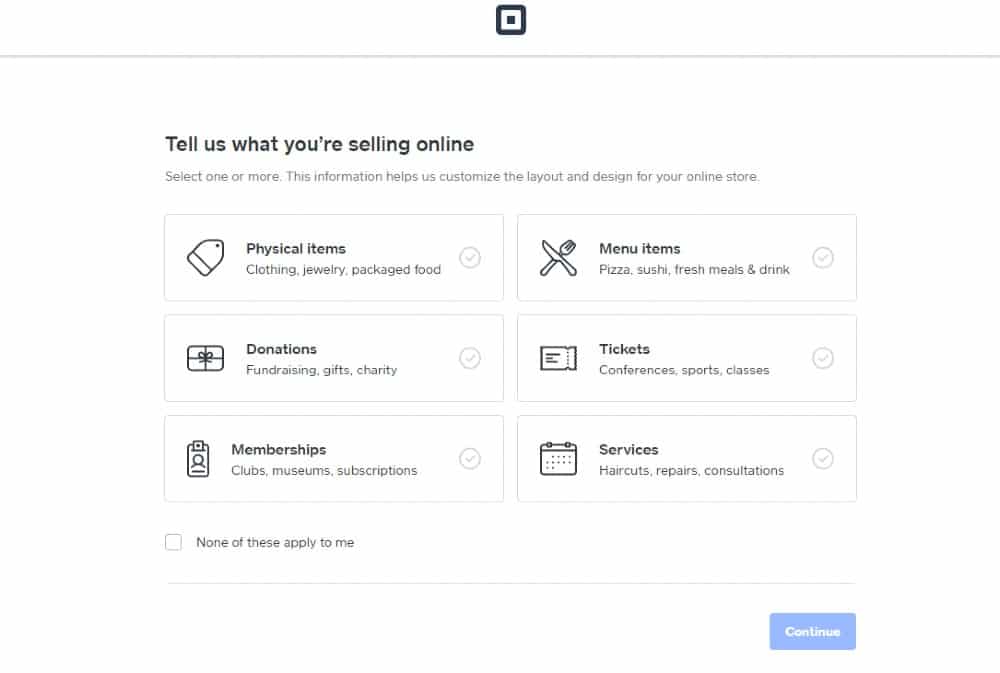 Once you have an account, you can create your Square Online store from your Square Dashboard. (Image from Square)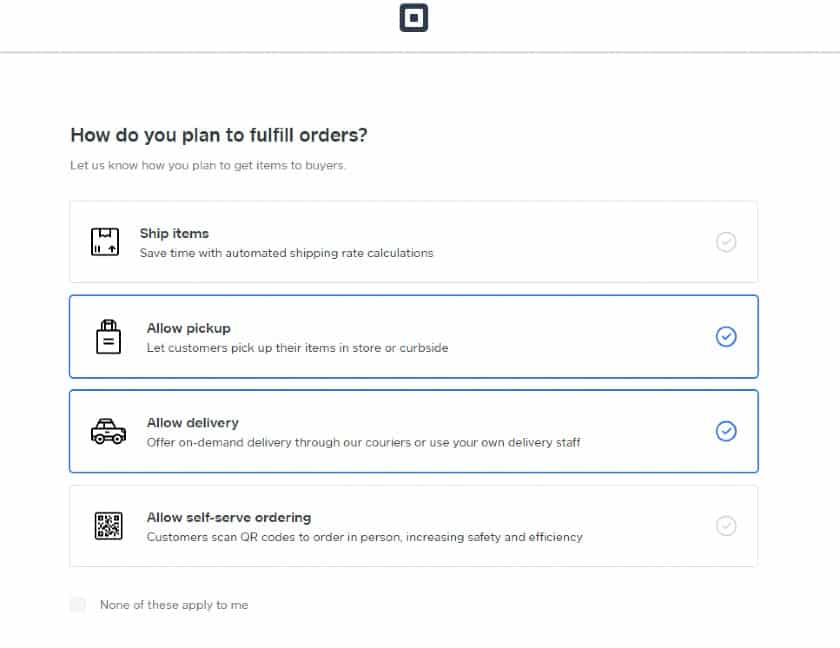 You can allow pickup or delivery orders. (Image from Square)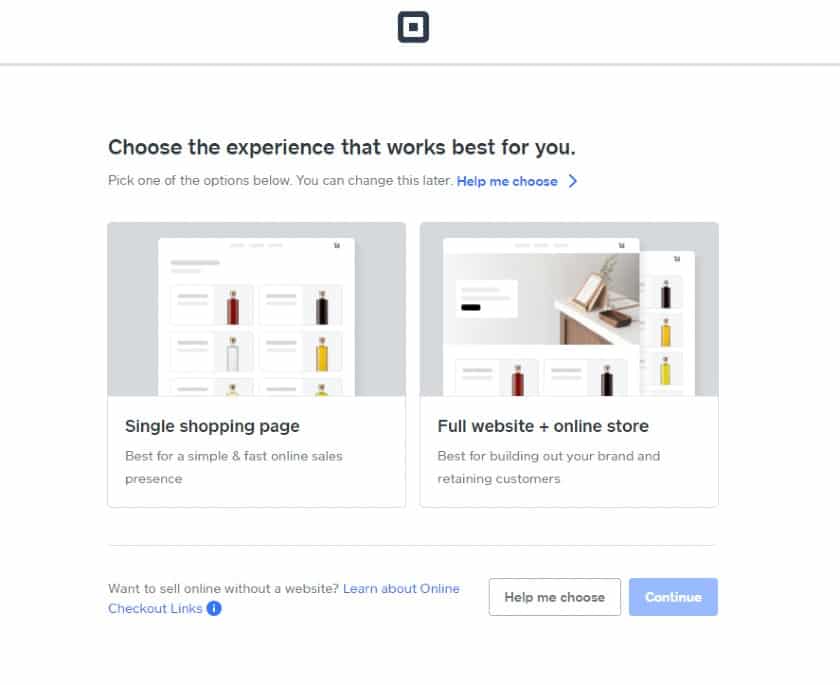 You can create a streamlined shopping page or a full website with an online store. If you don't have an existing website for your ghost kitchen, the full site is recommended. (Image from Square)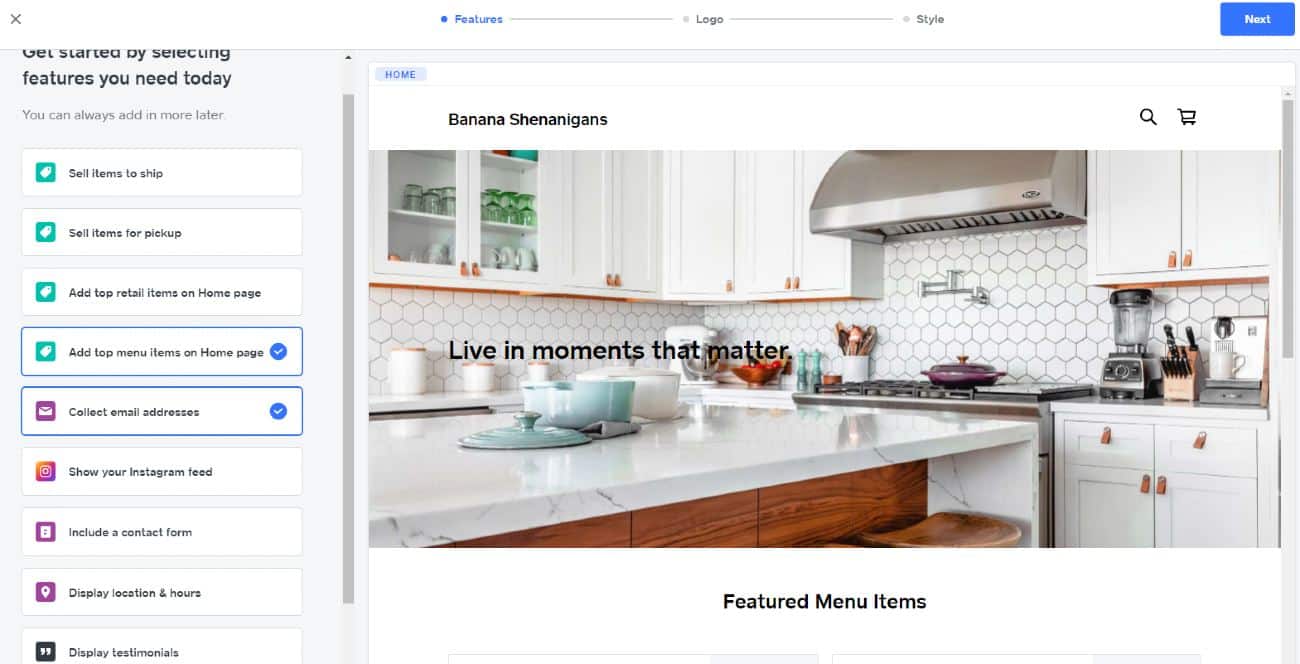 Square's site creator allows you to easily add content blocks to your site, including Instagram image carousels and customer testimonials. (Image from Square)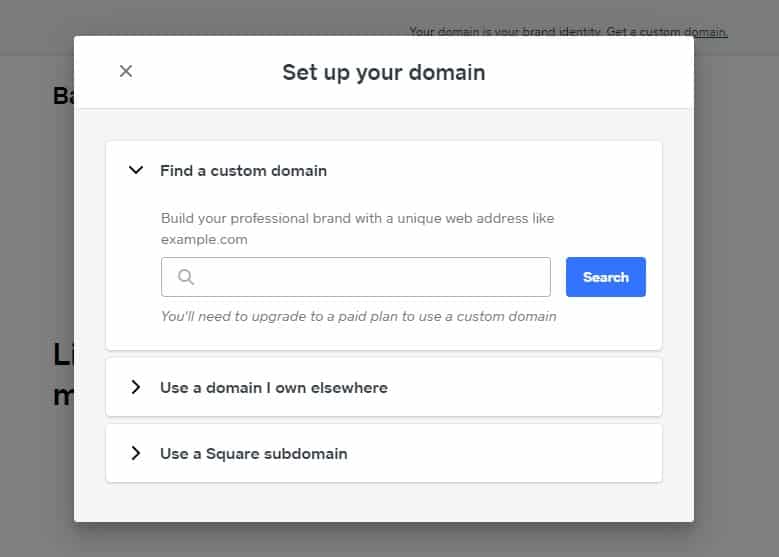 Finally, you can choose to find a custom domain (for a monthly membership fee) or use a Square subdomain for free. (Image from Square)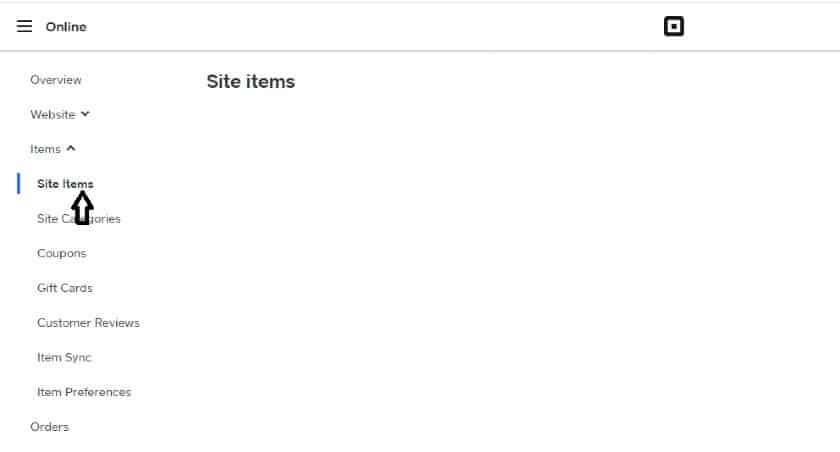 You add items to your Square Online store via the Square Dashboard. (Image from Square)

You can toggle on delivery via on-demand third-party drivers or an in-house team. Fees apply to either arrangement. (Image from Square)
Square supports two options for delivery: on-demand third-party delivery or in-house delivery. For on-demand third-party delivery, Square integrates directly with DoorDash, UberEats, and Postmates. Square charges $1.50 per third-party delivery, and the platforms charge their own rates separately.
Square also has tools for map-based driver dispatch if you want to manage a team of in-house drivers. The driver management tools cost 50 cents per order—which is nice because you only pay for what you use. If you upgrade to the Square for Restaurants POS, you can integrate with multiple third-party delivery platforms as well and receive all of your online orders on one central tablet. The baseline POS is free and has no long-term contracts, so it's a good fit for ghost kitchens. Learn more from our Square for Restaurants review .
Any third-party delivery platform you work with provides you with a tablet to receive orders. In some cases, you can also receive orders via your merchant portal on mobile devices you already own. Keep in mind, though, you'll get a tablet for each platform you work with. So, if you work with three different platforms, you'll have three separate merchant portals and potentially three different tablets.
Operating with multiple tablets for several delivery apps has earned an industry nickname, "tablet hell." Beyond cluttering your prep areas, "tablet hell" has other drawbacks. These platform-provided tablets don't contain other software to support your business, log employee hours, keep track of your inventory, or collect customer data. To streamline your ghost kitchen operation and prepare it for growth, adding a point-of-sale (POS) system is a good idea.
In addition to a POS, your ghost kitchen may also benefit from:
Kitchen and Receipt Printers
If you have multiple prep areas and pick-up areas in your kitchen, setting up individual printers helps you keep orders organized. You can program printers to print hot and cold items at separate stations and set up a receipt printer to print sticky labels with delivery information to enclose bags.
Kitchen Display Screens
Busy kitchens may prefer KDS screens in place of kitchen printers. These screens can separate orders by prep area and have the added benefit of color-coding orders as they are completed. This helps keep everyone on the same page. Using a KDS also gives you searchable data points to gauge the efficiency of your kitchen operation so that you can quickly identify opportunities for improvement. Finally, they can help integrate and plan food cooking periods so your kitchen operates more efficiently during a business rush.
Online Ordering Software
Your ultimate goal will be to get at least a portion of your business from direct customer orders; An online ordering system may be built into or integrated with your POS system, or you can use one of several good free-standing online ordering options. We list several great options in our ranking of restaurant online ordering software .
Delivery Management Software
You may not need delivery management software right away, but it is good to have it on your radar. To keep more of your money in your business, it may ultimately make the most sense to hire your own team of delivery drivers. You can also look for a POS that includes delivery management tools .
Customer Relationship Management Tools
Besides the significant downside of paying high commission fees, working with third-party delivery apps means you won't get any of that customer data. For a ghost kitchen, customer data is precious. It shows you where your most frequent customers are located, how far your food is traveling, and if repeat customers order the same things or respond to specials and promotions. Like delivery management software, CRM tools may not be something you need right away, but you will want to add them as your business grows. Most restaurant POS systems have CRM tools.
Intermediary Tools
Between relying on third-party platforms and evolving to operate an in-house order and delivery operation, you might need some stepping stones. For example, Tablevibe is an app that allows you to add QR codes to your delivery receipts. Customers scan the code and are prompted to provide feedback to you directly. This provides you with customer data alongside customer feedback, which you can use to communicate specials or direct ordering instructions.
Ghost kitchens operate with tight margins and a high volume of sales. You'll need to open accounts with wholesale distributors to keep your kitchen supplied with food, beverages, and takeout containers. Because storage space can be limited in a ghost kitchen, look for suppliers that deliver to your location multiple times per week so that you don't overtax your refrigerators and freezers.
Your suppliers are an important part of controlling cost, and the decision between cost of goods and quality may be the most important decision you make. Finding reputable suppliers that offer competitive pricing without sacrificing food safety and quality is one of the most important aspects of the ghost kitchen business.
In addition to your menu ingredients, you need to think about how you will package each food for travel. Will individual burgers be packaged differently than combo meals? Do you have a plan for keeping French fries crisp and soup hot? The slideshow below can give you some inspiration. With consumer sentiment leaning toward eco-friendly options and 74% of consumers stating they would pay more for sustainable packaging , that is our focus for this slideshow.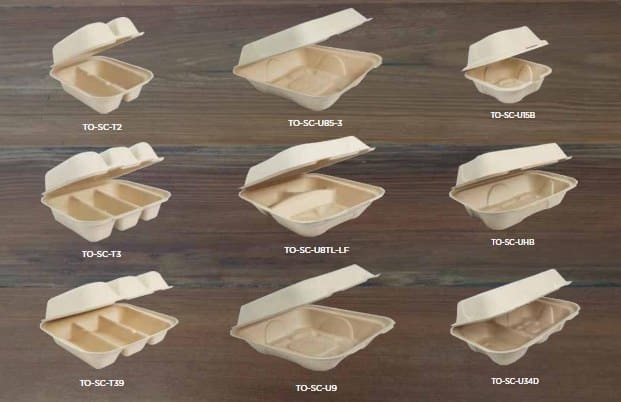 Segmented fiberboard clamshells are ideal for everything from tacos and lobster rolls to salads and entrees. (Image from Worldc Centric)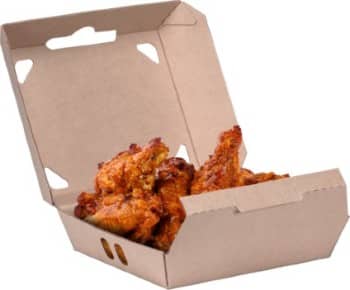 This vented cardboard clamshell helps keep fried foods crisp in transport. (Image from Novolex)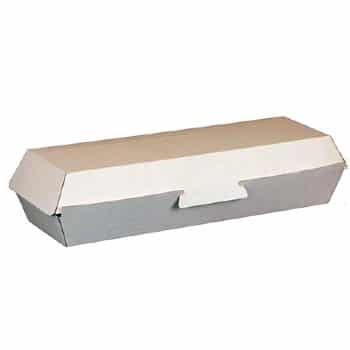 You can transport hoagies and subs intact with a sturdy cardboard clamshell. (Image from Burrows)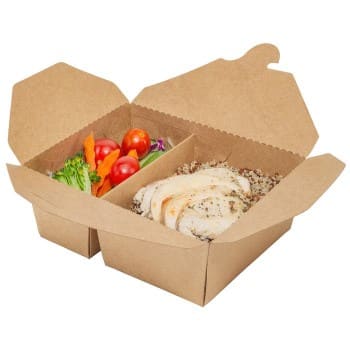 This Bio Tek segmented cardboard container is excellent for transporting entrees with sides. (Image from Restaurantware)

Clear bowls in various sizes are ideal for salads and cold dishes. (Image from World Centric)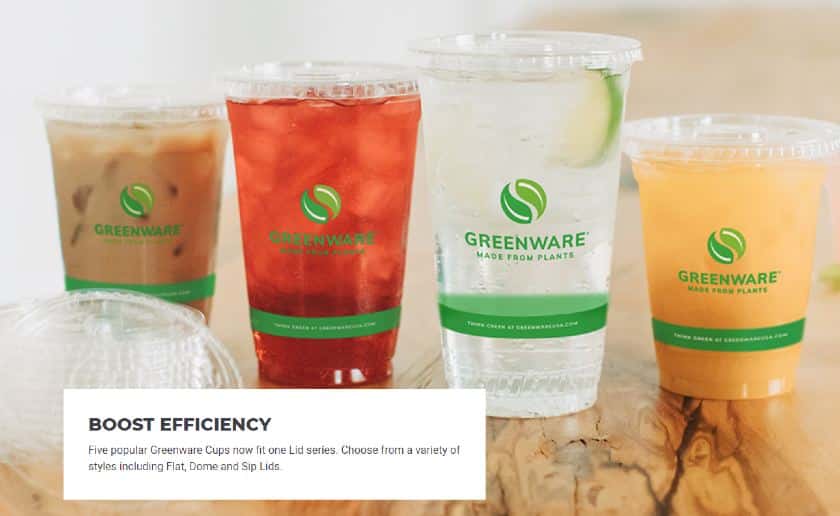 These cold cups from Fabri-Kal use the same size lids regardless of the cup's size. (Image from Fabri-Kal)

These double wall hot cups from World Centric can be custom printed to reflect your brand. (Image from WorldCentric)
11. Hire & Train Staff
Your ghost kitchen needs at least a few staff members to keep up with order flow during busy times. Ghost kitchens tend to have primarily kitchen staff, though you may choose to self-deliver your food, in which case you'll also need delivery drivers. Depending on your culinary ability, you may also need to hire a chef to develop your recipes. While chef consultants can be pricey, they offer insight into flavors and trends that can benefit your business in the long term. According to CloudKitchens, most ghost kitchens employ a staff of two to four employees.
Staffing shortages in the restaurant industry are well-known, but hiring restaurant staff is not impossible. You can increase your odds of finding a good ghost kitchen staff by
Writing a detailed job description:
You'll get more relevant applications if your job posting lists the skills you need and the experience you are looking for.
Offering competitive compensation:
Check local job listings and see what similar jobs pay in your area. If you can, offer a higher hourly rate and list it in your job posting.
Posting the job on industry-specific sites:
General job sites like Indeed are great for reaching a high number of applicants. But if you need a specialized employee with food and beverage experience, consider restaurant-specific job sites like Culinary Agents and Poached .
You'll need to train your team to cook your menu items and package them for delivery. The amount of training your staff requires will depend on the size and complexity of your menu and your employees' experience level.
If you have a couple of experienced line cooks who are familiar with your style of food, training may take only a couple of days. On the other hand, if your team has little kitchen experience, you should allow at least a week. For a less experienced team, it may help if you start with ServSafe's food handlers' training so that everyone is on the same page regarding food safety.
Third-party delivery platforms offer multiple marketing tools that can boost your kitchen's visibility on their sites. Take care to read the fine print of these marketing deals, though. Preferential marketing placement that lists your kitchen above others serving similar foods often incurs a higher commission rate. These marketing tiers are an excellent way to reach new customers, but make sure that the rates and contract length make sense for your business.
You can also market your ghost kitchen on social media sites. Instagram and Facebook get the attention of a ton of foodies and are home to a massive number of food influencers. At an absolute minimum, your brand should have accounts on both Facebook and Instagram. You can purchase ads on either site, set maximum ad budgets, and target users with a specific interest in your type of cuisine in your city. To drive sales, you can include direct links to your online ordering site on your accounts and even on individual posts. It may even be worthwhile to offer a free meal to local food Instagrammers to boost your ghost kitchen's visibility.
One great way to market ghost kitchens is through influencer marketing. One only has to look at the successful ghost kitchen brand MrBeast Burger —run by the popular YouTuber MrBeast—and the $100 million dollars in revenue the brand has hit since December 2020 to see just how effective this can be. Influencers work within an online brand, so getting them in a local space to showcase your product to their audience is a great way to tap into a niche and loyal customer base.
With your menu, branding, and staff in place, you're ready to start receiving orders! Don't be discouraged if your first days or weeks are on the slow side. It may take a couple of weeks before you see some sales volume. In your downtime, design some social media ads and interact with local food influencers on Instagram to help drive future orders.
As your orders start to come in, keep an eye on what is selling and solicit customer feedback. One of the most appealing aspects of a ghost kitchen is its flexibility. You can shift your menu or pivot your operation quickly if something isn't working. Be flexible, and be ready to add new concepts to your kitchen as consumer tastes change or you get a fresh menu idea. You've already done the hard work, so adding your next concept will be a piece of cake.
Pros & Cons of Operating a Ghost Kitchen
The ghost kitchen concept has been developing since the early 2010s, but consumer demand for food delivery in 2020 amid the COVID-19 pandemic led to an explosion in ghost kitchens. Is now the time for you to launch your own ghost kitchen?
There are definitely pros and cons, so here's what you should consider:
Ghost Kitchen Frequently Asked Questions (FAQs)
Can i open a ghost kitchen in my house.
In 48 states, it is illegal to operate a restaurant of any kind from your home. Even in Utah and California, where micro-enterprise home kitchen operations (MEHKOs) are legal, local ordinances typically prohibit home restaurants from using third-party delivery drivers. Though, if you live in a county that allows MEHKOs, there is usually nothing prohibiting you from delivering food from a home-based restaurant yourself or offering the food for takeout. Currently, no other states support a legal way for cooks to operate home-based restaurants, though several states currently have bills under review.
Do ghost kitchens always use third-party delivery apps like DoorDash?
Ghost kitchens don't have to operate on third-party platforms, though most do. Some ghost kitchens operate independently, relying on social media advertising to drive customers to their independent online ordering site. This can be a time-intensive strategy, so most ghost kitchens at least get their start on third-party platforms and then build independent online ordering and delivery pipelines later. iEight Sushi is an example of a ghost kitchen that went the opposite direction—it started with independent order and delivery streams but now offers delivery through Grubhub.
Are virtual franchises a scam?
If you currently own a restaurant, you may be receiving phone calls and emails and seeing Facebook ads from companies offering you a "turn-key" virtual brand to run from your existing restaurant kitchen. The virtual franchise business model is completely legitimate and can be an attractive secondary revenue stream for your restaurant.
Brands like Future Foods, Nextbite, Virtual Dining Concepts, and The Local Culinary develop virtual restaurant concepts—sometimes partnering with influencers or public figures—to pitch to existing restaurants as add-on businesses. The virtual restaurant brand provides recipes, training, and branded packaging to franchisee kitchens, enabling concepts like Mario's Tortas Lopez , and HotBox by Wiz Khalifa to serve throughout the country. If you have the staff and the space, a virtual franchise can be a low-risk way to test the ghost kitchen concept.
Ghost kitchens are an accessible and easy way to enter the food industry as an operator. These virtual restaurants only require a small staff, about half the permits, and 10% of the capital required for a traditional brick-and-mortar restaurant. They allow for creativity and the ability to reach a wide customer base. With proper planning and knowledge of what is needed to execute one, ghost kitchens can be a lucrative and rewarding way to sell food to consumers in 2023.
About the Author
Ray Delucci
Ray Delucci is a graduate of The Culinary Institute of America with a Bachelor's in Food Business Management. He has experience managing restaurants in New York City, Houston, and Chicago. He is also the host of the Line Cook Thoughts Podcast, where he interviews and shares the stories of foodservice workers. Ray currently works in food manufacturing and food product development.
Was this article helpful?
Join Fit Small Business
Sign up to receive more well-researched small business articles and topics in your inbox, personalized for you. Select the newsletters you're interested in below.