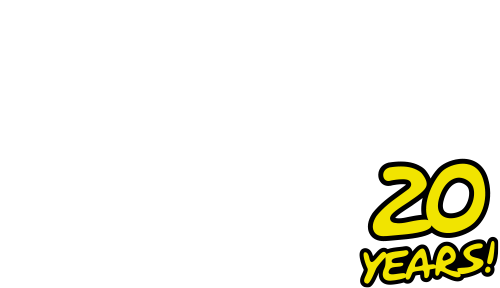 Mark Texeira/Cover Artist
Richard Isanove/Cover Artist
Marc Silvestri/Cover Artist
Blond/Cover Artist
Joe Weems/Cover Artist
Week 28, 2006
2006 Cover Date
2006, September Cover Date
Joe Quesada/Editor-in-Chief
Johnathon Blaze (Earth-616)/Appearances
Greexix (Earth-616)/Appearances
Lucifer (Earth-616)/Appearances
Zarathos (Earth-616)/Minor Appearances
Yahweh (Earth-616)/Mentions
Demons/Appearances
Humans (Homo sapiens)/Appearances
Hell/Appearances
Lucifer's Palace/Appearances
Pit (Hell)/Appearances
Earth/Appearances
United States of America/Appearances
Ghost Rider's Chain/Appearances
Hell Cycle/Appearances
Daniel Way/Writer
Javier Saltares/Penciler
Mark Texeira/Inker
Daniel Brown/Colorist
Joe Caramagna/Letterer
Michael O'Connor/Editor
Axel Alonso/Editor
Johnathon Blaze (Earth-616)/Quotes
Ghost Rider Vol 6 1
Appearing in "Vicious Cycle (Part I of IV)"
Featured Characters:
Ghost Rider (Johnny Blaze) ( See chronology )
Supporting Characters:
Greexix (First appearance)
Antagonists:
⏴   Lord Satan (Lucifer)   ⏵ (Impersonates Greexix )
Several unidentified Demons
Other Characters:
Spirit of Vengeance (Zarathos) (Behind the scenes) ( See chronology )
God (Yahweh) (Mentioned)
Races and Species:
Lucifer's Palace (First appearance)
The Pit (First appearance)
United States of America
Ghost Rider's Chain
Synopsis for "Vicious Cycle (Part I of IV)"
Ghost Rider is trapped in Hell. He is being tormented by Lucifer, with the hope of escape from Hell. When he finally starts to lose his nerve he starts pounding on the ground and uncovers the demon, Greexix. He believes that Greexix is a spy of Lucifer when a group of Lucifer's soldiers ride towards them, Ghost Rider prepares to battle but they grab Greexix with a whip and flee. As they ride off Greexix yells to Ghost Rider that he knows the way out of Hell. At Lucifer's castle, Greexix is brought before Lucifer and is sentenced to punishment for leaving "the pit" Greexix tells him working in the pi has caused him blindness but Lucifer decides to have him tortured, one of his men informs Lucifer of Greexix's conversation with Ghost Rider. A little later, Ghost Rider bursts in, with no plan, and picks up Greexix with his chain He jumps over the pit on his bike as the army of Lucifer goes around. They run into a cave in a mountain where they discover water, Ghost Rider makes a deal with Greexix saying that they will escape Hell together, but Johnny really plans to leave the demon behind. As they shake hands, Greexix reveals himself to be Lucifer in disguise and Ghost Rider sinks into the water. Back on Earth an army of souls rises from the sea, amongst them is Ghost Rider.
Chronology Notes [ ]
Characters in this story also appear in other stories between this issue. The affected characters are: Ghost Rider (Johnny Blaze)
⏴   Pag. 1-20   ⏵
⏴   Pag. 21   ⏵
Spirit of Vengeance (Zarathos)
⏴   Pag. 1-20   ⏵ (Behind the scenes)
⏴   Pag. 21   ⏵ (Behind the scenes)
Publication Notes [ ]
Marc Silvestri illustrated a variant cover for this issue.
Mark Texeira 's first name is mistakenly spelled Marx in the splash page of credits.
Ghost Rider (Vol. 6) was created in response to positive feedback to the 2005 Ghost Rider (Vol. 5) limited series by Garth Ennis and Clayton Crain .
6 image(s) from Ghost Rider Vol 6 1
3 reprint(s) of Ghost Rider Vol 6 1
Links and References
1 Cindy Moon (Earth-616)
2 Anti-Venom (Symbiote) (Earth-616)
3 Scream (Symbiote) (Earth-616)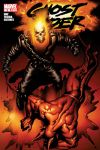 Variant Covers of this Issue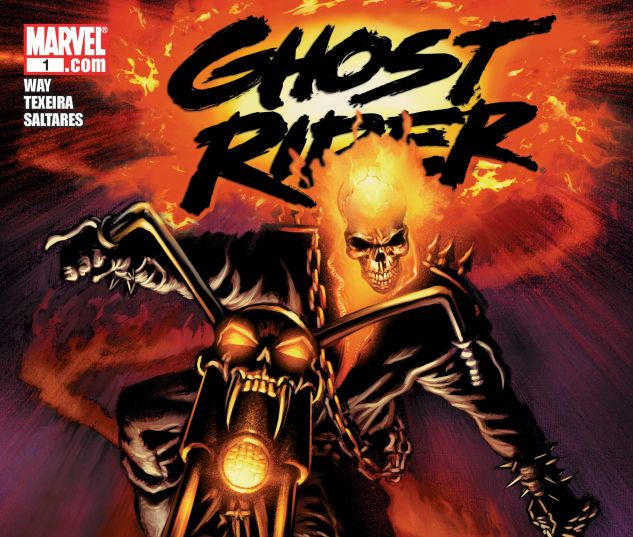 Ghost Rider (2006) #1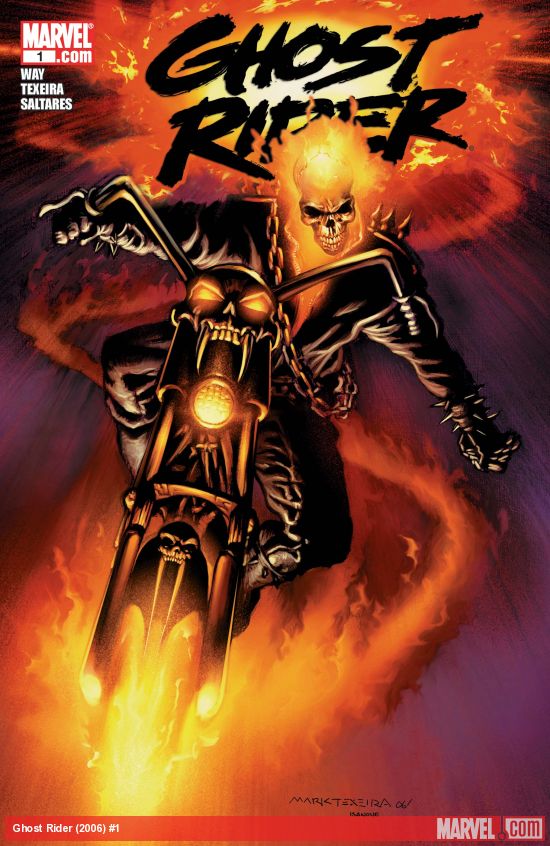 Writer: Daniel Way
Penciller: Mark Texeira , Javier Saltares
Cover Artist: Mark Texeira
"VICIOUS CYCLE" Once upon a time, Johnny Blaze made a deal with the Devil...and to no one's surprise but his own, he got shafted. Now trapped in hell, with the Spirit of Vengeance bonded to his immortal soul and weighing him down, Johnny may have finally found a way out. But at what cost? From the depths of Hell to the glittering spires of Heaven, the Ghost Rider rides again in his first ongoing series in nearly a decade, blazing new trails and dispensing fiery vengeance in his wake. The demonic team of Daniel Way, Mark Texeira and Javier Saltares reunite to put ol' Flamehead back in the saddle where he belongs. Ready or not, here he comes! 32 PGS./Rated T+ ...$2.99
More Details
Extended credits and info.
Imprint: Marvel Universe
Rating: Parental Advisory
Format: Comic
Price: $2.99
UPC: 5960605970-00111
Colorist: Dan Brown
Letterer: Virtual Calligr
Cover Information
Penciller (cover): Mark Texeira
Also Appears In
Ghost Rider Vol. 1: Vicious Cycle (Trade Paperback)
More Ghost Rider See all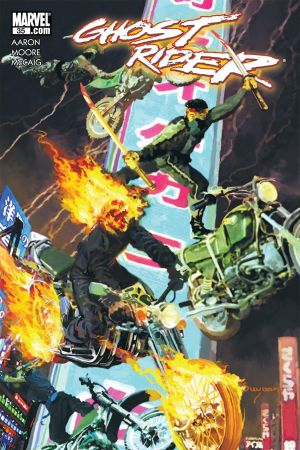 Ghost Rider #35
Aaron , Suydam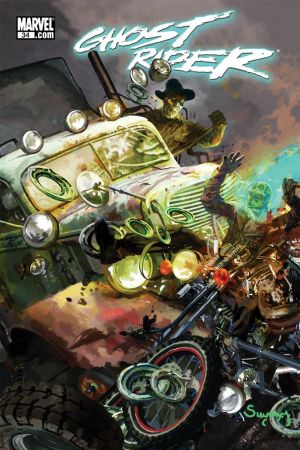 Ghost Rider #34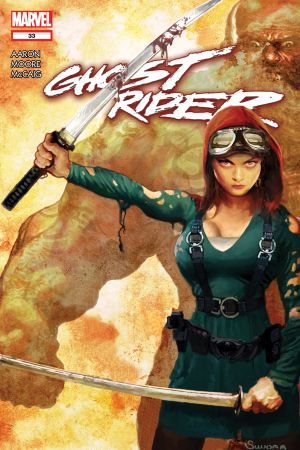 Ghost Rider #33
Aaron , Moore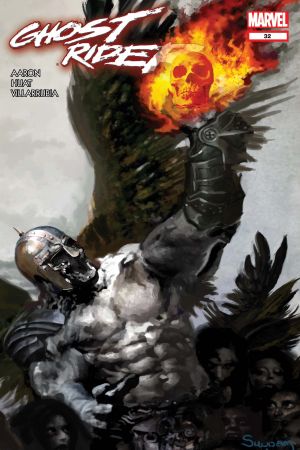 Ghost Rider #32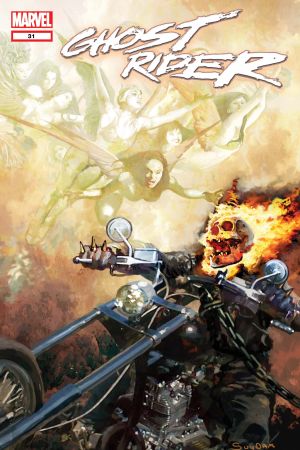 Ghost Rider #31
Aaron , Boschi
Recommended Series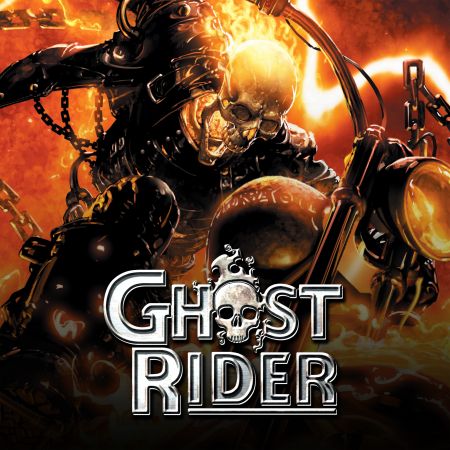 Ghost Rider
(2005 - 2006)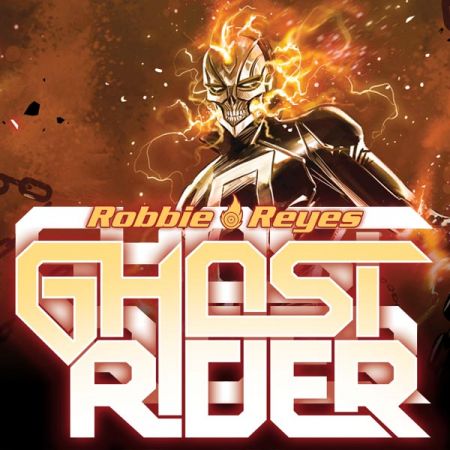 (2016 - 2017)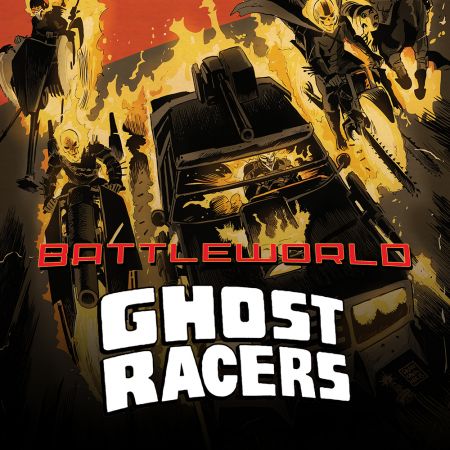 Ghost Racers
Ultimi commenti
Recupera password, non sei registrato iscriviti subito.

Ciao Guest!
Log In | Registrati Chiudi pannello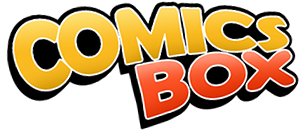 Elenco alfabetico
Elenco editore
Bande dessinée
Historietas
Altri paesi
Serie e volumi italiani
Serie e volumi stranieri
Autore
Personaggio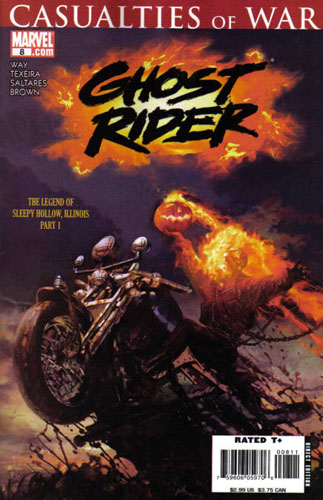 Vendi la serie Ghost Rider vol 6
Per facilitare la consultazione degli acquirenti inserisci la città ed eventualmente la provincia in cui ti trovi. Questo dato ti verrà chiesto solo la prima volta che metti in vendita un fumetto
Lascia vuoto se non vuoi indicare il prezzo
Tutti i numeri della serie sono selezionati. Tieni premuto CTRL e fai clic su un elemento per deselezionarlo. Per selezionare più numeri tieni premuto SHIFT
Ghost Rider Vol. 6
Images & screenshots.
Ghost Rider #20 Review
Ghost Rider Vol. 6 News
No Results.
Be the first to rate & review this game!
Sold by: Amazon.com Services LLC
Customers who bought from this series also bought
Report an issue with this series
Is this series page incomplete or incorrect? Tell us.
Customer reviews
Customer Reviews, including Product Star Ratings help customers to learn more about the product and decide whether it is the right product for them.
To calculate the overall star rating and percentage breakdown by star, we don't use a simple average. Instead, our system considers things like how recent a review is and if the reviewer bought the item on Amazon. It also analyzed reviews to verify trustworthiness.
No customer reviews
Daniel Way (born December 27, 1974) is an American comic book writer.
Bio from Wikipedia, the free encyclopedia. Photo by pinguino k from North Hollywood, USA (blinded) [CC BY 2.0 (http://creativecommons.org/licenses/by/2.0)], via Wikimedia Commons.
JASON AARON is an award-winning comic book writer best known for his work with Marvel Comics, including a landmark seven-year run on THOR that will serve as the basis for the upcoming Marvel Studios film THOR: LOVE AND THUNDER. He's also had celebrated stints writing WOLVERINE, DOCTOR STRANGE, GHOST RIDER, CONAN THE BARBARIAN and the 2015 Marvel relaunch of STAR WARS that was the best-selling American comic book in more than 20 years. Aaron is the current writer on Marvel's flagship AVENGERS book and its spinoff, AVENGERS FOREVER, along with a brand-new, character-defining PUNISHER series. His critically acclaimed creator-owned work includes the Eisner and Harvey Award-winning SOUTHERN BASTARDS from Image Comics and the New York Times best-selling crime series SCALPED from Vertigo Comics. Aaron was born and raised in Alabama and currently resides in Kansas City.
Amazon Newsletter
About Amazon
Accessibility
Sustainability
Press Center
Investor Relations
Amazon Devices
Amazon Science
Start Selling with Amazon
Sell apps on Amazon
Supply to Amazon
Protect & Build Your Brand
Become an Affiliate
Become a Delivery Driver
Start a Package Delivery Business
Advertise Your Products
Self-Publish with Us
Host an Amazon Hub
› See More Ways to Make Money
Amazon Visa
Amazon Store Card
Amazon Secured Card
Amazon Business Card
Shop with Points
Credit Card Marketplace
Reload Your Balance
Amazon Currency Converter
Your Account
Your Orders
Shipping Rates & Policies
Amazon Prime
Returns & Replacements
Manage Your Content and Devices
Your Recalls and Product Safety Alerts
Conditions of Use
Privacy Notice
Your Ads Privacy Choices