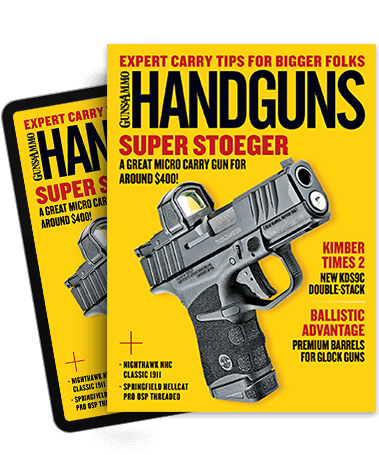 Get The Magazine
Subscribe & Save.
Digital Now Included!
Ghost Ring Pistol Sights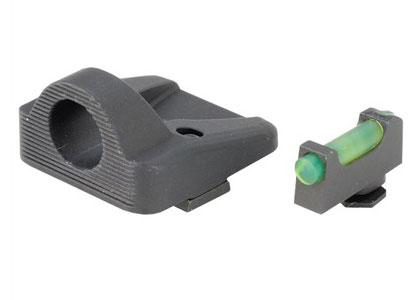 As a result of a recent article I did for Handguns Magazine on upgrading Glocks, I ended up corresponding with a reader, and he sent me a picture of his personal carry gun. He had replaced the factory sights with an aftermarket set he really liked. I'm all for personalizing guns so they are easier to shoot (cars come with tilting steering wheels and adjustable seats for a reason), and factory plastic Glock sights leave a lot to be desired, but I was surprised to see that he had ghost ring sights on his pistol. I didn't even know they still made ghost ring sights for pistols.
I don't know if Jeff Cooper coined the term "ghost ring", but he popularized its use, and he advocated the use of ghost ring sights on shotguns and dangerous game bolt action rifles. I read all about them during my formative years (when I was old enough to buy gun magazines, but not guns).
What's a ghost ring sight? Pair the front sight of your choice with an aperture rear, and not a small aperture, a large one. An aperture so large that it fuzzes out, or "ghosts", when you mount the gun to your shoulder. You can still see the aperture, but the focus is on the front sight (as it should be). As your face is pressed to the stock, the ghost ring rear sight is fixed in its relation to your eye, so the only thing you actually have to "aim" is the front sight.
Currently I own a Remington 870 equipped with ghost ring sights, as well as a Winchester '94 that for years has been my "truck gun". The sighting system works well on long guns designed to do most of their work well inside 150 yards. On a lever action .30-30 they're a good choice, but personally I think the sights are busier than you need for a shotgun, unless you're going to be predominantly shooting slugs. That said, it works--I went pheasant hunting in Iowa with that 870, and had no problems hitting the birds.
Ghost ring pistol sights hit the market about twenty years or so ago. A number of different companies made them, and marketed them toward both the concealed carry and the competition shooting crowd. Whatever buzz there was about ghost ring pistols sights died out pretty quickly, and I stopped seeing them on competition guns well over a decade ago, which is why I was surprised to find out that a few companies still made them.
I carry a gun every day, and shoot pistol competitions regularly, and will use whatever works. I don't have ghost ring sights on any of my pistols, and I will tell you why.
First, it is called a ghost ring because the design was originally for long guns, when the large rear aperture was close enough to your eye to fuzz out. That is not the case when you mount that big ring on the back of a pistol. That big rear aperture is out there, busying up the sight picture and drawing your eye away from the front sight.
Proper sighting technique involves focusing on the front sight, not the rear. The design of a ghost ring sight tends to draw the eye to it, because it is bigger and closer to the eye. Yes, I know all rear sights on pistols are bigger and closer to the eye than front sights, but for some reason the ghost ring designs (maybe because they have an arch over the top?) are harder to look past/through.
This looking past/through sights is also an issue. I am not going to get into a discussion of point shooting versus aimed fire using the sights, but a lot of quick and dirty shooting involves muscle memory and looking over the top of the gun- seeing the sights, but not necessarily looking through them. The more naturally your gun points for you, the easier it is for you to hit what you're aiming at quickly. Gun design also helps here as well- the flat top of a Glock almost acts as a sight in its own right, drawing the eye down the gun toward the target. A ghost ring rear sight tends to inhibit looking over and down the sights to the target on quick shots.
Video That May Interest You
If you think I'm making that last point up, that the taller top of a ghost ring rear sight tends to slow down close range "pointed rather than aimed" fire, I've observed the same thing at competitions when comparing iron-sighted pistols to those mounting red dot sights. Red dot sights on pistols are, all things being equal, quicker, because instead of lining up the front sight with the rear sight with the target, you just put the red dot on the target and go. However, when engaging full-size silhouettes at distances so close you're just basically looking over the top of the gun (4 yards and in), red-dot-sighted guns are slightly slower- because the sight body itself prevents you from looking down the length of the gun.
No two people are the same, and I'm sure there are people out there who, for whatever reason, may find they can shoot better or faster with a ghost ring sights on their pistol. Go for it. You see something you like, that you think may help you, you should buy it and try it.
That said, for the majority of people, ghost ring sights are not faster than a traditional notch rear. While that is, yes, my opinion, I can support it with some evidence- if ghost ring pistol sights were faster, or even as fast as traditional sights, the people who shoot for a living would be using them.
Recommended
Right now, I know of NO professional shooters who use pistols equipped with a ghost ring rear sight. When your paycheck is dependent on winning, you use what works, or at least (when it comes to paying sponsors) what won't handicap you.
GET THE NEWSLETTER Join the List and Never Miss a Thing.
Recommended articles.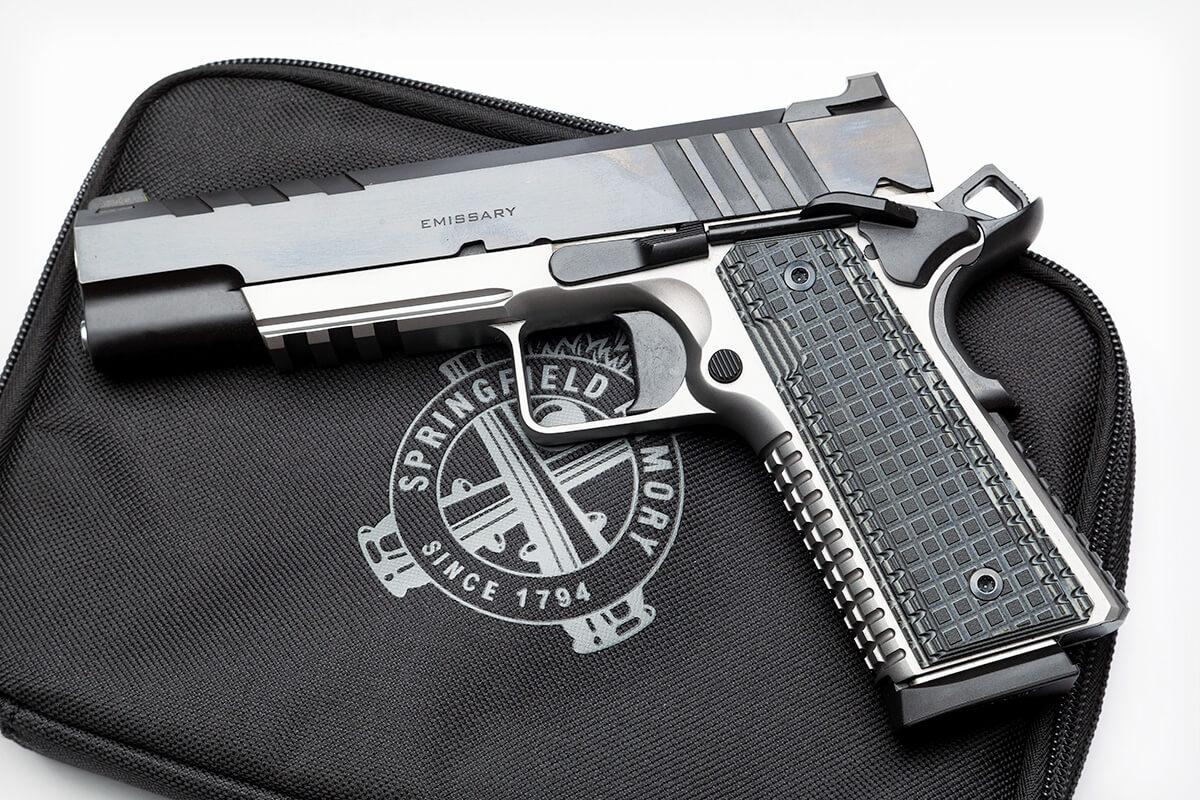 Springfield Armory Emissary .45 ACP 1911 Handgun: Review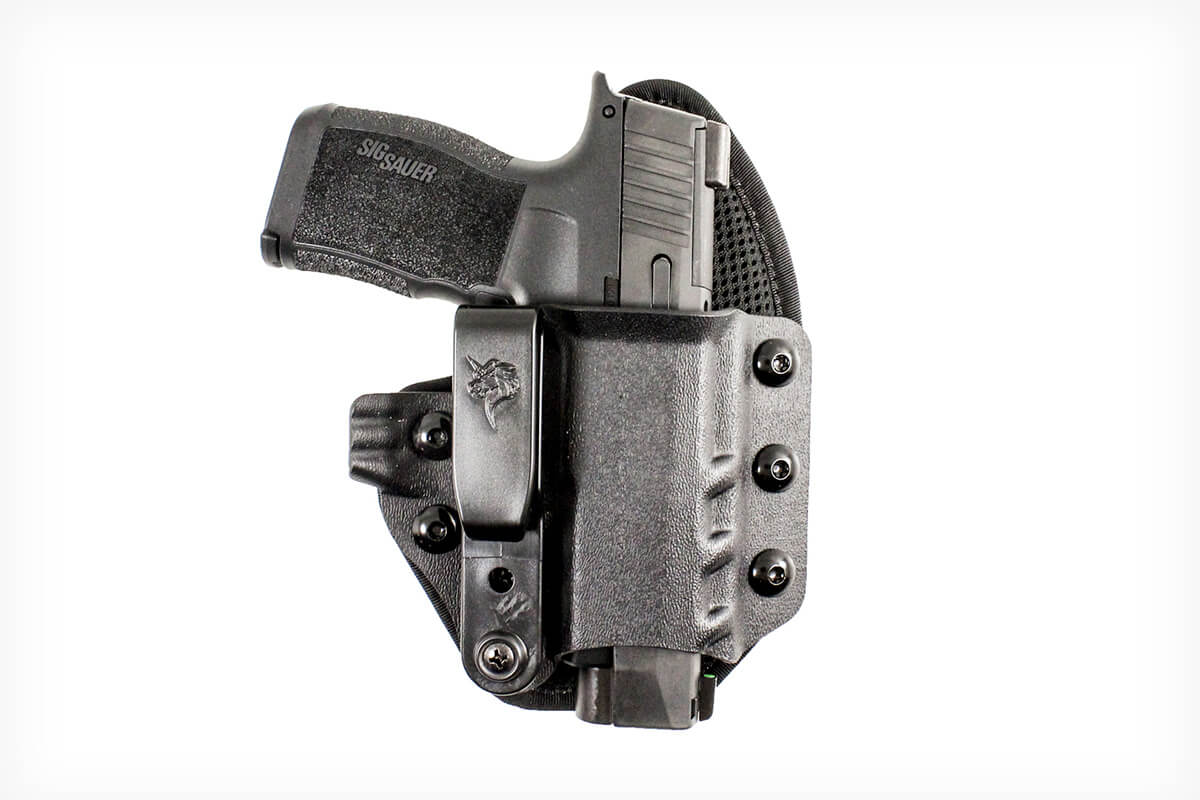 SIG Sauer P365 XL Pistol Holster Fitment: DeSantis Gunhide Uni-Tuk
Handguns Staff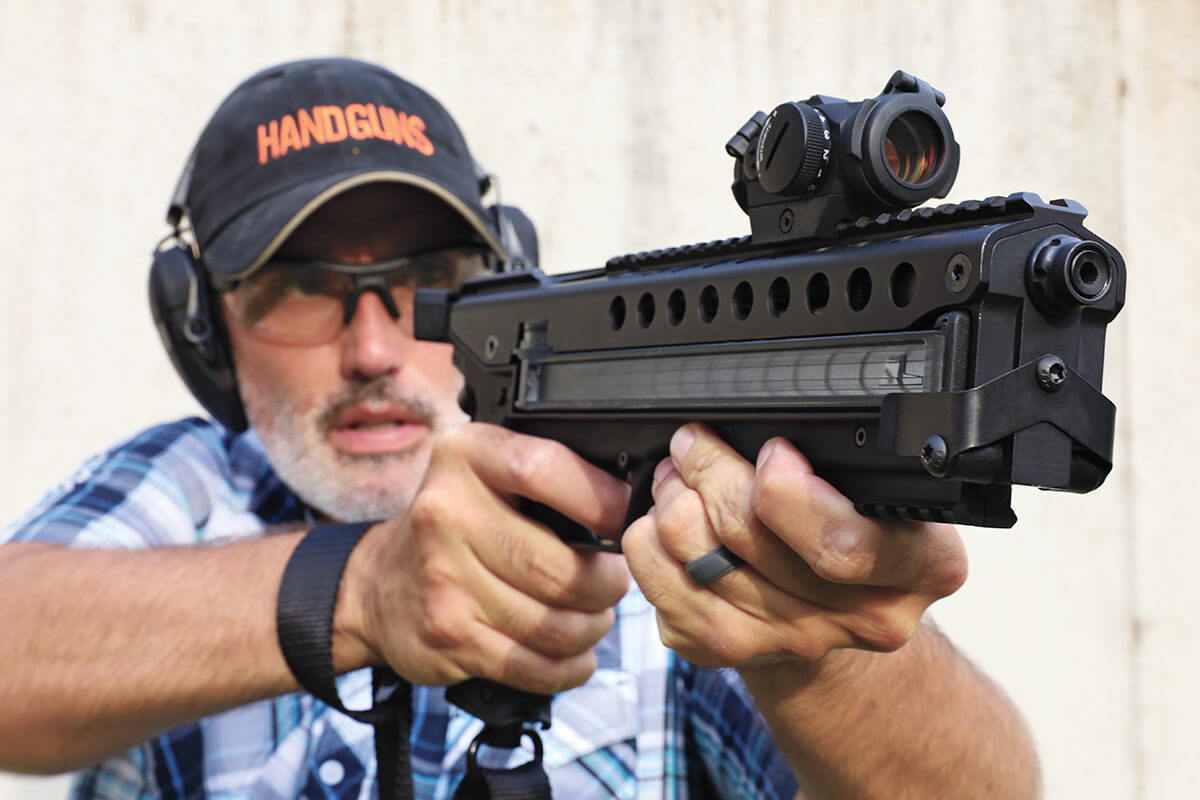 KelTec P50 Blowback Semiauto 5.7x28mm Pistol 
Brad Fitzpatrick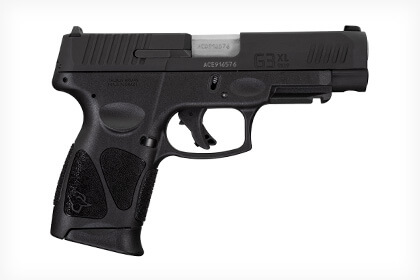 Taurus G3XL EDC Compact 9mm Pistol: First Look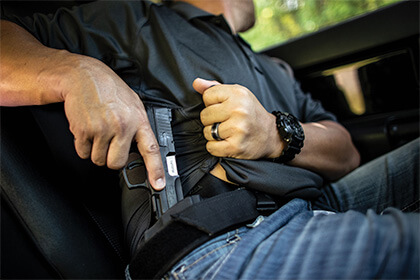 9 Handguns Under $300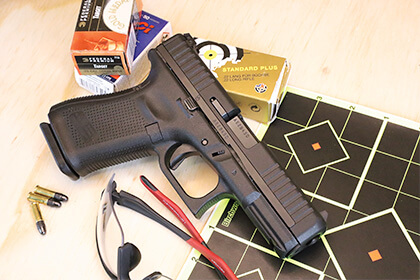 Glock G44: Firing Range Report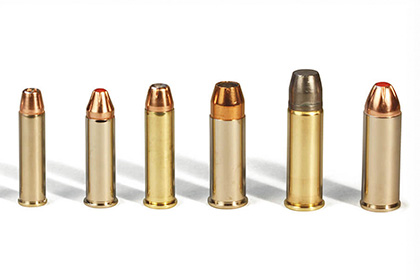 6 Great Revolver Cartridges for Carry and Home-Defense Applications
J. Scott Rupp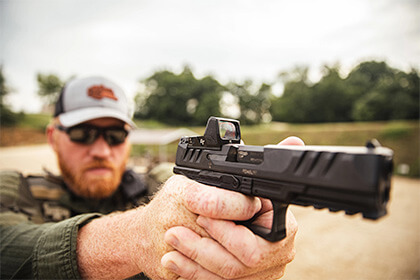 7 Great Handgun Reflex Sights
9 Best Pistol Drills to Become a Better Defensive Shooter
Patrick Sweeney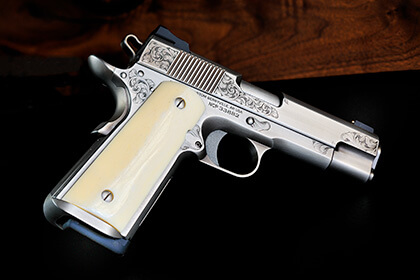 Nighthawk Custom VIP (Very Impressive Pistol) .45 ACP 1911
Stan Trzoniec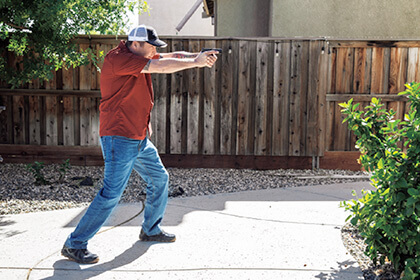 What's Your Shooting Stance?
Richard Nance
Recent Videos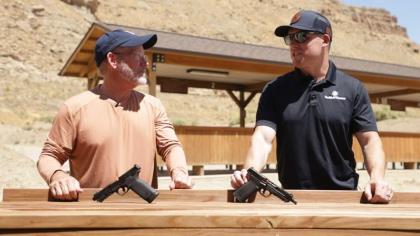 Smith & Wesson M&P in 5.7 and .22 Mag. Calibers
Handguns Editor Scott Rupp talks with S&W Rep Vince Perreault about how the Tempo Barrell System manages these quick cartridges, improving accuracy and reliability.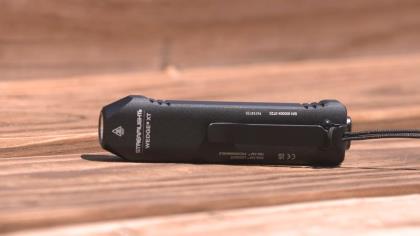 Streamlight Updates Its Wedge Flashlight with Tail Cap Switch
Handguns Editor Scott Rupp talks with Streamlight Rep Brian Osborn about Wedge updates, including tail cap switch and waterproofed USB charging port.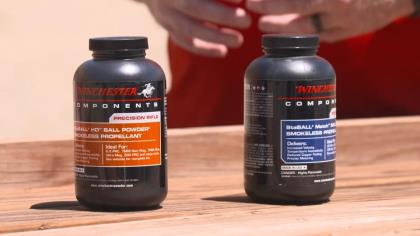 Hodgdon Adds Match and HD to Its Winchester StaBALL Powder Line
Handguns Editor Scott Rupp and Aaron Oelger from Hodgdon Powder Company discuss powder availability and new Winchester StaBALL Match and HD smokeless powders.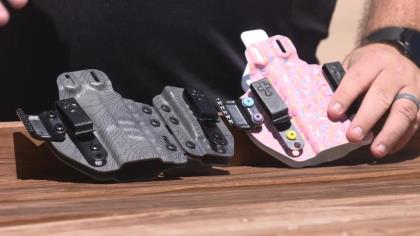 Crossbreed Rogue Holster and System with Mag Carrier
Handguns Editor Scott Rupp talks to Crossbreed Rep Nathan Engelking about the body-hugging Rogue Holster and Holster System with adjustable sidecar magazine carrier.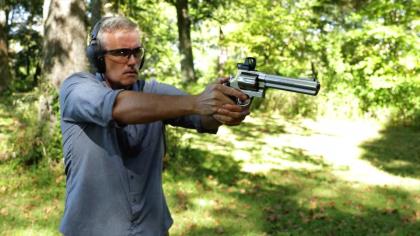 Smith & Wesson Model 350 Hunting Revolver In .350 Legend
Smith & Wesson is first to create a production revolver in the popular .350 Legend cartridge. Here is what handgun hunters can expect from this big-bore X-Frame revolver.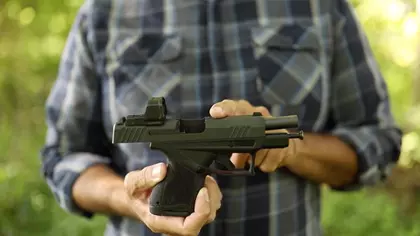 First Look: Taurus GX4 XL
The newest member of the GX4 line, the GX4 XL, comes with a 3.7-inch barrel. It deserves a spot on the list of stack-and-a-half micro 9 millimeters.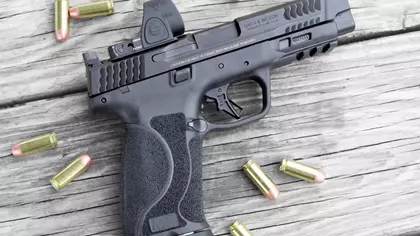 A Perfect 10? The S&W M&P 10mm
Smith & Wesson is chambering its excellent M&P 2.0 pistol in 10mm Auto, and the result is a gun with high capacity and enough power to tackle any defensive task.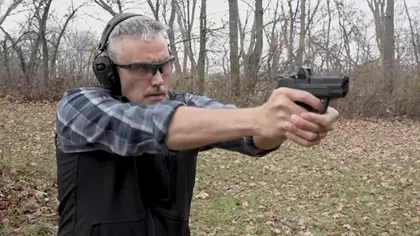 S&W M&P Shield Plus
Smith & Wesson's latest M&P Shield, the Plus, is at the head of the micro/high-cap class.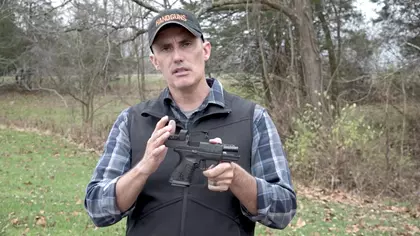 Springfield's XD-M Elite 3.8 Compact OSP 10mm pistol is the perfect carry companion whether you're facing two- or four-legged predators.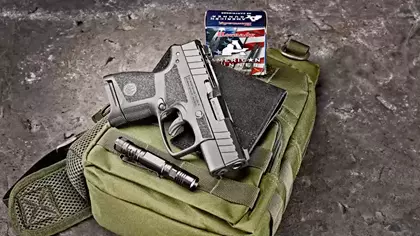 Beretta A1 Carry
Beretta's new APX A1 Carry shows that this historic brand is still competing in the modern market.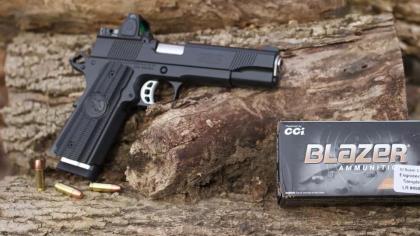 First Look: Federal .30 Super Carry Pistol Cartridge
Federal's new.30 Super Carry pistol cartridge offers the equivalent of 9mm Luger performance with recoil and muzzle blast comparable with 9mm. Here's a first look.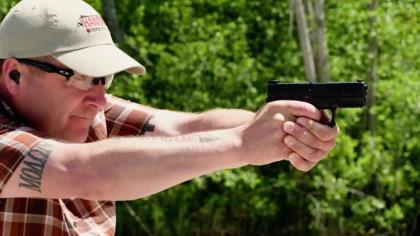 Bad Shooting Advice
Scott Rupp and Richard Nance correct some common shooting advice.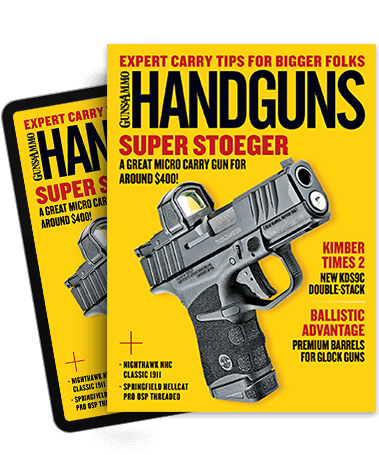 GET THE MAGAZINE Subscribe & Save
SUBSCRIBE NOW
Give a Gift | Subscriber Services
PREVIEW THIS MONTH'S ISSUE
Buy Digital Single Issues
Don't miss an issue. Buy single digital issue for your phone or tablet.
Other magazines.
Guns & Ammo
Rifleshooter
Shooting Times
See All Other Magazines
Special Interest Magazines
2023 Suppressor
2023 Precision Rimfire
2023 Precision Rifle Shooter #2
2023 Budget Guns
2023 Pistol
The Armory Life Fall 2023
See All Special Interest Magazines
More You May Be Interested In
Get the top Handguns stories delivered right to your inbox.
Get Digital Access.
All Handguns subscribers now have digital access to their magazine content. This means you have the option to read your magazine on most popular phones and tablets.
To get started, click the link below to visit mymagnow.com and learn how to access your digital magazine.
Get Digital Access
Not a Subscriber?
Enjoying What You're Reading?
Get a Full Year of Guns & Ammo & Digital Access.
Offer only for new subscribers.
Subscribe Now
Forum Listing
Marketplace
Advanced Search
Defensive Carry Discussions
Defensive Carry Guns
Ghost ring sights on a carry pistol?
rocky said: Never tried it, but it works well for rifles, so I suppose it might not be too bad. How easy is it to aquire a sight picture? Any slower (to you ) than conventional 3 dot? Click to expand...
QKShooter said: Doggoneit...What was the name of that Hexagon rear handgun sight that I posted about a while back. I can't even remember the dadblamed name of it now but, it got great reviews for being an ultra fast target aquisition sight system for low light defensive shooting. Anybody remember that thread of mine? Dumb Moderator I Is - I can't even find it on the forum now. :blink: I Found It It....I'm not a dumb as I look :rofl: Here It Is CLICK HERE - These Look Great... Click to expand...
JJ573 said: I have considered ghost ring sites for my carry gun. However, I have become convinced that www.suresight.com is a better choice. Click to expand...
frankmako said: ok here it goes. i know that i will make some mad!!!! when you are in a gun fight you will not see your sights. how do i know this???? been there, done that, got the t-shirt. with 29 years as a LEO i have seen/done/etc... it all. i would not worry so much as what type of sight that i have on my gun,,,,, i would go to the range and practice point shooting. yes point shooting, with the range no longer that 10 to 20 feet. when it "hits the fan" you do not have time to get a sight picture,,, you have time to draw the gun, point the gun at the problem, and pull the trigger (two to three times). ghost ring/ night sights/all others are good for paper targets or make you feel good at night that you can find your gun on the night stand,,,,,, but when it "hits the fan" you will not have time to get a sight picture and/or see the sights on your gun,,, you will point and shoot!!!! Click to expand...
Top Contributors this Month
FREE SHIPPING on Over 250,000 Products
Shop now and get Free Value Shipping on most orders over $49 to the contiguous 48 states, DC, and to all U.S. Military APO/FPO/DPO addresses.
Enjoy our FREE RETURNS
We want to ensure that making a return is as easy and hassle-free as possible! If for any reason you are not satisfied with your purchase, simply return the item within 30 days of receipt, and we'll cover the cost of return shipping. Learn more about our Return Policy .
Entire Store
Apparel & Footwear
Everything Else
Hunting Gear
Lab Equipment
Military Gear
Outdoor Gear
Photography Equipment
Police, EMS & Fire
Sport Optics
Sports & Hobbies
Buy Ghost Ring Sights from the Best Brands like XS Sight Systems, Ameriglo, Grey Ghost, and More! | Free Shipping Available! — 90 products / 187 models — Page 1
Are ghost ring sights good for pistols.
Yes, Installing ghost ring pistol sights is a great way to give you the edge in competition, combat, or self-defense. Several ghost ring sights work for Glocks.
What are peep sights?
Peep sights or aperture sights range from the "ghost ring" sight, whose thin ring blurs to near invisibility (hence "ghost"), to target aperture sights that use large disks or other occluders with pinhole-sized apertures. In general, the thicker the ring, the more precise the sight, and the thinner the ring, the faster the sight.
Are peep sights accurate?
As long as the sights are set up correctly, they're just as good as the shooter. Peep sights help you narrow your focus, so you can gain both sight alignment and sight picture within a small window.
Is red dot better than iron sights?
It depends on the skill level of the shooter, but in general, most shooters are more accurate with a red dot optic than iron sights mounted to their gun. Aiming iron sights requires that you acquire your target and then align your sights. Whereas, a red dot is a type of illuminated sight designed for quick target acquisition, so it combines steps and makes shooting much more intuitive. In the end, you just aim the red dot on your target and shoot.
Otherwise, like with anything, there are pros and cons. Red dots are more effective for night time shooting, but are battery powered. Iron sights give you a larger field of view and don't need batteries. Some shooters like to use both, though. They co-witness their sights, meaning they zero their gun so they can use iron sights if the battery dies on their red dot.
Buy Ghost Ring Sights on OpticsPlanet
At OpticsPlanet, we have a wide variety of ghost ring sights for rifles, shotguns, and pistols from top brands like CMMG , Trijicon , XS Systems , and more. Plus, you get free shipping on most orders $49 or more. Upgrade today!
Please visit Help Center section
Price: Low to High
Price: High to Low
Most Popular
Avg. Rating: High to Low
Price Per Count: Low to High
Price Per Count: High to Low
Most Reviewed First
Savings % Off
Newest First
Made in USA
NO ITEMS IN CART
Sign in to your account.
By signing into your account, you agree to our Terms of Use and consent to its Privacy Policy .
GHOST RING SIGHT SETS
For shooters seeking an alternative to the traditional post and notch sight design, there's AMERIGLO® Ghost Ring night sights. This unique design utilizes an aperture-style rear sight with two tritium mini-dots and a bright tritium front sight, which leads the eye to automatically center itself in the rear ring while focusing on the front sight. The result: immediate front sight acquisition.
Features Ghost Ring aperture-style rear sight that focuses shooter's eye to front post
Tritium in both front and rear matched with white, orange, or LumiGreen front outline options to fit user needs
Best for aging eyes that have trouble aligning traditional iron sights
Ghost Ring Sight Set for Glock ® 42/43/43X/48
Green Tritium LumiGreen Outline FRONT, Green Tritium REAR
$110.00 - ADD TO CART
Green Tritium Orange Outline FRONT, Green Tritium REAR
Ghost Ring Sight Set for Glock ® 42,43,43X,48
Green Tritium White Outline FRONT, Green Tritium REAR
$99.00 - ADD TO CART
Ghost Ring Sight Set for Glock ® Gen 5 9mm/.40
Ghost Ring Sight Set for Glock ® Gen 1-4 10mm/.45/.357
Ghost Ring Sight Set for Glock ® Gen 1-4 9mm/.40/.380, Gen 5 10mm/.45
By continuing to use the site, you are agreeing to our privacy policy .