21 Ghost Towns In Utah [MAP]
Last Updated on August 26, 2022 by Urbex Underground
If you're searching for ghost towns in Utah we've got you covered! Below are 21 different ghost towns you can explore across the great state of Utah along with their status and exact GPS coordinates.
We rate ghost towns in Utah based on their status. Here's how our system works:
Abandoned: Is abandoned with ruins and structures in a decayed state. Great for urban explorers .
Historic: Preservation efforts have been made and sometimes plaques installed. Great for everyone .
Barren: Almost nothing remains of the town. Ideal for metal detectorists.
Commercial: Is commercially owned with amenities, restaurants, and stores. Great for families .
Semi-Abandoned : Abandoned areas with a small population in the area.
Privately Owned: Tours might be available but not open to the general public.
2. Silver Reef
3. old irontown, 4. stateline, 7. castle gate, 9. promontory, 11. thompson springs, 12. marysvale, 13. mammoth, 15. home of truth, 17. nine mile canyon, 18. blacks fork, 19. coal city, 21. sulphurdale, the anarchist's guide to exploration.
If you're looking to dive deeper into the world of urban exploration, this book is for you. Learn how to uncover more abandoned places and the techniques used to capture their beauty.
37.16746, -113.08094 Status: Historic
A small group of settlers from Virginia established this beautiful area in 1858. They grew cotton, alfalfa, and wheat in scenic surroundings thanks to good soils. The occupancy started declining in 1907 because people started leaving due to floods, harsh winter weather, and attacks by Indians.
Life was very harsh in this area due to attacks such as three brothers and one wife were killed by Indians in 1866. Three children died young (below 9 years of age) from 1865 and 1877. Their graves along with the burial sites of several Native Americans can be seen in the cemetery. The last inhabitants left this area in 1944.
What's Left?
Grafton is a historical place near the boundary of Zion National Park. There are aged wooden buildings in good condition and a very well-preserved cemetery with graves from the 1860s. Grafton Heritage Partnership was established in 1997 that manages the site. Some people live in small houses in the neighborhood, there is a nearby ranch, farmlands, and orchards. The surroundings are peaceful, authentic, and atmospheric with colorful cliffs of the national park in the backdrop.
37.25333, -113.36673 Status: Historic
Silver reef became a mining town in late 1800s when silver was discovered in this area. In 1870s, another mining town Pioche, Nevada started to decline and miners were relocating to Silver Reef. In a couple of years, it became a vibrant business district with more than 2000 inhabitants.
The boom of the mining town was short because most of the mines had closed in 1884. People started moving to the nearby town of Leeds by 1901. Uranium was mined in this area after World War II for a very short time. After that Silver Reef became a ghost town with very few buildings.
Silver Reef is a true Wild West Ghost Town. You can visit this stunning geological setting by taking a guided tour, or just wondering around. It starts at the National Historic Register named Wells Fargo Express office that was restored and converted into a museum. There are walking trails that lead to old stone kilns where silver was processed, a museum, a gift shop located in the old bank, an old main street, a gallery, a restaurant, and many other places of interest.
37.60047, -113.4558 Status: Historic
Irontown was established by Mormon leader, Brigham Young when Irontown was discovered in Southern Utah. He called for volunteers in 1851 to colonize the region. In June 1868, Union Iron Company was established with the investment of Ebenezer Hanks which later became Great Western Iron Company.
By 1870, almost 19 households, two kilns, a pattern shop, a grinding device, and a molding shop in the city. After that, many people started settling in the area and by 1871 the mining town had a schoolhouse, post office, general store, boarding house, and butcher shop. During peak operation, the town was producing five to seven tons of pig iron. Reduced sales of iron items and increased shipping costs became the primary reason for the decline of the Great Western iron company.
There are some places of interest, beehive style charcoal oven, original foundry remains including chimneys and furnace which are very well preserved among the ruins. The site was registered as Old Iron Town, on the National Register of Historic Places in 1971. There are some occupied homes and a few newer homes in the town.
38.9624, -119.9399 Status: Semi-Abandoned
In 1894, Stateline Canyon started to attract residents when gold and silver were discovered in the area. The boom took place after the Ophir mine was discovered in the area and the population started increasing. There were many general stores and approximately 300 people living in the area by 1903. With the decline of mines, miners started moving to other areas for greener areas and gold mines.
You can explore sandstone formations and ruins throughout the canyon. There are well-preserved stone buildings, a mercantile store, a cemetery, and old foundations. Ophir Mine mill is also in a good condition and is one of my favorite buildings on the property. There is also a reservoir for mining facilities that are now used by local ranchers for water in the valley of Stateline.
39.04145, -109.7115 Status: Abandoned
In the early 1890s, a farmer by the name of Harry Ballard discovered coal adjacent to his ranch. He kept his discovery a secret and purchased that property. Coal operations started on a small scale by digging out manually. The news quickly reached Salt Lake City and a hardware store owner bought Ballard's property.
People started developing the area rapidly in the coming years. In 1916, the primary investor was not happy with the profits because they started declining. In 1955, Grand coal Company sold all its holdings to another company. That resulted in the decline of population and made this area a ghost town.
The old site displays various places that belong to the prosperous past of the site. There are foundations, mine shafts, old railroad bridges, cemeteries, and other crumbling structures. There is native American rock art among other structures. This combination of history and ruin makes its one of the best ghost towns in Utah.
39.99134, -111.49824 Status: Abandoned
Thistle was once an important place for visitors of Denver and Rio Grande Western Railroad. There was a school, saloon, restaurant, and a population of around 650 residents. After the railroads converted from locomotive to diesel engines, trains no longer stopped in Thistle.
After a massive rainfall in 1983, floods and landslides blocked the Spanish Fork River and wiped out the rail line. People had a couple of hours to evacuate the area. Their homes were destroyed and the town became abandoned. There are some houses which are broken and partially in the water.
The town is abandoned and the remaining structures are under swampy water. This area cannot be easily explored. Vigilant explorers can find a few water-logged homes throughout the area. Unlike many ghost towns in Utah, Thistle is one of the few that was completely decimated by a change in water levels.
39.73559, -110.8727 Status: Abandoned
Castle Gate was a coal mining town that started in 1886, operated by Pleasant Valley Coal Company. The town started booming in no time when more people started settling and building houses. In 1889, coke ovens started to provide coke for Salt Lake smelters.
In November 1903, coal miners went on a strike for dangerous working conditions, low wages, and longer working hours. Later, coal mine 2 and coal mine 3 also opened for mining. In 1924 an open flame ignited the coal dust in Castle gate no.2. Two more explosions occurred after the first one that resulted in the destruction of mining equipment, coal cars, telephone poles, and other things. In 2015, Castle Gate Power Plant closed due to environmental issues related to mercury.
There are many headstones in the Castle Gate cemetery. Most of them are from 1918's epidemic flu and 1924 of people who were killed in the explosion. You can see the ethnic and religious diversity of this area by the names of people on the gravestones. While the area is far from abandoned there are plenty of ruins in and around the Castle Gate area to explore.
38.46081, -113.26279 Status: Abandoned
Frisco was a thriving town of 6000 people that was an active mining town between 1879 to 1929. The name of the town was inspired by the famous city of San Francisco. The area started developing when the Horn Silver Mine was established in 1875 and later became the largest producer of silver in the area. With the passage of time many other mines were also discovered. This area had a short-lived success as a mining camp as the mines dried up and silver declined in price. After the decline of mining, people started leaving the town.
Today, there are abandoned structures, crumbling foundations, cemeteries, charcoal ovens, rusting mining equipment, and many other things to explore making Frisco one of the most fascinating ghost towns in Utah.
41.61977, -112.54679 Status: Historic
Promontory is a high-ground area in the Northwest of Salt Lake City. It is famous for Promontory the Summit with the transcontinental railroad from Sacramento to Omaha. There is an original abandoned alignment called Lucin Cutoff that crosses Promontory mountains.
The first rail route was completed in 1868 through the Sierra Nevada mountains and more than 4000 workers were working on-site, most of them were Chinese. There were shops, stores, tents, and many other places of interest in the area by December 1869. By June 1870, the population started to decline and by 20th century, wheat farmers started changing the landscape with families and farms. As harsh summers dried up the lands, the farmer quickly left for greener pastures.
Golden Spike National Historic Site was signed into law in July 1965. The administration of the park is under National Park Service. There is a visitor center, engine house, walking trails, and the famous Golden Spike ceremony in this area. Promontory is beautifully preserved making it one of the best historic ghost towns in Utah.
40.54195, -112.73361 Status: Abandoned
Losepa is located in Skull Valley Tooele county, southwest of Salt Lake City. In 1850s Mormon missionaries started settling in the Polynesia area. In 1870s native Hawaiians started settling in Salt Lake City. They faced mistreatment and culture shock due to the white majority. Despite this, they endured and established a settlement.
People started building homes, schools, stores, and a church in this area. An extensive irrigation system was also developed in this area to bring water from the Stansbury mountains.
The entire settlement was very well planned whereas the harsh environment was tough and there were many diseases like smallpox, leprosy pneumonia, and diphtheria. Several crop failures made times harder in this area. People started leaving the area to find somewhere more hospitable. By January 1917, Losepa was a ghost town.
The Losepa cemetery was placed in 1971 on the National Register of Historic Places. A memorial day was organized in 1980 that was attended by a few Polynesian families of Utah. People gather at the location for the celebration. A large concrete pavilion and restrooms were added to the location in 1999. People can visit the location and enjoy camping as well as exploring in this area.
32.95983, -98.76534 Status: Abandoned
The town started when E.W.Thompson operated a sawmill near the cliffs and established a small settlement. The name of the town was decided based on his name. This small community called Thompson Springs contained sheepherders, small-scale farmers, and cattlemen.
A stop was created in the Denver and Rio Grande Western Railroad to reach the settlement. Harry Ballard discovered coal mines in the land adjacent to his ranch that became a reason for this town's prosperity. The town started declining when power engines were replaced by diesel engines and mining transportation became an issue.
The town is a few miles away from the new highway. There is an exit from the road and a gas station. Thompson Spring is visited by tourists for a quick stop while passing west.
38.48097, -112.3714 Status: Historic
This area started to take off when Silver ore was discovered in Marysvale in the 1860s. After this discovery, gold was discovered in 1889 and in 1949 uranium was discovered just in time to support the war effort. People started moving to Marysvale for mining and other work opportunities. Town started developing when the United States Atomic Energy Commission established a field office and ore purchasing station in Marysvale.
The post office of Marysvale started in 1872 and it is still operating. There is a Paiute ATV trail in Marysvale along with many other activities. Tourists visit this area for ATV tours and other activities.  Of all the ghost towns in Utah Marysvale is arguably the most active.
39.92633, -112.12633 Status: Semi-Abandoned
Mammoth mine was discovered in February 1870 which kickstarted the population of Mammoth. The environment was harsh with no natural water source. Water pipes were used for industrial use and people had to buy gallons of drinking water for drinking. Mammoth mines produced silver and gold ores. Around 1900-1910, the population of Mammoth rose to 2500-3000 people. There was a school, four large hotels, and other places of interest in the town. The town started declining after 1910 when mining became difficult. People moved to other places with better opportunities, lifestyles, and weather.
Small-scale mining still occurs in the area and some residents still live in Mammoth. The area is popular among campers, hikers, off-road vehicle riders, and ghost town enthusiasts. Mammoth is one of my favorite ghost towns in Utah
38.9114, -109.1404 Status: Semi-Abandoned
In 1880, the town started as a water filling station and saloon for Denver and Rio Grande Western railroad. Stores, restaurants, and hotels started establishing as travelers came through after the discovery of natural gas and oil. Many miners settled in the town.
The town started declining after the replacement of the steam engine and the economy crashed after Interstate 70 was built. There was no proper connectivity between the town with the highway which ultimately killed off the population.
There are different relics of the old town, abandoned vehicles and belongings. An art residency by Eileen Muza is organized that is joined by different communities and people. This art residency bought attention from all over the world to this town.
38.0608, -109.3841 Status: Abandoned
The town formed when a wealthy widow started a religious community in 1933 when her husband passed away. She began claiming that God was dictating messages through the typewriter and speaking through her divine manipulation and opened a "Truth Center".
This small community believed that everything will come to an end as through an apocalypse, except for the barren place where they were living. The decline of this area started when strange rituals began and a woman who was promised a cure for cancer died. Orgen (the cult lady) refused to bury her body and cult members fed the dead body milk and eggs for two months. The community dissolved by the end of the 1930s.
This land is private property and the owner wants to restore Home of Truth and other places of interests to open them to pthe ublic. There are abandoned buildings and a gate to the inner portal. A small cemetery with five graves. Of all the ghost towns in Utah, Town of Truth undoubtedly has some of the craziest stories and characters.
33.73147, -99.68342 Status: Abandoned
Lucin was developed in the late 19 th century by the employees of Central and Southern Pacific Railroads. It served as a water stop for railroads and steam locomotives. The town was abandoned in 1936. In 1997 a Venturing aviation entrepreneur and manufacturer of a plane propeller (Ivoprop), Ivo Zdarsky lived in this place.
This area is handled by the Utah Division of Wildlife Resources for migrating songbirds and other wildlife. There is a large artwork created by artist Nancy Holt in 1976, called the Sun Tunnels. 
39.7762, -110.4964 Status: Historic
Nine Mile Canyon was the main transport corridor in the 1880s. There were a number of ranches and a small town named Harper. There were rich deposits of natural gas. However, the fugitive dust and truck traffic was destroying cultural resources and the rock art of the canyon. Eventually, in 1920 it became a ghost town.
Today Nine Mile Canyon is known for its extensive rock artwork, granaries, and shelters promoted as "the world's longest art gallery". Most of the works are created by the Ute People and Fremont Culture. This is a destination for tourists and archaeologists alike.
40.97099, -110.587 Status: Abandoned
Backs Fork named after the Blacks Fork River, and was established in 1870 as a supplier of lumber to the mining industries and the railroad. The population of the town reached 100 and soon after that, it was abandoned due to harsh weather conditions. There were a few homes, a post office, and a barn in the town.
The town has abandoned buildings, company offices, large barns, storage places, stores, and restaurants. It is visited by tourists and ghost town enthusiasts. 
39.66666, -111.01638 Status: Abandoned
Coal City was a farming community, established in 1885. Farming and ranching were difficult because the town's elevation was almost 7000 feet with rich soil. Small-scale mining began in the town when coal was discovered in the area. Mining was also not successful in the area because the town was away from the railroad. Coal production started declining in 1935 and the town was abandoned in the 1960s.
Coal City has a few buildings which are managed by the Gordon Creek Wildlife Management Area. Deteriorating structures and old water systems can be seen in the area. No motor vehicles are allowed in the area. Tourists and archaeologists can visit the area making it
39.78583, -109.07333 Status: Abandoned
Dragon was started as a Gilsonite mining camp in 1888. There were veins of Gilsonite a type of natural asphalt that was found nowhere else at that time. The town boomed at the start of the 20 th century and started declining after the end of the Uintah Railway line.
Gilsonite is flammable causing a couple of accidents during the mine's operation. One of the accidents resulted in the death of two miners and complete destruction of the Uintah Railway warehouse. Mining operations in the town stopped in 1938. The mine was discovered due to a Black Dragon shape substance on the ground so the mine was named Black dragon mine.
The Dragon and Rainbow mines slowly closed down. There are ruins and remains of Dragon, a hotel in the rubble pile, an old school, a small cemetery, and some old foundations.
38.56027, -112.58194 Status: Abandoned
Sulphurdale kicked off in 1870 but large-scale mining started after 1883 when a thermal plant was built. Proper production began in 1890. Despite the extraction of 1000 tons of Sulphur, high-quality Sulphur was difficult to extract.
There were 30 homes, a company store, offices, and a school in town. Production of Sulphur slowed in 1940s which led to the closing of the mine and mill in 1966. Sulphurdale was completely abandoned by the 1970s. A geothermal power system was installed in 1985 that is still producing electricity.
There is a geothermal power system near the town. There are a couple of houses and a school house in the town. The town is open for visitors. Visitors often stop by to see the town and the old Mormon fort nearby.
Go out and explore!
That concludes our list of ghost towns in Utah, but that doesn't mean that's all there is to find. Take the back roads, follow train tracks, and find some places for yourself. There are plenty of places I kept off this list so get out there and explore.
If you're having trouble finding ghost towns be sure to check out our Ultimate Guide to Finding Abandoned Places , or explore other ghost towns across the country .
Similar Posts
Inside Mike Tyson's Tacky Abandoned Ohio Mansion
Last Updated on January 2, 2020 by Urbex Underground In the heart of Ohio surrounded by fields of corn and parkland sits an abandoned mansion owned by one of the fiercest boxers ever known. The legend Mike Tyson himself owned this 13,500sqft mansion that has sat abandoned for over 25 years. I got a chance…
22 Abandoned Places In Oklahoma [MAP]
Last Updated on April 11, 2022 by Urbex Underground Searching for abandoned places in Oklahoma? You're in the right place. Below are 22 of my favorite abandoned places across the state! Abandoned Places In Oklahoma 1. Meridian Community Church 35.84444, -97.24814 History:  Meridian takes its name from the Indian Meridian that runs through it. The…
13 Ghost Towns In Wisconsin [MAP]
Last Updated on August 26, 2022 by Urbex Underground If you're searching for ghost towns in Wisconsin, we've got you covered! Below are 13 different ghost towns you can explore across the great state of Wisconsin along with their status and exact GPS coordinates. We rate ghost towns in Wisconsin based on their status. Here's…
12 Abandoned Places In Arkansas [MAP]
Last Updated on April 18, 2022 by Urbex Underground Hunting for abandoned places in Arkansas? You're in the right place. Below are 12 of my favorite abandoned places throughout the state. Abandoned Places In Arkansas 1. Rush Ghost Town 36.13256, -92.57106 History: The property abutting the Buffalo National River contains old log cabins, vestiges of…
20 Abandoned Places In Washington [MAP]
Last Updated on March 14, 2022 by Urbex Underground Searching for abandoned places in Washington? You're in the right place. Below are 20 of my favorite abandoned places across the state! Abandoned Places In Washington 1. Satsop Nuclear Power Plant 46.95968, -123.46855 History:  These two ominous cooling towers were part of Washington Nuclear Project Nos….
12 Ghost Towns In Mississippi [MAP]
Last Updated on August 26, 2022 by Urbex Underground If you're searching for ghost towns in Mississippi, we've got you covered! Below are 10 different ghost towns you can explore across Mississippi along with their status and exact GPS coordinates. We rate ghost towns in Mississippi based on their status. Here's how our system works:…
Listen live
Shows + Podcasts
KSL Contests
Contact KSL NewsRadio
Breaking News
Crime, Police + Courts
Education + Schools
Politics + Government
Utah's Morning News
Dave & Dujanovic
Utah's Noon News
Inside Sources
Jeff Caplan's Afternoon News
Jeff Caplan's Minute of News
KSL at Night
The Greenhouse Show
KSL Movie Show
KSL Outdoors Show
Let's Get Moving with Maria
Text with KSL
Meet our team
X (Twitter)
Bonneville International
Privacy Policy

10 famous Utah ghost towns and where to find them
May 22, 2021, 10:28 AM | Updated: May 28, 2021, 8:33 am
Cactus grows in the red dirt of Grafton, Utah, which features prominently in "Butch Cassidy and the Sundance Kid." The old schoolhouse appears in the background. Photo: Becky Bruce
BY BECKY BRUCE
News Director
When you think of famous ghost towns, you might think of places in Texas, Wyoming, Montana, Arizona or California – but it turns out Utah has its fair share, too.
And most are within a short drive of the major metropolitan areas in the state.
Here are the top 10 most famous Utah ghost towns and how to find them (with a few honorable mentions for good measure).
1. Grafton, one of the most famous ghost towns in Utah
Located just outside of Zion National Park, you probably know Grafton already, even if you don't realize it. It tops our list of 10 famous Utah ghost towns because it got some major screen time in "Butch Cassidy and the Sundance Kid." Some claim Grafton is the most photographed ghost town in the West. We can't prove that, but it appeared in at least one other movie, 1929's "In Old Arizona," one of the first "talkies."
Members of The Church of Jesus Christ of Latter-day Saints first settled in the area in 1859, on a mission from Brigham Young to grow cotton in southern Utah. They established a growing community on the banks of the Virgin River known as Wheeler. But flooding washed away most of the town in 1862, so they moved about a mile upriver to a place they named New Grafton. Over time, they dropped the word 'new' from the name.
Flooding continued to plague Grafton's residents. Rising waters not only threatened its structures but also filled irrigation canals with silt. Residents had to dredge the canals weekly. The outbreak of the Black Hawk War meant the town had to evacuate in 1866, but continued flooding prompted residents to resettle elsewhere. Most historians consider the town's official demise to have come in 1921, when The Church of Jesus Christ of Latter-day Saints pulled out its local presence. But technically, three people still live in Grafton.
Roots run deep, though, and some of the orchards those early settlers planted still exist today. You can wander through the main street (really just a dirt path) and even into some of the buildings. Pay your respects to early residents at the town cemetery a short distance away.
Getting there
Take Interstate 15 to exit 27 for Utah S.R. 17, toward Toquerville and Hurricane. Stay on S.R. 17 for about 6 miles until you reach the town of La Verkin. There, turn left on 500 North/S.R. 9 East. Drive 15 miles on S.R. 9 East to the town of Rockville. Turn right on Bridge Road. Drive 0.3 miles, crossing over the Virgin River, then turn right on 250 South/Grafton Road. Continue roughly 3 miles. The road changes from paved to gravel to dirt, then ends at the ghost town.
2. Silver Reef, former mining boomtown
Like many ghost towns of the Old West, Silver Reef got its start as a mining settlement. A man named John Kemple discovered silver there in 1866. He returned in 1874, hoping to find the source of the vein of silver, staking several more claims, but without locating the source.
Then, in 1875, word got out about Kemple's discovery. A pair of Salt Lake bankers known as the Walker brothers hired a prospector to check it out on their behalf. The prospector, William T. Barbee, staked nearly two dozen claims and established a town he called "Bonanza City." But miners drawn to the area by reports of silver preferred to set up camp outside of town, which they called "Rockpile."
That same year, after the mines closed in Pioche, Nev., some of its miners relocated to Rockpile, renaming it "Silver Reef." At its peak, the town hosted 2,500 residents, nine grocery stores, six saloons and even a newspaper, which made it the largest town in southern Utah at the time.
But it wouldn't last. A downturn in the silver market dealt one major blow, and decreasing wages for miners dealt another. While the mines generated millions of dollars of silver ore, the last mine closed up in 1891.
Today, much of the town has been overtaken by new development, making it therefore off-limits to explorers, but you can still visit the old Wells Fargo Express Office, which was turned into a museum, and the bank, now a gift shop. Feel like stretching your legs? A short trail will take you to one of the kilns once used to process silver.
Getting there
From the north, take southbound I-15 to exit 23 for Leeds/Silver Reef. Turn right at the "T" on Silver Reef Road, driving west about 1.5 miles. Turn left at the "Y" in the road, which becomes Silver Reef Drive. The museum is on the right at the corner of Silver Reef Drive and Wells Fargo Drive.
From the south, drive northbound on I-15 to exit 22 for Leeds/Silver Reef. Turn north on Main Street through Leeds, about 1.3 miles. Next, turn left on Silver Reef Road, passing under the freeway toward the red cliffs, for about 1.5 miles. Turn left at the "Y" in the road, which becomes Silver Reef Drive. The museum is on the right at the corner of Silver Reef Drive and Wells Fargo Drive.
3. Old Irontown, one of the first Utah ghost towns
Just about 20 miles outside of Cedar City lies Old Irontown, one of the Utah ghost towns with the most structures left behind to explore.
Remains of a coke oven in Irontown. Old Irontown was settled in the 1850s for the purpose of mining iron ore, however, the venture quickly proved unsuccessful and Old Irontown became Utah's first ghost town. Photo: Deseret News Archives
Founded in 1868, Old Irontown was originally known as Iron City. In a way, it came about because of the establishment of Cedar City, more than a decade before. Members of The Church of Jesus Christ of Latter-day Saints settled Cedar City in the 1850s, with the express goal of establishing an iron works. The mining operation there eventually failed and closed down, though settlers remained. However, that led to Peter Shirts' discovery of the Iron City site in 1868, and the subsequent organization of the Union Iron Company by Ebenezer Hanks that same year.
Iron City grew quickly, filling with 97 residents within two years. The town boasted not just the foundry, furnaces and blacksmith you would expect, but even a schoolhouse. However, by 1876, it was abandoned. A money panic in 1874 proved too difficult to overcome.
Today, you can still check out ruins of Old Irontown that tell the story of iron mining and processing. The most recognizable structure is an old beehive-shaped charcoal oven, but you can also find the brick chimney that once served as part of the foundry, and an "Arastra," a type of mill used to grind the iron ore so it could be used to charge the furnace.
Be polite if you visit — there are nearby residents who call the area home.
Take I-15 to Cedar City, exiting at Utah State Route 56, also known as 200 North. Head west on UT-56, continuing 19.5 miles, then turn left on Old Iron Town Road, which is gravel. Follow roughly 3 miles to the historic site.
For extra credit, stop by the Frontier Homestead State Park Museum in Cedar City on your way to see artifacts from the site and learn more about the area's early settlers.
4. Welcome to Stateline, born in a Utah gold rush
Someone discovered gold around 1894 in them thar hills — or at least in Stateline Canyon near the Nevada state line in Iron County, Utah.
The discovery of gold and silver in the area prompted a bit of a rush, followed by the establishment of the Ophir mine in Stateline Canyon in 1896. Two more mines, the Johnny and the Creole, soon followed.
At one point, 300 people called Stateline home. It included everything you would expect of an Old West town: saloons, a couple of general stores, a daily stagecoach to the nearest town with a railroad stop and even its own newspaper.
But before long, the mines had given up all they could; the town slowly faded away; its last residents gone by the end of 1918.
Sadly, much of what remained of Stateline burned with widespread wildfires in 2020. However, the cemetery is well-kept and worth paying your respects.
Need more adventure? Stateline Canyon and the surrounding area feature plenty of trails for ATVs and dirt bikes. You'll also pass through Modena to get to Stateline — and with its fewer than 20 residents, it practically qualifies as a ghost town, too.
Take I-15 to Cedar City, exiting at Utah State Route 56, also known as 200 North. Much like the road to Old Irontown, your next move is to head west on UT-56, but this time, you're going to drive 51.6 miles to the town of Modena. Turn right on Modena Canyon/Hamblin Valley Road. Continue 12.9 miles, then turn left at Hall's Road. After 1.1 miles, the road curves to the right and becomes 13600 West. Continue another 0.1 miles, then make the first left you can make, followed by the next right. Continue roughly 2 miles – the road ends at the Stateline cemetery.
5. Sego, Utah – a coal ghost town
If you're already planning a trip to the red rock country around Moab, Utah, you might as well check out one of the easiest to reach ghost towns on this list: Sego. In fact, if you've ever needed to make a pit stop at the Thompson Springs rest area between Moab and the Colorado state line, you were almost within reach of Sego without knowing it.
Sego got its start as a coal town. Henry Ballard, one of Thompson Springs' founding fathers, found a seam of coal near Sego in 1908 and established a camp, calling it — what else? Ballard.
Ballard eventually sold his camp to B. F. Bauer and his American Fuel Company, which resulted in fast expansion, a spur railroad line and the renaming of the town to Neslen, after the mine's new general manager, Richard Neslen. A company store, a boarding house and a post office soon followed.
But it's hard to keep a town functioning and growing without water, and soon after its founding, Neslen's creeks and springs started to dry up. In perhaps an ironic twist, too much water, in the form of flash floods, proved problematic for the trains — washing out bridges and trestles needed for the railroad spur to reach the coal mine. The coal company struggled to make a profit, miners went on strike when they weren't paid for months at a time, and the company went through a restructuring in 1916. That move, which also replaced the mine's general manager, eventually resulted in a name change for the town, in 1918, to Sego, for the Utah state flower, the sego lily.
But the financial struggles didn't go away with the restructuring. Corporate coal moved out of the area in 1947, and while the remaining miners bought what was left and established a company of their own, it didn't last. Flash floods wiped out the last vestiges of town life in the 1950s and forced any remaining miners to leave.
Not much remains, because a number of the buildings were moved to Thompson after the town petered out. But you can still see dugouts and foundations of a number of structures, plus the old Sego hotel's red rock walls still stand.
Take I-70 to exit 187, toward Thompson Springs. Turn left on UT-94 North, crossing under the interstate and driving 1.4 miles until the road merges with Sego Canyon Road and curves to the right. Drive 3.4 miles on this road, passing through the town, until you see Bureau of Land Management signs for the Sego Canyon Rock Art Interpretive Site. Turn right, then right again to stay with Sego Canyon Road. If you want, park at the BLM site to explore petroglyphs before continuing past to find the ghost town, another 1.7 miles down the road.
Note: The road turns to gravel in places, and dirt in others, and crosses through a dry wash at several points. Check the forecast before you go and do NOT attempt when meteorologists predict rain, as the road becomes impassible.
6. Thistle, a rare non-mining example among Utah ghost towns
One of the few Utah ghost towns on the list not to have ties to gold, silver, iron or coal mining, Thistle stands out from the rest. Its origins stem not from early Latter-day Saints settlements but from the arrival of the railroad.
The railroad depot at Thistle. Photo: Deseret News Archives/Utah State Historical Society
Designed to accommodate the trains chugging through Spanish Fork Canyon in the late 1800s, Thistle became an important stop between Denver and the Salt Lake Valley. The Denver & Rio Grande Western railroad rebuilt an existing narrow-gauge track there to standard-gauge, then connected it with its line from Denver, providing a connection to Salt Lake City to the north. As a result, the railroad added facilities at Thistle to service trains and prepare them for the grades and curves ahead, for example by adding an extra engine before a steep climb. Before the era of dining cars on trains, Thistle also served as a meal stop.
Thistle's decline began long before natural disaster took its toll. When railroads switched from steam to diesel locomotives, the town's maintenance services became less and less important over time. Between the 1950s and the 1970s, the population shrank. Crews tore down the passenger depot in 1972 and the post office two years later.
Heavier than normal rain and snow in the autumn and winter of 1982, followed by more moisture and a faster than expected snowmelt in spring 1983, created a perfect storm for Thistle.
On April 13, 1983, railroad maintenance crews started to notice the track had shifted. A highway patrol trooper hit a buckle on US 6, the road through the canyon, that pitched him up against his car's roof. Crews immediately went to work to try to keep the highway and the rail line open, but to no avail. On April 14, they closed the road and the tracks to all traffic. Another two days later, the landslide had completely buried the tracks. Another day after that, the evacuation order became mandatory, as the landslide's impact damming the nearby river would undoubtedly flood the town.
Residents evacuated to the town of Birdseye, 5 miles away, with whatever they could grab on short notice. By the next day, the water reached the rooftops of their former homes. The day after that, 50 feet of soil covered the former route of US-6. By the time it was done, the landslide created a lake held in by an earthen dam.
You can still see partially flooded homes and other structures left behind by the Thistle landslide and flood .
From I-15, drive east on US 6 from Spanish Fork. Drive roughly 11 miles away from I-15, then turn right on Spanish Fork River Park Road to view the landslide from the "downstream" side. If you prefer, get back on US 6 and continue another 1.7 miles. Turn right into the large pullout just before the massive double road cut. You'll find a sign with an overview of the disaster and a viewpoint. Travel another 1.5 miles past the pullout and turn right on US 89, then follow another 1.5 miles to find the remains of Thistle.
7. Castle Gate, site of a coal mining disaster
Once a thriving mining town, and like Thistle, an important stop on the Denver & Rio Grande Western railroad's line from Denver to Salt Lake City, not much remains of Castle Gate. But we included it on our list of ghost towns because if you drive US 6 from Spanish Fork toward Price (or vice versa), you can't miss it. And it's the site of two major historical events in Utah.
Castle Gate gained a measure of notoriety during its heyday, as the site of one of Butch Cassidy's most daring heists.
The town wouldn't get its name for a number of years, but activity in the area started to ramp up in 1886, as the Pleasant Valley Coal Company set up shop and began mining. PVCC set up a company town, naming it after the unique rock formations near the mine.
On April 21, 1897, a train from Salt Lake City rolled into Castle Gate with PVCC's payroll — around $8,800 in three bags. Two cowboys approached the company paymaster and the two guards with him, intercepting their plan to carry the money the 75 or so yards from the train to the PVCC office. Later identified as Butch Cassidy and Elza Lay, the two cowboys made off with around $7,000 of the cash. No one ever recovered the money.
March 8, 1924 goes down in infamy in Castle Gate history. On that date, a series of explosions destroyed the Utah Fuel Company's Castle Gate Mine #2. And 172 miners perished, many of them immigrants. To this day, it remains the tenth deadliest mine disaster in United States history . One of the three explosions resulted in the mine's collapse. But historians believe lighting a gas lamp near improperly dampened coal dust caused the first blast.
The only visible remains of Castle Gate itself are the rock formations that gave it its name, and a power plant, no longer in operation, that sits at the base of the canyon. However, travelers can learn more about the mine disaster through interpretive signs at a pullout near the rock formations. The town cemetery is well-preserved and easily accessed.
From Spanish Fork, take US 6 east through Spanish Fork Canyon. The pull-off to view the Castle Gate rock formation and learn more about the mine disaster will be on your left after about 55 miles. To reach the cemetery, proceed south past the pull-out and make the next possible left turn, on US 191. The cemetery sits just a short distance to the east, on your left.
8. Frisco, one of the more notorious ghost towns in Utah
The town of Frisco got its start as a post office for the San Francisco Mining Company after the discovery of silver in the area in 1875. Miners established the post office just two years later, and within two years, the site boasted two smelters. In 1880, the completion of a rail spur to Milford, 15 miles away, fueled Frisco's population boom to more than 6,000 residents.
These iconic beehive kilns are in the ghost town of Frisco. Photo: Deseret News Archives
The population boom and the attraction of precious metals also brought some less than savory elements. Frisco earned a reputation as a wild, rough and violent town. Several accounts tell of the town's 23 saloons and, at one point, an average of one murder per day.
Frisco became more respectable with the arrival of a sheriff. He made quick work of putting a stop to the lawlessness. But its demise came from the collapse of the silver mine in 1885. The collapse forced the mine to close for a year, and when it reopened, it produced ore much more slowly than before. Residents slowly drifted away; by the 1920s, most had departed.
The most recognizable remnants of Frisco include charcoal kilns, listed on the National Register of Historic Places. But visitors will also enjoy exploring the town cemetery and remaining abandoned structures and equipment.
Follow I-15 to exit 228 in Nephi, toward I-15 Business/North Main Street. Turn right onto Utah State Route 41/UT-28 South. Drive 2.7 miles, then turn right onto UT-132 West/West 100 North. Continue 33 miles, then turn left on US 6 West. Travel 15.9 miles. Turn right on East Main Street in Delta, which is also US 50 West and US 6 West. Continue 5.5 miles, then turn left on UT-257 South. Drive 69.5 miles. Turn right on West Center Street in Milford, which is also UT-21 West. Drive 14.7 miles to the town of Frisco.
9. Welcome to Promontory, home of the Golden Spike
A scene at the Golden Spike ceremony photographed May 10, 1869 at Promontory Summit in Box Elder County. Southern Pacific photo X1071 from an original photograph owned by the Iowa Historical and Art Department. Photo: Deseret News Archives
Not much remains of Promontory, the town that sprang up practically overnight as crews raced to connect the railroad from East to West on the north end of the Great Salt Lake.
Sometimes confused with Promontory Point, the name of a "cape" of land that juts into the Great Salt Lake, the city of Promontory grew quickly before the railroad arrived there, as the agreed-upon location for the railroads to join. Meetings in Washington, D.C., in April 1869 resulted in the choosing of Promontory Summit as that site. Originally, the Union Pacific and Central Pacific railroads planned to lay the final tracks at that location on May 8. But bad weather and a labor dispute resulted in a two-day delay; instead, we mark the anniversary of the completion of the intercontinental railroad on May 10, 1869.
FILE – In this May 10, 1869, file photo, provided by the Union Pacific, railroad officials and employees celebrate the completion of the first railroad transcontinental link in Promontory, Utah. The completion of the Transcontinental Railroad was a pivotal moment in the United States, ushering in a period of progress and expansion nationwide. The Union Pacific's Locomotive No. 119, right, and Central Pacific's Jupiter edged forward over the golden spike that marked the joining of the nation by rail. (Andrew Russell/Union Pacific via AP, File)
A crew of Chinese and Irish immigrants laid the final 10 miles of track in just 12 hours.
The tent city that sprang up around the event thrived, with some "tents" sporting wooden facades. But it soon earned a reputation as a rough and tumble place. Saloons and card rooms in particular attracted unsavory elements. After con artists took everything from a family of German immigrants, Promontory's workers put up notices warning those who would do harm to others to leave town or face hanging. They did so, without further violence, by sunset on Sunday, Nov. 21, 1869.
Promontory City lived just a short time later. By December of 1869, most of the traders and merchants who set up shop had moved on, as the railroads changed the transfer point for trains from Promontory to nearby Ogden. A hotel and restaurant remained a little longer, but by the next summer, just 120 people, mostly railroad employees, remained at Promontory.
Eventually, a more direct route across the Great Salt Lake finished off what remained of Promontory City. Southern Pacific built a wooden trestle that crossed the salty lake, bypassing Promontory altogether. During World War II, the area marked the "unspiking" of the historic site, removing the last rail from Promontory Summit to repurpose the old steel for the war.
You can't really visit structures leftover from the Promontory City days of Promontory Summit. But the location itself still offers a lot to visitors. Now set aside as Golden Spike National Historic Park , a museum on the site offers photos of what the town once looked like, plus two replica locomotives that regularly re-enact the events of May 10, 1869. If you want to stretch your legs, walking trails offer a close look at some of the railway cuts and grades.
From Salt Lake City or Ogden, head north on I-15 and take exit 365 toward UT-13/Promontory Road. Merge onto UT-13 to head west. Continue 2.7 miles as UT-13 becomes UT-83. Drive 17.4 miles, then turn left on 7200 North. Continue another 2 miles, then make a slight right on 18400 West. After another 4.6 miles, turn left on 22000 West/Golden Spike Road. You will see the historic park on your right after about a mile.
10. Russian Settlement, one of the Utah ghost towns with no real name
Last but not least on our list of Utah ghost towns is Russian Settlement, which lasted just three years in Box Elder County, northwest of the Great Salt Lake.
We don't know what its residents called Russian Settlement. What we do know is that it was founded, much like the state of Utah itself, on faith.
The Russian people, Spiritual Christians , who purchased 4 square miles of Park Valley land in Box Elder County in March 1914, hoped to shield their children from worldly influences and to raise them in their own traditions and culture . In Los Angeles, where they had lived for roughly 10 years before that, they worried about urban influences on some of their practices, such as arranged marriages. Advertisements from Pacific Land and Water promised rich farming land, some of the best in Utah.
Arriving in April 1914 at their new town site, they put in the work to build a village. Town founders laid out an east-to-west main street with 200 feet of frontage for each lot. They bought farm animals from nearby ranchers, planted crops in the dusty soil and built houses, barns and wells to support their new life. Promised irrigation wells and pumps from Pacific Land and Water never materialized. So instead, most families used their smaller wells to water what they could.
The failure of the land to support crops eventually led residents to abandon Russian Settlement, starting just a year after they arrived. In fact, the decline was so swift, Box Elder County decided school-age children should attend class in Rosette just a year after first establishing a one-room schoolhouse at Russian Settlement.
By 1917, everyone was gone, and while Box Elder County residents removed buildings and materials from the site, no one ever tried to make the area a home again. Today, all that remains is a tiny cemetery with two graves, surrounded by a picket fence.
Take I-15 toward Idaho, splitting with I-84 and heading west toward Boise. From I-84, take exit 5 toward Park Valley/Elko. Head west on UT-30. Travel 15.8 miles on UT-30, then turn left to stay with UT-30. Drive another 19.8 miles. Turn left on 54000 West. After 1 mile, turn right on 16800 North. After about a tenth of a mile, the road curves and becomes Board Ranch Road. Keep driving 6 miles. At the next available right, turn right, then continue 2.6 miles.
Honorable mentions for Utah ghost towns and beyond
Picking just 10 Utah ghost towns to highlight meant leaving out so many others. Some estimates suggest Utah includes over 100 ghost towns . Here, we list just a few others that you may want to check out.
No longer exactly a ghost town, a woman named Eileen Muza purchased Cisco in 2015, making improvements and leaving her mark on the landscape ever since. But prior to that, the town was featured as the location of Thelma and Louise's famed police chase and also gave a Johnny Cash song its name.
Spring Canyon/Storrs
Jesse Knight purchased the land to develop a coal mine and company town he named Storrs, after the mine superintendent, in 1912. The name changed to Spring Canyon in 1924. It slowly declined as demand for coal decreased after World War II; by the late sixties, no one called it home anymore.
Topaz
Not exactly a true ghost town, Topaz deserves a place on the list because it once housed a number of people who do not live there today. Topaz was the site of a Japanese internment camp during World War II. Today, a museum educates visitors about what happened there. Visitors can also tour the nearby camp site.
Notom
Notom, just outside of Capitol Reef National Park , doesn't include buildings or even foundations to explore (that we know of!). But it made our list because of the accessibility to fun trails and outdoor activities. If you find yourself at the national park already, you probably also spotted the remains of Fruita, an early settlement. Notom just gives you more to explore, either by vehicle or on foot.
Bannack, Montana
This honorable mention isn't in Utah, but Bannack State Park is worth a trip if you find yourself in Montana. One of the state's original territorial capitals is restored with buildings you can explore, plus a museum and gift shop. Unlike most ghost towns, it includes dozens of structures. It's one of the more "complete" ghost towns available to tour.
Silt, Colorado
Not only is Silt not in Utah, it's also not technically a ghost town. But if you drive I-70 between Moab and Denver, you might as well stop at Silt. The town restored a number of historic buildings that visitors can explore, right in the heart of Silt, at Silt Historical Park .
Which Utah ghost towns did we miss? Send us an email at [email protected] , and we'll add it.
We want to hear from you..
Have a story idea or tip? Send it to the KSL NewsRadio team here .
Staffer: Mitt Romney not seeking third-party presidential ticket with Sen. Joe Manchin
Romney's chief of staff confirmed to KSL TV that the senator is not planning to appear on a third-party bid in 2024.
2 hours ago
Kristine Weller
How the PACT Act supports Utah veterans since approval
Saturday is the second Veterans Day since a law expanding veteran health care passed. How many Utah veterans are covered?
3 hours ago
It's a football season-defining weekend for BYU and Utah Utes
BYU is up against Iowa State and Utah Football is trying to take down the undefeated Washington Huskies in Seattle.
4 hours ago
Dale Spaulding
NASA wants to put a telescope on the moon, here's why
A BYU physics and astronomy educator explains why a lunar telescope is better than telescopes on the ground.
5 hours ago
Devin Oldroyd
Authorities respond to Ogden 7-Eleven fire Friday
A truck caught fire at an Ogden 7-Eleven Friday evening. No injuries were reported. No damage to 7-Eleven.
Emma Keddington
BYU researchers testing new PTSD drug
Researchers at BYU are testing a series of drugs that they hope could prevent the effects of PTSD before stressful events even happen.
7 hours ago
Sponsored Articles
Bear Lake Convention and Visitors Bureau
Looking Back: The History of Bear Lake
The history of Bear Lake is full of fascinating stories. At over 250,000 years old, the lake has seen generations of people visit its shores.
8 Fun Activities To Do in Bear Lake Without Getting in the Water
Bear Lake offers plenty of activities for the whole family to enjoy without having to get in the water. Catch 8 of our favorite activities.
Wasatch Property Management
Advantages of Renting Over Owning a Home
Renting allows you to enjoy luxury amenities and low maintenance without the long-term commitment and responsibilities of owning a home.
Why Southern Utah is a Retirement Paradise
Retirement in southern Utah offers plenty of cultural and recreational opportunities. Find out all that this region has to offer.
Prosperous Utah Communities
Utah's Battle to Protect Youth from Vaping Epidemic Faces New Threat as Proposed Rule Threatens Progress
Utah's strict standards of nicotine levels in vaping products are at risk, increasing health hazards associated with use. Read more about how you can advocate for a better future for Utah's youth.
Visit Bear Lake
Last-Minute Summer Vacation Planning? Check Out Bear Lake!
Bear Lake is the perfect getaway if you are last-minute summer vacation planning. Enjoy activities with your whole family at this iconic lake.
THE 10 BEST Utah Ghost Towns
Ghost towns in utah.
Points of Interest & Landmarks
Historic Sites
Scenic Drives
Ghost Towns
Budget-friendly
Good for Kids
Hidden Gems
Good for Couples
Good for Big Groups
Honeymoon spot
Good for Adrenaline Seekers
Adventurous
Good for a Rainy Day
Things to do ranked using Tripadvisor data including reviews, ratings, photos, and popularity.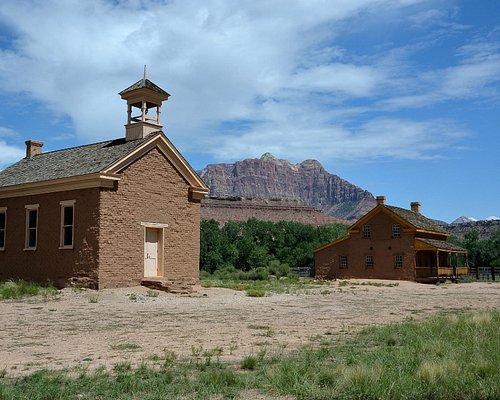 2. Cisco Ghosttown

4. Old Iron Town

8. Jacob City
12. fairfield.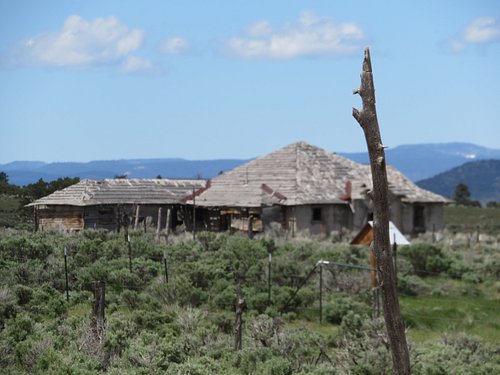 13. Widtsoe Ghost Town
What travelers are saying.

Ghost Towns in Utah
Visit our facebook
Visit our pinterest
The few remains of Kelton, the first big railroad town west of Promontory, are 35 miles southwest of Snowville off Hwy 30 on a gravel road.
Today Park Valley, 38 miles southwest of Snowville on Hwy 30, is a ranching town with many stories of the gold rush and the town's Russian settlers.
Twenty miles south of Tooele is the town of Ophir, where many original building and artifacts have been preserved from its historic mining past.
Near the old mining town of Eureka are several ghost towns such as Silver City and Mammoth.
Located on a road out of Clear Creek Canyon near Richfield is the mining ghost town of Kimberley. At the turn of the century Kimberly was a lively, thriving community with a lucrative mining industry.
Bullion City, up the canyon west of Marysville, once had a population of over 1,600 people, and several significant gold mines. Today relics of the mines and a few buildings remain.
Twenty-three miles north of the historic town of Callao (which is near the Nevada border) on an unpaved road is Gold Hill, one of Utah's largest, best-preserved ghost towns.
In Utah's coal mining past, many boomtowns went bust. It is no wonder that so many ghost towns are located across the state. A few examples are: Consumers, National, and picturesque Coal City, 2 miles south of Helper on Hwy 6/50 and west on a dirt road to Consumers Wash for 10 miles. Coal City is nicknamed Dempseyville because Jack Dempsey lived and trained for fights there.
If you've ever seen 'Butch Cassidy and the Sundance Kid', go to Grafton, the site of filming, and relive the bicycle scene. To find this southwestern Utah ghost town, settled in 1859, cross the bridge at Rockville and continue west on BLM's Smithsonian Butte National Backcountry Byway for 3 mi. on the south side of the Virgin River.
Just north of I-15 near Leeds are the remains of Silver Reef, a roaring 1870's mining town. The newly-restored Wells Fargo Building is on the National Historic Register. An excellent map of the townsite allows visitors to picture Silver Reef as it once was.
Thirty-three miles east of Kanab on Hwy 89, a winding dirt road designated as a Scenic Backway turns north for 6 miles to a movie set and Paria, settled in 1870 amid spectacular red rock BLM scenery.
Free Travel Guides
Views like this delivered to your inbox, recently visited.
BACK TO TOP
National Parks
Tiny Houses
6 Spookiest Ghost Towns in Utah for Exploring the Old West
by Liz Dengler Updated December 28, 2022
For those with a fascination with the spiritual and the desolate, old deserted towns have an allure that can only be alleviated by exploration.
Luckily, Utah is full of ghost towns and abandoned mining towns to explore. There are over 100 ghost/abandoned towns in the state, most of which are old mining towns (all that remains are cemeteries or old rock walls).
However, a few remnants are especially unique and have a truly fascinating history. Read on to learn more about the 6 ghost towns in Utah you must see for yourself.
Related Read:   The Top 9 Places to Get Spooked on Halloween in the U.S.
Nearest Town: Thompson Springs (10 minutes)
Just a quick hop north of I-70 is the old Sego ghost town. Set up against the Book Cliffs, this small town was once flourishing due to the discovery of a vein of coal by Henry Ballard.
Buying up land and mining the coal, the town sprang up in 1910. A short railroad spur developed in 1912, and the growth led to the establishment of a post office, company store, boarding house, and expansive growth. However, there was little water nearby (what water there was, was poor quality), and the town struggled to develop beyond a few hundred people.
The coal vein was extremely productive between 1920 to 1947, but eventually, the cost of mining the vein outpaced the income and dwindled. In the 1950s, a flash flood took out what remained of the vanishing town.
Today, only a few old stone foundations and run-down wooden structures remain. There is one large stone building that remains in decent shape. There are a few remaining old railroad cuts and trestles visible throughout the town. If you're looking for something else to do on your visit, on the way up the canyon, there is a small roadside cliff with some interesting petroglyphs. This is a great side trip for any historian to explore!
Related Read:   6 Stunning Backpacking Routes in Canyonlands National Park, Utah
2. Home of Truth
Nearest Town: Monticello
A unique ghost town, the remains of the Home of Truth are tucked in the southeast desert. Once a religious colony, the town was initially established as a post-apocalyptic utopia in 1933. The town's story begins in New Jersey, when Marie Ogden, the grief-stricken widow of a wealthy man, began searching for answers in religion. Claiming God spoke through her (and her typewriter, she opened the "Truth Center." She was soon told (by God) to build his kingdom in the Dry Valley near Church Rock, Utah.
Marie Ogden, by this time, had accrued a handful of diehard followers, who all believed her tales that the world was going to an end except for this new kingdom of God — the would-be site of Christ's second coming. The commune grew from a handful to about 100 in 1935, and the property acquired about 20 buildings. Ogden lived in the inner portal, the heart of a settlement, and spread the word of God through a newspaper, printed on her typewriter.
However, in 1935, only seven diehard followers remained. The cult's rituals spread across the land, and the decline began. Ogden's prophecies continued to fail to come true, and her followers began to question her authenticity and abandoned the property. By the end of the 1930s, the cult was dissolved.
After Ogden's death in 1975, the land was bought, and the new owner made a point to preserve the "Inner Portal" with hopes to restore it and open it to the public. Currently, visitors can only view the compound from the road, though many remains are visible from Utah State Route 211.
Related Read:   21 Outdoorsy Things To Do Near Moab
Nearest town: Rockville
Near Zion National Park is the old Mormon settlement of Grafton that was established in 1859 by a small group of five families from the nearby Virgin. The group found fertile soil to plant cotton, wheat, and alfalfa. However, frequent floods, occasional skirmishes with native Americans, and often harsh winters were brutal on the people of the small community.
Despite the challenges, it wasn't long before the town population swelled to 168 people (28 families) by 1864. After 1907, some left the commune for the larger Rockville settlement, though the hamlet survived a bit longer.
Only a quarter-mile off the road on the way to Zion, Grafton is super accessible for anyone who wants to take a side trip. Before reaching the remains of the old ghost town, you come upon the cemetery with a few dozen graves from 1860 to 1910.
The only remaining structures are close to the road and include a barn, outhouse, a home built in 1877 by John Wood, a church/schoolhouse from 1886, a two-story dwelling of Alonzo Russell, and a house of Louisa Russell. Some of the structures have been partially restored by the Grafton Heritage Partnership to preserve them. There is even a live-in caretaker to oversee the property and management of the site.
Related Read:   The Perfect Road Trip Itinerary Between Zion and Bryce Canyon National Parks
4. Silver Reef
Nearest town: Leeds
Another mining town established in the late 1800s near what is now Zion National Park, Silver Reef now sits as a restored monument to its time. The old town, has been built up into an established tourist spot complete with building tours and mine exhibits. Unfortunately, there is a small admission fee to experience the site.
The town was established when a rare vein of silver was discovered in a sandstone formation in 1866. Bankers from Salt Lake City sent a client (William Barbee) to stake mining claims (21 in total), and from then, there was an influx of mining and people. Accordingly, Barbee established a small town to accommodate the miners. However, when property values skyrocketed in the established Bonanza City, miners settled on the nearby ridge, which eventually became known as Silver Reef.
Nearly 2000 people were living in the town by 1879. The town had grown tremendously — there was now a mile-long Main Street, Wells Fargo office, and restaurants. Interestingly, there was only a Catholic church, despite its location in territory mostly under Mormon influence. As the global markets prices for silver dropped, the mines slowly began to close, with most of them ceasing operations by 1884. By 1901, most buildings were boarded up, and residents moved to nearby Leeds.
Throughout the 1900s, the mines traded hands numerous times, never with much success or long-standing operations. Visiting today, all that remains are the Wells Fargo, the Cosmopolitan Restaurant, the Rice Building, and a few foundations or walls of the town.
Related Read:   5 Incredible Backpacking Excursions in Zion National Park, Utah
Nearest Town: Milford
At the base of the San Francisco Mountains is the old mining town of Frisco . Built in 1875, the town was established after the discovery of silver. Known as the "toughest" camp, murder was a daily occurrence in the town, with some reports suggesting an average of 12 men each night. After the discovery of silver, the population soared to over 6000 people — even with the daily debit of 12 souls.
The town was scattered with saloons, hotels, gambling halls, and a top-notch redlight district. The Horn Silver Mine produced over $20 million of ore by 1885 and over $60 million of copper, lead, silver, and gold. However, in the winter of 1885, the mine caved in, and the remaining massive fortune was lost forever. Small operations remained until 1929, but Frisco's productivity faded over the years.
Today, a few old stone kilns and buildings stand in Frisco. The charcoal kilns are by far the most notable feature with their dome-stoned structure — they are even listed on the National Register of Historic Places. There is some old mining equipment that is barely recognizable, rusting away in the desert sand. A highlight for many folks visiting the town is the old cemetery with headstones dating to the 1800s.
While you visit this spot, please do not enter the mines — it is both illegal and incredibly dangerous due to the instability of the mine. On top of that, some gas still emanates from one of the mines. Entering these places can be deadly.
Related Read:   10 Best Utah Lake Camping Destinations for a Weekend on the Water
Nearest town: Thompson Springs
Located right off I-70, the road past Cisco is the back way to Moab. The town was established in the 1880s as a water refilling station for the Denver-Rio Grande Railroad and slowly developed. There was a saloon to start, but more establishments popped up as travelers passed through, including stores, hotels, and restaurants.
Eventually, herds from the Book Cliffs began passing through the small town of Cisco, using it as a provisioning center. Around 1900, there were over 100,000 sheep sheared at Cisco each year. Unfortunately, the town was linked to the steam locomotive, and the town's economy crashed when the interstate was built, bypassing the small town.
Today, there are numerous relics of the town. Driving through, you wouldn't think much of it, and the old buildings have lured vandals, and it has become a popular spot to abandon litter and vehicles. The more interesting aspect of Cisco's more recent existence is the presence of Eileen Muza.
In the early 2010s, the artist began a residency in Cisco. She lives in the town (alone) and uses old salvaged and on-site materials to transform the relics into art. There is now an Airbnb, skatepark, an old bus with a wooden snake winding through, and of course, a welcome mural.
Related read : 10 Wild West Facts of Everyday Life on the Frontier
Explore More in Utah
6 Epic Glamping Destinations Near Moab, Utah
10 Refreshing Swimming Holes in Utah
10 Spectacular Yurt Rentals in Utah
The 14 Best Hikes in Zion National Park, Utah
14 of the Best Utah Cabin Rentals
Get epic travel ideas delivered to your inbox with Weekend Wanderer, our newsletter inspiring more than 10,000 readers every week.
Seen in: Southwest , Utah , West
by Liz Dengler
Liz is a freelance writer and editor who lives on the road. Literally. Home is a cozy van parked wherever the views are stunning and the data is adequate. Always exploring, wherever she ends up, you can be sure she will be out hiking, biking, skiing, and paragliding.
8 Arizona Ghost Towns You Can Explore Today
Find your next adventure.
Sign up for Weekend Wanderer and join thousands of readers getting epic travel ideas weekly.
Related Posts
Arizona to New Mexico Road Trips: 25 Scenic Side Trips
"People who live in Arizona have easy access to some of the most extraordinary landscapes on the entire planet," says Rick Quinn, "and I'm continually amazed by how few Arizonans take advantage of more than a tiny fraction of their options." Rick is the author of the new book Arizona and New Mexico: 25 Scenic Side Trips, a guide to road trips that start and end at Interstate highways but take travelers into the heart of what makes the Southwest so captivating.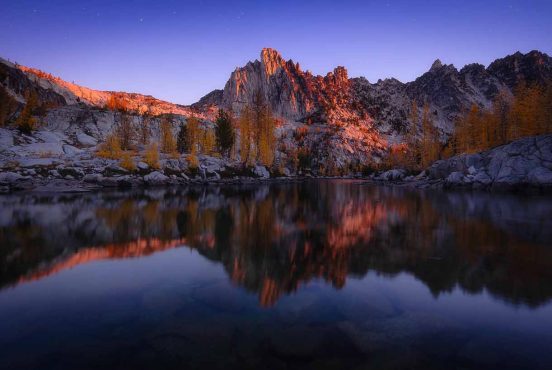 11 Best Hikes in the Alpine Lakes Wilderness
The Alpine Lakes Wilderness encompasses 390,000 acres of some of the most enthralling wilderness Washington has to offer.
9 Best Hikes in Washington State for Epic Outdoor Adventures
Let's take a moment to acknowledge how impossible it is to pair down the list of best hikes in the Evergreen State. Here's our attempt.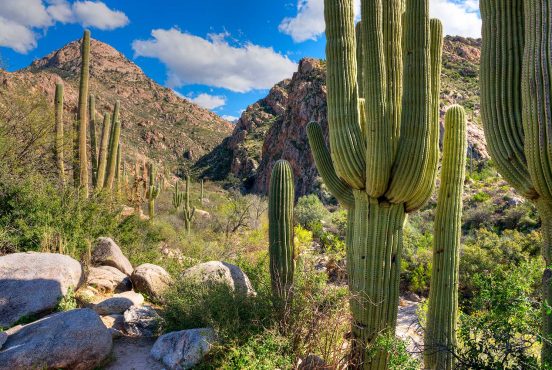 6 of the Best Hikes Near Tucson, Arizona
With the incredible variety of terrain, there's something in the Tucson area for everyone.
9 Best Pet-Friendly Cabin Rentals in Washington
Do an online search, and you'll see that one state always tops the lists for being the most pet-friendly state in the country: Washington.
11 Best & Most Unique Airbnb Rentals in New Mexico
Whether you're looking for an authentic adobe, a retro trailer, or even an off-grid Earthship with endless luxuries, there's some incredible Airbnbs in the Land of Enchantment.
20 Best Backpacking Trips In Utah
Whether you're planning an overnight adventure or a weeklong backpacking trip, you'll find plenty of worthy trails with stellar sights in the Beehive State.
The 11 Best Things To Do in Kanab, Utah
Kanab is the perfect basecamp tor adventures through these vast areas, and considering how much there is to do in Kanab, you could spend a whole week here, easily.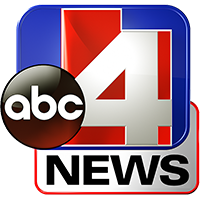 KTVX Salt Lake City
3 of Utah's ghost towns leave their marks on the land and in memories
Posted: October 31, 2023 | Last updated: October 31, 2023
SALT LAKE CITY ( ABC4 ) – Like many western states, Utah is home to many ghost towns. Three of those towns draw visitors from all over the world due to the nature of the heritage they still maintain even when the population is gone.
Three of Utah's ghost towns are related to people who worked hard to establish the towns before all was lost. Though there may no longer be people left in the towns, their shadows hold memories and artifacts of Utahns creating communities.
TERRACE, Box Elder County, Utah
Terrace was a once-thriving railroad community in Box Elder County. Now all that remains is a cemetery and a few artifacts spread across the site that once was the home to upwards of a thousand people.
The town was established in 1869 as a halfway point between Nevada and Ogden along the Transcontinental Railroad. When the railroad changed its route south in 1904, the town began to change and people began to leave. By 1910, the town was a ghost town.
Dr. Chris Merritt, the State Preservation Officer, led an excavation of Terrace and said what remains tells a story of the people who lived in Terrace.
"People aren't used to towns disappearing in 2023," Merritt said. "The ghosts of the people are still there and the stories they share are there for us to listen to."
He also said the emptiness adds to the peace left behind and the ability to ponder on what happened in Terrace.
"There's nothing. It's extremely peaceful, and you've got to think about how that one event helped transform not only our state, but the nation and the world by the confluence of cultures here in Terrace, Utah." 
Merritt goes on to explain that about 20 percent of the town's population was Chinese Immigrants and those who died in Terrace were not buried in the town cemetery and were left to be forgotten. He hopes that by studying the artifacts and things like ceramics, hair, and fishbones their legacy will live on. He cautions others to leave behind any of the artifacts they may come across while visiting Terrace.
"These are someone's stories that are left on the ground. Leave them where you find them because if they are taken away or moved, we lose the ability to tell the story I am now able to tell about the Chinese community." 
IOSEPA, Tooele County, Utah
Like Terrace, outside of a cemetery, not much is left of the town of Iosepa in Tooele County. For the descendants of those who called this place home, this is sacred ground because the spirits of those who were laid to rest here continue to live on within the earth." 
Leis, coconuts, seashells, and painted stones line many of the graves in what is left of the tiny town of Iosepa. Settled by Hawaiian members of The Church of Jesus Christ of Latter-day Saints, islanders came to Utah in support of their faith and looking to be closer to other members of the church.
Descendants can travel to the ghost town to feel the spirits of those who marked a path in the faith journey of their ancestors.
"A lot of people go there just to connect again to our ancestors and to appreciate their sacrifices they made to make sure we had the gospel. The bones of our ancestors are the strength and the foundation for us," said Charmgne Wixom, former President and current Secretary of the Iosepa Historical Society. "It's just a healing place. You can drive on that road and once you get to a certain point, it's like you're going through to another dimension. That's how it is for me."
Hawaiians had to come to Utah to be part of the Church but had a hard time fitting in to the culture of the western U.S. during the time.
"The cultural differences were so great. They spoke a different language, they had different customs, they had different color of skin. All of those things played a factor into them not assimilating well into the existing population at that time," reports Dr. Ben Pykles, Director of Historic Sites for the LDS Church.
Pykles said due to all these factors church leaders began looking for a place Hawaiian members could settle and in 1889 chose Skull Valley. Church history reports show there were similarities in some of the terrain to parts of Hawaii that allowed for the Saints to settle and work the land and an abundance of fresh springs provided water.
The settlers called the town Iosepa, meaning Joseph, after Joseph F. Smith, a missionary to the Hawaiian Islands who was an apostle for the Church during the founding of the town and who would later become Prophet to his followers.
When the town was thriving, there were about 128 people listed on the census. They had built homes and stores, and had begun farming operations.
The town was one of the first in the state to have pressurized water. A fact memorialized by the remains of an original fire hydrant still standing in the now-abandoned town.
In 1915, Joseph F. Smith asked the settlers to return to Hawaii to build a temple on the island of Oahu and so they did. Many reluctantly left, sad to leave the town they had built and become proud of.
THISTLE, Utah County, Utah
About 65 miles to the southeast of Salt Lake you can see the remains of the town of Thistle. Many of the homes are just roofs peeking out of the settlement of a geological disaster that claimed the town in 1983.
Thistle was first settled around 1848. It is one of the earlier settlements in Utah's history. Around 1880, the sleepy little agricultural town benefited from the boom of the coal industry and became a bustling railroad town.
The change was short-lived with diesel engine trains replacing stem train engines and the town once again became the sleepy little agricultural berg.
Then in 1983, the costliest landslide in U.S. history headed for the town. In the process, the slide damned up the Spanish Fork River and destroyed the rail line that connected Salt Lake to Denver. The water and mud began rising in the town. Residents were evacuated and within weeks the town was unrecognizable. It was buried beneath a lake 200 feet deep.
The lake was drained but the town never recovered. It sits quiet and eerie of the side of the highway. Just another ghost town of the West.
For the latest news, weather, sports, and streaming video, head to ABC4 Utah.
More for You
Jack Smith's Latest Trial Tactic Could Implode Trump Trial
A new COVID variant, HV.1, is now dominant. These are its most common symptoms
LeBron James achieves the record he didn't want: First player in NBA history to reach 5,000 turnovers
Russian naval ships struck by exploding drone boats in the night sank to the bottom of the Black Sea, Ukraine says
Major supermarket ditches self-checkouts and goes back to 'human beings' on tills
Baby Blues by Rick Kirkman and Jerry Scott
Elise Stefanik files ethics complaint against Trump fraud trial judge
Oklahoma trooper tickets Native American citizen, sparking outrage from tribal leaders
12 Most Dangerous Places in the World
31 Best Sales on Amazon Ahead of Black Friday to Treat Yourself (and Your Wallet) To
The first great green scandals are just the tip of the iceberg
Israel used a weapon it never has before to stop a missile as its enemies put every layer of its air-defense system to the test
Donald Trump Exempt From Campaign Finance Laws: FEC Commissioner
Netflix's The Witcher: Sirens of the Deep animated film will feature Geralt's original voice actor
Matt Ulrich, former Super Bowl champ, dead at age 41
Korean Singer Nahee Dead at 24
First flight of £160k flying car that already has thousands of reservations
Iran Isn't Impressed by U.S. Airstrikes
Steve Bannon's Hopes of Avoiding Prison Suffer Blow
The Best Burger in Every State
HISTORY OF SILVER REEF
MUSEUM HISTORY
MUSEUM GIFT SHOP
TOURS & MUSEUM HOURS
HURRICANE FAULT
PINE VALLEY MOUNTAIN
THE WHITE REEF
THE COLORADO PLATEAU
HURRICANE CLIFFS
CLIMATE & DEMOGRAPHICS
WHITE REEF MINES
LEEDS MILL & MINE
CHRISTY MILL
BUCKEYE REEF MINES
BIG HILL MINES
CATHOLIC PIONEER CEMETERY
TITHING HOUSE
HISTORIC CHARCOAL KILN
SPECIAL EVENTS CALENDAR
CORPORATE DOCUMENTS
VOLUNTEER SERVICES
BECOME A MEMBER
REQUEST INFO
DIRECTIONS & MAP
I went to most of Utah's ghost towns. Here's my guide to visiting them
There are a lot of ghost towns in the beehive state, but you might need to prepare before you visit.
The abandoned schoolhouse in Grafton, Utah.
Nathan Atkinson, Unsplash
Rain soaked my map as I tried to wipe the water off my compass to figure out where I was. Suddenly, I was no longer a writer, but an expeditioner, an explorer headed to the remnants of pioneer towns past.
It took me a few minutes to gain my bearings, but I trekked on and stumbled into a set of what once was old buildings. Only the foundations of the buildings remained in the middle of the hot Utah desert. The closest town to me had just one gas station and a diner.
Thistle, Utah: a ghost town unlike the rest
Suddenly, I was hooked. Before I knew it, I was spending my weekends off of school researching ghost towns like Thistle, Grafton and others — and when I could, I would drive out to them and explore. It quickly became my quirky hobby.
Luckily for me, in the Beehive State, there are a lot of ghost towns.
For those who haven't encountered one before, a ghost town is an abandoned town that used to be populated. Some in the state of Utah are on private property now (so I avoided those), but I made it a goal to visit every ghost town that I could in Utah.
In my opinion, this is the best kind of road trip. Sometimes visiting them involves hiking, other times it involves using map and a compass (not a phone because you have no reception) and it always involves a positive attitude and an adventure.
If you're looking to visit some ghost towns, here are my tips.
Mormon Island: The ghost town that a drought exposed
The Latter-day Saint ghost town that keeps emerging from Lake Mead
Research ghost towns beforehand
You will want to visit ghost towns both legally and safely.
Start by searching "ghost towns in Utah" and then find a couple that you would want to visit (Grafton and Frisco are great places to start). Visit Utah also gives great suggestions of ghost towns to visit. Search the name of the town and find information about its location. I recommend writing down coordinates.
A lot of the time, ghost town websites will tell you whether or not a town is on public or private property, but it's also important to pay attention to signage.
Research the history of the town before you visit, too. Knowing who lived there and what they did can enrich the ghost town visiting experience.
Pack and prepare well
If you're going to visit a ghost town, I recommend a couple of things. Bring water, a portable phone charger, a map of the area, a compass and a flashlight. It's important to be prepared because you'll be going into areas that don't have cellphone reception.
Always write down the coordinates of a ghost town because those might be more useful than the address given.
Take pictures, but also make observations
When I visit ghost towns, I've snapped a lot of photographs, but the most meaningful part for me has been making observations.
Since I've read about the history of the towns beforehand, I've already got a good grasp of what the town once looked like. That makes looking at the ruins and imagining where each of the buildings used to be a fun, creative and enriching process for me.
Visit the small towns around them
Some of the most interesting places in Utah are near ghost towns. I've visited Fillmore, Delta, Spring City, Eureka and other towns because they were on my way to or from a ghost town and I've found them fascinating as well.
While they're not ghost towns, they have a rich history and have some older historic buildings and sites as well that could be easy to miss if you just looked for the most popular historical sites in Utah.
What you should know about the Latter-day Saint ghost town near Zion National Park
Why I visit ghost towns
I started visiting ghost towns because I had spent a fair amount of time visiting historical sites in Utah and started to notice the names of towns that I hadn't visited before. The prospect of visiting a ghost town seemed daunting to me at first, given that I am directionally challenged and grew up in the age of having maps on my phone.
But I quickly learned that it was worthwhile.
I felt like my understanding and knowledge of Utah history was broadened by these visits. Not only that, but I found myself asking more questions about how the environment impacts where people can live.
If you're looking for something to do this upcoming spring and summer, visiting ghost towns in Utah might be a fun hobby.
Get Your Spook On: Northern Utah's Most Haunted Places
Written By Brett Prettyman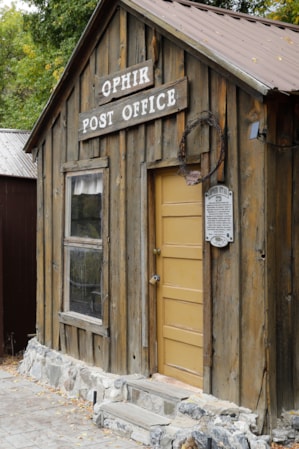 Looking for a different kind of outside adventure? One seemingly outside the realms of possibility? If you're open to the possibility of experiencing paranormal activity in Utah, here's a look at places where you can get your spook on.
Ophir Ghost Town
Not all ghost towns are haunted. Many Western ghost towns are the result of mining communities that disappeared almost overnight when precious metals like gold and silver disappeared. (Read: Frisco: West Desert Ghost Town )
A good example is Ophir, a mining district that retained some of its old buildings and turned them into a historic site . Ophir, located about an hour southwest of Salt Lake City , is one of several ghost towns found in Utah's West Desert . And nearby Tooele is a good base for further exploring the mining past of the Beehive state.
"Many Western ghost towns are the result of mining communities that disappeared almost overnight when precious metals like gold and silver disappeared."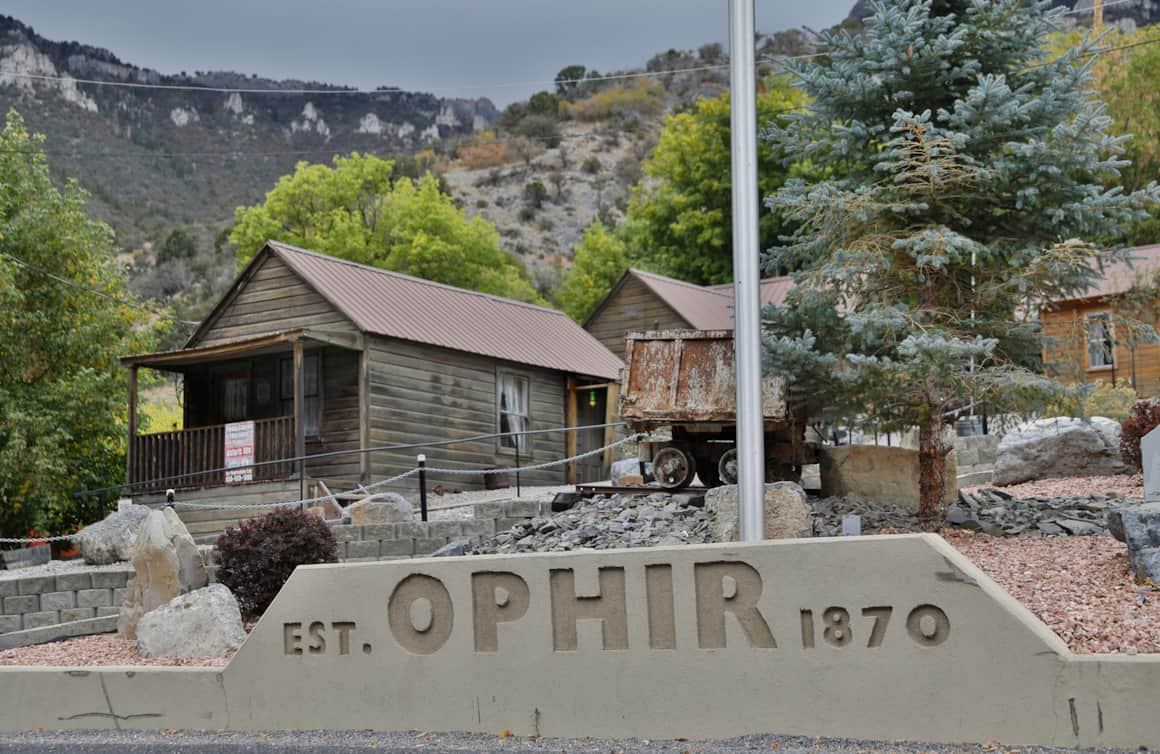 Established in 1870, Ophir has retained some of its old buildings and turned them into a historic site.
Photo: Marc Piscotty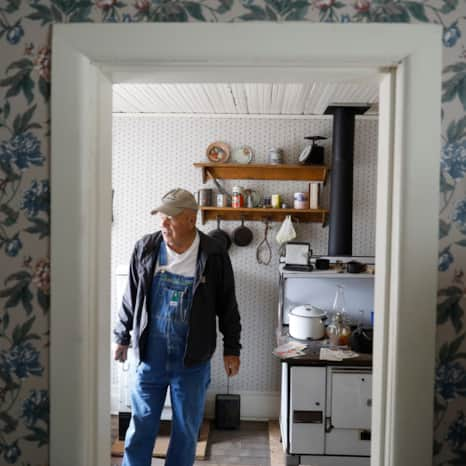 The community has centralized many of Ophir's historic buildings, creating a unique window to the past.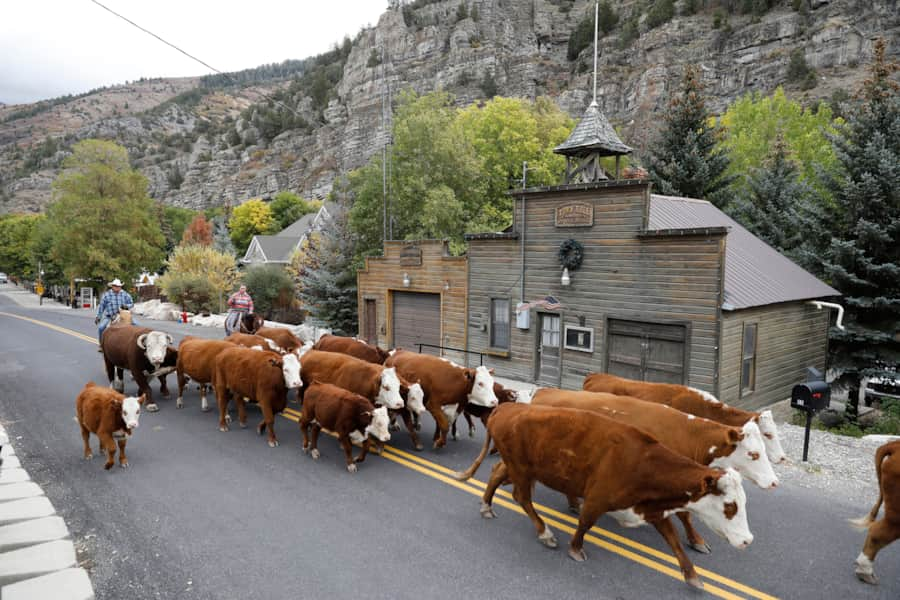 Once a mining boomtown of about 6,000, Ophir isn't completely a ghost town — about 30-40 people still call it home.
Antelope Island State Park
Another case of abandoned property-turned-haunted are the buildings of Fielding Garr Ranch on the Great Salt Lake's Antelope Island. The ranch, now part of Antelope Island State Park , was settled by rancher Fielding Garr and its oldest structure dates back to 1848. While the buildings have certainly provided a strong dose of the creepies, it is the woods between the ranch house and the lake that seem to provide more intense paranormal experiences. In 2021, a crew from local news outlet KSL documented some of the strange activity alongside a team from the Western Association for the Science of the Paranormal.
Antelope Island is connected to another unique "ghost" story. In 1862 Salt Lake City police arrested local grave digger Jean Baptiste for robbing clothing and jewelry from coffins. He had a tattoo placed on his forehead and was banished to Antelope Island. During a low water year, which would have allowed Baptiste to walk to the mainland, he was moved to the more remote Fremont Island. People later checking up on him found his wooden shelter dismantled and a slaughtered cow, but no sign of Baptiste. Some say he never made it off the island and he still haunts it. Others say he drowned trying to escape and haunts the waters of the Great Salt Lake.
In addition to trying to creep yourself out, there are plenty of other things to do during a visit to Antelope Island. Bring binoculars and a camera on your trip. Visitors will likely see bison, pronghorn, mule deer, shorebirds, waterfowl, coyotes and even have a chance to spot a porcupine, burrowing owl or a bighorn sheep. There are also several hiking, mountain biking and horseback options on the island.
Two important tips. If you take your children, make sure to bring a change of clothes for the ride home. There is no way to keep them from wading into the Great Salt Lake. Prepare to have salty sand in your car for months after the visit. In addition, keep your distance from all wildlife, particularly the bison. People who don't give the huge beasts plenty of space have experienced close up encounters they would rather have avoided.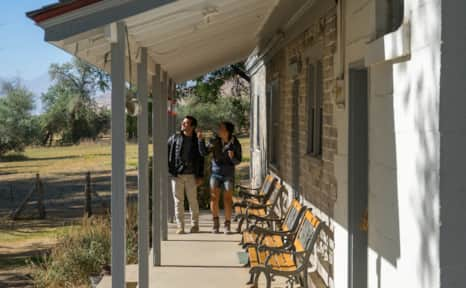 The Fielding Garr Ranch was initially established on Antelope Island in 1848.
Photo: Utah State Parks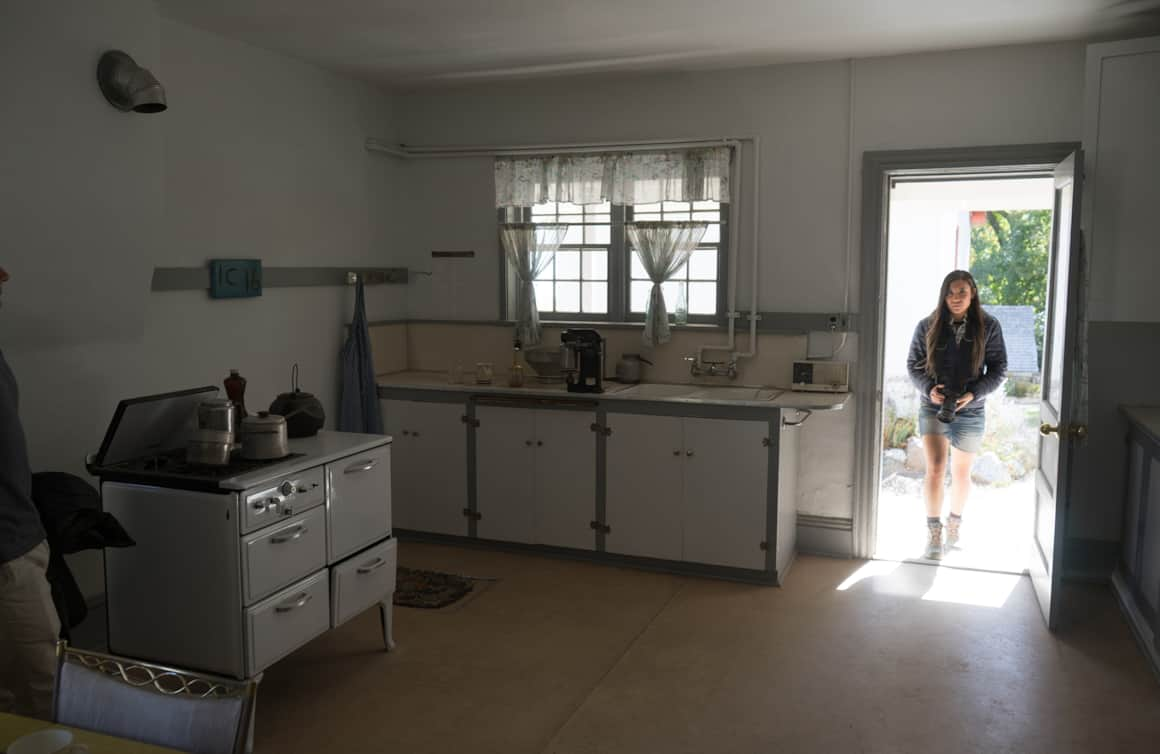 The ranch was listed on the National Register of Historic Places in 1983.
Utah Hotspots Showcased on "Ghost Adventures"
The benson grist mill in stansbury park.
Rumor has it that a young woman drowned at the historic Benson Grist Mill in Stansbury Park, but visitors experience a wide range of paranormal vibes as confirmed on an episode of Travel Channel's " Ghost Adventures ." The mill has a storied past since it was built in the mid-1850s with ties to the Church of Jesus Christ of Latter-day Saints . It was fully restored in the late 1980s and is a beautiful piece of architecture with an eerie energy.
While in this area, a stop along the shore of the Great Salt Lake is a must and Great Salt Lake State Park is only 12 miles away just off of Interstate 80. The park provides a campground, seasonal boat tours and a trailhead to Utah's famous Black Rock. Beginning around 1850, Black Rock became a place where couples took all-day dates, and starting in 1893, some then headed to nearby Saltair resort (now a popular concert venue located just east of the state park) to dance the night away.
The Great Saltair
"Ghost Adventures" visited the Saltair in 2021 to film " The Great Saltair Curse ." The show claims the building and land around the resort is plagued by "hostile paranormal energy," including the haunting presence of Saltair Sally.
If you like hiking with your haunting, you might consider the Deseret Peak hike . It is a steep 3,595-foot elevation climb from the trailhead to the 11,031-foot summit with a round trip of roughly 9 miles. Always remember to take plenty of water. Utah air is dry and hot, even in the high elevations. ( See more Utah hiking tips )
"Ghost Adventures visited the Saltair in 2021 to film "The Great Saltair Curse." The show claims the building and land around the resort is plagued by "hostile paranormal energy," including the haunting presence of Saltair Sally."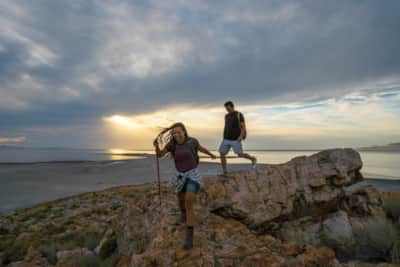 A visit to the Great Salt Lake is a must — both for its intriguing, haunted history and sheer beauty.
Skinwalker Ranch and Blind Frog Ranch
Niche media has long been reporting mysterious events at the Skinwalker and Blind Frog ranches in northeastern Utah — as documented on popular television shows like History's " The Secret of Skinwalker Ranch " and Discovery's " Mystery at Blind Frog Ranch . " But even traditional local media have jumped on the spooky bandwagon. Interest has reached such a high level that visitors from more than 24 states attended the inaugural PhenomeCon event in Vernal in 2021 (Read: The Unknown & Otherworldly Near Vernal, Utah ). The paranormal conference is typically scheduled each year in early September. While Skinwalker Ranch remains private land and a visit is limited to posing for pictures near the ranch, visitors can book an interactive tour of the Blind Frog Ranch .
After you check out the ranches, explore the ancient mysteries in the Uinta Basin . This area is well-known across the world for its dinosaur fossil discoveries. Dinosaur National Monument is located 24 miles east of Vernal and its Quarry Exhibit Hall offers visitors a chance to see more than 1,500 fossils embedded in a cliff face.
"After you check out the ranches, explore the ancient mysteries in the Uinta Basin. This area is well-known across the world for its dinosaur fossil discoveries."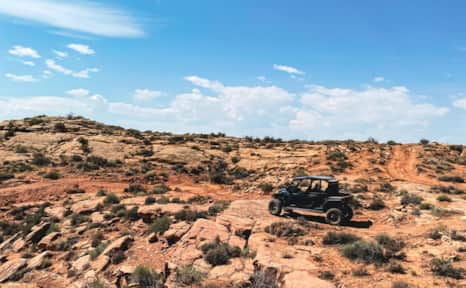 One of the best ways to explore the mysteries of the Uinta Basin is to take a guided ATV tour.
Photo: Arianna Rees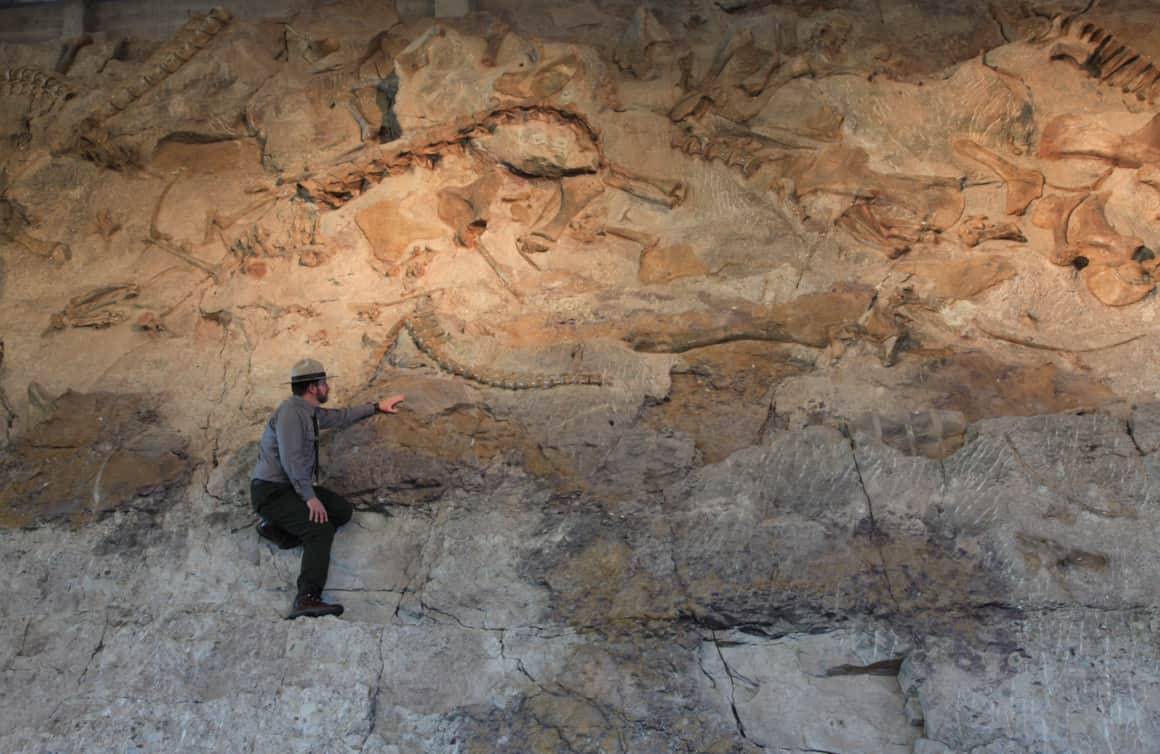 The Quarry Exhibit Hall at Dinosaur National Monument features more than 1,500 fossils embedded in a cliff face.
Photo: Mark Osler
If you want to stay in town for your dinosaurs-meets-paranormal adventure, don't miss the Utah Field House of Natural History State Park Museum located on Main Street.
If you plan to stay overnight, there are plenty of hotel options in Vernal, and two nearby state parks — Steinaker and Red Fleet — offer camping and RV options as well as fishing and water recreation opportunities. Camping is also found in the nearby Ashley National Forest .
For more spooky inspiration, check out the Utah Film Commission 's articles: Spooky Locations in 6 Rural Utah Counties and 6 Spooky Utah Locations .
Northern Utah's Most Haunted Places
About the Author – Brett Prettyman
Native Utahn Brett Prettyman grew up exploring the natural wonders of the state and shared them with the public as an outdoor writer, editor and columnist with the state's largest newspaper, The Salt Lake Tribune, for 25 years. Prettyman is the author of "Fishing Utah," "Best Easy Day Hikes Capitol Reef National Park" and "Hiking Utah's High Uintas" (revision) and a contributor to Visit Utah's Forever Mighty Field Guides series . When not covering stories, and sometimes while doing it, he can be found exploring new Utah adventures with family and friends. @BrettPrettyman
Ghost Towns in Utah
From the southern reaches of Grafton and up north to Thistle, these abandoned towns have left behind crumbling relics, memories and stories of another era.
Explore Ghost Towns in Utah
Read the stories
Previous Group Next Group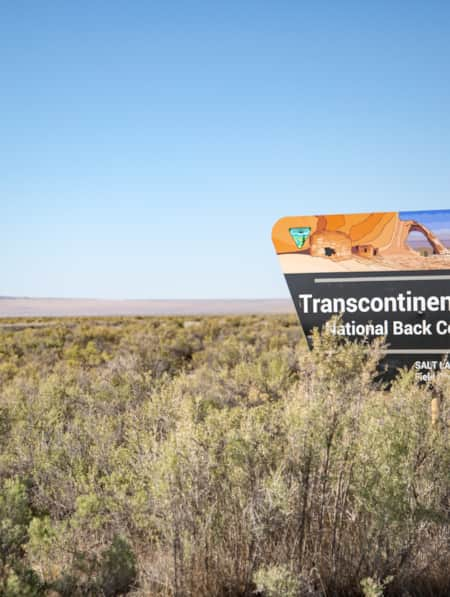 A View From the Past
Written By Andrew Dash Gillman
8 minute read
Follow a historian on a tour of the Transcontinental Railroad Backcountry Byway as he reconstructs forgotten history.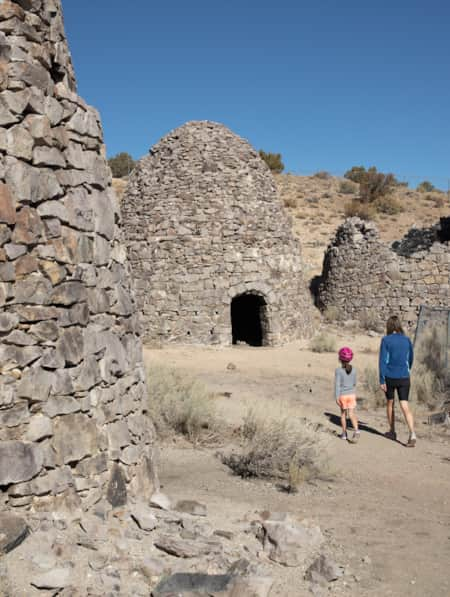 Frisco: West Desert Ghost Town
Written By Visit Utah
3 minute read
Standing in the Basin and Range topography of Utah's West Desert at ghost town Frisco, you'll feel the solitude of the space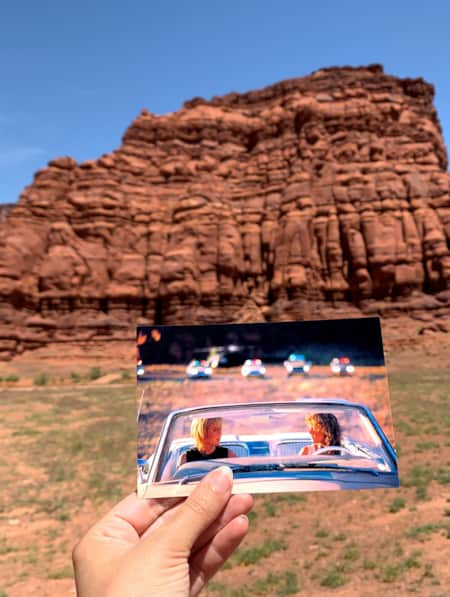 Movies Filmed in Utah: Plotting a Cinematic Drive-Through
Written By Andrea David
Follow a Germany-based film enthusiast on an extended road trip to discover the rich history of Utah cinematography.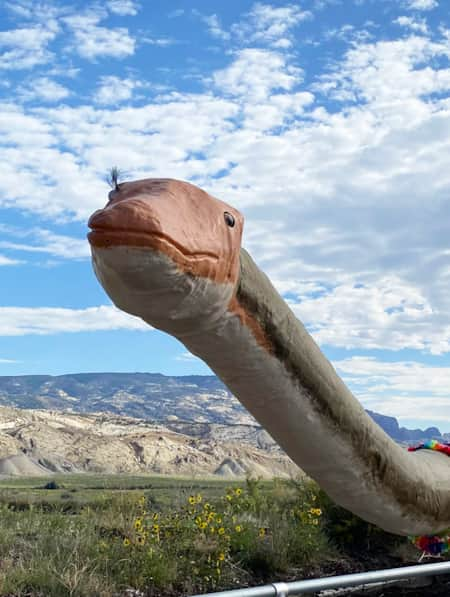 The Unknown & Otherworldly Near Vernal, Utah
Written By Arianna Rees
5 minute read
UFOs, dinosaur bones, ghosts — there's a chance to see all of them in the wild, weird and existential landscapes of Northeastern Utah.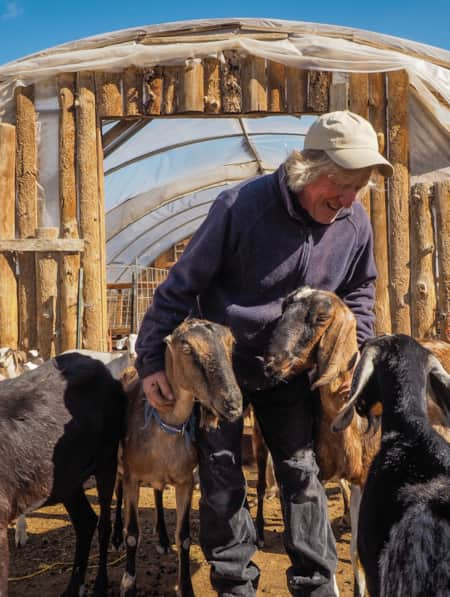 Utah's Unexpected Pit Stops
Written By Melissa McGibbon
You're doing it wrong if you think road trip pit stops are boring layovers on your way to more exciting destinations. How many of these hidden gems have you been to? Here are 11 mini-adventures to check off your list next time you're road-tripping through Utah.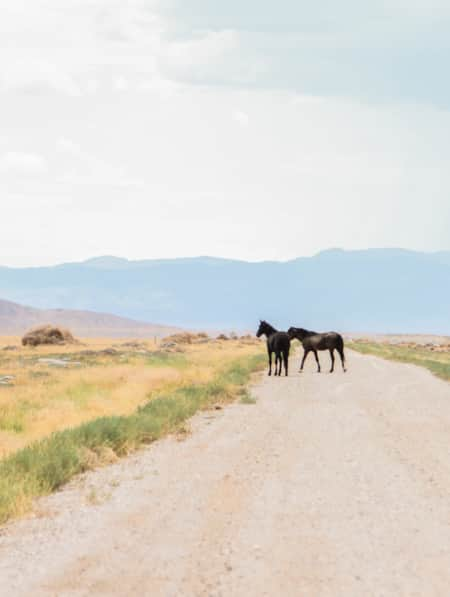 What Hasn't Been Found
Written By Rosie Serago
9 minute read
Heritage, families and legends converge along the historic Pony Express route in Utah's West Desert.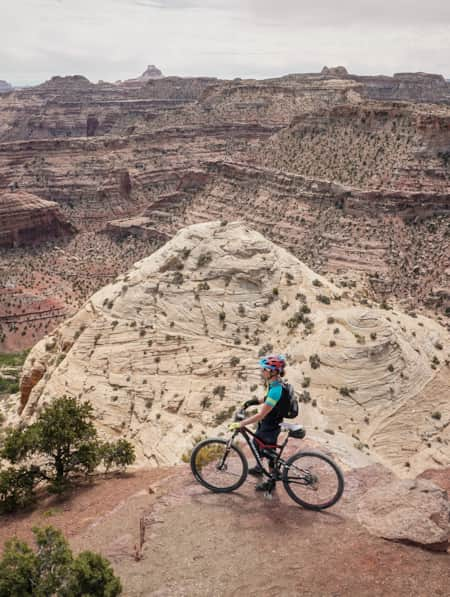 Why Price Is the Perfect Basecamp for Your Adventures in Central Utah
Written By Matcha
4 minute read
The gateway to outdoor recreation in Utah's Carbon Corridor, Price offers easy access to climbing, hiking, mountain biking and off-roading.
Well-prepared travel is responsible travel.
Do your part by planning ahead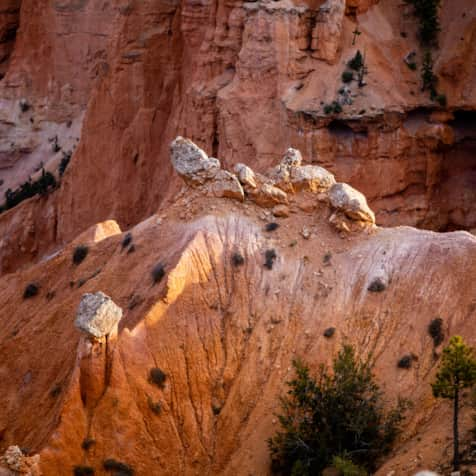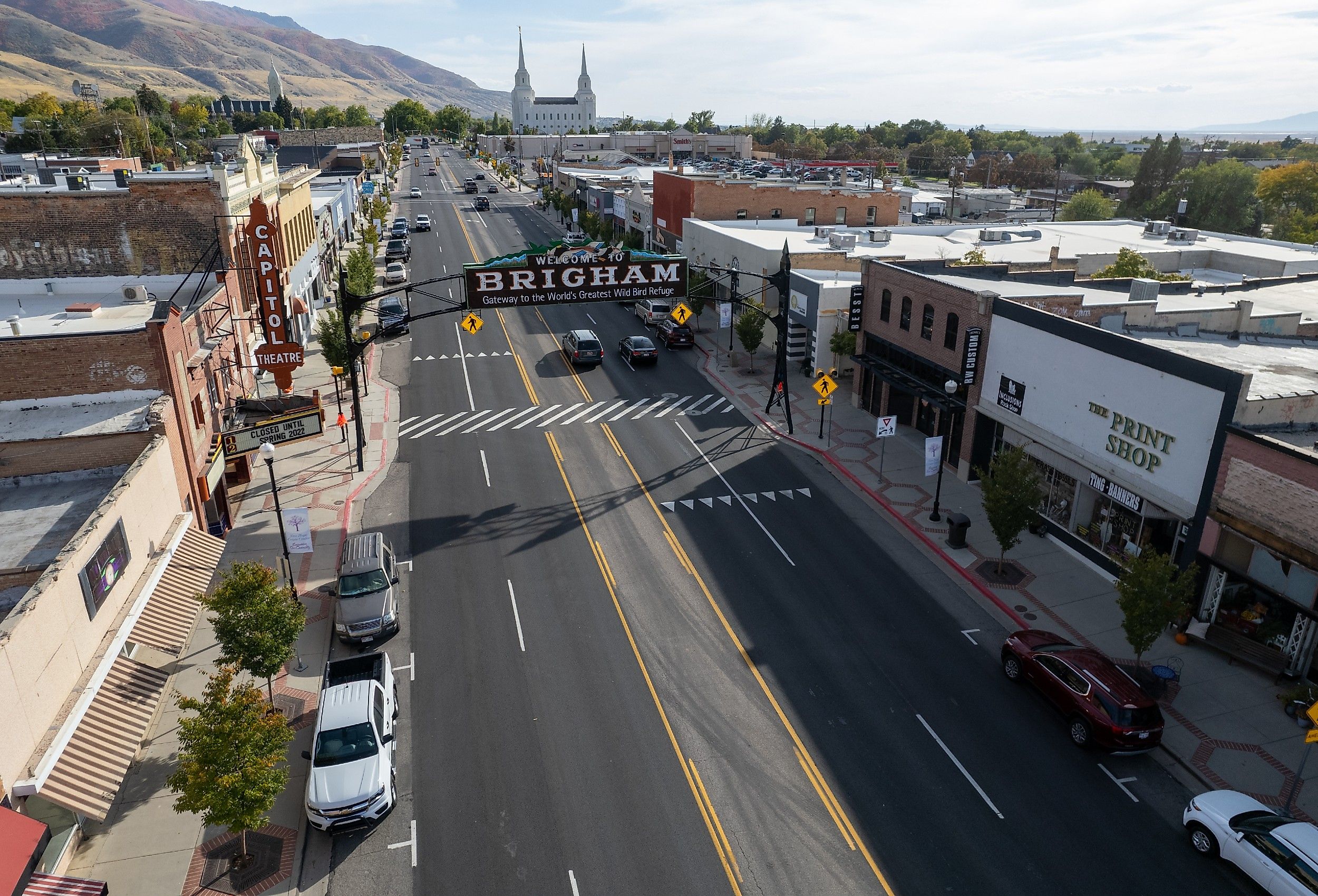 13 Small Towns In Utah Were Ranked Among US Favorites
Utah , the Beehive State and an outdoor wonderland of the US is home to some of the most quaint and picturesque small towns . Journey through deserts, red rock formations, and mountain landscapes that shape each of these 14 towns, capturing the essence of small-town life in different ways. These towns are not only scenic but also rich in culture, history, and recreational activities, quietly earning their rank among US favorites!
Brigham City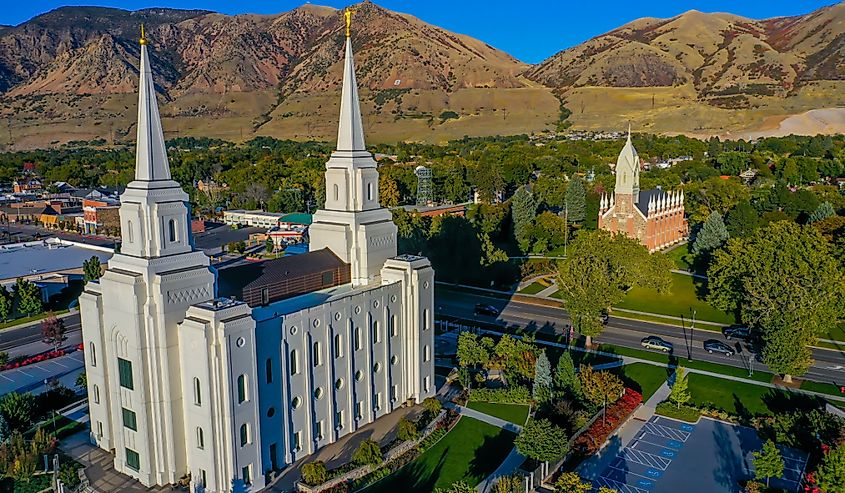 Did someone say Peach Days? Brigham City has the best peaches in the state! The peaches are so good that the Peach Days celebration is held every year after Labor Day weekend. Over 50,000 people come to the city to indulge in mouth-watering peaches! After you have stimulated your taste buds, wipe the peach juice from your chin and feast your eyes on the views and historical sites that give Brigham City that nestled small-town feeling. The William Knudson Log Cabin and the Brigham City Museum of Art & History are favorites among history enthusiasts.
The Uinta-Wasatch-Cache National Forest views are sure to take your breath away, but if you love adventure, you'll find some of the best trails there too! Before you head out, be sure to check out the Mormon Tabernacle, the Golden Spike National Historic Site, the classic 100-year-old Capitol Theater, and the old courthouse with the dome clock.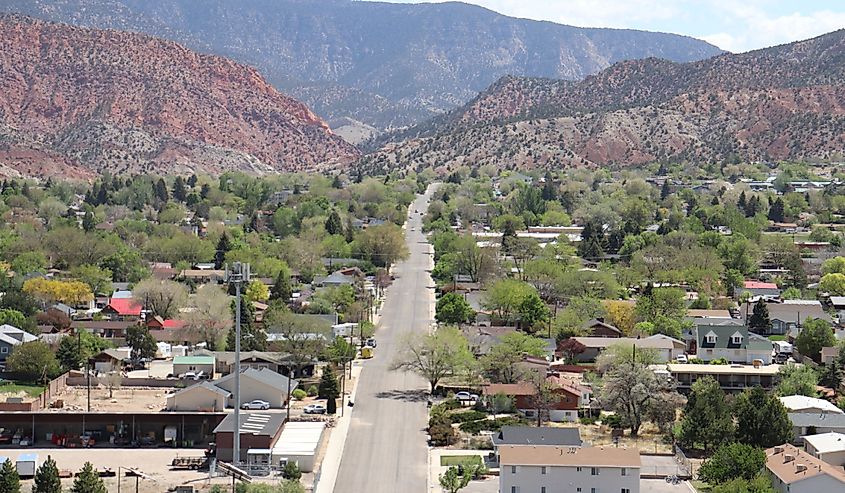 Wherefore art thou? Known for the Utah Shakespeare Festival, Cedar City brings the theatrics! If you are a theatre enthusiast, this town is the place for you. Cedar City is a hub for film and theatre art festivals and is one of the best small towns in Utah for a weekend escape , perfect for festival-goers.
If you love the outdoors, there is no shortage of active recreational activities like biking on the Iron Hills Trail System, which provides multiple riding experiences from beginner to advanced. Dust off your golf clubs at the Cedar Ridge golf course, open all year round to golfers of all skill levels. In true Utah fashion, Cedar City's picturesque landscapes include the Dixie National Forest. Here, you can go camping, hiking, and even fishing, as the forest is outfitted with coniferous trees, lakes, striking rocks, and amazing canyons, making it a true geographical wonder.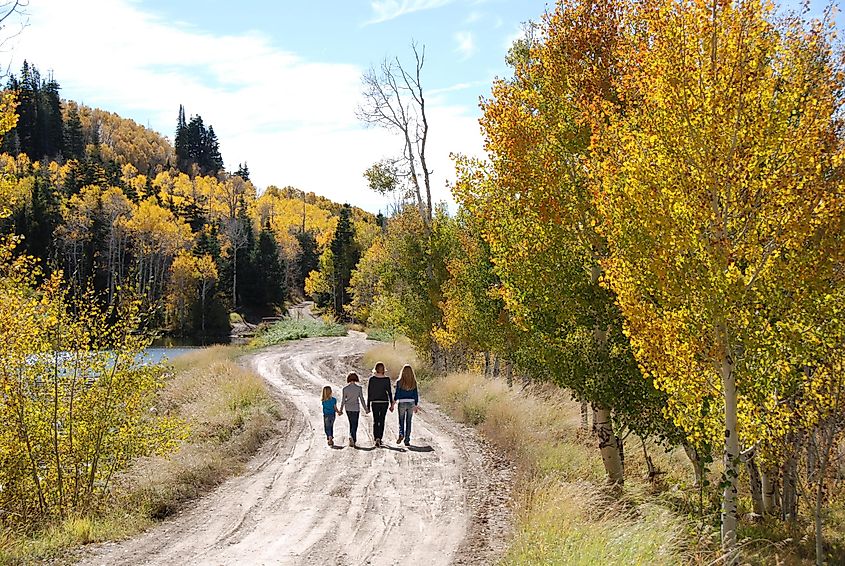 The breathtaking landscapes of the Sanpete Valley surround the town of Ephraim. Here, tranquil relaxation is the attraction. Known as "Utah's heart of Scandinavia," Ephraim hosts the Scandinavian Heritage Festival annually during Memorial Day Weekend. The festival boasts a variety of activities, food and craft booths, and heritage events to give you the full Scandinavian experience. Enjoy activities like rainbow trout fishing, canoeing, and camping at New Canyon Reservoir and Lake Hill.
Visitors enjoy driving along the Sanpete Valley to take in the scenic views. Visit the historic Snow College to browse its unique architecture and beautiful landscaping, ornamented with sculptures and rich history. You can walk along Ephraim's Main Street and grab a cup of coffee at a local eatery or cafe. Some of Main Street's favorite eats include building your pizza at Roy's Pizza and authentic Hawaiian cuisine at Kalama's Island Style Hawaiian Food. While on Main Street, explore the rural charm of the local art galleries and craft stores, like the Co-Op Mercantile Association, a gift store that provides a platform for Ephraim's skilled local craftsmen and artisans to display their handcrafted goods.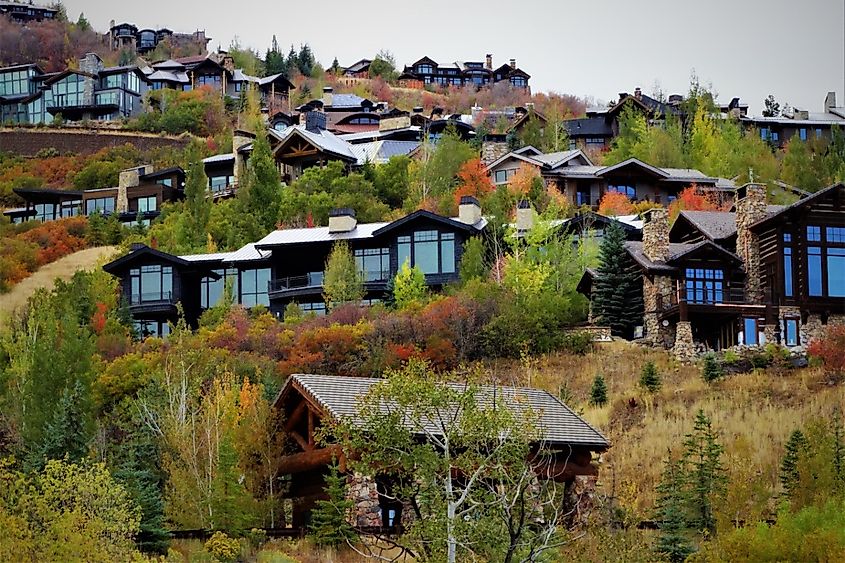 Take a trip on board the historic "Heber Creeper," the Heber Valley Railroad, where you can enjoy holiday-themed train rides and spectacular views. If you are up for good old-fashioned outdoorsy fun, the Jordanelle State Park provides the perfect place to picnic, boat, swim, fish, and even paddleboard while soaking in the surrounding mountainous views.
Snow enthusiasts will enjoy Soldier Hollow, an awesome winter sports venue offering activities like cross-country skiing, snowshoeing, and tubing. You will find quaint shops and boutiques along Heber City's Main Street, like Fernweh Lifestyle and Aspen Grove Rustics, offering unique trinkets, antiques, and gemstones.
Although Helper is currently known for theatre and creative arts, it was initially known for coal mining. Explore the historically preserved Western Mining and Railroad Museum to view mining artifacts and historical photos to learn more about the coal mining industry that was once pivotal to this region of Utah! For the cultural enthusiasts, the Helper Arts, Music, and Film Festival will not disappoint, as many gather to celebrate Helper's artistic and cultural heritage with live music, art displays, and film screenings!
If you are itching for more history, just stroll down Main Street and take in the sights of the well-preserved historic district outfitted with beautiful old homes and buildings, including Victorian-style houses and historic churches. There, you will find historical treasures like St. Anthony's Catholic Church and the Strand Theater. Helper is also legally designated as a dark sky community, which means that the town has taken considerable measures to reduce light pollution and preserve the night sky. Be sure to take an evening stroll and see the beautiful and peaceful night sky for yourself!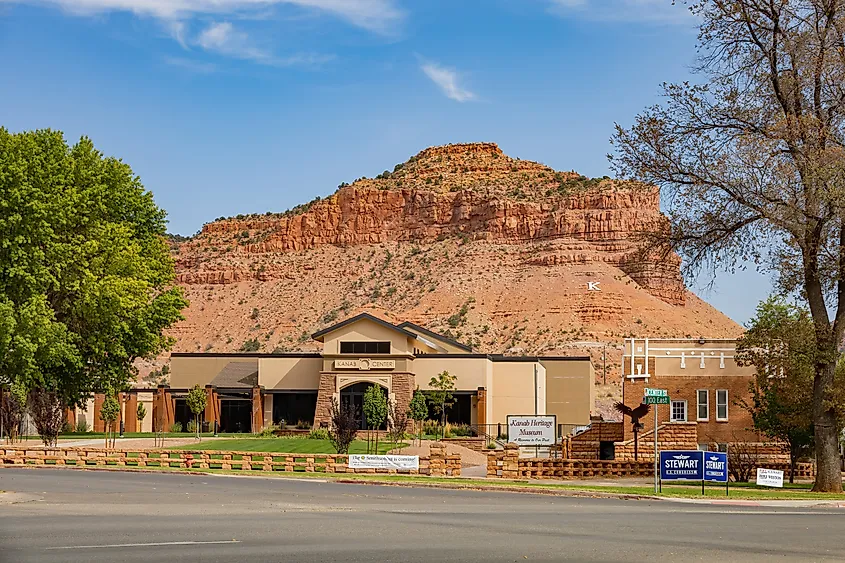 Kanab, the "Little Hollywood" of Utah, is a perfect location for film enthusiasts. Kanab has a rich history as a popular filming site for Western movies and TV shows. Some fan favorites include El Dorado (1966) and Lassie (1954-1974). The Little Hollywood Museum is free and open year-round. There, you can take guided tours and view the old Hollywood exhibits and attractions. The Parry Lodge is a historically charming old Hollywood favorite, continuing Kanab's legacy, and is a true gem to history and movie enthusiasts.
Kanab is one of Utah's small-town prime destinations, as it is also known for its coral-pink sand dunes. Outfitted with pink-hued sand, the Coral Pink Sand Dunes State Park is great for sightseeing and various outdoor activities like hiking and sandboarding. In characteristic Utah style, Kanab's history is preserved at the Kanab Heritage House Museum with artifacts and exhibits of the town's past.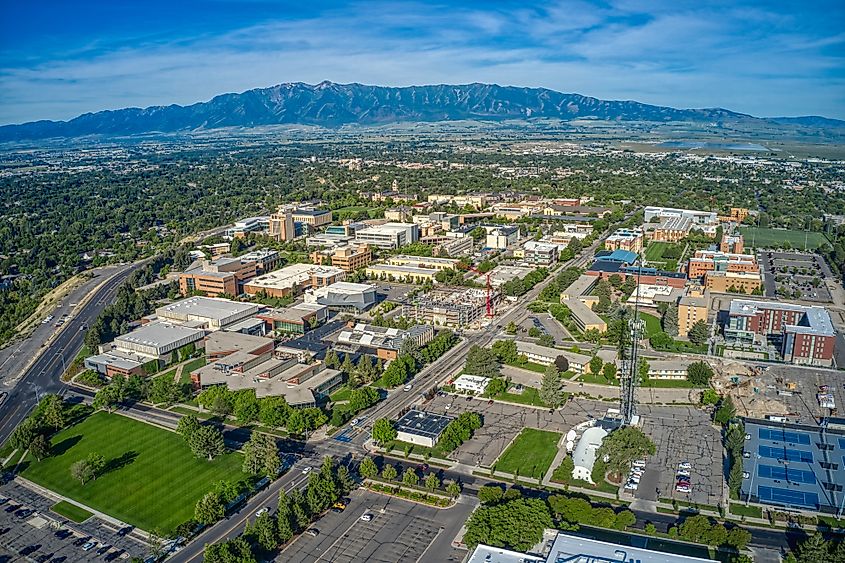 Home of the prestigious Utah State University (USU), Logan holds the heart of Utah. USU has a beautiful campus, featuring the Nora Eccles Harrison Museum of Art, and includes impressive architecture and botanical gardens. The historic Logan Tabernacle has a stunning architectural interior and acoustics, making it another must-see. Nestled in the agriculturally rich and beautiful Cache Valley, mountains surround Logan and often provide a stunning spectacle for viewers. Equally stunning is the scenic paradise of Logan Canyon.
In the fall, the foliage turns vibrant shades of red, yellow, and orange, and the views will take your breath away. Experience the pioneer life and learn about the region's heritage by visiting the nearby American West Heritage Center, a living history museum offering hands-on activities, farm animals, and historical reenactments. If you visit Logan during winter, check out the Eccles Ice Center, where you can ice skate, watch hockey games, or take skating lessons.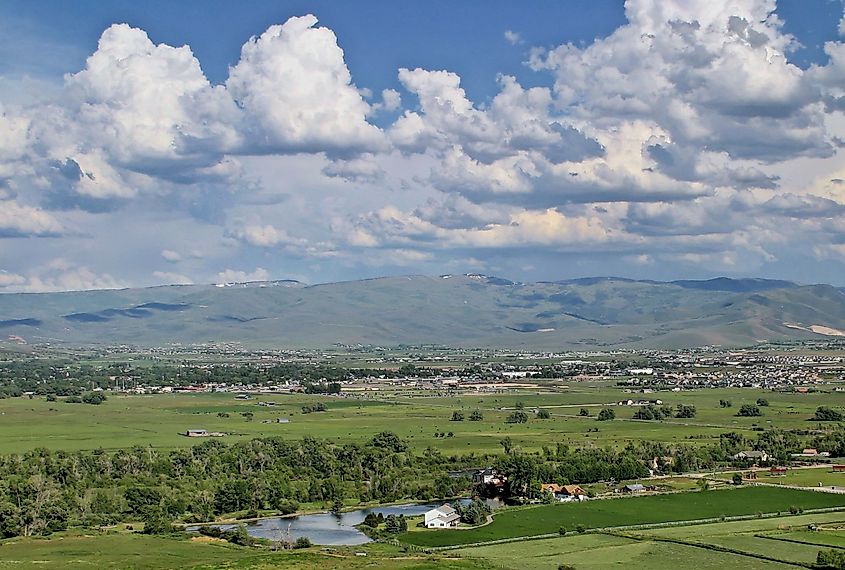 Got a taste for Swiss? Midway, a charming town in the Heber Valley (only a few miles from Heber City), is the place to be. Midway's Swiss influence and stunning mountain scenery make it a true gem. The Swiss Days Festival, held in early September, is a local tradition that celebrates Midway's Swiss heritage. The festival's lineup includes food vendors, a 10k race, a craft fair featuring national and local vendors, a parade, live entertainment, and more! Midway has a unique geothermal mineral-rich spring, hidden within a natural limestone cave at Homestead Crater. Here, you can swim, snorkel, or even scuba dive in the warm waters.
In winter, visit the winter wonderland, the nearby Ice Castles, which offers a magical viewing experience of ice sculptures and structures. In Midway, there is no shortage of outdoor recreational activities. The nearby Wasatch Mountain State Park offers hiking, golfing, and camping, while Zipline Utah offers zipline adventures and other outdoor activities for adrenaline junkies.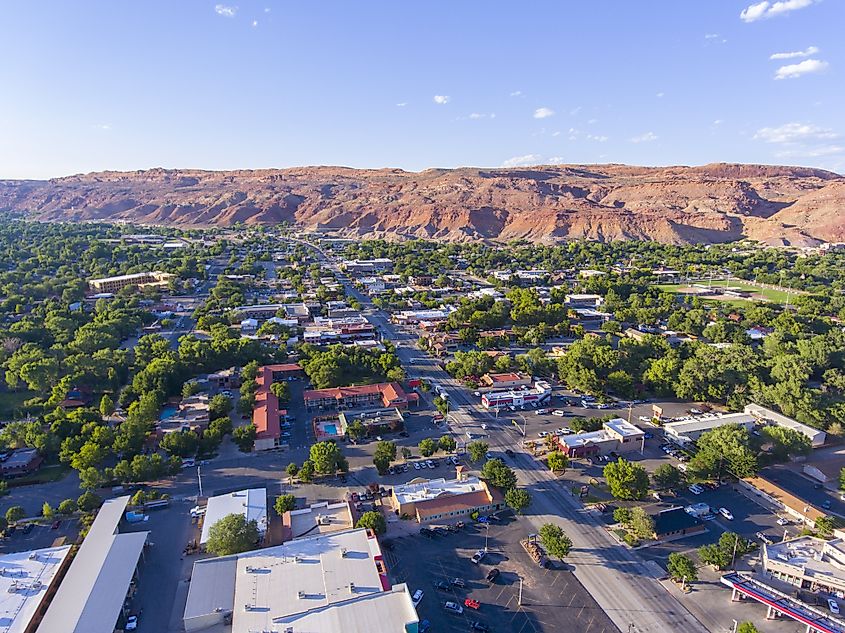 Calling all outdoor enthusiasts, Moab, Utah , is the hub you've been seeking, with numerous parks and natural attractions! Known for its stunning red rock landscapes, Moab is a playground for thrill-seekers. Visitors can explore Arches National Park, enriched with natural arches, bridges, and rock formations featuring timeless spots like Delicate Arch, Landscape Arch, and the Windows Section.
Moab is also a concourse for mountain biking with two famous trails, The Slickrock Bike Trail and the Whole Enchilada, open to riders of all skill levels. White water rafting with Western River Expeditions will surely get your blood pumping, or you can opt for a calm floating experience along the river. Be sure to visit Canyonlands National Park, divided into two districts, each offering unique experiences and viewpoints of the vast canyons and mesas. After a full day of adventure, catch the sunset at Dead Horse Point State Park, taking in breathtaking panoramic views of the Colorado River and Canyonlands National Park.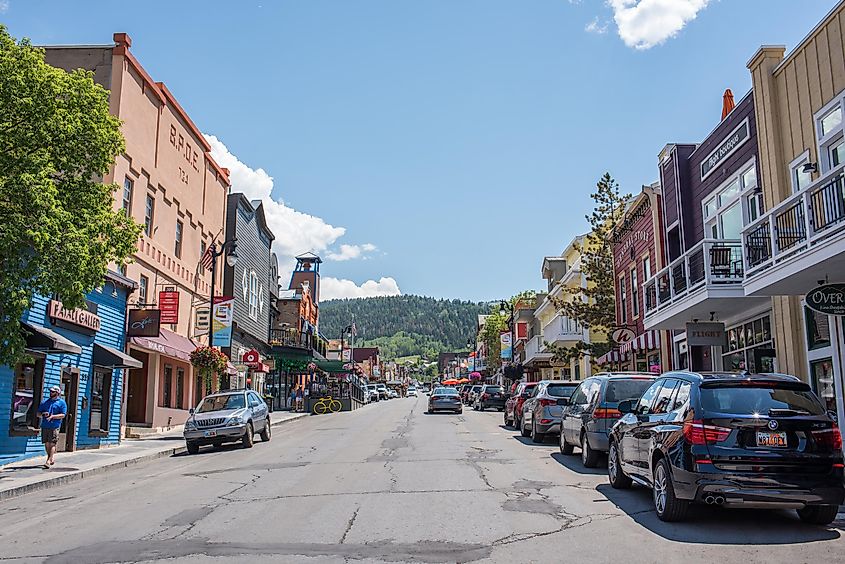 A vibrant and renowned destination, Park City, Utah , boasts world-famous ski resorts like Park City Mountain and Deer Valley, catering to all skill levels. Park City hosts the world-famous Sundance Film Festival annually in January. Sundance is the largest independent film festival in the US that brings together film and theatre enthusiasts from all around the world. For outdoor activities, the Park City Mountain Resort will get your adrenaline rushing with activities like the alpine slides, zip lines, and scenic chairlift rides.
You can also enjoy mountain coaster rides and guided tours in the summer, all at Alpine Coaster. There are a variety of outdoor activities that are popular in summer like hiking and mountain biking along the many Park City trails like Rob's Trail and Treasure Hill. For visitors looking for something different, feel the rush of the air and hear the pounding of hooves while horseback riding at Boulder Mountain Ranch. After you've had your adrenaline rush, you can visit the Park City Museum to learn more about the town's mining history!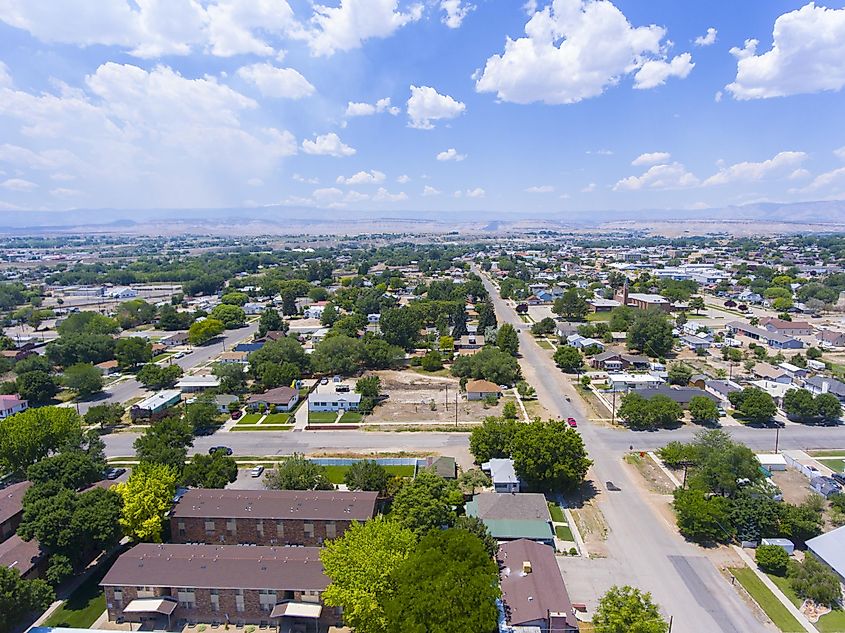 Price is the ideal small town for visitors interested in history, natural beauty, and outdoor exploration. Located in Carbon County, Price offers a unique vibe and experience. The Prehistoric Museum at the Utah State University Eastern campus features fascinating dinosaur exhibits, including fossils and life-size replicas, making it a great place for educational and family-friendly exploration.
Looking for more history? You can explore historical sites and visit nearby mining ghost towns like Scofield and Sunnyside to gain a deeper understanding of the area's heritage. Feast your eyes on the "world's longest art gallery," the Nine Mile Canyon, outfitted with remarkable rock art panels created by Native Americans, as well as old homesteads and historical sites. This spot is perfect for hiking and photography enthusiasts.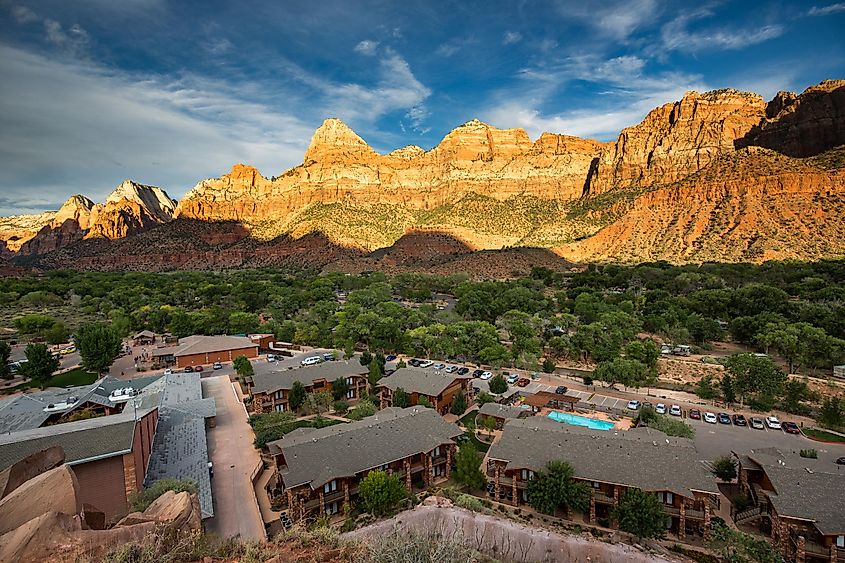 Springdale is designed to be pedestrian-friendly, with sidewalks, crosswalks, and pedestrian paths to encourage exploration on foot. The underrated town of Springdale serves as the gateway to Zion National Park , one of the most visited national parks in the US , equipped with a shuttle system to transport visitors. With red rock formations, lush vegetation, and the Virgin River running through it, the town is revered for its stunning natural beauty.
The star of Zion National Park, Zion Canyon, is easily accessible from Springdale, and it features iconic sites like Angels Landing and The Narrows. The town has a vibrant arts community, with numerous art galleries and boutiques like the David J. West Gallery and the Worthington Gallery.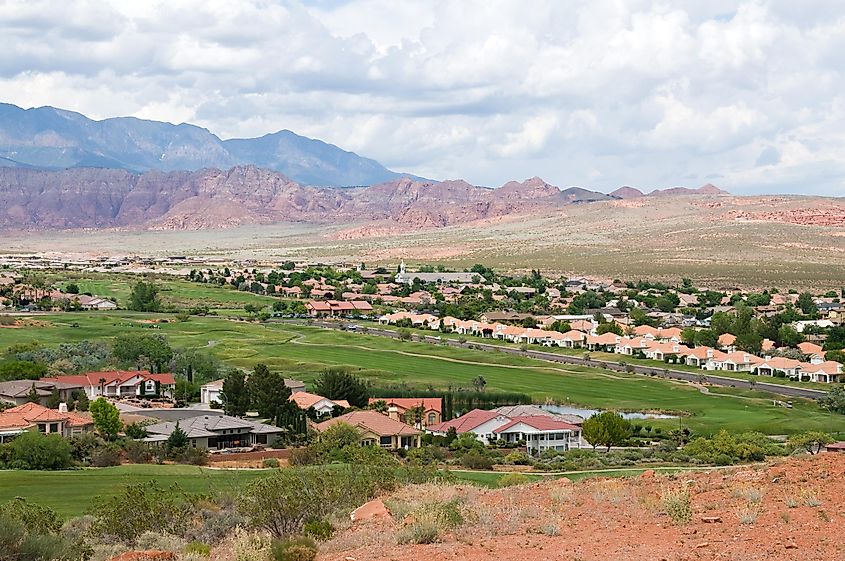 St. George experiences over 300 days of sunshine per year and very hot summers, so much that it is colloquially known as the "Sunbelt of Utah." Because of this, St. George has earned a reputation as the "Golf Capital of Utah" due to its many golf courses and mild weather all year long. St. George is part of Utah's "red rock country," characterized by its beautiful red sandstone formations and unique desert landscapes. St. George is also a great destination for history and art enthusiasts. The city has a rich historical heritage, with landmarks like the Brigham Young Winter Home and the St. George Tabernacle.
St. George has an active arts community, with theaters, art galleries, and cultural events, including the St. George Art Festival. The Tuacahn Amphitheatre is a sure favorite, with an open-air venue set against a backdrop of red cliffs, hosting a variety of Broadway-style musicals and concerts. St. George attracts many retirees and those seeking an active lifestyle because of its commitment to health and wellness. St. George's educational hub, Dixie University, offers a variety of programs while simultaneously contributing to the local economy. St George is also attractive to outdoor enthusiasts as it is within driving distance of several national parks, including Zion National Park, Bryce Canyon National Park, and Grand Canyon National Park (Arizona).
The Final Bow
If these 14 charming Utah towns haven't quite won you over, pack your bags and embark on a "seeing is believing" adventure – the unique attractions and stunning scenery await your skepticism! These US favorites are special for so many reasons. From the breathtaking natural beauty that surrounds them, including majestic mountains, serene lakes, and red rock canyons, to the charming, picturesque main streets that evoke a sense of nostalgia and small-town charm, these communities offer a diverse range of experiences. Each is a cherished destination for travelers seeking a glimpse into the heart of Utah's culture and scenic wonders.
More in Places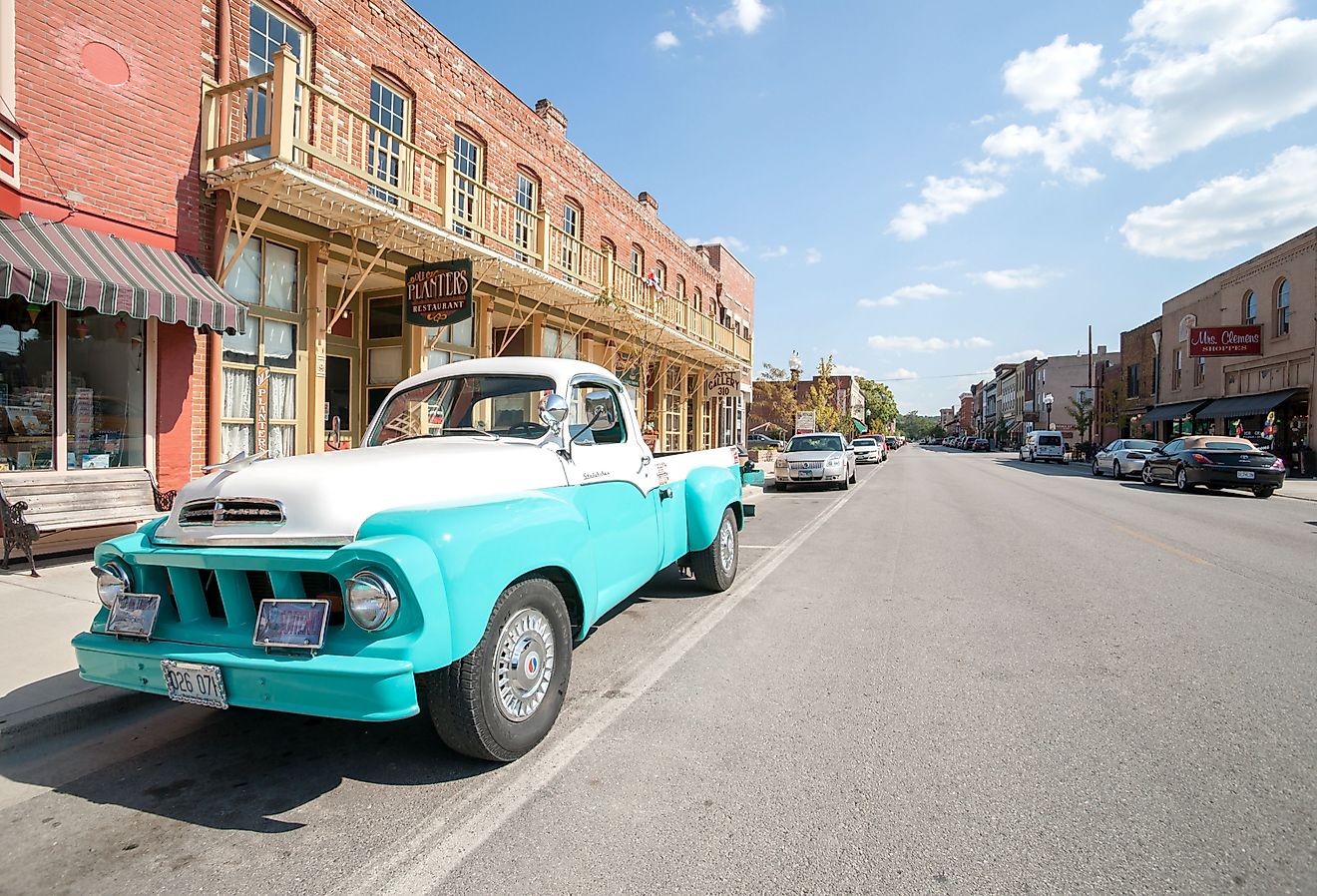 8 of the Most Welcoming Towns in Missouri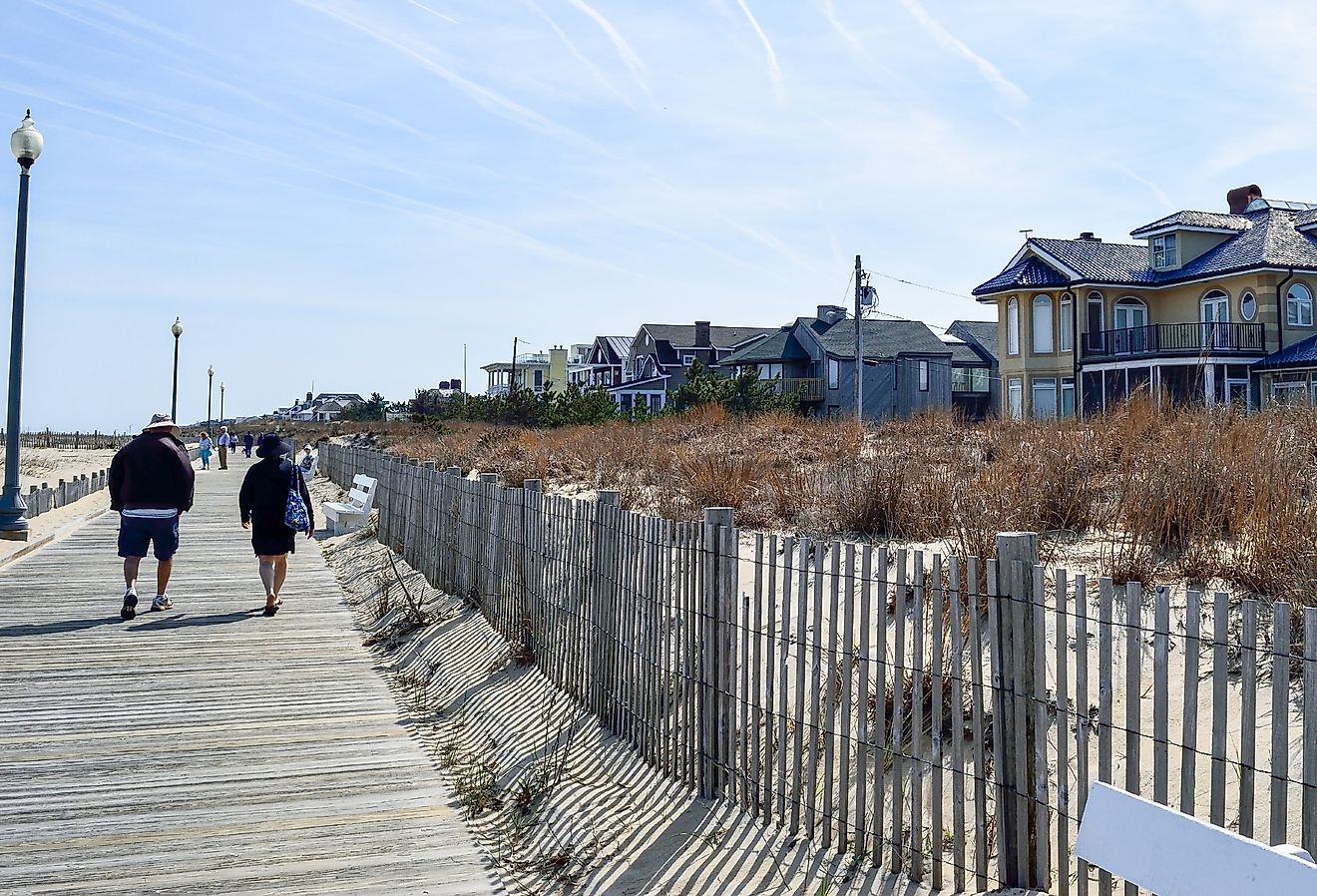 7 Best Small Towns In Delaware For Retirees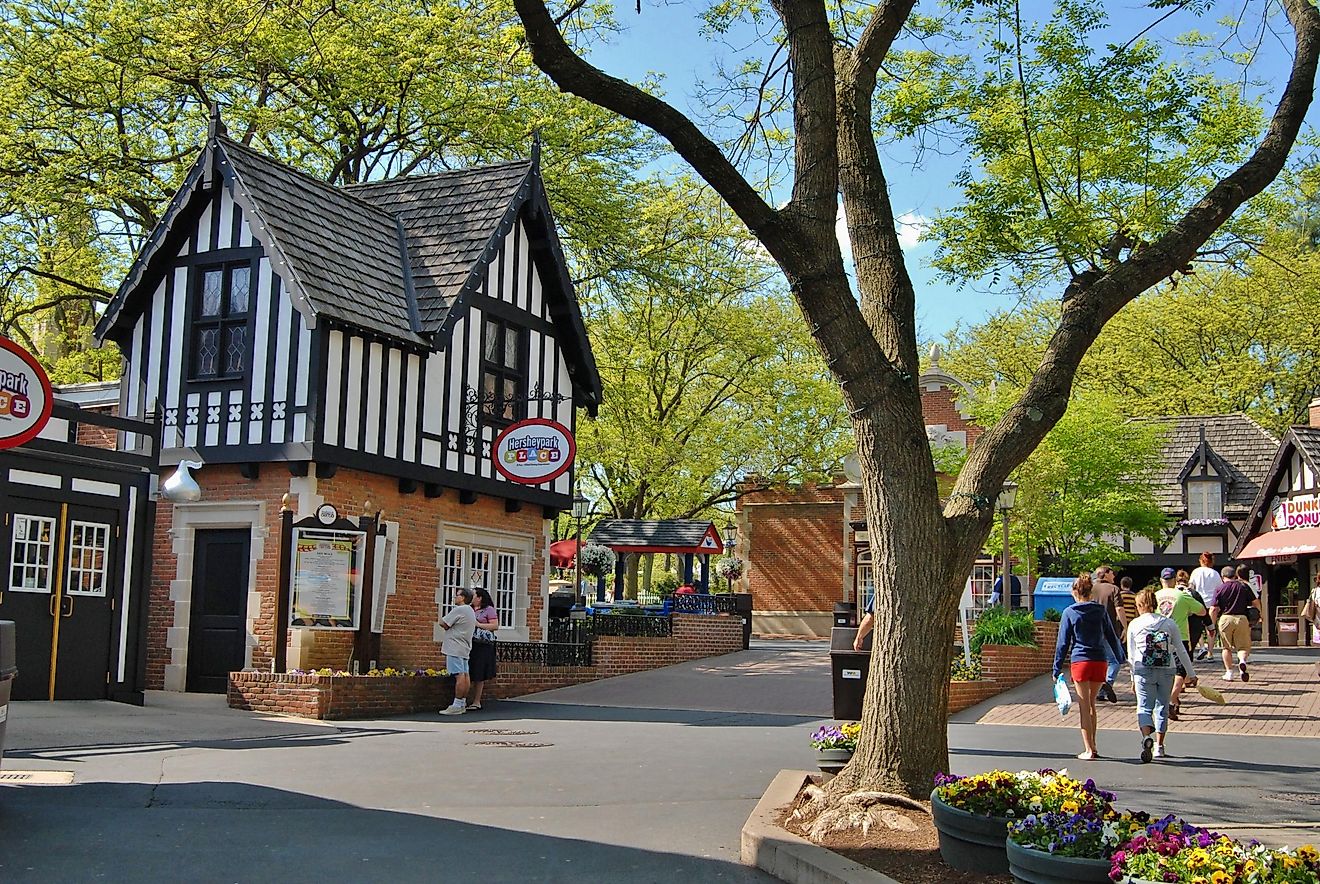 10 Best Small Towns In Pennsylvania For Retirees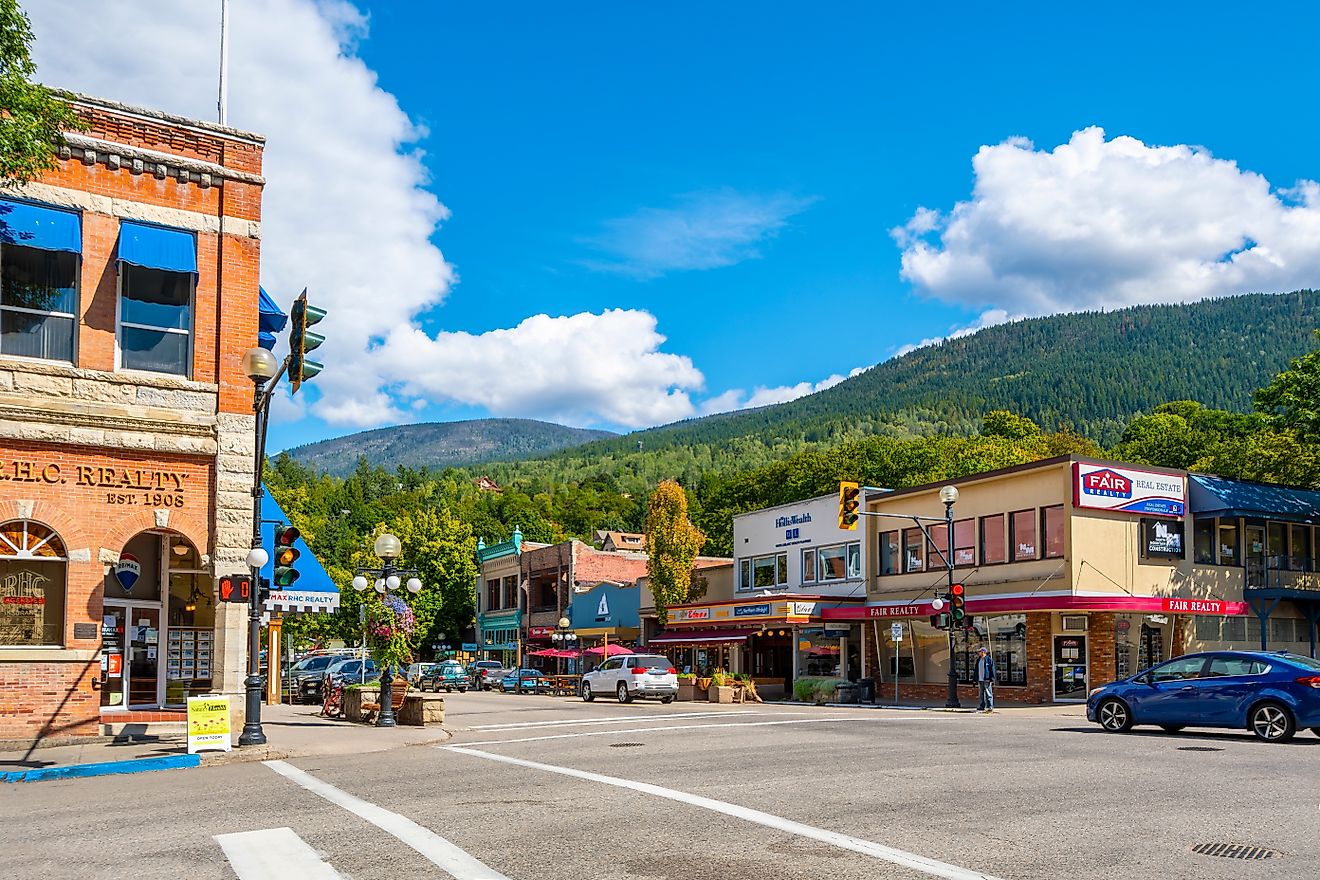 10 Best Small Towns to Visit in British Columbia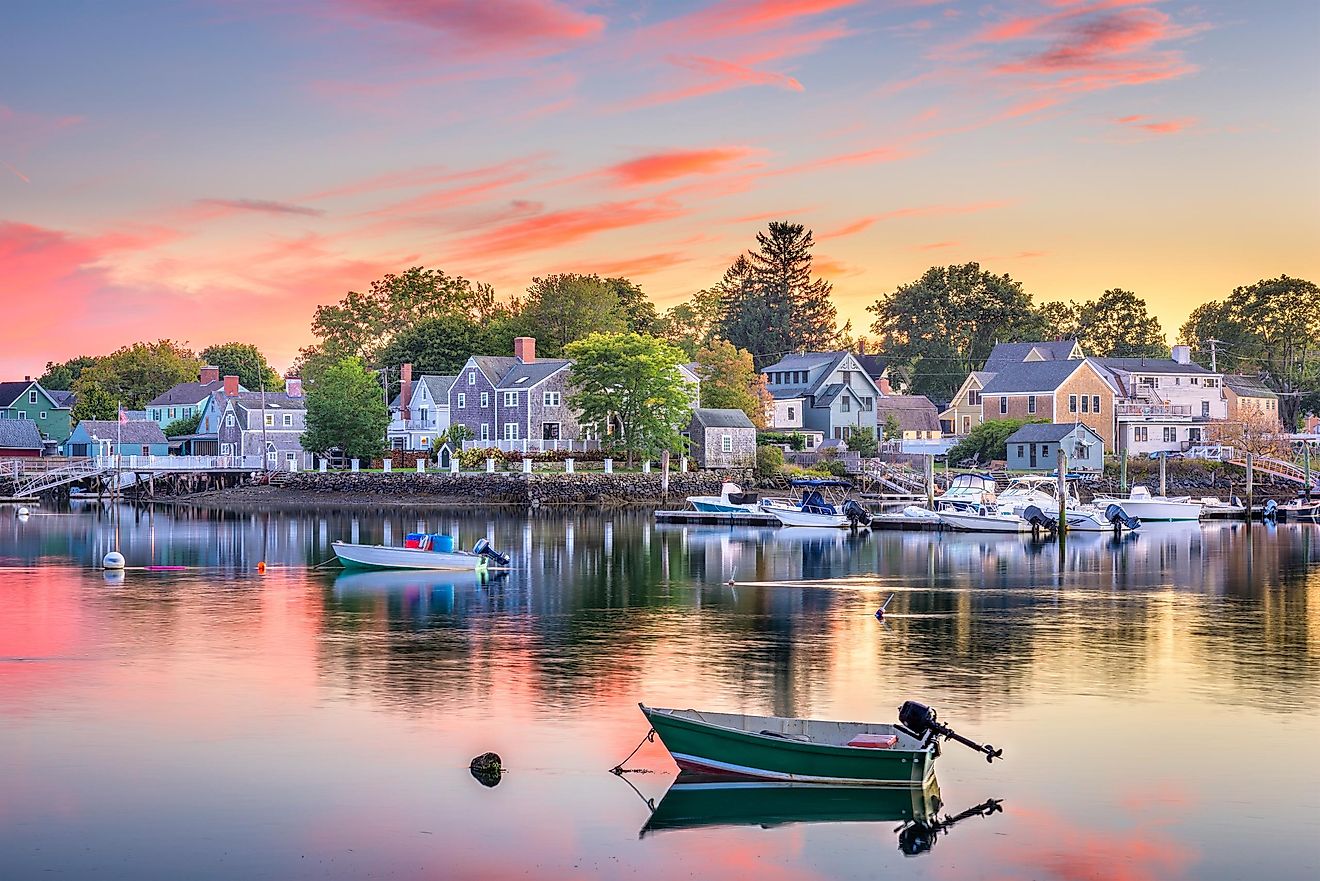 8 Small Towns in New Hampshire to Visit for a Weekend Getaway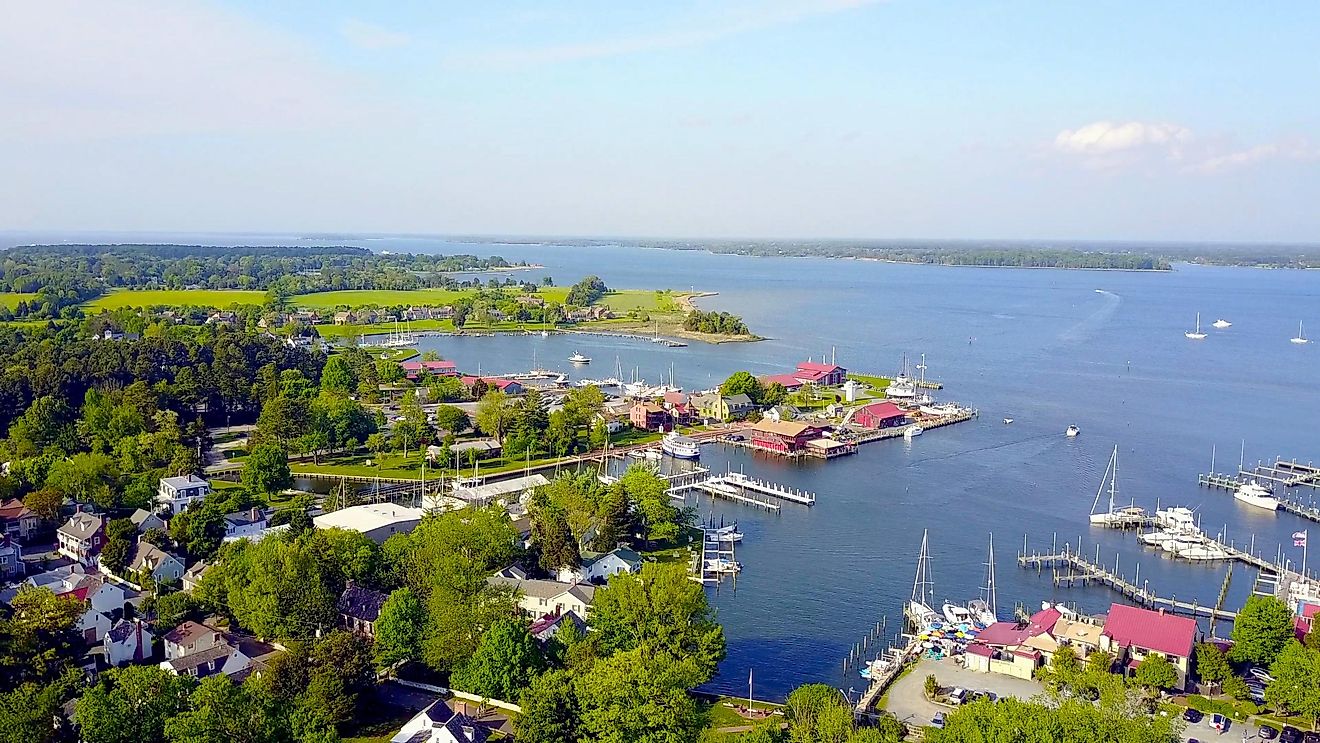 7 Small Towns In Chesapeake Bay Were Ranked Among US Favorites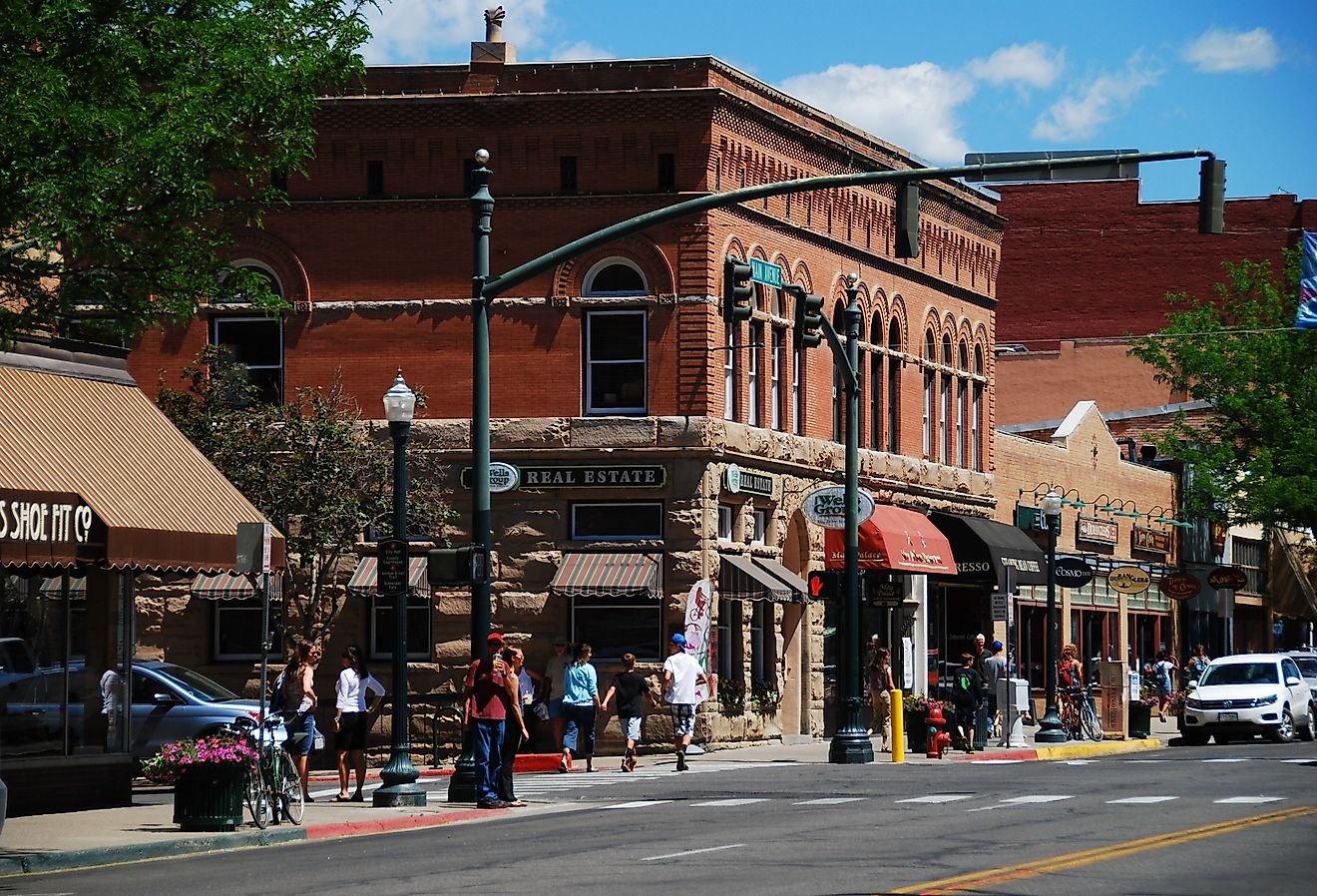 These Small Towns in the Colorado Plateau Have the Best Historic Districts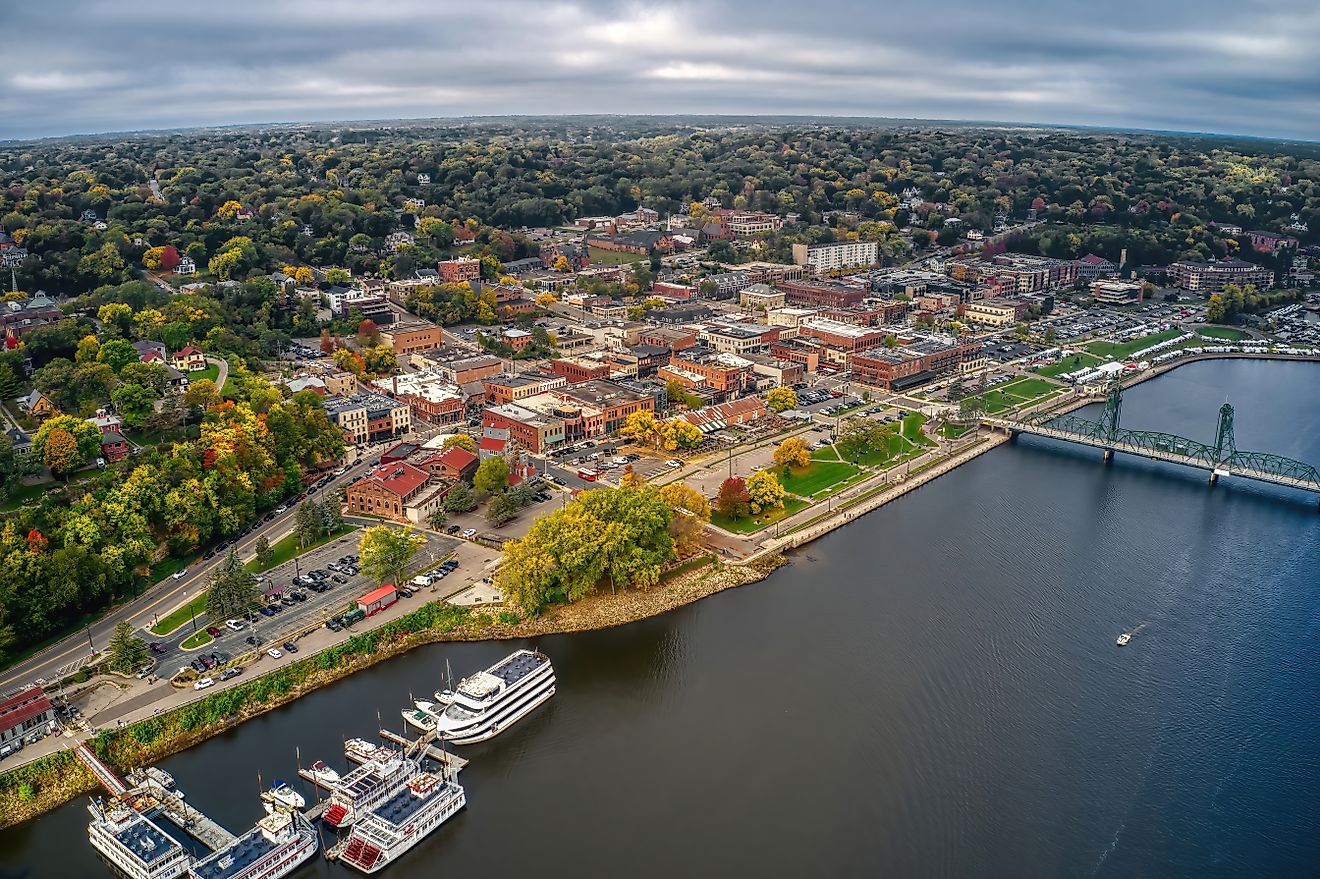 10 Top-Rated Small Towns In Minnesota
Campus News
Campus Events
Devotionals and Forums
Readers' Forum
Education Week
Breaking News
Police Beat
Video of the Day
Current Issue
August 2023
February 2023
January 2023
The Daily Universe Magazine, December 2022
The Daily Universe, November 2022
The Daily Universe Magazine, October 2022
The Daily Universe Magazine, September 2022 (Black 14)
The Daily Universe Magazine, March 2022
The Daily Universe Magazine, February 2022
The Daily Universe Magazine, January 2022
December 2021
The Daily Universe Magazine, November 2021
The Daily Universe, October 2021
The Daily Universe Magazine, September 2021
Auschwitz-Birkenau Memorial
The Black 14: Healing Hearts and Feeding Souls
Camino de Santiago
A Poor Wayfaring Man
Palmyra: 200 years after Moroni's visits
The Next Normal
Called to Serve In A Pandemic
The World Meets Our Campus
Defining Moments of BYU Sports
If Any of You Lack Wisdom
Entertainment
Movies & Television
Utah found to be 13th deadliest state in U.S., according to horror movies
For some students, Halloween is not complete without horror films. A number of these films were made in Utah, which ranks as the thirteenth deadliest state in the U.S., according to a horror film analysis by CableTV .
BYU professor Marc Olivier, co-director of BYU International Cinema , said he is a horror movie fan. He talked about many things that may be what attracts moviemakers to Utah.
"Utah is a treasure trove of untapped spookiness. We have our own ghost lore, our own repressed memories, a huge variety of outdoor settings and creepy campsites, a pioneer heritage that could inspire period pieces," he said.
Olivier himself experienced some spookiness when he first moved to Utah, he explained.
"Perhaps the spookiest thing to an outsider is how nice everyone is," he said. "I had never encountered such spontaneous goodwill, and the horror movie fan in me thought, 'OK, where are the bodies buried? This is too good to be true. Surely, there must be something sinister about to happen.'"
However, the latter may not be the reason Utah has been used for scary films, Olivier said.
"I know that there are many horror movies made in Utah, but they often do not use Utah as Utah. That is, a northern Utah location is often used as a generic middle-class town, or a southern Utah location is used for a small town western feel or as another planet," Olivier said.
Joshua Garcia, a BYU alum who studied film, agreed that Utah is attractive to horror filmmakers.
"The initial impression of Utah is a recipe for horror," he said. "We have deep woods, mountains, deserts, and the people here are majority part of the same, strange, often described as 'cult-like' religion. Even if it's not accurate, that is the resting impression in the subconscious of a lot of filmmakers."
Another reason that Utah is so popular is that it is a go-to place for horror movies with low budgets, which is the bulk of them, he said.
"We also have a history of real life serial killers like Ted Bundy, who did many of his horrible murders in this state," Garcia said.
A number of horror movies have been filmed in Utah, including Hereditary , Midsommar and Halloween 4 , 5 and 6 .
Hunter Sagapolutele, a BYU student from Provo, shared his thoughts about these scary movies in Utah.
"I know that parts of Hereditary were filmed in Utah, which is crazy because that movie messed me up for a while," he said. "Besides Hereditary, I don't know of any major horror movies that were filmed in Utah."
Hinckley Kennach, a BYU senior and fan of scary films, talked about what he loves about these movies.
"I love the thrill of scary movies, especially when a jump scare is set up perfectly," he said. "I love how the suspense builds and you don't know what's coming next."
However, he would not recommend Hereditary, Kennach said.
"It was a super boring and slow movie, and part of the plot didn't make sense," he said.
Sagapolutele commented on what could make Utah a good place for these films.
"I would say something scary about Utah are the cities that don't have a lot of streetlights," he said. "There's a lot of unpopulated areas in Utah and lots of urban legends that surround those areas. If you haven't seen the documentary on Skinwalker Ranch , I would for sure recommend that."
According to Olivier, Utah's ranking as 13th deadliest state may not be completely true.
"Unfortunately, most statistical studies of horror use only the biggest earners at the box office," he said.
To find accurate results, he said, the "blockbusters, the cult favorites, and the low-budget, drive-in and straight-to-video films" need to be considered.
"Even one low-budget movie like ' Don't Go in the Woods ,' filmed in Park City in 1981, would catapult Utah into the top 10," Olivier said.
Garcia explained that it feels a little "skewed" to him that though horror productions come to Utah, the local filmmaking community has not used their "own lived experience" to "push the boundary of horror filmmaking."
"The vehicle of horror is to process our primal and visceral fears and anxieties," he said. "I believe Utahns, like all people, have those in spades, but with each a unique voice."
He believes there may be "apprehensions in some pockets of the Utah filmmaking community" to show horror, especially in an "un-sanitized way."
"I believe that's due to the culture, but if we got rid of that apprehension, I believe some truly fascinating horror films can be homemade in the state," Garcia said.
According to Olivier, local indicators of Utah, like the dominant religion, "rarely make their way into the script."
"The movie ' Frozen ' — not that 'Frozen,' but one about people stranded on a chair lift at a ski resort — could just as easily be set in Colorado," he said. "I don't think any horror movie since ' Carnival of Souls ' has really exploited Utah to the fullest."
Olivier finished with what he loves about scary movies.
"On a personal level, I think horror movies can be a space to experience fear in a safe environment," he said. "We can identify with a character in horrible circumstances, but we can also survive our own fears because, after all, it's just a movie."
Horror films are very unique, in their visual language and tension, Garcia added.
"For me, when it does it right it plays like an experience more than a story," he said. "I am very picky about my horror movies, and I tend to enjoy the ones that rely on more techniques than just jump scares and grotesque creatures."
A complete list of all horror movies filmed in Utah can be found here .
RELATED ARTICLES MORE FROM AUTHOR
Byu alumna premieres dance short film about complexity of her faith, wasatch county council votes in favor of plans for new temple, voices from the street: provo protestors speak out against violence in gaza.
This Haunted Ghost Tour In Nevada Is A Paranormal Experience Like No Other
Christy Articola
Christy Articola has lived in Colorado since 2013 and considers herself a Centennial State enthusiast and expert through and through. She's based in Denver metro, but over the past decade, she has traveled to every corner, river, village, park, town, and city in the state and continues to explore it deeper and further whenever she can. Christy simply can't get enough of Colorado, and loves sharing all her adventures with you through Only In Your State! She graduated with a degree in journalism from Fordham University and is thrilled to be working as a full time travel writer for this and other sites - she finally found her perfect niche - and is so grateful for that.
More by this Author
If you're looking for a spooky adventure in Nevada, then you should make a point to go on Vegas Speciality Tours' Haunted Vegas Ghost Hunt ! This two-and-a-half hour tour will set you up with all the ghost hunting equipment that you'll need and then will take you on an adventure you'll never forget. Read on to learn more.
Related Stories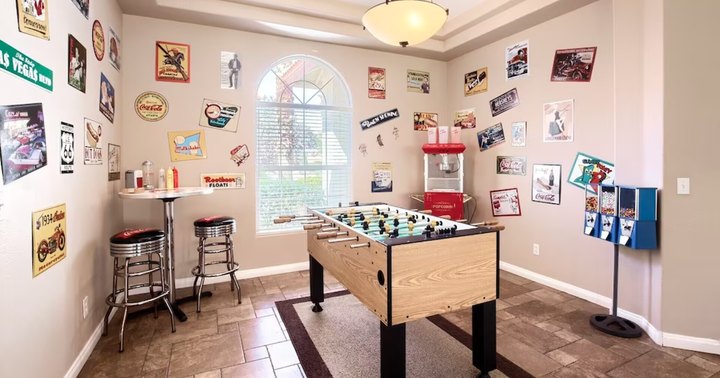 Enjoy Some Much Needed Family Fun On This Unique Nevada Getaway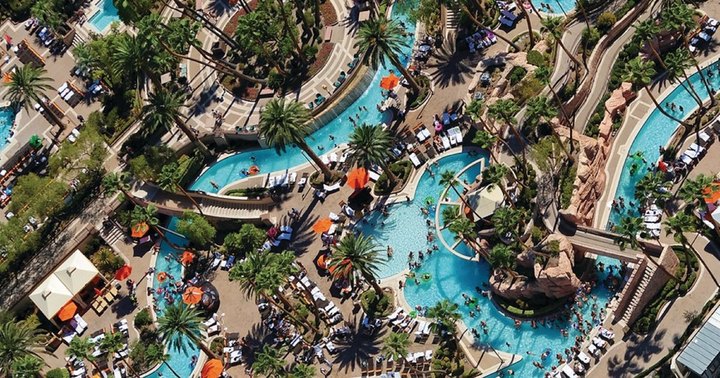 This Kid-Friendly Hotel Is The Best Home Base For Your Family Adventures In Las Vegas, Nevada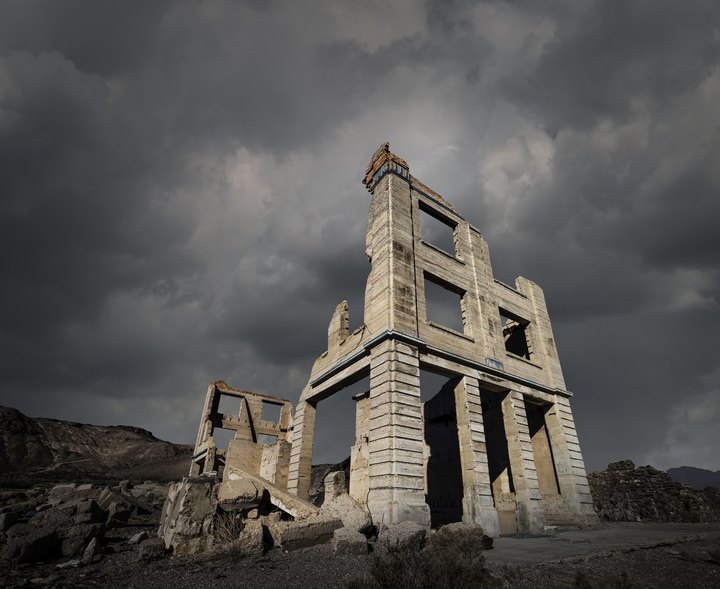 Nevada Urban Legends, Myths & Folklore: Not Your Average Bucket List Season 2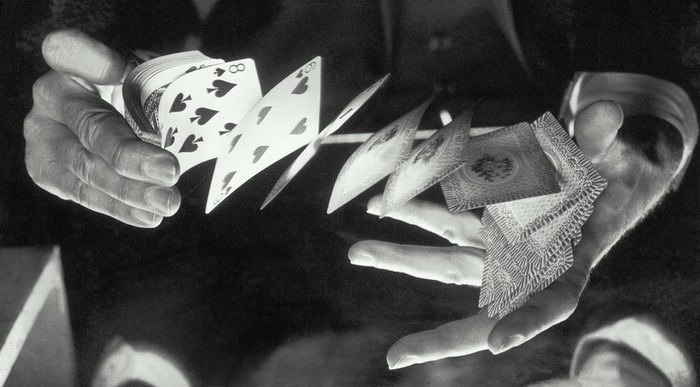 This Haunted Vegas Ghost Hunt is not to be missed! You'll love everything about it. It's great around Halloween or at any time of the year. Have fun and we hope you find some ghosts!
Looking for somewhere to stay in Vegas? Check out the offerings on Booking.com .
OnlyInYourState may earn compensation through affiliate links in this article. As an Amazon Associate, we earn from qualifying purchases.
Want more Nevada in your inbox?
Get the latest on things to see, do, and eat around Nevada!
Thank you! You'll receive your first newsletter soon!
An error occured.
Related Articles
The Largest Go-Kart Track In Nevada Will Take You On An Unforgettable Ride
The Most Epic Indoor Playground In Nevada Will Bring Out The Kid In Everyone
The Four-Story Indoor Playground In Nevada That Your Kids Will Absolutely Love
One Of The Oldest Hotels In Nevada Is Also One Of The Most Haunted Places You'll Ever Sleep
The Perfect Weekend Is Spent Along Brewery Row In Las Vegas And It's Only Going To Get Better In 2024
The Most Remote Small Town In Nevada Is The Perfect Place To Get Away From It All
Enjoy A Picture-Perfect Weekend In The City When You Stay In This Cottage In Reno
The Under-The-Radar Destination In Nevada With The Most Beautiful Fall Foliage In The State
Explore Nevada
Arts & Entertainment
Farms & Wildlife
Fun Adventures
Shops & Boutiques
Sights & Landmarks
Featured Addresses