All Classes in Ghostlore explained
Which class is right for you?
In total, there are six classes in Ghostlore, and each has its own skills and unique passive abilities. Players choose one of these chases and two later in the game. Here you will find all six of these classes explained and which one you should choose for your character.
Feral is a class described as fearless fighters with the power of blood magic. What this translates to is more or less a more berserker fighter class with life-stealing abilities that can heal the player.
We recommend choosing the Feral class if you are a fan of close-combat-orientated RPG classes with a touch of spell casting.
Feral Active Skills
Battle Roar:  A skill that increases absorption and damage that stuns nearby enemies.
Blood Magic:  A magic spell that shoots blood at enemies at the cost of HP.
Bloodreave : Deals melee damage and steal the HP of nearby enemies.
Weretiger : This allows the player to turn into a Weretiger and attack enemies. 
Feral Passive Skills
Adrenaline Rush:  Players gain damage absorption and attack speed when surrounded by enemies.
Berserker Rage:  Gives the player critical damage and removes all inflictions at low health.
Blood Vengence:  Turns the attacks of enemies against them.
Metabolism:  Turns 50 percent of damage into damage taken over time.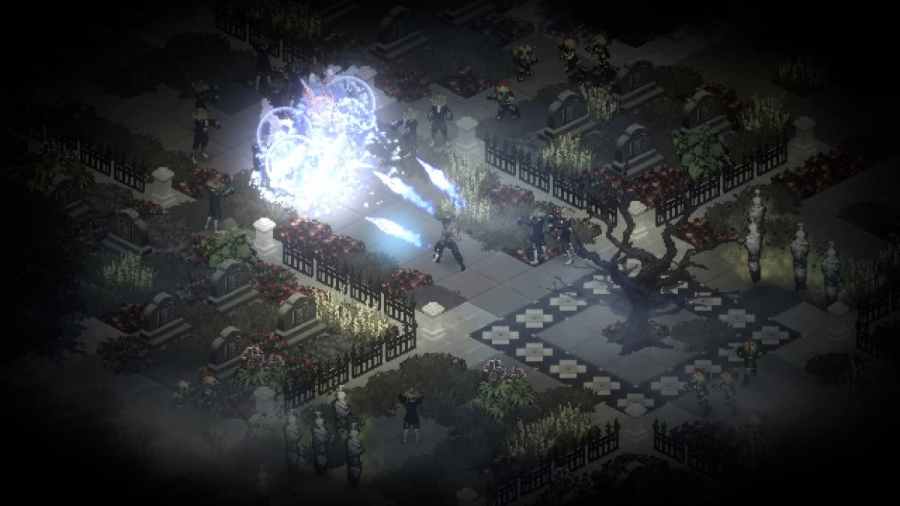 The Geomancer is a class that focuses on ranged magic attacks that cause fire, freezing, and lightning damage. We recommend picking this class if you favor a mage playthrough.
Geomancer Active Skills
Blizzard: Ice attack that shoots Ice bolts that deal mental and freezing damage.
Fire: A magic range attack that launches a ball of fire that does mental damage in a small radius.
Quake: A magic attack that sends a shockwave to damage several enemies.
Thunder: A lighting magic attack that damages enemies in a wave of sparks.
Related: Is there co-op/multiplayer in Ghostlore?
Geomancer Passive Skills
Ambient Energy: Increases max HP.
Fire Affinity: Increases Fire resistance.
Ice Affinity: Increases Ice resistance.
Lighting Affinity: Increases Lighting resistance.
Adepts are a melee and damage-resistance-focused class with several interesting abilities. Some of these abilities include teleporting skills and mind shields to resist damage. We recommend choosing Adept if you want a warrior class with access to magical powers that can resist damage and distract enemies. 
Adept Active Skills
Force Pull: A magical attack that deals damage and pulls enemies inward.
Mind Over Matter: Projects a magical shield to protect the player. While the skill is active, damage that the player takes will drain MP instead of HP.
Taming Sari: Summons spectral blades that attack enemies.
Afterimage: Teleports the player to another location while leaving an afterimage of the player that enemies will attack instead.
Adept Passive Skills
Disperse:  This makes it so that when players kill enemies, the remaining damage attacks other enemies in an AOE attack. 
Battle Meditation: Increases MP regen. 
Telekinesis:  Adds a chance to reflect projectiles. 
Third Eye:  Increases Avoidance against attacks before they happen.
Exorcist best fit those who want a class that is a mixture between a mage and summon-based character. We recommend picking Exorcist if you want to specialize in summoning powerful guardians and turning enemies into allies. 
Exorcist Active Skills
Banish: Places magical sealing glyphs on the ground that trap any enemies that step on them.
Guardian Spirit: Summons a powerful Guardian spirit ally.
Mandala: Places a magical symbol on the ground that increases player damage.
Seeker Tailsman: Deploys several talismans that seek out and deal damage to enemies.
Exorcist Passive Skills
Channel:  Steals energy from enemies with every attack.
Near Death Experience:  When the player gets low health, this passive will remove all inflictions and increase absorption.
Purify:  Resurrects slain enemies as allies.
Sixth Sense:  Senses friendly spirits. Going near these spirits will heal the player's health. 
Related: New and improved ghost hunting in Phasmophobia VR overhaul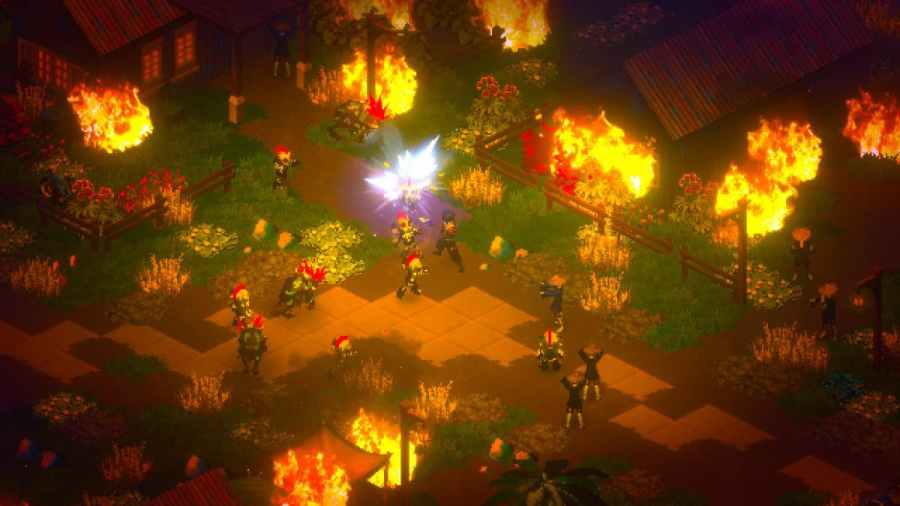 The Hashashin is your traditional assassin rogue class you commonly find in RPGs. Because of this, we recommend picking Hashashin if you are a fan of classes that focus on stealth and fast attacks.
Hashashin Active Skills
Dashing Strike: A dash attack that deals damage to enemies.
Dervish: A whirling spin attack that deals damage to nearby enemies.
Poison Knives: Throws daggers that deal damage and poison enemies.
Shroud of Darkness: Allows the player to enter a shadow stealth form where they can perform preemptive strikes on enemies that deal significant damage.
Hashashin Passive Skills
Analyze Weakness:  Analyzes enemies, and these enemies will gain reduced absorption.
Chain Kill:  Makes it so players gain HP and MP regen over time after killing enemies.
Finisher:  Causes enemies below 15 percent health to be instantly killed.
Nothing Personal:  Causes players to deal critical damage to enemies by attacking their weak points for massive damage.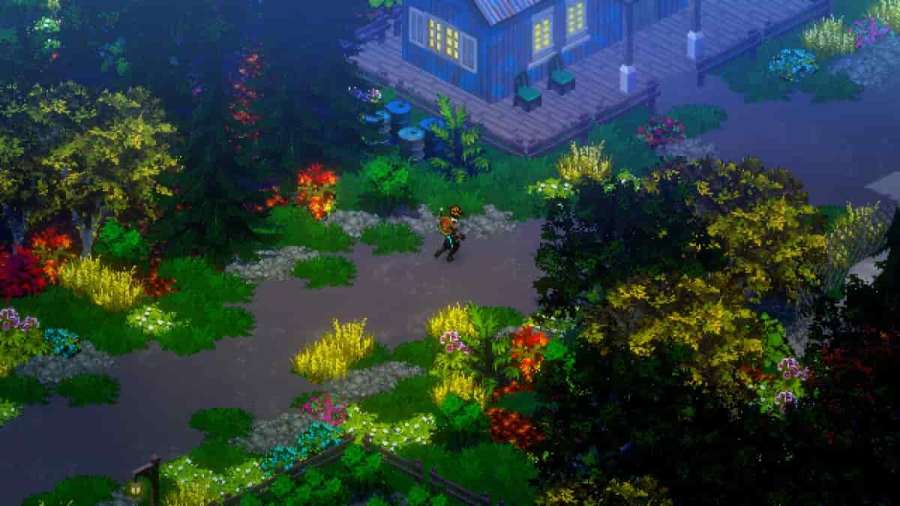 The Sentinel-class is a ranged focus class that relies on summonable creatures and ranged attacks. We recommend choosing Sentinel for a ranged-attack-focused character build. 
Sentinel Active Skills
Radiant Spears:  Casts a spell that shoots light spears that damage enemies. 
Crows:  Summons crows to fight alongside the player.
Leopards:  Summons Leopards to fight alongside the player.
Chakram:  Hurls a ranged object called a chakram that can bounce off walls and pass through enemies, dealing damage.
Sentinel Passive Skills
Marksmanship: Increases the player's accuracy
Pierce: Makes projectiles pierce through enemies.
Sharpshooter: Increases damage done to enemies far away from the player.
Warden of the Forest: Increases HP regen and absorb of allies.
For more on Ghostlore , we at Pro Game Guides have you covered!
About the Author
More Stories by Andrew Vaughan
Write a comment, cancel reply.
Comments are on moderation and will be approved in a timely manner. Please read the following rules before commenting:
All comments must be on topic and add something of substance to the post
No swearing or inappropriate words
No asking or begging for anything free
Do not attempt to start a poll in the comments
Comments in all CAPS will be removed
We reserve the right to remove a comment for any reason
Do not impersonate a staff member or influencer
Save my nickname and email in this browser for the next time I comment.
This site is protected by reCAPTCHA and the Google Privacy Policy and Terms of Service apply.

Ghostlore – Easy Geomancy Build Guide
Title: Ghostlore
Release Date:
Geomancy is a physical spell from the Geomancer class that creates a wave of spikes along the ground, hitting enemies multiple times and inflicting heavy damage. This guide will detail how to create a powerful earth mage character that can tackle all content.
Introduction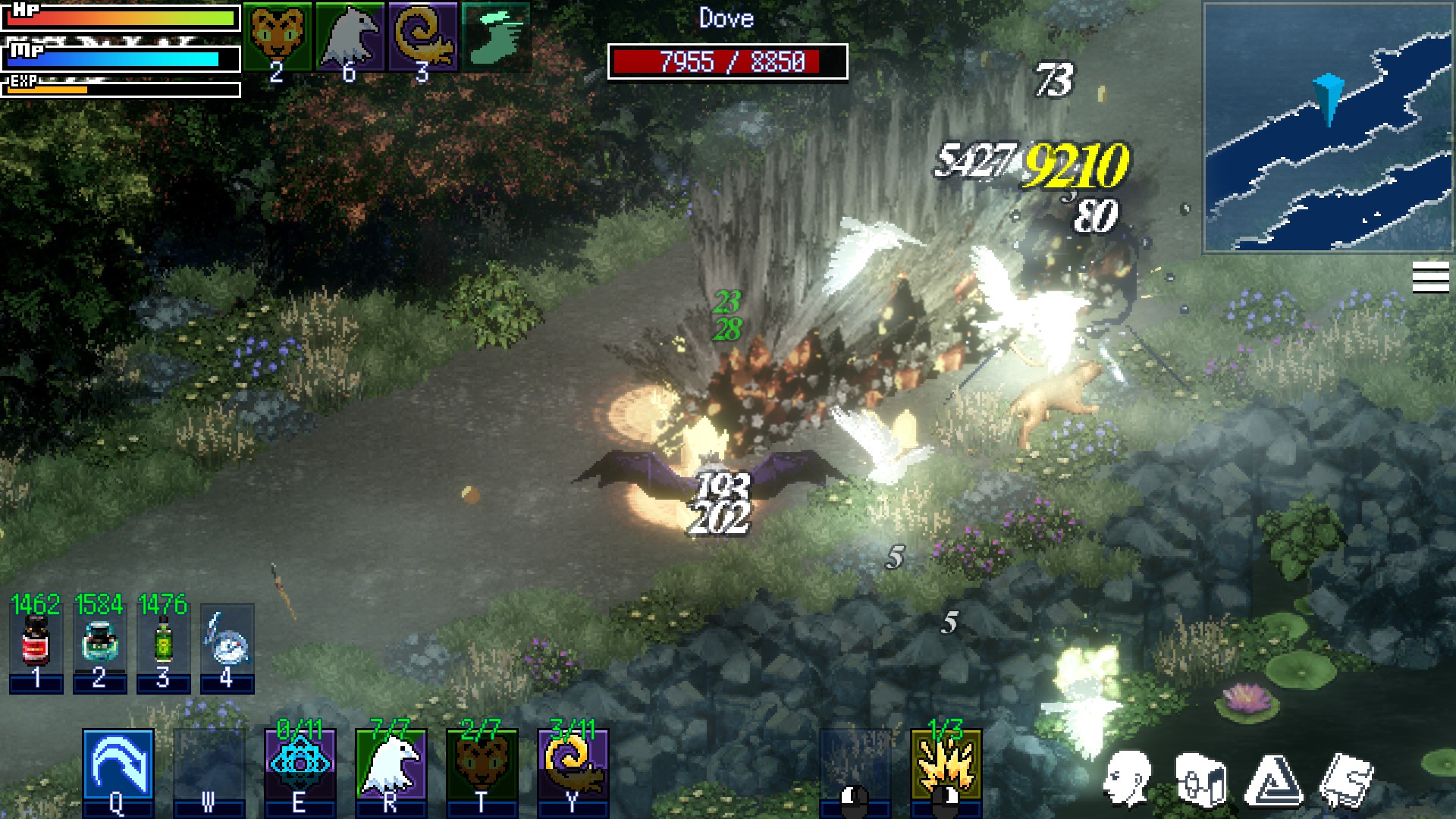 Pick Geomancer as your starting class, Exorcist as your lvl 15 class, and Sentinel as your lvl 30 class. It is very important to link Geomancy with -100% cooldown duration supports, so that it has a cooldown of 0 seconds. The supports are highlighted in green. You can achieve this with 5 -20% cooldown supports from Geomancer, or 4 -20% supports from Geomancer and two -10% cooldown supports from Sentinel. Then, link as many Skill Multiplier supports to Geomancy as you can.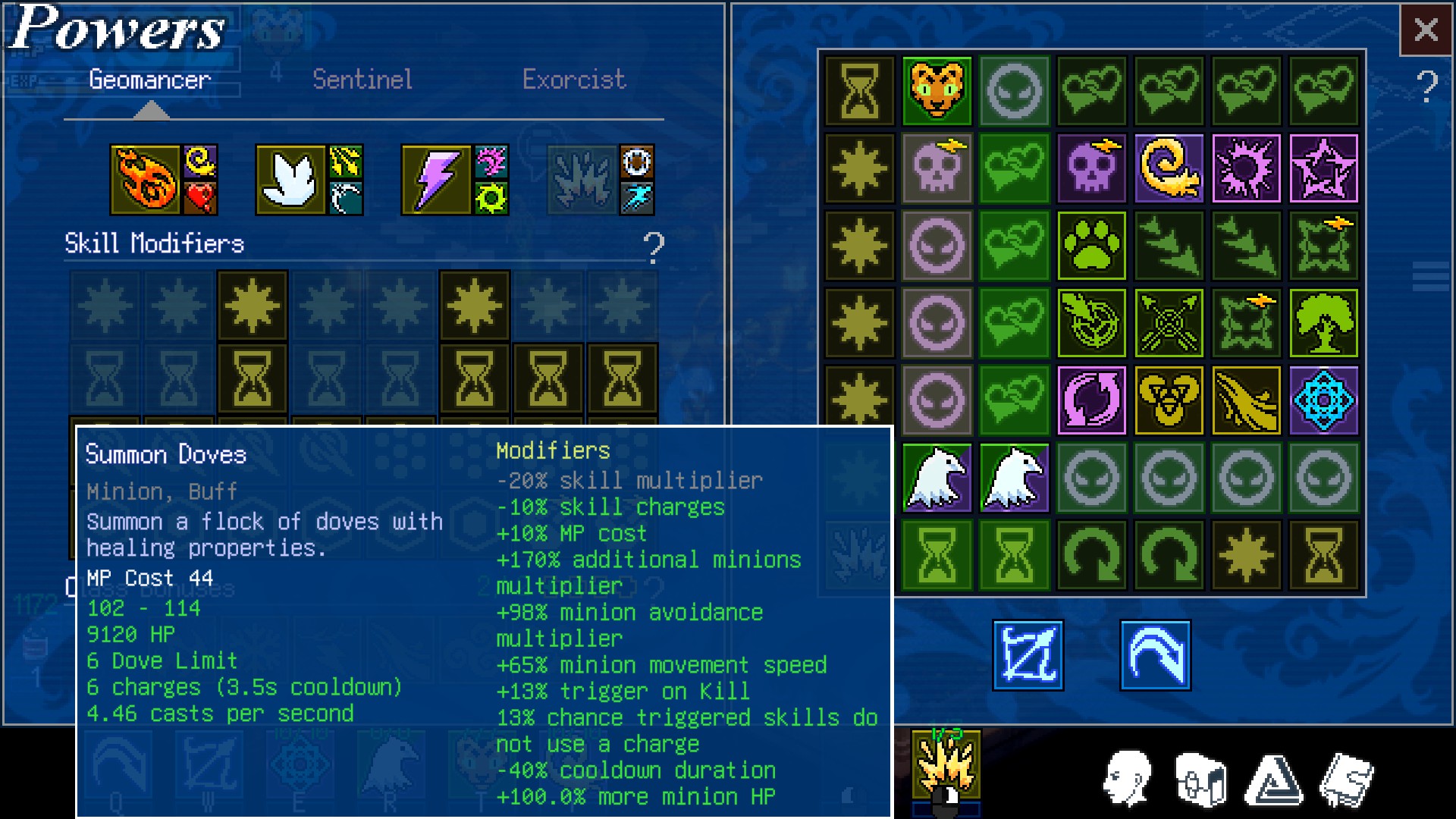 Link your minions with Additional Minions and Minion Health multipliers, as well as one Trigger on Kill support so you don't have to manually cast them. Minions in this build are used purely for support, not damage. They heal you, trigger your curses, and tank for you.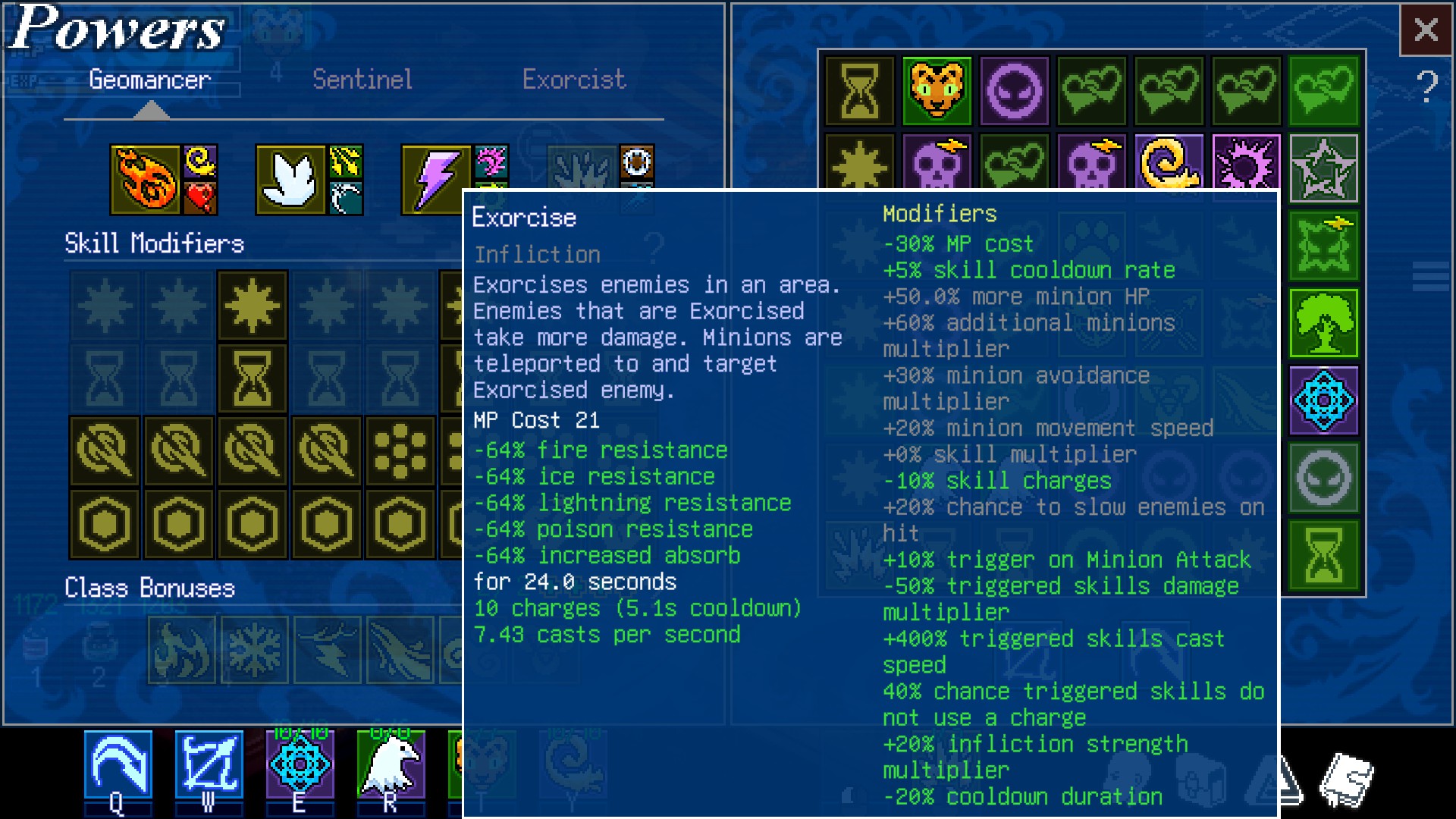 Finally, link Exorcise to Trigger on Minion Hit and to the Hex class bonus (for +20% curse strength). Exorcise greatly lowers enemy defenses, thus increasing your dps.
The remaining supports in the middle square of the Power grid are purely there to activate Class Bonuses and do not impact the power of the build otherwise.
Class Bonuses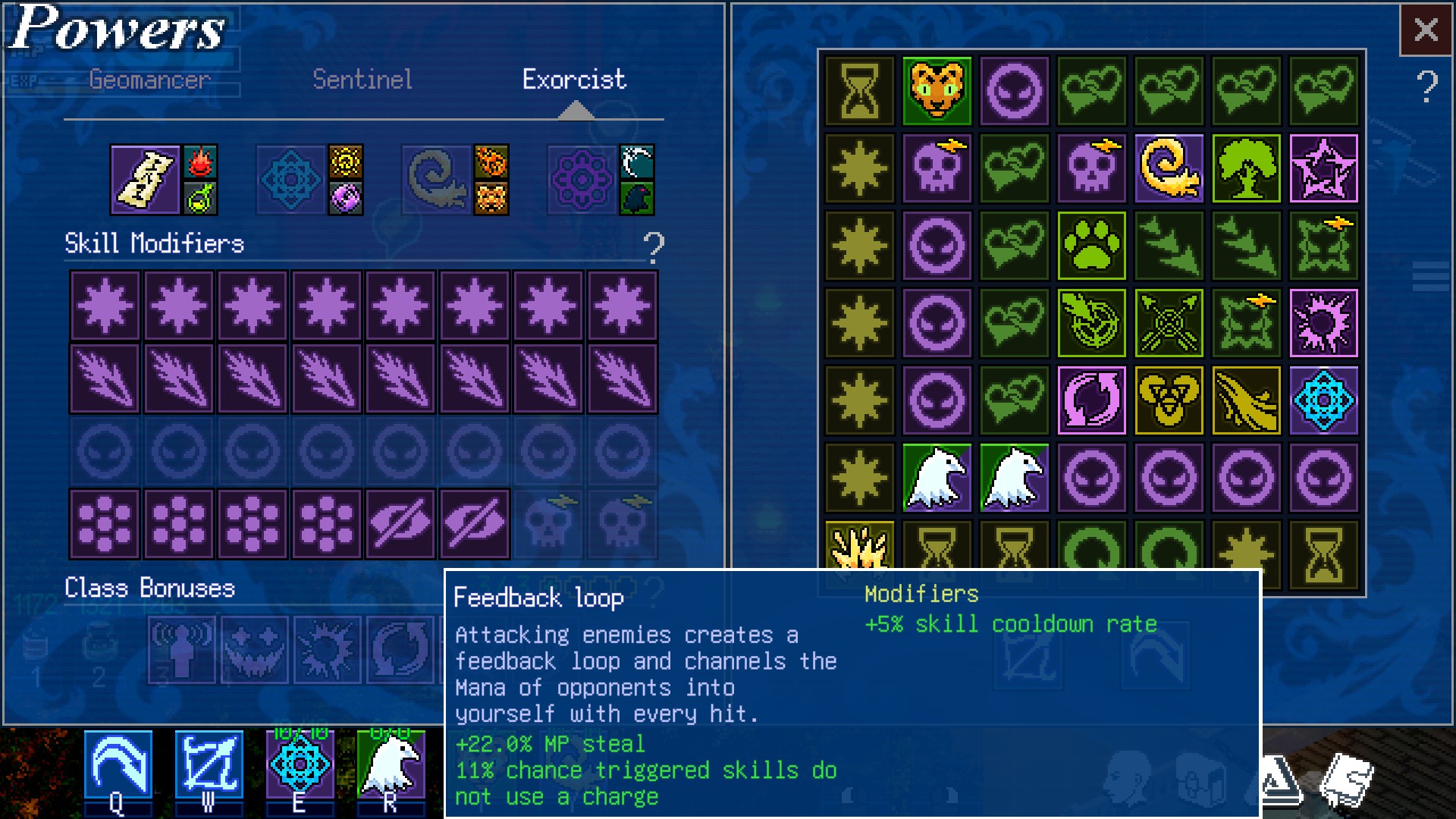 You get a Class Bonus for every 4 points you spend from a class in the Power grid. Feedback Loop is the highest priority bonus to get, as it gives you effectively infinite MP, letting you spam Geomancy. Hex and Near Death Experience are other good bonuses from the Exorcist class. The Sentinel class has amazing bonuses as well. with Warden of the Forest and Survival Instincts making you very tanky, and Sharpshooter and Marksmanship greatly increasing your damage. The bonuses from Geomancer are unfortunately near-useless for this build as we do not deal much elemental damage due to Geomancy being a physical spell, so you can pick whichever bonuses from Geomancer you want.
Food gives permanent stat bonuses to your character, and it is extremely important to have 6 meals active at all times! I would recommend eating Kueh Lapis 3 or 4 times for the movement speed bonus, and then fill the remaining slots with Additional Damage, Crit Chance, Cast Speed, or Item Find. The food shop only offers 6 menu items at a time, so if Kueh Lapis isn't there then just complete a zone and check again. You can farm the ingredients required to make food by clicking on sparkling objects in the world, or by buying them from a food vendor who appears at the start of a zone from time to time. The bonuses received from eating food are random. If you receive a bad bonus, like for instance only 5% movement speed, then you can click the X button on the food item and try again!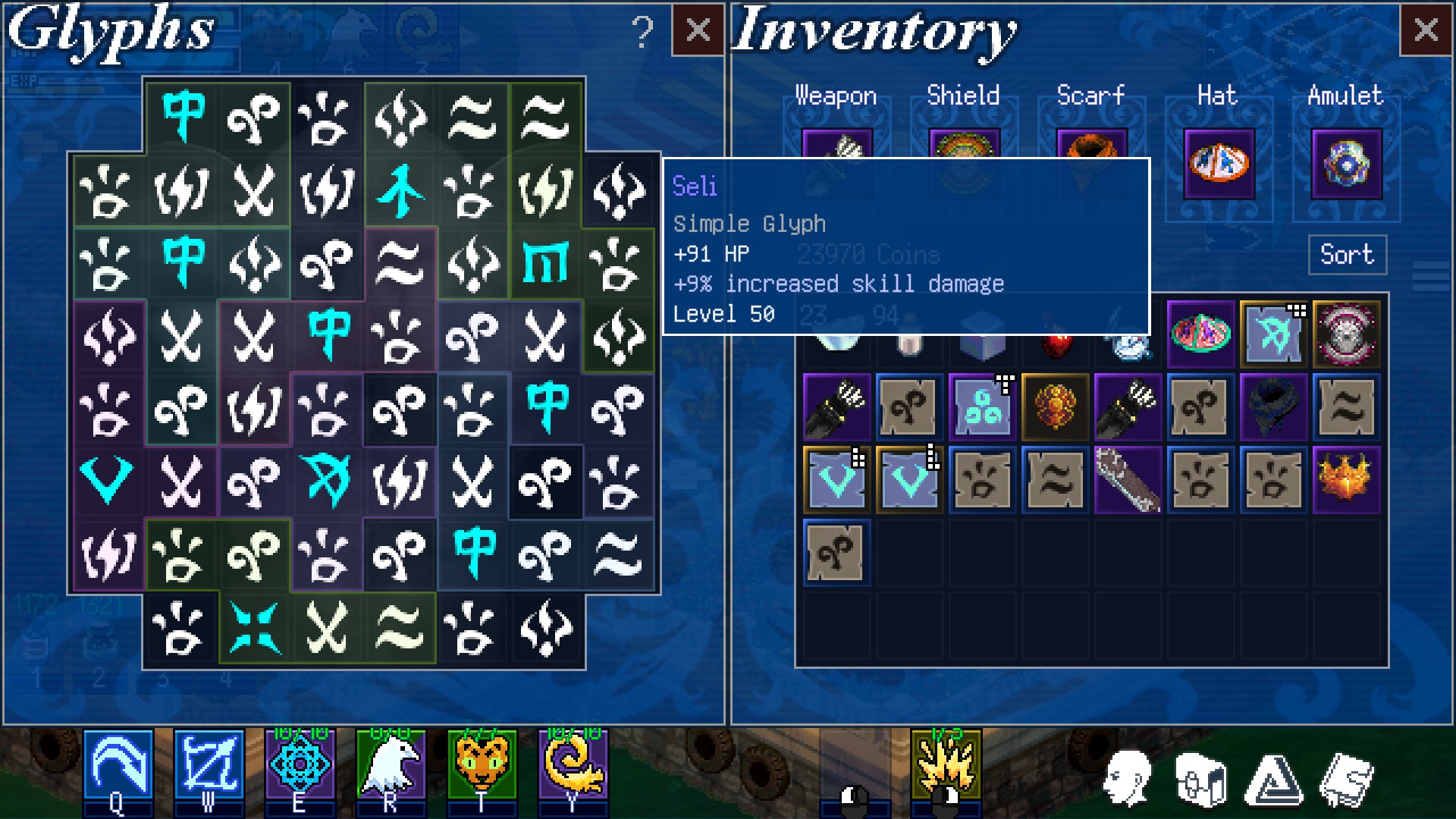 Glyphs drop from enemies in the wild and offer large power bonuses. They are similar to the Diablo 2 charm system. I would recommend focusing on Skill Damage, HP, and Avoidance as your priority stats.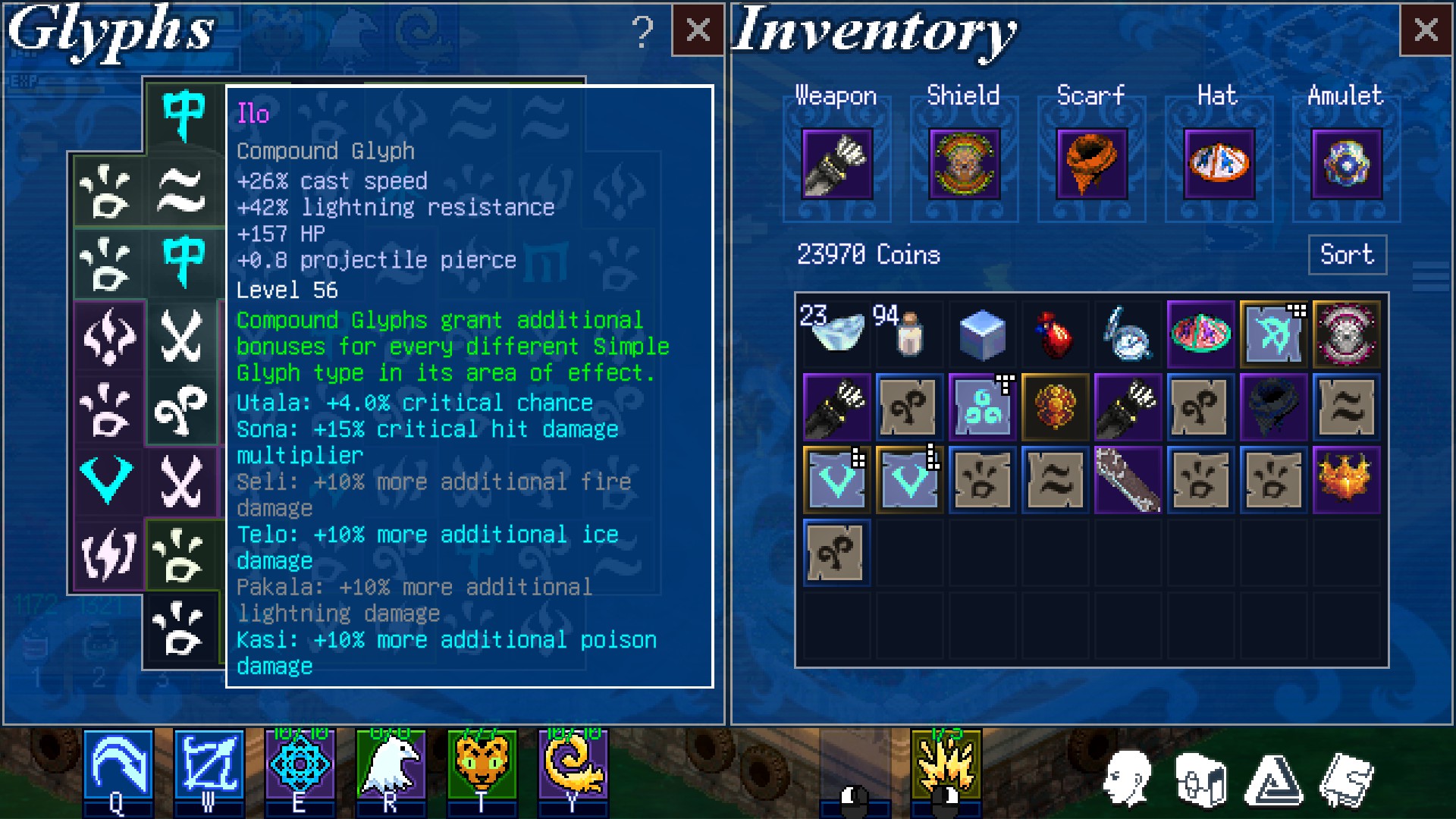 The best Compound Glyph for this build is Ilo. However, you can use other Compounds such as Nasin if they have good stats on them. The bonuses of Compound Glyphs are activated depending on the types of glyphs in them, so sometimes you might need to add a useless glyph to your grid to activate a Compound Glyph. For Ilo, you only need to activate the Crit Chance and Crit Damage components, don't worry about the others. You can upgrade the rarity of a Compound Glyph at a blacksmith for a price, giving it more stats. Note that my current Glyph setup is not perfect, ideally you want the entire Glyph grid to be covered in Compound Glyphs.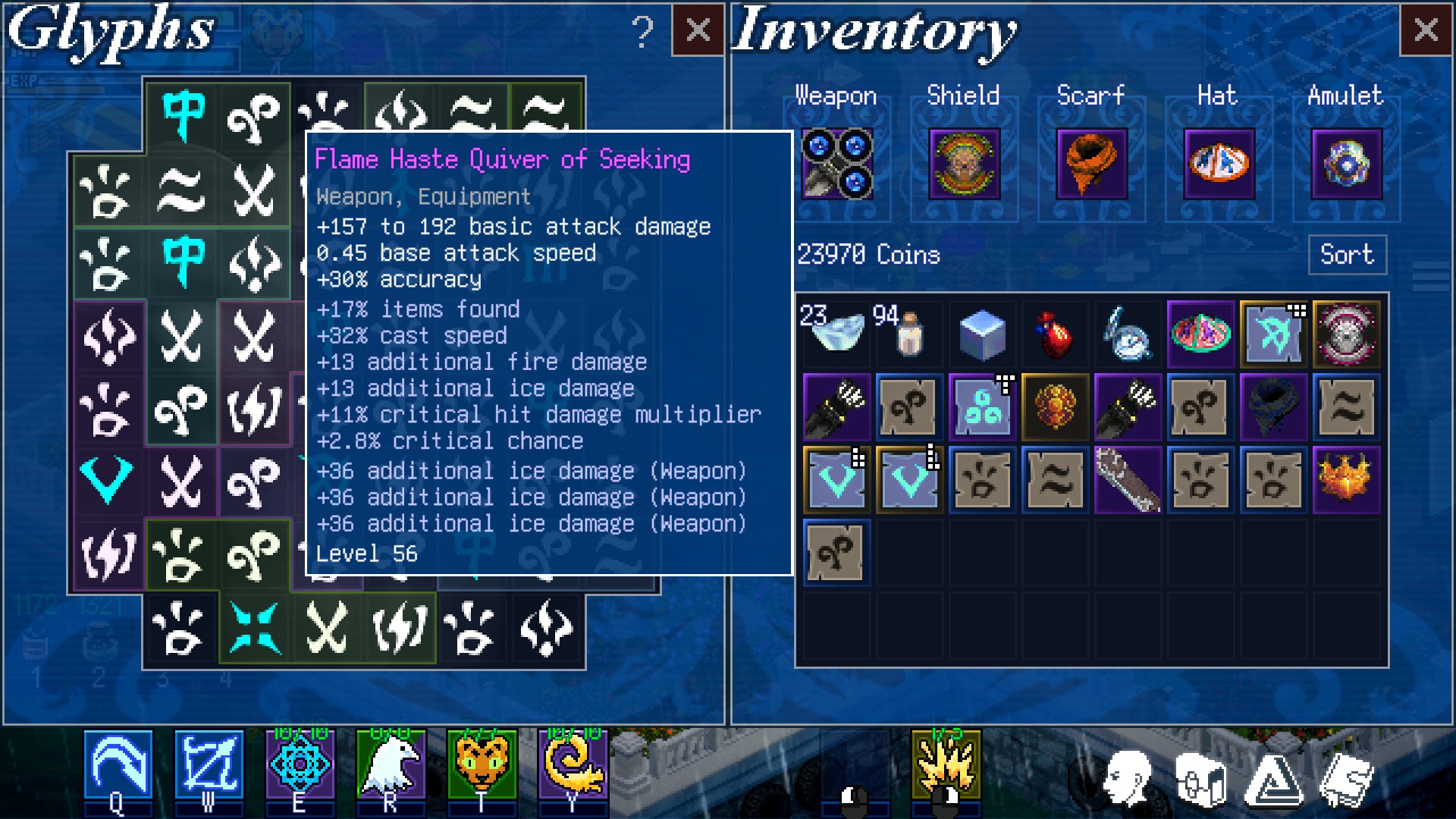 Your most important stats on your weapon are Additional Damage, Crit Chance, Crit Multi, and Cast Speed in that order. Gems give a ton of Additional Damage so don't forget to socket them! The base damage of your weapon does not impact your DPS.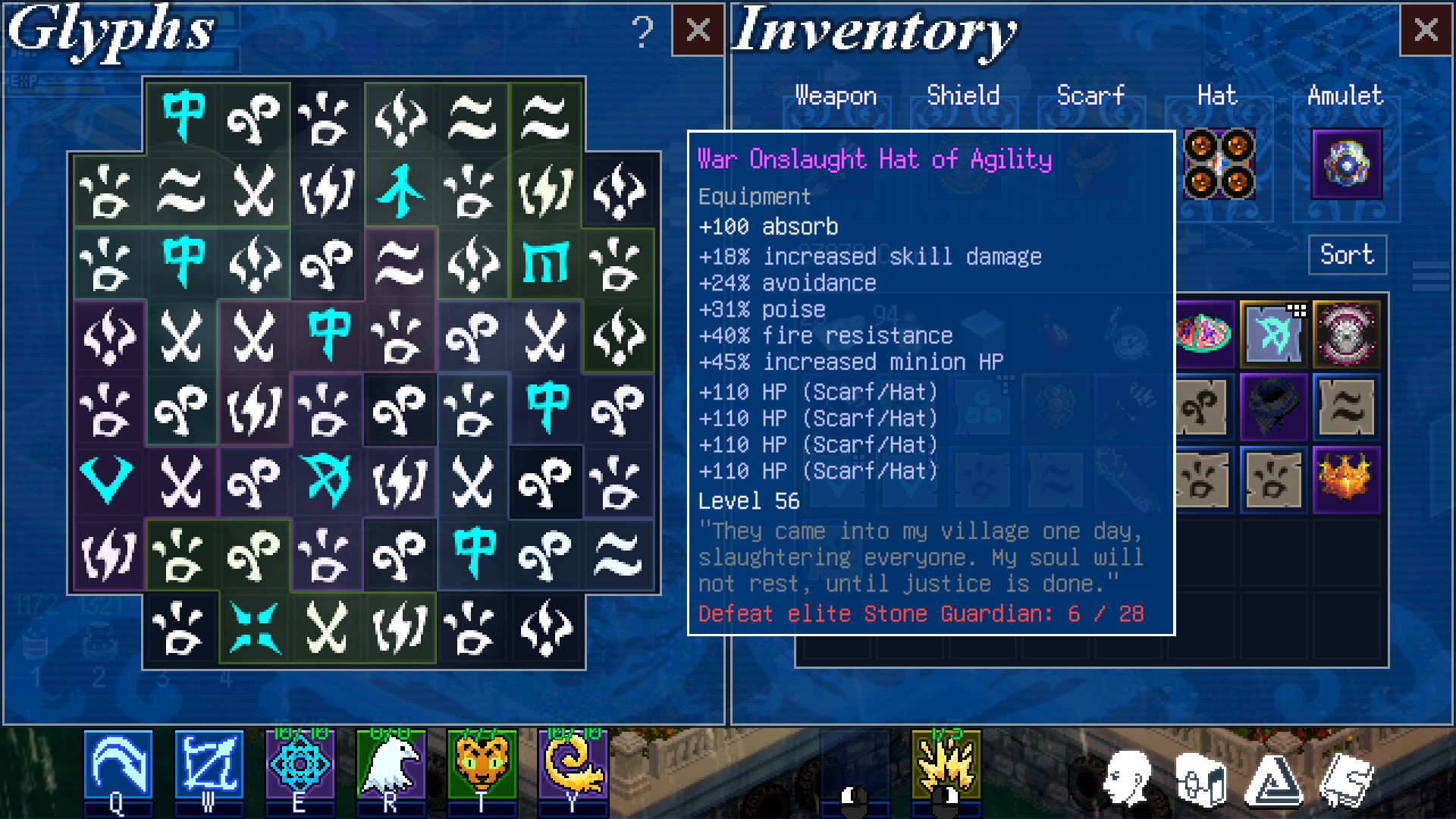 For the rest of your gear, make sure you have enough Resistance to reach 75% (or 79% with the class bonus) in all 4 resistances. Then, get Avoidance until you have 100% Avoidance, and as much HP as possible. Other stats like Skill Damage, Crit Chance, Cast Speed, or Item Find can also be useful but are lower priority than the defensive stats.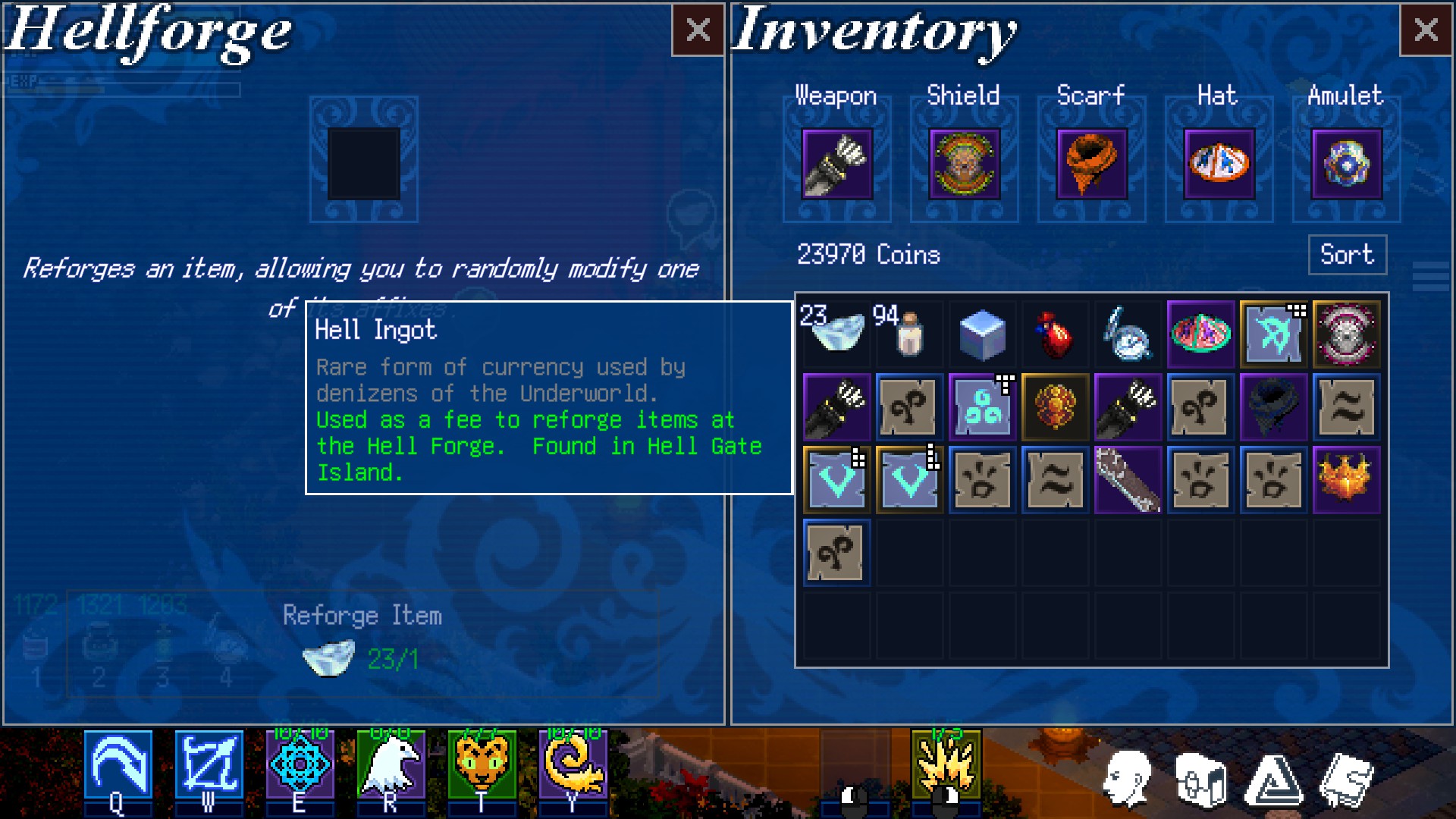 After beating the campaign, you unlock Hell Gate Island, an endless mode that drops Hell Ingots. You can use the ingots with the guard near the gate to reroll the stats on your gear. It is very easy to make strong gear with Hell Ingots!
That's everything we are sharing today for this Ghostlore guide. This guide was originally created and written by Sir Digby Chicken Caesar . In case we fail to update this guide, you can find the latest update by following this link .
If you believe that any of the content on this site violates your rights, including your intellectual property rights, please contact us immediately using our contact form.
Leave a reply cancel reply.
Your email address will not be published. Required fields are marked *
Save my name, email, and website in this browser for the next time I comment.
Ghostlore – Best Build for Geomancy
Added: May 25, 2023, 9:25pm UTC Steam Guides 0
Table of Contents
Hello and welcome, Ghostlore – Best Build for Geomancy guide.
Geomancy is an earth mage physical spell that creates spikes on the ground. This spell hits enemies multiple times, dealing heavy damage. This guide will explain how to build a powerful earth mages character that can handle all content.
Geomancy is an earth mage physical spell that creates a wave along the ground. This spike wave hits enemies multiple times, inflicting heavy damages. This guide will explain how to build a powerful earth mages character that can handle all content.
Choose Geomancer as the starting class. Exorcist will be your 15th level class and Sentinel your 30th level class. Geomancy should be linked to a support that has a -100% cooldown so that its cooldown is 0 seconds. The supports have been highlighted in green. You can do this by using 4 -20% cooldown support from Geomancer along with 2 -10% cooldown support from Sentinel. Then, connect as many Skill Multiplier support to Geomancy. Note that 5 cooldown support also gives you -100% skill damages dealt. So you must link at least one Skill Multplier Support or you will not deal damage.
Link your minions together with Additional Minion and Minion health multipliers as well as a Trigger on Kill support to avoid having to manually cast it. The minions in this build will only be used for support, and not to deal damage. They heal you and trigger your curses.
Exorcise should be linked to Trigger on Minion Hit, and to the Hex bonus (for a +20% curse power). Exorcise reduces enemy defenses to a great extent, increasing your dps.
The remaining supports on the middle square in the Power grid are only there to activate the Class Bonuses. They do not have any impact on the power of your build.
Class Bonuses
You receive a Class Bonus every time you spend 4 points on a class. Feedback Loop should be your top priority, as you will have virtually unlimited MP and can use Geomancy. Hex, Near Death Experience and other good bonuses are available from the Exorcists. The Sentinel class also has amazing bonuses. Sharpshooter increases your damage, while Survival Instincts and Warden of the Forest make you a tanky character. Multicast increases our curse and skill charges. Fire Affinity makes the Fire gems in our weapon more powerful.
Food provides permanent stat bonuses for your character. It is very important to keep 6 meals active all the time! Kueh Lapis is a good choice for the movement bonus. Fill in the other slots with Health or Fire Damage. The food shop offers only six menu items at once, so if Kueh Lapis does not appear then you can complete a level and check again. You can either farm the ingredients needed to make food in the world by clicking on sparkling items, or buy them from the food vendor who will appear at the beginning of each zone. The bonuses that you get from eating food is random. If you receive an unsatisfactory bonus, such as only 5% of movement speed, you can click on the X button and try again.
Glyphs can be found in the wild, and they offer a large bonus to power. These are similar in design to Diablo 2 charms. I would suggest focusing on Skill Damage and HP as your priority statistics.
Ilo is the most suitable compound Glyph to use for this build. In the endgame, we only need Ilo Compounds. If you want to use Nasin Compounds, you can do so at first if their stats are good. Then, later on, when you've got the resources, you can turn them into Ilo Compounds using the glyph craftsman. Compound Glyphs activate their bonuses based on the glyphs that are in them. This means you may have to add a useless glyph into your grid to activate a Compound Glyph. Don't worry if you don't need to activate all the components. The increased Fire damage is used to increase our weapon's damage, even though Geomancy does no innately deal fire damage. For a small price, you can upgrade the rarity on a Compound Glyph to give it more stats. Also, you'll want to add the "% damage leeched as HP", since this will increase your survivability. You only need this stat once.
The most important stats of your weapon in order are Additional Damage (in that order), Crit Chance (in that same order), Crit Multi and Cast Speed. Don't miss out on the additional damage that gems can provide! I recommend socketing Fire gemstones, as the Fire-related element of the Ilo Compound Glyph has the easiest activation of all the elements. The base damage does not affect your DPS.
As you prepare your other gear, ensure that you have enough Resistance for all four resistances to reach 75%. After you have as much HP and as much Avoidance as possible, focus on gaining as much Avoidance as you can. Other stats, such as Skill Damage (or Crit Chance), Cast Speed, Item Find, or Item Search can also be useful, but are less important than defensive statistics.
After beating the Campaign, you unlock Hell Gate Island. It is an endless mode where Hell Ingots are dropped. The ingots can be used with the guard at the gate to reroll stats for your gear and Compound Glyphs. Hell Ingots are a great way to make powerful gear!
The ultimate goal is maintaining your defenses while achieving a 70%+ crit rate and a 400%+ multiplier. At this point, you should be able to kill Hellgate 8 bosses within a few seconds.
I've also linked a loot search filter that you can use more efficiently to find good items. Save this file as a.filter and place it under Ghostlore -> Ghostlore_Assets, StreamingAssets, Filters. This filter will hide the majority of items, so use it only in endgame.
https://pastebin.com/SR0a1hrw – [pastebin.com]
You can drag Ointments off your Commodity Cube onto your left mouse hotbar to get a permanent speed boost for movement and constant debuffing, provided you have an adequate stockpile.
Geomancy spells can be used to maximize damage. Ensure you aim and position your spell so the enemy is hit with as many spikes as possible.
Use the Alkahest to disassemble unwanted gear and glyphs. You'll need a lot of the materials that it produces to craft your own gear.
If you die while in a Hell Gate, you will lose any progress you have made on the difficulty level. You can save your game in the Hell Gate and then load it when you die. This will save you from having to redo all of the Hell zones. This is useful to progress through Hell Gates with higher difficulty levels.
All Ghostlore Posts List
Ghostlore – Elemental Seismic Roar Guide
Ghostlore – Tank Fire Summoner Build
Be the first to comment
Leave a reply cancel reply.
Your email address will not be published.
Save my name, email, and website in this browser for the next time I comment.
Copyright © 2023 ⚔ Steam Lists | Contact Us ✉ | Privacy Policy | Cookie Policy | Terms of Service | Game Tips | Gameplay | Report Abuse

Ghostlore Achievements
Ghostlore News
Walkthrough
Ghostlore Walkthrough