Ghosts n' Goblins Resurrection: Tips and tricks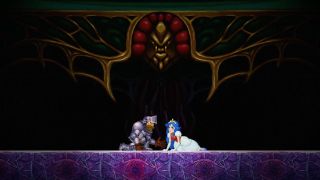 Keep moving to survive
Collect every Umbral Bee you see
Watch out when you restart
Always grab the knife
How to get the true ending
Not every spell is the same
Ghosts n' Goblins Resurrection is the remake of the classic run-and-gun platformer with tons of new features and the same brutal difficulty the series is famous for. While it may be easier to tear your hair out and smash the best controller than it is to complete some of these levels, we have some tips and tricks that might save you (and your controller) a headache. Here are some tips and tricks for Ghosts n' Goblins Resurrection.
Ghosts n' Goblins Resurrection tips and tricks: Keep moving to survive
Ghosts n' Goblins Resurrection's medieval setting and weaponry might make you think that this game should be played at a slower, more calculated pace — but it's actually the opposite. Enemies are a constant threat, especially on higher difficulties. Most times, clearing a screen of enemies will only lead to more enemies emerging. Play Ghosts n' Goblins Resurrection like any other shooter, which means keep running and keep shooting.
Ghosts n' Goblins Resurrection tips and tricks: Collect every Umbral Bee you see
Umbral Bees are mystical bees that can be exchanged for powerful magic, so make sure you collect them when you can. They vanish quickly, so try to grab them as soon as they appear. Don't worry about losing your Umbral Bees when you die either, the Umbral Bee will stay collected, even if you die immediately after grabbing it.
Once you've got enough bees, head to the Umbral Tree and exchange the bees for magic. The magic is no good against bosses (all except one spell, that is) but they usually offer powerful, screen-clearing magic that'll help you regain your composure when things start getting too hectic.
Ghosts n' Goblins Resurrection tips and tricks: Watch out when you restart
Ghosts n' Goblins Resurrection wants to make you suffer, and it'll do so during the game and even while navigating the menus. Checkpoints have mercifully been added to the game, allowing you to restart at the start of a new area, as well as at the Banner of Rebirth, a temporary checkpoint found throughout the area. Great, right? Well, here's how they get you. If you die and are raring to jump back into the game, don't mash any buttons. The game defaults to Retry Area, rather than Retry from Banner of Rebirth. This dirty trick will cause lots of accidental restarts and very intentional heartache.
I accidentally restarted my entire run through an area more times than I'm willing to admit, so impatient gamers will have to slow down unless they want to accidentally restart their progress. Anyone playing on Squire or Page difficulty don't have to worry about this sly trick, however.
Ghosts n' Goblins Resurrection tips and tricks: Always grab the knife
Throughout Ghosts n' Goblins Resurrection, you'll come across many different weapons, each with their own pros and cons. You can't hold more than one weapon, though, so picking up a new weapon will immediately discard your old one. While there are certain bosses that may benefit from using a certain weapon, I found that the dagger was always the best overall weapon. It's faster than the lance and has great range, and it doesn't require you to get too close, like the Hammer or Shield. It also doesn't have a peculiar arc like the Holy Water or the Crossbow. If you find a weapon you like, make sure you avoid any other weapon drops. Just because a weapon is there, does not mean you need to pick it up.
Ghosts n' Goblins Resurrection tips and tricks: How to get the true ending
Older players may already know this, but you can't actually get the real ending in Ghosts n' Goblins until you beat the game twice. Once through the normal set of areas, and again through the shadow levels. In Ghost n' Goblins Resurrection, you can only get the true ending by collecting all 17 Demon Orbs in the game. This means not only do you have to complete every level and defeat every boss, but you'll also need to complete every Hell Hole, the challenge rooms that appear in every level throughout the game.
In order to find the stage's Hell Hole, you have to find a Black Chest hidden in the level. Opening that chest will reveal an enemy inside. Kill the enemy and you'll hear a sound effect confirming that the Hell Hole is open. Now, you'll have to find the Hell Hole hidden in the area. It's also impossible to get this done on Page difficulty, so don't even think about cheesing your way to the true ending.
Like the Umbral Bees, your progress is saved after you complete a Hell Hole. So once you find it and complete it, you can immediately quit the stage. Completing a Hell Hole will give you a nice golden suit of armor though, which powers up your attacks and allows you to take an additional hit, useful for boss encounters.
Going through this ordeal also unlocks the Armory, which allows the player to select two different sets of armor, the Armory Armor and the Cast Armor. The Armor Armor is a fiery red and gives Arthur permanent access to the game's weapons, while the Cast Armor removes cooldown on all spells, as well as makes Arthur totally immune to damage.
Ghosts n' Goblins Resurrection tips and tricks: Not every spell is the same
Spending Umbral Bees on magic is a good way to get ahead in the game, but not all magic is the same. These abilities are definitely the most helpful, so make it your business to unlock these.
Kitted Out – The Kitted Out spell allows Arthur to carry more than one weapon. This is great when a particular weapon is better suited for handling a stage gimmick. Keep the Dagger on hand, and keep anything else as a secondary weapon.
Quick Cast – A passive spell that drastically reduces the charge time for spells. This makes the few useful active spells, well, actually useful.
Doppelganger – The Doppelganger spell creates another Arthur that will assist you in battle. This means you'll be able to double, or even triple your damage.
Armormend – This spell takes 30 Umbral Bees to unlock, but it's worth it. Basically, this spell repairs Arthur's armor. If he's naked, he'll earn a new suit of armor and if he's already armored, he'll get Golden Armor.
Resurrection – This spell gives you a random chance of not dying whenever you die. Cool, right? The only downside is that it's random, so it won't work every time.
Do you have what it takes?
These are some tips and tricks to make your journey through Ghosts n' Goblins Resurrection a little bit easier. The game is hard and there's no way around it, but these tips might help you last just a little longer on the battlefield. Ghosts n' Goblins Resurrection might not be perfect, but its crushing difficulty and charming, picturebook visuals should impress fans of the series, and it definitely one of the better 2D platformers available on the Switch , so long as you can stomach the difficulty.
Ghosts n' Goblins Resurrection will delight fans of the series, but everyone else should beware of the game's punishing difficulty.
Master your iPhone in minutes
iMore offers spot-on advice and guidance from our team of experts, with decades of Apple device experience to lean on. Learn more with iMore!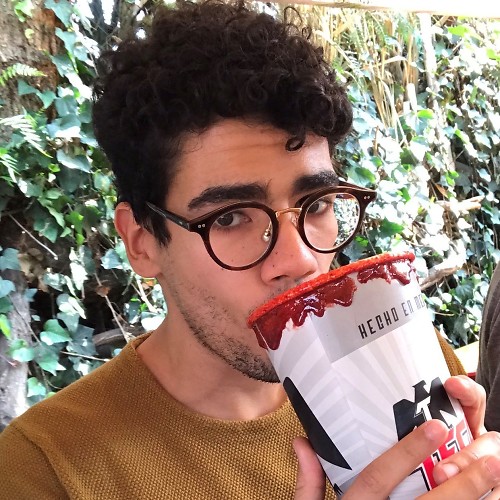 Zackery Cuevas is a writer for Windows Central, Android Central, and iMore. He likes playing video games, talking about video games, writing about video games, and most importantly, complaining about video games. If you're cool, you can follow me on Twitter @Zackzackzackery.
Nintendo recap: New GameCube controller for Switch promises never to drift, if you can manage to buy one
Nintendo recap: Next-gen console predicted for 2024 amid Zelda Switch OLED leaks
One month later, here's why I won't upgrade to Apple Watch Ultra 2
Most Popular
By Sarah Thwaites September 21, 2023
By John-Anthony Disotto September 18, 2023
By John-Anthony Disotto September 11, 2023
By John-Anthony Disotto September 08, 2023
By Ian Osborne September 08, 2023
By James Bentley September 07, 2023
By Andrew Williams September 05, 2023
By Andrew Williams September 04, 2023
By James Bentley August 30, 2023
By Alex Walker-Todd August 28, 2023
2 Marshall Monitor II review: Heavy Metal headphone heroes
3 Marshall Motif II Review: Rockin' AirPods Pro's rarefied reign
4 AnyMoji is a great example of using AI for a little light-hearted fun — here's why
5 How to fix a stuck iPhone lock button
Ghosts 'n Goblins Resurrection Review
Grave danger..
Like a zombie emerging from a graveyard, Capcom's classic Ghosts 'n Goblins series has come back to life and shuffled its way onto the Nintendo Switch in the form of Ghosts 'n Goblins Resurrection. But this storybook-styled semi-sequel is anything but braindead, reimagining and remixing the best elements of the '80s Ghosts 'n Goblins and Ghouls 'n Ghosts, and offering a raft of flexible difficulty options to make it far and away the most approachable entry in the action platformer series to date. Of course, that doesn't mean it isn't still as hard as coffin nails if you want it to be.
Ghosts 'n Goblins Resurrection has come a long way from the simple sprites of the early games – and from the slightly lumpy 3D look of Ultimate Ghosts 'n Goblins on the PSP, for that matter. Everything from the armour-clad Sir Arthur to series stalwarts like the pigmen and cyclops have been hand drawn and brought to life with the quirky movements of murderous shadow puppets, and staged inside fantastical reinterpretations of classic series levels like the Graveyard and the Crystal Forest (now the Crystalline City). As a result, Resurrection is the most visually striking and personality-packed Ghosts 'n Goblins game by quite some margin.
To be honest I still viewed the bulk of its beauty through a red mist because despite its fairy tale appearance, Ghosts 'n Goblins Resurrection is anything but child's play. Hordes of demonic enemies continuously respawn in each area to keep you perpetually under attack from all angles, which can be agonising to endure but exhilarating to overcome. It's also constantly messing with you: you can never be sure if the hidden treasure chest you discovered houses a power-boosting suit of gold plated armour or a magician waiting to transmogrify you into an aggravatingly defenseless frog.
Meanwhile, there's very little story to dig into during Arthur's quest to rescue his damsel in distress from a diabolical demon lord, which does seem like a missed opportunity to reboot the lore into something that matches the art style's charm. Instead, the only words uttered between 'Once upon a time' and 'Happily ever after' was the roughly five hour-long string of profanities supplied by me as I battled my way to Resurrection's climax.
Despite its fairy tale appearance, Ghosts 'n Goblins Resurrection is anything but child's play.Five hours isn't exactly an epic length, but each of Resurrection's seven levels introduces a series of unique gameplay twists that prevents the action from ever becoming stale and kept me from ever relaxing into a rhythm. In one stretch you might ride a series of stone dragons through the air while dodging giant electrified squids, which feels just as bracing and brutal as a rollercoaster ride through a hailstorm. In another, you must simultaneously stave off both hordes of zombies and an intensifying sense of claustrophobia as a gaping maw closes in from all four edges of the screen, threatening you with rows of spindly teeth should you misstime a jump by millimeters.
Its playtime is extended a fair bit by the fact that after you complete Resurrection the first time around you gain access to Shadow versions of each stage, which rearrange enemy types and placements and add environmental effects like fog to make platforming even more fraught with danger. I welcomed the challenge of playing through Resurrection a second time since it reframed each stage as an entirely new obstacle course, although I was slightly disappointed that the end-level boss fights in the regular stages and their corresponding Shadow forms remain the same.
Ghosts 'n Goblins: The Complete Playlist
Passing the Torch
There are eight different weapons for Arthur to get his hands on, the bulk of which have their own clear strengths and weaknesses – from the classic lance that can be lobbed long distances but only deals a medium amount of damage, to the hammer which delivers a more devastating shockwave but requires you to get uncomfortably close to enemies in order to be effective. Some weapons are also better suited to certain environments than others, such as the bladed discus that can be skimmed along undulating terrain towards their target, or the spiked ball that can be hurled like Donkey Kong's barrels down cascading platform sections in order to skittle enemies below.
Initially, you can only pick up one weapon at a time which means that yes, for significant stretches of Resurrection you'll likely find yourself saddled with that perennially useless bastard of a flaming torch. However, by collecting 'umbral bees' hidden in each stage you can upgrade Arthur with skills and magical abilities, and early on I made an umbral beeline for the Kitted Out enhancement that enabled me to carry two or even three weapons in its fully upgraded form. Carrying a small arsenal made me better equipped to counter the varying attack patterns of each boss fight, which made my eventual victories feel like they were earned through my strategic smarts rather than just blind luck.
Which dormant Capcom series should be resurrected next?
Arthur's loadout of magic powers can be configured in between levels, and I regularly relied on them to save my bacon by throwing up walls of fire to block swarms of darting death birds or briefly turning Arthur into a stone boulder to crunch through overwhelming zombie hordes. The use of these abilities is unlimited, but there is still plenty of risk involved in performing them since charging them up by holding the attack button leaves Arthur momentarily exposed. So their use needs to be timed smartly rather than merely relied upon as a last-second win button.
Yet given the option I'd probably trade almost all of these special attacks for the ability to double-jump or fire weapons on a diagonal axis, because even with these extra upgrades Arthur is still as stiff as rigor mortis as far as his fixed-arc jumping and four-way shooting is concerned (with the exception of the crossbow, which shoots two bolts diagonally but can't be fired in a straight line horizontally or vertically). I realise that Arthur's rigid move set is by design and true to the arcade originals, but there were times in the more pressurised later levels where I couldn't be completely sure if Resurrection's unwavering adherence to Arthur's long established limitations was scratching a nostalgic itch or gleefully picking at old wounds.
Giving Up the Ghost
Arthur's movements may be as stubborn as ever, but Resurrection's difficulty options are surprisingly flexible. I opted to play through on the second hardest setting, 'Knight', and although I didn't regret it it did make me sweat. Fortunately, while you can't permanently reduce the overall difficulty once your quest has begun, Resurrection still offers you a small amount of mercy if and when you need it: Die a few too many times within one checkpointed area, and you'll be asked if you want to drop the difficulty down for the remainder of that level, thinning the enemy herds and reducing the amount of damage required to take down the boss. If Ghosts 'n Goblins Resurrection can be considered as a form of side-scrolling sadomasochism, then these optional mid-level difficulty drops serve as its safe word. Your overall points bonus for completing the level are penalised, but it's a small price to pay to prevent your progression from stalling for too long, and I'm not too proud to admit that I gladly took these lifelines on a handful of the more desperate occasions over the course of my two playthroughs.
The two lower difficulty settings are even more accommodating. 'Squire' allows Arthur to withstand more hits before he collapses into a pile of bones, and even lets you slow enemy movements to half-speed if you're still struggling to avoid their attacks. Meanwhile 'Page' is effectively god mode, granting you the ability to respawn on the spot with unlimited lives rather than boot your armoured arse back to a checkpoint. I wouldn't say that this would be the ideal way that someone should experience Resurrection, since a Ghosts 'n Goblins game that's completely removed of friction is likely to have a running time as brief as Arthur's boxer shorts, but there's certainly no harm in Capcom including it for the younger set. And before you die hard fans protest, there's still the extremely punishing 'Legend' mode if you'd prefer to play Resurrection with your teeth gritted and the well-being of your controller under constant threat.
There's also the ability to play Resurrection in two-player co-op, which is a first for the series. However, since it's local multiplayer only I haven't been able to test it as part of this review process, as the only potential co-op partners I have available to me are my kids and they're far too young to be exposed to the full extent of their father's swear word vocabulary. Still, the inclusion of this feature, which allows a second player to act as a guardian angel by shielding the first from attacks or carrying them safely over more perilous stretches of terrain, is at the very least just another example of how inclusive to all players Resurrection aims to be.
Ghosts 'n Goblins Resurrection is an old-school action platformer that's not too cruel to compromise, allowing you to fine tune its challenge level relative to your individual skill and tolerance for pain. Its seven-level story mode may be slightly short, but it packs in plenty of variety and unique challenges to navigate, and bolsters its replay value with the addition of the alternate Shadow levels that unlock after your first playthrough. If Capcom had added further flexibility to Arthur's movement and attacks – and maybe had some fun with the story – this would have been a truly sensational second coming, but regardless Ghosts 'n Goblins Resurrection is still a supremely spirited comeback.
Ghosts 'n Goblins Resurrection Review
More Reviews by Tristan Ogilvie
Ign recommends.
PlayStation 3
PlayStation 4
PlayStation 5
Xbox Series
More Systems
Ghosts 'n Goblins – Guide and Walkthrough
Arcade games amiga android commodore 64 amstrad cpc game boy advance game boy color ios (iphone/ipad) mobile nes pc nec pc88 atari st sinclair zx81/spectrum.
Guide and Walkthrough (ARC) by ThisisD7
Version: 1.5 | Updated: 04/18/2006
View in: Text Mode
The A.V. Club
The Takeout
The Inventory
I Finally Beat Ghosts 'N Goblins Resurrection 's First Level, But The Victory Feels Hollow
I've done the unforgivable: I lowered the difficulty in Ghosts 'n Goblins Resurrection because I wasn't getting anywhere close to beating the first level. But now, after finally doing so, I have zero motivation to keep playing.
I was beyond excited to get my hands on Ghosts 'n Goblins Resurrection when it landed on Switch two weeks ago. I've always loved Capcom's classic platforming series, as much for its satisfying jump-and-shoot gameplay as the mind-numbing difficulty, and the new entry was super enticing personally for its divisive pop-up book aesthetics. That's not to say I had ever actually beaten a Ghosts 'n Goblins game, of course, but I started Resurrection fully committed to seeing the credits roll.
Ghosts 'n Goblins Resurrection offers up four difficulty levels. Legend is the closest to classic gameplay (two hits to die, few checkpoints) and thus the hardest, followed by Knight, Squire, and Page, which increasingly improve your defenses, decrease the amount of enemies, and add more checkpoints to the lengthy stages. Wanting an experience as close to the old games as possible, I selected Legend without a second thought.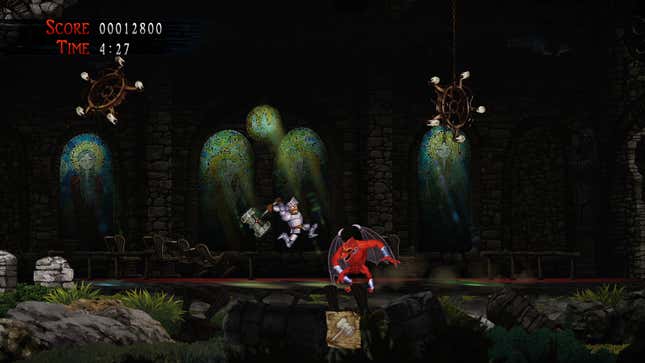 Big mistake. What followed was two weeks of unbearable torture. I spent several hours a day with Ghosts 'n Goblins Resurrection , learning the enemy patterns and item drops of the game's first level, but could never quite make it to the mid-stage checkpoint. My breaking point came in matching up against the Red Arremer, a nimble, flying enemy that's known for being the franchise's biggest jerk and even got its own series in 1990.
No matter how many times I made it to the demonic asshole I just couldn't seem to get past him. I knew how to find the best armor before the battle. I knew the monster's patterns. I knew when to dodge and when to attack. The only problem was that my body couldn't keep up with my mind. It was the first time in my life that my physical reflexes gave out on me in a video game (well, except for getting my butt handed to me in Street Fighter , of course), and it was devastating. I debated giving up on the game altogether until the solution hit me like a tumbling gravestone:
"Lower the difficulty, dummy!"
Of course! Why was I torturing myself with this hard-ass game when I could make it (and my life) easier and still enjoy the moment-to-moment gameplay? I immediately started a new save file, hovering over the Knight difficulty before eventually settling on Squire. Ghosts 'n Goblins Resurrection had forced me to be realistic with myself, and I knew I could probably use the extra health and checkpoints. Soon after, I was breezing through the first level, using the knowledge Legend had given me to defeat everything that stood in my way. And then, before I knew it, I was standing over the corpse of the graveyard boss.
Despite achieving something weeks in the making, I didn't celebrate. It didn't feel right . The victory, in my mind, was hollow. I hadn't allowed my frustration with the difficulty to keep me from playing Ghosts 'n Goblins Resurrection , but now, I was well and truly done. I haven't touched the game since. If I can't beat it at the level I want, my broken brain tells me there's no point in returning.
The discussion surrounding accessibility in gaming is a meaningful one, especially when it comes to challenge and difficulty. I don't begrudge anyone who needs to play hard games at a slower or easier pace for whatever reason, even if I personally love the feeling of accomplishment that comes with killing a particularly hard Dark Souls boss or solving a late-game puzzle in The Witness . We all get something different from video games, and it's important that developers do everything they can to provide options that increase the number of people who can play. But, as with most things in my life, I rarely afford myself the same compassion and understanding I extend to others.
I don't know what to make of my reaction to Ghosts 'n Goblins Resurrection . Maybe, sometime in the future, I'll get over whatever is making me feel less than and finally play more of the game. I think the worst part of my mental block is that it's a very good game that I would love to explore. I just don't need the added frustration in my life right now when everything else seems so bleak.

Ghosts 'n Goblins Resurrection has four difficulties and here are the differences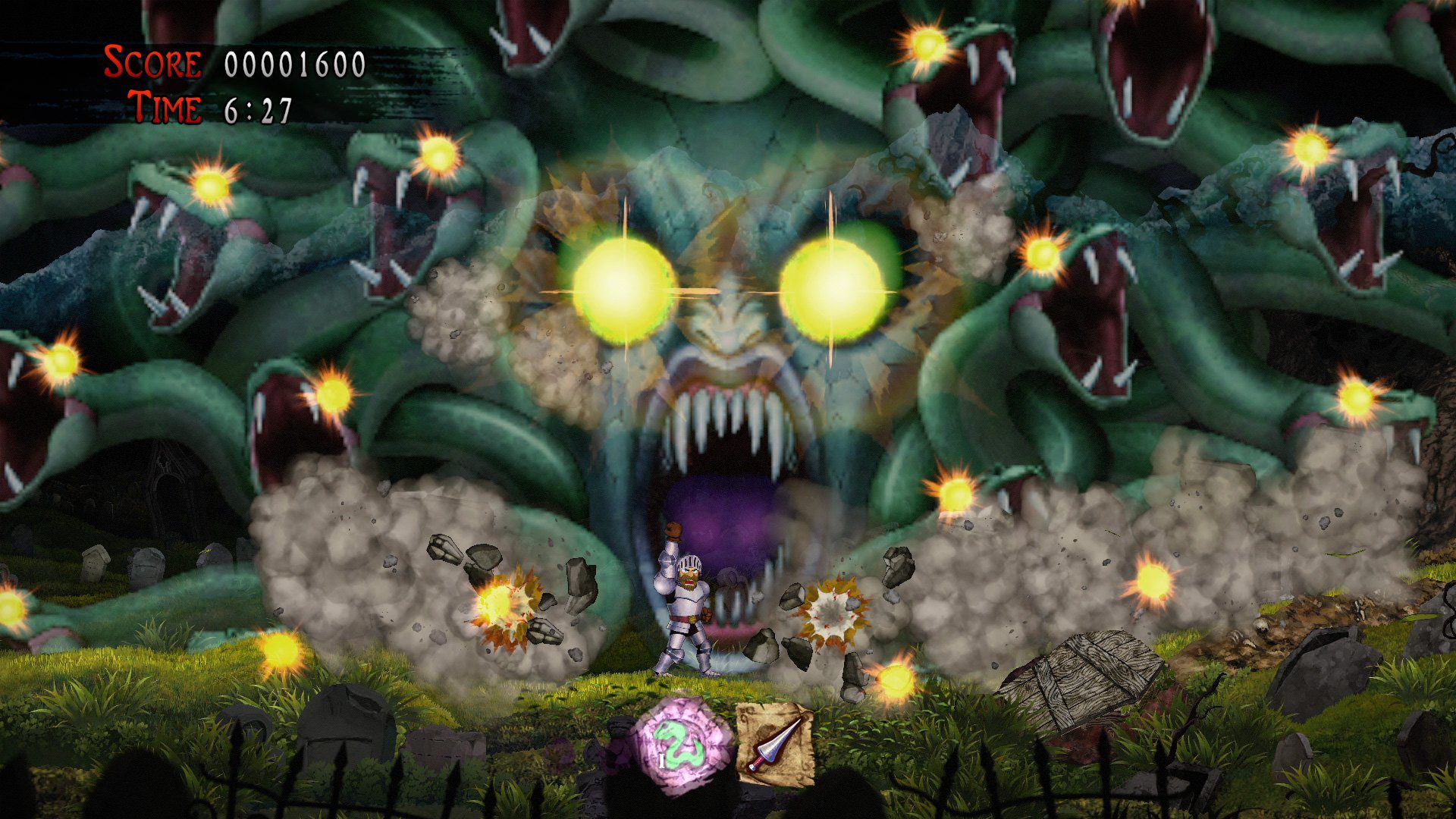 The easiest mode has on-the-spot revivals
Coinciding with a gameplay overview trailer for Ghosts 'n Goblins Resurrection , Capcom shared a quick breakdown of how the difficulty settings differ. Knowledge is power (but I'm still gonna die a ton). There are four choices – Legend, Knight, Squire, and Page – and none of them look particularly kind.
Here's what to expect, going from the highest difficulty to the most forgiving:
Legend mode : your armor can only take one hit and there are more on-screen enemies.
Knight mode : you can take an extra hit.
Squire mode : you can take an extra hit and there are fewer enemies.
Page mode : you can revive yourself "on the spot."
Capcom also confirmed that if you clear Ghosts 'n Goblins Resurrection on Legend, Knight, or Squire, you'll be able to run it back and face tougher Shadow versions of every stage – the classic "second loop." That seems like a fair trade-off for people who want to go all the way and feel sufficiently rewarded.
The very end of the trailer shows noticeably faster-paced footage of Arthur outmaneuvering a leaping boss. There are apparently "more surprises in store" for this game, and that clip is one of them.
I'm curious to see the How Long to Beat listing for Resurrection .

Filed under... #Action #Capcom #Ghosts 'n Goblins Resurrection #Ghosts n Goblins #Nintendo Switch #Platform games #Switch #Trailers
How Many Levels Are In Ghost And Goblins Resurrection?
Ghosts 'n Goblins Resurrection is a reboot of the old NES platformer Ghosts 'n Goblins , which was notorious for its challenging and, quite frankly, unforgiving gameplay. Since its original release, there have been many sequels and spin-offs of the series. 2021 marks the 35th anniversary of the series.
Do you have to beat ghosts and goblins twice?
All of those ' goblins game must be finished twice to get the real ending and sometimes real last boss . After the second time, the story is finished. The game will loop forever. Yes, but as has been established, the game will get harder as it loops for at least the next two playthroughs.
What happens when you beat ghost and goblins?
Ghost 'n Goblins is a platform arcade game by Capcom in 1985. … Only upon beating the game for the second time does the player get to see a (short) happy ending .
Did ghost and goblins resurrection sell well?
The series as a whole has sold over 4.2 million units and stands as the 13th best-selling Capcom game franchise. It has gained a reputation among players for its high level of difficulty. The most recent game in the series, Ghosts 'n Goblins Resurrection, was released on February 25, 2021.
How many ghosts and goblins games are there?
The first installment in the series is likely the most recognizable one, but unknown by many gamers, the Ghosts 'n Goblins series is made up of 12 games including multiple spin-offs and reimaginings. How come such a big franchise seemingly faded into obscurity?
How many zones are in ghosts and goblins?
Yes, this game is hard
On startup, players face choices as they traverse the game's five zones . In the first two zones, players get the choice of areas to explore.
Will Ghosts N Goblins resurrection come to PC?
Following its well-received Switch launch, Ghosts 'N Goblins Resurrection – Capcom's striking reboot of the classic 80s platform series – is coming to Xbox, PlayStation, and PC on 1st June .
How hard is Super Ghouls and ghosts?
Super Ghouls 'n Ghosts is a difficult game to review – in more ways than one. It's not the kind of game that can be fired off as an easy recommendation, unlike most of the games parked on the SNES Classic Edition. It's well-built; as I mentioned earlier, it's a hard game, but it's rarely unfair.
Is ghosts and goblins on steam?
Ghosts 'n Goblins Resurrection on Steam. CAPCOM Co., Ltd. CAPCOM Co., Ltd. Watch as this nostalgic yet completely reimagined storybook world unravels before your very eyes.
How do you beat the ghost in Goblin resurrection?
7 Tips For Beating Ghosts 'n Goblins Resurrection On Legend…
7 What Makes Legend Difficulty So Tough? …
6 Collect Every Umbral Bee Possible. …
5 Choose Your Abilities Carefully… …
4 … …
3 Go With The Knife Every Time. …
2 Get Dual-Equippable Weapons As Fast As Possible. …
1 Embrace Your Guaranteed Failures.
Is Maximo related to Arthur?
Maximo is different from Sir Arthur . Think of him as Sir Arthur as steroid-infused teenager, without the beard. He goes after his old backstabbing friend, Achilles who stole his wife & kingdom after killing him. … Now, this Demon Queen has one thing left on her list before moving onto world conquest: devouring Maximo!
What are some good ghost names?
Cute Ghost Names
Spirit, The Dribbling Boy.
Chupchip, The Chubby Child.
Jolly, The Chubby Boy.
Blinky, The Hungry Child.
Folo, The Hungry Girl.
Spirit, The Adorable Boy.
Luna, The Crying Baby.
Giggles, The Frightened Ghost.
Why is Ghouls and ghosts so hard?
It's also that exact moment that makes Super Ghouls 'n Ghosts the hardest game for the SNES. … It's different from other games, because it toys with the player on a personal, psychological level . And it hits hard.
How do you get the true ending of ghost and goblins?
In Ghost n' Goblins Resurrection, you can only get the true ending by collecting all 17 Demon Orbs in the game . This means not only do you have to complete every level and defeat every boss, but you'll also need to complete every Hell Hole, the challenge rooms that appear in every level throughout the game.
How do you get your armor back in ghosts and goblins?
Keys appear as soon as you defeat the stage boss . They fall from the sky and open the door to the next stage. If you are not wearing armor when you collect the key, your armor will automatically be restored.
Is Dark Souls or goblins harder than ghosts?
The Ghosts 'n Goblins series is often hailed as one of the most difficult games ever , with many comparing the original game to Dark Souls.
Related Q&A:
© 2022 - 2023 Times Mojo - All Rights Reserved Home | About | Contact | Copyright | Report Content | Privacy | Cookie Policy | Terms & Conditions | Sitemap
Trending topics

Ghosts 'n Goblins Resurrection
This item will be sent to your system automatically after purchase.
GHOSTS 'N GOBLINS IS BACK FROM THE GRAVE!
Watch as this nostalgic yet completely reimagined storybook world unravels before your very eyes. Taking cues from both Ghosts 'n Goblins and Ghouls 'n Ghosts and giving birth to something entirely new, Resurrection is a title worthy of its name. Don't be fooled—this picturesque storybook world, while gorgeous, is a love-letter to the original titles and maintains the same punishing gameplay that fans have come to expect. So go on and test your mettle, for the gauntlet has been thrown! Story A long time ago... In a far off land our tale begins, its beauty matched by none. The knight, Arthur, and the princess there, bathed in midday sun. ...but suddenly something's amiss, the town is up in flames, a cloud of darkness does emerge, the palace it does claim. The shadow then extends its reach, to the Umbral Tree divine. Its color fades, its vigor drained by powers most malign. And with this chaos wrought, the Demon Lord plays his vile hand. While Arthur's back is turned, the princess he kidnaps as planned. In haste does Arthur don his armor, to save his maiden fair. To the Demon Realm he does depart, so demons best beware. Gameplay Just like its predecessors, Ghosts 'n Goblins Resurrection makes use of simple controls that anyone can enjoy. Use them to your advantage as you fight your way through weird and spooky stages filled with unique enemies in this enchanting world brought to life with modern technology and game design philosophy! Ghosts 'n Goblins is, well, hard. Its unyielding difficulty has been a defining characteristic of the series, and Resurrection pays respect to that legacy. You'll die, and you'll die again, but you'll dust yourself off and get better with every attempt as you learn more about your foes and further craft your strategy. You'll struggle, but you'll also bask in glory once you do eventually emerge victorious. That is Ghosts 'n Goblins. In Resurrection, Arthur can obtain 8 types of weapons, each with its own unique characteristics. Fell your foes with old favorites such as the Lance and the Dagger, shoot shockwaves with the Hammer to launch enemies, or send a Spiked Ball crashing along the ground to bowl them over instead! Use these—and more—to your advantage as you form your plan to progress through the Demon Realm! In addition to his large arsenal of weapons, Arthur can also learn a magnitude of magic and skills. Use Thunderstorm to unleash a hailstorm of bolts in four directions, or learn Kitted Out to increase Arthur's inventory space and carry more weapons. With tons more available, be sure to make room for magic and skills in your strategy! Make full use of Arthur's weapons, magic, and skills as you brave the ordeals of the Demon Realm to bring the princess home safely. Muster every ounce of grit you possess; you're going to need it! On top of single player mode, which focuses on the fun of hunkering down and overcoming challenges alone, Arthur can be aided in his quest by support characters, the Three Wise Guys. This gameplay style makes for an intense two player co-op experience—a first for the series. Ghosts 'n Goblins Resurrection can also be played with a single Joy-Con™ held horizontally, so fun couch co-op play is as easy as passing your other Joy-Con™ to a friend! Note: Local co-op only. Online play is not supported. Experience the sweaty palms and white-knuckles that come with single player mode, or share the fun with your friends in a party game-like co-op experience!
Software description provided by the publisher.
ESRB rating
Supported play modes, product information, release date, no. of players, game file size, supported languages.
Play online, access classic NES™ and Super NES™ games, and more with a Nintendo Switch Online membership.
This game supports: Save Data Cloud
More like this
R-type dimensions ex, blaster master zero 2, house flipper, cyber shadow, actraiser renaissance, pac-man museum+, arcade archives sunsetriders, namco museum® archives vol 1, johnny turbo's arcade joe and mac caveman ninja, solitaire deluxe bundle - 3 in 1, double dragon & kunio-kun: retro brawler bundle, realmyst: masterpiece edition, shovel knight dig.
WARNING: If you have epilepsy or have had seizures or other unusual reactions to flashing lights or patterns, consult a doctor before playing video games. All users should read the Health and Safety Information available in the system settings before using this software.
A Nintendo Switch Online membership (sold separately) is required for Save Data Cloud backup.
©CAPCOM CO., LTD. 2021 ALL RIGHTS RESERVED. Ghosts 'n Goblins Resurrection is a trademark and/or registered trademark of CAPCOM CO., LTD. in the U.S. and/or other countries.
Ghosts 'n Goblins
Ghosts 'n Goblins , known as Makaimura (魔界村, lit. "Demon World Village") in Japan, is the first game in the Ghosts 'n Goblins series developed by Capcom. The game was originally released in 1985 for arcades and has since been ported to numerous home platforms. Its direct sequel is Ghouls 'n Ghosts .
1.1 Ad flyer
2.1 Commodore 64
2.2 Commodore Amiga
2.3 Other platforms
3 Main Characters
10 External links
In Ghosts 'n Goblins , the player assumes the role of Arthur , a knight who must venture into the Demon Realm village in order to rescue his princess sweetheart. Arthur uses a variety of projectile weapons such as lances , axes , and daggers to eliminate anything that stands in his way.
Ad flyer [ ]
The story as seen in the Ghosts 'n Goblins ad flyer:
Home Versions [ ]
Many conversions to home computers were produced by Elite Systems.
Commodore 64 [ ]
The Commodore 64 version, released in 1987, featured gameplay. Programmed by Chris Butler, it is also known for its music by Mark Cooksey. Due to the limited resources on the Commodore 64, it was somewhat different than the arcade version. It only featured the Graveyard and Forest, The Ice Palace, The Floating Platforms and Fire bridge and The Caves in that order. The player also started the game with five lives. The demon that kidnapped the princess replaces Astaroth in the title screen. Additionally, the Unicorn is the boss of levels one to three, and the Dragon is the final boss.
Commodore Amiga [ ]
A version for the Commodore Amiga was released in 1990. While the advanced hardware (for the time) of the Amiga allowed an almost arcade-perfect conversion, it failed to emulate the success of the Commodore 64 version. The player started the game with six lives and no music was present unless the Amiga was equipped with at least 1 Megabyte of RAM. The standard configuration of an Amiga 500 was 512 Kilobytes.
Other platforms [ ]
Ghosts 'n Goblins was also ported to the Sinclair ZX Spectrum, Amstrad CPC 464/6128, Atari ST, IBM PC, Commodore 16, Sharp X68000, Nintendo Game Boy Color, Game Boy Advance and the NES.
The NES version was developed by Micronics. This version also serves as the basis for the Game Boy Color version, which features passwords. Both the NES and the arcade versions were re-released for download for Wii's Virtual Console service. The NES version was re-released on December 10, 2007.
The original arcade version of the game was also included in the compilation Capcom Generations Vol. 2: Chronicles of Arthur for the PlayStation (in Japan and Europe) and Sega Saturn (in Japan only), which also contained Ghouls 'n Ghosts and Super Ghouls 'n Ghosts . The three games (based on their Capcom Generation versions) were later collected as part of Capcom Classics Collection .
This game, along with its sequel, Ghouls 'n Ghosts , is available for play on GameTap.
There is a short Ghosts 'n Goblins mini-game named Ghost Trick included in SNK vs. Capcom: Match of the Millennium|SNK vs. Capcom: The Match of the Millennium for the Neo Geo Pocket Color, where Arthur collects treasure while avoiding Red Arremer.
Main Characters [ ]
Arthur , the player's character.
Princess Prin Prin , the kidnapped princess.
Enemies [ ]
Zombie , a reanimated corpse that feeds on the living.
Green Monster , a deadly plant.
Flying Knight , an empty suit of armor possessed by an evil spirit.
Woody Pig (Forest Ghost)
Blue Killer (Blue Demon)
Petite Devil
Big Man , a giant/ogre-like creature.
Tower Monster
Red Arremer , gargoyle-like red demons.
Unicorn , a big grey cyclops.
Satan , a demon who kidnapped the princess.
Astaroth , aka the Devil or Great Satan, the final boss.
Ghosts 'n Goblins map
Stage 1 - "From the Graveyard to the Forest"
Stage 2 - "Ghost Town"
Stage 3 - "Underground Passage to the Demon Realm Castle"
Stage 4 - "The Entrance of the Demon Realm Castle"
Level 5 - "Charge to the Demon Realm Castle"
Level 6 - "To the Demon Realm Castle Top"
Final Stage - " Demon Lord Astaroth's Room"
Weapons [ ]
Gallery [ ]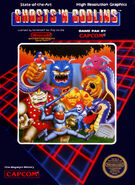 External links [ ]
Makaimura Famicom Mini page
Makaimura (Famicom version) Wii Virtual Console page
Makaimura (Famicom version) 3DS Virtual Console page
Makaimura (Famicom version) Wii U Virtual Console page
Ghosts 'n Goblins (NES version) in Video Game Den
1 Demon's Crest
2 Super Ghouls 'n Ghosts
3 Firebrand
Ghosts 'n Goblins/Stage 2
Table of Contents
Secrets and codes
Stage 4 (Commodore 64)

Walkthrough [ edit ]
Part 1 [ edit ].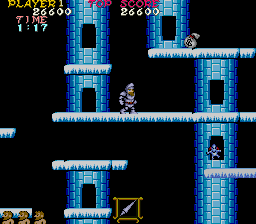 You begin the second stage in what is commonly referred to as the Ice Palace, due to it's ice blue columns and floors. A lake lines the bottom of this part of the stage, so it is important to know where you will be landing whenever jumping off one of the ledges. If you don't line your jumps up just right, you could be going for a swim. You must make your way to the right by any means. You may opt to climb high and take a long leap off the highest ledge, or you can take the lower route, where you will have to deal with a rising and falling platform to get across.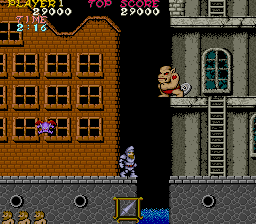 No matter which way you go, be very mindful of the position of the Blue Imps. They hover around, and will occasionally fly right into you. Be sure to remove any of them that might threaten you before advancing to another platform. You must also watch out for the eyeball spitting Green Monsters that populate some of the platforms.
The very last platform that leads to the pavement beyond the palace will fall the moment you set foot on it. Make sure that you land as far to the right as you can when jumping to it, and do not hesitate once you land on it. Continue to run right, and jump as soon as you are close enough to the pavement to reach it.
As you begin the second part, you will run in front of a house where Little Devils pour out of the windows in an attempt to ambush you. Approach the leap over the water filled gap carefully, and take out the devils if they pose a threat to your advancement. Ironically, you are typically safe directly underneath the windows that they appear from, since they like to swoop down at an angle.
Part 2 [ edit ]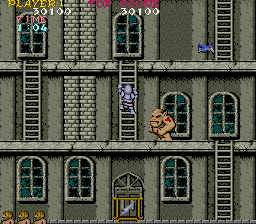 Before you jump across the water, be sure that an Ogre isn't waiting too close to the left. Fire at him and destroy him before you advance (but watch out for more Little Devils). When you are prepared, jump over the water and into the mansion. You will have to navigate the maze like hallways and ladders in order to reach the exit on the other side. Ogres occupy nearly every portion of the mansion, while crows freely fly through the windows at whatever level you are on.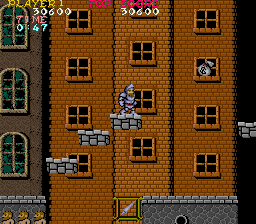 Dealing with the Ogres carefully is of utmost importance to your survival. While you must be mindful of how many seconds are left on your clock, you do not want to rush too quickly up or down any ladder if an Ogre is nearby. You can attempt to lure them away by attracting their attention from another level and pulling them in a particular direction, but it doesn't always work. You must also watch out for Ogres who are directly above you, as they like to throw flails at you from above.
Take care to remove as many Ogres as you need to and no more. If you can reach them, try to shoot the right most Ogres from the other side of the wall so that you will have an easier time escaping the mansion. When you leave, you will walk across the pavement until you reach a series of levitating platforms that will carry you over the water-lined gaps in the street.
While riding the platform, Crows and Little Devils (NES version only) are the most prevalent threat. Make sure that the area ahead is clean before jumping off one platform and on to another. Money bags merely serve as distractions for greedy players and are best left alone unless points are important to you. You can typically safely fall from one platform to the next if they line up right next to one another. You can also take giant leaps to reach the pavement below.
Boss [ edit ]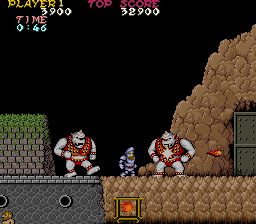 If you thought the lone Unicorn that guarded the first fortress door was tough, wait until you have to deal with two of them. The trick here is to engage only one at a time for as long as possible. Sometimes you will have no choice and be forced to run to the right where you will engage the second Unicorn, but if you can help it, remain to the left and fight the first Unicorn until it is defeated. Then you can continue to the right and face the second Unicorn. Aside from the fact that there are two of them, they don't behave any differently than before. The first Unicorn has a penchant for jumping over your head and landing to your left, in an effort to squeeze you in between the two Unicorns. Even if he does this, move right only as much as you need to in order to remain safe. Once both Unicorns are active (as can be seen in the picture to the right), it becomes far more difficult to deal with them effectively, and nearly impossible to dodge their attacks.
Secrets [ edit ]
Arcade [ edit ].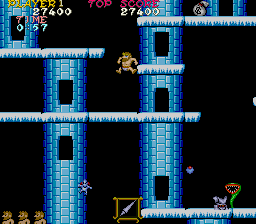 The lone secret of the second stage is a hidden set of Armor, very early one where it is least likely to help you. Nevertheless, if you find yourself without armor this early in the stage, you will no doubt want to pick it up. To receive it, simply climb up to the highest ledge which is just to the right of a Green Monster. Then simply fall off the ledge to the left and land in front of the Green Monster. The armor will appear and land in front of the Green Monster which resides on the platform below.
NES [ edit ]
Navigation menu.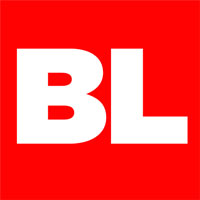 The 10 Hardest Video Games of All Time
Posted: October 23, 2023 | Last updated: October 23, 2023
These days, video games are a multi-billion dollar business, but there was a time when many people thought of them as mere kids' stuff. But that categorization belies the fact that becoming masterful at video games requires real skill—not unlike, say, playing a musical instrument (arguably more, since every game has different mechanics). And this is doubly true for games that are really, really difficult—like any of the following 10 games, which stand among the most challenging ever made. Read on to see which ones—if any—you've conquered.
REALATED:  The 20 Best Games to Play With Your Most Competitive Friends .
1 Ghosts 'n Goblins (1985)
Released in arcades in 1985 and ported to the Nintendo Entertainment System (NES) a year later, this action-adventure game casts you as a heroic knight battling the titular monsters on your quest to rescue a princess… which will probably be quite short, as you apparently decided to head out in your underwear (though you can collect armor, it doesn't help much). What's worse, to truly beat the game you have to play levels a second time—on an even higher difficulty level—and there are no saves or continues.
2 Teenage Mutant Ninja Turtles (1989)
I was one of millions of reptile-obsessed '80s kids who ran out to buy the first Nintendo game starring the heroes on a half shell. I was also one of millions who never got past level 2, in which you have to navigate the turtles through booby-trapped NYC sewers to defuse mines before they can destroy the Hudson River dam. That level alone has earned it a place of dishonor on lists of games no one has ever beaten . Are the subsequent levels even more difficult? I wouldn't know.
3 Battletoads (1991)
RELATED:  6 Classic Saturday Morning Cartoons You Can't Watch Anywhere Now .
4 Super Mario Bros.: The Lost Levels (1993)
This game was released in Japan as Super Mario Bros. 2 , shortly after the original. Nintendo declined to quickly export it to America, reskinning a completely different game to create a Mario sequel for the U.S. market instead, because the company feared the game was too hard and would alienate western gamers. When it was finally released in North America as part of Super Mario All-Stars on the Super Nintendo in 1993, we all found out the company was right.
5 Ikaruga (2003)
Ikaruga is from a subgenre of gaming known as " bullet hell ," and it's an apt descriptor. In this game, you control a small ship across an endless scrolling screen teeming with enemies (and enemy projectiles). Progression in any bullet hell game comes down to repetition and hair trigger reflexes, Ikaruga ups the ante by also requires you to flip the "polarity" of your ship depending on what kind of enemy you're facing at that particular second. It's the video game equivalent of rubbing your head, patting your belly, and playing Bach on a piano, all at once.
6 Hollow Knight (2017)
RELATED:  7 Classic Cartoons That Are Offensive by Today's Standards .
Celeste (2018)
Indie game sensation Celeste is a moving story of self-acceptance in which you control an anxious young woman as she sets off on a solo climb up a treacherous mountain, battling more powerful self-doubts and inner demons (sometimes literally manifested) with each ever-more-perilous meter. It's a spare but deeply emotionally affecting journey—and also hard as hell. Levels are broken down into single screens, and you might die dozens of times before clearing each one. Helpfully, the game keeps a running death tally for you (I was never able to finish it, but I got close… by which point I had already failed more than 1,500 times.)
8 Cuphead (2017)
Cuphead 's adorable style—heavily inspired by cartoons of the 1930s and '40s and with an endearing sense of dark whimsy—provides an alluring cover for one of the most fiendishly difficult games ever made. You take on the role of Cuphead (who does indeed have a cup for a head) or his brother Mugman, attempting to get the Devil to relinquish his claim on your soul by reaping the souls of others in turn—which translates into an entire game made up of nigh-impossible boss fights with zany characters, each of which requires expert timing and quick reflexes to best. And if you want to actually complete the game, you aren't allowed to play on easy mode.
9 Hades (2020)
Hades is a game built around failure. The plot follows the son of Hades (yeah, that Hades) as he attempts to escape the underworld and kill his father, and there is simply no way to get through it without dying. A lot. Yes, you'll get a little stronger and progress a little farther with each of your dozens (hundreds?) of cycles through the game. But then comes the real kicker: Even once you manage to off your dad, the cycle begins again, and to progress father, you actually have to handicap yourself to make the game harder. (They should have called it Sisyphus .)
10 Elden Ring (2022)
For more game recommendations sent right to your inbox,  sign up for our daily newsletter .
Read the original article on  Best Life .
More for You
New rules mean required withdrawals from retirement accounts have become even more complex
Russian fighter jets intercept US bombers
Russian parliament's upper house rescinds ratification of global nuclear test ban
'Leaning tower' in Italy closed off amid subsidence fears
We Tried the Most Popular Beer Brands and Here's What We Thought
Jim Jordan didn't flunk bar exam; Hakeem Jeffries was not Rhodes scholar | Fact check
Why you should move your savings to a 5-year CD today
Ukraine's Territorials Need Tanks. They're Getting Them ... From Russia.
Rare Storm to Drop 10 Times Yearly Rain Overnight
Harvard takes another blow over Israel as ex-Maryland governor withdraws from a pair of fellowships citing 'dangerous antisemitism'
Can You Eat Potatoes with Sprouts?
A Jan. 6 conviction was upheld on appeal. Why this particular ruling could affect Trump's case.
New report unmasks true costs of electric vehicle mandates: 'Remain more expensive'
Crimean bridge will be finally destroyed: Ukrainian Navy clarified
COVID Map Shows States Where COVID Deaths Are Rising
Here's Why Some B-52s Have White Wing Tips
Herman by Jim Unger
Israel Demands UN Chief Resign as Tensions Flare Over Mideast
Near-extinct keystone animal spotted for first time in almost a century: 'It was basically a lightning strike'
Retirement Taxes: These 6 Sources of Retirement Income Are Not Taxable
Basketball Events ›
Wisconsin ›
2023 Haunted Hoops 3v3 ›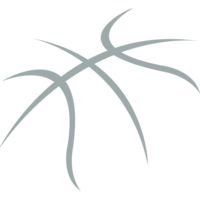 2023 Haunted Hoops 3v3 Teams
The following teams are officially participating in the 2023 Haunted Hoops 3v3. Please note some teams may not be present yet. Click on the team to view more details.
Click on the team's name, and follow the instructions under Notifications to receive notifications.
3rd Grade Boys
3rd/4th grade girls, 4th grade boys, 5th grade boys, 5th/6th grade girls, 6th grade boys, 7th grade boys, 7th grade girls, 8th grade boys, 8th/9th girls, high school boys.
All event related questions should be directed to Tyler Selk at [email protected] .