How You Ride
Our favorites, explore & learn.
Mountain Bikes
Explore Winter Wonderlands
E-Bike Style
E-bike accessories, best sellers.
Electric Bikes
Gift-Givers' Tips for E-Bikes
Browse By Height
Elf-Sized Rides They'll Love
Bike Accessory Types
Helmet size, accessories.
Trimming Bikes with Cheer
Grey Ghost Krate 20in
Iconic Vintage Replica
Blast off with a classic Schwinn Krate, featuring the iconic Sting-Ray style frame and springer fork. It's the classic icon of childhood fun.
Style for Miles
Vintage details include high-rise ape handlebars, banana seat, and sissy bar for that unmistakable 1970's Krate look that never goes out of style.
Easy to Ride
Single speed drivetrain is simple for young riders to use. Rear coaster brake, also called a pedal brake, provides intuitive stopping power.
Authentic Details
16" front wheel. 20" rear wheel features real Sting-Ray Slick tire. Lightweight aluminum rims. Fenders look great and help protect you from splashes.
Product Details
Steel, 13", rigid, kids
Schwinn, steel, springer
Single wall, aluminum
20in. Rear 16in. Front
Steel and resin platform w/ reflector
Quill, aluminum
Steel, threaded
Schwinn, steel base, full floating bucket
Height 43.23 in, Length 55.02 in, 38.76 lbs
Ride Safely, and in Style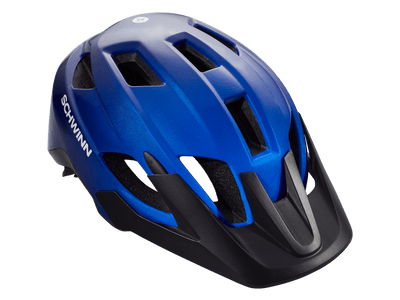 Visit our retail partners online or in-store.

Be ready to ride in just a few easy steps.

Get all your questions answered in one place.

We love to help! Send us your questions.
Keep up with promotions, new releases, and all things Schwinn!

Bike Accessories
Help Center
Order Support
Schwinn Exercise Bikes
Safety Notices
Bike Knowledge
Owners Manuals
Assembly Guides
International Distributors
Ambassadors
Compass Blog
From the makers of:
This website uses cookies for analytics, personalization and advertising. Please review our cookie policy to learn more or change your cookie settings. By continuing to browse, you agree to our use of cookies.
Product Currently Not Available
If you would like to know when this item is available, please input your email address in the field below.
Please provide a valid email address.
We'll let you know when this bike is back in stock.
Andy Caro's 1971 Schwinn Grey Ghost
1971 Schwinn Grey Ghost
So when Schwinn named this bike the "Grey Ghost" do you think they knew what they were doing?  Do you think they knew that years later people would claim to have seen one (but hadn't)?  Do you think Schwinn knew that people would scream in horror when they found out that their parents had given their beloved Grey Ghost to the Salvation Army?  Did they know how frightening the prices would become for these old collectible bikes?  I think it's likely.
From 1968 to 1973 Schwinn took their style cues from Detroit (well, they actually did that for decades).  At the time, GM was selling "Muscle Cars" to adults, so Schwinn made Sting Ray "Muscle Bikes" for kids.  With the Krate series, Schwinn went a step further with the "Muscle Bike" idea and went from stock to modified.  What is the next step after racing a stock muscle car?  Why, racing a dragster, of course.  The Krate series is a bunch of dragster-inspired bikes.
5 speed "Stik Shift"
Small front wheel with a drum brake
The crankset looks like a mag wheel
The Grey Ghost joined the Pea Picker, the Apple Krate, the Lemon Peeler, the Orange Krate  and the Cotton Picker.  While the white Cotton Picker is fairly rare (it was offered for just two model years), the Ghost was part of the Schwinn Krate series for just one year, 1971.
Polished and sparkly
So shiny it's scary
Spring-loaded comfort
This particular bike belongs to our friend Andy Caro.
From the looks of it, this was a project that took some time.  Andy put in a lot of hours getting his Ghost back together, and he has done a great job.  Andy, just like Schwinn, emulated the choices a bunch of car guys would have made while fixing his bike up.  In every aspect, this restoration was done just a bit better than the original.  The paint is richer, the chrome is thicker, and the parts are tuned with even greater precision.  The bike is waxed, polished and it sparkles even brighter than new.
Auctions Ending Soon
Holy Grail: 1971 Schwinn Sting-Ray "Grey Ghost"
Our faithful readers and fans know that we usually stick to motorized classics and antiques, however we saw this and just HAD to tell you about it! It's up for sale right now here on eBay in Benton, Arkansas, so let's check it out!
We should start with a very brief bit of history: According to Wikipedia: The "dandy horse", also called Draisienne or Laufmaschine, was the first human means of transport to use only two wheels in tandem and was invented by the German  Baron   Karl von Drais . It is regarded as the modern bicycle's forerunner; Drais introduced it to the public in Mannheim in summer 1817 and in Paris in 1818″
The story of how the Schwinn Sting-Ray came to be is much more interesting, and isn't nearly as complicated – it's not like anybody had to really do a lot of engineering or road-testing for a bicycle . In fact, the man who came up with the idea for them in the early 1960s, Albert Fritz, was a manager in Schwinn's R&D department, having started there as a welder when he came home from WWII. He put two and two together when he learned that kids, particularly those in California, were home-modifying their existing traditional bicycles by removing extra bits and adding chopper-motorcycle parts like handlebars and long seats. Real motorcycles were very cool at the time, since muscle cars were still in their early stages, and young people who wanted those kinds of things did the best they could to have a kid-version of those grown-up toys. Fritz was an intelligent man, but it didn't take a rocket scientist to figure out that Schwinn could do well selling people exactly that which they were busting their humps to create from scratch. Schwinn executives weren't sure, but they took Fritz's word for it, and ended up selling four times more Sting-Rays the first year of production (1963) than their best-selling traditional models – and they had to stop early because their tire supplier couldn't keep up with demand. Schwinn made multiple versions of the Sting-Ray from 1963 to 1981, totaling many, many thousands, and their competitors made many, many more. Some say that the Sting-Ray helped pave the way for BMX bikes, but that's a whole other story.
So, for this particular piece, let's look: The seller tells us: " All original no touchups. Has peppering on it on the Chrome in some places and the handlebars are the worst ." We can see that it is far from pristine, with worn paint and dry-rotted original rubber, but it looks complete. It even has the "Stik Shift" and white-lettered rear tire!
I'll admit that I don't' know my head from my tail when it comes to old two-wheelers, however I had a similar bike at one time, and I totally dig nostalgia pieces like this. At the time I'm writing this, the bid is up to $1,700 with a few more days to go. What do you think it'll go for? Do you have a memory of one of these that you'd like to share? Let me know in the comments!
Great find, Russell. If this doesn't bring a smile to every baby boomer, well, I don't know how to finish that. These bikes, and the many derivatives defined our childhood. We got hurt on these, but was all in good fun. The Schwinn Sting Ray was the Honda 750 of bicycles. It was so unlike anything we had ridden. Soon, everybody was taking their sisters 20 incher, and making a Sting Ray out of it. "Wheelie Kings" became the new fad. Most were the one speed type, but I read, in 1967, they came out with the 3 speed shift. Some of the names were, Orange Krate, Lemon Peeler, Apple Krate, Pea Picker, and this Grey Ghost, all painted neat colors to match the names. But they weren't cheap. I read in 1968, a then new 5 speed Krate bike cost $86.95 or almost $600 bucks today, so it was out of reach for many, getting a .50 cent weekly allowance. We still had plenty of fun with our one speed home mades. Fun time to be a kid.
I was so jealous of my twin cousins' Orange Krate and Lemon Peeler!
Yes, this was the preferred ride of the rich kids in the next neighborhood over. I had a purple Pep Boys bike that was kind of a wimpy clone of the Sting Ray, but probably was, like, $39.95. My dad blew up the front tire filling it at the gas station on its first day. So many adventures on that bike!
Just like me, I had a dark purple Spyder bike from Sears , that bike and I went everywhere !
I wanted one but my parents wouldn't let me cause they already bought me a 24 inch 10 speed so I adapted it with a banana seat and ape hanger handle bars. Didn't look quite as cool without the stick shift, springer front forks and the tiny front wheel but it did go faster.
I have one that I will sell for less if interested plz call or text 502-500-0230 I can send pictures
I begged and borrowed and traded for my pea picker.. which about 8 years ago sold during my divorce ..!!
I had a blue Ramshorn, 5 speed as I recall. I think it had a slick on it? That thing would really wheelie! And Howard is right, at least for me, I did get hurt. Great times, as long as you were home when the street lights came on.
Not to nit, but the Ramshorn had a skinny rear tire.
About 6 weeks before Christmas, 1970. While Mom and Dad were grocery shopping, 10 yr old me scampered down to Rockbrook Schwinn to ogle the latest offerings. And there they were…Cherry Picker. Orange Crate. Apple Picker. Cotton Picker. And last but not least, a Gray Ghost! My knees went weak; I wanted `em all! It was almost too much excitement for this lad! Anyhoo, my eyes rested on the Cotton Picker–all white. Drug Dad down to the store window before we went home to show him what I found. Thought all my begging was for naught, but there it was by the tree on Christmas morning! My first 5-speed! I was the "King" of Davenport street and the envy of all my friends for what seemed like forever. One of those memories guys, I can recall like it was this morning. Especially the memory of my Dad, who I miss every day. Thanks for making my wish come true, Dad!
Good story Will, my buddy collects these and has a Cotton Picker. Now a socially unacceptable name BTW. When these came out I never had one, couldn't afford it. When the Schwinn Varsity came out I bought one of those instead. I think of my Dad every day, funny as we grow older we think of all the stuff we never said to them when they were here. Now we wish we did. A serious life lesson.
I wanted one but my parents wouldn't let me cause they already bought me a Schwinn Varsity 24 inch 10 speed so I adapted it with a banana seat and ape hanger handle bars. Didn't look quite as cool without the stick shift, springer front forks and the tiny front wheel but it did go faster.
Aww, it's the stories I like. Don't put away the hanky just yet. About 20 years ago, my late sister and my brother-in-law, used to buy storage locker stuff that the people abandoned. On one purchase, they got a "Schwinn Sting Ray" bike. I was curious, but busy trucking then and didn't get to see what it was. My sister got sick and passed away, and my brother in law sold everything and moved on, I never did find out what happened to it.
I had an new Orange Krate as a kid. I'll never forget that Christmas, and I remember delivering newspapers on it. Huge canvas bag on the handlebars and the little front wheel made for interesting handling characteristics. My friend set his on fire for a "smoke show". Thought I was King of the Road on that bike. Baseball cards in the spokes. I remember seeing a Super Bird while riding it and thought WTF?…that bike likely set me on my career path. Friends got into touring on 10 speeds so had to move on but never lost the bug. I have an original paint Orange Krate today and a Ghost with a rear disc brake. Pretty rare I think. I enjoy looking at them. Some people don't get it but I think my grand kids will…one day…
Rockbrook Schwinn in Omaha?
THERE IS ABSOLUTELY NO SUCH THING AS A CHERRY PICKER KRATE BIKE. THE RED KRATES WERE NAMED APPLE KRATES. AND THE GRAY GHOST KRATE DID NOT DEBUT UNTIL 1971. It appears that your memory is a bit fizzy.
Kid down the street ("Robert") had a gas powered Model T as a little kid, and one of these sharp looking bikes later. My parents bought me a clunky 26″ Sears tank type bike for Christmas the same year. Robert stopped short in front of me and I fell and broke my left arm. I was a deprived child.
Always wanted an Apple Crate.
I couldn't afford the Orange Krate that I really wanted, but I did get a brand new metallic green Sting Ray with the 2-speed rear axle (I called it a Powerglide). I could wheelie it from my parents' house all the way to school, which was 6 blocks away and included a few hills and corners!
Had a 2 speed also but my pride and joy was my Schwinn Pea Picker. Yes it was green and I loved it. I was the envy of my neighborhood
I asked Santa for one of these when I was 7 in 1968…
I'M STILL WAITING, FAT BOY !!
Maybe this year…?😀👍
Well…you could go and buy a Fat Boy.
I modified an AMF Roadmaster 20 inch bike with the tank horn and "luggage tail". Hi rise bars, banana seat, the whole deal. I rode everywhere, dreaming of the day I could buy a motorcycle.
I was 28 when I finally began riding. One summer evening I parked where I used to watch the sunset when I was a kid. A cop stopped to ask me what I was doing, and after explaining, he smiled and wished me a good evening.
You either have the gene or you don't. Neither of my sons do, but every time I saddle up I'm 14 again.
If I sat on that Schwinn I'd probably break it. But they were the stuff of holiday and birthday dreams for my generation.
In September of 1970 my aunt bought me my only brand new bicycle. It was from Sears and was a stingray with the high sizzy bar and a steering wheel. It was called "The Wheel" Every kid in my small town were envious, and some of them went out to wrecking yards and got old steering wheels and put on their bikes. Does anybody remember them? Mine was metal flake blue.
Clay, I remember them. https://i.pinimg.com/564x/4c/20/98/4c20981e73d728b1a5f397bc805424cd.jpg I think Huffy and Western Flyer had versions.
I don't remember what brand it was, I know regular price was $54 and we were about to leave when the salesman said it was on sale for 39.95. I was one happy camper
And Sears had their version, a Spyder. 3-speed handlebar shifter & banana seat just like the Stingray + knobby tires. Believe I got it for Christmas must have been the late 60's. Then another year I was given a sissy bar. And Sears sold parts too, finally had to replace the shifter.
The best! Had a 76( I think) Orange Krate- that thing was as heavy as it's Corvette namesake! Jumping ramps was en vogue at the time, and it took some real work to get that springer front end to decompress and raise up! LOL! How lucky were we to have grown up when we did?! So cool…
I had a gold Schwinn that looked like that bike, it was a bike that my dad found for sale at a Goodwill store in 1974. It was in used but nearly perfect shape when I got it, and sadly I rode the wheels off it. I can remember after a couple of years of hard use, it went out for the "spring clean up" trash when the smaller front wheel got bent and a replacement could not be found in our small town. I got a brand new "Free Spirit" brand 10 speed for my birthday. At the time I was ready to ride a 10 speed and get away from the "kids" bike as I was then in Junior High school, but I sure wish we had not put the bike out for trash. I can only hope someone came along and took it before it went to the landfill. I'm 55 now and I'm still riding a Schwinn I got thirty years ago. I rode that Schwinn from Pittsburgh PA to Washington DC and back on the GAP and C&O trails.
No disk brake on it so that's a deal breaker……had a gently used orange Manta-Ray and found an Apple Krate – I spied the stick shift sticking out of the weeds as it was laying over….it didn't last long in my stock. Here's my first conversion of a side walk bike….wish it was color – it was a Burgundy paint job I did.
Why can't I post pictures ?
Hey stillrunners, try posting your picture before making your comment. Then go get a cup of coffee or a beer before you post. It seems to take a bit of time before it works. Best of luck, Mike.
I'm a child of the seventies, and I definitely remember the Sting Rays paving the path to BMX bikes. First with the tall bars and small seat, some kids had a banana seat,, they were stripped down bikes with different sprocket's. Fun times, then came the A and A bars all black, smaller seats, longer cranks, ashstibula forks….I was all into that early BMX stuff as a kid even though I was a lousy rider. R and R, DG, and FMF came along and made these garage built bikes obsolete, if,, and it was a big if, you or your folks could afford them. Ha, great memories!
I had a Schwinn Stingray my dad found in someones garbage for just a few weeks before we turned it into a BMX bike. Great memories.
Holy crap…the flashbacks I'm having…what a bike! But it does seem to me that if you had earned enough coin to buy one of these, you were better off with a ten-speed Varsity, Continental or even the 15-speed Paramount. Great to see old Schwinns coming out of the sheds and into the light of day. Find a new cheater slick for this one and ride with pride! I think this link to craigslist might work. Five old Schwinns for the princely sum of 4000 bucks. https://raleigh.craigslist.org/bik/6997299568.html
This is cool reading everybody's stories! 1970 my dad traded a chainsaw for a cotton picker. 5 speed, full suspension, banana seat, everything but the tassles on the handlebars. I raced everybody in the neighborhood and beat them all! It was like magic, the cutest girl on the block always wanted to hang with me! She would cheer me on when I raced the other kids. I polished the chrome so much I wore through it! That picker and I were inseparable. I eventually out grew it and passed it down to my bonehead brother who took it all apart, for no good reason and sold the bits. Still can't forgive him for that. What a great time to be a kid!!
Here is my current collection of Stingrays plus about 10 more on the side.
All original paint but 2
Great letters and memories! Thanks to everyone.
I have a mint original 1971 Pea Picker with a rear disc brake I bought in 1988. It was ridden about 4 blocks and put away in a basement. It now sits in my office next to my desk (along with a 1999 Grape Krate) and I personally have not ridden either as the tires still have the "nibs" on them. Thanks to Ralph Nader my parents wouldn't let me buy one because it was "unsafe" despite having my own money to pay for it. But now I own 2!
That frame looks identical to the one on my Scrambler from the later 70's. Good grief she was a heavy beast, but I couldn't break her. Nobody could. A true two wheeled tank.
1999ish Schwinn re-introduced the stingray. We were struggling mountain bike racers and the PR people at Schwinn proposed a relay around the Schwinn booth then up behind the booth on a big dirt shoulder. 4 Schwinn sting ray bikes, 4 teams, 4 guys, winner takes all. The clincher was each participant had to pound a FULL pitcher of beer in between handing the bike off. It was mayhem. Just beer flying everywhere and guys wrestling for bikes. Everybody knew it was up to the last lap and all eyes were on this legendary rider CJ to take the win and all 4 bikes for his team. He did not disappoint. The front wheel of that bike stayed off the ground almost his entire lap and the crowd went wild. He was an outstanding Retired bmx pro and it really showed. Even though he was at the races to support and wrench he still had his skills and was not to be denied. Cecil had to slam that last pitcher though and he did with style, finishing just as the last rider pulled in with a huge smile on his face. I have the bike now that CJ is at the bmx race in the sky. A gift from his family. Life can be hard, life can be short, be kind, give a guy a lift up, give a good deal on a set of wheels if he/she is polite and cordial. The lowballers can beat it.
Funny how many more comments there are here than I usualy see for cars. Yes, I had an Orange Crate as a kid. Lots of great memories. $2000!!!!!! I saw them for $100 just a few years ago. There is a bycicle museum in Pittsburgh and they must have 500 of these, as well as thousands of other bikes from our childhoods. I wonder if the guy's plan was just to keep them until…people went crazy.
It was1970. I was ten. I got an Orange Crate for Christmas. Best Christmas present I ever had! Loved that bike more than life itself. I would park it outside our front porch after riding all over our neighborhood. One month after I got it, it was stolen right off the front porch. I never got over that. Really. I'm about to turn 60, and I still feel sad that I didn't bring the bike inside the house that night. I don't think it ever occurred to me that it might be stolen.
Nothing but awesome, I'm 45,and had one similar handed down to me in 1983 that was yellow No idea what it was called,but had the same everything! It had no signs of lettering by the time I got it. That thing was the coolest damn bike I ever had,and the black marks you could make with it by lockin up the rear wheel after top speed was awesome.lol I wouldn't part with it for anything, until my parents divorced, it got put in landfill during one of the moves by the "new" mom. Would love to find another one.
This brings back memories. At the time me and every kid I knew wanted a "crate" Schwinn. I made due with a crappy Montgomery Wards pile.
I got a 68 Orange Krate new from Bob's Bicycle Shop on Broadway in downtown Nashville TN.
I don't remember this however my mother tells me the story of when we went to pickup the bike late on Saturday afternoon we walk into the shop and a man was sitting on my bike looking at it. He saw me walk up to the bike and stare. He asks "Is this your bike young man" and I say yes sir. He then says it is a very nice bike and he is going to get one just like for his grandson.
That man on my bike was ROY ACUFF! He was also downtown getting ready for the Saturday evening Grand Ole Opry show.
One of my uncles bought the Studebaker dealership in my home town and ran it as a repair shop. In '69-'70 he had rented part of the shop to a kind of "fly by night" body shop operator. I was 13 and had made a stingray type bike by putting a 26 inch fork on a 20 inch, bought a slick rear tire and a banana seat. I worked at the body shop, sanding and taping cars. We were painting a very nice 57 Belair 2dr hardtop, going from the original salmon/white top to a gunmetal gray. The shop owner was going to let me paint my bike with the left over gray. Then I saw a plum crazy Road Runner. My bike now had to be plum crazy! Rode it till I decided to go to a "grown up" bike. As a side note, the dealership and land was sold in about '72 and a new grocery store was built on the lot. I remember the Studebaker neon sign lying on a pile of rubble before it went to the dump. Who wanted an old Studebaker sign? Sigh.
& you can't even get raised white letter tires today on the 3 overpriced pony cars or corvette.
When I was a kid my bike was a hand me down from my Uncle via my older brother, it was what was called a truck bike, 26″ balloon tires , coaster brake. Rich kids had the new Schwinn bikes, just at that time English Racer bikes were getting popular with the skinny tires and caliper front and rear brakes, 3 speed shift lever on the handle bars, I loved my old truck bike, 1 speed and the brake worked fine as long as the chain didn't come off the sprocket, it had sheet metal attached to the frame backbone to mimic a gas tank with a horn button that honked a horn inside, playing cards clothespinned to a fender brace for sound effects. I cant remember what happened to that bike when we moved from the Bronx to Rockland county N.Y.
I had a Raleigh Chopper . I got it for my birthday , I broke the frame where the seat went in . I got a used Pea Picker to replace it . The Chopper rode and handled better but the frame broke . I abused that Pea Picker in a big way and it held up . Wish I still had it .
I had one like that but it was orange. Cool bike. When the three speed shifter broke I took the ball off and made a knife out of it. Being a kid in the 70's was fun.
When the shifter was in 1st ( closest to the seat) and your foot slipped off the pedals, there was a moment of great pain,,, :0
Yup. Rode a block or two on my buddy's Sting Ray Fastback (the black version), banged my boyhood into the shifter somehow, and quickly handed that thing back. Happy to stay with my lesser version Sting Ray and not suffer the pain.
Oh the memories from all you fellow barn find folks that's why I love this site. .well that and the cars we all know and love.. the leads to each and everyone's favorite cars from our past with the opportunity to obtain or reminisce each one is a bonus !! Thanks again bfs
J T – I grew up in Nazareth Pa, home of Mario Andretti ran into a friend at a car show recently, and a guy had a Stingray, my buddy lived in the neighborhood where Mario rented a house with a big parking lot behind it , he would use the lot to set up his sprint cars . In 1967 Mario had his white #1 Dean Van Lines Lola on trailer, my buddy had chopper bike with a real high sissy bar , he was looking at the car and Mario comes out and says I want to ride your bike,my buddy said sure, gets on it does a wheelie flips back lands on the sissy bar and starches it all up, my buddy said he always wanted to ask him if he remembered that, Mario is super cool!
Did anyone else notice how the ebay listing says "original owner" in the title and then when you read the listing the seller bought the bike from a friend who bought the bike from the original owner? So the seller is actually the third owner. I guess that the truth stretching that we see so often in so many of the vehicle listings has overflowed into other listings as well.
Yep, I caught that & it made me laugh, Original owner twice removed.
I too remember these bikes as a kid. I did not have a Schwinn, mine was one of the knock off brands. Which one I have no idea. We set up a jump ramp and would get as much speed as we could, hit that ramp and see how far we could fly. That was fun until the time I did it and the front of the banana seat came off the seat tube. Needless to say when I landed the seat was no longer in place. That was a wake up call.
We had "THE" rich kid in the neighborhood get a 20′ 3-speed Schwinn Stingray, as in the photo for Christmas one year. He wouldn't let anyone ride it, so we made our own, without the shifter. The bikes we had were bought from Western Auto and we kept them for life as a kid. Just added parts to keep up to date. I also used mine for a paper route. Funny how our bikes gave most of us the starting knowledge to work on our cars. Truly believe that without our bikes many of us would not of carried over to working on cars. I remember as a tot (5-6 years old) my father bought me my first two wheel bike. Two days later I took it all….. apart and spread it out on the rear patio and thought my dad would be proud of me for doing so. Wrong, he was pissed and told me to put it all back together if I was ever to ride it again. Tried to get Mon involved, but she sided with him.LOL Two weeks later I was riding again and been taking things apart and putting them back together ever sense. I do have a part box with items that have been left over through the years.
like the springer/girder frnt end, frnt drum, & rear shocks on this 1. Pops (died the spring @ 94 yr 11 mo) bought me a 3 speed (1964?). Broke a wrist B4 he could give it 2me. Went out'n hada 'twist grip' conversion so I could still drive it. I'd put that on this'un, drop the 'stick shift'.
Thanks Russell !
Wow. So many responses. In '73 my dad bought me a brand new Schwinn 5 speed. I want to say a Sting Ray, but it did not have any shocks in front or back. It was candy apple red with a white banana seat with the word Schwinn on the side of it. I remember my dad paid $102.00 for it. The kids at school thought I was spoiled (they didn't know what I had to do to earn it), and the second day I took it to school, someone stole the seat! The 5 speed was cool, except whenever I jumped the bike, the chain would come off
Ended:Nov 24, 2019 , 3:34PM Winning bid:US $3,138.01[ 27 bids ]
I ride my Pea Picker everyday….weather permitting. but I live in SD do about ten times a year :)…..thanks for sharing. keep the shiny side up
Leave A Comment Cancel reply
RULES: No profanity, politics, or personal attacks.
Become a member to add images to your comments.
Get new comment updates via email. Or subscribe without commenting.
Recent Finds
BF Auction: 1930 Ford Model A Pickup
Two-Owner Survivor: 1984 Toyota Celica Supra
Bad Motor: 1965 Ford Mustang Convertible
No Reserve: 1982 Chevrolet Camaro Z28 Pace Car Edition
Motorcycles
Muscle Cars
Our Projects
Project Cars
Success Stories
Get Daily Email Updates:
Don't Miss Another Find!
Sign up for our free daily newsletter:
Unsubscribe anytime
Enjoying Barn Finds?
Sign up for our free daily email and you'll never miss another find:
No thanks, I'm already subscribed.
Toys & Games
Finger Boards & Finger Bikes
Other Sellers on Amazon
Image Unavailable
To view this video download Flash Player
AMT Schwinn Grey Ghost Bike 1:6 Scale Diecast Bicycle
Purchase options and add-ons, about this item, 1:6 scale replica with die-cast body, vinyl brake cables and chrome-plated plastic parts.
Rotating Rubber Tires
White lettered Slik Tire
Working spring action on the Banana Seat Saddle with Sissy Bar
5-speed Stik-Shift
Adjustable Hi-Rise Handlebars
Vinyl Brake Cables
Rotating Pedals and Chain Moves Back Wheel
Moving Kickstand
Die-cast body painted grey
Frequently bought together
Similar items that may ship from close to you
Product information
Warranty & support, important information, safety information.
See Manufacturer's Instructions Before Use, Installation, Or Assembly
To report an issue with this product, click here .
From the brand
The most innovative brand in model history is still going strong! The developers of one-piece bodies; creators of 3-in-1 customizing kits; the engineers of exacting promo models and much more, AMT sets the standard for quality and excitement for others to follow! Relive the golden age of modeling with AMT's huge variety of subject matter and available scales, all packed the way you remember!
What makes our products unique?
In 2012 the tooling and brands were purchased outright by Round 2, making South Bend, Indiana the new home for AMT! These kits harken back to the days of the aforementioned promotional models and really show how the brand has come full circle.
How did we get our start?
AMT, which stands for Aluminum Model Toys was founded in 1948 by attorney West Gallogly, in Michigan.
Why do we love what we do?
Our creative team are dedicated to producing detailed, quality playable, and collectible items that appeal to the young and the young at heart
Check out our store!
Visit the Store
Product Description
Introducing "The Grey Ghost" 1:6-scale Schwinn Stik-Shift Sting-Ray. A museum quality Schwinn exclusive collectible made of die-cast metal parts, combined with plastic and vinyl. Detailing includes authentic decals and patented designs, including 5-speed Stik-Shift, White lettered Slik Tire and features working action spring suspension, rotating pedals with moving chain and rolling wheels.
Add it to your collection today!
Quick Specs:
Die-cast Wheel Stand for displaying
Don't know what to get dad or your favorite uncle for his birthday?
Or maybe you have an avid hobbyist or collector in your life. This model kit makes an ideal gift for any occasion!
What's in the box
1:6 Schwinn "Grey Ghost" Bike
Videos for related products
Click to play video
2023 New 51 Pcs DIY Retro Bicycle Model Ornament For Kids
Lanfeng store
Looking for specific info?
Customer reviews.
Customer Reviews, including Product Star Ratings help customers to learn more about the product and decide whether it is the right product for them.
To calculate the overall star rating and percentage breakdown by star, we don't use a simple average. Instead, our system considers things like how recent a review is and if the reviewer bought the item on Amazon. It also analyzed reviews to verify trustworthiness.
Sort reviews by Top reviews Most recent Top reviews
Top reviews from the United States
There was a problem filtering reviews right now. please try again later..
Amazon Newsletter
About Amazon
Accessibility
Sustainability
Press Center
Investor Relations
Amazon Devices
Amazon Science
Start Selling with Amazon
Sell apps on Amazon
Supply to Amazon
Protect & Build Your Brand
Become an Affiliate
Become a Delivery Driver
Start a Package Delivery Business
Advertise Your Products
Self-Publish with Us
Host an Amazon Hub
› See More Ways to Make Money
Amazon Visa
Amazon Store Card
Amazon Secured Card
Amazon Business Card
Shop with Points
Credit Card Marketplace
Reload Your Balance
Amazon Currency Converter
Your Account
Your Orders
Shipping Rates & Policies
Amazon Prime
Returns & Replacements
Manage Your Content and Devices
Your Recalls and Product Safety Alerts
Conditions of Use
Privacy Notice
Your Ads Privacy Choices
Latest activity
Archive (sold or withdrawn)
When you click on links to various merchants on this site and make a purchase, this can result in this site earning a commission. Affiliate programs and affiliations include, but are not limited to, the eBay Partner Network.
Sold 1971 Schwinn Sting-Ray Grey Ghost (Original)
Thread starter Jason29
Start date Aug 15, 2021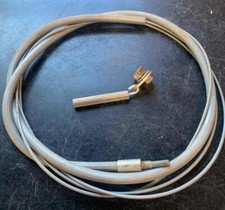 On Training Wheels
Riding a '38 Autocycle Deluxe
Nice looking bike. Someone on here may ask or may not but if you can I would remove the headbadge and take a photo of the area where the headbadge sits, then just put it back on. I know many times on these bikes buyers are looking for authentication. Can you tell if it is a decal on the chainguard or is it screened on.
stoney said: Nice looking bike. Someone on here may ask or may not but if you can I would remove the headbadge and take a photo of the area where the headbadge sits, then just put it back on. I know many times on these bikes buyers are looking for authentication. Can you tell if it is a decal on the chainguard or is it screened on. Click to expand...
Hey Jason, the reason I said that about the headbadge is to see the silver behind it. To see if the silver is lighter or darker. To just let buyers compare for themselves to see if original paint or not.
stoney said: Hey Jason, the reason I said that about the headbadge is to see the silver behind it. To see if the silver is lighter or darker. To just let buyers compare for themselves to see if original paint or not. Click to expand...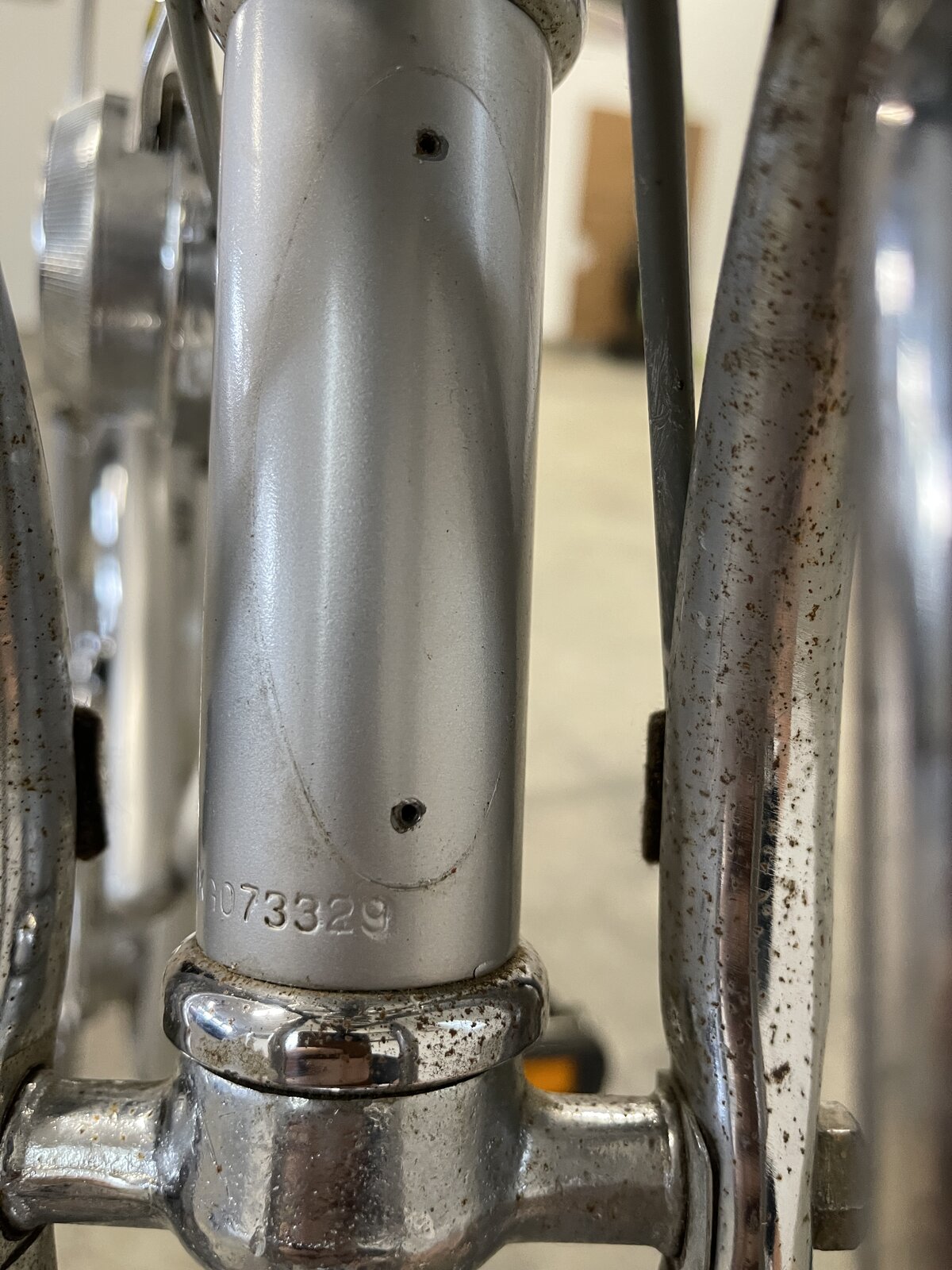 Finally riding a big boys bike
Very nice !!!!!!!!!
Cruisin' on my Bluebird
wow incredible !!
Look Ma, No Hands!
I saw someone turn down $1700 and $2200 for one at a show recently. 💪🏽
Robert Troub
I live for the cabe.
Jason29 said: What is supposed to be behind the head badge? I can try to remove it, but would like to know what I'm looking for, if anything. It sort of looks like it may be a decal on the chain guard. The chain guard is metal and chrome combined and held on by several screws that are dated. Thanks for the information. Click to expand...