Halloween Haunts and Haunted Houses in KC
A distinct chill descends upon Kansas City after the sun sets in the fall. As families gather together to carve pumpkins and sip cider, something more sinister lurks in the shadows.
That hair on the back of your neck? It's standing up because of the city's ghoulish collection of haunted houses. Combined with KC's pioneering use of an open format, which allows visitors to wander without a predestined path, the city has earned the moniker of "The Haunted House Capital of the World," making it one of the best places to visit during Halloween season.
More Than Forty Years of Fright
The one that started it all, The Edge of Hell first set up shop in 1975 and has been scaring residents and visitors alike since with its five-story house of horrors.
Brave souls forge their own path from heaven through purgatory and on to hell with all the frights that follow, including the Rat Man and Medusa, a reticulated python that holds the record for the world's largest snake in captivity. Nationally acclaimed and a pioneer of the format all in one, this West Bottoms haunt is a can't-miss for the courageous few willing to put their fear factors to the test.
Take a Trip through Terror
Four floors of terror welcome guests at the West Bottoms' The Beast , one of the most established (and frightening) haunted houses in Kansas City. Travelers make their way through several bone-chilling settings, including a Louisiana mansion and bayou swamp, Jack the Ripper's foggy London, a medieval castle and a forest filled with werewolves.
The Beast is consistently rated as one of the best haunted houses in the country thanks to outstanding special effects and frights that will keep you awake far past your bedtime.
Big Screen Scream
Many can handle the scares set up in a horror film, but far fewer are brave enough to stand up to the frights in real life. Macabre Cinema does just that, putting travelers into spooky scenes from classic and contemporary horror movies.
To add to the authenticity, portions of actual movie sets are included in the four-story West Bottoms haunted hotspot, including from both The Mummy and Hellraiser . Some of film's most memorable characters are sure to be spotted in this nightmare-fueling adventure.
Dread Beyond the Border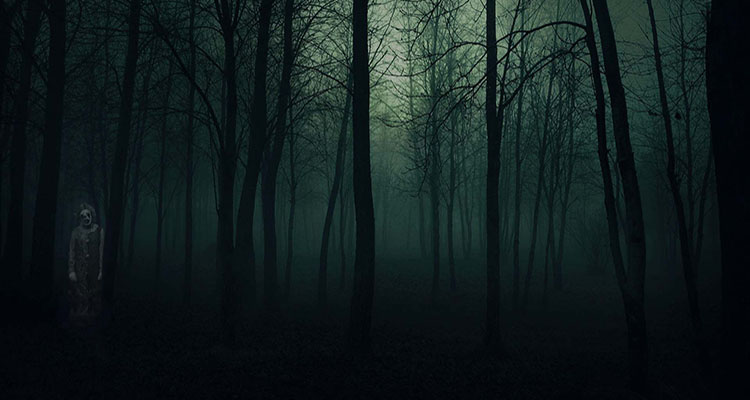 Just across the state line is Exiled , one of KC's scariest—and most secluded—haunted attractions. Known as the city's only haunted forest tour, visitors are tasked with navigating their way to safety after being left alone in the middle of the nearly pitch black woods while avoiding a whole host of creeps, freaks and more. The hour-long Bonner Springs tour is operated at the home of  Zip KC   and requires visitors to be able to climb hills, stoop, bend and more.
A Fearful Fall Tradition
While not actually a haunted house, the  Glore Psychiatric Museum is as frightening an attraction you'll visit regardless of the time of year.
A former psychiatric hospital known as State Lunatic Asylum No. 2, the St. Joseph destination offers visitors a glimpse into the real-life horrors that went on at the clinic—complete with unnerving mannequins that populate the museum.
Escape Room Scares
Put your wits and courage to the test at  The Basement , a live escape room experience featuring challenging puzzles, live actors and an anxiety-inducing time limit to break free.
Operating out of the West Bottoms, this fearful attraction's lore is centered around a cannibalistic serial killer preparing to attack his next victim.
Kansas City's Real Haunted Houses
Gather 'round the campfire and discover the true stories behind Kansas City's real haunted houses.
Everything You Need to Know About Fall in Kansas City
From the changing leaves in the city parks to the pumpkin patches and hayrides. And of course, no fall trip to Kansas City would be complete without catching a Chiefs game at GEHA Field at Arrowhead Stadium.
Halloween in Kansas City / Fall Festivals & Activities / Holidays in KC
26+ Haunted Houses & Scary Ghost Tours in Kansas City: Updated for 2023
Halloween is all about the spooky, scary things to do and haunted houses in Kansas City. Below is what we've gathered so far. Several entities have not provided new details for this year. We will update as new information becomes available. If you know of any that we should add, or that have recently announced their details for this year, email us the full scoop, and we'll get it loaded!
With Halloween around the corner, KC's haunted houses, ghost tours, and special Halloween events are full of scares and thrills. While not all the scary entertainment is suitable for small children, you can find spooky things to do with your older kids around town.
So sit back, turn on a light, and get ready to be scared at these haunted houses near me!
Whether you're looking for haunted houses in Missouri or scary Halloween things to do in Kansas…we couldn't forget the scary, thrill-seeking Kansas Citians out!
Be sure to note, most of these events are geared towards older children. This list is sure to raise a few hairs!
Looking for Halloween things to do for younger kids? Check out other Halloween resources:
Family Friendly Halloween Activities
Trick or Treating & Trunk or Treating in KC
Kids Eat FREE on Halloween
Candy Buy Backs
Pumpkin Patches Near KC
Fall Drink Ideas (maybe add alcohol…)
Scary Haunted Houses in Kansas City:
Exiledkc haunted house.
12829 Loring Rd., Bonner Springs, KS
Open Fridays & Saturdays September 30th- October 28th
Box office opens at 6 p.m. and haunts begin at 7:30 p.m.–midnight (if you are in line by midnight, you will still have access). Tickets: $49+
ExiledKC is a fierce and rugged, haunted trail located outside. You will have to hike through the trail while trying to escape the terrors of the night.
This trail is outside, and you will get sweaty, dirty and be able to climb hills, bend, and navigate through obstacles, so please dress accordingly!
This haunted attraction is recommended for ages 12 and up. No flashlights/phone lights/photography are allowed. You can call (913) 259-4411 for more information.
The Beast KC
1401 W 13th St Suite B Kansas City, MO
Dates and times vary – find more info online .
One of the top 13 scariest haunts in the nation, The Beast is sure to scare you the entire way through! Haunted housegoers can travel through the various aspects of this haunted house, which include 4 floors of fright!
The Edge of Hell
1300 W 12th St Kansas City, MO
Dates and Times vary by day, so check online . 
Take a journey 5 stories high from Heaven to Hell in this Kansas City Favorite!
The Edge of Hell Haunted House is home to the Rat Man, vampires, and the devil, and all the unsavory on your path to purgatory. This is one of the best haunted houses in Kansas City…in our opinion. 
Macabre Cinema Haunted House
1222 W 12th St., Suite A, Kansas City, MO
Don't just watch your favorite horror movies this Halloween, be a part of them!
Head to Macabre Cinema Haunted House in the West Bottoms for the time of your life. Venture through this haunted 1930s movie theater and be a part of 30 + famous scary scenes spread across 4 floors!
Macabre Cinema Haunted House puts visitors into spooky scenes from classic and contemporary horror movies. To add to the authenticity, portions of actual movie sets are included in the four-story West Bottoms haunted hotspot, including from both The Mummy and Hellraiser. Some of the film's most memorable characters are sure to be spotted in this nightmare-fueling adventure.
**Pro tip, combo The Best, Edge of Hell, and Macabre to save**
Haunted House Kansas City
11516 N Bristol Ave., Kansas City, MO
October 27 th , 28 th , and 31 st , 7-10pm
Haunted House Kansas City is a FREE local haunted house.  Donations are appreciated and go directly to the Metropolitan Youth Orchestra of Kansas City. 
We create an outstanding attraction that generates no fewer screams and laughs than the biggest professional haunted houses.  There is no blood or gore in our haunted house to ensure a positive family experience.  Guests have the option of three levels of fear: dead, medium scary, and TRAUMA! 
  Halloween Ghost Tours & Scary Activities:
Haunted & Historic Spaces Tour  
SE Main and SE 3rd, Lee's Summit, MO
Downtown LS will return for haunted tours on October 21st! Tickets are $30 and go on sale on September 18th.
John Wornall House 
6115 Wornall Rd., Kansas City, MO
All ages Ghost Tour October 1st
21+ Ghost Tour, October 29th
Paranormal Investigations night of October 14th, 27th, 29th and 31st
Tour times and prices depend on which tour you choose to attend.
As one of the most haunted homes in Kansas City, The Wornall House offers ghost tours  as well as paranormal investigations that will walk you through the life and death of John Wornall's wife, Eliza, who lived during the Civil War! Children under 12 are not permitted, and children under 18 MUST be accompanied by an adult.
Sallie's House Haunted Activities
508 N. 2nd Street, Atchison, KS
In one of the most haunted towns in the US, Atchison, Kansas, is full of ghost tales. For those afraid of things that go bump in the night, the faint of heart, schools, or clubs, the Sallie House is open for daytime tours by reservation only. Take a self-guided tour of Atchison's most famous haunted home. 
This house was once the home of a physician who would conduct examinations in the front office. One of his patients needed emergency surgery and unfortunately died during the procedure. The 6-year-old girl is allegedly still haunting the house today.
If you're looking for scary things to do…this is the place!
Self-guided Guided Day Tours are ($20) every Sunday to Thursday, but you MUST HAVE an appointment.
Overnight Stays are $125–150 per night and run all year. There is a 2-person minimum, but it is perfect for a couple's getaway.  Other events normally include Paranormal Investigations.
You can pick up your ticket at the Santa Fe Depot anytime on the day of your tour, but you must have a ticket to enter the house.
The Haunted McInteer Villa
Atchison, KS
The haunted McInteer Villa is not only really haunted, but the owner has also beautifully restored the house back to it's original 1889 glory. The owner, Stephanie, has daytime tours during the Halloween season. It is such a beautiful and spooky home. 
Belvoir Winery Paranormal Investigation 
1325 Odd Fellows Rd., Liberty, MO
From 8:00 pm to 1:00 am (next day) on October 21st
Tickets: $60 each
Located in Liberty, MO, the Belvoir Winery hosts more than mixers and dinner parties…
This winery is known for the scary paranormal activities and for also being one of the most haunted locations in the entire Midwest! Get your tickets for this tour ASAP, as there are limited times and tours.
1859 Jail Museum (Old Jackson County Jail)
217 North Main St., Independence, MO
** Pick a timeslot online. Only 1 group is allowed in each hourly time slot. 
Tickets start at $25. Ghost hunt: $75 (no kids under 7 allowed)
This historic jail is home to a few ghostly inhabitants. Visitors have smelled cigar smoke, seen shadowy figures roaming around, and even seen one who likes to pull the hair of women.
Tickets for this tour will sell out quickly due to the time constraint, so visitors are encouraged to purchase ASAP!
Glore Psychiatric Museum
3406 Frederick Ave., St. Joseph, MO
This Museum may not be haunted, but it is just as hair-raising and thrilling! The Glore Psychiatric Museum was formerly known as the State Lunatic Asylum No. 2. This museum gives you a first-hand glimpse of what it was like to be treated in the asylum, as well as notes, paintings, and clothing worn by the patients and caretakers.
Museum-goers will experience the real-life horrors that happened there – even be able to see ALL the things one patient, in particular, swallowed. Unnerving mannequins are prevalent as well, illustrating the near-barbaric procedures many patients were subjected to, making for one creepy visit. Call (816) 232-8471 for more information.
Haunted Hotel Savoy (now 21c Museum Hotel)  
219 W. 9th St., Kansas City, MO
Haunted Hotel Savoy (now 21c Museum Hotel): Guests that stay at this hotel, specifically room 505, have had many frightening experiences. 
Guests have heard music turn on by itself, water turning off and on, and eerie feelings of being watched.
The Elms Hotel and Spa
This hotel and spa in Excelsior Springs is rumored to have hosted several ghosts over the years. Tour times are roughly 45 minutes to 1 hour and are only $25.00 per person.
Sauer Castle
One of the most subtly spooky homes in Kansas City is Sauer Castle. This abandoned Castle has been reported to have incidents of ghostly figures wandering the property, lights turning on, and eerie happenings in the tower.
Vaile Victorian Mansion
This beautiful mansion in Independence is rumored to have multiple sightings of the lady of the house. Most passersby are so frightened of her that they cross the street or find alternate routes.
The Basement
1612 Grand Blvd
Kansas City, MO
A live experience escape room.
This unique fright is like no other. The Basement is an escape room that has tricky puzzles and is creepy. Get locked inside a story and try to escape.
Blossom House Haunted Hotel
817 Santa Fe St
Kansas City, MO 
This haunted hotel is open for overnight stays. Guests have witnessed many ghosts and paranormal happenings. Contact them for more details 913-280-1340
Visit Epperson House
5200 Cherry St Kansas City, MO
Noted as one of the top 5 haunted houses in the US by Unsolved Mysteries, Epperson House is famous for its 54 bedrooms, Tudor Gothic design, and many reports of paranormal activity inside and out from Uriah Spray Epperson himself.
Many guards, students, and local authorities have witnessed what they say are loud footsteps, crashing noises, and ghostly figures.
Muehlebach Hotel 
200 W 12th St., Kansas City, MO
Now one of the three wings of the Kansas City Marriott in Downtown Kansas City, MO, the Muehlebach was once a prestigious hotel that hosted many visitors. Most of them were famous and even legendary in their own right.
One particular wing is believed to be haunted by "The Blue Lady". This mysterious lady is described as a blonde woman in a blue dress, possibly from the 1920s. She wanders the halls and lobby, supposedly looking for her lost lover.
Come visit the hotel's wing to see if you can feel ghosts wandering the halls.
Stull Cemetery
1596 E. 250th St., Lecompton, KS
Just a quick drive down the road from Stull United Methodist, the Stull cemetery is believed to be one of the 7 gates to hell. Witnesses have reported experiencing paranormal encounters, strange sounds, and mysteriously "losing time" while visiting the cemetery.
While there are "no trespassing" signs posted, visitors are encouraged to make sure they have plenty of batteries for flashlights, warm clothes, and a partner to accompany them if visiting at night.
Atchison, KS, has TONS of Halloween events going on in October. Hop on their website and see what they have to offer. You could make a whole day of ghostly activities to do as a family. If you are super brave, you could even stay the night in Atchison's Scariest haunted house. Below, I have featured two of their activities.
World of Fun Halloween Haunt
4545 Worlds of Fun Ave., Kansas City, MO
Select nights: September 15th – October 28th
Head out to Worlds of Fun for rides full of thrills and a night full of screams! Be on the lookout for hundreds of scary creatures lurking around the fog-filled park. The frights start at 6:30 and are not recommended for ages under 14.
Halloween Haunt is the Midwest's largest Halloween event and one of KC's most fearful fall traditions. Every Friday and Saturday night during the month of October, the family-friendly park transforms into one of the scariest destinations in town as the otherworldly Overlord awakens his army of ghouls each evening. Featuring 13 extreme haunts, more than 500 monsters, spooky shows, and chilling thrill rides, the Haunt promises Halloween terror for everyone 14 years old and up.
Haunted Trolley and Coach Tours
200 S 10th St., Atchison, KS
Tours are available Thursday – Saturday through October 28th and October 30th and 31st.
Tour the most haunted town in Kansas! Take a trolley ride around Atchison, Kansas, and see where all the haunted houses are located and learn more about the ghosts that inhabit them.
Tours for the trolley and coaches vary each day. For more information on tickets and schedules, visit them online. This tour is not recommended for children under 6.
Not Yet Updated for 2023 – 
The attic kc – no information for 2023 yet.
Union Station: 30 W Pershing Rd, Kansas City, MO 64108
Tickets are $25 per person
This is Union Station's newest attraction & a fun Halloween thing to do!
Explore the attic of Union Station, one of the most haunted places in Kansas City. It was previously closed off to the public, but they have opened it up this Halloween! 
Come experience the ghosts of Union Station…it's sure to scare your pants off. 
Mount Washington Manor Haunted House – Info for 2023 TBA
9515 E Independence Ave. Independence, MO 64053
Grab tickets on Groupon for as little as $8 per person!
Be ready to get scared at the scariest haunted house in Independence! While this Halloween activity is family-friendly, there will be scary parts. 
Fun Halloween Things to Do at Home
Decorate your front door.
Get in the Halloween spirit by decorating your front door! You can go the spooky route, or make it cute if you have younger kids.
Host Your Own Halloween Party
Whether you have little ones or older children, Halloween parties are some of the most fun parties to plan. There are so many Halloween-themed treats & activities to create!
Check out our guide to hosting a Halloween party for inspo!
Host a game of Glow-in-the-Dark Capture The Flag
As the evenings are getting cooler, it's the perfect time for a heart-thumping, sweat-dripping night game of CAPTURE THE FLAG . Glow stick-style.
Here's how to play:
Gather a big group of friends who aren't afraid of the dark and like to chase each other. Divide up into 2 teams.
Review how to play Capture the Flag. See instructions here .
Get your glow-on. You will need 2 glow sticks of different colors – these will be the flags. Each player will need 2 glow bracelets, one for each wrist, the same colors as the flags. Half of your group will wear one color for their team. The other half will wear the second color.
Don't activate your sticks until just before you are ready to play.
Pro tips for Glow Capture the Flag:
– Players can't hide their glow bracelets under any clothing.
– If a flag (glow stick) that has been stolen is dropped it must be returned to the original area
– Agree on specific jail rules. For example, if a player touches the jail, everyone is freed and gets a free walk back but they have to go back to their side before they can try to steal the flag. The person freeing the prisoners can still get tagged at any point
– You can also play this rousing game indoors using a gym or basketball court. Select two corners of the room for jail and put the flags (glow sticks) there on either end. Activate your sticks and turn off the lights!
Host a Murder Mystery Party "Clue" Style
Teens can still dress up by hitting up a Thrift store and finding outfits to wear that fit their part. Check out Pinterest for menu ideas, scripts, and costume ideas for the party. You can also find some great ideas online!
Halloween Mystery Boxes
Make several Halloween mystery boxes for a little added surprise this season!
Blindfold each participant & have them stick their hands in to guess what they are. You can use boiled spaghetti for brains, peeled grapes for eyeballs, corn kernels for teeth & many other crazy concoctions. 
Host a Bring Your Own Pumpkin (BYOP) Party
Have each guest bring their own pumpkin and you supply pumpkin decorating and carving tools. Find no-carve pumpkin decorating ideas that don't involve cutting too!
Then, host a contest for "most creative pumpkin", "most unique pumpkin", and "most festive pumpkin", etc. Let the kiddos watch a Halloween-themed movie.  Make some popcorn and throw in some candy corn… You got yourself a party!
Make Caramel Apples together
Who doesn't love caramel apples? You can add many different toppings so everyone can get a little creative!
Look up ghost stories online or create your own
Once you find scary stories, read them around the fire or in the dark.
Whatever it is you choose to do… just embrace the fact that you are doing something together. These memories will last forever. There's nothing like seeing time fly before your eyes quite like holidays with your kids…
One minute you're searching for ladybug costumes and the next you're sending them off to haunted houses and parties.
Your kids will never forget that you cared enough to take the time to invest in them!
What are some ways you celebrate Halloween with your older kiddos? Send us your ideas, we'd love to hear from you.
To get all the Halloween info sent right to your inbox, sign-up for The Scoop .
From our family to yours, iFamilyKC

Tags: Bonner Springs Downtown Independence Kansas City, MO Lee's Summit Liberty
Next story 2023 Guide to The Kansas City Renaissance Festival
Previous story Autism Parents: Understanding Parents of Kids with Autism
Leave a Reply
Your email address will not be published. Required fields are marked *
Find Things to Do:
Sign-Up for The Scoop!
Get fun things to do delivered to you + deals, discounts & more...