Skip to right header navigation
Skip to main content
Skip to primary sidebar
Skip to footer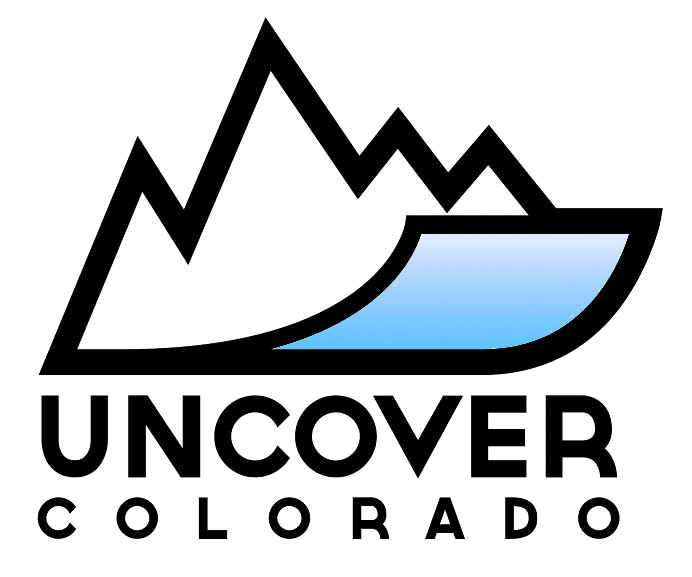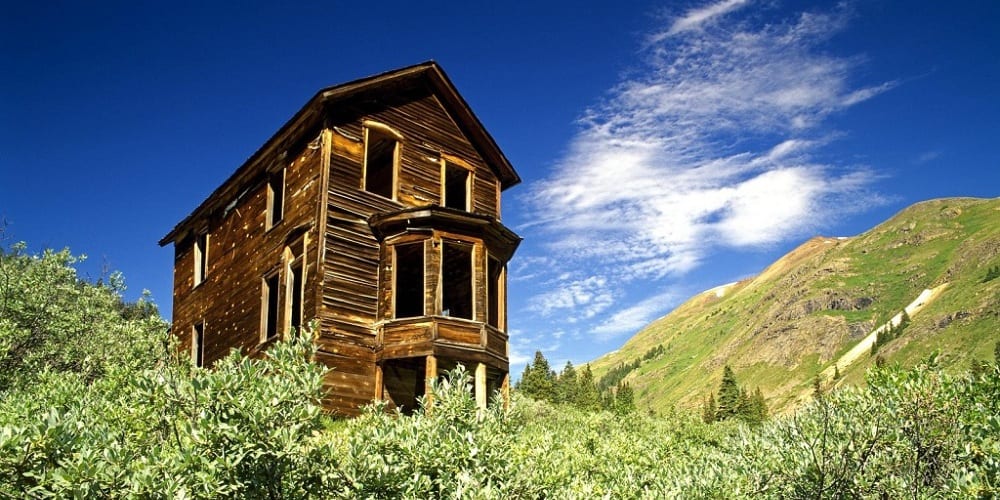 Colorado Ghost Towns
Colorado is full of fascinating ghost towns located throughout the state, mostly up in the Rocky Mountains. There are certainly some very well-preserved ones, as well as old communities that are disappearing more each year. These towns were abandoned for different reasons, some due to mining or economic struggles, others due to natural forces like cold winters.
List + Map of Ghost Towns in Colorado
Year-round you can explore the best abandoned, old ghost towns in Colorado's Rocky Mountains and beyond. Some high-elevation former mining camps are only accessible in the summer. 2WD cars will be fine for most, though, some require a high-clearance 4×4 or a hike-to-access. Not all ghost towns listed are worth visiting, as little to nothing remains, but we'll still note their history.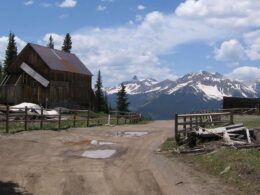 Alta, CO Ghost Town – by Telluride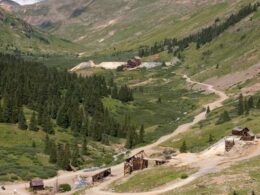 Animas Forks, CO Ghost Town – by Silverton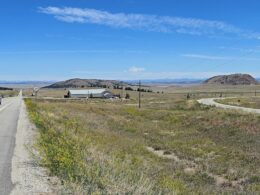 Antero Junction, CO Ghost Town – by Hartsel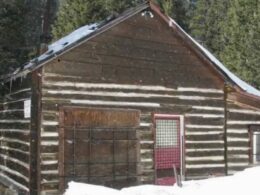 Apex, CO Ghost Town – by Central City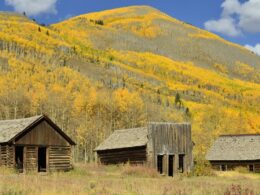 Ashcroft, CO Ghost Town – by Aspen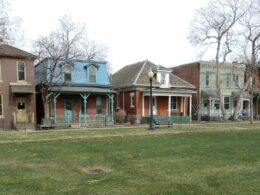 Auraria Ninth Street Historic Park – Denver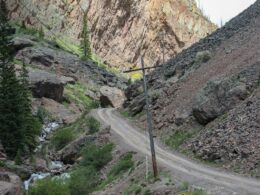 Bachelor City, CO Ghost Town – by Creede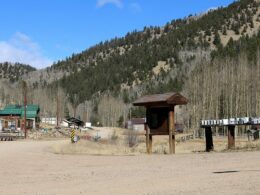 Bonanza, CO Ghost Town – by Villa Grove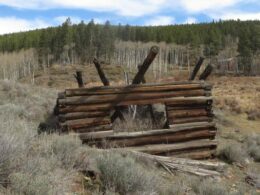 Bowerman, CO Ghost Town – by Pitkin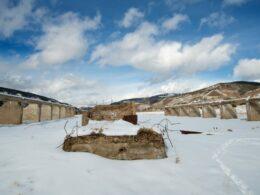 Camp Hale – Leadville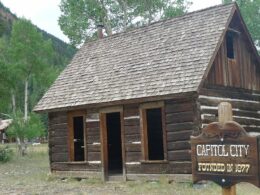 Capitol City, CO Ghost Town – by Lake City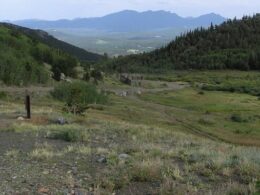 Caribou, CO Ghost Town – by Nederland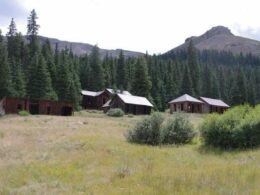 Carson, CO Ghost Town – by Lake City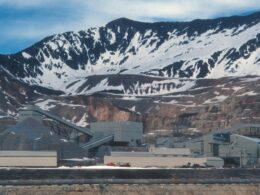 Climax, CO Ghost Town – by Leadville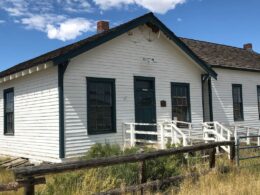 Coalmont, Colorado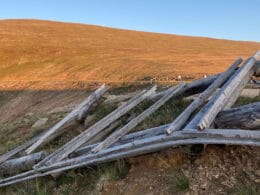 Corona, CO Ghost Town – by Rollinsville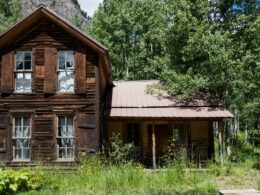 Crystal, CO Ghost Town – by Marble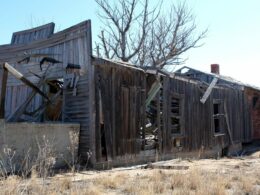 Dearfield, CO Ghost Town – by Greeley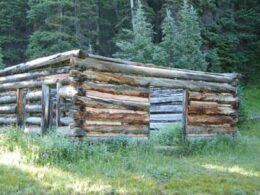 Dyersville, CO Ghost Town – by Breckenridge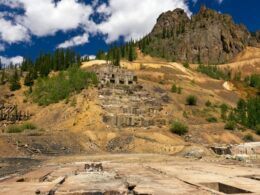 Eureka, CO Ghost Town – by Silverton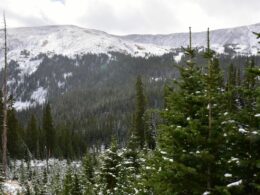 Geneva City, CO Ghost Town – by Montezuma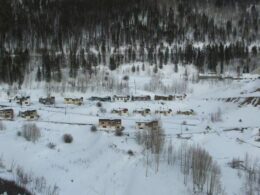 Gilman, CO Ghost Town – by Vail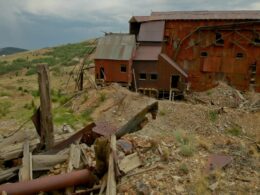 Goldfield, CO Ghost Town – by Victor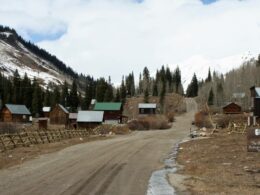 Gothic, CO Ghost Town – by Crested Butte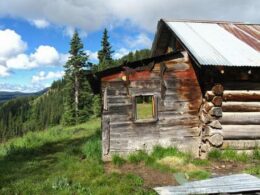 Graysill Mines, CO Ghost Town – by Durango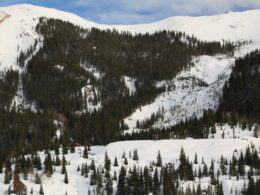 Guston, CO Ghost Town – by Ouray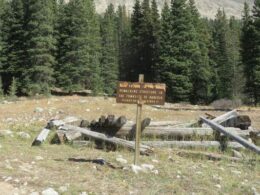 Hancock, CO Ghost Town – by Nathrop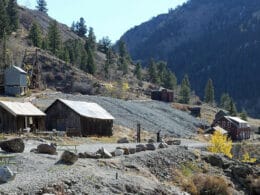 Henson, CO Ghost Town – near Lake City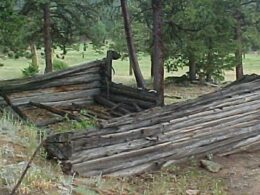 Homestead Meadows, CO Ghost Town – by Estes Park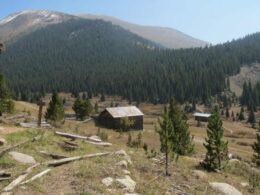 Independence, CO Ghost Town – by Aspen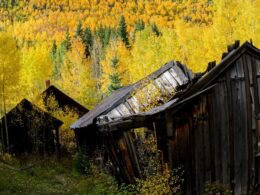 Ironton, CO Ghost Town – by Silverton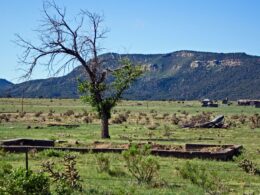 Ludlow, CO Ghost Town – by Trinidad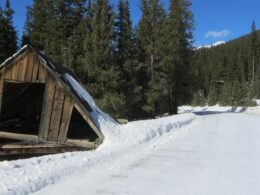 Montezuma, CO Ghost Town – by Keystone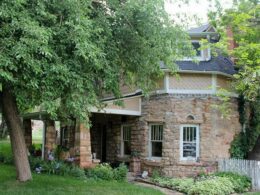 Mount Vernon, CO Ghost Town – by Morrison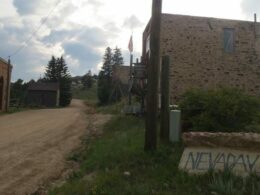 Nevadaville, CO Ghost Town – by Central City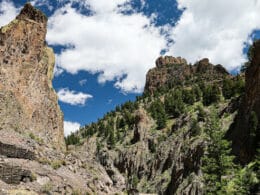 North Creede, CO Ghost Town – by Creede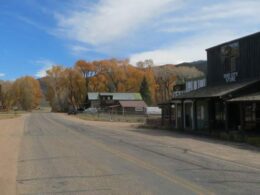 Ohio City, CO Ghost Town – by Gunnison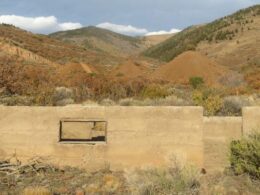 Orient, CO Ghost Town – by Villa Grove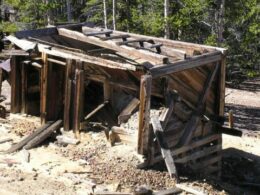 Oro City, CO Ghost Town – by Leadville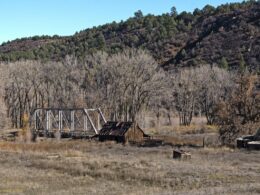 Pagosa Junction, CO Ghost Town – by Pagosa Springs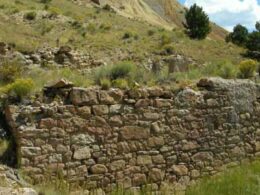 Querida, CO Ghost Town – by Westcliffe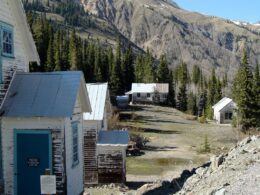 Red Mountain Town, CO Ghost Town – by Silverton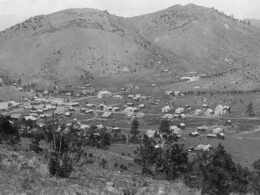 Rosita, CO Ghost Town – by Westcliffe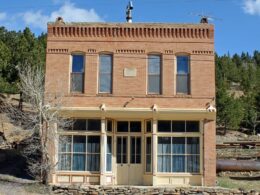 Russell Gulch, CO Ghost Town – by Idaho Springs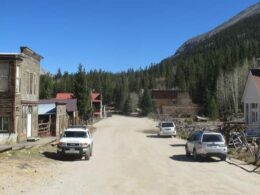 Saint Elmo, CO Ghost Town – by Nathrop
Silver Lake, CO Ghost Town – by Silverton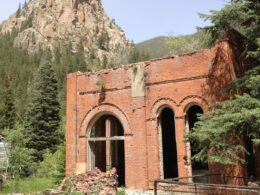 Skagway Power Plant – Victor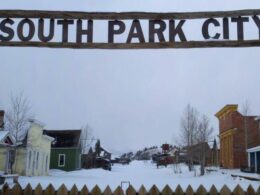 South Park City Museum – Fairplay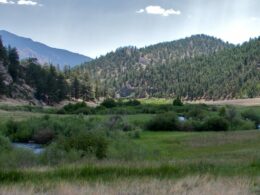 Tarryall, CO Ghost Town – by Lake George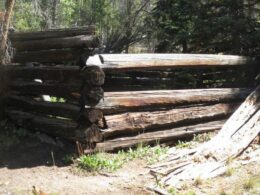 Teller City, CO Ghost Town – by Gould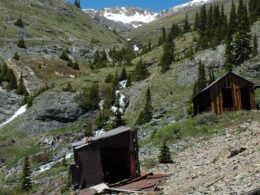 Tomboy, CO Ghost Town – by Telluride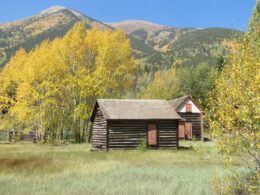 Twin Lakes, CO Ghost Town – by Leadville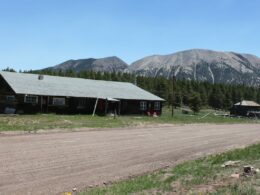 Uptop, CO Ghost Town – by La Veta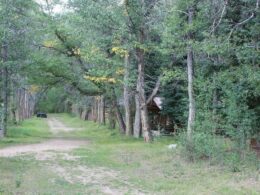 Vicksburg, CO Ghost Town – by Granite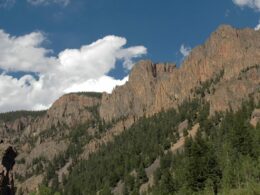 Weaver, CO Ghost Town – by Creede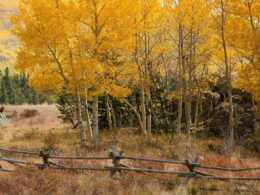 Webster, CO Ghost Town – by Grant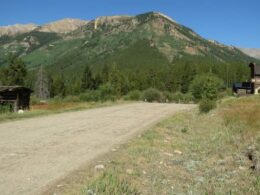 Winfield, CO Ghost Town – by Granite
Featured Ghost Towns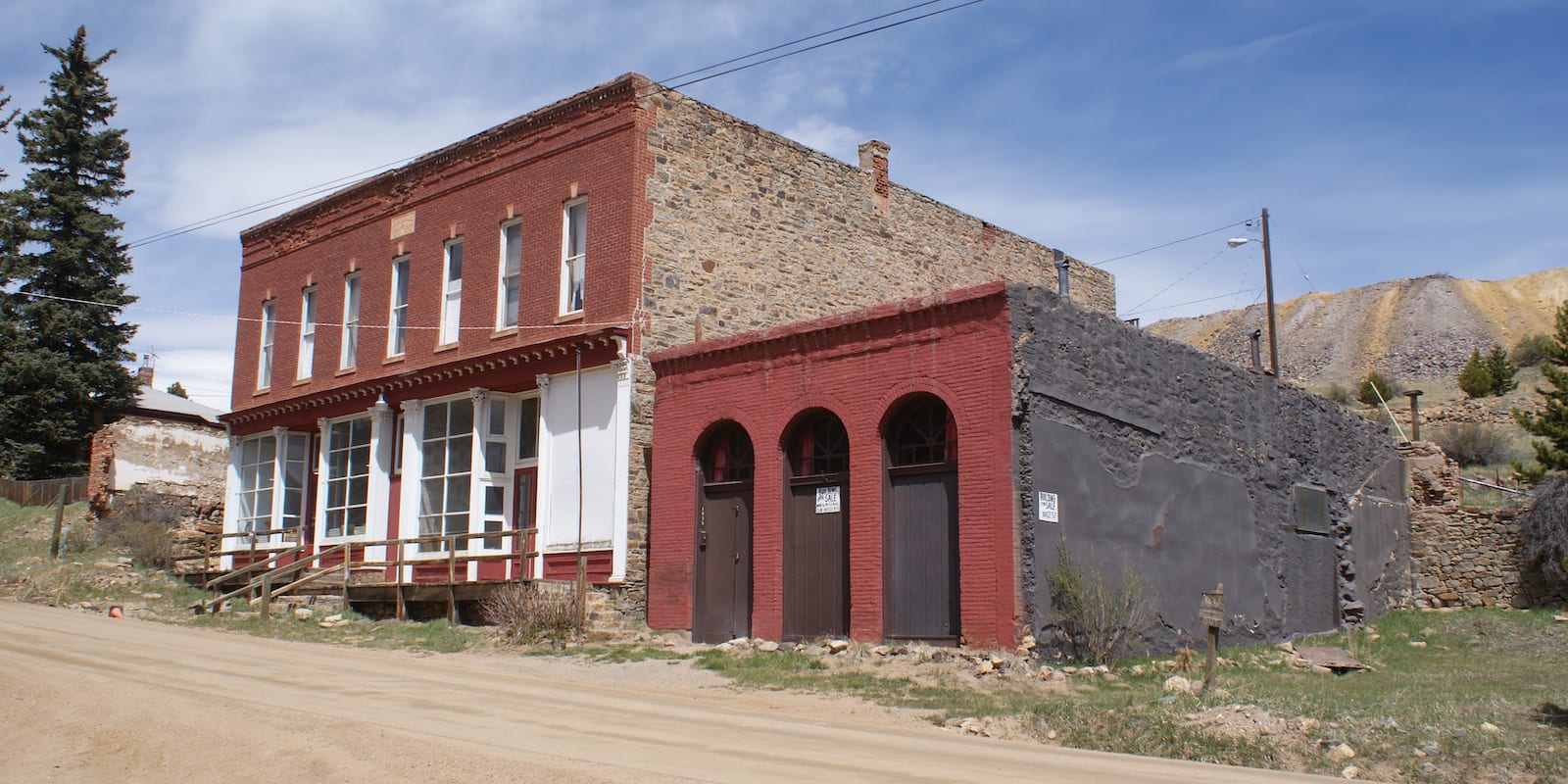 Explore these Ghost Towns near Denver
Driving on 1-25 during rush hour, it's hard to imagine that Colorado wasn't always filled with…
Explore these Ghost Towns near Denver Read More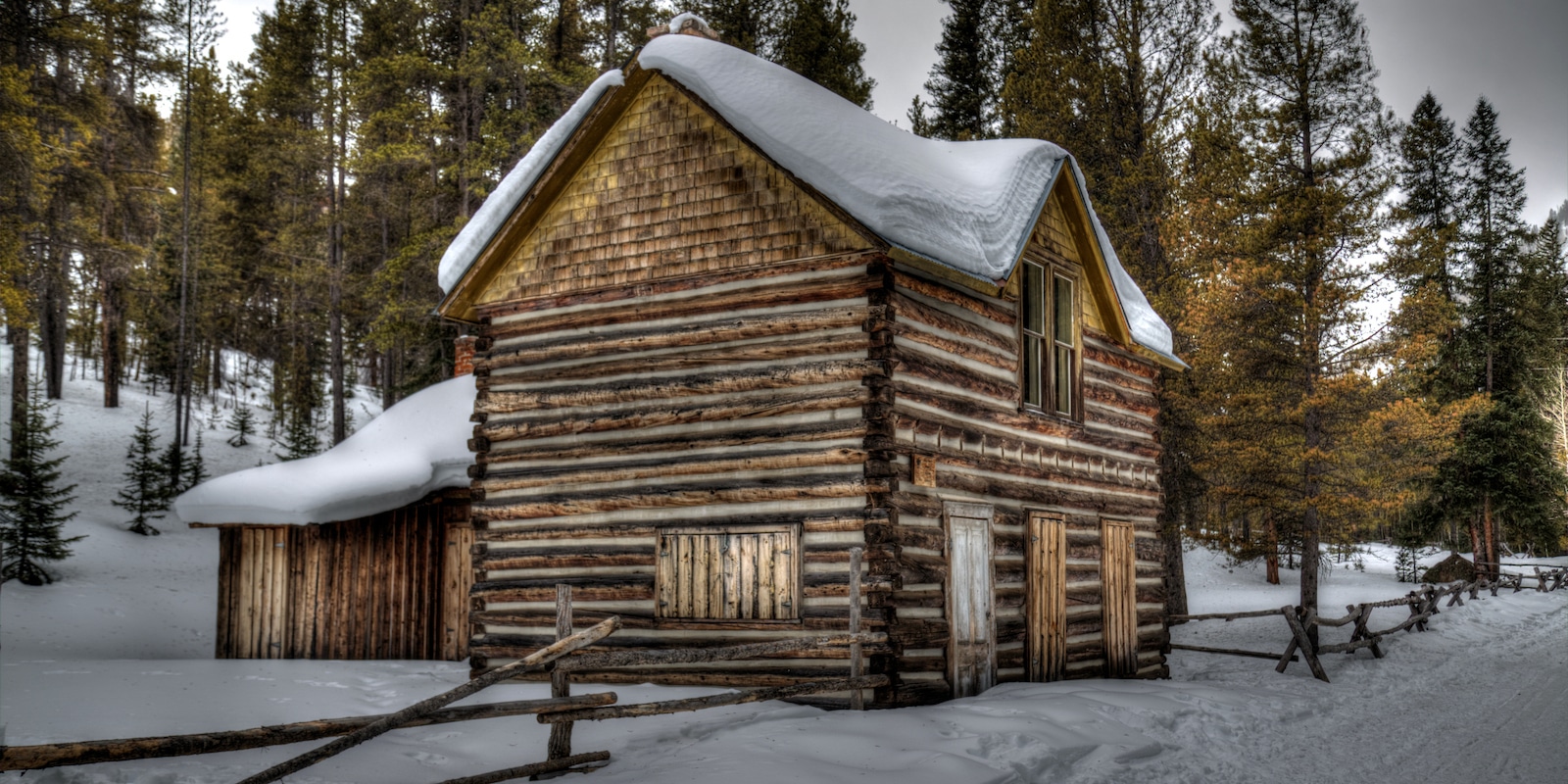 Which ghost towns are near what Colorado towns?
Visiting one of Colorado's spooky ghost towns is a bucket list item for many. While few…
Which ghost towns are near what Colorado towns? Read More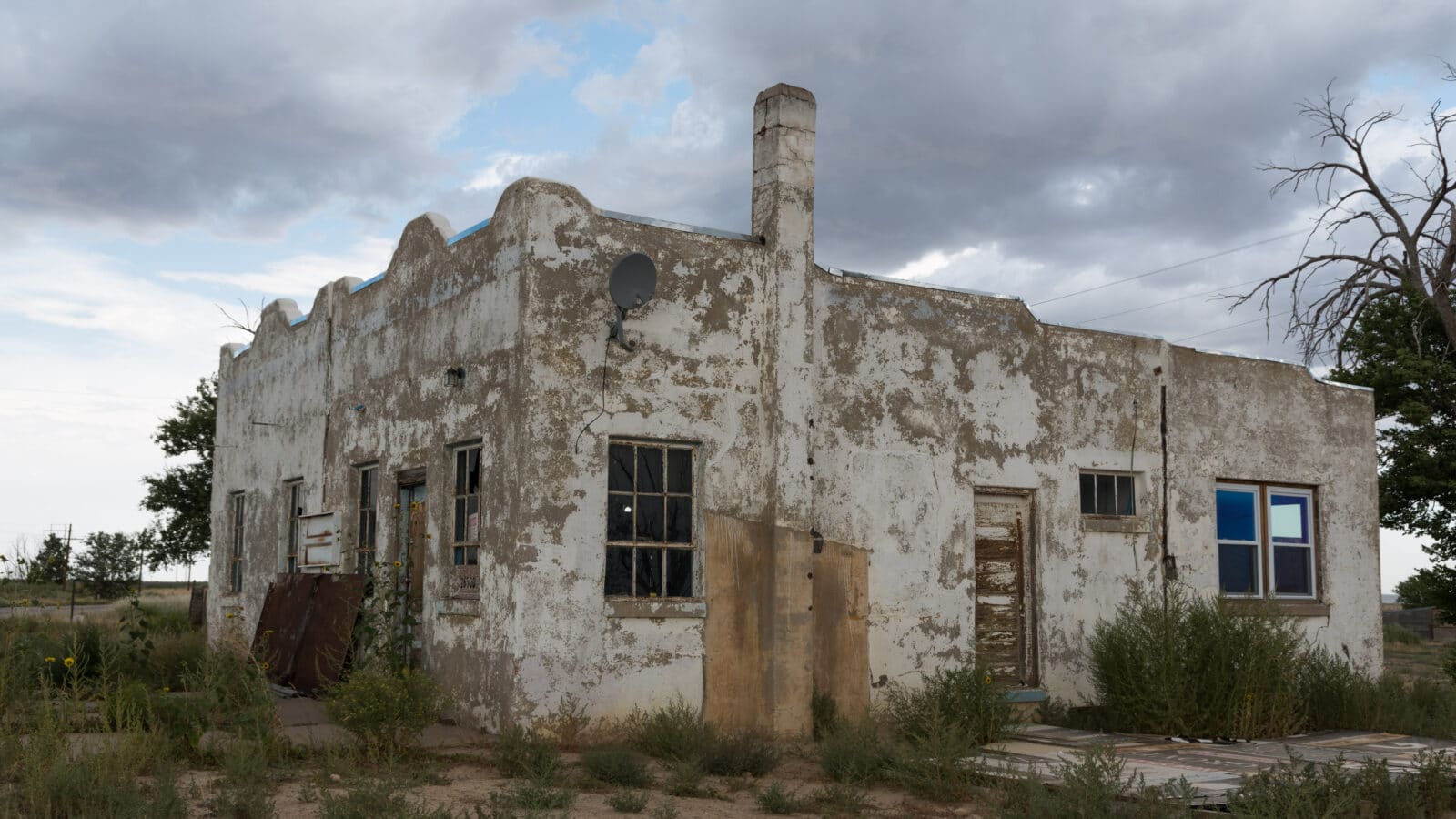 Ghost towns along the old Santa Fe Trail in Southeast Colorado
One of Colorado's more ghostly scenes can be found along U.S. 350, between La Junta and…
Ghost towns along the old Santa Fe Trail in Southeast Colorado Read More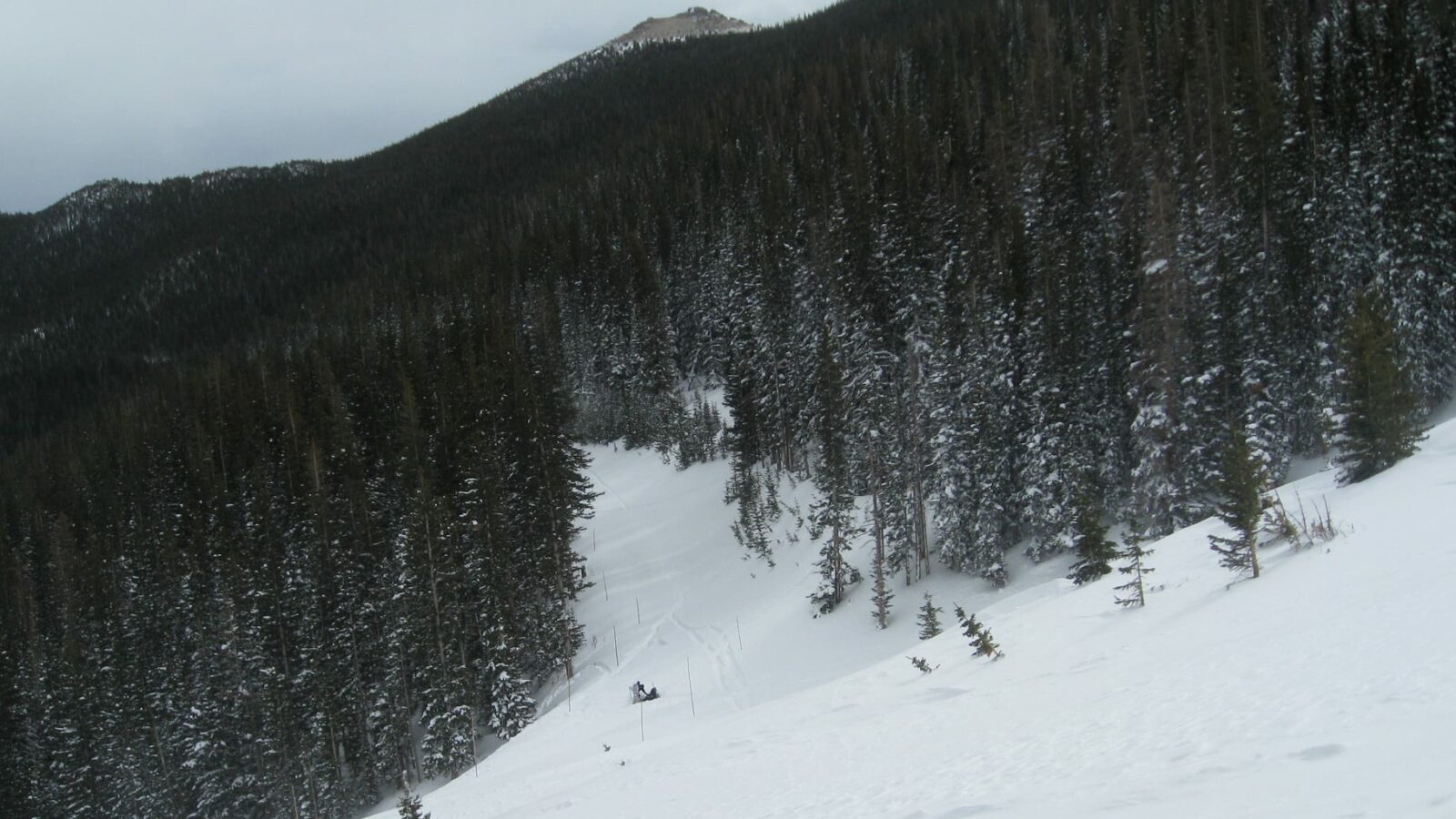 7 Former Ski Areas of Colorado
Some of the most fascinating remnants of Colorado's ski history are its lost and abandoned ski…
7 Former Ski Areas of Colorado Read More
Guide to Abandoned Places in Colorado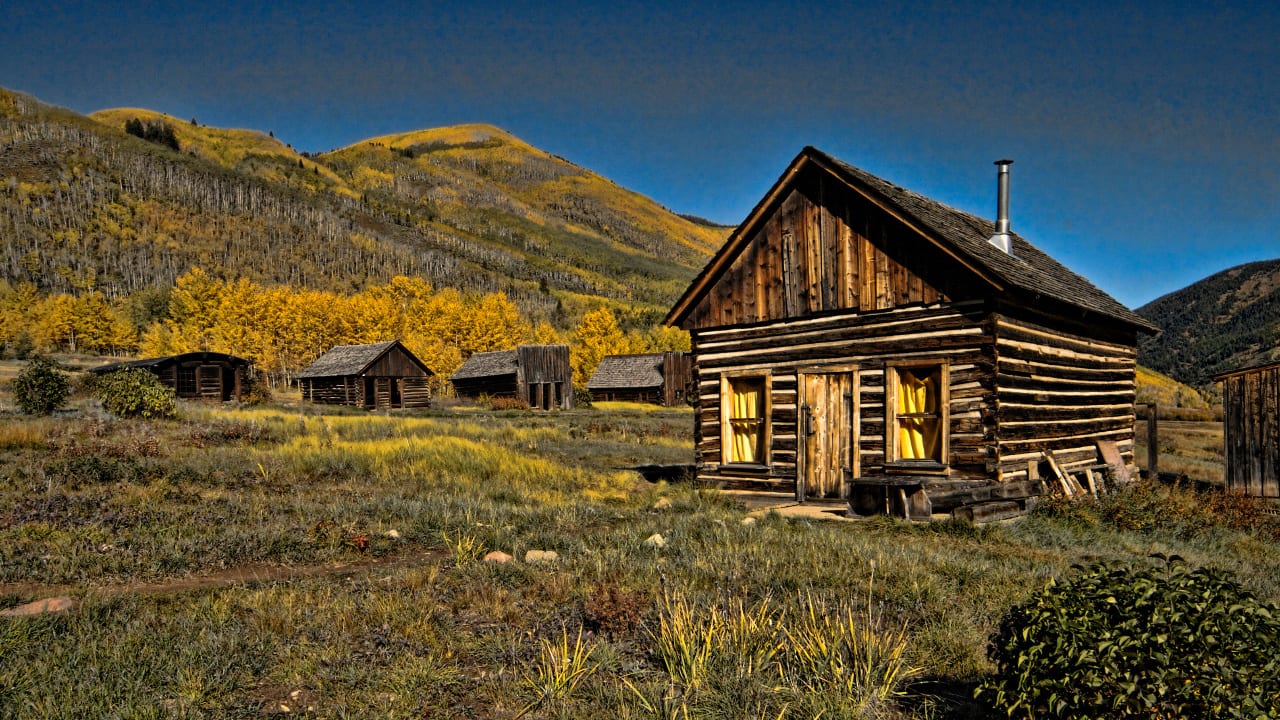 Colorado is a state filled with a rich, Wild West history which can be easily experienced with a trip to a ghost town. During the Great Gold Rush in the second half of the 19th century, settlers headed west in search of their fortune. Mining camps boomed.
Saloons, shootouts, cowboys, and sheriffs were commonplace during these glory days. Sometimes the town mines ran dry and miners and their families moved elsewhere to find work. Other times, a railroad line was constructed in a nearby town and drew the population away. No matter the reason, the towns transformed from heyday hubs to quiet (sometimes completely abandoned) communities.
A few western museums stage an "Old West" style ghost town with original buildings and artifacts. South Park City in Fairplay and Gunnison's Pioneer Museum are two examples. Being able to enter centuries-old saloons, still furnished with original 19th-century stools and bars, is an unmatched experience.
Visiting Colorado's Top Ghost Towns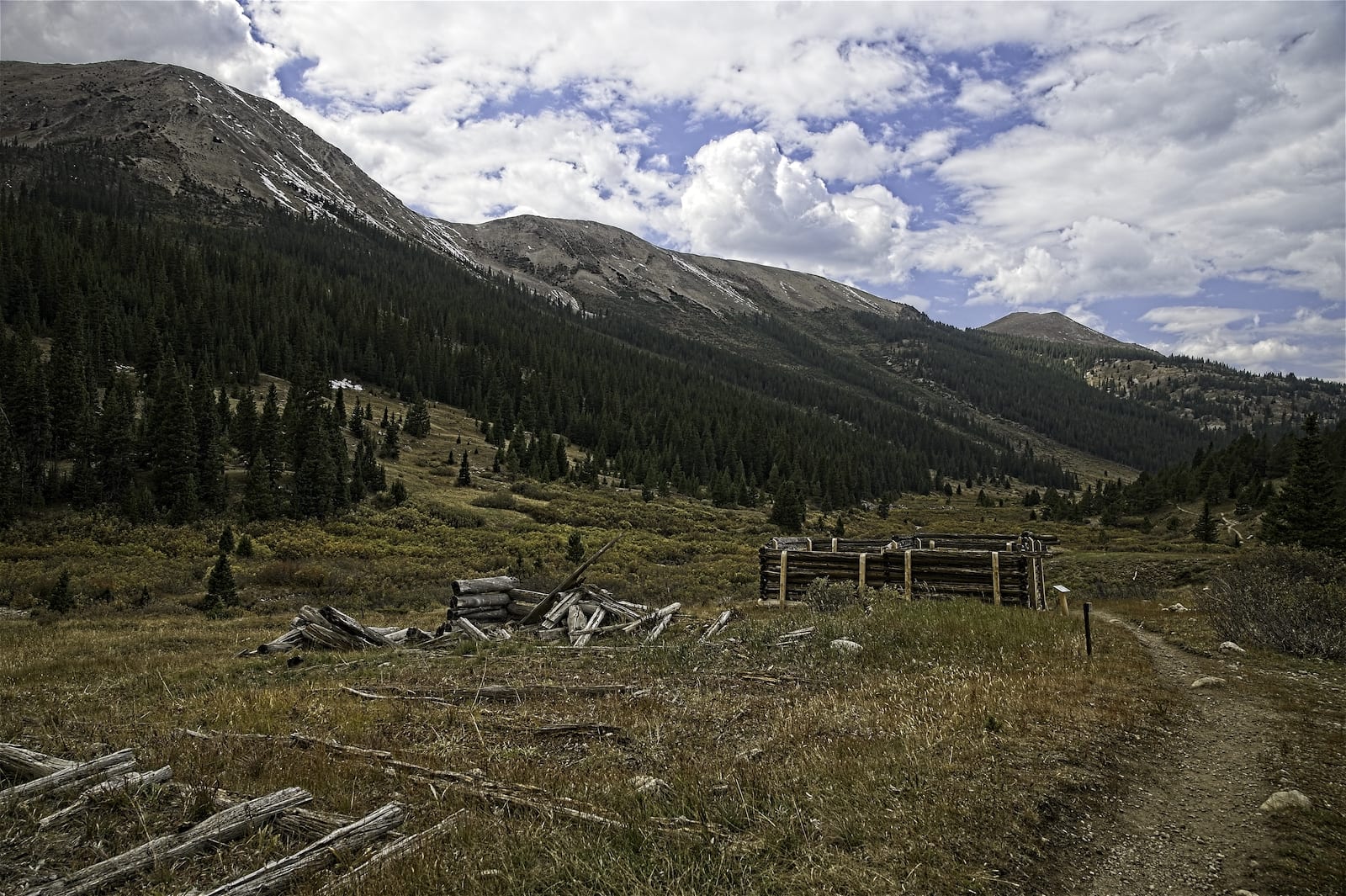 There are well over fifty ghost towns to visit. Each has its own local flavor, so many tourists decide to visit multiple during a journey through this beautiful state. Most towns are absent of any full-time residents. However, some like Nevadaville , have a few, although they're still pretty much deserted.
The towns can be remote and only accessible by 4×4, while others are just off the main road. They make for a relaxing day trip and fun addition to your travels. Depending on the route some can be accessed in the winter, while others are best saved for spring, summer, and fall when the snow is melted and roads are clearer.
If you're looking for a well-preserved town, check out Independence . Tucked away on the side of Independence Pass outside Aspen, it houses a large number of original homesteads. Listed on the National Register of Historic Places, this old mill site ultimately failed because of its dwindling population and harsh, high-elevation winters.
Another one of the most notable towns is Saint Elmo . It houses forty-three buildings, including a still operating General Store, open in summer and fall. There is also an abandoned railroad and a cemetery that definitely leaves a haunting impression.
Remote Off-Road 4×4 Ghost Towns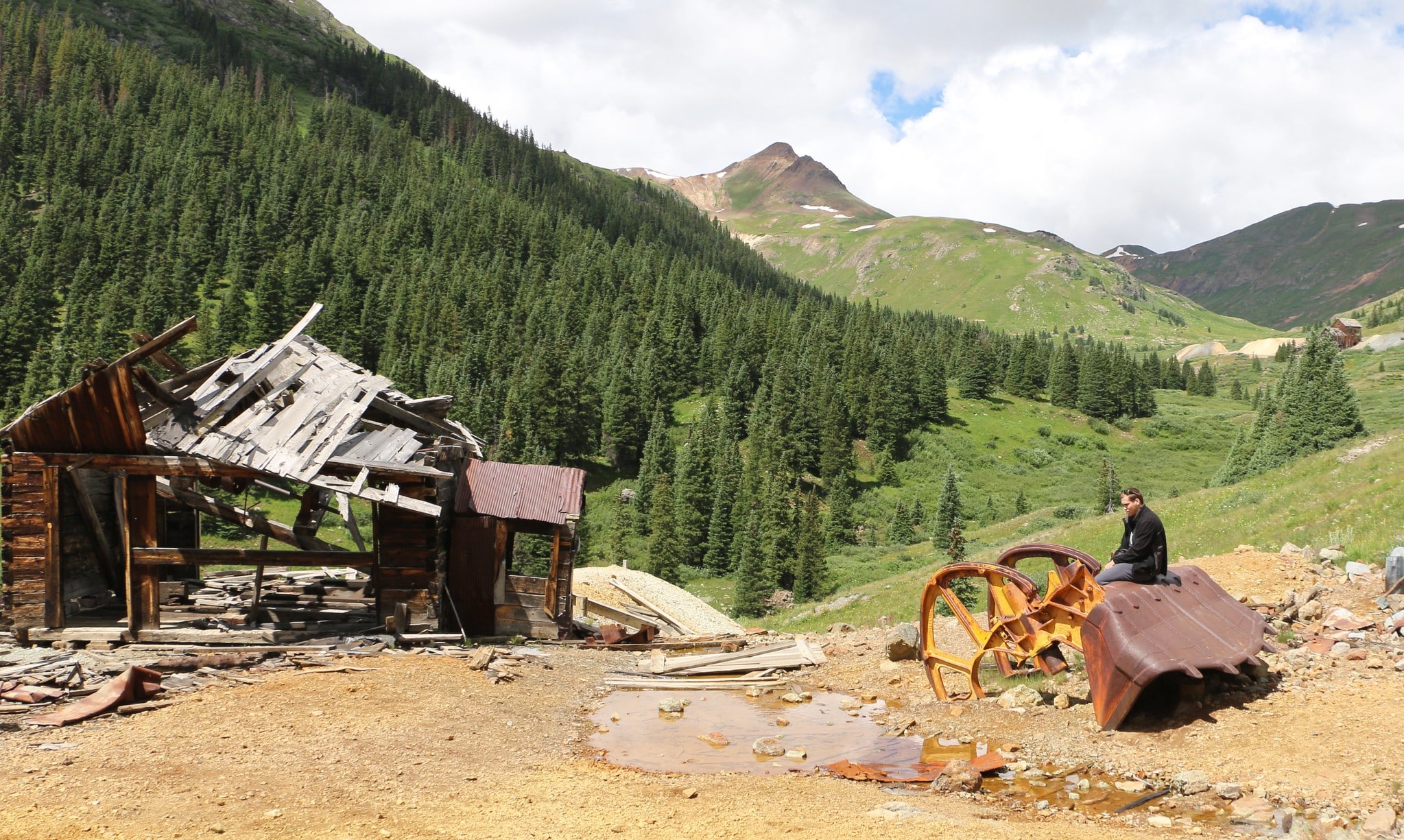 Graysill Mines is a good choice if you want to see the lifestyle that miners led, or Homestead Meadows if you want to check out the remnants of buildings that the earliest Rocky Mountain settlers once called home.
Many of the ghost towns in Colorado contain little evidence of previous inhabitants. There may only be one building or a few scraps of wood left behind. Bowerman , Hancock , and Teller City each have only a select amount of ruins left. They do, however, have interpretive signs with the town's history, so you can use your imagination as to what life might've been like back then.
Haunted Ghost Towns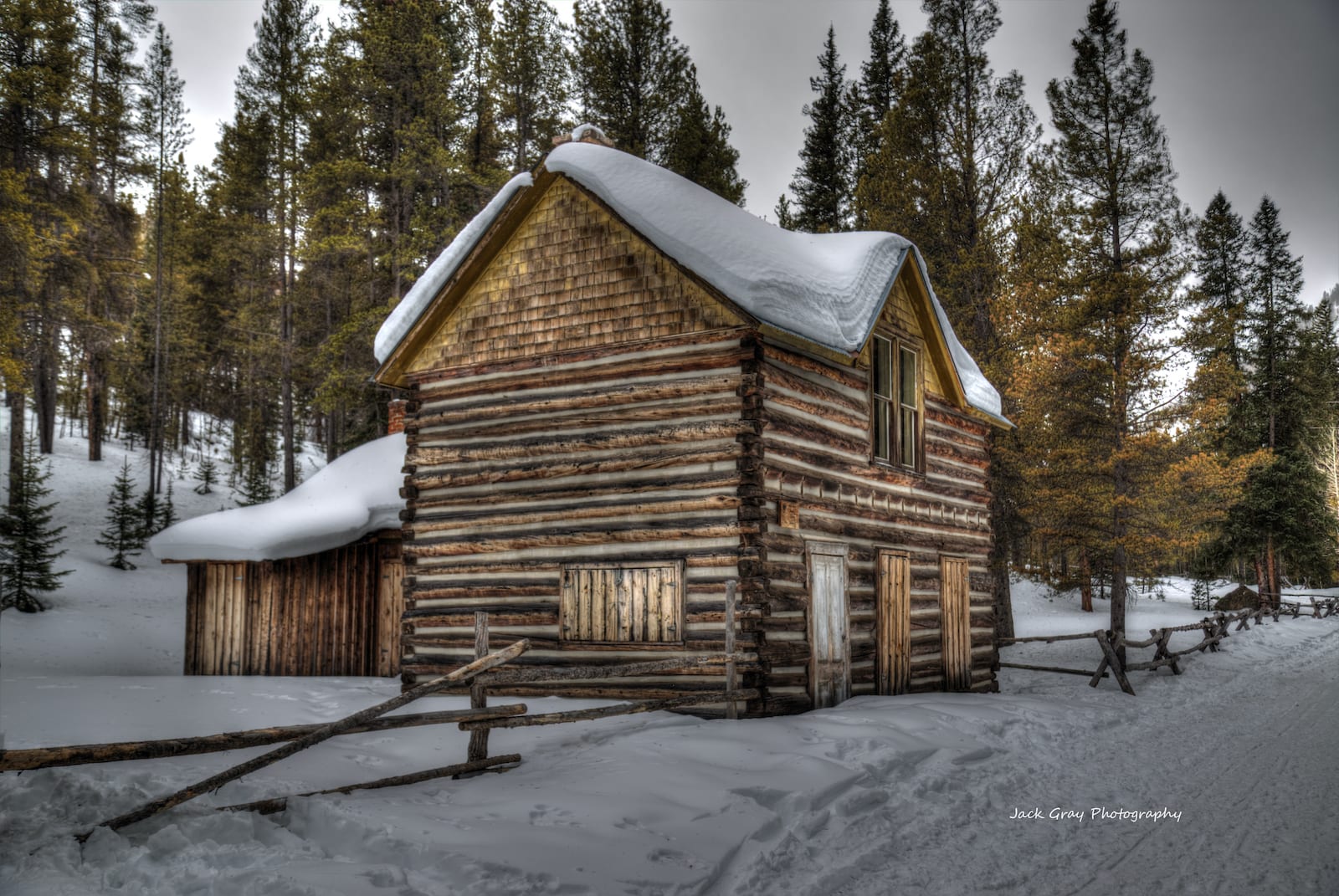 Historians and explorers aside, there is another major group of people who enjoy taking a trip to local ghost towns. Famous TV personas from series like TAPS, Paranormal State, and similar ghost-hunting shows have visited these abandoned communities.
They're in search of the residents who may have decided to stay, long after they died. It isn't uncommon to hear legends of cowboys, sheriffs, and criminals who were shot during altercations. If anywhere in the Wild West would be haunted, it's probably Colorado.
There are many ghost towns to visit, and there are a lot of nearby resorts that accommodate adventurous travelers in search of Western history and hauntings. If you're in the mood for even more ghost hunting, Colorado also has plenty of haunted places to explore.
Ancient Puebloan Villages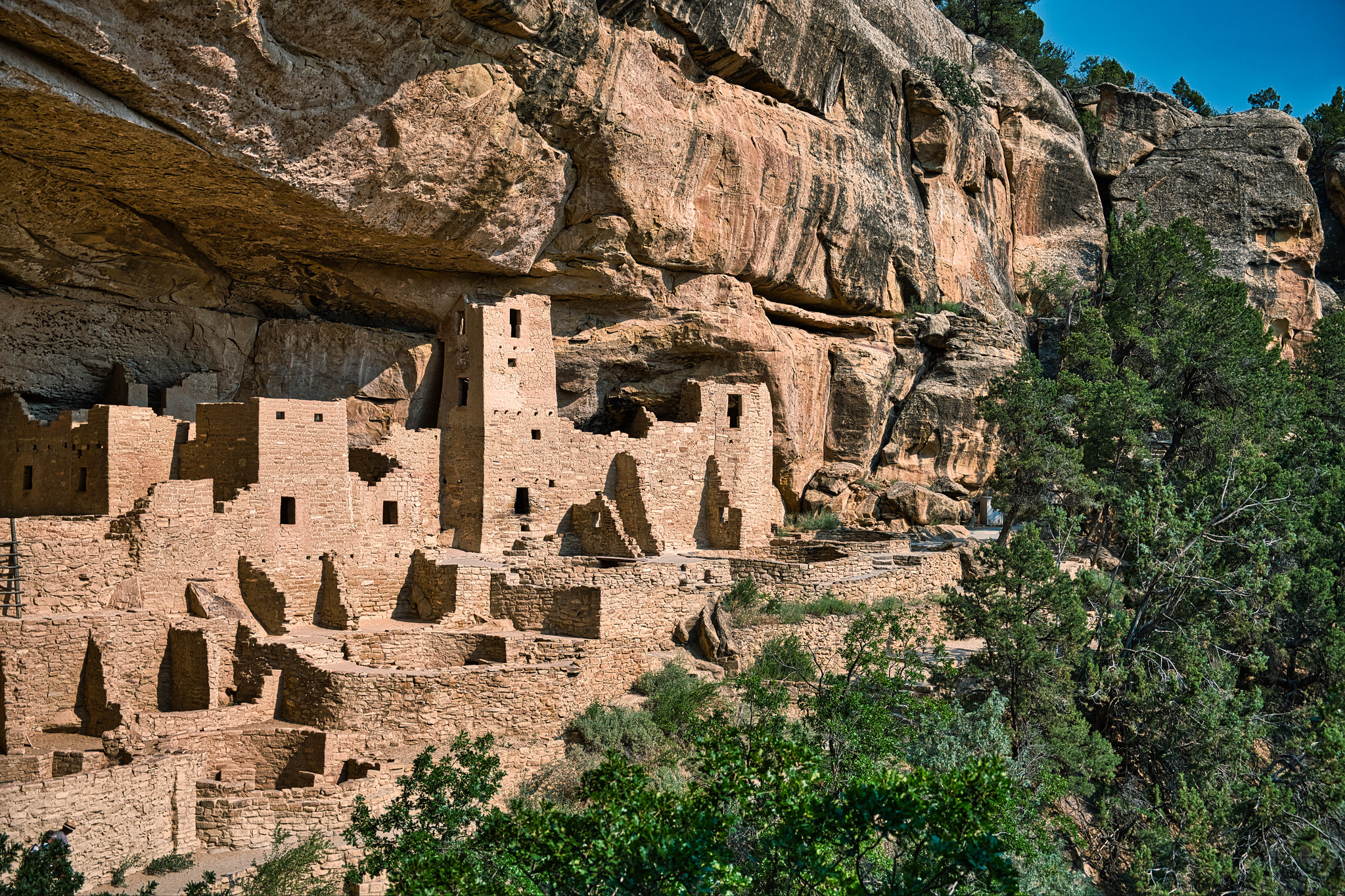 A different type of ghost town exists in Southwest Colorado, and they're much older than former mining towns. The Anasazi or Ancient Puebloan inhabited the Four Corners region until about 1300 AD when they mysteriously vanished. Reasons for their disappearance vary, with the most popular conclusion being they exhausted the area's natural resources.
Evidence of their homesteads exists at Mesa Verde National Park by Mancos, Canyons of the Ancients in Cortez, and Hovenweep in Dolores. Unbelievable cliff dwellings and mesa-top villages are waiting to be explored year-round. It's hard to understand how they managed to build these huge communities right into the side of a towering cliff, and in some cases, historians are still stumped about how they came to be.
Luckily, you can camp at all three parks to spend some more time ogling at the ancient towns. Because of their southwestern location, they are a little quieter than other Colorado attractions and could be a nice weekend trip to explore during the colder months.
Tips for Exploring a Ghost Town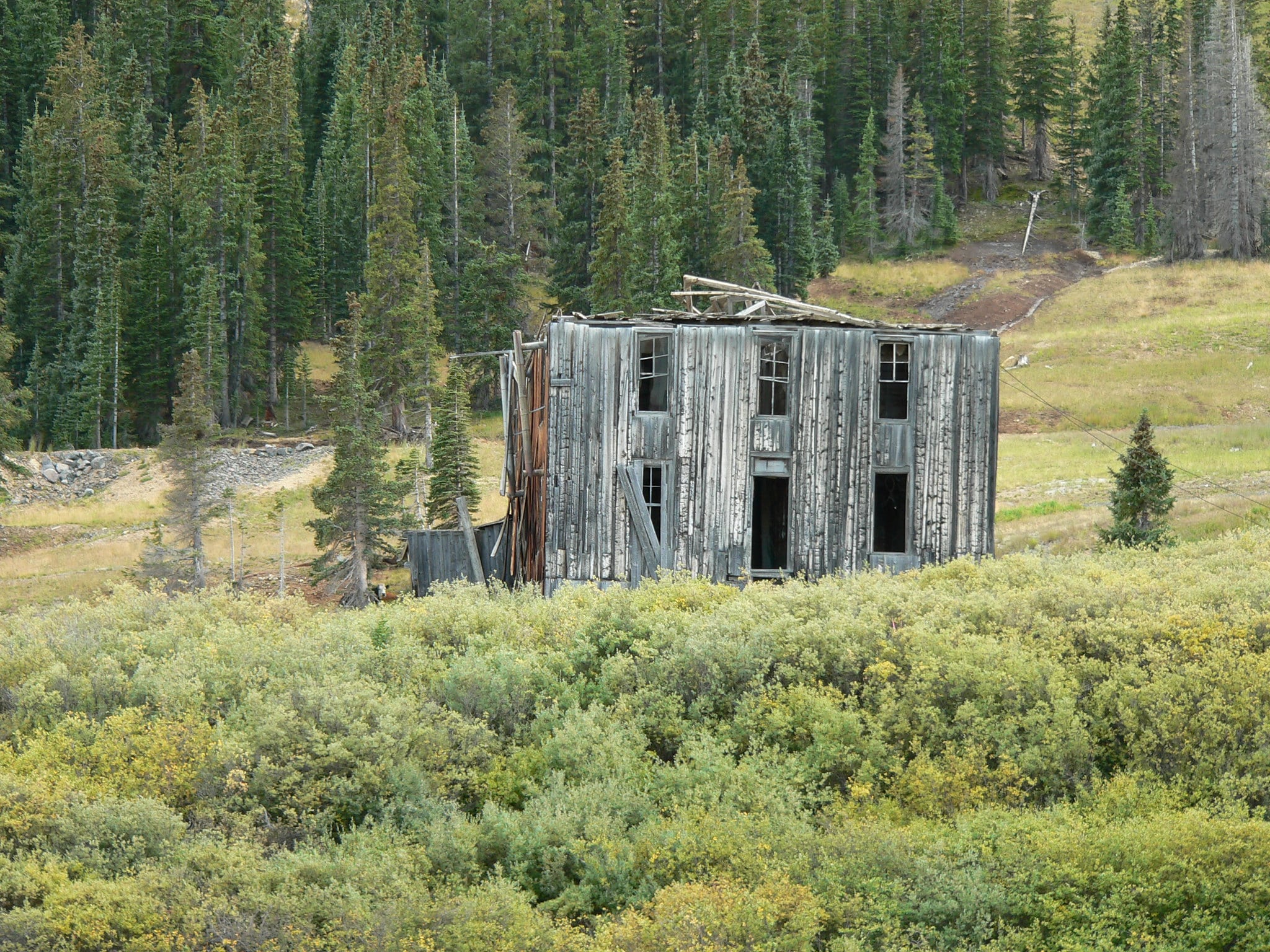 Here are some tips to make the most out of your visit to a Colorado ghost town:
Research the area beforehand: Before visiting a ghost town, it's important to do some research about the town's history and what to expect when you arrive. Download or print a map of the area in case you don't have cell phone reception in more remote towns.
Bring appropriate gear: It's important to bring suitable gear, such as comfortable shoes, sunscreen, a hat, and plenty of water. Ghost towns are often located in remote, high-elevation areas, and the terrain can be rough and uneven. Watch your step!
Respect the site: Remember that you're visiting a historical site. Be respectful and don't disturb any artifacts or structures. Take only photos and memories with you, and leave nothing behind.
Watch for hazards: Ghost towns can be full of hazards such as unstable structures, sharp objects, and dangerous wildlife. Be cautious and aware of your surroundings at all times.
Consider hiring a guide: If you want to learn more about the history of the ghost town and its significance, consider hiring a guide. There are several Jeep tours that can provide you with valuable information and take you to areas that you may not be able to access on your own.
Latest in Ghost Towns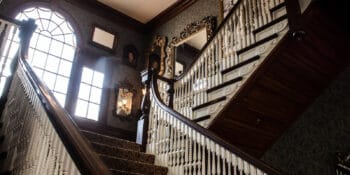 7 Haunted Places in Colorado for Ghost Sightings
Haunted places are located all around the world and Colorado is no exception. With a long…
7 Haunted Places in Colorado for Ghost Sightings Read More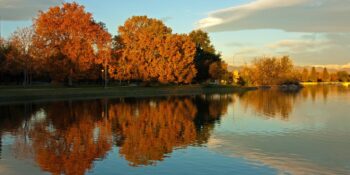 Fantastic Fall Activities in Colorado
Gorgeous aspen groves, tons of festivals and events, as well as numerous outdoor activities make Colorado…
Fantastic Fall Activities in Colorado Read More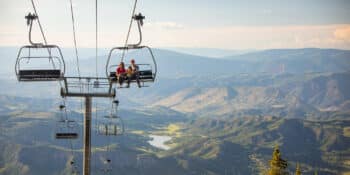 Summer Vacation in Aspen, Colorado
In addition to being a famous winter destination, Aspen and Snowmass' mountainous locations and wide range…
Summer Vacation in Aspen, Colorado Read More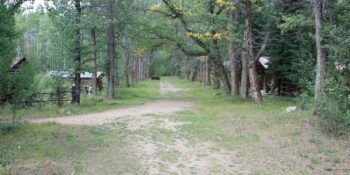 4 Ghost Towns of Clear Creek Canyon
Clear Creek Canyon is full of ruins from Colorado's early mining days. There are four remaining…
4 Ghost Towns of Clear Creek Canyon Read More
View  more ghost towns articles
Related Activities
Rent an ATV and explore the mountain backcountry. Finding ghost towns is a cinch with a Jeep. Some historic mines offer tours into the mine.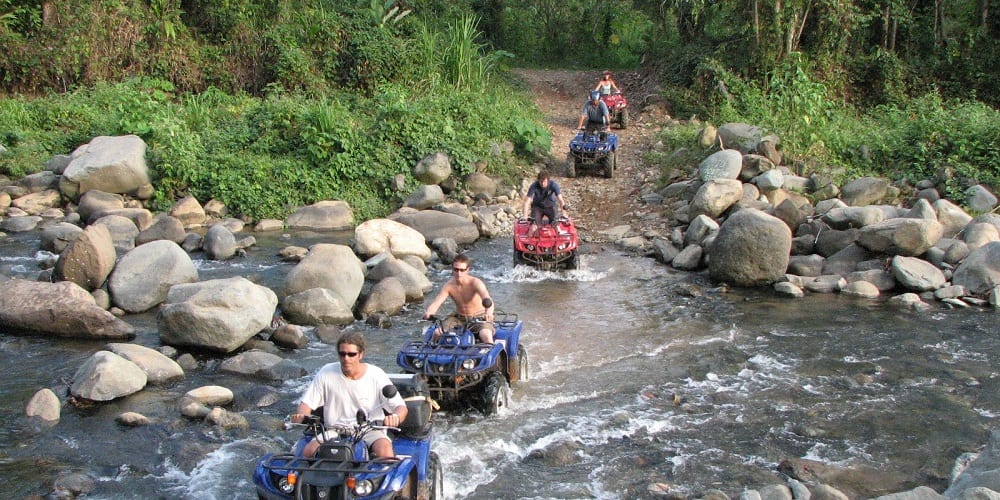 Colorado ATV Rentals & Tours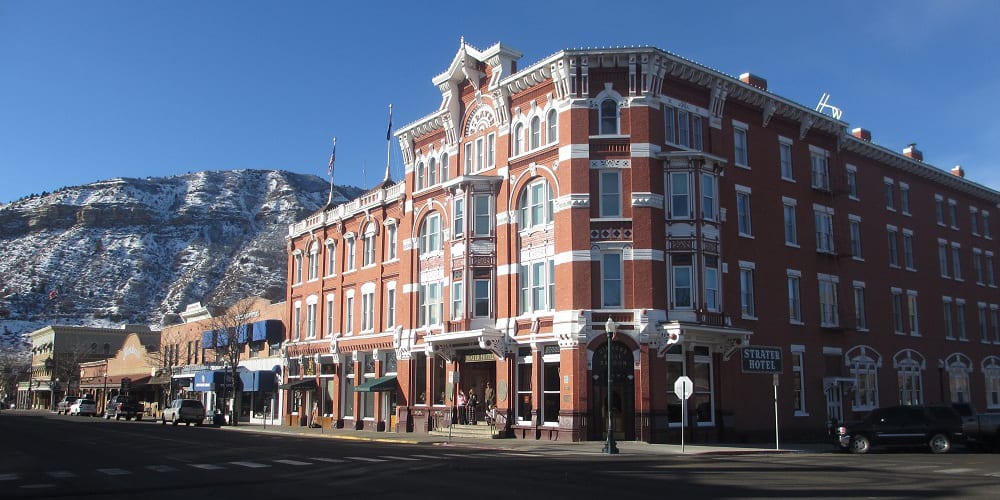 Colorado Historic Hotels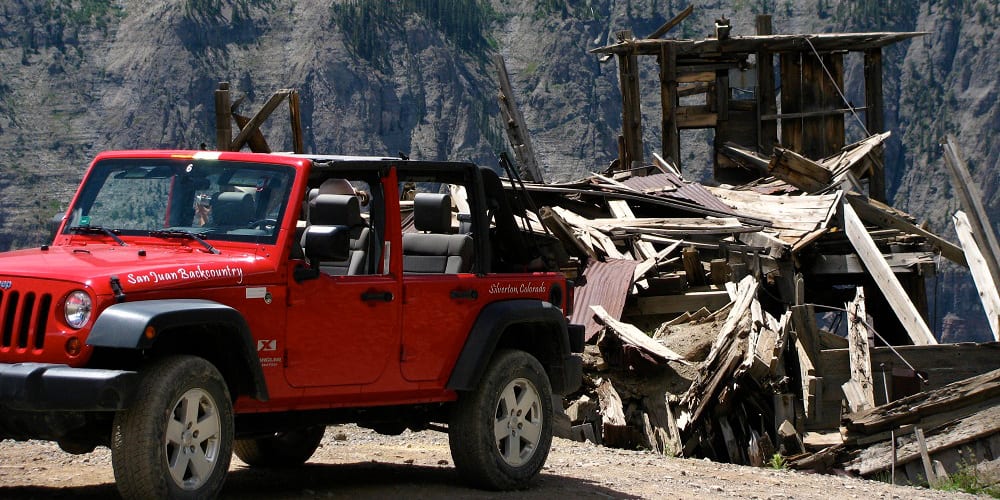 Colorado Jeep Rentals & Tours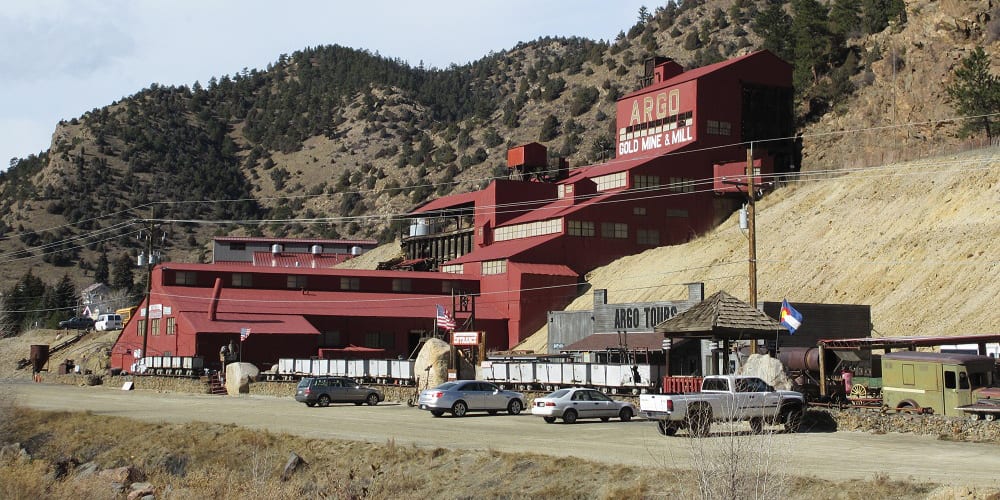 Colorado Mine Tours & Gold Panning
Get in touch.
Privacy Policy
Disclaimer—Terms of Service

Things To Do
Travel Blog
Colorado Activities
Colorado Events
Colorado Towns
Colorado Hotels
Colorado Restaurants
Colorado Transportation
Made in Colorado
Fall Activities
Federal Lands
Ghost Towns
Hot Springs
Ski Resorts
State Parks
Train Rides
16 Abandoned Places In Idaho [MAP]
Hunting for abandoned places in Idaho? You're in the right place. Below are 17 of my favorite abandoned places in the great potato state!
The Anarchist's Guide To Exploration
If you're looking to dive deeper into the world of urban exploration, this book is for you. Learn how to uncover more abandoned places and the techniques used to capture their beauty.
Abandoned Places In Idaho
1. deadwood mine.
44.46958, -115.58198
Miners originally discovered quartz outcrops in the Deadwood Basin in the early summer of 1863, and by 1868, they had discovered the Deadwood lead-zinc mines. The mine was developed between 1926 and 1927, when 2,200 feet of tunnels were completed, and work on a mill, a 250-horsepower hydroelectric power plant, and camp buildings, including a large combination office and home complex, began. 
In 1942, 7,733 tons of zinc-lead ore were extracted, yielding 240 tons of silver-lead-copper concentrates and 590 tons of zinc concentrates, all of which were in great demand during World War II. The mine struggled after the war and the bonuses expired, and it eventually closed in 1950.
What's left?
The mill with some machinery, a massive board house, and, weirdly enough, old snow-crushed travel trailer is among the wreckage of the deadwood mining site today.
The office and living room have baseboards and window frames that have been trimmed. The office and main living spaces have fine-grain tongue and groove floors. Most of the structure has double-hung windows with window weights.
Of all the abandoned places in Idaho, Deadwood is the most interesting mine to explore in my opinion.
2. Burke Ghost Town
47.5209, -115.8167
Burke is a ghost town in Shoshone County, Idaho, United States, established in 1887. After substantial amounts of silver and lead were discovered in 1884, the mining town grew. However, because the boomtown was built in a ridiculously tiny canyon, it resulted in some fantastically inventive architecture.
Burke Canyon is long and narrow, with a maximum width of about 300 feet. It seems impossible to squeeze an entire town into such a small space, but they did. Because the railroad rails and the vehicle road shared the main street, cars and carriages were forced to stop when the train passed.
Burke, like many other mining communities in the Old West, began to deteriorate at the turn of the century, and the mines began to close. In 1990, there were only 15 people remaining in town, according to reports. The last of the mines closed in 1991, and Burke was deserted within a few years.
Many deteriorating structures, abandoned mining equipment, and abandoned relics can still be found throughout town. The village is cut through by a twisting railroad track scattered with old big tools, and there is an unmarked, unknown cemetery with most of the headstones damaged.
3. Old Idaho Penitentiary
43.60279, -116.16197
The Old Idaho Penitentiary State Historic Site was a working jail in the western United States from 1872 to 1973, located east of Boise, Idaho. The first structure, known as the Territorial Prison, was built in the Territory of Idaho in 1870, when the territory was only seven years old and two decades before statehood. 
The area that is presently known as the Rose Garden (as it was formerly termed) was originally used to hang convicts. The Idaho State Penitentiary was closed to inmates in 1973. Although it is not a structure, inmates used to box and play baseball, basketball, handball, tennis, horseshoes, and football in the Idaho Botanical Gardens.
The Idaho Merci Train boxcar, the J. Curtis Earl Memorial Exhibit, and the buildings and cell houses with displays are currently on the site. J.C. Earl gave the state of Idaho his personal collection of antique armaments and military memorabilia in late 1999. In 2001, these objects were put on display. They date back to the Bronze Age and are still utilized for sports, police enforcement, and military purposes today.
The prison's ancient history and tragic past leave many believing that it's one of the most haunted abandoned places in Idaho.
4. Silver City Ghost Town
43.01682, -116.73318
Silver City was the epicenter of one of the West's largest silver finds. In 1863, gold was discovered in the Owyhee region of southwest Idaho for the first time. The Jordan party, a group of 29 guys, made the finding. Despite the region's remoteness and mine conflicts, the Owyhee district continued to produce large quantities of precious metals. 
For nearly fifty years, the Owyhee mines were key producers. During this time, Silver City prospered, with a population of around a thousand people in 1912. Silver City was listed on the National Register of Historic Places in 1972 as a historic district including more than 10,000 acres. The Idaho Hotel, which was established in the 1860s and rebuilt in 1972, is still open to guests on a periodic basis.
Silver City, which is at an elevation of 6,200 feet, is surrounded by the 8,000-foot-high Owyhee Mountains. It's like taking a trip back in time when you visit the town. The Idaho Hotel, one of the city's prominent structures, has remained almost unchanged since its construction 100 years ago, except for a few modern conveniences. Around seventy-five structures dating from the 1860s to the early 1900s may be found in this historic village, each inspiring the imagination.
5. Boothill Cemetery
43.83238, -115.84137
Boot Hill Cemetery is another name for Pioneer Cemetery. During the days of the Old West, a boot hill was a typical term for cemeteries since those who were buried there "died with their boots on." This centuries-old cemetery's nickname is very apt.
With so many graves of people who died violent deaths, it's safe to assume that this is a creepy site to visit late at night. All these tombs come from the nineteenth century. Many of them have wooden or iron enclosures, which are common in tombs from this time period.
Only a small percentage of the cemetery's original headstones remain. Many of the cemetery's original (typically wooden) burial monuments have been destroyed by fires and other natural weathering over the years. So many of the young and old that are buried here died at such a young age.
6. Boise Underground Tunnels
43.61624, -116.20456
According to local lore, there is a hidden labyrinth of tunnels beneath Boise. The "Chinese tunnels," as they're known, are said to be in the old Boise neighborhood. According to believers, Chinese immigrants created underground tunnels in the late 1800s and early 1900s to escape the world above and move around the city without being detected. 
The tunnels were used for gambling, opium dens, and other illicit activities. The Egyptian Theater and Hannafins Cigar Shop, among other places in downtown Boise, are said to have access to underground tunnels.
Nonbelievers claim that the tunnels are a hoax, and that the mystery was created by locals who were distrustful of Chinese immigrants. Others fervently support the tunnels' existence, hoping to stumble upon one, one day! Of all the abandoned places in Idaho on our list, these tunnels are clearly the most illusive.
7.   Gibbonsville Mining Town
45.550144, -113.928204
The first people arrived in 1872, and the tiny settlement was known as Dahlongi at the time. The little village was renamed Gibbonsville in honor of Colonel John Gibbon, who chased the Nez Perce Indians and participated in the Battle of the Big Hole, when gold was discovered on Anderson and Dahlonega Creeks in 1877.
The gold placers near Gibbonsville were worked extensively, yielding around $2 million in gold, with the A. D.& M. Mine accounting for about half of it. However, by the turn of the century, the ore had run out, and when a devastating fire broke out in 1907, production had come to a halt.
Gibbonsville is no longer a ghost town, but rather a tranquil small burg with a population of just over 100 people. Though it bears little resemblance to its raucous mining days, the community has numerous structures that have been restored from those times, as well as the remnants of the A.D. and M. Mine.
8. Titan 1 569-A Site
42.669771, -115.867852
BOISE, Idaho (AP) – The nuclear contribution of Ada County during the Cold War is less well-known today than it was when its warheads were aimed at the "Red Menace". With the Soviet Union fading from memory and terrorism ushering in a new and different form of war, the idea of nuclear-tipped missiles being stationed within a few miles of Boise seems practically science fiction.
 A mobile house, a collection of automobiles, old tires, and mounds of snow-covered ground characterize the property, which is typical of isolated homesites around Idaho. Each of the three installations, which were decommissioned in 1965, had three Titan 1 missiles.
The raised ground hints at what remains of Titan I missile complex 569-C. Two more, 569-A and 569-B, were built in Owyhee County at Grand View and Bruneau in the early 1960s. The 569th Missile Squadron at Mountain Home Air Force Base, the nation's final Titan I squadron to be activated, was in charge of them all.
9. Eileen Dam
48.77533, -116.15542
The Eileen Dam was built to provide energy to Cynide Gold Mining Company's operations in the Deer Creek area. Around the year 1896, mining began in the Deer Creek area. In 1923, the corporation finished plans for a dam and power station on the Moyie River near the mouth of Skin Creek, which was built below a box canyon. 
Eileen Dam was built as an arch dam because arch dams aren't supposed to fail, and it didn't. The eastern abutment was built against shale rock because of an engineering design flaw. The Moyie River broke through the weak spot, the shale rock at the eastern abutment, in May due to the strong water pressure.
Because the corporation couldn't sell enough stock to fund dam repairs, the salvageable equipment was sold. The early attempt to capture the Moyie River's electricity is now a monument that commemorates former mining days while also posing a challenge to rafters racing through the washout.
Eileen Dam is a beautiful spot, and is one of the best legal abandoned places in Idaho to explore.
10. Franklin County Sugar Co.
42.06759, -111.84443
If you travel north from Logan, Utah in Cache Valley, you will first arrive to Franklin County, Idaho. Whitney, Idaho is a small community located just south of Preston, Idaho, and a few miles north of the Utah-Idaho state line. Sugar beets were successfully produced for the first time in the intermountain west in the late 1800s. Franklin County's first successful sugar beet crop was planted in 1899. 
They carried the beets to areas like Ogden, Utah for processing until 1920, when the Franklin County Sugar Company built a sugar beet processing factory immediately south of Whitney. The factory was sold to the Amalgamated Sugar Company in 1960.
The mill lies in ruins, with its chambers showing its significance, far from the fields. The damaged windows and destroyed rooftops give off haunted vibes. The whole structure is an embodiment of life and work that once was roaming inside that building. Many explorers know of the sugar company, making it one of the more popular abandoned places in Idaho.
11. Shoshone Depot Shoshone
42.936685, -114.409068
Shoshone was established in 1882 during the construction of the Oregon Short Line and has long been regarded the primary train station in the Magic Valley region of south-central Idaho. Due to practical challenges posed by its location south of the Snake River Canyon, the considerably bigger community of Twin Falls, 26 miles (42 km) to the south, never developed a substantial railroad presence.
The Shoshone Ice Caves are located around 15 miles (25 kilometers) north of Shoshone. The caves are lava tunnels that are cool enough throughout the summer to keep the ice within frozen. This characteristic, made Shoshone popular with visitors in the days before refrigeration, as "the only site for hundreds of miles where one could purchase a cool beer."
Shoshone has one bar left now, although it also includes a cafe, a movie theatre, and a grocery store. Shoshone is mostly a farming and dairy village, with a few retail shops. Because of the huge disparity in the cost of living, Shoshone has become a bedroom community for Blaine County workers.
12. B-23 "Dragon Bomber" Crash Site
45.15891, -115.84132
The B-23 "Dragon Bomber" was a military plane that never saw action in any aerial conflicts. The little plane went down in a wooded, lakeside landing location almost 70 years ago and has been there ever since. Even though they were scheduled to land safely in Tacoma, Washington, their preparations were thwarted by a heavy snowstorm. The men had to decide whether to parachute into the cold countryside or try to land. The pilot observed Loon Lake through the ice-covered windshield of the cockpit, and it took him two tries to successfully land the plane.
Fortunately, all eight crew members survived, but one of them sustained serious leg injuries. Faced with frigid weather and a lack of food, they spent days trapped beneath a makeshift shelter they'd ramshackle by digging into the snow and covering the icy hovel with fragments of the damaged jet.
The wrecked plane's wreckage is still at the original accident location. Finding the wreck necessitates a 10-mile roundtrip excursion through the woods that incorporates many overlapping pathways.
13. Bayhorse Ghost Town
44.39761, -114.31311
In the 1860s, Bayhorse, Idaho, was a thriving village with a population of 300 to 500 people. While the name of the initial prospector is now forgotten, his two bay horses are not, and they are responsible for the town's name.
The buildings perched on the hill originally provided the means of grinding and processing the silver ore, but the historic town is a main attraction. While the town rose and fell during the 1880s and 1890s, Bayhorse eventually died a slow death as the challenges of carrying carts full of ore in and out of the rocky canyon combined with the economic realities of dropping silver prices. 
The small town, located beneath the mill's colossal structure, was closed and locked until 2006, when it was designated as a state park.
On a hillside overlooking town, the ancient mill still stands. The structures atop the hill were built to mill and treat silver mines, but the old mining town is now a popular tourist destination. It features a weathered "city," complete with homes and a hotel in varied states of disrepair.
14. Mackay Mine
43.89043, -113.6754
By 1890, Mackay had established itself as the regional mining centre in the valley below. Since 1900, the history of the Empire Copper Co.-owned mine has largely been the history of mining in the region. The construction of a smelter with two 125-ton blast furnaces at Mackay in 1901 marked the start of large-scale operations on this group of claims. 
The deception and incompetence that characterized its early history have hampered the development of the region's mineral potential. The mill was mostly operational between 1912 and 1913, but it was closed in the first half of 1914 due to the low price of lead, even though the ore deposits were still being developed.
Mackay has evolved into a modest ranching and farming community. The town is situated in a stunning valley surrounded by some of Idaho's highest peaks. Mining relics and structures from the area's copper mining days can be seen and are accessible by a passenger vehicle.
15. Cottonwood Airforce Station
46.06707, -116.46399
The 822d Aircraft Control and Warning Squadron (AC&W Sq) was assigned to the new station on July 1, 1958, and it became operational on July 1, 1958. The station had 66 structures, including operation and administrative buildings, three dormitories, 27 family housing units, three radar domes, and other support facilities and utilities.
In November 1964, the base's closure was announced. The station was forced to cease down early due to a catastrophic bearing failure in the AN/FPS-24 antenna pedestal.
Most of the radar station on the mountain's peak has been demolished. Only building foundations and dilapidated streets remain, except for the AN/FPS-24 tower.
16. Leadore Ghost Town
44.6802, -113.35809
The historic town of Leadore is one of two official "cities" in Lemhi County, with a population of about 100 people. Leadore was founded in 1910. When the Gilmore and Pittsburgh Railroad was built in the Lemhi Valley, it saw significant growth in population. From 1910 until 1925, the town continued to expand.
When the train was abandoned more than 50 years ago, the town's population began to decrease. Today, you may take a stroll across town and see many of the town's century-old structures still standing.
Many of the town's buildings appear to be from another era. Since Leadore was a popular train stop, it doesn't appear that much has changed. This location has the atmosphere of a typical tiny town. Everyone knows everyone, and you'll almost certainly meet a few of them during your visit.
Of all the abandoned places in Idaho, Leadore is my favorite ghost town. It offers a great mix of abandoned buildings and friendly small-town vibes.
Go out and explore!
That concludes our list of abandoned places in Idaho, but that doesn't mean that's all there is to find. Take the back roads, follow train tracks, and find some places for yourself. There are plenty of places I kept off this list so get out there and explore.
If you're having trouble finding abandoned places, be sure to check out our Ultimate Guide to Finding Abandoned Places , or explore abandoned places near you .
Similar Posts
14 Ghost Towns In Michigan [MAP]
If you're searching for ghost towns in Michigan, we've got you covered! Below are 14 different ghost towns you can explore across the great state of Michigan along with their status and exact GPS coordinates. We rate ghost towns in Michigan based on their status. Here's how our system works: Abandoned: Is abandoned with ruins…
10 Ghost Towns In Connecticut [MAP]
If you're searching for ghost towns in Connecticut, we've got you covered! Below are 10 different ghost towns you can explore across Connecticut along with their status and exact GPS coordinates. We rate ghost towns in Connecticut based on their status. Here's how our system works: Abandoned: Is abandoned with ruins and structures in a…
Exploring Abandoned Six Flags New Orleans [PHOTOS]
Six Flags New Orleans is an overgrown apocalyptic swamp land. Wild bore, coyotes, and alligators now roam between the ticket booths and concession stands. Megalithic rusting coasters stand tall and frozen against the swampy marsh. When I first heard about the dilapidated state of Six Flags New Orleans, I just knew I had to go….
21 Abandoned Places In Oregon [MAP]
Searching for abandoned places in Oregon? You're in the right place. Below are 21 of my favorite abandoned places across the great state. Abandoned Places In Oregon 1. Burns Air Force Base 43.562500, -119.151389 History:  Burns Air Force Station was established as part of Air defense Command's planned deployment of forty-four mobile radar stations across…
27 Ghost Towns In Colorado [MAP]
If you're searching for ghost towns in Colorado, we've got you covered! Below are 27 different ghost towns you can explore across the great state of Colorado along with their status and exact GPS coordinates. We rate ghost towns in Arizona based on their status. Here's how our system works: Abandoned: Is abandoned with ruins…
13 Ghost Towns In Kansas [MAP]
If you're searching for ghost towns in Kansas, we've got you covered! Below are 12 different ghost towns you can explore across Kansas along with their status and exact GPS coordinates. We rate ghost towns in Kansas based on their status. Here's how our system works: Abandoned: Is abandoned with ruins and structures in a…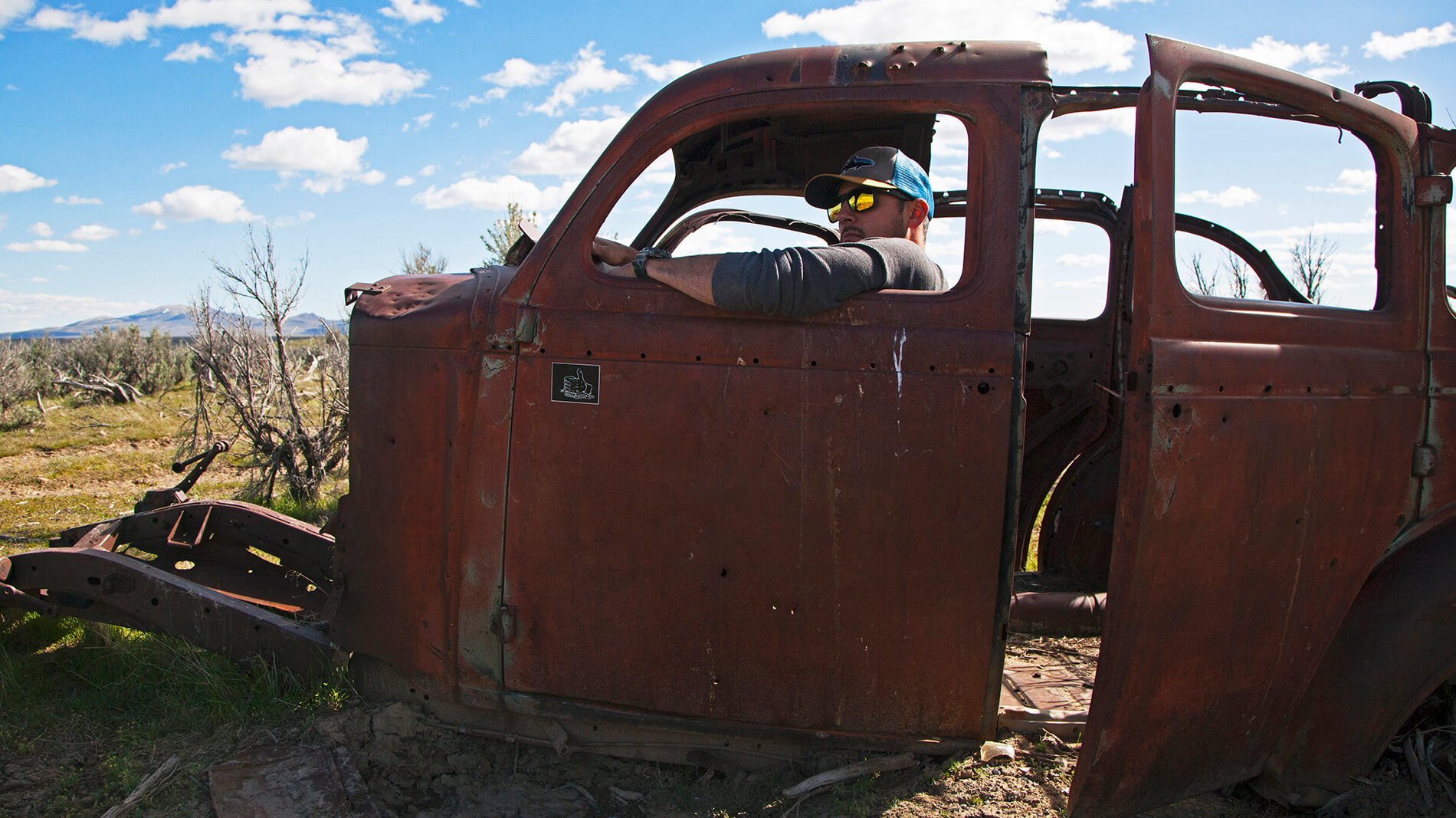 26 Must-See Nevada Ghost Towns & How to Find 'Em
From abandoned boomtowns-gone-bust to old relic-strewn mining camps to "living ghost towns" with charming old-school B&Bs and real-deal, still-servin' saloons, Nevada's 600-odd ghost towns ( that's more than actual populated ones )—make Nevada an unbeatable destination for those looking to literally walk through history.
Find out where to go, what to make sure you see, when to venture out, and how to get there.
Paradise Valley Nelson Blair Austin Fish Lake Valley Fort Churchill Aurora Belmont
Tybo Unionville Candelaria Berlin Gold Mountain Midas Delamar Sand Springs Gold Point Ione
Pioche Jarbidge Goodsprings Manhattan Goldfield Metropolis Rhyolite Nivloc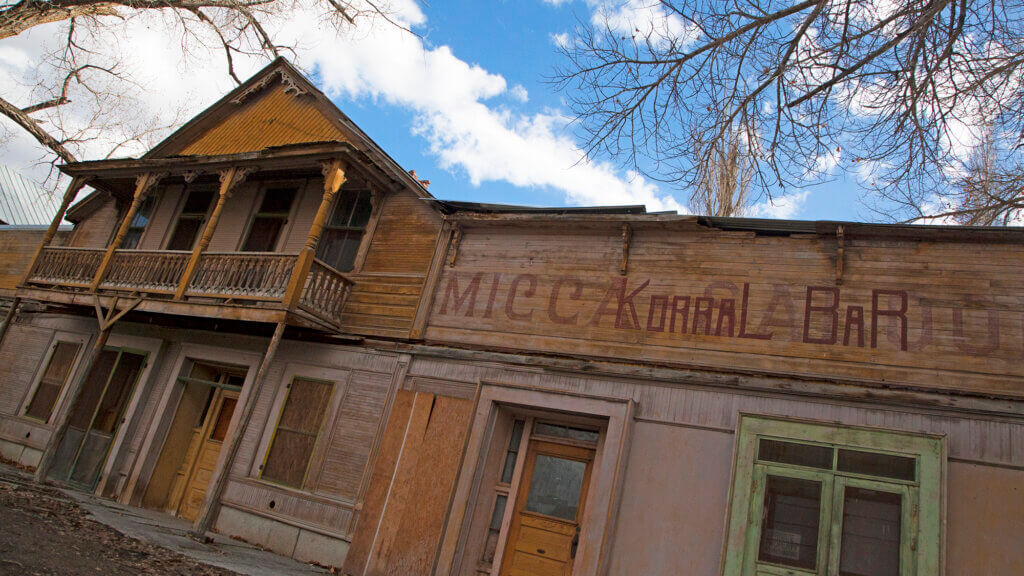 1. Ghostly street scenes in Paradise Valley
1 hour north of winnemucca.
With mountains on three sides, ensconcing multiple rivers and creeks that nourish verdant farms and ranch lands, Paradise Valley is aptly named. It's also a classic example of what Nevadans call a "living ghost town," as around 100 people call the surrounding area home—just not in any of "downtown's" buildings… except the saloon.
Although it truly looks and feels like a movie set, this building pictured above was once the Micca House—a historic home built in 1885 that went on to be a department store, post office, and government office. At one point, a horse broke into the building and got stuck for multiple days; its happy and healthy condition when it was rescued is attributed to the care it received from a long-gone former employee, who was said to still reside there in spectral form.
But seriously, hit up the Paradise Valley Saloon & Bar G . If you like (or haven't yet experienced) Basque chorizo burgers washed down with ice-cold domestic beers, this is your jam.
Are we talkin' northern or southern Nevada? NORTHERN Distance from Reno: 205 MILES or about 3.5 HOURS Roads: PAVED ENTIRELY, 2WD ALL DAY Best time of year to swing through: ANY TIME, THOUGH YOU MAY RUN INTO SNOW IN WINTER MONTHS Closest LIVING town to snag amenities: WINNEMUCCA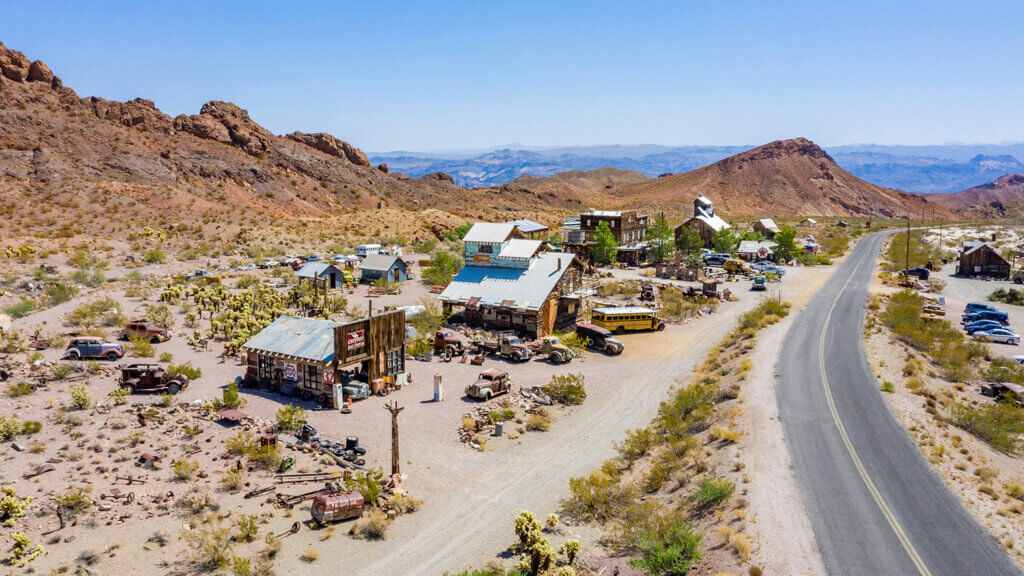 2. Techatticup's Modern Day Prop City
45 mins south of boulder city.
During the mid-1880s, the Techatticup gold mine in Eldorado Canyon was movin' and shakin' in biggest of ways. In addition to pumping out actual millions of dollars in gold, silver, and copper—in values that made it the richest and most famous gold mine in southern Nevada—this mining camp was known for lawlessness of the kind Hollywood couldn't even come close to depicting on-screen.
The town itself—now known as Nelson Ghost Town—was founded by deserters of the Civil War, who assumed this isolated location would be the last place military would come searching for them. In true boomtown fashion, the mine dried up, and a flash flood wiped the area out. Some of the buildings remain, in ways that have attracted the eyes of countless cinematographers. Today, you can tour the Techatticup Mine , as well as what has grown into a leftover grounds of movie, TV, and magazine shoots—with props like the plane crash above, a permanent souvenir from the cult film 3,000 Miles to Graceland.
Are we talkin' northern or southern Nevada? SOUTHERN Distance from Vegas: 45 MILES, OR 50 MINUTES Roads: PAVED ENTIRELY, 2WD ALL DAY Best time of year to swing through: SPRING OR FALL, SUMMER MAY BE A BIT TOASTY Closest LIVING town to snag amenities: BOULDER CITY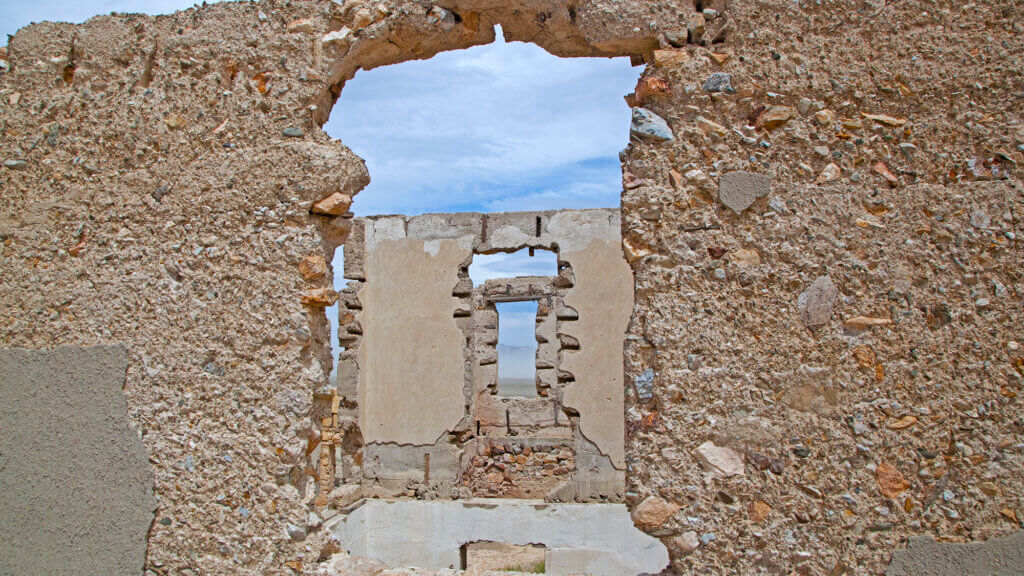 3. A super saucy triple window effect in Blair
1 hour south of tonopah.
Blair got its shot at being a boomtown, attracting gold-hungry prospectors from near and far, but hers was a bit more short-lived. Mining took serious root in nearby Tonopah and spread throughout the region as a result… to places like Blair and Silver Peak. A giant 100-stamp mill was built in 1907, which just so happened to be the largest of its kind in the whole state. By the year 1920 rolled around, the mine had dried up and Blair's 700 residents moved on to bigger and better things. Today, a few eroded buildings still stand, like the stamp mill pictured, with a Nevada view that's dang near impossible to rival.
Are we talkin' northern or southern Nevada? SOUTHERN Distance from Reno: 223 MILES, OR 3.75 HOURS Roads: PAVED EXCEPT THE LAST TINY STRETCH, 2WD ALL DAY Best time of year to swing through: SUMMER Closest LIVING town to snag amenities: TONOPAH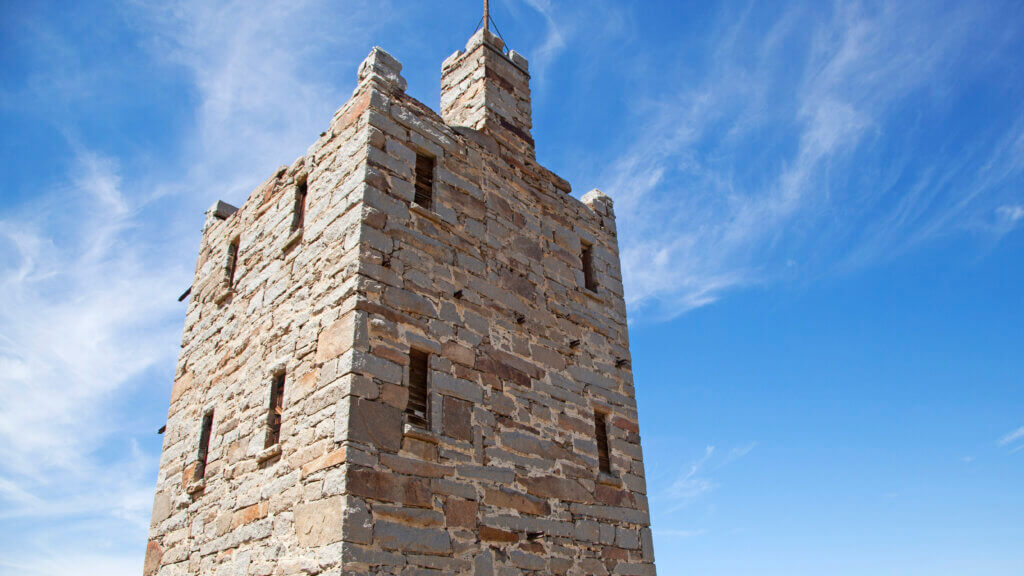 4. A desert castle sure to instigate a little travel stoke in Austin
Towering over the Reese River Valley at Austin's western edge, Stokes Castle was modeled after a real Roman tower for well-heeled railroad magnate, Anson Phelps Stokes, in the late 1890s.
Today it stands as a solid monument to the town's mining-era grandeur. More than 10,000 people were living in Austin , chasing a serious silver vein, but by the time this tower was completed, the mine had dried up and everyone was off to the next place. He and his family lived in his castle for less than a year, and it has been unoccupied since.
Are we talkin' northern or southern Nevada? CENTRAL Distance from Reno: 173 MILES, OR 3 HOURS DOOR TO DOOR Roads : PAVED EXCEPT THE LAST TINY STRETCH, 2WD ALL DAY Best time of year to swing through: SUMMER Closest LIVING town to snag amenities: AUSTIN , BUT RELY ON REGULAR BUSINESS HOURS ONLY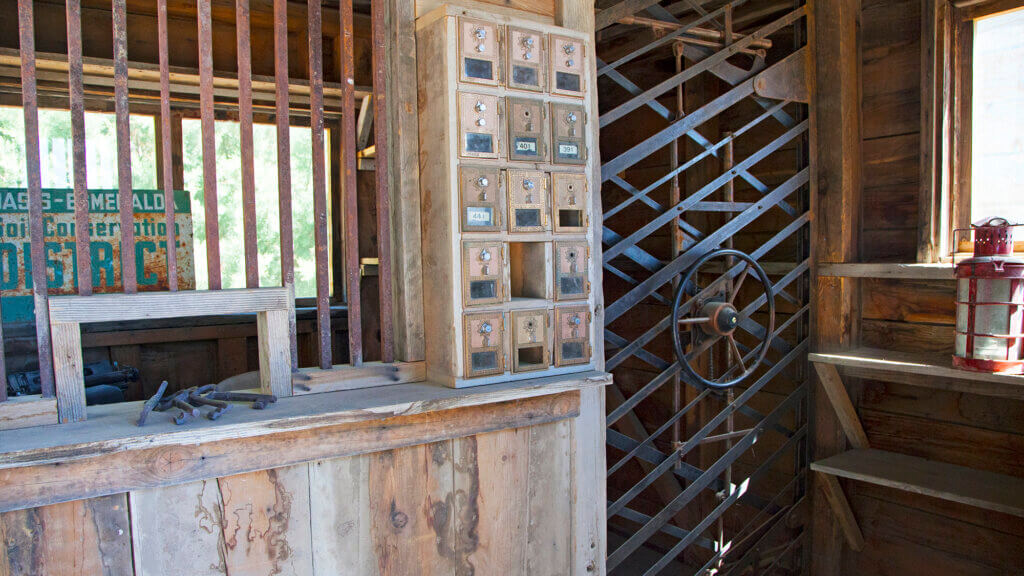 5. Fish Lake Valley's fully intact 1881 Post Office Building
This California-Nevada-straddling White Mountains boast Boundary Peak —Nevada's highest summit at 13,146 feet. Just below it, on the Nevada side, is the quiet community of Dyer and nearby Fish Lake Valley. There are amenities, like a gas station, store, restaurant, and a couple bars, plus, a pretty sweet little B&B .
When the community realized that original settlement— Fish Lake Valley —was falling victim to time and weather, they scrambled to save many of the original buildings and relocated all of them to one handy spot for you to check out. That place is the Fish Lake Valley Heritage Center . Like a beautifully curated, mini ghost town, everything here is nothing short of sensational, particularly the town's original switchboard, the fueling station itself, and the post office you see pictured above.
Are we talkin' northern or southern Nevada? SOUTHERN Distance from Vegas: 229 MILES, OR 3.5 HOURS Roads: 2WD ALL DAY Best time of year to swing through: SPRING, SUMMER OR FALL Closest LIVING town to snag amenities : DYER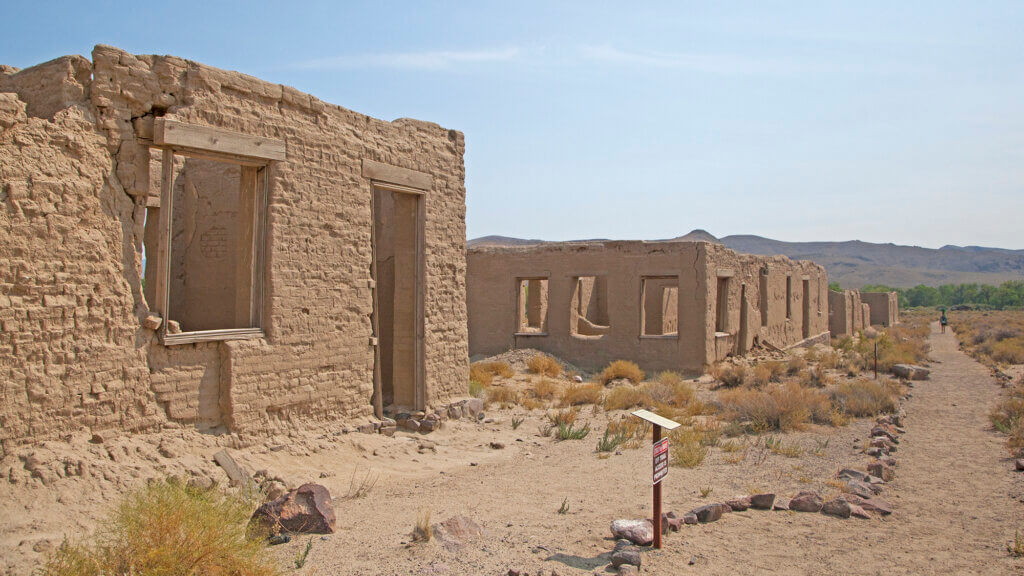 6. An old army fort's picture-perfect adobe brick ruins
45 mins south of fallon.
By the time Nevada State Parks stepped in to manage this property, the ruins were in a perfect state of what ghost town aficionados call "a state of arrested decay." Not overly eroded to the point of being unable to appreciate them… but not flawlessly preserved either. The whole feeling of this old military fort exudes a Wild West vibe, allowing the rough-and-tumble qualities of Nevada's past come to life before you.
The long and short of it is this: Fort Churchill was built to "protect" early settlers, explorers, and Pony Express riders from "hostile" American Indians. As with most places in Nevada, that proved virtually unnecessary, and the fort was totally abandoned in 1869—a mere eight years after it was built. Supposedly, Fort Churchill is an active paranormal hot spot, but the most out-of-this-world vision we can always guarantee is summertime visages of the Milky Way.
Are we talkin' northern or southern Nevada? CENTRAL Distance from Reno: 57 MILES, OR 1 HOUR Roads: PAVED ENTIRELY, 2WD ALL DAY Best time of year to swing through: LATE SUMMER OR FALL Closest LIVING town to snag amenities: FALLON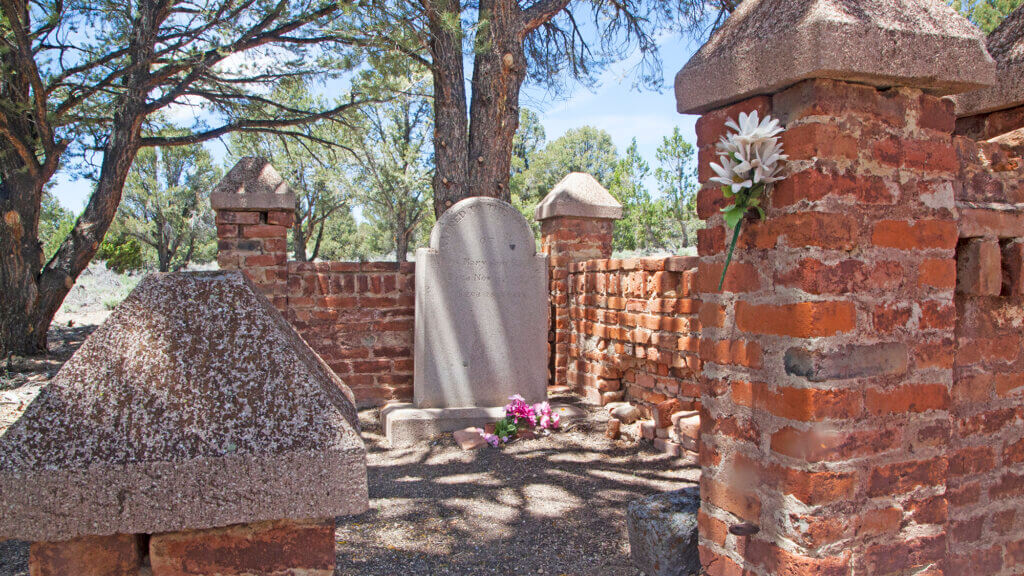 7. Aurora's well-heeled historic cemetery and intact 1860s furnace
1 hour southwest of hawthorne.
The Nevada ghost town of Aurora isn't much today, but it certainly wasn't always that way. Ever heard of California's totally impressive Bodie Ghost Town? Aurora was basically its "sister ghost town"—just a dozen or so miles across the border. If you've ever spent any time in Bodie, you'll know that it looks like its occupants picked up and moved on only days before. Everything is in complete pristine condition beyond your wildest imagination—the day's lesson plan written on the chalkboard, beds made, pantries stocked, you name it.
Aurora was just like that, until the 1950s when someone illegally dozed it to steal the locally hewn bricks the buildings were made of. Luckily, it's still home to one of the coolest historical cemeteries in the state—a permanent home to senators and famed prospectors of the time—as well as one of the most intriguing furnace and stack structures in the entire state. A slew of noteworthy prospectors were drawn to Aurora, including Mark Twain , but that's another tale, and not just of the tall variety.
Are we talkin' northern or southern Nevada? CENTRAL Distance from Reno: 160 MILES, OR 2.75 HOURS Roads: 30ISH MILES OF DIRT ROAD DRIVIN'. 2WD IN SUMMER OR FALL, 4WD IN WINTER MONTHS Best time of year to swing through: SUMMER OR FALL Closest LIVING town to snag amenities: HAWTHORNE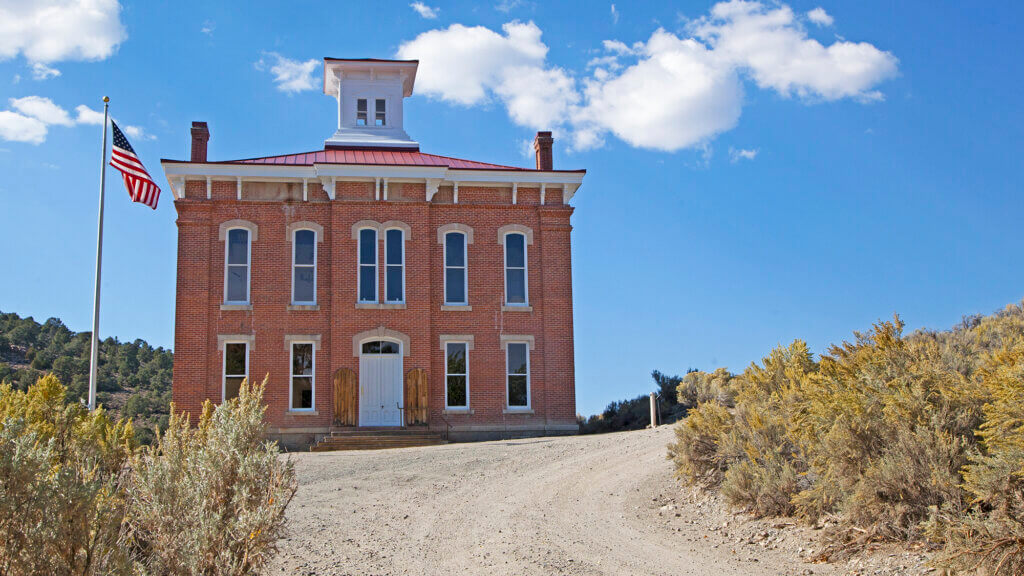 8. A legendary courthouse, structures galore, and one helluva Sagebrush Saloon in Belmont
1 hour northeast of tonopah.
Of all the ghost towns clinging to Nevada's 300+ mountain ranges, Belmont is one of our favorites. As with many bygone boomtowns, Belmont was at one point a county seat—in this case, of Nye County—during its mining heyday. Thanks to plentiful silver in the surrounding hills, Belmont once boasted a population of 15,000 residents. Hence a whole lot of amazing ruins, including a bank, miner's cabins, the storied Belmont Courthouse , mine shafts, 100-foot-tall brick chimneys, and the picture-perfect combination stamp mill ruins shown above. The best part? Belmont is positioned in such a way that standing in the very threshold of the stamp mill's ruins affords 60-mile vantage points of the valley below.
Travel Nevada Pro Tip
Are we talkin' northern or southern Nevada? CENTRAL Distance from Reno: 271 MILES, OR 5 HOURS Roads: SERIOUS DIRT ROAD DRIVING. 2WD IN SUMMER OR FALL, 4WD IN WINTER MONTHS. BE SURE YOU'VE GOT GOOD TREAD ON THAT TIRE… Best time of year to swing through: SUMMER OR FALL AFTER SNOW HAS MELTED Closest LIVING town to snag amenities: TONOPAH , BUT RELY ON REGULAR BUSINESS HOURS ONLY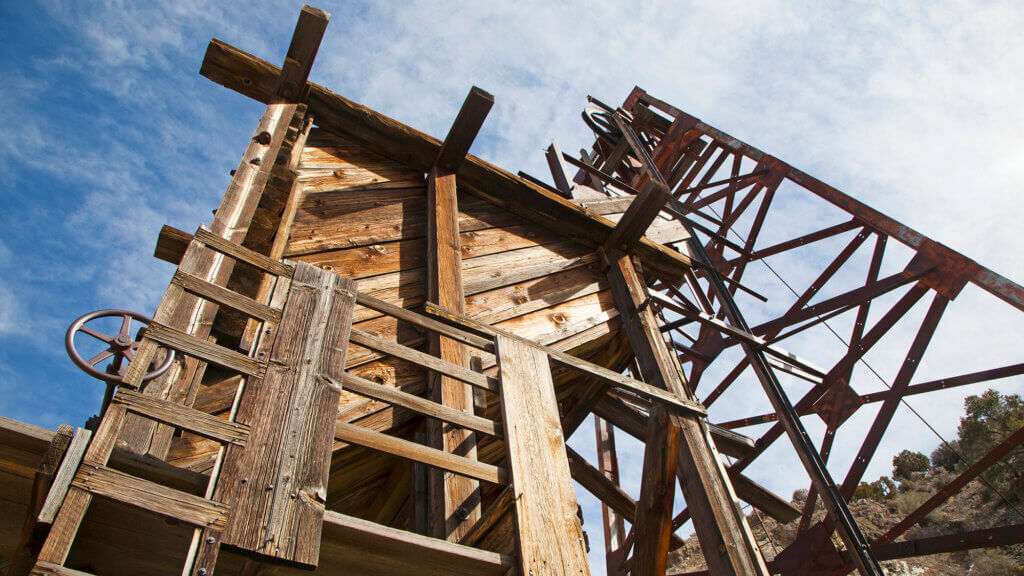 9. Intact head frames and a hoise house in Tybo
Tybo has one of the best-preserved head frames in the state. The mine shaft went into the earth, and the "head frame" towered above it, hoisting ore (and people) out of the earth. From there, the miners transported the big, raw chunks of rock to stamp mills in order to break them down and extract the precious minerals they sought.
Luckily, Tybo's boasts a solid structure and many remaining features, including some you don't always still get to see, like the original ladder, the winch wheel crank mechanism pictured here, and even the entire hoist house itself—the control room that helped control and guide the head frame's power.
Are we talkin' northern or southern Nevada? CENTRAL Distance from Reno: 305 MILES, OR 5 HOURS Roads: PAVED EXCEPT LAST TINY STRETCH, 2WD ALL DAY Best time of year to swing through: SUMMER Closest LIVING town to snag amenities: TONOPAH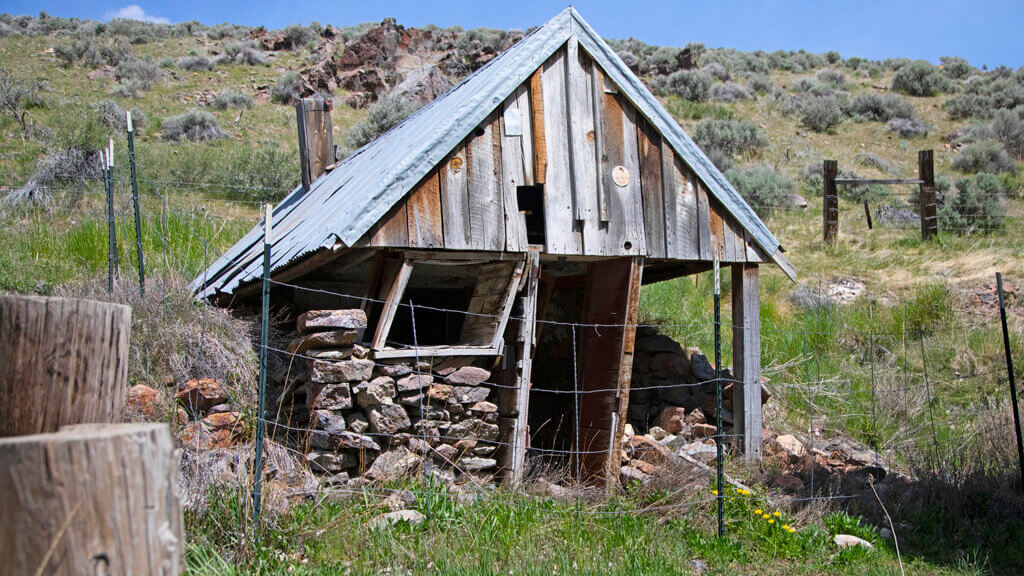 10. Mark Twain's Unionville cabin
1.5 hours northeast of lovelock.
In 1861, a young Missourian named Samuel Langhorne Clemens tagged along with his older brother to Nevada Territory. It was here that Clemens would discover his distaste of office work, become "allergic" to shovels and gold mining, adopt the pen name " Mark Twain ," and train his ears on the colorful language, fanciful yarns, and bombastic characters that would later inform a life of writing—one that would shape American literature and humor forever.
Twain visited and wrote about many places throughout the Silver State, but it is here in Unionville where he first learned the hard way, as he observes in Roughing It , that "all that glitters is not gold." Fortunately for lovers of history and Twain's literature alike, it is also here in Unionville that the cabin where that episode unfolds still stands. You'd enjoy sleeping in it about as much as he did; but luckily, just down the dirt road, you'll find the charming Old Pioneer Garden , where you can add a lovely, idyllic overnight stay to your pilgrimage.
Are we talkin' northern or southern Nevada? NORTHERN Distance from Reno: 155 MILES, OR 2.5 HOURS Roads: PAVED UNTIL LAST TINY STRETCH, 2WD ALL DAY Best time of year to swing through: SUMMER OR FALL Closest LIVING town to snag amenities: LOVELOCK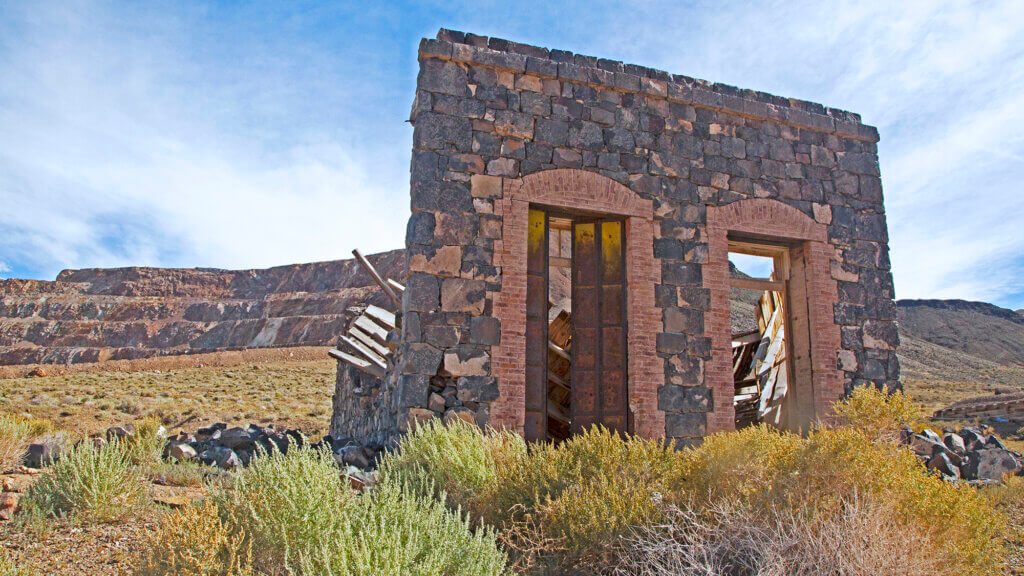 11. Candelaria's very picturesque original mercantile building
45 mins south of hawthorne.
If you're looking for a great place to stretch your legs and take in some history on the road between Reno and Vegas , ease off the gas and point those tires towards Candelaria. Silver was noticed here by Spaniards in the 1860s, but it wasn't until the 1880s that its wild potential was discovered. Despite its lucrative prospects, the mining camp was incredibly far from any kind of water. Many Candelarians also suffered from "miner's consumption"—AKA too much dust in the lungs. Then, on top of it all, the far-from-water mine "dried up" in an even more damning way. And that was that.
Although Candelaria is just about ten minutes off of modern-day US-95 , its relatively off-the-beaten-path location helped it remain mostly undisturbed for decades. By the 1980s, a mining company swooped in to test out the old mine tailings here, which, thanks modern-day sophisticated mining techniques, turned out to still be profitable. The mine's tight security led to even further preservation of the area. Today, not much mining is still taking place, which means you can roll right up to this sweet little mercantile building in its splendid state of decay. Keep an eye out for the original metal storm windows; you don't see many of those anymore.
Are we talkin' northern or southern Nevada? SOUTHERN Distance from Reno: 190 MILES, OR 3.5 HOURS Roads: PAVED EXCEPT THE LAST TINY STRETCH, 2WD ALL DAY Best time of year to swing through: ANY TIME, THOUGH YOU MAY RUN INTO SNOW IN WINTER MONTHS Closest LIVING town to snag amenities: HAWTHORNE OR TONOPAH DEPENDING ON DIRECTION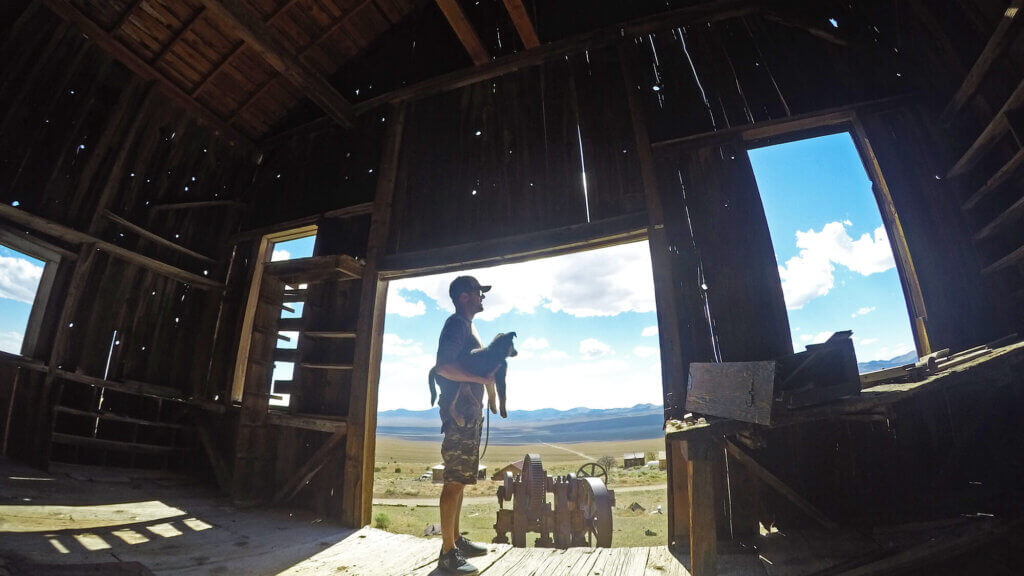 12. 60-Mile views from Berlin's machine shop
1.5 hours from fallon.
The combination of crowdless highways and solid dirt road ramblin' it takes to get to Berlin—part of Berlin-Ichthyosaur State Park —is an iconic Nevada haul that delivers serious bang for your buck. Perched on a high mountainside overlooking a sweeping valley below, Berlin's buildings remain some of the most plentiful and best-preserved in the entire state—thanks to Nevada's climate and the painstaking protective efforts of Nevada State Parks staff. There are buildings, mining structures, and relics galore, as well as one of the most immersive and authentic mine tunnel experiences, at the Diana Mine. Highlights include a camera-hogging Model T, genuine Westinghouse winch, homes filled with belongings of the original 1890s owners, and one of the best surviving examples of a 30-stamp mill in the West. As you make your self-guided walking tour around the townsite, wander into the machine shop and gaze out for that incredible 60-mile vista.
And then there's the paleontological bonus: despite hundreds of people helping pull nearly a million dollars worth of gold out of the ground, what they didn't dig up was the most abundant concentration and largest-known ever discovered fossils of ichthyosaurs —massive Paleozoic swimming dinosaur-esque marine reptiles. Yep, at 6,700 feet of elevation, thanks to the fact that these mountainsides were once the banks of ancient seas. You can catch a glimpse of the dig site through the windows of the Fossil House, pose next to a massive to-scale mural, and camp, before you say auf wiedersehen to Berlin.
Are we talkin' northern or southern Nevada? CENTRAL Distance from Reno: 158 MILES, OR 2.75 HOURS Roads : PAVED ENTIRELY, 2WD ALL DAY Best time of year to swing through: SPRING, SUMMER OR FALL Closest LIVING town to snag amenities: FALLON, OR AUSTIN . DEPEND ON REGULAR BUSINESS HOURS ONLY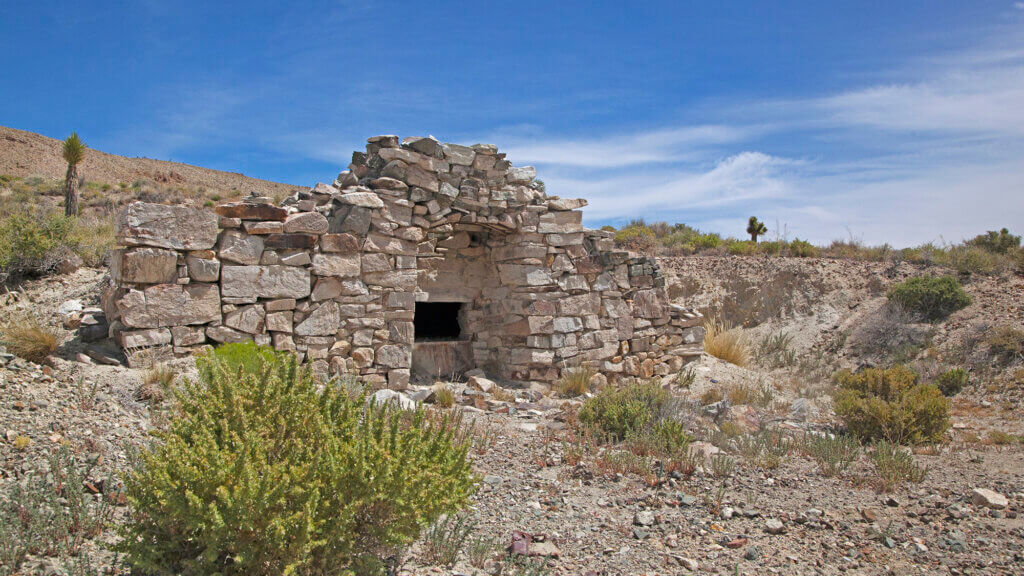 13. Gold Mountain's magnificent masonry
1 hour south of goldfield.
Turns out, prospectors could really build stuff. Imagine traveling 2,000 miles across the nation through all manner of unforgiving landscapes, showing up at a mining camp, knocking out 15 hours of manual labor… then building a house out of rocks—a good one, too. Because that's what they did out here. As well as stores, social halls, saloons, you name it—and with whatever materials they could find.
When you spot an old miner's cabin that still stands, like the ones here do, pay attention to the fireplaces; these things are so airtight that you'll expect to see a modern day construction crew around the next turn, but most are over 150 years old. What you'll rarely notice is a roof; most were made of what scarce lumber there was around (especially after the railroad came through these regions), which was the first thing miners would take with them when a mine went bust and they set off for the next big boomtown. However, even roofless, many of these buildings have withstood the test of time and harsh Nevada elements all these years.
Are we talkin' northern or southern Nevada? SOUTHERN Distance from Vegas: 190 MILES, OR 3 HOURS Roads: PAVED EXCEPT THE LAST 25 MILES OR SO, 2WD ALL DAY Best time of year to swing through: SUMMER OR FALL Closest LIVING town to snag amenities: TONOPAH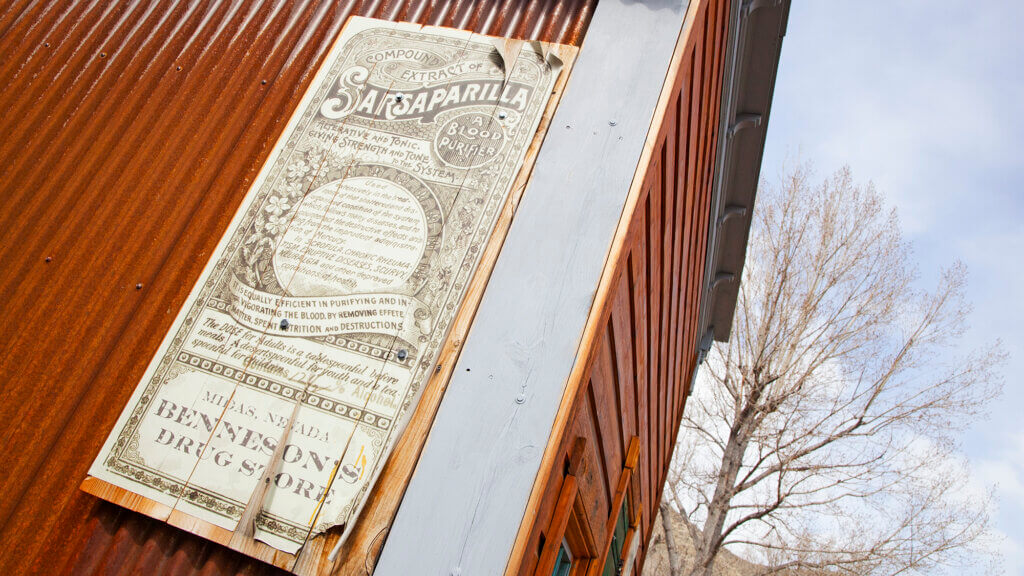 14. A 100+ year old Sarsaparilla sign, proclaiming its blood purifying prowess in Midas
1 hour east of winnemucca.
If you're wondering how many Nevada ghost towns have the word "gold" in their name, the answer is… well, a lot. But not this one, thanks to a—shall we say—more linguistically inclined postmaster. This northern Nevada locale boomed in the early 1900s and, although the resident ore was in fact gold, and, although the townsfolk did in fact want to call it Gold-something, the postmaster declared that enough was enough. So in order to stand out from all the Gold-everythings—and, likely, to sprinkle in a little inspiration—they named the town Midas, after the famous king in Greek mythology whose touch turned everything to gold.
The miners who had that Midas touch inevitably took their ore to be tested for purity at the local assay office, which still stands in all its glory, along with the Benneson's Drug Store, where one of our favorite old signs still hangs, advertising the apparent miracle drink that was sarsaparilla. If you think we struggle with truth in advertising today, read that thing. You be the judge. Then head into the Midas Saloon for a cold brew and a delicious, honest meal.
A re we talkin' northern or southern Nevada? NORTHERN Distance from Reno: 227 MILES, OR 3.75 HOURS Roads: 2WD ALL DAY Best time of year to swing through: SUMMER OR FALL, DO NOT ATTEMPT DURING WINTER MONTHS Closest LIVING town to snag amenities: WINNEMUCCA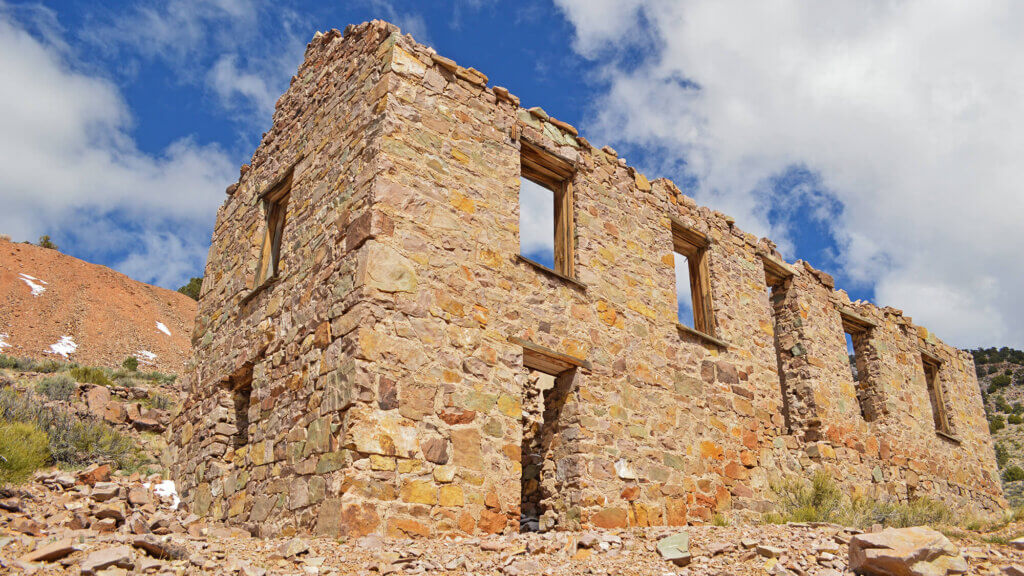 15. The entire town of Delamar, because there are too many spectacular finds to choose just one
45 mins from caliente.
We're generally in the business of pointing out "must-sees," but the entire ghost town of Delamar is just so mesmerizing that it's an impossible task to highlight just one building or thing. Remarkably, the still-standing structures are almost too many to count—dozens of buildings, milling remains, two graveyards, miner's cabins, a brick archway, and several mine shafts can be found here—and are all built out of a kaleidoscopic range of colored stone.
Luckily, eyes are the the only way to "take in" Delamar today. The gold discovered here was a bit more complicated than that of other mines, due to the quartzite embedded in it, which, when crushed up and processed, created fine dust that snuck into miners' lungs, often with lethal consequences. In fact, before long, Delamar earned itself a nickname: the "widow maker" camp, as many of its prospectors contracted silicosis and "bit the dust." If you're into the paranormal thing (and want to meet some permanent residents), we'd recommend combining your otherworldly interests with some out-of-this-world fun, by cruising down the nearby, legendary ET Highway .
Are we talkin' northern or southern Nevada? SOUTHERN Distance from Las Vegas: 145 MILES, OR 2.5 HOURS Roads: 4WD ONLY—PLAN TO NAVIGATE ROUGH, ONE LANE ROADS Best time of year to swing through: SPRING OR FALL Closest LIVING town to snag amenities: CALIENTE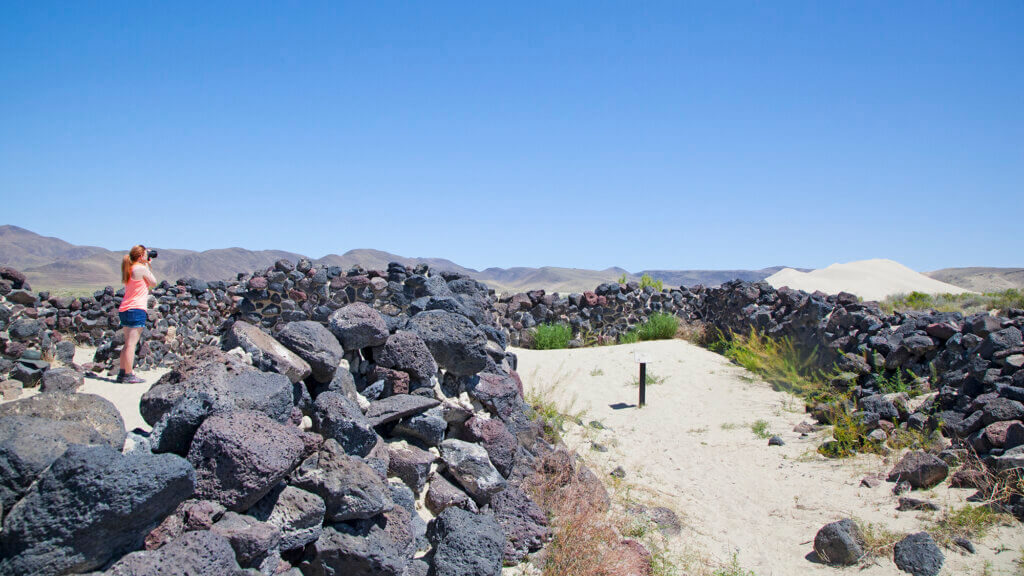 16. A Pony Express Station at the base of a 6-Story Mountain Of Sand
20 mins from fallon.
Westernophiles know that anything Pony Express packs some serious horsepower. Despite the fact that this ambitious operation—of young, strapping, orphaned bachelors racing mail across the western United States on mustang-back—lasted less than two years (thanks to implementation of the telegraph), it sure left an impression. Out of 157 stations from California to Missouri, Nevada was home to 30 Pony Express Stations, like the one pictured above. These stations, positioned between five and 20 miles apart, were places where weary riders could take a breather and exchange their ran-out horses for a more re-energized steed.
This particular one, located at Sand Springs, was completely hidden for over 100 years… buried in sand, like that of nearby off-road mecca Sand Mountain Recreation Area . The remaining foundation was literally uncovered by a team of archaeologists in 1977 and is now a pretty nifty spot to literally step into this short but fascinating chapter in American history.
Are we talkin' northern or southern Nevada? CENTRAL Distance from Reno: 90 MILES, OR 1.5 HOURS Roads: PAVED ENTIRELY, 2WD ALL DAY Best time of year to swing through: SPRING OR FALL, SUMMER MAY BE A BIT TOASTY Closest LIVING town to snag amenities: FALLON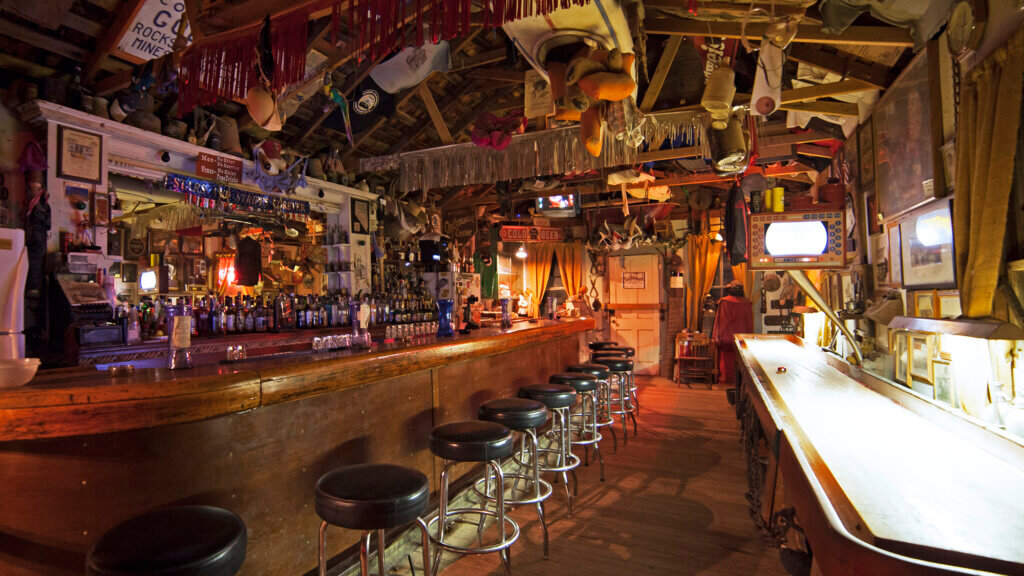 17. A Real-deal Old-school Wild West Saloon At Gold Point
30 mins south of goldfield.
After gold and silver was discovered in Tonopah and Goldfield in the early 1900s, prospectors flooded in to try for their piece of the pie. While those two towns drew the largest influx, many other mining camps sprang up around the region, including Gold Point , where (somewhat ironically) a boom was sparked by Silver. However, while plenty of people never struck it rich in Nevada, the oh-so-Nevadan story of Gold Point features a man who did, in a much different way.
During the 1970s, Herb Robbins, not yet a Nevadan, came to the Silver State to explore ghost towns whenever he could. He eventually moved to Las Vegas, professionally installing wallpaper in all the big casinos, but not for long. One night, while playing slots, he hit the jackpot and immediately used his newfound fortune to BUY AN ENTIRE GHOST TOWN: this one. There, he started Gold Point Ghost Town Bed & Breakfast , with rooms converted from original miner's cabins, a gallows-turned-matrimonial-pulpit, and delicious steak meals. The picturesque, relic-packed town spans multiple blocks, but its centerpiece, hands down, is the working saloon. When you go, check out that whiskey selection.
Are we talkin' northern or southern Nevada? SOUTHERN Distance from Vegas: 184 MILES, OR 2.75 HOURS Roads: PAVED EXCEPT THE LAST FEW MILES, 2WD ALL DAY Best time of year to swing through: SUMMER OR FALL Closest LIVING town to snag amenities: TONOPAH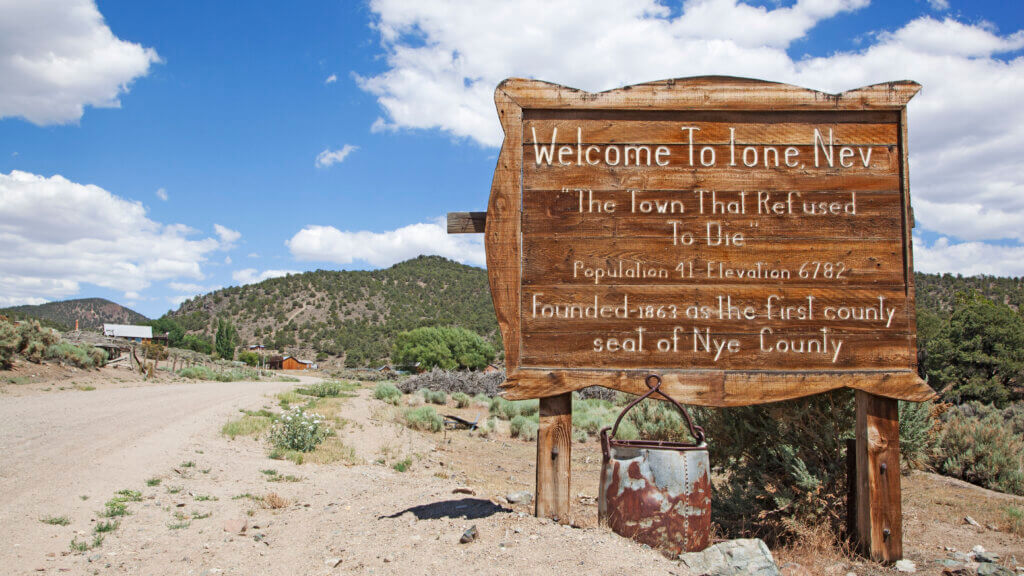 18. The welcome sign declaring Ione's staunch refusal to "Die"
1.5 hours southeast of fallon.
By now, we would be willing to bet you're starting to figure out that each of these towns earned their own importance by generating millions and millions of dollars in gold and silver profit…scoring their own opp as county seat. Ione was no different; this community's shot at county seat went down in 1863, and experienced not only one but TWO major booms. Belmont would eventually steal Ione's thunder, luring its occupants over the hill… but Ione refused to die then, and it still hasn't totally given up. A few ride-or-die residents pledged their allegiance to Ione over any other newer, more profitable boomtown, even after the post office closed for good… a sure kiss of death for any community. Today, a few hardy residents have managed to hang on, and made a pretty sweet sign to commemorate their audacious pride. Ione or bust, baby .
Are we talkin' northern or southern Nevada? CENTRAL Distance from Reno: 162 MILES, OR 2.75 HOURS Roads: PAVED UP UNTIL THE LAST 20 OR SO MILES, 2WD ALL DAY Best time of year to swing through: ANY TIME, THOUGH YOU MAY RUN INTO SNOW IN WINTER MONTHS Closest LIVING town to snag amenities: FALLON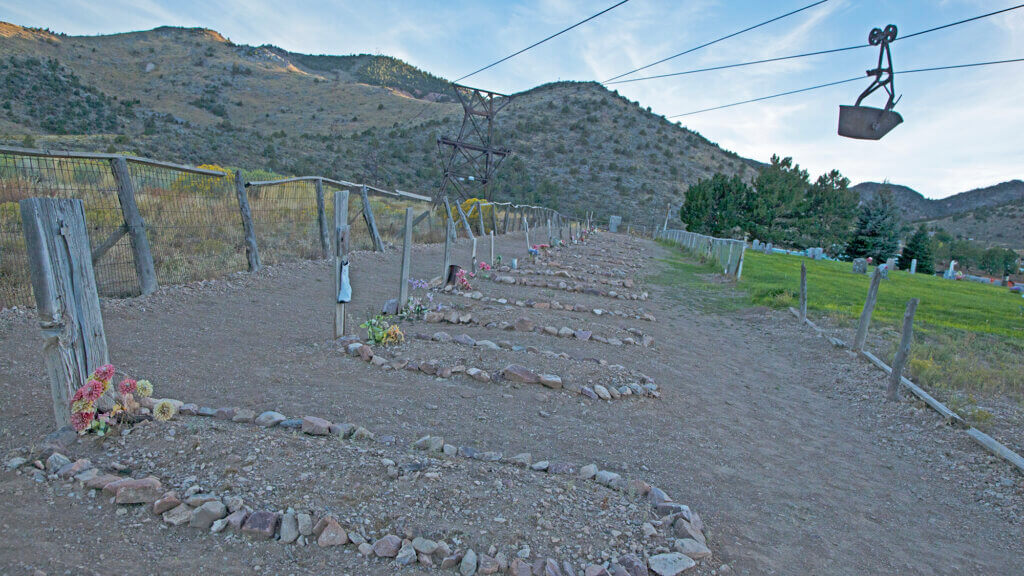 19. Murderer's Row at Boot Hill Cemetery in Pioche
What's the most rough-and-tumble Western town you can think of. Dodge City? Tombstone? Deadwood? We're sure you see where this is going. Certainly, all of these boisterous spots exuded their own level of toughness. But a lesser-known little gunslinging Nevada town called Pioche swiftly beats out all the others by a country mile. A giant silver boom drew people to this southeastern Nevada spot, and a mind-numbing 72 of 'em were laid to rest before someone actually bit the big one from any natural causes. To put in perspective, Tombstone only had a couple murders each year, while Pioche found itself with dozens on its hands, not to mention plenty of literal shootouts in the street, on the regular.
Almost all of them are now permanent residents of Boot Hill Cemetery , which is photogenically positioned under the only lasting aerial tramway in the state. But why the name? Murderers were buried so quickly that the tips of their boots allegedly stuck out of the ground. Pay attention to the grave inscriptions; you'll find stuff like "died in dispute over a dog" and "feared by some, detested by others… shot in the back five times from AMBUSH."
Are we talkin' northern or southern Nevada? SOUTHERN Distance from Vegas: 176 MILES, OR 2.75 HOURS Roads: PAVED ENTIRELY, 2WD ALL DAY Best time of year to swing through: ANY SEASON IS PRIMETIME Closest LIVING town to snag amenities: PIOCHE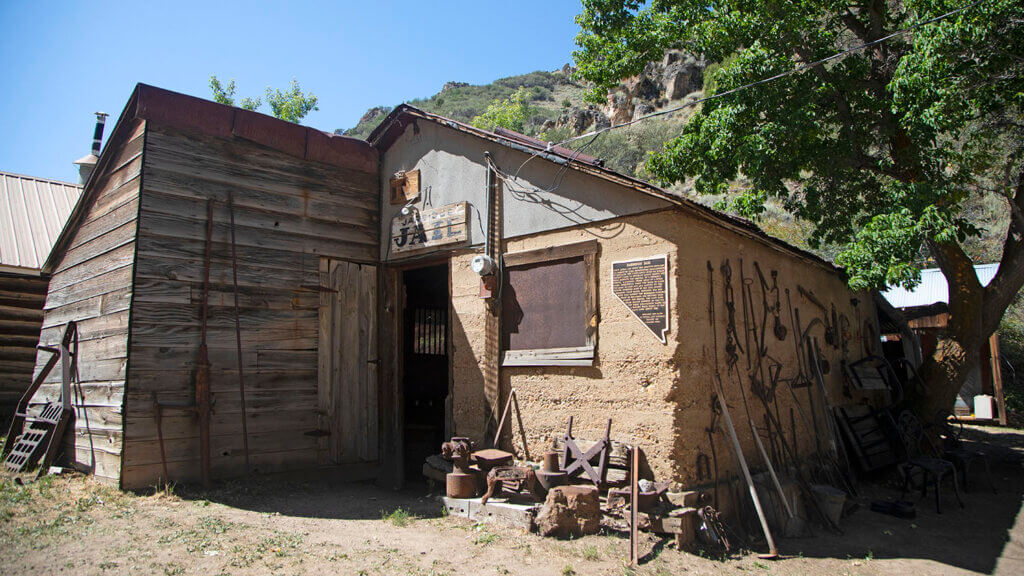 20. A 19th Century jail in at the last gold rush in the American West
Many places claim "firsts." Well, the tiny, mega-remote "living ghost town" of Jarbidge claims two major "lasts." Jarbidge prides itself on being the the site of the last legitimate gold rush in the American West, after the shiny stuff was discovered in this breathtakingly beautiful, modern-day wilderness area in 1909. Not entirely unrelatedly, it later hosted that last stagecoach robbery. The perp was eventually caught "red-handed" after his bloody handprint was discovered on the coach, which did mark a first: the use of fingerprinting technology to catch a criminal. As this would-be thief was far from the only nefarious individual to lurk about the canyon, the town had itself a jail—a pretty sturdy one, too. If only the rock-masoned walls of the storied Historic Jarbidge Jail could talk, you can bet they'd have some colorful tails to tell. Today you can walk right in off the main drag (and thankfully right back out) to its cold cell and check out its original prisoner cot, as well as thumb through old mining records.
Are we talkin' northern or southern Nevada? NORTHERN Distance from Elko: 104 MILES, OR 3.25 HOURS Roads: 2WD ALL DAY Best time of year to swing through: SUMMER ONLY. DO NOT ATTEMPT IN WINTER, SPRING OR FALL… ROADS ARE ASSUREDLY CLOSED Closest LIVING town to snag amenities: ELKO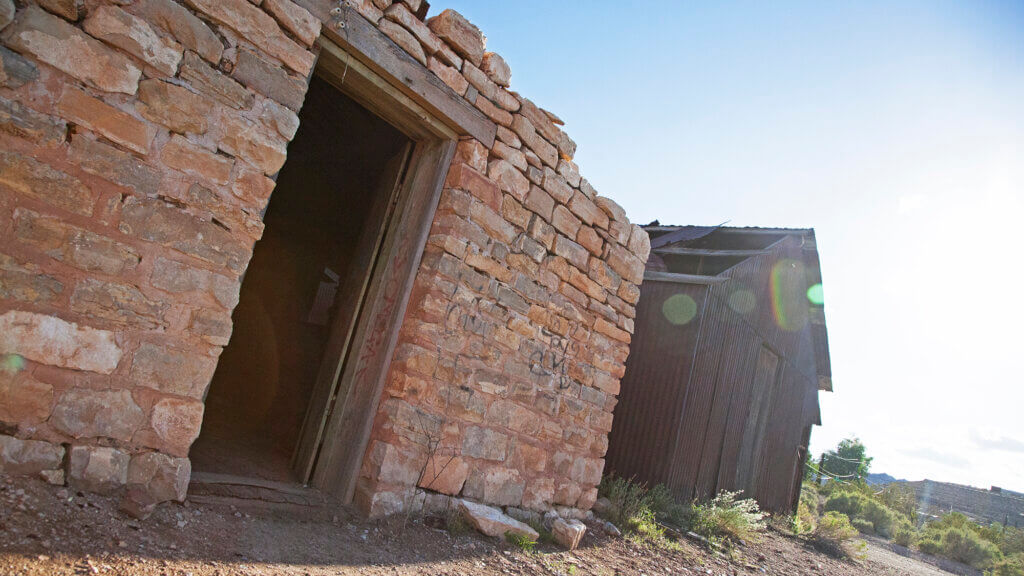 21. Impressively intact Miner's Cabins in Goodsprings
45 mins south of las vegas.
Heading into southern Nevada from LA? Do yourself a favor and shake things up a bit by taking the slight detour into Goodsprings, less than 15 minutes off of I-15 (at the Jean exit), take the historic walking tour, and slurp back one of the best Bloody Marys in the Silver State. This community might be quiet now, but when its early 1900s boom was enough to rival Nelson , the not-too-far-away spot that put southern Nevada on the mining map. While plenty of other mining towns produced more in actual dollars, Goodsprings was known for the unusually wide variety of precious minerals hiding down below, including lead, sivler, copper, zinc, and good ol' gold. Self-guided touring maps and killer "Ghost Burgers" and knock-your-socks-off libations can all be found at one of our favorite southern Sagebrush Saloons, The Goodsprings Pioneer Saloon , possibly the last stamped-tin bars of its kind in existence. (We recommend taking your tour before you settle in… we have a habit of not wanting to leave.) And don't miss the Cottonwood Cabin.
Are we talkin' northern or southern Nevada? SOUTHERN Distance from Vegas: 38.5 MILES OR 40 MINUTES Roads: PAVED ENTIRELY, 2WD ALL DAY Best time of year to swing through: SPRING OR FALL, SUMMER MAY BE A BIT TOASTY Closest LIVING town to snag amenities: JEAN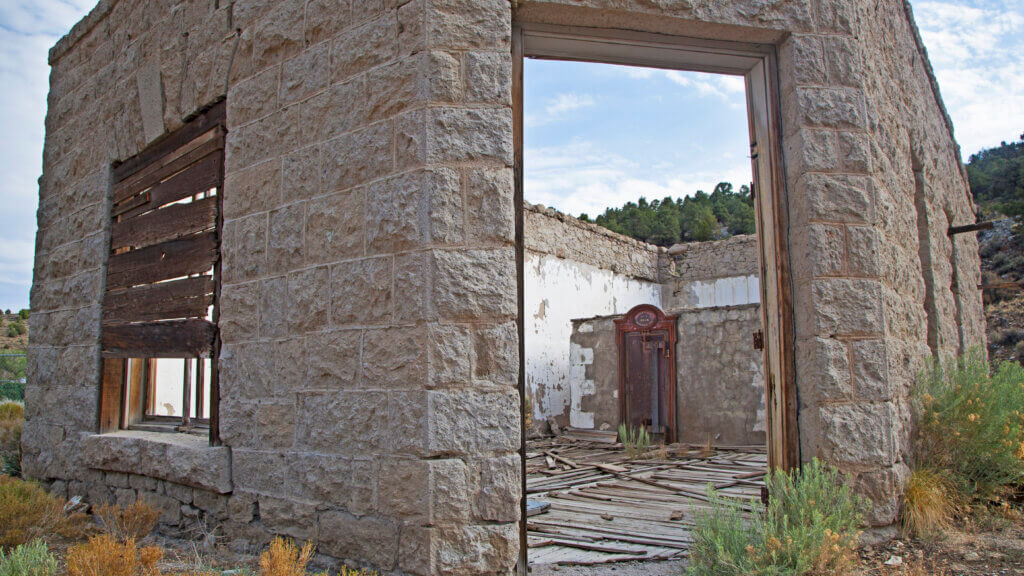 22. Manhattan's still-standing stone bank and original vault
1 hour north of tonopah.
When a town was pulling insurmountable wealth out of the ground, people needed a secure place to store it. In short, mining meant banks. So as you make your way around Nevada's many ghost towns, you're bound to encounter some pretty cool ones, still standing because, oftentimes, they were the strongest structures built. One of the best cases in point: Manhattan . (Yep! Manhattan, Nevada .)
When things started to slow down in Belmont, located just over the pass, thousands of fortune-seekers beelined it here to get a piece of the hot new boom. For a decade it was one of Nevada's largest gold districts, necessitating this tough stone building—the only stone building in town. The building itself is a sight to behold, but venture inside for a glimpse of the original 1906 Nye & Ormsby County Bank vault, still anchoring things down in back, with its safe still doing its job. Keeping things locked down was definitely a priority for Nevada Manhattanites—because they knew themselves. Rumor has it that neighboring Belmont is still miffed at Manhattan for sneaking over that one night in 1908 and stealing its church—by dragging it 18 miles over the mountains. (Luckily, the thieves haven't gone back for Dirty Dick's Belmont Saloon … yet.)
Are we talkin' northern or southern Nevada? CENTRAL Distance from Reno: 254 MILES, OR 4 HOURS Roads: PAVED ENTIRELY, 2WD ALL DAY Best time of year to swing through: ANY TIME, THOUGH YOU MAY RUN INTO SNOW IN WINTER MONTHS Closest LIVING town to snag amenities: TONOPAH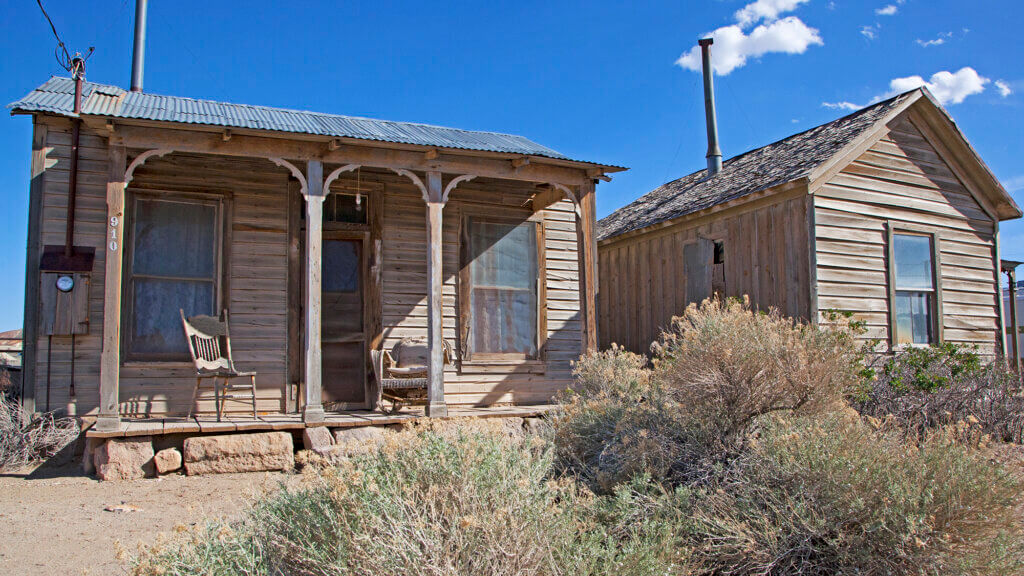 23. Oddball old-meets-new in Goldfield
You may be familiar with the whole boom-then-bust-and/or-devastating-fire routine that so many ghost towns got so good at. Well, Goldfield , never to be outdone, cranked up the heat with TWO giant fires and a freak flash flood. However, partially owing to its position on the main route between Reno and Las Vegas, "The World's Greatest Gold Camp" has soldiered on as one of the Silver State's more oddball "living ghost town" communities. If it's mining-era action you're after, check out the Goldfield Consolidated Mine Company's photogenic relics, like train engines, old cars, and tiny cabins; the Goldfield Historic High School (allegedly one of the most haunted places in the U.S.); the Esmerelda County Courthouse , still adorned with original Tiffany lamps; the imposing (and also haunted) Goldfield Hotel ; and the Historic Goldfield Cemetery , home to some morbidly intriguing epitaphs, and the camera-hogging Brown-Parker Auto Co. Garage, shown above.
Be sure to take the edge off at the Santa Fe Saloon , one of Nevada's oldest continually operating elixir emporiums (and home to the "Meanest Bartender in Nevada"), and the nearby Mozart Tavern , which, in an earlier iteration staffed Virgil Earp as a bouncer. Oh, and if you're looking to get a little weird, peruse Rocket Bob's art cars on the main drag, and then swing by the International Car Forest of the Last Church on your way out of town, an installation of vehicles stacked and sticking out of the ground, ever-changing with the paint jobs visitors tend to give it. For tasty homemade grub, hit up the Dinky Diner .
Are we talkin' northern or southern Nevada? SOUTHERN Distance from Vegas: 184 MILES, OR 2.75 HOURS Roads: PAVED ENTIRELY, 2WD ALL DAY B est time of year to swing through: ANY SEASON IS PRIMETIME Closest LIVING town to snag amenities: TONOPAH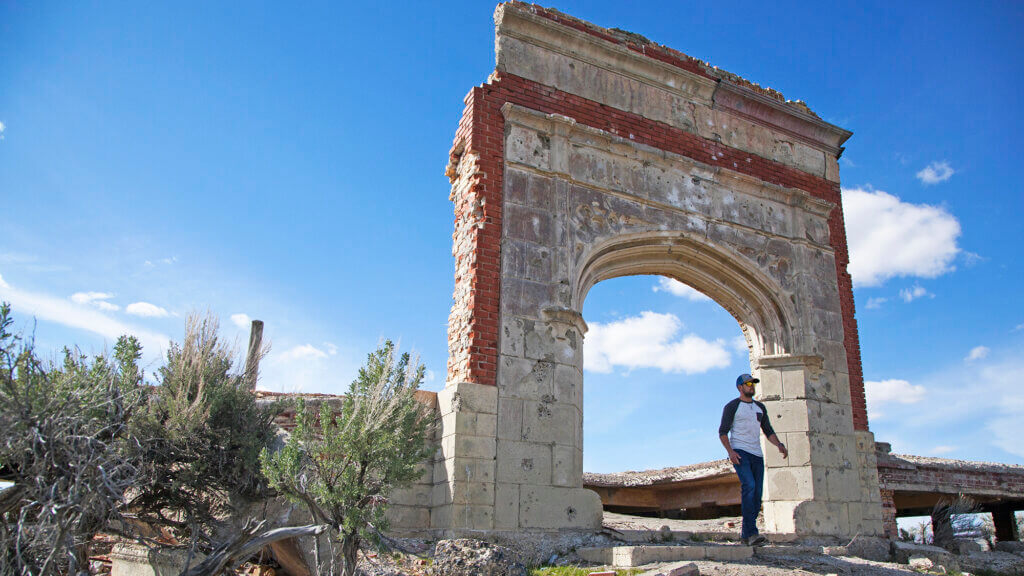 24. The Iconic freestanding Metropolis arch
20 mins north of wells.
Historical markers tell of the "killer" jack rabbits and Mormon crickets that helped bring about the demise of this now-ironically named community . In reality, the ferocious bun-buns were really just the result of people killing off the entire coyote population, letting the critters procreate at rabbit-like speed and munch all the crops, predator-free; then, whatever agricultural remains they left on their plates, the crickets swarmed in and licked clean. Pair this with a shifty water rights scandal and a failed dam attempt and voila! We had ourselves a future ghost town. While the elements may not have been kind to these Metropolitans, they've left us with the bones of the old hotel, complete with one of the first elevator shafts in the region, and one of our favorite photogenic structures, the freestanding brick arch at the entrance to the local two-story school. We don't recommend traipsing about the decrepit structure behind it, but if you peek in, you may spy the original chalkboard.
Are we talkin' northern or southern Nevada? NORTHERN Distance from Elko: 60 MILES, OR 1.25 HOURS Roads: PAVED UNTIL LAST TINY STRETCH, 2WD ALL DAY Best time of year to swing through: SPRING, SUMMER OR FALL Closest LIVING town to snag amenities: WELLS
25. Nevada's Most Photographed Ghost Town
10 mins outside beatty.
Once home to 5,000 fortune-seekers, Rhyolite was abandoned more than 100 years ago, but its iconic buildings still dazzle film crews, more photographers than any other Nevada ghost town, and anyone craving one of the state's best vestigial glimpses of the boomtown era. Its location at the edge of Death Valley certainly helps, but once you get there—especially at golden hour, you instantly get why. With so many fascinating buildings, some fully intact—like the train station… and brothel—others in a nearly perfect state of cracked and crumbling, like the iconic Cook Bank building, shown above.
Another stubborn remnant is the famed Tom Kelly Bottle House, constructed of nearly 50,000 medicine and booze bottles (there wasn't much wood, but with all those saloons, there were plenty of those)—the oldest and largest of its kind in the nation. And then there's the ghosts . Not of any haunted buildings (that we know of), but of the Goldwell Open Air Museum , a sculpture-filled installation started by Belgian artists in the 1970s, which is now home to a ghostly depiction of the Last Supper, a LEGO-esque woman, a 24-foot-tall miner (and his trusty penguin), and other surrealist visions rising from the desert, not to mention a free visitor center.
Are we talkin' northern or southern Nevada? SOUTHERN Distance from Vegas: 120 MILES, OR 2 HOURS Roads: PAVED ENTIRELY, 2WD ALL DAY Best time of year to swing through: ANY SEASON IS PRIMETIME Closest LIVING town to snag amenities: BEATTY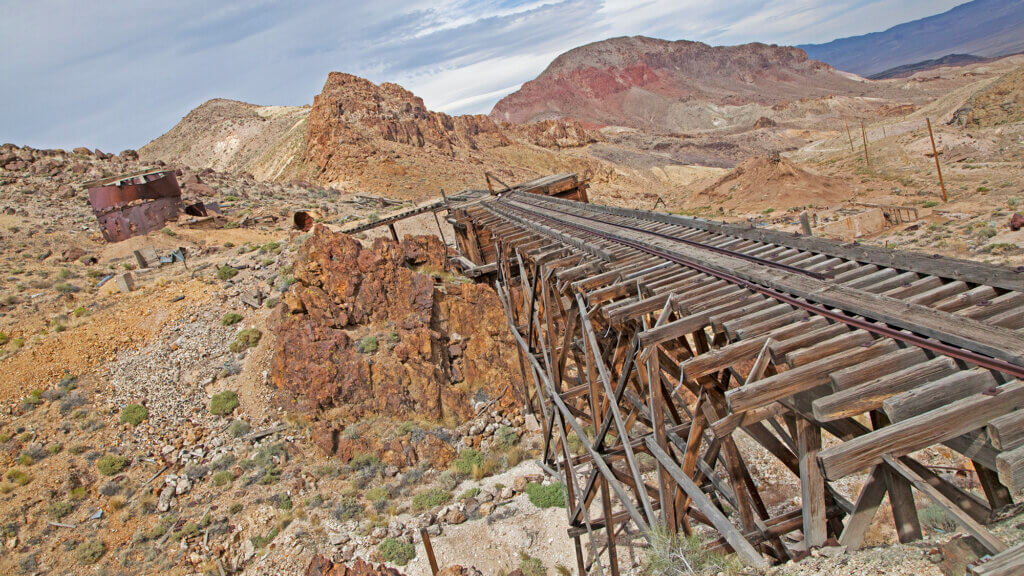 26. The last wooden train trestle standing
1 hour southwest of tonopah.
Nivloc, another boomtown in the 1900s heyday around Tonopah and Goldfield , emerged after a Shoshone Indian discovered gold here in 1907, swinging into full force by the 1930s. Like Midas, instead of establishing yet another Gold-Something, its founder, Colvin, named it after himself, except in reverse: N-I-V-L-O-C. While this ghost town's mining exploits don't rise high above the rest, what does is the last standing original wooden train trestle in Nevada. Two-ish stories tall, the thing was probably last traveled over around the 1940s—and that's how it should be; do not climb or attempt to drive a steam train over that rickety old sucker. Instead, if you're feeling rockhoundy, you can dig through core samples from some latter-day 1980s prospecting.
Are we talkin' northern or southern Nevada? CENTRAL Distance from RENO: 232 MILES, OR 4 HOURS Roads: 2WD ALL DAY Best time of year to swing through: ANY TIME, THOUGH YOU MAY RUN INTO SNOW IN WINTER MONTHS Closest LIVING town to snag amenities: TONOPAH
Get Inspired
Related Stories
Off-Roading
BEYOND THE ASPHALT: 19 Ways To Live By The Dirt Road Code
28 Excuses to Hightail it to Nevada's Most Photographed Ghost Town
History & Heritage
Exploring Eldorado Canyon
The Metropolis That Wasn't
10 Reasons We're Stoked On Austin (And You Should Be Too)
15 Sagebrush Saloons Worth Drinking In... And What To Order When You're There
Journey to Jarbidge
GOLDFIELD: 15 Ways the Past Remains Present
6 Oregon Ghost Towns with Eerie, Old West Vibes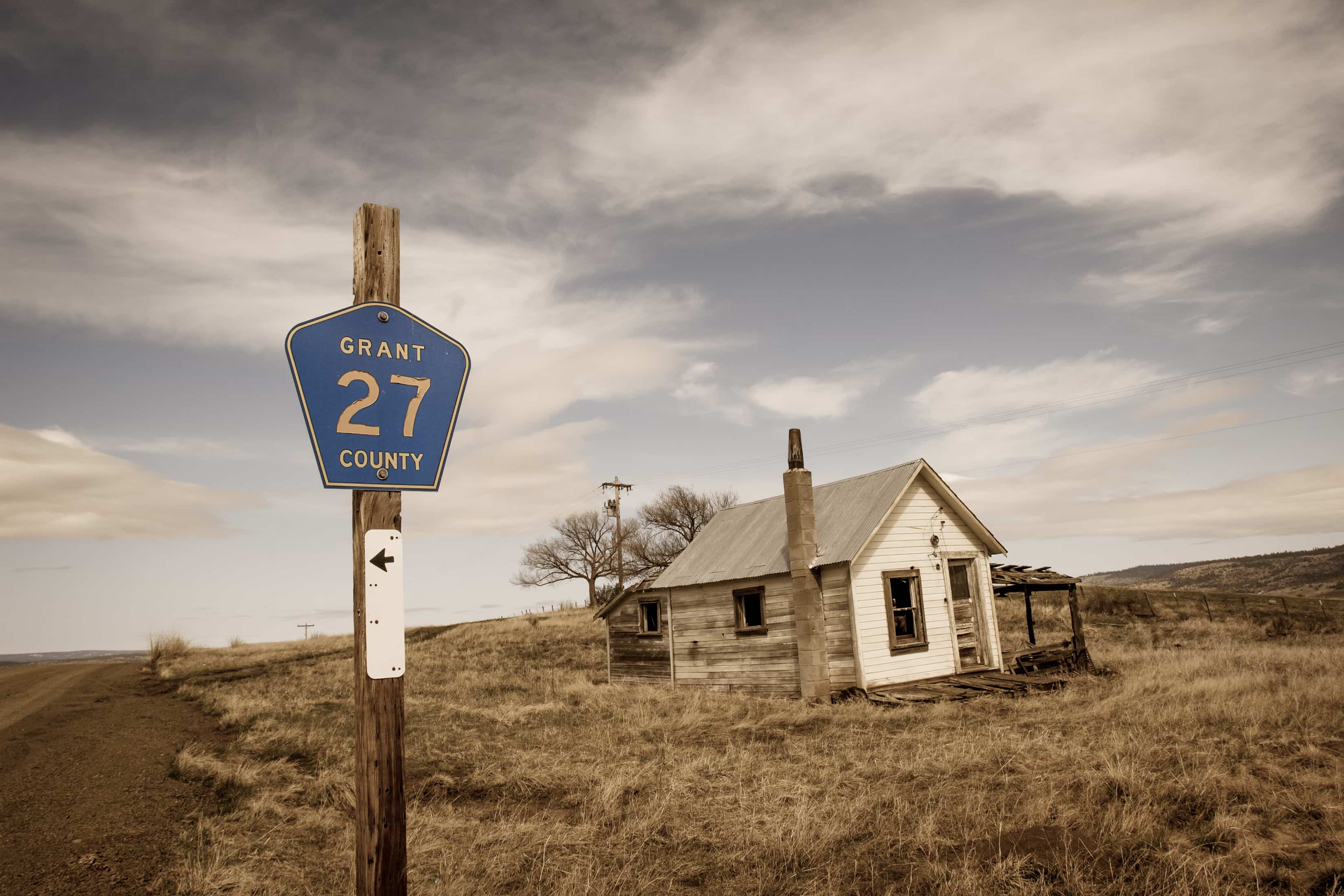 After the Lewis and Clark Expedition opened America to settlers seeking fortune, they arrived by the thousands, following, among other routes, the now-legendary Oregon Trail. Trail towns sprang up all along the way, paired with settlements wherever gold or other valuable resources were found. Many of those once-thriving pioneer towns were deserted as transportation evolved and trails changed. Nowadays, dozens of them still dot the Oregonian landscape. Most ghost towns in Oregon are in Central, Eastern and Southern Oregon .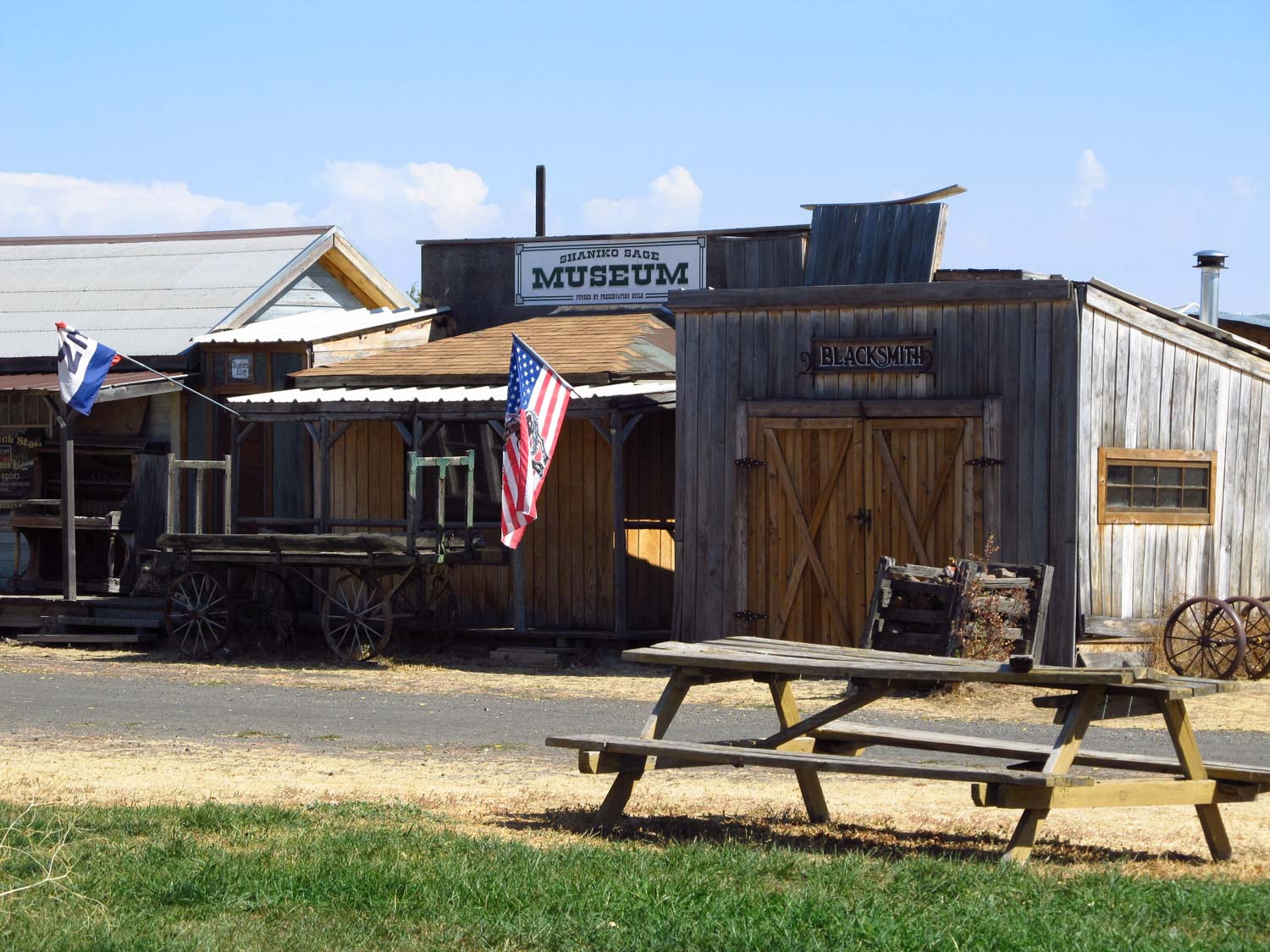 Photo of Shaniko by Jasperdo – CC BY-NC-ND 2.0
A majority of the ghost towns in Oregon lie in remote areas—often one of the reasons they didn't survive. So, if you're planning to visit one or more of them on a road trip, make sure to top off your fuel tank, pack snacks and put together a fun road trip playlist. Travel back in time in these six ghost towns in Oregon. But first…
What Is A Ghost Town Exactly?
According to Travel Oregon , there are three different categories of ghost towns in Oregon.
The true ghost towns are those without anyone living there anymore, while partial ghost towns have a population that has declined to extremely low numbers. The third category covers tourist ghost towns, which while preserving their historic features, have become tourist attractions and fun places to visit during an Oregon camping trip.
Find Secluded Camping Near Ghost Towns in Oregon
These vestiges of Oregon's pioneering history are fascinating destinations to learn about the Old West. Ghost towns, or what remains of them, are like time machines, offering a wonderful insight in the hardships of frontier life and on the history of the United States in general. Additionally, especially around Halloween, they make for super-fun options for camping road trips with the kids. Camping in Oregon is possible virtually everywhere in the state, meaning you'll find a nice spot to set up camp near these ghost towns.
1. Sumpter Ghost Town in Baker County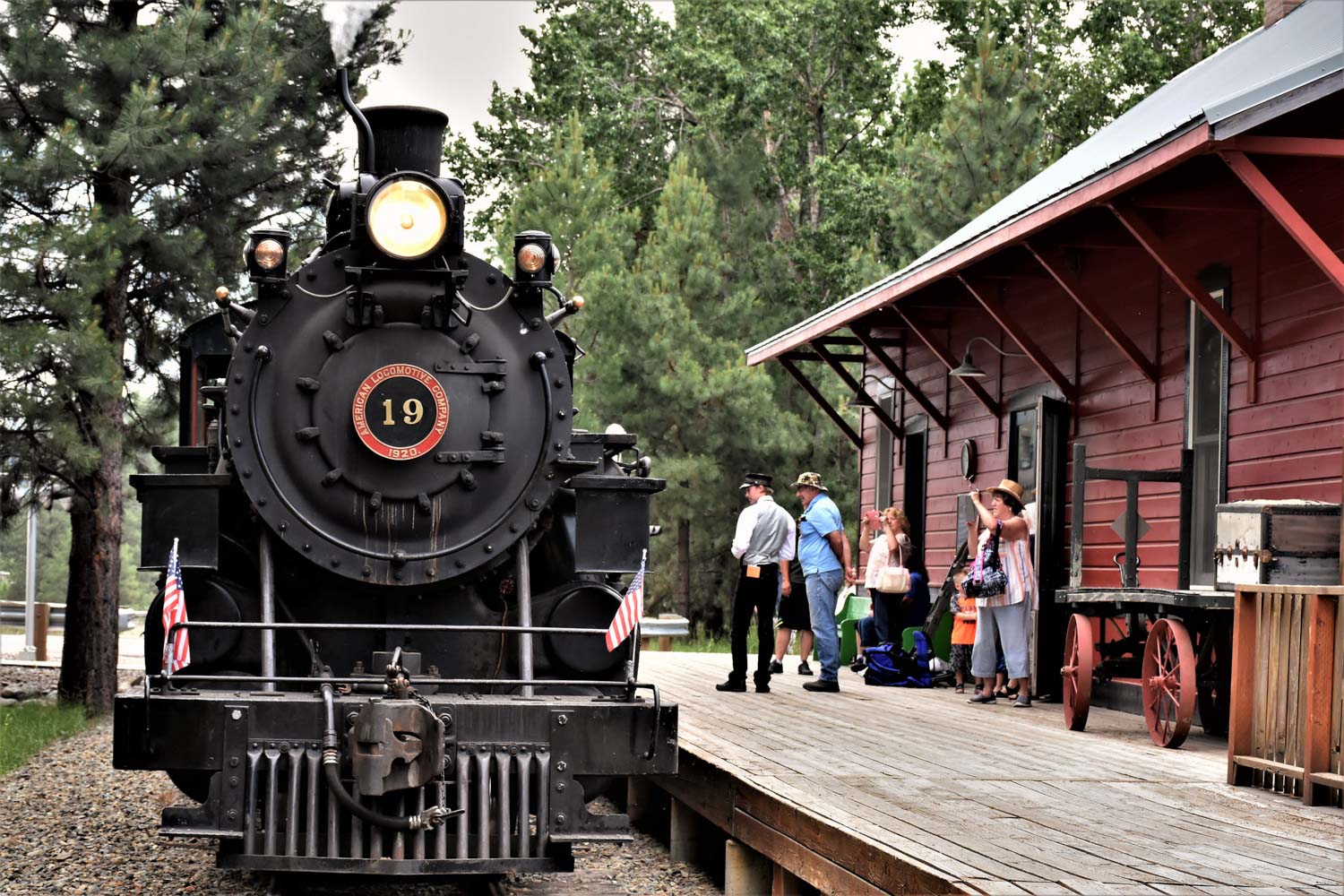 Photo of Sumpter by Baker County Tourism  – CC BY-ND 2.0
A mining boom town in Baker County around the turn of the 20 th century, Sumpter is one of the best examples of Old West towns in Oregon. In 1897, the new narrow-gauge Sumpter Valley Railway resulted in rapid urban growth around a collection of deep-shaft gold mines. Before an eventual decline in population caused by a fire, the town had everything from saloons and a brewery to an opera house, churches, sidewalks and electric lights.
Nowadays, about 200 people still live in Sumpter. It's a wonderful place to experience the bygone days of gold mining and the railroads. One of its main touristic highlights is the opportunity for tourists to legally pan for gold. Rides on the historic Sumpter Valley Railroad , offered on select days, are popular as well.

Camp Nearby: Union Creek Campground
"This is a beautiful, clean campground. Tons of undergrowth which makes for very private spots. Spots along Union Creek are great, spots on the river are great, even the spots in the open aren't bad amongst the towering trees." — The Dyrt camper Chantelle M.
Prepare for your next adventure by downloading maps. The Dyrt PRO lets you download maps and campgrounds without cell service. "My alternative to using pro would be to drive back out to cell service".
2. Granite Ghost Town in Grant County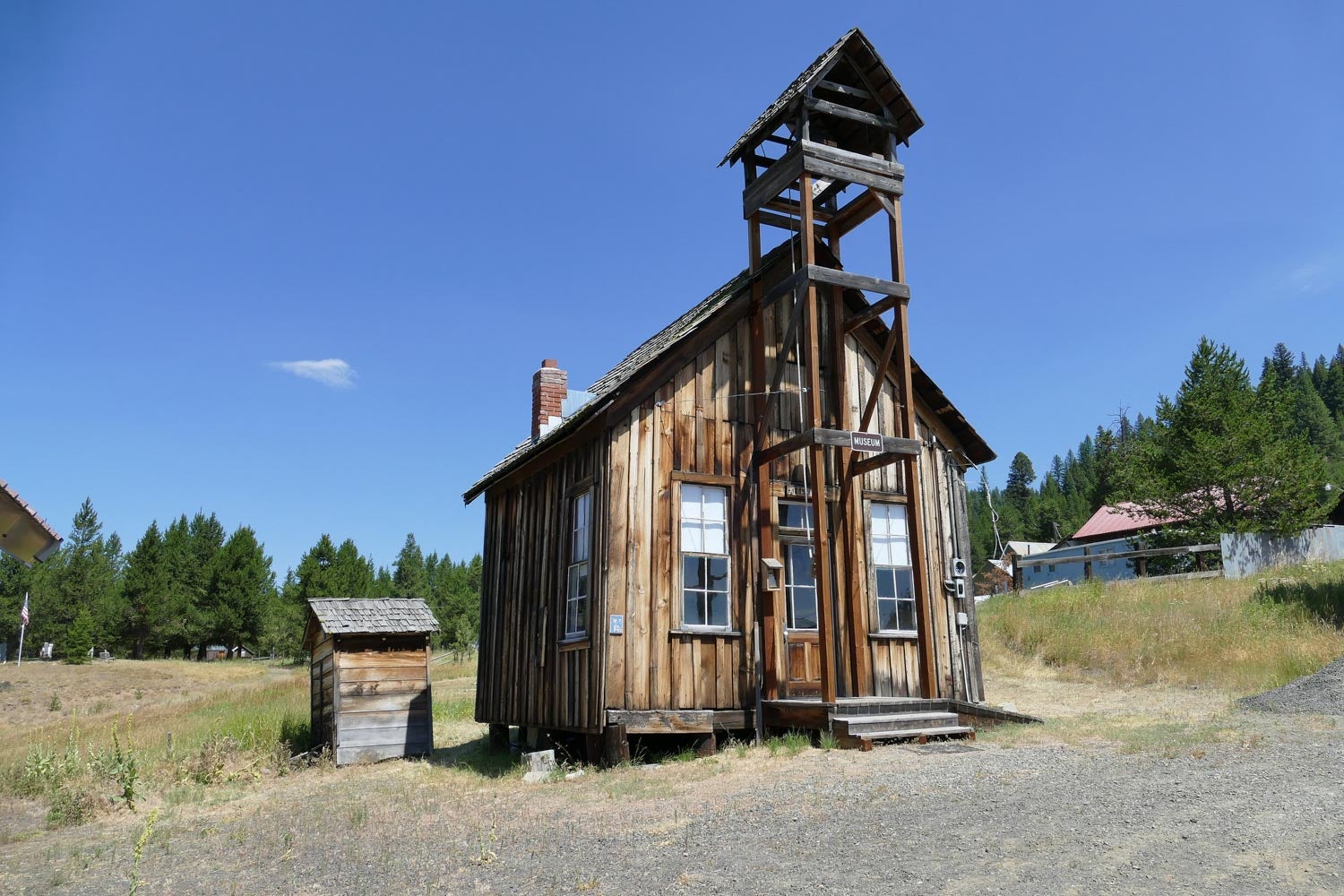 Photo of Granite by JH Moyer – CC BY 2.0
The historic town of Granite lies just 15 miles north of Sumpter, in the ghost town-dotted Blue Mountains region of northeastern Oregon. This is yet another former gold-mining town, once bustling and now nearly deserted.
During the gold rush of the late-1800s, Granite's population numbered about 5,000 people, quite a high number in those days. At the turn of the 20 th century, there were five saloons, three general stores, two hotels, a drug store, a post office, a school and a livery stable.
The current population doesn't exceed 40, however, making it one of Oregon's least populated incorporated towns. Numerous buildings still stand, although most of them are in a less-than-ideal condition. You can still see the drug store, school building, one of the general stores and several former residences.
Camp Nearby: Olive Lake Campground
"Have camped here twice, once when I was a kid, and once this summer, and it's wonderful. Most spots feel secluded and private, and if you get there on an off-day, you can get a good one with water access." — The Dyrt camper Sarah E. 
3. Shaniko Ghost Town in Wasco County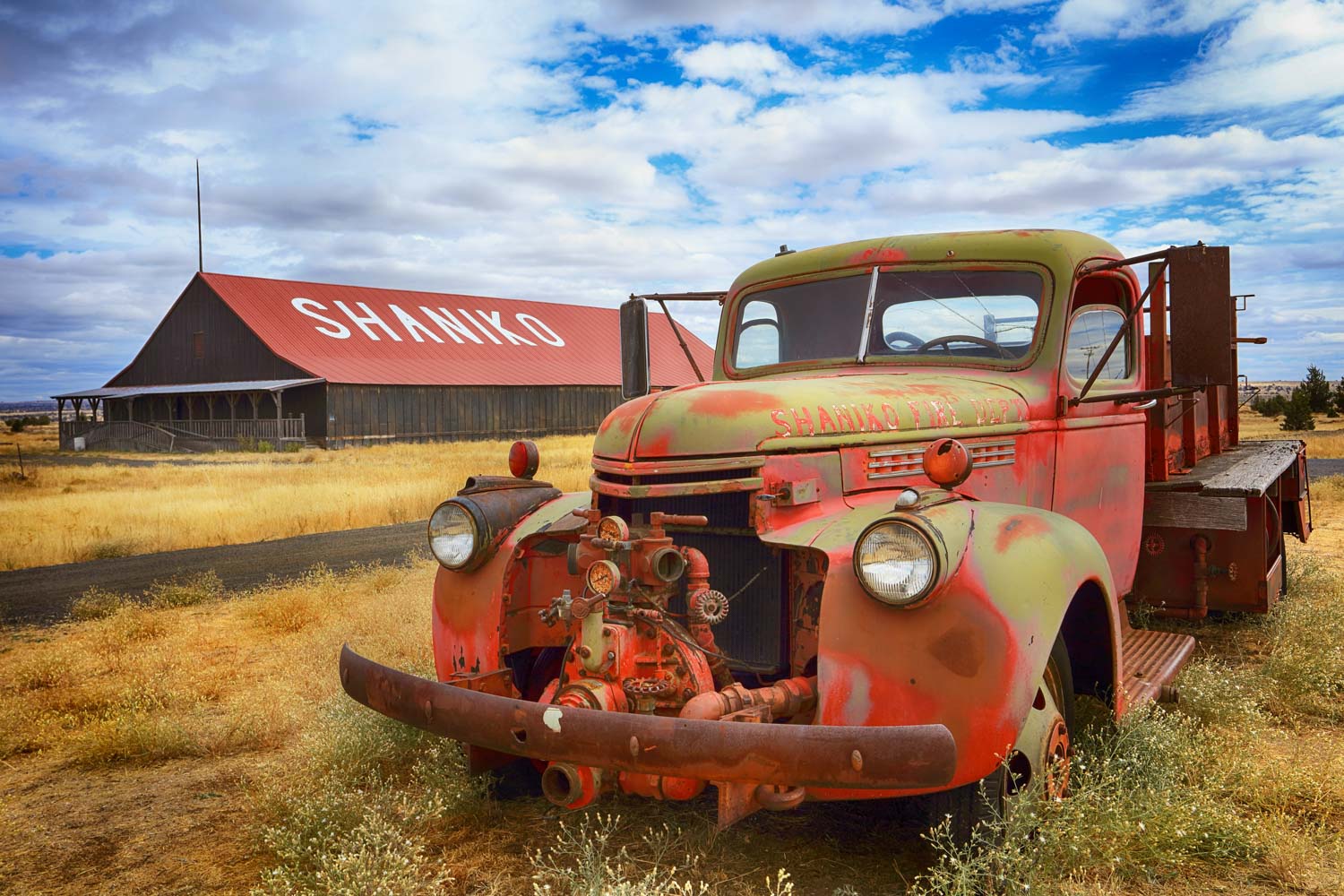 Photo of Shaniko by Ian Sane – CC BY-NC-ND 2.0
Another tourist-friendly ghost town in Oregon is Shaniko, located on the plains of North-Central Oregon's Wasco County. The tagline on its website says it all: "Where the West still lives." It's one of the best-known ghost towns in Oregon.
After a lucky prospector discovered gold in Canyon City in 1862, camps began popping up along the route between The Dalles on the Columbia River and Canyon City. One of those camps was Cross Hollows, where a man named August Scherneckau was postmaster. The town's name is a derivation of the postmaster's last name.
Shaniko's heyday was in the 1900s' first decade, when the Columbia Southern Railway made it a real transportation hub. At the time, it was known as the "Wool Capital of the World", the focal point of the wool, cattle, wheat and sheep industries in a 20,000-square-mile area. After a new railroad linked Portland to Bend, the town started to decline. Currently, only about 30 people live there year-round.
Camp Nearby:  Beavertail Campground
"A gloriously tucked away, all-year campground on the confident, adventure-inducing Deschutes River. Provides a nice balance of openness and privacy, with good space between a lot of sites, a chatty, rapid-filled river to muffle noise and high cliff walls and hills on all sides. […] Great walking and hiking, Mt. Hood and other tall peaks in view as you drive around and plenty of rafters and fisherpeople to give everything a well-rounded, sanctuary feel." — The Dyrt camper Bjorn S.
4. Hardman Ghost Town in Morrow County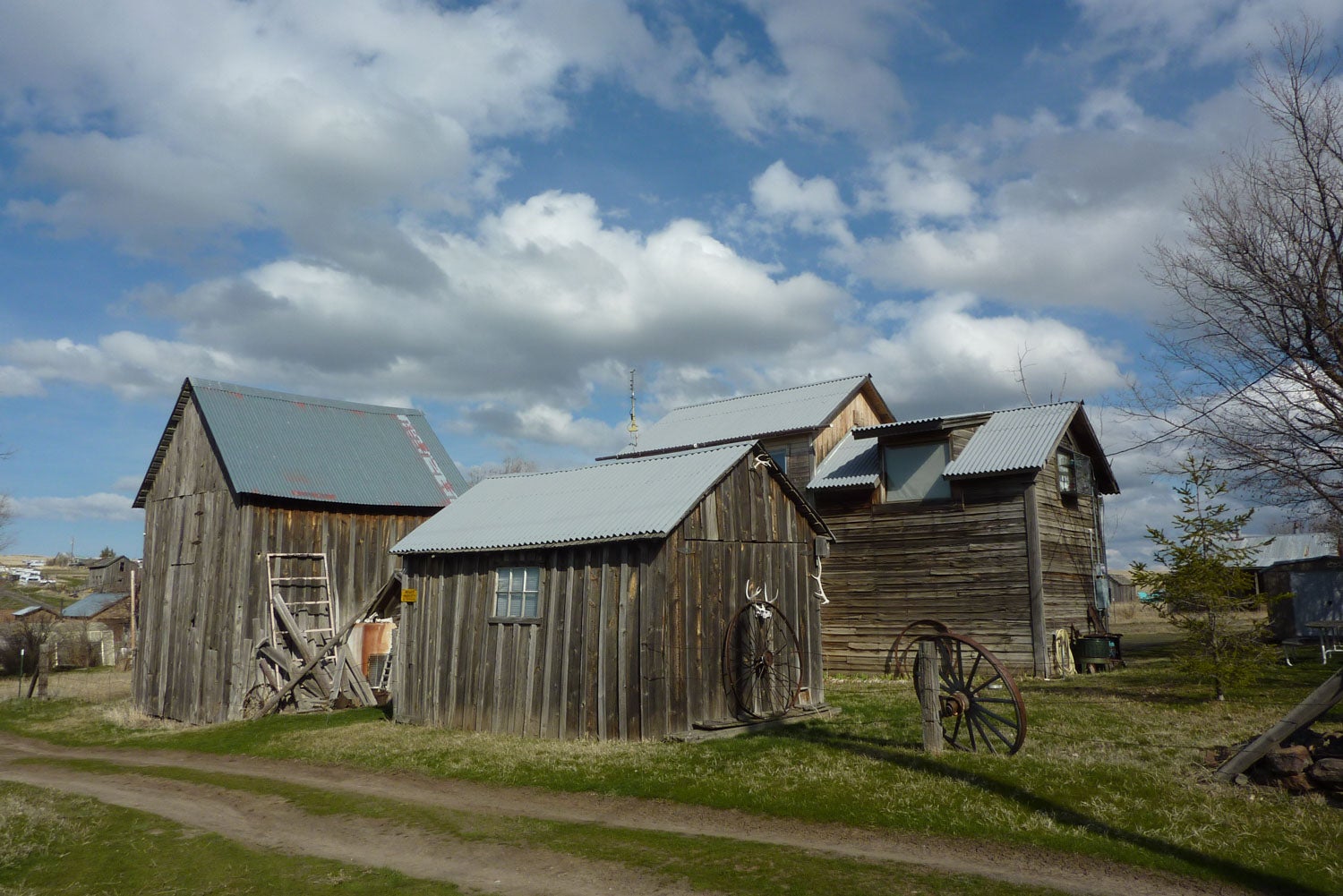 Photo of Hardman by 2WheelTravlr – CC BY-NC-ND 2.0
In the vast farming country of northeastern Oregon lies Hardman, once a popular stopping point for stagecoaches. Late-19 th  century newspapers touted these Oregon grasslands as some of the best farming areas and stock ranges in the West.
This, of course, attracted numerous hopeful pioneers, among whom was David N. Hardman who arrived with an ox train in 1878. He founded a settlement and became postmaster of a post office bearing his name. The settlement grew into a thriving Oregon Trail town as more and more settlers arrived. In its heyday, in addition to the post office, it was home to two hotels, three general stores, a saloon, a barbershop, a newspaper, schools, two blacksmiths, a telephone office and a church.
It wasn't until the railroads and eventually automobiles and trucks became the most popular modes of transportation that Hardman's days of prosperity were over. Today, the town remains home to about 20 permanent residents, while several old, abandoned buildings still stand.
Camp Nearby:  Bull Prairie Lake Campground
"A wonderful place to unclutter your mind and renew your spirit!" — The Dyrt camper Jill S.
5. Golden Ghost Town in Josephine County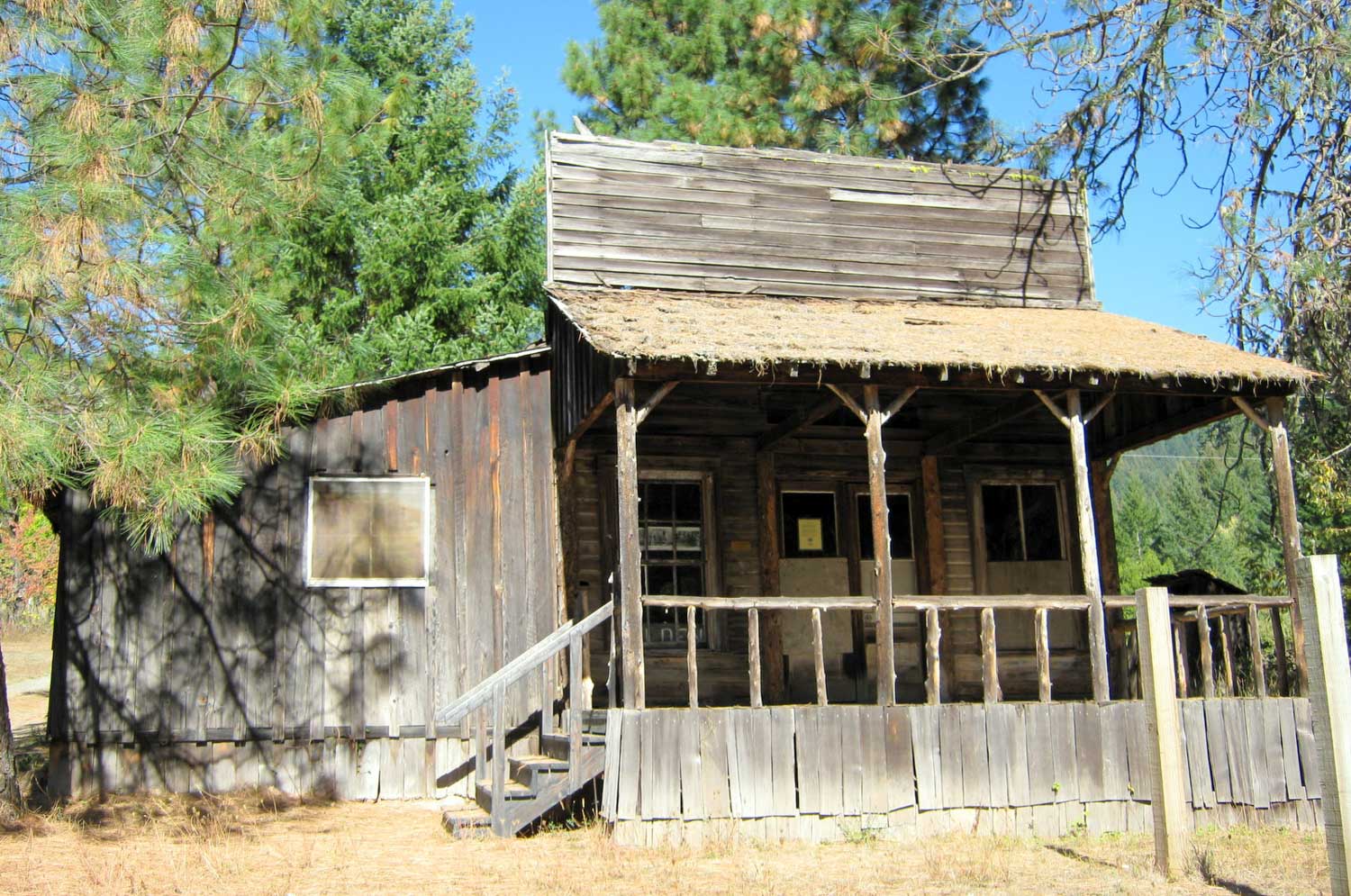 Photo of Golden by Tedder – CC BY 3.0
One of the true ghost towns in Oregon, now completely abandoned, Golden was established during the 1840s gold rush. At first a simple mining camp on Coyote Creek in southwestern Oregon, it eventually developed into a town around 1890, a hub serving the people working in more remote places nearby.
At its height, more than 150 people called Golden home. There was a church, a post office, a large orchard and a general store. However, unlike many other mining towns, it distinguished itself by not having any saloons.
Golden is blessed with a beautiful location in peaceful woodlands and has its very own historic district—the Golden State Heritage Site . You can explore the four remaining structures: a residence, shed, church and the building that housed the store and post office.
Camp Nearby:  Wolf Creek County Park
"It is located close to I-5, so it is easy to get to. There are some really nice sites by the creek. It is quiet, has beautiful scenery. There are some sites with full hook ups. There are only outhouses and no showers, so that's why it's good if you're only staying a night or two and are tent camping. We have camped here a couple of times and it hasn't disappointed." — The Dyrt camper Sherry C.
6. Buncom Ghost Town in Jackson County
Photo of Buncom courtesy of Southern Oregon Outdoors
In Jackson County, Southern Oregon , sits Buncom. An abandoned mid-19 th  century mining town, this is one of Oregon's best-preserved ghost towns. Now uninhabited, it was founded in 1851 by Chinese miners after gold was found in Jacksonville and Sterling Creek.
In addition to gold, the area's mines yielded silver, chromite and cinnabar as well. The town had its own saloon and general store within a decade of its founding—two significant indications of a settlement's success. A post office was added in 1896. Besides gold miners, Buncom also attracted farmers, ranchers and loggers.
Only three buildings from those prosperous days survive today. The bunkhouse, post office and cookhouse are now protected and preserved by the Buncom Historical Society , which organizes an annual event called Buncom Day for fundraising efforts.
Camp Nearby:  Squaw Lakes Campground
"This is truly an Oregon gem. Swimming, non-motorized boating, fishing, hiking, trail cycling, you name it, this place has it. Pack-in/Pack-out, with the option to hire the camp host and his four-wheeler to drop your gear off at your site. You'll have to walk in. The water has the most beautiful silver shale sparkles, and almost always feels warm." — The Dyrt camper Jennifer A.
Related Campgrounds:
Foster Lake Camping , Foster, OR
Popular Articles:
Get the Latest 2023 Camping Travel Trends
How To Find Free Camping in National Forests
The Checklist Every First Time RVer Needs
Find Free Camping With The Dyrt Map Layers
The Ulimate Boondocking Guide To Free Camping
Everything You Need To Know About Wifi For Your RV
7 of The Best Overland Routes in North America
14 Wilderness Survival Tools You Should Have in The Backcountry
Here's What To Add To Your Primitive Camping Checklist
Bram Reusen
Born and raised in Belgium, Bram Reusen is now based in Portland, Oregon. An avid hiker and camper, he's traveled all over Australia, Europe and the USA in search of the world's most beautiful and remarkable national parks. When he's not out wandering in forests, over mountains or along coasts, you can find him in front of his laptop writing about his adventures and editing photos. You might also spot him in a local craft brewery sipping a beer or two.
More Articles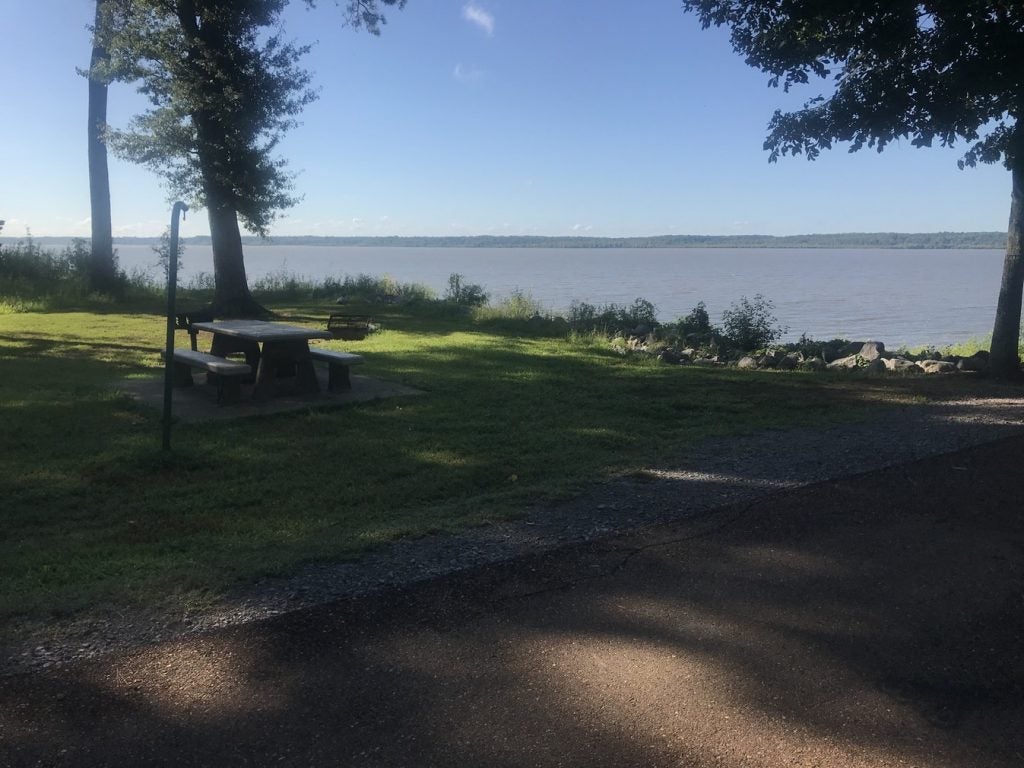 6 Fun Outdoor Things to Do at Arkabutla Lake in Mississippi
Located just 30 minutes from Memphis between Tate and DeSoto counties in northern Mississippi, Arkabutla Lake is situated among rolling hills with thick forests of…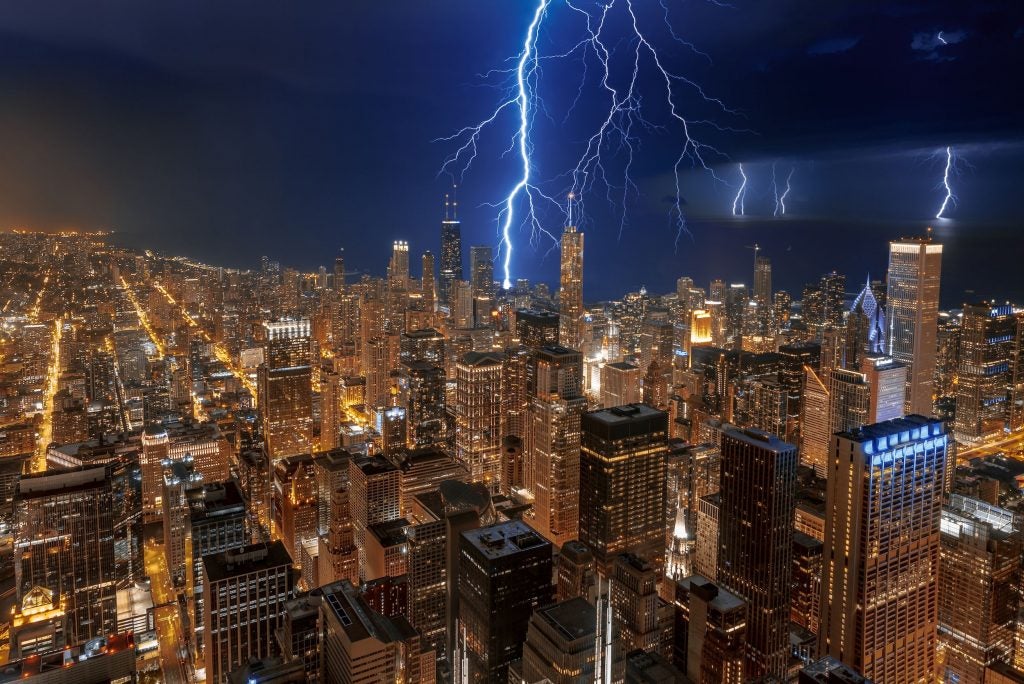 4 Chicago-Area Ghost Stories to Tell Around a Campfire
The majority of the fall season is full of suspense. To many, it all leads to October 31 when cities are full of costumed families,…
Visit These 12 Creepy Ghost Towns In Kentucky At Your Own Risk
Jenn Shockley
I am somewhat a cliche'. I grew up running around barefoot on a farm in Kentucky. I love writing, art, sunshine, all animals and my incredibly patient husband, who tolerates my "crazy animal lady" side.
More by this Author
When people think about ghost towns, the west usually comes to mind, but Kentucky has a few creepy ghost towns of its own. These areas were all once filled with the hustle and bustle of human life. Now the only thing that's bustling is the leaves when the wind blows, some ripples on the water, or a few lonely people. For the most part, the towns themselves are either gone or almost abandoned completely. These 12 ghost towns in Kentucky get a lot less attention then they deserve:
12. Barthell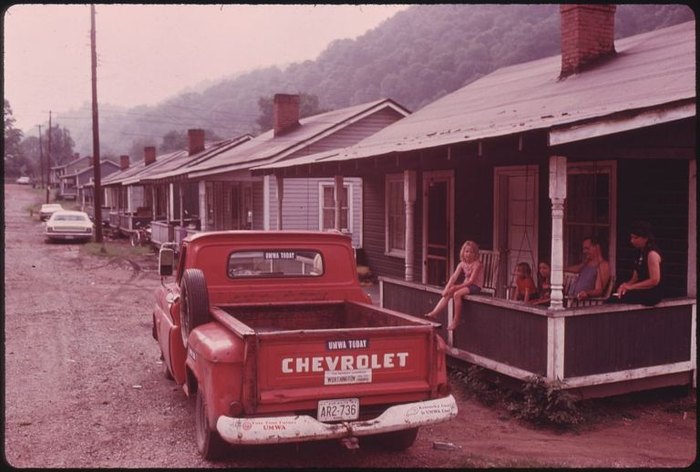 11. Lawton Mushroom Mine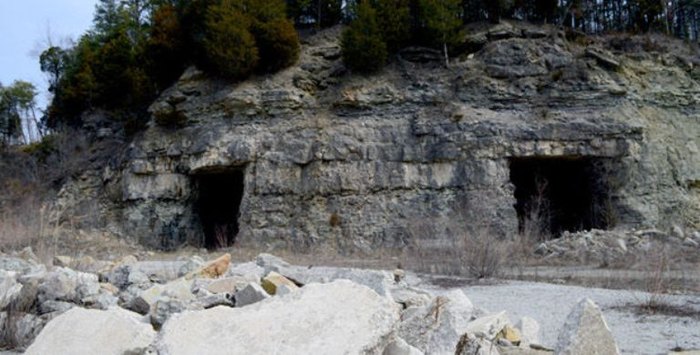 10. Bells Mine
9. Blandville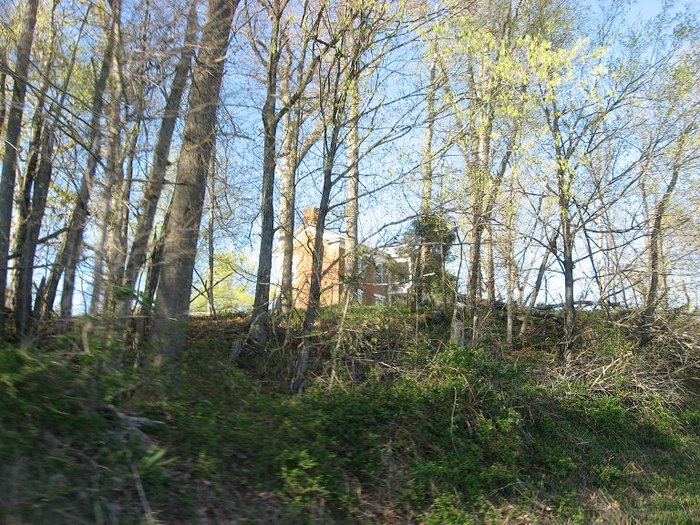 8. Blue Heron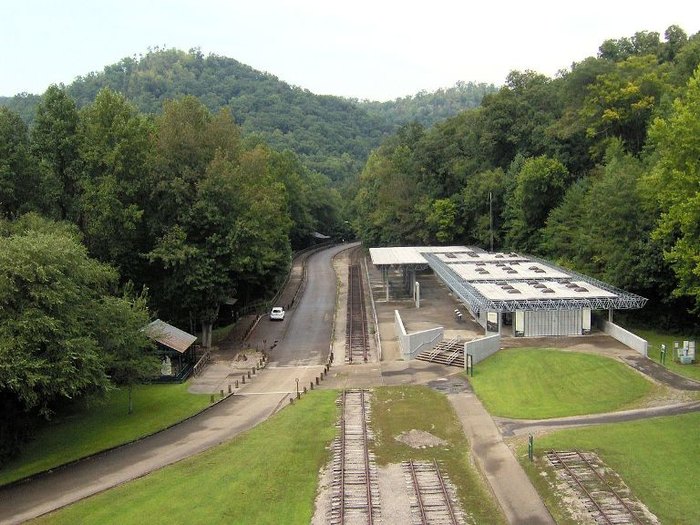 7. Calloway Town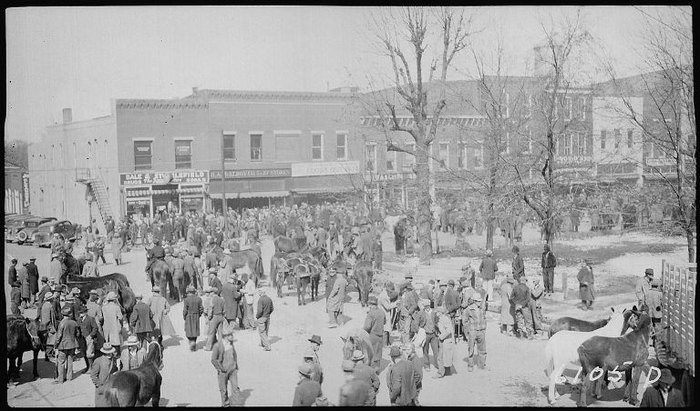 Related Stories
The Kentucky Ghost Town That's Perfect For An Autumn Day Trip
A Distillery Was Built And Left To Decay In The Middle Of Kentucky's Capitol City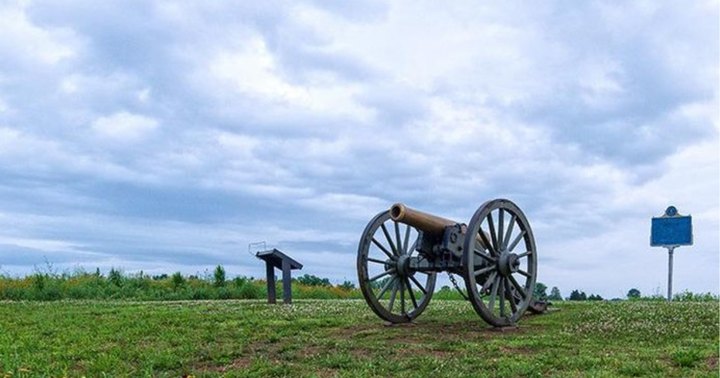 The Creepiest Hike In Kentucky Takes You Through The Ruins Of An Abandoned Battlefield
6. creelsboro's natural arch.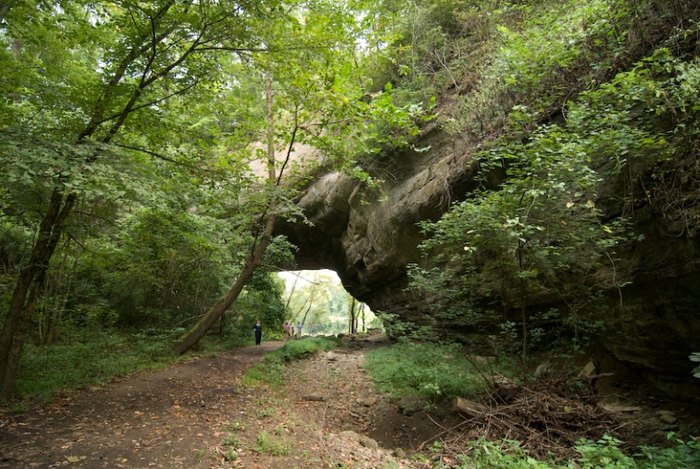 5. Dryfork House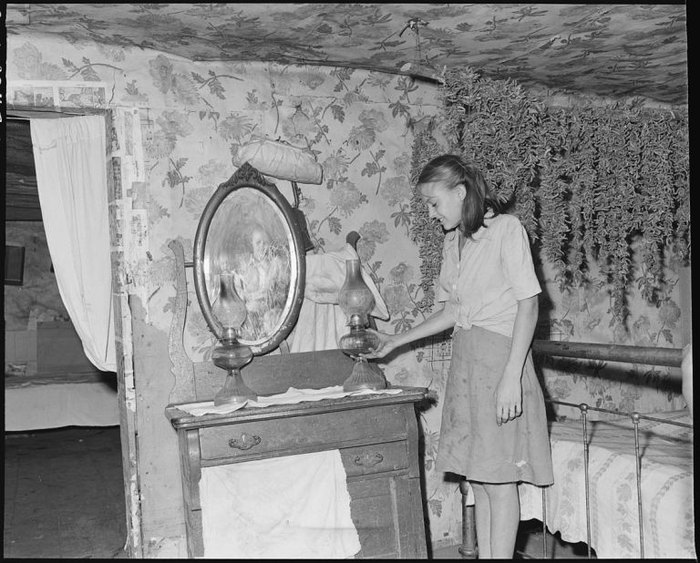 4. L&N at Rocky Hill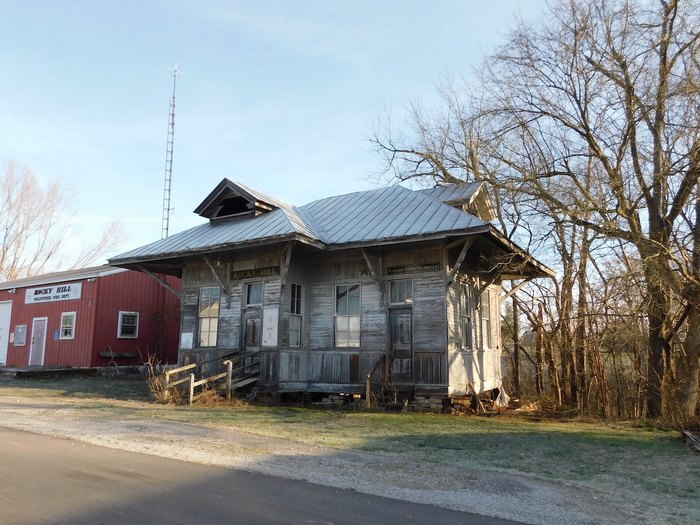 3. Golden Pond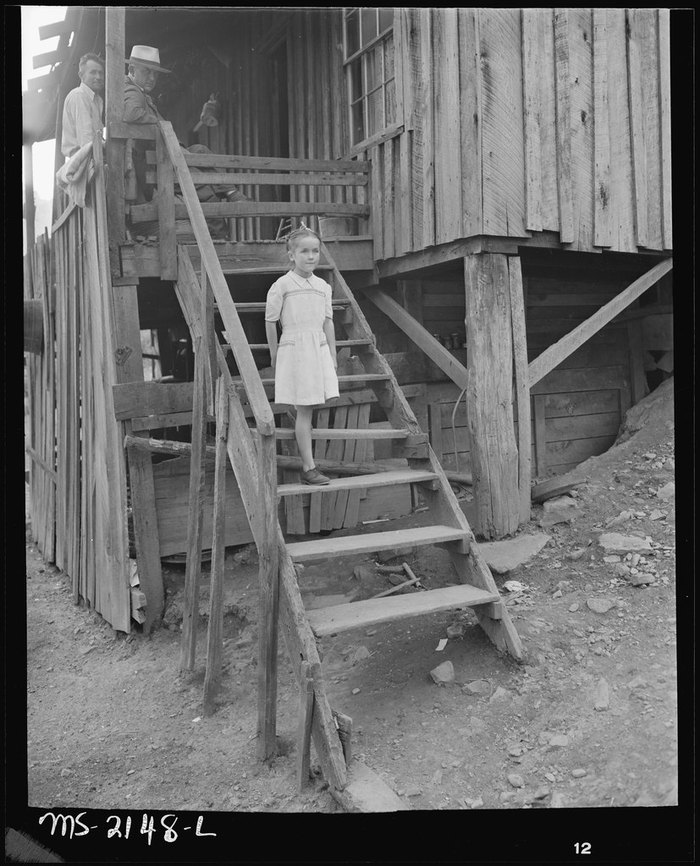 1. Scuffletown Cherokee People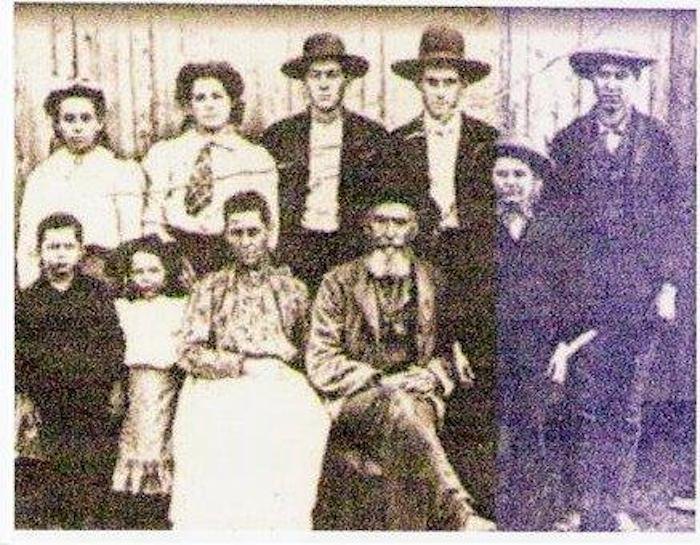 Each of these ghost towns in Kentucky was once an important part of the state's storied history. Some can still be visited, especially those turned into historic museums or overnight stays. Enough of these ghost towns near me are near you as well! These towns, or the remnants thereof, all make interesting (not to mention, scenic!) stops on a Kentucky bucket list. If you want to visit them for yourself, we've put together Kentucky ghost towns road trip , so pack up the car , and hit the road!
OnlyInYourState may earn compensation through affiliate links in this article.
Want more Kentucky in your inbox?
Get the latest on things to see, do, and eat around Kentucky!
An error occured.
More to Explore
Ghost towns in kentucky.
What are the creepiest places in Kentucky?
If you're feeling brave, there are quite a few creepy places to visit in Kentucky . The Waverly Hills Sanatorium, located in Louisville, is one of the most notoriously spooky spots in the state. You can book tours of the former tuberculosis hospital and explore its dark halls and rooms yourself. There are many rumors of hauntings there, and it's even been featured on numerous ghost hunting shows. There is also an abandoned ship in Kentucky, the USS Sachem, that lies in ruin near Petersburg. It's quite haunting to see in person.
Are there any urban legends in Kentucky?
Brush up on your Kentucky folklore through these urban legends . In Prospect, Kentucky, there is a spooky hollow with lots of lore. A ghostly hearse is said to appear out of nothing and nearly scare drivers off the road. Additionally, there is a "Crybaby Bridge" that was said to be the place where women threw their unwanted or ill babies off the side. Their cries can still be heard, according to some. Other weird occurrences happen in the area, as well. There is a railroad trestle in Fisherville that is said to be the home of the Goatman. He cries out like a child needing help, but those that heed the call go missing or are found dead.
What are the most haunted places in Kentucky?
If urban legends and creepy abandoned places have your interests piqued, here are more haunted places in Kentucky. Mammoth Cave, though popular for its beautiful formations and extensive system, is said to be haunted. Over the years it's been used for many things - from tuberculosis patients to fleeing slaves - and some visitors report seeing unexplained lights or orbs. The beautiful Loudon House in Lexington is said to be haunted by two ghostly women and a black cat, according to legend. People who have visited it report feeling random cold spots.
Related Articles
Most People Have No Idea This Underwater City In Kentucky Even Exists
The Abandoned Waverly Hills Sanatorium In Kentucky Is One Of The Eeriest Places In America
Travel To 8 Of Kentucky's Mysteriously Abandoned Places And Learn Their Incredible Stories
These 10 Abandoned Places in Kentucky Will Leave You Disturbed And In Awe
The Abandoned Boone Tunnel Once Led Automobiles Across The Kentucky River
A Creepy Ghost Town In Kentucky, Paradise Is The Stuff Nightmares Are Made Of
Golden Pond Is A Kentucky Ghost Town That's Perfect For An Autumn Day Trip
The Abandoned Distillery In Kentucky That You Can Actually Visit
Explore Kentucky
The Fear Complex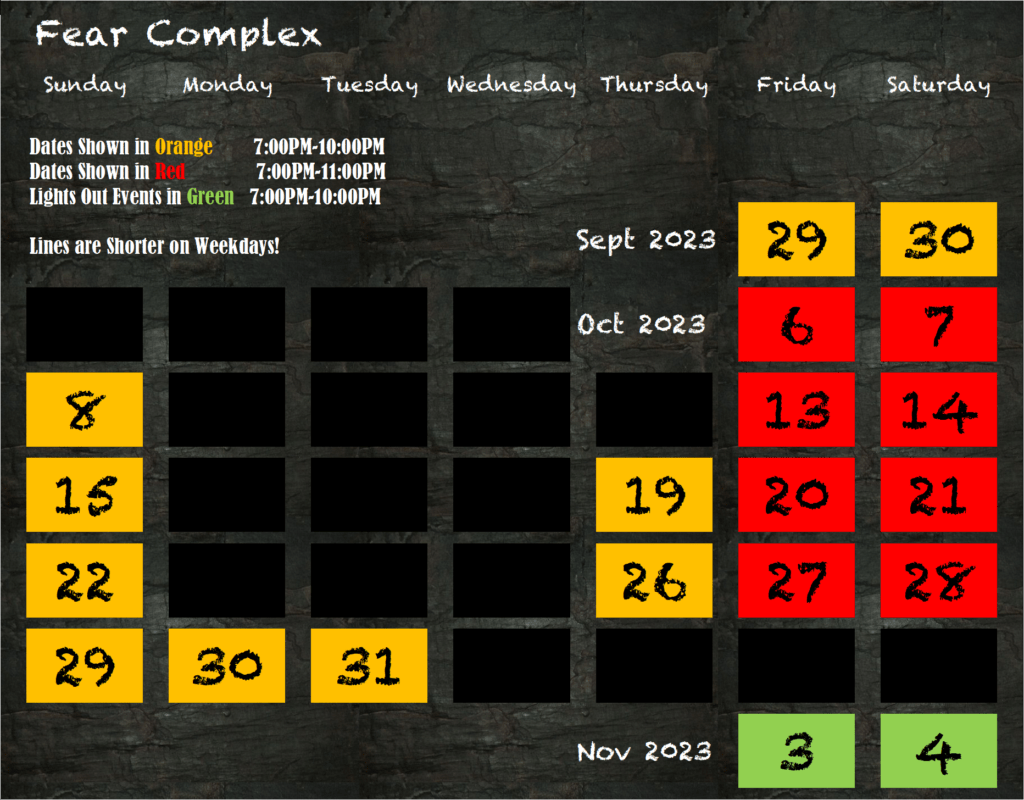 $24 REG | $32 VIP SUN to THURS

$27 REG | $37 VIP FRI AND SAT

$20 REG | $25 VIP LIGHTS OUT EVENTS

$42 REG | $64 VIP COMBO TICKET
2220 East Bijou, Colorado Springs, Colorado 80909

Sponsored By: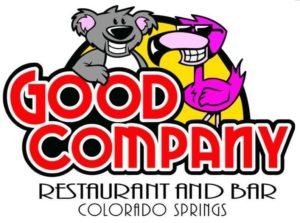 The Haunted Mines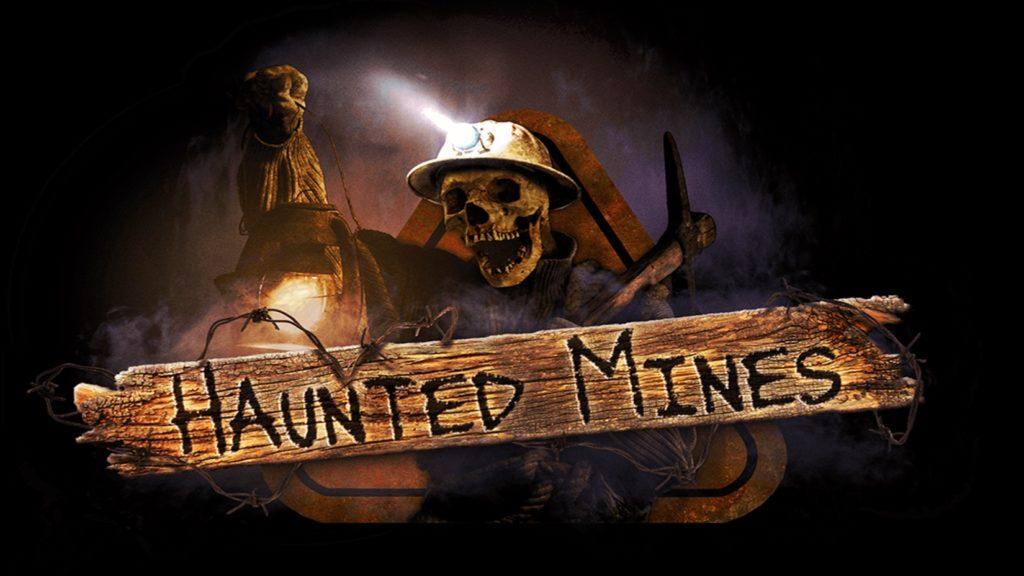 A wondrous yet perplexing discovery was made early this year at the site of the Fear Complex at 2220 E Bijou Street in Colorado Springs. While builders were digging a hole for a future animatronic prop, to their surprise they found a large cavern and series of long abandoned mining tunnels dating back to before Colorado earned its statehood! With the help of a local historical society and documents found in the tunnels, they were able to uncover some of the history and mystery surrounding this astonishing discovery.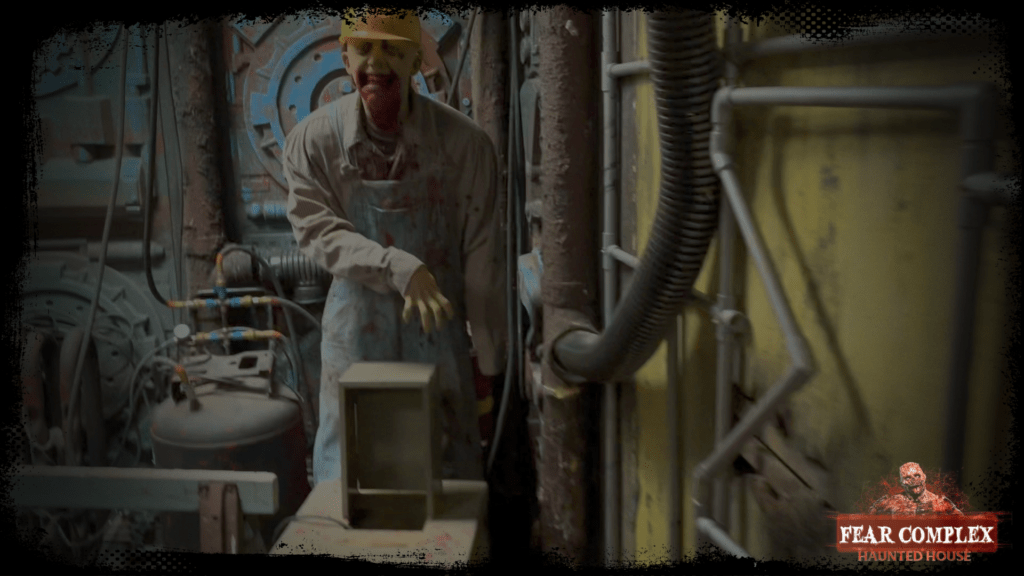 In 1856, more than a decade before the founding of Colorado Springs, a small mining colony named "Cold Falls" existed at the afore mentioned location. The colony consisted of a series of copper mines, a caretakers residence, and a town including a hotel, saloon, schoolhouse, medical facility, and even a jail. It is thought to have had a respectable population of over 800 working people; sizable enough to even draw the attention of a traveling circus at the time. Evidence shows that although the copper mine was productive, all mining abruptly stopped in 1859 and the town was immediately abandoned; most of it even physically buried by workers. The reason(s) for this fast evacuation are still a mystery and the truth may never be fully understood. Even more intriguing are drafts of notes and letters found in the caretakers home. They reference a wealthy benefactor and owner of the mine named S. Von Helton. It has been speculated that this individual may be related to Dr. Stewart Von Helton, whose family was amongst the earliest settlers of Colorado Springs. The notes also elude to a potential secondary reason for the mines development. Excerpt from a note found in Cold Falls Caretakers home: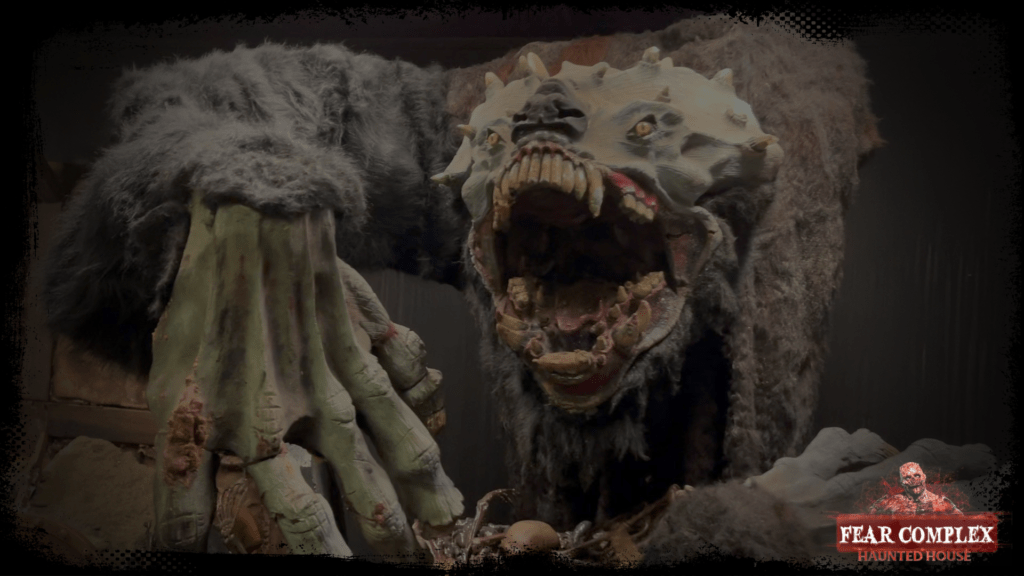 Your Lordship Von Helton , Your instructions have been followed to the letter. Although, as we discussed, you have no interest in copper, the mine is actually producing and you should see funds generated soon. As for your other request, we have not yet located what you are looking for, but based on conversations I have overheard from the workers I feel we are getting close. I hope this message finds you well.
Your Humble Servant
M. Silas Chadwick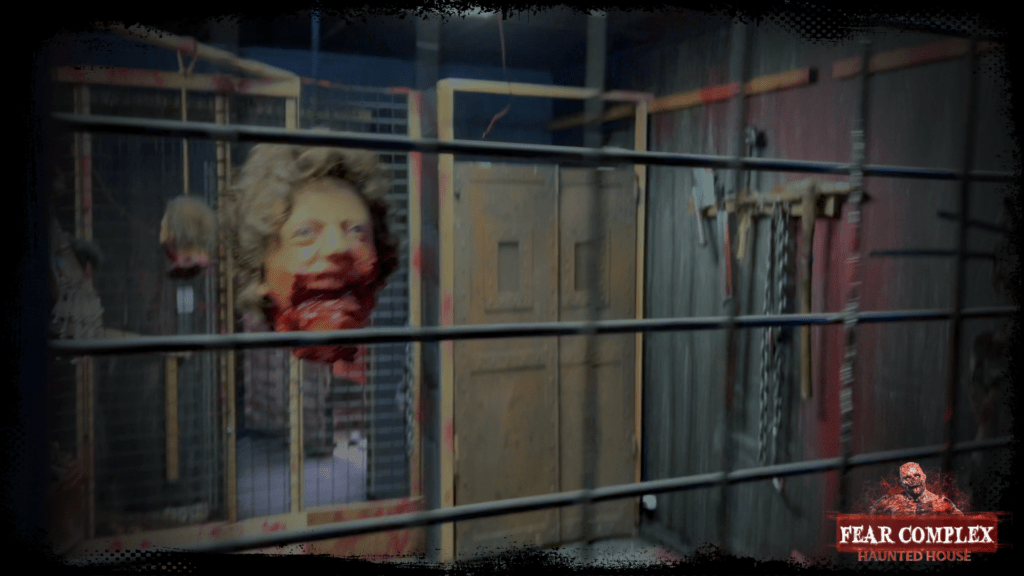 Additional curiosities abound in the mines, including rock formations and insect life found nowhere else on the planet; 100% ecologically exclusive to this location. Most notable are enormous arachnids larger than the bird-eating tarantula.
With the help a local historical society, the owners of Sinister Haunted house have excavated and unearthed a huge section of the site and rebuilt it. This Halloween Season it will be open for the first time to the public for historical and "haunted" tours!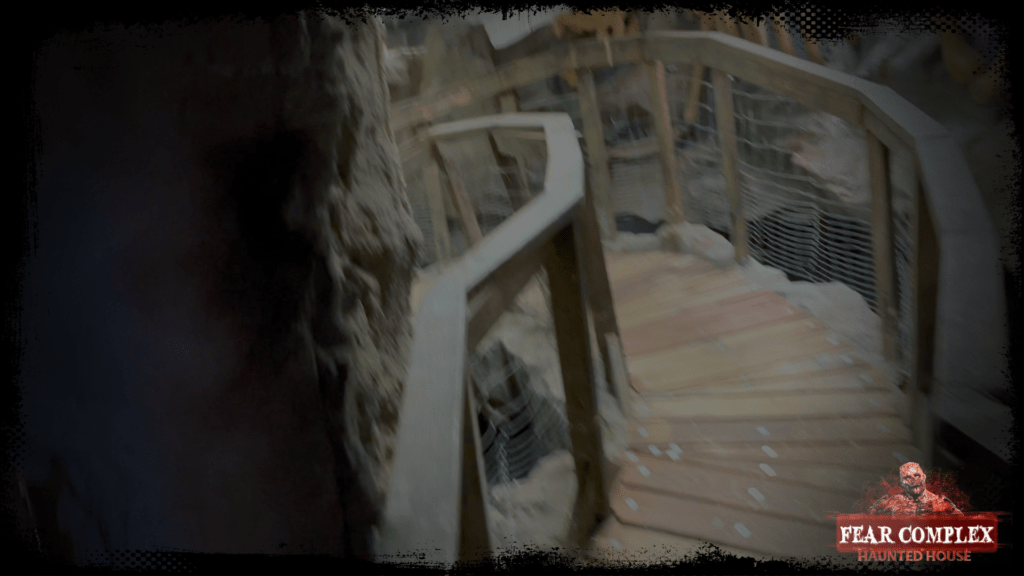 Explore a historic — and possibly haunted — abandoned mine in Upstate NY
Updated: Jul. 07, 2023, 5:08 p.m. |
Published: Jul. 06, 2023, 7:15 a.m.
Widow Jane Mine, once a powerhouse in the natural cement industry, is now open to visitors in Upstate New York for exploring. @sierraelizabeth.flach | Instagram
If you're looking for an Upstate New York adventure off the beaten path, set your GPS for an abandoned cement mine in the Hudson Valley with a storied past.
Ulster County's Widow Jane Mine is a must-see for lovers of historic, albeit slightly eerie, locations. With big rock pillars, still pools of water and cavernous rooms, it makes for a unique summer escape and cool photo spot.
Located in Rosendale, just a couple of hours north of New York City, the mine was formed where large deposits of dolomite limestone were found. According to Atlas Obscura , it was in 1825 when these limestone deposits were mined to make natural cement.
Rosendale cement was used in the construction of many historic structures of the 19th century, including the Erie Canal, Brooklyn Bridge, the pedestal of the Statue of Liberty, the Capitol, the NYS Thruway and the Croton Aqueduct are some of the most notable.
Widow Jane Mine, once a powerhouse in the natural cement industry, is now open to visitors in Upstate New York for exploring. Matt Ziehnert | @mattyzeephotography on Instagram
The 32-square miles of mine shut down in 1970 and is only "abandoned" in the sense that no more mining has taken place there. The grounds have become a popular hiking and biking destination, being close to towns like New Paltz and Kingston.
No one is too sure about how Widow Jane Mine got its name, but we do know that "Widow Jane" was Jane LeFever (LeFevre) Snyder, who lived 52 years a widow. Some visitors claim they've seen the an apparition of a young woman in a long white dress wandering the abandoned mine.
The cavernous hideout has had varied careers since the miners left, according to Discover Upstate New York . It has been utilized as a mushroom farm for Campell's Soup, trout nursery, supplier of whisky water, and a recording studio.
Widow Jane Mine, once a powerhouse in the natural cement industry, is now open to visitors in Upstate New York for exploring. Justin P. Goodhart | @justin_goodhart_photography on Instagram
Currently, Widow Jane Mine is part of the property owned by The Century House Historical Society and is open to the public for exploring, and also, for concerts. It is accessible with a small donation and is open daily from 10 a.m. to 6 p.m. during spring, summer, and early fall. From late fall through early spring, it is open from 10 a.m. to 4 p.m.
While the entrance to the mine gets lots of light, there are no lights further into the main room and much of the rest of the mine is underwater. A headlamp or flashlight that is not your cell phone would be ideal for exploration.
The mine does close for winter until the spring thaw.
For more information on how to visit the mine, see the Century House Historical Society website.
View this post on Instagram A post shared by lauren pro (@laurenprotravels)
Underground waterfall: How to see this secret spectacle in Upstate NY
Long forgotten: The abandoned homes of Upstate New York (photos)
Explore 10 famous abandoned places in Upstate NY
If you purchase a product or register for an account through a link on our site, we may receive compensation. By using this site, you consent to our User Agreement and agree that your clicks, interactions, and personal information may be collected, recorded, and/or stored by us and social media and other third-party partners in accordance with our Privacy Policy.

Sober Healing
Top 10 Most Haunted States in America According to Paranormal Sightings
The spooky season is upon us, and we have just the thing for you. Whether you have seen a ghost in your life or not, there's no denying that the sense of their presence alone is enough to send chills down your spine. Here are America's ten most haunted states and some of their most haunted locations. Have you been?
Texas has several haunted places for you to visit, like The Jefferson Hotel. It is believed to be one of the most haunted hotels in America, let alone Texas.  The Grove is another place in Texas thought to have over 100 years of paranormal activity. It still stands to this date, just as it did when it was built in 1861.
2. California
Paranormal a ctivity might not be the first thing that crosses your mind when you hear the word California. But this state has some of the most terrifying haunted places in America. 
Whether you are at the Los Coches Adobe hearing the mine workers scream, the Oakwood Cemetery in Claremont seeing small grey entities run around in the dark, or The Whaley House Museum in San Diego. The haunted places in California are terrifying enough to send chills down your spine.
From Haunted Asylums and Abandoned Hospitals to Paranormal Hotels, Ohio is a ghost hunter's dream. In Cleveland, numerous ghosts are said to be haunting the Franklin Mansion. There have been many reported sightings of spirits in the mansion.
The Majestic Theatre in Chillicothe is another place believed to be haunted by the ghost of a woman named Elizabeth. Apart from her, other shadowy figures have also been seen around the theatre on multiple occasions. The Ohio State Reformatory is another haunted place used as a movie location for  The Shawshank Redemption.
4. Michigan
The Mackinac Island on Lake Huron is one of Michigan's most haunted places. The people visiting the Island have reported sudden chills even in peak summer hotness. The Island has had over 100 individual ghost sightings reported, making it one of the most haunted Islands in America.
The Detroit Masonic Temple, allegedly haunted by the ghost of George D Mason, is another scary spot to visit in Michigan. A few other haunted places to visit in Michigan are The Traverse City State Hospital and The Terrace Inn.
5. Illinois
Elmwood Cemetery, known initially as Centralia Cemetery, is believed to be one of the most haunted cemeteries in Illinois. According to locals, faint violin music can be heard in the cemetery, which comes from a statue within the graveyard.
Apart from the cemetery, a cave known as Devil's Bake-Oven is another famous haunted spot in Illinois. The ghost of a woman wearing a white dress is often seen there. Several reports have also been of someone sobbing or shrieking near the cave.
6. Pennsylvania
The Hill View Manor, situated in New Castle, Pennsylvania, encountered numerous paranormal activities during its operation. It served as a residence facility for the elderly and mentally ill people of the county until 2004. It is one of the main haunted sites in Pennsylvania. 
The Pennhurst State School And Hospital is another one of the haunted places in Pennsylvania. Visitors report hearing strange voices and apparitions roaming around the place.
One of the most haunted places in Indiana has got to be the Willard Library in Evansville. The ghost haunting the Library is called the "Grey Lady," who can occasionally be seen in the building.
The Haunted Bridge in Avon is another spooky spot where you can hear a woman screaming. The Nicholson House, The Historic Hannah House, and The Story Inn are some of Indiana's most prominent haunted places to visit.
8. New York
You probably already know what New York's most famous haunted place is. Yes, you guessed it right, it's the "House of Death" in Greenwich Village. The house that still looks beautiful on the outside has a terrifying past and has taken many innocent lives.
It is one of the most well-known haunted sites in the States and has many visitors. Some other haunted spots in New York are Washington Square Park, St. Mark's Church, and King's Park Psychiatry Centre. Also, the Van Cortlandt House Museum sits in Van Cortlandt Park in the Bronx. It's a former plantation and the subject of haunted house reports.
9. Oklahoma
Oklahoma has been home to a long list of famous haunted places. Whether it's Belvidere Mansion in Claremore, haunted by the spirits of the Bayless family, or the Dead Woman's Crossing in Weatherford.
There is one place that Oklahoma will always be famous for, and that is the Veteran's Lake in Sulphur. The Lake is believed to be possessed by a lady who once drowned in it. There have been several reported sightings of a lady across the Veteran's Lake, making it one of the most frightening Lakes in America.
10. Virginia
You know how horror movies have such enormous haunted mansions in the middle of nowhere? Well, Virginia has the real-life depiction of that haunted house known as Major Graham's Mansion in Whythe County.
It is one of the most haunted places in Virginia. This mansion has been a part of several television shows. The Staunton Train Depot has also had several ghost-sighting reports over the last few years. The Depot has started to gain some attention in the haunted world recently. The St. Albans Sanitarium for the mentally ill in Fairlawn is also said to be haunted.
Illegalize It Now: 18 Legal Things in America That Really Shouldn't Be
According to an online community, there are dozens, if not more, of legal things that should be illegalized immediately. Here are their top-voted suggestions. Do you agree?
15 American Customs That Foreigners Admit Make Absolutely No Sense
I recently ran into a fun question on a popular internet forum. A member asked the Non-Americans what American custom makes no sense to them. Here are their honest confessions.
15 Things You Do That Signals to Everyone Around You That You're Insecure
Are you able to pick up on signals from people that indicate their insecurities? You're not alone. Someone recently asked a popular online community for …
15 Things You Do That Signals To Everyone Around You That You're Insecure
25 Real Reasons People Have Turned Their Back to Religion and Church
Recently, I encountered an interesting (and sad) discussion about what ruined religion for people and why they turned their backs on the church. The answers range from abuse to science denial.
15 Signs That Deep Down You Are a Terrible Person
According to the internet, some undeniable signs signal to others when you are a terrible person. Someone asked a popular forum, "What are signs someone is a horrible person deep down?" And here is how the online community responded.
Thermo Fisher Scientific
Do You Believe in Haunted Mines?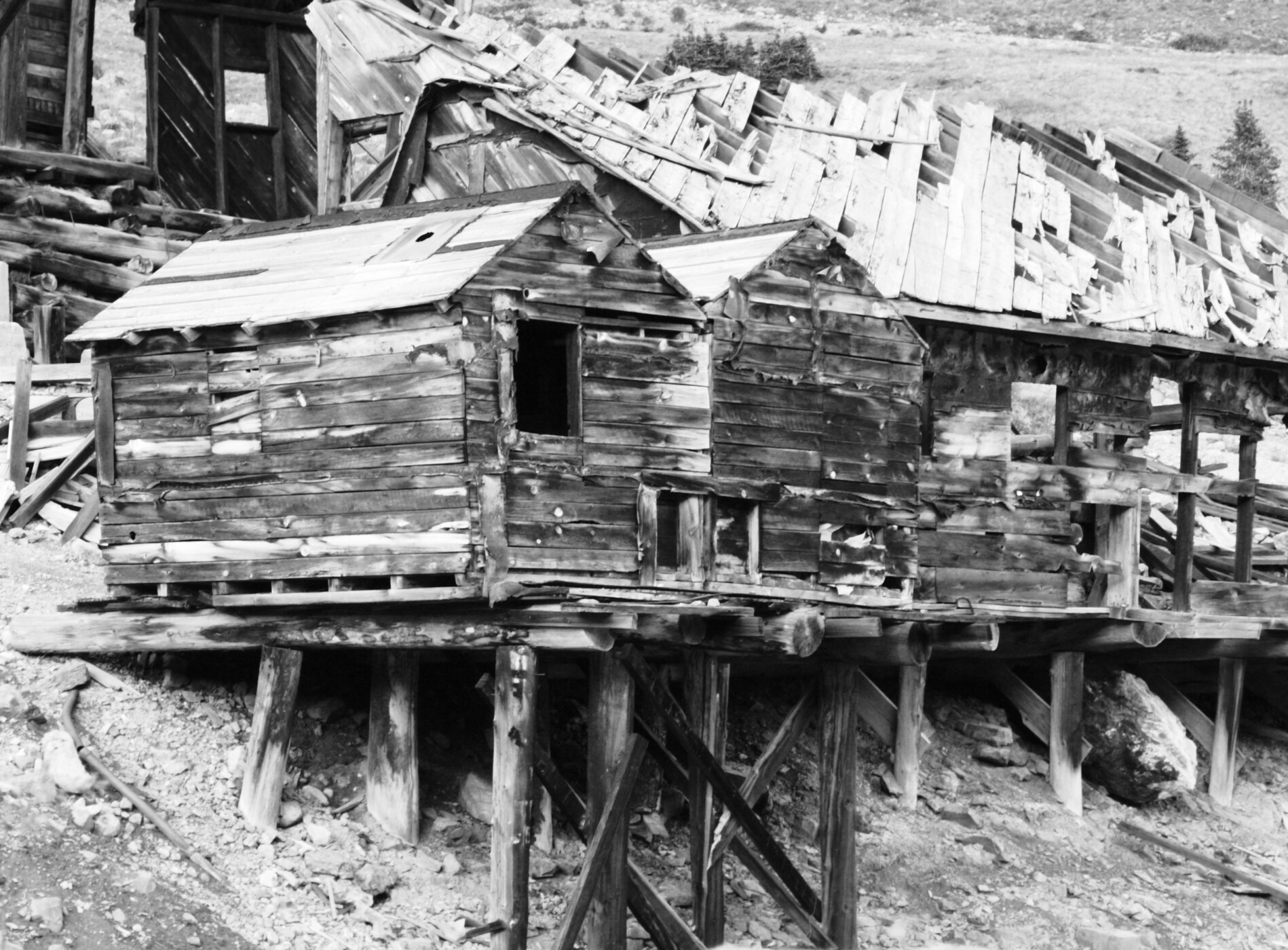 The Garnet Ghost Town in Montana was home to hundreds of people between 1895 and 1912. Most came in search of gold and other precious metals that could be found in the mountains; but less than twenty years later large strikes were depleted, a fire raged through the town and the miners left in search of new riches.
Death Valley has more than its fair share of ghost towns. The US National Park Service lists Ballarat, Chloride City, Greenwater, Harrisburg, Leadfield, Panamint City, Rhyolite (the "Queen City"), and Skidoo as those towns that saw a quick influx of people trying to get rich on the gold, copper, silver, and lead strikes in the area – but who abandoned the towns when mining was no longer profitable.
Lake Valley, New Mexico, is the site of an old silver mining community. The town was founded in 1878 and grew to 4,000. All that remains now is a ghost town.
These are just a few of the estimated 500,000 abandoned mines in the United States. There are many modern-day prospectors who are returning to the ghost towns to see if technology that was not around a century ago, like handheld XRF analyzers , can help find precious metals that may have been overlooked or left in tailings. And there are some people who are returning to the ghost towns in search of real ghosts.
The Phoenix New Times reported that the Vulture Gold Mine in Wickenburg, Arizona, is a truly spooky place. "Paranormal investigators from the Travel Channel reality show paid a visit to the abandoned 1880s-era former gold prospector's paradise two years ago, and – if their exploits are to be believed – had rocks thrown at them, captured recordings of apparitions telling them 'Get out!' and 'You're gonna die,' and had the willies scared out of them."
Whether or not you believe in haunted mines, you should stay away from abandoned mine lands anyway. The U.S. Bureau of Land Management warns potential ghost seekers that the real danger of abandoned mines is not about apparitions or rock-throwing ghosts. The real danger is health concerns.
In addition to safety hazards inside the mine, like dangerous shafts, deadly gases, lack of oxygen, walls and ceilings prone to collapse, unstable rock, decayed support and potential explosives, one has to be careful outside the mine entrance as well. Polluted waters, tainted fish, and contaminated soil are commonly left behind when the people disappear. Many old mines caused environmental degradation, like contaminated surfaces and stockpiled rock and mill tailing piles. The leftover soil can contain heavy metals and toxic substances, which seep into groundwater.
Uranium mines pose the added threat of radiation exposure. The Bureau reports that "The mining of uranium ores by underground and surface methods produces large and small amounts of bulk waste material. These materials contain naturally occurring radioactive components and become exposed to the environment through mining activities. Because the waste rock and soil have little or no practical use, they are generally stored on land near the mine site. Continued exposure to these materials can cause severe health problems."
There is technology now that can help improve these circumstances. Our Mining Community shows how new technology can help identify elemental contaminants at mine sites, monitor bromide in surface, ground-, and flowback waters , and determine the extent of the mine wastewater pollution through water analysis . Personal and ambient particulate monitoring equipment can be used to measure particulate matters in the air to ensure exposure limits are not exceeded. And radiation detection solutions provide comprehensive, real-time monitoring, early warning and complete information in the palm of your hand.
So although you may not believe in haunted spirits, abandoned mines and ghost towns can be pretty scary.
Happy Halloween!
Canadian Mining Company Targets Antimony and Copper Porphyry
A Canadian mining company recently announced the next step i...
How to Assess the Viability of Rare Earth Element Deposits
We have often written about Rare Earth Element (REE) mineral...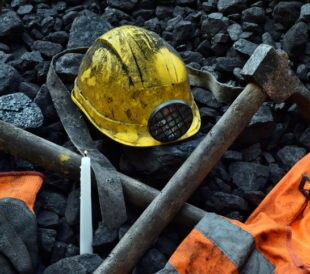 Celebrating National Miners Day with a Nod Toward Safety
Today we celebrate you — the folks who are involved in...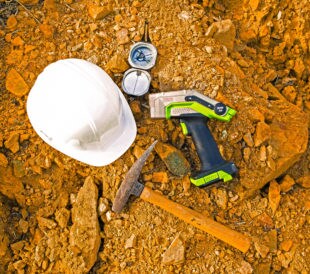 Exploring XRF Technology at Mines and Money
Over 2000 decision makers, mining leaders, policymakers, inv...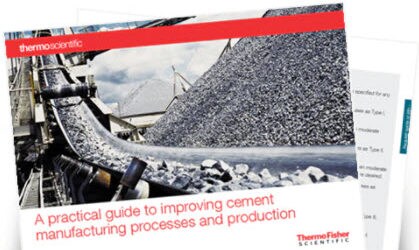 eBook: A Practical Guide to Improving Cement Manufacturing
eBook: A Practical Guide to Improving Mining and Mineral Operations
Leave a reply cancel reply.
Your email address will not be published. Required fields are marked *
Get news and research reviews on the topic of your choice, right in your inbox.
Subscribe Now
Select your country/region * Select your country/region United States Canada Afghanistan Albania Algeria American Samoa Andorra Angola Anguilla Antarctica Antigua and Barbuda Argentina Armenia Aruba Australia Austria Azerbaijan Bahamas Bahrain Bangladesh Barbados Belarus Belgium Belize Benin Bermuda Bhutan Bolivia Bosnia and Herzegovina Botswana Bouvet Island Brazil British Indian Ocean Territory Brunei Darussalam Bulgaria Burkina Faso Burundi Cambodia Cameroon Cape Verde Cayman Islands Central African Republic Chad Chile China Christmas Island Cocos (Keeling) Islands Colombia Comoros Congo Congo, The Democratic Republic of Cook Islands Costa Rica Cote D'Ivoire Croatia Cuba Cyprus Czech Republic Denmark Djibouti Dominica Dominican Republic East Timor Ecuador Egypt El Salvador Equatorial Guinea Eritrea Estonia Ethiopia Falkland Islands (Malvinas) Faroe Islands Fiji Finland Fmr Yugoslav Rep of Macedonia France French Guiana French Polynesia French Southern Territories Gabon Gambia Georgia Germany Ghana Gibraltar Greece Greenland Grenada Guadeloupe Guam Guatemala Guinea Guinea-Bissau Guyana Haiti Heard and McDonald Islands Holy See (Vatican City State) Honduras Hong Kong Hungary Iceland India Indonesia Iran (Islamic Republic Of) Iraq Ireland Israel Italy Jamaica Japan Jordan Kazakstan Kenya Kiribati Korea, Democratic People's Rep Korea, Republic of Kuwait Kyrgyzstan Lao People's Democratic Rep Latvia Lebanon Lesotho Liberia Libyan Arab Jamahiriya Liechtenstein Lithuania Luxembourg Macau Madagascar Malawi Malaysia Maldives Mali Malta Marshall Islands Martinique Mauritania Mauritius Mayotte Mexico Micronesia, Federated States Moldova, Republic of Monaco Mongolia Montserrat Morocco Mozambique Myanmar Namibia Nauru Nepal Netherlands Netherlands Antilles New Caledonia New Zealand Nicaragua Niger Nigeria Niue Norfolk Island Northern Mariana Islands Norway Oman Pakistan Palau Panama Papua New Guinea Paraguay Peru Philippines Pitcairn Poland Portugal Puerto Rico Qatar Reunion Romania Russian Federation Rwanda Saint Helena Saint Kitts and Nevis Saint Lucia Saint Pierre and Miquelon Samoa San Marino Sao Tome and Principe Saudi Arabia Senegal Seychelles Sierra Leone Singapore Slovakia Slovenia Solomon Islands Somalia South Africa Spain Sri Lanka Sth Georgia & Sth Sandwich Is St Vincent and the Grenadines Sudan Suriname Svalbard and Jan Mayen Swaziland Sweden Switzerland Syrian Arab Republic Taiwan, Province of China Tajikistan Tanzania, United Republic of Thailand Togo Tokelau Tonga Trinidad and Tobago Tunisia Turkey Turkmenistan Turks and Caicos Islands Tuvalu Uganda Ukraine United Arab Emirates United Kingdom Uruguay US Minor Outlying Islands Uzbekistan Vanuatu Venezuela Vietnam Virgin Islands (British) Virgin Islands (U.S.) Wallis and Futuna Islands Western Sahara Yemen Yugoslavia Zambia Zimbabwe
Pick a category * Pick a category Accelerating Microscopy Advancing Materials Advancing Mining Analyzing Metals Behind the Bench Examining Food Identifying Threats Life in the Lab The Connected Lab
I would like to receive information about content, events, products, services and promotions from Thermo Fisher Scientific and its affiliates. I agree for the Thermo Fisher Scientific group (thermofisher.com/legalentities) to contact me by email and/or telephone to inform me of events, products, services and/or promotions offered in connection with the brands Thermo Scientific™, Applied Biosystems™, Invitrogen™, Gibco™, Ion Torrent ™, Unity Lab Services™, Fisher Scientifc™. I can withdraw my consent and unsubscribe at any time by emailing [email protected] By submitting my data, I give consent to the collection, processing and use of my personal data in accordance with the Thermo Fisher Scientific Policy (thermofisher.com/privacypolicy).
Comments This field is for validation purposes and should be left unchanged.
Sutro Ghost Town
Episode aired Oct 11, 2023
Zak and the crew delve into the darkness that surrounds the historic and very haunted town of Sutro, Nevada. The team suspects an old mining tunnel is fueling the abandoned settlement's omin... Read all Zak and the crew delve into the darkness that surrounds the historic and very haunted town of Sutro, Nevada. The team suspects an old mining tunnel is fueling the abandoned settlement's ominous aura as they uncover numerous deaths, disasters and mysterious fires. Zak and the crew delve into the darkness that surrounds the historic and very haunted town of Sutro, Nevada. The team suspects an old mining tunnel is fueling the abandoned settlement's ominous aura as they uncover numerous deaths, disasters and mysterious fires.
Devin Lawrence
Jeff Belanger
Aaron Goodwin
Billy Tolley
See more at IMDbPro
Self - AV Tech & Investigator
All cast & crew
Production, box office & more at IMDbPro
User reviews
October 11, 2023 (United States)
United States
Ghost town & tunnels, Sutro, Nevada, USA
MY Entertainment
See more company credits at IMDbPro
Technical specs
Related news
Contribute to this page.
See more gaps
Learn more about contributing
More to explore
Recently viewed
Haunted And Abandoned Horton Mine Is Creepy And Filled With Ghosts
Abandoned mines are one of the most dangerous places on earth and should not be entered into without proper equipment or training. The haunted Horton Mine is said to be filled with the spirits of miners who lost their lives in accidents over the years. There are even rumors that those killed by other mineworkers over disputes also haunt the location.
The abandoned mines in Pershing County can be very dangerous. So, if you're going to explore them, make sure you wear sturdy shoes, carry a powerful flashlight, and check out your surroundings before proceeding any further.
The haunted tunnels reveal history in such a surprising way. This once-thriving mining town is now known for ghost stories and filled with amateur ghost hunters documenting their journies through the 150-year-old tunnels hoping for a personal ghost encounter. 
Abandoned Horton Mine History
The abandoned Horton Mine was founded in 1864 by William Horton who discovered the first ore in lower-middle Nevada. It is located approximately 8 miles north of Yerington, just off state Route 341, and operated for about seventy-five years producing a large amount of gold and silver. The main activity at the time revolved solely around these two mineral resources according to explorer documents and mining claims. Eventually, the mine closed in 1931 and is currently known as one of the most haunted locations in the state.
Abandoned Horton Mine Today
Today, many visitors to the Horton mines enter to experience what many paranormal enthusiasts consider a truly haunted place. Reports have been documented of unexplainable eerie sound levels, ghost sightings, and other paranormal footage.
As you approach the haunted mines on a gravel road just north of Yerington, NV, you can see that the entrance is blocked by a locked gate, but that does not deter anyone from attempting to document their own creepy footage as a brave explorer. There are many eerie video clips online that you can watch on YouTube showing individuals trekking deep into the now-defunct production mining location, hoping to capture their own supernatural entity.  
Located 900 feet beneath the bottom of a mountain, it is suggested to not visit this location unless you are ready to navigate such environments.
Abandoned Horton Mine Interesting Facts
Horton Mine was named after William Alexander Horton who discovered massive amounts of ore in the mine. This particular mine has a rich history and is known to produce large minerals such as gold, silver, lead, mercury, antimony, and copper. It actually produced so much gold that it became one of the world's richest mines at that time but was also known for its very low-quality ore, making it one of the toughest mines to work in.
Eventually, Horton's closed because most of the easy-to-find minerals had been extracted and all the materials type desired were no longer available. Most dark tunnels are now emptied of their original natural resources these days and are just creepy tunnels filled with ghosts instead. 
Abandoned Horton mine Tour Information
If you'd like to take a tour, you are in luck! The abandoned Horton mine offers a tour that is approximately three hours long and costs $50 for adults and $45 for students. They take a limited number of people on tours each day so make sure you reserve your spot as soon as possible! The haunted Nevada mines have been featured on many programs such as "MythBusters" and are truly a sight to see.  
Why are abandoned mines dangerous?
Abandoned mines are dangerous due to their structural conditions, lack of light and oxygen, and the possibility of becoming trapped. They are extremely hazardous due to unstable ground, high water levels in certain areas, cave-ins, equipment left by another group that could cause injury or death (such as an old ladder that is not attached securely), small openings that can be difficult to navigate, and the presence of toxic gases such as carbon monoxide or methane.
These mines are also often the site of crime due to their remote nature and chance for easy escape by criminals.
Abandoned mines also present a significant danger to those who enter them because they are not monitored by safety personnel (i.e., they are not patrolled) and have been used by criminals as a place to dispose of human and animal corpses; in addition, there have been cases where victims have been buried alive.
There are also significant health hazards to consider. Those who enter should concern themselves with a lack of sanitary facilities (i.e., restrooms) water sources, and discarded or spilled chemicals (such as mining equipment, batteries, and paint). Abandoned mines may also provide a haven for rodents and insects.
Are there any abandoned mines in Nevada?
There are other abandoned mines in Nevada you can explore:
Abandoned Silver City Mine and Abandoned Pioche Mines in Esmeralda County
Abandoned Mill Site in Elko County
Abandoned Bordertown Schoolhouse Washoe County
Abandoned Bunker Hill Mine in Nye County
Abandoned Eureka Mines in Lander County
Abandoned Gold Standard Mine In Eureka
Tools to bring to explore abandoned mines:
If you do decide to explore such mines, you should consider bringing a first aid kit, a flashlight or lantern with extra batteries, sturdy shoes, and clothing, food and water (minimum of two days worth), maps of the surrounding area, or GPS device to help you navigate the terrain. They can be very dangerous so make sure you are prepared for what could happen during your exploration!
As a ghost hunter looking for a creepy tunnel to wind down, this is definitely the perfect location to consider.  No other ghost town will be able to offer you such a rich history while being available to the public in this manner. 
Everything You Need to Know About the Gettysburg Ghost Tours
Welcome To The Haunted Crescent Hotel – Spirits Included
5 Things You Don't Know About The Conjuring House
8 Haunted Cry Baby Bridge Locations To Visit – Is One Near You?
Paranormal Investigators Launch Ghost Tours At The Albuquerque Press Club In New Mexico

Your version of Internet Explorer is either running in "Compatibility View" or is too outdated to display this site. If you believe your version of Internet Explorer is up to date, please remove this site from Compatibility View by opening Tools > Compatibility View settings (IE11) or clicking the broken page icon in your address bar (IE9, IE10)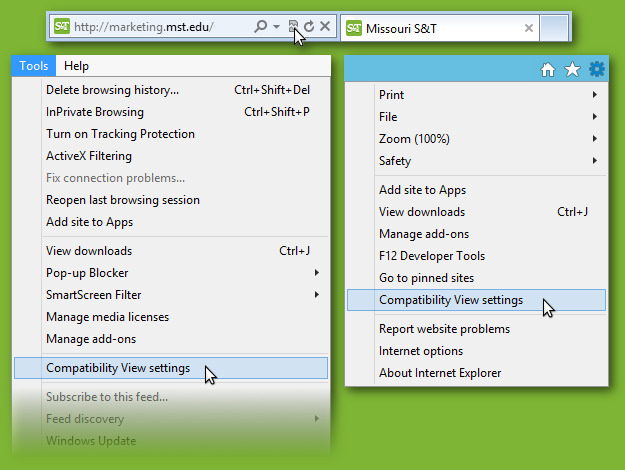 Missouri S&T - Missouri University of Science and Technology
Future Students
Current Students
Faculty and Staff
All of Missouri S&T
Just this site
Social Media
eConnection
Student eConnection
S&T's Haunted Mine opens Oct. 20
Posted by Laura Studyvin On October 9, 2023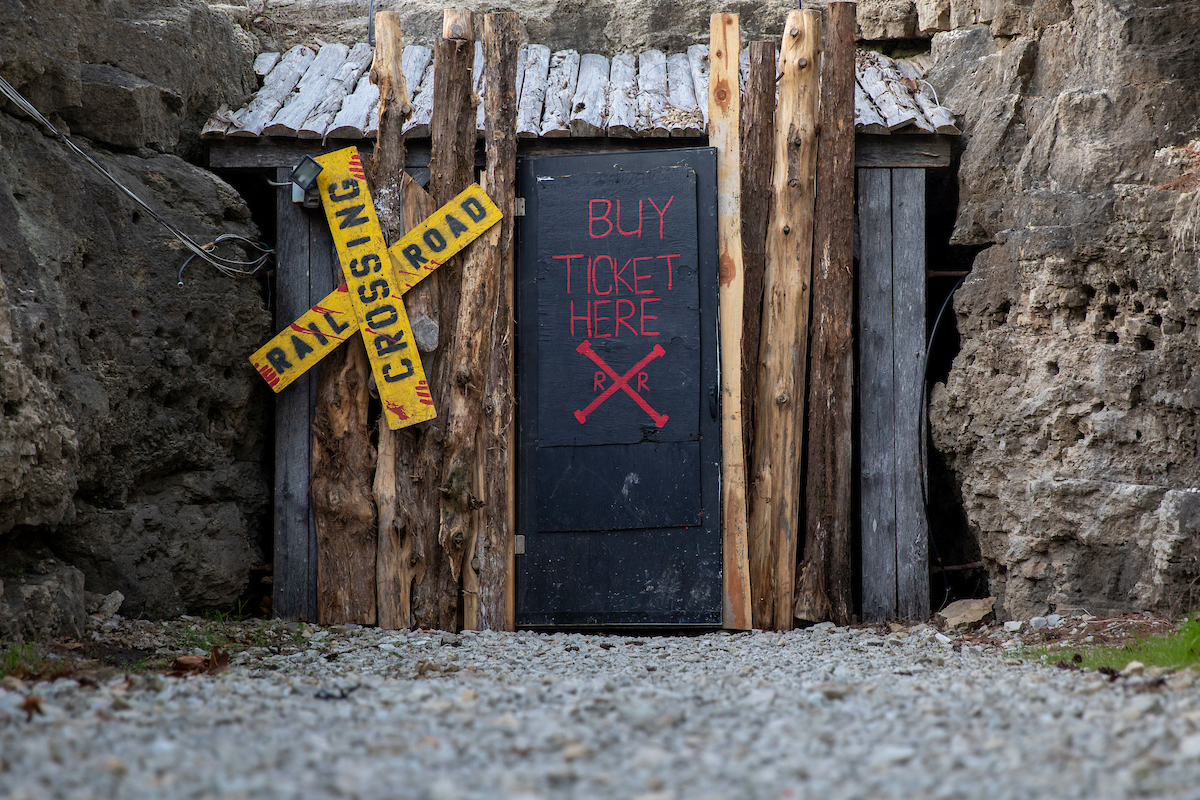 S&T hosts its annual Haunted Mine fundraiser. Noah Richardson/Missouri S&T
A group of mining engineering students have put together a collection of nightmarish thrills for this year's Haunted Mine, opening Friday, Oct. 20, at Missouri S&T's Experimental Mine.
The tradition of haunting the mine began in 1997 as a way for Missouri S&T students in mining and explosives engineering to raise funds to participate in competitions and attend conferences throughout the year.
The 2023 Haunted Mine will be open 6-11 p.m. on Friday, Oct. 20; Saturday, Oct. 21; Friday, Oct. 27; Saturday, Oct. 28; and Tuesday, Oct. 31. This year's Haunted Mine will include strobe lights and fog machines. Visitors who find the mine too scary can inform an actor at any time and be escorted to the nearest exit. Closed-toe shoes are required, and flat-bottomed shoes are recommended.
Tickets are $15 for adults and $13 for children under 10, Missouri S&T students and members of the military with valid IDs. Guests can get a discount of up to $3 per person by bringing canned goods to donate to Russell House ($1 per item). On any open night before Halloween, groups with small children can walk through the mine with the lights on from 5-6 p.m. for $5 per child.
The Experimental Mine is located at 12350 Private Drive 7002 in Rolla, just off Bridge School Road. For more information, contact Stephen Casey at 573-341-6303 or [email protected] .
About Missouri University of Science and Technology
Missouri University of Science and Technology (Missouri S&T) is a STEM-focused research university of over 7,000 students located in Rolla, Missouri. Part of the four-campus University of Missouri System, Missouri S&T offers over 100 degrees in 40 areas of study and is among the nation's top public universities for salary impact, according to the Wall Street Journal . For more information about Missouri S&T, visit www.mst.edu .
Share this page
Posted by Laura Studyvin
On October 9, 2023. Posted in Mining and Explosives Engineering
Leave a Reply Cancel reply
Your email address will not be published. Required fields are marked *
Save my name, email, and website in this browser for the next time I comment.
Looking for something?
Case department news.
Army ROTC Stonehenge Battalion (14)
Department of Arts, Languages and Philosophy (301)
Department of Biological Sciences (106)
Department of Chemistry (132)
Department of English and Technical Communication (66)
Department of History and Political Science (148)
Department of Mathematics and Statistics (46)
Department of Physics (84)
Department of Psychology (59)
Department of Teacher Education and Certification (27)
CEC Department News
Chemical and Biochemical Engineering (115)
Civil, Architectural and Environmental Engineering (325)
Computer Science (106)
Electrical and Computer Engineering (172)
Geosciences and Geological and Petroleum Engineering (36)
Materials Science and Engineering (155)
Mechanical & Aerospace Engineering (208)
Mining and Explosives Engineering (37)
Nuclear Engineering and Radiation Science (12)
Kummer College Department News
Department of Business and Information Technology (70)
Department of Economics (15)
Engineering Management and Systems Engineering (116)
Recent Posts
Tour the planets at S&T this weekend
Forbes Advisor again ranks S&T's online psychology master's program in top 10
Donations to Missouri S&T doubled by Kummer Institute Foundation through Oct. 25
'The Hit Men' to perform at Leach Theatre Oct. 21
Recent Comments
Patrick B. Bennett on Researchers demonstrate new fast-charging technology for electric vehicles
JK Van Buren on U.S. News ranks Missouri S&T as state's top public engineering school
Kelly Bride on Researchers demonstrate new fast-charging technology for electric vehicles
Matt Insall on Missouri S&T again ranked a top 10 'best value'
Upcoming events
Sports headlines.
Miners earn tie against eighth-ranked UIndy
S&T gets big road win at UIndy on Olson's second half goal
S&T wins eight events in capturing double dual meet to open season
Miners roll in final two sets to down Cedarville at Midwest Crossover
S&T heads to SBU seeking second straight victory
News (3,011)
Events (1,818)
People (1,127)
Featured (1,060)
Top Headlines (922)
College of Engineering and Computing (893)
Research (862)
College of Arts, Sciences, and Business (709)
Missouri University of Science and Technology (441)
Missouri S&T (417)
About S&T
Financial Aid
Campus Life
Missouri S&T, Rolla, MO 65409 | 573-341-4111 | 800-522-0938 | Contact Us Accreditation | Consumer Information | Our Brand | Disability Support
News and Events
Events Calendar
Campus News
Student News
Research News
Residential Life
Residence Halls
Dining Options
Residence Hall Rates
Apply for Housing
Involvement
Organizations
Fraternities / Sororities
Volunteerism
Find Your Fit
Student Resources
Cashier's Office
Career Opportunities
Student Parking
Online Resources
Human Resources
Work at S&T
Flexible Work Arrangements
Help and Safety
Campus Police
Health and Wellbeing
IT Help Desk
S&T Alert
Administration
Press Releases
Governing Policies
© 2023 - Curators of the University of Missouri | UM System | Privacy Policy | WordPress Missouri S&T is an equal opportunity/access/affirmative action/pro-disabled and veteran employer and does not discriminate on the basis of sex in our education programs or activities, pursuant to Title IX and 34 CFR Part 106. For more information, see S&T's Nondiscrimination Policy or Equity and Title IX .
Border/Mexico
ABC-7 Alert Center
Military-Fort Bliss
Entertainment
ABC-7 StormTrack Doppler
On the Border
El Paso High School Sports Champs
Borderland Blitz
El Paso Chihuahuas
Locomotive FC
Texas Sports
New Mexico Sports
Texas Politics
New Mexico Politics
Livestream Newscasts
Livestream Events
ABC News LIVE
Borderland Crimes Podcast
Breast Cancer Awareness
Health Headlines
Business Matters
Community Champions
Father's Day
Mother's Day
Events Calendar
Good Vibes Only
House & Home
Safe at Home
Sunday Funday
Ask The Expert
Submit Tips, Pics and Video
KVIA Careers
Borderland Careers
Contact KVIA
People of ABC-7
Closed Captioning
EEO Public Filing
FCC Public File
KVIA Jobs and Internships
Download Our Apps
History of KVIA ABC-7
TV Listings
25 reportedly haunted places across America
Old mirrors and pictures on the walls on the main staircase in the Stanley Hotel.
If you already believe in ghosts, you might be apt to see them anywhere you look—or blame the unexplained on something of a supernatural sort rather than on solid science. But, there are some places in the United States where ghost sightings are so frequent, that you've got to wonder if they could really be haunted.
Stacker researched some of the haunted tourist destinations across the country—ones that make for a spirited stay, whether you're seeking a paranormal experience for Halloween or not. These aren't just where people have lost their lives, or where the dead have been laid to rest—although any of these sites could still be the stomping grounds for souls that haven't fully departed because of the tragedy that befell them when they were alive.
Other locations might be more occult in nature—in which case, you've got to make sure you don't bring an unwanted guest home with you after you've paid them a visit. And others might simply be a place that the occupants enjoyed and never wanted to leave.
Based on reported sightings and haunted histories, these are 25 reportedly haunted places across America where ghost stories abound. You might just catch a glimpse of an apparition in one of these places that could make you a believer, no matter how much of a skeptic you were when you arrived.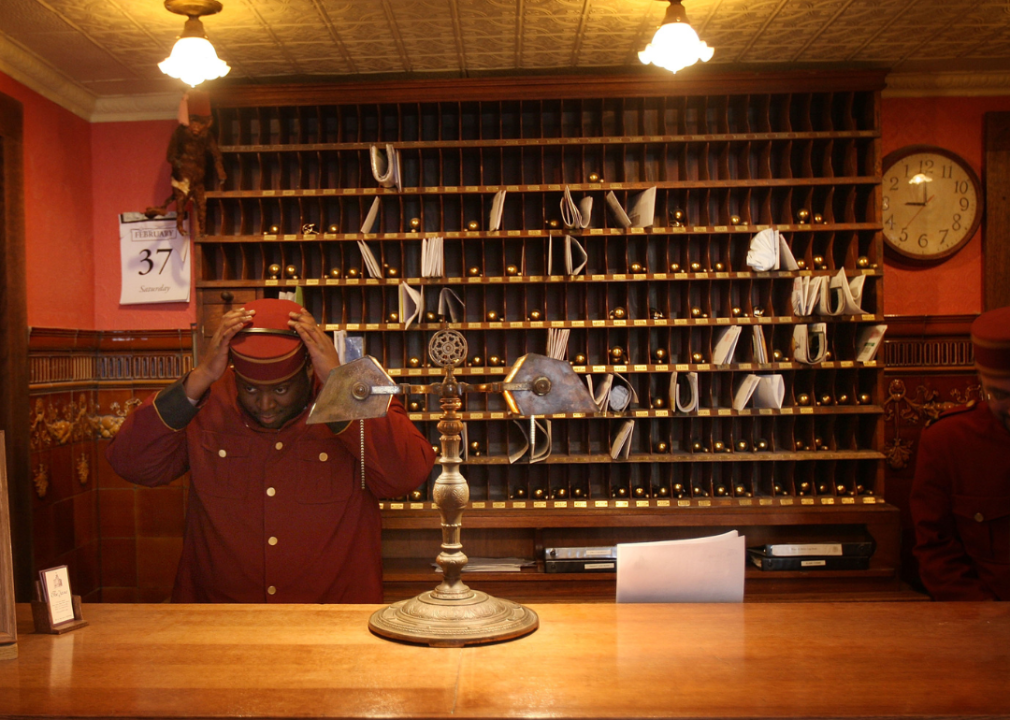 The Jane Hotel, New York City
A bellhop adjusts his hat at the front desk of The Jane Hotel.
Built in 1908 as the American Seamans Friend Society Institute Building, The Jane Hotel on Manhattan's far west side has one huge claim to fame that contributes to its haunted reputation: It's where surviving crew members from the Titanic shipwreck stayed in 1912 after the RMS Carpathia dropped them off at the nearby the Cunard-White Star pier (now Pier 54).
Haunted Rooms America considers it one of the six most haunted hotels in New York City, while the New York Post called it "the city's spookiest destination for Halloween" based on legends of the ghosts that roam its halls. Guests can still book an overnight stay in one of the hotel's ship-like "cabin" rooms and look for ghostly figures loitering the long hallways or in one of the communal bathrooms.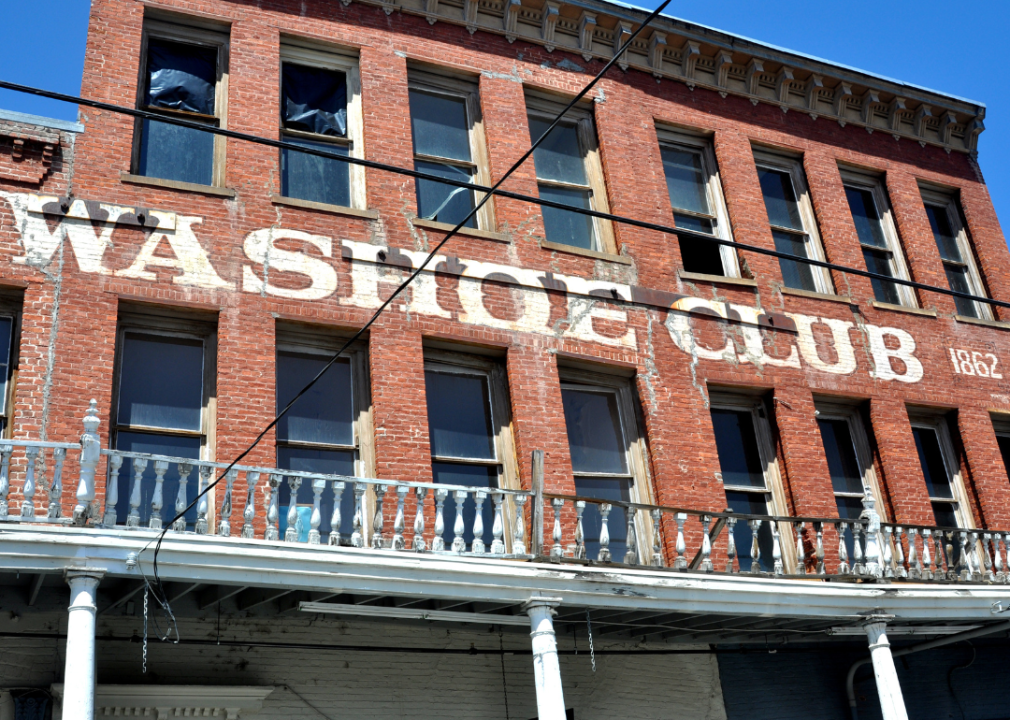 Old Washoe Club, Virginia City, Nevada
Exterior detail of painted brick sign and windows of The Old Washoe Club building.
You don't have to look very hard to find hauntings (or ghost tours) in Virginia City's nationally recognized historic district along C Street—but one of the most famous haunted destinations in the former silver mining town is the Washoe Club Museum & Saloon, the city's oldest saloon formerly known as the Old Washoe Club.
Today, a tour guide can take you through the spirited stories of the 1862 historic building and its " haunted hotspots ," where you might see the apparition of a woman in a Victorian blue dress in a window or a former "lady of the night" named Lena (who reportedly worked at an upstairs brothel) near one particular stairwell. Guests, including paranormal investigators, have reported feeling like they were grabbed or even scratched and witnessing a door seemingly slamming shut on its own.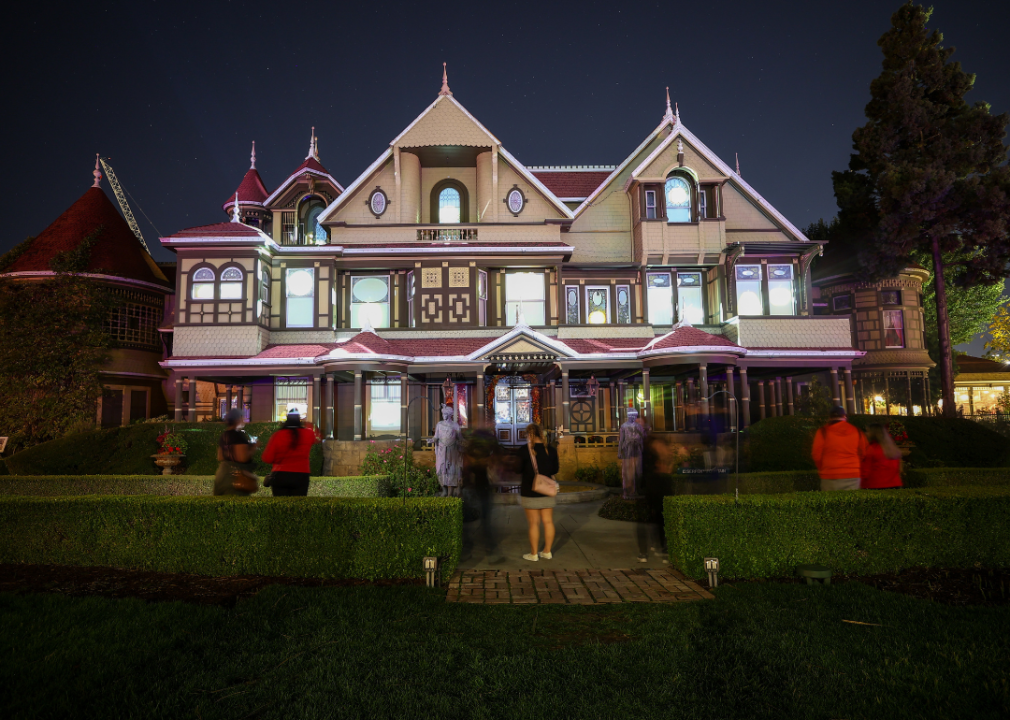 Winchester Mystery House, San Jose, California
People standing outside the Winchester Mystery House at night.
It's possible that the two-story, eight-room farmhouse that Sarah Winchester purchased in San Jose in 1886 was already occupied by ghosts when she moved in. Some speculate that Sarah herself was haunted by the ghosts of those killed by Winchester rifles—manufactured by Winchester Repeating Arms Company, the company founded by her father-in-law Oliver Winchester—and that she kept adding onto the home because of instructions she received from spirits.
Legend has it her design plans included a séance room, but whether spirits were actually summoned is a mystery today. However, celebrity medium James van Praagh claims to have communed with Sarah's spirit within its walls; and even the magician Harry Houdini, a famed skeptic, couldn't completely debunk her home's possible ties to the supernatural, nicknaming it the "Mystery House" when he visited in 1924.
Visitors can decide for themselves by taking a tour of the estate, which has been open as an attraction since the 1930s.
RMS Queen Mary, Long Beach, California
Exterior of The Queen Mary docked in Long Beach on a clear day.
The RMS Queen Mary took its maiden voyage in 1936 and was decommissioned in 1967. It's now a floating hotel that's permanently moored in Long Beach, California. Despite being commandeered for military service during World War II when it was painted a regulation gray color, much of its streamlined, Art Deco-style interiors have been preserved for modern-day guests to enjoy.
Some ghosts might be left over from its heyday too, as visitors have reported spotting mysterious figures in The Mauretania Room (a former first-class lounge), the first-class swimming pool (apparently occupied by a small child's spirit), the boiler room, and the engine room—particularly around hatch door #13, where a crew member was crushed to death and now reportedly haunts the scene of the accident.
Visitors can view all of these sites on the ship's daytime Haunted Encounters tour. Additional evening paranormal tours are also available, although the "Dark Harbor" haunted attraction that the ship hosted for Halloween beginning in 2009 saw its last year in operation in 2019.
Talbott Tavern, Bardstown, Kentucky
Exterior of The Talbott Tavern at intersection in Bardstown.
For a "spirited" stay during the annual Kentucky Bourbon Festival—or any time of year visiting the Kentucky Bourbon Trail—The Old Talbott Tavern in Bardstown, Kentucky, offers the setting of an 18th-century inn, guest rooms named after the likes of Abraham Lincoln and Jesse James, and plenty of ghost encounters.
From flickering chandeliers to pianos playing on their own and the "lady in white," travelers have reported unexplained events and sightings—even when they haven't bellied up to the bar before retiring to their quarters. Perhaps one of them is the lingering presence of one of the six Talbott children who died on the property from 1886 to 1889.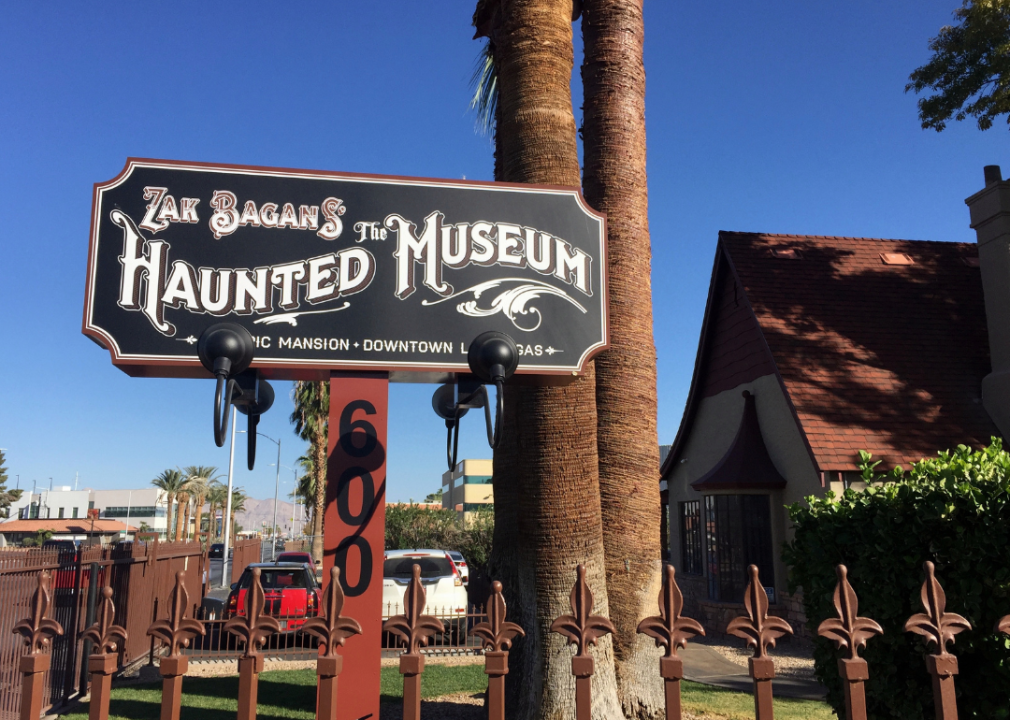 Zak Bagans' Haunted Museum, Las Vegas
Entrance sign for Zak Bagan's Haunted Museum.
You might expect Sin City to be littered with the ghosts of bygone mobsters, big winners (and losers), or even since-passed performers, but one particular hotbed of activity in Vegas isn't a storied casino or hotel—it's not even on the Strip. It's Zak Bagans' Haunted Museum, located in a paranormally active mansion from 1938 in Downtown Las Vegas.
Bagans is the paranormal investigator host of Travel Channel's "Ghost Adventures" and a collector of supposedly haunted items like a Dybbuk Box, a wooden cabinet supposedly occupied by a demon, according to Jewish folklore. The TV host brought the demonic Peggy the Doll into the museum, but, as he demonstrated on an episode of "The Haunted Museum" TV series, those who look her in the eyes risk migraines, nausea, or even heart attacks. No wonder Bagans has all his visitors sign a waiver upon entry.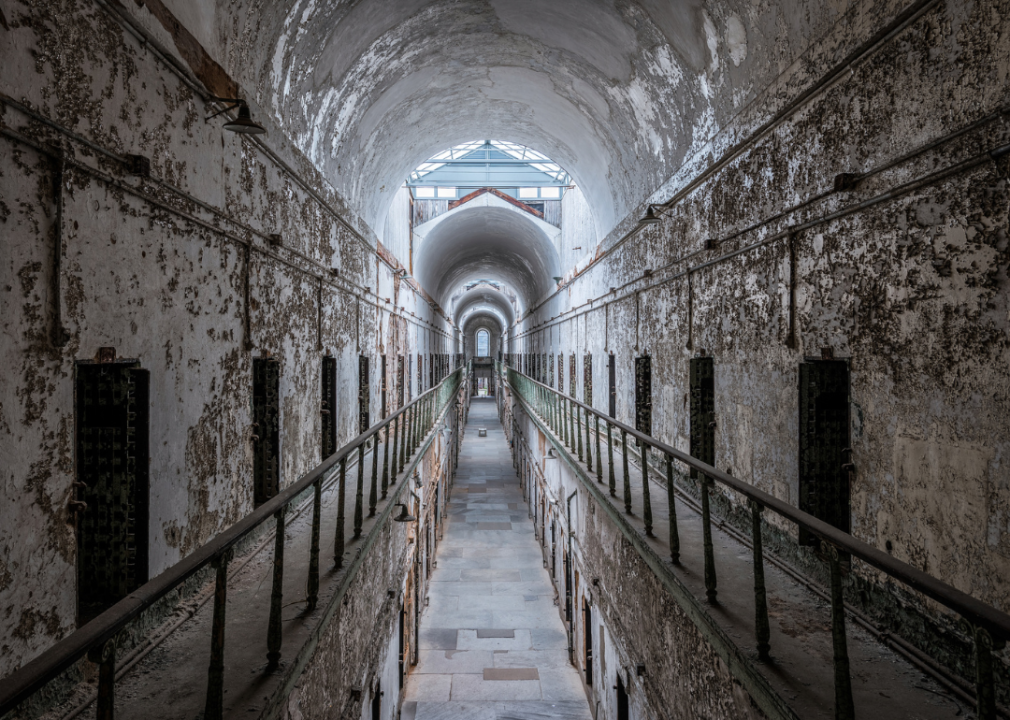 Eastern State Penitentiary, Philadelphia
Peeling paint walls in abandoned cell block in the Eastern State Penitentiary.
Considered one of Condé Nast Traveler's " Most Haunted Places in America ," Eastern State Penitentiary is a foreboding fortress just north of Philadelphia's Center City neighborhood. It was built in 1829 for solitary confinement and then packed with prisoners in the cells along its long hallways from 1919 until its closure in 1970.
On a guided tour of the prison during the day, you can walk along the former Death Row and even see where Al Capone was once an inmate. It's a macabre setting, where plenty of the imprisoned suffered through torture, leading to later criminal justice reform—and it's given rise to plenty of ghost stories.
Although a historic site by day, it's capitalized on this horrific history by hosting a nighttime Halloween festival , which includes "haunted" mazes and the opportunity to upgrade to a flashlight tour of the property.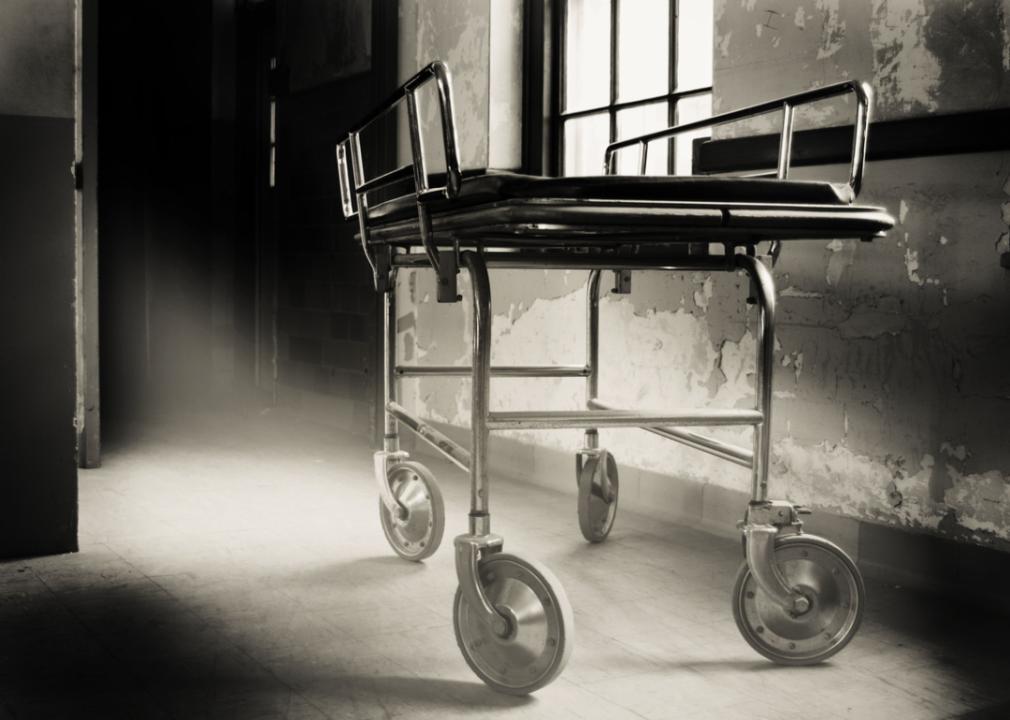 Waverly Hills Sanitorium, Louisville, Kentucky
Black and white image of hospital gurney in an old room.
Waverly Hills was a tuberculosis sanitorium built in 1910 in the Tudor Gothic architectural style. Its creepy exterior offers just a hint at the horrors that occurred inside, where thousands of patients succumbed to the disease until an antibiotic treatment emerged in the 1940s.
As unforgiving as the "White Plague" was in Louisville, Kentucky, the pre-drug therapies were reportedly no picnic either. Even worse, evidence of  patient abuse while it was operating as Woodhaven Geriatric Center contributed to its closure in 1982. Not surprisingly, ghost stories and paranormal sightings abound, including those of former residents and staff who still seemingly roam the hallways.
Owners Charlie and Tina Mattingly purchased the property in 2001 and opened it up for daytime historical tours as well as paranormal tours. It promotes orbs, balls of light, and spirits that visitors often spot, particularly in the body chute, where the dead were disposed of. An annual haunted house event takes place around Halloween as well.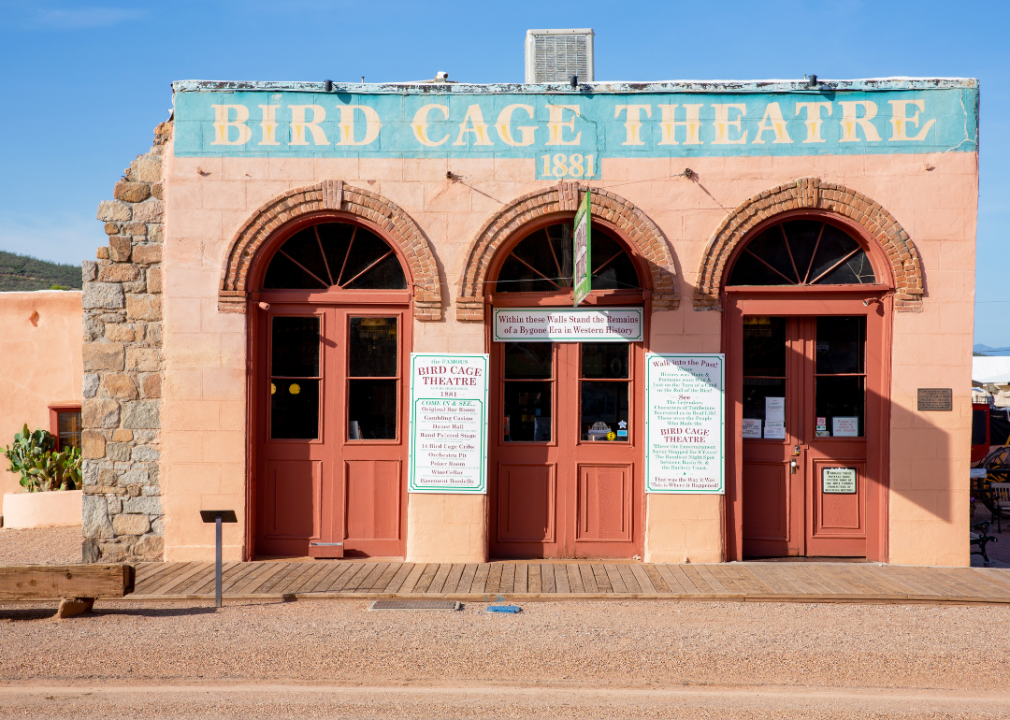 The Bird Cage Theater, Tombstone, Arizona
Exterior one story building with Bird Cage Theatre painted on the facade.
The city of Tombstone, Arizona, may be best known to historians as the site of the O.K. Corral gunfight between Wyatt Earp, Doc Holliday, and the Clanton-McLaury Gang in the days of the Old West—famously depicted by Hollywood in the films "Tombstone" and "Wyatt Earp"—but it's the nearby Bird Cage Theatre that has the most ghostly reputation in town.
Spirits of gamblers and gunslingers supposedly linger around the site of countless killings, including one particularly gruesome stabbing. While the former saloon and gambling hall are open to visitors during the day, ghost tours are also conducted nightly—starting with family-friendly ones early in the evening and becoming more intense for older audiences later on.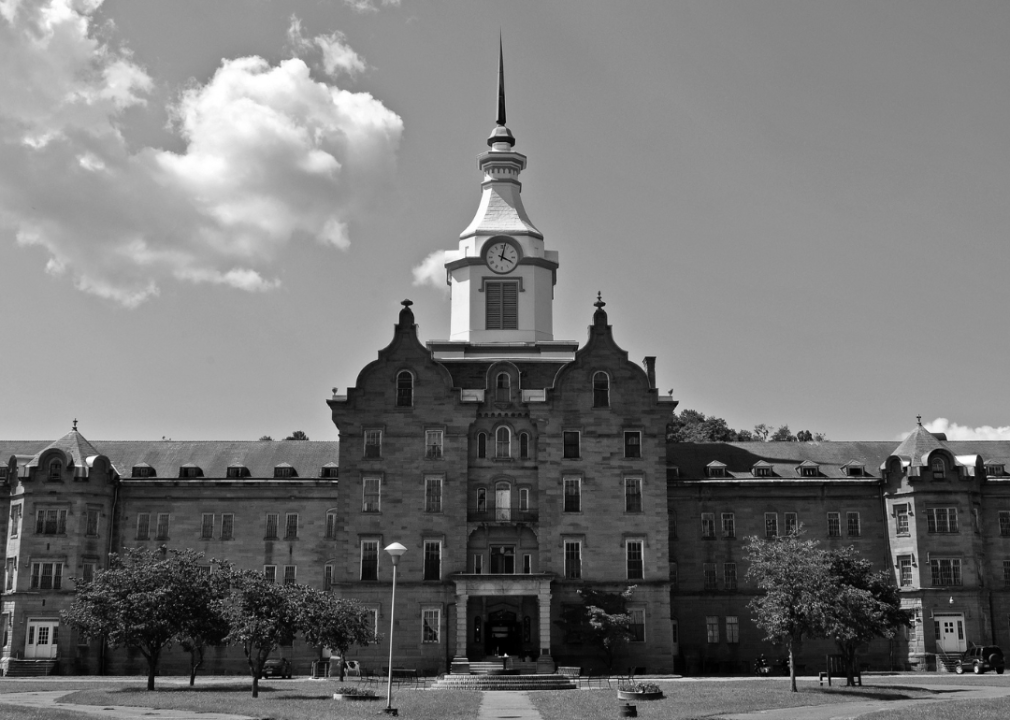 Trans-Allegheny Lunatic Asylum, Weston, West Virginia
Exterior view of main building of the Trans-Allegheny Lunatic Asylum.
The Trans-Allegheny Lunatic Asylum in Weston, West Virginia, has been the subject of numerous televised paranormal investigations, including on such shows as "Ghost Adventures," "Paranormal Lockdown," "Destination Fear," and "Portals to Hell."
This former psychiatric hospital dating back to the time immediately following the Civil War suffered overcrowding, violence among patients, and even staff deaths. Treatments now considered inhumane included lobotomies and solitary confinement, and paranormal investigators have claimed that some unhappy souls have remained trapped in the facility.
Although it had been renamed Weston State Hospital when it closed in 1994, it returned to its historical "lunatic asylum" name when it was reopened in 2001 for heritage tours. Some of these tours take visitors through Ward F, for the most "deviant" of patients, and the Forensics Building. Paranormal tours include ghost hunts, flashlight tours, and even overnights.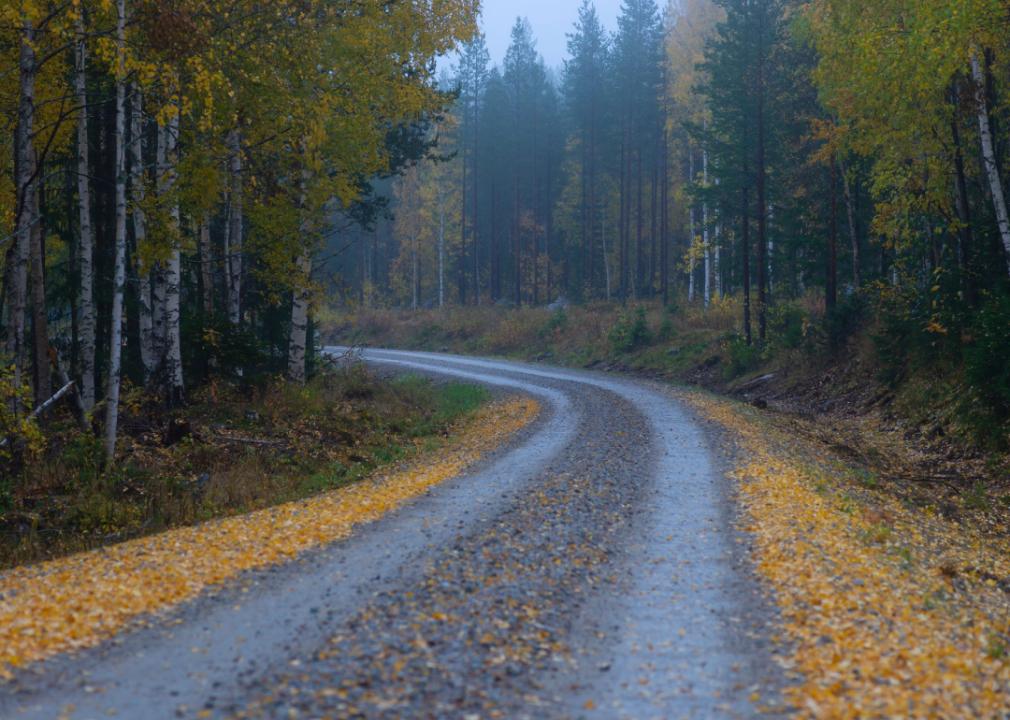 13 Curves, Onondaga, New York
Foggy curving rural road in autumn.
Considered by Upgraded Points to be the #4 best city in the U.S. to be a ghost, the central New York city of Syracuse has a population with an above-average interest in ghosts . Is that because its citizens simply love looking for ghosts—or that there are actually more ghosts to be found there?
One of the most popular "haunted" hotspots surrounding Salt City is located in the Onondaga Hill area: a mile-long stretch of the winding Cedarvale Road, known as "13 Curves." Legend has it that a newlywed couple faced tragedy there, and in one version of the story, the bride survived and is forever in search of her lost husband. A historical plaque sponsored by the New York Folklore Society marks the spot of the sightings.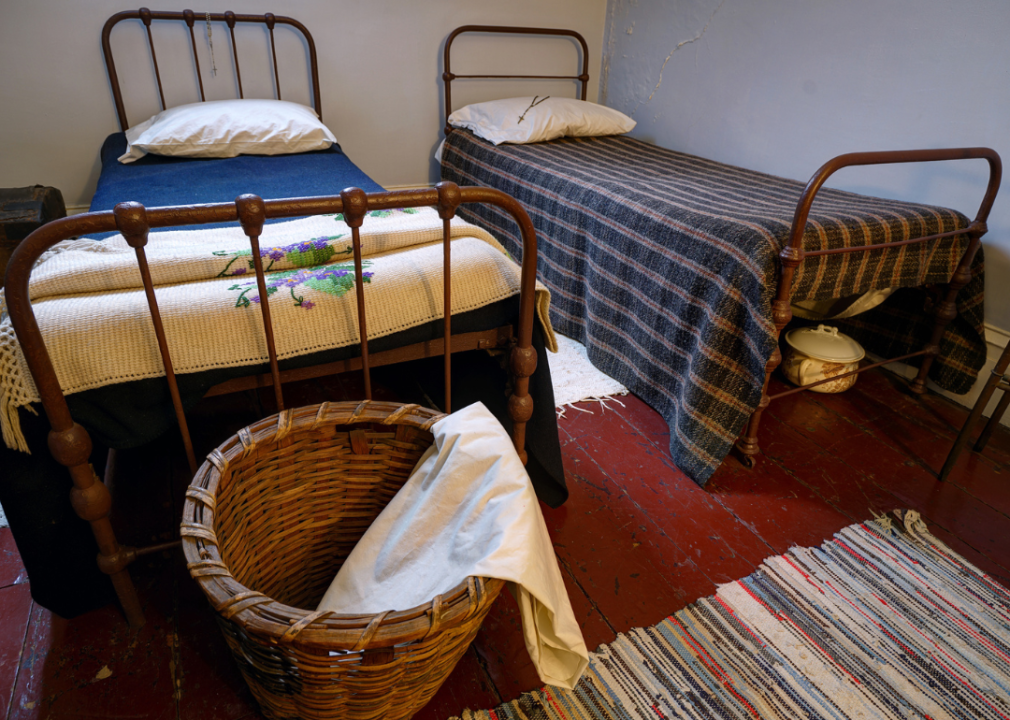 Merchant's House Museum, New York City
Twin beds in the Servants' Room.
The Victorian-era family home of the Tredwells has been preserved in the NoHo neighborhood of Manhattan as the Merchant's House Museum, the only such remaining residence of its kind on the island borough.
The last surviving member of the Tredwell family—the youngest daughter, Gertrude—died in the house at the age of 93 in 1933. Three years later, the rowhouse was opened for tours—despite the fact that Gertrude may have never fully vacated the property. Merchant's House, now more than 190 years old, attracts history buffs and ghosthunters alike, and some visitors report particularly strong reactions to the energy in the principal bedroom. Candlelit ghost tours offer the chance to commune with a spirit or two—occasionally with the help of paranormal investigator Dan Sturges.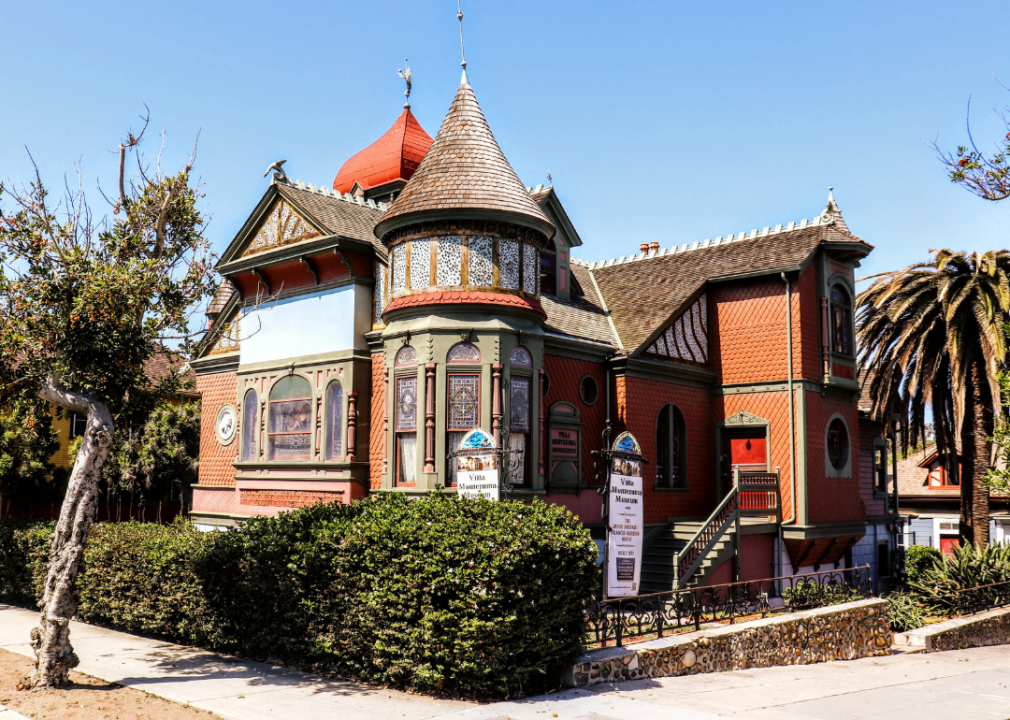 Villa Montezuma, San Diego
Exterior Queen Anne Victorian mansion.
The San Diego Victorian mansion known as Villa Montezuma—or "Spook House" to locals—was a building project for composer and musician Jesse Shepard. He was an active member of a Spiritualist society whose eclectic and somewhat macabre tastes are reflected in the mansion's architectural design.
Stained glass and gargoyles intermingle with a turret and tiled fireplaces have served as a fitting setting for the séances that have been conducted within Villa Montezuma's walls by both Shepard and the home's subsequent owners.
Although Shepard died in Los Angeles and not in the home, visitors say that they sometimes feel his ghostly presence. The mansion has been open as a museum since 1972 with daytime tours offered by Friends of the Villa Montezuma and evening lantern tours by Haunted Orange County, despite it being located in San Diego County.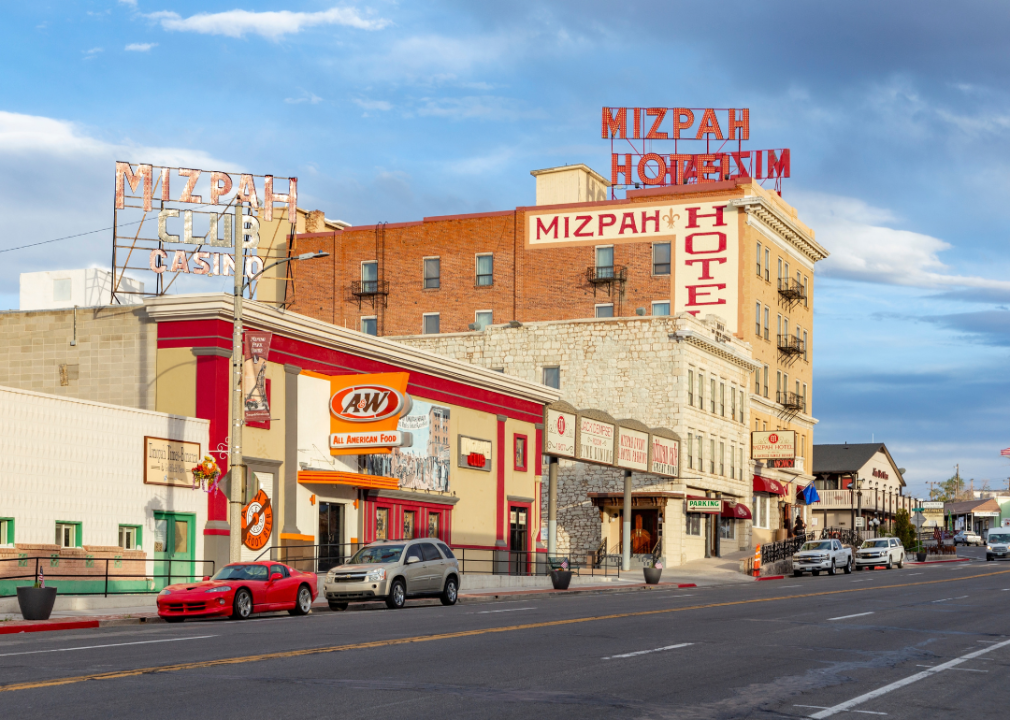 Mizpah Hotel, Tonopah, Nevada
Mizpah Hotel on Main Street in Tonopah.
Voted one of USA Today's " Best Haunted Hotels ," the Mizpah Hotel was once a symbol of prosperity during the boomtown times of Tonopah, Nevada, a town with the title of "Queen of the Silver Camps." Built between 1907 and 1908, the hotel was directly adjacent to the most successful of all silver mines in the area: the Mizpah Mine.
Many prominent local figures who have passed have rooms named after them, perhaps in honor of their residual energy—but the hotel's most famous ghost, and one of the most famous in the state, is the "Lady in Red." She was reportedly killed by a jilted ex-lover, and now her presence can be felt in rooms 502, 503, and 504 (the "Lady in Red Suite") and even the elevator.
Today, the hotel embraces its haunted history, beckoning guests to "come for the scares, stay for the stories" on its social media channels.
The Roycroft Inn, East Aurora, New York
The Roycroft Inn sign outside snowy building.
Outside the city of Buffalo, New York, is the community of East Aurora—and at the center of it is the Roycroft Campus, built around the turn of the last century as part of the American Arts and Crafts Movement.
The historic Roycroft Inn, now a national landmark, is a showcase for those artisans and their work, including woodworking, stained glass, furniture, and more. It's also part of the Haunted History Trail of New York State, which promotes a supernatural walk of the inn and promises "occult architecture, sacred symbolism, and a Campus full of ghosts!"
One of those spirits might be that of Roycroft founder Elbert Hubbard, who died on the RMS Lusitania when a German U-boat sank the ocean liner in 1915.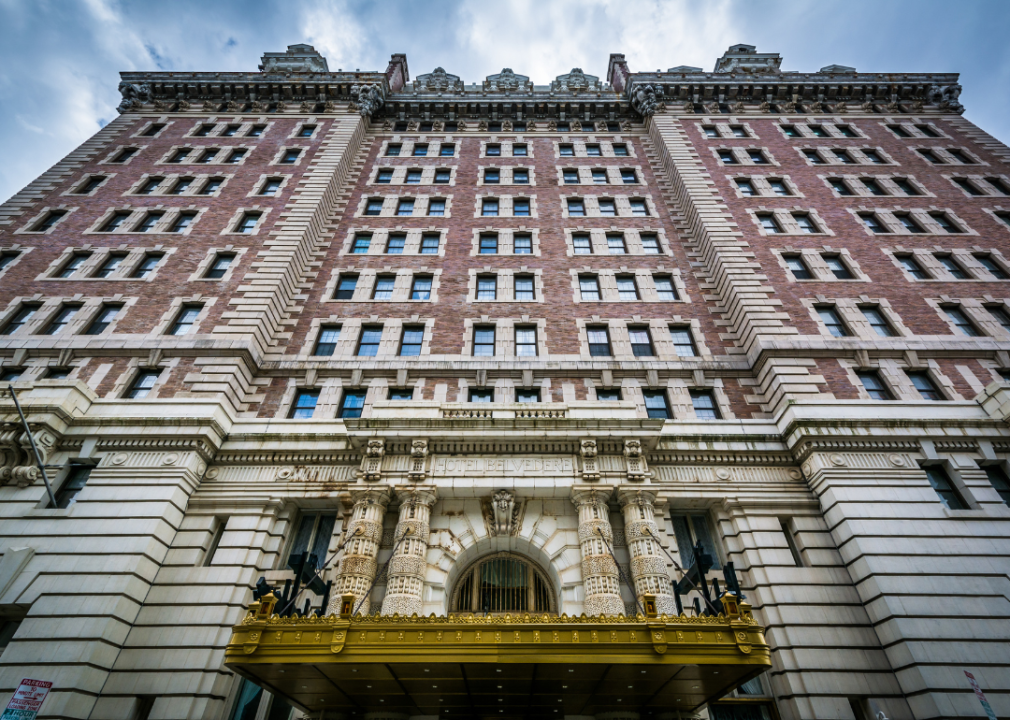 The Belvedere, Baltimore
Low angled view of large historic hotel.
Although Baltimore's former Hotel Belvedere converted into condos in 1991, it retains much of its Old World charm circa 1903, the year of its construction.
In over a century since then, this Mount Vernon landmark has survived Prohibition, mob robberies, murders, and suicides—including one 2006 cold case that made it onto a 2020 episode of "Unsolved Mysteries." Not all hotel guests who checked into the hotel made it out alive—and one ghost in particular reportedly only bothers female guests in the 12th-floor ballrooms he haunts.
The Mt. Vernon Ghost Walk tour takes curious visitors to The Owl Bar, a former speakeasy in The Belvedere where some of the famous hotel guests of yore—like F. Scott Fitzgerald, Mark Twain, Franklin Roosevelt, and the pair of Clark Gable and Carole Lombard—might have bellied up to the bar during its heyday. But the booze behind the bar might not be the only spirits in the joint.
St. Valentine's Day Massacre Site, Chicago
Iron fence around vacant lot.
In Chicago's Lincoln Park neighborhood, a North Side/South Side gangster rivalry over illegal booze distribution in the thick of Prohibition came to a head on Feb. 14, 1929, heretofore known as the St. Valentine's Massacre. Associates of Al Capone lined up seven men up against the north wall of the headquarters for George "Bugs" Moran's mob operation and executed them with machine guns. None of these associates ever stood trial for the murders.
The garage faced demolition in 1967, and a reassembled portion of the wall is now on display at The Mob Museum in Las Vegas. But the empty lot that remains is still the stomping grounds of apparitions of men—perhaps the victims—and a barking dog. The Lincoln Park Hauntings Chicago Ghost Tour & Ghost Hunt offered by American Ghost Walks visits the site and looks for ghosts along the way, as it passes the old City Cemetery, where some bodies lie in unrest.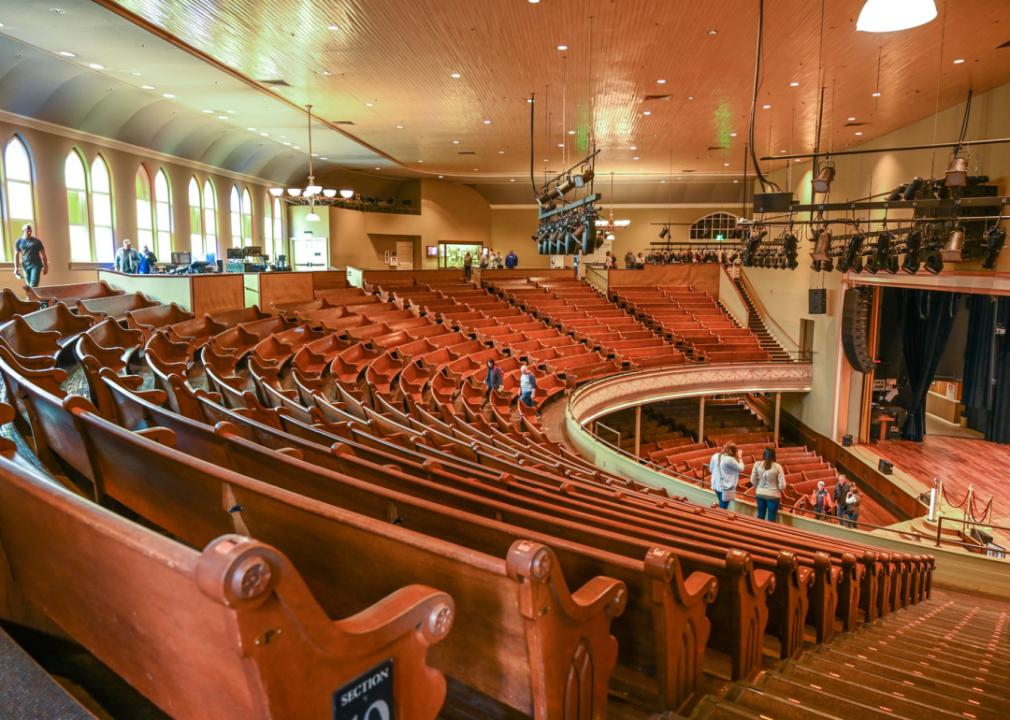 Ryman Auditorium, Nashville, Tennessee
Interior of Ryman Auditorium with curved wooden seats.
Southern Living called the ghosts of the Ryman Auditorium in Nashville, Tennessee, "legendary." And not the least of those is the spirit of its creator, Thomas Ryman, who opened it as the Union Gospel Tabernacle in 1892.
This famed performance venue has also been called "cursed" because of the tragic deaths of some of the musicians who've graced its stage—including Patsy Cline, who perished in a plane crash outside of Nashville at age 30, and Hank Williams, Sr., who passed at age 29, with some controversy over the exact cause of death. But, considering that the Ryman was home to the Grand Ole Opry for decades, there are numerous performers who've passed through the venue and might've left a little something behind once they passed on.
Visitors get the chance to look for them on occasional haunted history tours hosted by the Ryman.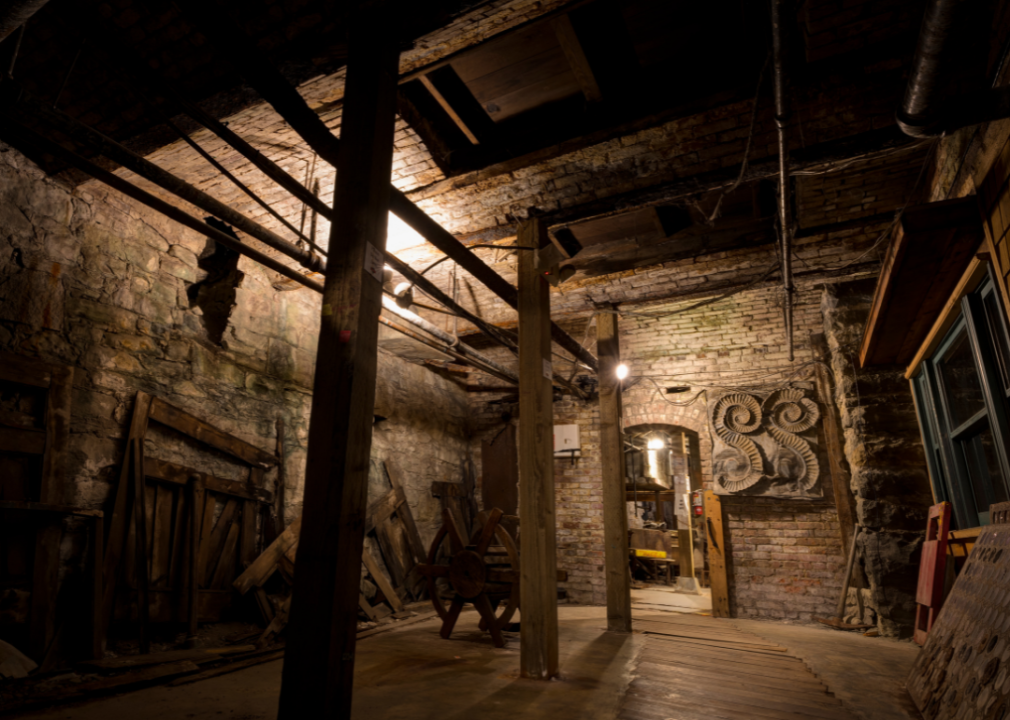 Seattle Underground, Seattle
Brick basement level passageway.
Seattle is a bona fide part of horror history, as the setting for the American version of the horror movie "The Ring"—but there are real reported hauntings in the city, and a creepy underbelly, too.
The Seattle known today was built on top of another lower city to shore up against flooding, and that history is preserved in Seattle's "underground," particularly in the Pioneer Square area. Some of these tunnels are open for historical and spooky tours, during which you descend into the "basements" of retail and residential buildings to reach their former ground floors/street levels, long rendered subterranean from a rebuilding effort in the wake of the Great Seattle Fire of 1889.
The team behind Travel Channel's "Ghost Hunters" seems to think they found evidence of ghosts down there, perhaps from the time that many thought the bubonic plague was infecting the depths of the city, causing the city to condemn the underground tunnels.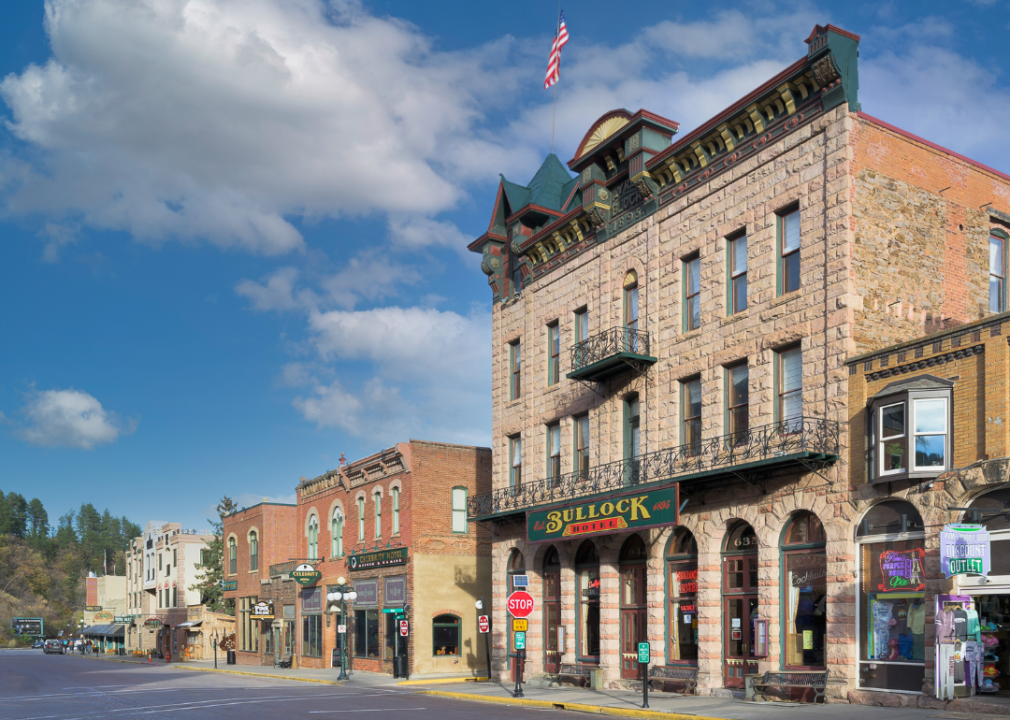 The Bullock Hotel, Deadwood, South Dakota
Bullock Hotel on Main Street in Deadwood on a clear day.
In a lawless town like Deadwood, South Dakota, there was plenty of unrest among the living—gold prospectors, bordello girls, and gunslingers like Wild Bill Hickok (who is buried in Deadwood's Mount Moriah Cemetery), for starters.
Nearly the entire town burned down in 1879. But, one of the most haunted places in this historical town is The Bullock Hotel, founded in 1894 by former Deadwood sheriff Seth Bullock (portrayed by Timothy Olyphant in the HBO series "Deadwood"). Bullock succumbed to colon cancer in 1919—but his spirit isn't the only ghost that supposedly haunts Deadwood's "first and finest hotel," which was transformed into a makeshift hospital during a cholera outbreak.
To meet some others, you can take a Haunted History Walking Ghost Tour of the town.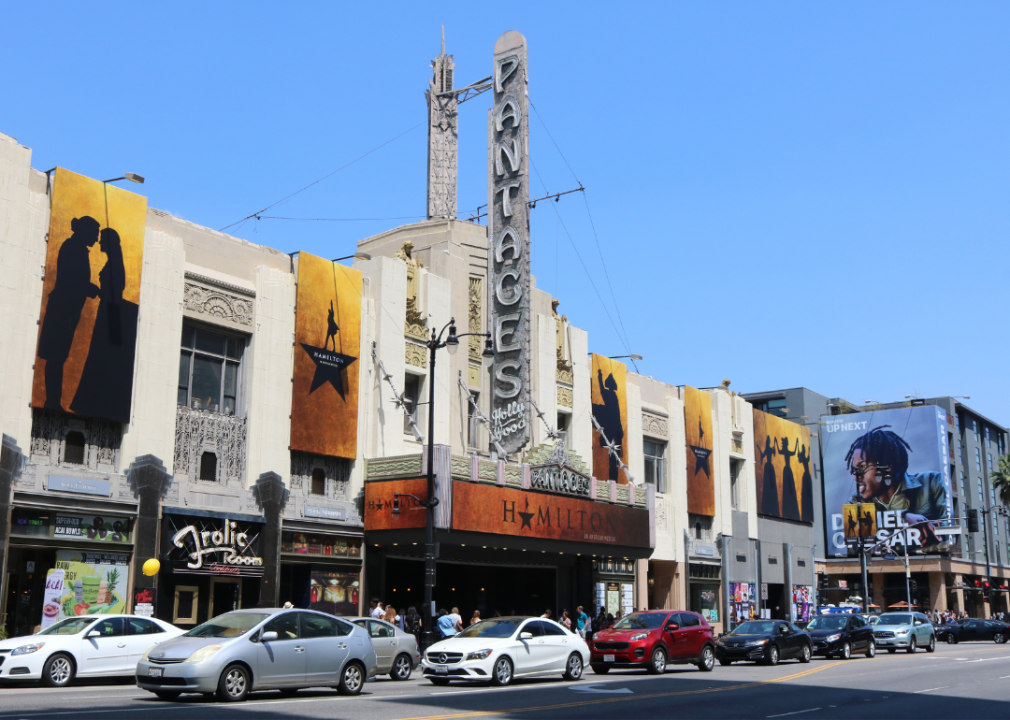 Hollywood Pantages Theatre, Los Angeles
Street view of The Pantages Theatre with marquee for Hamilton.
Howard Hughes once owned the Hollywood Pantages Theatre building and occupied one of its offices. Legend has it that Hughes would step away from his desk and sit in the back of the balcony during whichever movie was playing at the time to clear his mind. Sometimes he still does, even though the former movie palace is now a live performance venue for Broadway touring shows and concerts.
Other reported ghosts in the theatre include that of its namesake, Alexander Pantages, and a female former patron with a penchant for singing along to musicals.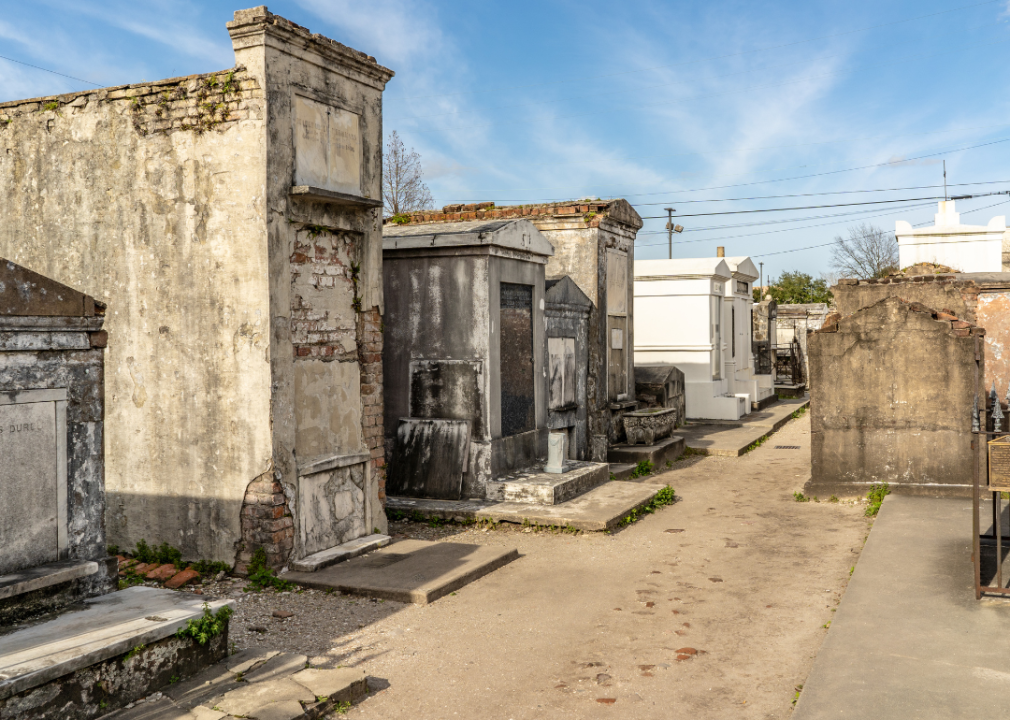 St. Louis Cemetery No. 1, New Orleans
Above-ground graves in the St. Louis Cemetery Number 1.
New Orleans is one of  CNN's spookiest cities in the U.S. , thanks to its unending supply of vampires, voodoo practitioners, and ghosts. It's also full of cemeteries, and it's likely that some of those souls might get a bit restless from time to time.
At St. Louis Cemetery No. 1, New Orleans' oldest graveyard, Voodoo Queen Marie Laveau is said to rise from the dead and roam the grounds—where some of the earliest of those interred included yellow fever victims. Access to the cemetery is by guided tour only, offered on a daily basis.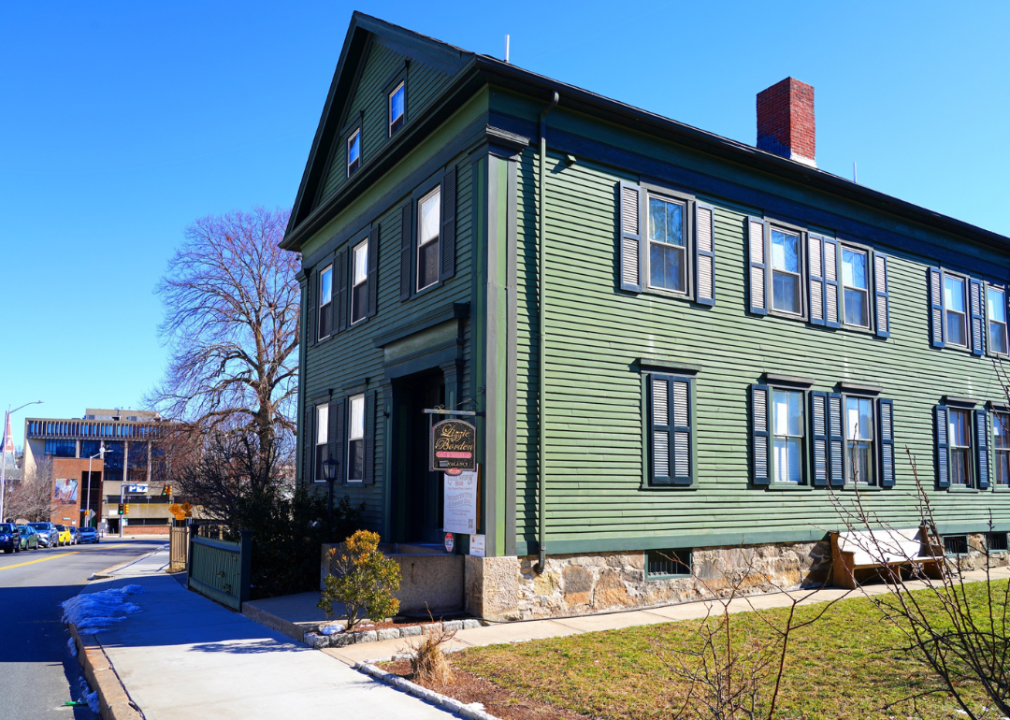 Lizzie Borden House, Fall River, Massachusetts
Exterior view of the Lizzie Borden House, a two story green house on a Second Street.
Marketed as "America's Most Haunted House," the Lizzie Borden House was the site of a gruesome double murder of Andrew and Abby Borden, who were both hacked by a hatchet in 1892. Although their daughter Lizzie stood trial for the crime, she was acquitted—leaving it unsolved. Those who haunt the home today could be Lizzie herself, her father, and her stepmother; but there's no better way to find out for sure than by booking a tour or a room for the night.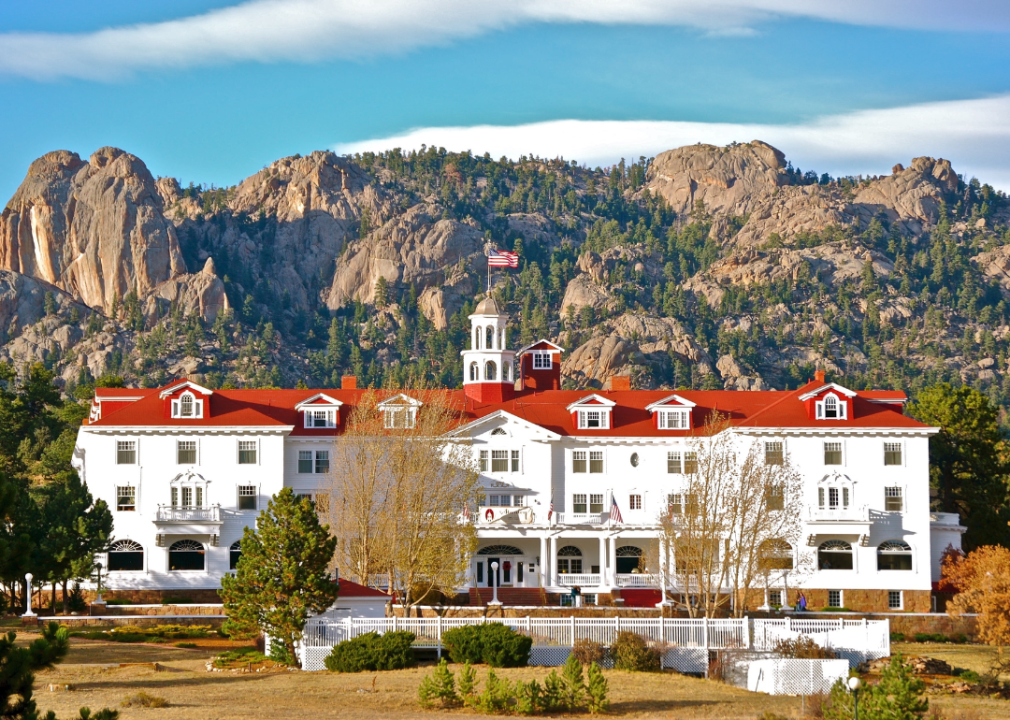 The Stanley Hotel, Estes Park, Colorado
The Stanley Hotel, a large white building with red roof with rocky mountains in the background.
The Stanley Hotel is reportedly so haunted it inspired Stephen King to pen his horror novel "The Shining." The film version starring Jack Nicholson was shot at the Timberline Lodge at Mt. Hood in Oregon. But the Stanley Hotel is considered the real Overlook Hotel—a legacy its management embraces, even hosting "The Shining Ball" and encouraging guests to dress up in costumes inspired by the movie.
Visitors can also take a Spirited Night Tour to learn about the souls from beyond who reside there, including a former housekeeper who apparently hasn't stopped tidying things up.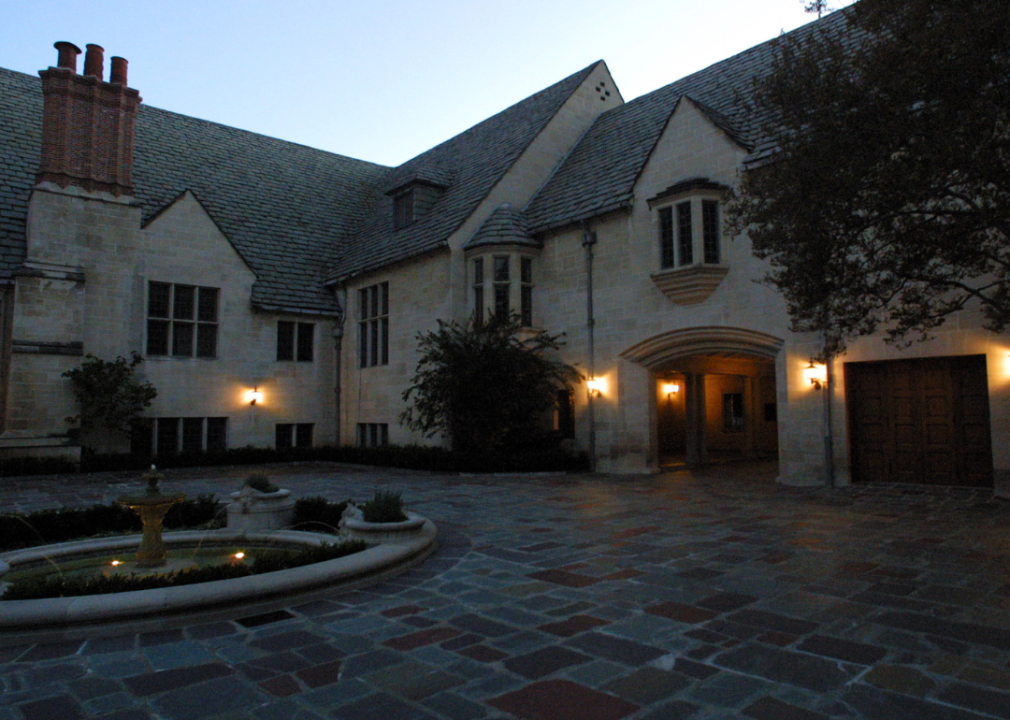 Greystone Mansion, Beverly Hills, California
The entrance of Greystone mansion at dusk.
A grisly and mysterious murder-suicide occurred within the walls of Greystone Mansion in 1929 when oil heir Ned Doheny was shot to death by his secretary Hugh Plunkett—a story that's reenacted semi-annually by Theatre 40 in its murder mystery play "The Manor."
When security guards hear footsteps during their nightly patrols, they wonder if they are Ned's. How about the other unexplained phenomena, like voices, doors opening and shutting, lights flickering, and objects moving? No one really knows, but there are enough stories to fill an entire book: "Ghosts of Greystone – Beverly Hills" by Clete Keith. Curious visitors can investigate for themselves by taking a self-guided tour or attending an event inside the mansion.
Story editing by Chris Compendio. Copy editing by Robert Wickwire.
Jump to comments ↓
Related Articles
The Carolina Loop: Cruise through a perfect weekend of history and nature on the water
Eerie escapes: 10 lesser-known spooky cities to visit for Halloween
Best US cities for off-season travel
A look into the future of luxury air travel, from game-changing privacy to supersonic flights
KVIA ABC 7 is committed to providing a forum for civil and constructive conversation.
Please keep your comments respectful and relevant. You can review our Community Guidelines by clicking here
If you would like to share a story idea, please submit it here .
Bahasa Indonesia
Slovenščina
Science & Tech
Russian Kitchen
7 SPOOKY man-made sites in Russia (PHOTOS)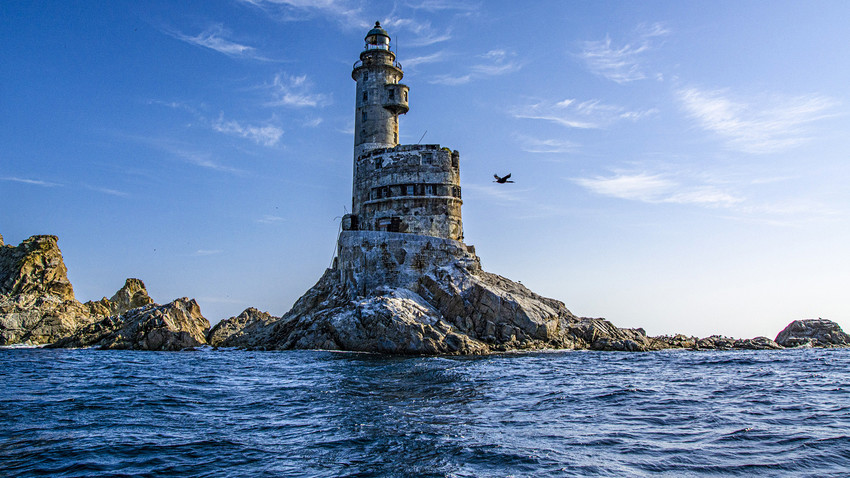 1. 'Druzhba' pioneer camp, Moscow Region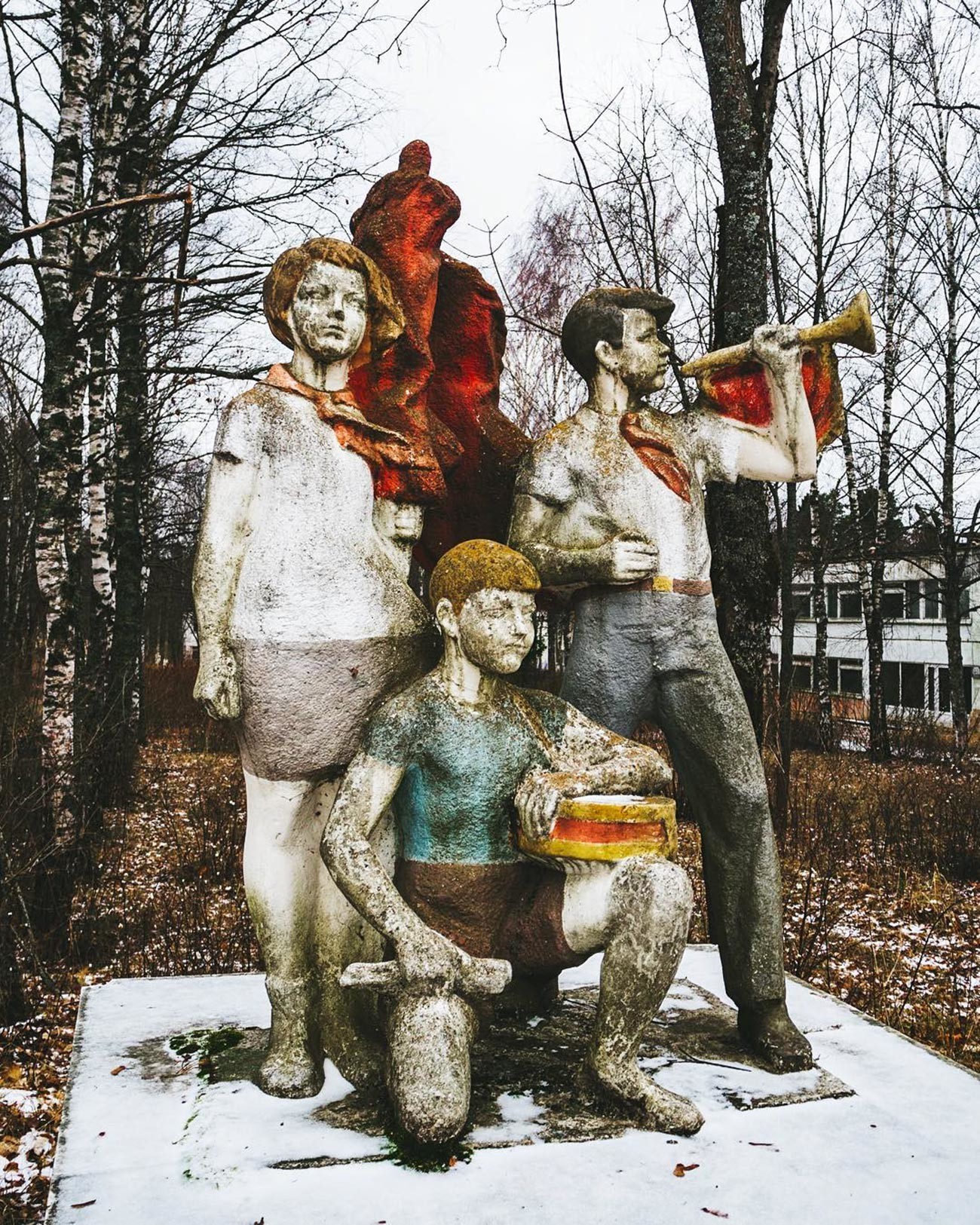 There are plenty of old abandoned pioneer camps in Russia, but this one stands out for two reasons. For one, this former Soviet camp for children has a bomb shelter that is now also abandoned: a massive underground construction completely left without supervision. As if that wasn't enough, there's a whole complex of statues in the woods near the camp. The stone figures of pioneers are covered with moss and look particularly sinister on the backdrop of trees and dilapidated buildings.
2. 'City of the Dead', the Republic of North Ossetia-Alania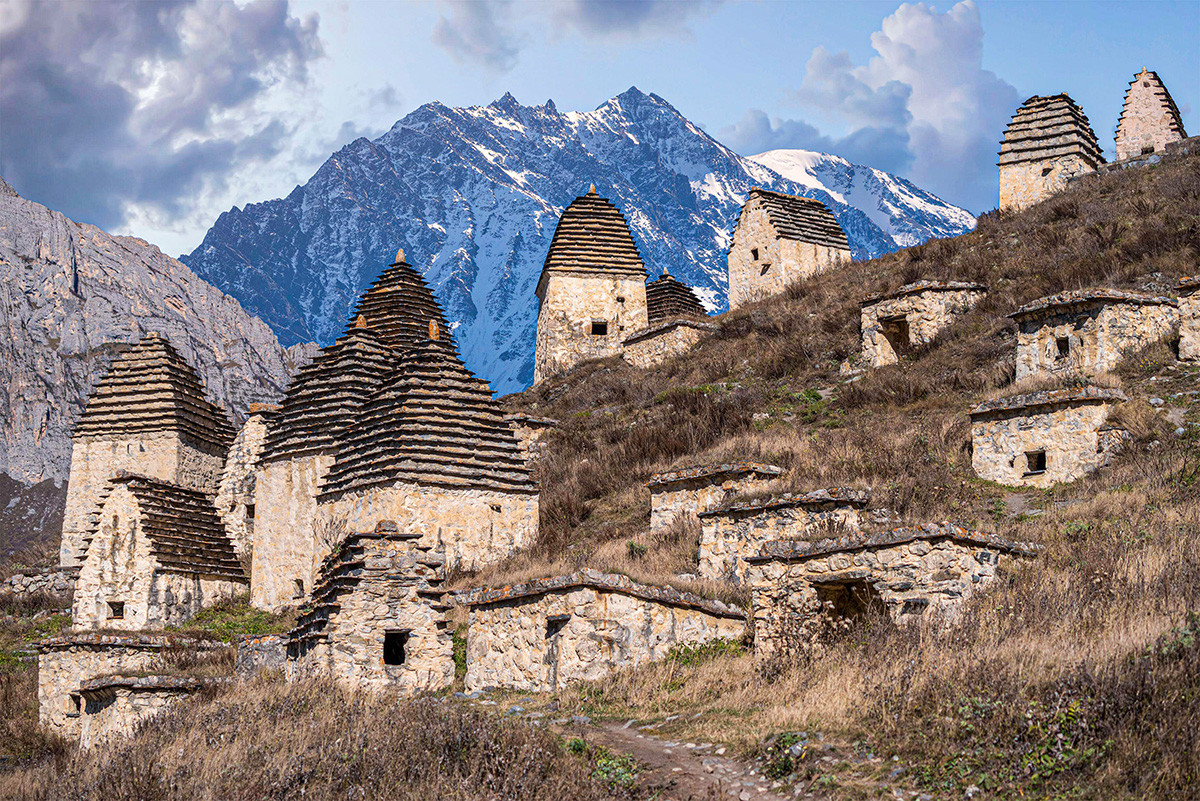 Legion Media
In the Republic of North Ossetia-Alania in the North Caucasus, the so-called 'City of the Dead' lies. This giant necropolis is located in a hard-to-reach mountain valley. It is a resting place for over 10,000 people.
A visitor will find mummified bodies in ancient crypts that are dated back to the 14-18th centuries. Despite old age, some of the bodies are said to still have flesh on them to this day.
3. Kadykchan, Magadan Region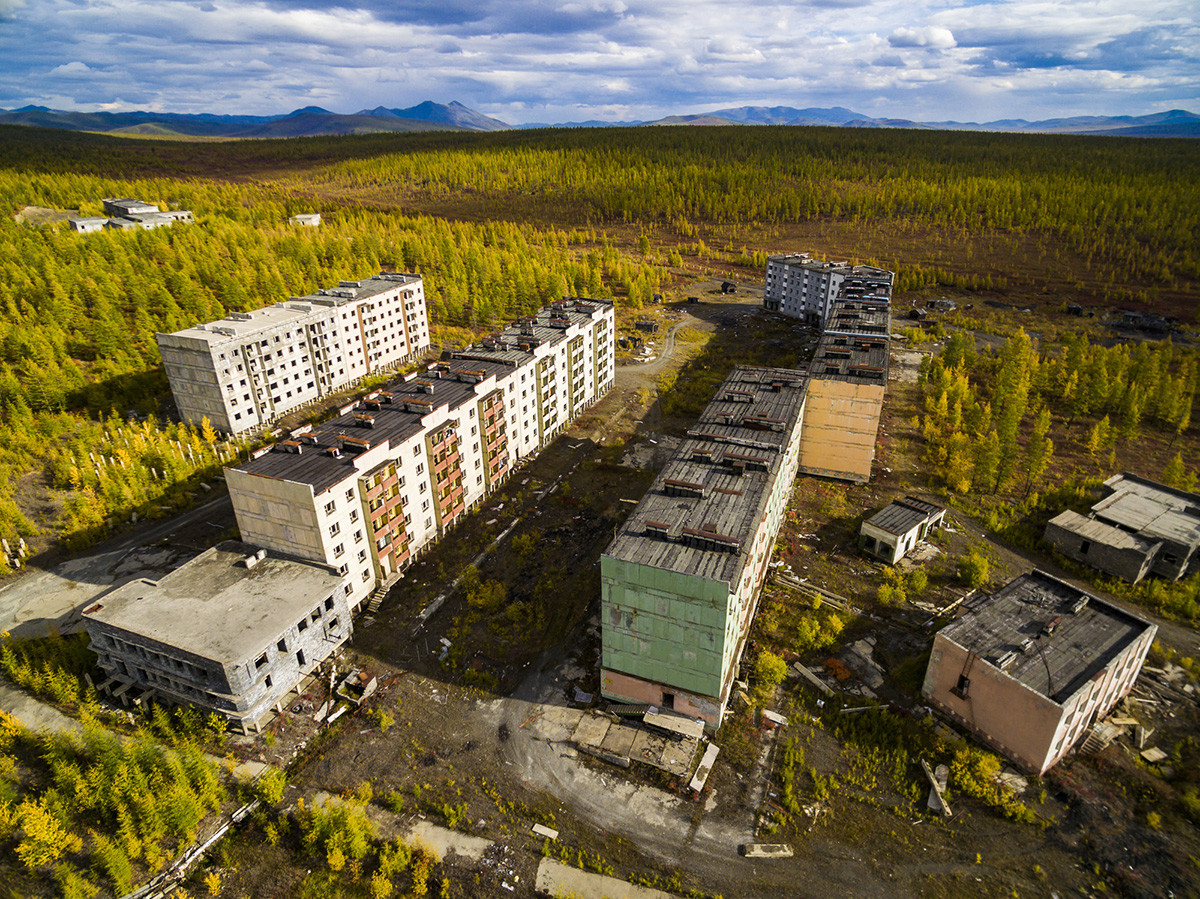 Aerial view of The ghost town Kadykchan, Kolyma, Magadan region.
This is a ghost town in one of the most remote locations in the whole of Russia. The settlement was built by Gulag prisoners — a fact eerie enough in and of itself. The main purpose of the settlement was coal extraction: workers sweated underground looking for coal and, often illegally, gold.
The settlement was founded in the 1940s, but, by the time the Soviet Union collapsed, it only had a few thousand residents left.
An explosion in one of the mines in 1996 left six workers dead and the government decided to close the mines and subsidize residents to move elsewhere. Some of the buildings were blown up, while others remained abandoned. Although the settlement was announced depopulated in 2010, rare travelers reported sighting a few residents who stubbornly refused to leave.
4. Yukon, Anadyr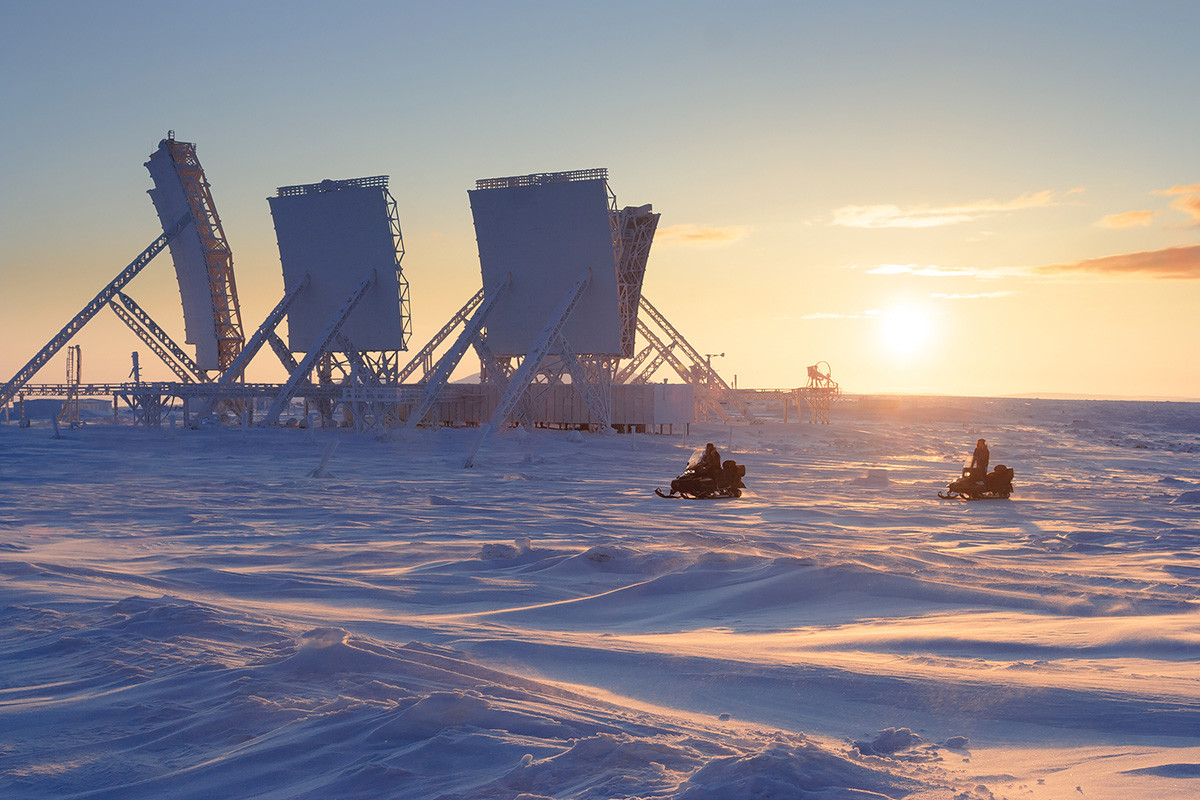 Winter arctic landscape with large antennas of an abandoned troposphere communication station.
Yukon is the name of an abandoned tropospheric station 10 kilometers from Anadyr, Russia. Standing in the middle of nowhere, the old rusty antennas look as sinister from far away as they do up close.
As mobile communication and satellite technology was developing, the station, which supported the work of a local telecenter, became outdated quickly and was abandoned soon thereafter in 2003. Remnants of rusty equipment scattered around the otherwise empty hill give this site a distinctively eerie touch.
5. Lighthouse, Cape Aniva, Sakhalin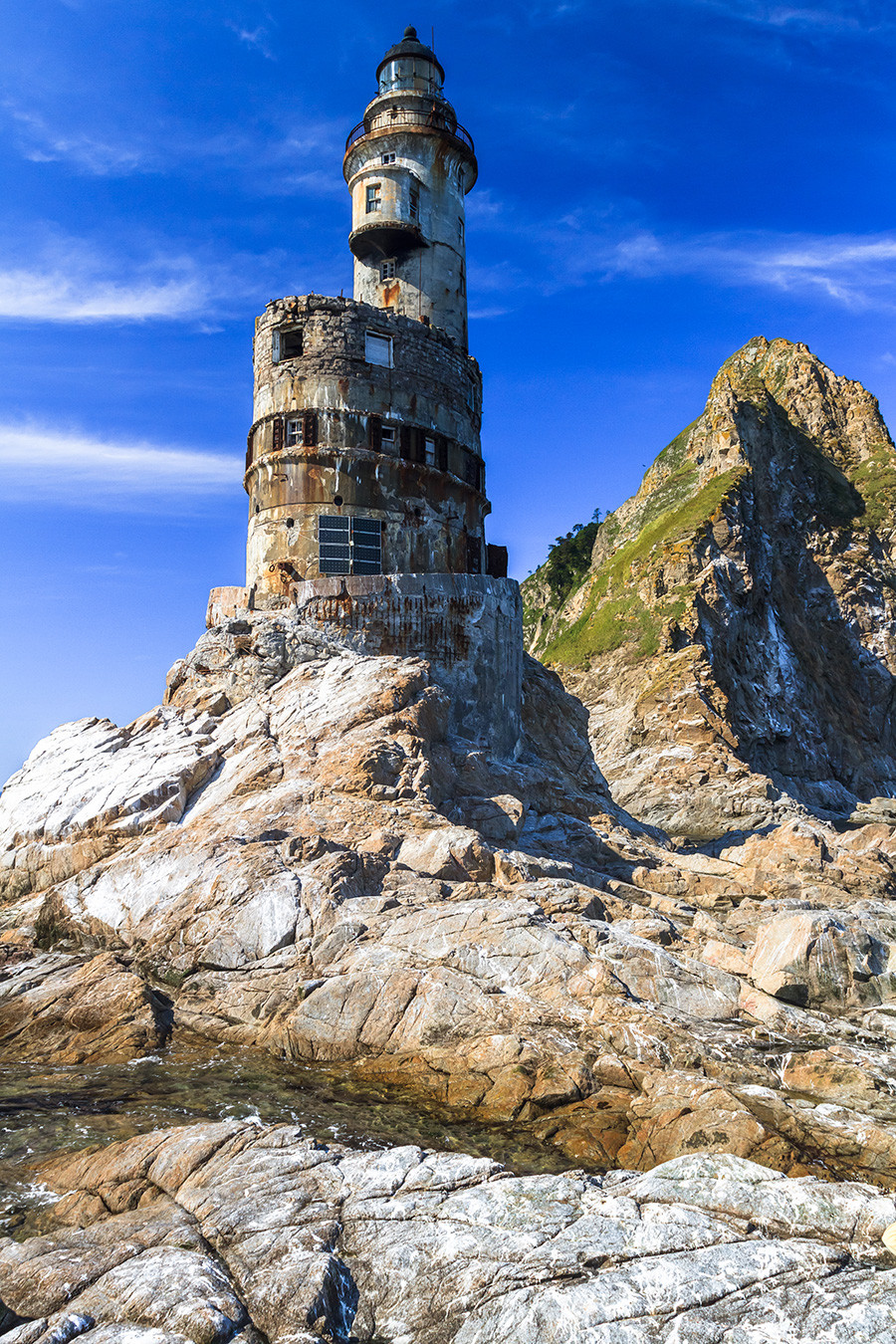 Old Lighthouse, Aniva Cape, Sakhalin Island, Russia.
Cape Aniva is one of the most picturesque sites in Russia, but its heart — the abandoned lighthouse — is also one of the eeriest of all.
It stands alone on a rock isolated by the ocean. Frequent fogs and strong currents cut this grotesque concrete structure off the mainland, making it fairly inaccessible. Who knows what's going on inside the old abandoned lighthouse when the night falls.
6. Bunker-42, Moscow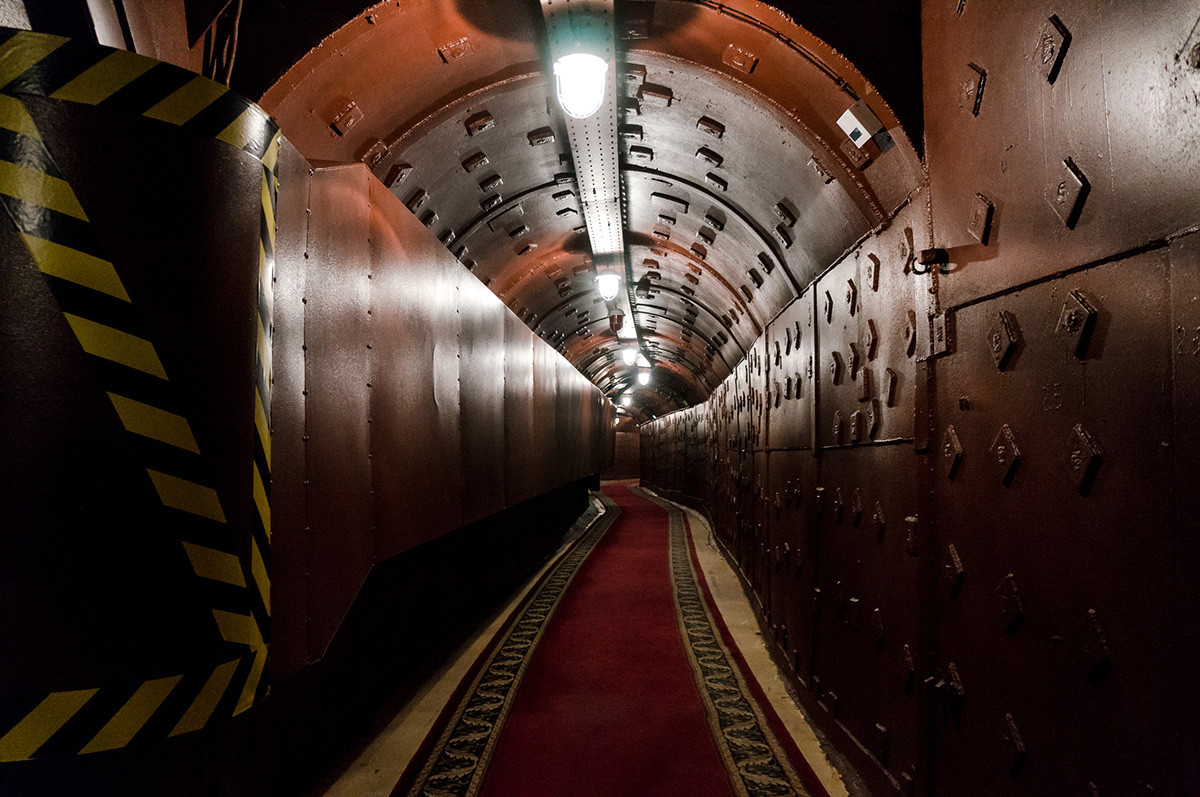 Tunnel at Bunker-42, anti-nuclear underground facility built in 1956 as command post of strategic nuclear forces of Soviet Union at a depth of 65 meter.
It's hard to create a bunker in the center of Moscow and avoid unwelcome publicity at the same time. Yet, there was nothing impossible for the Soviet leadership during the prime years of the Cold War. The bunker was designed to withstand a direct nuclear strike against Moscow. Consequently, the steel body of the bunker lies as deep as 65 meters below the ground.
The environment inside is eerie enough, as thick walls seem to close in on visitors. However, a staged demonstration of a retaliatory nuclear attack against the U.S., which was supposed to be ordered from the bunker by the few surviving officials in the annihilated city - or even without any human interference - installs a proper fear even in those who are not so easily impressed.
7. Grain elevator, Chelyabinsk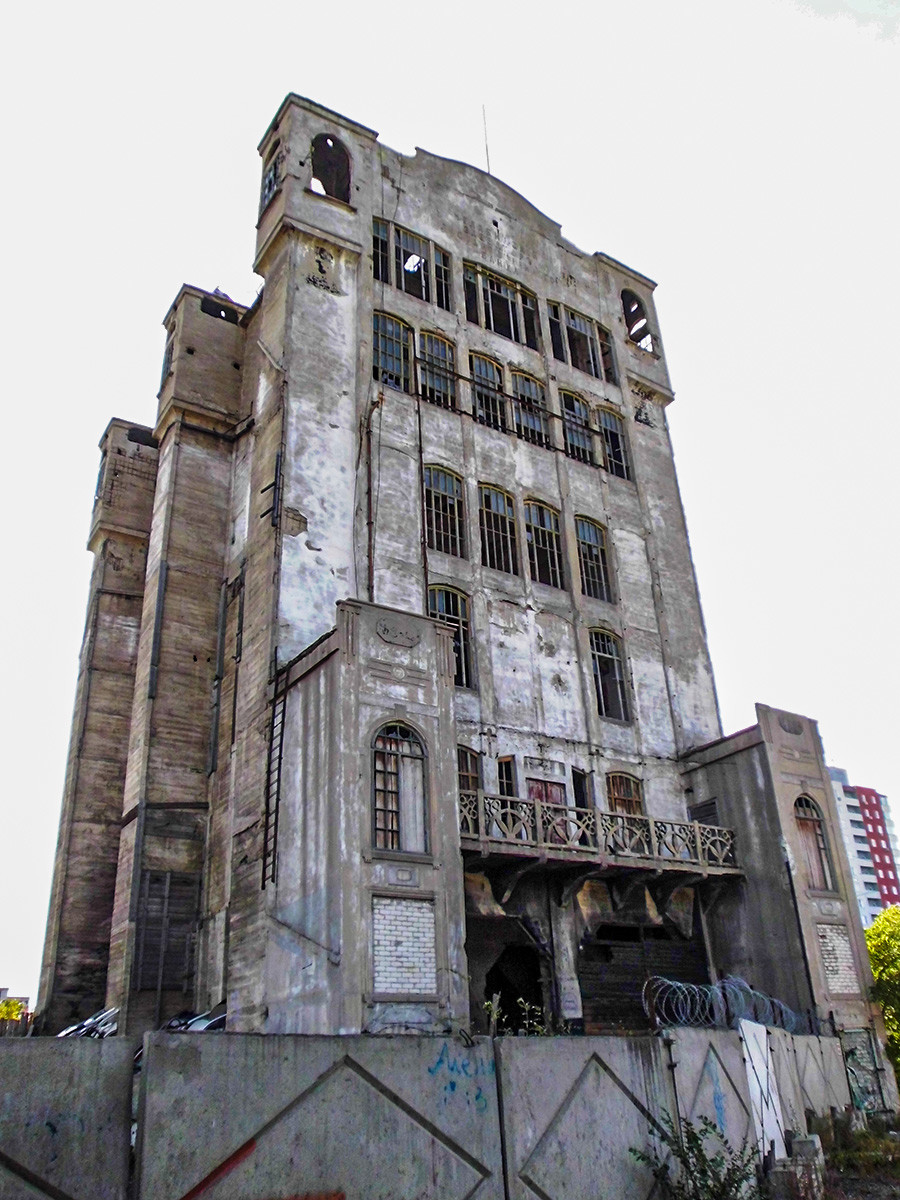 This tower was built at the beginning of the 20th century on the outskirts of Chelyabinsk, but, as the latter expanded, it happened to be located in the very center.
Today, the abandoned grain elevator attracts visitors, as it is often cited as one of the top haunted places in Russia. In reality, however, the abandoned tower is more dangerous than macabre: it is now surrounded by auto-repair shops, the interior and exterior are crumbling and an unsuspecting tourist may well run into trouble while attempting to visit the site.
Click here for 50 EPIC abandoned places in Russia (PHOTOS).
If using any of Russia Beyond's content, partly or in full, always provide an active hyperlink to the original material.
to our newsletter!
Get the week's best stories straight to your inbox
50 EPIC abandoned places in Russia (PHOTOS)
How a nuclear explosion near Moscow was covered up in the early 1970s
What were Soviet-era Pioneers BANNED from doing?
This website uses cookies. Click here to find out more.
The surprising biodiversity of abandoned coal mines 
"we're increasingly finding that it's not true that these are just ecological voids where nothing is living there.".
Stripping coal from a mountain demands a wholesale rearrangement of its summit and the transformation of the surrounding forest into a moonscape. Enormous machines rip out the vegetation first, followed by the topsoil, and finally a layer or two of rock. It all becomes waste, dumped into a valley below the site. The federal Surface Mining Reclamation Act of 1977 requires coal companies to leave the denuded land in roughly the shape they found it or restore it to "higher and better use" at their expense, though many of them find ways to slip out of the obligation. 
It's hard to know how much unreclaimed and partially reclaimed mine land exists, though some place the figure at 633,000 acres across Appalachia. As many as 100,000 of them may lie in Virginia alone. Much of this land is a quagmire of erosion, water pollution, and other problems, yet some of it is slowly being taken back by the forest. It may be ill, but it certainly is not dead, and is in many cases surprisingly alive, as scientists have found over decades of studying the reforestation and recovery of mined lands.
A manual , written in September by a coalition of southwestern Virginia scientists and advocates of sustainable development, used new and existing findings to shape a vision for these ravaged landscapes. Flat land is hard to come by in the mountainous central Appalachian region, and much of the development has occurred on ridges flattened by coal strip mines. These sites, often deemed empty space at best and wastelands at worst, have been targeted for everything from prisons, Walmarts, and industrial parks to lavender farms, wildlife preserves, and, most recently, clean energy projects. As millions in public and private investment, boosted by the bipartisan infrastructure law, pour into the region, many people are eyeing these abandoned sites.
The researchers of the High Knob Regional Initiative want them to slow down and take a look at what's already there.
Grist thanks its sponsors. Become one .
To support our nonprofit environmental journalism, please consider disabling your ad-blocker to allow ads on Grist. Here's How
"Some of these sites, especially the older sites, have begun to restore themselves in a way where forests started to come in, and wildlife is coming into some of the sites on their own," said Wally Smith, a biologist at the University of Virginia's College at Wise and the team's leader. "We're increasingly finding that it's not true that these are just ecological voids where nothing is living there."
For decades, researchers, including some affiliated with the Initiative, have studied a variety of mine lands, from underground shafts to decades-old strip mines to more recently leveled sites, some overgrown with forest, others bearing nothing but stubby autumn olives (a non-native shrub) and scraggly grasses. Not only has the natural world crept back into many of these places, but so too has a multiplicity of flora and fauna, including rare and endangered species. The green salamander, currently under consideration for inclusion on the federal endangered species list, turned up in several locations in Wise County, Virginia, for instance. On another site, mined three or four decades ago, Smith's team found mammalian diversity higher than in some parts of the surrounding forest, especially where wetlands had formed or been constructed.
Previous research has suggested wetlands and forest can be an integral part of surface mine reclamation , filtering out acidic drainage, heavy metals, and other contaminants that can seep from mine sites for years or even decades. In some cases these marshy areas formed as a result of the changes to the landscape.
Smith hopes local leaders use the region's current moment of energy and economic transition to correct, rather than exacerbate, land use mistakes of the past. Poorly planned construction can easily erase this progress, as seen with Spearhead Trails, a vast and controversial network of ATV paths sprawled over reforested former mine land, owned by the Nature Conservancy, in southwestern Virginia. An investigation by the Virginia Center for Investigative Journalism found that erosion and dust tore up creek beds, damaged homes and family cemeteries, and caused flooding. 
Many people, Smith feels, see mine lands as real estate, already lost and as good as trash. He pointed to a feasibility study an engineering company filed with Virginia's department of energy in support of a small modular nuclear reactor slated for a former strip mine in southwest Virginia. The document finds "there are few environmental restrictions regarding the preservation of the existing environment" and that a reactor fits the description of a "higher and better use." 
"The environmental considerations that you would normally consider for something like an intact forest are not there," said Smith. "They're kind of these guilt-free development sites."
Smith stresses that his team isn't arguing against development, but rather, in favor of sustainable development that brings underserved members of the impacted communities into planning processes earlier and more often than currently required. The coal industry ran rampant over the region's mountaintops and privatized huge swathes of land for profit, and the researchers say now is a chance to try a more ecologically sound, community-centered approach.
To that end, the High Knob Regional Initiative compiled its years of research into a set of best-use recommendations for the region's former mine lands. The guidelines target recreational development, energy development, and other construction projects, and urge developers and local officials to incorporate more environmental assessment, transparency, and public input into planning efforts, which should consider the possible effects on local communities.
"You really got this very big, maybe a kaleidoscope is the best way to say [it], with all these properties that had been mined and managed in different ways," Smith said. "What that really means is there's not a one-size-fits-all conclusion that you can reach about the impacts for wildlife and native ecosystems there."
There's also a real sense of wanting to reclaim these lands not only for the ecosystem, but also for the human communities that live there. Corporations that benefited from coal's glory days may continue to profit from using the region's land in other ways, even if they're less environmentally destructive than before. For instance, the mine lands of several Appalachian states are becoming utility-scale solar fields . One of them near Wise, Virginia, is owned by Dominion Energy , which profited heartily from Virginia's resources through gas and coal.
Tarah Kesterson, communications director for Virginia's regional Abandoned Mine Land Program, said that the state consults with mine lands developers on permitting, but ultimately, the landowners have the final say on how projects treat the land, with the agency focused more on safety fixes to shore up any problems with the stability of the land itself.
More community-engaged projects could be possible soon, she says. With the passage of the Inflation Reduction Act last year, coalfields states suddenly have more funding to restore abandoned mines than ever before. Virginia will get upward of $22.7 million per year for 15 years. Kesterson hopes the windfall will be an opportunity to look at mine land restoration more holistically. "It'll give us more opportunities to look at the effects of abandoned mine lands on these communities and maybe do community projects rather than a little fix-it here and there," she said.
A message from
Your support keeps our climate news free
Grist is the only award-winning newsroom focused on exploring equitable solutions to climate change. It's vital reporting made entirely possible by loyal readers like you. At Grist, we don't believe in paywalls. Instead, we rely on our readers to pitch in what they can so that we can continue bringing you our solution-based climate news.
At Grist, we don't believe in paywalls. Instead, we rely on our readers to pitch in what they can so that we can continue bringing you our solution-based climate news.
Will sweat help us survive climate change?
It's not just coral. extreme heat is weakening entire marine ecosystems in florida. , the american chestnut tree is coming back. who is it for, the planet just sizzled through the hottest summer on record, why the united states undercounts climate-driven deaths, exxon reinforces support for fossil fuels with deal to buy shale giant for $60 billion, 'nothing's predictable': extreme weather is ruining farmers' crops, and their finances, biden administration launches 'earthshot' effort to slash energy bills, in wildfire-prone areas, homeowners are learning they're uninsurable, modal gallery.
Home » Minerals » Abandoned Mine and Quarry Accidents
Abandoned Mine and Quarry Accidents Claim Several Lives per Year
Most of the victims are young and went to the quarry to swim or ride an atv., article by: hobart m. king , phd, rpg.
Abandoned mine structure: Structures at abandoned mine sites are often dangerous and unstable. They can also house dangerous chemicals or explosives. Stay out of these structures. Bureau of Land Management image.
Dangerous Places!
Abandoned mines and quarries are dangerous places! In a typical year, several people die in accidents that occur in abandoned mines across the United States. Some of these deaths can be prevented if citizens know the danger of these properties; if landowners make better efforts to warn and limit access; and, if governments have improved programs for reclaiming or regulating them.
If you are a mineral collector, hiker, recreational vehicle rider, swimmer, or curious person, you have no business entering an abandoned or inactive mine or quarry. In almost every instance, you will be trespassing because abandoned mines and quarries are almost always on private property.
Abandoned mine fatalities map: Deaths in abandoned and inactive mines occur across the United States. Many of them occur in the eastern coal fields, the sand and gravel quarries of the upper Mississippi Valley, and metal mines in the southwest. Image by Geology.com using data from newspaper articles and the Mine Safety and Health Administration . Examples of newspaper articles are provided at the bottom of this article.
Where Do Fatalities Occur?
Deaths in abandoned and inactive mines occur across the United States. Many of them occur in the eastern coal fields, the sand and gravel quarries of the upper Mississippi Valley, limestone quarries in the southeast, or the metal mines in the southwest. Deadly accidents can happen in any type of abandoned mine or quarry. Stay out!
Drowning is the Leading Cause of Death
Drowning is the number one cause of death in abandoned mines. Most people involved in this type of accident went to a quarry for swimming. Quarries are extremely dangerous places to swim. Steep drop-offs, deep water, sharp rocks, flooded equipment, submerged wire, and industrial waste make swimming risky.
Another risk factor is the very cold water. Many quarry operations excavate to depths below the water table and use pumps to keep the mine dry while it is in operation. When mining stops, the pumps are turned off and the quarry floods by the inflow of cold groundwater. This groundwater inflow can keep the quarry water very cold even in late summer.
Jumping or falling into cold water can be fatal - even for a young healthy person. Here is a quote from the National Institute of Health on how a body responds to sudden immersion in cold water...
A fall in skin temperature elicits a powerful cardiorespiratory response, termed "cold shock," comprising an initial gasp, hypertension, and hyperventilation despite a profound hypocapnia. [...] The respiratory responses to skin cooling override both conscious and other autonomic respiratory controls and may act as a precursor to drowning.
Where Did This Data Come From? The data used to create the tables and map on this page was obtained from newspaper articles that we encountered in our daily readings and website reports complied by the Mine Safety and Health Administration. The actual number of fatalities is, without any doubt, higher than the numbers shown in the tables and on the map.
Don't Go Swimming in a Quarry
Most deaths that occur in abandoned mines and quarries are drownings. Most of the people who drown didn't fall in by accident. They went there to swim. Don't swim in a quarry. The water can be dangerously cold, there are no lifeguards, no rescue equipment, and it is simply not safe.
ATV Accidents
ATV accidents are the second leading cause of death. Quarries and surface mines are dangerous places to ride an ATV. Riders unfamiliar with the quarry can speed over a quarry's high wall or embankment. Death can result when an ATV is driven too close to a high wall and the rock, previously fractured from blasting, collapses from vibrations or weight. ATV riders have been killed by driving into wire fences at high speeds and losing control on gravel or sand-covered surfaces.
Stay Out and Stay Alive: Abandoned Mine Safety. Video produced by the Office of Surface Mining Reclamation and Enforcement.
Falls and Asphyxiation
Falls are also deadly. Rock climbing in a mine or quarry is especially dangerous. The rock of a high wall or a mine has been fractured by blasting and can be highly unstable. The rocks that the climber depends upon for support can break free, or the climber's weight can destabilize an entire face of rock. Falls also occur in underground mines when the victim walks across rotted timbers covering a vertical shaft or steps over a ledge while negotiating a dark area.
Asphyxiation typically happens in underground mines. These mines can contain dangerous gases or have low levels of oxygen. Some victims have not realized that they were inhaling dangerous air until it was too late. Other causes of death include electrocution, passage collapse, and rockfalls.
Why No Reclamation?
Today all mining operations must be reclaimed when work is completed. Miners are expected to return the land to a condition similar to before the mining was done - or in an alternative condition specified in their approved mining permit.
To assure that reclamation is done, the mining company must post a performance bond. The bond money is used to reclaim the land if the mining company goes bankrupt or fails to reclaim the land as required. Sometimes there is not enough bond money to complete the reclamation work, and that work goes undone.
Many abandoned mines were closed long before permitting and bonds were required. The responsibility to reclaim these mines can fall to the current property owner or to the government. Reclamation is expensive, so many of these jobs have not been completed.
Abandoned iron processing facility in England: The abandoned mines problem is not confined to the United States. Open pits, underground mine entries, mineral processing facilities, and other abandoned works can be found in all parts of the world. The photo above is of an abandoned iron processing facility in North Yorkshire, England. Photograph copyright iStockphoto / PaulaConnelly.
Equipment, Structures, and Mine Openings
The buildings, structures, and equipment left at abandoned mines are also dangerous. The buildings and structures can be old and unstable. Floors can collapse when they are walked on. Supports can be rusted away. Chemicals, explosives, or electrical equipment and other dangers are sometimes left inside. Don't explore equipment and structures at abandoned mines.
Underground mines are especially dangerous. They are dark inside, have loose rocks on the walls and roof, and there can be deep shafts and tunnels concealed by rotten wood covers. Underground mines are often used as homes by bats, bears, snakes, and other dangerous animals.
People of All Ages Are Killed
Abandoned mine accidents claim the lives of people of all ages. Children sometimes enter mines without supervision, and adults sometimes take children with them when entering an abandoned mine site. A table on this page shows the age distribution of abandoned and inactive mine deaths. Most victims are young and die by drowning. Older victims die from a variety of causes.
MSHA educational books: The "Fatalities by Age" chart on this page shows that young people account for most of the fatal accidents. The Mine Safety and Health Administration has produced educational materials appropriate for school-age children.
If You Know of An Abandoned Mine...
Dangerous mining sites should be reported - especially if you know that there are dangerous activities going on there. You can start by reporting to your local police. Another good place to report is the Office of Surface Mining's contact list .
Spread the Word!
Help educate people in your area about the dangers of abandoned mines. One life saved is worth a lot of effort.
Where Did This Data Come From?
The data used to create the tables and map on this page was obtained from newspaper articles that we encountered in our daily readings and website reports complied by the Mine Safety and Health Administration. The actual number of fatalities is, without any doubt, higher than the numbers shown in the tables and on the map.
Find Other Topics on Geology.com: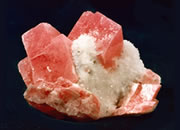 Haunted Mine
View history
2.1 Starting out
2.2 Saradominist zealot
2.3 Cave level 1
2.4 Cave level 2
2.5 Cave level 3
2.6 Cave level 4
2.7 Glowing fungus
2.8 The cart
2.9 The track map
2.10 Finding the cart again
2.11 Water valve
2.12 The boss fight
2.13 Getting the crystal
3 Additional tips
Details [ ]
Walkthrough [ ], starting out [ ].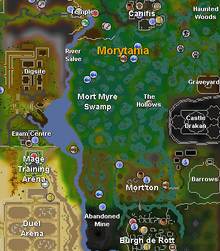 The Abandoned Mine is located south-west of Mort Myre Swamp .
For the boss fight, high level food is strongly recommended, as you will take a lot of damage at all levels. If you have no previous experience (or limited memory) of the fight, read the " boss fight " section below in the quest guide. It is important to be well-prepared for the fight!
b k r - South of Canifis a short ways into the swamp
Saradominist zealot [ ]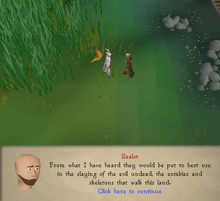 The Zealot .

Warning: There are level 61 Feral Vampyres in this next area!
Walk south of Zealot to the cart track. Towards the end, climb over the second-to-last cart and walk past the last cart. Go through the cart tunnel.
Cave level 1 [ ]
Cave level 2 [ ].
Head directly east, and go down another ladder.
Cave level 3 [ ]
Follow the path to the cart track running north to south. Do not get hit by the mine cart that is moving along on the track. Wait for the cart to head south. Follow the cart south and wait in the safe spot (alcove) on the west side of the track. When the cart passes north, run south to the ladder. Climb down to Cave Level 4.
Cave level 4 [ ]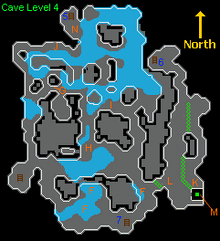 Cave Level 4 map.
The Level 4 cave has several landmarks which are marked on the map to the right. The corresponding letters show the locations of each landmark.
(G) The point-set panel (map of mine tracks)
(H) The cart
(I) The levers A, B, C, D, and E
(J) The levers F, G, H, I, J, and K
(K) The water valve
(M) The water-powered lift
Glowing fungus [ ]
The cart [ ]
The track map [ ].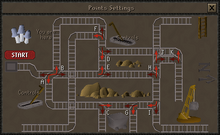 The mine cart route solution.
From the mine cart, head north and then west to the track map (G) which operates the cart system. Click the points settings panel on the northern wall of the corridor. Pressing the red start button sets the cart system in motion. The objective is to get the cart from the start position on the left to the exit point at the ladder in the top right corner. Look at the directional arrows highlighted in red in the picture. Take a picture of your map to see which levers need to be pulled in order to match your track map to the solution map.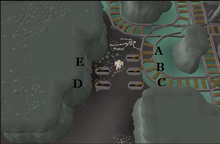 Levers A-E.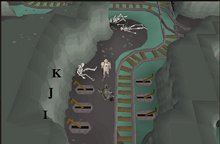 Levers F-K.
First, go to Location (I) by heading south-east and then north. Click the levers that correspond to the intersections on your track map that need to be switched.
Next, go to Location (J) by returning to the track map panel and continuing north-west. Again, click the levers that correspond to the intersections on your track map that need to be switched.
Go back to the track map (G) . Check to make sure that the route on your map directs the mine cart to the ladder. Then operate the mine cart by pressing the red button, and the map will show the path of the mine cart.
The location of the cart is next to the north-west stairs (5) shown in the Cave Level 4 map.
Finding the cart again [ ]
Players now need to get to the cart's new location. Starting from Cave Level 4:
Walk north on the track, avoiding the cart. Take the first path to the east. Climb up the ladder at the end of the path to arrive on Cave Level 2.
Go west and up the ladder to Cave Level 1.
Go north and enter the northern cave.
Climb down the first ladder immediately to the east to arrive back on Cave Level 2.
Head north-east. Climb down the ladder to Cave Level 3.
Head west to the northern corner of the cave and climb down the ladder. Search the nearby cart and take the glowing fungus that was put in earlier. (Don't take the glowing fungus out if you aren't ready for the fight.) Don't lose or drop the fungus until you have completed the quest!
If there is no fungus in the cart, repeat the previous process starting by placing a new glowing fungus in the cart (H) .
Water valve [ ]
Go back up the ladder. Head all the way east past a ladder and then south past a moving cart. Climb down the ladder to arrive at Cave Level 4.
Cave Level 5 - Staircase 14 leads down to Treus Dayth . Staircase 15 leads down to the Crystal Mine. For more details, see this .
The boss fight [ ]
Important note: Read this part fully before entering the fight if you're not experienced with the fight! Especially if you're low Combat !

The crystal mine key appears suspiciously easy to take.

A player fighting Treus Dayth .

Getting the crystal [ ]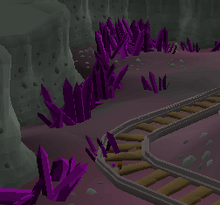 The long sought-after crystal mine.

Additional tips [ ]

Rewards [ ]
The ability to make the Salve amulet , which when equipped gives combat bonuses against undead monsters.
Access to a shortcut to the crystal outcrops
Access to Tarn's Lair

Abandoned Mine
Haunted Mine • Spooky2 • Deep Down • Chamber
Crystal outcrop • Quick Guide • Lair of Tarn Razorlor
1 Experience
2 Armour/Melee armour
3 Mage armor