About Spooky Isles
Latest Articles
Listen To Podcast
Watch Videos
Subscribe to Newsletter
Write For Us
Ghosts and Hauntings
Paranormal Research
Paranormal Reality TV
Mysterious Phenomena
Esoteric Arts
Cryptozoology
UFOs/Aliens
Cemeteries and Burial Places
Mysterious Creatures
Superstitions

England's Most Haunted Caves
Subscribe to get Spooky Isles' free newsletter in your inbox every Friday!
KATE CHERRELL goes deep underground to discover England's most haunted caves
It is a truth universally acknowledged that being underground is scary as hell. Potholers and moles notwithstanding, the subterranean world of dank gloom and eternal darkness has proved itself to be a fertile breeding ground for spooks and legends.
From Wookey Hole's endless chambers to Nottingham's sandstone tanneries, death, tragedy and lingering spirits are not too far behind. While a list of the UK's supposed haunted caves could roll into the hundreds, here's a short list of four of England's finest.
Grab your hard hat and gather your courage; we're going underground…
Hellfire Caves, West Wycombe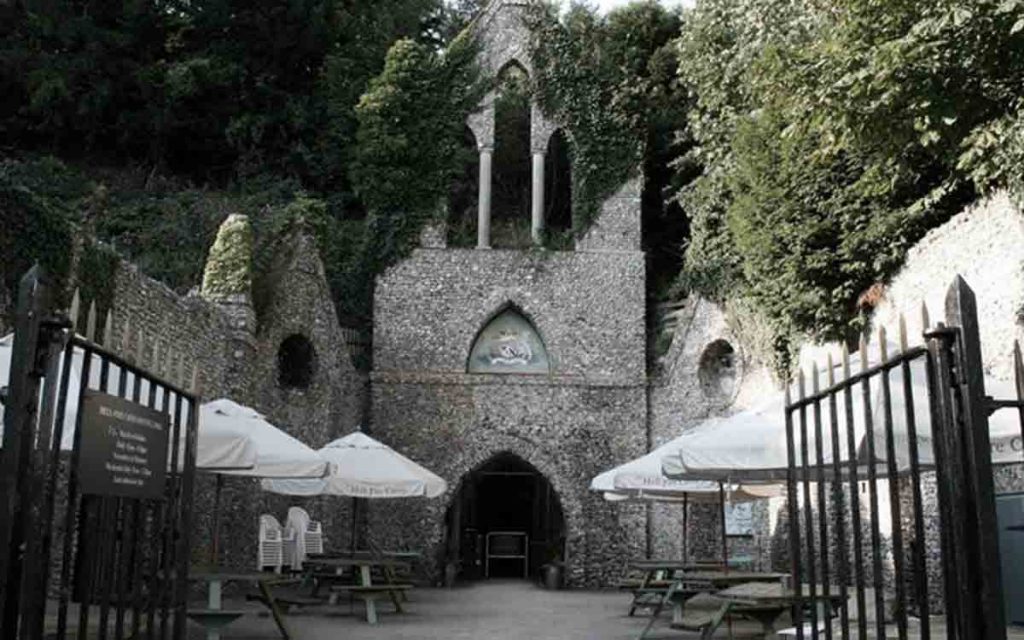 The Hellfire Caves of Buckinghamshire are a familiar haunt of many modern ghost hunters and have a sinister history to match. The caves are man-made features, excavated between 1748 and 1752 on the order of Francis Dashwood, the co-founder of the Hellfire Club from which the caves get their name.
While the caves were briefly used as a chalk mine for building purposes, the exploits of the Hellfire club have had a far more lasting cultural impact. The club's motto, 'Do What Thou Wilt', was indicative of their activities, which included pseudo-satanic rituals, black magic, prostitution and nun-themed sex parties. According to Horace Walpole (politician and a father of Gothic Fiction), members of the Hellfire Club practised a pagan belief system, dedicating themselves to Venus and Bacchus, the goddess and god of sex, love and excess. Sadly, all nihilistic things must come to an end and the club was dissolved in 1776.
However, the paranormal legacy of the club was all but beginning. Two ghosts of note are recorded; one being that of Sukie, a maid, who died as a result of a prank gone wrong (or was murdered due to her unrequited love, depending on which legends you read), and the other being of Paul Whitehead, satirist and former secretary of the Hellfire Club.
The steward was a central figure in the club, organising and noting all entertainment and 'goings on', all of which he seemed to enjoy greatly. Before his death, Whitehead burned most of his papers and the Hellfire Club's records with it, leaving the finer points of the subterranean brothel lost to time. As a lasting symbol of thanks to Lord Dashwood, Whitehead made sure that his heart was cut out and sent to his house, whereby it was buried in a mausoleum on the estate following a very elaborate funeral.
Visions of Whitehead's ghost were first recorded in 1781 whereby staff reported seeing the steward in the grounds of the house, waving onlookers to join him. In 1839, Whitehead's heart was stolen by a visiting overseas soldier and since then, those who have seen his apparition, claim to have seen him wandering, searching for his lost heart.
Read more about The Hellfire Caves here.
Chislehurst Caves, London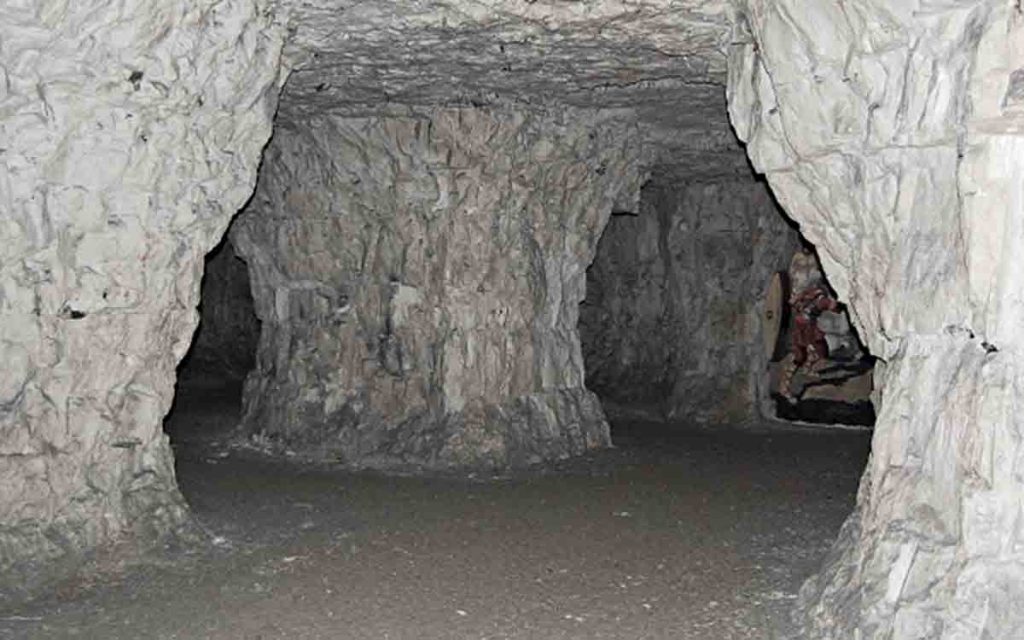 The caves at Chislehurst are, strictly speaking, mines that were dug out in the production of chalk and flint. In regular use from the 9 th to 19 th century, the caves were used as ammunition storage in WWI, as a bomb shelter in WWII and even for the very twee-sounding means of mushroom cultivation in the 1930s. Proving itself to be a truly multi-use cavern, the caves doubled as a popular music venue in the 1960s and 70s, playing host to Jimi Hendrix, The Animals, Pink Floyd, Led Zeppelin and David Bowie to name but a few!
Stretching over 22 miles, there's plenty of space for spectres to wander and gather and the reports of individual ghosts are multitudinous.
There are several individual spirits said to haunt the caves . One of these is the 'White Woman' (or 'White Lady') who emerges, floating, from one of the cave's pools. She was said to have been murdered by her husband and so roams the caves with malevolence. Bones discovered in 1940 were attributed to the woman, although this did little to ease the frequency of her hauntings.
Another noted spirit is the ghost of a young girl who died as a result of a cave collapse in 1939. She is said to show her presence by giggling and weeping, much like many other reported child spirits within the cave system. There have been endless reports of poltergeist activity where items were thrown at visitors, cables were torn from walls and visions of an enormous red-eyed wolf. Adding to this the supposed spirits of the war dead and the whims of malevolent spirits, the caves remain popular with paranormal investigators as a hive of activity.
In the 1950s, the cave's owners put up a reward of £5 for anyone brave enough to spend the night alone in the caves. One man, Tony Bayfield, succeeded and proclaimed that nothing on earth could make him return to the caves after his experiences.
Discover Darren J. Powell's experience of the haunted Chislehurst Caves here.
Wookey Hole Caves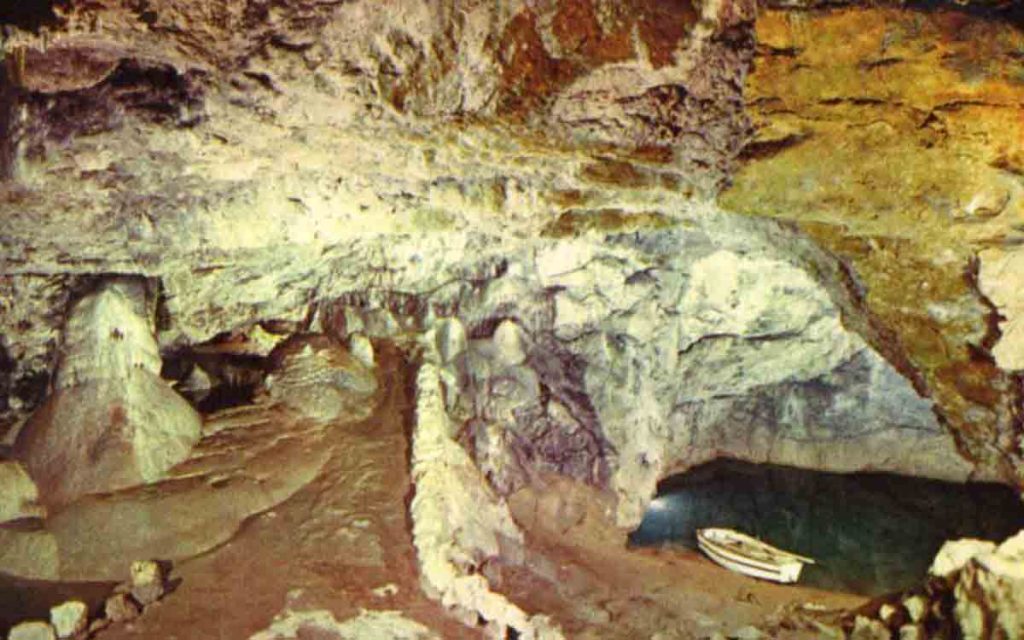 Arguably the most beloved and famous caves in the UK, Wookey Hole Caves have been a popular tourist attraction for decades. Popular for over 500 years, the caves were officially opened to the public in 1927 and remain a highly-rated family day out to this day with a visitor centre, mini cinema and enormous plastic dinosaurs to match.
The caves are currently estimated as stretching for 4000 metres, forming natural limestone caverns, formed over thousands of years by natural acids and water eating away at the rock.
Used by humans for over 45,000 years, its most famous inhabitant – and spirit – is that of the Wookey Hole Witch.
According to legend, a young local woman became engaged to a man from nearby Glastonbury. A witch, who had been lucky in love, watched the couple's happiness with disdain and placed a curse upon them, causing their romance to fail. The young man went on to become a monk, but never forgot the cruelty of the witch. When he was a grown man, he pursued the witch into her cave, blessed the river that ran through it and splashed water into her face. This immediately turned the witch to stone, where she remains (as a stalagmite) to this day.
In 1912, a 1000-year old skeleton was discovered in the caves and was attributed to the legend of the witch. Although this was later attributed to a male between the ages of 25-35, the legend was firmly in place and paranormal investigators and tv shows flock to the caves with regularity.
Nottingham Broadmarsh 'City of Caves'
Nottingham's 'City of Caves' is a labyrinthine series of man-made sandstone caves which have been in use for over a thousand years. Used as storage for pubs, as a tannery and as a wartime air raid shelter, sections of the caves are now fully accessible to the public and occasional groups of ghost-hunters after dark. There remain hundreds of interlinking cave systems beneath Nottingham ( and its pubs! ) many of which have their own ghost stories attached.
However, the caves beneath the Broadmarsh shopping centre are the most frequented by the public today. The caves beneath the shopping centre were used as housing by the poor for hundreds of years, where disease and crime was rife. Although no-one has lived there (officially) since 1854, centuries of suffering and death are said to still linger within the sandstone walls.
Visitors often report a hostile, oppressive sensation and have reported seeing the dark shadow of a male spirit who particularly dislikes women. Similarly, objects are said to move independently, items are thrown at visitors, disembodied voices call out and people are pushed by unseen hands.
While spirits and the exploits of the dead will always capture our imaginations, it's the forms that dwell beneath the earth that will always incite the most lasting terror… and curiosity.
RELATED ARTICLES MORE FROM AUTHOR
The stately ghosts of england 1965 tv review, english roses: 10 folklore facts and superstitions, the magic of drake's drum still beating strong, what is jack in the green, 7 victorian poisoners and their shocking crimes, 10 english folklore characters you need to know, leave a reply cancel reply.
Save my name, email, and website in this browser for the next time I comment.
From The Archive
The beast that terrorised raf alconbury, chepstow castle: tapestry of hauntings and horror, dark ghosts, not all human, at haunted athelhampton house, england's scariest screaming skulls, haunted theatre royal glasgow.

Listen to Podcast
Privacy Policy
10 Phantom Kings and Queens of England
Frightfest guide to mad doctor movies: dr john l probert interview.
Accessibility links
Skip to content
Accessibility Help
A haunted, hidden world of caves
Nottingham is a city with a secret: below its shops, restaurants, houses, malls and pubs lies a hidden world of caves and tunnels.
Best known to visitors for the Robin Hood legends of nearby Sherwood Forest, Nottingham is also home to more than 500 man-made caves. Dug through layers of soft sandstone, they tell a story spanning hundreds of years, from medieval monks to King Henry VIII. And a new app – detailing dozens of the caves with their histories, access information, photographs, 360-degree panorama shots and 3D fly-through videos – aims to open this underground world to visitors.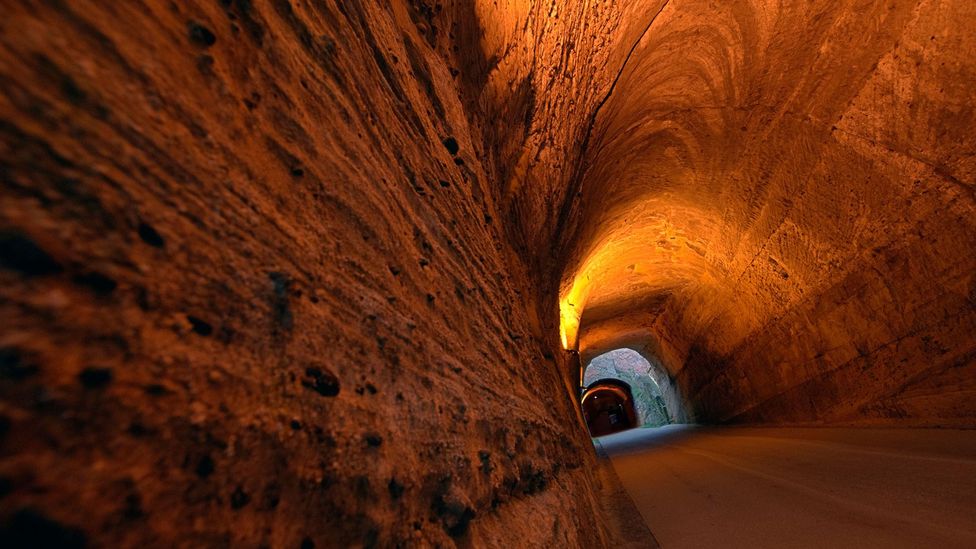 One of the many tunnels hidden beneath the city of Nottingham (Credit: Tracey Whitefoot/Alamy Stock Photo)
The first reference to the labyrinth beneath Nottingham dates back to the 9th Century, when the area was named Tigguo Cobauc – Welsh Anglo-Saxon for "the place of caves". The name was given to the town by a travelling monk, who encountered a local population living inside the caves.
Some 1200 years later, this name could still apply, with some of the tunnels lying beneath surprisingly modern establishments. The City of Caves , Nottingham's largest network of caves open to the public, lies beneath Broadmarsh Shopping Centre .
A labyrinth of tanneries, air raid tunnels and slum housing, the oldest sections of the City of Caves date back to the 4th Century. Early inhabitants dug into the soft sandstone to create a cosy place to sleep – temperatures in the caves stay a constant 16C year-round.
The City of Caves date back to the 4th Century (Credit: Visit England)
By the 15th Century, people were no longer living underground, but the caves had taken on a second life as cesspits – used for fertilising the city's farms and the supplying the tanneries with waste for the leather making process.
The City of Caves' tannery – the country's only underground tannery – might have also saved Nottingham from one of the history's darkest periods. The town was one of the few places in Britain to remain free of the plague and it is believed the tannery caves prevented rodents from nesting and breeding within the area.
The caves' lifesaving abilities didn't end with the plague. As a manufacturer of ammunitions, Nottingham was severely bombed during World War II. Ideal for absorbing the impact of bombs, 86 of the caves were converted into air raid shelters. The sandstone caverns saved thousands of lives.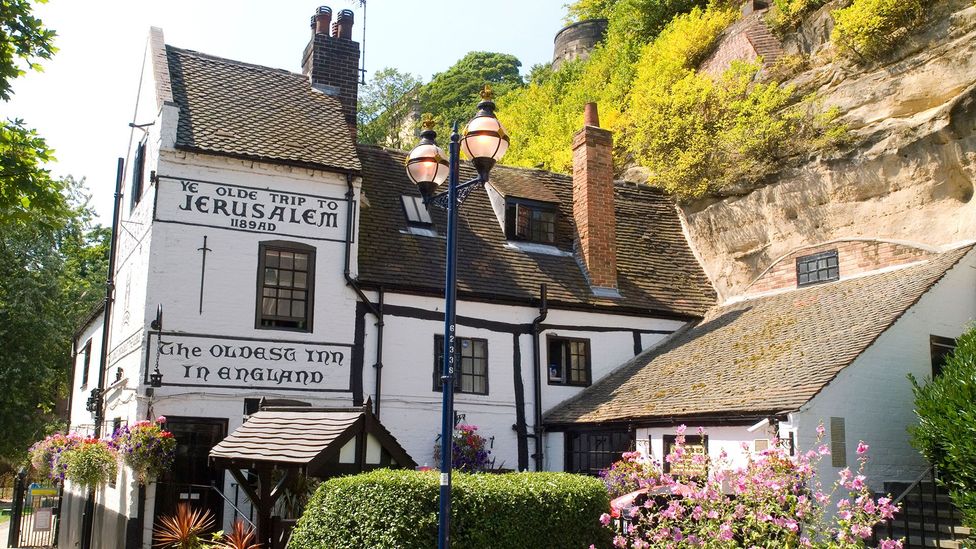 England's oldest inn, Ye Olde Trip to Jerusalem, is at one end of a passageway winding through rock from Nottingham's castle (Credit: Tracey Whitefoot/Alamy Stock Photo)
Other caves and passageways were used for far more nefarious purposes. The infamous Mortimer's Hole , for example, lies under Nottingham Castle , which was built in 1067 and has taken on many forms over the years. The eerie 300-step passageway winds down from the castle through rock to England's oldest inn, Ye Olde Trip to Jerusalem , which dates to 1189.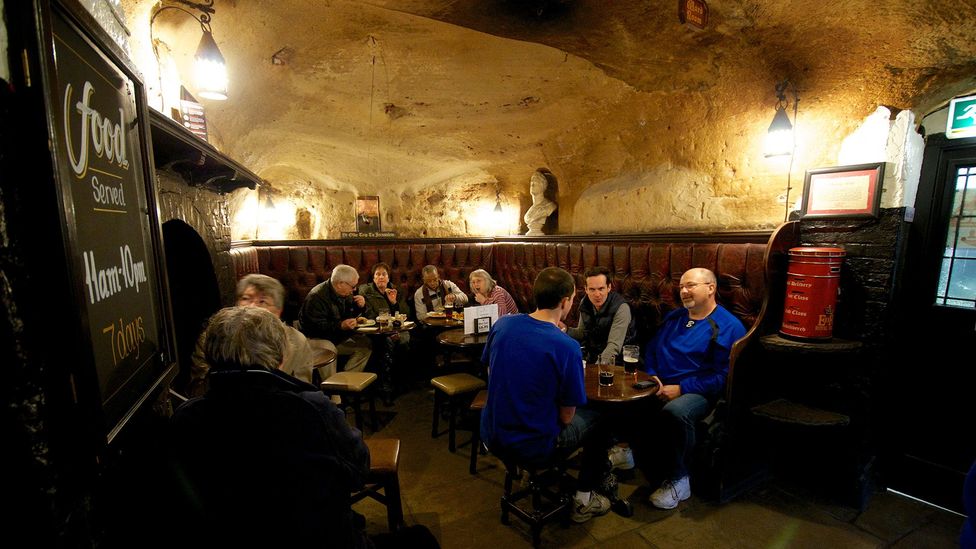 A cavern beneath Ye Olde Trip to Jerusalem (Credit: Visit England)
The tunnel takes its name from Sir Roger Mortimer, who, together with Queen Isabella, is rumoured to have killed Isabella's husband King Edward II and taken the throne for themselves.
On the night of 19 October 1330, the young King Edward III and a band of his loyal supporters entered the tunnel. They burst into his mother Isabella's bedroom, seizing the pair. Sir Roger was hanged at the Tower of London ; Isabella, escaping with a much lighter sentence, was forced into retirement.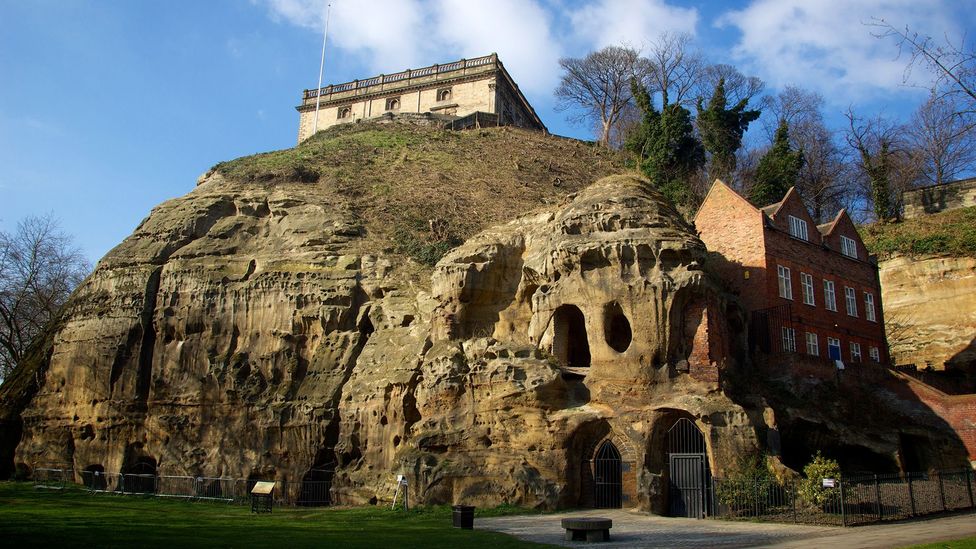 The rock beneath Nottingham Castle is riddled with caves (Credit: Visit England)
But far more everyday establishments than Nottingham Castle have underground caverns. "If you manage a pub in the city, I'd say nine out of 10 times you would have caves. They're everywhere," said Tom Flynn, manager of the Bell Inn , one of Nottingham's oldest pubs.
Tree-ring dating suggests that local Carmelite monks built the first public house on the site in 1420. The Bell Inn's cave system, which is large enough to extend under the adjacent buildings, includes two wells that the monks used for drawing water to brew their ales.
The Bell Inn remained in the monks' hands until King Henry VIII's dissolution of the monasteries in 1539; at that point, it became a secular alehouse. During World War II, a section of brickwork in the cave was put up by the Ministry of Defence, who hoped to use it as a bomb shelter – a plan they changed after discovering a river ran along the back wall. Today, the Bell's caves are very much a working cellar, stocked with beer and wine and with cask ale pipes going up to the bar.
While the Bell's caves feel bright and lived in, there are much spookier caves under the Ye Old Salutation Inn , which dates back to 1425. The Salutation's cave system consists of rock cut passageways, cells, chambers and chimneys, all dug out at various points in the Medieval, Georgian and Victorian times.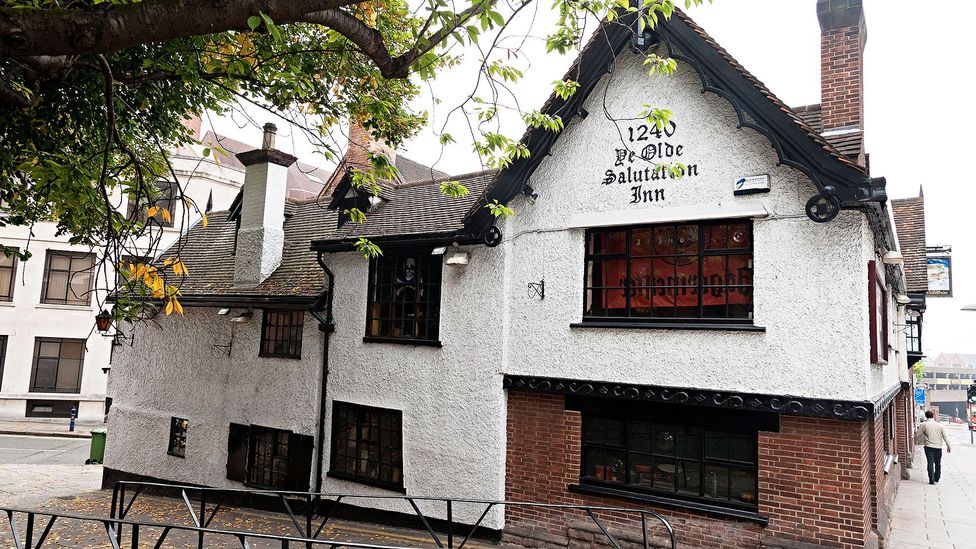 Caves – and even, according to rumour, a ghost – hide beneath the nearly 600-year-old Ye Old Salutation Inn (Credit: i4images rm/Alamy Stock Photo)
There is even a ghost: a young girl called Rosie. In one of the darkest corners, visitors leave drinks, marbles and dolls for her. "I'm a sceptic where ghosts are concerned, but I've seen things in this pub that really do make me wonder," manager Terry Webster said.
At 6:20 one morning, Webster said he was going downstairs to the pub when he heard footsteps and a cough. Thinking staff from the night before had forgotten to lock up, he ran down to the bar to nab the intruder, but there was no one to be found. A review of the pub's security footage also came up empty.
Pulling all of this extensive, underground history together – ghosts aside – is the Nottingham Caves App , the result of on-going work by Trent & Peak Archaeology . Project manager Dr Paul Johnson said that of the 500-odd known caves in Nottingham, 76 have been investigated and recorded in detail. The team weren't able to record as many of the caves as they had initially hoped as many were more complex than they first thought.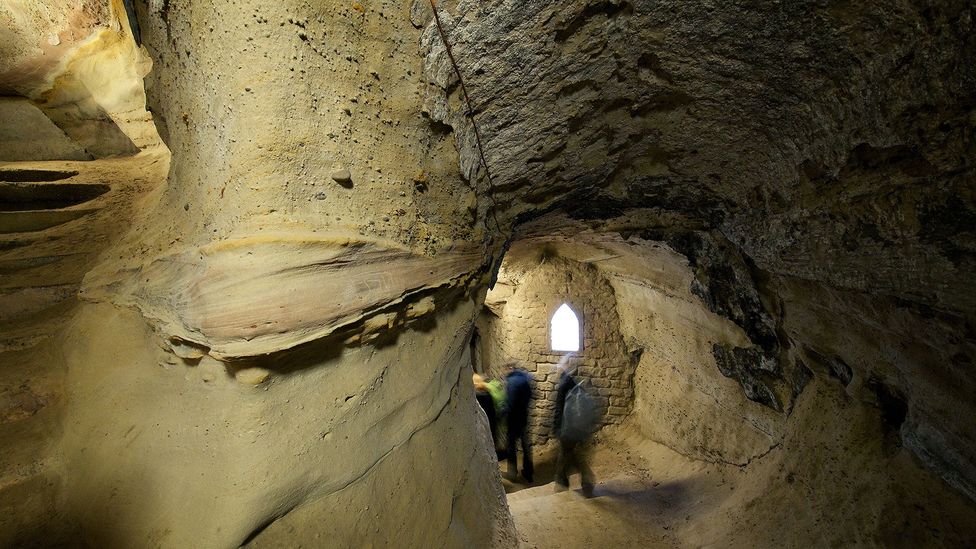 One of the caves beneath Nottingham Castle (Credit: Visit England)
"You're not just doing a structural record. You're also recording things like graffiti on the walls, individual elements of sculpture and things like that," Johnson said. "So the time involved in doing it multiplies quite quickly."
Even so, during the survey, the team found evidence of gentlemen's clubs, bowling alleys, summer gardens and industrial spaces.
Johnson said plans are underway to continue mapping and recording the caves with the help of local volunteers. After undergoing confined spaces and basic recording training, the volunteers will go out and speak to property owners, identify new caves and – where it's safe – go in and complete a quick survey. They hope to begin work in the first half of 2016.
Ultimately, the idea is to open up more of Nottingham's underground to visitors – allowing more people to appreciate the unique history found beneath the city.
This story is a part of BBC Britain – a series focused on exploring this extraordinary island, one story at a time. Follow us on Facebook ,  Twitter  and Instagram .
COOKIE POLICY
PRIVACY POLICY
HERITAGE MAGAZINE
HERITAGE SHOP
GOOGLE NEWS
ANTHROPOLOGY
ARCHAEOLOGY
PALAEONTOLOGY
PALAEOANTHROPOLOGY
CLIMATE CHANGE
NATURAL HISTORY
SPACE & PLANETARY
TECH & ENGINEERING
ALL REGIONS
NORTH AMERICA
SOUTH AMERICA
BIOGRAPHIES
HERITAGE LISTS
Some of the most haunted places in England
With halloween fast approaching, we've taken a rest from reporting on the latest discoveries and scientific methods, to take a fun look at some of the most haunted places in england..
Pendle Hill & The Pendle Witches
Pendle Hill in the Borough of Pendle, England, is a small, isolated hill in the Pennines, where the so-called Pendle Witches lived during the 1700's. During this period, witchcraft was an accepted part of remote village life, where "witches" served small rural communities as healers and practitioners in herbs and medicine.
The story of the Pendle Witches starts on the road to Colne in 1612, where Alison Device cursed a pedlar, supposedly resulting in him collapsing to the floor in a state of paralysis or from a stroke. The incident was brought before Justice Nowell, where Alison confessed claiming she had been told by the Devil to lame the man, as well as accusing her own family members and the Chattox family of witchcraft that led to an investigation.
Trials were held at Lancaster castle, with the youngest member of the Device family testifying with damning evidence against the accused, resulting in 10 people being found guilty of witchcraft and sentenced to death by hanging (Old Demdike, the head of the Device family died whilst imprisoned in the castle whilst awaiting trial).
Over the years, the area around Pendle Hill has become a hotspot for paranormal activity, with numerous sightings of mysterious ghostly figures, the shadow of an eerie dog, and the claims that some of the hauntings are the tormented Pendle Witches.
Highgate Cemetery
Highgate Cemetery is one of the Magnificent Seven cemeteries in London, constructed during the 19th century to alleviate inner London's crowded burial sites.
Graveyards in London had become crammed with bodies, with burials often being only a few feet deep. The smell of disease-ridden rotten bodies would try to be hidden with quicklime to speed up the decomposition, but that would do little to eliminate the risk of illness to those living nearby.
Parliament passed a statute to the effect that seven new private cemeteries would be opened, with Highgate Cemetery being constructed on the former grounds of the Ashurst Estate, descending the steep hillside from Highgate Village.
The cemetery became Victorian London's most fashionable site for burial, with wealthy Londoners commissioning ornate chapels, tombs, or selecting extravagant graves as their final place of rest.
During the next century, multiple claims of ghosts were reported within the cemetery walls, described as a tall man in a hat, a spectral cyclist, a woman in white, a face glaring through the bars of a gate, a figure wading into a pond, a pale gliding form, bells ringing, and voices calling.
The most harrowing event took place on the night of Halloween in 1968. Rumours of the "Highgate Vampire" had spread across North London, resulting in the desecration of graves by persons unknown, who drove an iron stake in the form of a cross through a corpse to slay the beast from rising.
Chillingham Castle
Chillingham Castle is a medieval castle in the village of Chillingham, in the northern part of Northumberland, England.
The castle was originally founded as a monastery in the late 12th century, but during the 14th century was fortified with a license of crenellate, converting the site into a significant stronghold during Northumberland's bloody border feuds with Scotland.
The Castle is one of the contenders for the highest levels of paranormal activity in England, with a large collection of spectres and apparitions such as the ghost of Lady Mary Berkeley (died 1719), the wife of Lord Grey of Wark and Chillingham who was abandoned by her faithless husband, and left to wander the castle halls broken hearted.
Other supposed spectres include a frail figure in white called the white pantry ghost, the ghost in the chamber, the blue boy, and the voices of two men heard muttering in the castle chapel.
Chislehurst Caves
Chislehurst Caves is an extensive complex of subterranean tunnels of uncertain origin, that stretch up to 35km in the suburbs of south London in Chislehurst, Bromley.
Despite being called caves, they are entirely man-made and were probably first constructed as a mine to extract the flint deposits in the London chalk layers.
It has been suggested that part of the cave system dates from up to 8000 years ago, but the first recorded mention was actually noted in medieval documents of circa 1250, and in post-medieval church records of 1737.
By World War II, the cave was transformed during the German bombing campaign of 1940 and 1941 (The Blitz) into one of London's largest air raid shelters. At its peak, the cave was essentially an underground city, inhabited by some 15,000 civilians sleeping in three-tier bunks or small family pitches costing sixpence per week.
Within the caves is a chamber called the "haunted pool", where claims of a lady dressed in white is often seen floating across the surface, with visitors also hearing the distant sound of strange and bizarre noises in the miles of dark corridors.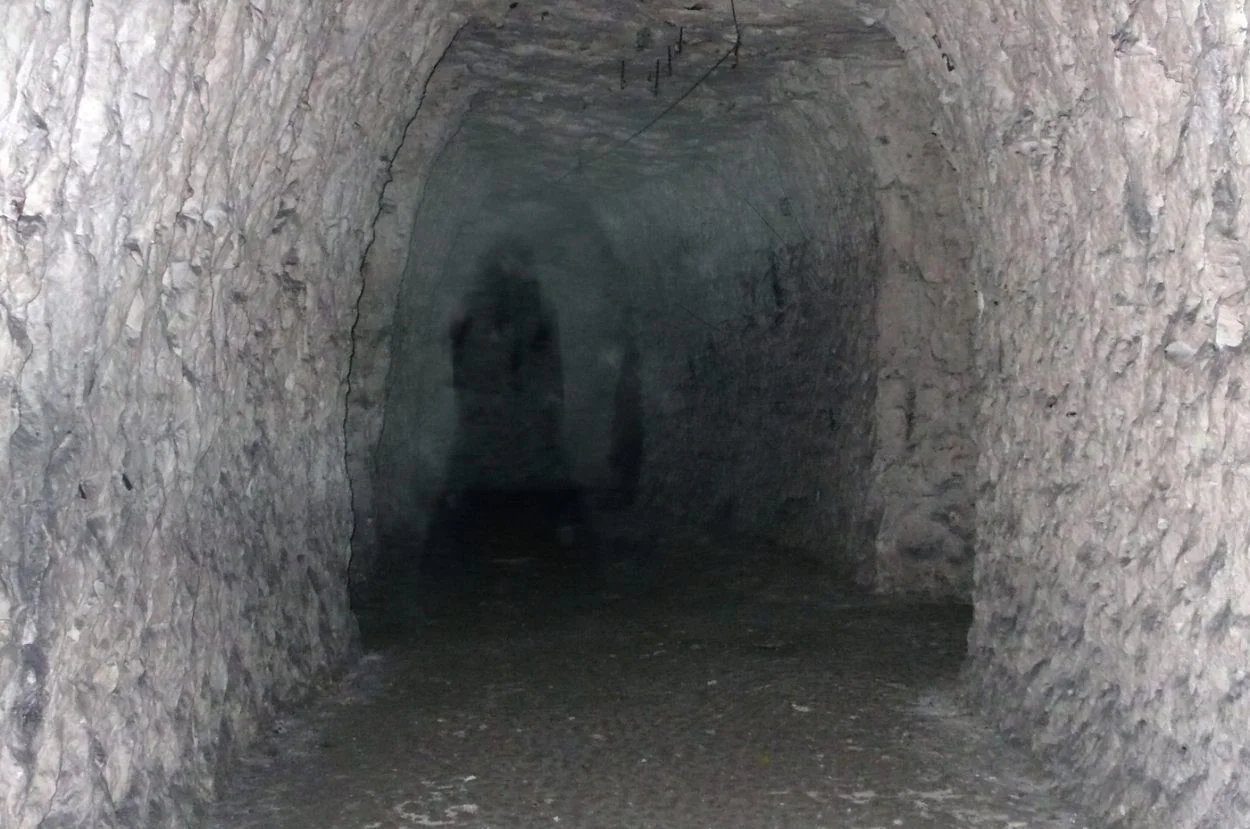 Bruce Castle
Bruce Castle is a manor house in Tottenham, London, named after the House of Bruce, who owned the land until Robert I of Scotland forfeited his holdings in England during his accession to the Scottish throne in 1306.
Sources disagree on the house's initial construction date due to lack of historical records, although there is some archaeological evidence dating parts of the building to the 15th century.
The earliest known reference to the building dates from 1516, when Henry VIII met his sister Margaret, Queen of Scots, at "Maister Compton's House beside Tottenham", known as Lordship House.
In the 17th century, Henry Hare, 2nd Baron Coleraine, settled at Lordship House and renamed it Bruce Castle, where he had an affair with Sarah Alston. Sources speculate that his wife Constantia committed suicide in her grief, and now haunts the castle, flinging herself from a parapet with a despairing cry on the anniversary of her death.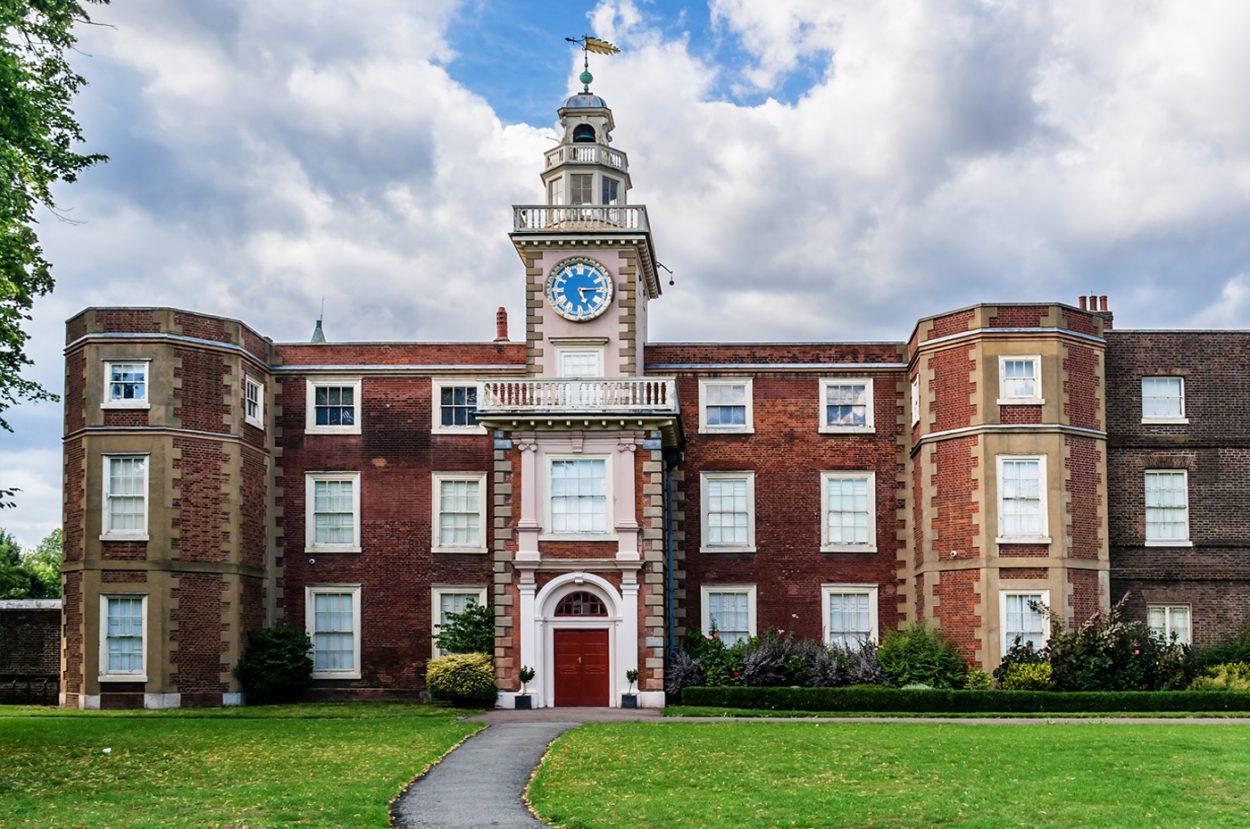 The Treasurer's House
The Treasurer's House is a large townhouse situated in York, England. The house was constructed for the treasure of the Minster, until the position was terminated with the Reformation of the English Church in 1547.
Thomas Young, Archbishop between 1561 and 1568, and his descendants are responsible for the structure of house as it is today. The Young's added the symmetrical front and almost entirely rebuilt the house, with the interior being remodelled and restored during the 19th century by Frank Green, a wealthy local industrialist.
During the works, Green discovered that the house was situated on a major Roman road leading north from Roman York (Eboracum). Also discovered were four Roman columns, one of which remains in-situ in the cellar, and one of which was used as a base for a modern set of columns in the main hall.
The house is reputed to be haunted by George Aislaby, a former owner from the 17th century, but the most intriguing claim is an account during the mid-20th century, where a plumber working on pipes in the cellar saw a Roman soldier emerge from the cellar walls, followed by a cart horse, and about nine or ten pairs of Roman infantry in a marching formation.
The Tower of London
The Tower of London (officially Her Majesty's Royal Palace and Fortress of the Tower of London) is a historic castle situated in the City of London, England.
Named after the central keep called the White Tower, the earliest construction was built by William the Conqueror in 1078 to symbolise Norman suppression over London. The White Tower was the castle's strongest point militarily, and provided accommodation for the king and his representatives.
Over the centuries, the Tower has served as a prison, an armoury, a treasury, a menagerie, the home of the Royal Mint, a public record office, and the home of the Crown Jewels of England. Even up until WW1 and WW2, the Tower was again used as a prison and witnessed the executions of 12 men for espionage.
It is claimed that many of those executed at the tower now haunts within the walls, with the most famous being Anne Boleyn who was beheaded for treason in 1536. Her ghost supposedly haunts the Church of St Peter ad Vincula in the Tower, and has also been seen walking around the White Tower carrying her severed head.
Other reported ghosts and apparitions include the Princes in the Tower, Henry VI, Lady Jane Grey, Margaret Pole, and even a bear.
DOWNLOAD MOBILE APPLICATION
More on this topic
MORE RELATED ARTICLES
18th century cold bath found in bath assembly rooms, first modern humans in europe are associated with the gravettian culture, the moon is 40 million years older than previously thought, rare christogram tattoo found in nubian burial, new study suggests that prehistoric women were hunters too, ancient greek helmet found at elea-velia, we have been quoted by, latest news, amazon rainforest hides over 10,000 pre-columbian earthworks, cosmic radio burst offers path to weigh the universe.
Popular stories
Legio v macedonica – the last roman legion, the mystery of tutankhamun's meteoric iron dagger, atlantis – the story behind the legend, the immortal armour of china's jade burial suits, the pleasure villa of emperor tiberius, germania – hitler's megacity.

HeritageDaily is part of the HeritageCom group of brands. - Contact Address: HeritageDaily LTD - Suite/Unit 40 17 Holywell Hill, St Albans, Herts, United Kingdom, AL1 1DT
Company Info
SHOP & MERCHANDISE
TERMS & CONDITIONS
HERITAGE COMMUNICATIONS
Social Networks THE HELLFIRE CAVES
Explore the maze of caverns deep underground, less than one hour drive from london, the hellfire caves is like nowhere you have ever been before built in the 17th century you travel underground deep into the chiltern hills. a fantastic day out for all ages as well as phenomenal film set, event location (especially for spooky kid's parties) ​ ​ ​.
KIDS PARTIES
The Hellfire School of Witchcraft & Wizardry for 10-20 children is the most 'spooktacular' party out there! The Caves team are expert at kids parties of all ages.
EVENTS & WEDDINGS
Available to dry hire for private & corporate parties including drinks receptions, product launches, weddings & dinners.
Available to hire as location & has been used for TV, film& music video productions. Underground caves, grottos, dungeons, ice-houses & cellars galore!
The West Wycombe Charitable Trust
The West Wycombe Charitable Trust was set up by Sir Francis Dashwood in 1982 to benefit local charitable institutions & The National Trust.
Awesome, you're subscribed!
Thanks for subscribing! Look out for your first newsletter in your inbox soon!
The best things in life are free.
Sign up for our email to enjoy your city without spending a thing (as well as some options when you're feeling flush).
Déjà vu! We already have this email. Try another?
By entering your email address you agree to our Terms of Use and Privacy Policy and consent to receive emails from Time Out about news, events, offers and partner promotions.
Love the mag?
Our newsletter hand-delivers the best bits to your inbox. Sign up to unlock our digital magazines and also receive the latest news, events, offers and partner promotions.
Things to Do
Food & Drink
Arts & Culture
Los Angeles
Get us in your inbox
🙌 Awesome, you're subscribed!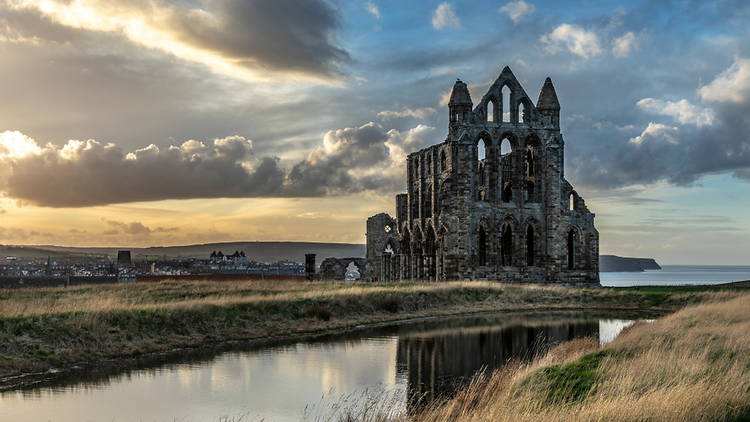 The 10 most haunted places in the UK
Check out the most haunted places around the UK for a proper fright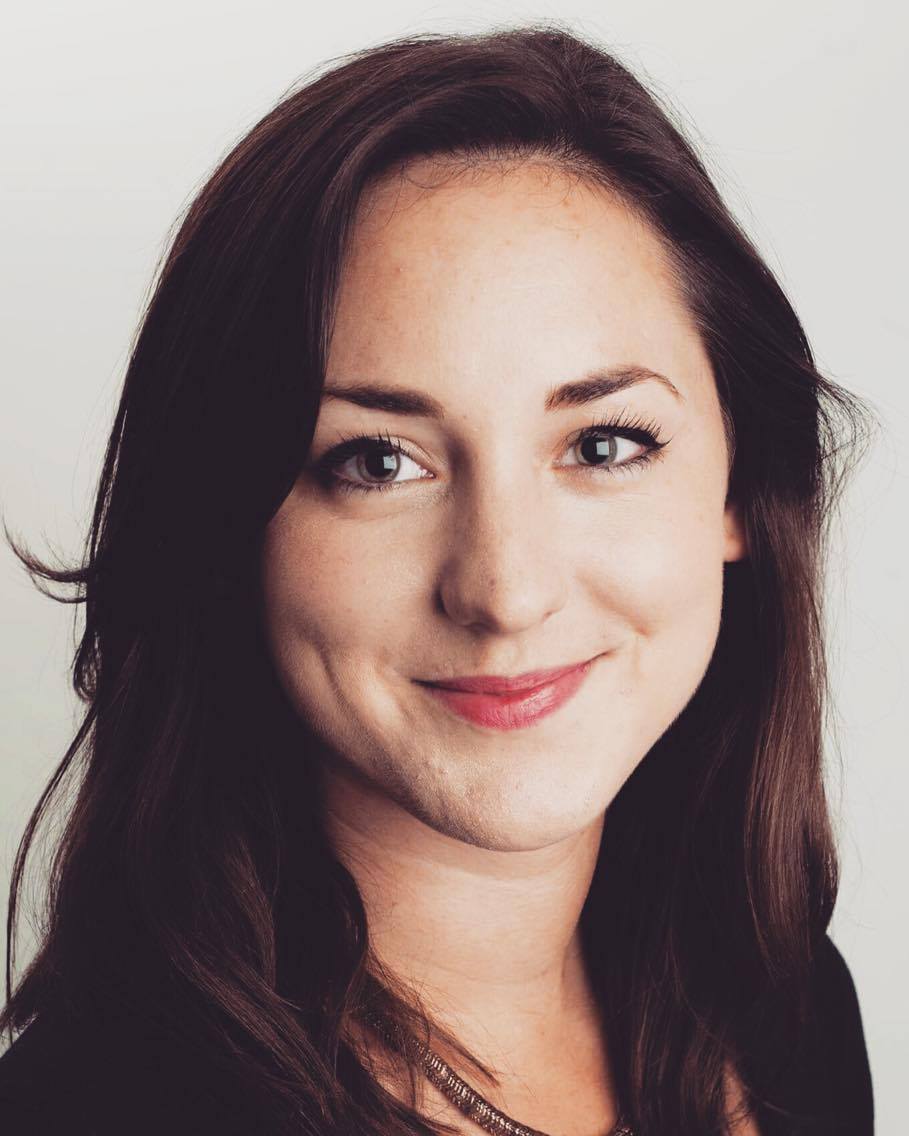 Believe in ghosts? Whether you do or not, you'll be shocked at just how many mystical spots there are in the United Kingdom . As well as full-on ghost towns , there are also rickety old mansions, abandoned castles , eerie cemeteries and post-industrial landscapes.
From country houses haunted by notorious phantoms to graveyards riddled with the ghosts of Victorian children, the UK is full of haunted places ready to send shivers down your spine. No, really. History is everywhere here, and not all of that history is happy gathering dust in the books.
Even if you don't believe in ghosts or ghouls, these spots can still be great excuses to see lesser-known parts of the country. But maybe refrain from planning your visit during a full moon: you never know what might happen.
RECOMMENDED: 🧙 Magical and mystical places in the UK 👻 The UK's spookiest ghost towns 🏰 The 13 best castles in the UK 🪦 The UK's most beautiful graveyards 🏛️ Incredible UK buildings where you can stay the night
An email you'll actually love
Most haunted places in the UK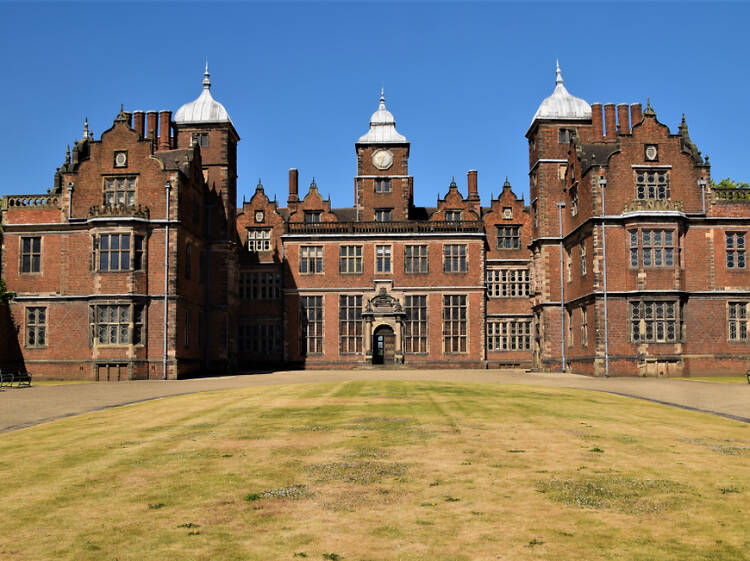 1. Aston Hall, West Midlands
This red-brick manor house has racked up quite a few ghosts since it was completed in the 1630s. The very first tenant, Sir Thomas Holte, allegedly murdered his cook, and the ghost of his daughter, who he locked away for 16 years until her death, is also said to wander the halls alongside Holte's houseboy and a 'green lady', thought to be his housekeeper. Keep your eyes peeled for ghostly Royalist soldiers too. There's a hole in Aston Hall's staircase made by a cannonball when the house was under siege during the English Civil War.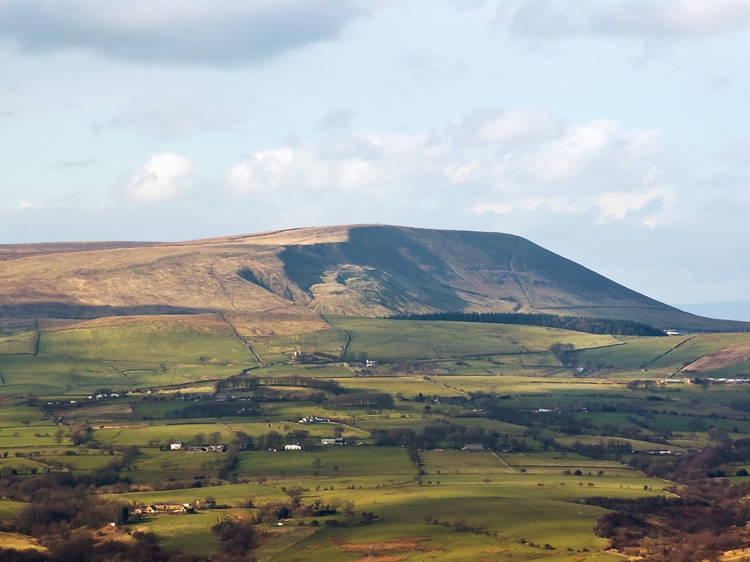 2. Pendle Hill, Lancashire
Looming over hamlets and farmland in rural Lancashire, Pendle Hill is a properly stunning spot. But it's got a dark past. In 1612, ten local people known as the Pendle witches were executed nearby after a trial at Lancaster Castle. Some say the hill is haunted by the spirits of those who lost their lives, and there have been a number of alleged sightings over the years. Whatever you believe it's an undeniably atmospheric place.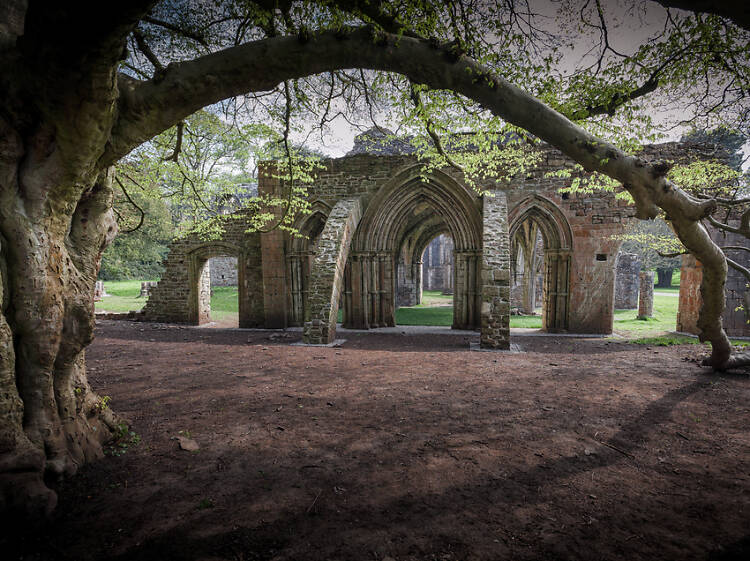 3. Margam Country Park, West Glamorgan
Margam Country Park in South Wales is a triple threat. It's home to the ruined Capel Mair ar y Bryn, where the presence of unwelcoming ancient monks has been felt, a big gothic castle stalked by the spirit of a rageful and unjustly murdered gamekeeper, the ghosts of Victorian children with a penchant for moving objects and disembodied laughter, and a blacksmith who walks the castle grounds, plus the ruins of the twelfth-century Margam Abbey, which are enough on their own to make the hairs on the back of your neck stand up.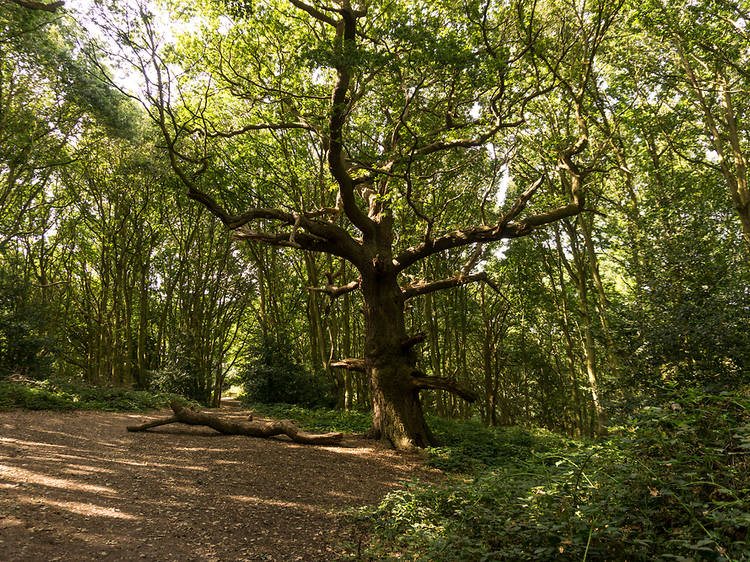 4. Manningtree, Essex
Modern witches might want to steer clear of the Essex town of Manningtree. It's where the self-professed Witchfinder General Matthew Hopkins lived in the 1600s. His, erm, efforts resulted in the deaths of hundreds of women in East Anglia's witch trials. If you don't feel the ancient anger of the persecuted there, you could spot the ghost of Hopkins himself. Sightings of him have happened during full moons in the neighbouring village of Mistley, by the pond where he infamously drowned so many innocent people. Know when the next full moon falls? That would be Halloween. Cool cool.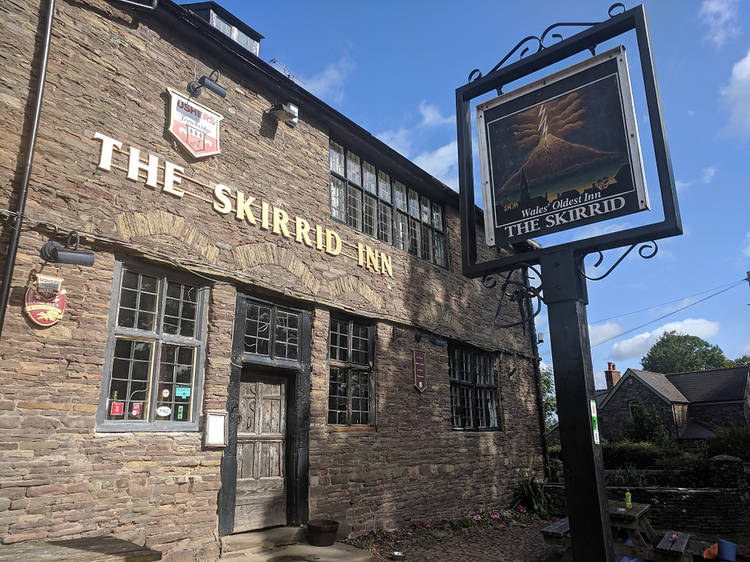 5. Skirrid Mountain Inn, Monmouthshire
Plenty of pubs have grisly tales to tell, but this ancient boozer in the Brecon Beacons has more than most. Punters have reported hearing slamming doors, loud footsteps and whispered voices. Legend has it that's because the building was once used as a court of law, and hundreds of defendants were put to death in the inn itself. A noose now hangs in the historic bar. You know, in case you need a reminder of its creepy history with your pint.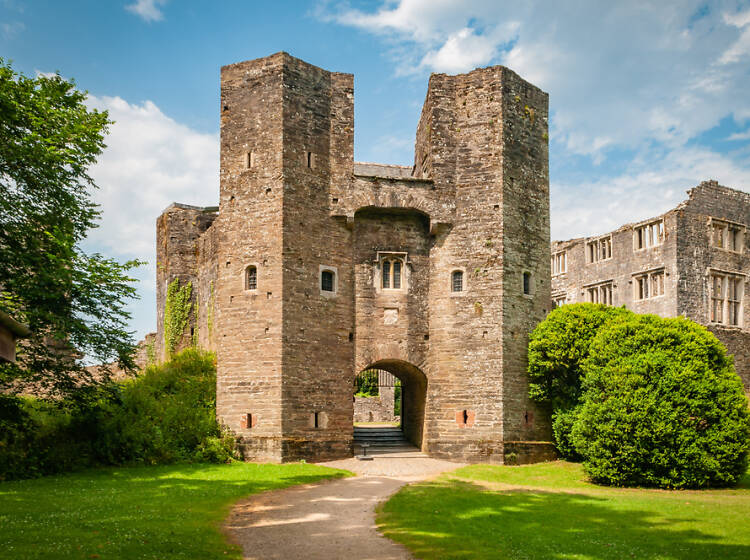 6. Berry Pomeroy Castle, Devon
A fifteenth-century ruin in a wood? Classic ghost-spotting territory. This grand castle, which was abandoned centuries ago, has a number of creepy tales attached to it. People have reported hearing screams and feeling chills there and bearing scratches or bruises after leaving the castle. The ghosts of Lady Margaret Pomeroy, who supposedly starved to death in the castle's dungeons, and two Pomeroy brothers who leapt from the castle's ramparts rather than be caught by their enemies, are said to haunt the site.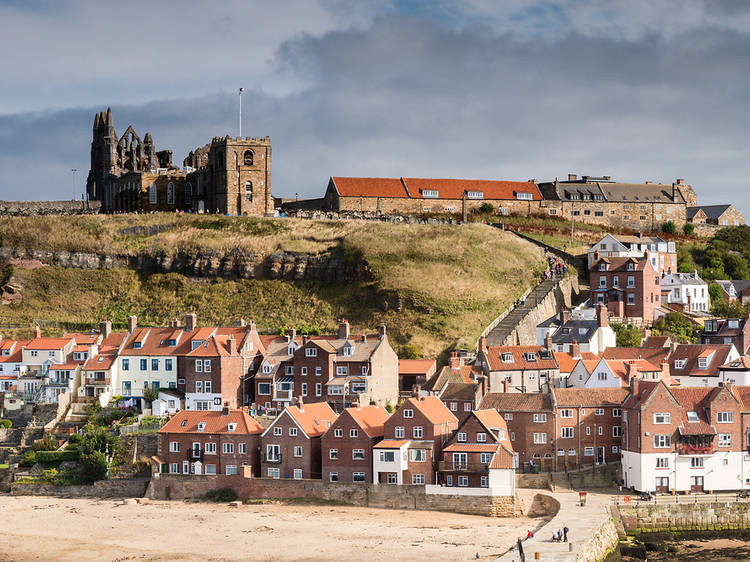 7. Whitby Abbey, Yorkshire
Whitby = the perfect setting for a ghost story. As if the gothic vibe and 'Dracula' connection isn't spinetingling enough, atmospheric Whitby Abbey is said to be home to the ghost of a young nun who was bricked up alive in the walls after breaking her vows. And a phantom hearse with four headless horses and a headless driver has been spotted in front of St Mary's Church, in the shadow of the Abbey. Woooooooh!
8. Duntulm Castle, Isle of Skye
There's something ethereal and other about the Isle of Skye , with its mind-boggling landscapes and mystical places with names like the Fairy Pools and Fairy Glen. The ruins of Duntulm Castle, which cling to the northern tip of the island, are no exception. It was built in the late fourteenth century before being abandoned around 1730. Now it's so unstable the clifftop fortress is best viewed from a safe distance. Keep your eyes peeled, though, for the ghost of a nursemaid, murdered after she accidentally dropped a clan chief's baby out of the window and into the sea below.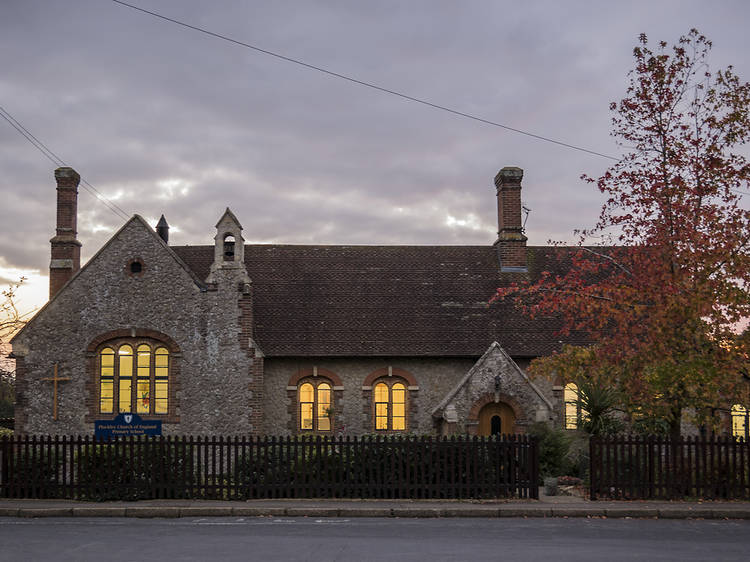 9. Pluckley, Kent
A picturesque village in Kent , Pluckley is known for being the place the TV series 'The Darling Buds of May' was filmed – and also for being entirely overrun with ghosts. In fact, villagers proudly boast of their spot in the 'Guinness Book of Records' as Britain's 'most haunted village', thanks to the 12 official apparitions that roam the place. Swing by to see if you get a visitation from a phantom coach and horses, a tree-dwelling highwayman, a schoolmaster, a small white dog and others – there's quite a list.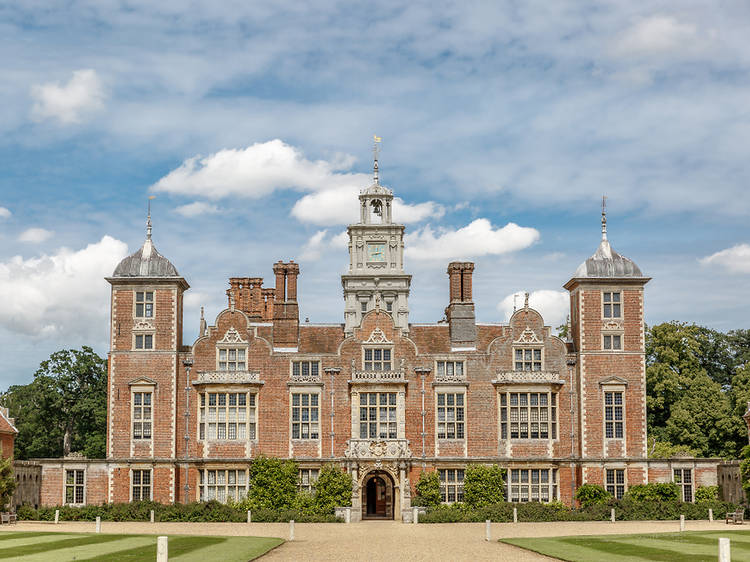 10. Blickling Hall, Norfolk
This is the place for spotting a real celebrity phantom. According to legend, the headless ghost of Anne Boleyn returns to the hall, which was built on the site of her childhood home, every May on the anniversary of her execution. Her anguished dad has also been spotted roaming the nearby countryside, while you might hear or come across the spirits of two other former homeowners inside the hall, too.
[image] [title]
Discover Time Out original video
Press office
Investor relations
Work for Time Out
Editorial guidelines
Privacy notice
Do not sell my information
Cookie policy
Accessibility statement
Terms of use
Modern slavery statement
Manage cookies
Advertising
Time Out Market
Time Out products
Haunted Tunnels & Caves
When I picture caves and tunnels, I imagine dark, dank places and for the majority of the time, I'd be right. 
Quite often, tunnels and caves were dug out for secret missions. Stolen goods smuggled from ships needed hiding, priests needed secret passages from houses to churches in times of religious turmoil, and secret groups held secret meetings.
Then there are the tunnels that were used for industrial reasons, for transporting goods etc. 
Whatever their purpose, two facts remain the same. They would have been dark and they would have been dangerous. Are you ready to explore?
Drakelow Tunnels
West Midlands, UK
Get Directions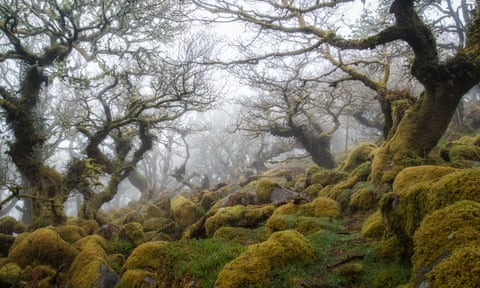 Happy Halloween! 10 of the UK's spookiest places to visit
Said to be haunted by poltergeists, hellish hounds and ghostly huntsmen, these eerie spots are perfect for a Halloween trip – but maybe not alone
Wistman's Wood, Dartmoor
" For me, this secret wood, perhaps the strangest in all Britain, does not really rise like a line of infantry. It rises like a ghost." So wrote John Fowles in his 1979 book, The Tree . After revisiting this place half-remembered from his teens, he later writes of feeling overcome with a "primal urge to flee".
The remnants of a forest that covered this remote part of Dartmoor 7,000 years ago, Wistman's Wood is an ancient gathering of stunted oaks, half-hidden in a dip. In Devonshire dialect, wisht means uncanny. Indeed, to enter is to be lost in a netherworld, dense with decrepit, twisted branches dripping with moss. The ground, a sea of boulders carpeted with thick moss and lichen, makes for slow and tricky navigation. It will, for some, evoke the dark, misty forest of Dagobah, Yoda's home planet in The Empire Strikes Back .
Stick around until witching hour and you may glimpse a ghostly huntsman and his dogs roaming the woods and surrounding moors. Best not to get too close: these yellow-eyed slavering wisht hounds are the hellish beasts that inspired Conan Doyle's tale. Wistman's Wood is a 20-minute walk along a clear path from the car park on the B3357, opposite the Two Bridges Hotel
Baynard House, City of London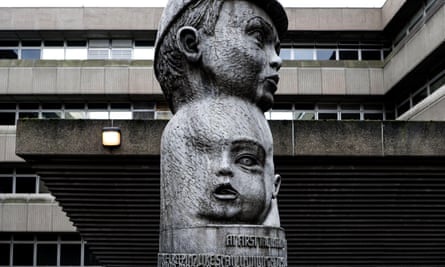 London's streets might creak under the weight of haunted pubs, scary attractions and ghost tours, but a more authentic kind of spookiness can be encountered in its desolate, modern corners, one such as Baynard House, a brutalist office block on Queen Victoria Street near Blackfriars.
Pass along Saint Paul's school's football pitch and you soon arrive outside this vast building. Once a GPO sorting office, now a blasted concrete wasteland, it made it the perfect choice as HQ for the anti-vampire hit squad in the Channel 4 series Ultraviolet.
For central London it's eerily quiet here (particularly now), the unsettling atmosphere enhanced by a strange totem-pole statue, The Seven Ages of Man , erected during the building's short-lived history as a BT Museum (1982-1997). Six zombified severed heads sit atop what appears to be an alien baby. Only corporate-funded art has the ability to be this horrific. Across the road lie London's Scientology headquarters – once, allegedly, the scene of myriad protesters in Guy Fawkes masks chanting, "You're a cult." A few years later, in 2017, celebrity Scientologist Tom Cruise broke his ankle in this same spot while filming Mission: Impossible – Fallout. Unquestionable proof that high weirdness is still alive in this part of London. Approach from the ramp north of the Thames between Blackfriars and Millennium Bridge
Chanctonbury Ring, West Sussex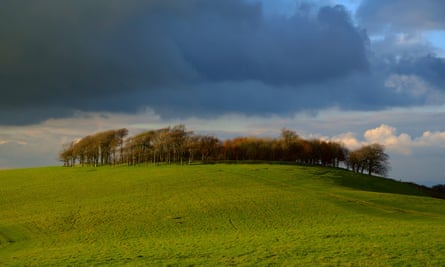 This circle of trees atop the South Downs is said to be the creepiest place in Sussex, though the ring only appeared after 1760, when hundreds of beech saplings were planted there by local toff Charles Goring. By the 20th century it had garnered a reputation as a meeting place for witches and sightings of demons, satanic worship and even levitation. In his 2017 book, The Old Weird Albion , Justin Hopper describes a vision of his dead grandmother hovering in the air here, "in the thinnest of places".
This is a dark, empty and disquieting place; sit awhile in the copse and you may, as many have, feel that you're being watched. Local wisdom warns against spending a night here alone. Robert Macfarlane tried it in 2012 while walking the South Downs for his book The Old Ways . After bedding down between two beech trees he was woken by what he believed to be human screams, which circled around him converging above where he lay. On the A23 between Bramber and Storrington: take the Chanctonbury Ring Road to the car park then climb up towards the lonely-looking copse. Just don't say we didn't warn you!
Pitt Rivers Museum, Oxford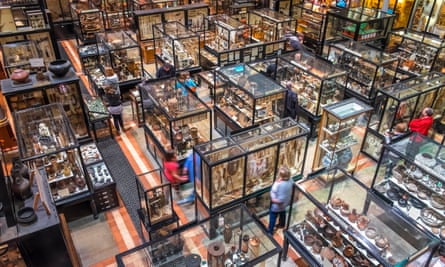 At the back of Oxford's Natural History Museum, this Victorian pile is a treasure trove of bizarre ethnological curiosities. While its famed collection of shrunken heads has recently been removed, the museum remains crammed with hundreds of old glass cabinets of artefacts guaranteed to give you the creeps, from trepanned skulls and a foetus in a jar to medieval torture devices and a floor made of sheep's bones.
Eschewing interactive touchscreens and other modern gizmos, the museum has barely changed since it opened in 1884, retaining a creepy and gloomy atmosphere. In fact, some corners are so dark curators have been known to hand out torches to help visitors explore what lies hidden in the shadows, perhaps the twisted face of a reclining mummy or a wooden doll filled with nails. Even the donation box is creepy: drop in a coin and an army of wooden zombies begin to swing their arms, eyes flashing red. Museum Parks Road, Oxford, free but online booking essential, prm.ox.ac.uk
Whiteford Lighthouse, Gower peninsula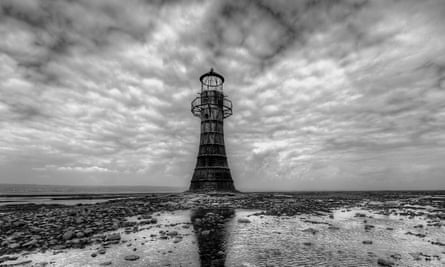 Few locations beat a solitary windswept lighthouse as the setting for a chilling encounter. And while we'll never know what fate awaited the lighthouse keeper in Edgar Allan Poe's final unfinished tale (unofficially named The Lighthouse ), his consternation at strange sounds emanating from the building suggests it wasn't to be a happy one.
It's a lonely two-mile walk at low tide across Whiteford Sands to one of the UK's last remaining iron-framed lighthouses. And what a disquieting place this is. While the vast wet sands evoke the haunted landscape of an MR James story, this great rusting skeletal feature could be an ancient alien craft from a Lovecraftian tale of horror, uncovered by the tide. Visit at night and folklore decrees that the sands reverberate with the thunderous hooves of some phantasmagorical creature. If you find an ancient-looking whistle half-buried in the sand, for goodness sake don't blow it. Park at Cwm Ivy close to Llanmadoc, the lighthouse is at the north end of the beach, enjoygower.com . Check tides beforehand
Glasgow Necropolis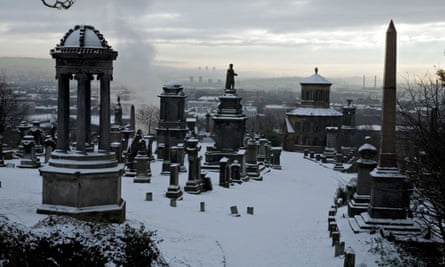 What better place to get a good spooking than a lonely twilight walk in Glasgow's Necropolis, where more than 50,000 people lie buried? This, all 15 hectares of it, is a vast city of the dead, its winding paths and hills peppered with granite mausoleums, statues, Celtic crosses and memorials, each tarnished and blackened by smoke from the old steelworks. It was inspired by Paris's Père-Lachaise.
Open daily 7am-4.30pm, main entrance Cathedral Precinct by Glasgow Cathedral, glasgownecropolis.org
Clipsham Yew Tree Avenue, Rutland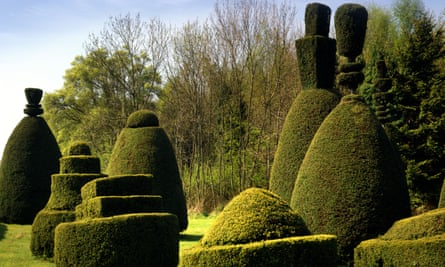 About 150 years ago Amos Alexander, head forester for Clipsham Hall in Rutland, decided to get creative with the yews that lined the avenue all the way to his master's hall. His experiments proved a hit with local people, and the tradition continues to this day. Where Alexander's topiary played with shapes of people, animals and birds, however, the designs seem to have morphed into creepy extras from a Tim Burton film. Surreal pot-bellied alien-like shapes now dominate the 700-metre grassed avenue. That they are a little unkempt only adds to their weirdness. Visit at dusk and the further you venture the harder it gets to shake off that dreaded feeling that they're all about to uproot, form a circle around you and make you one of them. Castle Bytham Road, Clipsham, free parking, yewtreeavenue.co.uk
Samson Island, Isles of Scilly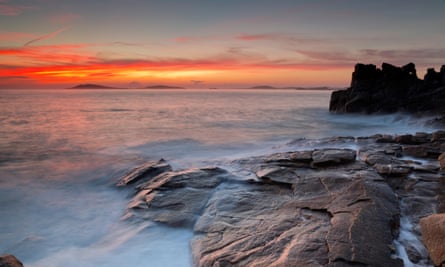 For generations the tiny isle of Samson was home to two families. But in 1855 its women and children, found half-starved from a diet of just limpets and potatoes, were relocated to another island. Their menfolk were never found, believed to have been killed by pirates or lost at sea. After that, Samson had a short period as a deer park, which came to an abrupt end after the deer drowned in a desperate attempt to escape. Since then, it has remained empty. No surprise that Samson is reputedly cursed.
Barely an eighth of a square mile in area and treeless, the island consists of two small hills joinedby a flat plain. It is an uninviting, silent and bleak place with no shelter. All that remains of its former inhabitants are the crumbling remnants of their stone cottages and several limpet pits. As the myriad gulls who nest there start to gather en masse and get all Hitchcockian, remember that on this remote desolate isle, no one can hear you scream. South-west of Tresco; for access, negotiate a ride with a local boat owner
Boggart Hole Clough, Blackley, Manchester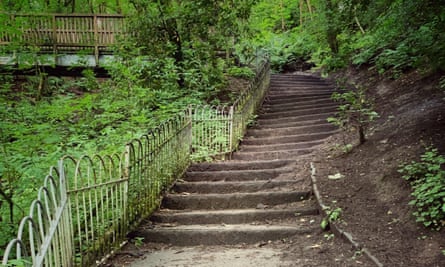 This large park a few miles north-east of Manchester city centre is a popular haunt for paranormal investigators and ghost hunters. The clue is in the name – boggart is a local word for the poltergeists and malevolent spirits believed to inhabit the marshes, fields and bogs here. According to folklore this particular boggart's favourite snack is children. While none have been gobbled up of late, dog walkers do report unusual behaviour, with their pets barking frenziedly seemingly at thin air; other visitors to the park claim to hear uncanny and demonic laughter echoing through the trees and in the ravines. It's probably in everyone's interest that it closes at dusk. Main entrance on Charlestown Road
The Forbidden Corner, North Yorkshire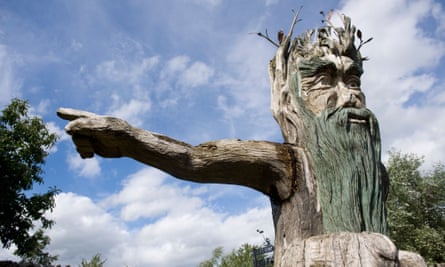 For those in search of some family-friendly spookiness, the Forbidden Corner offers all the thrilling anticipation of a classic "haunted" seaside attraction – without the crowds, off-putting smells and crushing disappointment. What began in 1991 as a private folly garden within the grounds of the Tupgill Park Estate in Wensleydale has evolved, over 30 years, into the self-styled "strangest place in the world". With a nod to the sometimes surreal and strange sets from The Prisoner, The Avengers and Goosebumps, the Forbidden Corner is an enchanting but unsettling journey via a maze of tunnels, chambers, revolving floors, grottos, talking statues and secret doors. No need to worry about crowds: even before Covid, Forbidden Corner was always designed to be experienced alone or in a small family group. And while its coffins and dark tunnels may be frightening for kids, isn't that the point? Five miles south of Leyburn, adult £13, 4-15 years £11, family (2 + 2) £46, theforbiddencorner.co.uk
Family holidays
United Kingdom holidays
Most viewed
Select language
What are you looking for.
Britain's most haunted places – and how to explore them
Dare you visit our darkest, most haunted corners? From playful poltergeists to headless queens, Britain's oldest houses and landmarks are (legend has it) brimming with ghosts. Whether you're an avid ghoul-hunter or an ardent sceptic, these spooky tours, creepy pubs and infamous hotels will certainly send a shiver down your spine…
Hampton Court Palace, Richmond
For more Tudor terrors, head to Hampton Court Palace . King Henry VIII has been spotted here. You may hear Catherine Howard's chilling screams or even see Jane Seymour in the shadows. In 2003, they were joined by a new ghoul, the 'Skeletor': he was caught on CCTV opening a door but then  disappeared without a trace.
Whitby Abbey, North Yorkshire
Looming over its namesake town, the ruins of Whitby Abbey inspired Bram Stoker to write the tale of Dracula, and you don't need much imagination to see why. Maybe you'll witness the spectre of St Hilda peering from a window, or the wails of Constance de Beverley, an imprisoned nun? Popular ghost walks depart from a nearby graveyard…  
Margam Castle, Port Talbot
If you hear children giggling at Margam Castle , you're in trouble. Apparently, they love to lurk in doorways and levitate objects – while the murdered gamekeeper screams with rage, and an old blacksmith roams the grounds. So much fun! On its Paranormal Night events expect sightings of floating orbs are 'abundant' - you have been warned.
Cawdor Castle, Nairnshire
Have you seen Muriel Calder? You can't miss her: she has long brown hair, a blue dress – and no hands. So we're told, this Cawdor Castle heiress was murdered by her father in the 1700s, after she was caught cavorting with a rival clan member. Perhaps you'll see her in an upstairs window, looking out for her lover…
Blickling Estate, Norfolk
Always dreamed of meeting royalty? Hopefully you'll bump into Anne Boleyn at Blickling House , as she wanders the corridors with her severed head. On 19 May, the anniversary of her death, ghost hunters gather at the estate's gates: legend has it, she can be seen arriving at her birthplace in a carriage pulled by headless horses.
Mary King's Close, Edinburgh
Edinburgh certainly has a few grisly secrets around its aging cobbled streets but Mary King's Close is its darkest. This underground city is supposedly overrun with ghouls: plague victims, phantom pipers, prisoners of war and even a headless drummer. If you're brave enough for a guided tour, don't forget to bring a doll for Annie , its resident ghost-child…
Bodmin Moor, Cornwall
Is it a giant fox, an escaped zoo animal, or something more sinister? While you're hiking on Cornwall's Bodmin Moor , try not to dwell on The Beast. This huge panther-like cat has been spotted some 60 times over the years, with yellow eyes and insatiable hunger for livestock. In 2016, a set of big paw prints were spotted in nearby St Austell.  
Pluckley, Kent
Maybe you should think twice before visiting Pluckley . It looks lovely, but it's actually Britain's most haunted village, plagued by a shrieking man, a woman who set fire to herself, and a highwayman who appears at 'Fright Corner' – to name but a few. A drink at the Black Horse might soothe your nerves, but beware, you maybe sharing your pint with a ghost or two.
Dare you stay in these ghostly hotels?
Craig y Nos Castle
Want to party with poltergeists? Join a seance to chat with the spirits? Craig y Nos Castle in the Brecon Beacons is full of opportunities to spook yourself silly. It was once a sanitorium, and has been running ghost tours for over a decade.
Drovers Inn
If its taxidermy animals don't give you the creeps, the Drovers Inn 's ghoulish stories certainly will. From dead children and ghostly lights, to a frozen family at the foot of your bed, this Loch Lomond hotel isn't quite as serene as it looks.
Chillingham Castle
Feeling fearless? Join a ghost-hunting tour of Northumberland's Chillingham Castle , before bedding down in this medieval fortress for the night. With a little luck - or maybe not - you'll meet its woman-in-white in the pantry, and witness the spooky voices in the chapel.
St Briavels Castle, Gloucestershire
At 800 years old, St Briavels Castle – now a YHA hostel – has seen it all. But its gatehouse still holds horrible secrets: visitors often report a chilling atmosphere, and its walls bear the scars of graffiti carved by long-deceased prisoners.
Paranormal pints: Britain's spookiest pubs
Pilchard Inn, Devon
It won't just be the timbers which are shivering here. In the 1300s, the Pilchard Inn was the hideout of pirate Tom Crocker, who was eventually hanged for smuggling. Legend has it, he appears on the August anniversary of his death.
Stag Inn, Hastings
With its mummified cats, a murdered sea captain in the cellar, and ghoulish girl dressed all in white, The Stag Inn isn't for the faint-hearted. Ask the bar staff about the secret underground tunnel, if you dare.
Adam and Eve, Norwich
The spirit of Lord Sheffield lives on at the Adam and Eve , where he likes to run his fingers through customers' hair! He was murdered here in 1549, and the pub is a favourite of ghost hunters.
The Skirrid Mountain Inn, Abergavenny
Welcome to the most haunted pub in Wales. While it serves a great pint, Abergavenny's Skirrid Mountain Inn is best known for its creepy footsteps, slamming doors and whispering voices.
Ye Olde Starre Inne, York
This historic York pub is popular with both the living and dead. Its cellar was a Civil War mortuary, which explains the blood-curdling screams – while two ghost cats are often seen around the bar.

About Contact Us My Account FAQ
All Ghost Hunts
View Events Alphabetically
UK Weekend Tours
Friday 13th October Ghost Hunts
Halloween Events
Sleepover Ghost Hunts
UKGH Events
Sundays & Midweek Ghost Hunts
View Events by Category
View Events by Region
30 East Drive Ghost Hunts
George Jarvis School Ghost Hunts
Gloucester Prison Ghost Hunts
Kelvedon Hatch Ghost Hunts
Newsham Park Ghost Hunts
The Haunted Nunnery Ghost Hunts
Shepton Mallet Prison Ghost Hunts
Shrewsbury Prison Ghost Hunts
Tatton Old Hall Ghost Hunts
Pendle Witch Weekend
Terror Of Scotland Weekend
Tour of the Damned Weekend
Gift Vouchers
Testimonials

Haunted Caves Spine Tingling Terror Awaits
Venture deep into one of our haunted caves and caverns and encounter the spine tingling terror as you are confronted with the ghosts and spirits that inhabit these terrifying locations. These haunted caves have their fair share of ghosts and spirits dating back from times that are now long forgotten. Known as Troglodytes, those that would have inhabited these areas would have lived in dire conditions. Evidence of their existence is still here to this day. Many of the caves were used in more modern times for Pagan Rituals and human sacrifices. They are deep, unknown crevices that would have been used to hide in or to carry out secret ceremonies.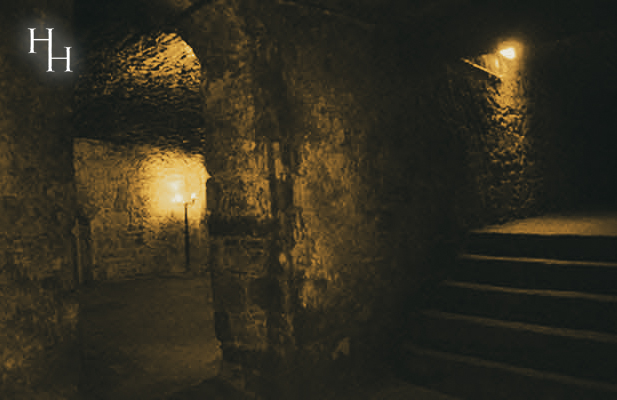 What Our Customers Say About Our Ghost Hunts
Absolutely fantastic night..we really enjoyed it..brilliant people..thank to Phil from haunted happenings..can't wait to book our next one
Ghost Hunt at 30 East Drive - Tori B
Thank you all from Mr sceptic
Ghost Hunt at The Village - Keith S
Yes a great night, we are hooked cant wait for the next hunt. Woodchester Mansion was an awesome good experience!
Ghost Hunt at Woodchester Mansion - Jo C
Featured Events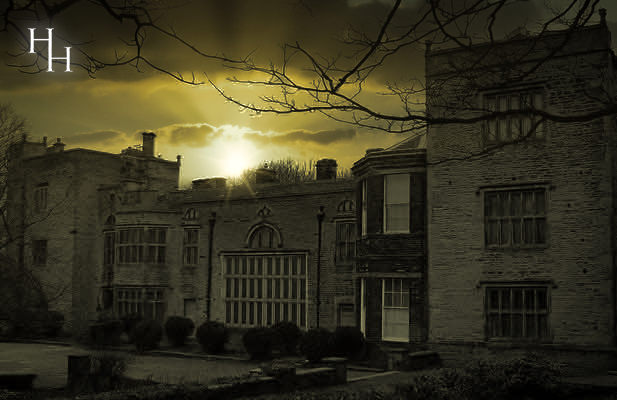 Bolling Hall Bradford
Kelvedon Hatch Brentwood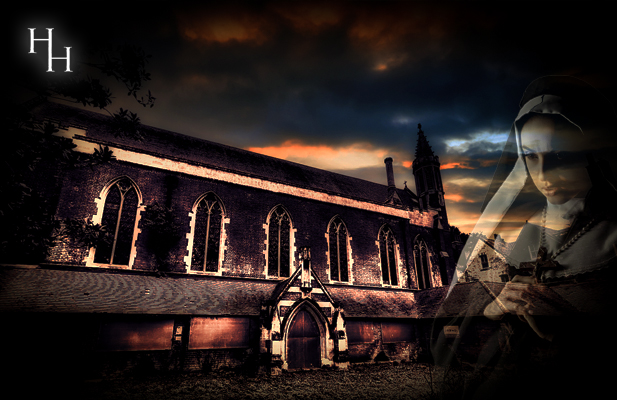 The Nunnery Malvern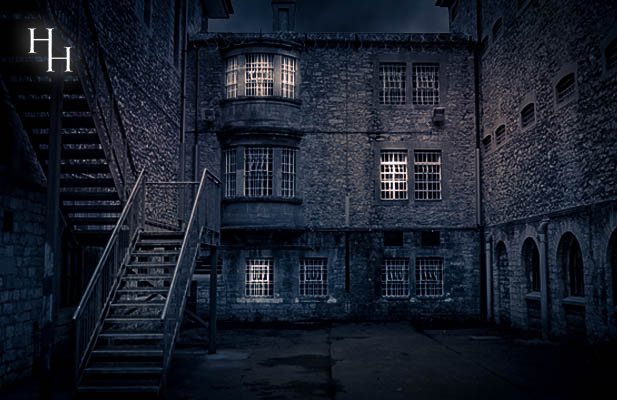 Shepton Mallet Prison Shepton Mallet
Subscribe to our newsletter.
Be the first to know about all our latest Special Offers, promotions and exclusive subscriber-only discounts!

Cookie disclaimer!
We use cookies to improve your experience on our site. By using our website, you're agreeing to the use of these cookies as described in our privacy policy and cookie policy .
Event Filter
Filter events by driving distance., or filter events by date, location & places, select the number of places you require.
For group bookings bigger than 6 please call the office
Add me to your waiting list for:
10 Most Haunted Underground Places In The UK
This article is more than five years old and was last updated in January 2023.
10. City Of Caves, Nottingham
9. Hack Green Nuclear Bunker, Nantwich
8. London Tombs, London
7. Kelvedon Hatch, Brentwood
6. Smethwick Baths, Smethwick
5. Dover Castle, Dover
4. The Hellfire Caves, West Wycombe
3. Mary King's Close, Edinburgh
2. Drakelow Tunnels, Kidderminster
1. Edinburgh Vaults, Edinburgh
Related Content
In The Witch's Lair: A Torch-Lit Journey Through Wookey Hole Caves
How Hauntings Could Be Nothing More Than Subconscious Projections
Learn About Ghosts Like Never Before As Ghostly Episode Of Classic Comedy Returns To iPlayer
Can Ghosts Speak Through Alexa?
Woman Divorces A Victorian Ghost Less Than A Year After Tying The Knot
Must Visit Supernatural Literary Locations In The UK
The UK's Haunted Road Hotspots Have Been Revealed Through New Data Analysis
Corsham: You Won't Believe What's Hidden Beneath This Quaint English Town
Supernatural Subterranea: Paranormal Tales From Dark & Forgotten Places
Uncovering Switzerland's Underground Fallout Bunkers
Haunted Pet Shop Claims Deceased Pets' Ghosts Are Roaming the Aisles
The Secret Underground Places That Feature In 'Hidden, Forbidden & Off-Limits'
Daily horoscopes.
This is not a good time to get into distracting arguments with friends or companions, especially when the topic surrounds money or values. If the subject comes up, change the subject as fast as you can. Don't loan any money... Read More
Featured Content
Ian Lawman Discusses Challenges Of New Solo Show 'The Yorkshire Exorcist'
Real Exorcist Jason Bray Reveals What It's Like Fighting Evil
The 'Spooked Ireland' Team Attempt To Smoke Out The Ghosts Of Aughrim
You may also like.
Chris Fleming Says His 'Mind Was Blown' By Activity While Filming 'Spooked Ireland'
'Hauntings: A Book Of Ghosts & Where To Find Them' - Neil Oliver's Paranormal Tour of Britain
'My Ghost Hunting Movie' Takes Home Six Gold Awards At The Fortean Film Festival
'Spooked Ireland' Team Play Spectral Game Of 'Guess Who?' To Reveal Spirit's Face
Danny Robins Reveals How He's Adapting 'Uncanny' For Television
Danny Robins Reveals Premiere Date For 'Uncanny' TV Spin-Off Series, Just in Time for Halloween
Sharon Osbourne Rushed To Hospital After 'Night Of Terror' With Son Jack
Paranormal Guess The Year Quiz
Mysterious haunted cave in Cornwall named one of the UK's best
Cornwall is home to some incredibly beautiful locations and now we are proudly home to one of the UK's most Instagrammable caves, that has a rich and magical history
Our weekend morning emails feature the very best news and exclusive content from our team of reporters
Thank you for subscribing!
We have more newsletters
One of Cornwall's most interesting beach coves has made it onto the list of the UK's most Instagrammable caves and caverns. Merlin's Cave in Tintagel is a captivating natural wonder that is steeped in legend and history, making it a must-visit destination for both nature enthusiasts and those intrigued by Cornish history.
Nestled beneath the ruins of Tintagel Castle, Merlin's Cave is an underground passage that stretches through the rugged cliffs and opens up to the mesmerising expanse of the Celtic Sea. Its name is evocative of the legendary wizard Merlin, who, according to historical legends, played a crucial role in the history of King Arthur.
Merlin's Cave has become a popular tourist attraction in Cornwall, drawing visitors from around the world. Its allure lies not only in its historical and mythical significance but also in its stunning natural beauty. The cave's location beneath the castle ruins and its proximity to the sea make it a captivating and photogenic site.
Read more: More than a dozen beach dog bans end this weekend
New research conducted by Mr Gamble analysed the number of tags for caves and caverns across the UK and came up with a list of the 20 most Instagrammable spots. The ten most popular locations are listed below.
UK's most popular caves and caverns:
Smoo cave, Scottish Highlands
Cathedral Cave, Lake District
Fingal's Cave, Isle of Staffa
Merlin's Cave, Cornwall
Henrhyd Falls (The Bat Cave), Brecon Beacons
Wookey Hole, Somerset
Peak Cavern, Peak District
Marble Arch Caves, Fermanagh
Hellfire Caves, Buckinghamshire
Clearwell Caves, Forest of Dean
Get the best stories delivered to your inbox every day. Choose what you want here .
The origins of Merlin's Cave date back millions of years, shaped by the relentless forces of the sea. Its dark, narrow entrance entices visitors to venture inside, following the echoing sound of crashing waves. As you proceed deeper into the cave, the cave's ceiling, covered in jagged rock formations, adds to its mysterious allure.
It is said that Merlin, who was both an advisor and sorcerer to King Arthur, used this cave as a place of refuge and contemplation. Some visitors have even reported that they located and communicated with a spirit within the cave.
The cave's association with Arthurian lore extends to Tintagel Castle itself as legend has it that this was the birthplace of King Arthur. As you explore the ruins of the castle perched dramatically on the cliffs above, you can't help but feel transported to a time when knights and wizards reigned.
Merlin's Cave invites you to step into a realm where the lines between reality and fantasy blur, where the echoes of ancient stories resonate in the depths of the earth, and where the beauty of Cornwall's coastline is on full display. It's a place where the spirit of Merlin and the magic of Arthurian tales live on, captivating the hearts and imaginations of all who visit.
In summary, Merlin's Cave's history is less about documented events and more about its role in folklore and legend. It has been immortalised in Arthurian tales as a place associated with Merlin's magic and King Arthur's birth. Today, it continues to enchant visitors with its geological wonder and mythical allure.
Things to do in Cornwall
Most Recent
The UK's spookiest cities for ghost tours
Discover some 'gruesome tales' this Halloween
Newsletter sign up Newsletter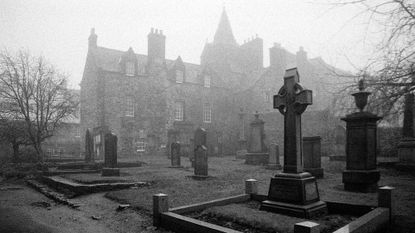 When you make a purchase using links on our site, The Week may earn a commission. All reviews are written independently by our editorial team.
With Halloween just days away millions of people around the world will be busy carving pumpkins into jack-o'-lanterns, watching scary movies and dressing up to go trick or treating. In the UK though, the spooky season can be taken up a notch with a ghost tour or a visit to somewhere with a dark history.
What better way to "spend a creepy evening", said Julie Delahaye in The Mirror , than "wandering through haunted quarters and criminal underworld hotspots", while hearing about a city's "most gruesome tales"? Here we pick out some of the spookiest cities in the UK where you can go on a ghost tour this Halloween .
Subscribe to The Week
Escape your echo chamber. Get the facts behind the news, plus analysis from multiple perspectives.
Sign up for The Week's Free Newsletters
From our morning news briefing to a weekly Good News Newsletter, get the best of The Week delivered directly to your inbox.
Edinburgh's narrow streets 'provide the perfect setting' for ghost tours
Scotland's capital is "notorious for its unsavoury past", said Angela Upex in the Daily Record , and has been called "the most haunted city in all of Europe". The ancient, narrow streets of the old town "provide the perfect setting" for tours, said Forever Edinburgh , and "favourite" locations include Greyfriars Kirkyard, Edinburgh Dungeon, and the Blair Street Underground Vaults. GetYourGuide has various ghost and vampire tours while Mercat Tours offers halloween and history tours, plus a new "Witches: Trial And Truth" walk. Other terrifying tour options in Edinburgh include Auld Reekie Tours 's vaults and graveyard tour, City of Edinburgh Tours 's underground ghost tour and City Explorers 's free ghost tour.
Jack the Ripper tours are a popular attraction in London
In a city this old, there's "more than enough" stories of "blood-curdling crime, murder most horrid and spooky spectres", said Samuel Hopkins on Secret London . Classics include the Jack the Ripper Tour with Richard Jones and "The Ghost of London Past" guided tour at Charles Dickens Museum . You can also take a cab journey into London's dark past with a Black Taxi ghost tour and other options include The Ghost Bus Tours , The Cloak & Dagger Tour , and The Original London Ghost Walk .
A visit to York 'won't disappoint ghost hunters'
North Yorkshire's historic walled city "is possibly the world's most haunted", suggested National Geographic . With about "140 ghosts" and more than "500 recorded hauntings", York certainly "won't disappoint" scare-seekers. It really is a "must-visit" for fans of ghost tours, agreed Laura Wybrow on Radio Times , and for those who like to "walk on the spooky side of life". The Original Ghost Walk of York is believed to be the oldest ghost walk in the world while other attractions include the Witches Tour , The Bloody Tour of York , and Dark Chronicles of York .
Glasgow Necropolis is nicknamed 'The City of the Dead'
There is a "darker side" of Glasgow , said Haunted Rooms , which some visitors, and even natives of the city, "go their entire stay without ever hearing about". Scotland's biggest city is said to be a "hotspot for paranormal activity" and there are "multiple locations" where people have reported "encountering otherworldly entities". Although "roaming around a graveyard" is not everybody's first choice of recreational activity, said Carys Matthews on BBC Countryfile , the Glasgow Necropolis is "not to be missed". Spread over 37 acres of land, the interdenominational burial site is nicknamed "The City of the Dead". Another of the UK's most "spookiest experiences" is the Gothic Glasgow Walking Tour , said Andrew Smart on Glasgow Times . On this spooky evening walk visitors can "see the city with a different pair of eyes".
Ye Olde Kings Head Hotel in Chester
With history of "Roman gladiatorial bouts" and "Roundhead sieges", Chester has "major ghoulish potential", said Rob Crossan on Condé Nast Traveller . Known as the "home of the haunted", Ye Olde Kings Head hotel and pub has appeared on a number of "paranormal investigation" TV shows – and "with cause". An 18th-century sword discovered under the floorboards was apparently buried after a duel to "ward off evil spirits". This has "done nothing" to "quell the knocks and noises of women chattering" which "plague the pub at night after last orders". Visitors can also explore the eerie haunts of the city's mysterious and murky past with Chester Ghost Tours , while Haunted Rooms runs ghost hunts and paranormal investigations at Stanley Place and Chester Town Hall.
Sign up for The Week's Travel newsletter for destination inspiration and the latest news and trends.

Continue reading for free
We hope you're enjoying The Week's refreshingly open-minded journalism.
Subscribed to The Week? Register your account with the same email as your subscription.
Sign up to our 10 Things You Need to Know Today newsletter
A free daily digest of the biggest news stories of the day - and the best features from our website
Mike Starling is the digital features editor at The Week, where he writes content and edits the Arts & Life and Sport website sections and the Food & Drink and Travel newsletters. He started his career in 2001 in Gloucestershire as a sports reporter and sub-editor and has held various roles as a writer and editor at news, travel and B2B publications. He has spoken at a number of sports business conferences and also worked as a consultant creating sports travel content for tourism boards. International experience includes spells living and working in Dubai, UAE; Brisbane, Australia; and Beirut, Lebanon.
Today's Big Question Regional escalation could send oil prices and inflation sky-high, sparking a worldwide recession
By The Week Staff Published 24 October 23
The Week Recommends Regent Seven Seas, Royal Caribbean and Celebrity Cruises are all expanding their fleets
By Catherine Garcia, The Week US Published 24 October 23
Tall Tales And other stories from the stranger side of life
By Chas Newkey-Burden, The Week UK Published 24 October 23
Travelers are increasingly putting quality sleep on their itinerary
By Catherine Garcia, The Week US Published 22 October 23
The Week Recommends Discover the 'awe-inspiring' landscapes of the second smallest island in the Canaries
By The Week Staff Published 21 October 23
The Week Recommends Find some peace on the most popular island in Greece
By Mike Starling, The Week UK Published 20 October 23
Speed Read The process will affect passengers with economy tickets
By Justin Klawans, The Week US Published 19 October 23
The Week Recommends Oman's capital city is rich with tradition
By Catherine Garcia, The Week US Published 19 October 23
The Week Recommends Enjoy a winter wonderland at this modern hotel in the Austrian town of Grossarl
By Vicki Power Published 18 October 23
The Week Recommends An idyllic location for an 'off-grid' holiday
By The Week Staff Published 15 October 23
The Week Recommends Relax, enjoy the beautiful views, eat delicious food and indulge
By Olivia Perl Published 13 October 23
Contact Future's experts
Terms and Conditions
Privacy Policy
Cookie Policy
Advertise With Us
The Week is part of Future plc, an international media group and leading digital publisher. Visit our corporate site . © Future US, Inc. Full 7th Floor, 130 West 42nd Street, New York, NY 10036.
No products in the basket.
The Ghosts of Hellfire Caves
Hellfire caves, west wycombe, buckinghamshire.
Hellfire Caves in West Wycombe is truly a very sinister location. With a history of satanic rituals, worship, murder, and sacrifice, it's of little wonder that this location is one of the most haunted in England.
Ghosts of Hell Fire Caves
The number of reports here, along with the frequency and the consistency, makes this a fascinating experience for ghost hunters. It has a very long and dark history, and one of the most famous names to visit here is Benjamin Franklin! He became a regular visitor here during the 1750s, and it's believed he still haunts the corridors along with Paul Whitehead to this day.
Whitehead was once a steward of the Hellfire Club and a friend of Sir Francis Dashwood. Legend has it that Whitehead's heart was placed in an urn kept at the Mausoleum at West Wycombe, but an American soldier supposedly stole it. It's now believed his ghost haunts the caves and the hill above, searching for his stolen heart.
Another story relates to a young girl named Suki. She was tricked into meeting a man she had fallen for, but her innocence led her to her death at the hands of several men. It is her ghostly figure that is seen in the Banquetting Hall where she took her last breath. A visitor to the caves caught a woman in white in film in one of the alcoves in this room. Upon closer inspection, it matches Suki's description perfectly.
Will you encounter Suki on your ghost hunt in this area?
Brief History of The Hellfire Caves
The Hellfire Caves is an elaborate system of corridors and rooms carved into the chalky hillside in West Wycombe. Its purpose was to facilitate meetings for the infamous Hellfire Club. The caves were the brainchild of Sir Francis Dashwood and were completed and used by the end of 1752.
Beforehand it was a natural cave system but was then extended to include secret tunnels and vast chambers. The Hellfire Club regularly used the caves for their satanic rituals, experiments with the occult, and their forays into black magic.
The caves were a scene of drunkenness and debauchery, and this inner sanctum for the club was a way of life that meant absolutely everything to its members. The caves have remained almost entirely as they were hundreds of years ago, with tunnels leading down 300 feet which stretches to the River Styx, then the Inner Temple beyond that.
You may like: The Most Haunted Places in Buckinghamshire
Hellfire Caves, Church Ln, West Wycombe, High Wycombe HP14 3AH
Visiting the hellfire caves
The Hellfire Caves are open at weekends only from 11 am – 5:30 pm. Tickets are £8.50 for Adults, Children, and Concessions are £7, with family tickets (2 adults and 2 children) £24.
Visit their website for more info.
Address: Church Ln, West Wycombe, High Wycombe HP14 3AH
You May Also Like...
The Most Haunted Hotels in the UK
The UK's Most Haunted Places
The World's Most Haunted Places
Nearby Haunted Hotels
The george hotel, pangbourne-on-thames, berkshire, the bell hotel, winslow, buckinghamshire, flitwick manor hotel, bedfordshire, nearby haunted locations, the ghosts of windsor castle, berkshire, hampton court ghosts – haunted by henry viii and his wives, the ghosts of blenheim palace.
Find Ghost Hunts
East Anglia
East Midlands
West Midlands
Haunted Breaks
Haunted Sleepovers
Halloween Ghost Hunts
Gift Vouchers
Advertise with us
Cumbria Crack app
Carlisle United
Send us a sport report
What's on
Get our app

Lake District caves branded as one of UK's most haunted places by paranormal investigator
A well-known cave system in the Lake District has been branded as one of the UK's most haunted locations by a paranormal investigator.
Ghost whisperer Tony Ferguson, 38, from Hampshire, investigated Cathedral Caves near Ambleside last week, whilst stopping off on the way to Scotland.
During his investigation, he claimed he picked up disembodied children's voices and a more sinister male voice that told him to 'just get out' – both of which he captured on video.
He decided to visit the caves after receiving an email from a man who explored the area during an evening and heard things he could not explain.
Tony said: "The man that got in touch with me said he didn't actually believe in the paranormal, but that he had heard things he couldn't explain like children's voices late at night.
"He also said he'd heard other strange sounds and claimed he'd had a stone thrown at him. He didn't record or document anything because he was just out camping nearby and exploring the area – but he said if I was ever in the Lake District that I should go and investigate."
Tony, who has amassed over 400,000 followers across his social media platforms, set out to explore the caves during the day whilst no other people were around.
He said: "There was several things there that I just couldn't explain. The caves felt very eerie and I didn't feel alone, I felt like I was being watched.
"Hearing children's voices in a cave or dark place is disturbing, you wonder why children are there. The male voice I caught sounded really stern and it felt like something didn't want me there.
"I didn't stay there long because of that, but the whole experience was just bizarre – we captured stuff on camera that just shouldn't be there."
People commenting on the video also claimed that the shadowy figure of a child can be seen amidst some of the caves rocks – but Tony said he would personally need clearer images and a bigger investigation to be sure the shadows were actually paranormal.
He said: "Sometimes I do investigations for six or seven hours and nothing happens. It's very hard to go to a location and capture so much in a short amount of time like I did in the caves and I've been to some of the UK's most haunted places.
"I would put Cathedral Caves in the top 20 haunted locations in the UK because of that."
The caves date back to the 16th century and are tucked away in the Langdale Valley, making them considerably difficult to get to.
The main cave, known as Cathedral Cavern, is forty feet in height and forms part of a network of caverns interlinked by tunnels.
There is an extensive mining history in the area and in the 19th century, the caves were used to provide slate for house building – it was a period of time where child labour was considered normal, working hours were long and conditions were dangerous.
Despite some of the disembodied voices appearing to sound chillingly clear on camera – Tony said he doesn't scare easily.
He added: "I'm more grounded as an investigator, if you're screaming and shouting you miss a lot, so being calm results in more activity. It doesn't phase me.
"For me I'm quite sceptical, the screenshots people have taken would have to be clearer for me, I think that's the logical thing to do, but I've left the screenshots on social media to let the viewers decided for themselves.
"But I can say with certainty that I heard and captured several different disembodied voices on camera."
Tony, who works as a personal trainer by day, has been interested in the paranormal world since being a child, when he witnessed the figure of a man in his grandparents home.
He began investigating haunted places in his twenties, keen to document his experiences, and now shares his findings on social media under the channel name Tony Ferguson Ghost Whisperer.
The 38-year-old is also currently filming for a TV programme taking place in a haunted pub.
Cumbrian PR agency 32 West named as new stand sponsor at Barrow AFC 
15-year-old arrested after teen verbally abused in walney, have you read.
Major search for Lake District swimmer who got lost in mist
Witness appeal after suspected arson at Barrow allotments
Jail for Whitehaven man who strangled and headbutted ex-partner
Penrith man accused of assaulting and emotionally abusing ex-partner
Man played illegal part in £700,000 cannabis farm found at former Whitehaven phone shop
Future of Ulverston Library undecided after extensive electrical issues found
Subscribe to Our Newsletter
Subscribe to our mailing list to receive daily updates direct to your inbox!
*We hate spam as much as you do. Privacy Statement
Check your inbox or spam folder to confirm your subscription.
Golf day raises £2,500 for children's charity Wooden Spoon
A charity event hosted by Kirkby Lonsdale Golf Club raised £2,500 for mentally, physically and socially disadvantaged young people.
Richard Lawson has to settle for runners-up with Poole

AI goat created to help make better milk at Cumbrian farm

Refuse collectors set to strike for another two weeks

Distington lift Firpress Printers Cumberland Cup
Pensioner jailed for child sex crimes dating back to 1970s

33 Middlegate Penrith Cumbria CA11 7SY
Phone: 01768 862313 Email: [email protected]
Registered in England as Barrnon Media Limited. No: 12475190 VAT registration number: 343486488
Useful links
Follow us on
© Barrnon Media Limited 2023
Business Crack
Send us a sports report
Terms & Conditions
© 2023 JNews - Premium WordPress news & magazine theme by Jegtheme .
Haunted Caves to Crawl Into
Scary Facts About Huge Tourist Attractions
The Old Haunted Amusement Park
Forests That Are Really Haunted
Ghost Stories from The Green Mile
Eerie Ghost Stories from Orphanages
Where You Can Feel Real Ghosts
The World's Most Haunted Museums
Haunted Sites Around the World
From the Grounds of Plantations
America's Most Haunted Colleges
Titanic: The Ship of Dreams
Creepy Ghost Stories from the US Civil War
Catacombs Around the World
Ghost Stories from Disneyland
Creepy Stories from the Old West
Ghosts Who Haunt the Highways
Creepiest Ghost Stories of WWII
Black Plague Ghost Stories
The Ghosts That Haunt Chicago
The Most Haunted US Cemeteries
Hauntings in Old Mental Institutions
Arresting Ghost Stories from Prison
Real Haunted Places in Asia
Ghosts Around the Vatican
In the Dark Corners of the City of Light
Haunted Islands Around the World
America's Most Haunted Stretches of Road
Of Course Texas Is Haunted
Real Haunted Towns in Texas
American Theaters That Are Haunted
9 Haunted Caves You Can Actually Explore (But You Shouldn't)

What could be creepier than exploring a haunted house? A haunted cave, that's what. Caves have always instilled a sense of mystery and fear. They're dark, cold, and, in theory, they could be home to scary creatures. They can extend underground for miles, and many have yet to be explored, so what's living down in the inky darkness is anyone's guess. No one wants to think about being stuck underground, especially since you can't always see what's down there with you.
The 2006 cult hit The Descent  might be the best illustration of spelunking's unique horrors. The cave-set thriller  strikes chords of primal fear in its audience by plopping them in an underground, claustrophobic environment and introducing an unknown predatory breed of creatures. Who can say for certain that man-eating cave dwellers aren't down there? And who can say the spirits of cave explorers who never emerged again to see the light of day aren't still haunting the cursed depths of popular underground tourist locations?
Who knows what's living deep in the scary underground labyrinths of the world? Perhaps ghosts, specters, or other supernatural no-goodniks? Several caves have reputations for being hotspots of paranormal activity. This list contains some caves that are open to the public and are believed to be extremely haunted.
The Cave Hotel At The Grand Canyon Caverns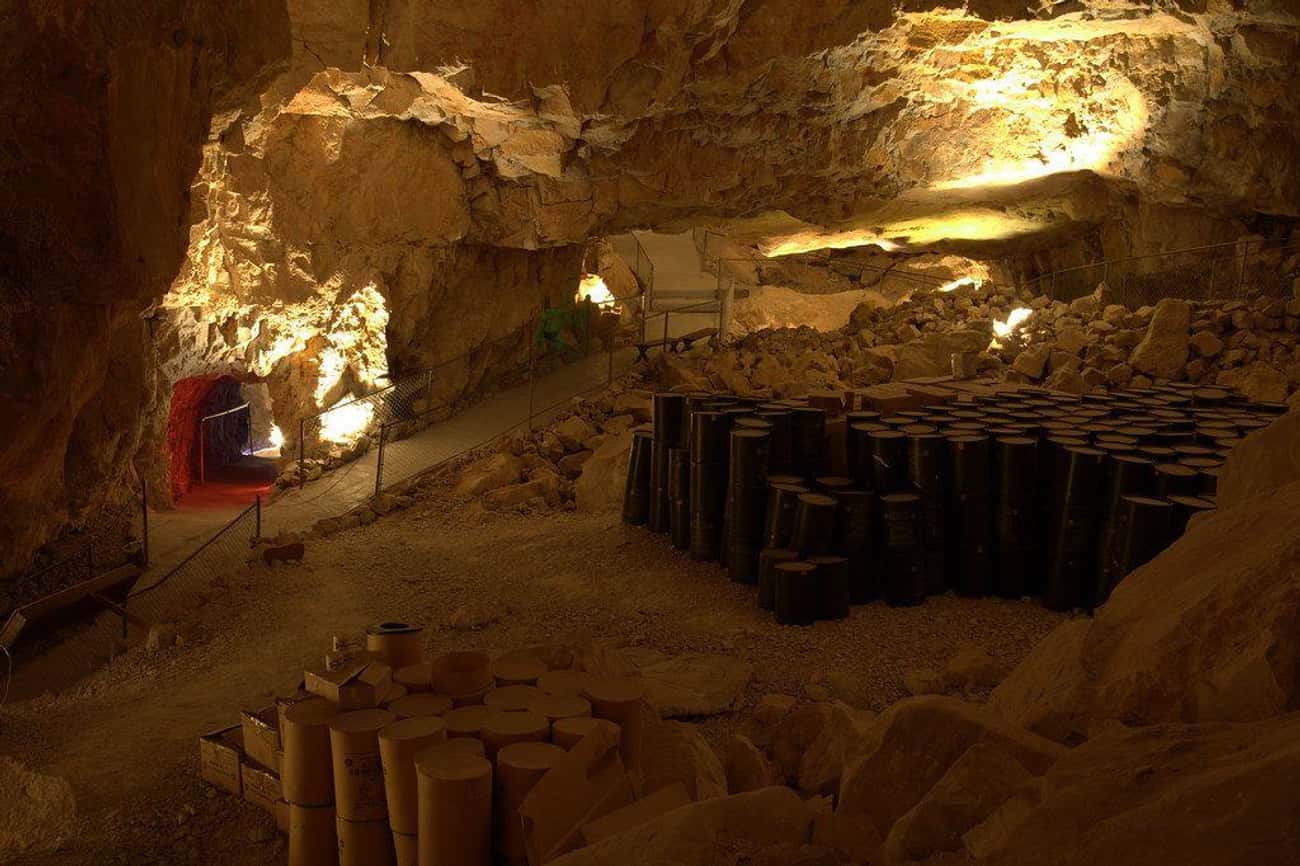 It's no secret that the Grand Canyon's nooks and crannies have long been subjects of haunting rumors . The fact that someone created a cave hotel in such a place is equal parts awesome and terrifying.
While there's evidence these caverns may have been discovered by members of the Hualapai tribe a decade earlier, the official discovery is credited to Walter Peck in 1927 . Obviously, Peck wasn't the first to stumble upon the cave system, as he found the remains of two brothers who fell to the flu. Both brothers and even Peck himself are among the ghostly apparitions visitors claim to see at the Cave Hotel. Another source of paranormal activity in the Cavern Hotel is former manager Gary Ringsby, who took his life in what's known as the "Bunk-House" back in the 1970s.
Those brave enough to sleep in the hotel's suites have reported the distant sound of Native American chanting and shadowy figures dancing along the rocks. Other claims include whispering sounds, the elevator door opening and closing without cause, and the image of a person dangling from the top of the cavern.
Tours of the cavern are available, and those who dare can book the cave suite to spend the night with subterranean specters.
The Hellfire Caves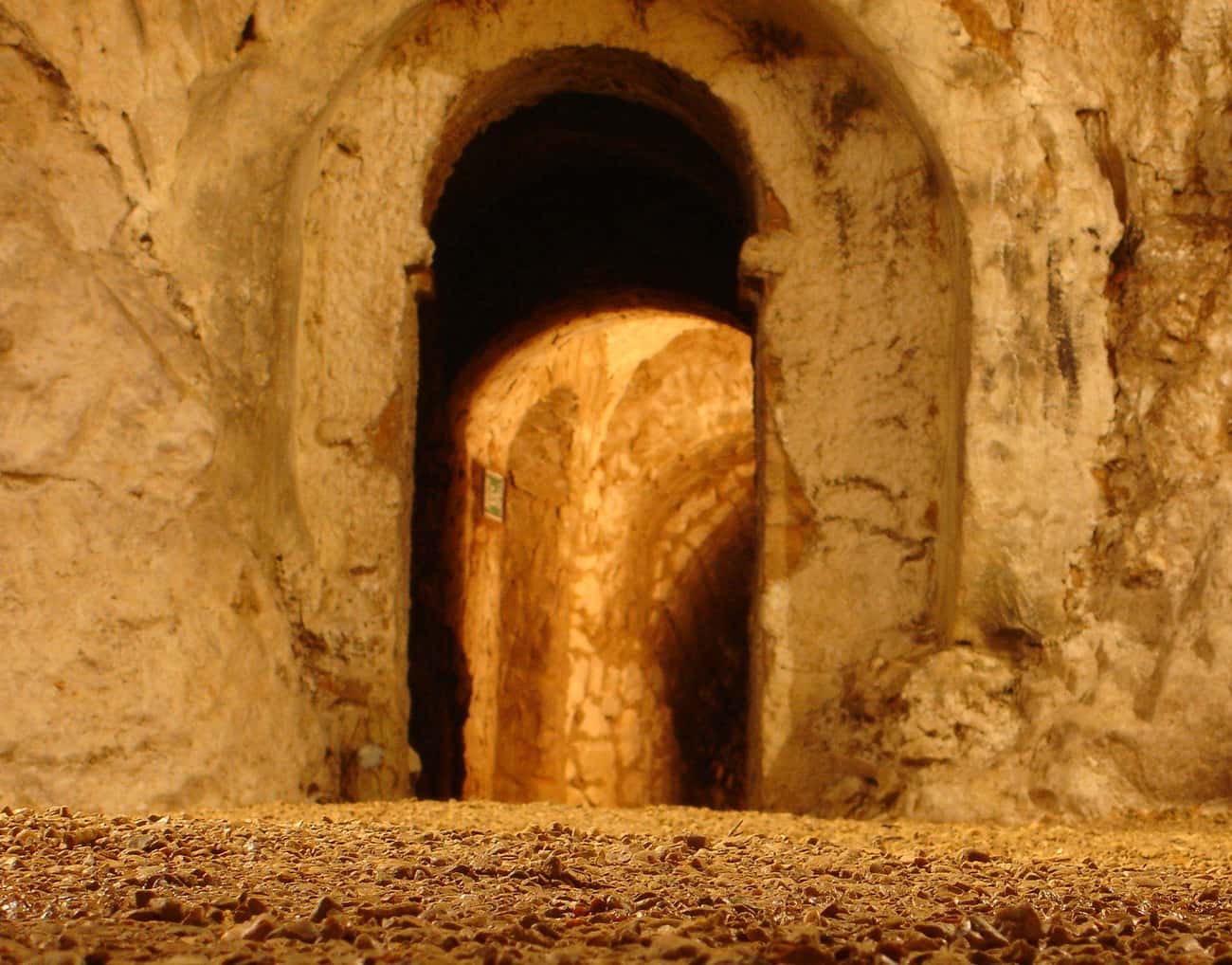 Also known as the West Wycombe Caves, England's Hellfire Caves form a network of chalk and flint caverns extending a quarter of a mile underground. The caves were excavated by Francis Dashwood in the mid-1700s. Dashwood was also the co-founder of the Hellfire Club, a secret society said to have held meetings in the caves.
Members were all politically and socially influential throughout the 18th century. The group's reputation is steeped in tales of dark rituals, debauchery, and devil worship. While the Hellfire Club dissolved by 1766 , it's believed that the ghosts of its members still linger. The caves began operating as a tourist attraction back in 1951 and visitors routinely report strange echoes and mysterious apparitions that appear and disappear in front of them. The reported activity is so frequent that Travel Channel's Ghost Adventures and Syfy Channel's Ghost Hunters have conducted their own paranormal investigations.
The caves can be toured for anyone looking to capture evidence of their own.
The Moaning Cavern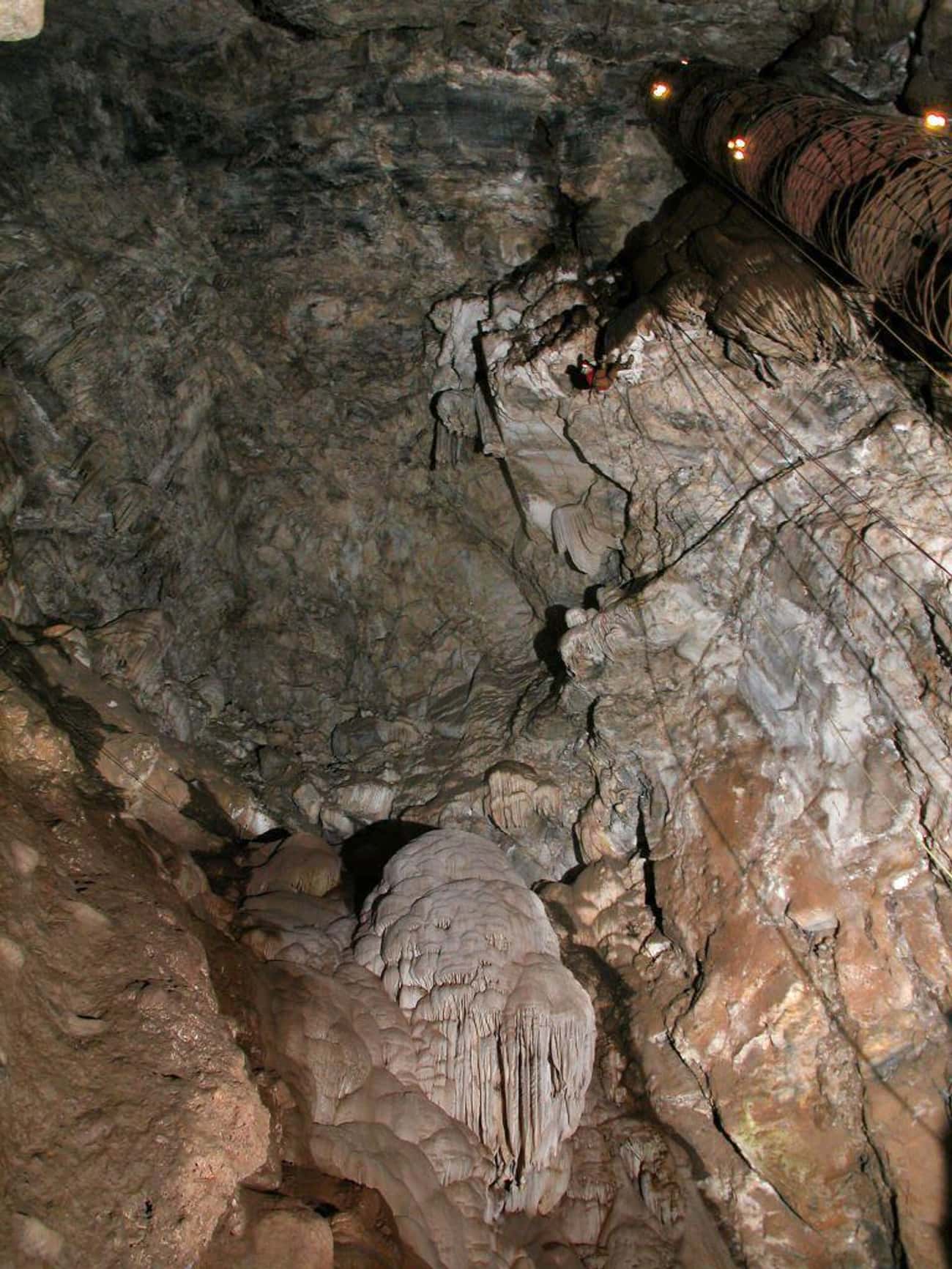 As one could guess, the Moaning Cavern in Vallecito, California, is named after the creepy moaning sound air makes within the cavern. In addition to mournful wailing, witnesses have also heard echoes of what sounds like a hammer knocking up against rocks. Because of this, the Moaning Cavern is thought by some to be the home of mythical leprechaun-like creatures known as Tommyknockers . Some believe these mischievous cave dwellers are the spirits of those who perished in cave-ins and that their knocking warns of imminent collapses. Others say that they're malevolent spirits whose knocking actually causes cave-ins.
Others claim the cave is haunted not by Tommyknockers but by prehistoric people whose remains were discovered at the bottom of the cave. Three other ghostly apparitions are gold miners that fell into caverns. Allegedly, a prehistoric saber-tooth tiger also plummeted through the cave's opening and some witnesses claim to have seen the beast's ghost staring at them. One of its large fangs is noticeably chipped, which locals speculate happened in the fall that finished the spectral tiger now known as "Chip."
Various tours are available , including public walking tours and tours that include gold panning or geode cracking.
Bell Witch Cave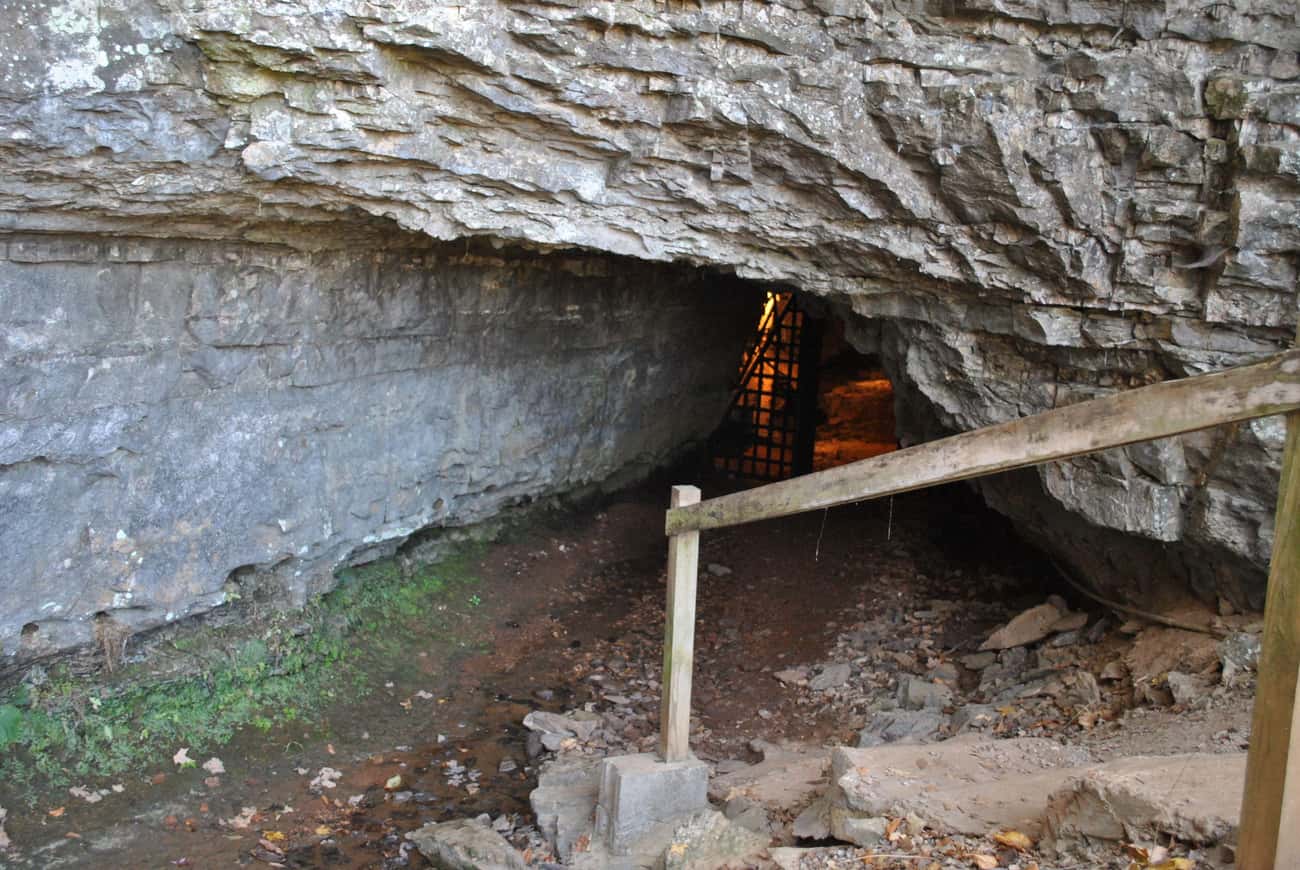 According to the legend of the Bell Witch , in 1804 , a farmer named John Bell moved his wife and kids to a farm along the Red River in northern Robertson County. The property also included a cave, which became known as "The Bell Witch Cave," believed to be haunted by the spirit of a witch named Kate Batts, who felt that she was cheated by the Bells in the land purchase.
Strange animal sightings began in the summer of 1817. Late at night the family would hear strange noises, such as knocking on the door and all along the walls outside the house. At one point, the noises made their way inside the home and also included gnawing, choking, and dragging sounds. Vicious incidents by an unseen force plagued Betsy, the youngest Bell daughter, who suffered scratches, hair pulling, and physical beatings. John himself was prone to choking fits and illnesses until he finally passed in 1820. Once John passed and Betsy called off her engagement, the witch apparently felt her vengeful work was done and returned home to the cave for years.
She returned to the home in 1828, allegedly speaking to John Bell Jr. and promising to return 107 years later . Considering all the paranormal activity locals reported near the witch cave and even throughout the town in the interim, however, many believe she never left.
Anyone who wishes to take a peek inside the Bell Witch Cave or the replica of the old Bell Cabin can do so via a variety of official tours during the day or night .
Mammoth Cave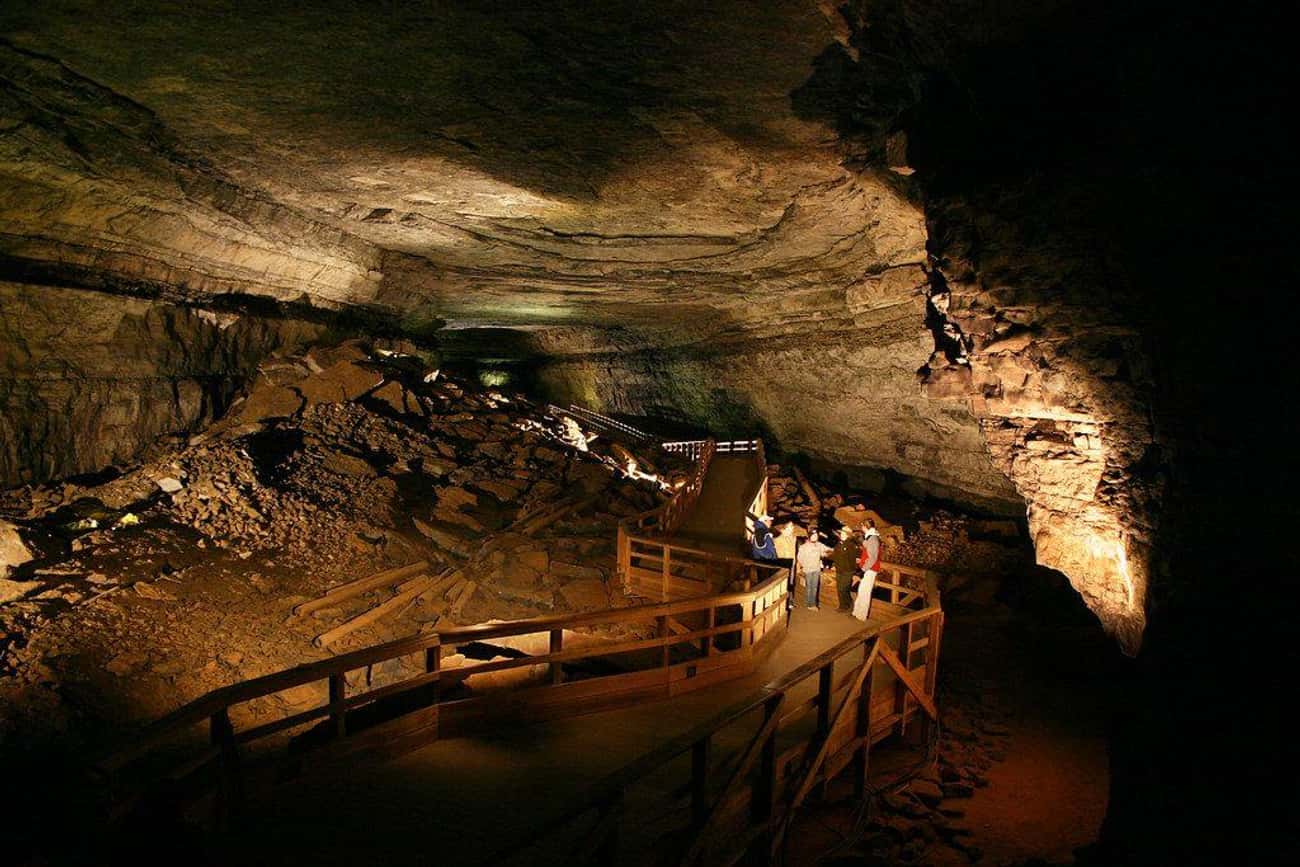 Horror author H.P. Lovecraft's story "The Beast in the Cave" was inspired by this famously creepy Kentucky cave system. Mammoth Cave is as massive as its namesake implies. In fact, it may very well be the largest haunted cave in the United States, with about 400 miles of explored area. Much of the cave's expanse remains unseen, however. Evidence suggests prehistoric people began mining the cave as far back as 4,000 years ago and eventually used it to bury their dead. This went on for 2,000 years before they abruptly abandoned the cave.
Whatever caused them to flee remains unknown, but it might have something to do with the plethora of ghost sightings that have occurred over subsequent years. After the War of 1812, the caves were sold off to mine saltpeter and enslaved people were sent to work (and die) in the caves. Apparitions of deceased enslaved people are often reported.
In 1839, a cave section was converted into a makeshift tuberculosis village by a doctor who believed the purity of the cave's air would fight infection and purify patients' lungs. Many perished inside Mammoth, however, and are believed to still haunt it to this very day.
The National Park Service has an exhaustive selection of Mammoth Cave tours to suit any inclination.
Chislehurst Caves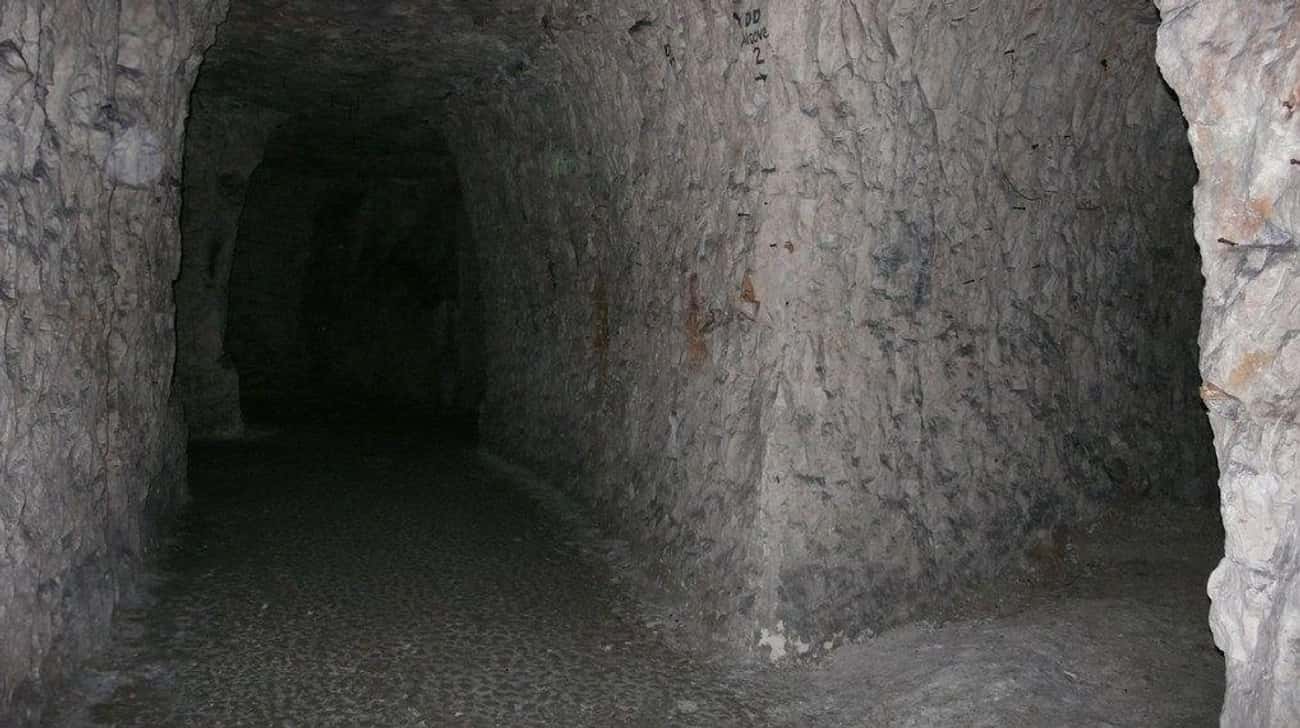 The Chislehurst Caves in the United Kingdom are human-made mines that may very well be home to many spirits. The first record of this cave system dates back to 1250 , and the 22-mile network is thought to be the work of generations of Druids, Romans, and Saxons. Tour guides highlight the supposed Druid altars and the chilling but apocryphal tales surrounding the caves involving both ritual sacrifices and cold-blooded slayings.
The sound of screams, murmurs, children giggling, and footsteps can be heard echoing from deep within the labyrinth. It's not just ancient ghosts either. During the blitz in WWII, over 5,000 Londoners took refuge in the caves at night. Naturally, modern locals report that those who lost their lives in the caves still haunt the tunnels.
For those who wish to see for themselves, paid tours lasting under an hour are available .
The Cave Of Sibyl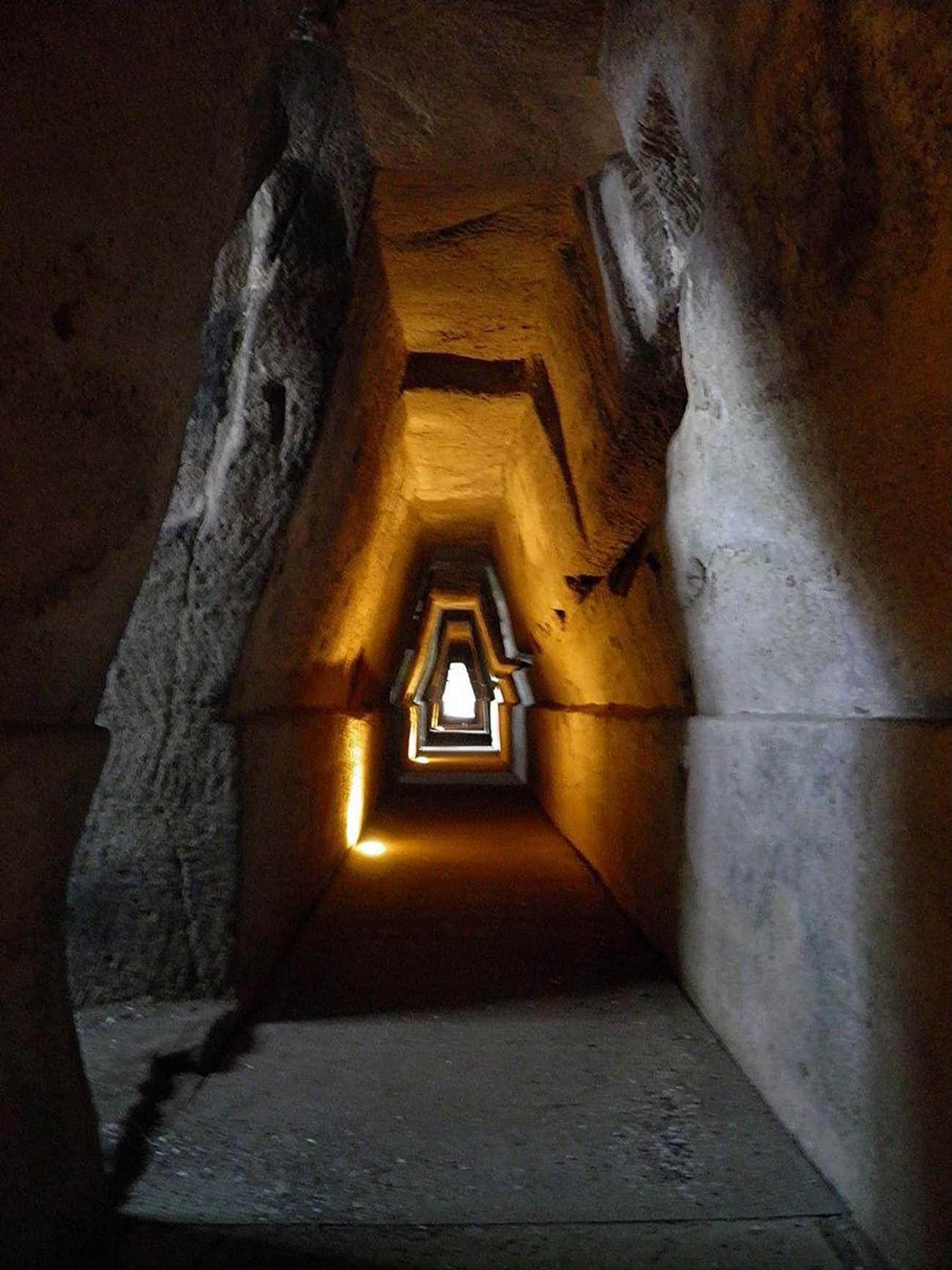 Cultures across the globe have held the belief that various natural formations can be gateways into the underworld. One of the oldest known "entrances to hell" is in the ancient Greek settlement of Cumae, near what is now Naples. It's known as the Cave of Sibyl and apparently, even birds won't fly over it.
According to legend , the oracle of the ancient priestess, Sibyl, guards this gateway and guides travelers on their descent into Hades.
For a diabolical doorway, Sybil's Cave is a surprisingly well-reviewed tourist destination.
The Wabasha Street Caves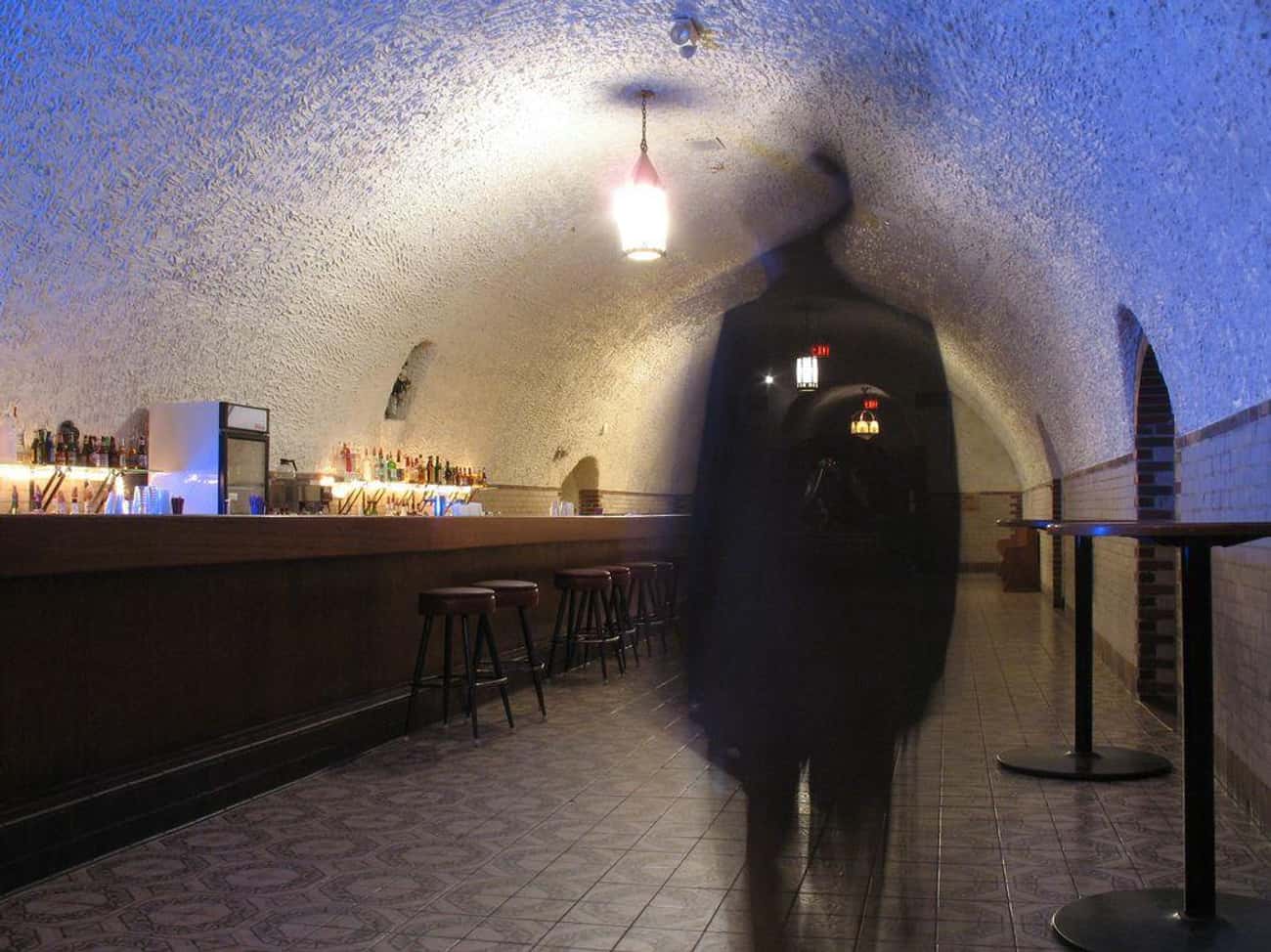 This quirky little place may look like a normal building on the outside, but it's really a series of human-made cave in disguise. Saint Paul, Minnesota, is home to the Wabasha Street Caves , built into sandstone caves along the Mississippi River. The caves were bored to mine silica and have served many purposes since, acting as a speakeasy and a gangster hideout.
Three gangsters were gunned down here in the early 1930s and can still be spotted lurking around inside the caves today. The ghostly sightings have leaked out of the caves and into an adjoining cafe, where staff and customers have claimed to see the apparitions of a woman sitting at the bar with a man in a panama hat.
Anyone who wants to catch a glimpse of gangster ghosts can tour the cave for $8 .
Robber's Cave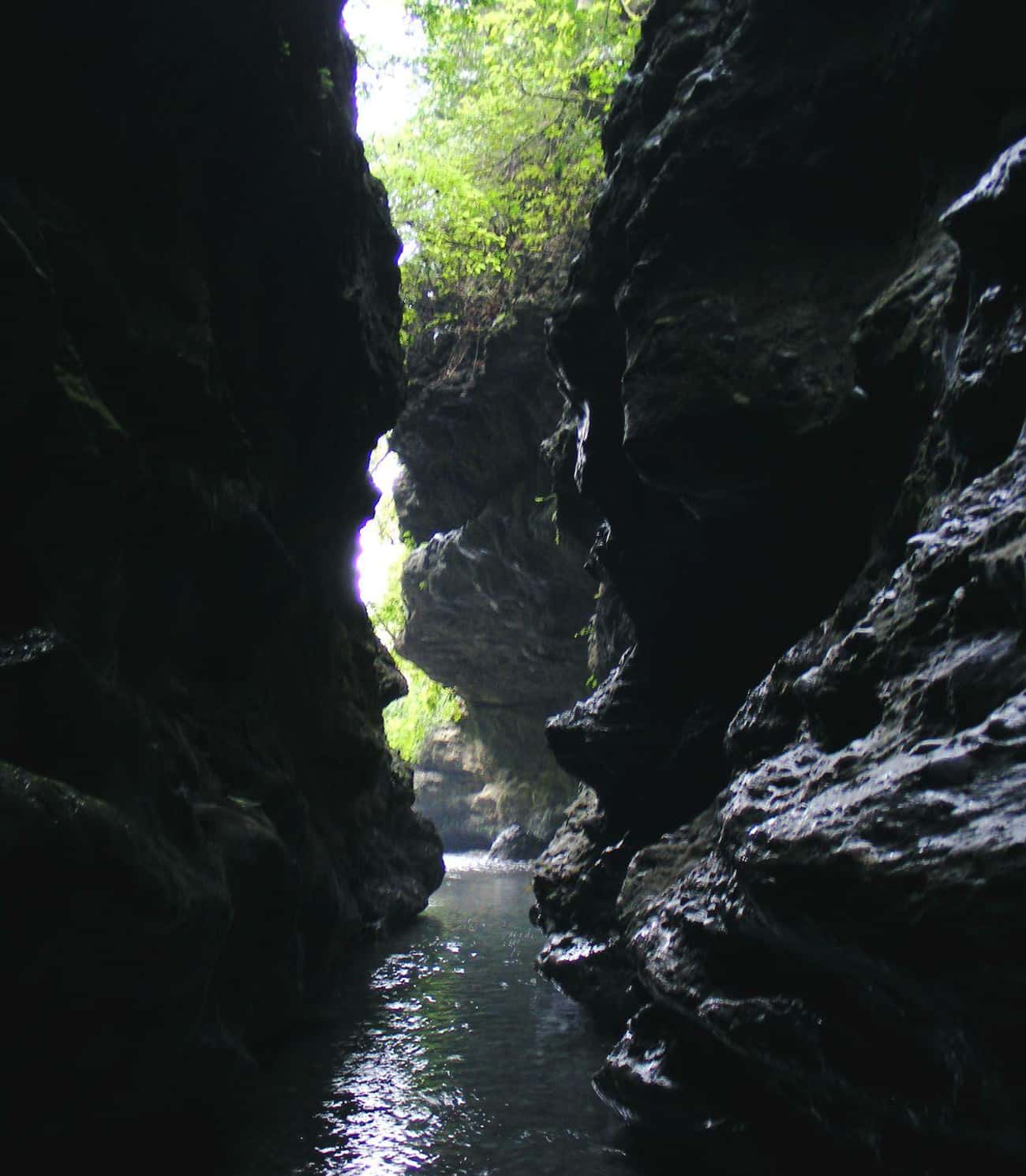 Robber's Cave of Lincoln, Nebraska, was once known as Pahuk Bluff and served as a sacred meeting spot for the Pawnee Indians. The cave system beneath the bluff was where the Pawnee taught many traditional practices, such as healing, animal powers, and the medicinal and magical value of plants and roots.
Nowadays, locals claim to hear the sounds of beating drums and chanting as if the rituals are still being performed by ghosts. There have also been reports of screams and moans emanating from the caves. The elaborate cave system was sealed for years but can now be toured by the public .
Lists of spooky places around the world where you might see, here, or feel a real ghost.