5 Most Haunted Places In Wellington That Will Spook You
Because Halloween is just around the corner.
It's time to get spooky! So, in honour of Halloween, why not read about or even go looking for some actual haunted grounds and spirits. There are a number of haunted places in Wellington that are known for some paranormal activity, so let's dive into the list and get spooked out, shall we?
1. Cambridge Hotel
View this post on Instagram
This spot seems normal enough, but guests have reported some creepy happenings over at the Cambridge Hotel. Some have said there is a pressure on their bed when they slept, and others have described a feeling of uneasiness on the staircases, like they were about to be pushed. Well, I can't say I'll be in a rush to stay the night here. Certainly, one of the most haunted places in Wellington.
2. Hotel Waterloo And Backpackers
Some reports from guests of strange and spooky goings on have also been attributed to this hotel. Visitors at Hotel Waterloo And travellers have said elevator doors and bathroom doors opened by themselves on occasion. Hmm, once again, not up for staying at this one. Indeed, one of the most haunted places in Wellington.
3. Inverlochy House/Art School
This is a spooky old mansion built in Victorian times. The late 1870s, to be precise. It changed hands many times, eventually becoming a gift to the city for arts. Rumours of a ghost roaming the halls, since the 1970s, have not gone away. A sighting of a young woman in Victorian clothing has been recorded. It is thought this could be the restless spirit of a girl who died in a fire in the Print Studio room. Others think it is the ghost of Frances McDonald. More incidents have included buckets of paste being thrown hard at a caretaker when nobody was there, as well as sheets coming off the walls by themselves. The area has since been blessed by a priest, and activity seems to have lessened. Still, spooky stuff!
4. St. James Theatre
The theatre might be closed for the time being, but we're not sure that matters to the ghosts – if they really roam this spot, that is! It is reportedly a common occurrence to pass by the ghost of Yuri, a performer from Russia who is believed to have fallen to his death at the St James Theatre. He is said to sometimes by spotted fiddling around with the lights. There are also accounts of a wailing woman, who is thought to have taken her own life in her dressing room. Yeah…I'm not sure I'm in the mood for the theatre anymore.
5. Chateau Tongariro
It's a bit of a drive away from the city, but Chateau Tongariro is spooky and has history with Wellington. This large house became an asylum when hospital was damaged in Wellington, which then acted as a centre for Air Force members returning from World War II. Later it became a spot for private accommodation. And there have been some creepy paranormal reports from guests. These include items falling of the table with no one there, cold areas of the room and an uneasy feeling. Some people believe the spirit of a nurse who died on the grounds walk the hall. To top it all off, the former asylum and recuperation centre is also thought to resemble the hotel from The Shining .
TYPE IN YOUR SEARCH AND PRESS ENTER
Local News | Ghost Walk in Wellington is Oct. 7, other…
Share this:.
Click to share on Twitter (Opens in new window)
Click to share on Facebook (Opens in new window)
Lorain County
Cuyahoga County
Opioid Epidemic
Local News | Ghost Walk in Wellington is Oct. 7, other activities slated during the month
Tickets remain available for Main Street Wellington's Ghost Walk on Oct. 7.
Two tour options are available — at 6 p.m. and 8 p.m. — offering approximately 90 minutes of stories at seven stops in the village.
"It's part eyewitness stories and part based on history," said Jenny Arntz, executive director of Main Street Wellington , which is hosting the first-time event. "We do have a lot of history in town and we definitely have some stories."
Barb Leiby, secretary of The Spirit of '76 Museum, which is one of the stops on the tour, said previous ghost lovers have visited the museum and recorded suspected ghost activity in the building.
"I'm really looking forward to the ghost tour," Leiby said.
The tour will be conducted by Laurie Velasco of Black Cat Tales and Tours.
Based in Canton, Valasco said she looks forward to the tour, which includes a murder-suicide at a former grocery store, creepy occurrences at other local shops and a little bit about "haunted objects" at Addie's Antiques.
The tour also includes the Simonson residence where well-known local storyteller Tim Simonson lives.
The tour focuses on history and folklore and is not designed to be scary, Velasco said.
"I think people are attracted to the dark and the macabre," she added, addressing the popularity of ghost tours. "During October, I think people are looking for as much as they can do during 'spooky season.'"
After the tour, participants will have a chance to win raffle prizes and mingle with each other in the back room at LaTroje.
They can share stories and enjoy snacks, Arntz said.
"Chances are people who go on a ghost tour have had an experience and they'll have a chance to share," she added.
Some stops in the village have been visited on other ghost tours, but this is the first event organized by the village itself.
Tours begin at Town Hall.
Tickets can be purchased online at mainstreetwellington.org and picked up at Will Call.
Arntz said last minute joiners are welcome and the group will do it's best to accommodate them.
Velasco said she likes to keep groups on the smaller side, which can be tricky during the busy season.
"The smaller intimate groups really add to the ambience," she said, adding that she uses a portable speaker to help guests hear her.
Later in October, witches will stroll through downtown Wellington as part of their Support Local Saturdays series.
And Oct. 21 will feature Wandering Witches of Wellington. Witches and wizards of all ages are invited to dress up and enjoy spooky specials at downtown businesses, crafts, games and a terrific grand prize, Arntz said.
A volunteer witch will read stories to children as well.
As an add on to the event, participants can enjoy a Traveling Tarot reading.
Similar to a poker run, visitors will stop at multiple tarot readers to see different approaches while visiting businesses that might be new to them.
"When they're done, they'll have a full tarot reading," Arntz said. "It's a great experience for people to visit more businesses and get people to walk around downtown."
Tickets for the Traveling Tarot are $40 and available online.
Openings still are available for Main Street's Fall Flowerpot Decorating Contest.
Visit https://www.mainstreetwellington.org/  to learn more, including how to vote for your favorite.
More in Local News
Local News | UH partners with PrimeTime Health Plan to launch Medicare Advantage program
51st annual Woolly Bear Festival takes over downtown Vermilion
Local News | Amherst's Shelby Horvath makes waves with witching hour inspired photoshoot
Local News | So far, 3 candidates to vie for Lorain County sheriff in 2024
It will take your breath away…all of it.
Update opening times.
Fridays: We open at 7.30pm. Last entries 8.30pm
Saturdays: We open at 7.30pm, last entries at 8.30pm
What is Spookers?
Spookers is a live entertainment experience in which the victims (you!) move through themed sets and live scare-actors. As you walk through the attractions you will come across visuals and sound effects intended to scare the hell out of you.
- TripAdvisor Review
R13 Attractions
Are you ready to get the full Spookers experience? If you survive this nothing will scare you again.
- Google Review
Family Friendly Attractions
Bring your family to meet our family and you will never leave.
Functions and Events
Looking for a memorable night for your work function or birtday party? Spookers offers a wide variety of fun events and delicious food.
"What an excellent day for an exorcism!"
Medical moulage, spookers voucher.
School trips
We offer a variety of courses for school students to expand their knowledge on human resources and process of recruitment.
27,895 craptastrophies and counting
Can you hold it in?
833 Kingseat Road, Auckland
Friday: Arrive from 7.30pm. Last arrival time Friday is 8.30pm.
Saturday: Arrive from 7.30pm. Last arrival time Saturday is 8.30pm.
Open every Halloween - Oct 31st
Closed on Christmas & Boxing Day
FAMILY ATTRACTIONS
Saturday from 2pm
Last entries at 4pm
School holidays open Weds-Sun from 2pm with last entry at 4pm.
Inverlochy House – Wellington
In 1431 clansmen of Alexander McDonald defeated King James the First's larger army in the first Battle of Inverlochy, which was fought in the vicinity of the castle.
A contemporary account described the 'unrivalled family residence' as having 'fourteen rooms, two bathrooms, every modern convenience, water laid on, two conservatories, a vinery, fernery, fowl house, wash house and offices and a stable with two stalls and loose box being in a salubrious and fashionable location, and an unrivalled family residence   – 20.01.1893, New Zealand Times "
The house was first owned by Thomas and Frances McDonald. Thomas was born in Boulogne-sur-mer in France in 1847 but some years later he returned with his parents to the family's highland home in Scotland. In 1870 he met and married Frances Rossiter.
The estate was auctioned in 1893, due to Macdonald's eventual bankruptcy in 1891.
McDonald was a man of vision who expended much of his time and energy on helping to develop the young county. Five Wellington streets were named for him or for members of his family. In his later years he suffered from poor health and in 1913 he was admitted to Porirua Mental Hospital where he died of 'Chronic Brain Disease' in 1914. His wife, Frances, lived till 1921. They were both buried with their sons in the Sydney Street cemetery.
Tenants were served with eviction notices, but together with other local residents they began a fight to save the historic building. Fundraising activities and public meetings and Inverlochy House became the focus of a wider campaign to preserve the city's remaining heritage buildings
Inverlochy remained empty from 1981 to March of 1986 restoration of the house began.
It is thought by many that the Inverlochy Art School has a resisident ghost.
Recently it has been the subject of an ongoing paranormal investigation by local paranormal investigation group Strange Occurrences.
In most reported cases no actual ghost is seen but rather objects appear to move by themselves. Accounts of this work are included in 'Spooked – Exploring the Paranormal in New Zealand (Jo Davy & James Gilberd, Random House NZ, 2011). However, at least one person has reported seeing the apparition of a young woman – possibly wearing Victorian clothing – on the first floor landing outside the Print Studio.
This seemed to calm things down and the current caretakers have reported nothing unusual during their tenure. Of course many of us believe that 'paranormal events' are just in our imagination or made up by pranksters. What is certain is that no-one has ever been really frightened by the Inverlochy ghost and most people seem to agree that if the house is haunted then the ghost is a benevolent one.
If it is Frances, it is to be hoped that she is happy to see her family home full of art lovers such as herself.
Reference links –
http://www.inverlochy.org.nz
http://en.wikipedia.org/wiki/Inverlochy_House
http://www.stuff.co.nz/life-style/5438946/Agnostic-guide-to-Wellingtons-ghosts
http://www.inverlochy.org.nz/Articles/tabid/1566/ID/904/Inverlochy-Haunting.aspx
http://nzprintmakers.blogspot.co.nz/2013/11/studio-visit-print-studio-inverlochy.html
http://www.youtube.com/watch?hl=en&v=W1ed2aPP-Z0&gl=US
http://www.3news.co.nz/A-tour-through-Wellingtons-haunted-house/tabid/309/articleID/222539/Default.aspx
Strange Occurrences
http://www.photospace.co.nz/strange_home.htm
'Spooked' Book Launch and Exhibition at Inverlochy
http://www.mahalski.com/News/tabid/1303/ID/835/Spooked–a-book-about-paranormal-research-in-New-Zealand.aspx
Haunted Auckland & Strange Occurrences investigated Inverlochy House on 14th Dec 2013
Author: Mark Wallbank
One comment
Wonderful photos… I lived there in 1972/73 Diane Galpin
Leave a Reply Cancel reply
Your email address will not be published. Required fields are marked *
Save my name, email, and site URL in my browser for next time I post a comment.
Do you sell tickets for an event, performance or venue? Sell more tickets faster with Eventfinda. Find out more. Find out more about Eventfinda Ticketing.
Nightmares Halloween Haunted House
Trentham Racecourse , Racecourse Road, Trentham, Upper Hutt
Eventfinda tickets no longer on sale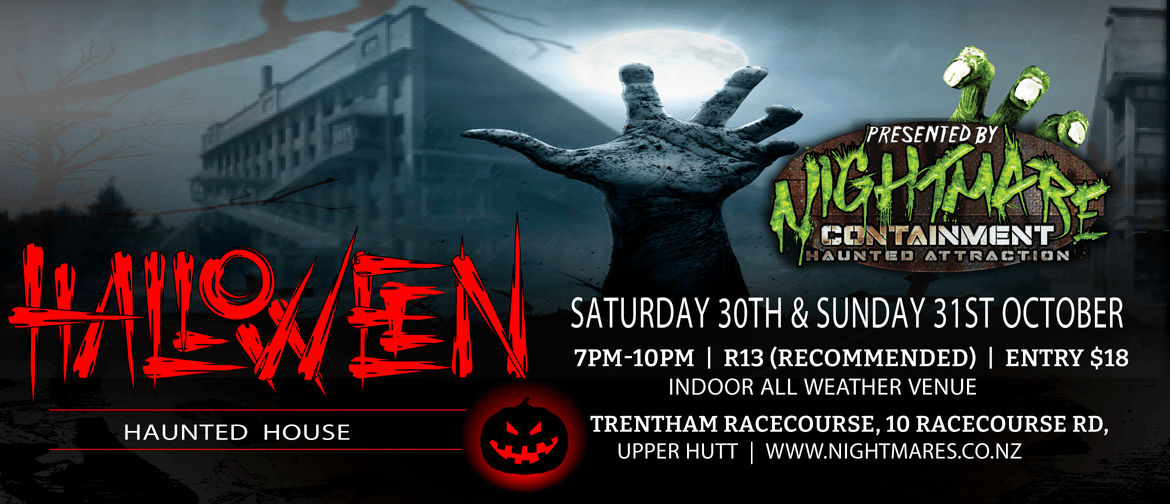 Ticket Information
General Admission : $18.00 each

So, why Laybuy?
Deciding what to buy is hard, but paying for it doesn't have to be. Laybuy lets you receive the item now and spread the payment over 6 weekly automatic instalments. No interest, no fees*.
How Laybuy works.

Pay by Laybuy.
Proceed to checkout. Select Laybuy as your payment method.

Complete order.
Log in or sign up. Complete your order in seconds.

Select schedule.
Choose your payment day. View your schedule and select pay now.

You're done.
Your items are on their way. Payments will be taken automatically each week.
What do you need?
A credit or debit card
To be over 18 years of age
To be living in New Zealand
*The Important Bit
If you fail to make a payment, you may be charged a late payment fee of $10.
Sign up in seconds at the checkout (instore or online) or on our site where you can also view full T&C's www.laybuy.com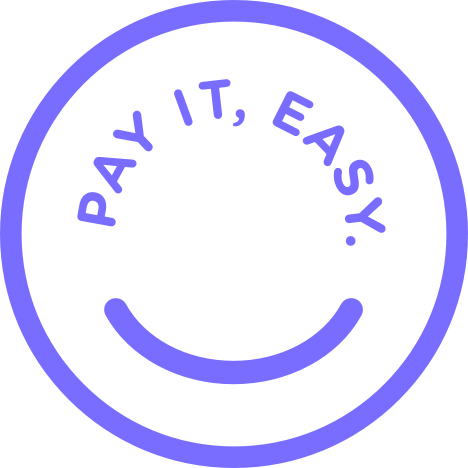 Sat 30 Oct 2021, 7:00pm
Sat 30 Oct 2021, 8:00pm
Sat 30 Oct 2021, 9:00pm
Sat 30 Oct 2021, 10:00pm
Sun 31 Oct 2021, 7:00pm
Sun 31 Oct 2021, 8:00pm
Sun 31 Oct 2021, 9:00pm
Sun 31 Oct 2021, 10:00pm
Show more sessions Show fewer sessions
Restrictions
Nightmare Containment Haunted Attraction
Nightmares Containment
We are back in Wellington with a Special Halloween Event.
Two more nights of freaks, fun and screams!
Saturday 30th October Sunday 31st October
Expect the unexpected and prepare for the horror terrifying you from all sides, as you have to navigate your way through the 1925 Public Birca at Trentham Race Course.
Will you find your way out?
***Covid19 requirements ***
We require our guest attending our event to keep a safe distance from people you do not know.
-Attendees must sign in - Attendees must wear a mask - Attendees must stay 1 metre away from each other - Please respect our rules
Our terror-actors will be dressed up, made up, and desperate to scare the yell out of you. They come out crawling, moaning, groaning, or screaming after you.
Race Through Hell is recommend to those 13yrs and over. We do not recommend this attraction for those under 13 years of age. Tickets will be available from 6:45pm on site, both cash and eftpos are accepted, or buy your prepaid tickets online here. (Eventfinda)
First entry is from 7pm and last tickets are sold at 10pm.
Tickets are way one only and is expected to take 10 mins to complete.
Advertise with Eventfinda
People who liked this also checked out these events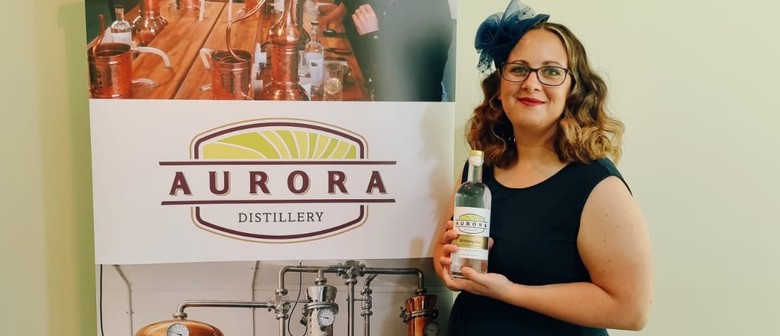 Aurora Distillery Gin Experience
Trentham Racecourse , Upper Hutt, Wellington Region
Sat 14 Oct 2:00pm – more dates

HOMO-ween 2023: The Gayest Halloween Cabaret
The Fringe Bar , Wellington
Sat 28 Oct 8:00pm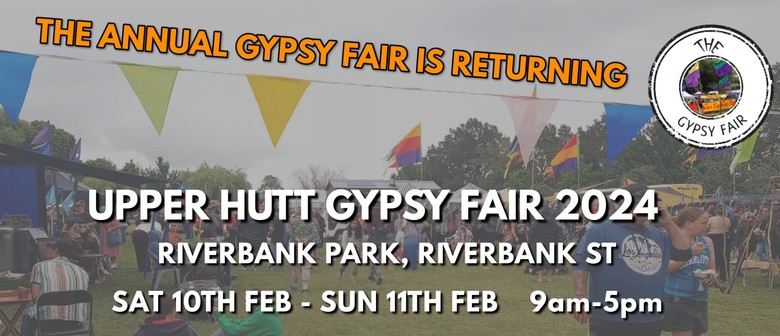 Upper Hutt Gypsy Fair 2024
Riverbank Park , Upper Hutt, Wellington Region
Sat 10 Feb 2024 9:00am – more dates
Were You Looking For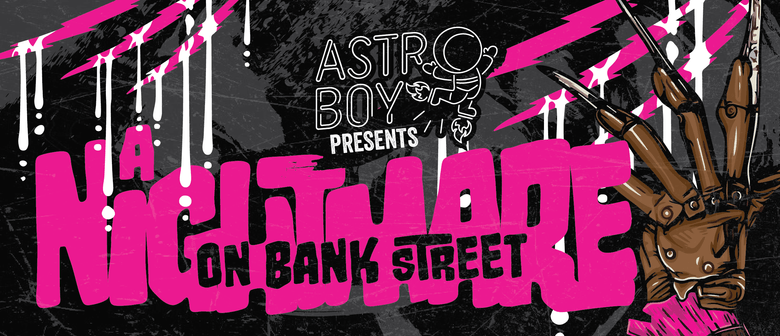 A Nightmare on Bank St
AstroBoy NZ , Whangarei
Fri 27 Oct 9:00pm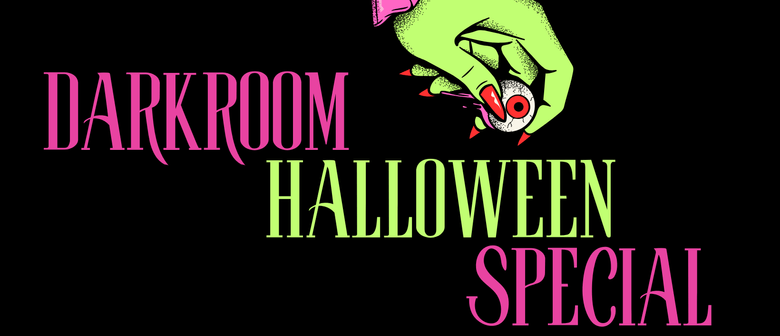 Darkroom Halloween Special 2023
Darkroom , Christchurch
Sat 28 Oct 7:00pm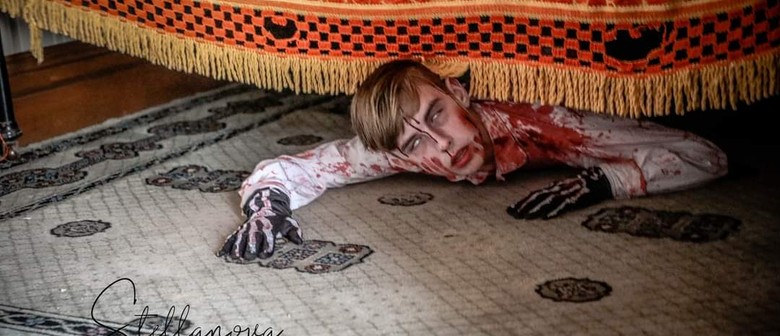 Fright Night
Helensville Museum , Helensville, Auckland
Sat 14 Oct 8:00pm – more dates
Post a comment
Join the waiting list.
You can fill out the form below to be added to the waiting list for Nightmares Halloween Haunted House.
We will notify you via email when more tickets become available.
Select Sessions
Log in / sign up.
Continuing confirms your acceptance of our terms of service .
Choose your location
New Zealand
Hawke's Bay / Gisborne
Palmerston North
Christchurch
Free Membership
Before you go, would you like to subscribe to our free weekly newsletter with events happening in your area, competitions for free tickets and CD giveaways?
No thanks - I'm already an Eventfinda member (or I don't want to join)
Yes please!
Enter your email below, click on the Sign Up button and we'll send you on your way
Shopping Cart
0 items – $0
Eventfinda does not support your version of IE. Upgrade to the current version .
Eventfinda works best with JavaScript enabled

DEALS & EVENTS
Groups, birthday and functions.
There's nothing more memorable for your party than a trip through fear factory!
Looking for a Birthday Clown to entertain your kids? Our World Class experience will scare your little monsters silly with our frightfully fun birthday packages! Come blow your candles out and loose yourself in our immerse dark maze where our professionally trained ghouls are waiting. Email us for more details!
We put the FEAR in FUNCTION!
If you're looking for the perfect Team Bonding Activity then look no further. Fear Factory Wellington and Queenstown is guaranteed to get your whole team working together to find their way out of the haunted maze. They'll find FUN and FRIGHTS waiting for them in the darkness. Are they BRAVE enough? Email us and find out!
Fear Factory – Wellington
Experience a Haunted Ship in the Heart of Wellington, NZ!
Venture below deck of the Lost Ship – The HMS Wayfarer. Discover a nautical nightmare like nothing you've experienced before. Fun and frights are waiting for you!
Learn about Wellington's haunted history and get a big shot of adrenaline right in the heart of New Zealand's capital city.
TERMS AND CONDITIONS
All deals and/or discounts are exclusively available online only and not to be used in conjunction with any other offer. Subject to availability. The offers remain at  the discretion of Fear Factory Queenstown/Wellington Ltd.
Haunted Places in Wellington, Florida
Our Lady Queen of Peace Cemetery
Royal palm beach, florida.
Visit this cemetery and you might run into one of its famous "fogs" - paranormal mists that are very dense, appearing and disappearing suddenly. There are noticeable changes in temperature and the persistent feeling that someone is standing right next to you when actually you're entirely alone.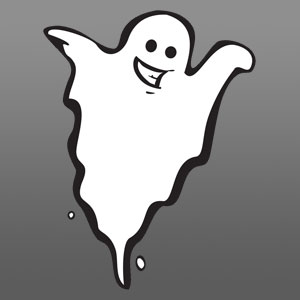 Riddle House
West palm beach, florida.
The Edwardian house built in 1905 in West Palm Beach was moved to historical park Yesteryear Village at the South Florida Fairgrounds, Royal Palm Beach. It was originally a funeral parlor until its purchase by Karl Riddle in the 1920s, after which it was a private home. It is haunted ...
Lake Worth 8 Cinemas
Greenacres, florida.
Cold spots and knocking sounds are reported in the hallways of this theatre, and some of the projectors stop working or jam at inopportune moments. (Could it be they just need to hire a better projectionist?)
Red Lion Pub / Dominos Pizza
Boynton beach, florida.
Sometimes it definitely pays to be blonde! Though now closed (a Dominos Pizza has replaced it) patrons for years claimed that brunette women would have objects mysteriously thrown at them, while blonde women would feel their hair and face gently being stroked. No word from Dominos on whether ...
Lake Worth Playhouse
Lake worth, florida.
Built by two brothers (Lucien and Clarence Oakley) in 1924, it seems this place was just too good to leave - and Lucien never has! People say Lucien's ghost has been seen in mirrors, objects get moved around, and footsteps are heard from the empty catwalk.
Palm Beach Atlantic University Library
The University's Library, built many years ago, is claimed to be haunted by an old janitor. He worked there for many years, and then mysteriously disappeared. He is claimed to be heard rummaging through the old janitor's closet that has been locked up ever since the day of his ...
Palm Beach Atlantic University
The ghost of a former janitor haunts the library. He's heard most often in the old janitor's closet, even though its been locked for years and years.
Holiday Inn / Courtyard
Most sites on the net have this one listed as the "Holiday Inn" in Boynton Beach, but it appears this location is now a Marriott Courtyard. Vague descriptions of "human figures" roaming the hallways, and a suggestion that it may have been built on top of an old Indian ...
Flager Mansion - Whitehall
Palm beach, florida.
Henry Flagler, one of the founders of Standard Oil, built Whitehall for his third wife, Mary Lily Kenan. The site of the home was purchased for $50,000 in 1893 by Flagler; later surveyed for construction in July 1900 and the home completed in time for Flagler and his wife to move ...
Suncoast High School
Riviera beach, florida.
A ghost supposedly haunts the school auditorium, making scary noises from the rafters. Legend has it the ghost is of a small boy who is buried somewhere near the school.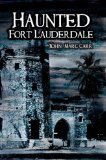 Delray Beach Playhouse
Delray beach, florida.
The ghost of founder Bob Blake has been seen here; witnesses say he appeared as a light drifting across the stage floor, and also has been known to slam the doors. He is said to appear only to check on the theater to make sure things are running smoothly, not ...
This one's hard to track down... several web sites mention a place in Boca Raton called "The Hole" where a woman was raped in the 1960s. Supposedly people see her still walking a parking lot in this area. We've done some digging and so far haven't found a place referred ...
The Colony Hotel
This 1926 hotel is said to be haunted by some of its early owners. Folks have reported seeing shadow figures and lights that pulse, as well as hearing unexplained sounds.
Blue Anchor Pub
For over a century, the pub has been haunted by the ghost of a young woman named Bertha Starkey. The lady was stabbed by her husband after he found her having an affair with another man. Footsteps and wails have been heard at night after closing, candles light and extinguish ...
Humanities Building - Florida Atlantic Univeristy
Boca raton, florida.
A ghostly spirit allegedly haunts the hallways and amphitheatre of the Arts and Humanities Building. She was seen in the amphitheatre on at least one occasion, and at other times noises were heard in the hallways of someone running and slamming doors.
Jupiter Inlet Lighthouse
Jupiter, florida.
Strange noises and cold spots abound here. Some say they can feel "ghostly hands" on their shoulders, only to turn around and see nobody's there.
Boca Raton Historical Society and Museum
This 1926 museum was formerly the town hall, and is rumoured to be haunted. Staff and visitors have reported strange noises, vanishing objects and the sound of an old-fashioned telephone ringing when there is no one around. (Submitted by Callum Swift)
Boca Raton Cemetery
Many spirits are said to reside in this peaceful cemetery. Some of the most well known are the Screaming Man and Mary. The Screaming Man, according to witnesses, begins by cring piteously and gradually buildings to screaming, shouting, and curses. The noise is so loud that those nearby have had ...
Boca Raton Resort and Club
This 1926 hotel was originally the Ritz-Carlton Cloister Inn. Its spirit lore boasts of a ghost named Esmerelda, a former hotel maid who died in a 1920s fire. Other ghosts may reside here as well.
South Inlet Park
There are tales of a young woman supposedly buried in this park, though no one has yet been able to find her. On cold nights people report feeling "warm spots" and sometimes even seeing orbs.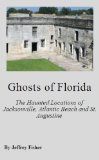 Trapper Nelson - Jonathan Dickinson State Park
"Wild Man of the Loxahatchee," nickname of Vince "Trapper" Nelson, is the identity of the ghost said to roam this state park. Trapper moved to this area in 1929, trapping and selling furs for a living, earning his nickname by his often-strange antics like swinging out over the river on ...
Coral Springs Medical Center
Coral springs, florida.
A long-dead nurse supposedly haunts the area just outside the main elevators. Guests will often find that the elevator doors mysteriously open for them just before they're about to hit the request button... and nobody's inside...
Coral Square Mall
There have been sightings of the ghost of a small boy roaming the premises, as well as strange sounds and things being moved mysteriously near the Burdines area of the mall.
Sunset Point Park
Tamarac, florida.
Dark figures with red eyes have been seen in the park. Orbs have also been seen. Some people have been scared out of there, they say that a dark figure with white glowing eyes appears in front of them and then vanishes. They also report that they have scratches all ...
Site of Old Wilton Manors City Hall
Wilton manors, florida.
Local legend tells of strange happenings at the former City Hall building, built in 1957. Cold spots, a heavy atmosphere, and unexplained soft music are said to be the work of a ghostly maintenance man named John Bold. Bold loved his work, and it seems that he stayed on--even after ...
Lucky's Tavern - Coyote Ugly Saloon
Fort lauderdale, florida.
The building was built around the turn of the century, and was previously frequented by gangsters and other lawless folk. Rumours has it that a gangster was shot out the front of the building and still haunts the saloon to this day. The ghost of a woman in white has ...
Gilbert's Bar - House of Refuge Museum
Stuart, florida.
The old building, used to house shipwrecked passengers 1876-1945, is now a museum. It is said to be haunted by the residents who lived on the land some eight centuries ago, the Ais Indian tribe, as well as some more recent spirits. The kitchen, which has not been in use ...
Fort Lauderdale Fire and Safety Museum
Robert Leland Knight is station's most active ghost. He was electrocuted in 1940 at age 28 when he stepped in a puddle into which a downed power line had fallen. The ghost has been known to play pranks. One story involves a witness who was tiling a station wall when ...
King-Cromartie House
The 1907 twin storey home is still believed to be haunted by the ghost of Louise Cromartie and her children. Her translucent apparition has been seen, looking out her second floor bedroom window. Some people are treated to the full paranormal package. She is described as wearing her blonde hair ...
The River House
The River House was a restaurant reported to have closed in 2009. But originally, it was two early 1900s built by brothers Thomas and Reed Bryan. The Bryan family, owned them until the 1970s, when they were merged and converted to a restaurant. The place is said to be haunted ...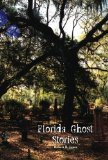 New River Inn
The New River Inn (built in 1905) now houses the Old Fort Lauderdale History Museum, but visitors still report seeing apparitions in the historic building. The first is that of a man in an old-fashioned rancher's outfit, who paces the first floor and the front porch but vanishes when ...
Cooley's Landing Park
William Cooley was an early settler in East Florida. He moved to the New River area (later to become Fort Lauderdale) in 1826 and started an arrowroot plantation. Eventually he became involved in local administration, and in 1835/6 he was involved in adjudicating a case in which white ...
Stranahan House
This house museum is rumored to be haunted by former owner Frank Stranahan, a businessman who fell upon hard times during the Great Depression and drowned himself in the nearby river. Folks say his spirit returned to his house and resides there still. His wife Ivy died much later in ...
Henry E. Kinney Tunnel - New River Tunnel
This underwater tunnel was built in 1958 to replace a drawbridge that was notorious for causing major gridlock in the city. In 1986 it was officially renamed the "Henry E. Kinney" tunnel, after the newspaper editor who had originally advocated its construction. Two apparitions are sited here - one is ...
Smoker Park
Smoker Park is a small section of land on the south side of the New River, across the water from the Stranahan House (also haunted). The park has been a hotbed of contention between locals and potential developers - at one time it was very nearly destroyed to ...
The Elliott Museum
Several haunts are said to reside in this 1961 building erected by Harmon P. Elliott to honor his late father, inventor Sterling Elliott. The many apparitions that have been seen here, witnesses say, are hauntings that stem from the museum's pieces. In other words, the exhibits have brought with them ...
Waffle House Murders
Plantation, florida.
A grisly murder-robbery at the Davie Waffle House in 2002 supposedly sparked some paranormal activity that causes employees to "sense presences" and get an overall creepy feeling. Some say if you move a couple of boxes around in the freezer, you'll still find bloodstains on the floor. (Pretty ...
Tuckahoe / Leach Mansion
Jensen beach, florida.
Tuckahoe, also known as the Leach Mansion or as the Mansion at Tuckahoe, is an historic home located at 1921 North East Indian River Drive in Jensen Beach, Martin County, Florida. The name was thought to be a Native American word for "welcome". It is inside the present day Indian ...
Broward College
Davie, florida.
A grisly 2002 murder-suicide at Broward Community College supposedly sparked some paranormal activity near Building 5. Students claim to experience strange smells and see white figures at night in this area, and allegedly there are permanent blood stains remaining on the spot to this day.
Old Holiday Inn Oceanside
Once a popular tourist hotel, the old "Holiday Inn Oceanside" has been abandoned since it sustained severe damage in 2004 from both Hurricanes Frances and Jeanne. Local residents decry it as an eyesore. Several plans have been hatched to renovate and reopen the building, but to date none ...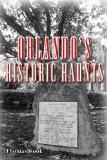 Clewiston Inn
Clewiston, florida.
Two rooms here are said to be especially haunted. Room 255 is said to be visited by Anita Conklin, a longtime inn resident who lived there with her husband, manager of the Miami Seaquarium. Ms. Conklin passed away in the room in 1994; her husband had passed away earlier. The ...
Maritime Manor
Dania beach, florida.
Woodhaven Cemetery which is the oldest cemetery in East Coast South Florida is within 200 yards of the Maritime Manor Vacation Rental. Although it's not listed on vrbo or airbnb as haunted, The Maritime Manor is believed to host the first two police officers ever murdered in the line ...
Devil's Tree of Oak Hammock Park
Port st. lucie, florida.
In 1971, sheriff's deputy Gerard John Schaefer sexually assaulted and hanged two 19-year-old girls from an oak tree, then buried their bodies under it. The deputy returned for more unspeakable acts over the next 5 days. In 1977 the bodies were found by some fishermen. Local legend has it that ...
Joseph Wesley Young House - Zeller Residence
Hollywood, florida.
This was the home of Hollywood's very first mayor, Joseph Wesley Young. Built in 1925, it boasts 6 bedrooms and 6 bathrooms - and possibly one ghost. There are claims that Joseph Young never left his beloved mansion.
Hollywood Beach Resort
This hotel dates back to 1926 and was once home to Al Capone. Residents on the seventh floor have claimed to have captured numerous orbs and heard strange voices throughout the night.
Condomium Apartments at Hollybrook
Hollybrook is a retirement community, and it seems there's one old resident who liked it so much she never wanted to leave. She also seems to have a thing against speeding motorists. If you're leaving Hollybrook late at night and you're driving significantly faster than the posted speed ...
Snake Warrior Island Natural Area
Miramar, florida.
Locals tell of eerie beams of light that come from the island and shoot toward the sky, seen as early as 1895. Old legends say the Native Americans in the 1800s wouldn't set foot on this island, and that African-Americans working here saw an apparition in the 1920s. Some say ...
Miami Lakes High School
Hialeah, florida.
Two areas of activity here... The "Little Theater" seems to be the home of a friendly ghost named "Fred" who turns lights on and off playfully, and may occasionally play faint music. The fourth floor is now closed, but supposedly once housed a planetarium where a girl fell to her death ...
Indian River Community College
Fort pierce, florida.
The theatre at Indian River Community College is apparently haunted by a tall fellow who appears mostly blue in color. He hangs about in the broom closet near the left side of the stage, or in the sound room. Some people swear he danced or waved at them, ...
The Old Bank
Okeechobee, florida.
These days the "Old Bank" is just a boarded up building (though in 2012 several murals were added to make it look a bit nicer), but back in the 1920s it was the pride of the town. Local legend has it that a member of the Ashley Gang (a ...
» Cemeteries near Wellington, FL » Find museums in Wellington, FL
Past Wellington Haunted Houses
So since it's September I think I am allowed to start getting excited about Halloween. The best part are the Haunted Houses!! And in my opinion the home made ones are the best!!! So after doing some research I found some houses that have had them in the past and have been doing them for a long time. So lets keep our fingers crossed that they decided to do them again in 2012!
1181 Canyon Way, Wellington – Rick Darquea's crowd-pleasing display is a feast for the eyes. Decorating is a group effort with neighbors helping to prepare for the family's 4th Annual Halloween Bash set for Oct. 30. Two terrifying gargoyles carefully guard the driveway as you approach and a sinister spider watches you silently from the trees above. Both floors of the front of the home are decorated with special lighting that cast an eerie glow on the hideous Dead-End Cemetery. If you make it to the back of the house alive, a gruesome surprise awaits you. There, an innocent children's swing set has been transformed into a playground of terror with bloody body parts and hanging skeletons. The nightmare does not end here. The more intense decorations are hidden inside. On Halloween Day, the house will open to all of the neighborhood kids for a walk-through, and they can take pictures or have a chilly drink.
11536 Whitemarsh Drive, Wellington – Josh and Erica Tenore transform the outside of their home into a mysterious haunted house. Find your way through the dense fog in the forest but avoid that monster lurking in the brush. When you tiptoe through the cavern beware the Queen Spider and her offspring. A large, inflated Grim Reaper beckons to you next and if you're lucky enough to get through, a real skeleton and his friends await your arrival. Your reward for surviving this house of horrors? A sweet treat.
551 Kingsbury Terrace, Wellington – Marc Flesher's house is always a dreadful delight! He has been expanding his collection for about 15 years. A small skeleton is perched on the mailbox in front of the home. Two ghastly apparitions hover above the welcome entrance. A larger-than-life spider web hangs over the front of the home and a skeletal figure holds the head of the unfortunate victim lying at its feet.
Spread the Word!
About the author: stacie.
Related Posts
What Took Place in the Wellington Real Estate Market in 2018?
What is Happening in Wellington Florida's Real Estate Market?
Wellington garden club presents "tropical heat wave".
Wellington Florida Real Estate Snap Shot February 2018 (INFOGRAPHIC)
Wellington Florida Real Estate Snap Shot January 2018 (INFOGRAPHIC)
Hi, Would you like the newest infomation on The Carlton Street Massacre?
Yes please send over this years info!!! You can post it here or email it over to [email protected]
Leave A Comment Cancel reply
Save my name, email, and website in this browser for the next time I comment.
Wellington's Haunted History: Ghost Tours and Spooky Tales
With its rich heritage and intriguing past, Wellington, New Zealand's capital city, boasts a fascinating supernatural side. From eerie tales of ghosts and restless spirits to haunted houses and chilling apparitions, the city has become a hot spot for ghost tours and spooky adventures. In this blog post, we will delve into Wellington's haunted history, exploring the tales that have left both locals and visitors in awe.
To begin our journey, let's step back in time to the notorious St. James Theatre. Built in 1912, this stunning landmark exudes elegance, but lurking beneath the surface lies a mysterious presence. Revered as one of Wellington's most haunted locations, paranormal enthusiasts often claim to encounter the spirit of an elderly gentleman, dressed in his finest attire. Some say that he is the ghost of Walter, a former theatre manager who tragically met his demise in the building. Visitors have reported feeling his presence and witnessing unexplained occurrences during supernatural-themed events held within the theatre's walls.
If you are feeling brave, head to the Old Government Building. This iconic structure, built in the mid-1800s and once considered the largest wooden building in the world, has a dark reputation. Many visitors have reported hearing unexplained footsteps, disembodied voices, and even feeling an eerie touch as they explore its halls. Employees who work late at night claim to have witnessed shadowy figures moving about and doors opening and closing on their own accord. Perhaps the most famous ghostly visitor is the spirit of Lady Isaac, wife of a former Mayor of Wellington, who is said to wander the building, still dressed in her stunning white gown.
Another must-visit haunted location is the Old St. Paul's Cathedral. This stunning Gothic-style church, constructed in the late 1800s, is said to be home to a variety of spirits. Visitors have reported feeling a chill in the air, hearing whispers in empty pews, and seeing apparitions at the corners of their eyes. The ghostly presence of a young girl is often felt in the choir stalls, while the spirit of a nun is said to roam the halls. It is believed that the nun fell to her death from the bell tower, and her presence still lingers within the church's sacred space.
For an extra dose of creepiness, join one of Wellington's famous ghost tours. These spine-chilling excursions take you on a journey through the city's most haunted locations, where you will hear stories of spectral sightings and tragic events. Professional guides expertly weave history, folklore, and paranormal tales to create an unforgettable experience. Walking through dimly lit streets and shadowy alleyways, you may encounter the spectral presence of a former prison inmate or a heartbroken sailor searching for his lost love. These tours are not for the faint-hearted but promise an adrenaline-pumping adventure.
If you prefer to indulge in a frightful escape from the comfort of your own home, Wellington has a wealth of ghost stories waiting to be discovered. From haunted houses and hotel rooms to spine-tingling encounters in the city's suburbs, locals and visitors have shared their own personal experiences on various online platforms. These firsthand accounts provide a chilling insight into the supernatural occurrences that have captivated the Wellington community for generations.
Wellington's haunted history is a testament to the city's rich tapestry of stories and legends. Whether you are a true believer in the paranormal or a skeptic in search of an entertaining evening, the ghost tours and spooky tales of Wellington are sure to leave a lasting impression. Just remember to keep an open mind, stay aware of your surroundings, and prepare yourself for an encounter with the unknown. Whether you choose to explore the haunted locations of the city or listen to the tales shared by those who have, the dark secrets of Wellington are waiting to be discovered. Will you dare to unlock its mysterious past?
Beauty hacks: 10 genius ways to save time during your makeup routine
Budget-friendly ways to enhance your home's exterior.
Related Articles
Diy gifts to make for your coworkers and boss, the art lover's guide to st. petersburg's museums and galleries, diy holiday decorations to transform your home, leave a comment cancel reply.
You must be logged in to post a comment.
Log in or sign up for Rotten Tomatoes
Trouble logging in?
By continuing, you agree to the Privacy Policy and the Terms and Policies , and to receive email from Rotten Tomatoes.
By creating an account, you agree to the Privacy Policy and the Terms and Policies , and to receive email from Rotten Tomatoes.
Email not verified
Let's keep in touch.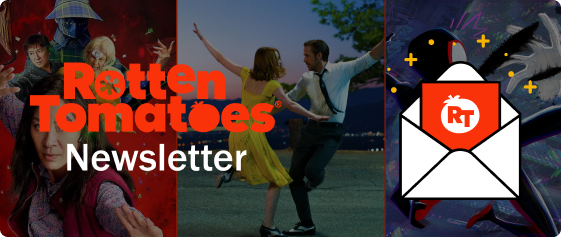 Sign up for the Rotten Tomatoes newsletter to get weekly updates on:
Upcoming Movies and TV shows
Trivia & Rotter Tomatoes Podcast
Media News + More
OK, got it!
Movies / TV
No results found.
What's the Tomatometer®?
Login/signup
Movies in theaters
Opening this week
Coming soon to theaters
Certified fresh movies
Movies at home
Netflix streaming
Amazon prime
Most popular streaming movies
What to Watch New
Certified fresh picks
Saw X Link to Saw X
The Royal Hotel Link to The Royal Hotel
Totally Killer Link to Totally Killer
New TV Tonight
The Fall of the House of Usher: Season 1
Lessons in Chemistry: Season 1
Frasier: Season 1
Goosebumps: Season 1
Shining Vale: Season 2
Harry Wild: Season 2
Murdaugh Murders: The Movie: Season 1
Most Popular TV on RT
Loki: Season 2
Star Wars: Ahsoka: Season 1
Our Flag Means Death: Season 2
Gen V: Season 1
Lupin: Season 3
Castlevania: Nocturne: Season 1
Sex Education: Season 4
Beckham: Season 1
Dear Child: Season 1
Top TV Shows
Certified Fresh TV
Most popular TV
Certified fresh pick
Loki: Season 2 Link to Loki: Season 2
All-Time Lists
Binge Guide
Comics on TV
Five Favorite Films
Video Interviews
Weekend Box Office
Weekly Ketchup
What to Watch
Marvel TV Ranked by Tomatometer
All Blumhouse Horror Movies Ranked
What to Watch: In Theaters and On Streaming
Celebrating Hispanic Heritage
Percy Jackson and the Olympians : Release Date, Trailer, Cast & More — Everything We Know About the Disney+ Series
What to Watch This Week: Loki , The Exorcist , and More
Trending on RT
New TM Scores
Movies to Stream At Home
Movies In Theaters
New TV Shows
Home > Wellington Paranormal
Wellington Paranormal (2018 - Present)
Wellington paranormal, series info.
A group of police investigators in New Zealand track supernatural events, including cases of demon possession, haunted houses, and blood bank robberies.
Creators: Jemaine Clement, Taika Waititi
Starring: Mike Minogue, Karen O'Leary, Maaka Pohatu, Thomas Sainsbury
TV Network: TV2ANZ
Premiere Date: Jul 11, 2018
Genre: Comedy
Where to watch Wellington Paranormal
Watch Wellington Paranormal with a subscription on Max.
Rate And Review
Wellington paranormal photos, cast & crew.
Mike Minogue
Karen O'Leary
O'Leary
Maaka Pohatu
Sergeant Ruawai Maaka
Thomas Sainsbury
Constable Parker
Jemaine Clement
Taika Waititi
News & Interviews for Wellington Paranormal
2022 Asian/Pacific American Heritage Month TV & Streaming Calendar
Love What We Do in the Shadows ? Here Are 10 Shows To Watch Next
View All Wellington Paranormal News
Wellington Hotel
Episode aired May 11, 2004
The Wellington Hotel at Boscastle may be one of the oldest coaching inns in Cornwall and one of the most haunted. Staff and guests have reported seeing the ghosts of a coachman, a little gir... Read all The Wellington Hotel at Boscastle may be one of the oldest coaching inns in Cornwall and one of the most haunted. Staff and guests have reported seeing the ghosts of a coachman, a little girl and an old woman. The Wellington Hotel at Boscastle may be one of the oldest coaching inns in Cornwall and one of the most haunted. Staff and guests have reported seeing the ghosts of a coachman, a little girl and an old woman.
Karl Beattie
Yvette Fielding
Derek Acorah
See more at IMDbPro
Self - Spiritualist Medium
Self - Paranormal Investigator
Self - Historian
Self - Psychologist
(as Dr. Matthew Smith)
Self - Owner
(uncredited)
All cast & crew
Production, box office & more at IMDbPro
User reviews
May 11, 2004 (United Kingdom)
United Kingdom
Wellington Hotel, Boscastle, Cornwall, England, UK
Antix Productions
See more company credits at IMDbPro
Technical specs
Related news
Contribute to this page.
IMDb Answers: Help fill gaps in our data
Learn more about contributing
More to explore
Recently viewed
Idaho Falls news, Rexburg news, Pocatello news, East Idaho news, Idaho news, education news, crime news, good news, business news, entertainment news, Feel Good Friday and more.
The house on King Road: A look at the Moscow home where four U of I students were killed
Sally Krutzig and Kevin Fixler, Idaho Statesman
( Idaho Statesman ) — At 1122 King Road in Moscow sits a gray six-bedroom, three-bathroom house that continues to be the source of significant national attention.
Known as a student rental, the home's most recent tenants were a group of six University of Idaho undergraduates who signed a 12-month lease that began on June 5, according to the property management firm that oversees the home.
Three of the student renters would not live to see the end of their lease.
The tenants were Madison Mogen, Kaylee Goncalves, Xana Kernodle, Bethany Funke and Dylan Mortensen, as well as an unnamed sixth person on the lease.
RELATED | Who were the four students killed at the University of Idaho? A look into their lives
In the early morning hours of Sunday, Nov. 13, Mogen, Goncalves, Kernodle and Kernodle's boyfriend, Ethan Chapin, were stabbed to death in the house. Police found two bodies on the second floor and two bodies on the third floor, but have not released which victims were discovered where.
Mortensen and Funke were on the first floor of the home and went unharmed. Police have said they were not involved in the killings.
Nearly six weeks have passed, and law enforcement still has not named a suspect in the quadruple homicide.
The Idaho Statesman used photos from rental listings and documents submitted by former owners to the city of Moscow to explore the layout of the King Road house. Depictions of the floors are approximations created by the Statesman based on that information.
Just north of the home is the university's new Greek Row , where many fraternity and sorority activities take place. That proximity meant the area was particularly popular among those involved in U of I Greek life.
About 1,600 students are members of the school's fraternities and sororities. That total represents 23% of the roughly 7,000 undergraduate students enrolled in fall 2022 at the Moscow campus, according to university spokespeople.
Goncalves was a member of the Alpha Phi sorority, while Mogen and Kernodle were members of Pi Beta Phi. Funke is a member of Pi Phi as well, and identified Mogen as her "big sister" in a letter she wrote that was read at a Dec. 2 memorial . Mortensen also appears in multiple photos reviewed by the Statesman, including with Funke, on the sorority's Facebook page, wearing clothing with Pi Phi insignia.
Many renters in the area around King Road were overflow from the nearby fraternities and sororities, said Merida McClanahan, supervisor at Team Idaho Real Estate & Property Management.
" we have a lot of university students as our tenants and we've got quite a few of the properties down there on King Road," McClanahan told the Statesman in a phone interview. "It's a tight-knit community. They're on the back side of campus right across the street from Greek Row, and those kids cycle in and out."
The listed owner of the King Road property didn't return email and phone messages from the Statesman.
David Janssen, 32, a former U of I graduate student who said he's a five-year tenant of an apartment complex adjacent to the rental home, confirmed that fraternity and sorority members appear to dominate the tightly packed neighborhood.
The surrounding Greek life environment contributed to what those familiar with the neighborhood, including Janssen, described in interviews with the Statesman as a loud party culture in the conjoined dead-end streets of King and Queen roads.
"This has always been a party place since I've lived here — always," said Sean Hundley, 34, a nearly lifelong Moscow resident, and maintenance person for the adjacent apartment complex.
The tenants of the King Road house had received three noise complaints for loud music since August, according to a Statesman review of Moscow police reports. Two came on the same night in early September from separate neighbors in two single-family homes, each about a quarter-mile away, on the street located above the valley where the King Road house sits.
Goncalves received a warning from police for the first noise complaint in August. Mogen and Kernodle each received law enforcement warnings from the two complaints in September, according to the police reports.
In recently released Moscow police body-cam footage posted on YouTube , officers were shown trying to track down a resident of the home after the first of the September noise complaints.
"I guarantee you they're associated with a sorority," Moscow Police Sgt. Dustin Blaker said in the footage, to a male student who didn't live at the home. "As many of them are living here, it's an off-campus sorority house."
The King Road home's six bedrooms had at one time been rented as separate apartments, according to McClanahan, with the property management firm.
"Primarily for the last 12 years, it has been rented as one unit as a single-family home," McClanahan said.
The house originally had two floors, but an owner requested to add the lowest floor in 2000, according to Moscow city permits. Built into a hillside, the house has one exterior door on each floor.
The home is 3,120 square feet, according to Zillow . The Latah County Assessor's Office assessed its value at $343,848 in August.
The first floor
All of the tenants except the sixth unnamed person on the lease, who police said had moved out before the start of the school year, were home at the time of the Nov. 13 attack. The five housemates, along with Chapin, were all back at the King Road house by 1:56 a.m., police said. Call records made by Mogen and Goncalves indicated the attack happened sometime after they placed a phone call at 2:52 a.m., according to The New York Times.
The roommates on the first floor, Mortensen and Funke, likely were asleep until later that morning, according to police.
Attempts by the Statesman to reach Funke and Mortensen have been unsuccessful.
At 11:58 a.m., a 911 call was made from inside the house on one of the surviving roommates' cellphones, according to police. The roommates summoned friends to the house because they believed one of the victims on the second floor had passed out and was not waking up. Multiple people spoke with the 911 dispatcher before officers arrived, police said.
Authorities have declined to release the 911 recording, citing an ongoing investigation.
On social media, many have expressed disbelief that Mortensen and Funke would not have woken up during the killings. However, former first-floor tenant Ryan Augusta told Fox News that he typically "heard nothing" from the second and third floors when he lived there in 2019. Reached by the Statesman, Augusta said he stood by his prior statement.
City records and photos from online rental listings indicate the first floor has two bedrooms that open into a shared hallway. The hallway also leads to a bathroom and a stairway that goes to the second floor.
A door between the bedrooms opens to the property's driveway.
The second floor
The second floor of the home includes a living room, two bedrooms, a bathroom and a kitchen. This floor can be accessed from the outside through a sliding glass door between the porch and the kitchen.
This floor has two separate staircases, one that leads to the first floor and one to the third floor.
Kernodle lived on the second floor, her mother, Cara Northington, said in an interview this month with NewsNation . Chapin's mother, Stacy Chapin, previously confirmed to the Statesman that her son spent the night at his girlfriend's house.
The third floor
The third floor of the home includes a bathroom and two bedrooms — one of which has a balcony with a sliding glass door. This floor can be accessed only by the staircase from the second floor.
Goncalves' father, Steve Goncalves, said his daughter and Mogen lived on the third floor, according to Fox News. He said he believes that the two women, close friends since childhood, both slept in Mogen's room the night of the killings.
Two items — a pair of pink boots frequently worn by Mogen in social media photos and a decorative letter M— could be seen in the window of bedroom E following the homicides. Goncalves posted social media videos from bedroom F.
Goncalves had a dog named Murphy who was home at the time of the attack, police said. Officers found the dog in a room where the crimes were not committed, but do not know where he was at the time of the killings, according to a news release. Police found no evidence on the dog, they said.
SUBMIT A CORRECTION
Bahasa Indonesia
Slovenščina
Science & Tech
Russian Kitchen
Top 13 places in Russia where you may face a ghost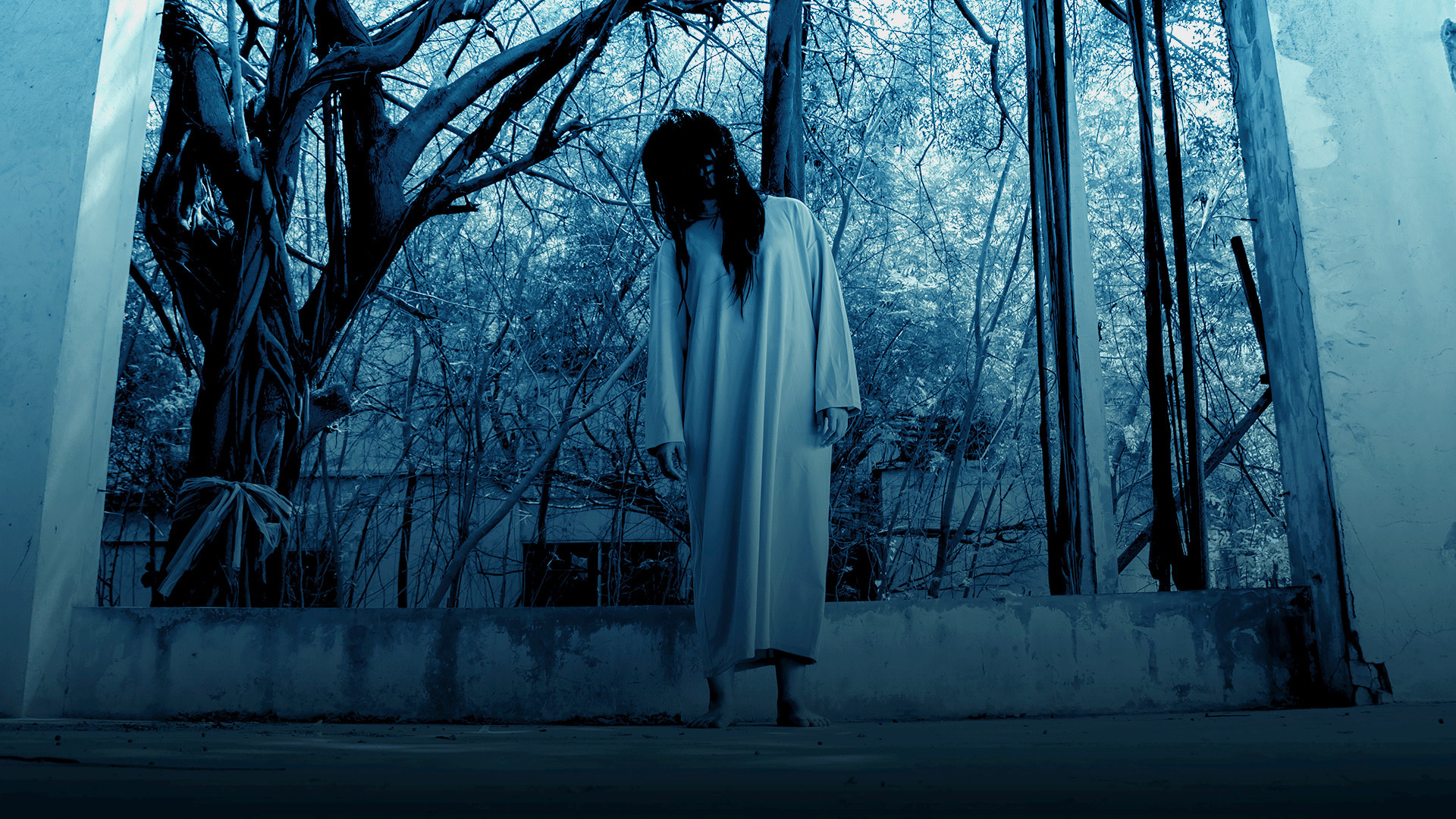 1. Kusovnikov House in Moscow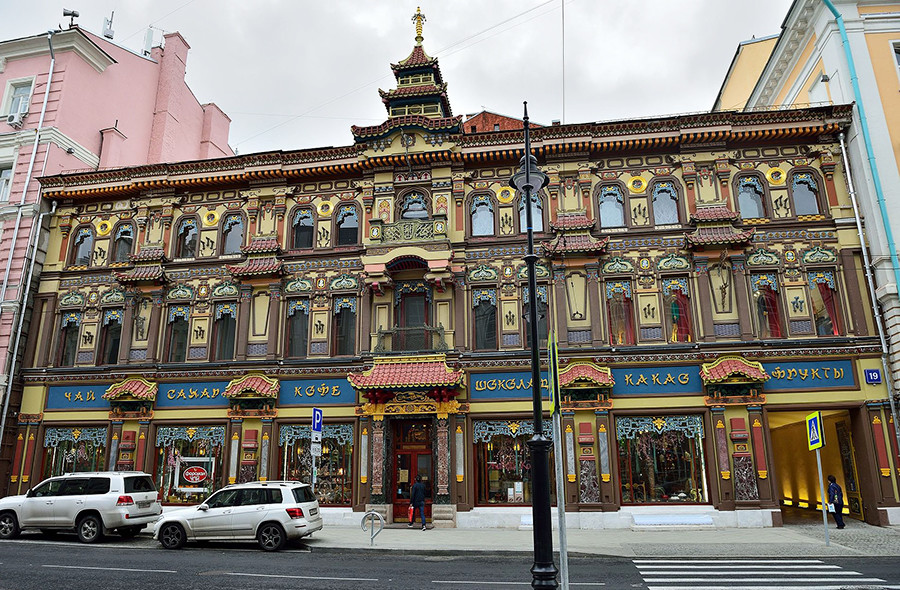 In the 19 th century house № 17 on Myasnitskaya street in central Moscow was inhabited by a rich, but very greedy couple – Pyotr and Sofya Kusovnikov, who scrimped on almost everything. Extremely suspicious, they used to hide money from their servants in different places. Once they hid some in the fireplace, but the janitor accidentally burned it when lighting the fire. When she found out, Sofya died instantly of a broken heart, her husband passed away a little later. Since then, the ghost of a hunched old man in a coat has routinely appeared on the street near the house – this is Pyotr Kusovnikov mourning his lost money.
2. Sokol metro station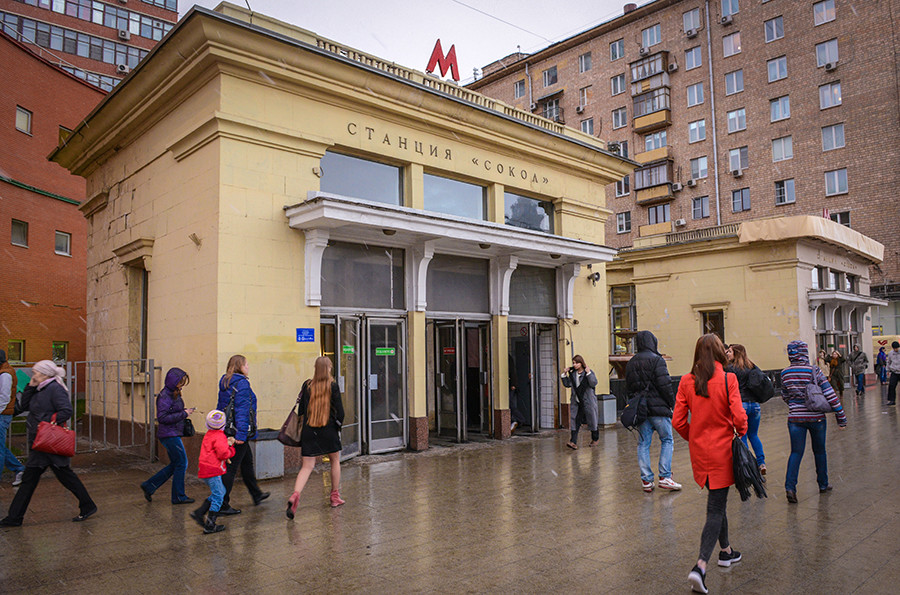 During WWI, not far from the modern Sokol station of the Moscow metro, a cemetery for fallen soldiers was located. In 1918, mass executions of White officers and priests by the Reds were held there. All this led to the appearance of ghosts in the dark tunnels of the station. Early in the morning diaphanous figures with festering wounds can be seen there.
3. St. Michael's Castle in St. Petersburg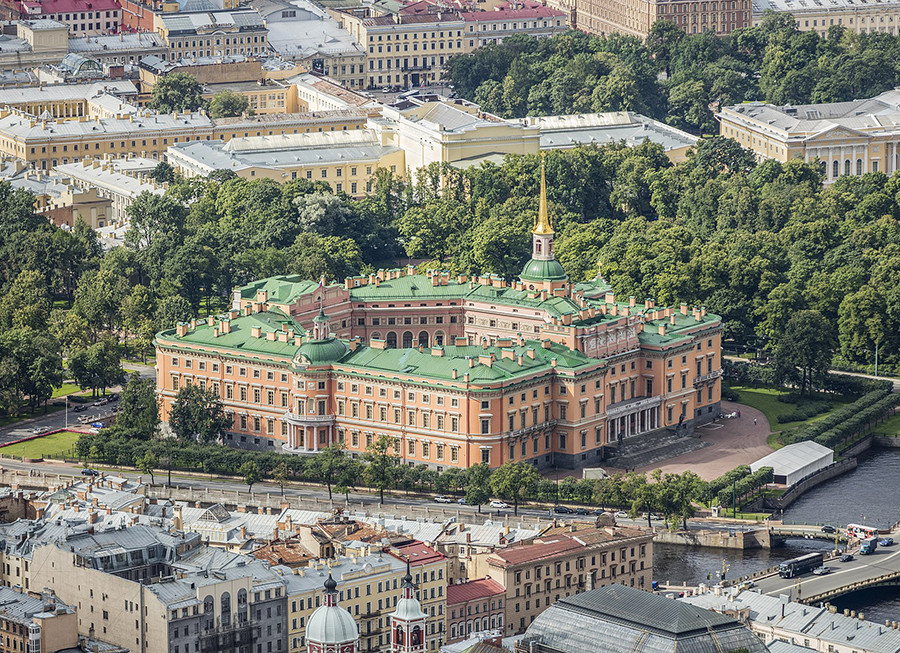 This castle was a royal residence built by order of Tsar Paul I. On March 21, 1801, he was killed there by a group of conspirators. It is considered that the restless spirit of the tsar was unable to leave the castle. It appears there in the corridors with a burning candle in its hand.
4. Znamenskaya Tower in Yaroslavl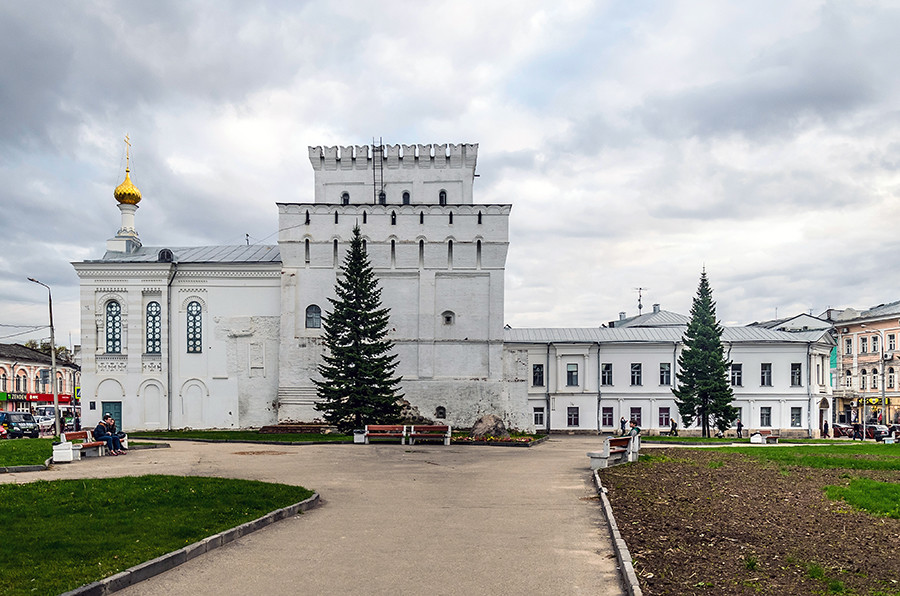 During the Civil War in Russia (1917-1922), a group of White troops held positions in the Volkovsky theater in Yaroslavl. The Red commissar in command of the siege promised to spare their lives. However, he lied and all the Whites were executed at the Znamenskaya Tower. Since then, the ghost of the commissar who didn't keep his promise has been seen at the place of his crime.
5. Igumnov House in Moscow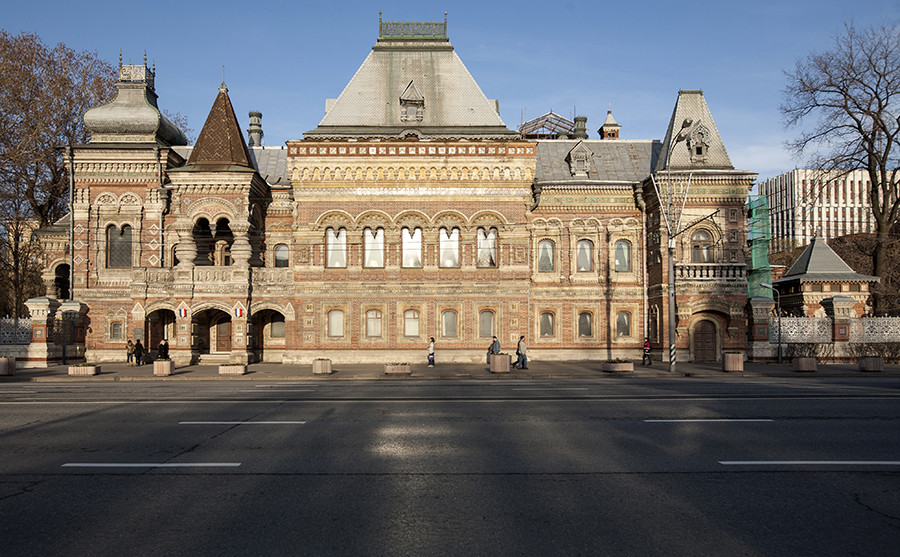 The house at 43 Bolshaya Yakimanka Street in Moscow, also known as "Igumnov House," serves today as the residence of the French ambassador. It was built at the request of the industrialist Nikolay Igumnov in the late 19 th century. He settled his young mistress here, but one day caught her with a lover. The lover was kicked out, but the girl was never seen again. It is believed that the outraged Igumnov bricked her up in a wall. During Soviet times, people often saw the ghost of a young girl walking through the walls with deep, plaintive sighs.
6. House of Rasputin in St. Petersburg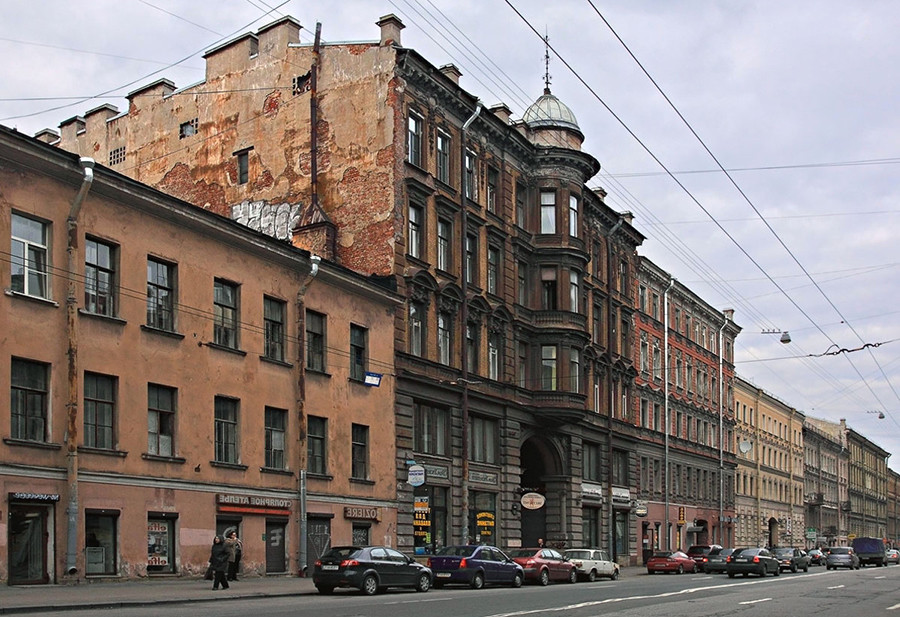 The flat on the second floor at 64 Gorokhovaya street in St. Petersburg is today a usual residential apartment. However, in the early 20th century it was home to one of the most mystical figures in Russian history – Grigory Rasputin. His ghost sometimes appears here, scaring inhabitants with its clunking steps and grunting in dark corners.
7. House on the Embankment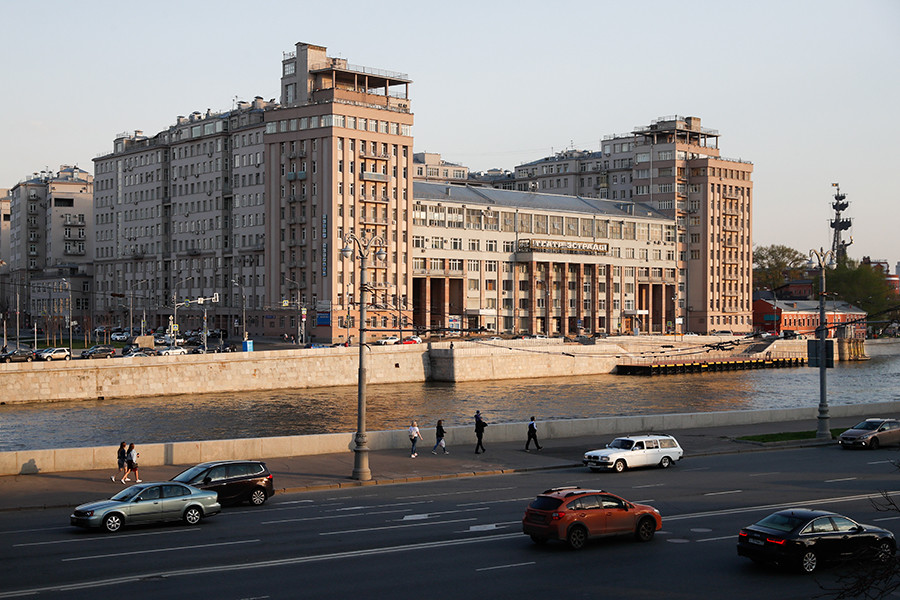 This house at 2 Serafimovicha Street, simply known as "House on Embankment," is among the most famous in the Russian capital, known as the place of residence for the Soviet crème de la crème : writers, artists, actors, generals, athletes. However, it also has a dark history. During the Great Purge, a campaign of political repressions in the USSR, dozens of the house's inhabitants were arrested and executed. Today, the house is full of the ghosts of those victims, who sometimes appear in their old dwelling place.
8. Tower of the old hospital in Ryazan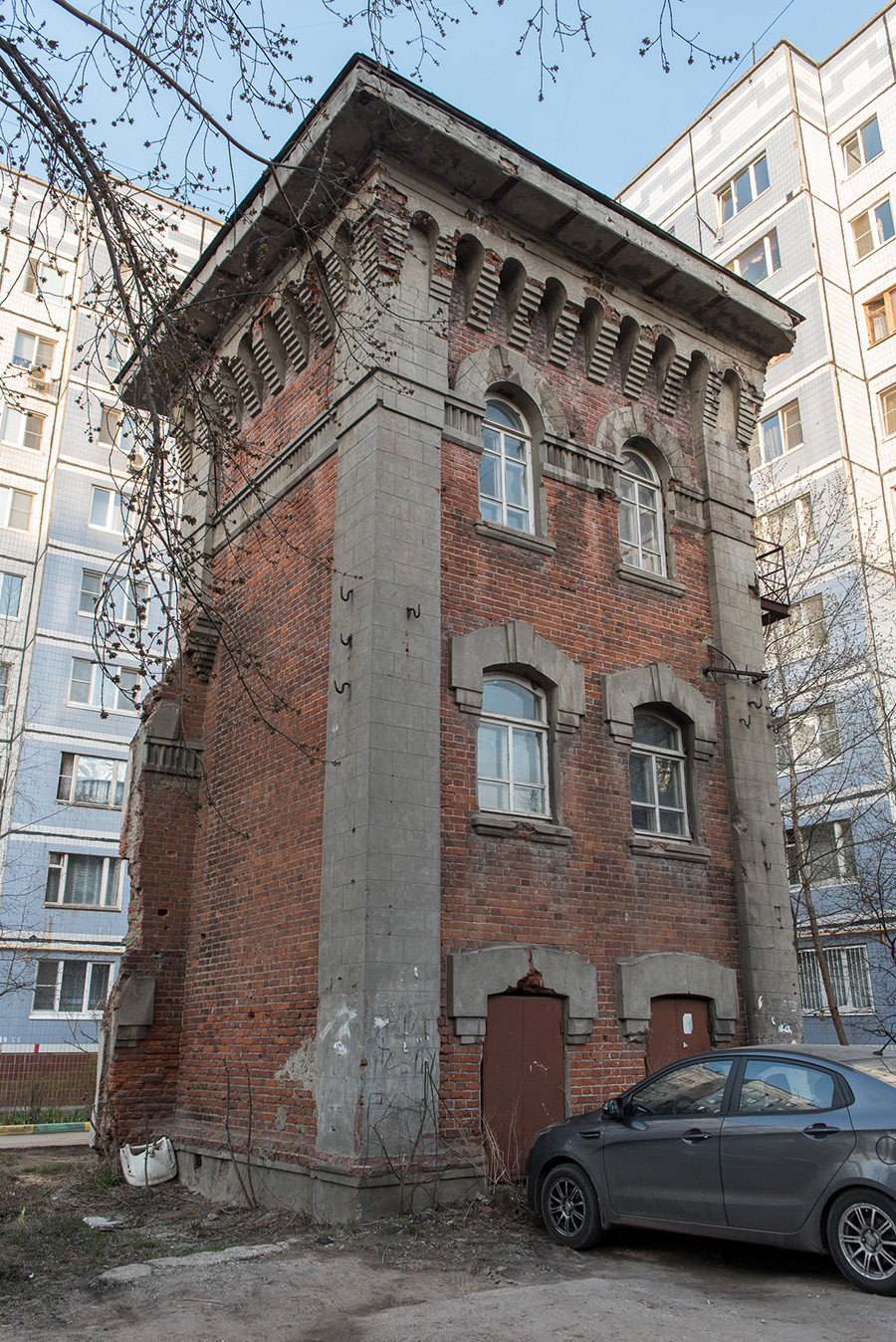 Among the high-rise modern buildings at 15 Gorky Street in Ryazan is an old tower – all that remains of the old hospital. At night, a lonely dark figure can be seen walking in this tower. This is the ghost of Alexander Smitten, who administered the hospital more than a century ago.
9. Griboyedov Canal in St. Petersburg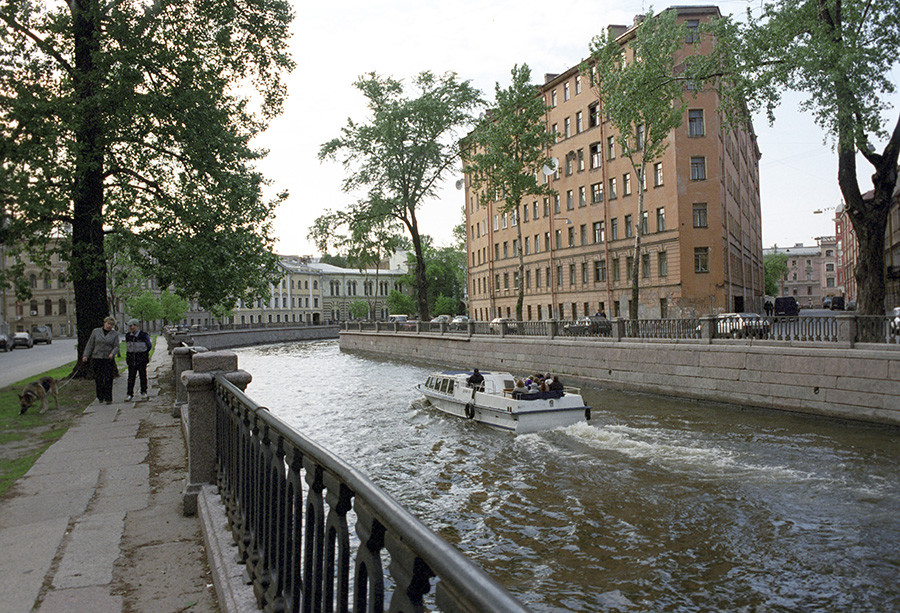 During a misty night in March, one can see the ghost of a young girl near the Griboyedov Canal in St. Petersburg. Her face is blue because of asphyxiation, and there is a big red mark on her neck caused by a rope. This is famous revolutionary Sophia Perovskaya, who assassinated Tsar Alexander II and was hanged for her deed. To meet this ghost is a bad omen, and can cost nocturnal pedestrians their lives.
10. Nizhny Novgorod Kremlin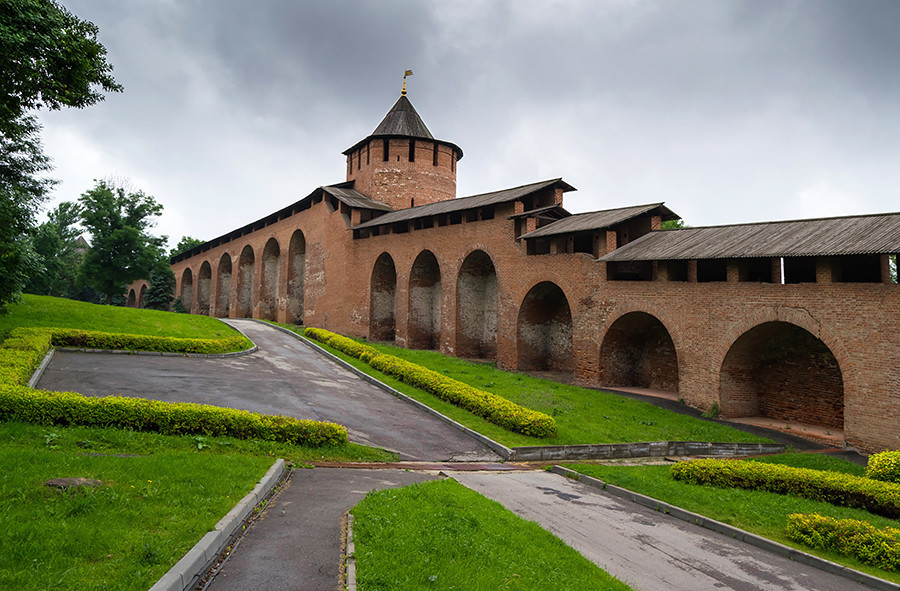 There is a legend that when the Kremlin in Nizhny Novgorod was being built, the constructors were unable to finish one of the towers. It kept falling down. In the end, they decided to make a sacrifice and to build the tower on the blood of the first person who passed by. It happened to be a pregnant woman hurrying to the river for water. She was seized and bricked up in the tower alive. The ghost of a pale woman holding a baby has appeared near this place ever since.
11. Oldenburg Palace near Voronezh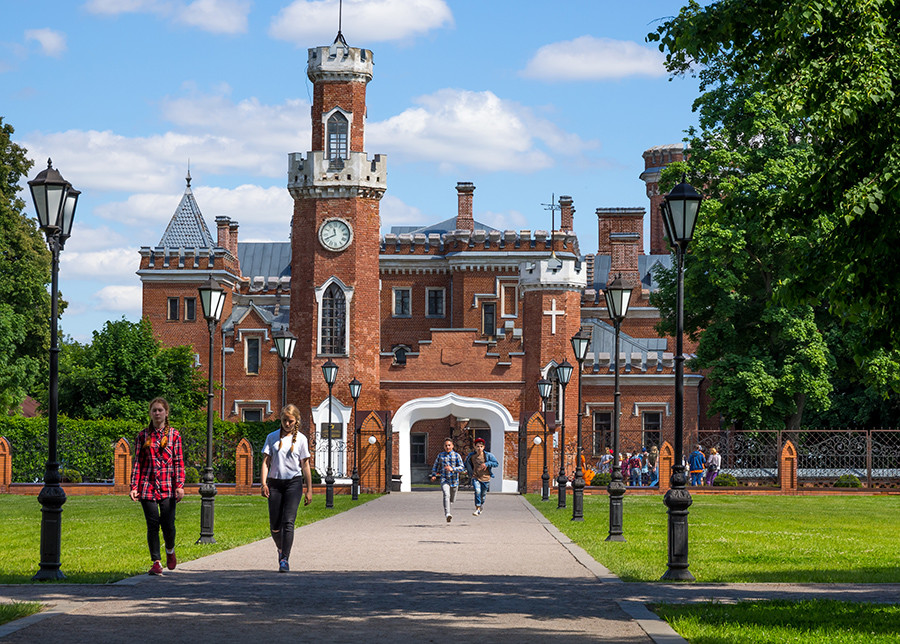 Built in the late 19th century, the palace belonged to Princess Eugenia of Leuchtenberg. Today her ghost rises from the deep casemates of the palace to wander through its rooms and corridors. There is also another ghost there, much older — the ghost of a young peasant girl. It is even said that Princess Eugenia saw it when she was alive.
12. Stalin's country house near Sochi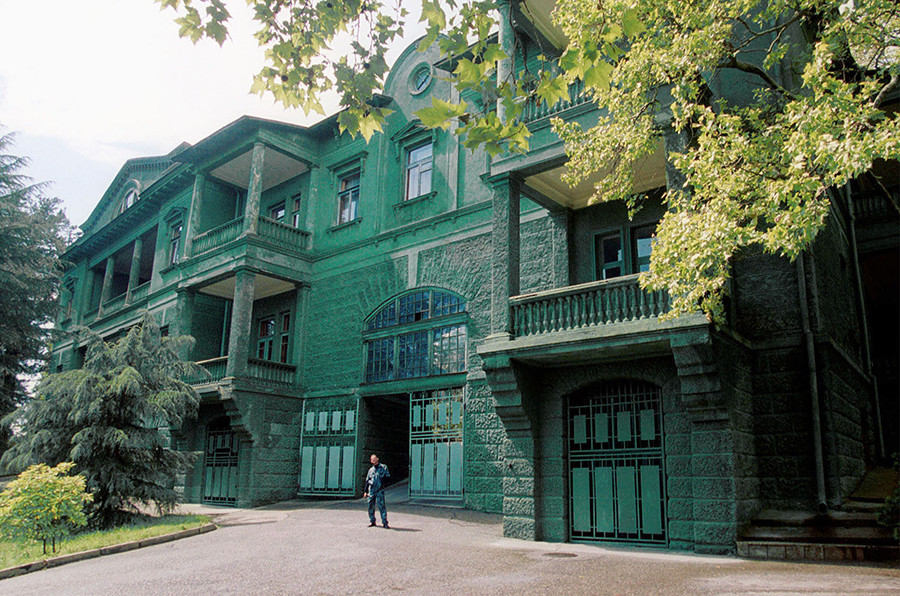 Stalin's ghost can be seen at his country house, located today within the Green Groove hotel near Sochi. The "father of the nations" walks in his white jacket, smoking his trademark pipe.
13. Psychiatric hospital near Nizhny Novgorod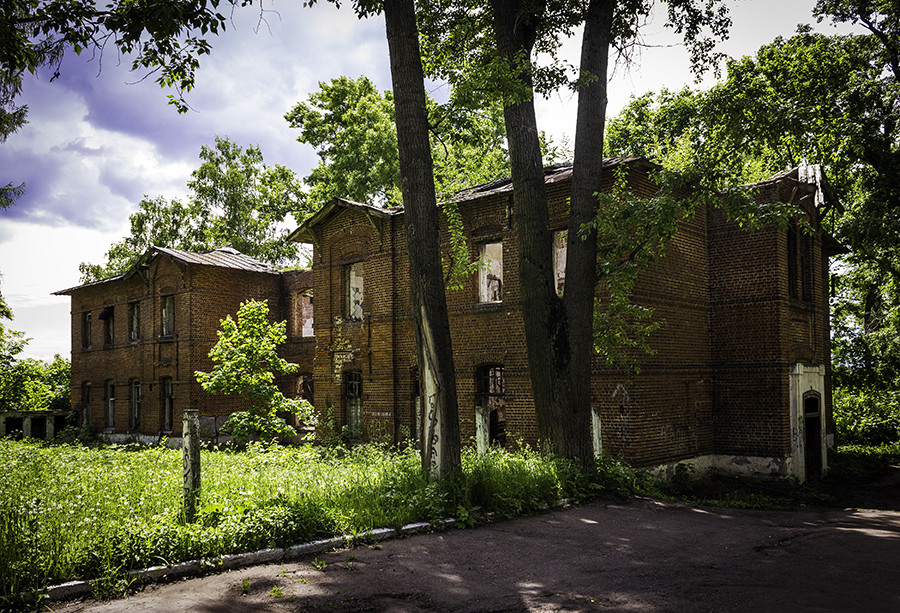 Near the modern psychiatric hospital in the village of Lyakhovo near Nizhny Novgorod, one can see an abandoned old building. Several dozen years ago a young girl hanged herself there because of unrequited love. At night it is possible to see a white silhouette and hear the moaning and cries of the "love-stricken schoolgirl" as the locals call her.
And if you want to see a UFO, here are several places in Russia where you will have a chance.
If using any of Russia Beyond's content, partly or in full, always provide an active hyperlink to the original material.
to our newsletter!
Get the week's best stories straight to your inbox
Lost at sea: 3 creepy Russian ghost ship stories
5 famous ghosts that you might meet on the streets of Moscow
These Russian ghost towns will give you the heebie jeebies
This website uses cookies. Click here to find out more.