Northern Frights
Address: 777 S. Victory Dr., Mankato, MN 56001, USA
Visit Website
Phone: 507-514-2433
Email: jen@northernfrightsmn.com
LAND OF 10,000 SCREAMS
The Blue Earth County Fairgrounds becomes home to Northern Frights, Minnesota's Haunted Grounds, during the month of October.  With Minnesota themes scattered through out the Haunt, Mankato's Haunted House is just a short drive down Hwy 169 under the Oaks in Garden City.  We are excited to not only bring a Haunted House to Mankato, but a three part attraction that includes: "The Lair", a 5,000 sq foot indoor Haunt; a 1/2 mile Zombie Walk on a trail by the river; and our Terror Tunnels.  There will also be food and mystical vendors throughout the grounds
Haunted House
Minnesota is rich is folk lore and has many traditions, some of which only like to come out in the dark. Northern Frights is a place where they all gather in October to come out and play.  It is the time of the "Fall Gathering" and those who dare can come join them at the secluded grounds by the river.
What has Paul Bunyan done with Babe…?  Sasquatch has made it to the Gathering, but we seem to be missing some people.  The Northern Lights are out, but so is someone else.  The legend of the Edmund Fitzgerald lives, but those who died have "gathered".
ZOMBIE WALK
Take a walk along the trail in the post apocalyptic world of the un-dead.  Be quick and follow the signs towards Terminus.  "Sanctuary for ALL.  Community for ALL. Those who Arrive Survive".  As you make your way towards Terminus keep those you care about close to you…you are not the only ones on the trail to Terminus.  There were many on the path that have "turned" and now join the Zombie army.
Terror Tunnels
The double punch from these tunnels is sure to leave you screaming.  Step carefully as you enter the Black Hole, we do hope you come out safely on the other side.  If you survive the Black Hole you will enter the darkness.  The seemingly never ending darkness of our Claustrophobia Tunnel will leave you wondering if is ever going to end!  Making even the bravest souls dig deep to find the resiliency to survive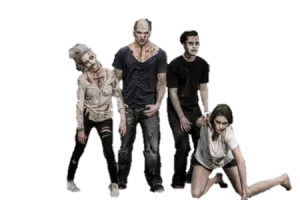 Posted in Haunted Attractions and Haunted Houses
Add a Review Click here to cancel reply.
Related listings.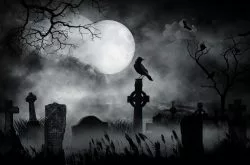 HORROR at HUNTFIELD
(320) 294-3185
235 2nd Avenue North, Foreston, MN 56330, USA
7-11PM Fridays & Saturdays, Oct 11 & 12, 18 & 19, 25 & 26.
A grave is disturbed, the ground breaks open and the undead lurk among the narrow pathways of this haunted cemetery. Read more…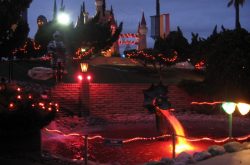 The Gauntlet Haunted House
Golfland-Sunsplash will undergo a terrifying transformation this October as it devolves into Golfland Fright Nights. Explore two Halloween attractions at one location. Read more…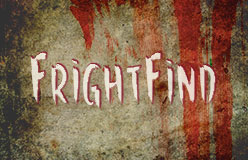 Burial Chamber Haunted Complex
920-727-4669
500 N. Lake Street, Neenah, WI 54956, USA
Read more…
New User? Register Now
Forgot password
Already have an account? Sign in
ALL stories below are 100% true to legend!! We saved the best for last..
Legend has it that the Luke Farrell house in West Mankato is haunted by the ghost of an old lady named Helen. She has been seen on alternate Thursdays in January walking down the grand staircase. She has also been seen as a reflection in the hall mirror. During renovations in 1921, a wall was removed and human bones were found. These bones were said to be of Helen, an old woman who was reported missing by her husband in 1891. Helen had told her neighbor that her husband was seeing another woman and she was going to say something to him the night she disappeared. Jebadiah, her husband married the woman's younger sister (Salum) in 1892 - one year to the day of her sister Helen's disappearance. Salum was later convicted of killing her husband Jebadiah and committed to the Mankato Happy Village Rest Home (a home for the criminally insane at the corner of North 5th and East Walnut Streets). Salum said that her older sister Helen had come back from the dead to haunt her and that it was her older sister who killed Jebadiah. Legend has it that Memorial Library Room 113 is one of the most haunted places at Minnesota State University. This was a technology education lab in the 1990's. Students who work late in Room 113 are sometimes visited by a former student asking where her technology project is. Students who have seen her say that the room also gets very cold just before she arrives. One student who was working in the room late in the evening stated that he saw her and actually saw her walk though the closed door "Like steam going back into a kettle." Many times the lights go out as students work there late at night. Legend has it that the Shadow People living there use the darkness to get closer to the students working there. Other students working late at night report that a 'student' lab assistant named "Doug" sometimes appears to help students with their work. There was a lab assistant by that name in the 1990's who disappeared without a trace on Pine Ridge Reservation (SD) in 2001.
Legend has it that the old Albatross Bar near the University was haunted. In the mid-1930s a bartender was murdered there while she was closing up, her body was found slumped in the corner the next morning. She had been stabbed seventy-seven times. Police records list it as a suicide. Her murderer was eventually caught, but not convicted until years later after he committed another murder. Patrons of the bar have reported the juke box apparently starting itself, sometimes running through all the records in a blur. The bar has been replaced by numerous shops. Late at night workers and tenants in the apartments above these shops have reported hearing 30's style music and seeing something, a person or a presence, standing in the shadows, passing behind them in a mirror, and walking across the floor... never a clear look, always just a glimpse. Enough however to let them know that they are not alone in their businesses or rooms.
A tour of New Ulm's haunted attraction
MANKATO, Minn. (KEYC) - Today, we max out the scary meter...
We take you to the New Ulm Nightmares Haunted House.
New Ulm Nightmares Haunted House kicks off this weekend and runs through next weekend. They'll also be open on Halloween from 6 to 9 p.m. you can go to newulmnightmares.com for more details.
Click here to download the KEYC News Now app or our KEYC First Alert weather app.
Copyright 2023 KEYC. All rights reserved.
Minnesota's first Office of Cannabis Management director out one day after being named to post
Seneca Foods' workers speak out after coworker dies
UPDATE: Pilot dies following gyrocopter crash in Minnesota River near St. Peter
2-year-old airlifted after shot in car
A moose is on the loose!
Latest news.
BCHS, Museum hosting Halloween Scavenger Hunt
Atwood Companies throw Fall Festival for community
Brown County authorities investigate scam calls
Gov. Tim Walz kicks off infrastructure tour Monday
StarTribune
'scare actors' reveal how they try to terrify at minnesota's dead end hayride.
As sundown approaches at Pinehaven Farm near Wyoming, Minn., one of the barns is stuffed with cowboys and scarecrows. Butchers and sheriffs. Prisoners and aliens. But because their stage is the sprawling, woodsy acreage of Dead End Hayride , these so-called "scare actors" play a blood-soaked, walking-dead version of the above — a soldier bears a large gunshot wound, a pasty-white monk looks like he just crawled from a crypt.
The scene resembles an enormous Halloween bash, with professional-caliber costumes. Upstairs, in the makeup booths, artists airbrush on fake blood (some of it mint-flavored!). Despite their realistic-looking bruises and gashes, the actors don't seem so scary as they down Monster-brand energy drinks to fuel themselves for the long night ahead.
Once dusk descends and a cowbell signals the call for "places," a crazed-looking clown snuffs out a cigarette and an undead nun hits the porta potty. As soon as the sky turns black, all of these eerie characters become hauntingly real.
Some 200 scare actors are the telltale heart of Dead End Hayride, which has grown from a modest family-run operation into one of Minnesota's largest haunted attractions, welcoming 5,000 guests on a sold-out Saturday night.
Their job is to startle and spook, moan and groan, make creepy conversation, and deftly react to the occasional visitor whose fight-or-flight response causes them to lash out, freeze or panic.
The goal is not to traumatize people, said Dead End's owner Jeremy Hastings, who sold his sports car to start the attraction on his family's farm over a decade ago in his early 20s. He hopes visitors are entranced by the spectacle — and dosed with a hearty adrenaline rush.
"We're not trying to be the scariest, most horrific haunted house," Hastings explained. "Our goal is that our customers are walking to the parking lot kind of looking over their shoulder, but laughing about the experience."
Scare tactics
What should newbies do to steel themselves against Dead End's frights? A group of return guests offers advice as they wait in the hayride line. Pretend you're not scared. ("They sense fear.") Close your eyes. Or, you can run — but you might get chased. Last year they raced through the cornfield tailed by a guy with a chainsaw.
The hayride sets off through a dark woods to a Wild West ghost town. Suddenly, a massive fireball explodes, radiating heat for extra realism. In the early years, one of Dead End's sets was little more than a chain-link fence accessorized with garbage bags and strobe lights. Today, there's a sprawling maze of scenes that suggest a Hollywood back lot: a multi-room prison; a mirrored funhouse; a seedy motel with dismembered dolls hanging from the ceiling.
Staff members built this season's new vampire castle scene from foam blocks coated in concrete. Each year, Dead End might spend six figures on props. Some are animatronic creatures created for movies. Other oddities are found on Facebook Marketplace, including the Vietnam War-era helicopter in the military encampment and a sunken ship slated to carry a zombie fishing crew.
Each set is elaborate — rows of skulls lining the crypt were hand-cast; the graveyard contains real headstones, rejected for typos — and enhanced with eerie lighting and fog machines. But it's the actors who bring the scenes to life.
By day, they are personal-care assistants, parents, HVAC technicians, even the branch president of a credit union. By night, they're united in their love of putting on a spooky show.
"They form this kind of ragtag family of unique individuals who all really, really enjoy Halloween," Hastings explained.
Horrifying roles
The hayride pulls into an old sawmill, complete with circular blades roaring. Out of nowhere, a tattooed millworker in stained overalls leaps out, revving his chainsaw (it's real, but with a protective cover). Riders scream and duck.
Chainsaw guy is actually Byron Brown, a mechanic from St. Paul, whose skin is still splattered with grease from a car he worked on earlier. He figured it fit with his look, which suggests he's taken a sawmill blade to his face.
Some actors like to repeatedly scare the same visitor. Or eavesdrop on conversations to creepily address guests by name. Brown's favorite scare tactic is the bait-and-switch: One actor distracts the guests while he leaps onto the wagon. "All of a sudden, you're right there and 'boom,' they jump out of their seats!" he said.
After passengers are dropped off outside the prison, they go on a long walk through one scene after another. Some scares unfold slowly, such as the tension-building tiptoe through the aisle of a prison-yard bus, where shadowy figures slump in the seats. Others are literal shockers, including an electric chair execution gone awry.
In the salvage yard, a bloodied mechanic with black eyeballs (costume contact lenses) steps out from the shadow of a junked car. It's Oliver Bauer, a high school thespian from Vadnais Heights playing a role very different from the one he holds in his school production of "Clue."
Bauer likes to bang on oil drums, or crouch under a wreck and grab ankles, or follow guests and trail his fingers up their back while growling and hissing. Unlike many haunted attractions, Dead End allows its actors to touch guests (with limits). It helps break the "fourth wall" and makes guests feel like they're actually in a horror movie instead of just watching it.
"We have people who drop to the floor," Bauer said. "We have people who cry. We have people who pee themselves, and they announce it to everyone, like, 'Omigod, I just peed myself.' "
Symbiotic scaring
As acting gigs go, Dead End is no Guthrie. Roles pay about $15 an hour, can stretch into the wee hours and include acting in the rain and mud.
"Sometimes it's not glamorous," Hastings admits. "It's an incredibly physical job. You lose your voice."
Yet each year, a majority of the staff comes back, in part due to the camaraderie Dead End cultivates. (There are post-show meals and pre-season parties.) Sometimes even the owner joins right in the fun. Last season, Hastings spent a night hiding in the show, deploying his signature "jumpscare" (exactly what it sounds like). "I haven't laughed and been so entertained all year," he recalled.
Scaring, Hastings said, is a symbiotic relationship: The scare-ers get as much thrill as the scare-ees. "The customer gets an adrenaline rush from your scaring them, as those brain chemicals get their heart pumping. But as a scare actor, you get that rush, too."
Rachel Hutton is a general assignment reporter in features for the Star Tribune.
RandBall: Vikings are the unluckiest team in the NFL. Will that change tonight?
Where Minn. Republicans stand on Emmer's bid for speaker
Judge to decide whether to allow plea agreement avoiding prison in carjacking murder case
Who is Minnesota's favorite writer? These are our readers' top picks
Law enforcement busts teen's boozy birthday bash at Maple Grove Airbnb, seize high-powered guns
Huntington Bank closing 11 Twin Cities branches inside Cub stores
Exhibits and collectors editions mark 400th anniversary of Shakespeare's First Folio
Book review: 'a brief history of intelligence' may help humans shape the future of ai.
University of Michigan slithers toward history with massive acquisition of jarred snake specimens
Book review: 'america fantastica' entertaining journey that looks at consequences of lies, book review: sandra newman puts a feminist spin on '1984' with 'julia'.
One of the ugliest buildings in downtown Minneapolis will likely be demolished. Should we care? • Variety
Who is Minnesota's favorite writer? These are our readers' top picks • Books
Midwest Mountaineering was more than just a store, and losing it matters • Variety
Condo-style cabin on a Wisconsin lake lists for $675,000 • Home & Garden
Where our restaurant critic takes a first-time visitor to eat over a weekend in Minneapolis • Eat & Drink
© 2023 StarTribune. All rights reserved.
Pricing & Info
Buy tickets now, get directions.
We've been voted #6 in the nation by USA TODAY 10Best award! Thank you to the community for your continued support! 
USA TODAY 10Best provides users with original, unbiased and experiential travel coverage of top attractions, things to see and do, and restaurants for top destinations in the U.S. and around the world.
Sign Up For Exclusive Offers
Want to know the latest about new features, get exclusive offers, and more? Sign up for our email newsletter. We promise to only send you creepy stuff.
The Scariest Halloween Attraction in Minnesota
Welcome to The Haunting Experience, the scariest of all the Halloween attractions and haunted houses in Minnesota. It is located just a few minutes south of St. Paul, along Highway 61 in Cottage Grove. We invite you to visit us this October…if you dare.
We offer a variety of terrifying attractions and the very best in Halloween entertainment. Enter our fan-favorite Haunted House and jump on Minnesota's longest-running Haunted Hayride Attraction located near the Twin Cities, MN.
The Haunting Experience
Thrilling, heart-pounding, gut-wrenching adventure awaits…
Haunted House   – Walkthrough the scariest haunted house in Minnesota filled with terrors and dark entities that roam the hallways. Experience one of the most spine-chilling Halloween haunted attractions in MN, where nightmares come to life.
Hayride   – The Haunting Experience is home to the longest-running hayride in Minnesota. Jump onboard and scream for your life as you pass through the haunted forest and the horrors of Wilhelm Steelworks. Beware of the maniacs and monsters that lurk along the tractor trails, waiting for their next victim. This Halloween in MN promises a heart-pounding adventure you'll never forget.
Fall Fun Fest
During the daytime on select days , bring the family out for some fall fun! Pet goats, paint pumpkins, jump on a free hayride, or tour our Haunted House with the lights on and no monsters to scare you.
Art Activities
Free Hayrides
Daytime Haunted House Tours
Goat Petting
Vortext Walkthrough | NEW
find your fear
What are you afraid of.
The only thing to fear is fear itself. Or is it?
Whatever it is you fear the most, chances are it is lurking around somewhere– in your mind. We've been operating out here for 37 years, so all we can say is, if you dare to come to MN haunted attractions, you'd better not come alone.
When you visit the Haunting Experience, you will experience the legacy of terror that has made us the premier haunted attraction in MN. Find out why when you enter our terrifying haunted house and ride on the longest haunted hayride in the state.
We offer the ultimate Halloween entertainment for those who love a good fright. There's no group too big for us to scare. Special group rates are available for groups of 20, 50, and 100. We welcome guests of all ages, as long as you can handle what awaits you here at our Minnesota Halloween attractions.
Our ghouls and other creatures won't melt under the rain; rain or shine, they'll still be prowling about and ready to give you the scare of your life. Gather your bravest friends and join us for a night of fun you'll never forget. If you live through the experience, that is.
37 Years of Fear
The Zywiec Family established the Haunting Experience as one of the best haunted attractions in MN back in 1986. Since then, our complex features the perfect team of scare actors, artists, builders, and human oddities. Together, we bring you an intensely scary haunted house experience, a humorously eerie haunted hayride, and mouthwatering concessions. Visit our haunted attraction on Highway 61 in Minnesota this Halloween season, and enjoy the scare of your life!
What People Are Saying
10900 E. Pt. Douglas Rd. Cottage Grove, MN 55016
651-459-3001 [email protected]
We're A Top Rated Halloween Attraction and Haunted House
© Copyright – The Haunting Experience on Highway 61 | Website by Sievers Creative + Olivia Hines Design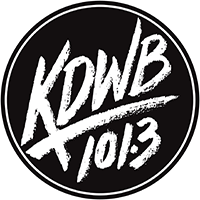 The 'Creepiest Haunted House' In Minnesota
Posted: October 16, 2023 | Last updated: October 16, 2023
Spooky season separates the paranormal thrill-seekers from the skeptics, and one activity is sure to show who is who: visiting a haunted house. Some are extremely intrigued by the possibility of paranormal activity and actively seek out haunted seasonal attractions. In contrast, some simply do not believe in the paranormal and do their very best to steer clear of locations where ghosts and spirits are allegedly most prevalent. Whether you identify most with the paranormal thrill seeker or the skeptic; there is one house in each state known far and wide for being the "creepiest" and most "haunted" around.
According to a list compiled by 24/7 Wall St. , the creepiest haunted house in Minnesota is the house on Grey Cloud Island located in Grey Cloud Island.
Here's what 24/7 Wall St. had to say about the creepiest haunted house in all of Minnesota :
"Grey Cloud Island is said to house one of the largest Native American burial grounds in the nation. It's also been cited as an area rich in spirit world activity. Visitors claimed to have seen a spectral motorcyclist and a young woman weeping for her dead child."
For a continued list of the creepiest haunted houses in each state visit 247wallst.com .
More for You
Trump's Pardon of General Flynn Under Scrutiny After Sidney Powell Flips
The Best Christmas Towns in America You Should Visit at Least Once
Peanuts by Charles Schulz
Drivers of Jeep, Kia plug-in hybrids take charging seriously. Here's why that matters.
Iconic Las Vegas Strip attraction closed as the end nears
Kremlin says U.S. can't build 'new world order' that Biden spoke of
Trump to seek presidential immunity against E. Jean Carroll's 2019 damage claims
The best beach town to live in on the East Coast isn't in Florida, data shows. See the top 25.
Baby Blues by Rick Kirkman and Jerry Scott
Florida lets DMV revoke driver's licenses based on anonymous reports
Tesla, Ford and Kia among 120,000 vehicles recalled: Check car recalls here
U.S. repeats warning it will defend Philippines after China ships ram vessels in Manila
COVID Map Shows States Where Positive Cases Are Higher
'He's like a mob boss': legal experts alarmed by Trump's attacks on judges
Garfield by Jim Davis
How Micron is building the biggest chip fab in U.S. history despite a China ban and smartphone slump
Video Shows Vehicle Drive Through Minneapolis Pro-Palestinian Rally
NFL Week 7 winners, losers: Packers have a Jordan Love problem, Chiefs find their groove
Millions bracing for snowstorm
US moves carrier to Middle East following attacks on US forces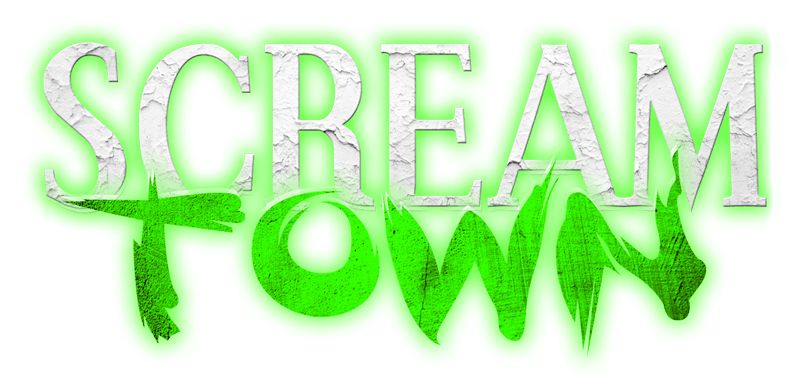 7 Massive Haunted Houses! 1 LOW PRICE!
" Hands down one of the best haunt experiences I've ever had. - WWE Superstar Byron Saxton haunt fan
" Chosen as "One of the 8 Best Haunted Attractions in the USA!" - CNN
" "One of the Best in the USA" - Star Tribune
Due to recent rains, we recommend an outdoor shoe such as a boot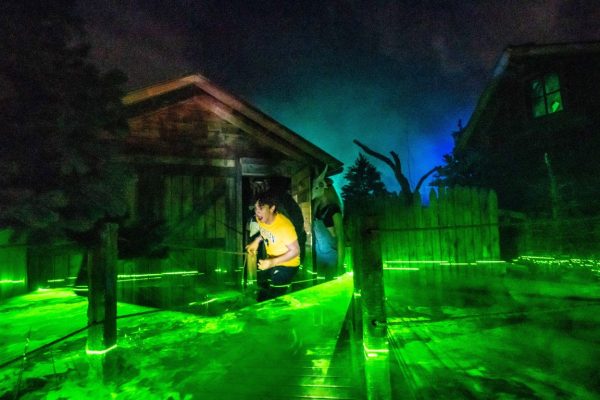 Why Visit ScreamTown?
As one of the top Halloween Haunted Attractions in the country and the Minneapolis St. Paul Twin Cities area, this event is an exceptional value with 7 massive haunted attractions.
Our Minnesota location in Chaska, is situated on a dead-end just outside the suburbs of Eden Prairie, Chanhassen, Savage, Lakeville, Minnetonka, and Shakopee, and feels like you are in the middle of nowhere.
Our scarer-actors are passionate not just about Halloween, and haunted houses, but actually scaring people.
Our teams works year round to ensure that our guests have an experience they will remember for years.
Don't miss their sister event – The Abandoned Hayride. One of the most unique Haunted Hayrides in MN.
ScreamTown 7410 US-212 Chaska, MN 55318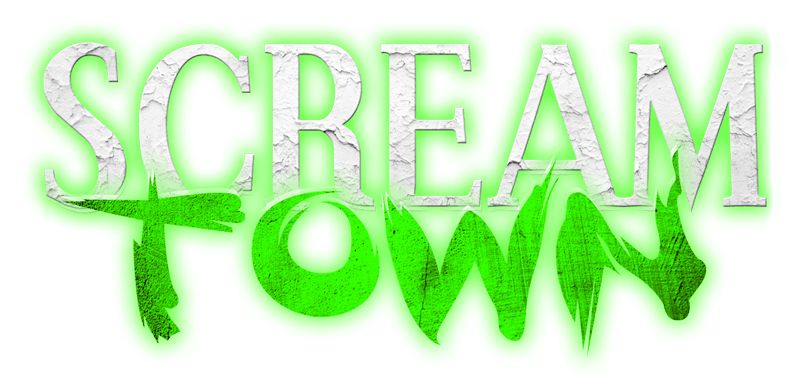 Directions Group Sales Now Hiring
Screamtown hotline: 1-888-317-7308 ticket information email: [email protected], privacy policy © 2023 screamtown | all other copyrights and trademarks are the property of their respective owners. all rights reserved..


Minnesota haunted houses, hayrides and trails to visit this fall
(FOX 9) - Spooky season is approaching, and Minnesota is home to numerous haunted houses, hayrides and trails to get your horror fix. 
Here's a look at haunted offerings, as well as some less spooky venues for families:
Haunted houses
Anoka Haunted House:
Location: 3200 St Francis Blvd. NW, Anoka
Tickets: $12 per person
Head to the Halloween Capital of the World for this unique haunted house. The creatures in this house are local high school students raising money for their activities. The house has been operating for over 30 years.
Duluth Haunted Ship:
Location: 301 Harbor Drive, Duluth
Tickets: $10-$27 per person
The ship, the William A. Irvin, transforms into an October haunt where ghosts come alive. Starting in the engine room, you will travel through the ship until you find your final destination, below Lake Superior's freezing waters in this maze of terror. The belly of the boat is pitch dark, and there may be ghouls around the next corner.
While these haunts may be manufactured, there is a history of paranormal activity aboard this vessel. Three paranormal investigation groups have come aboard the Irvin to check out the potential activity.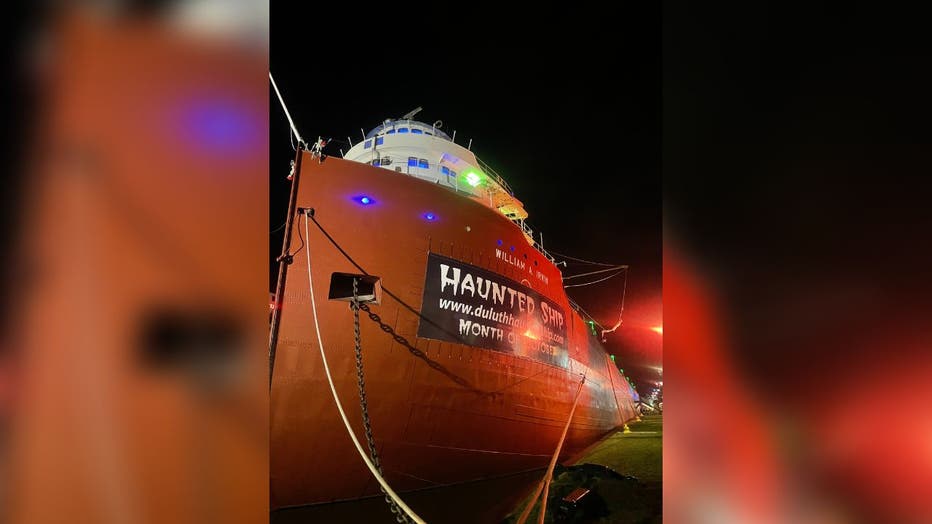 The William A. Irvin, which is said to be haunted, is home to a haunted house in the fall.  (Melissa Turtinen/FOX 9)
Fright Nights:
Location: 105 3rd Ave NE Glenwood, MN
Tickets: $20 per person
This house features claustrophic passages, jump scares, uneven floors, total darkness, and more! Skull Boy, Zippy, and Buzzkill are three characters that frequent this eerie place! This haunt is not handicap accessible.
The Haunting Experience:
Location: 10900 E. Pt. Douglas Road, Cottage Grove
Tickets:  $24-$48 per person
This haunted house boasts over 35 years of experience. Guests have to navigate the winding corridors of this terrifying house. An abandoned hospital and the madmen inside greet visitors this year. There is no touching during this attraction, although minimal contact may occur.
Henning Haunted House:
Location: 606 2nd St., Henning
Tickets: $5 per person
With its low admission fee, the Henning Haunted House is the cheapest haunt in the central Minnesota area. The admission fee is donated to community organizations and projects. Last year, the Henning Lions Club began selling food across the street, so you can have dinner and a show.
RELATED: Halloween spending to reach record $10.6B: NRF
Molitor's Haunted Acres:
Location: 3571 5th Ave. NE, Sauk Rapids
Tickets: $29-$58 per person
This walk-through haunt added trails through their haunted woods and new thrills throughout the houses for this Halloween season. 
The trail is uneven, so wear appropriate shoes. This haunt is not recommended for children under 12.
Molitor's Quarry Grill & Bar is steps away from the walk-through, where they fully celebrate the haunted season. The staff organizes themed weekends throughout October, so guests will be sure to find extra entertainment when they sit down for a meal.
Monster Bash:
Location: 150 1st St. NW, Harmony
Tickets: $13 per person
Monster Bash is a nonprofit haunted house and donates the bulk of its earnings each year to support the arts in the local area. They have donated over $107,000 to music, theater, and arts programs over the years. Each season is uniquely themed, and this year's theme is Slim Chance. 
Nowhere Haunted House:
Location: 5300 S Robert Tr. #300 Inver Grove Heights, MN
Tickets: From $28 per person
Nowhere Haunted House is a new addition to the haunting options in Minnesota this year! This event is produced by Haunt Armada, a group that aims to expand the scope and quality of the Twin Cities' Halloween-themed activities and attractions.
After Halloween, Nowhere   will offer holiday haunts at Christmas, Valentine's Day, St. Patrick's Day, and May Day, and immersive theater productions throughout the year.
Scream Town:
Location: 7410 US-212, Chaska
Tickets:  $34-$149 per person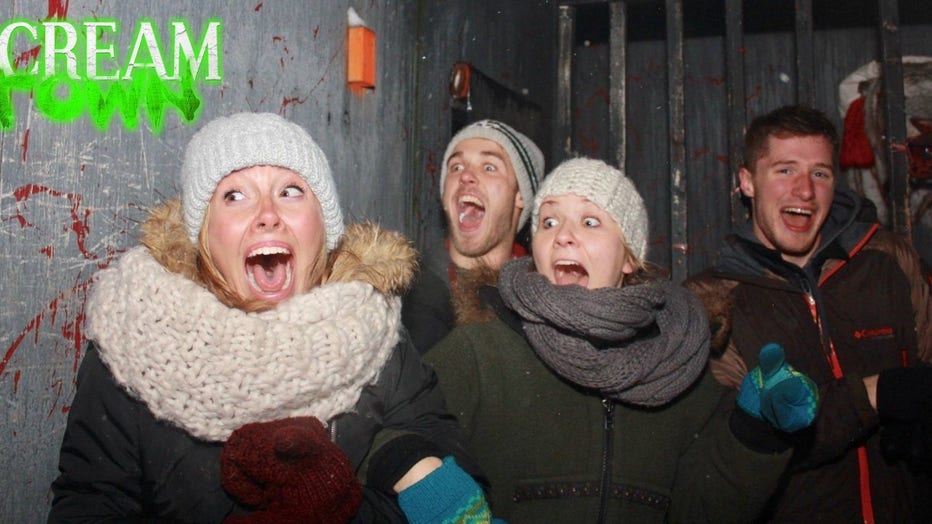 Scream Town is considered one of the best Halloween attractions in the Minneapolis St. Paul Twin Cities area. (Scream Town / Supplied)
This house was rated one of the top ten haunts in the country by CNN in 2019. 
This year's attractions include:
A psychedelic circus.
A zombie apocalypse.
A demonic forest.
Alien abduction.
A labyrinth.
A Christmas-themed haunt.
A possession-themed house with VIP access only.
Scream Town also offers food, including pizza, burgers, cheese curds, cookies, and more.
Haunted hayrides and haunted trails
The Abandoned Hayride:
Location: 7525 US-212, Chaska
Tickets:  $30-$149 per person
This hayride has new sets, effects, scenes, and scares this year. There are three parts to this haunt, beginning with the hayride. After being abandoned in the woods with only a small lantern to light the way, attendees must find their way out of the creature-infested woods. Guests will then be exiled with one other person. They have to find their way out or risk being banished forever! 
There is a touch element to this haunt, and the experience lasts roughly 45 minutes.
The Dead End Hayride:
Location: 28186 Kettle River Blvd. N, Wyoming
Tickets:  $12-$47 per person
This hayride travels down trails, through the woods, and into haunted barns and structures throughout the ride. The woods are infested with creatures that appear at every turn. The 2022 season brings back a minimal level of interaction, including touching.
Harvest of Horror:
Location: 4108 200th St St. Augusta, MN
Tickets:  $29-$49 per person
This haunt begins in the fields of St. Augusta as guests enter into a spooky hayride. If they make it off the hayride alive, they'll be tormented in the woods! The Harvest of Horror is open, rain or shine, and tickets are sold until 10:45 p.m.
This attraction is the oldest haunted hayride in Minnesota. It passes through gnarled trees and deep tunnels, passing into the territory of a two-century-old monstrous family. Other haunts on this ride include cannibalistic monsters, madmen, creatures, and more
There are stairs, steps, and uneven ground throughout this experience, so be sure to dress appropriately. There is no touching during this attraction, although minimal contact may occur.
Family friendly Halloween celebrations
ValleyFair Halloween:
Location: One Valleyfair Drive, Shakopee
Tickets: $29.99-$34.99 per person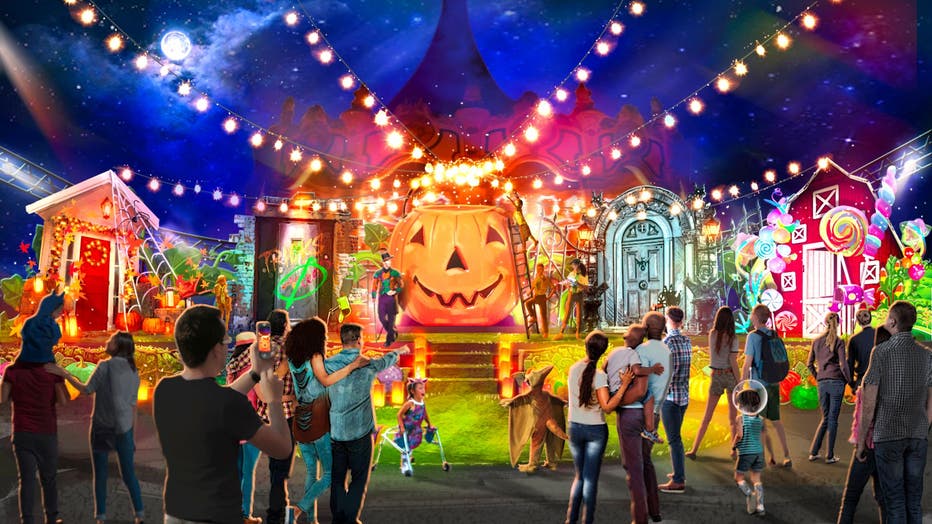 Valleyfair transformed their Halloween celebration this year. Rather than offering Valleyscare, the theme park is opting for a family-friendly option called Tricks and Treats. (Valleyfair / Supplied)
Halloween at ValleyFair looks different this year. Rather than their traditional ValleyScare, the theme park is introducing Tricks and Treats, a family friendly Halloween event with seasonal treats, drinks, and candy.
The land of treats has two areas: Everfall and Sweet Tooth Acres. Everfall creates the perfect fall oasis with pumpkin decorating, flannel, and softly glowing candles, while Sweeth Tooth Acres is reminiscent of a childhood favorite, Candyland.
The land of tricks features Ickyville and Spooky Spires. Ickyville brings all things creepy and crawly to this Halloween festival, including worms, zombies, and bugs. Spooky Spires is a 1920s gothic village with a silent disco and macabre carnival games. 
Family friendly activities will be available throughout the park, so this event will be fun for everyone.
Jack-o-Lantern Spectacular:
Location: 13000 Zoo Blvd., Apple Valley
Tickets: $20-$24 per person
Jack-O-Lantern Spectacular at Minnesota Zoo
The Jack-O-Lantern Spectacular runs Oct. 1-Nov. 5 at the Minnesota Zoo. The event features hundreds of artist-designed pumpkins.
Follow the trails at the Minnesota Zoo to see thousands of artistically carved pumpkins. This year's walk will lead you on a journey through a 'Night at the Library,' featuring new artists' work and plenty of seasonal fun.
Animal viewing is available in Discovery Bay until 8 p.m. The animal buildings close at 4 p.m.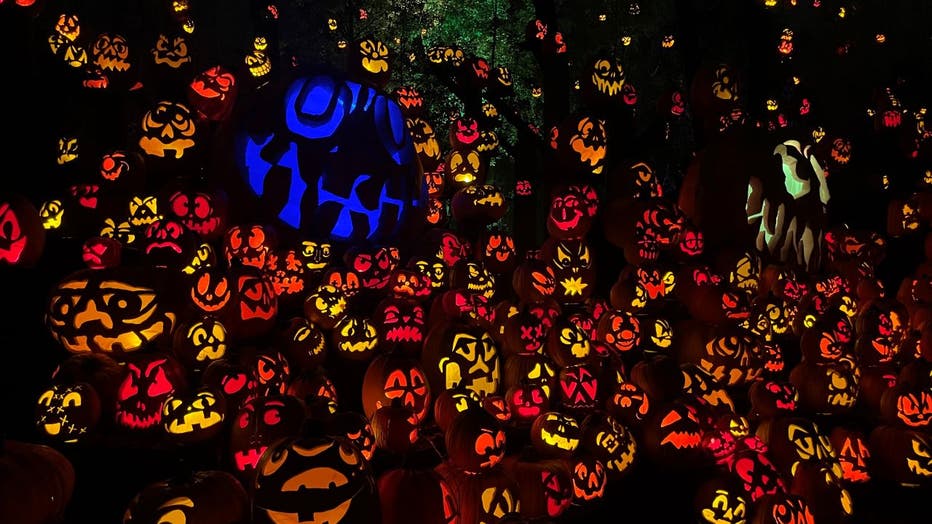 The Minnesota Zoo in the fall hosts a Jack-O-Lantern Spectacular.
Featured Haunts
Haunted Houses
Minnesota Haunted Attractions
Haunted attractions in minnesota 2023.
Sign up for for the MinnesotaHaunts.com Newsletter below!
In Your Town
Arden Hills
Columbia Heights
Coon Rapids
Cottage Grove
Falcon Heights
Golden Valley
Harnell Park
Little Canada
Minneapolis
Mounds View
New Brighton
Robbinsdale
Saint Anthony
Saint Anthony Village
Saint Louis Park
Young America

Minnesota Nearby Towns
North Mankato
Saint Clair
Madison Lake
Saint Peter
Good Thunder
Garden City
Lake Crystal
All Minnesota Cities
Explore Another City
Subscribe to our RSS
Follow us on twitter
Follow us on Facebook
Select a City
Mankato, MN
Minnesota Halloween Events
Halloween Events!
Searching for the best place to find Halloween Haunted Houses and Halloween events in Mankato, MN? Look no further as we have pulled together the best list of Halloween happenings for Minnesota. Use this list below to find the best Halloween events and happenings in your area or browse through our spooky list of Halloween Trick or Treating events, Halloween Parades and more in MN.
Hunting for scares and screams in a Minnesota Halloween Haunted House near Mankato? We've got you covered.
In need of a jack-o'-lantern? Check out our collection of pumpkin patches, farms, and stands near Mankato, MN.
Find Minnesota Halloween Events!
Oktoberween.
Scream Town Haunted Attraction
The abandoned haunted hayride attraction, new ulm nightmares haunted house attraction, halloween hustle 5k.
Spooky Sprint 5K
Cuzzy's Costume 5K
Pumkin Fest
Halloween Spooktacular 5k
COVID-19 Resources
Find minnesota haunted houses, residential evil.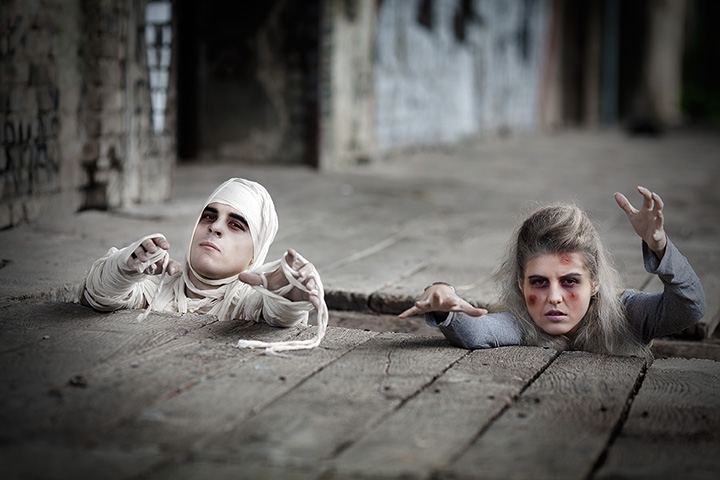 Northern Frights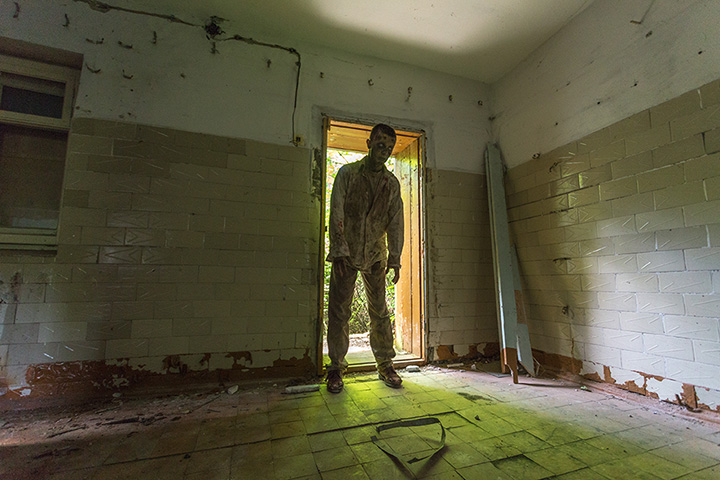 New Ulm Nightmares Haunted House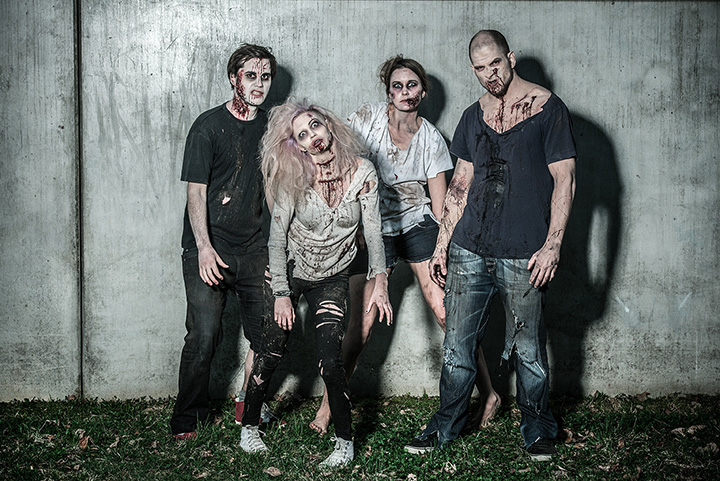 The Abandoned Haunted Hayride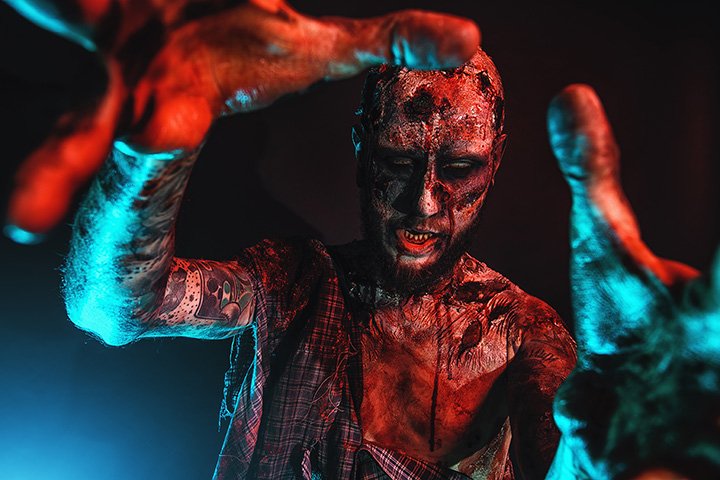 Scream Town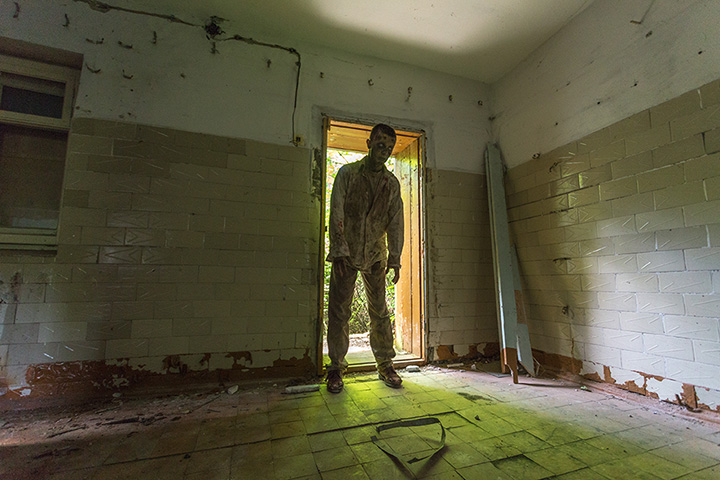 Trail of Terror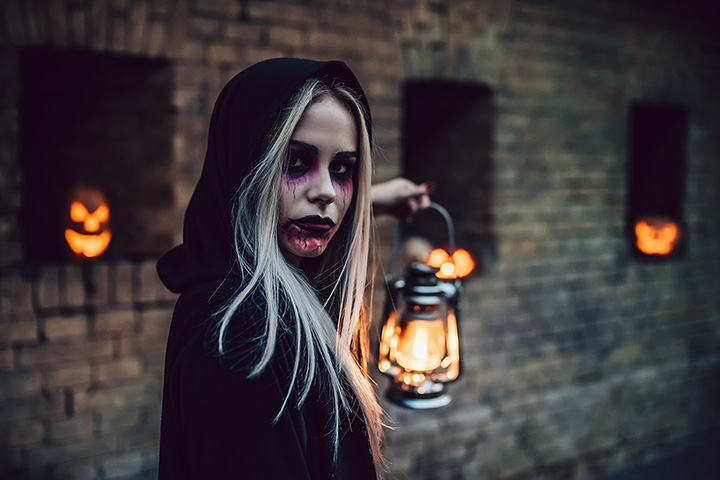 Albert Lea Fire Explorers Haunted House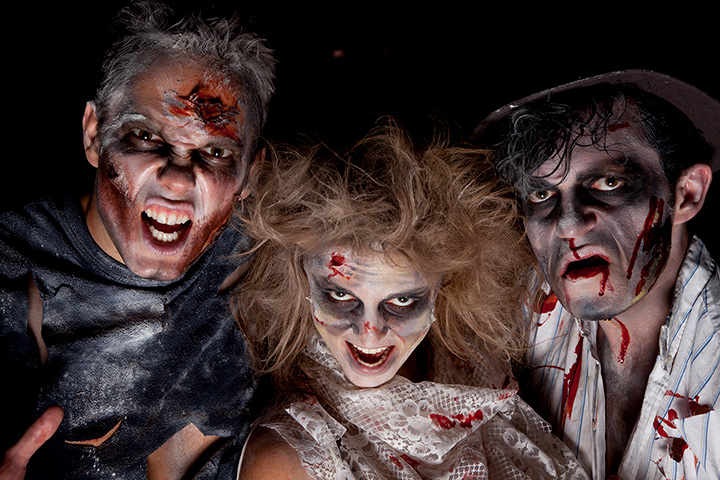 Valley Scare Halloween Haunt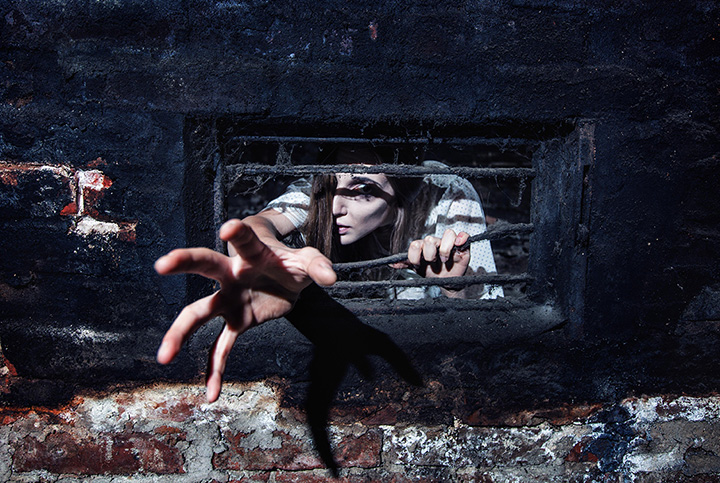 The Haunted Dome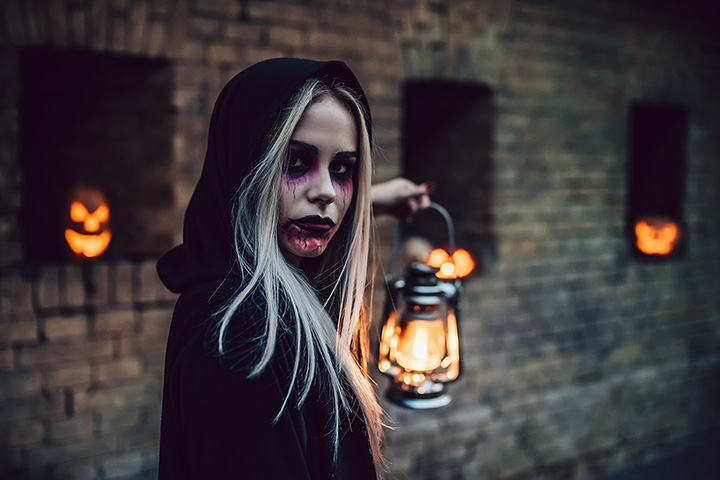 Support Our Troops Haunted House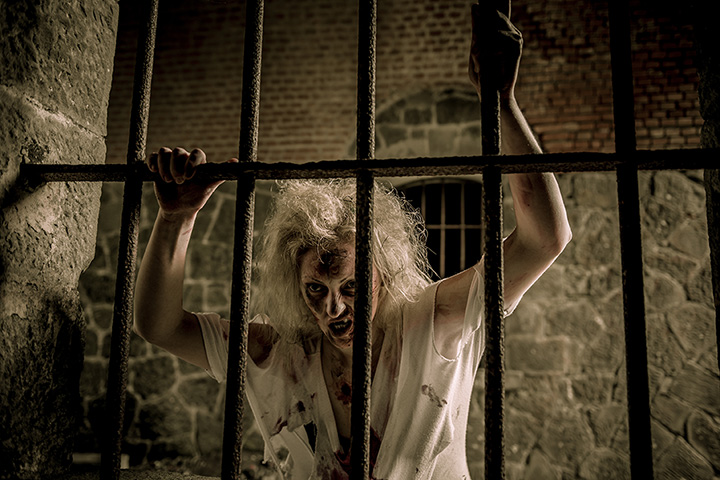 American Red Cross News - Give Something That Means Something
American Lung Association October News: RSV, Clinical Trials, Fall Allergies, Asthma Education
United Way Reading Festival 2023
School Closings View our updated school closings list.
Local schools find education near you., local groups view all the organizations in your community., businesses vfind popular businesses near you., jobs looking to work locally try these listings we found., list your organization.
Do you have a non-profit Organization that you'd like to add?
Post An Event
Promote your event to the community.
Submit A News Release
We want to hear about the latest and greatest story that's happening within our community.
Free: See How You're Listed
On Yahoo, Yelp, SuperPages, AmericanTowns and 25 other directories!
Improve Your Listing
Add your social media links and bio and promote your discounts, menus, events.
New Businesses
Be sure your listing is up on all the key local directories with all your important content (social links and product info).
20 million people rely on AmericanTowns each year to find & share local information.
9 must-visit haunted places in Ohio, including 1 in Cleveland
Updated: Oct. 18, 2023, 9:17 a.m. |
Published: Oct. 18, 2023, 8:14 a.m.
Franklin Castle in Cleveland, Ohio, made the list of "Haunted Ohio: 9 Must-Visit Places" from Ohio.org. (Photo courtesy of Cleveland Public Library)
Zach Mentz, cleveland.com
It's mid-October and spooky season is in full swing, filled with pumpkins, ghosts, witches and more.
And if you're like many people seeking a haunted adventure to celebrate the season, there are a number of spooky places to visit across Ohio – including one right here in Cleveland.
Franklin Castle in Cleveland made the "Haunted Ohio: 9 Must-Visit Places" list from Ohio.org. The Victorian-style stone castle opened in 1883 and is said to be the most haunted house in Ohio, according to its fright-filled website . Franklin Castle is located at 4308 Franklin Boulevard in Cleveland's Ohio City neighborhood.
"Perhaps one of Ohio's most notorious buildings, Franklin Castle is a landmark for its haunted history," Ohio.org writes in its list. "People report flickering lights, sounds of crying babies, and even the ghostly image of a woman in black. You can now book an overnight stay at Franklin Castle - so be on the lookout for its spectral guests who also roam the halls of this historic spot."
RELATED: Northeast Ohio street ranked No. 3 most haunted road in U.S.: TikTok survey
In addition to Franklin Castle, the other eight must-visit haunted places in Ohio, according to Ohio.org, are:
· Moonville Tunnel in McArthur, Ohio
· South Bass Island Lighthouse in Put-in-Bay, Ohio
· Licking County Historic Jail in Newark, Ohio
· Molly Stark Park in Louisville, Ohio
· The Ohio State Reformatory in Mansfield, Ohio
· Spring House Gazebo at Eden Park in Cincinnati, Ohio
· The Ridges at Ohio University in Athens, Ohio
· Malabar Farm State Park in Lucas, Ohio
Ohio.org's full list of "Haunted Ohio: 9 Must-Visit Places" can be found online .
If you purchase a product or register for an account through a link on our site, we may receive compensation. By using this site, you consent to our User Agreement and agree that your clicks, interactions, and personal information may be collected, recorded, and/or stored by us and social media and other third-party partners in accordance with our Privacy Policy.
Haunted Places in North Mankato, Minnesota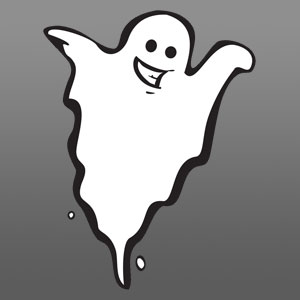 R.D Hubbard House Museum
Mankato, minnesota.
This historic mansion is currently operated as a museum by the Blue Earth County Historical Society, and staff claim that even after the building has closed down for the night, some still walk the halls of the old house. Visitors claim to have heard ghostly laughter, running footsteps in ...
Minnesota State University Mankato
Minnesota State University Mankato is said to have a ghost who rings buzzers and another who steals toilet paper in the Crawford Dorm. And in the Crawford-McElroy Complex, there is a ghost stuck in the 1960s who goes on panty raids.
Calvary Cemetery
At Calvary Cemetery, you can find the visuals for many stories told by school kids. There are several about an evil doctor who appears as a ghost-devil, and some about Hell Road, a nearby path where animal sacrifices were allegedly performed. Ghost hunters determined that no such devilish behavior really ...
Green Lawn Cemetery - CSAH 20 Cemetery
St. peter, minnesota.
Green Lawn Cemetery, aka CSAH (County State Aid Highway) 20 Cemetery and Traverse de Sioux Cemetery, is rumored to be haunted and a spot for animal sacrifices. People have reported apparitions, photo anomalies and other strange phenomena here.
Le Sueur County Historical Society Museum
Elysian, minnesota.
Some odd things have been reported at this museum: disembodied voices, a typewriter and a record player that worked by themselves, and a service bell that rang on its own.
Lambrecht's Gift Store
New ulm, minnesota.
This gift store is housed in a historic building, which has a darker history in relation to the murder of a woman that occurred in the building many years before. The apparition of a pale-faced woman with a terrified expression has been seen knocking on the window of the ...
Montgomery Golf Club
Montgomery, minnesota.
Montgomery Golf Club is home to two ghosts, maybe more. One's identity has been traced to a farmer who once lived on the land and is said to be buried on the first hole of the golf course. His apparition has been spotted in a hat and overalls. The other ...
Owatonna, Minnesota
Ghosts of orphaned children are rumored to linger in this former orphanage, laughing audibly. Witnesses also have seen the floor move and warp and smelled phantom cigar smoke. Books also have moved, temperature has been known to change drastically, and phone calls have been made to the police department from ...
It's 5 O'Clock Somewhere
The bar called It's Five O'Clock Somewhere is said to be haunted. Reports say the apparition of a man in old-fashioned duds and a puddle of blood appear out of nowhere. The bar was a funeral home and a used furniture store in past incarnations.
Ferguson's Cemetery
Norwood young america, minnesota.
According to local legend, Ferguson's Cemetery is the home of a ghostly little boy who peeks out over a tombstone. Reports say his grave is the one in the southwest corner, separated from the other graves. Orbs, eerie feelings and the sound of a phantom dog barking also have been ...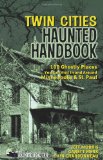 St. Olaf College
Northfield, minnesota.
The four buildings rumored to be haunted at St. Olaf College are Hilleboe Hall, where children singing and playing piano have been heard; Kelsey Theater, where deceased Miss Kelsey has been witnessed playing the piano onstage; Melby Hall, where the apparitions of a man and a woman in Victorian clothing ...
Chanhassen Water Tower
Chaska, minnesota.
Folks say strange noises and a ghostly dancing figure around and atop the water tower prove that it's haunted.
Harrington-Merrill House
Hutchinson, minnesota.
Built around 1820, the house is said to be haunted by a Native American Sioux named Little Crow and his son, who were both shot by a farmer while spending the night in the house. Some reports say the son was not killed.
Chanhassen Dinner Theatre
North mankato,.
According to local lore, the theater was built on the site of a home that burned down, killing the woman who was inside. Her spirit was said to haunt the theater, along with the ghost of a former actor who was bicycling home when she was hit and killed by ...
Andy's Market Hill - Scott Park
Apple valley, minnesota.
At the popular sledding spot called Andy's Market Hill, aka Dead Man's Hill in Scott Park, legend has it that a little boy named Dameon was sledding in 1998 when he was killed accidentally by an archer who shot him in the eye. Now, Dameon's sledding apparition is seen here ...
Quill and Quilt Bed and Breakfast
Cannon falls, minnesota.
Built in 1897 for a prominent local physician, this bed and breakfast inn appears to now be a private residence. During the establishments heyday, guests reported catching glimpse of a shadowy apparition in the Quilters Haven Room. (Submitted by Callum Swift)
Holbrook Park
Long lake, minnesota.
Locals may tell you that around 2 a.m. on Sunday nights, a ghstly little girl is seen walking around the park. If you get close, she disappears. When she comes back later she is with the apparition of her father and she is carrying apples in her apron. Some say ...
Fountain Lake
Delano, minnesota.
At Fountain Lake, witnesses say, the ghost of a Native American woman who drowned here can be heard screaming late at night.
Holy Name Cemetery
Wayzata, minnesota.
A white apparition, phantom disappearing headlights, footsteps, voices, and unexplained wind have all been reported at the Holy Name Cemetery across from a brick church.
Lake Rebecca Park Reserve
Rockford, minnesota.
Lake Rebecca Park Reserve is full of maple and basswood forests and hiking, biking and nature trails. A bench along one of the trails is alleged to be haunted by the ghost of a man who committed suicide there.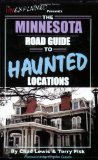 Mantorville Opera House
Kasson, minnesota.
Built in 1918, the Mantorville Opera House building has been a club, a speakeasy, a silent movie house, a skating rink, a city hall and a civic center. It is believed to be haunted by several spirits, including former actors and entertainers and a woman who the staff nicknamed Ellen. ...
Minneapolis College of Art and Design
Minneapolis, minnesota.
At the Minneapolis College of Art and Design, legend has it that the ghost of someone who was murdered in a campus building's basement terrifies the students. Some have awoken in the night to screaming inside their heads, unable to move.
Minnesota Institute of the Arts
Some say the spirit of a student who was raped and murdered haunts the Minnesota Institute of the Arts. The Connecticut Room is reported to have unexplained cold spots, and some students say they have awoken in the night freezing cold to the sound of screaming.
The Buckingham
I don't go around seeing ghosts everywhere. The last ghost I saw was in 1983 when I lived in an apartment building called The Buckingham. I was in my bedroom when I saw a shadowy silhouette of a man enter, stand and stare at me, and proceed to ...
College of St. Catherine
Saint paul, minnesota.
At College of St. Catherine's St. Mary's Hall, a gray lady appears in doorways of the second floor rooms. Students also have reported something poking them awake right before their alarms go off or cold fingers on the backs of their necks. Some have heard the sound of someone running ...
First Avenue
Rumor has it that the upstairs dance lounge is haunted, and deejays report growls and other noises in the headphones. And according to local legend, when the site was a bus station long ago, a distraught woman hanged herself in the restroom. She was going to meet her boyfriend who ...
Grey Cloud Island
St. paul park, minnesota, minneapolis city hall.
The turn-of-the-century Minneapolis City Hall building is said to be haunted by John Moshik. In 1898, he was convicted of murder and his hanging was botched, forcing him to endure 3 minutes of slow strangulation. As a result, no more hangings occurred here. Now, folks have seen his apparition or ...
Oak Hill Cemetery
Estherville, iowa.
A couple of spooky stories surround this cemetery's hill, and the fact that your car, when put in neutral, will seem to travel up it by itself. According to one story, a car full of football players was in an accident here when the car stalled. While they were pushing ...
Cuzzy's Bar and Grill
In 1890, this building was a brothel where a young girl named Betsy worked as an entertainer, with her true love being a soldier at war. He promised to take her away, but she was murdered before this happened. Today, it is a bar in the Minneapolis warehouse district, minus ...
Washington Avenue Bridge
Washington Avenue Bridge at the University of Minnesota is the stuff of local haunted legend, especially among students. Witnesses have heard footsteps along the bridge that seem to follow them, stopping when they stop and resuming when they do. The haunting is said to be a result of the many ...
Vicksburg Cemetery
Renville, minnesota.
Vicksburg Cemetery is said to have a glowing tombstone whose grave sports bleeding flowers in spring.
The Soap Factory
The old 1880s soap factory, now an experimental art venue, is said to be a doozy of a haunted site, based partly on the reality that soap was made from animal fat (allegedly from thousands of strangled stray dogs and the like). Not only that, but before it was a ...
Schmidt Brewery
Allegedly haunted by a variety of employees who died there in various ways. Details on the actual haunted activity are scarce but seem to fall primarily into the "eerie feeling" and "random sound" categories.
Marie Schmidt-Bremer House
This house is known in these parts because it belonged to Marie Schmidt-Bremer, the daughter of Schmidt Brewing Company founder Jacob Schmidt. She and her husband Adolf Bremer had a son, Edward, who was kidnapped in 1934 by the Karpis-Barker gang. The house is haunted by an apparition of a ...
Sturges Park
Buffalo, minnesota.
Local legends say the park's old bathroom is haunted. Witnesses have seen names written in blood on the mirror. Also reported on the premises have been floating orbs and the apparition of Old man Sturges, an 1880s businessman who lived next to the park.
Loon Lake Cemetery
Jackson, minnesota.
Loon Lake Cemetery is said to be haunted--and dangerous. According to local lore, three witches were violently executed and were buried here, but not before threatening to curse anyone who desecrated their graves. Mary Jane, beheaded in 1881, was said to be the most powerful of the witches. Legend has ...
Hamlet Park - Dead Man's Pond
Cottage grove, minnesota.
Legend has it that the little swampy, algae-covered pond in Hamlet Park claimed a victim long ago, and today it is haunted... and lies in wait for its next victim.
Hamline University
Hamline University has a few haunted halls, say the students. One building said to see the most ghostly activity is the Manor Hall, where apparitions, moving objects and strange noises abound. The third floor is the most active. Old Main and Drew Hall are no slouches either, as far as ...
Griggs Mansion
The 1883 Griggs Mansion was turned into apartments, and then an art school in 1939. It has many ghosts, including a maid who hanged herself on the fourth floor landing in 1915; gardener Charles Wade, who has been heard flipping through books in the library; a thin man in a ...
Ness Church
Litchfield, minnesota.
Legends of ghostly Sioux Indians and a little girl named Annie surround this church. Some say the church lights come on and apparitions can be seen around the grounds.
William G. LeDuc House
Hastings, minnesota.
Civil War quartermaster General William Leduc's home, built in 1865, and his family reportedly dabbled in spiritualism. Many spirits are said to reside here, and the apparition of General Leduc himself has been spotted. His daughter Alice and family friend Carroll Simmons are believed to be here as well, and ...
The Jonathan Padelford
The Jonathan Padelford is a Mississippi River steamboat that's believed to be haunted by a man who drowned after climbing to the top of the pilothouse and then falling from it into the river. Both employees and passengers have heard this phantom scene replay, complete with footsteps and a large ...
Forepaugh's Restaurant
Forepaugh's Restaurant serves French cuisine in an 1800s Victorian mansion. It is believed to be haunted by Molly, a young maid who had an affair with Joseph Lybrandt Forepaugh. When Joseph's wife Mary caught them in bed, pregnant Molly hanged herself from a chandelier and threw herself out a third-story ...
Minnesota State Fairgrounds
Falcon heights, minnesota.
The Minnesota State Fairgrounds, according to some, is haunted by a ghost pig, or half-human, half-pig called the Pigman. Other reports say a small brown bird that nests here is believed to be a reincarnation of Wayne Murray, a maintenance man who died here in 1986. Also, the ghost of ...
Gibbs Museum Farmhouse
At the 1800s Gibbs Museum Farmhouse, spirits are a regular occurrence, some say. Doors and cupboards are known to open and close, a chair rocks with no one in it, toys are moved around in the night, footsteps are heard in the halls, and the apparition of a little boy ...
Rosewood Inn Bed and Breakfast
People have reported seeing a strange glowing apparition walking around the grounds and inside the historic inn. When the inn was abandoned for a period of time, people were reportedly chased by the spirit on various occasions. (Submitted by Callum Swift)
Wabasha Street Caves
Wabasha Street Caves are sandstone underground caves available for tours. They are decorated with brick walls, stucco ceilings and carpet or tile floors. Apparitions seen here include a man in a panama hat, another man who meets a woman in the bar area around 3 a.m., a man who sits ...
Treat Me Sweet
Treat Me Sweet was a restaurant (no longer open) rumored to be haunted by a former owner who committed suicide in the kitchen.
Landmark Center
This beautiful castle-like location is said to be haunted by Jack Pfeiffer, a former bellhop who got in with gangsters and began laudering money. He was arrested and, fearful of going to prison, killed himself by poisoning in his jail cell. Jack's ghost enjoys ladies, drinking and partying, and can ...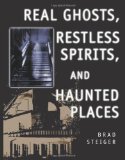 » Cemeteries near North Mankato, MN » Find museums in North Mankato, MN