Is the Haunted Mansion Wolf Howl Silenced Forever?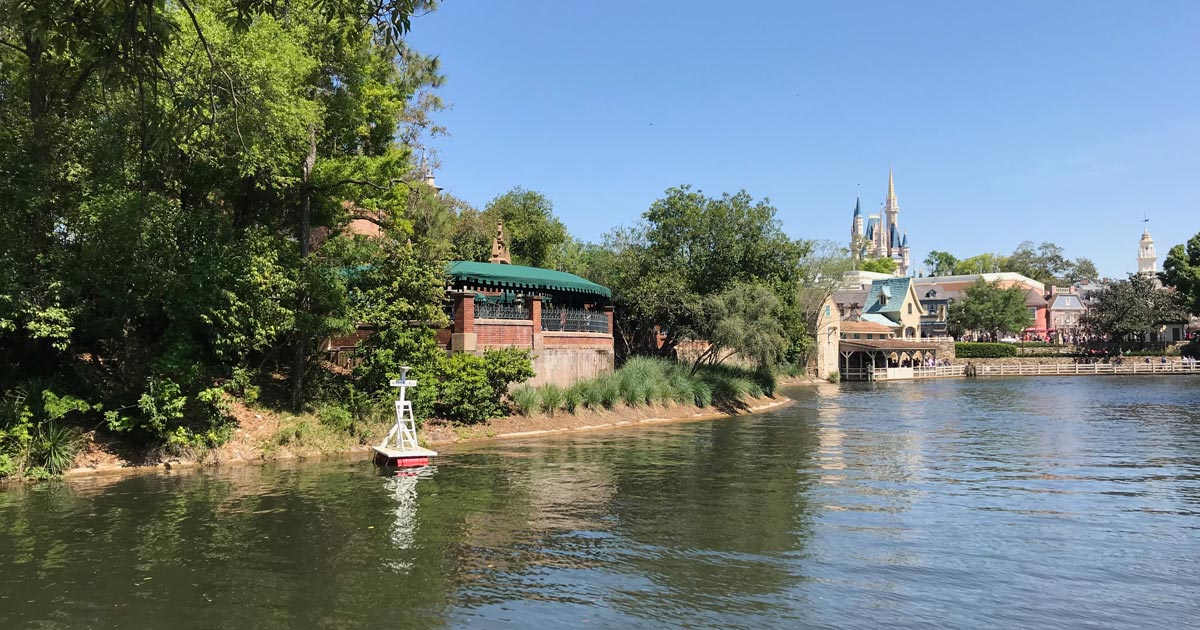 You only need to hear the Haunted Mansion wolf howl once and you'll never forget it.
Its long, mournful wail is as iconic as Disney park sound effects get — as memorable as the whistle of the steam train, the blast from the Riverboat, the ridiculous honk of the monorail .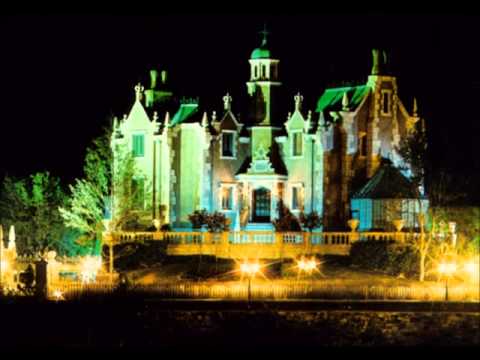 It's really more of a dog howl than a wolf howl. We know this because we can see the dog howling in the graveyard scene — a nightmare creature of bones and ectoplasm, tilting his head towards a moon that never rises.
But for long-time visitors of the Magic Kingdom, that Haunted Mansion wolf howl was much more famous outside the ride than in.
The Original Haunted Mansion Wolf Howl
The Haunted Mansion sits on a secluded bank of the Rivers of America, just downstream from an unassuming buoy labeled "Howling Dog Bend." And ever since the park's very first years, travelers on the Liberty Square Riverboat, the Mike Fink Keelboats, or the long-forgotten Daisy Duck Happytime Canoes would be treated to that baleful Haunted Mansion wolf howl every 16 seconds.
Check out this vintage trip aboard the Riverboat, back when it was known as the Richard F. Irvine (whoever he was). The first clear Haunted Mansion wolf howl sounds off at 8:46, blasting again 16 seconds later. There's an edit just before the Steamboat comes around Howling Dog Bend that I think chops into a third occurrence of the howl.
Pity the poor fools in the Haunted Mansion line.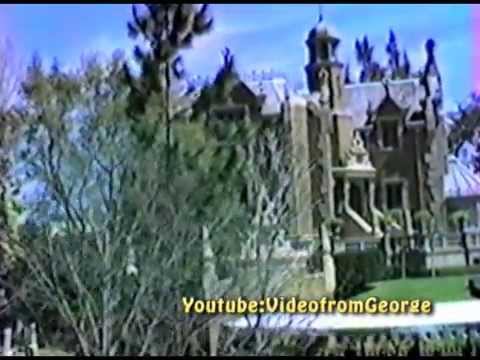 The outdoor wolf howl is much more prominent and distinct than the graveyard dog howl inside the ride. There's no Grim Grinning Ghosts or obnoxious Thurl Ravenscroft to drown it out.
But for a long time now, the unseen outdoor wolf has ceased its howling.
The Wolf Goes Silent
I've watched several Riverboat POV rides on YouTube now. More than any one person should be subjected to. Almost more than any sane person can stand. And the Haunted Mansion wolf howl appears in nary a one.
I'll feel the excitement as the boat approaches Howling Dog Bend. I'll cock my ear as the queue appears in the distance. And then… nothing. It's like my parents sent the howling dog to a "farm upstate."
I even ventured onto Tom Sawyer Island to confirm it for myself. Behold the sound of silence.
Yet that happy little buoy still bobs in the Rivers of America, blindly labeling this section as Howling Dog Bend.
As best I can tell, the Haunted Mansion wolf howl sound effect disappeared around 2011, about the same time that they added the outdoor queue enhancements.
Perhaps Imagineers were worried that people wouldn't hear Madame Leota's quiz show rhymes or the tambourine noise on the bookcase with that dog howling all the time.
Or maybe somebody just accidentally cut the speaker wire.
In any case, the Magic Kingdom has lost one of its great memorable sound effects. Unless, of course, you just ride the ride. Either way, I'm just hoping this doesn't spell doom for the smoking cannons on top of Pirates of the Caribbean.
Check Out These Related Posts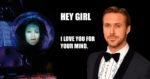 Comments (16)
Pingback: Riddle at Pirate's Lair on Tom Sawyer Island SOLVED! - Parkeology
Richard Irvine was major player in the development of Disneyland along with Admiral Joe Fowler. The river boat was renamed Liberty Bell in 1996 and his name was transferred to on of the MK ferry boats. I have not looked to see if his name is still on the ferry boat, these things change over time.
He's still on the ferry.
Amazing! Haunted Mansion wolf howl was much more famous outside the ride than in.
Agreed. It does pop up a few times in the ride, but it was iconic because of the outdoor howl.
I distinctly remember hearing it in December 2012. But it's always possible my imagination was just filling it in.
Pingback: Best of the Disney World Internet – March 2019 | Disney Daily Dime
When I was a kid, I was TERRIFIED of the Haunted Mansion. I can't explain why but I was. When I was very small, like in the mid 90s, I swear I remember hearing that wolf howl any time we got even remotely close to the mansion area. I could hear it all the way across in frontierland it felt like sometimes. As I got older I honestly thought maybe I'd imagined it, but it's nice to see I wasn't crazy.
I swear I heard it in 2015. Although, I was by the gates of the Mansion, so it probably seemed louder there.
Oh man! I hope this is not the case! I always got a kick out of hearing the howl in the early misty morning at the Polynesian.
It's really unfortunate. It wasn't something that you notice immediately when it's not there. But it is something that does stick in your mind when it is.
From what I recall the volume for the track was lowered drastically when the interactive queue was installed, however it could still be heard when you were in line. Most likely the speaker blew out and hasn't been replaced. The actual audio is part of the river/train audio bank and NOT part of the Mansion audio which is stored in-house.
It was clearly meant to tie in the Riverboat to the Haunted Mansion. But 8 years is a long time for a blown out speaker to sit out there.
Yea well, it's a long time for a Yeti to just sit there not moving too. But we all know how that goes.
I remember being able to hear the wolf howl outside the park when I stood on the Contemporary roof. Of course it's been years since being able to get to that roof as well.
You can get outside onto the Bay Lake Tower bridge… but still no wolf howl.
Leave a Reply Cancel reply
Your email address will not be published. Required fields are marked *
JOIN PARKEOLOGY
cheap nfl jerseys
cheap nfl jerseys from china
cheap nfl jerseys china
Ghost Gallery
View history
1.1.1 Haunted Mansion Holiday
1.2 Liberty Belle Riverboat
2.1 Ghost Gallery
2.2 Tales from the Haunted Mansion
4 References
Appearances [ ]
Haunted mansion [ ].
The Hellhound's presence is felt as soon as you enter the Mansion's grounds as it's howls can be heard throughout the attraction, starting in the queue. The Hound doesn't physically appear until the Graveyard scene where it is shown on a hilltop near the Phantom Five , howling at the moon.
Haunted Mansion Holiday [ ]
During Haunted Mansion Holiday, the Hellhound plays tug-of-war with one of Jack 's skeleton reindeer .
Liberty Belle Riverboat [ ]
Up until 2011, the dog's undead howling could be heard from the riverboats along the Rivers of America . The river-bend from which it could be heard was fittingly called, "Howling Dog Bend" and was located directly adjacent to the Haunted Mansion .
Other Appearances [ ]
Ghost gallery [ ].
Similarly to the Phineas, Ezra and Gus , the Hellhound's semi-official name comes from the Ghost Gallery where he was said to have been Master Gracey 's pet dog who was named the Grand Stygian Hellhound of the Hudson or Hellhound for short. Hellhound's main purpose in the mansion was to stay in the cemetery, and howl to the general area which was safe so that no-one accidentally wanders over into the estate's quicksand-like mud pits.
The dog died in 1942 when Little Leota moved Hellhound to a different location as part of a plot to murder three of the mansion's servants in the mud-pits, however after being chained to a new tree, lightning struck the tree and killed Hellhound. Hellhound was also the father of the ghost dog Loki , the grandfather of the caretaker's dog , and a descendant of the prison dog from Pirates of the Caribbean .
Tales from the Haunted Mansion [ ]
In Tales from the Haunted Mansion Volume II: Midnight at Madame Leota's , the Hellhound is the shapeshifter form of the vampire, Count Lupescu . This takes it's cues from Bram Stoker's Dracula where the titular vampire can transform into a wolf.
Due to the skeletal appearance of the animal it is difficult to make out it's species, and it is largely assumed to be a grey wolf.
The sound of the Howling Dog heard outside the attraction is attributed to a werewolf named Bisclavret in the SLG Comics.
It is possible that Hellhound in part served as the inspiration for the Phantom Manor character Goliath as they share a similar physical appearance.
A miniature figure of Hellhound appears on the Collector's desk in the pre-show video of Guardians of the Galaxy: Mission BREAKOUT! at Disney California Adventure. [1]
References [ ]
↑ https://www.youtube.com/watch?v=1j58mw6xxWI
1 Alistair Crump
2 Madame Leota
3 Constance Hatchaway
Search forums
Disney Cruise Line Releases Early 2025 Itineraries & Booking Dates
Disney Trip Planning Forums
Theme Parks Attractions and Strategies
Haunted Mansion Wolf Howl???
Thread starter k5thbeatle
Start date May 23, 2006
DIS Veteran
Have they turned the volume of this down? Seemed like you could hear this from all over in years past. Even at GF and the Magnolia golf course it could be heard. I remember watching the Funai Golf Classic on tv and my wife and I laughing cause you could hear the wolf howl in the background. Seems like the last year or so it's not to be heard unless you're right there at the HM. Anyone else notice this or confirm that the volume on this has been turned way down?
I didn't know that it was ever loud enough to be heard that far off!! It must have been near deafening to those walking by!! They still have it on, but I tend to hear it more often at night when it is dark.
Simba's Mom
<font color=green>everything went to "h*** in a ha.
k5thbeatle said: Have they turned the volume of this down? Seemed like you could hear this from all over in years past. Even at GF and the Magnolia golf course it could be heard. I remember watching the Funai Golf Classic on tv and my wife and I laughing cause you could hear the wolf howl in the background. Seems like the last year or so it's not to be heard unless you're right there at the HM. Anyone else notice this or confirm that the volume on this has been turned way down? Click to expand...
Simba's Mom said: I think the weather has something to do with how sound carries also (OK, any physics majors here?) Click to expand...
Share this page
Dis news & updates.
'Christmas With Walt Disney' Coming to Disney Plus
5 Best Walt Disney World Resorts for Your Holiday Stay
See the New Adventureland Treehouse in Disneyland
Complete Guide to All the Food Coming to Disney World for the Holidays
New Disney Merch: Munchlings, WISH Collection & Disney100
New DISboards Threads
Today at 9:25 PM
Community Board
Lord Manhammer
Today at 8:24 PM
Today at 7:51 PM
disABILITIES!
Latest posts
Latest: dazedx3
1 minute ago
Latest: gharter
5 minutes ago
Latest: Apiary
6 minutes ago
Haunted Mansion Disneyland
We will keep fighting for all libraries - stand with us!
Internet Archive Audio
This Just In
Grateful Dead
Old Time Radio
78 RPMs and Cylinder Recordings
Audio Books & Poetry
Computers, Technology and Science
Music, Arts & Culture
News & Public Affairs
Spirituality & Religion
Radio News Archive
Flickr Commons
Occupy Wall Street Flickr
NASA Images
Solar System Collection
Ames Research Center
All Software
Old School Emulation
MS-DOS Games
Historical Software
Classic PC Games
Software Library
Kodi Archive and Support File
Vintage Software
CD-ROM Software
CD-ROM Software Library
Software Sites
Tucows Software Library
Shareware CD-ROMs
Software Capsules Compilation
CD-ROM Images
ZX Spectrum
DOOM Level CD
Smithsonian Libraries
FEDLINK (US)
Lincoln Collection
American Libraries
Canadian Libraries
Universal Library
Project Gutenberg
Children's Library
Biodiversity Heritage Library
Books by Language
Additional Collections
Prelinger Archives
Democracy Now!
Occupy Wall Street
TV NSA Clip Library
Animation & Cartoons
Arts & Music
Computers & Technology
Cultural & Academic Films
Ephemeral Films
Sports Videos
Videogame Videos
Youth Media
Search the history of over 858 billion web pages on the Internet.
Mobile Apps
Wayback Machine (iOS)
Wayback Machine (Android)
Browser Extensions
Archive-it subscription.
Explore the Collections
Build Collections
Save Page Now
Capture a web page as it appears now for use as a trusted citation in the future.
Please enter a valid web address
Donate Donate icon An illustration of a heart shape
Haunted Mansion Audio files
Audio item preview, share or embed this item, flag this item for.
Graphic Violence
Explicit Sexual Content
Hate Speech
Misinformation/Disinformation
Marketing/Phishing/Advertising
Misleading/Inaccurate/Missing Metadata
plus-circle Add Review comment Reviews
6,905 Views
14 Favorites
DOWNLOAD OPTIONS
In collections.
Uploaded by Swampfoxmondo on February 6, 2016
SIMILAR ITEMS (based on metadata)