Area Guides
Building Guides
School Guides
Floor plans
Market Trends
Life at Bayut
All about the 'haunted' Al Qasimi Palace in Ras Al Khaimah
The Interiors
Are you a big fan of horror flicks? A visit to Al Qasimi Palace in Ras Al Khaimah can give you the same white-knuckle experience! The stunning work of architecture was built in 1985 by the late His Highness Sheikh Abdulaziz bin Humaid Al Qasimi, a member of the Sharjah ruling family Al Qasimi. However, that's not the real reason for its widespread popularity. After being unoccupied for many years, there have been rumours that the palace is 'haunted'! And captivated by the scary stories, tourists and residents flock to this mysterious palace .
If you're up for an adventure, here's everything you need to know before visiting Ras Al Khaimah's 'Haunted' Palace, including entrance fee, timings and location.
The Engima Around Al Qasimi Palace in Ras Al Khaimah
Reportedly worth around AED 500M, the palace is a four-storey structure that reflects the same magnificence and beauty that is typical of Arab culture.
After the palace fell into disrepair, rumours spread that the inhabitants left the place due to certain "mysterious" occurrences. Later, the grandeur of Al Qasimi Palace in Ras Al Khaimah and the mystery surrounding the house turned it into a must-visit attraction of the emirate frequented by adventure seekers.
In December 2019, it was announced that the house would be open to the public for a limited time before closing for renovation. The palace is among the spookiest and abandoned places in the UAE .
Step inside Al Qasimi Palace, and you'll be in awe of the spectacular artefacts and paintings that adorn the 35 rooms of the house. The four-storey structure is designed with glass chandeliers and marble floors, mixing Islamic, Moroccan and Persian influences.
Al Qasimi Palace RAK Tickets and Timings
Take a look at the ticket prices below. Note that the tickets can be purchased at the gate of the palace.
Individual tickets: AED 75 (per person)
Group tickets: AED 50 (per person)
The 'Haunted' Palace of Ras Al Khaimah is open Sunday to Thursday from 09:00 am – 07:00 pm.
Getting there
The palace is located along Sheikh Rashid Bin Saeed Al Maktoum Road, Al Dhait North, just one hour and seven minutes away from the tallest mountain Jebel Jais in Ras Al Khaimah.
No matter where you live in the UAE, you can easily reach the palace, Ras Al Khaimah. Look at the directions below from different emirates.
If you plan to visit the palace, take the Al Manama – Ras Al Khaimah Road (E18). The road will connect with Sheikh Bin Saeed Al Maktoum Road, where the palace is located.
Dubai residents can also pay a visit to this spooky site in Ras Al Khaimah. If you are coming from Dubai, get on Sheikh Mohammed Bin Zayed Road (E311) and continue to Al Riffa. Now take Sheikh Rashid Bin Saeed Al Maktoum Rd and follow to your destination.
From Abu Dhabi
Abu Dhabi residents can get on Sheikh Zayed Bin Sultan St (E10) and follow the road to Al Riffa. Once you reach Al Riffa, take Sheikh Rashid Bin Saeed Al Maktoum Road to your destination.
FAQS ABOUT AL QASIMI PALACE
Is photography allowed in al qasimi palace.
Before visiting Al Qasimi Palace in Ras Al Khaimah, please note that photography is not allowed. Please also ensure that you don't touch any paintings, artefacts or props while in the palace.
IS THERE ANY OTHER ATTRACTION NEAR THE PALACE?
After visiting the palace, you can also travel to Al Jazirah Al Hamra . This deserted pearling village offers a glimpse into the history of Ras Al Khaimah.
WHAT ARE THE CONTACT DETAILS FOR AL QASIMI PALACE?
You can contact the palace at +971-52-828-2222 .
And that's a wrap to our post about Al Qasimi Palace. There are so many other things to do in Ras Al Khaimah , making this the perfect destination for a weekend getaway for visitors of all ages. These include mountains, beaches, museums, forts and much more. There are many kids activities in Ras Al Khaimah also, to ensure some fantastic adventures for the little ones!
Leave a Reply Cancel Reply
Graphic designing courses in Dubai
How to glam up your balcony on a budget
Last Week In Real Estate: 30 December To 5 January
Sliding Sidebar
Megaprojects
Expo City Dubai
UAE in Space
Saudi Arabia
Palestine-Israel
Arab Showcase
Australasia
The Americas
Cryptocurrencies
Travel and Tourism
Environment
Road to Net Zero
Fashion & Beauty
Home & Garden
Things to do
Art & Design
Film & TV
Music & On-stage
Pop Culture
Combat Sports
Horse Racing
Trending Middle East
Beyond the Headlines
Culture Bites
Pocketful of Dirhams
Books of My Life
Iraq: 20 Years On
Business Extra
Favourite haunt: the royal palace with a ghostly past lifting spirits in Ras Al Khaimah
Al qasimi palace was abandoned decades ago amid fears of paranormal activity but has now swung open its doors to the public once more.
Owner of Al Qasimi Haunted Palace, Tareq Al Sharhan. All photos by Chris Whiteoak/ The National
Abu Yasir was first invited to Al Qasimi Palace in Ras Al Khaimah 20 years ago. But when he saw the towering white palace on the hill, fear overcame him.
He knew the stories of its jinn, the supernatural spirits said to roam its halls. He knew people had heard children's voices, seen faces in dark windows. He had heard of its abandonment after furniture was inexplicably tossed around inside, like toys.
"I didn't want to enter," said Abu Yasir, a Syrian resident of 40 years who did not want to give his full name. "I didn't want to see anything strange."
He kept driving.
Today, Abu Yasir sells tickets at the palace gates and the manor is Ras Al Khaimah's busiest tourist attraction. The mysterious palace opened its doors a few weeks ago for the first time in more than 30 years.
Abu Yasir works in a room with white and blue Moroccan tiles, lit by a French chandelier.
A year ago, the prospect would have sent shivers up his spine.
Today, he sees the palace differently.
That is the point, says the palace's new owner.
Tareq Al Sharhan wants people to see the four-storey palace as it was originally intended: a spectacular piece of art.
The palace was the dream house of Sheikh Abdulaziz bin Humaid Al Qasimi, a member of the Ras Al Khaimah ruling family who commissioned its construction in 1975.
He had artists decorate its vast hallways in Moroccan tile, adorn bedrooms walls with bucolic paintings of frolicking ghazals, birds and dusky maidens.
They sculpted plaster pigeons and owls into the walls. The manor was a testament to Middle Eastern art and took 15 years to complete.
"Imagine it 40 years ago," Mr Al Sharhan said. "The original idea was to build a special palace in a special place and the sheikh liked art. In the 1980s, this was something very special."
Mr Al Sharhan grew up in the neighbourhood and remembers the house "when it was black". Rumours of it being haunted began before construction was even complete.
"Before it was finished. Yanni, how can it be haunted if it's not even finished?"
He has little interest in the supernatural.
"I don't scare and I don't care. I am a businessman and I like the arts," Mr Al Sharhan said.
"Everybody knew this place was for ghosts. I thought I could change its story to something better, something cultural, something for tourists."
Its paranormal reputation has long attracted thrill seekers from across the country and even inspired an Arabic novel by journalist Rym Tina Ghazal.
Holy men came too, promising to expel unwelcome spirits with incantations. They scratched out the eyes of humans and animals from paintings and beheaded plaster birds, in the belief that the depiction of human-like forms was un-Islamic and would attract jinn.
Mr Al Sharhan bought the property last year, after years of negotiation.
Restoration took six months. Today, it has the air of a polished estate, no speck of dust and no trace of jinn.
The 40 French and Belgian crystal chandeliers dusted and polished, the Moroccan wall tiles repainted and re-stuck, the paintings restored, the heads re-sculpted on plaster birds.
"It was all broken and with no heads, so I brought somebody to build new heads," Mr Al Sharhan said.
Mr Al Sharhan, a painter in his youth and a collector of antiques, feels it was a worthy investment. He will not divulge what he spent on the palace. "It's not cheap. But I think it's a good price for a palace like this. Just sometimes, you have to do crazy things," he said.
Mr Al Sharhan said he would convert the original servants quarters into escape rooms and open cafes and art exhibitions in some of the palace's 38 rooms. He will also, perhaps, build chalets outside.
Consensus on the palace has changed overnight, with the building transforming from spooked manor to a kitsch 1970s architectural wonder.
To some visitors, this is a disappointment.
The palace is open temporarily for feedback. "People already started to think of it in a different way," Mr Al Sharhan said.
"After I started restoration, one guy came to me and said, 'I can clean the place of jinn'. I told him, 'I bought this palace because there' are jinn inside and you want to remove them?'"
Repairmen saw nothing unusual during restoration.
Well, almost nothing.
"There was one man, from India, eating inside on the first floor bathroom when he heard a big sound," said Mr Abdulrazak Abdulrashid, 47, a member of the maintenance team. "He was frightened and he asked to return to India afterwards."
Abu Yasir listened to his tale, unconvinced. "I think he wanted a bigger salary. He left not for fear but because he wanted a bigger salary."
Mr Abdulrashid nodded. "I think he wanted drama," he said.
They are agreed jinn may have been here once. Jinn are known to hate development. They inhabit abandoned places.
So what happens when a jinn loses its home? Ras Al Khaimah was once a jinn hotspot but favourite haunts have grown crowded and disappeared entirely.
The abandoned the pearling village of Jazirat Al Hamra , a dense settlement of crumbling coral stone and sandbrick houses, is undergoing archaeological excavation. Ras Al Khaimah's mangroves are steadily shrinking. The desert has been flattened for government housing and far flung wadis are crisscrossed by motorways.
Even the elders from the palace neighbourhood disappear in the late afternoon and travel across town to sit in cafes in a quiet creekside area.
"Maybe the jinn have gone to Burj Al Arab," joked Hamed Sultan, 65, a neighbour of the palace and a creekside cafe regular.
"People talk a lot about the palace but there's no truth in it," said Mohammed Ismail, 62, another neighbour at the cafe. "There's no certainty in truth. In my opinion, there was nothing there."
Were jinn in the abandoned palace? The consensus in the cafe was that there probably were. Did they remain after visits by exorcists and Quranic recitations? No chance.
Abu Yasir is equally sceptical, although he is careful never to utter the word "jinn". "If you think about ghosts in your head, anything you see will be ghosts," he said. "Maybe your own breath seems to be a ghost."
He can now stay inside the palace for hours without fear.
"I am sure nobody is there, only history," Abu Yasir said. "Until the evening comes. Then, maybe."
Tickets are available at the gate, daily from 9am-7pm; Dh75 per person; Al Qasimi Palace, Sheikh Rashid Bin Saeed Al Maktoum Road, Ras Al Khaimah
The extraordinary stories shaping a people and a nation
Visit us on Twitter
Visit us on Facebook
Visit us on Instagram
Visit us on Youtube
The Mysterious Haunted Palace In Ras Al Khaimah Is Now Open To All For A Limited Time
By Simrin Gupta
Ohhkaaaay, it was cool to say you're down for a trip to the haunted sites around Ras Al Khaimah… but now you'll actually HAVE to go through with the plan with your friends, no excuses because the haunted Al Qasimi palace is now legit open to the public.
The notorious palace in RAK was built by the late Sheikh Abdulaziz bin Humaid Al Qasimi for the cost of AED500 million but was soon abandoned due to mysterious occurrences taking place throughout the palace. Al Qasimi palace was built on a high plateau with a panoramic view of RAK, consisting of four floors, 35 rooms, arabesque glass chandeliers, an indoor pyramid and royal furnishings.
The palace gained its 'haunted' status amongst the locals because the royal family occupying the palace at the time literally vacated the million-dollar mansion in just ONE NIGHT after experiencing strange paranormal happenings.
Rumours suggest that the royal family inhabiting the palace moved out after experiencing strange occurrences such as furniture moving of its place
Many locals even reported seeing faces of children peeping out of the windows of the eery yet alluring palace.
The Al Qassimi palace is only open to the public to visit until April 2020 at the cost of AED75 per person and AED50 per person for families and groups
Tickets to visit the four-storey palace with 35 rooms and stunning architectural work can be purchased at the gate. Photography, however, is not permitted at the attraction, so it'll just be you and the several spirits that have taken over the palace… no biggie.
ALSO, just 20-minutes away from the palace is another notoriously haunted location in RAK called, Al Jazirah Al Hamra – famously known as the Haunted Village or 'ghost town', because of its spooky deserted buildings and decade-old abandoned cars.
Tickets are available at Al Qassimi palace's gates, daily from 9am-7pm (weekends and weekdays).
All The Ways Careem Plus Will Help You..
This uae company has just created the future.., weekend hotlist: 15 ways to treat yourself to.., the region's first pro-baseball game will soon be.., uae residents can soon apply for schengen visa.., 10 things to look forward to at the.., sweating on szr: dubai broke a guinness world.., the breitling avenger was unveiled in the middle.., lovin whatsapp.
Do you want to work with us? For advertising and media partnership enquiries, please drop us a message
Access Lovin On The Go
Everything you love from Lovin at your fingertips. Download it now for the latest news and updates about everything around your city

Other Lovin Locations
Subscribe to our newsletter.
Get the best of your city straight to your inbox.
By submitting this form you agree to our T&Cs and our privacy policy
Thank you for subscribing!
Your email has been added to our list.
lovin.co/dubai/en says
Do you agree to share your location with us?
Copy short link
Latest News
Emergencies
Environment
Sultan Al Neyadi
Visa+Immigration
Phone+Internet
Reader Queries
Safety+Security
Banking & Insurance
Dubai Airshow
Corporate Tax
Travel & Tourism
Corporate News
Electronics
Home and Kitchen
Consumables
Saving and Investment
Budget Living
Expert Columns
Community Tips
Cryptocurrency
Cooking and Cuisines
Guide to Cooking
Art & People
Friday Partner
Daily Crossword
Word Search
Philippines
Australia-New Zealand
Corrections
From the Editors
Special Reports
Pregnancy & Baby
Learning & Play
Child Health
For Mums & Dads
UAE Success Stories
Live the Luxury
Culture and History
Staying Connected
Entertainment
Live Scores
Point Table
Top Scorers
Photos & Videos
Course Reviews
Learn to Play
South Indian
Arab Celebs
Health+Fitness
Gitex Global 2023
Best Of Bollywood
Special Features
Know Plan Go
Gratuity Calculator
Notifications
Prayer Times
Cinema Listing
Ghost chase: 'Haunted' palace
Intrepid adventurer visits 22-year-old abandoned palace in Ras Al Khaimah believed to be haunted and survives to tell the tale
The Al Qasimi Palace in Ras Al Khaimah (RAK) has a reputation for being a spooky old place.
And with good reason.
The mansion was reportedly abandoned more than 20 years ago by its inhabitants after being tormented by mysterious occurrences such as furniture being thrown around and faces appearing at windows.
Now, I am a sucker for 'supernatural' experiences, so there was no way I would let an opportunity to visit this scary place go by. Even though I do not believe in ghosts, it was with great trepidation and a silent prayer on my lips that I set forth to visit this foreboding palace.
It is said about the palace that it will find you before you find it. As I drove into RAK at around 5am last Friday, all prepared to ask for directions in finding the place, to my surprise, IT found me.
I could see that years of neglect had taken a toll on the architectural marvel.
There was no guard or watchman at the entrance. I tried the gate; it was locked. A wooden door stood ajar beside it. It creaked loudly when I pushed it gingerly, revealing a room filled with dust-covered furniture.
Disappointed, I walked to the far end of the fence wall hoping to find a way through. It was then that I saw a hole under the wall, big enough to crawl through.
Just as I was contemplating my next move, I spotted three Asian men wandering about. They told me that the watchman had probably gone to offer prayers, and yes, they had heard stories about the place and even 'occasional screams.' Would they be willing to accompany me inside? "No, no, uh, all right," but only as far as the main room of the building.
We crawled through the hole, walked over unkempt grounds past the fountain and to the main door that stood partially open.
We entered the palace expecting the worst. However, nothing jumped out at us. No scary sound, no sudden darkness. Instead we could see the dusty interiors of what was once a beautiful home. Chandeliers, brightly coloured murals on the walls, mosaics of women, birds and rivers imparted an eerie charm to the place.
We could see signs of intruders all around the place. Footsteps on dust-covered floors, shattered glass, broken statues of falcons and upturned furniture showed that despite its reputation, the palace had been attracting a fair share of people looking for some kicks.
Upper floors
Narrow stairs led us to the upper floor which seemed to be in a slightly better shape. The dust was heavy, but otherwise this part of the palace was intact. The upper storey was just as beautiful as the ground floor, with the exception of the skylights, adorned with menacing-looking Zodiac signs, the spookiest thing I had seen thus far. Portraits of stern-looking women stared down at us from the dark walls sending a shiver down our spines. We had this strange feeling that they were watching our every move.
The guys who had thus far been brave enough, turned fidgety when I suggested we go to the terrace. I proceeded up - with them following reluctantly - all the while wondering what I would do if I came across something terrifying.
The palace stands on a small hillock, dwarfing everything around it and offered a panoramic view of the surrounding area. It was peaceful. Even the guys began breathing again.
After a while, we descended and proceeded to the basement. Now, this was a different story altogether. Furniture lay in a heap and walls were covered in graffiti. We found the word… 'Gooooooo' written in blood red on the walls.
We did just that. We walked towards the hole in the fence, happy to have survived. However, before I crawled through I could not help throw one last glance in the direction of the palace. I was glad to be getting out of that place.
Did you know?
The Al Qasimi Palace was reportedly built at a cost of Dh500 million nearly 22 years ago
According to rumours, on the first day after people moved in, strange happenings occurred - driving them away
Rumour has it that at night you can see faces of little children peering through the windows and sometimes calling out to people
- The author is a freelance writer
More From Entertainment
South Korean singer-songwriter Nahee dies at 24
South Korean K-pop band MCND returns to Dubai
Brazilian influencer dies after liposuction on her knee
Meet Vini Raman from Chennai, Glenn Maxwell's wife
Top 10 Hollywood, Bollywood films and shows to watch
Photos: Celebs attend Sonam Kapoor's party for Beckham
Ranbir Kapoor, Beckham, Kiara spotted at World Cup
Bollywood actress Anushka Sharma cradles her baby bump
Here's how to spot Ranbir Kapoor in Dubai this weekend
David Beckham attends Shah Rukh Khan's private bash
Everton fuming after shock 10-point deduction, resurgent aussies stand between india, world cup glory, world cup: is it choking or bad luck for south africa, 11th emirates oncology conference opened in abu dhabi, leclerc fastest in practice after farcical session.

Get Breaking News Alerts From Gulf News
We'll send you latest news updates through the day. You can manage them any time by clicking on the notification icon.

Dear Reader,
This section is about Living in UAE and essential information you cannot live without.
Register to read and get full access to gulfnews.com
By clicking below to sign up, you're agreeing to our Terms of Use and Privacy Policy
Forgot password
Ras Al Khaimah ghost house or Haunted Palace
The Ras Al Khaimah ghost house or Haunted Palace is one of the tourist attractions you can visit during your one-day trip to RAK. The palace is built by the late Sheikh Abdulaziz bin Humaid Al Qasimi in 1985 and was reportedly worth AED 500M. The Al Qasimi Palace is a four-storey structure that reflects the magnificence and beauty of Arab culture. The palace has 35 rooms with Marble floors, beautiful glass chandeliers and art forms. In addition one of the attraction is a huge Pyramid that sits at the top of the mansion.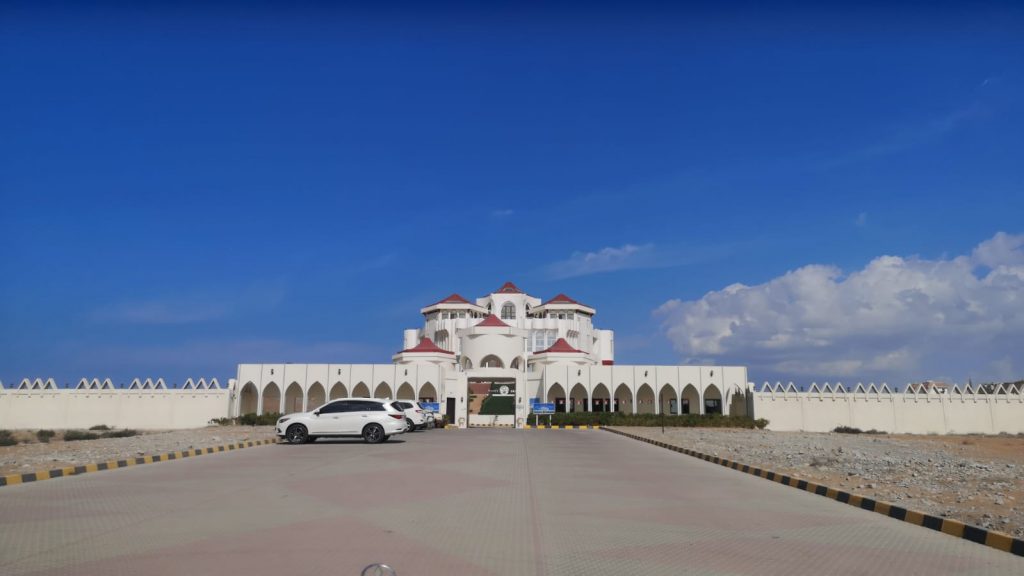 Ras Al Khaimah ghost house entry fee | Al Qasimi palace ticket price
75 AED Per Person
50 AED for family & groups
Ras Al Khaimah ghost house timing
Sunday to Thursday – 9AM to 7PM
Ras Al Khaimah ghost house location
AlQassimi Palace
Sheikh Rashid Bin Saeed Al Maktoum Rd – Saqr Bin Mohd City – Ras al Khaimah
Google Map: https://goo.gl/maps/gXDGD5vSHn6foKs17
Ras Al Khaimah ghost house history
Since 1985, Ras Al Khaimah has been home to a mysterious palace which empty for the majority of that time. Rumou r has it that:
the family of the late Sheikh Abdulaziz bin Humaid Al Qasimi who built it, moved out after one night claiming the property was haunted. After years of speculation and mystery, the haunted Palace is open to the public.
Important note: Photography inside the palace is banned and you could get a fine of Dhs200.
Another place to visit in Ras Al Khaimah: RAK Zoo – UAE's Third-Largest Zoo in Ras Al Khaimah
DubaiTravelator.com for your Travel Assistance
DubaiTravelator.com have listed travel agents who offer various travel packages, Dubai visa specialist to apply for Dubai visa, visa and immigration procedures in Dubai, hotels in Dubai and special deals, things to do in Dubai, places to visit in Dubai, how to plan a five day tour to Dubai etc for your travel assistance.
Tour Operators in Dubai
Visa and immigration procedures in Dubai
Hotels in Dubai
Things to do in Dubai
Places to visit in Dubai
Plan for a five-day tour to Dubai
Jobs in Dubai
Details about Salik Road Toll in Dubai
Top 10 parks in Dubai
Dubai Shopping Festival
We have many more categories listed for you . Please click here to check other categories in DubaiTravelator.com.
Share this:
Get more stuff like this.
Subscribe to our mailing list and get interesting stuff and updates to your email inbox when we start newsletter service.
Thank you for subscribing.
Something went wrong.
We respect your privacy and take protecting it seriously
Global Village Closing Date 2023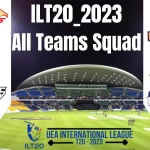 DP World International League T20 Cricket Tournament 2023
Tags: Al Qasimi Palace Al Qasimi Palace history Ras Al Khaimah ghost house Ras Al Khaimah ghost house history Ras Al Khaimah ghost house Location Ras Al Khaimah ghost house Ticket Price Ras Al Khaimah ghost house timing Ras Al Khaimah Haunted House Ras Al Khaimah Haunted Palace Ras Al Khaimah haunted palace Ticket price Ras Al Khaimah haunted palace timing Story of ghost palace ral Al Khaimah
UAE National Day Fireworks Timings 2023
National Day Holiday 2023 UAE Dates
Places to visit in Dubai for free
DSF Nissan Raffle Winners List 2023 – 2024 Dubai Shopping Festival Nissan Winners List
Dubai Christmas Markets 2023
Unfolding the Mystery of The Haunted Ras Al Khaimah Palace One of the most frightening yet mesmerising structures is the Al Qassimi Palace in RAK which reportedly cost AED 500 million to build, over 25 years ago. Locals say the structure has remained uninhabited save just one night.
Located at (25.740239,55.945748) Sheikh Rashed Bin Said Road, a huge building standing tall over a small hill, can be easily located given its spooky landscape and ghostly charm similar to scenes straight out of a horror movie
Legend has it:
'You don't seek the way to the palace, it will find you in time'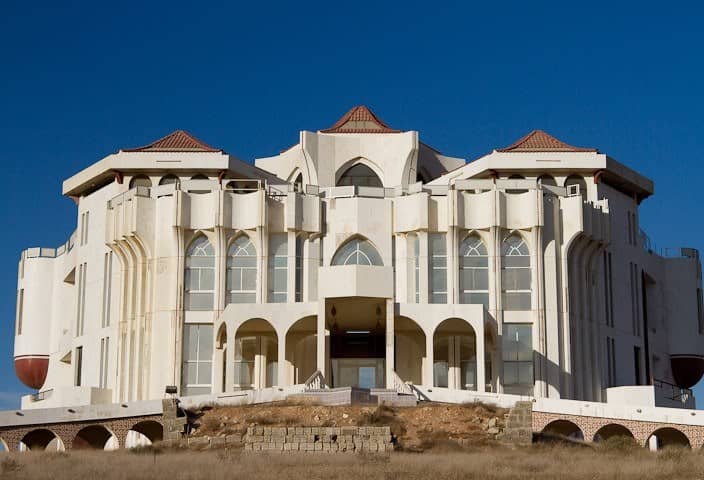 One of the most frightening yet mesmerising structures is the Al Qassimi Palace in RAK which reportedly cost AED 500 million to build, over 25 years ago. Locals say the structure has remained uninhabited save just one night. And that the people were driven out in just one night after they experienced strange paranormal happenings.
Word of Mouth also has it that people have reported irrational fear, sounds of wailing persons, bizarre sightings and also spotted children peeping out of the partly broken stained glass windows while crying out for help to trespassers!
Visiting the Secret
Living up to its mystic glory, the entrance to the former royal palace is not open to public through the main door (obviously, it's not a tourist spot). The facade is charming and huge, that narrates a tale of lost wonders.
In all possibilities be prepared to be turned away by the watchman (who in fact is the only soul in the premises) as this abandoned dwelling is badly in need of a repair and has been untouched for almost 3 decades. However if you do manage to get through after convincing the (living) soul, the entry from the car park/storage area route assures further thrills in this adventure.
You will be greeted with amazing art works, beautiful interiors, costly furnishings and several household items for starters leading to a wall with an imitation of blood smeared graffiti and further up an ideal terrace lounge.
The Interiors
At the first sight the haunted beauty charms you with its typical Arabesque settings with lots of Falcon statues (headless!!), well designed interiors, large chandeliers, paintings, silver pots and several unused furniture. The walls and floors are decorated with ceramic tiles painted by Moroccan artists who allegedly cast charms of black magic.
Exotic lightings (still working) beautiful sceneries and many decorative figurines will amaze you (there is a chance fair to lose your companions while watching all this) as you walk into the different floors of the structure.
There are 4 floors including one underground parking – where you could see brand new vehicles however the lack of electricity above the ground floors may or may not add to your experience of this adventure.
The owners abandoned the palace after staying here for one night leaving behind a royal palace collecting dust and with it many secrets which are yet to be explored.
But visiting the haunted ruins of an uninhabited private palace on a full moon night will definitely give you the chills (read thrills)
'Glamping' on Ras Al Khaimah's Jebel Jais? Yes that's possible!
Grove Village "Northern Emirates about to get its first Boutique Lifestyle Mall"
Recommended for you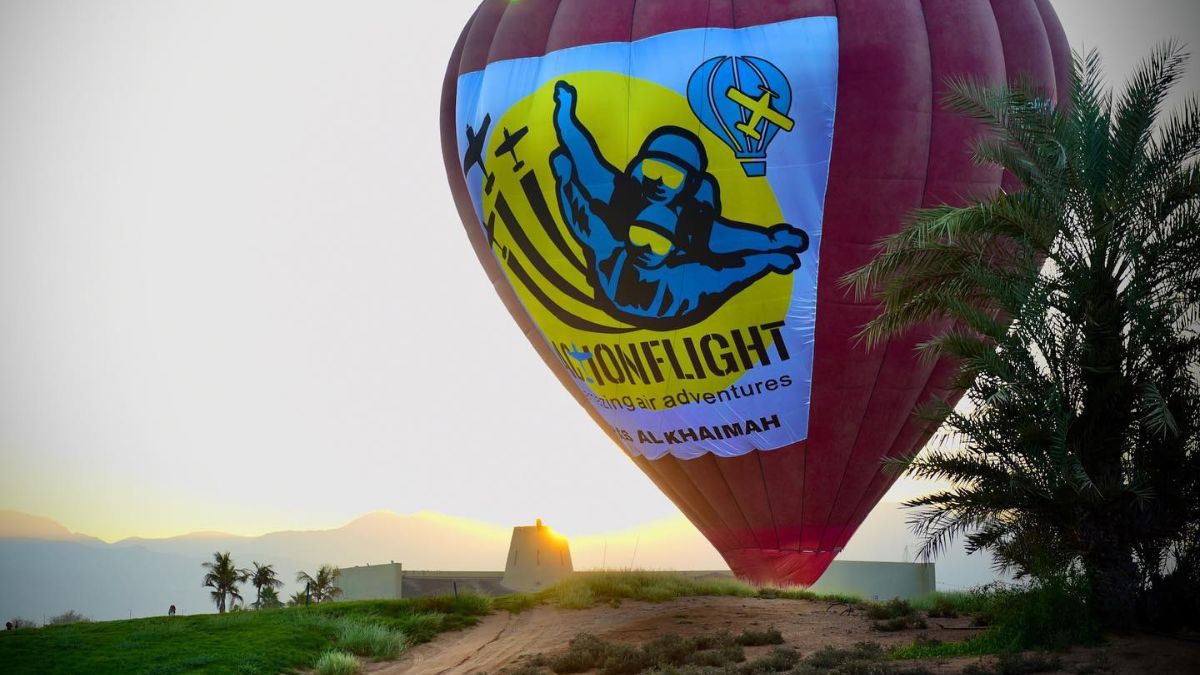 You must be logged in to post a comment Login
You must be logged in to post a comment.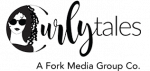 You Can Now Visit The Haunted Palace In Ras Al Khaimah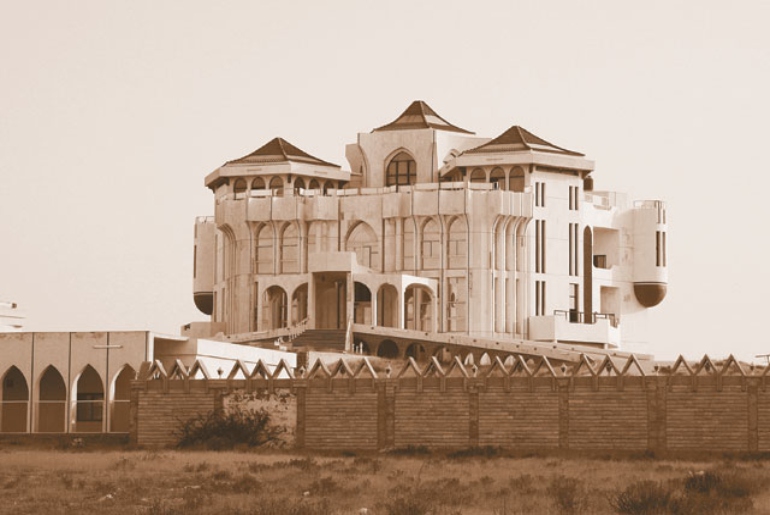 UAE is known for the tallest, largest and the craziest, but did you know the country has a few haunted sites too? If you remember, the Haunted Palace of Ras Al Khaimah has been one of the most mysterious buildings in the country. And, this haunted palace is now open to the public. The haunted site in the northern emirates can now be added onto UAE's list of attractions , if you dare to!
What's It?
The Haunted Palace in Ras Al Khaimah is now open to the public. The palace was constructed in 1985 by late Sheikh Abdulaziz bin Humaid Al Qasimi. and is known for its extraordinary architecture. However, the palace was considered haunted, after horror stories and mysterious incidents cropped up.
And in case you didn't know the UAE has a huge list of attractions coming up in 2020.
Inside The Palace
The palace features 35 rooms, each boasting spectacular antique artifacts and paintings. The central area has a glass pyramid- made of Islamic, Moroccan, Indian and Persian designs. This allows sunlight to pass through, adding to the palace's beauty. The glass chandeliers inside the palace are imported from Belgium and France.
Guests can visit the palace from 9am to 7pm. The entry costs AED 75 for each individual, and AED 50 per person in a group.
Meanwhile, this is not the only haunted place in UAE. From abandoned houses to tunnels and towns, here are five most haunted places in the UAE.
1. Al Jazirah Al Hamra
Known for its collection of abandoned houses, and other buildings including a mosque, Al Jazirah Al Hamra was once home to three indigenous tribes. It is located to the south of the city of Ras Al Khaimah and is built on red sand, hence the name 'Red Island'. The town is now abandoned so much so that you might find no sighting even if you visit it during the day.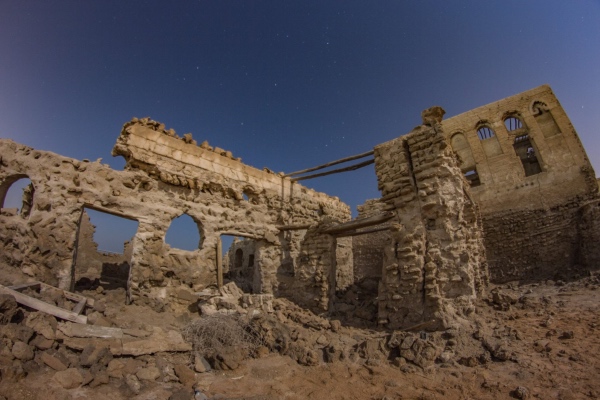 Credits: Al Jazirah Al Hamra
2. Al Qasimi Palace
If you are the kind to get scared of palaces and children as ghosts, this one's not for you! Built at a whooping AED 500 million over 25 years ago, the palace has reportedly remained empty, but for one night. Rumors have it that strange things were sighted in the palace – furniture gone 'missing', faces of little children peeping through the windows in the night, which ultimately drove people out of the huge abode.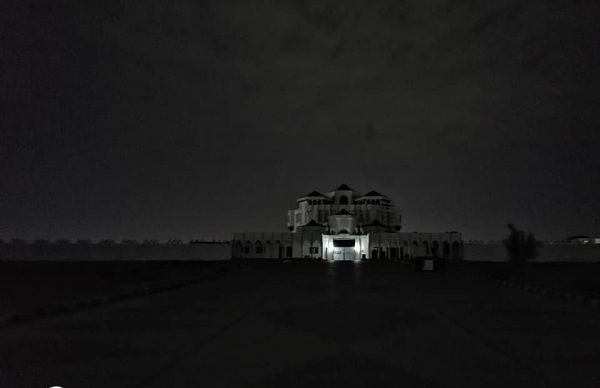 Credits: Al Qasimi Palace Facebook
3. Pan Emirates And The Tunnel
The tunnel leading to the airport is considered spooky  especially while passing through it. People have reportedly felt someone next to them, even when they were traveling alone. And, thanks to the neighboring cemetery for adding on to the over all creepiness.
4. Jumeirah's Horror House
There can be nothing spookier than horror homes and this house at Building-4 housing in Jumeirah is proof enough. Owned by Filipinos, reports are that people hear moans of a man, cries of a baby and other paranormal activities from the house. The house is considered haunted, so much so, that people fear even to pass by it.
5. Al Khail Gate
This one's Dubai's recently halted place. The Al Khail Gate at Al Quoz was built in 2011 and was first occupied by three people. However, they vacated the place in no time after they noticed cell phones, combs and other things missing every night. After this incident, no one dare to move in.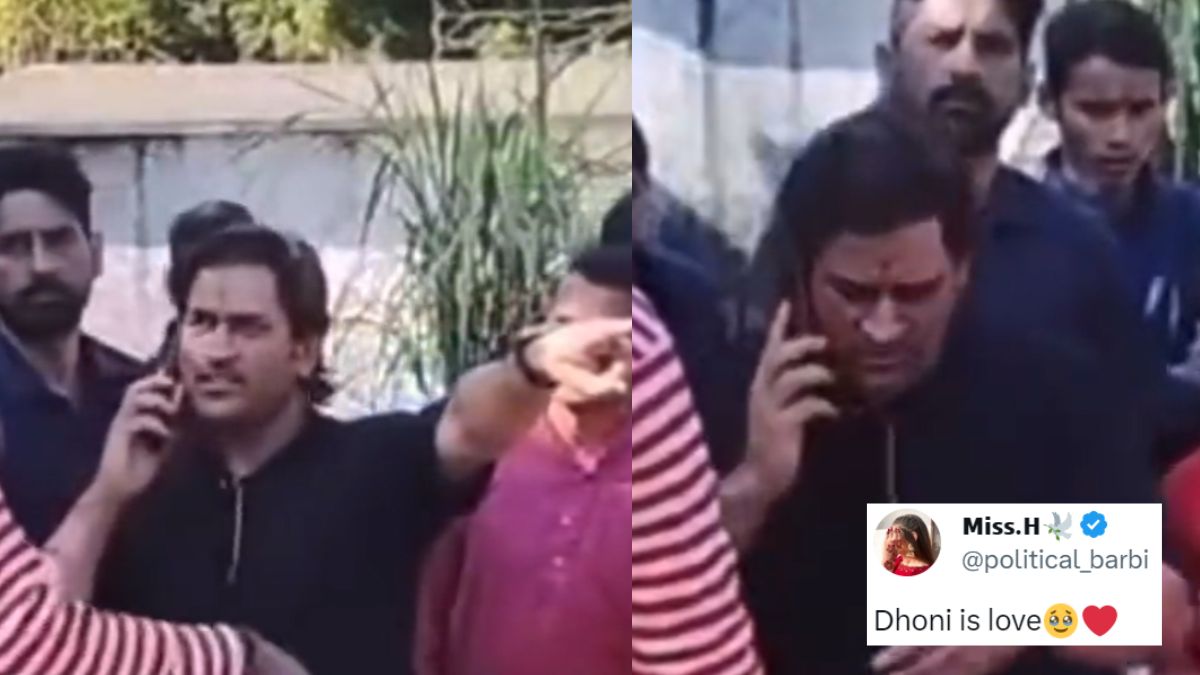 Lost & Asking For Directions, MS Dhoni Saying "Chai Pe Lete Hai" Has Won Over Chai-Lovers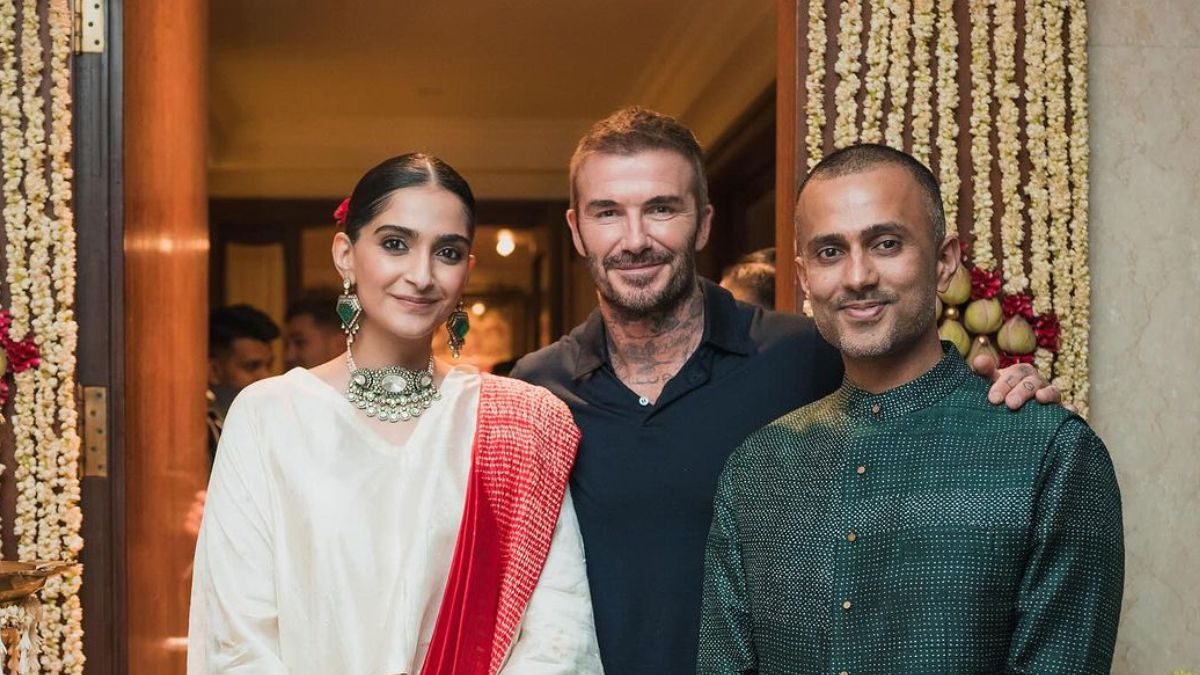 CTExclusive: All That Was Served At Dinner Hosted For David Beckham At Sonam Kapoor's House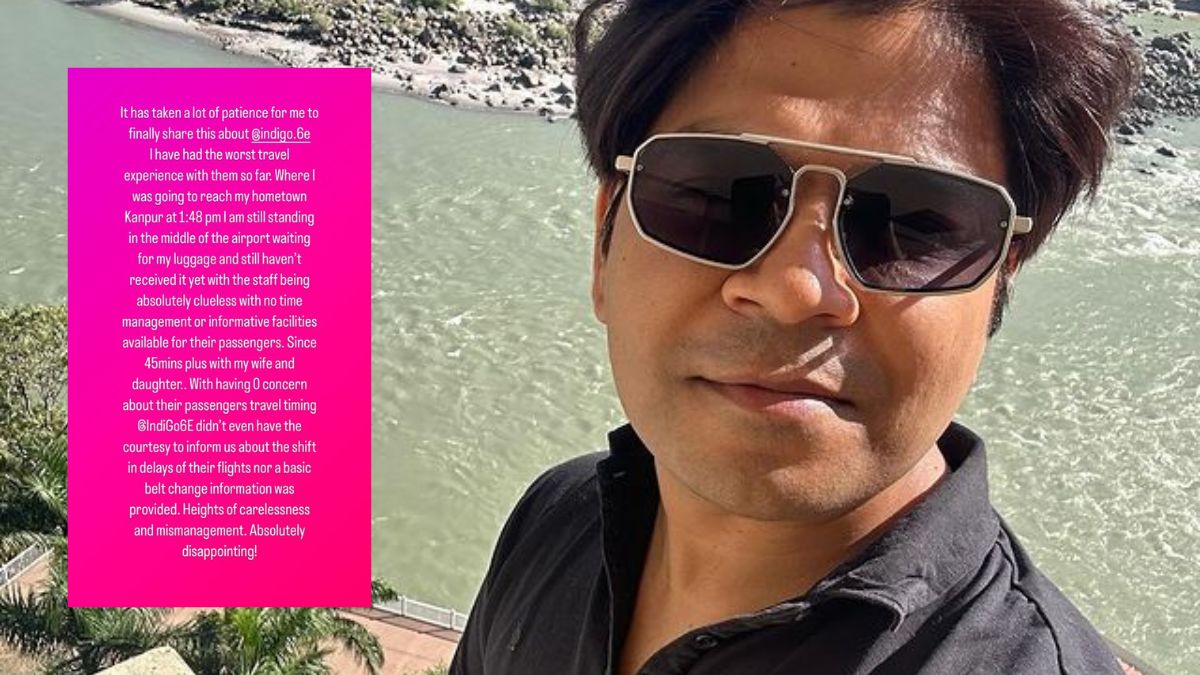 "Heights Of Carelessness & Mismanagement", Ankit Tiwari Rants About IndiGo Flight & Delayed Luggage

Join The # CT Squad!
Sign up for our daily email and get the best delivered straight to your inbox. We pinky promise to make it awesome!
Haunted Al Qasimi Palace In RAK – The Palace Of Nightmares
By Talia Gibson
Updated on January 5, 2023
Approximately 30 years ago, plans were drawn up for an extravagant building known as "The Al Qasimi Palace" in Ras Al-Khaimah (RAK), United Arab Emirates. The palace was designed to include pools, rivers, gardens, and other luxurious features, but the project was ultimately not completed.
The excitement of the palace's opening quickly turned to fear when people who moved in experienced strange and terrifying events on the first night. It is not known exactly what happened, but the residents fled the next day and have not returned since. Despite its grand design, the palace has remained unoccupied for nearly 30 years.
It is rumored that strange noises, such as the sound of moving furniture or heavy luggage, can be heard coming from the abandoned Al Qasimi Palace at dusk or during the day. Some people have also claimed to see the faces of children peering through the broken windows, sometimes crying out to those outside. Due to its eerie legends and unusual history, the Al Qasimi Palace has gained a reputation as the "Al Qasimi Jinn Palace," or "the devil's palace."
If you're looking for a haunted destination in the United Arab Emirates, you can take the E311 highway to the northeastern tip of the country, then take the E11 road and turn onto Seikh Rashid Been Saeed Al Maktoum St. The Al Qasimi Palace will be on your right. Along the way, you can also visit "The Ghost Town of Jazirat Al Hamra," which is said to be the most haunted place in the UAE.
Mysterious Places Around The World
12 Strange Objects That Sent The Internet Into A Frenzy
Astronomers Detect Billion-Year-Old Radio Signal From Deep Space
Haunted Al Qasimi Palace in RAK – The palace of nightmares
About three decades ago, there was a great architectural plan for a massive building like a royal palace so-called "The Al Qasimi Palace" in Ras Al-Khaimah (RAK), UAE. The plan was including pools, rivers, garden, everything that would provide this place more fascinating and enriching features, but it was not to be.
All the joy of its opening ended up with a depressed shudder at the first night after people moved in. Nobody knows the exact reason, but people believe they witnessed such strange and terrible things inside the palace that forced them to flee on the very next day, never to return again. Since then, almost three decades have been passed but nobody has dared to make this luxurious palace worthy of its living.
Rumour has it that after the sunset or at the mid of the day, an inexplicable sound of moving furniture or heavy luggage can be occasionally heard from inside the abandoned palace. Even more terrifying is that many people claim to have seen the faces of little children peering through the partly broken and stained window-glasses, who sometimes cry out to them. For its eerie legends and unusual history, the Al Qasimi Palace is best known as the "Al Qasimi Jinn Palace" which literally stands for "the devil's palace". So, if you are seeking a haunted destination in UAE then you could take the Emirates Road E311, drive straight to country's northeastern tip and go through the E11 road, then take right onto Seikh Rashid Been Saeed Al Maktoum St, you will definitely find your destination standing beside your path. On your way to The Al Qasimi Palace, you could also visit "The Ghost Town Of Jazirat Al Hamra" which is said to be the most haunted place in UAE.
Here, you could find "The Haunted Al Qasimi Palace" on G o o g l e Maps :
EDITOR'S PICK
Log in or sign up for Rotten Tomatoes
Trouble logging in?
By continuing, you agree to the Privacy Policy and the Terms and Policies , and to receive email from Rotten Tomatoes.
By creating an account, you agree to the Privacy Policy and the Terms and Policies , and to receive email from Rotten Tomatoes and to receive email from the Fandango Media Brands .
By creating an account, you agree to the Privacy Policy and the Terms and Policies , and to receive email from Rotten Tomatoes.
Email not verified
Let's keep in touch.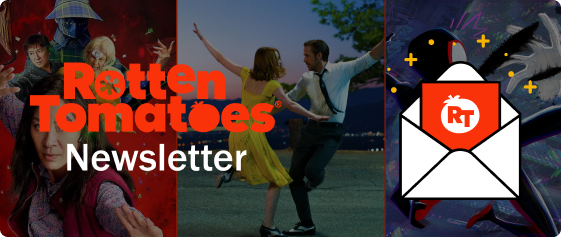 Sign up for the Rotten Tomatoes newsletter to get weekly updates on:
Upcoming Movies and TV shows
Trivia & Rotter Tomatoes Podcast
Media News + More
By clicking "Sign Me Up," you are agreeing to receive occasional emails and communications from Fandango Media (Fandango, Vudu, and Rotten Tomatoes) and consenting to Fandango's Privacy Policy and Terms and Policies . Please allow 10 business days for your account to reflect your preferences.
OK, got it!
Movies / TV
No results found.
What's the Tomatometer®?
Login/signup
Movies in theaters
Opening this week
Coming soon to theaters
Certified fresh movies
Movies at home
Netflix streaming
Amazon prime
Most popular streaming movies
What to Watch New
Certified fresh picks
Poor Things Link to Poor Things
The Boy and the Heron Link to The Boy and the Heron
Eileen Link to Eileen
New TV Tonight
Monarch: Legacy of Monsters: Season 1
A Murder at the End of the World: Season 1
Ghosts: Season 1
NCIS: Sydney: Season 1
Beacon 23: Season 1
The Crown: Season 6
Scott Pilgrim Takes Off: Season 1
Kennedy: Season 1
Most Popular TV on RT
Sex Education: Season 4
All the Light We Cannot See: Season 1
Blue Eye Samurai: Season 1
The Curse: Season 1
Loki: Season 2
Black Cake: Season 1
Bodies: Season 1
The Lazarus Project: Season 2
Top TV Shows
Certified Fresh TV
Most popular TV
Certified fresh pick
Monarch: Legacy of Monsters Link to Monarch: Legacy of Monsters
All-Time Lists
Binge Guide
Comics on TV
Five Favorite Films
Video Interviews
Weekend Box Office
Weekly Ketchup
What to Watch
The 100 Best Movies Over 3 Hours Long, Ranked
The Hunger Games In Order: How to Watch the Movies Chronologically
What to Watch: In Theaters and On Streaming
RT25: Celebrating 25 Years of Rotten Tomatoes
Jon Hamm, Juno Temple, and More on Fargo Season 5
New Tomatometer Scores: Latest Ratings on Movies and Shows
Trending on RT
Shop Rotten Tomatoes
The Hunger Games
Thanksgiving
The Marvels
The Haunted Palace
1963, Horror, 1h 25m
You might also like
Rate and review.
Super Reviewer
Rate this movie
Oof, that was Rotten.
Meh, it passed the time.
It's good – I'd recommend it.
So Fresh: Absolute Must See!
What did you think of the movie? (optional)
You're almost there! Just confirm how you got your ticket.
Step 2 of 2
How did you buy your ticket?
Let's get your review verified..
AMCTheatres.com or AMC App New
Cinemark Coming Soon
We won't be able to verify your ticket today, but it's great to know for the future.
Regal Coming Soon
Theater box office or somewhere else
By opting to have your ticket verified for this movie, you are allowing us to check the email address associated with your Rotten Tomatoes account against an email address associated with a Fandango ticket purchase for the same movie.
You're almost there! Just confirm how you got your ticket.
The haunted palace photos.
Condemned warlock Joseph Curwen (Vincent Price) curses a New England village just before being burned alive. More than a century later, Curwen's kindly great-great grandson Charles Ward (also Price) arrives in town and moves into Curwen's old mansion. Caretaker Simon Orne (Lon Chaney Jr.) helps Charles and his wife Ann (Debra Paget) adjust to their new home. The ancient curse, however, takes hold of Joseph, awakening inside him a long-dormant evil passed on through blood.
Genre: Horror
Original Language: English
Director: Roger Corman
Producer: Roger Corman
Writer: Charles Beaumont
Release Date (Theaters): Aug 28, 1963 original
Release Date (Streaming): Nov 21, 2016
Runtime: 1h 25m
Distributor: American International Pictures
Production Co: Alta Vista Productions, La Honda Productions
Cast & Crew
Vincent Price
Charles Dexter Ward , Joseph Curwen
Debra Paget
Lon Chaney Jr.
Frank Maxwell
Dr. Marinus Willet , Priam Willet
Edgar Weeden , Ezra Weeden
Elisha Cook Jr.
Peter Smith , Micah Smith
John Dierkes
Benjamin West , Jacob West
Milton Parsons
Jabez Hutchinson
Roger Corman
Charles Beaumont
Screenwriter
Samuel Z. Arkoff
Executive Producer
James H. Nicholson
Floyd Crosby
Cinematographer
Ronald Sinclair
Film Editing
Ronald Stein
Original Music
Daniel Haller
Art Director
Set Decoration
Critic Reviews for The Haunted Palace
Audience reviews for the haunted palace.
The more times I watch this movie, the more I like it. There are some great actors in this movie, and the story is really cool, it's based on a Lovecraft story, and it's great. This is another of my favourite Corman movies with Price, he gives a great performance. I highly recommend this movie.

Marvelous exercise in Grand Guignol, great sets, spooky atmosphere, fine screenplay by scenarist Charles Beaumont based on H.P. Lovecraft's The Strange Case of Charles Dexter Ward, and a splendid two-tiered performance by Vincent Price.
When the great-grandson of a warlock (Vincent Price, in both roles) inherits a crumbling palace in Arkham, Massachusetts, bad things are sure to follow for local villagers whose ancestors burnt the magician at the stake. A fun, eerie and artificial atmosphere and a good performance by Price, but like most Roger Corman-directed products of the era it has poor effects and drags at times. From a story by H.P. Lovecraft.
Another great Vincemt Price Horror Ole School Video. As Most of his others its outstanding. Glad he wasn't my creepy Grandpa. Add to your collection, you will be happy.
Movie & TV guides
Rotten Tomatoes: The Card Game
RT Podcasts: Rotten Tomatoes is Wrong
Rotten Tomatoes Gift Cards
What to Watch - In theaters & streaming
Advertisement
Supported by
Russia Reopens the Last Czar's Palace, a Century After His Execution
The last home of Nicholas II has been restored and opened to the public as a museum outside of St. Petersburg.
By Ivan Nechepurenko
ST. PETERSBURG, Russia — Maria Ryadova recalled being in a dusty room inside the Alexander Palace , hopping from one floor beam to another and peering into the dark chasm beneath, on the day she and her team of workers made a momentous discovery.
A pile of broken blue tiles had been hiding in the darkness. These shards, Ms. Ryadova knew from archival black-and-white photos, were the remains of tiles that had once adorned the walls of that room, which used to be czar Nicholas II's private pool and bathroom in the early 1900s. But before they were uncovered, she had never known their color.
The discovery of these glossy pieces of cobalt and turquoise completed another piece of the puzzle that has been reconstructing this imperial mansion, which was once the home of the last czar of Russia and his family.
"This was an incredible find," said Ms. Ryadova, 40, who is one of the main architects involved in the project. "I felt extremely inspired."
With a team of architects and researchers, Ms. Ryadova has spent more than a decade on these grounds, working to restore the stately yellow edifice to its early-20th-century glory, before World War II and Soviet remodeling led to its deterioration. On Aug. 13, the work of Ms. Ryadova and many others was finally unveiled when Alexander Palace opened to the public as a museum.
This palace is likely be the final major Russian imperial mansion to become a museum, said Tatiana Andreeva, a research specialist. It is the result of years of investigative work by Ms. Andreeva, 37, Ms. Ryadova and their many colleagues, who re-created the interiors by working with a few fuzzy colored pictures, thousands of black-and-white photos, some watercolors, several drapery swatches and memoirs of palace life.
Of Rubble and Rubles
More than a century after the Russian monarchy collapsed with the execution of Nicholas II and his wife, four daughters and son by the Bolsheviks in 1918, historians are working to excavate the country's imperial past.
For some, Alexander Palace has become a symbol of Russia's reconciliation with it. "I have a complicated attitude toward the aristocrats of pre-Soviet Russia," said Max Trudolyubov, 51, a popular blogger and commentator on current affairs. "But these palaces became monuments."
Nicholas II has long been portrayed to the Russian people either as a bloody and committed despot — a relentless oppressor of the working class — or a clueless and lighthearted fool who carelessly let his country fall of the cliff into the abyss of Bolshevism.
The reopened palace will allow visitors to immerse themselves in part of the country's history and make their own judgments, said Lev Lurie, a specialist in the history of St. Petersburg and the Romanov family.
"Museum is a theater, with a play rolling out without any actors," he said.
In 2011, the Russian state decided to recreate the czar's private suite — which had been furnished in the Art Nouveau style and was mostly destroyed during World War II and subsequent Soviet reconstructions — and create a museum around it. In the end, the government has committed more than $28 million to the project, with $12 million coming from the museum and private benefactors. (One of those private benefactors, Bob Atchison of Austin, Texas, is an enthusiast who has assembled a collection of items that were looted from the palace by the Germans and others — and sold at international auctions — and who has been collecting money to repair the palace for decades.)
To recreate the czar's private rooms, Ms. Ryadova's team had to remake almost everything: pickled oak parquet floors, wool rugs and silk draperies, and even spittoons that were used by the imperial family and courtiers.
Originally built in 1796 by Catherine the Great for her grandson Alexander, the palace was part of the imperial retreat in Tsarskoye Selo , a sprawling complex of palaces and parks outside of St. Petersburg, Russia's capital at the time.
In 1905, Alexander's great-grand-nephew, Nicholas II, moved his family there permanently to escape the increasingly chaotic and dangerous life in the capital, where riots broke out regularly and his grandfather was killed in 1881.
Nicholas II's choice, on the eve of revolution, to abandon his troops and reunite with his family at Alexander Palace, divides many who study the time period.
To some, it is an indictment: He put his family above the interests of his country, over which he had absolute power.
But to many Russian Orthodox believers, Nicholas II's acceptance of his fate was a show of humility. In 2000, the Russian Orthodox Church canonized him and his family as passion bearers, a category used to identify believers who endured suffering and death with Christ-like piety.
This July, defying all pandemic-related restrictions, thousands of believers joined a religious procession in the city of Yekaterinburg that processed from the location of the mansion where the czar was shot (it was later destroyed) to the spot where the family's remains were disposed in a mine shaft and dissolved with sulfuric acid.
A Palatial Puzzle
As she walked through the palace's nearly finished rooms a few weeks before the opening this summer, Ms. Ryadova said she hoped visitors would be enraptured. She has faced too many challenges and disappointments in this reconstruction to feel otherwise.
For instance, she has been frustrated by the czar's family photos. As avid photographers, they took thousands of pictures inside the palace, including photographs that could be considered some of the world's earliest selfies. Portraits, however, are often useless to restoration specialists because floors and ceilings are usually cut out of the frame.
"Now I tell everyone: Photograph your ceilings!" Ms. Ryadova said.
Rugs posed a problem, too: In some cases, whole patterns were recreated from a small corner that managed to sneak into a picture or two. (Some of the ceiling restorations are on hold, in hopes that more materials will be discovered.)
In 1944, after the German occupation, most of the properties at Tsarskoye Selo had no windows or roofs. "The country was in a horrible state, but people wanted to see these ruins rebuilt as they were," said Olga Taratynova, the director of the Tsarskoye Selo museum.
So even though the Soviet government had established itself as antithetical to the rule of the czars, it put money toward renovating their palaces. "It was a political decision," Ms. Taratynova, 66, said.
The complex has since become an important tourist destination, not to mention a symbol of Russian history. Ms. Taratynova recalled that in 2002 President George W. Bush visited the Catherine Palace at the site as the guest of President Vladimir Putin. When Mr. Bush entered the grand 8,500-square-foot throne hall, with its gold-plated woodcarving décor, Ms. Taratynova said, he froze, mesmerized, and said simply, "Wow."
"We Russians love it when people come to visit and say, 'Wow!'" she said.
An earlier version of this article misspelled the surname of a private benefactor of the Alexander Palace museum. He is Bob Atchison, not Bob Atchinson.
Because of an editing error, an earlier version of this article referred incorrectly to Lev Lurie. He is a man.
How we handle corrections
Ivan Nechepurenko has been a reporter with the Moscow bureau since 2015, covering politics, economics, sports, and culture in Russia and the former Soviet republics. He was born and raised in St. Petersburg, Russia. More about Ivan Nechepurenko
Explore Our Style Coverage
The latest in fashion, trends, love and more..
Gen Alpha's Slang: Are you a "sigma"? Do you have "rizz"? The youngest generation is bamboozling its elders with terms  all their own.
'Looksmaxxing,' Explained: A booming digital community of young men seeking to enhance their physical attractiveness is creating new terms for age-old insecurities .  
A Vape Makeover: In candy shades and eggy shapes, many of today's most popular vaping devices look like toys . Experts worry they will hook a new generation of users.
  Skims: Kim Kardashian taking yet another step on the march to world domination via a partnership between her brand and Swarovski .
Spill Sesh: For years, people have wondered who's behind the popular YouTube gossip channel. The person behind the account has now unmasked herself .
20 Ghost Towns In Russia That Have Been Totally Forgotten About
Take it all as a unique chance to explore the lands of the people who once resided there.
In a country as ancient as Russia, there are many examples of mysterious places that have long been forsaken by the locals. Only two decades ago, dozens of small towns and villages were completely abandoned, and are now as lonely as a cloud in the sky. Since the collapse of these places, over hundreds of people have lost their jobs and homes. Well, the truth is that Russia was home to a large number of small-industry towns, but some of them didn't really make it in 2018.
And if you dare to take a step further, you can actually visit such locations and imagine what life was like for those belonging to the past now.
From Cape Aniva's Atomic Lighthouse and Diamond Mine to the abandoned 5-star hotel Northern Crown (which surely looks haunted), get ready for a thrilling ride through 20 of the loneliest and chilling places ever noticed in Russia. Take it all as a unique chance to explore the lands of the people who once resided there. Below is an interesting list of Russia's most bizarre and unwelcoming places where you can hear nothing but your own footsteps.
20 Atomic Lighthouse - Cape Aniva
The Atomic Lighthouse, constructed by the Russian architect Miura Shinobu, was built on the Sakhalin island in the middle 90s.  It was a complicated building, a technical one that had to be a unique creation. Cape Aniva's lighthouse used a diesel generator to get going, although it also had some backup batteries.
In the late 90s, the Atomic lighthouse was retrofitted with more power as a way to save more money. Somehow it fell into disuse anyway, so the building now sits lonesome by the sea, hopelessly waiting for a new potential reconstruction.
19 The Diamond Mine - Yakutia
The so-called Diamond Mine, located in Yakutia, used to be a major financial source which provided jobs and revenue for the region and its people. As massive and big as it still is, this open-pit diamond mine would produce an immense amount of high-quality Russian diamonds back in the day. In a nutshell, the town's activities revolved around the production of more and more diamonds to keep the life busy and full of riches.
However, later down the line, the production of these precious rocks became scarcer, which eventually forced the mine to lay off most of the workers. In the end, the Diamond Mine closed down but still remains one of the largest ones in the world. When looked at from above, it probably looks like a black zone in space.
17 Dagdizel Plant -  Dagestan
Another mysterious location in Russia which appears to be just as spooky as the Diamond Mine is this odd building known as the Dagdizel Plant in Dagestan. Initially, Dagdizel Plant was used as a test center for the military department in Russia. According to the original plan, it had to be put in operation by 1939; however, the idea was actually short-lived since the military needs sort of changed over the years. Well, this Russian test center still resides in the Caspian sea but it's hardly ever used for anything anyway. On top of that, Dagdizel Plant is located almost over two miles from the shore, so getting there isn't really a piece of cake whatsoever. Today, it's only visitors are the birds that have made the land their own.
16 The Formerly Majestic Castle "Zakhluchye" - Moscow Oblast
This formerly beautiful castle, designed and constructed in the 19th century, is nothing more than just an old, dusty memory. There was a time when Zakhluchye used to capture the imagination of many travelers. But now, the castle sits lonely and quietly on the bank of a small lake, surrounded by rolling hills and a quaint tower. What probably strikes us the most about this castle is the fancy exterior and the poor paint job that's badly peeling. But in retrospect, this castle, constructed by the Russian architect A.S. Khrenov, must have been Moscow's pride.
15 Khovrinskaya Hospital - Moscow
Chilling stories always follow deserted places, like schools and hospitals, and Moscow's Khovrinskaya Hospital isn't really an exception on today's list either.
The building was constructed in the late 90s but the project was eventually ceased due to the lack of funding. Interestingly though, the construction was inadequately started from the very beginning as it was built on a poor foundation. The site used to be part of a river, making the ground less eligible for supporting such a massive structure anyway. Myths and legends of all kinds have grown up around the building because of its spooky looks and aura.
14 Kadykchan Village - Magadan Oblast
Officially known as a "depopulated community", this Russian Kadykchan village actually looks like a ghost town rather than anything else. Originally, this place was established as a coal mining village, but the corporation shut doors due to numerous incidents there. As a result, the locals soon left the village and settled in other communities without even packing all of their possessions. By the end of 2010, Kadykchan village in Magadan Oblast was almost completely deserted; it virtually had no official residence.  This place is rarely visited by travelers since there's not much to see around here anyway.
13 The Submarine Base "Bechevinka" - Kamchatka
Another abandoned place in Kamchatka is the submarine base in the charming Bechevinka Village, and it's kind of sad when you think of the awe-inspiring views of the nearby hilltops. However, the reason for setting the submarine base here in Kamchatka has nothing to do with those pleasant views; it was picked for shelter and privacy, and the surrounding mountains had that in abundance. The facility only survived for about a few decades before finally shutting down. Today the area is no longer used for such purposes but is now left for wildlife to grow.
12 Sanatorium Energy - Moscow Oblast
The old sanatorium was a long-abandoned place that wasn't used for decades until one day when the town decided to transform the building into something else. The former sanatorium would probably be torn down completely but at least the grounds would be used for the construction of something better. What's interesting about this place is that it's located just outside of Moscow, nearby a few ponds that are major hotspots for fishers. So, hopefully, the new buildings will be able to cater to those specific visitors who may spend a night or two here while fishing nearby the lakes and ponds.
11 Maternity Hospital - Vladimir Oblast
Maternity Hospital was a considerably modern building in a time when the township was thriving. The hospital was built in the 18th century and was supposed to take care of soldiers; however, it was transformed into a maternity ward. Later on, though, the hospital and the town were deserted, leaving the building in a ghost-like shape. Now the building resembles haunted hospitals, like those we see in the high-budget movies. That outdated detailing and concrete walls that are falling apart only add an extra "charm" to the place. You see, there are are too many aspects of it that make it look extra spooky and mysterious.
10 The Old Chambers -  Chukhloma
When it comes to Russia, there's just one thing that instantly springs to mind: you can surely expect to run into some weird things, starting with these old chambers in Chukhloma. Indeed, if you're really willing to travel off the beaten path, this place will definitely offer a good share of spooky vibes. These oddly shaped chambers are literally in the middle of nowhere. The nearest village, which still appears to be functioning normally, is about 8 km from the Chukhloma. So, if you're really thrilled to come here, be sure to bring a friend along just to calm your nerves when exploring the chambers.
9 The Grain Elevator - Chelyabinsk
Well, now that's an image that can make your heart skip a beat. This grain elevator was built right on the fringe of the Ural city of Chelyabinsk. Once the construction of the railway was completed, Chelyabinsk automatically became a pretty significant trade station between Eastern and Western Russia. The result was a gigantic 8-story building that served as the symbol of the town. It practically resembled a gigantic skyscraper rising high from the ground.  In only several years,  the other districts of the city developed so much that the grain elevator simply fell into disuse.
8 The Ancient Brusnitsyn Mansion - St. Petersburg
Located along the Karpovka river embankment, the ancient Brusnitsyn Mansion was constructed by Nikolay Brusnitsyn, a wealthy owner of a local tannery in Saint Petersburg. The formerly majestic mansion could be found near the industrial district of the Vailievsky island which is believed to be the hiding-place for Dracula's mirror. According to the locals, who almost seem to support these legends, the mirror was brought here in the 20th century from the Venetian Palazzo aka Dracula's resting place. In any case, such stories and legends about the Brusnitsyn Mansion definitely add a touch of mysteriousness to the location.
7 The Gothic Castle - St. Petersburg
This forgotten castle sits in Vladimir Khrapovitsky's region, a Russian lumberman, who had a liking for gothic architecture and traveling. During one of his French adventures in 1880, Vladimir promised himself that he would help the town built a similar mansion like the ones he saw while exploring France.  A few years later, he accomplished his goal and built a beautiful mansion in the French Gothic architectural style, with ponds, gorgeous gardens and cascades scatted all over the place. Sadly, though, the castle was doomed to loneliness after the man passed away.
6 The Unseen Side Of Leningrad
Saying that the scenery isn't at all spooky would be the biggest lie ever. This jaw-dropping site was built near the village of Saperny and is considered the largest decoration for a military movie. In fact, the entire town was built on an abandoned military base. The movie project engaged over hundreds of builders to set up the scene and the whole process took between 4 - 6 months and over 5 million dollars to complete. It's not hard to see that the decoration is filled to the brim with bizarre details, and the one you're looking at right now is probably just a small example of that.
5 St. Petersburg Is Running Short On Amusement Parks
This odd place happens to be located in Saint Petersburg nearby the Catherinehof Park, and nobody seems to care about it. This unique park that used to attract so many kids with its rides and swings is now slowly fading away.  There are no longer kids that can be seen swinging back and forth. There's no laughter anymore here. This place has surely become overlooked by the world. Traditionally, such spooky locations feed people's imagination like crazy. Therefore, you can hear many legends and myths about such abandoned spots. But once you look at these photos, you'll clearly understand what made the locals come up with such chilling bedtime stories.
4 The Affected Region of Bryansk After Chernobyl
It's no secret that the Chernobyl Power Plant was the epicenter of one of the biggest tragedies in the world. It only takes a single look at the whole region of Bryansk to realize that this place is unwelcoming and quite dangerous.  Even to this date, some parts of Bryansk are off-limits due to the critical levels of radiation. To prevent it from spreading further into the nearby cities, the inactive power plant is getting a new sarcophagus. Well, this will definitely keep people out while holding the unhealthy waves in. Apparently, the region is still badly affected although it's been decades since that Chernobyl accident.
3 The Abandoned And Forgotten Soviet Circus
Well, if the idea of running into clowns make you feel uneasy, then you'll surely want to avoid coming here. Much like the rest of the places on today's list, this bizarre-looking circus is certainly not the most pleasant thing you'll ever see around here. Only the thought of seeing clown-shaped figures, carved into the walls, will probably give you a stomach ache.  Actually, the architecture of this abandoned circus is quite unique, but even this isn't enough to make us go there and have a look at what's really going on the inside.
2 The Infamous Beslan School
This odd and spooky Beslan school stretches as far back as the former Soviet Union. Beslan School is located in Southern Russia and suffered lots of accidents in the Russian history. Naturally, the school was eventually abandoned, and there's a slim chance that it's ever going to get a new facade. Apart from the annual memorials that take place just outside the school, there's not much to see or do around here. This location has become quite useless for any kind of activities anyway, and given its spooky looks, that's completely understandable. Besides, this place looks quite unfriendly for newcomers, so you'd best avoid coming here.
1 Lake Karachay Was Also Affected By The Accident In Chernobyl
Once known as a gorgeous lake and a perfect place for quiet walks, Lake Karachay is now just as deserted and dangerous as the entire region of Chernobyl. In 1950, the country used the lake as a dumping terrain for radioactive waste. As a consequence, the lake had gained great amounts of toxic chemicals, and by the end of 1960, it was already heavily polluted due to the toxicity. Even 50 years later, the Russian lake Karachay is still considered one of the most polluted lakes in the country. Therefore, some parts of it are even off-limits to the public.
References: bbc.co.uk, russianblogger.me, rbth.com, guff.com
'Putin's palace': Builders' story of luxury, mould and fake walls
Published 12 February 2021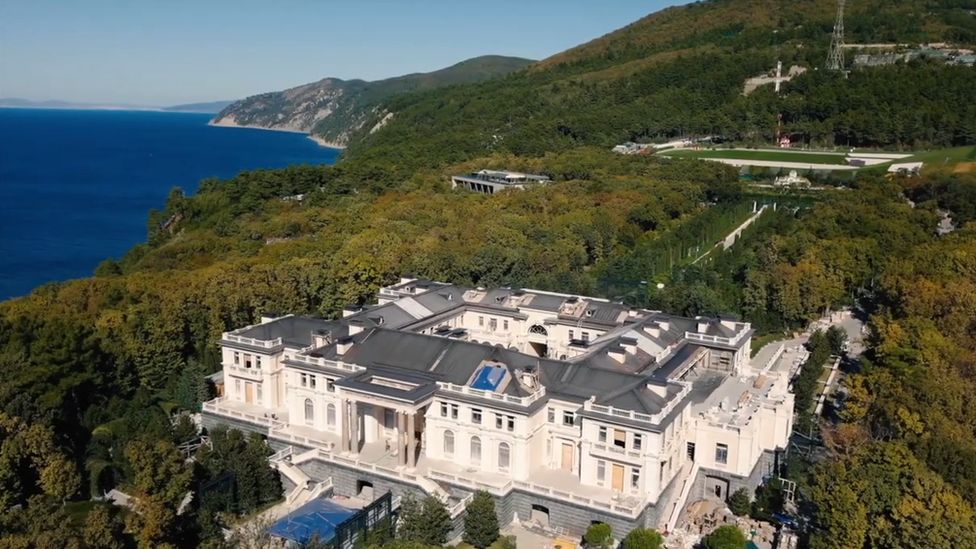 The mysterious "Putin's Palace" that featured in a viral video by Russian opposition leader Alexei Navalny appeared to be full of luxuries gifted to President Vladimir Putin by wealthy friends. But then Russian TV broadcast a completely different report.
Gone was the sprawling palace's voluptuous decor, replaced instead by bare, concrete walls. The property looked as if it was being thoroughly rebuilt - raising questions about what exactly is happening at the estate.
The Navalny investigation video has racked up more than 110m views since its release. The Kremlin vehemently denies the palace claims, and President Putin has labelled it "boring" and a "compilation and montage". Since then Navalny has been jailed for failing to report to the prison service while he was recovering from a nerve agent attack in a Berlin hospital.
But BBC Russian has spoken to several builders who say they worked at the site of the palace between 2005 and 2020, building and then refurbishing it. They confirmed many of the allegations in the Navalny video - including that the palace was being rebuilt in part due to a mould infestation.
What the builders say
Stanislav (not his real name) said he had come to work on the construction site at the Black Sea resort of Gelendzhik in autumn 2018. The palace had many remnants of the luxurious decor shown in Navalny's film, but the furniture was mostly gone. "The scale [of opulence] had been incredible. Later much of the palace was stripped bare," he told BBC Russian.
The mould problem was brought up in the video and Navalny claimed that the palace was undergoing reconstruction because of it. Two builders say they saw the mould themselves.
"Walls and ceilings were covered in mould. Just ordinary mould - green. In places even black. It had affected the whole building. We were shocked," Stanislav told the BBC.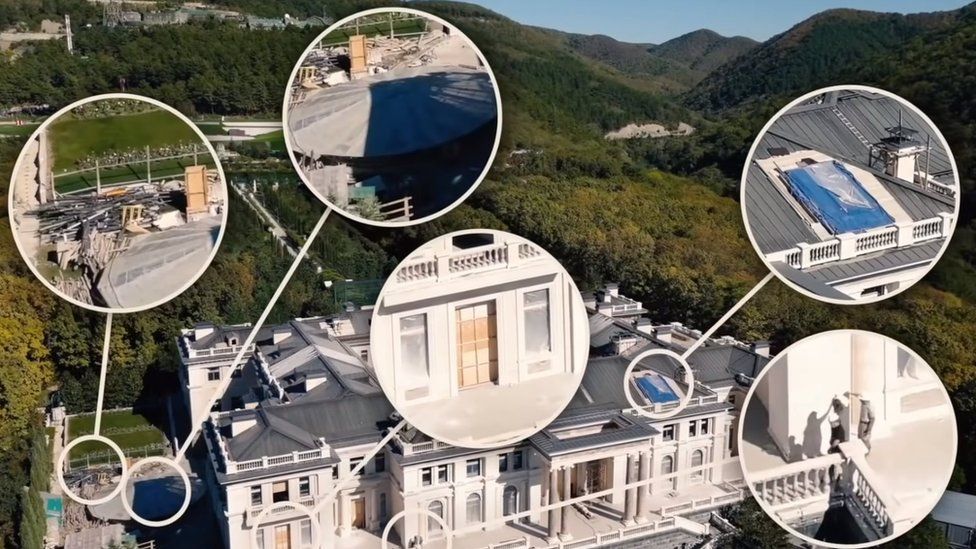 The palace was built using plasterboard attached to main walls and the mould appeared between the concrete walls and plasterboard.
Another builder, Igor, said he had gone to work on the palace in 2017 and that by then the mould had not spread beyond the lower ground floor.
A source close to the Kremlin confirmed to BBC Russian that mould was a real problem: "the palace had been completed and was used for several years but then fungus appeared, accompanied by an unpleasant smell."
Igor (again not his real name) complained that they were told off for "every nick and scratch". "All those cabinets were made out of expensive wood. So many people worked here, so expensive, so many materials. And then they tell us 'cut the wires, take all this apart, break that down'," he said.

What does Navalny's video allege?
The investigation alleges the property cost £1bn ($1.37bn) and was paid for "with the largest bribe in history". "[They] built a palace for their boss with this money," Navalny says in the video.
He has consistently accused the Russian leader of "feudal" patronage and running a system riddled with "thieves".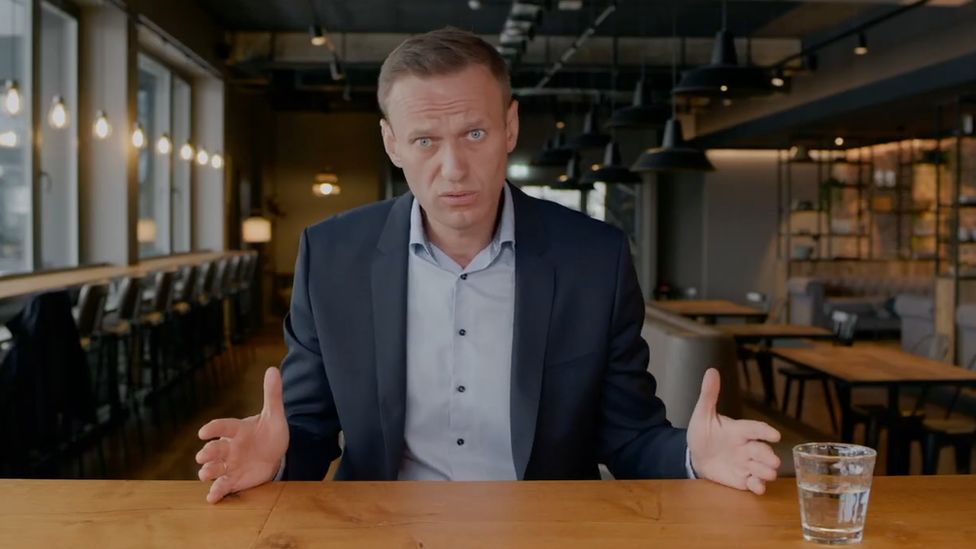 But at the end of last month billionaire Arkady Rotenberg, President Putin's former judo partner, said he owned the mansion, adding that it would be finished "in a couple of years" and was set to become an apartment hotel.
The video was released last month after Navalny flew back from Germany and straight into custody. His jail term has prompted some of the biggest protests in years.
A Levada Center opinion poll this week suggested 26% of Russians had seen the video, and of those who said they had seen it or were familiar with its contents 17% said their opinion of Mr Putin had changed because of it.
That's not my palace, says Putin
Alexei Navalny: Russia's vociferous Putin critic
Two hours that saved Alexei Navalny's life
What's the problem with the building?
The builders believe the whole building has had to be disinfected at least twice. They think the problems are down to both the building's proximity to the sea and a lack of ventilation.
The problems are first thought to have emerged when a piece of plaster nearly fell on a cleaner on the lower ground floor of the property, near the swimming pool. Initially the plan was for cosmetic refurbishments but once they had opened up the "fake walls", Igor said they realised the mould had spread all over the house.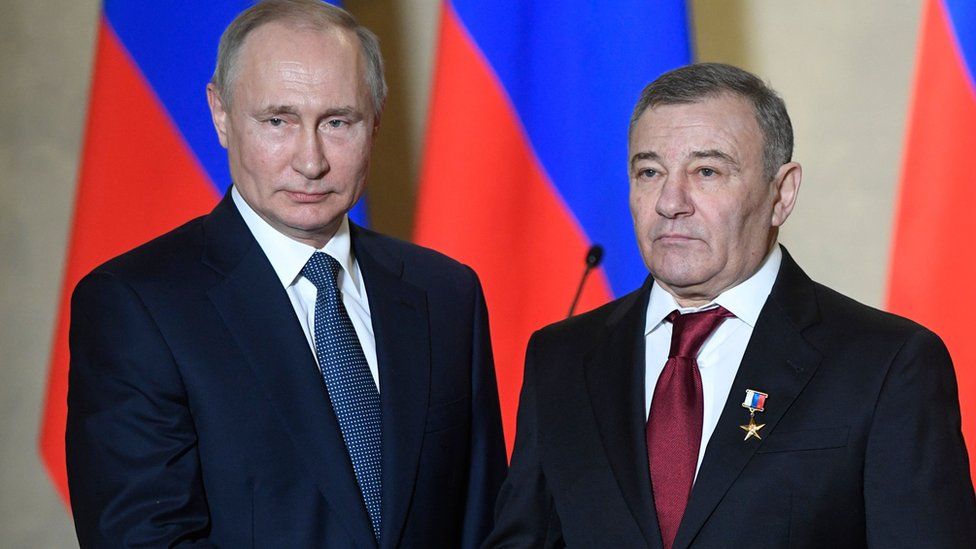 BBC Russian sought comments from Russian state construction watchdog Glavgosekspertiza, Arkady Rotenberg and the Gelendzhik local authority for comment, but received no response.
How luxurious is it?
On visiting the property in autumn 2011, one builder the BBC spoke to said his first impression was that it was as if the Egyptian pyramids were being built.
"I reckon around 1,500 people worked at the construction site at that point. There were Russians, Uzbeks, there were soldiers. There was a rush to get it finished."
Another worker said all signs of construction were camouflaged so they could not be spotted from the sea. "All concrete and metal structures had hills, trees, grass and rocks painted over them to cover them up, to make them blend in with the landscape."
There was a Japanese garden and Igor was impressed with the floor-level pool: "You couldn't even tell it was there."
Many of the workers who told the BBC they had worked at the site in the past 15 years speak of frequent reconstruction taking place. "They kept building and demolishing, building and then demolishing," one builder said.
There was also a large gym built out of marble, but that only lasted two or three years, he added. "I was so surprised when a digger turned up one day and started smashing it up."
This video can not be played
To play this video you need to enable JavaScript in your browser.
Alexei Navalny was filmed by the BBC saying goodbye to his wife and then being led away by authorities
Related Topics
Alexei Navalny
Vladimir Putin
More on this story
Published 25 January 2021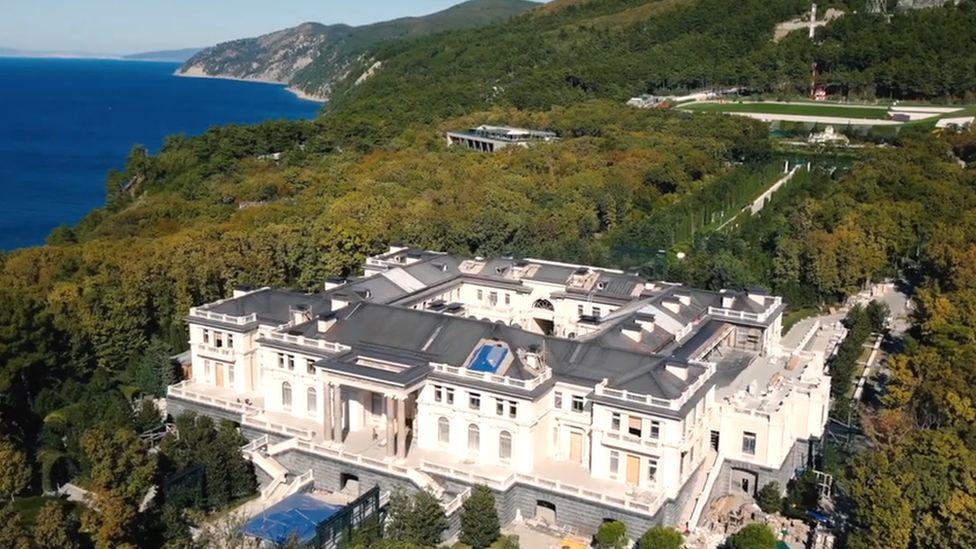 The most Haunted Place in the Czech Republic: Houska Castle (2020 Podcast Episode)
Full cast & crew.
See the Full Cast & Crew page for The Shawshank Redemption (1994) for examples.
Be the first to contribute! Just click the "Edit page" button at the bottom of the page or learn more in the Cast & Crew submission guide.
Release Dates | Official Sites | Company Credits | Filming & Production | Technical Specs
Contribute to This Page