Hauntings in Duluth
October is the season of crisp fall mornings, the season of sweaters and hot apple ciders, of campfires and the occasional snow flurry. October blesses North Shore visitors each year with colorful leaf displays that can be seen from space, as well as winds that whip up waves to rival those of ocean waters.
There is a darker side to October, however, as it is also the season of Halloween; the time of tricks, treats and hauntings.
Duluth visitors and residents in search of a spooky Halloween experience, or perhaps a chance encounter with the paranormal, need not look far as there are plenty of scares and hauntings to be had along Superior's storied shore.
One of the most notable haunted places around is the William A. Irvin, a former Lake freighter, or "Laker" as it's known colloquially, that has been restored and is, in normal times, open to the public as a museum in the Duluth Harbor.
First launched in November 21, 1937, the William A. Irvin carried freight and important company guests for U.S. Steel's Great Lakes Fleet for over 40 years before its "final layup" in 1978. The Irvin was eventually retired due to its small size relative to the newer, more modern freighters in the fleet, some of which had begun measuring upwards of 1,000 feet in length.
With such a long and rich history on the Great Lakes, it's little wonder that this 600-foot modern marvel is said to be haunted.
According to the website hauntedrooms.com, the most frequent paranormal sighting on the Irvin is that of a "lady in white" who is at times seen up on deck, "dressed in period clothing." To date, nobody has been able to identify her or determine the origins of her haunting.
In addition to the mysterious lady in white, various other ghost sightings have been reported on the Irvin, including the ghost of a former captain who is "most often seen in the captain's chair" and is allegedly "angry that the ship remains in dock and is no longer seaworthy."
Normally, the William A. Irvin is opened in October as a haunted ship, where visitors can expect to encounter scares of every sort, culminating "below the freezing waters of Lake Superior in the Maze of Terror." However, because of COVID-19 the Haunted Ship event has been cancelled for 2020, with plans to reopen in 2021. More information on Duluth's Haunted Ship can be found at: duluthhauntedship.com .
From ships to trains, another nearby historic site with paranormal associations that is open to the public is the Duluth Depot.
Built in 1892, the Duluth Union Depot has been a part of Duluth's story since the beginning. According to the Depot's website, at its height the Duluth Depot served seven different railroad lines in addition to housing the "railroad offices, a newsstand, barber shop, parcel room and lunch room." During the early 1900s the Depot was handling some 26 trains a day.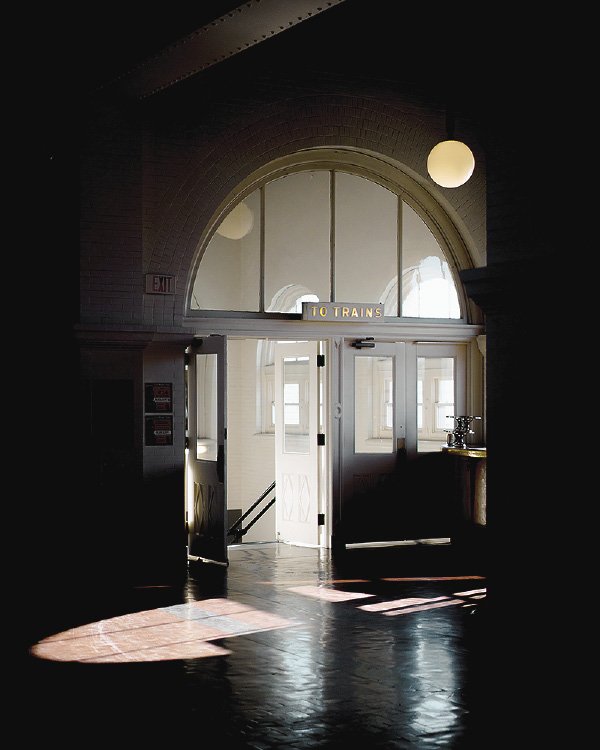 While the Depot saw its last train depart in 1969, it has since been renovated and turned into a center of northern art and culture. Today, the Depot is home to the Lake Superior Railroad Museum (LSRM), the St. Louis County Historical Society, the Duluth Art Institute, the North Shore Scenic Railroad, the Minnesota Ballet, the Arrowhead Chorale, the Duluth Playhouse, and, perhaps, spirits from another dimension.
In a series of online videos posted by the Lake Superior Railroad Museum, LSRM executive director Ken Buehler goes into detail on a few of the most notable tales of alleged hauntings, all of which involve unexplained sightings of a little girl.
In the first story, a little girl was seen by one of the curators for the St. Louis County Historical Society in the Depot attic "staring up at a wicker baby buggy." Then, sometime later, another mysterious little girl was caught on film during a wedding where there were no children on the guest list.
But, perhaps most intriguing of all, Buehler tells the story of the mysterious hand print that appeared one day in a blocked off area of one of the LSRM locomotives.
About five years ago behind heavy, immovable boards and out of reach from even a tall adult's arms, there suddenly appeared a child's hand print in a thick layer of dust. It is still there to this day, visible to visitors who know where to look, sitting just out of reach behind the same immovable barrier, unexplained yet impossible to dismiss.
Links to the full story of the haunting of the little girl can be found on the Lake Superior Railroad Museum's blog, with further information on hours and events available on their website at:  lsrm.org .
The Irvin and the Depot are but two of many Duluth places with haunted reputations. The Nopeming Sanatorium, for instance, is another great venture for anyone looking for a scare.
Nopeming was first opened as a tuberculosis sanatorium in 1912, before being transitioned to a nursing home in the 1970s. It ceased operations in 2002, however, and is now privately owned, maintained and made open for tours (both historical and paranormal) by the local non-profit Orison Inc.
Tours exploring Duluth's very own Sanatorium are available for reservation at:  nopeming.com .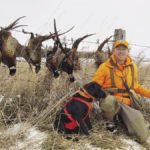 Life is better with a bird dog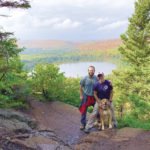 Golden Eagle Lodge – A family legacy
Eric Weicht
Related posts, military roots: cargill's ancestral tale, celebrating joy: duluth's annual spectacle, ann rosenquist takes on alone, shelter from the storm: duluth's life house, creating a portable hunting bucket seat or backpack, whitefish netting: honoring our heritage.
This website uses cookies to improve your experience. We'll assume you're ok with this, but you can opt-out if you wish. Accept Read More

Convention Center, Entertainment, Expo & Sports Venue
Duluth Haunted Ship: Tips & Tricks Guide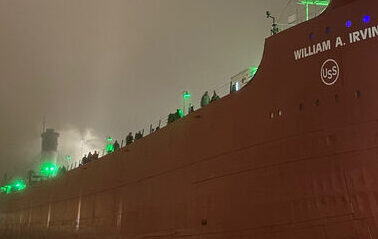 Eight Tips for the Best Duluth Haunted Ship experience
After being gone since 2017, the haunted ship has made its spooky return for weekends in October.
Are you a big fan who has been eagerly awaiting the return? Or are you first timer planning to brave the terrors within? Check out our insider guide for the best tips and tricks for the Duluth Haunted Ship!
1. Wear Sturdy Shoes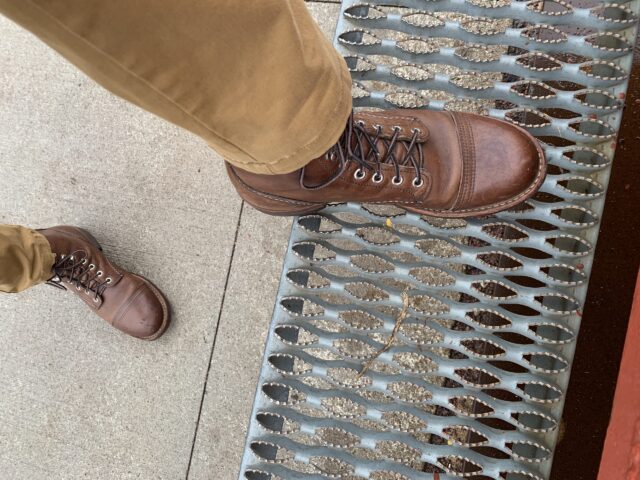 Everyone has seen a horror movie where the killer is chasing a would-be victim who trips over a stray tree root and then… fades to black . The takeaway? Heels are not proper horror footwear.
While the Duluth Haunted Ship won't feature real killers or high-stakes chases through the woods, your shoe choice is still important. It will be dark and you'll be walking on a real boat with steep stairs, so you'll want to have good footing. Trust us.
2. Come on a Thursday (or Wednesday the 20th for MEA!)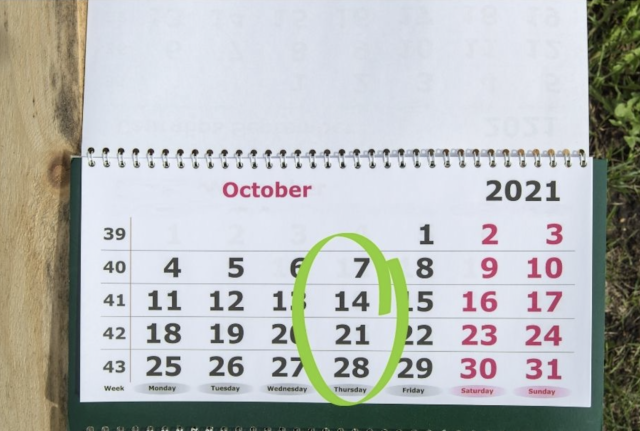 While some people feel like the wait in line – the music, lights, live actors walking among you – is part of the appeal, the shortest lines will be on Thursdays starting at 6:30pm.
The whole schedule is listed here.  You could also get a  FAST PASS  and basically skip the line (more on that below).
3. Walk Through Slowly – if you can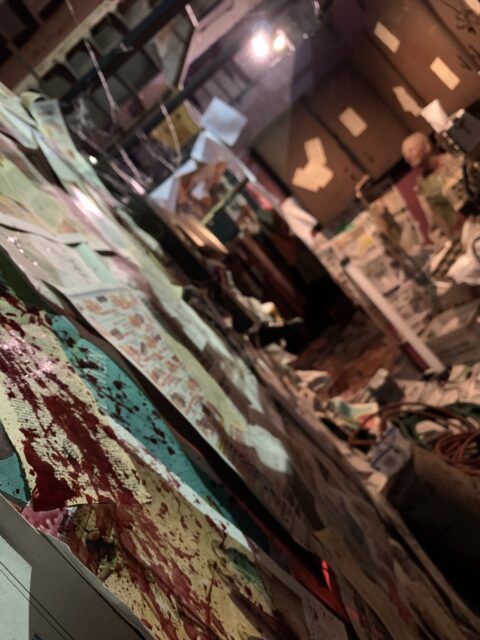 It's a tall order, but if you take your time through the Haunted Ship, you'll be rewarded with gorgeous (albeit creepy) touches.
And you certainly get your money's worth — it takes about 30 minutes to make your way through the fully dressed out ship!
The production crew live for the details and we hope you can catch them all!
4. Dress in Warm Clothing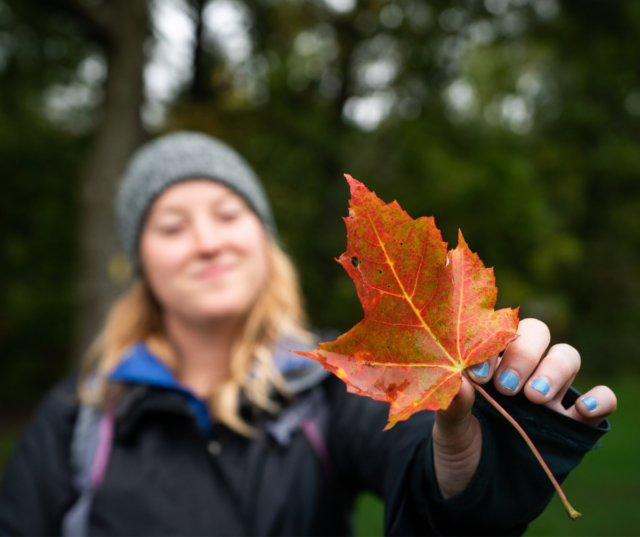 While we do everything to keep the good vibe in line going strong — actors in fantastic makeup, music and lights emanating from the ship with fog spilling off the deck — nothing is fun with cold feet. We're talking literal cold feet here.
Cool fall temperatures are here and as you might be standing in line (which truly IS part of the fun) you'll be happy to have something cozy on.
5. Strength in Numbers
Every good horror movie involves a group of friends, so why not bring your own? The more the merrier; or should I say scarier?
Seriously, watching groups exit the ship talking through their shared experience can give you some real FOMO.
6. Make a night of it: Catch A Movie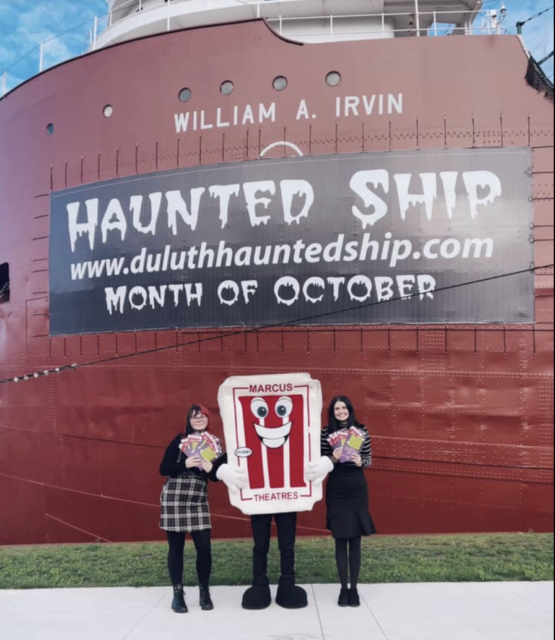 Make the most of your night by catching a movie at Marcus Duluth Cinema It's across the street from the ship, AND they will even reimburse your parking costs at the DECC!
Opening on October 15th, the Halloween series continues the gruesome tale of Michael Meyers with its newest installment, "Halloween Kills." Aptly titled, I know.
If scary movies aren't your thing, (why are you reading this article??) you could check out "No Time to Die," the final installment of Daniel Craig's epic James Bond series.
There's always something fun to check out at Marcus
7. Buy Tickets Online!

For the first time ever, tickets for the Duluth Haunted ship are available online! General Admission is $15 or you could skip the line with the new FAST PASS ticket for $25 .
8. Discounted In-Person Tickets
If you'd rather purchase your tickets in person, you can!
Even better, if you bring a non-perishable food item, you get $2 off your in-person ticket.
Are you a college student? Enjoy an even cheaper $10 general admission ticket by showing your college ID!
The return of the Duluth Haunted Ship is sure to be the event of the season! Don't miss your opportunity to experience the scare of a lifetime! If you think you're brave enough to face your fears, come to the Haunted Ship. It's a scream.