Can't find time to sew? Get my TIME HACK GUIDE to sew more today!

DIY Dog Ghost Costume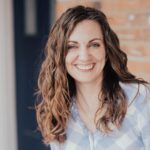 This post may contain affiliate links.
Learn how to make a DIY dog ghost costume with some white fabric and a white baseball cap. Depending on the nose it can even be a Zero ghost dog.
This is our first year having a dog at Halloween, and I was so excited to make him some simple dog costumes. My kids have all been ghosts so they begged me to make him a dog ghost costume.
I came up with a really simple way to make a DIY dog ghost costume. It's a simple cape and a hat that looks like a dog ghost face. I used a red nose so it could look like a zero ghost dog from Nightmare before Christmas, but if you change the nose color it can be any ghost dog.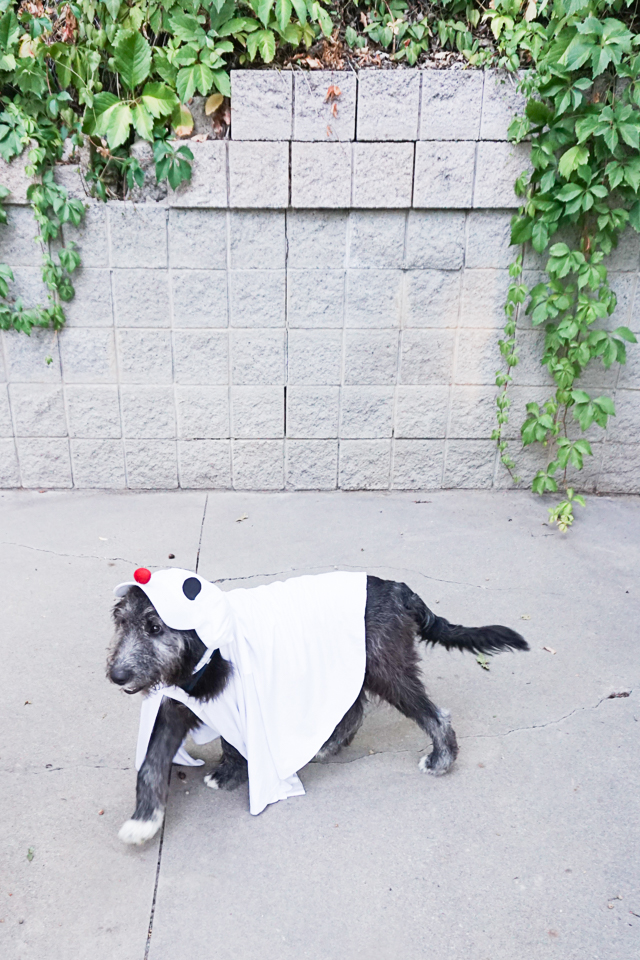 After putting this costume together and having my do wear it, I realized that the had didn't work out as well as I thought it was going to. My dog is a puppy so he was not a fan of wearing the hat. An older dog my not be as bothered by it.
He ended up just wearing the cape at the end of the photoshoot and wasn't bothered by it at all.
Do you love to sew costumes? Check out some of these ideas:
DIY Dog patronus costume
DIY costume ideas
Free costume sewing patterns
DIY ghost costume
Easy ghost costume for adults
DIY dog werewolf costume
Sewing projects for dogs
1 yard of white knit fabric
White velcro
White baseball cap – an adult size works best for larger dogs and a child size works best for smaller dogs
Red felt ball
Black iron-on vinyl or black permanent marker
Sewing tools
Sewing machine
Fold the white fabric in half from top to bottom. Fold in again from selvedge to selvedge.
Measure your dog from neck down to the ground. Cut a full circle that is that tall. (Use this circle skirt calculator to help you figure out the radius.)
Cut from the middle down to the bottom of the circle to open it and form a center front.
Cut a small rectangle of fabric. Sew it to the front neckline of the cape. Add velcro to the recntangle and to the neckline to easily open and close the cape.​​​​​​​
Cut another small rectangle and sew it just under the center back neckline. Add velcro to the rectangle and to the neckline. This will be on the underside of the cape and will attach the cape to the dog's collar or harness.
Take the white cap and hand sew it onto the center front of the bill. I chose to do red to be similar to the ghost dog from Nightmare before Christmas, but you can choose any color.
Use a small Easypress 2 to add iron-on vinyl eyes to the cap. You can also just color black circles with a permanent marker.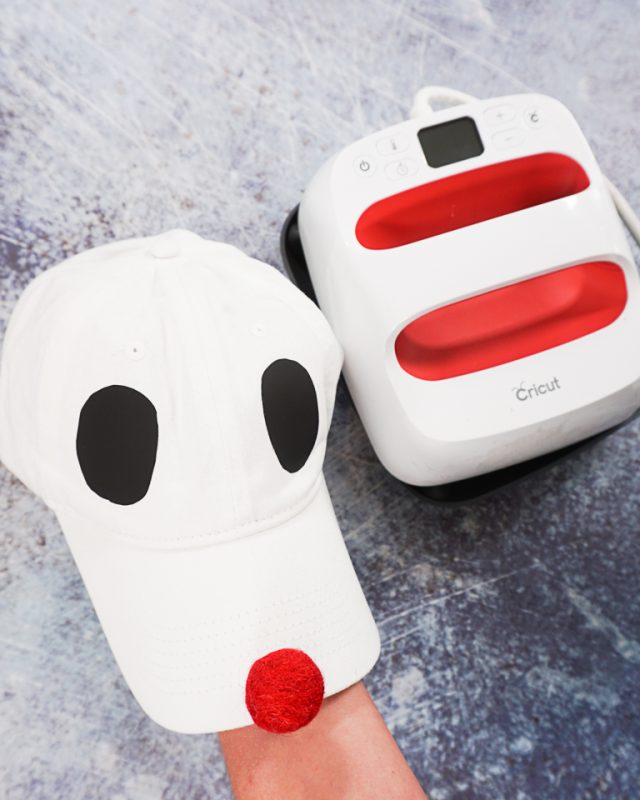 Cut out two ear shapes from the white fabric. You can do long or short ears.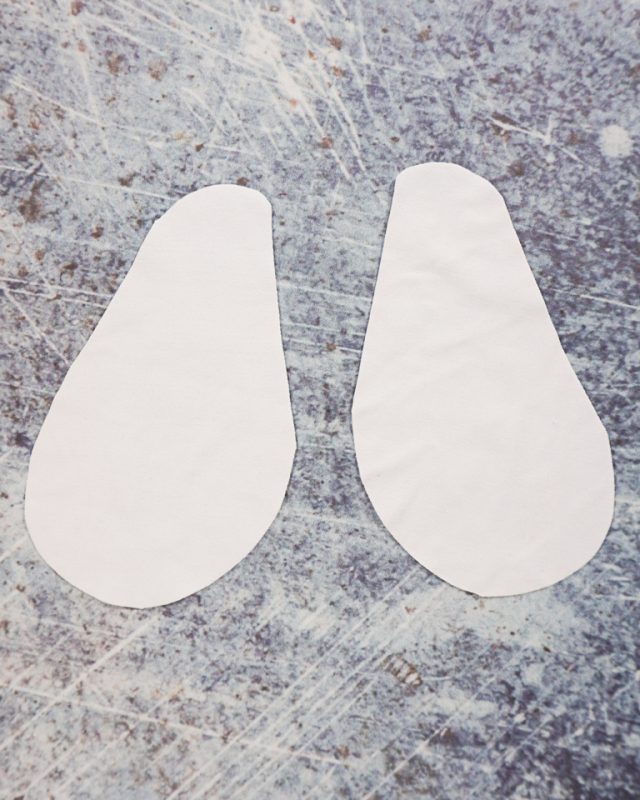 Sew the ears onto the cap on either side.
Cut out two longer rectangles from white fabric. Sew them onto each side of the bottom of the cap. Add velcro so that the cap can be attached to a dog's neck or chin.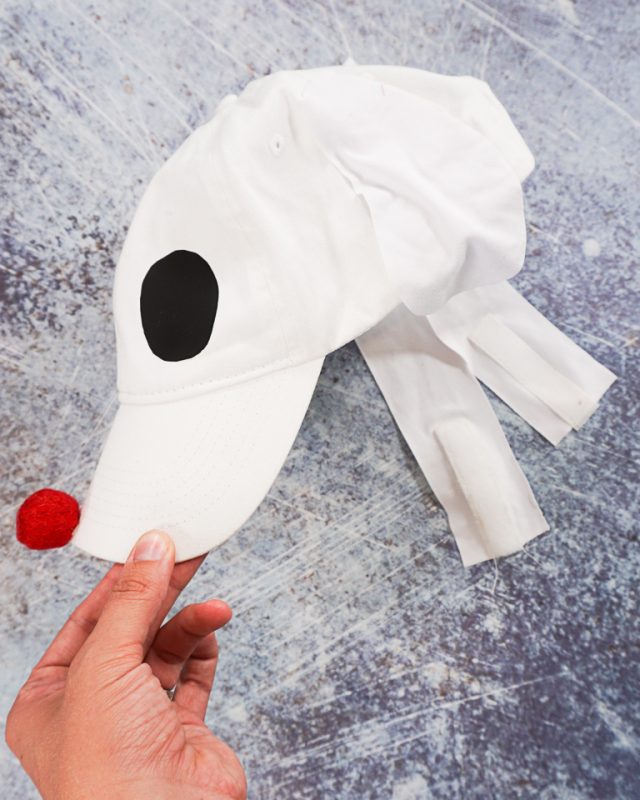 These are the two pieces that make up the DIY dog ghost costume!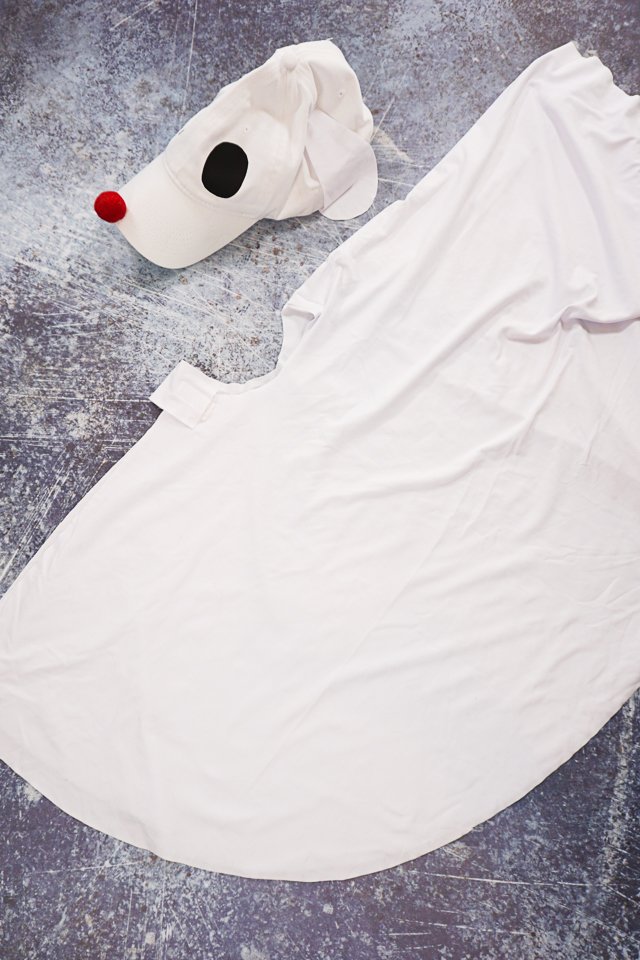 To put the costume on attach the back velcro to the dog's harness or collar and then attatch the front velcro around the dog's neck.
Put the hat on the dog and attach the chin strap under the dog's neck. I found that attaching the back of the hat to the cape and doing the chin strap helped keep it in place.
If you make something using this sewing project, I'd love to see! Please share it on social media with the hashtag  #heatherhandmade  and tag me!
I believe small sewing moments can create great joy. Find your own " right " way to sew. -Heather
Is that an Irish Wolfhound Puppie?
He's actually more of a mutt. He's a rough collie/bordoodle.
Skip to main content
Skip to secondary menu
Skip to primary sidebar
Skip to footer
Skip to my custom element

Women Fashion Trends, Makeup and Beauty
Halloween DIY Ghost Costume for your Dog
October 29, 2013 by swati
So Halloween is nearing and you are ready with our own costume, your husband's and kids' as well if you have them but you forgot your other most important family member – your best friend your dog. But now is no time to order online or run to the store to get one? Don't worry as you can make your very own dog costume that is very cute indeed all at home.
Costume #1 Ghost
Oh so we have all seen ghosts in white bed sheets. They float around covered in white but can only humans become a ghost? Well, your dog can too.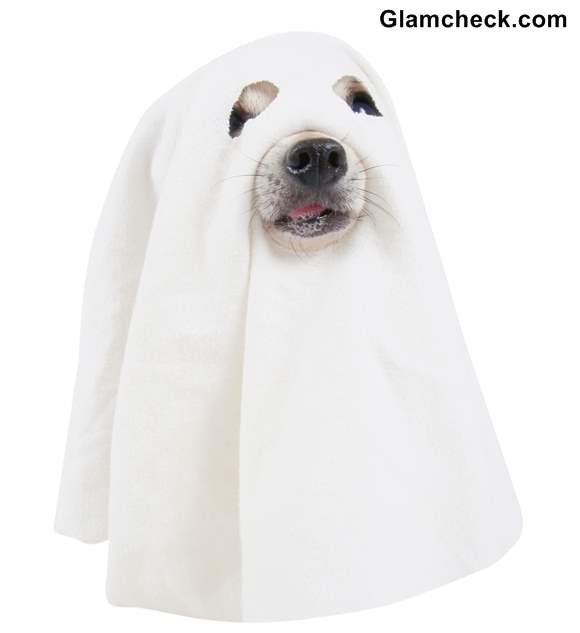 Simply take a plain white cloth, instruct your dog to sit.
Put the cloth on him and quickly measure or mark how much of the cloth will cover him.
Next, cut the cloth according to his size, with a little extra margin on all sides just in case.
Measure again and next feel where his eyes, nose and mouth is and take the cloth off.
Cut Holes for his eyes, nose and mouth and try it on.
If it fits, then perfect or else make some little changes according to the fit.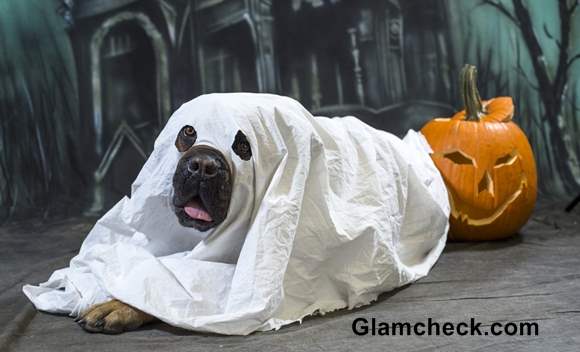 So you are basically done in a short amount of time.
Costume # 2 Devil Horns
This next costume simply requires clay in two colors and a little time.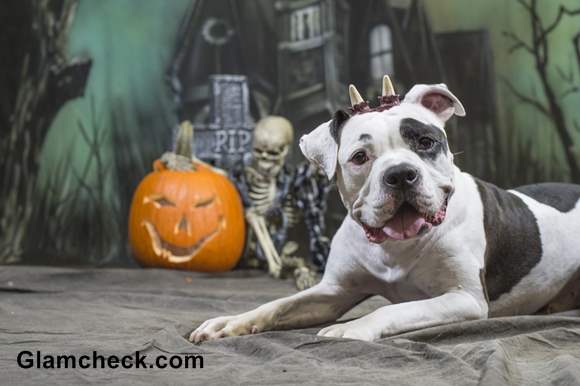 Take clay, kneed it to make it easy to use.
Make small horns from the color of your choice, if you want gold horns, you can paint them too with acrylic colors to a decent neatness.
Next out of clay, make a frame small frame in which fit the horns as shown in picture.
Fit them together and bake these in oven.
Once it is set, glue it either on his collar and adjust to be worn over the head. Or else if your dog is comfortable drill a hole through the clay and put an elastic in it. 
So happy Halloween to your human friends as well as your dear dog!
Image: Shutterstock
Site Information
The Best Ghost Costumes For A Spooky Pup
He'll be ready for trick-or-treating and barking "boo" 👻.
Published on 8/19/2022 at 4:36 PM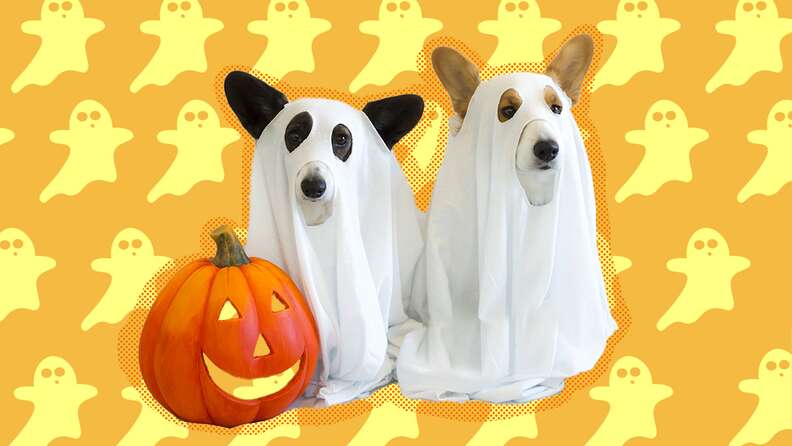 If your pet wants to get in on the Halloween costume action, how about dressing him up as a ghost? It's as classic Halloween as you can get (and super adorable, too).
While it might be tempting to just cut two holes for eyes in a sheet and call it a day, there are a lot of amazing dog ghost costume ideas out there — especially if you don't have time for a DIY craft project right now.
We've rounded up 11 of the cutest (and spookiest!) dog ghost options out there for your pup. Just be sure to keep him away from the candy when you're out trick-or-treating.
Happy Halloween!
11 dog ghost costume options for Halloween
For the dog who appreciates the finer things in life, this fancy doggie dress and ghost costume fits the bill. How about that rhinestone bow and striped tutu? We love the surprised look on the ghost's face, and that the dress comes in a variety of sizes to fit every pup.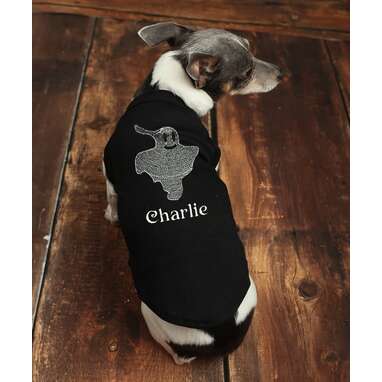 This costume gets high marks for serving a dual purpose — keeping track of your pup at night while you're out trick-or-treating! The ghost design on the back of this costume (personalized with your pup's name) will glow in the dark, making this costume both extra spooky and safe.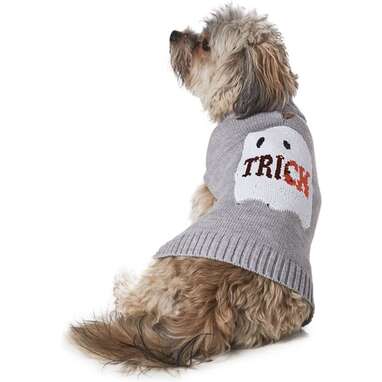 If there's a chill in the air on Halloween, what about this ghost-themed sweater to keep him cozy? He'll still look pretty spooky and seasonally appropriate, and he'll be warm and toasty, too. It's a win-win!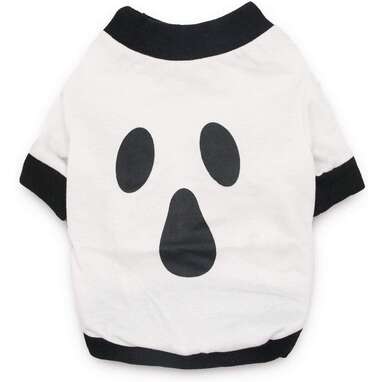 Your pup can't go wrong with this classic black and white dog T-shirt with a ghost theme. Bonus points if he's already a fan of wearing shirts for dogs, as this will be easy to get on and off when it's time to go trick-or-treating.
Fans of "The Nightmare Before Christmas" will love this one! Dress your pup up as Zero the ghost dog from the movie. The nose even lights up, thanks to LED lights.
OK, so what if your dog isn't the ghost, but instead he's carrying one strapped to his back? This hysterical costume is ideal for small- and medium-sized dogs, and ties around the neck and waist to stay secure.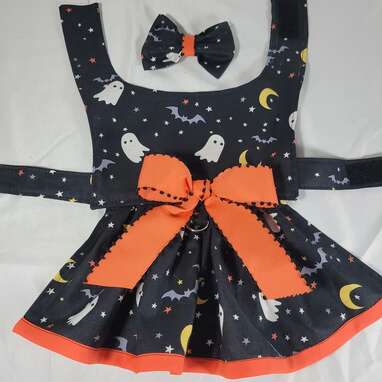 Here's another option for the dog who likes to get dressed up. This Halloween-themed dog dress is decorated with ghosts, bats, moons and stars, topped with a big orange bow and a separate dog bow to attach to your pup's hair. An extra special creation, especially if you're headed to a dog-friendly party.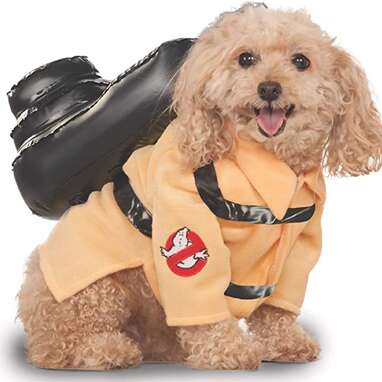 Who ya gonna call? Ghostbusters! So, this isn't an actual ghost costume, of course, but it's perfect if you want to catch a few! Fans of the iconic film will love this ghostbusting costume, which comes complete with a backpack for spotting ghosts while you're out trick-or-treating.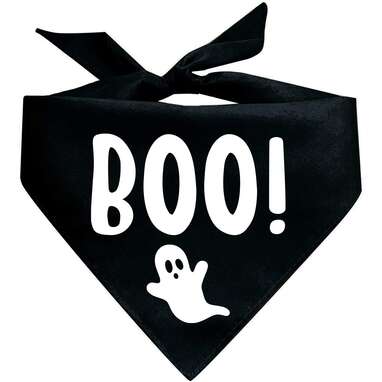 So your pup isn't into costumes, but you still want to celebrate the holiday in some way? A festive bandana is the perfect way to go, and this one says it all. Boo!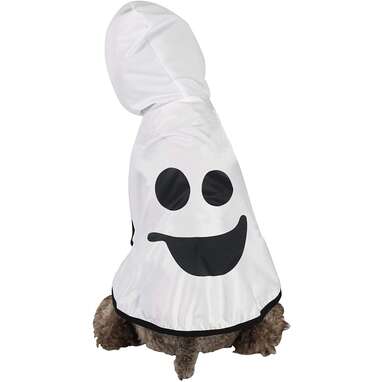 Yet another classic ghost costume, which is a lot nicer than cutting two holes in a sheet! This dog ghost costume comes in a variety of sizes, and the hood adds a cute element to it (if your dog is OK with things on his head). If not, it looks great when it's down, too. We like that happy ghost smile, too!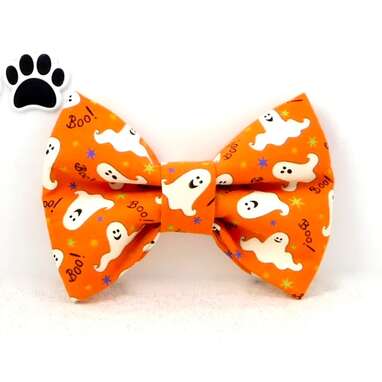 Here's another option if your pup isn't really into costumes — this adorable ghost-patterned bow easily attaches to your dog's collar with Velcro. He'll be ready to celebrate in no time.
Halloween is such a fun holiday, and there's nothing cuter than getting your dog dressed up — he'll love all the attention!
Pup-Themed Decorations For Halloween-Loving Dog Parents
Joiedomi 5 FT Long Halloween Inflatable Skeleton Wiener Dog
GOOSH 5 FT Halloween Inflatable Outdoor Dog with a Pumpkin & Pirate Hat
Animated Light and Sound Dog Skeleton Halloween Decorative Prop
Halloween Lab Door Hanger
Disney The Nightmare Before Christmas Zero Full Size Poseable Hanging Character Decoration

Halloween Decoration 16" Pose-N-Stay Puppy Skeleton
White Pompierie Halloween Scary Mastiff Outdoor Door Mat
Ambesonne Halloween Pet Bed
Caroline's Treasures Halloween Candy Corn Dachshund Portrait Glass Cutting Board
OUR NEW PRODUCTS JUST LAUNCHED ON THE SHOP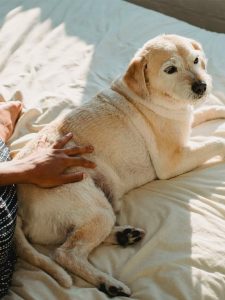 See the Retirement Home Where Senior Dogs Get to Live Out Their Golden Years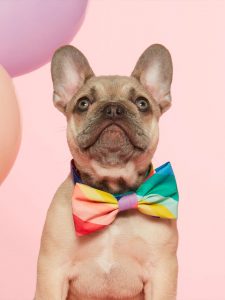 7 Of Our Favorite Pride Essentials for Your Dog
Everyday Care
Health Issues
Dental Care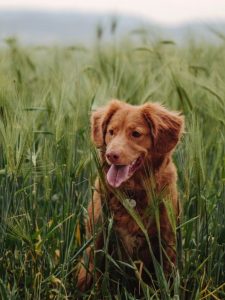 DOG PARENTS
From Ticks to Fleas, Here Are DIY Sprays to Protect Your Dog Outside
EVERYDAY CARE
The Top Googled Health Issues for Dogs — and How to Treat Them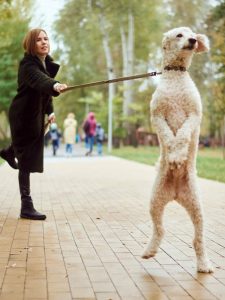 BEHAVIOR ISSUES
How to Handle Your Dog-Aggressive Canine on Walks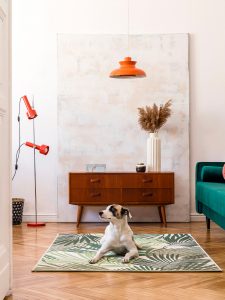 How to Soothe Your Dog's Separation Anxiety When You Return to Work With Music and Videos
Dog Parents
Life With Your Dog
Just for Us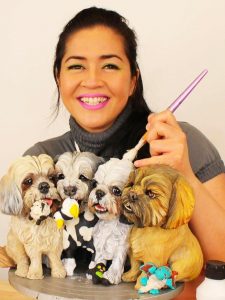 This Nurse Turned Sculptor Helps People Heal...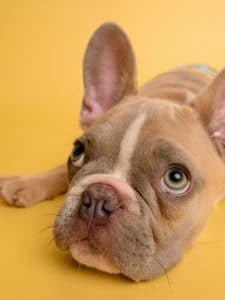 Meet the Artist Creating These Incredibly Lifelike Miniature Dog Sculptures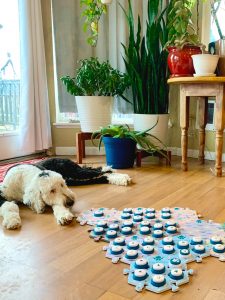 Meet Bunny, the 'Talking' Dog Sensation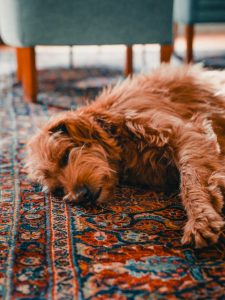 What to Look for in a Rug That Will Survive Your Dog
In a Pinch? Here are 9 Super Simple DIY Dog Costumes for Halloween.

If those racks on racks on racks of dog costumes presented to you at every pet store in your neighborhood fail to excite you, why not create your dog's very own last minute costume?
Making your dog's own costume is a cheap and fun alternative — not to mention a great bonding activity — to get your dog ready to be a stand out at this year's Halloween party. Unlike picking up a generic store bought costume, each take will be seen as your dog's own and will be entirely authentic – and many are quite simple.
Here are some simple DIY costume ideas for you and your dog.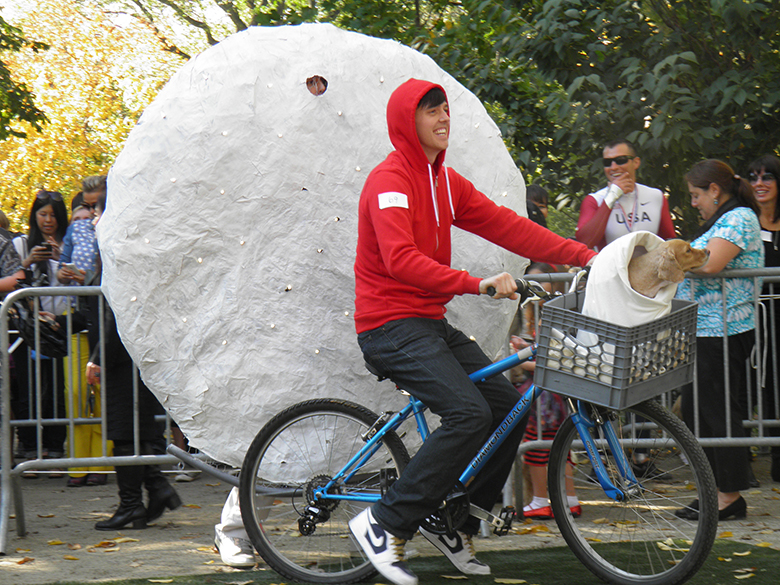 Flickr/Carol Vinzant
Arrive at the party on a bike. Make sure you have a basket on the front of your bike that your dog can safely chill in. You will wear a red sweater with your hood up the whole evening. Your dog will be swaddled in a white towel like the alien baby she is. You could also transition little ET from the basket to a BabyBjorn when you get into the party. If you really want to go the full nine yards, make an over-sized papier-mâché moon to carry around with you as well.
Materials needed: red sweater, bike, basket, white towel, BabyBjorn (optional), papier-mâché, white paint, scissors.
2. Don 'Dog' Draper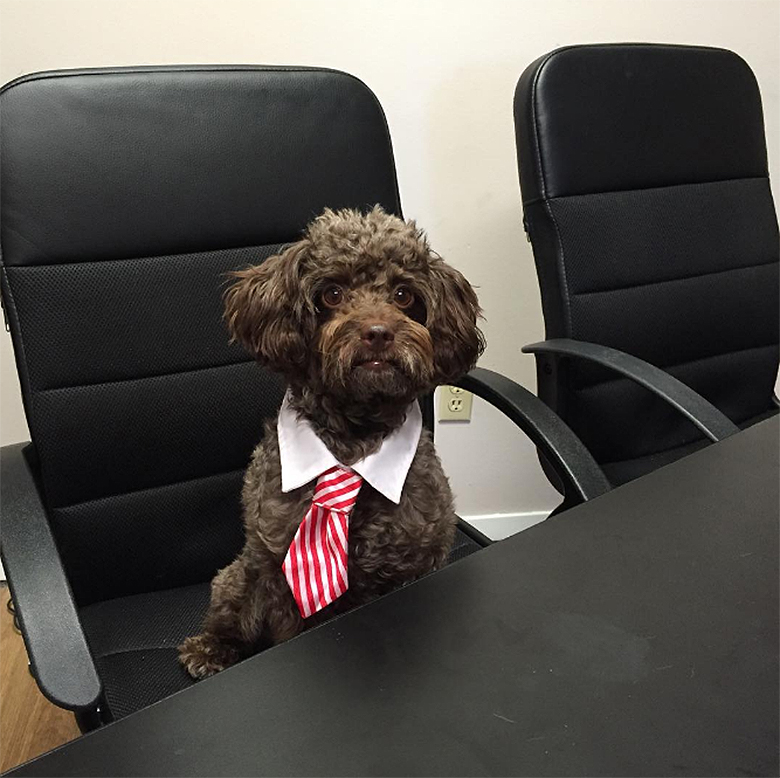 Instagram/machete005
The only Donald we will suggest being this year, calls for one skinny tie and some dog-friendly hair gel. As your dog sits and stays at the party, you can place a brief case, a stack of pitches or to make it easier, some ads you've torn from a magazine that has been laying around your apartment, along with a glass of scotch near them (okay, apple juice,). And there you'll have it. A pensive, brooding, ad-man circa 1960.
Materials needed: Skinny tie, hair gel, brief case, bottle of scotch, ads from magazines.
Instagram/ Caio_Lima
For the lazy or the authentically scary, we will recommend a DIY ghost costume for your dog every year. Simple. To the point. Kind of reminds us of Patrick Swayze. Takes one sheet, white, or heck maybe your dog wants to be a colored ghost — yellow, blue, pink, whatever floats your boat –and cut it right down to the size of your dog. Make sure to cut eye holes so that your dog can move around throughout the night whilst haunting people.
Materials needed: white sheet, scissors.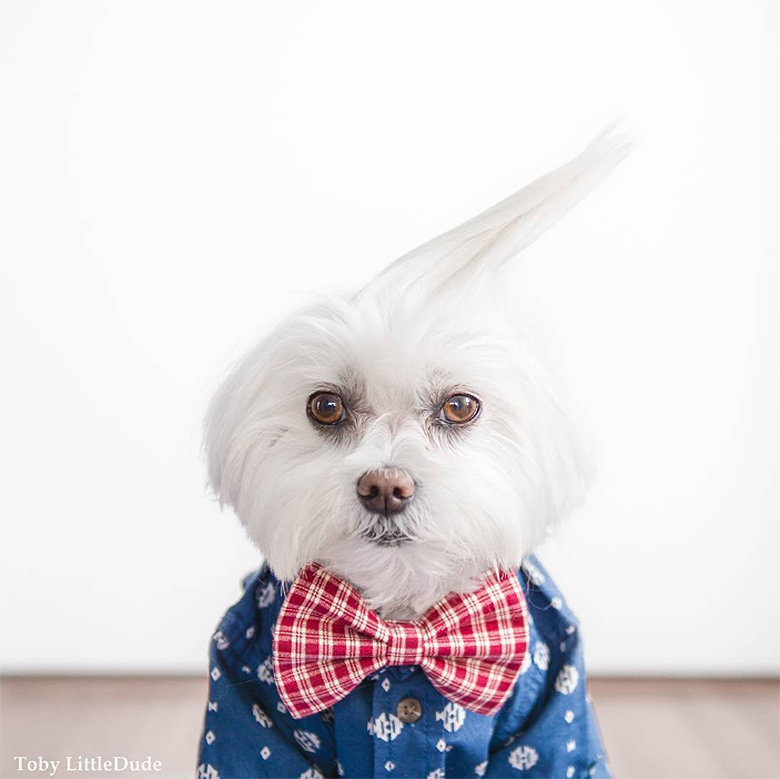 Instagram/Toby_LittleDude
What even is a hipster? Who knows. This one will be the internet's version of a hipster. Throw on some black rimmed dollar-store glasses or whatever glasses you have laying around your house that fit your dog, a scarf and a small fedora or some other silly little hat like an upside down visor. If your head is oversized and none of your hats have a chance of fitting on your dog's small head, be creative and make one out of cardboard.
Materials needed: glasses, scarf, fedora/visor, cardboard, scissors.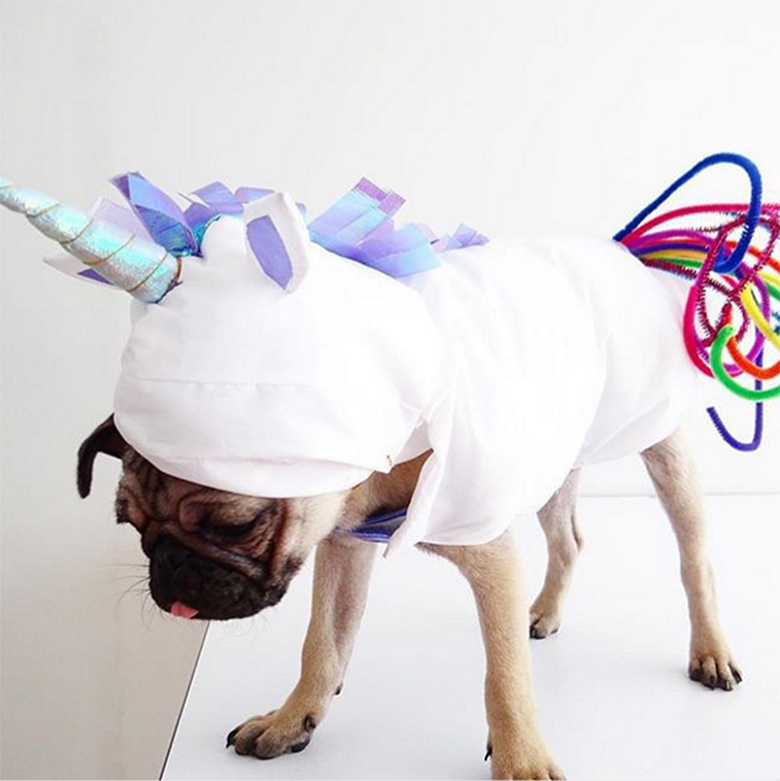 Instagram/LiveColorfulCo
Being called a unicorn is the highest compliment one can receive. Truly. For this special one, you'll need some sparkly, shimmery, silver or pink fabric, some cotton to stuff inside of the fabric, some thread/yarn, a needle and a glue gun. That will take care of the unicorn horn. Then attach it to a stretchy strap that will comfortably fit around your dog's head for the evening. If you choose, you can add more to the costume, including a pipe-cleaner horse tail.
Materials needed: fabric for unicorn, white fabric, cotton balls, thread, yarn, needle, glue gun, scissors and other "unicorny" stuff. (More details here. )
6. A Bunch of Grapes/ One of the Many Grape Varietals of Bordeaux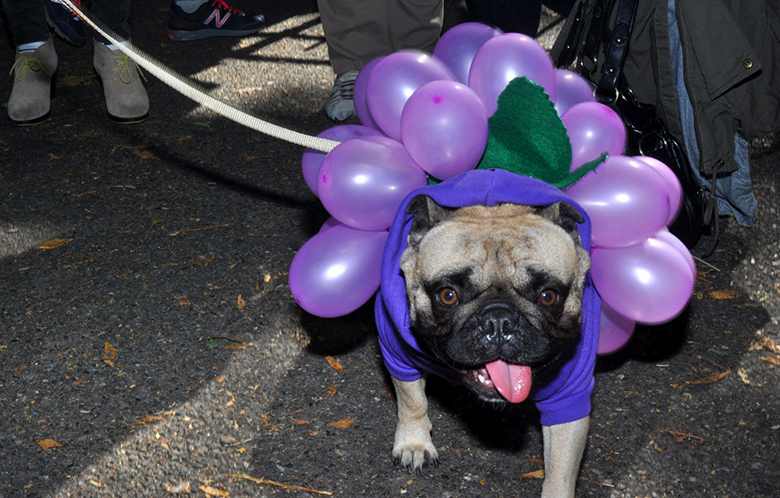 Flickr/Diane Greene Lent
With that nose your dog has, he's probably a sommelier at heart. So, this costume is essentially perfect. A green or purple jacket or t-shirt as a base is best. Next, when you're not feeling too light headed blow up a bunch of purple balloons. Stick the purple balloons to the shirt your dog is wearing. Heck throw some plastic vines on there to be a little more realistic and call them Cabernet Sauvignon.
Materials needed: Green shirt/jacket, purple balloons, glue gun, plastic vine.
7. French Chef — Oui Oui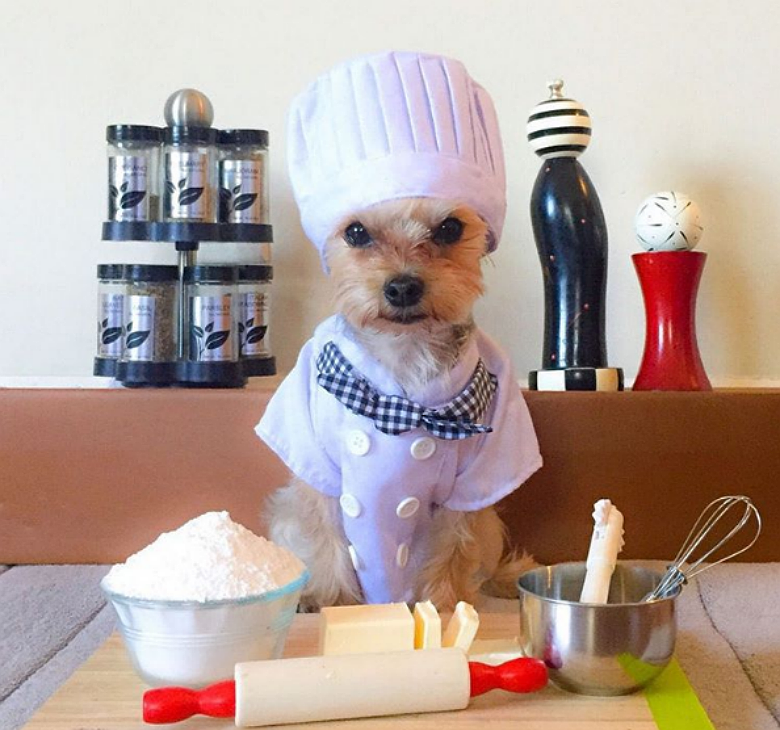 Instagram/plc_singapore
Perhaps the French chef could accompany Cabernet Sauvignon to the party. Use tissue paper and card stock to create a lil chef's toque blanche for your dog. Rummage through your closet for something red or checkered that you don't really care about anymore. Cut this something red in a way that you will be able to create a pretentious neckerchief for your dog and there you have your Michelin Star French dog chef.
Materials needed: tissue paper, card stock, red/checkered fabric, scissors, glue gun.
8. Cereal Killer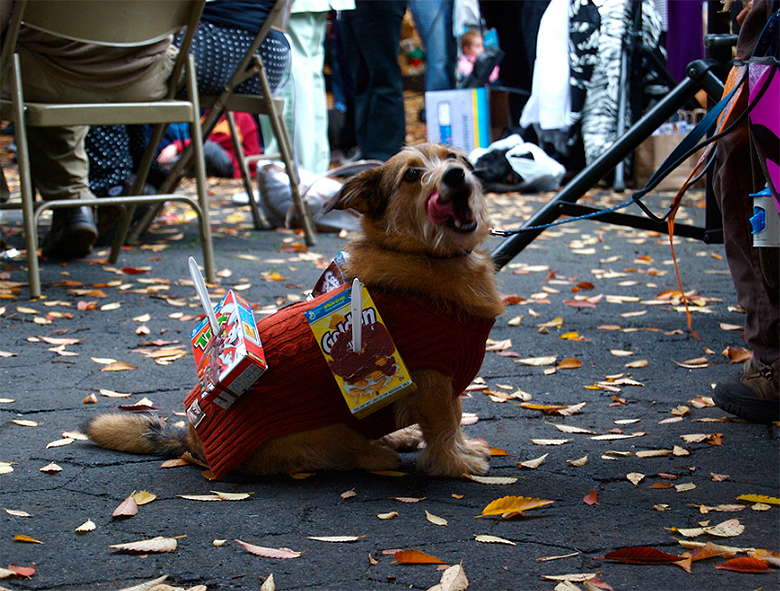 Literally scary. If you don't eat cereal, go to the store, get some of those miniature boxes of cereal they give out at hotels, eat it for breakfast for several days and then use it to create this terrifyingly real costume. Decorate a black or white t-shirt big enough for your dog with the small cereal boxes. Splatter red paint, attach knife handles and other spooky details on the boxes.
Materials needed: small cereal boxes, knife handles, red paint, glue gun, scissors.
9. Chia Pet
Flickr/Julie Feinstein
Ugh, because growing a Chia Pet properly was really hard. Every Chia Pet is super original, you saw the infomercials, and this costume takes like two seconds.
Materials needed: plastic greenery, green and orange felt, green buttons and thread, scissors.

By Sarah Iannone
Sarah Iannone writes in-depth features for This Dog's Life, with a love for stories having an art angle. She aso oversees our social-media platforms. [email protected]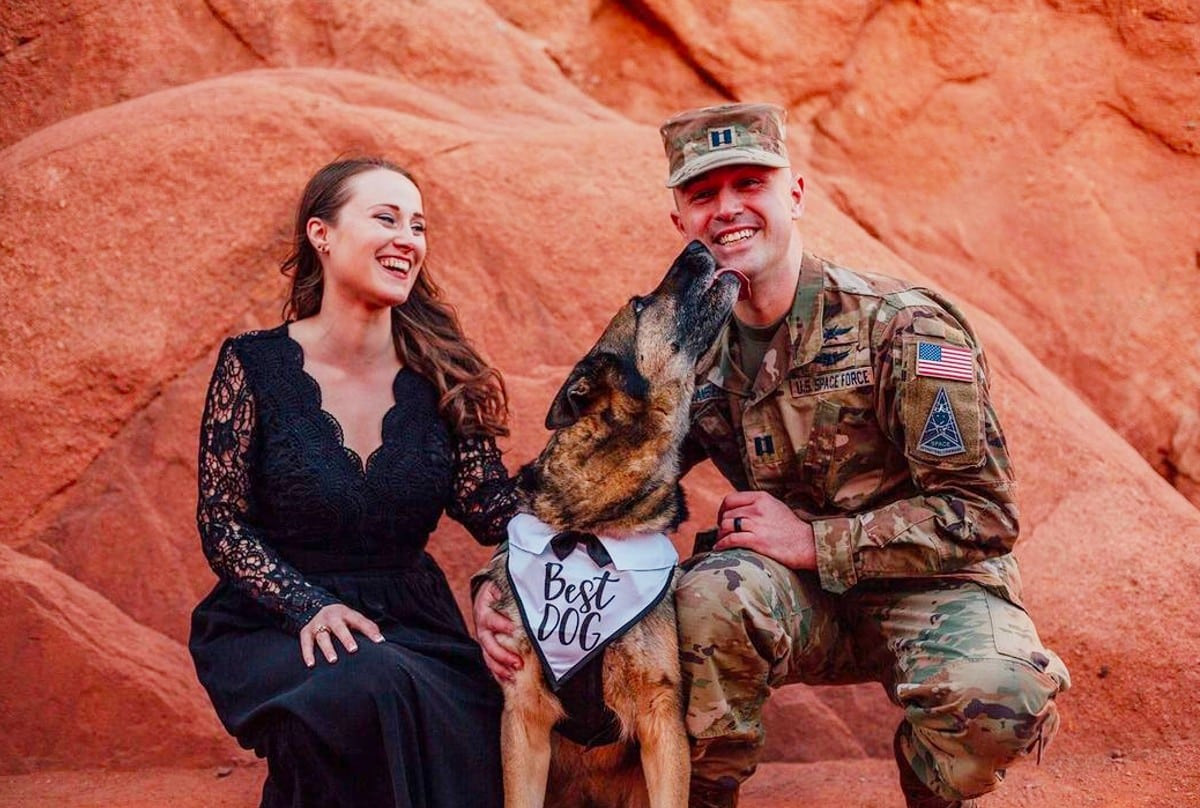 From War Zones to Loving Homes, Meet the Military Dogs Getting a Second Chance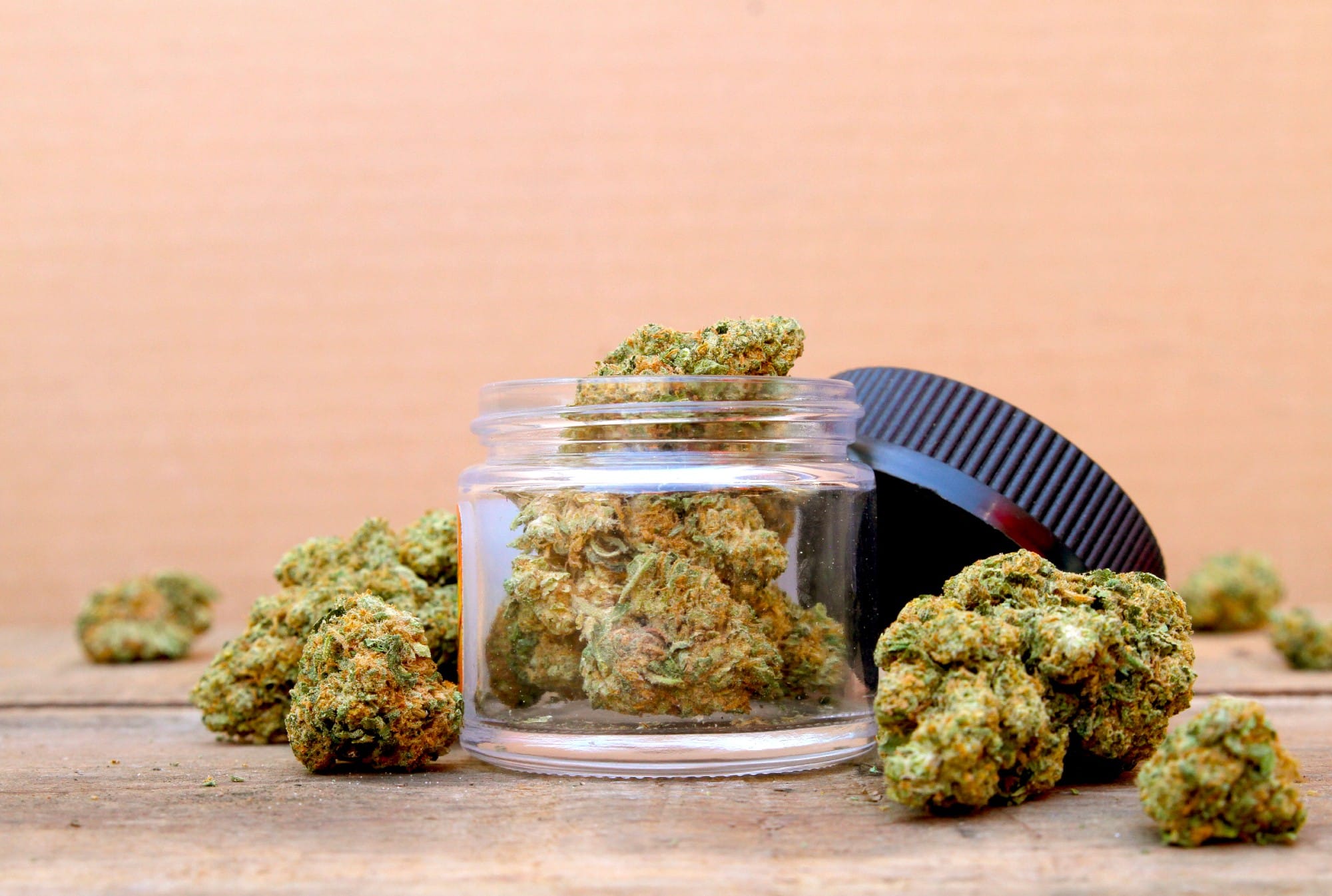 With Marijuana Poisoning in Dogs on the Rise, Here is What You Need to Know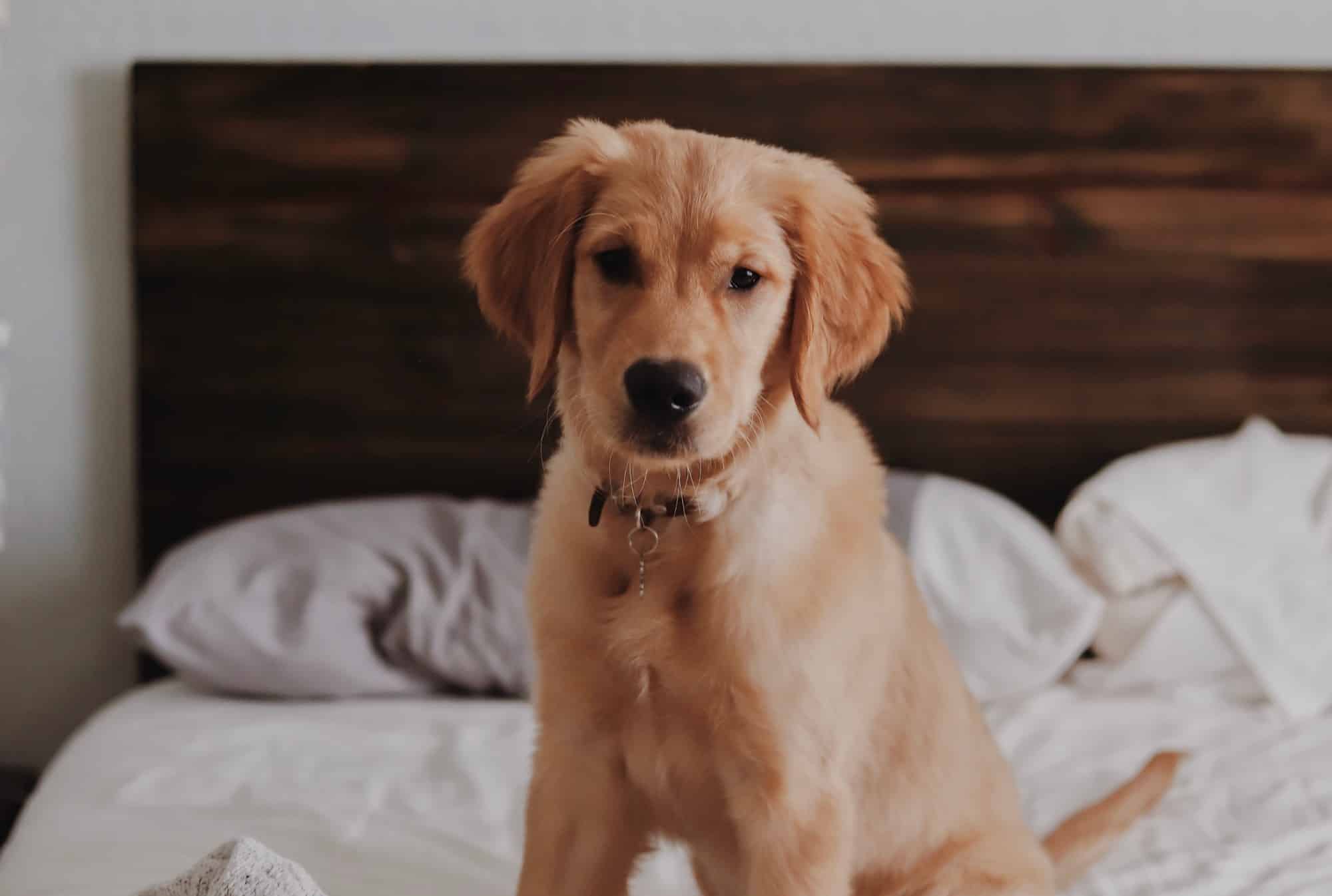 What to Expect When You're Expecting a Puppy
Join the mailing list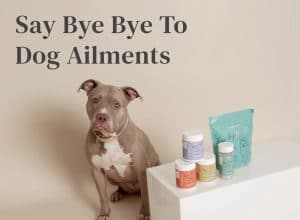 All You Need
Some Experts Believe Dogs Are Dying Younger. Here's Why.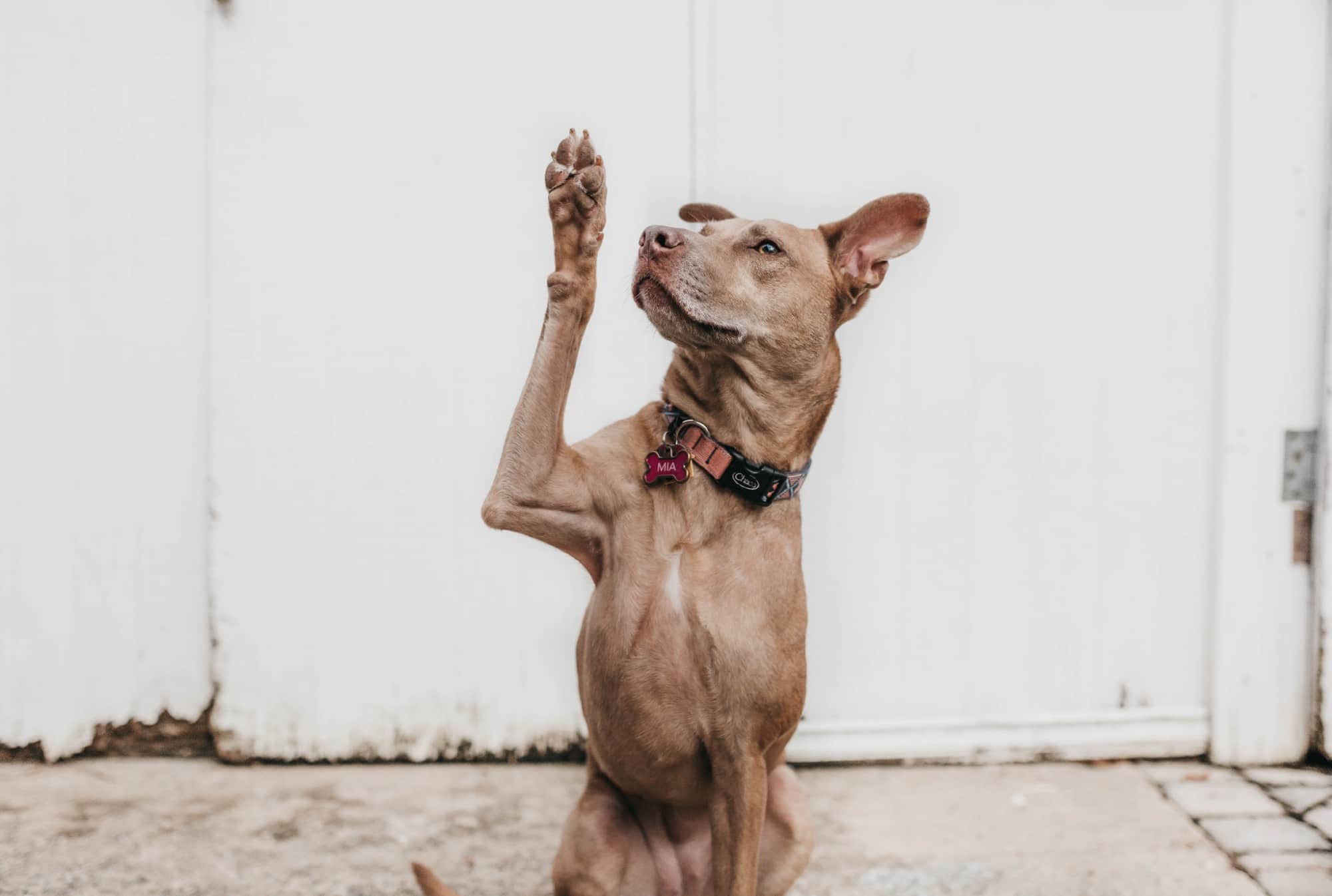 Bored Dog? Here Are 4 Jobs to Give Your Pup At Home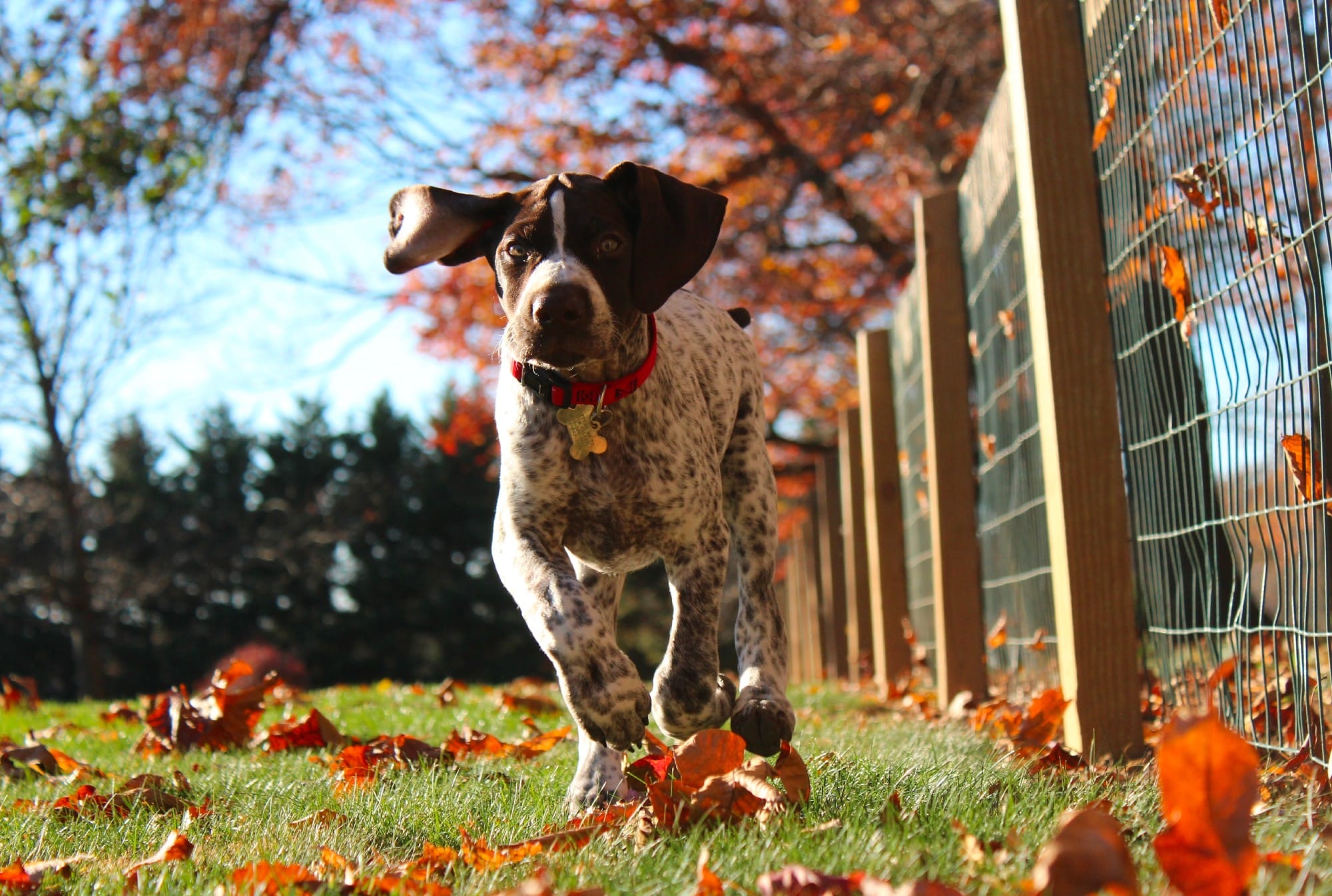 5 Things You Need to Do to Keep Your Dog Safe and Happy This Fall Season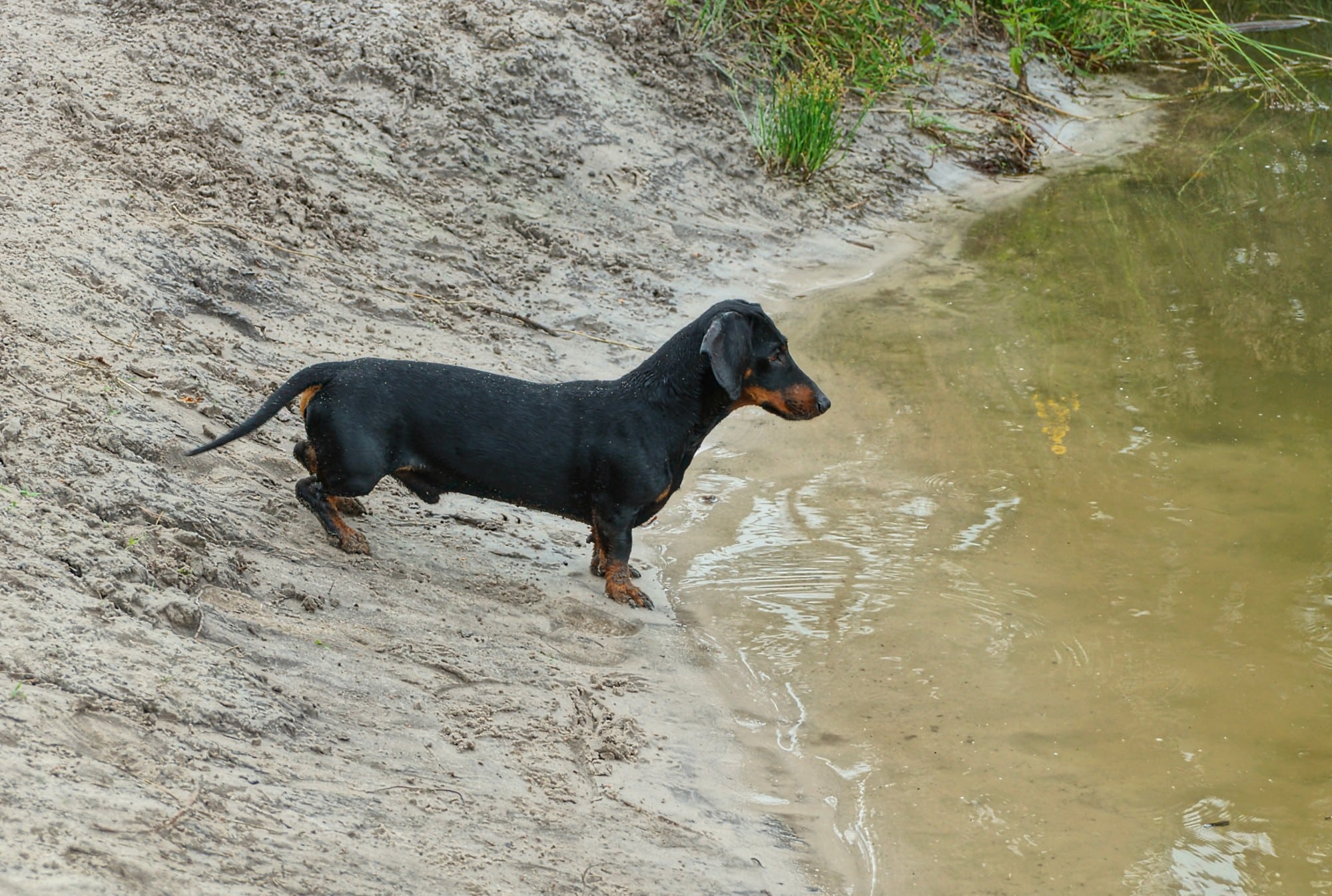 Blue-Green Algae Dangers: Ensuring Your Dog Can Safely Swim in Water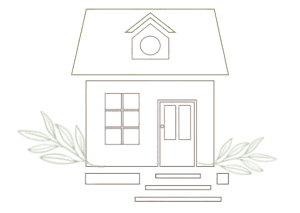 Pretty DIY Home
Making a pretty home with a small budget.
Halloween DIY Decoration Dog in Ghost Costume
DIY Halloween Decoration Outdoors -Dog in Ghost Costume
When it comes to DIY Halloween decorations I prefer kid friendly ideas that are sort of spooky instead of outright scary. Last year we were moving so I took out a large blowup pumpkin we have from eons ago, but this year its time for something fun, fab-boo-lous and boo-yah fun for an DIY Halloween decoration outdoors.
One of the coolest Halloween trends I have seen is dogs in ghost costumes, they are all so cute. I wanted to do that, but what if you have a very large dog like our great pyrenees who would NOT be agreedable to a full size Halloween costume. Or don't have a furred friend to dress up. For those of us with this problem I made this this DIY dog ghost decoration for the yard or front porch.
He's more adorable when he's hanging out among the leaves and pumpkins.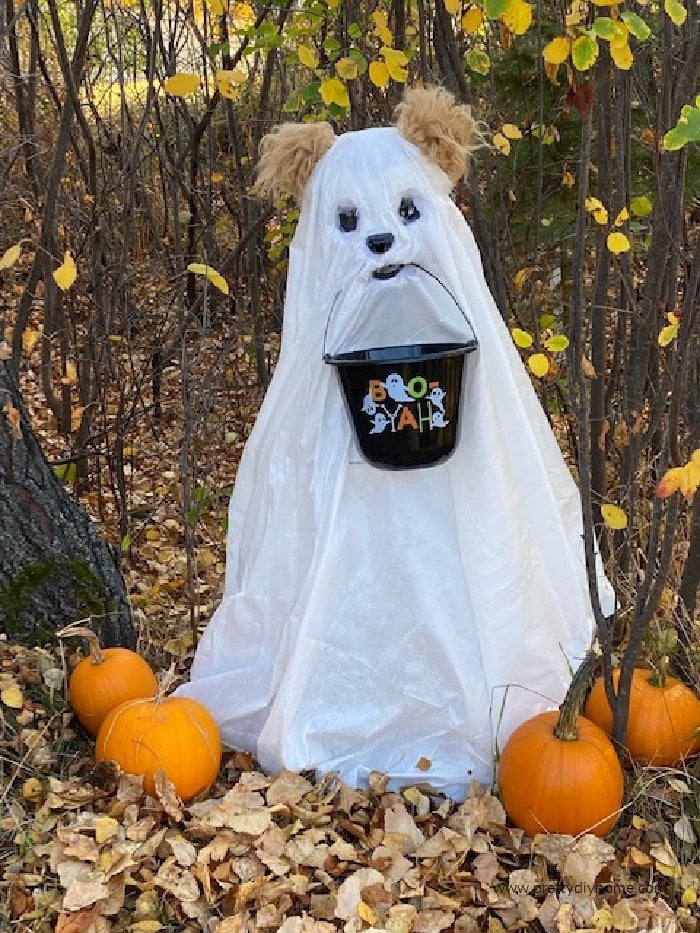 But I will be using him on my Halloween front porch with bats, branches and an owl to make him just a little more spooky.
DIY Halloween Decoration Supplies
Tomato Cage
Dollar store styrofoam head
White lights (optional)
Clear packaging tape
Black and White Sharpie Pens
Large plastic sheet
Heavy gauge wire
Candy bucket (removable handle)
Hot glue gun, masking tape
How to Make a DIY Halloween Decoration Dog in a Ghost Costume
I began this project by making a cardboard dog mask, then Canada's Walmart brought one in. I dropped the DIY mask idea and this became a really easy DIY Halloween decoration. By easy I mean it whipped up in way under an hour.
The American Walmart webpage has dozens of really great dog masks, in different breeds which is so fun, you could make a ghost that looks like your loved pet. If your not able to purchase a dog mask here is a great tutorial on how to create a paper mache dog mask .
Besides the dog mask you need a styrofoam head I got mine at the dollar store. If you can't find a head a large piece of foam will work just as long as its large enough and you can place the mask on it.
Canada didn't have those cute pumpkin shaped candy buckets, so I picked up this Boo-Yah one from the dollar store instead. Make sure you can snap the handle of your candy bucket on and off so you can fit it through the ghost sheet.
Now let's get started creating.
How to Make a DIY Dog Costume Halloween Decoration
Making dog costume ghost basic frame.
Start with the tomato cage and lights. Place the end of the cord that will plug in to the outlet at the back of your tomato cage and then wrap the rest of the lights around the tomato cage. (optional)
I used some white Christmas lights we had on hand, when turned on the lights will make the ghost glow and look more spooky. You don't have to add the lights as long as you have somewhere bright enough for the dog in a ghost costume to be seen.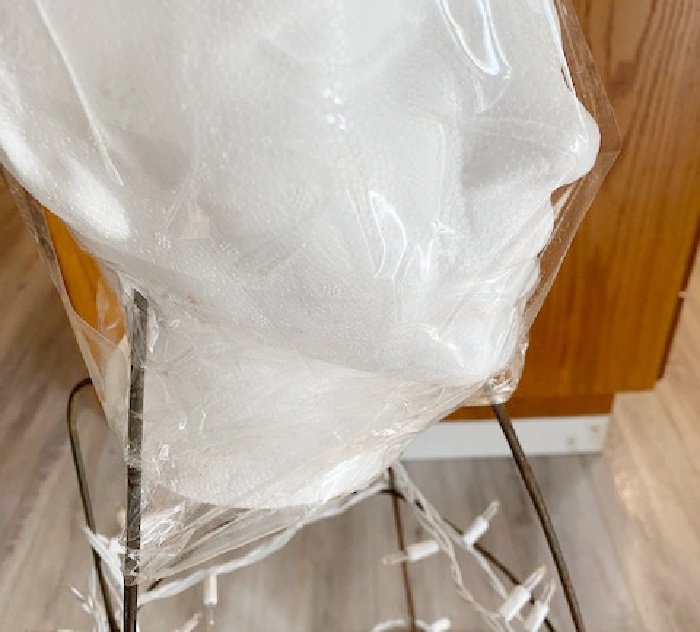 Once you have the lights wrapped around the tomato cage, jab the ends of the tomato cage wires into the styrofoam head and shown below. Nothing fancy, just make sure the head is sort of straight.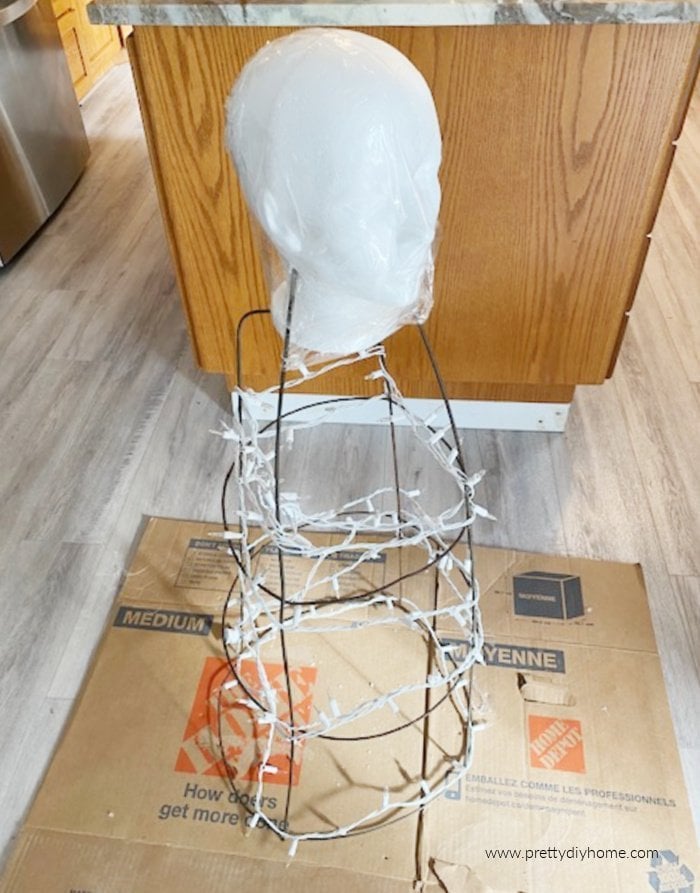 Once the tomato cage wires are stuck into the head wrap everything very securely using clear packing tape.
Customizing the Halloween Dog Mask
Our little dog mask came with scary eyes and a closed mouth with dirty yellow teeth. Using a black sharpie pen I coloured the eye all black.
Then I coloured two teeth white and the rest of the mouth black.
You need to make a hole in your mask for wires and the handle of the candy basket. So once the entire mouth was black I cut most of the mouth out. This next photo is so scary, but it shows me removing some of the dog masks mouth.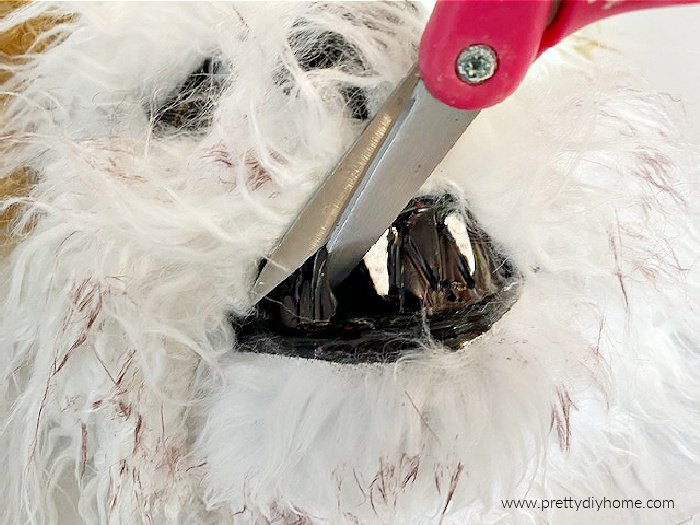 If you have to make a hole in the mask you purchased leave some part of the mouth in place to camoflage the wire. Once you have the mouth cut out test it with the basket handle to see how it looks.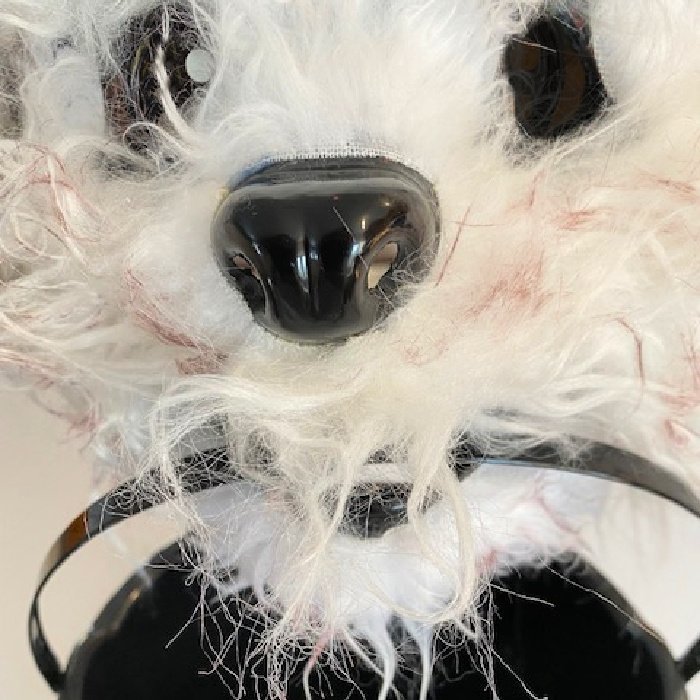 Attaching the Halloween Candy Bucket
The process is pretty simple and quick as all of it will be covered by the white sheet. The attachment has has to be strong, but pretty not so much.
So the basket hangs securely on the front of the DIY ghost, we need to give it extra support using heavy gauge wire.
To figure out placement, quickly place the mask on the styrofoam head. Mark where the mouth will be with a Sharpie pen.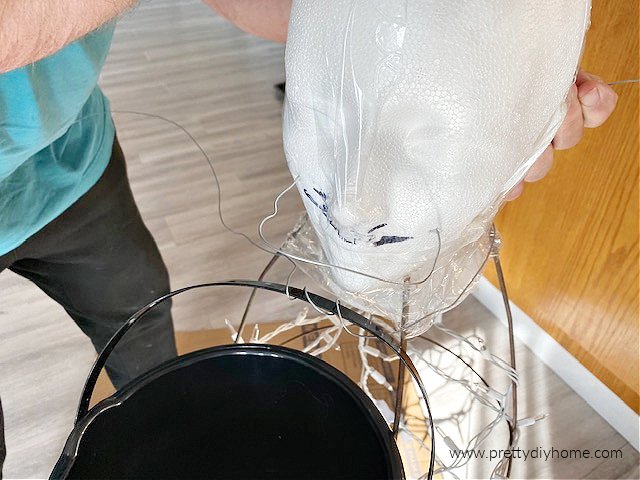 Cut three feet of heavy gauge wire that is strong enough to poke through the styrofoam head.
Wrap the middle of the wire around the handle of your bucket. Make sure the bucket is centered.
Hubs then poked the wire into the front of the head about an inch outside of the black pen marks. Push each wire right through the head until it comes out the back. Once both wires are through the styrofoam head twist them tight and then cover the wires in clear packaging tape.
Remove the bucket from its plastic handle and set aside.
Add the Dog Mask
To place the mask on the styrofoam head, pinch the handle of the candy bucket together first and feed it through the mouth of the mask. Then place the mask on the styrofoam head. Tape over the elastic on the back of the head to keep the mask in place. Put the bucket back on to confirm placement, adjust if needed.
Once you've confirmed placement remove the bucket and cover the Halloween ghost dog with a plastic sheet. Make two holes in the sheet and fit the bucket handles through.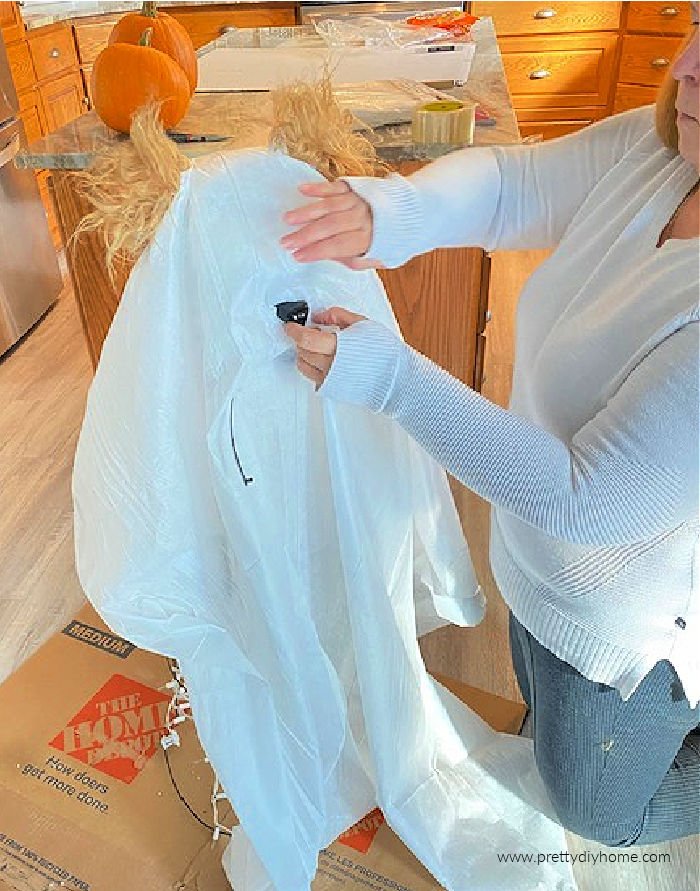 Cut out all the facial features including the ears. Just feel with your fingers making little slices in the plastic, and then enlarge as you need to.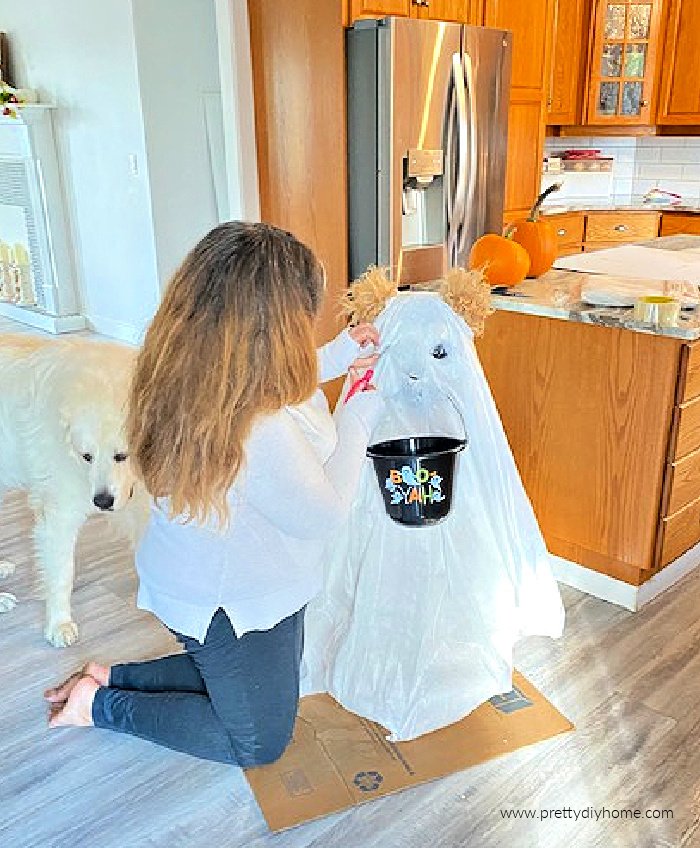 When I first dreamed up this idea I was not certain it would work, that the mask would look dog like enough, or how exactly I would put it all together. By now I was starting to get really excited because its starting to develop into something I like. So far we spent about half an hour putting this little DIY Halloween ghost decoration for outside together.
We are still doing house renos and had just finished placing a ceiling in one of the rooms downstairs. I could not have been happier with how quick this came together for us, and You. The ghost decoration is pretty much done at this point, I just spend another ten minutes or so with a hot glue hon folding the plastic sheets edges and gluing them into place.
This is what the dog features looked like before tidying.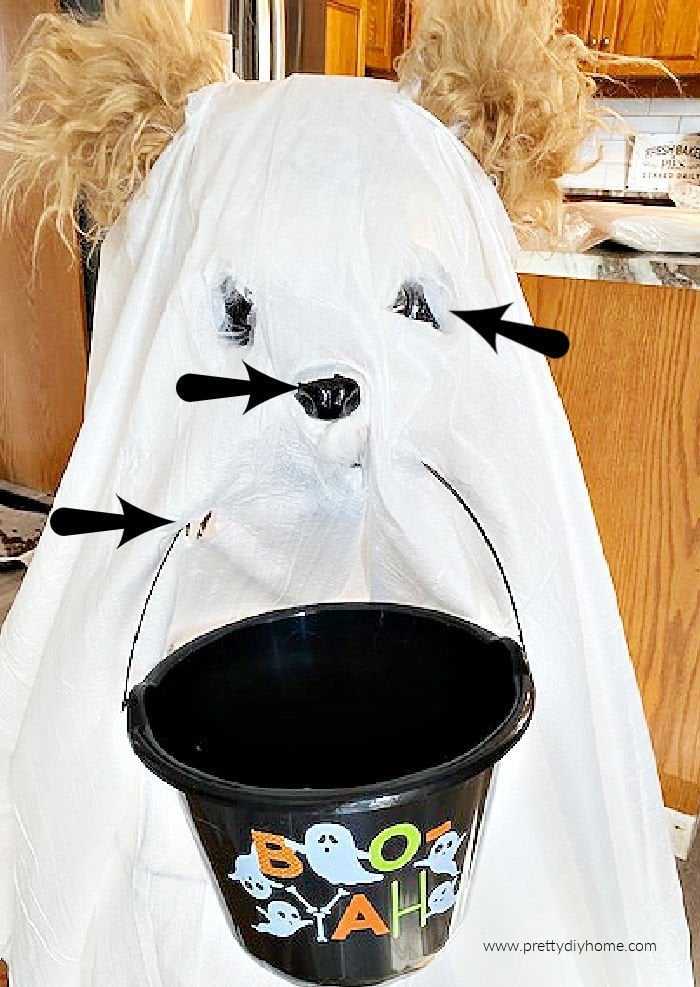 All I did was fold each edge of the plastic and hot glue it in place. I did snip some fur where necessary and opened the plastic around the mouth area and folded it back as well.
As I said we are busy with doing home renovations, so I put the video camera on and we just pitter pattered away doing the ghost dog. I am not certain if you will find it helpful or not, as its super casual. It begins where I placed the sheet over the ghost dogs head.
I am super excited about how this DIY Halloween decoration for outdoors turned out. I couldn't wait to share it with you. Hopefully you find it as boo-tiful as I do. For this post I took some photos of the ghost out among the trees, but I will be using him on our Halloween front porch.
Happy Halloween!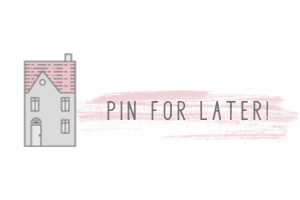 Some Other DIY Halloween Decoration for Outside
Hiss and scratch inn sign.
This Halloween decoration hangs from a DIY plant hanger I made that converts to a Halloween Sign of the Hiss and Scratch Inn . Of course there are two black cats, Hiss & Scratch.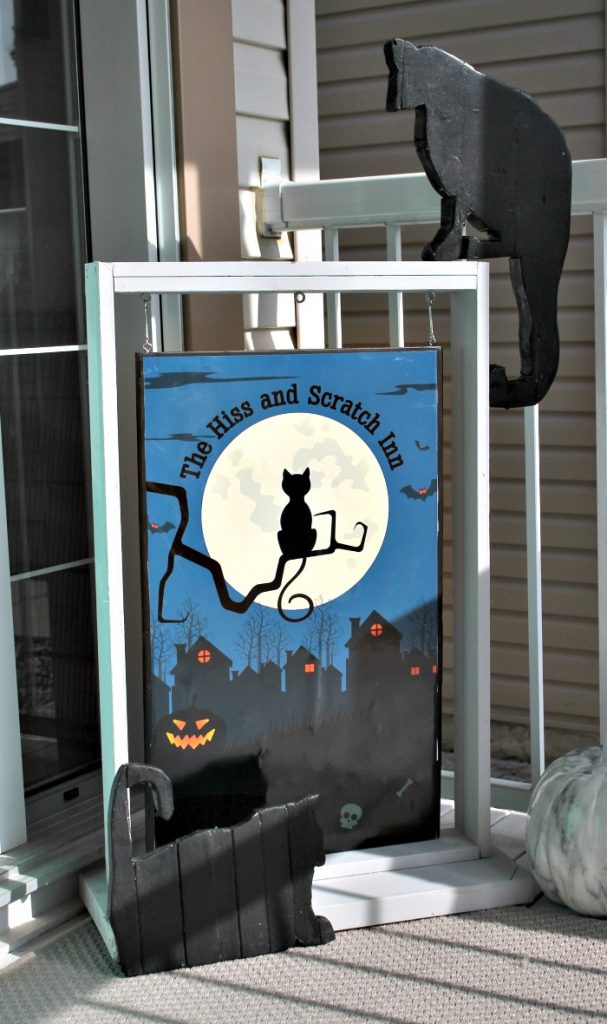 Sad Porch Ghosts
These little Halloween front porch ghosts begin as a tall flower pot, and a soccer ball from a neighbour. Super easy to make especially with stick on googly eyes.
Leave a Reply Cancel reply
Your email address will not be published. Required fields are marked *
This site uses Akismet to reduce spam. Learn how your comment data is processed .
5 Easy DIY Dog Halloween Costumes on a Budget
Make Halloween extra fun this year by having your friends dress up their doggy companions in their best pet costumes. If you don't have much of a costume budget for your dog this year or you're feeling extra crafty, we've found some fun, creative ways your pooch can still get festive with 5 DIY dog costume ideas. We scrolled our way through TikTok and wanted to showcase some of our favorite dog Halloween costumes! If you're still on the search for a spooky dog Halloween costume this October, we've got you covered. We can guarantee that you'll already have most of the supplies laying around at home and if not, just make a quick visit to the craft store.
Before dressing your pet in a costume, make sure they are comfortable being dressed. Not all dogs enjoy wearing costumes, and that's OK! If your pet seems uncertain about wearing anything, take it off and prioritize their comfort. If anything, you can get them a special Halloween-themed collar or bowtie that won't be irritating. However, with proper training and patience, many dogs enjoy wearing costumes! If in doubt, always put your dog's safety and comfort first.
Because Halloween is full of scary costumes, frights, and doorbells, it can be a stressful day for dogs regardless. Don't forget to prepare your dog for the spooky holiday by stocking up on Pet Releaf's Stress Releaf CBD Oil and Stress Releaf Edibites.
Check out easy dog costume ideas and tutorials below!
Spooky Ghost
A white sheet can go a long way! Or if you have some old white fabric from a curtain you no longer have a need for, try recycling it into this famous spooky ghost dog costume. All you have to do is grab a pair of scissors and cut out two holes for eyes and a third hole for your doggy to fit their snout in. If the fabric that you're using is too large, feel free to cut it down to fit your small dog's size! Check out  @hesmyalibi on Instagram  and the TikTok video below to see her pups looking extra ghostly this year.
@hesmyalibi On a scale of 1-10 how did my dogs do?? Follow their Instagram @hesmyalibi #dog #dogsoftiktok #ghosttrend #halloween #fyp #viral ♬ Oh Klahoma – Jack Stauber
Cereal Bowl
If your pup just had surgery and is rocking the cone of shame this year, why not make the cone a little more tasteful with a bowl of cereal?  @Goldenbenjamin on Instagram  shared their brilliant costume idea with a bowl of Froot Loops and a spoon! For this pet Halloween costume, you'll definitely need a cone along with aluminum foil and some pool noodles. As the cone is already ready to go, you'll really just need to craft the cereal pieces and the spoon. For the cereal bits, if you have any old pool noodle floats that are a little beat up or if you look in the summer clearance aisle at your local department store, it's time to chop them up! It's ideal if you have a colorful variety to really showcase the assorted cereal colors for this DIY dog costume to pop. All you have to do is cut up the noodles into 1-inch pieces with either a knife or scissors to resemble the cereal and add them into the cone. For the silverware, cut some aluminum foil and shape it into a spoon. Watch Benny model his cereal bowl doggy costume below!
@goldenbenjamin a Froot Loops? heck you Karen #foryoupage #halloween #dogcostume #fruitloops #dog ♬ original sound – Benny
We're a  big fan  of  @goodboymulligan on Instagram's  easy DIY pet costume! Mulligan chose to dress up in his best pawparazzi costume for trick-or-treating. Depending on your doggy's size, you may either need a toddler or adult-sized tropical t-shirt laying around depending if you have a small dog or large dog. If you don't have one, try heading over to your local thrift shop to find one at a low price point. If you have an old disposable camera laying around as well, feel free to tie it around some yarn so you can hang it around your dog's neck for the ultimate paparazzi pet Halloween costume. Watch Mulligan get his close-up on his paparazzi costume idea below!
@goodboymulligan The cutest paw-parazzi ever 📸🐾 #petlife #goldenretriever #paparazzi #fyp #cutedog #puppycheck #dogcostume ♬ paparazzi – Nick&Sienna🌹
Baked Potato
Because there isn't anything cuter than a Frenchie dressed up as a baked potato. We think  @sirhamiltonpierre on Instagram  suits this costume perfectly! The first trick to this costume is getting your pooch to sit still as you wrap aluminum foil around their bottom. After that, you can add a yellow sticky note on the top of your dog's head to represent the melted butter. Watch Sir Hamilton Pierre looking like the freshest hot potato below in this easy DIY dog costume!
@sirhamiltonpierre5 When someone asks me about my best qualities 🙃 #potato #frenchie ♬ original sound – Ty
Hershey Kiss
There's more than one way to use aluminum foil! Dress your pup as a sweet treat with this Hershey Kiss adorable costume idea from  @hesmyalibi on Instagram ! This one will be very aluminum foil heavy as you would need to wrap the body as well as craft your doggy a cone hat. Secondly, you would need some white construction paper or card stock to spell out "KISSES" with blue crayon or marker. This makes the perfect last minute dog costume idea for your pet! Don't you just want to give Alibi the biggest kiss in the video below?
@hesmyalibi Would you accept this kiss? 🐾🍫 #Hershey #hersheykiss #doggyanthem #dogsoftiktok #costume #halloween #fyp #viral #foryou #dog #petsoftiktok ♬ mua mua – Miya쌤
Looking For Something Even Easier?
If you have old clothes, blankets, or craft supplies around, get creative and cut your dog a cape, mask, or bow. Anything can essentially be made into a costume as long as it's safe, comfortable, and can't easily be eaten or become agitating. Monitor your dog throughout the night and never leave them alone in a costume.
How To Support Dog Halloween Party Stress
Unfortunately, Halloween can cause our pets to experience high levels of stress with the constant ringing of the doorbell from trick-or-treaters and seeing humans in spooky Halloween costumes. Prepare for your dog's Halloween party stress by checking out our  4 Ways To Prep Your Pet For Halloween  to support your  pet's situational stress  this year. Our Stress Releaf Hemp Oil is a great way to keep pets calm.
What to Give Your Dog On Halloween
If you're looking for a way to fill up your dog's Halloween bucket this year, try out some of our smaller items! Our travel-size bags of CBD-infused Pet Releaf Edibites are the perfect size for your pup's trick-or-treat bucket. Whether you decide to dress your dog up in one of the costume ideas above or other ideas like Harry Potter, a Starbucks cup, a beanie baby, Star Wars, or a spider costume, reward your dog for dressing up in their pet Halloween costume with their favorite Edibites flavors. Plus, they may help provide a multitude of  health benefits for your dogs .
Make sure to share your pet's Halloween costume ideas with us by tagging @petreleaf on Instagram so we can share them with our followers! If all else fails and your last-minute dog costume just doesn't come together, put your furry friend in one of their favorite, fun dog sweaters.
Suggested Products
Stress Releaf CBD Edibites For M/L Dogs – Peanut Butter
USDA Organic Calming Chews, Peanut Butter & Carob Flavor
Medium & Large
One-time purchase
Limited time offer for extra 10% off on first Autoship order for new subscribers
$ 31.99 $ 28.79 / month — save 10%
$ 31.99 $ 28.79 every 2 months — save 10%
– OR –
Stress Releaf CBD Edibites For Dogs – Travel Size, Bacon
Bacon-Flavored Calming Chews
USDA Organic Stress Releaf 600mg CBD Oil For Medium & Large Dogs
USDA Organic Full-Spectrum CBD Oil with Organic Ashwagandha For Calming
Medium Large
$ 79.99 $ 71.99 / month — save 10%
$ 79.99 $ 71.99 every 2 months — save 10%
Get 15% off your first order!
Make room in your inbox for discounts your pet will love..
Be the first to know about sitewide sales, new products, and much more!
You are now leaving petreleaf.com
This is an external source provided for informational purposes only. The views and opinions expressed therein are those of the authors.
The product has been added to your cart!
Please be aware that our website does no longer support Internet Explorer. Please use an alternative browser to avoid any checkout issues.