Samsung Galaxy Book Pro 360 15 vs. HP Spectre x360 15: Which should you buy?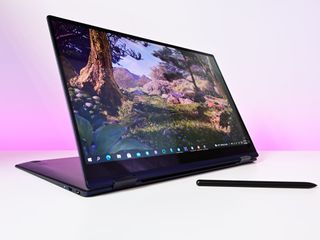 FHD convertible with pen
The 15-inch convertible Samsung Galaxy Book Pro 360 comes with a 1080p AMOLED display with excellent color, an S Pen for inking, and 11th Gen Intel Core CPUs for snappy performance. It's the right choice if you'd like to stick with an FHD display and want the thinnest device possible.
Outstanding AMOLED display
Excellent inking and tablet experience
Thin and light with lots of power
Decent battery life
Bad webcam and speakers
Display could be brighter
Only FHD resolution
UHD convertible with pen
The HP Spectre x360 15 has a larger footprint and weighs more than the Galaxy Book Pro 360, but it also has a 4K display (with AMOLED optional) and active pen, superb typing, and a few more security features. If you'd like to experience a UHD screen, this is the way to go.
Beautiful, vibrant display
Gorgeous gem-cut design
Solid performance
Excellent typing and pointing
Grainy webcam
Less battery life
Only UHD display
Galaxy Book Pro 360 15 vs. Spectre x360 15: Tech specs
These two 15-inch convertible PCs are premium options with modern hardware. They're in the same price range, they have a lot of the same features, and you can use both for inking. However, there are some major differences that I'll cover here. Following are the specs you'll find in both laptops.
Design and features
These two laptops are undeniably pretty, employing aluminum for a sturdy, premium build quality. The Book Pro 360 is available in Mystic Navy and Mystic Bronze colors, while the Spectre x360 is available in Nightfall Black and Poseidon Blue. Samsung's laptop is crazy thin at just 0.47 inches, especially for a 15-inch device. It weighs in at just 3.06 pounds, which is more than a pound lighter than the Spectre. If you're looking for the lightest possible device, you'll want to stick with Samsung.
HP includes a fingerprint reader below the number pad, as well as an IR camera and a camera killswitch for extra privacy. The Book Pro 360 has a fingerprint reader, but no IR camera or camera shutter. In terms of actual picture quality, neither camera is going to wow you. On the other hand, the Spectre's quad-speaker setup pumps out much better audio than the Galaxy Book Pro. If you value privacy, security, and audio, HP wins.
Port selection is nearly the same from both laptops. Both have Thunderbolt 4 (one on the Samsung and two on the HP), allowing you to expand connectivity with the best Thunderbolt 4 hubs and docking stations . Samsung also adds two USB-C, 3.5mm audio, and a microSD card reader. HP rounds things out with USB-A, 3.5mm audio, and a microSD card reader.
As for wireless connectivity, you get Wi-Fi 6 and Bluetooth 5 from the Spectre, with Wi-Fi 6E and Bluetooth 5.1 from the Galaxy Book Pro 360. The "E" tacked on there means you're getting the upgraded version of the wireless standard, capable of 6GHz band support.
Both laptops have large Precision touchpads for easy pointing, and they both have full keyboards with number pads to help promote productivity. Typing feels great on both laptops, and which one is better will no doubt come down to personal preference. If possible, try testing both laptops before making a final decision.
Display and inking
These laptops begin to really pull apart when it comes to their touch display options. Samsung offers just one screen with the Galaxy Book Pro 360; it's FHD with AMOLED technology, meaning it delivers excellent color reproduction. In our testing, we measured 100% sRGB, 85% AdobeRGB, and 96% DCI-P3. The screen also supports VESA DisplayHDR 500 to help make movies look incredible. Unfortunately, it maxes out at about 286 nits, which with the glossy finish can cause glare issues.
HP similarly offers just one resolution (4K), though there are some different display options to choose from. Cheapest is a 340-nit IPS panel with WLED backlight. For about $50 more you can upgrade to a 400-nit IPS panel with WLED backlight, and for $110 you can go all out with the 400-nit AMOLED option. It's rated for 100% DCI-P3 color reproduction and has incredible contrast. Its higher brightness should mean less dealing with glare, plus it has an anti-reflective coating. It includes HDR 400 for compatible content.
Both laptops include active pens for inking. Neither has an integrated silo, but both deliver a great inking experience to go along with the convertible build. The bottom line here is that you're going to be stuck with one resolution or the other depending on which laptop you opt for. In either case, you're going to get a quality screen with inking capabilities, but only HP can deliver the 4K glory.
Performance and price
In terms of raw performance, you're looking at about the same level from both laptops. Each has an 11th Gen Intel Core i7-1165G7, up to 16GB of RAM, and a speedy M.2 PCIe NVMe SSD. Note that the Spectre can be had with up to a 2TB drive, while Samsung tops out at 1TB. The Galaxy Book Pro 360 relies on Intel Iris Xe integrated graphics, as does the latest Spectre x360 15. Previous models with 10th Gen Intel Core chips employed a dedicated NVIDIA GTX 1650 Ti Max-Q GPU, but that seems to have been ditched for the 11th Gen models.
Battery life is where you're going to see a big difference, and it's where you might second-guess your display choice. The FHD display in the Galaxy Book Pro 360 uses less energy, and you can expect somewhere between eight and 10 hours on a charge if you're using it constantly. On the other hand, the 4K display in the Spectre x360 will sap battery life. You're not going to see as much of a drain now that there's no discrete GPU, but expect Samsung's laptop to last longer. It's Intel Evo certified to ensure more than nine hours of battery life and snappy performance on battery power.
The Galaxy Book Pro 360 15 is your next FHD convertible
If you're looking for a 1080p AMOLED touch display with included active pen, thin and light body, and an overall premium build, this convertible shouldn't disappoint. Be sure to check out our Samsung Galaxy Book Pro 360 15 review for more information. And if neither of these laptops is really what you're looking for, our roundups of the best 2-in-1 laptops and the overall best Windows laptops has many more options.
If you need a super-thin laptop that is also a convertible, the Galaxy Book Pro 360 is for you.
Go with the Spectre x360 15 for 4K greatness
Want to go with a higher resolution and still get a great 15-inch convertible PC? This is the way to go, especially with the quality speakers and extra security measures. Check out our review of the 2020 HP Spectre x360 15 with 10th Gen hardware for more information.
Stick with the Spectre x360 15 for a 4K display with active pen, excellent audio, and a dreamy keyboard.
Get the Windows Central Newsletter
All the latest news, reviews, and guides for Windows and Xbox diehards.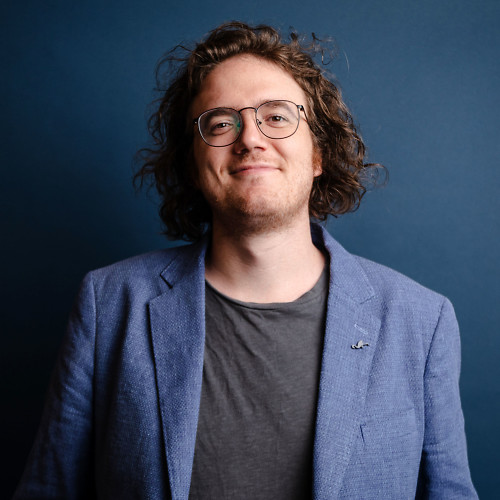 Cale Hunt is formerly a Senior Editor at Windows Central. He focuses mainly on laptop reviews, news, and accessory coverage. He's been reviewing laptops and accessories full-time since 2016, with hundreds of reviews published for Windows Central. He is an avid PC gamer and multi-platform user, and spends most of his time either tinkering with or writing about tech.
2 Edge begs for answers: Microsoft polling users who download Chrome
3 Star Trek: Infinite PC review — Boldly going where games have gone before
4 Outriders dev's 'Project Maverick' confirmed once more for Xbox
5 Microsoft CEO Satya Nadella and other executives take a big hit to compensation
HP Spectre x360 13.5 (2022) vs Samsung Galaxy Book 2 Pro 360: Which should you choose?
Samsung's Galaxy Book 2 Pro 360 and HP's Spectre x360 are both fantastic convertibles, but they're very different. Here's how they compare.
We're a few months into 2022 now, and companies have brought out some of the best laptops we've seen in a while. If you're looking to replace your current machine, there's no shortage of fantastic options right now, and it can be hard to choose one. We're here to help, though. If you want a convertible laptop, two of the best options you can find right now are the HP Spectre x360 13.5 and the Samsung Galaxy Book 2 Pro 360 , so we're going to be comparing them to see which one you should choose.
While both the Spectre x360 and the Galaxy Book 2 Pro 360 are convertibles, they clearly have different priorities in terms of design and performance. It's also worth noting that both laptops do come in different sizes, but the HP Spectre x360 13.5 and 16 are radically different and it doesn't make sense to include both in this comparison. In the case of the Samsung Galaxy Book 2 Pro 360, the two sizes are nearly identical, so we'll mention both of them where appropriate.
Navigate this article:
Performance
Display and sound
Ports and connectivity
Final thoughts
HP Spectre x360 13.5 (2022) vs Samsung Galaxy Book 2 Pro 360: Specs
Performance: the galaxy book 2 pro 360 has 28w processors.
The HP Spectre x360 and the Samsung Galaxy Book 2 Pro 360 both come with Intel's 12th-generation processors, but don't let that make you think they're the same. There's a major difference here since HP is using U15-series processors, which have a 15W base TDP, while Samsung has opted to use the more powerful P-series processors with a 28W TDP. A higher TDP means a few things: more performance (as long as the cooling system can keep up), more heat, and more power consumption. The P-series processors inside the Galaxy Book 2 Pro 360 have 12 cores and 16 threads, while the U15-series models have 10 cores and 12 threads.
Looking at benchmark results from Geekbench 5, you can see how much of a difference the 28W processors make in terms of performance. These are still early results and there haven't been enough tests to establish a proper average for each processor, but these should still give you an idea of what to expect.
You can see that the additional cores give the 28W processors a noticeable advantage, and it's likely you're going to notice it even more after using the laptop for a while, since CPUs with a lower TDP often can't hold their maximum performance as long. On the other hand, GPU performance from the integrated Intel Iris Xe graphics shouldn't be radically different between the two laptops. The P-series models are clocked slightly higher, but it's a very small difference.
This advantage in performance for the P-series usually comes at a cost, though, and that's battery life. Unsurprisingly, processors with a higher TDP use more energy, and that means the battery will drain faster. In our Samsung Galaxy Book 2 Pro 360, we did note that it has great battery life, but you can probably expect that to be even better on the HP Spectre x360 considering the batteries are similar in size. However, there are other factors to keep in mind here, such as the display.
The HP Spectre x360 13.5 comes with up to 32GB of RAM and 2TB of storage.
Aside from the processor, the HP Spectre x360 13.5 comes with up to 32GB of LPDDR4x RAM, while the Samsung Galaxy Book 2 Pro 360 maxes out with 16GB, but uses the newer LPDDR5 memory. For storage, you can get up to 2TB with the Spectre x360, or 1TB with Samsung's laptop (512GB if you want the smaller 13.3-inch model). One thing that's worth noting here is that Samsung's configuration options are very limited so your RAM and storage configurations are tied to each other.
Display and sound: The Spectre x360 has a 3:2 display
HP has been leaning heavily into using taller displays on its premium laptops, and for good reason. Aspect ratios like 16:10 or 3:2 are generally considered better for productivity because of the added vertical space. The HP Spectre x360 has a 13.5-inch display, and it comes in a 3:2 aspect ratio, which is one of the big advantages it has over the Galaxy Book 2 Pro 360. It's not the only one, however, because this laptop also gives you the option for an HP Sure View Reflect privacy screen, or you can upgrade to the 3K2K (3000 x 2000) OLED panel that's both sharp and vibrant.
The Samsung Galaxy Book 2 Pro 360 still comes in a much more typical 16:9 aspect ratio, and the display doesn't offer any configuration options. Regardless of what size you choose, you're getting a Full HD (1920 x 1080) AMOLED panel, which is admittedly great to have. Most laptops, including the Spectre x360, ask you to pay a premium for an OLED panel, and it's usually a very high resolution that's much sharper than you really need. This makes AMOLED displays a bit more affordable, but you don't get the option to go higher if you want to, which is a bummer, especially on the 15.6-inch model.
Above the display, HP is using a 5MP webcam with support for 1080p video and a suite of smart features including auto framing, backlight adjustments, and filters so you can get the right look for your video calls and meetings. Samsung also uses a 1080p webcam and it also has some of those smart features. A big advantage for HP is that it also includes a Windows Hello IR camera for biometric authentication, in addition to a fingerprint reader. With the Galaxy Book, you only get the fingerprint reader.
The Spectre x360 supports Windows Hello facial recognition.
As for audio, the HP Spectre x360 comes with a quad stereo speaker setup by Bang & Olufsen, and that's probably one of the best experiences you can get on a Windows laptop at this size. Not many laptops give you a quad speaker setup - including the Galaxy Book2 Pro 360, which only has two speakers regardless of what size you choose.
Design: Samsung's laptop is ridiculously thin and light
One of the big claims to fame for the Samsung Galaxy Book 2 Pro family is how portable and lightweight they are, and that's incredibly obvious in this case. The Samsung Galaxy Book 2 Pro 360 weighs just 2.29 lbs if you opt for the 13.3-inch model, and even the larger 15.6-inch version weighs just 3.1 lbs. On the other hand, the 13.5-inch HP Spectre x360 weighs 3.01 lbs, so it's almost as heavy as the larger Galaxy Book. And that's not to mention thickness - the Galaxy Book 2 Pro 360 measures a mere 11.5mm or 11.9mm, depending on the size you choose. The HP Spectre x360 is 17mm thick. As far as portability goes, Samsung is the clear winner.
However, that somewhat flips around when it comes to looks. The HP Spectre x360 13.5 is a premium laptop, and it feels that way through and through. The latest model has been redesigned with more curved edges, but it keeps one of the things that made previous models so great - the dual-tone aesthetic. If you get the Nightfall Black model, you'll see the edges of the laptop accented in a "pale brass" color, and if you go with Nocturne Blue, those edges will be accented with a lighter shade called celestial blue. Of course, you can still go with Natural Silver if you want a more subdued look.
On the other hand, the Samsung Galaxy Book 2 Pro 360 only comes in single-color designs, which are Silver, Graphite, and Burgundy. Admittedly, burgundy is a great color option to have and it helps the laptop stick out quite a bit if that's what you want. Still, they're all kind of muted colors, and unlike on the Spectre x360, the keys on the keyboard aren't color-matched to the chassis, so the laptop loses some of its charm there.
Ports and connectivity: The Spectre is a bit more versatile
Rounding things out with ports, HP pulls another victory by offering a more capable suite of connections. It includes two Thunderbolt 4 ports - making it easy to expand the capabilities of the laptop using Thunderbolt docks, external GPUs, and other accessories - but it also keeps one legacy USB Type-A port, a 3.5mm headphone jack, and a microSD card reader. That gives you decent variety for a laptop of this size.
The Galaxy Book 2 Pro 360 doesn't have any USB Type-A ports.
Because of its ultra-thin design, the Samsung Galaxy Book 2 Pro goes all-in on USB Type-C instead. You get one Thunderbolt 4 port (with all the benefits that come with it) plus two standard USB Type-C ports, a headphone jack, and a microSD card reader. USB Type-C is the most modern connection option around, and it's quite versatile if you use a docking station, but it does mean you won't be able to connect some peripherals without an adapter. Perhaps most surprisingly, the port setup is exactly the same on the 15.6-inch version as it is on the 13.3-inch model. That's just a sacrifice that has to be made for this incredibly thin design.
As for wireless connectivity, the two laptops are similar. Wi-Fi 6E and Bluetooth 5.2 are supported, and neither model gives you the option for cellular connectivity.
HP Spectre x360 13.5 (2022) vs Samsung Galaxy Book 2 Pro 360: Final thoughts
With all of these comparisons done, you should have a fairly clear idea of which laptop is right for you. To be fair, they're both fantastic machines in their own right, but they clearly excel at different things. The Samsung Galaxy Book 2 Pro 360 is phenomenal for portability with its super thin and light design, plus it has fantastic performance thanks to its P-series processors. And if you want an AMOLED display without spending an obnoxious amount of money, it's one of the few options you can find right now.
On the other hand, the HP Spectre x360 13.5 has a taller display that's great for productivity, and it gives you the option for the 3K2K OLED panel if you want one of the very best displays on a Windows laptop. It also has a more premium design, a more varied set of ports, and a more advanced speaker system that should provide an immersive audio experience. And, while its processors aren't as powerful, they're likely to get you better battery life, which is vary important for mobility.
No matter which one you choose, these are two fantastic laptops, and you can't really go wrong with either one. You can buy them below, or you check out our lists of the best HP laptops and the best Samsung laptops if you'd like to see what else these companies have to offer.
HP Spectre x360 13.5
The 2022 HP Spectre x360 13.5 has a 3:2 display, 12th-generation Intel U-series processors, and a premium design.
Samsung Galaxy Book 2 Pro 360
The Samsung Galaxy Book 2 Pro 360 is an extremely thin and light convertible, but it still comes with powerful 12th-gen Intel processors and a stunning AMOLED display.
Report a Correction
2022 HP Spectre x360 16 vs. Samsung Galaxy Book3 Pro 360 16
Here is a side by side comparison between 2022 HP Spectre x360 16 and Samsung Galaxy Book3 Pro 360 16 specs including CPU, RAM, storage, battery, display, and more.
2022 HP Spectre x360 16 Pros
Reasons that 2022 HP Spectre x360 16 is better than Samsung Galaxy Book3 Pro 360 16.
Intel Core i7-12700H inside 2022 HP Spectre x360 16 has a 18% better multi-core CPU performance score than the Intel Core i7-1360P inside Samsung Galaxy Book3 Pro 360 16.
Configurable up to Intel® Arc™ A370M 4GB GDDR6 vs. integrated
The 2022 HP Spectre x360 16 has more ports and slots count than the Samsung Galaxy Book3 Pro 360 16. It has seven versus six amount of ports and slots on the Samsung Galaxy Book3 Pro 360 16.
The 2022 HP Spectre x360 16 has better versatile I/O connectivity than the Samsung Galaxy Book3 Pro 360 16. It has six versus five commonly used ports and slots on the Samsung Galaxy Book3 Pro 360 16.
Samsung Galaxy Book3 Pro 360 16 Pros
Reasons that Samsung Galaxy Book3 Pro 360 16 is better than 2022 HP Spectre x360 16.
2023 vs. 2022
Samsung Galaxy Book3 Pro 360 16 supports a faster memory speed than the 2022 HP Spectre x360 16. It supports up to 5200MHz versus 3200MHz of system memory on the 2022 HP Spectre x360 16.
Samsung Galaxy Book3 Pro 360 16 weighed 3.66 pounds, 18% lighter than the 4.45 pounds 2022 HP Spectre x360 16.
Similar characteristics share between 2022 HP Spectre x360 16 and Samsung Galaxy Book3 Pro 360 16.
Both laptops supports up to 32GB of system memory.
Here are the latest price updates and offers for both devices.
Comparison Summary
HP has released the Spectre x360 16 , a 16-inch machine, in mid-2022. It is powered by 14-core Intel Core i7-12700H with a boost clock speed up to 4.70 GHz. The laptop has a dedicated GPU option up to Intel® Arc™ A370M with 4GB GDDR6.
On the other hand, we have the 16-inch Galaxy Book3 Pro 360 16 was introduced by Samsung about a year later in early-2023. It comes with 12-core Intel Core i7-1360P with a boost clock speed up to 5.00 GHz. It has an integrated graphics option up to Intel® Iris® Xe Graphics (96 Execution Units, 400 → 1500 MHz).
Geekbench 5 Single Core
Geekbench 5 multi core.
Both 2022 HP Spectre x360 16 and Samsung Galaxy Book3 Pro 360 16 have the same 16-inch display size. In addition, the 2022 HP Spectre x360 16 weighs 4.45 lbs. about 21% heavier than the 3.66 lbs. Samsung Galaxy Book3 Pro 360 16. Moreover, measured at 14.09" x 9.66" x 0.78", the 2022 HP Spectre x360 16 is much bulkier than the Samsung Galaxy Book3 Pro 360 16 at 13.99" x 9.93" x 0.50".
There are a toal number of 7 ports and slots available on 2022 HP Spectre x360 16. That includes a USB-A port, an HDMI port, a headphone jack, a Thunderbolt 4 port, a microSD card slot, and a power port. With that said, it has a port or slot more than the Samsung Galaxy Book3 Pro 360 16 that has an HDMI port, two Thunderbolt 4 ports, a microSD card slot, a USB-A port, and a headphone jack.
Moving over to upgradability, HP claims that the 2022 HP Spectre x360 16 supports up to 32GB 3200 MHz DDR4 memory. However, it has an onboard memory module that is not upgradable by the users. Fortunately, it comes with a single removable M.2 SSD slot that users can replace and upgrade in the future.
For Samsung Galaxy Book3 Pro 360 16, it supports up to 32GB 5200 MHz LPDDR5 memory. Like 2022 HP Spectre x360 16, it has an onboard memory module that is not upgradable by the users. Luckily, it has a single removable M.2 SSD slot that users can replace or upgrade when needed.
Specs Comparison
Key Differences
Key Features
Availability
Internal Specs
Connectivity
Camera & Audio
Copy link - Copied';"> Copy link
Share on Twitter
Share on Reddit
Share on Facebook
Ask questions or share your thought and experience about the comparison between 2022 HP Spectre x360 16 and Samsung Galaxy Book3 Pro 360 16.
Personalization
Productivity
Troubleshooting
Virtualization
Microsoft Office
Internet & Browsers
Office and Document
Photo & Video
Laptop Finder
Gaming Laptop
Business Laptop
Creator Laptop
Education Laptop
Workstation
Convertible Laptop
2-in-1 Laptop
Copyright © 2023 WindowsTip
Trending in Computing:
Best Dell Laptops
Best Monitors
Asus ROG Azoth Review
How to delete a page in Word in 3 easy steps
RTX 4080 vs RTX 4070 Ti
Best Mac Apps
AMD vs Intel
Recall an Email in Outlook
Digital Trends may earn a commission when you buy through links on our site. Why trust us?
Samsung Galaxy Book3 Pro 360 review: a large convertible 2-in-1 that works
"With a huge OLED screen and ultrathin profile, the Samsung Galaxy Book3 Pro 360 is a delight to ink on."
Excellent productivity performance
Spectacular OLED display
Solid build quality
Great battery life
Outstanding touchpad
Very thin and light
Not faster than all 12th-gen Intel machines
Expensive at list price
Yet another manufacturer has stretched a 15-inch laptop (really, 15.6-inch) into a 16-inch version. The new Samsung Galaxy Book3 Pro 360 gets both a bit of space added to the display and some additional enhancements, resulting in a large convertible 2-in-1 with some attractive features.
Specs and configurations
About as usable as a 16-inch 2-in-1 can get.
Our first look at Intel's 13th-gen performance
The next-generation AMOLED X2 display is (probably) spectacular
If you need a 16-inch laptop for inking, the galaxy book3 pro 360 is your best bet.
It's also the first laptop we've reviewed with Intel's 13th-gen Raptor Lake CPU inside. The very thin and light design offsets some of the difficulties we've encountered with tablets this large in the past, making the Galaxy Book3 Pro 360 a premium 2-in-1 that offers a solid combination of performance and features.
Surface Laptop Go 3 vs. Surface Pro 7+: is it an upgrade?
HP's new Envy x360 14 looks like a killer value for what you get
The Galaxy Book 3 Ultra is Samsung's most powerful laptop ever
Samsung currently offers two configurations of the Galaxy Book3 Pro 360 for preorder. Both use the Intel 13th-gen Core i7-1360P CPU and the same 16.0-inch 3K OLED display. You can configure 16GB of RAM and either a 512GB SSD or a 1TB SSD. Interestingly, both are currently listed at $1,400, but the on-sale 1TB version shows an $1,800 list price. That makes the Galaxy Book3 Pro 360 a premium laptop, but not overly expensive, given the components. We're not sure yet if other configurations will be available in the U.S., and the prices listed on the preorder page are subject to change. In fact, Samsung told me that the official starting list price of the laptop will be $1,900, which is significantly more than indicated on the preorder page.
Stay tuned for pricing clarifications.
A major competitor for the Galaxy Book3 Pro 360 is the HP Spectre x360 16 . That convertible 2-in-1 also sports a 16-inch 16:10 OLED display, albeit a higher-resolution 4K + version. But the HP pays the price on the scale: it's considerably thicker at 0.78 inches compared to just 0.49 inches for the Galaxy, and weighs 4.45 pounds compared to just 3.3 pounds. That makes the Galaxy Book3 Pro 360 an incredibly thin and light 16-inch convertible laptop by comparison, and more comfortable to use in tablet mode with the included Samsung S Pen. Of course, it also converts to clamshell, tablet, and media modes, with a hinge that allows opening of the lid with one hand while exhibiting just a bit of wobble in clamshell mode.
The Galaxy Book3 Pro 360 is a well-built laptop, with no flexing or bending in the all-aluminum chassis and only a bit of give in the lid. That's laudable for a laptop that's so thin and light, and the machine manages to exude both quality and portability. It's not as solid or dense feeling as the MacBook Pro 16 , but that's OK for a convertible 2-in-1 that's meant to be handled differently.
The aesthetic is minimalist, with either an all-black (graphite) or a lighter beige color scheme that carries through everywhere except the keyboard on the beige model. There's zero bling, making for an elegant, understated look that fits well in any environment. The display bezels are thin across the top and sides, but the bottom chin is thicker, as is usually the case on convertible laptops . Overall, it's a sleek, modern look that I liked a lot.
The Galaxy Book3 Pro 360's keyboard is rather shallow, but offers nicely sized keycaps and plenty of spacing, even with the included numeric keypad. The switches are soft and snappy, providing just enough feedback to feel precise. It's not as good as the best keyboards in HP's Spectre or Dell's XPS lines, nor on the level of Apple's Magic Keyboard on its latest MacBooks, but it's still comfortable for long-term typing. The touchpad is huge, taking up all the available space on the palm rest, with quiet but firm and responsive button clicks.
A mix of Thunderbolt 4, legacy ports, and up-to-date wireless standards give the Galaxy Book3 Pro 360 solid connectivity. Apparently, there's a 5G WWAN option, but I couldn't find any details on its availability. The webcam is 1080p, and Samsung touts dual "studio quality" mics to round out the videoconferencing experience. A fingerprint reader for Windows 11 passwordless login support is embedded in the power button and works quickly and accurately.
Opening this laptop for the first time, it's impossible to miss all the Samsung apps and utilities meant to tie the laptop with Samsung's Galaxy phones and Samsung S Pen. Whether these are useful to you or just wasted space remains completely subjective, but they're unobtrusive and don't intrude unless you actively turn them on. The S Pen is well-supported if you like to use a pen for taking notes and drawing.
Our first look at Intel's 13th-gen performance
The Galaxy Book3 Pro 360 is equipped with Intel's 13th-gen Raptor Lake Core i7-1360P. That's a 28-watt chip with 12 cores (four Performance and eight Efficient) and 16 threads, running at a maximum Turbo Frequency of 5.0 GHz. As such, I expected an uplift from 12th-gen machines, but nothing drastic.
The results were a bit underwhelming. For example, the Galaxy Book3 Pro 360 was generally outperformed by the Acer Swift 3 2022 running the 12th-core Core i7-1260P. That's a 28-watt chip with the same core and thread counts, but a slower Max Turbo Frequency. As expected, the LG UltraPC 17 was slower, given its 15-watt 12th-gen U-series CPU. However, the differences weren't always dramatic, particularly with each machine switched to its performance mode. In fact, the UltraPC 17 outperformed the Galaxy Book3 Pro 360 in the Cinebench R23 multi-core test. The Samsung was faster than the Apple MacBook Air M2 in these benchmarks, although that laptop will likely be faster in creative apps thanks to Apple's M2 optimizations.
The Samsung didn't do well against the fast Lenovo Slim 9i with the Core i7-1280P, although that chip benefitted from 14 cores and 20 threads, and the Galaxy Book3 Pro 360 also didn't keep up with the Lenovo ThinkPad Z16 with its AMD Ryzen 7 PRO 6850H. Note that the HP Spectre x360 16 listed in the table was running the 35-watt Core i7-11390H, which was not a great performer. As of right now, you can configure it with up to a Core i7-12700H, which would likely be faster than the Samsung, or a Core i7-1260P with an Intel Arc A370 GPU, which would give it faster graphics performance.
Overall, the Galaxy Book3 Pro 360 is a solid performer, but not necessarily faster than its 12th-gen counterparts. Any on-paper differences are so small, they won't be noticeable during actual use. It will be fast enough for demanding productivity tasks while falling behind in creative tasks compared to Intel's 45-watt H-series CPUs and Apple's M2 processors, particularly the M2 Pro and M2 Max. With Intel Iris Xe graphics. It's also not going to be a gaming laptop .
Even with just a 76 watt-hour battery, which isn't very large for a laptop with a 16-inch OLED display, the Galaxy Book3 Pro 360 managed respectable battery life. It hit about 13 hours in our web-browsing test, well above average for the display size and technology, and almost 12.5 hours in the PCMark 10 Applications battery life. The laptop had issues completing our video looping test that I couldn't resolve. It would simply stop playing the video at various points, likely due to a video driver issue.
Nevertheless, we have enough information to indicate the potential for all-day battery life with a productivity workflow that's not too demanding. Its battery life qualifies as excellent, given the performance and display size and quality. Sure, it won't keep up with the MacBook Pro 16, but very few laptops do.
Samsung's next-gen AMOLED X2 panels provide both higher 120Hz refresh rates and VESA ClearMR, which promises wider colors and truer blacks (an accomplishment for OLED technology, if it can be pulled off). The display is gorgeous out of the box, as are all OLED panels. Blacks are deep, colors pop without being oversaturated, and Windows 11 is noticeably smoother thanks to the faster refresh rate. The display is sharp enough at 3K resolution, although some competitors put 4K + resolutions in 16-inch and larger displays.
According to my colorimeter, the AMOLED X2 display was comparable to other OLED panels, with one exception. For some reason, the colorimeter returned a 0:1 result for the contrast ratio. I've contacted both Samsung and Datacolor, maker of my Spyder X Elite colorimeter, to find out what might be happening here.
In any case, the display was bright and enjoyed wide and accurate colors. It's as good an OLED display as you'll find, although it didn't live up to the claim of wider colors, and I think it's safe to assume that its contrast is at least equal to the other OLED panels in our comparison group. I was interested in seeing if it was indeed higher than usual, but we'll have to wait for a fix to find out. With OLED, though, it would likely be difficult to tell the difference in real-life use. The display supports VESA DisplayHDR 500, which gave it solid performance in playing HDR content — although not as great as the MacBook Pro 16's much brighter mini-LED display that excels at HDR .
Four speakers, including two 5-watt woofers and two 2-watt tweeters, put out plenty of volume with just a touch of distortion at full volume. Mids and highs were clear, and there was more bass than usual. The speakers can't live up to the best available, which you'll find on the MacBook Pro series and the Dell XPS 15 among Windows laptops , but they're suitable for streaming without headphones .
Yes, the Galaxy Book3 Pro 360 performs well (although not as well as expected given its 13th-gen Intel CPU), gets great battery life, and enjoys a gorgeous OLED display. As a convertible 2-in-1, though, its standout feature is that it's thin and light enough to use as a tablet more comfortably than its competitors. In fact, it's one of the thinnest 16-inch laptops we've reviewed, period.
Pricing is confusing right now, with a much more attractive preorder price than Samsung indicates will be the long-term pricing. That means it's likely to be pretty expensive once it hits the mainstream. But it's still worth it for anyone who wants a larger display for creating digital notes and drawings.
Editors' Recommendations
The best 2-in-1 laptops in 2023
This tiny ThinkPad can't quite keep up with the MacBook Air M2
All of Samsung's videos from today's Galaxy Unpacked event
Samsung Galaxy Book 3 Ultra vs. MacBook Pro 16-inch
Asus ZenBook S 13 Flip vs. HP Envy x360 13: it comes down to price
Laptop Reviews
Product Reviews
When it comes to 360-degree convertible 2-in-1s, you have a lot of options. Some of them are among the best laptops you can buy. HP's Spectre x360 13.5 is a prime example, making our lists of both the best 2-in-1s and best laptops and for quite some time representing the best that the class has to offer.
But Asus has been a serious player in this form factor as well, putting out several machines that have been close to making both lists. Its latest ZenBook S 13 Flip is a prime example, and it has an ace up its sleeve: it's a very light laptop that makes it easier to use as a tablet. Does that give it enough to dethrone the Spectre x360 13.5? Specs and configurations
Microsoft's Surface Pro 9 represents the latest version of what's become the industry standard for detachable tablet 2-in-1s. It's also one of the best laptops, period. Meanwhile, Lenovo's IdeaPad Duet 5i is an audacious new competitor, going up against an established machine.
There's one major factor differentiating the two: the price. The IdeaPad Duet 5i is significantly less expensive (and configurable) than the Surface Pro 9. Does that give it enough of a leg to stand on? Specs and configurations
The 13-inch M2 MacBook Pro and 14-inch M1 Pro MacBook Pro are two of the most desirable, impressive laptops you can buy in 2022, but how do you pick between them? One might have a newer CPU, but they both have excellent battery life, top-notch build quality, and beautiful designs.
Here's what you need to know about the two MacBook Pro models before you buy.
HP Spectre x360 vs Galaxy Book 3 Pro 360: What To Expect
HP Specter X360 and Samsung's Galaxy Book 2 Pro these two are the best two in one laptops on the market till now but with the announcement of the Galaxy book 3 Pro it seems like Samsung went one step ahead of its competitors how powerful is the latest Galaxy Book 3 Pro 360 compared to the HP Specter X360 let's find out in today's comparison.
Specifications
We should remember that both of these laptops provide tablet-style flexible hinge supports, making them excellent two-in-one laptops.
HP Specter X360 has its own unique identity in terms of aesthetics compared to the latest Galaxy 3 Pro 360. Compared to other traditional laptops, this one comes with a gem-cut design where all the corners have slight edge and look visually pleasing. HP is not as thin as the Galaxy Book 3 Pro, it does have comparatively less weight at only 3 pounds.
The new Galaxy Book 3 Pro follows the same design as its predecessor, the Galaxy Book 2 Pro. The Galaxy Book 3 Pro 16 inch laptop is comparatively thicker and weighs more than its predecessor which is 12.8 millimeters thin and 3.76 pounds of weight. It is available in two different colors Beige and Graphite.
When it comes to the display, the Galaxy Book 3 Pro 360 has a Dynamic AMOLED screen with a 120hz refresh rate and a 16:10 aspect ratio . This is another big change, in addition to the processor, that Samsung made to their latest Galaxy Book 3 Pro line .
The HP Specter X360 has an OLED screen with a resolution of 3000 by 2000 , a refresh rate of 60 Hz, 400 nits of brightness, and a 100 sRGB colour gamut . This isn't as impressive as the screen on the Book 3 Pro. Samsung's Dynamic Outlet display is HDR 10+ certified , which means it has more vivid colors and better brightness levels than regular OLED displays. In this case, it is expected that the Galaxy Book 3 Pro 360 will have a better visual experience.
Performance
The biggest and most obvious difference is the processor. The Galaxy Book 3 Pro 360 has a 13th-generation core i7 processor, while the Specter X360 has a 12th-generation core i7 processor. This means that the Galaxy Book 3 Pro 360 is much faster, with a maximum frequency rate of 5 gigahertz. In addition, it has up to 16 GB of DDR5 RAM and 1 TB of SSD storage, which is great.
On the other hand, the Specter X360 has up to 16GB of DDR4 RAM and 512GB of SSD storage that can be customised to hold up to 2 terabytes of data, so it's pretty clear that the new Galaxy Book 3 Pro has better internal hardware.
Connectivity
On the left side of the HP Specter X360, you'll find a USB A port and an audio jack in the corner. The other side has a Micro SD card slot and two Thunderbolt 4 ports.
Galaxy Book 3 Pro now has two Thunderbolt 4 ports instead of one, so you can plug in more accessories. It also has an HDMI port, a Micro SD card slot A type a, and a 3.5 millimetre audio combo Jack, which many laptops don't have.
HP Specter X360 on the left has a USB a port and an audio jack in the corner, while the other side has a Micro SD card slot and two Thunderbolt 4 ports. Both devices look great, but we prefer the Galaxy Book 3's clean and slim design.
Battery Life
Although both laptops claim to have a backup battery life of up to 19 hours, it actually depends on what type of user you are.
The starting price for the Samsung Galaxy Book 3 Pro is $1,399 , while the OLED panel on the HP Specter X360 costs only $1,259 . In the end, both of them are great two-in-one laptops because they have tablet-style flexible hinges. If you pay more for the Galaxy Book 3 Pro 360, you get the latest, most powerful processor and a relatively large screen.
On the other hand, the Specter X360 saves you money and gives you one of the best two-in-one laptops on the market, with good specs and an OLED screen that's awesome for doing heavy, demanding tasks.
Share with friends
You may also like.
MacBook Air M2 vs MacBook Air M1: Which To Choose In 2023
Dell Alienware m15 R7 Gaming Laptop Review
Acer Nitro 5 vs Dell G15: Compare Gaming Laptops
MSI Raider GE76 12U Powerful Gaming Laptop Review
Select registration option
Personal accounts.
Save your personal devices and preferences
Easy access to support resources
Business/IT accounts
Managing contracts and warranties for your business
Submitting and managing support cases
hp-support-head-portlet
Hp-contact-secondary-navigation-portlet, select your model, let hp find my products.
HP can identify most HP products and recommend possible solutions.
hp-share-print-widget-portlet
Check the information on compatibility, upgrade, and available fixes from HP and Microsoft. Windows 11 Support Center
hp-concentra-wrapper-portlet
Hp spectre x360 13.5 inch 2-in-1 laptop pc 14-ef2000 series specifications.
Learn about the features and specifications of the HP Spectre x360 13.5 inch 2-in-1 Laptop PC 14-ef2000 series.
The actual product configuration varies by country/region. Some features or components might not be available for certain countries/regions.
Product details
Learn about the HP Spectre x360 13.5 inch 2-in-1 Laptop PC 14-ef2000 series hardware and software. Computer features and components vary depending on the custom configuration.
Go to HP Product Content Browser and search for the model or product number to see the specifications of your notebook under TechSpec tab.
hp-feedback-input-portlet
Hp-feedback-banner-portlet, hp-country-locator-portlet, select a location.
After you choose your location, you'll be able to select a language
Europe, Middle East, Africa
Asia pacific and oceania, select a language, hp-detect-load-my-device-portlet, hp-hero-support-search.
All Support
Software, Drivers and Updates
Troubleshooting
Product Information
User Guides
Search help
Tips for better search results.
Ensure correct spelling and spacing - Examples: "paper jam"
Use product model name: - Examples: laserjet pro p1102, DeskJet 2130
For HP products a product number. - Examples: LG534UA
For Samsung Print products, enter the M/C or Model Code found on the product label. - Examples: "SL-M2020W/XAA"
No Translation available
Need help finding your product name or product number?
Finding your Serial Number Finding your Product Number
Session timed out
Please sign back in to continue
Popular Professionals
Design & Planning
Construction & Renovation
Finishes & Fixtures
Landscaping & Outdoor
Systems & Appliances
Interior Designers & Decorators
Architects & Building Designers
Design-Build Firms
Kitchen & Bathroom Designers
General Contractors
Kitchen & Bathroom Remodelers
Home Builders
Roofing & Gutters
Cabinets & Cabinetry
Tile & Stone
Hardwood Flooring Dealers
Landscape Contractors
Landscape Architects & Landscape Designers
Home Stagers
Swimming Pool Builders
Lighting Designers and Suppliers
3D Rendering
Sustainable Design
Basement Design
Architectural Design
Universal Design
Energy-Efficient Homes
Multigenerational Homes
House Plans
Home Remodeling
Home Additions
Green Building
Garage Building
New Home Construction
Basement Remodeling
Stair & Railing Contractors
Cabinetry & Cabinet Makers
Roofing & Gutter Contractors
Window Contractors
Exterior & Siding Contractors
Carpet Contractors
Carpet Installation
Flooring Contractors
Wood Floor Refinishing
Tile Installation
Custom Countertops
Quartz Countertops
Cabinet Refinishing
Custom Bathroom Vanities
Finish Carpentry
Cabinet Repair
Custom Windows
Window Treatment Services
Window Repair
Fireplace Contractors
Paint & Wall Covering Dealers
Door Contractors
Glass & Shower Door Contractors
Landscape Construction
Land Clearing
Garden & Landscape Supplies
Deck & Patio Builders
Deck Repair
Patio Design
Stone, Pavers, & Concrete
Paver Installation
Driveway & Paving Contractors
Driveway Repair
Asphalt Paving
Garage Door Repair
Fence Contractors
Fence Installation
Gate Repair
Pergola Construction
Spa & Pool Maintenance
Swimming Pool Contractors
Hot Tub Installation
HVAC Contractors
Electricians
Appliance Services
Solar Energy Contractors
Outdoor Lighting Installation
Landscape Lighting Installation
Outdoor Lighting & Audio/Visual Specialists
Home Theater & Home Automation Services
Handyman Services
Closet Designers
Professional Organizers
Furniture & Accessories Retailers
Furniture Repair & Upholstery Services
Specialty Contractors
Color Consulting
Wine Cellar Designers & Builders
Home Inspection
Custom Artists
Columbus, OH Painters
New York City, NY Landscapers
San Diego, CA Bathroom Remodelers
Minneapolis, MN Architects
Portland, OR Tile Installers
Kansas City, MO Flooring Contractors
Denver, CO Countertop Installers
San Francisco, CA New Home Builders
Rugs & Decor
Home Improvement
Kitchen & Tabletop
Bathroom Vanities
Bathroom Vanity Lighting
Bathroom Mirrors
Bathroom Fixtures
Nightstands & Bedside Tables
Kitchen & Dining
Bar Stools & Counter Stools
Dining Chairs
Dining Tables
Buffets and Sideboards
Kitchen Fixtures
Desks & Hutches
Office Chairs
Living Room
Armchairs & Accent Chairs
Coffee & Accent Tables
Sofas & Sectionals
Media Storage
Patio & Outdoor Furniture
Outdoor Lighting
Ceiling Lighting
Chandeliers
Pendant Lighting
Wall Sconces
Wall Mirrors
View All Products
Side & End Tables
Console Tables
Living Room Sets
Chaise Lounges
Ottomans & Poufs
Bedroom Furniture
Nightstands
Bedroom Sets
Dining Room Sets
Sideboards & Buffets
File Cabinets
Room Dividers
Furniture Sale
Trending in Furniture
View All Furniture
Bath Vanities
Single Vanities
Double Vanities
Small Vanities
Transitional Vanities
Modern Vanities
Houzz Curated Vanities
Best Selling Vanities
Bathroom Vanity Mirrors
Medicine Cabinets
Bathroom Faucets
Bathroom Sinks
Shower Doors
Showerheads & Body Sprays
Bathroom Accessories
Bathroom Storage
Trending in Bath
View All Bath
How to Choose a Bathroom Vanity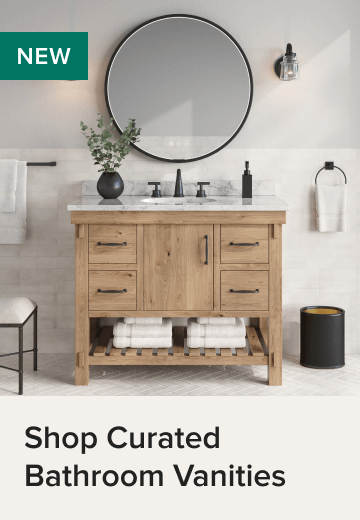 Patio Furniture
Outdoor Dining Furniture
Outdoor Lounge Furniture
Outdoor Chairs
Adirondack Chairs
Outdoor Bar Furniture
Outdoor Benches
Wall Lights & Sconces
Outdoor Flush-Mounts
Landscape Lighting
Outdoor Flood & Spot Lights
Outdoor Decor
Outdoor Rugs
Outdoor Cushions & Pillows
Patio Umbrellas
Lawn & Garden
Garden Statues & Yard Art
Planters & Pots
Outdoor Sale
Trending in Outdoor
View All Outdoor
8 x 10 Rugs
9 x 12 Rugs
Hall & Stair Runners
Home Decor & Accents
Pillows & Throws
Decorative Storage
Faux Florals
Wall Panels
Window Treatments
Curtain Rods
Blackout Curtains
Blinds & Shades
Rugs & Decor Sale
Trending in Rugs & Decor
View All Rugs & Decor
Pendant Lights
Flush-Mounts
Ceiling Fans
Track Lighting
Wall Lighting
Swing Arm Wall Lights
Display Lighting
Table Lamps
Floor Lamps
Lamp Shades
Lighting Sale
Trending in Lighting
View All Lighting
Bathroom Remodel
Kitchen Remodel
Kitchen Faucets
Kitchen Sinks
Major Kitchen Appliances
Cabinet Hardware
Backsplash Tile
Mosaic Tile
Wall & Floor Tile
Accent, Trim & Border Tile
Whole House Remodel
Heating & Cooling
Building Materials
Front Doors
Interior Doors
Home Improvement Sale
Trending in Home Improvement
View All Home Improvement
Cups & Glassware
Kitchen & Table Linens
Kitchen Storage and Org
Kitchen Islands & Carts
Food Containers & Canisters
Pantry & Cabinet Organizers
Kitchen Appliances
Gas & Electric Ranges
Range Hoods & Vents
Beer & Wine Refrigerators
Small Kitchen Appliances
Cookware & Bakeware
Tools & Gadgets
Kitchen & Tabletop Sale
Trending in Kitchen & Tabletop
View All Kitchen & Tabletop
Storage & Organization
Baby & Kids
Cleaning & Laundry
Pet Supplies
Black Friday Furniture Sale
Black Friday Rugs Sale
Black Friday Sofas Sale
Black Friday Patio Furniture Sale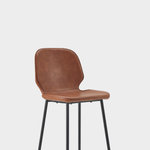 View all photos
Dining Room
Breakfast Nook
Family Room
Bed & Bath
Powder Room
Storage & Closet
Outdoor Kitchen
Bar & Wine
Wine Cellar
Home Office
Popular Design Ideas
Kitchen Backsplash
Deck Railing
Privacy Fence
Small Closet
Stories and Guides
Popular Stories
Renovation Cost Guides
Fence Installation Cost Guide
Window Installation Cost Guide
Discussions
Design Dilemmas
Before & After
Houzz Research
View all pros
View all services
View all products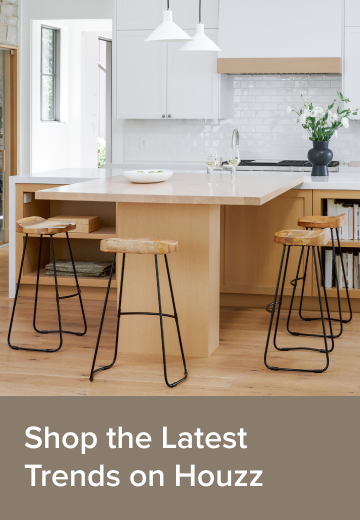 View all sales
Living Room Chairs
Dining Room Furniture
Coffee Tables
Home Office Furniture
Join as a Pro
Interior Design Software
Project Management
Custom Website
Lead Generation
Invoicing & Billing
Landscape Contractor Software
General Contractor Software
Remodeler Software
Builder Software
Roofer Software
Architect Software
Takeoff Software
Lumber & Framing Takeoffs
Steel Takeoffs
Concrete Takeoffs
Drywall Takeoffs
Insulation Takeoffs
Stories & Guides
LATEST FROM HOUZZ
HOUZZ DISCUSSIONS
SHOP KITCHEN & DINING
Kitchen & Dining Furniture
Sinks & Faucets
Kitchen Cabinets & Storage
Knobs & Pulls
Kitchen Knives
KITCHEN PHOTOS
FIND KITCHEN PROS
Bath Accessories
Bath Linens
BATH PHOTOS
FIND BATH PROS
SHOP BEDROOM
Beds & Headboards
Bedroom Decor
Closet Storage
Bedroom Vanities
BEDROOM PHOTOS
Kids' Room
FIND DESIGN PROS
SHOP LIVING
Fireplaces & Accessories
LIVING PHOTOS
SHOP OUTDOOR
Pool & Spa
Backyard Play
OUTDOOR PHOTOS
FIND LANDSCAPING PROS
SHOP LIGHTING
Bathroom & Vanity
Flush Mounts
Kitchen & Cabinet
Outdoor Wall Lights
Outdoor Hanging Lights
Kids' Lighting
Decorative Accents
Artificial Flowers & Plants
Decorative Objects
Screens & Room Dividers
Wall Shelves
About Houzz
Houzz Credit Cards
Privacy & Notice
Cookie Policy
Your Privacy Choices
Mobile Apps
Copyright & Trademark
For Professionals
Remodeling Software
Floor Planner
Contractor Leads
Trade Program
Buttons & Badges
Your Orders
Shipping & Delivery
Return Policy
Houzz Canada
Review Professionals
Suggested Professionals
Accessibility
Houzz Support
COUNTRY COUNTRY
Custom Cabinet Makers in Elektrostal'
Location (1).
Popular Locations
Albuquerque
Cedar Rapids
Grand Rapids
Indianapolis
Jacksonville
Kansas City
Little Rock
Los Angeles
Minneapolis
New Orleans
Oklahoma City
Orange County
Philadelphia
Portland Maine
Salt Lake City
San Francisco
San Luis Obispo
Santa Barbara
Washington D.C.
Elektrostal', Moscow Oblast, Russia
Suggested Filters
Professional category (1), project type, credentials & awards, availability, business highlights.

Featured Reviews for Custom Cabinet Makers in Elektrostal'
What does a cabinet maker near me do, questions to ask a prospective cabinet maker:, find cabinetry and custom cabinet makers near me on houzz, how do i find a local cabinets & cabinetry professional in elektrostal'.
Reach out to the pro(s) you want, then share your vision to get the ball rolling.
Request and compare quotes, then hire the Cabinets & Cabinetry professional that perfectly fits your project and budget limits.
What services do Cabinets & Cabinetry companies provide in Elektrostal'?
Cabinet Installation
Cabinet Refacing
Custom Bookcases
Custom Built-ins
Custom Cabinet Doors
Custom Cabinets
How many Cabinets & Cabinetry professionals are in Elektrostal'?
What are custom, semi-custom and prefab cabinets.
Custom Cabinets – made to fit your specific kitchen, allowing complete customization. You can choose the materials, finishes, and features. Usually are of a higher quality. For example, for a small kitchen with limited space, custom cabinets can be designed to maximize storage and functionality. Contact a local professional in Elektrostal' to order the best cabinets for your kitchen.
Semi-Custom Cabinets: – offer some customization options within pre-built standard sizes and styles. You can choose from a range of finishes, door styles, and accessories. For instance, you can select a specific color and add features like pull-out shelves or spice racks.
Prefab (or Stock) Cabinets – pre-made and readily available in standard sizes, styles, and finishes. They are more affordable and convenient for quick installations. An example would be purchasing pre-assembled cabinets from a home improvement store to update your kitchen without any modifications.
Which is better – custom or prefab cabinets?
Higher quality and craftsmanship
More customization options available
Allows for a personalized and unique kitchen design
More expensive than prefab cabinets
Longer production and installation time required
More affordable option
Suitable for budget-conscious or time-sensitive projects
Limited customization options
Generally lower overall quality compared to custom cabinets
BUSINESS SERVICES
Connect with us.
Samsung Galaxy Book Pro 360 13 (2021) vs HP Spectre x360 15
Key Differences
Significantly easier to carry: weighs 880 grams less (around 1.94 lbs)
Higher number of cutting-edge USB Type-C ports: 3 versus 2
Much smaller footprint: 25% more compact case (94.7 vs 126.3 square inches)
Includes an old-school USB-A port
Around 2x better multi-core CPU performance in the Cinebench R23 test
Thinner bezels and 3% higher screen-to-body ratio
Can run popular games at about 11-15% higher FPS
Features a bigger (~16%) battery – 72.9 against 63 watt-hours
70% sharper screen – 282 versus 166 pixels per inch (PPI)
Provides 33% higher max. screen brightness: 400 vs 300 nits
Value for money
Tests and specifications, graphics card, connectivity, cast your vote, related comparisons.
New Account / View Pricing
360° Video Gallery
Editors' Picks
360° Stereoscopic Panoramas
EARN $ FROM YOUR WORK
FREE RESEARCH
This Lightbox is empty
Normal View
Fisheye View
Architectural View
Stereographic View
Little Planet View
Panini View
View Photographer's Profile
For many commuters around the world, a subway journey means speeding from one drab station to the next, surrounded by too many uncomfortable, impatient bodies. Completely different story was in USSR and now in Russia. In Moscow, St Petersburg, Kiev and other big cities metro stations were designed as architectural wonders. Taking the subway is akin to walking through a national heritage sit.
Depending on where you get off, you'll receive a crash course in such diverse architectural movements as Baroque, Art Deco, Futurism, Modern or Hi-tech, and face from stained glass windows, marble columns, crystal chandeliers, gilded mosaics and painted scenes from Russian history to modern iron and glass.
Russia's first metro system was part of Joseph Stalin's first Five-Year Plan to rapidly industrialize the Soviet Union in the 1920s and 30s. The main idea was to show its citizens and the world the power and possibilities of socially oriented state. All this magnificent underground palaces were build as a transport system for the ordinary people.
Now Moscow Metro is the busiest metro system outside of Asia, the world's busiest by daily ridership and the 6th longest in the world (200 stations, route length is more than 350 km).
Overview and HistoryMoscow takes its name from the Moskva river, where Slavic settlements began around 500AD. They adopted Christianity from the Byzantine Empire in 988 A.D., and it would last as the national religion for a thousand years.By the 15th cent. Moscow had become the capitol of the Russian state under the Grand Duchy of Moscow, which had been busily assimilating smaller feudal territories while battling the Golden Horde of Mongols. The city was raided and burnt down by the Tatar-Mongols at least three times.Consolidation of many smaller territories under Moscow's power set the stage for Ivan III to adopt the title of "Ruler of all of Russia." His son Ivan IV, or "Ivan the Terrible", become the first crowned Tsar of Russia.The succession of Tsars lasted from Ivan IV until Peter the Great, who proclaimed the Russian Empire in 1721, with St. Petersburg for its capitol.The Russian Empire survived the "Times of Troubles" which saw chaos, invasion and several uprisings of the people. Napolean Bonaparte came within 25 miles of capturing Moscow during his disastrous invasion of 1812, but was turned back after thousands of his starving troops were ambushed and killed by peasant guerilla fighters.By the beginning of the 20th Century, Moscow was capitol, this time of the largest country in the world.The Industrial Revolution came later to Russia than to Western Europe, partly due to Russia's institute of serfdom which kept peasants bound to the land. Soon enough however, the emergence of the Socialist political movement was loudly advocating total revolution, and by 1917 the Soviet Union replaced the Tsar and his autocratic rule. This began the Union of Soviet Socialist Republics (USSR), which lasted until 1991.After the collapse of the Soviet Union, Moscow continues to be the capital of Russia, or the Russian Federation as it is now known. It is still the largest single country in the world. People and CultureMoscow is in the grips of a western renovation, with consumerism and ostentatious displays of wealth parading everywhere. As of 2008 it is the city with the most expensive cost of living in the world, home of the most billionaires, as well as being the largest city in Europe. Getting ThereMoscow is laid out in five major sections in concentric pattern, with the Kremlin smack in the middle. The Kremlin is the administrative seat of power, and its name means "fortress." Its walls delineate the 15th century boundaries of the city. TransportationYou can find information about getting to and from the airports here . Click here for some great tips about the fantastic metro system Here is some more useful overview stuff about the metro, trams, trolleys etc. Things to doThere are many galleries and museums in moscow but here are two favorites:First is Modern Art Museum . and second is Winzavod - it means wine factoryIn addition to these, you can visit the Museum of Geology, Museum of Aviation and Astronautics, Museum of History of Moscow.For art lovers, try the State Tretiyakovskaya Gallerry - with a huge collection of Russian art and icons - one of the most famous russian museum after the State Hermitage in St.Petersburg.There's also a beautiful Zoo, comparing to others in russia.. As for restaurants and clubs there's nice cafe just near the red squre - F.A.Q. Cafe - if you can read russian.There's an old good club 'Propaganda' - it's almost 10 years but still one of the best places to go out every night! Others which are not bad are:  Ikra Solyanka Fabrique RecommendationsWhat to look for in general: Red Square, the Kremlin, the Lenin Mausoleum, the Cathedral of St. Basil, and Bely Gorod which is a shopping district.One more beautiful old place to see in Moscow is - Novodevichiy monastery (was built in 1524 and Ivan IV became a czar there).A good place to visit for outdoor activities is also Vorob'evi Gori (hills) - it's kind of recreation zone on the moskva river with a park and Moscow state university's main huge soviet building on the top.Another thing you can do is go for a walk down Old Arbat, a pedestrian street with ethnic flavour of Soviet times and buildings from the time of the Russian Empire.Text by Steve Smith.