Remember me Not recommended on shared computers
Forgot your password?
DCI World Class Corps Discussions
2023 Phantom Regiment Color Guard Leadership and Design Team
By DCP NewsFeed September 28, 2022 in DCI World Class Corps Discussions
Reply to this topic
Start new topic
Recommended Posts
DCP NewsFeed
View the full article
Link to comment
Share on other sites, join the conversation.
You can post now and register later. If you have an account, sign in now to post with your account.
× Pasted as rich text. Paste as plain text instead
Only 75 emoji are allowed.
× Your link has been automatically embedded. Display as a link instead
× Your previous content has been restored. Clear editor
× You cannot paste images directly. Upload or insert images from URL.
Insert image from URL
Submit Reply
Recently Browsing 0 members
No registered users viewing this page.
Existing user? Sign In
Online Users
Leaderboard
All Activity
DCP News Site
Create New...

Life-changing performing arts experiences GIVE NOW
Our history, drum and bugle corps is an original american art form.
The beginning can be traced to veterans organizations such as the VFW and the American Legion, as well as organizations such as the Catholic Youth Organization. Soldiers returning from World War I celebrated Veterans Day and the Fourth of July by marching parades to the drum and the bugle, just as they had done during the war.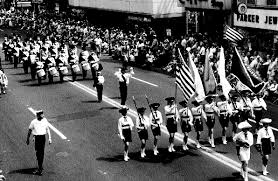 Formed in 1956 by a group of VFW 342 members who wanted to see a competitive drum corps, it was named the Rockford Rangers, with an all-girl color guard to be called the Rangerettes.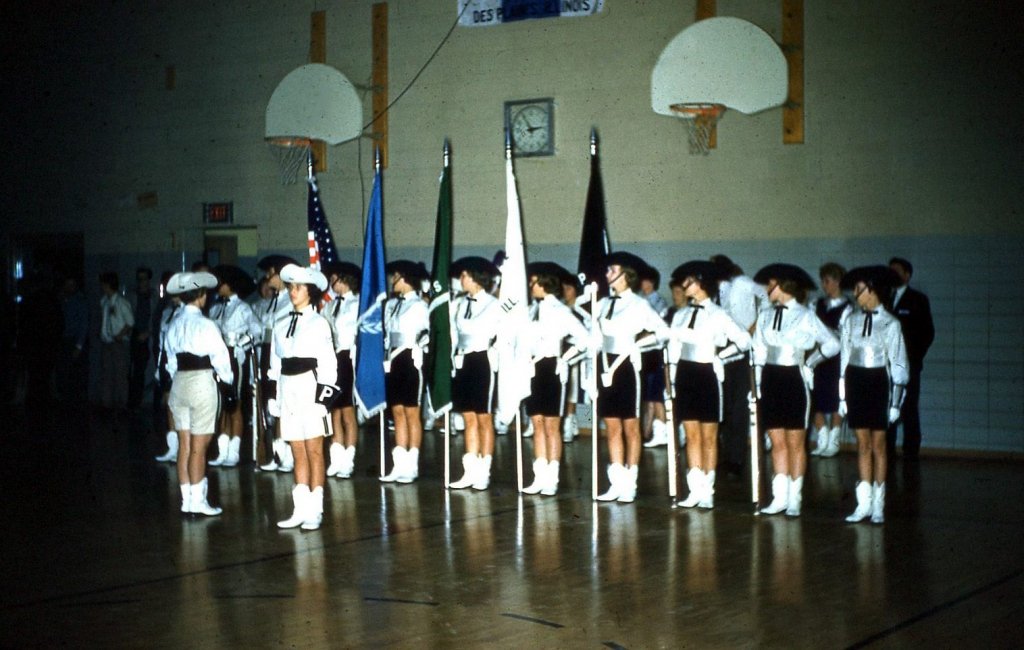 While the corps was in its development stages, a great emphasis was put on the competition guard aspect of the activity. Almost overnight, the Phantomettes became very successful on their own. An all-male comp guard made up of members of the Regiment horn line, called the Raiders, also had a brief success story.
The drum and bugle corps itself, however, struggled competitively. In 1962, the corps bought a set of high quality bugles from the Commonwealth Edison Drum and Bugle Corps. With quality instruments and the addition of a new brass arranger, the corps began to improve.
Also in 1962, the original Phantom Regiment Cadets were formed, using the old set of bugles. In 1963, the Regiment fielded an all-male corps, including the color guard, with mixed results. The all-girl guard returned in 1964 and, with the help of a very successful recruiting drive, the Phantom Regiment, sporting a new set of military uniforms, had its most successful year.
But, just as is looked like the Regiment was on its way to becoming a championship-caliber corps, a fire in the corps hall took away the corps home, along with the uniforms and the instruments. The Phantom Regiment tried to field a corps in 1965, but eventually was forced to cancel the season due to lack of finances.
A new Board of Directors, comprised of former members and staff of the original corps, reorganized and incorporated the Phantom Regiment on Sept. 11, 1967, with the following mission statement:
"To organize, maintain, and operate a musical marching unit, band, color guard, and related activities, and in general, promote and encourage drum and bugle corps activities, parades, concerts, contests, and to further the musical talents and interests of young persons."
The original Board of Directors could not have imagined that 30 years later their corps would have a budget of well over half a million dollars, nor could they have imagined that the Phantom Regiment would one day be competing for the drum and bugle corps world championship.
The reorganized Phantom Regiment began its first season in three years with a small corps that signed the first roster Jan. 10, 1968. There were 28 charter members.
The first season for the corps included many parades and a few contests. The corps uniform included black pants with a red wind breaker. There was a black and white vertical stripe on the left side of the wind breaker. The guard wore the same wind breaker with black Bermuda shorts and an Aussie style hat. The equipment truck was a red step up van and was the only vehicle owned by the corps.
As the years passed, the number of contests grew, the distance covered in the tour increased, and the Phantom Regiment began to creep up the ladder of drum corps.
New in 1970 was a cadet-style uniform, including black pants with a white stripe, a jacket with a diagonal sash of red dividing the black right side and the white left side. On the sleeve of each jacket there was a chevron. White bucks were worn on the feet and new shakos with 12-inch plumes decorated the head gear. The guard wore identical uniforms with the exception of Bermuda shorts and white 10-inch high boots.
The corps included 40 horns, 24 color guard, 14 drums, 10 rifles and 1 drum major for a total of 89 members.
During the fall and winter of the 1974 season individual marching and brass lessons were given to each member of the corps which had grown to the maximum 128 members. The Phantom Regiment made finals at the Drum Corps International World Championships for the first time in1974, finishing eighth in prelims and 11th in finals.
The years between 1967 and 1974 were some of the most exciting in the history of the corps. They were the formative years and defined the style of the Phantom Regiment. Those years saw the growth of the young nucleus of members to a mature world-class drum corps.
In the fall of 1974, a new uniform was conceived for the 1975 corps. It was a uniform that would give the Phantom Regiment its identity. Long white jackets with a black sash, a two-colored cape with red on the inside and black on the outside, black pants, and the one element that remains today: the pith helmet.
The remainder of the 1970s would be years of rapid advancement for the Regiment as the corps matured to become a contender for the DCI crown.
In 1975, the corps placed 10th. In 1976, it placed 4th. And in 1977, 1978 and 1979, the corps placed second, only a tenth or two from becoming World Champion.
During the early 1980s, the Regiment produced some of the most innovative programs ever to grace the field of competition. The corps was well ahead of its time with the 1981 and 1982 productions of the ballet Spartacus, a project two years in the making. Critically acclaimed and loved by audiences everywhere, the Regiment fame grew throughout the world.
The corps that is recognized today began in 1987.
After a difficult 10th-place finish in 1986, the corps took a fresh new approach. The corps made a dramatic change inspired by Michael Cesario, with new all-white uniforms more closely resembling costumes. This new look and approach led to three years of dramatic improvement, culminating in 1989 with a second-place finish and the second highest score ever, 98.4.
The 1990s have proved to be a time of continued success and evolution, when in 1995 the uniforms changed again. The same style was used, however the color became all black.
In 1996, the goal and dream of everyone involved with the organization over the past 30 years came true. The Phantom Regiment tied the Blue Devils of Concord, Calif., for its first DCI World Championship.
The corps took on a new look in 2000 with another Michael Cesario-inspired uniform. The all-black was replaced by tan jackets and white pants with a red baldric. The traditional Phantom Regiment helmets remained.
Now into the 21st century, the Phantom Regiment is ready to continue its past success and strive for future goals.
Volunteer of the Year
Honors exceptional individuals who have served Phantom Regiment in a volunteer capacity
Phantom Regiment Hall of Fame
Recognizes individuals who have made a significant and long-lasting positive impact on the Phantom Regiment organization
The Chevron Award
Recognizes individuals and businesses that have gone above and beyond in support of Phantom Regiment
MORE INFO AND LISTS OF HONOREES COMING SOON!
Blue Knights Announce 2023 Color Guard Staff
September 28, 2022
Jack Villalobos, Director of Digital Media
BKDBC Staff , Blue Knights Drum & Bugle Corps , Front , Staff
DENVER, CO - The Blue knights drum & Bugle Corps is thrilled to announce our color guard staff for the 2023 season!
JAMES GABONAY 
Color Guard Coordinator Caption Lead
James Gabonay will be serving as the Blue Knight's Color Guard Coordinator and Caption head this summer. James has had a lifelong passion for color guard beginning with his career as a performer at Norwin High School and later as a member of the Cavaliers Drum and Bugle Corps. From there, James transitioned to become both a designer and educator for many award winning programs including Spirit of Atlanta (2019-2021), Norwin High School (10 Time WGI Scholastic World Finalist, 2021 BOA Grand National AA Champion), Collage Winter Guard (2022 WGI Ind. A Class Finalists), Gateway High School (2014 Scholastic A WGI Finalist), and many others.
James holds a dual degree from the University of Pittsburgh in Social Studies Education and History. While not spending time with his dog Prince, James is a Geography teacher at Seven Lakes High School in Katy, Texas, where he also serves as the Color Guard Coordinator. He is currently the owner of JDGDesigns, where he continues to work with multiple pageantry organizations across the country. James is excited for his first summer with the Blue Knights!
GEOFF LONGO 
LEAD CHOREOGRAPHER COLOR GUARD DESIGN  
Geoff Longo is originally from Colorado Springs, Colorado where his  performance career began at a very young age under the strong influence of his parents and their passion for the arts. Starting off as a national champion gymnast at age 11, dancing, singing, and acting, Geoff continued to expand into other performance opportunities such as color guard. 
In 2008, Geoff graduated from The American Musical and Dramatic Academy  focusing on TV/film acting, stage combat, dance, and voice production and speech. He went on to spend the next decade in LA working as an actor, and teaching color guard. He spent three seasons marching with The Cavaliers Drum and Bugle Corps (2008-2010), marched with Corona Independent World Guard (2009), and The Pride of Cincinnati Independent World Color Guard (2015). Geoff spent three summers (2011-2013) with The Mandarins Drum and Bugle Corps on staff and as their color guard caption head and visual designer. He spent eight years (2009-2016) on staff with the Arcadia HS color guard as a primary choreographer, technician, and designer. He has spent the last 9 years (2014-2022) on staff with The Cavaliers Drum and Bugle Corps as one of the colorguard choreographers and designers.
Geoff has taught, consulted, designed and collaborated with many successful high schools and independent organizations around the world including Liberty HS (CO), Rampart HS (CO), Air Academy HS (CO), Jefferson City HS (MO), Maysville HS (MO), Mascoutah HS (IL), MBI Winter Guard (MN), Avidity Independent (MO), Emanon World (NJ), Dawson HS (TX), Eastlake HS (TX), Opus X World (CO), Seven Lakes HS (TX), Klein Oak HS (TX), Deer Park HS (TX), and most recently Third Coast Independent (TX) and The Blackwatch (NJ). He traveled to Bahrain with Ascend Performing Arts serving as the color guard supervisor where the group performed for the F1 Grand Prix Opening Ceremony in 2017. In 2018, he traveled to Indonesia, where he spent time working with the NSDQ Drum and Bugle Corps helping them secure another Championship.
Now residing in Houston Texas, Geoff continues to work with groups all over the country in a variety of roles. Outside of Colorguard, Geoff is currently going back to school studying Graphic Design and can always be found with coffee in hand. He loves spending valued time with his family, his partner Austin, his close friends, enjoying the outdoors and traveling all over the world. Geoff is immensely thrilled to be starting this new journey with The Blue Knights, offering up his knowledge and passion to his students as a designer, creative, and technician!
MASON BARNES
LEAD CHOREOGRAPHER COLOR GUARD DESIGN
Mason Barnes is a Jackson, MS native currently living in Houston, TX. Mason is the director of William B Travis HS (Richmond, TX) and assists at Seven Lakes HS (Katy, TX), Cypress Creek HS (Cypress, TX), Third Coast Independent (Houston, TX), and Collage Winter Guard (Akron, OH). His past teaching and performance experiences include Paramount Winter Guard (Atlanta, GA), Edge Independent (Suwannee, GA), Ola HS (McDonough, GA), Mill Creek HS (Hotchson, GA), Munford HS (Munford, TN), Music City Drum and Bugle Corps (Nashville, TN), Troopers Drum Corps (Casper, WY), and Madison Scouts (Madison, WI). 
In his free time Mason enjoys spending time with friends and his pup Bristol. Mason is excited to return for his third summer with the Blue Knights.
MEREDITH OWEN
COLOR GUARD CAPTION MANAGER
Meredith Owen is entering her third year with the Blue Knights Drum and Bugle Corps. Her marching experience includes The Cadets Drum and Bugle Corps (2015, 2016) and Conversion Winterguard (2015-2018, 2020). Meredith has led many programs including Ridgeland High School (2014), Petal High School (2015-2020), Jordan High School (2020-2022), and Louisiana Stars Drum and Bugle Corps (2017-2020). 
Currently, she is the Colorguard Director at Jones County Junior College as well as returning to her role as the Movement Coordinator for the Scholastic World Finalist, Petal Indoor Percussion Theater. Meredith resides in Hattiesburg, Mississippi with her puppy, Merle.
DRAKE PARROTT 
MOVEMENT CHOREOGRAPHER INSTRUCTOR
Drake is an East Tennessee native, now living in Houston, Texas. Drake currently teaches at Cypress Creek HS, William B. Travis HS, Seven Lakes HS, and Third Coast Independent. His past performance experience includes Southeast Independent, Aria, Legacy Independent, Paramount, Carolina Gold Drum and Bugle Corps, Mountain Movers Dance Company, ShaLeigh Dance Works, and Fenyx Aerial.
 Drake recently graduated with his MA in Dance Education from the University of Northern Colorado and is ecstatic to return for his second season as the movement choreographer for the Blue Knights color guard and share his love of dance and the joy of movement with others.
KRIS HARRIS
Equipment technician  
Kris began his colorguard career in Nashville, TN, as part of the Mcgavock High School marching band. He went on to continue his career with Eklipse Winterguard, eventually marching 3 years of drum corps with The Cavaliers Drum & Bugle Corps from Rosemont, Illinois, and is currently in his 7th year with Paramount Winterguard, his second year serving as captain.
Kris has worked with various high school programs across Tennessee and Georgia, and has taught drum corps, including Southwind and The Cavaliers. Kris holds over 13 years of technical experience, and is excited to share his knowledge with a new group of talent!
EQUIPMENT TECHNICIAN    
Chad was born and raised in Vicksburg, MS where he started his color guard career his freshman year of high school. He then went on to march four years at The Cavaliers (2016-2019), and Paramount Winterguard in 2018. He started his teaching career at Clinton HS in Clinton, MS where he worked for 4 years. He now lives in Southaven, MS and is the assistant director of color guard at Hernando HS.
 Aside from color guard, he enjoys being outdoors, cooking, and being active. He aspires to become a French teacher and continue to work with color guards. He cannot wait for his third summer with the Blue Knights!
MARIANNA BARCLAY
EQUIPMENT TECHNICIAN MENTAL/PHYSICAL WELLNESS COACH  
Marianna Barclay started her color guard career almost 20 years ago. She has spun with the University of Alabama Alta Marea, Amor winter guard (Tuscaloosa), Phantom Regiment, and Paramount Winterguard. Her education experience includes a range of high school and independent groups from the southern region, the Crossmen Drum and Bugle Corps, Pacific Crest, and the Blue Knights. Outside of colorguard, Marianna lives with her partner and fur babies in Denver, Colorado. She is a high school educator teaching Civics and Geography.
Marianna is also a personal trainer and owner of Marching Arts Wellness. Mental and physical wellness for all marching members is a vital tool for a positive member experience, and Marianna is excited to work with the Blue Knights for a third summer in this capacity!
DAVID DELIKAT
David Delikat has spent 9 years in the marching arts activity. Their drum corps performance career consists of 2 years with Blue Devils B (2014 and 2015) and 5 years with the Cavaliers (2016-2020). Delikat also performed for several years with FeniX Independent Winter Guard and The ASU Sun Devil Marching Band. 
As an educator, Delikat has taught several high school programs around Arizona, The ASU Sun Devil Marching Band, FeniX Independent, and is excited to return for their second year on staff with the Blue Knights. Beyond the marching arts Delikat resides in Mesa, Arizona where they are a high school geometry teacher. They are currently completing a Masters in Secondary Education, and will be pursuing a Doctorate of Educational Leadership and Innovation at ASU starting in the Spring of 2023.
STEPHANIE CHAVEZ
Color Guard Choreographer and consultant
Stephanie Chavez began her color guard career as a member of the Cypress Falls HS Color Guard from 2003-2007. Upon graduating from HS, she continued to pursue her passion for color guard as a member of the Phantom Regiment Color Guard from 2007-2010. During her time with the Phantom Regiment, Ms. Chavez served as the color guard co-captain in 2009 and color guard captain in 2010. After four years with the Phantom Regiment Ms. Chavez decided to march her last summer of drum corps with the 2011 Carolina Crown Guard. Aside from drum corps, Ms. Chavez also performed during the winter guard season with Code Black in 2008 and continued her performance career as Captain of Cypress Independent Winter Guard in 2010, 2011, 2012 and 2016.
After many years as a performer, Ms. Chavez continues her involvement in the color guard activity as an educator for many high school and independent color guard programs across the nation. From 2007-2013, Ms. Chavez was the Color Guard Director at Cypress Ridge HS, from 2010-2015 she was a tech/choreographer for the 2014 WGI Scholastic Open Champions Spring HS, and from 2013-2018 she was the Color Guard Director for the 2017 WGI Scholastic A Champions, Klein Oak HS. During the summers of 2012 and 2013 she taught the Blue Knights Color Guard, in 2015 and 2016 the Crossmen Color Guard, the Boston Crusaders Color Guard for their 2017 season, and most recently served as the Color Guard Caption Head, choreographer, and designer for Phantom Regiment from 2018-2022. Lastly, during the winter season, from 2013-2019 Chavez served as a technician and choreographer for Cypress Independent Winter Guard. 
Ms. Chavez currently resides in Houston Texas and serves as the Color Guard Director at Friendswood HS. Aside from her career in the color guard activity, she is also a graduate from the University of Houston with a Bachelor's degree in Spanish and a minor in Education. During her free time she enjoys traveling, spending time with her family and her partner Mason, and cuddling with her tortoise cat, Pacha.
SUSAN HANGGI
COLOR GUARD CONSULTANT
Susan Hanggi is originally from Atlanta, GA, and has earned a Bachelor's degree in Secondary Education and her Master's Degree in Curriculum and Instruction.
As a performer, she competed with Pride of Cincinnati, Santa Clara Vanguard, Phantom Regiment Drum and Bugle corps and Phantom Regiment Winterguard.
As a teacher, Susan has worked with many great high schools across Georgia and Texas.  She has worked with many drum corps, as well, such as Spirit of Atlanta, Phantom Regiment, Carolina Crown Drum and Bugle Corps, and their respective winterguards. She has also served as the caption head for the Madison Scouts and Troopers color guards.
Currently, Susan works with the Marcus High School Band and teaches high school social studies for Keller ISD in Texas.
Share This Post
More Ascend News
Support Blue Knights through Colorado Gives Day
Support the Blue Knights through this annual statewide movement that celebrates philanthropy through online giving by making donations possible no matter where you live!
BLUE KNIGHTS COLOR GUARD 2024 LEADERSHIP TEAM
Ascend Performing Arts and the Blue Knights Drum & Bugle Corps announce the artistic Color Guard Leadership team for 2024. James Gabonay, Color Guard Coordinator …
2024 BKDBC PERCUSSION LEADERSHIP TEAM
Ascend Performing Arts and the Blue Knights Drum and Bugle Corps are excited to announce the 2024 Percussion Leadership team. Jeff Ausdemore, Percussion Supervisor Jeff …
Executive Director of BKDBC Resigns
Ascend Performing Arts (APA) announces the resignation of Blue Knights Drum & Bugle Corps (BKDBC) Executive Director Daniel Belcher with gratitude for his work with …
Blue Knights 2024 Visual Leadership Team
Ascend Performing Arts is pleased to announce Trevor Stojanovich as Visual Caption Head and Everett Kim as Assistant Visual Caption Head for 2024.  Trevor Stojanovich, …
BKPE Welcomes New Music Coordinator & Sound Designer
Blue Knights Percussion Ensemble is proud to announce Jonathan Zuniga has joined the World Ensemble as its new Music Coordinator & Sound Designer! Jon is …
Ascend Performing Arts
Blue knights dbc, blue knights percussion ensemble, blue knights winds, want to stay up to date.
Sign up for our newsletter, the Knightly Newsbrief, to stay up to date with Ascend and all things Blue Knights. 
Support Ascend Performing Arts and the Blue Knights by donating via ColoradoGives.org
Regiment to bring "taste of the past," "shock and awe" in 2023
by Jeff Griffith
There's a shared sentiment around many involved with Phantom Regiment regarding its 2023 production.
The corps, for now, is keeping its program details quiet. But several individuals all had the same thing to say when it came to what audiences around the 2023 DCI Tour can expect.
It's a paradox — in ways that will be readily noticeable, the 2023 edition of Phantom Regiment is brand-new Phantom Regiment. But the 2023 edition of Phantom Regiment is classic Phantom Regiment all the same.
"You're going to sit there and say, 'Holy cow, that's the Phantom Regiment,'" program coordinator Tony Hall said.
"It's a lot different from what people are used to the Phantom Regiment being," echoed drum major Keri McCourt.
"It has a taste of the past," tenor drummer Ethan Hill said. "But we're not afraid to move on."
"(Audiences) are going to be like, That's Phantom Regiment? Really?' added fourth-year trumpet player Luigi Taupo. "There's going to be a lot of shock and awe for sure."
As such, the excitement among corps members and staff members is rapidly growing toward the 2023 DCI Summer Tour, which kicks off June 28 in Rockford, Michigan.
For the time being, though, revealing, debuting and touring with the corps' 2023 production will have to wait. But at the corps' final weekend rehearsal camp of the off-season — held April 28-30 at Auburn High School in Rockford, Illinois — before spring training move-ins, all the pieces of an exciting summer began to fall into place.
"It feels great," Hill said of the April camp experience. "I get to see all the people who I marched with last year, and all the people who I loved and missed from the whole season, and then also getting to meet new faces. It's really nice getting to see everyone and actually see the finished product."
According to McCourt, the foundation laid by the Rockford corps throughout their preseason rehearsals has been quite impressive.
While the corps' full complement with percussion and color guard hasn't been together since December, McCourt had high praise for the progress made by Regiment's brass section entering the full-corps rehearsal weekend.
"The 2023 Phantom Regiment horn line is very special," she said. "We have only met as a full horn line three times so far, and the talent is just insane. I've never seen a group work so well together immediately."
While Regiment's brass members have had the opportunity for a handful of in-person rehearsals, work has been put in by all sections remotely throughout the winter and spring months, by way of virtual assignments.
At the corps' April camp weekend, all of that growth was more than evident, according to Taupo.
"This is really just the culmination of our preseason program," Taupo said. "Everything is meshing together, especially with percussion and color guard here. Now, we have all of these moving pieces finally coming together. We've been in isolation, doing our own section things, doing our own visual things, but seeing that come to life with different sections and sharing our individual achievements is something that's really special."
With the start of spring training rapidly approaching — planned to kick off in the coming weeks at Eastern Illinois University — Phantom Regiment's focus, first, turns to its annual "Phan-A-Thon" event, a virtual telethon scheduled for Saturday, May 13.
Phan-a-thon is in 9 days! This year's event will include exclusive interviews, the world premiere of 2023 show... Posted by Phantom Regiment on Thursday, May 4, 2023
Learn more about Phantom Regiment's "Phan-A-Thon"
Arguably the highlight of the event is the corps' plan to announce the details behind its 2023 production.
In terms of what fans can expect from that reveal, Hall expanded upon the notion that Phantom Regiment will take a modern and progressive approach to design in the upcoming season, both musically and visually.
"We're going to show you that we can play other artists that you would not consider that Phantom Regiment would ever play," he said. "And we're going to look differently. We're definitely taking ourselves to a place that says, 'We're moving forward,' but you're going to know who we are."
Hill added his own praise for the corps' 2023 music selections.
"It actually moves me while I'm playing it, especially with the full ensemble. The ballad really touched me whenever I played it back in January, where it wasn't even a finished product and still moved me. The opener is quite exciting. The closer is really fast paced and it really says 'Phantom.' And the drum break is insanely hard — it's so cool to play."
The opportunity for Phantom Regiment to take its exciting design plans out into the open will help audience members experience the same
And McCourt didn't mince words — that level of excitement among Phantom Regiment's members is off the charts.
"We are very eager to get on the field," she said. "I can tell that this corps is just ready to be in front of an audience already."
View Phantom Regiment's 2023 DCI Tour Schedule
gallery-2023-april-camp-phantom-regiment
Related Content
Related News
by Drum Corps International
Our Partners