World's Scariest Haunted House Will Pay $20K If You Can Make It Out!
haunted house
McKamey Manor
I love Halloween. More than Christmas, Thanksgiving, and the Fourth of July combined. I love it. Ever since I can remember, and it's no secret I enjoy a good haunted house. To me, a haunted house needs to be…well..scary. To the point of me feeling like I am going to faint from fright, and not sleep for three days. It's ridiculous, I know, but that's why I love it, and I'm pretty sure I'm not the only one who feels that way. Which is why McKamey Manor is my next target.
Videos by Rare
Described as the "haunted house of all haunted houses," McKamey Manor is so extreme that participants are required to fill out a 40 (!) page waiver, and come up with a safe word before entering the house. According to the owner, no one has been able to finish the experience, but the number of people hoping to try it is long! Currently, there are 24,000 people on the waitlist.
(Warning: The video might be distrusting to some.)
The house was featured on the Netflix documentary "Dark Tourist," where New Zealand filmmaker and journalist David Farrier visits unusual, haunted, a horrific tourist location around the world…which only makes sense he would visit McKamey. In the last half of the 'docu-series,' Farrier visits the manor, which is described as the most extreme haunted house in the world. He eventually gives up halfway, terrified for his life.
Honestly, I have to admit that the whole experience looks like a mix of gore in-between "Saw" and "The Hills Have Eyes." I genuinely got scared after watching the video, and I wasn't even in the house! I was on my couch eating Flaming Hot Cheetos, anxiously waiting for someone to say "banana." Yes, that's the safe word I would use. Can you imagine crying your eyes out and then just yelling "BANANA" out of nowhere? It would lighten up the moon in seconds, for sure. Perfect safe word.
[protected-iframe id="e4446926db39b699e7dcbb55e8dc75e7-46934866-140821546″ info="https://www.facebook.com/plugins/video.php?href=https%3A%2F%2Fwww.facebook.com%2Fnetflixus%2Fvideos%2F10155692706938870%2F&show_text=0&width=476″ width="476″ height="476″ frameborder="0″ style="border: none; overflow: hidden;" scrolling="no"]
Anyway, the house which is located in Summertown, Tennessee, lets guest truly live out a real-life horror film for free, and those that complete the 4 to 7-hour journey can win prize money! States owner and creator Russ McKamey and girlfriend Carol Schultz reportedly spent more than $500,000 to make McKamey the scariest experience on earth, and for that kind of money, I sure hope so.
To protect themselves from any lawsuit, because of course, this is America and people love lawsuits, McKamey records the entire haunted experience on camera.
What other requirements does the house have?
21 and above, or 18-20 with parent approval.
Completed "sports physical" and doctor's letter stating you are physically and mentally cleared.
Pass a background check.
Be screened via Facebook, facetime, or phone.
Proof of medical insurance.
Sign a detailed 40-page waiver.
Pass a portable drug test on the day of the show.
Off to MCKamey Manor , I go! BRB.
This post was originally published on October 5, 2018.
Watch: Woody Harrelson's Dad Was a Texas Hitman Who Claimed to Kill JFK
What do you think?
How Lucille Ball Helped Save "Star Trek"
How "The Monster Mash" Became the Ultimate Halloween Theme Song
© Copyright 2023 Rare Media LLC
Username or Email Address
Remember Me
Forgot password?
Enter your account data and we will send you a link to reset your password.
Your password reset link appears to be invalid or expired.
Privacy policy.
To use social login you have to agree with the storage and handling of your data by this website.
Add to Collection
Public collection title
Private collection title
No Collections
Here you'll find all collections you've created before.
Extreme 'haunted house' torture experience lasts 10 hours, offers $20,000 prize at the end
Would you be able to get through what's arguably the scariest "haunted house" attraction ever?
Located in Alabama and Tennessee, McKamey Manor is home to "Desolation." It's a 10-hour extreme experience where "each guest will be mentally and physically challenged until you reach your personal breaking point," the website says.
Footage shows participants in tight spaces, being locked in dark areas, taunted with insects and scorpions, harassed and covered in who-knows-what, among countless other things.
Commenters on YouTube have criticized the tour and said things like, "Yup never ever not even a chance that I will try that."
The website states you must be 21 years old, complete a sports physical, have doctors letters clearing you mentally and physically, pass a background check and drug test, have proof of insurance, and be screened beforehand. Once you get through those steps, you must also sign a 40-page waiver.
You are encouraged to make a donation before you tour what Wikipedia calls a "torture house attraction." A local radio station says "the cost is only a bag of dog food, and if you can make it through you're rewarded with $20,000." They say no one has been able to make it through to get the prize.
WGN says every tour is filmed to help protect the owner in court, which they've apparently had to use before when being sued.
The terrifying tour has been featured on Netflix's "Dark Tourist" show.
Report a typo
Sign up for the Headlines Newsletter and receive up to date information.
Now signed up to receive the headlines newsletter..
Watch ABC15 Sports Extra Saturday Nights After College Football
A Haunted House In Tennessee Will Pay You $20,000 If You Make It to the End
You need to sign a 40-page waiver, make up a safe word, and get a doctor's note to even get through the doors.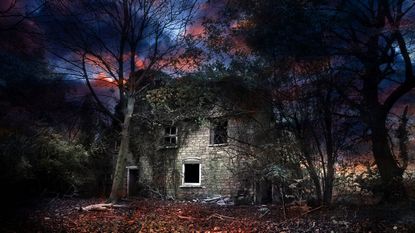 If you haven't yet heard about McKamey Manor in Summertown, Tennessee, then you might want to turn back now. McKamey is considered the scariest haunted house in the entire country, and its owner, Russ, takes that title very seriously. So seriously, in fact, that he'll offer you $20,000 if you make it through.
Don't get too cocky, though. According to this local Houston site , no one has yet to succeed.
The requirements alone are enough to send you packing. You'll need to check off all of the following boxes:
If you're curious about what the haunted house entails, watch the video below. Warning: This is graphic.
The physical cost is cheap—all Russ asks for is a 50-pound bag of dog food that he donates to an animal shelter. But the emotional stakes are incredibly high. Some people are tasked with eating cockroaches, being buried alive, fighting to survive Saw- like contraptions, and more. The Nashville Scene also mentions eels, tasers, paintball guns, and whips. Fun...!
For more stories like this, including celebrity news, beauty and fashion advice, savvy political commentary, and fascinating features, sign up for the Marie Claire newsletter .
subscribe here
RELATED STORIES
The Best Celebrity Halloween Costumes of 2019
Trendy Halloween Costume Ideas
Marie Claire Newsletter
Celebrity news, beauty, fashion advice, and fascinating features, delivered straight to your inbox!
Megan Stein is the executive editor for The Pioneer Woman, and oversees entertainment, features, and news for the website. Whether it's catching up on the latest true crime podcast, or re-watching the best '80s movies for the zillionth time, she's always here to talk about anything and everything relating to pop culture.
"The joys of sisterhood," Kourtney wrote in a birthday tribute to her sister.
By Rachel Burchfield
"I started to realize that isn't going to work for me."
Sometimes a photo doesn't tell the whole tale.
Like listening in to your funniest, most knowledgable friends.
By Julia Marzovilla
If you can't stop singing: "I'm a little lad who loves berries and cream"...you're not alone.
By The Editors
...But not in the way that you think!
By Marie Claire
After 15 months spent stuck, it's time to get away. Whether you're taking an actual put-up-an-out-of-office-and-stamp-that-passport vacation (hello, TSA officer, how I've missed you!) or just looking for a new place to explore in your imagination, we've got you covered, right here.
That idyllic Massachusetts town is just a little too good to be true.
By Andrea Park
Here's how to retrace David, Adele, and Louise's steps across England and Scotland—if you dare.
You've probably spotted a ton of black-and-white photos on your feed.
By Katherine J. Igoe
I can't stop thinking about it!
By Caitlyn Fitzpatrick
Contact Future's experts
Advertise Online
Terms and conditions
Privacy policy
Cookies policy
Marie Claire is part of Future plc, an international media group and leading digital publisher. Visit our corporate site . © Future US, Inc. Full 7th Floor, 130 West 42nd Street, New York, NY 10036.
Log in to comment on videos and join in on the fun.
Watch the live stream of Fox News and full episodes.
Reduce eye strain and focus on the content that matters.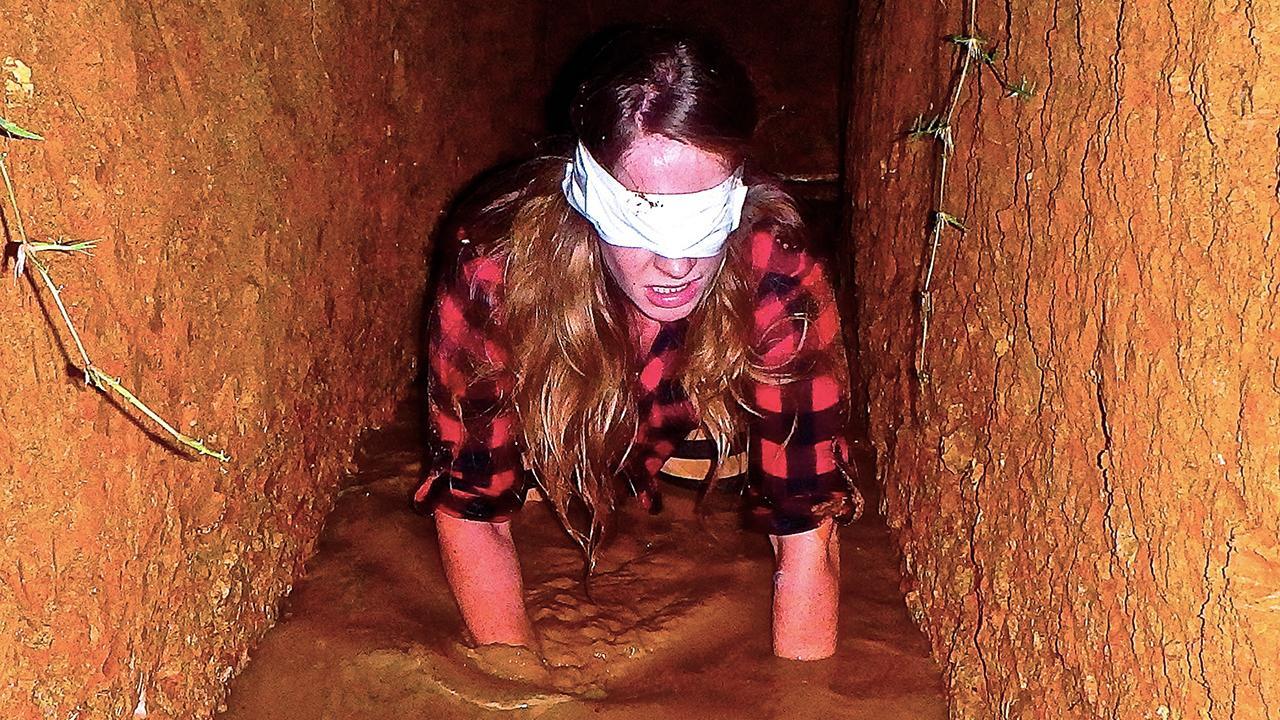 Tennessee haunted house will pay $20K upon escape
McKamey Manor scariest haunted house
Copy to clipboard Copy to clipboard
MORNINGS WITH MARIA | LATEST EPISODES
MORNINGS WITH MARIA
InstantSearch.js e-commerce demo
Haunted house will pay you $20,000 if you can make it to the end, but nobody ever has.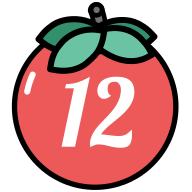 Did you know, that what is believed to be the world's most exclusive haunted house has a waiting list of more than 24,000 people?! That's a lot of people who want to get scared.
The McKamey Manor, located in San Diego, California, only accommodates two visitors at a time. Prior to that, applicants must first have a background check, which is conducted by Russ McKamey – the founder.
Editor's note: This article contains graphic images and an embedded video.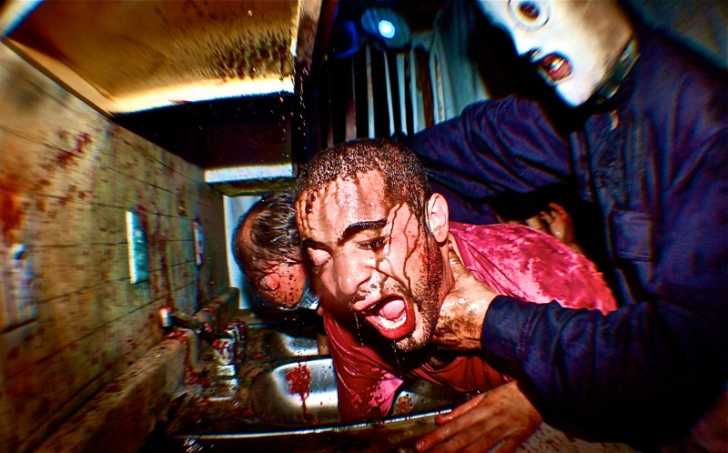 To date, no one has ever completed the haunted house in its entirety – not even a marine who was also an adrenaline junkie.
The experience is meant to be entirely interactive and has been described as a horror film in real life. Visitors to the house travel between four different locations. The entire thing is filmed. Spectators can watch what is happening inside on global webcams. The whole haunted house experience can last between four to eight hours.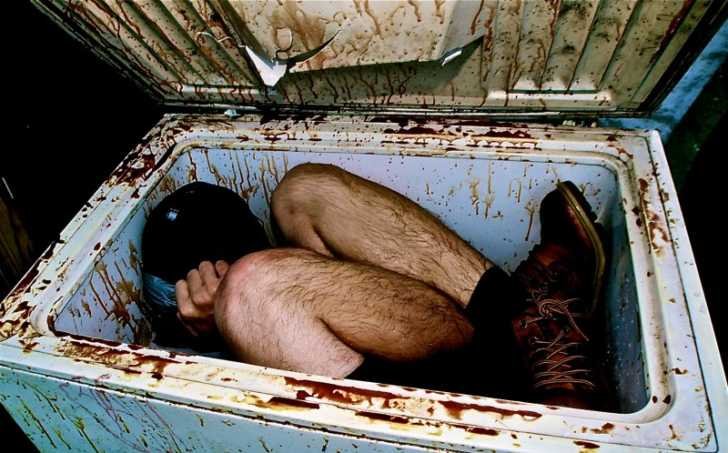 No two visits are ever the same because of its cinematic nature.
Every year the theme changes. Participants have been known to be tied, have their heads forced into cages of snakes, gagged, or have to eat rotten eggs.
The entire project is also run free-of-charge by Russ. He came up with the idea more than 14 years ago.
The haunted house runs year-round. While it's described as the "world's scariest," Russ says it's more about smoke and mirrors.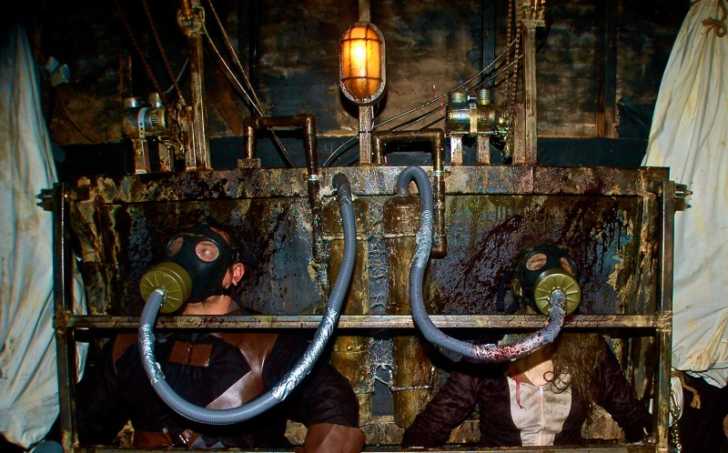 55-year-old Russ has been a fan of horror flicks such as Psycho, Texas Chainsaw Massacre, and The House On Haunted Hill. He says that his haunted house experience has been known to make grown men cry. Every guest has to sign a release before going in.
Russ and his girlfriend, Carol Schultz, have reportedly spent more than $500,000 in order to turn McKamey into the scariest Earthly experience.
Russ describes McKamey as a PG-13, family-friendly experience that is "like Indiana Jones on steroids." Of course, participants must be at least 21 and not have any potentially life-threatening medical conditions.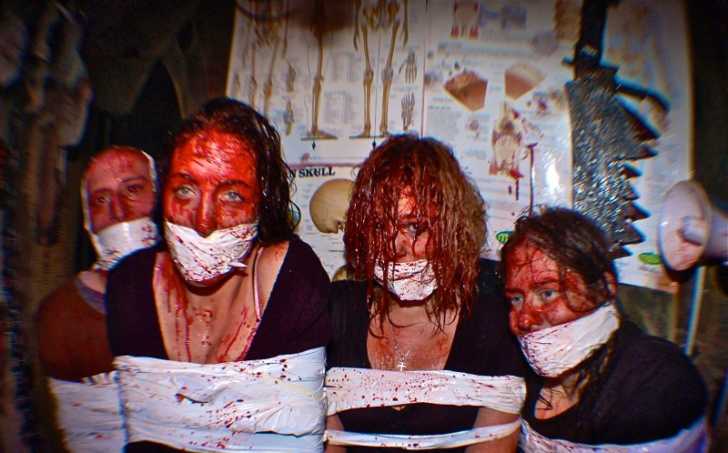 "Nothing is like what we do: It's like living your own horror movie. There are four different locations, which have been streamlined for hardcore fans, determined to make it through," Russ said.
He added, "I consider the people who take part in these haunts as my friends because I research and spend time with them before they go on the haunt. Everything is very interactive: the experience – and challenges – are to prove what you can and can't do."
I think I will be staying home regardless.
12 Tomatoes is a leading online food destination for home cooks like you. With kitchen tips and tricks, cooking advice, and thousands of recipes, we inspire everyday cooks, every day.
© 2023 Great Life Publishing and GreaterGood . All rights reserved. Owned and operated by Great Life Publishing, a GreaterGood company. All charitable donations are paid by Greater Good Charities to benefiting organizations as a grant.
Advertisers (PDF)
Privacy policy
We're your go-to resource for your next easy dinner idea, comfort food craving solution, or nostalgic recipe. Our mission is to make mealtime meaningful and our 12T Cares program demonstrates our commitment to do more with the meals we make.
Cooking Classes
Expert Team
Latest News
Advertisers
Don't miss to subscribe to our new feeds, kindly fill the form below.
© 2023 Great Life Publishing and GreaterGood . All rights reserved. Owned and operated by Great Life Publishing, a GreaterGood company. All charitable donations are paid by Greater Good Charities to benefiting organizations as a grant. Read our privacy policy . View information for advertisers (PDF) .
'Scariest' haunted house will pay $20K to escape, but you can't run, you can't hide | Fox Business