Game guide : Creating A Ghost Town In The Sims 3
This is a guide for creating a town populated by the resurrected ghosts found in the different worlds from expansions and The Sims 3 Store . Before we begin, there are two mods needed for this strategy:
The NRaas Traveler Mod
mikey on Modthesims's Ambrosia mod (optional; makes acquiring Ambrosia easier)
mikey on Modthesims's Kleptomaniac mod (optional; decreases the amount of time it takes to acquire gravestones)
In addition, the testingcheatsenabled true cheat will be needed, as well as an empty world (this can be a custom world, or just an emptied version of another world).
1 Step 1: Prepping the Host Sim
2 Step 2: Traveling to Other Towns
3 Step 3: Filling the Empty Town
Step 1: Prepping the Host Sim [ edit | edit source ]
To begin, you will need a host sim. This is the sim that will travel and collect gravestones later, as well as resurrect the ghosts. The sim does not need to be a ghost themselves, depending on what you choose to do with them after forming the town.
When creating this sim, I advise equipping them with the traits displayed. The Adventurous trait will allow your sim to stay in places longer, if you need the time. The Bookworm trait is to increase the speed at which your sim gains skill. The Kleptomaniac trait will allow you sim to swipe, and it is absolutely necessary. The Green Thumb and Angler traits will assist in acquiring Life Fruit and Deathfish if you choose not to install the Ambrosia mod.
The following preparations can be done at any time, but it may be nice to get them out of the way before traveling:
Your sim needs to level their cooking skill to 10 and learn the recipe for Ambrosia (this can also be enhanced with the Fast Learner LTR ) (Note: this is only if you'd like to resurrect the ghosts. If you'd prefer to keep them as ghosts, skip this).
Your sim needs to purchase a Philosopher's Stone and keep it in their family inventory (costs 40,000 points in the LTR store; though you can earn these points organically I highly recommend using the point cheat )
It is also recommended that you give your sim plenty of simoleons , either using motherlode or familyfunds.
Now, your sim is ready to travel.
Step 2: Traveling to Other Towns [ edit | edit source ]
Now, it is time for you to select your sim's cell phone and choose "travel." (Before you travel, check if the world you began in has any gravestones and follow the next few parts before traveling to other towns). With the NRaas mod, other towns in addition to the World Adventures destinations will appear as options. Traveling to other towns requires no Visa level to stay the maximum number of days. The mod will also prompt you to save before traveling, which should be done in case the game crashes during traveling.
When you get to your first town, scope out any gravestones with names attached (i.e. ignore ones that say "Remains"). Most will be in the town's cemetery , and the wiki pages for each town may also give insight to any other deceased sims located around the town.
There are a few ways to acquire these gravestones:
If the stone is on a purchasable community lot, I'd recommend purchasing the lot and moving all graves to your inventory. (Note: using the "build on this lot" cheat to move these graves into your inventory will put them in a hypothetical lot inventory instead of your own, and the graves will not be transferred with you) (Note 2: this only applies if you live in the town. If you want to purchase lots in every town, you will have to move instead).
If the stone is on a non-purchasable community lot (ex. junkyard ), shift-click and select "build on this lot," then move the gravestone to an easily accessible place away from other objects (the moveObjects on cheat may be needed). Have your sim "swipe something" near the gravestone, and they should pick it up.
For graves on residential lots, the above process can also be used.
This is where the Kleptomaniac mod comes in handy: it will allow you to swipe as time of day, as many time as you want. This will speed up the process.
Once every gravestone in the town has been moved into the inventory, the process should be repeated at each town available.
Step 3: Filling the Empty Town [ edit | edit source ]
One your sim has picked up the graves from every town, their inventory will be pretty full. The next step is to move to the empty world!
Once there, make sure your house has enough area to place every grave/urn on the lot. Once that has been done, it is time to place the Philosopher's Stone. Using the stone, select "bind ghost." You can bind up to seven ghosts at once, and they will join your household.
Now, the cooking skill comes in handy. It is time for your sim to prepare enough Ambrosia for each ghost (assuming you don't want to keep them as ghosts). The ingredients can be acquired organically, but with the Ambrosia mod, they can be instantly purchased for §225. Once the ghosts have eaten the Ambrosia, or you're ready to kick them out, have them use their phones and move within the neighborhood (Note: any child ghosts, such as Opal Suarley , will need to be with a Young Adult or older ghost). Once you have freed up space in your household, more ghosts can be bound to the household for move-out. Their gravestones will disappear from your lot as they are resurrected.
Once you have made it through every last ghost, congrats! Your town is now filled with the resurrected ghosts, giving them all a second chance at life!
Gallery [ edit | edit source ]
The travel screen with the NRaas Traveler mod. There is no Visa level requirement for the towns.
Swiping a gravestone.
Binding a ghost.
Macy Clay, bound to the household.
Macy Clay, resurrected with Ambrosia.
My Store Account
My Wishlist
Deutschland
New Zealand
South Africa
United Kingdom
United States
Magyarország
Česká republika
TheSims.com Forums
My Messages
My Favorites
My Treasure Hunts
Register a Game
Redeem a Code
My Account & Settings
Accessories
Pet Accessories
Premium Content
Create a Sim
Daily Deals
Make Me an Offer
Best Sellers
Shopping Cart
Billing History
Purchase History
The Sims™ 3
Into the Future
Island Paradise
University Life
Supernatural
Generations
World Adventures
Movie Stuff
70's, 80's & 90's
Master Suite
Outdoor Living
High-End Loft
Roaring Heights
Midnight Hollow
Dragon Valley
Aurora Skies
Monte Vista
Sunlit Tides
Lucky Palms
Lunar Lakes
Hidden Springs
Barnacle Bay
Create a World
Create a Pattern
Create a Pet
Create a Movie
Create a Story
Game Updates
Store Updates
The Sims 3 Pets for 3DS
The Sims 3 Pets for XBox 360
The Sims 3 Pets for PS3
The Sims 3 for Wii
The Sims 3 for XBox 360
The Sims 3 for PS3
The Sims 3 for Nintendo DS
Frequently Asked Questions
About Origin
Featured Store Items
My Page FAQ
My Wall FAQ
My Wall - Filtering
About the Store
Learn About Premium Content
In Game Shopping
Complete Your Set Discount
The Sims 3 Store Goodie Boxes
Philosopher's Stone
Uploaded: 02/03/15
Downloads: 175
Recommendations: 4
Type: Unknown
Category: Buy
To ensure the best experience with content from the Exchange, please Update Your Game
This Exchange item contains one or more items from the Sims 3 Store, expansion pack(s) and/or stuff pack(s).
If you own the store item/expansion/stuff pack(s) noted below, the item will download properly.
If you don't have the Store Item(s)/Expansion or Stuff Pack(s) mentioned in this item installed on your system, the item will download from the Exchange and can still be installed. Upon download of the content, you will see a warning icon in the status section in The Sims 3 Launcher notifying that you are missing content. In place of the missing content you will receive a similar default item in its place, or, no item at all.
Expansion/Stuff Packs Used (Click a game for more details)
Post to The Forums
Download free player-created game items from The Exchange and upload your own custom creations for others to use
Receive new opportunities to earn badges
Customize your avatar
Upload your own game videos and screen shots to use to create Movies and Stories
You may have entered the code wrong.
You may have already used the code for another account on this site.
You may have purchased a used copy of the game and the serial code was used by the original owner.
If you purchased a digital version of The Sims 3 (base game, expansion pack, or stuff pack) from Origin, your game is automatically registered to your account. You do not need to re-register your serial code with TheSims3.com.
Don't forget to download Riverview your FREE new town!
You must be a game-registered user to use certain community features.
Purchase one of our games by visiting your local retailer or by browsing our Games Page .
Already own a Sims 3 game? Please register your game and get full access to the site's features.
Origin brings an entire universe of gaming into a single, convenient application. Downloads are streamlined for quick and easy installation, and you can securely purchase and play your favorite games any time and any place you want. You can even chat with your friends right from the Origin application while you play. New features recently added to Origin include live streaming demos, free-to-play games, and a beta cloud storage feature. For gamers on the go, Origin services are also available on your mobile device!
If you already have an EA Account, you can log in to TheSims3.com with your EA ID to create a persona name for The Sims 3 Community.
The email you have entered has already been used to create account with EA.
Some possible reasons are:
- You have an Origin ID from registering an account with Origin.
- You've used this email to register for a different EA game in the past.
- You've already registered for TheSims3.com.
To access your account, please login by clicking the link below.
Please enter your date of birth or login:
We need to check your age to ensure that we adhere to our commitment to market our products responsibly.
🟌🟌 Participate in the 2023 Tournament 🟌🟌 Welcome Visitors!! Register Here to get rid of ads when browsing the forum.
Expansion Packs
Sims 3 Cheats
Building Homes and Editing Lots
Careers and Professions
Carls Fallout 4
Sims 4 Cheats
Sims 4 Youtube Channel
Sims 4 Expansions (DLC)
Building Houses
Aspirations
Mod and CC Help
Carl and Pam's The Sims Community »
The Sims 3 »
Sims 3 - Expansion Packs »
Supernatural »
Sorcerer's Stone
Author Topic: Sorcerer's Stone (Read 7743 times)
Community Manager
Forum Founder and Friend

Re: Sorcerer's Stone
Herder of Raptors, Pineapples, Grims, Gnomes, Alphas & Sassypants Squad.
Posts: 8367
Addicted to Dynasties? *shifty eyes* Not me.

thesimslover828
Playing The Sims 3 again, WooHoo!!!

Death To The Visitors, V Is For Victory

Posts: 1675
Resident Genie Expert, Evil Simlord.
Can you force any ghost to join, regardless of relationship, or location? say, could Zelda Mae bind Erik Darling?

SMF 2.0.12 | SMF © 2016 , Simple Machines SMFAds for Free Forums
Theme by Tah Zonemaster
The Sims Wiki
Ghost hunter.
The ghost hunter profession is introduced in The Sims 3: Ambitions . Sims use various machines to trap or ward off ghosts , similar to the Ghostbusters film franchise, and the Nintendo GameCube game, Luigi's Mansion as well as its 3DS and Nintendo Switch sequels.
Ghosts and lesser spirits will randomly appear in occupied houses around neighborhoods . These ghosts range from small, floating cartoon ghosts to regular Sim ghosts. [1] Ghost hunters must deal with several different types of investigations and paranormal activity in order to advance.
1.1 Lesser spirits
1.2 Poltergeists
2.1 Spirit invasions
2.2 Paranormal investigation
2.3 Poltergeist haunting
2.4 Ghostly presence
2.5 Angry ghost invasion
4 Career levels
5 Career rewards
Types of paranormal activity [ ]
Lesser spirits [ ].
Lesser spirits are the weakest form of paranormal activity. Lesser spirits resemble wispy Halloween ghosts. They come in many colors, which represent their personality. Certain personalities are more valuable than others. For example, white spirits (who have a friendly personality) aren't worth much to researchers while orange spirits (who are wrathful) are worth more.
Spirit colours and types:
White—Friendly
Yellow—Frightened
Green—Jealous
Orange—Wrathful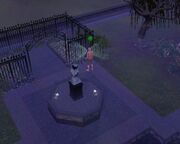 A Sim is scanning for spirits in graveyard.
Lesser spirits can also be collected and named like beetles and butterflies. They can even be transfigured , which will produce a tombstone with a normal ghost.
The player's Sim can also try to collect spirits from any places at any time using the Spook-O-Meter to make them visible, which apparitions should have been detected by Spirit Positioning Device. (To get the Spook-o-Meter a Sim needs to be level 5 in this career)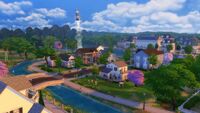 10 September 2014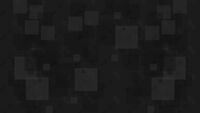 14 September 2012
30 March 2011
Poltergeists [ ]
Poltergeists possess random objects, causing them to move and fly around. Poltergeists are not very powerful, but they are stronger than lesser spirits.
Ghosts are the most powerful of all paranormal activity. They are very hard to capture, but ghost hunters may alternatively attempt to befriend a ghost and convince them to move on.
Occasionally, ghost hunters may encounter ghosts from past civilizations. These ghosts are worth more money when sold to the science lab .
Types of investigations [ ]
Spirit invasions [ ].
Spirit invasions are the most basic of hauntings. Lesser spirits are much less powerful than full bodied ghosts, and are visible at all times. Ghost hunters need only use the banshee banisher to remove the lesser spirits. If the spirit manages to escape the ghost vacuum, they will scare any non-brave sim.
Paranormal investigation [ ]
Occasionally, a ghost hunter will be asked to investigate a random rabbit hole . The ghost hunter need only enter the venue and stay for a few hours to complete this investigation.
Poltergeist haunting [ ]
During a poltergeist haunting, the ghost hunter must exorcise furniture that is being possessed by poltergeists.
If a Sim has the kleptomaniac trait, they will not discriminate between possessed and normal objects.
If they swipe a possessed object, it will no longer be haunted after it has been placed into their inventory, even if it is later returned in the mail. However, this cleansing will not count towards the required exorcism count, rendering the mission incompleteable. There is a chance that this same mission will now be offered every future evening. The (incomplete) progress will be saved, rendering this particular exorcism mission permanently incompleteable.
Ghostly presence [ ]
During this investigation, ghost hunters must find and remove a full bodied ghost. To find the ghost, the ghost hunter must scan rooms of the house with the Spook-O-Meter (similar to the Ghostbuster's PKE Meter). After the ghost has been located, the ghost hunter can attempt to capture it. Alternatively, the ghost hunter may befriend the ghost and convince them to pass on.
Angry ghost invasion [ ]
This is similar to the previous job, but ghosts are visible from the start. They are scaring Sims and using house appliances. There will also be frightening background music during the exorcism.
Apart from that, this job is the same as above. Actually it is easier, as the ghost hunter doesn't have to spend time searching them.
Paranormal Profiteer is a new lifetime wish that can be fulfilled by reaching level 10 of the ghost hunter career.
Career levels [ ]
Career rewards [ ].
Spooky Trophy (Honor Trophy): Capture 15 Spirits
Ghost Hunter's Paranormal Medal (Hero Medal): Capture 75 Spirits
Ghost Hunter's Bravery Ribbon (Award Ribbon): Capture 150 Spirits
Ghost Hunter's Spirit Medal (Epic Hero Medal): Do 7 Paranormal Investigation Case
Ghost Hunter's Key to The Town: Reach Level 10
Paranormal Momento: Capture 25 Spirit after reach level 10
Gallery [ ]

Ambitions ghosts (From the ghost hunter profession) in the library from The Sims 3: Outdoor Living Stuff .
Two more examples are "Napoleon Amoit" and "Touissant Bonaparte", obvious references to Napoleon Bonaparte.
It is possible to use testingcheatsenabled to add the ghosts from the Profession to the Household. After they are saved to the Library, they can be played as usual.
Vampires would especially benefit since it's one of the few jobs done at night.
If a Sim does an inappropriate action while doing a job, it will say a different message rather than the Sim's name is behaving inappropriately! If he/she continues, I will have to ask him/her to leave. that is usually displayed while visiting. However, it will be displayed if a such action is done after the job is finished.
Ironically, a ghost may have a wish to join the ghost hunter profession even though the profession is about catching ghosts.
There are obvious references to Ghostbusters in this profession. The object used to capture ghosts resembles the Proton Beam (albeit without the backpack) and the first uniform the Sim receives has bright green stains on it, likely a reference to the Onionhead (Slimer) ghost from the films. Coincidentally, a firefighter profession is also included in Ambitions , so it is possible for ghost hunters to reside in a firehouse.
When releasing a collected ghost sometimes a semi-rare dialogue box will appear with 'Thanks for releasing me, <Sims Name>! Its nice to be out of that Jar. I'm going to move in with <townie's first name>, theres [ sic ] plenty of room for both of us.'. The Sim mentioned by the Ghost is randomly generated, as there is no evidence of the Ghost living at that Sims house if you visit with one of your Sims, even when the grounds are scanned with the Spook-o-meter.
Rarely, or perhaps just in Moonlight Falls , a ghost hunter doing a Ghost mission will be unable to see the ghost, even after they discover which room the ghost is located in. The mission will be impossible to complete. This is also true for any other towns as well. There are two solutions to this problem: 1. Pause the game until the ghosts render (approximately one to five minutes) or 2. Send the Sim to the lot but don't assist them.
1 Kat Jenkins
2 Career tracks
3 Trait (The Sims 4)
PlayStation 3
PlayStation 4
PlayStation 5
Xbox Series
More Systems
Banishing Ghosts (Not Spirits)
The Sims 3: Ambitions
PC Macintosh
GameFAQs Q&A
Where to find an pink diamond? Side Quest 6 Answers
How do you sculpt metal? General 3 Answers
How do I become a tatto artist? General 2 Answers
Can u get a job as a tattoo artist? Side Quest 4 Answers
How do I dust for prints? Side Quest 2 Answers