112 Sleutelstad
Programma's
Video's
Luister live
Voorschoten
Zoeterwoude
Luister terug:
Luister live:, de ochtend van sleutelstad, de middag van sleutelstad.
Horrorhuis in Oegstgeest tot Halloween open voor publiek
Halloween lijkt ieder jaar weer een beetje populairder te worden. Het feest is overgewaaid uit de VS mede door de vele horrorfilms die zich afspelen rond Halloween. De 24-jarige Niels van Hameren is voor het tweede jaar op rij aan het klussen geweest aan zijn horrorhuis. Vorig jaar deed hij dat in Leiden en dit jaar heeft hij iets meer ruimte in zijn nieuwe woning in Oegstgeest. "Ik was van plan het allemaal een beetje enger en donkerder te maken."
Het duurde een paar dagen voordat het helemaal af was, maar 4 oktober kon hij de deuren van zijn spookhuis openen voor het publiek. "En het lukte ook nog om 3 oktober te vieren." Wie de kleine woning binnenkomt, loopt meteen tegen een groot stuk zwart doek aan waarmee de huiskamer is afgesloten. "Hier begint de looproute", zegt Niels terwijl hij met verschillende afstandsbedieningen in de weer is. Die moeten ervoor zorgen dat alle engerds in het spookhuis op tijd tot leven komen.
"Als er mensen op bezoek komen dan heb ik een paar helpers, zogenaamde 'scare actors', erbij die er voor zorgen dat alles goed loopt met het licht en met de route", legt Niels uit. Zijn woonkamer is dan ook veranderd in een waar doolhof waar amper licht is. Je raakt er makkelijk je oriëntatie kwijt waardoor het ook nog eens extra schrikken is als er een enorme spin op je hoofd terecht komt. "En ik heb een heel lichtplan gemaakt", zegt Niels zonder trots. "Het moest donkerder dan vorig jaar worden en dat is gelukt."
Waar zijn fascinatie voor Halloween vandaan komt weet hij niet. "Ik was in ieder geval als kinds al geïnteresseerd in horrorfilms. En als er in winkel iets lag wat met horror te maken had dan moest ik het hebben." Daar lijkt weinig in veranderd te zijn want de hele woonkamer staat bomvol met enge clowns, heksen en ander gespuis. "Het meeste komt uit de VS maar die laten het weer in China maken", weet Niels.
Bezoekers zijn ook dit jaar meer dan welkom in het horrorhuis van Niels. Zij kunnen een bezoekje reserveren via zijn website.
Laatste Nieuws
Windwaarschuwing verhoogd naar code oranje, nachtafsluitingen in november op delen a44/n44, rudo is deze week bij de seniorenochtend in winkelhof, meer nieuws.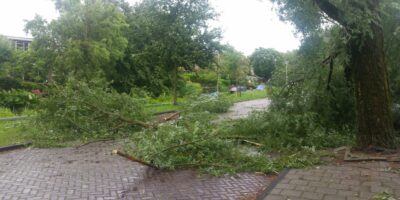 Het KNMI heeft de windwaarschuwing in onze regio voor vandaag verhoogd naar code oranje. Het weerinstituut...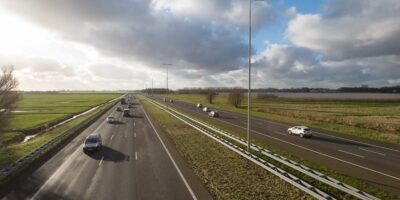 Rijkswaterstaat voert in diverse nachten begin november onderhoudswerkzaamheden uit aan de A44/N44. Gedurende de...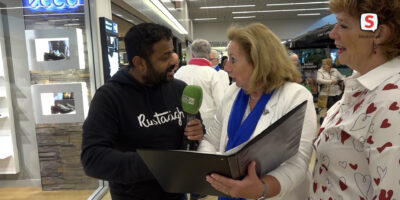 In het programma Rudo! gaat Rudo Slappendel wekelijks naar een locatie in Leiden of een van de buurgemeenten op...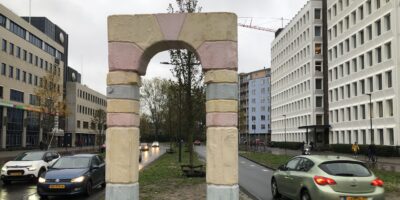 Leiden heeft een nieuwe stadspoort: The Spectacle ontsluit Stationsgebied
Leiden heeft een nieuwe stadspoort. Wethouder Fleur Spijker onthulde dinsdagmiddag een kunstwerk in de vorm van een...
Sleutelstad is de lokale omroep voor Leiden en richt zich met uitzendingen op radio en tv, de website sleutelstad.nl, onze gratis nieuwsapp en verschillende sociale mediakanalen met nieuws, informatie en amusement op de Leidse regio. Via deze website kunt u ook online naar onze radio-uitzendingen luisteren, programma's terughoren via uitzending gemist en live meekijken met ons televisiekanaal. Onze radio-uitzendingen zijn ook te beluisteren via 99.6 en 107.5 FM, DAB+ en via ons tv-kanaal. Sleutelstad TV is te zien via KPN kanaal 1421, T-Mobile kanaal 866 en Ziggo kanaal 46. Online kijken kan via www.sleutelstad.tv .
Studio Middelstegracht 87A 2312 TT Leiden E-mail [email protected]
Telefoon Redactie 071 - 5235907
Sleutelstad en Unity werken samen
Voortaan kun je voor het nieuws uit de Leidse regio terecht op de site Sleutelstad.nl .
Ga naar Sleutelstad.nl
Griezelen bij echte spookhuizen in Nederland
Stiekem is griezelen een favoriet onderwerp van mij, dus ben ik in de geschiedenis van verschillende Nederlandse plaatsen en huizen gedoken. Er zijn namelijk verschillende échte spookhuizen in Nederland waar lekker gegriezeld kan worden!
Landgoed Singraven
In Denekamp staat een landhuis dat vroeger dienst deed als klooster. Tegen alle regels in ging een van de nonnen om met de mensen uit het dorp. Daar stonden in die tijd zware straffen op en daarom werd zij levend ingemetseld in de muren van het klooster. In de jaren erna gebeurden er vreemde ongelukken in het huis en wordt ze soms gezien van achter de ramen, wanneer er niemand hoort te zijn. Tegenwoordig is het Landgoed Singraven een prima uitvalsbasis voor wandelaars en dagjesmensen. Ook worden er seminars gehouden en je kan er trouwen. Daarnaast kan je er in het koetshuis heerlijk lunchen of dineren. Misschien met een extra gast aan tafel…
Psychiatrisch ziekenhuis Sancta Maria
In Noordwijk is het niet alleen genieten van zon, zee en strand, het spookt er ook! Van 1928 tot 1938 is daar, middenin de duinen, gebouwd aan psychiatrisch ziekenhuis Sancta Maria . Dit ziekenhuis werd gebouwd als uitbreiding van het hoofdgebouw in Noordwijkerhout. Deze locatie is speciaal voor vrouwelijke patiënten gebruikt. Jammer genoeg bleek jaren later de psychiatrische zorg hier niet op orde te zijn en raakte het gebouw in verval. Vroeger werd er nog wel eens geëxperimenteerd met geesteszieke patiënten. Misschien dat het er daarom zo spookt. Velen beweren namelijk dat ze overvallen worden door hevige hoofdpijnen en een vreselijke kou, zelfs middenin de zomer. Ook slaan er deuren dicht terwijl het gebouw verlaten is. Volledig opgeladen batterijen zijn binnen minuten volledig leeg en men hoort er voetstappen en tikkende geluiden. Durf jij het aan?
De Spookboerderij van Brummen
In het Gelderse Brummen speelde zich 177 jaar geleden een drama af. Boerenzoon Antoon Kremmer was dolverliefd op Megje en wilde met haar trouwen. Als enige zoon van de familie Kremmer wilde vader dat zoon trouwde met een dame van stand. Megje voldeed helaas niet aan de eisen van pa Kremmer en hij verbood zijn zoon te trouwen. Antoon was letterlijk kapot van verdriet. Zijn ouders vonden hem de volgende ochtend, hangend aan de grote eik op het erf. Antoon liet het er na zijn dood niet bij zitten. Zijn geest verjoeg uiteindelijk zijn doodsbange ouders nadat er allerlei onverklaarbare dingen gebeurden. Latere potentiële kopers durfden het niet aan de boerderij de kopen vanwege vreemde schimmen, geluiden en elektrische apparaten die ineens spontaan aan gingen. De spookboerderij in Brummen heeft maar liefst 50 jaar leeg gestaan tot het in 2009 volledig afbrandde. De eik staat er als enige nog steeds…
Landgoed Duin en Kruidberg
Jacob Cremer liet in 1907 in de plaats Santpoort-Noord zijn droomhuis bouwen. Hij liet vanuit Indonesië bedienden overkomen om op het landgoed te komen werken. Eén van die bedienden had jaren daarvoor een man vermoord. Omdat de man nooit was gestraft voor zijn daad, reisde de geest met hem mee. De geest kwelde de arme man terwijl die uiteindelijk onschuldig bleek te zijn. De geest veranderde daarop van een kwelgeest in een heel behulpzame geest. Hij zorgde er vanaf toen voor dat iedereen zich op het landgoed veilig zou voelen. Ook is er op het landgoed een vlek op de vloer te vinden. Die vlek is met geen mogelijkheid weg te boenen. Op die plek liggen een aantal krissen (Indonesische gekartelde messen) begraven. De bedienden deden dat ten tijde van de bouw, als je naar Indonesisch gebruik geluk over je huis wilt uitspreken. De krissen zullen daarom altijd op Landgoed Duin en Kruidberg blijven.
Gevangenis Gravensteen
In Zierikzee staat een monumentaal pand dat vroeger diende als gevangenis. Gevangenis Gravensteen is gebouwd in 1358, maar vanwege verval tussen 1524 en 1526 volledig gerestaureerd. Het gebouw bood onderdak aan zware criminelen en een rechtbank. Het originele cellencomplex vind je er nog steeds. In de kelder bevindt zich zelfs een martelkamer. En ja, het spookt er. Zo zijn er ooggetuigen die beweren dat er schaduwen en schimmen gezien worden. Vooral op de zolder, waar vroeger de vrouwengevangenis was, wordt veel waargenomen. Er is daar zelfs iemand aangevallen door een entiteit en diegene werd daarbij gekrabd. Ook werden gevangenen voor de ogen van het publiek geëxecuteerd. Dat was vroeger een soort volksvermaak. Geen wonder dat de geesten hier af en toe een beetje boos zijn. Sinds 2012 is er een wereldwinkel in het monumentale pand gevestigd en worden er rondleidingen gegeven.
Spookklooster Huize Nazareth
Kloosters en kastelen hebben al snel een spookachtige reputatie. Zo ook klooster Huize Nazareth . In 1916 werd het voormalige klooster een internaat voor kinderen die "verlaten en misdeeld" waren. Nu, jaren later, blijkt dat er op grote schaal misbruik is gepleegd met die kinderen door de fraters. Toen het gebouw in de jaren '90 werd omgebouwd tot wooncomplex voor studenten van de Fontys Hogeschool voor Kunsten, bleek dat de geesten van de misbruikten en misbruikers waren blijven hangen. Zo voelen veel mensen zich er down en depressief, gaan goudvissen op een bepaalde plek standaard dood, worden er schimmen gezien en wordt er op de binnenplaats soms een mannenkoor gehoord. Ook schijnt er op een plek in huis een briesje te zijn terwijl niets tocht of openstaat. Een bewoonster voelde ooit het matras naast haar indeuken. In de veronderstelling dat dit haar vriend was draaide zij zich er naartoe. Er was echter niemand te zien!
Kasteel Waardenburg
In het Gelderse Waardenburg vind je het gelijknamige, middeleeuwse kasteel. Kasteel Waardenburg werd gebouwd in 1265 en staat bekend om de Faust legende. Johan Faust zou in het kasteel gewerkt hebben aan de steen der wijzen, maar steeds zonder succes. Op een dag bood de Duivel aan hem te helpen. Faust nam de hulp gretig aan. De Duivel betrad het lichaam van het hulpje van Faust en Faust liet hem onmogelijke dingen doen. Na zeven jaar had de Duivel er genoeg van en toen de meid Faust die ochtend zijn ontbijt kwam brengen, schrok zij zich wild. Er zat een enorme bloedvlek op de muur en er hing een pluk haar aan de tralies bij het venster. Van Faust ontbrak ieder spoor. De bloedvlekken zijn nooit meer van de muur gegaan, wat men ook probeerde…
Andere spookhuizen in Nederland
Een ander bekend spookhuis in Nederland is het Anne Frank huis . In ons eerdere blog over misschien wel het meest bekende huis in Amsterdam hebben we stilgestaan bij de boeiende geschiedenis en de spookverhalen die zich hier de ronde doen. Ook de Gevangenpoort in Den Haag heeft een roerige geschiedenis. De Gevangenpoort is een erg interessante locatie om te bezoeken. Deze oude gevangenis heeft onder andere een goed uitgeruste martelkamer waar ieders fantasie van op hol slaat. Ook Nederlandse legendes zoals die van de Witte Wieven en de Bokkenrijders zijn heel interessant. En we hebben een behoorlijk verleden wanneer het gaat om heksen . Als je op de blauwe tekst drukt lees je hier van alles over! Veel griezelplezier.
Oh ja, en we hebben een e-book over spookplekken in Nederland . Je kan het e-book gratis downloaden. Voor nog meer griezelplezier!
Credits fotos: Canva.com
Onze nieuwsbrief
Related items.
Online livestream vanuit huis
Knutselen voor volwassenen
Weekendje weg in Zeeuws Vlaanderen
De leukste feel good boeken voor januari
Main navigation
Erasmus Castle
November 2, 2023
Africa , South Africa
Erasmus Castle, or in Afrikaans "Erasmus  Kasteel ", is located on a hill in the Erasmuskloof , Pretoria, South Africa. It overlooks the entire area and is of great historical importance. Today, it's owned by a company named Armscor and tours can be booked by appointment. The imposing mansion is also referred to as Die Spookhuis , or like they say in English "The Haunted House". And that's not just a nickname.  
The history of Erasmus Castle
Jochemus Johannes Petrus Erasmus (1863 – 1940), a successful South African farmer, wanted to build a mansion on top of a hill overlooking his land. The construction of the house started in 1892 and it was finished in 1903. He lived there with his wife Johanna and their children. The house was designed by Frans van der Ben, a Dutch architect. A small family cemetery can be found on the land as well. The house isn't just a historic landmark near the cross-section of the N1 and R21 highways, but the entire hill is of historic importance.
Historical importance
Erasmus Castle stands on a piece of land where a cave is also situated. Several pre-colonial artifacts were found in this cave, like San artifacts dating back 150.000 years. Turquoise beads dating back to the traders from ancient Phoenicia (2500 – 539 BC) were also discovered in the cave. On the land itself a well-preserved house from the Voortrekker period (around 1836) stands. It has a historically accurate cow dung floor.
Voortrekkers
The Voortrekker period (English: The Great Trek, Afrikaans: Die Groot Trek) was an eastward migration of Dutch speaking settlers/pioneers who travelled the South African lands by wagon trains. They started at the Cape Colony, moving inland to start a life beyond the Cape's British colonial administration. So, it was not just the VOC (Dutch: Vereenigde Oostindische Compagnie, English: Dutch East India Company) who brought Dutch influences on the South African vocabulary. For Dutch people, like me, it's weird hearing your own language so far away from home. Even though Afrikaans is different than Dutch.
The Erasmus Family
The Erasmus Family was a powerful family in South Africa. They were influential landowners and they had many places named after them, like Erasmusrand, Erasmuskloof, Erasmia and Elarduspark (Elardus was a common middle name in the family). But being rich and influential didn't mean you got to live happily ever after. On the family cemetery, you'll find the grave marker of a small child. The child's name was Enslin and died in 1917 at the age of three. The words on the grave "Onze Zonnestraaltje" meaning "our little sunbeam", indicate how much the child was loved.
The ghosts of Erasmus Castle
Many rumors and legends surround this mansion, including the legend that two of the Erasmus children were locked in the tower because they had leprosy. That is just a legend, but there have been many supernatural encounters at the house that many validate. A woman dressed in a Victorian nightgown has been seen on several occasions. Sometimes in the garden, sometimes looking out of one of the windows. Footsteps are heard, taps are turned on and lights are turned off. The apparition of a gentleman sitting in an armchair has been seen by many as well. He doesn't respond to any questions; he just sits there. Also, the ghost of a young girl has been seen at the house. Perhaps this is the spirit of Enslin? Did the hauntings begin after the new owners re-located the vandalized family cemetery? Who knows!
Erasmus Castle today
Jochemus and Johanna's wills made it nearly impossible for surviving family members to live at the house. So, after they died, the house fell in despair. It even started looking like a haunted house. The house was almost demolished when the Pretoria Municipality wanted to put a highway right through the lands in the late 1960's. When these plans were cancelled, Armscor (Armaments Corporation of South Africa) bought the mansion and the surrounding farms in 1975 to turn into their office. They renovated the house back into its original state, relocating two neighboring farms and, as I said before, the family cemetery. Although it's in private hands now, visitors can come over to have a look. Tours are available. They did a great job restoring the mansion and it's a beautiful place indeed!
Do you want to read more stories of haunted places in Africa? Click here !
Cover photo: Cvanrooyen via commons.wikimedia CC BY-SA 3.0 Sources: Wikipedia, rekordcenturion.co.za, atterbury.co.za, iol.co.za, rooboo69.wordpress.com, sapromo.com, getaway.co.za Address: Cnr. Delmas & Nossob, Erasmuskloof, Pretoria, Delmas rd, Pretoria 0048, South Africa
Continue Reading
Predjama Castle 
1 Understand
2.2 By public transit
3 Get around
Oegstgeest is a town in South Holland , bordering the city of Leiden , perhaps best known as the birthplace of Dutch author Jan Wolkers and from the title of his autobiographical novel Return to Oegstgeest .
Understand [ edit ]
Oegstgeest is one of the first ever settled parts of the Dutch coast that we know of today. The earliest trace of a settlement dates back from the second century, when a Batavi settlement would have been located here. In 2010 a group from the Leiden University found remains of a bridge that would have connected the two banks of the river Rhine dating back from between the year 500 and 700. The river Rhine nowadays no longer runs through the town, but used to do so centuries ago. It is not sure if the area has been settled permanently since, but legend states that where the Groene Kerkje stands today, a church would have been found that was sacred by Willibrord, one of the Northumbrian Saints that converted the Netherlands. For the legend to be true, the church needs to have been built before 739, when Willibrord died. The church its existence is not doubted, and its mere existence indicated that the area was a busy settlement for its time with an above average population density.
Oegstgeest saw a rise between the eleventh and fourteenth century, after which nearby Leiden took over. Oegstgeest's expansion was formally limited as a certain perimeter around Leiden could no longer be settled by other towns in order to not limit Leiden's growth. The Endegeest and Oud-Poelgeest castles date from this time period, with both being built in respectively the thirteenth and seventeenth century. Meanwhile, Leiden kept on growing being one of the few university cities of the Netherlands at the time. Where Oegstgeest used to own the lands up to Leiden's moats and defence works, it had to cede more and more land starting in the nineteenth century. Oegstgeest was only seeing growth between the several communes that made up Oegstgeest after 1900, when new neighbourhoods were built, a growth which lasts to this day, though at a steady pace of one new neighbourhood every fifteen or twenty years.
Get in [ edit ]
By car [ edit ].
The main highway that connects to Oegstgeest is the A44. Take exit 7 ( Oegstgeest ) followed by a turn onto the Rijnzichtweg heading east to get into Oegstgeest.
From Amsterdam , take the A4 heading for Schiphol , followed by Leiden . After passing the exitramp of exit 4 ( Nieuw-Vennep ), turn onto the A44, taking exit 7 as soon as you're there, followed by a left turn.
From The Hague take the N44 heading for Wassenaar . Just after Wassenaar, the N44 becomes the A44. Again, take exit 7 followed by a right turn.
From Utrecht , take the A12 heading for Gouda . At exit 12a ( Bodegraven ), change the A12 for the N11 heading for Alphen aan den Rijn and Leiden . Follow the N11 until it ends, turning onto the A4 heading to The Hague. Immediately take the next exit, exit 7 ( Zoeterwoude-Dorp ), after which you turn right on the roundabout, followed by a left turn towards Leiden. You are not on the N206 and should follow this road until you reach the A44, taking the first accesramp to your right to join the A44, keeping right as you will need to take the next exit, exit 7. Take a turn to the right at the end of the exitramp in order to enter Oegstgeest.
By public transit [ edit ]
Oegstgeest does not have a train station itself. Instead, 52.1663 4.4823 1 Leiden Centraal will have to do. From Leiden Centraal, take bus 57 or 187 to get to Oegstgeest.
Get around [ edit ]
Oegstgeest can be travelled by foot or bike without much hassle, for longer distances, taking a bus is recommended. Lines 20, 21, 37 and 50 make up the core of Oegstgeest's bus network, with Leiden Centraal, which isn't that far away, as the central hub.
See [ edit ]
Do [ edit ]
Buy [ edit ], eat [ edit ].
52.18622 4.46978 1 De Jonker , Lange Voort 11B-E , ☏ +31 715 651 565 , [email protected] . 17:00-22:00 . ( updated Nov 2017 )
52.17697 4.4634 2 Wine & Dine , Endegeesterlaan 2 , ☏ +31 713 030 111 , [email protected] . ( updated Nov 2017 )
52.17916 4.46395 3 De Gouwe , Rhijngeesterstraatweg 31 , ☏ +31 715 174 758 , [email protected] . ( updated Nov 2017 )
52.17773 4.47088 4 Het Beleg van Oegstgeest , Kempenaerstraat 43b , ☏ +31 715 141 616 . ( updated Nov 2017 )
Drink [ edit ]
Sleep [ edit ].
Oegstgeest has four hotels to its name. If none of the following are what you're looking for, nearby Katwijk aan Zee (west) and Leiden (east) have many more hotels for you to pick from.
52.16965 4.45277 1 Hilton Garden Inn Leiden , Willem Einthovenstraat 3 , ☏ +31 717 111 000 , [email protected] . Check-in: 14:00 , check-out: 12:00 . €84 . ( updated Nov 2017 )
52.17866 4.45536 2 Bastion Hotel Leiden-Oegstgeest , Rijnzichtweg 97 , ☏ +31 715 153 841 . Check-in: 14:00 , check-out: 12:00 (Noon) . €62 . ( updated Nov 2017 )
52.17656 4.47008 3 Villa Beukenhof , Terweeweg 2-4 , ☏ +31 717 200 909 , [email protected] . €116 . ( updated Nov 2017 )
52.17961 4.48486 4 Oud Poelgeest Castle , Poelgeesterweg 1 , ☏ +31 715 174 224 , [email protected] . €89 . ( updated Nov 2017 )
Connect [ edit ]
Go next [ edit ].
Oegstgeest is located in the Bollenstreek , nearby attractions and locations include:
Lisse , which houses the world-famous Keukenhof.
Leiden , home to the oldest university and overall an enchanting old city.
Katwijk aan Zee , a popular beach-side town.
Oegstgeest's location makes getting to the following destinations rather easy:
Wassenaar , best known for its enormous swimming pool and amusement park Duinrell .
The Hague , political capital of the Netherlands.
Has custom banner
Has map markers
Has mapframe
Has routebox
Has Geo parameter
Bollenstreek
All destination articles
Usable cities
Usable articles
City articles
Pages with maps
Navigation menu
Spookhuis Deest, durf jij het aan?
DEEST - Op zaterdag 30 oktober wordt het weer griezelen in Deest. Scouting de Woutergroep organiseert dan weer het Spookhuis Deest met zowel een vroege als late tocht.
De vroege tocht vindt plaats tussen 18.30 en 20.00 uur. Spoken zijn minder intensief, en deelnemers krijgen een wachtwoord mee waarmee ze de spoken kunnen stoppen. De late tocht, voor de deelnemers met stalen zenuwen, is tussen 20.00 en 22.30 uur. Deelname is op eigen risico.
De start van de spooktocht is bij Blokhut 't Zwaluwnest, aan de Kweldam 1A in Deest. Parkeren kan bij de voetbalvelden. De kosten bedragen 4 euro per persoon, inclusief wat lekkers te eten en drinken na afloop.
Aanmelden Aanmelden voor de vroege of late spooktochten kan via: www.dewoutergroep.nl/spookhuis-deest .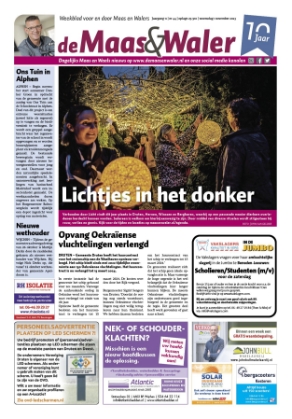 Look up in Linguee
Suggest as a translation of "spookhuis"
Linguee Apps
▾ dictionary dutch-english under construction, spookhuis noun, neuter —, haunted house n, ▸ wikipedia, ▾ external sources (not reviewed).
This is not a good example for the translation above.
The wrong words are highlighted.
It does not match my search.
It should not be summed up with the orange entries
The translation is wrong or of bad quality.
Vacation Rentals
Restaurants
Things to do
Oegstgeest Tourism
Oegstgeest Hotels
Oegstgeest Bed and Breakfast
Oegstgeest Vacation Rentals
Flights to Oegstgeest
Oegstgeest Restaurants
Things to Do in Oegstgeest
Oegstgeest Travel Forum
Oegstgeest Photos
Oegstgeest Map
Oegstgeest Travel Guide
All Oegstgeest Hotels
Oegstgeest Hotel Deals
Oegstgeest Business Hotels
Oegstgeest Family Hotels
Oegstgeest Green Hotels
3-stars Hotels in Oegstgeest
Hotels near CORPUS 'journey through the human body'
Hotels near Leidse Hout Park
Hotels near Gemeente Oegstgeest
Hotels near Hendrik Kraemerpark
Hotels near Forest Wijckerslooth
Hotels near Rijksmonument Pauluskerk
Hotels near (AMS) Amsterdam-Schiphol Airport
Hotels near (RTM) Rotterdam Airport
Disney's Caribbean Beach Resort
Mandalay Bay Resort & Casino
Dreams Onyx Resort & Spa
Excellence Oyster Bay
Wyndham Alltra Cancun
Hilton Hawaiian Village Waikiki Beach Resort
Hilton Rose Hall Resort & Spa
Aulani A Disney Resort & Spa
The Venetian Resort
The Mirage Hotel & Casino
Barcelo Aruba
Dreams Las Mareas Costa Rica
Hyatt Ziva Cap Cana
Moon Palace Jamaica
Hotel Xcaret Mexico
Popular All-Inclusive Resorts
Popular Beach Resorts
Popular Family Resorts
Popular All-Inclusive Hotels
Popular Hotels With Waterparks
Popular Honeymoon Resorts
Popular Luxury Resorts
Popular All-Inclusive Family Resorts
Popular Golf Resorts
Popular Spa Resorts
Popular Cheap Resorts
All Oegstgeest Restaurants
Restaurants near Beukenhof
Chinese Restaurants in Oegstgeest
Delis in Oegstgeest
European Restaurants for Lunch in Oegstgeest
French Restaurants in Oegstgeest
Gluten Free Restaurants in Oegstgeest
Italian Restaurants in Oegstgeest
Pizza in Oegstgeest
Seafood Restaurants in Oegstgeest
Thai Restaurants in Oegstgeest
Vegan Restaurants in Oegstgeest
Vegetarian Restaurants in Oegstgeest
Best Hamburgers in Oegstgeest
Best Pasta in Oegstgeest
Travel Guides
GreenLeaders
Things to Do
Travel Stories
Rental Cars
Add a Place
Travel Forum
Travelers' Choice
Help Center
Europe
The Netherlands
South Holland Province
Leiden
Oegstgeest
Oegstgeest Restaurants
Ratings and reviews
Location and contact.
Embarrassing. With salmon as "catch of the day", forgotten major consituent of a typical lcal dish, which after asking arrived thrown in a bowl, not rinsed and smelly. The filet steak ordered as medium and not medium-rare was served as the latter. 30+ minutes wait... time for the desert, which was most likely purchased at the nearby supermarket. The waiter did his best though. More
The food was excellent, but the service was terrible. Dirty table on the terrace, missing chair, slow to take our order, slow to serve the first two courses, bad handling of wine. It was baffling.
In the good "old" days, this restaurant was such a perfect place to dine and bring customers,. specially foreigners. The ambiance could not be any warmer. The ambiance is still there, the tables perfectly set and the flowers just gorgeous. With nice weather to be... outside is a joy in their super garden. However if you also come to eat superb, you have come to the wrong place. In the past it was not cheap but the choices were enormous, a beautiful a la carte menu. Today in comparison the menu choices are very limited and portions very small. Yes it cheaper as well ...but at a quality price. Also the service, albeit friendly, really was not the way it should be. One constantly had to ask to pour water and wine, the chocolate with the coffee forgotten and the coffee was not charged. Also check the invoice ...some items were not charged and others such as bottles of wine were 3 instead of 2. No, not the place to return to for the time being. But the place was full, maybe because it was not so expensive as the past? Oh well, it was not that cheapo either!. More
Dinner with friends. Food is somewhat average. I had a tuna starter that lacked taste. The hoisin duck for main course was ok. Several ordered a steak and the waitress never asked how well the steaks should be done. Desserts were disappointing. The menu card... is peculiar. The actual menu covers only 20 percent of the area, the rest is used to recommend the restaurant itself. Service is friendly but somewhat inefficient. The staff never knew who ordered what and after that confusion is over the ordered food is loudly described. Not really appropriate for the occasion. More
First of all we reserved online and when we got there nobody new about it despite that I got an email to confirm. Service is messy. Everyone seems to run around without a purpose or direction. Wine bottle was not shown when served so I... had to ask for which wine was I drinking by the glass. When asking for another glass I was served on top of a rest of wine still in the glass. For such a high rated restaurant these are unacceptable mistakes. It seems that there is a lack of proper and organized supervision. Food is good and nouvelle cuisine style. Lots of creative and unusual recipes. The 5 course menu runs at €59.50. Expect to wait at least 20min in between each serving though. More
The gardens and rambling, charming rooms were superbly decorated and were a real delight to wander through. We also had the set breakfast there which was lovely, although I felt the dining room was better suited to evening meals. Absolutely charming.
The fact that this was with a Groupon deal only emphasises how poor the value and disappointing the experience was and cannot come close to excusing the disatisfaction we felt during and after our dinner. We talked about it for hours searching for positives. In... answer to the question "was there any one thing on any plate that inspired praise?", there was a pause followed by a ..... no. We analysed every course and concluded that the 'chef' knew very little about cooking. The fact that the ingredients were listed on the menu but included no description of the preparation was unfortunately a sad indication of what was to follow. The jumble of food on the plate was just that, a jumble of food, exhibiting no culinary technique and no attempt to actually cook. In order of each course: 1: the duck was well cooked but the assortment of accompaniments; radish, nuts, etc were simply extras that added little to the dish, no flair, no appreciation of flavours or texture 2: the small cup of soup/bouillon was OK and with small pieces of prawn was average 3: the Tartare was very small and tasteless and the quail egg added little to make it anything special 4: the single Oyster (that is almost €6 for one oyster even at Groupon prices) was not really a course and was explained as "not to fill you up", the addition of a streak of black pepper was incongruous and simply visual dressing 5: the Beef was again quite well cooked but again there was nothing on the plate that made it a 'dish' 6: dessert was Fruit with a scoop of marscapone - this exemplifies the whole meal by being a group of ingredients available from any market, put together with no need for intervention by a 'chef' and served as a course We also chose to have the 5 wine packet at €35 each. The serves were meagre and the wines not great as we confirmed later. Being fairly widely travelled we wondered about the lack of European wine and found out later (you have to marvel at the internet) that the Australian Riesling was only A$15/bottle, that is €7 = over $10/glass. We consider this to be one of the lowest of our culinary experiences and will not go back. More
This upscale restaurant promises more than it can deliver. The reception and maitre take themselves very seriously which is actually a bit funny. The food is not bad and not very expensive. The location is outside the city of Leiden at 30 min walk from... the railway station. The good thing is the garden. So if you want to go here, go for lunch on a sunny day. More
We had a (special offer!) 5 course dinner. The food was excellent, but as there were just the 2 of us we felt that there was a very long time between the courses. The (merlot) red house wine was excellent. As was the glass of... bubbles that was included in the deal. Comfortable seats, good atmosphere. There was no-one to greet us so after hanging up our coats 2 personnel appeared to attend to the guests before us and to us. More
I have never had such a good high tea! Tasty teas and amazing, delicious food with it! The ambience of the restaurant was very cozy! Love the interior! Can't wait to go again!
We had a family lunch with three adults and three children. It was a really nice sunny afternoon and lunch was served in a secluded garden. We had a three course lunch with a starter of artichoke soup, a main of seabass and a desert... of cocos ice-cream. We enjoyed it with a nice bottle of Argentinian Sauvignon Blanc. For the children we had a pitcher of regular table water. Service was really friendly and as the children don't like cocos deserts they changed the desert for them in a creme brulee. We had a perfect afternoon and will come back for sure! More
Nice bar, good menu selection, fine cooking, friendly staff, cozy atmosphere, good tip within 15 km of the Keukenhof.
We were a group of seven and had ordered the menu fixe for the week. The four courses were beuatifully presented but not fussily. More importantly, the food was very well prepared. Moreover, the decor of this ancient inn is unbeatable. The chairs are low... relative to the table.The only other critical comment that needs to be made is that the extremely friendly serving staff lacks elementary training ( breaking in on conversations, dropping things, humming in passing, etc.). More
Nice staff. I like the style of the bar and the hotel. Room is so so. A bit chichi. However this is a cool escape. With a lot of hidden secrets. Breakfast is marvelous. Waiter at dinner let us wait for more than half an... hour so we left the restaurant (unfortunately for a bad dinner elsewhere). When we came back waiter was there and excused. That was really cool. Needs guts. Well done. More
We stayed here for our anniversary. We booked the suite named New York. We had a light lunch. Our room was incredible, 110 square meters. In the evening we had a lovely dinner. The hotel is an old farm. They have only 9 suites. It's... very well positioned between Amsterdam, Schiphol and The Hague, very near the highway N44. The hotel is very popular for weddings, anniversaries and business. We had a very romantic stay. More
BEUKENHOF, Oegstgeest - Restaurant Reviews, Photos & Phone Number - Tripadvisor
Service: 3.5
Atmosphere: 4.5
About: Erasmus Castle
Erasmus Castle (Erasmuskasteel in Afrikaans), also known as "Die Spookhuis" or "The Haunted House", is an imposing mansion situated on a hill in the Erasmuskloof suburb of Pretoria, South Africa. Originally owned by George Dean Erasmus, it is a unique landmark in the city and rumours of ghosts and supernatural encounters in and around the residence are plentiful. Though the house and its grounds are privately owned by Armscor, public tours or cultural gatherings at the premises can be arranged. The mansion is said to be haunted, and paranormal activity is claimed to include lit windows in the uninhabited mansion, encounters with Dean Erasmus, and hearing disturbing moans at night.

if (!inwiki && isMobileDevice){ document.write(' (adsbygoogle = window.adsbygoogle || []).push({}); ');} Spookhuis (Ghosthouse) (Pretoria)
Similar places
Nearby places
Nearby cities
Parys Golf and Country Estate 142 km
Nyl River wetlands 150 km
Treeferns Trout Lodge 193 km
Blyde River Canyon 286 km
Phinda Resource Reserve 457 km
Nagel Dam 479 km
Morokweng crater 510 km
Kathu 560 km
Addo Elephant National Park 883 km
Cannon Rocks, Eastern Cape, South Africa 898 km
Moreleta Park 3.4 km
Waterkloof Air Force Base 4.2 km
Pretoria Area 2 4.4 km
Garsfontein 4.9 km
Groenkloof Nature Reserve 5.8 km
Pretoria East Region 1 5.9 km
Faerie Glen 6 km
Groenkloof 358-Jr 7.3 km
Rietvlei Nature Reserve 9 km
Pretoria 4 16 km
36 km
55 km
61 km
203 km
271 km
391 km
415 km
418 km
515 km
931 km
Post comment
or continue as guest