Tecno Phantom X2 Pro review: Intriguing design, irksome software
Tecno's latest phone has a back made out of recycled ocean plastic, but the software is in need of an overhaul..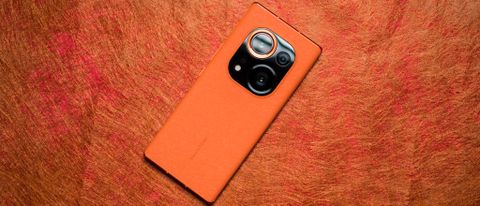 Android Central Verdict
The Phantom X2 Pro gets a lot right on the hardware side of things. I like the vibrant orange hue and the fact that the back is made out of recycled ocean plastic, and the Dimensity 9000 is great in daily use. The 50MP camera takes good photos, there's a retractable portrait lens, and the battery lasts all days. However, the software lacks refinement and misses out on basic features, and the phone will not get platform updates on time. Ultimately, the lackluster software detracts from what is a good hardware package.
Unique design that reuses plastic waste
Vibrant 120Hz AMOLED screen
Reliable MediaTek hardware
Good cameras
All-day battery
Launching with Android 12
Heavily-skinned software lacks refinement
Lot of bloatware out of the box
No water resistance
Will not get timely updates
Why you can trust Android Central Our expert reviewers spend hours testing and comparing products and services so you can choose the best for you. Find out more about how we test .
Availability
Design and screen
Hardware and battery
The competition
Should you buy it?
Tecno isn't a brand that will be familiar to may in the west, but the Chinese manufacturer is a major player in Africa, where it edged out Samsung last year to become the largest phone brand. Tecno is a part of Transsion Holdings and follows a similar structure as BBK , counting other phone brands Itel and Infinix as siblings.
While BBK focused on key Asian markets and is now making inroads in the west, Tecno turned to Africa to drive momentum outside its home market. Tecno has a large retail network in key countries in the African region, and the brand is now targeting other emerging markets. It already has a foothold in India and the Middle East, and is looking to gain market share in these countries with its latest devices.
I haven't covered Tecno much, but that's changing with the Phantom X2 Pro. The Phantom series covers the high-end category in Tecno's portfolio, and the latest model has a lot to offer: the Phantom X2 Pro is the first phone to feature a retractable portrait lens, and it has a unique back made out of recycled ocean plastic. With Tecno gearing up for a global launch for the Phantom X2 Pro, let's take a look at what you're getting with the device, and whether it can go up against more established brands.
Tecno Phantom X2 Pro: Pricing and availability
Tecno unveiled the Phantom X2 Pro at a launch event in Dubai on December 7, 2022, and the device is going on sale in a few weeks. There are two variants in the Phantom X2 series: a standard model and a Pro version. The Pro model gets the retractable lens and uses the Dimensity 9000, and you get a back made out of ocean plastic, 50MP Samsung camera, and 5160mAh battery. The standard Phantom X2 has the same internal hardware but comes with a 64MP camera instead of the 50MP lens.
The Phantom X2 comes in Stardust Grey and Moonlight Silver color variants, and includes 8GB of RAM and 256GB of storage as standard, with Tecno following in the heels of Xiaomi and other Chinese brands in rolling out 256GB as the base storage tier. The Pro model is available in Stardust Grey and Mars Orange variants, and features 12GB of RAM along with the same 256GB of storage.
The Phantom X2 series is launching in over 60 countries, but it will not be coming to Europe or North America. As stated earlier, Tecno's key focus is emerging markets, and the Phantom X2 Pro will be available starting in India, Nigeria, Kenya, Saudi Arabia, Colombia, Turkey, and the Philippines.
In Saudi Arabia, the standard Phantom X2 will start off at 2,699 Saudi Riyal ($717), with the Phantom X2 Pro going on sale for 3,499 Saudi Riyal ($930). Tecno says those figures are in line with what the devices will cost in other markets.
Tecno Phantom X2 Pro: Design and screen
The obvious talking point with the design is the camera housing at the back. I've seen a lot of interesting designs over the course of 2022, and Tecno's ridiculously large rings for the camera modules is one of the most striking yet. It is similar to what ASUS did with the Zenfone 9 , but the modules are even larger here. That said, the oversized design works really well here, and it gives the device a bit more of a distinctive design.
The bold styling combined with the vibrant orange hue gives the Phantom X2 Pro a lot of character — the best part is the use of recycled materials.
Tecno is going up against the likes of Xiaomi, Vivo, and Samsung, so it needs to do something a little different to stand out. The camera housing is a great starting point, and the brand followed that up with a unique Mars Orange color variant that's made out of recycled ocean plastic sourced in the Indian Ocean. This isn't a regular plastic finish like the Galaxy S21 FE , but has a gritty texture that's more in line with the vegan leather back of the Find X2 Pro .
This texture gives the phone a lot of character, and having used a lot of devices with glass and polycarbonate backs this year, the Phantom X2 Pro stands out thanks to the vibrant hue and the materials used. Tecno says it was able to cut down on carbon emissions by 38% by using recycled materials, with individual back covers producing 2.4g fewer emissions on average. That's a pittance when you factor in the global manufacturing industry, but every little bit makes a difference, and I like the fact that Tecno went this route for the Phantom X2 Pro.
The rest of the design is just as interesting: the aluminum mid-frame has the same orange hue as the back, and the subtle curves at the front and back make holding and using the phone a delight. The build quality and fit and finish are on par with the best Android phones , and there are absolutely no issues in this area. Coming in at 195g, it isn't too heavy either.
Like most brands, Tecno has forgotten about the 3.5mm jack and MicroSD slot, but you do get a dual-SIM tray here, and the package includes a charger and USB-C earbuds. What's a more egregious omission is ingress protection; with other devices offering this feature as standard nowadays, the Phantom X2 Pro is on the backfoot.
Overall, Tecno did a great job reusing plastic waste for the back cover, and the bright orange hue makes the Phantom X2 Pro that much more interesting. I would have liked to see ingress protection of some sort, but other than that, the Phantom X2 Pro nails the basics.
The Phantom X2 Pro has a large 6.8-inch AMOLED panel with FHD+ (2400 x 1080) resolution and 120Hz refresh, and there is a lot to like here. The panel has good colors and is vibrant in outdoors use, and there is a decent amount of customizability in tweaking the color balance.
You also get an always-on mode, and similar to ColorOS and MIUI, you have a good selection of clock styles available. Tecno uses smart refresh rate switching out of the box, but it's easy enough to select the 120Hz mode as default in the settings. The interface feels smooth to navigate, and the high refresh works well in Chrome and social media.
Tecno Phantom X2 Pro: Hardware and battery
The Phantom X2 Pro is powered by MediaTek's 4nm Dimensity 9000. With the Dimensity 9200 now official, it would have been nice to see the phone feature MediaTek's latest platform, but the Dimensity 9000 has a lot to offer as we head into 2023. I used a few phones with the Dimensity 9000 in recent months, and it does a great job at intensive workloads while still managing to deliver good efficiency figures.
Thanks to the Dimensity 9000, you won't find any slowdowns here.
I'm not going to talk about the hardware too much as the Dimensity 9000 is a known quantity at this point. I didn't see any slowdowns whatsoever in the week that I used the X2 Pro, and the 12GB of RAM and 256GB of storage is more than adequate for most users. The phone has Wi-Fi 6 and Bluetooth 5.3, and I didn't see any issues in this area. There's a decent selection of 5G bands as well — 1/3/8/28/38/40/41/77/78/79 — along with global 4G connectivity.
The phone is fluid in daily use, and does a good job with visually-intensive titles. The one issue I have is with the vibration motor; it doesn't deliver good feedback and comes across a bit flat when using gesture navigation and the keyboard. I haven't run into this particular problem with most devices in 2022, and this is an area that Tecno needs to address with subsequent launches.
Switching over to the battery side of things, the Phantom X2 Pro has a large 5160mAh battery that lasts all day without any issues. Even with heavy use, you should have no issues getting the phone to the end of the day. Tecno doesn't use the USB PD standard, instead relying on its own 45W charging tech. The bundled charger does a good job charging the device fully in over an hour, but you miss out on wireless charging.
Tecno Phantom X2 Pro: Cameras
Tecno isn't particularly well-known for its camera tuning, but the brand is aiming to change that with the Phantom X2 Pro. A good starting point in doing that is the hardware, and the device has plenty to offer in this area. There's a 50MP Samsung GNV 1/1.3-inch module with large 1.2 micron pixels — the same as the Vivo X80 Pro — and that's joined by a 13MP wide-angle lens that also doubles up for macro shots, and a new 50MP portrait module with a retractable lens.
The 50MP module is highlighted with an orange accent, and it is pretty cool to see the lens jut out of the chassis when portrait mode is activated. You can manually retract the lens, and the camera will close as a result. The lens switches to 2.5x mode when extended, and in the standard 1x mode it stays inside the chassis.
Using a phone with a retractable lens is just as interesting as devices from three years ago that had motorized front camera modules, and the novelty doesn't wear off. That said, I'm not sure the retractable motor is as durable here. The camera interface itself is standard fare, with the shooting modes laid out in a ribbon and the filters for AI scene recognition, timer, full-res 50MP mode, and settings easily accessible.
Having never used a Tecno phone before, I wasn't sure about the quality of the images. I was pleasantly astonished in this regard; the Phantom X2 Pro delivers vibrant photos with great dynamic range and color accuracy in daylight conditions, and while the hardware on offer is among the best available, there is a lot of tuning work needed to get consistent photos.
The phone did a great job in low-light situations as well, producing shots with good colors and little to no visible noise. Highlights are managed well, and while the phone tends to shoot at lower ISO levels to minimize noise, you don't miss out on too much detail. The portrait lens is fantastic as well, offering creamy bokeh and doing a great job with background segmentation. The default shooting mode uses AI for scene recognition, and it did a decent job locking in on subjects and identifying various scenes.
The wide-angle lens isn't quite up to the mark, but it manages to deliver usable shots most of the time. The dedicated night mode makes a huge difference for low-light shots, and it automatically kicks in if the camera detects the ambient lighting to be too low.
Overall, the Phantom X2 Pro does a great job in this area. You get good photos in any lighting situation, and the retractable lens at the back is a fun inclusion that makes a difference.
Tecno Phantom X2 Pro: Software
This is the first time I've used a Tecno phone, and I was interested in seeing what the software has to offer. The Phantom X2 Pro runs HiOS 12 based on Android 12 , and it is a heavily customized skin that looks very different to other brands. Setting up the phone is straightforward; Google mandates all manufacturers to use a similar flow, so transferring data to the device was familiar.
Tecno's HiOS 12 is unrefined and heavily skinned — it's clear that the brand needs to do a lot of work in this area.
That said, there are a few translation errors when configuring the in-screen reader, and it feels like the interface is designed for a Chinese audience with the global version getting direct translations to English. The home screen looks familiar, but the notification shade is split into a Control Center-esque toggles section and a pane that only surfaces notifications.
I'm not a fan of this layout, and while other interfaces follow a similar structure — MIUI comes to mind — there is a way to switch back to the standard Android notification pane with both toggles and notifications in the same view. That isn't possible here.
What's more annoying is that there's no way to customize the pull-down gesture to surface the notification pane. I use this gesture a few dozen times a day to see incoming notifications, but in HiOS 12 the gesture pulls up the search bar. There's no way to change this behavior, and the interface makes it harder than necessary to access notifications. Other frustrations include not being able to arrange the home screen easily; you can't delete icons en masse. There's no Google dialer either, with Tecno bundling its own alternative.
There's a lot of stuff baked into HiOS, including floating windows similar to MIUI, edge panels, and the ability to run two instances of a service (limited to messaging services). The app drawer looks cluttered because of the alphabetized listing, and it isn't possible to switch this layout. You'll find a lot of bloatware installed out of the box here, and while most of it can be disabled, that isn't the case for Tecno's own utilities.
The Phantom X2 Pro will only get the Android 13 update in the second or third quarter of 2023.
The most egregious of these is a digital assistant called Ella. It's limited in its usability and is frustrating to use, and the fact that you cannot disable it is irksome — even Samsung lets you disable Bixby on its devices.
Using the interface reminded me a lot of the initial days of MIUI, ColorOS, and EMUI, when these interfaces lacked polish and were tailored for the Chinese market. HiOS has some way to go in this area, and while it gets a few things right, it's clear that Tecno has a long way to go. And on that subject, there's no mention of how many platform updates the Phantom X2 Pro will get.
The phone is launching with Android 12 in December 2022 — three months after Google officially released the latest version of Android — and looking at Tecno's history, it looks like a long wait before Android 13 makes its way to the device. While Tecno didn't reveal a timeline for when the Phantom X2 Pro will get Android 13, the brand stated that the rollout will be sometime in the second or third quarter of 2023, and that just doesn't cut it for a device in this category.
Tecno Phantom X2 Pro: The competition
There's no shortage of choice if you're looking for a device with high-end hardware. I'm a big fan of the Xiaomi 12 series; Xiaomi nailed the design and in-hand feel with this generation, and the device has exciting hardware combined with a stellar camera, useful software features, and fast wired and wireless charging tech.
Realme's GT 2 Pro is also an underrated device that gets a lot right. It has an interesting design at the back, reliable hardware, same great screen as the rest of BBK's high-end portfolio, and a good set of software features. The GT 2 Pro is now selling in India for ₹49,999 ($605), and that's a great value for what you're getting.
Tecno Phantom X2 Pro: Should you buy it?
You should buy this if:
You're looking for a phone with a unique back
You want reliable hardware
You need cameras that take good photos
You want a phone that lasts all day with heavy use
You shouldn't buy this if:
You want a phone with uncluttered software
You need ingress protection or wireless charging
You're looking for timely software updates
Tecno got a lot of things right on the hardware front with the Phantom X2 Pro, but that is the case with most phones these days. It's the software that is the bigger differentiator, and Tecno is significantly lagging behind its Chinese rivals in this area. HiOS 12 is heavily customized, has a lot of unnecessary features that don't have a lot of utility, and the interface lacks refinement. Combine that with a lackadaisical attitude toward updates and you have a phone that doesn't measure up to the likes of the Xiaomi 12, Find X5, and Vivo X90.
Ultimately, it doesn't make much sense to pick up the Phantom X2 Pro considering other brands deliver refined software with a better feature-set and timely updates. Countries like India and Saudi Arabia have a varied selection of devices from leading manufacturers, but in other markets — African and South American countries — there's significantly less choice, and the Phantom X2 Pro is likely to do better in those regions.
As it stands, the Phantom X2 Pro has a lot of hardware potential thanks to the vibrant screen, MediaTek Dimensity 9000 platform, 50MP camera, and large 5160mAh battery. But the software needs an overhaul if Tecno wants to play in the big leagues.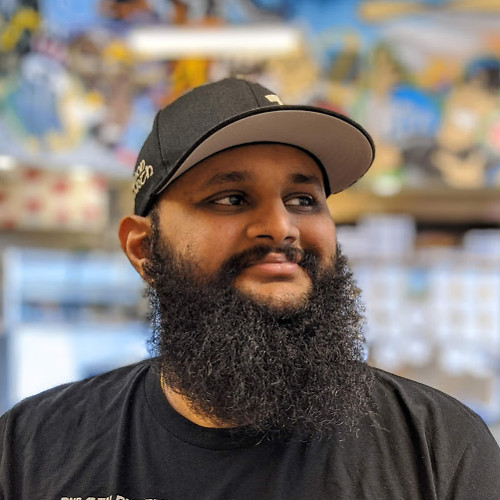 Harish Jonnalagadda is a Senior Editor overseeing Asia at Android Central. He leads the site's coverage of Chinese phone brands, contributing to reviews, features, and buying guides. He also writes about storage servers, audio products, and the semiconductor industry. Contact him on Twitter at @chunkynerd .
Does the OnePlus Open include stylus support?
Samsung's 2025 flagship phones could be pricier than ever thanks to Qualcomm
How to play multiple music services on an Amazon Echo
Most Popular
By Harish Jonnalagadda October 11, 2023
By Andrew Myrick October 11, 2023
By Nicholas Sutrich October 11, 2023
By Harish Jonnalagadda October 10, 2023
By Andrew Myrick October 09, 2023
By Harish Jonnalagadda October 09, 2023
By Nicholas Sutrich October 09, 2023
By Namerah Saud Fatmi October 01, 2023
By Harish Jonnalagadda October 01, 2023
By Harish Jonnalagadda September 28, 2023
By Ted Kritsonis September 27, 2023
Tecno Phantom X2
Screen: 6.8" AMOLED - 1080 x 2400
SoC: MediaTek Dimensity 9000
Camera: 3 (64 MP + 13 MP + 2 MP)
Battery: 5160 mAh
OS: Android 12
Weight: 203 grams (7.16 oz)
Full specifications
Design and build, performance, connectivity, user ratings, write a comment.
Software & Apps
Features Comparisons
Test-based Comparisons
Mobiles Comparisons
Web Stories
New OTT Releases
POPULAR MOBILES:
OnePlus Open
vivo Y200 5G
Motorola Edge 40 Neo
Apple iPhone 15 Pro Max
Xiaomi Redmi 12 5G

Tecno Phantom X2 5G Review: A Gutsy Move, But Does it Stick?
The Phantom X2 5G puts forward an interesting proposition with an enigmatic design approach, a flagship processor, and a curved display at an attractive price of Rs 39,999 in India. The main question here is; can Tecno lure customers from the other flagship manufacturers in this price bracket?
The Phantom X2 5G is priced at Rs 39,999 in India
It is only available in a single 8GB RAM + 256GB storage variant
The MediaTek Dimensity 9000 SoC powers it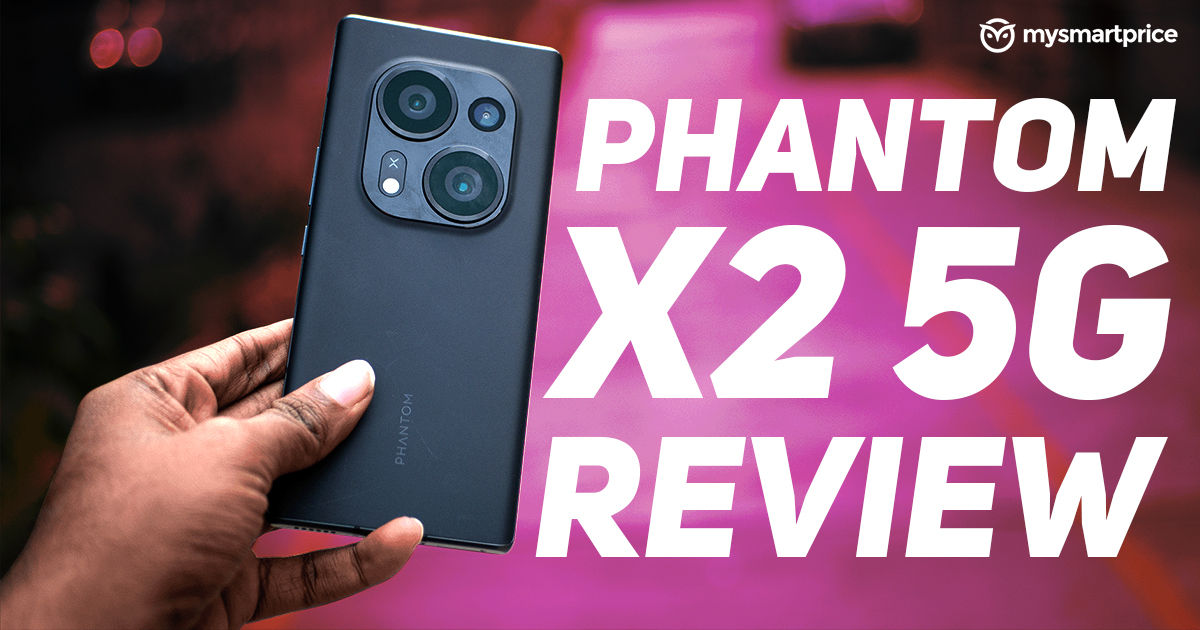 Tecno is well known in the Indian markets for its budget range of devices. It has made its mark in the budget segment with its Pova, Spark, and Pop series, while the Camon series meanders around the Rs 20,000 price point. However, Tecno clearly doesn't wish to stop there, and it has shifted into top gear by launching its baby flagship, the Phantom X2 5G . We call it 'baby' because there's no word on the bigger Phantom X2 Pro 5G ( First Impressions ), a smartphone that made headlines while the Qatar World Cup was in full swing.
Phantom X2 5G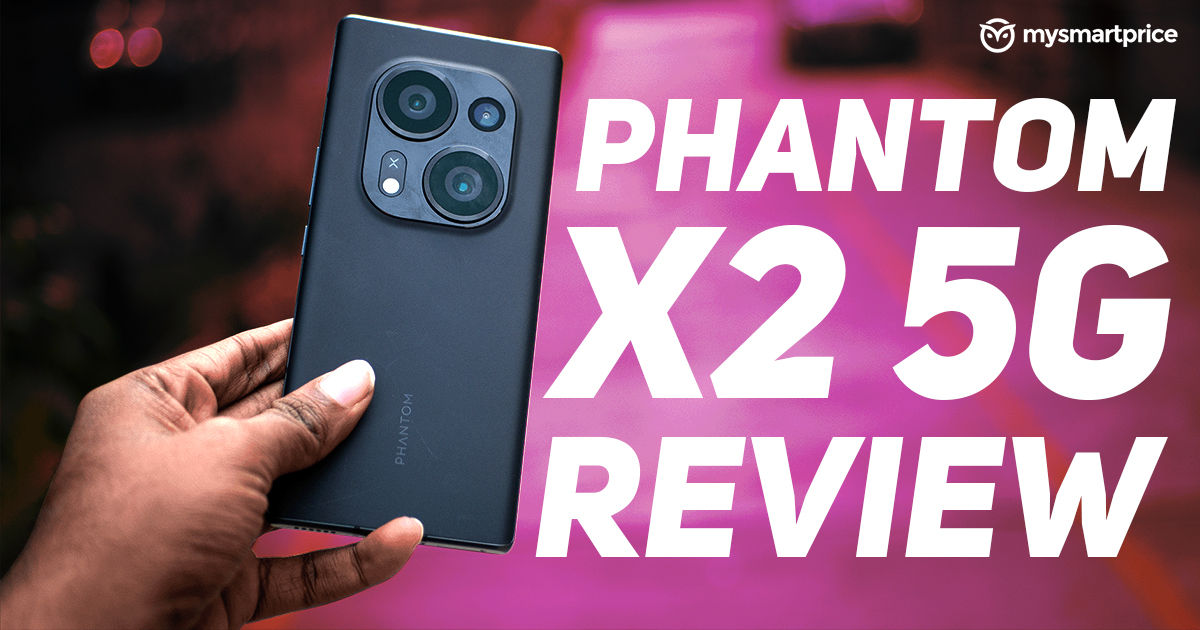 Design & BUILD
Performance, battery life, camera quality, ui experience, day-to-day usage, value for money, what is good.
Unique design, excellent build quality
Capable camera setup
Well-optimised Dimensity 9000 SoC
Impressive battery life
Responsive AMOLED display
Interesting pricing
What Is Bad?
No stereo speakers
Pre-installed bloatware
Slow charging, as per current standards
Still stuck on Android 12
No IP rating
Moving on, the Phantom X2 5G has a tall mountain to climb. With a price tag of Rs 39,999, it has to go up against the category favourites, namely Realme GT Neo 3 , OnePlus 10R , OPPO Reno 8 Pro , and iQOO 9 .
It has a bunch of things going for it, though. One, it is the cheapest smartphone with a MediaTek Dimensity 9000 SoC in India. It also has a curved AMOLED display and a triple camera setup led by a 64-megapixel shooter. But are these specifications enough to stir things up in the segment? More importantly, is the Phantom X2 5G worth a shot? Find out in our review.
Tecno Phantom X2 5G Review: Pricing and availability in India
Tecno has kept things simple with Phantom X2 5G. You can buy it in a single variant with 8GB RAM and 256GB storage for Rs 39,999 on Amazon. Here's the twist — Tecno promises a free upgrade to the Phantom X3 for the first 300 people who pre-book the device (divided between Amazon and offline stores). That's one way to build a customer base if you ask us. Tecno provides 12 months of warranty and also offers 100 days of free screen replacement.
Tecno Phantom X2 5G Review: The goodness of a curved display and a striking design
Making a device stand out these days is a tough job. However, the Phantom X2 5G, with its distinctive camera module, has clearly excelled at that. It grabs eyeballs everywhere because of its unique rear camera design. It happened to us, too – a few passers-by took a moment to take notice of the cameras as we clicked some camera samples in a garden nearby.
The device is available in two colourways: Moonlight Silver and Stardust Grey. We have the latter with us for this review, and it looks subtle with a coarse texture at the back, as opposed to the glossy and shiny approach of the silver colour variant. Along with the slightly rough texture, it has a silky finish with small shiny elements that glow when light hits it. The rear panel only has the "Phantom" branding at the bottom.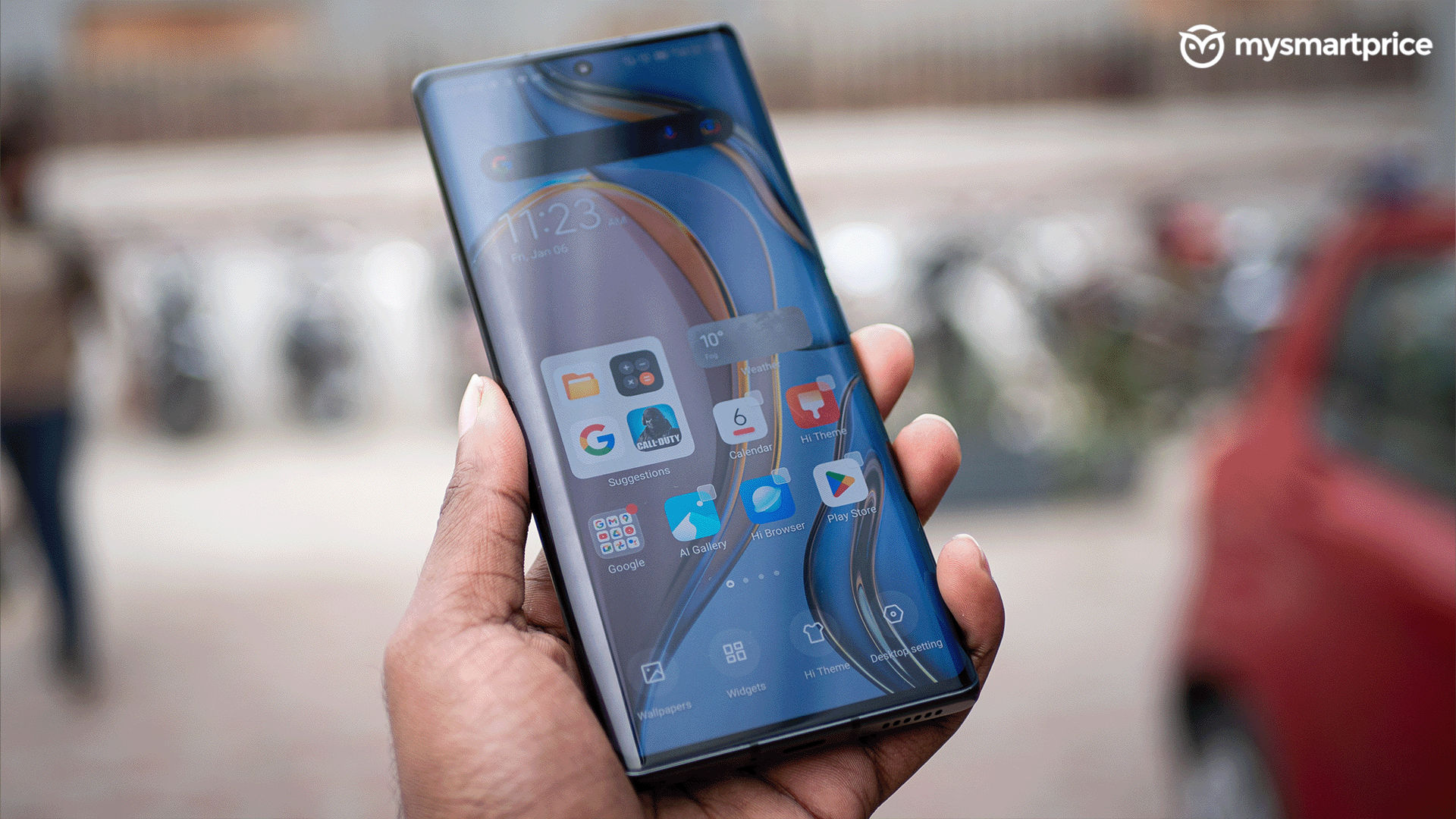 The Phantom X2 5G has a unibody design with a plastic back and glass front meeting its aluminium frames at the centre. Ergonomics-wise, single-handed use is risky as hell – it just doesn't like staying in your hand! The Indian variant includes a case, we recommend using that. The device feels premium, and the curved edges around the phone slightly help with holding the device.
The Phantom X2 5G weighs 210 grams, which is on the heavier side. The weight seemed to be balanced, and it did not feel as top-heavy as the bigger sibling — despite both sharing the same camera island. The camera module has a total of three rings — which Tecno lovingly calls "3.5D lunar craters". They protrude a bit, causing the phone to wobble when kept on flat surfaces.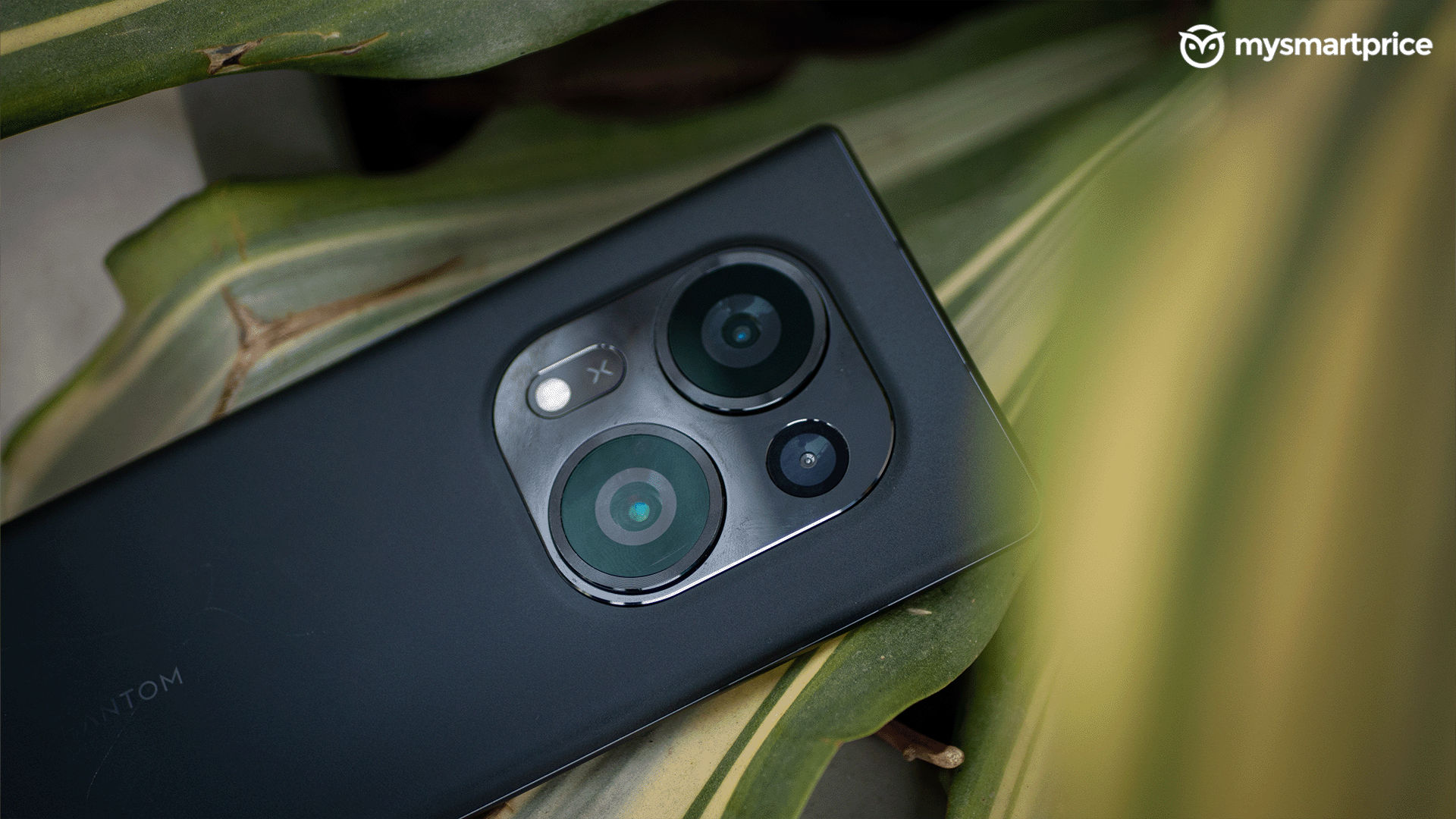 If you hold it at an angle, the two big lenses replicate the eyes, while the small lens looks like a mouth — creating a funny little robot face. It gets a glass finish, different from the back panel, to add some disparity. The glass attracts fingerprint marks. Just like the curved edges around the phone, the camera module is also polished and smoothened out, so it does not cut your skin or get stuck somewhere in your jeans pocket.
The device has aluminium frames with the right side housing the volume rockers and power buttons — the latter gets special treatment with red accents. The buttons are well-placed for reachability. Despite their slim design, the buttons have good tactile feedback. The bottom portion of the device holds in place a speaker grille, a USB Type-C port, a primary microphone, and a SIM tray.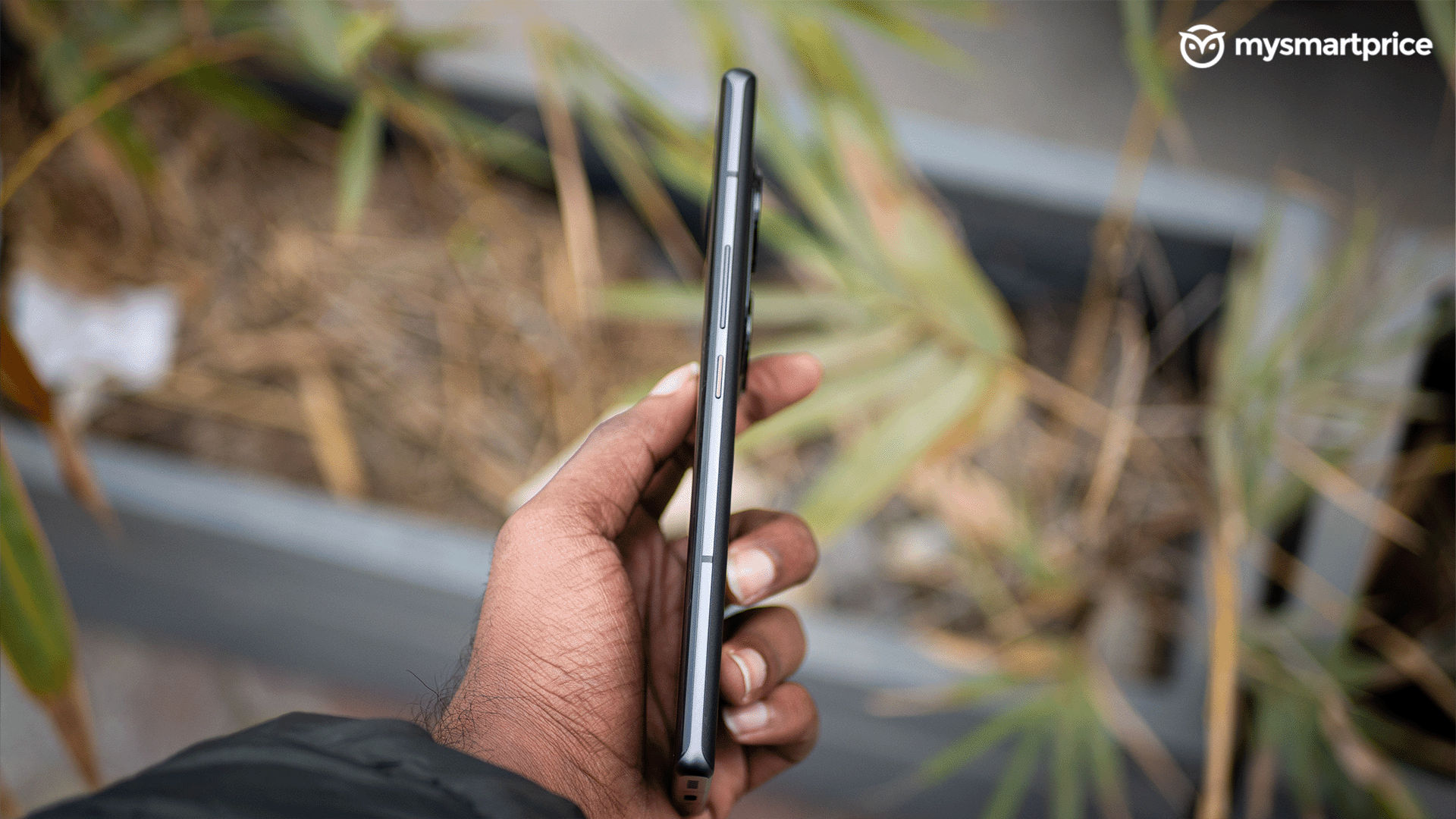 The device can take up to two nano SIMs, and there's no room for expanding storage via a microSD card. The left side is as clean as a whistle, barring antenna bands, with the top portion holding in place a secondary microphone. The top railing has a mirrored finish, which is good for emergency hairstyle checks.
The front of the Phantom X2 5G is wrapped in a 6.8-inch curved AMOLED display with 2400×1080 resolution. It refreshes at 120Hz with a touch sampling rate of 360Hz. The display has a 20:9 aspect ratio and is protected by Corning Gorilla Glass Victus for unfortunate drops and accidents. The curved display looks beautiful with a neat screen-to-body ratio. It has a centrally placed camera at the top which is not too distracting while consuming content.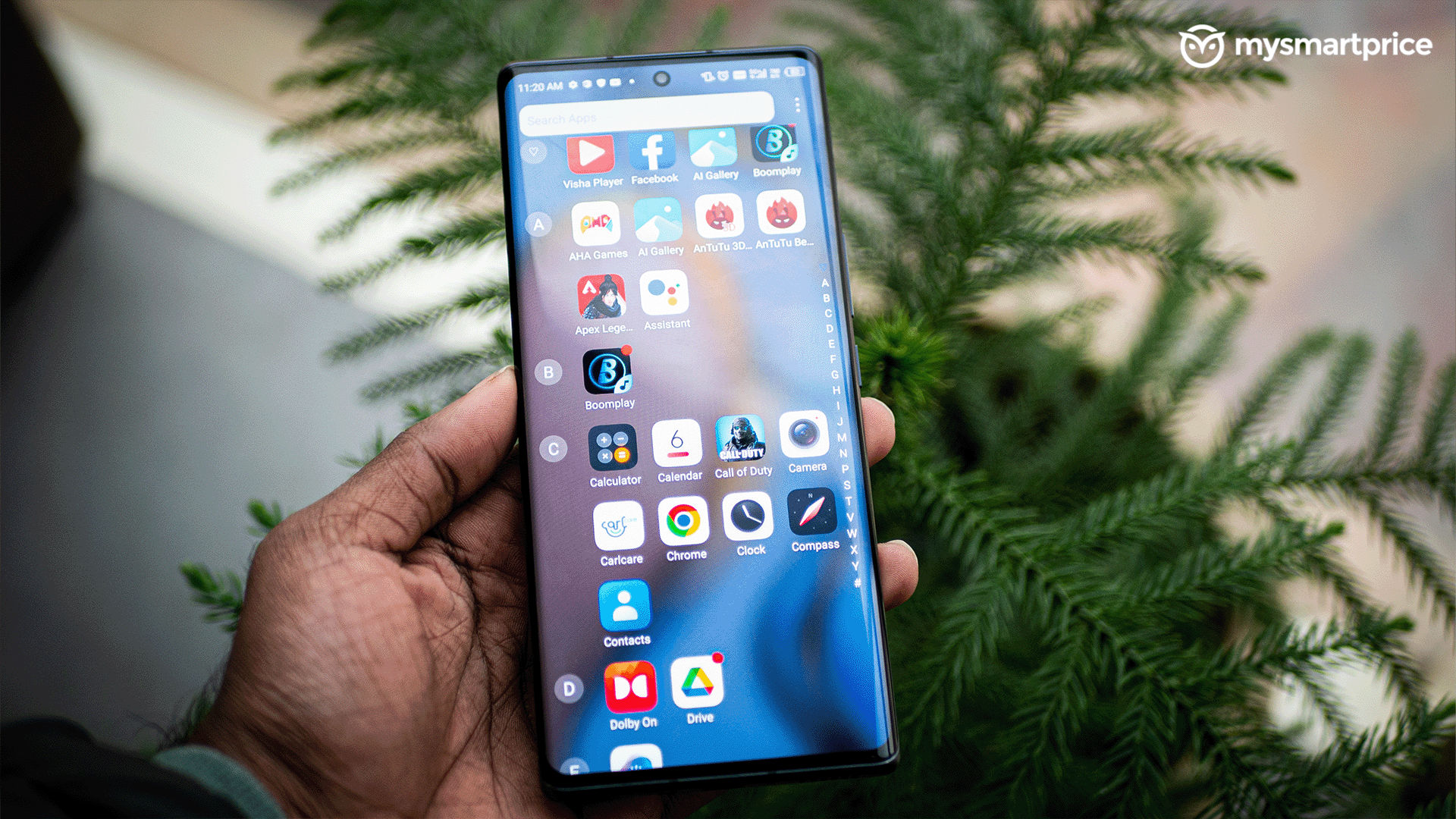 Scrolling through the UI and social media apps on the 120Hz display was a smooth experience. The panel has a brightness of 500 nits. It also has a 'High Brightness Mode' which increases the brightness for more legibility outdoors and can go up to a maximum of 700 nits — which is slightly on the lower side.
Watching movies and other content on curved displays is a fantastic experience — the Phantom X2 5G delivers on that front too. The device supports Widevine L1 certification, so watching movies and TV shows in 1080p on Netflix, Amazon Prime Video, and Disney+ Hotstar is possible. However, it lacks a HDR certification. We watched shows such as Modern Family, Big Bang Theory, and Wednesday on the Phantom X2 5G, and our experience was great. The colours on display pop well, and the videos look crisp and vibrant.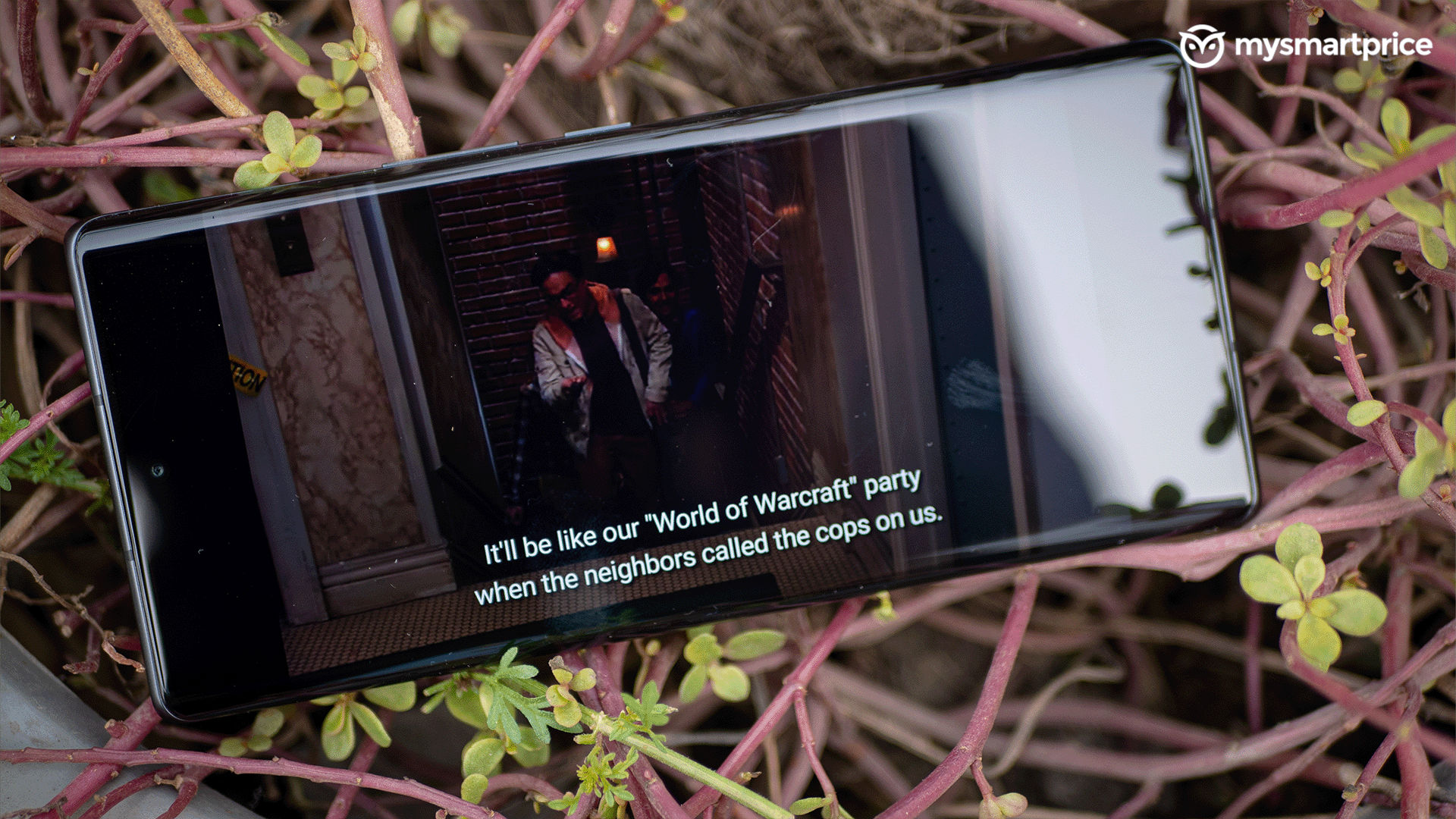 The AMOLED display produces deep blacks, which is good for saving battery, and it also helps enhance the whole watching experience. Shows with dark environments — like Wednesday — look good, and we did not notice any light bleed. Here's a bummer, though – no stereo speaker! It's almost a hygiene feature for smartphones at this price point.
It has a bunch of colour profiles for the display, like 'Bright-coloured', which saturates the colours, while the 'Original colour' preset goes for a more neutral look. The curved display is well-implemented, and the viewing angles are also good. It would've been nice to see Tecno implement some edge lighting, such as the one on Motorola, to completely utilise the display — but it's nothing essential.
One downside to curved displays is accidental touches. The Realme 10 Pro+ managed to fight those off well thanks to its anti-mistouch algorithm — the Phantom X2 5G does not do a good job at rejecting palm touches. This was quite annoying when trying to take photos using one hand.
Tecno Phantom X2 5G Review: A competent performer
The Phantom X2 5G is powered by the MediaTek Dimensity 9000 processor. As mentioned earlier, it's available in a single 8GB LPDDR5 RAM and 256GB storage variant. The chipset is based on the 4nm fabrication process. It's an octa-core processor with a clock speed of 3.05GHz. The Dimensity 9000 SoC is fighting against the big boys from Qualcomm, the Snapdragon 8 Gen-1 and 8+ Gen-1.
The cheapest Snapdragon 8+ Gen-1-powered phone starts at Rs 50,000, while the Phantom X2 5G with its Dimensity 9000 is priced under Rs 40,000. This is an interesting faceoff. The pricing puts the Phantom X2 5G amongst competitors running on the Snapdragon 888 processor. Stirring the pot further, the Phantom X2 Pro 5G also comes with the same chipset — which is an interesting choice considering the pricing disparity between the two in global markets.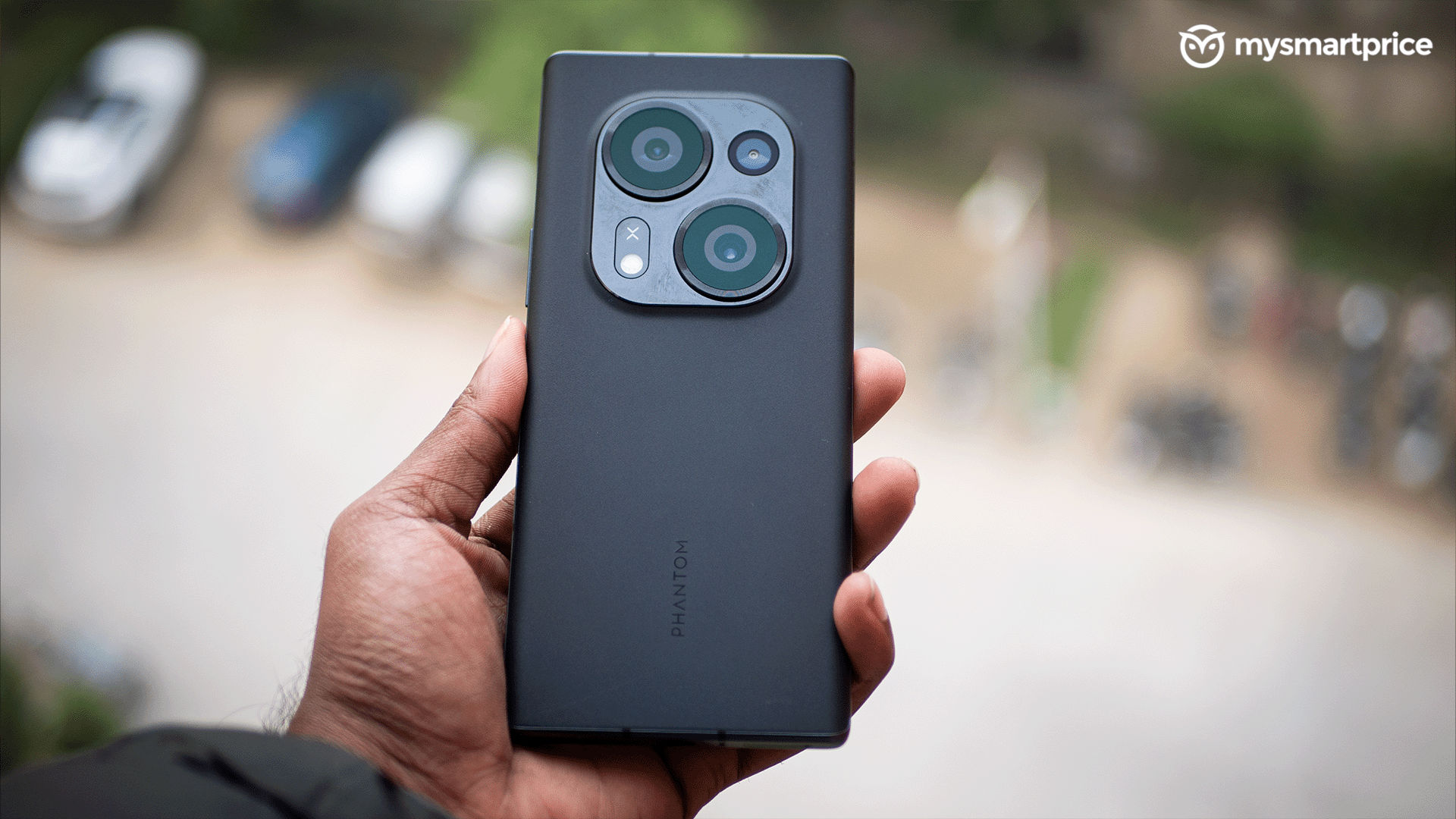 The Phantom X2 5G supports a number of 5G bands. A tab in the settings allows you to enable 'Smart 5G', which automatically switches between 5G and 4G depending on the signal to save the battery. The device has support for dual-band Wi-Fi, Bluetooth 5.3, and NFC.
The Phantom X2 5G runs on HiOS V12.0 based on Android 12, which is a bummer as Android 13 is live and should have been loaded out of the box. There's no word on future upgrades as of now. Our unit is running the September security patch. HiOS is not the prettiest operating system out there, and it took some time to grow on us. While the software, for the most part, is practical and works smoothly, it's still let down by the presence of bloatware and spammy notifications.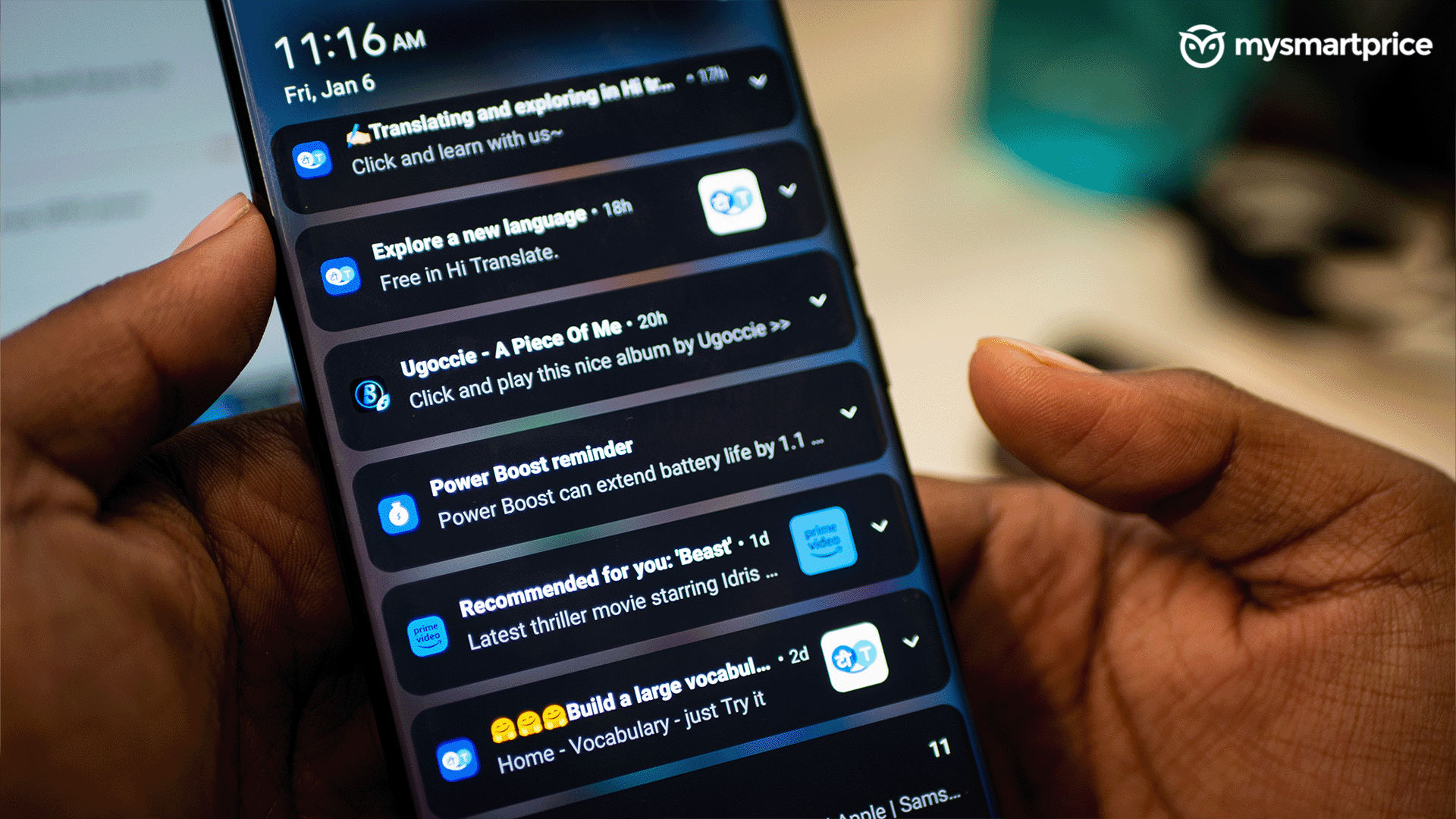 Tecno has an app for almost all basic needs, ranging from its own gallery app to a video player that sends pesky notifications. Apps such as Boomplay, Caricare, Welife, Tecno Spot, and more can be found on the phone. Sadly, these cannot be uninstalled, only disabled. The notification bar holds a lot of useful shortcuts, and we found them to be handy.
A single swipe from the left side will give you access to your notifications, while a swipe from the right will show you the shortcuts. On the other hand, we found the notifications to be a bit cluttered, especially when there are a lot of messages from different chats on WhatsApp.
Gimmicks such as MemFusion, which basically uses a part of storage as RAM, can also be seen on the Phantom X2 5G. You can set aside up to 5GB. It also uses something called AI MemFusion. This predicts less used apps running in the background and puts them in the virtual RAM slot. This allows boosting the speed of the more frequently running apps. We did not notice any major improvements in the performance.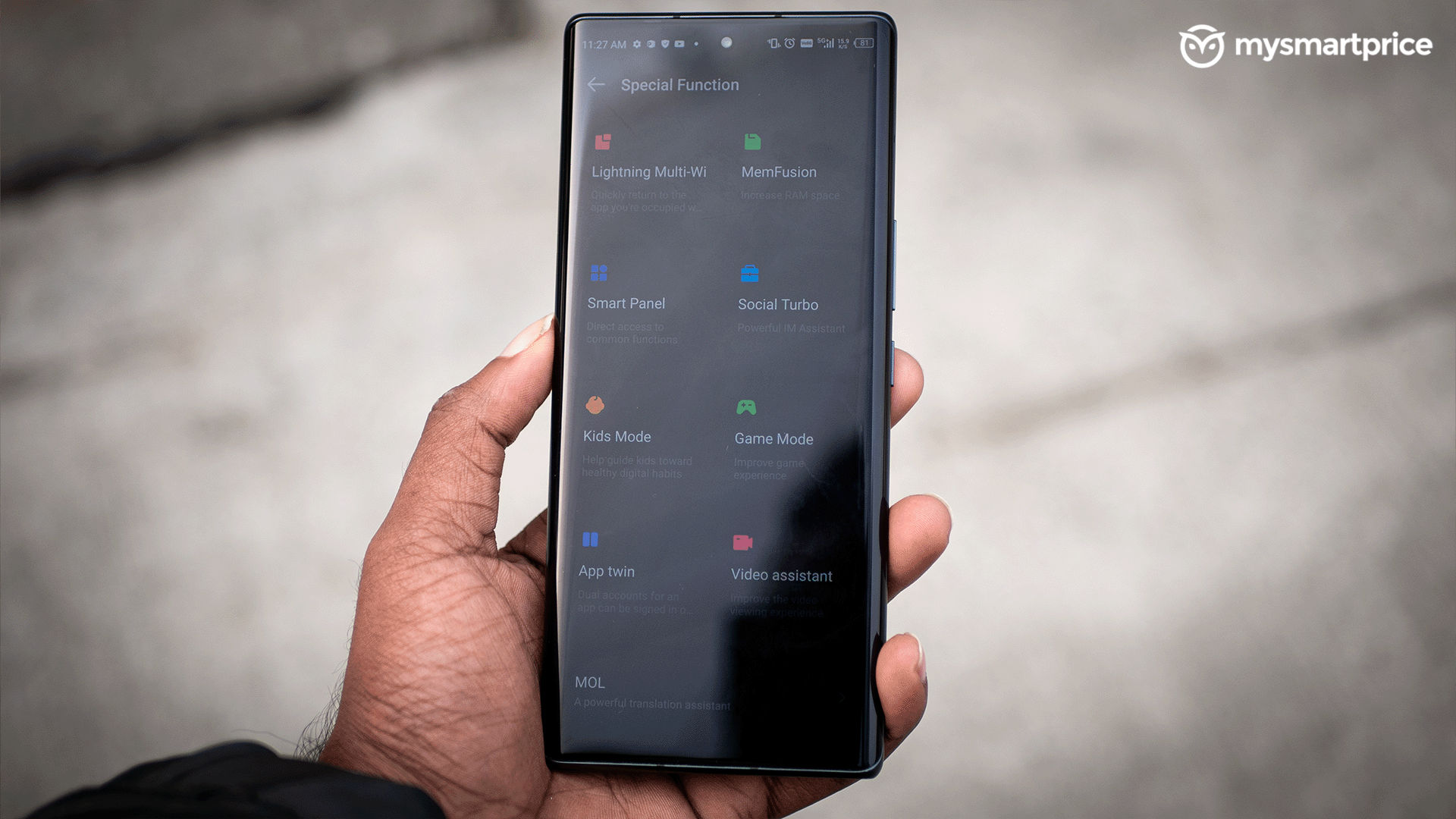 Alongside this, you also get to see 'Special Functions' such as Smart Panel, App Twin, Social Turbo, Lightning Multi-Window, Peek Mode and more. The 'Social Turbo' feature was quite interesting as it gets automatically enabled when you are on a video call on WhatsApp. It shows a small menu with a toggle for beauty mode and a front-facing flash. While the former was not really useful for us, the latter was fun to get some questionable faces from our friends. Overall, we had no major issues with the software, and it worked well in our daily usage despite it being a slightly heavier skin.
The Phantom X2 5G had absolutely no issues performing day-to-day tasks such as switching through multiple apps, multi-tasking, doom scrolling through Instagram Reels, and more. We performed our usual stress test on the device with Google Maps running in picture-in-picture mode and YouTube playing audio in the background.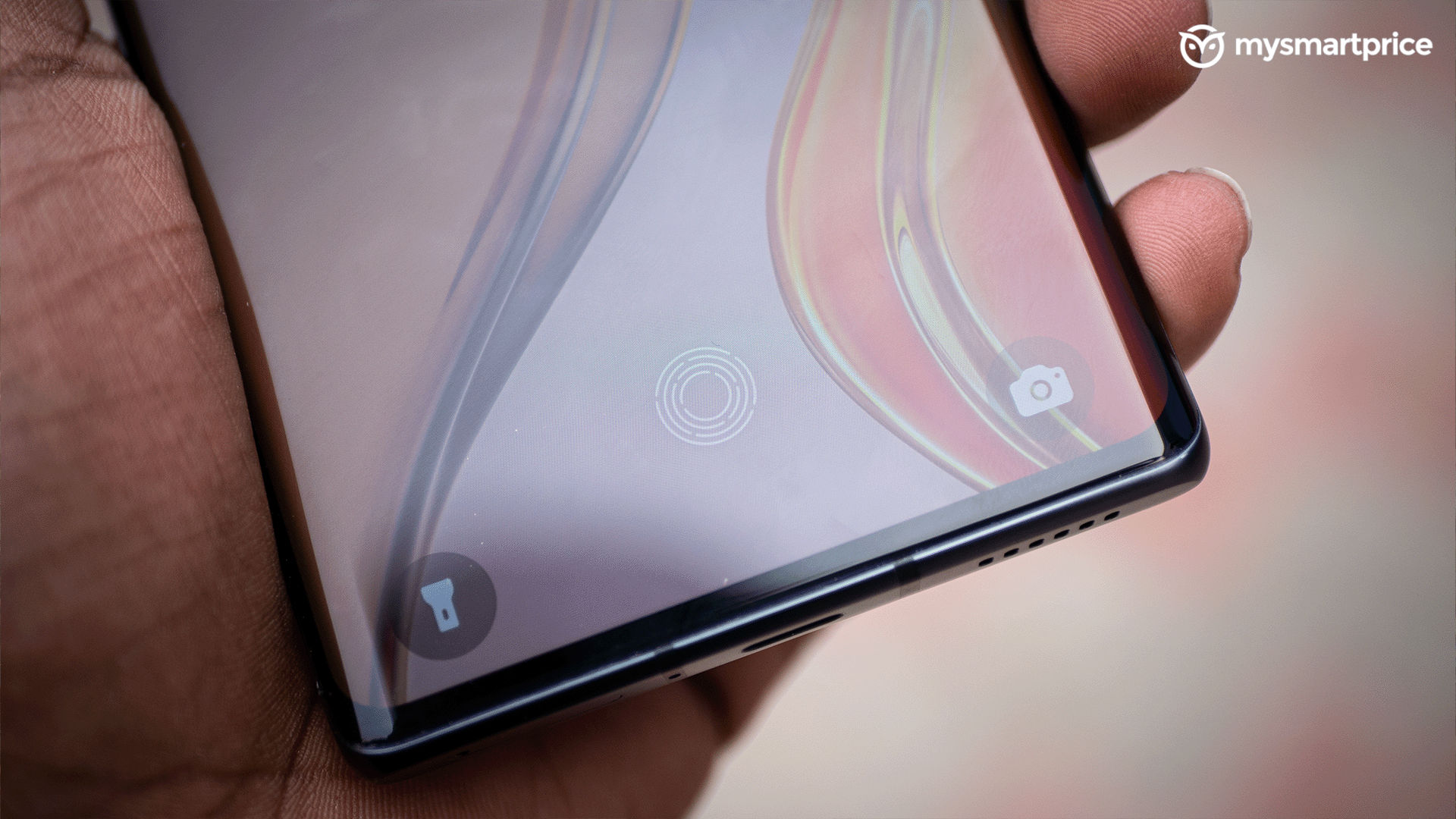 We then went on to scroll through Twitter, followed by Instagram. The phone did not stutter and handled the tasks without hiccups, which is good. The Phantom X2 5G uses UFS 3.1 standard for storage. The in-display fingerprint sensor and face unlock are quick, and they work flawlessly each time. The haptic feedback on the Phantom X2 5G was not up to flagship standards.
Coming to its performance, we ran the Phantom X2 5G through a bunch of synthetic benchmarks. The device scored 946128 in AnTuTu v9 tests, it falls short of the iQOO 9T ( Review ), which managed to score a whopping 1087936 in its tests but beats the OnePlus 10T ( Review ), which scored 787,493. Both the above-mentioned devices run on Qualcomm's Snapdragon 8+ Gen 1.
To put things into more perspective, let's compare the scores of the Phantom X2 5G against the OnePlus 10R and the Realme GT Neo 3, which fall under the same price bracket — the former scored 681353, while the latter managed 813402. The OnePlus 10R runs on Dimensity 8100-MAX, and the Realme GT Neo 3 is powered by the vanilla Dimensity 8100. We also compared it with the fairly recent OPPO Reno 8 Pro ( Review ), which also comes with the Dimensity 8100-MAX — it managed a combined score of 731279.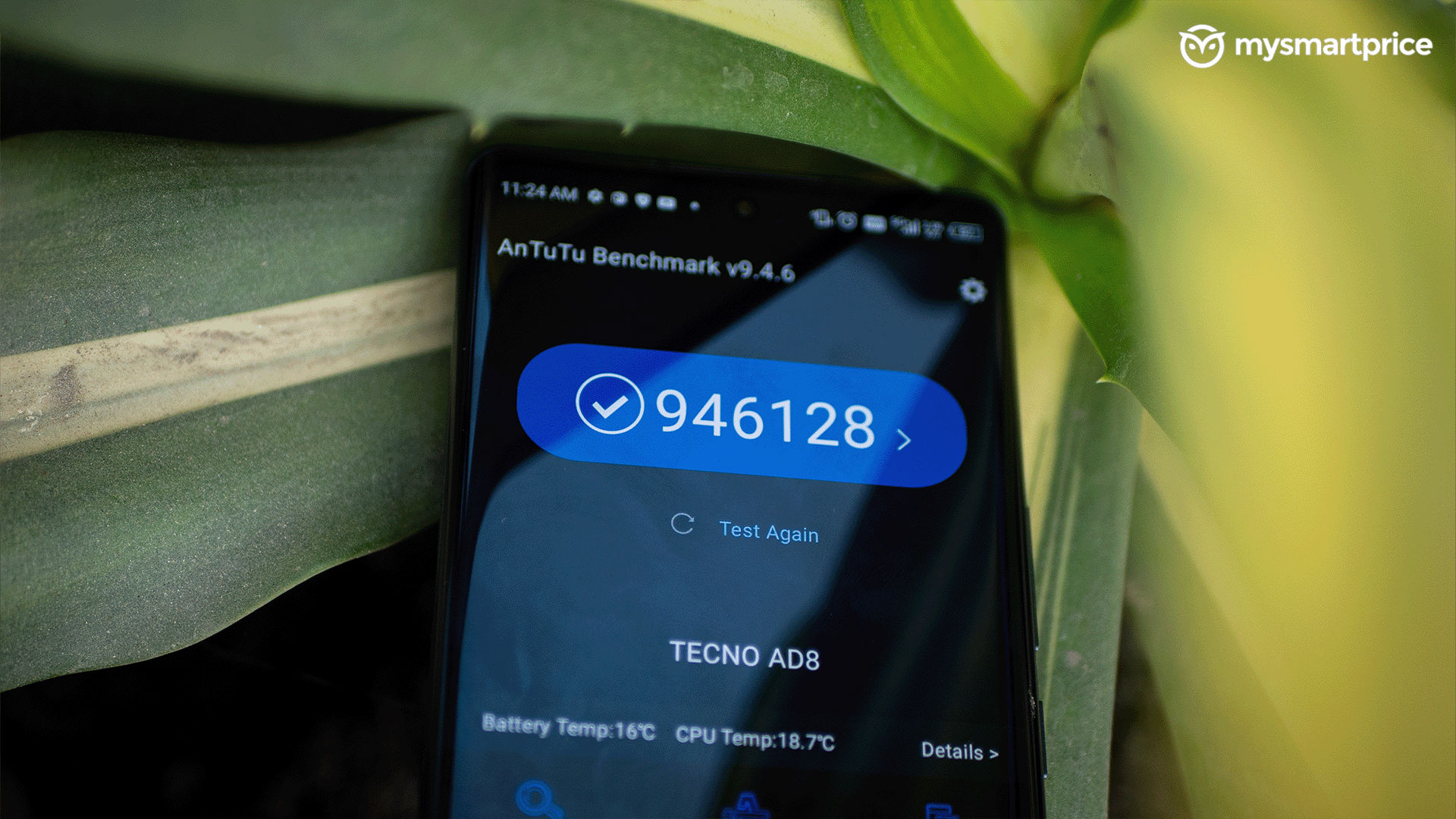 Geekbench tests returned a single-core score of 1207 and a multi-core score of 3866. We also ran Sling Shot Extreme tests on both Vulkan and OpenGL ES 3.1. The processor maxed out the scores on both. WildLife Extreme Stress Test returned the best loop score of 2394 with a stability rate of 99.5%, which is good. PCMark's Work 3.0 returned a performance score of 18137.
As for gaming, Apex Legends Mobile can go all the way up to 'Original' graphic presets. However, keeping in mind practical usage and the need for more frames, we ran it on 'HD' graphics and 'Very High' frame rates at 50fps. We noticed minor frame drops to 46fps while landing, but besides that, we did not face any problems with the gameplay. After playing for 15 minutes, the Phantom X2 5G's battery dropped from 79 per cent to 74 per cent.
We then switched to 'Extreme HD' graphic settings and 'Ultra' frame rates, which gave us 60fps. We noticed a massive dip in the frame rate to 46fps when trying to land into a hot drop — 'The Coliseum' in Kings Canyon. Once we landed, the frames settled and did not dip below 58fps. Moving on to Call of Duty: Mobile, the game ran smoothly at 'Low' graphic settings and 'Max' frame rates.
We were able to get 60fps without any major stutters. We did not notice any major heating issues with the device after playing for over an hour, though it's worth noting that we tested it during winter. The Phantom X2 5G does not come with any IP rating, which is slightly disappointing for a flagship.
Tecno Phantom X2 5G Review: A decent set of cameras, with room for improvement
The Phantom X2 5G has a triple-rear camera setup at the back, which is hard to miss. The device misses out on the 50-megapixel retractable portrait camera from its elder sibling. It features a 64-megapixel primary camera along with a 13-megapixel ultra-wide angle camera that doubles as a macro shooter. And finally, a 2-megapixel shooter completes the camera setup.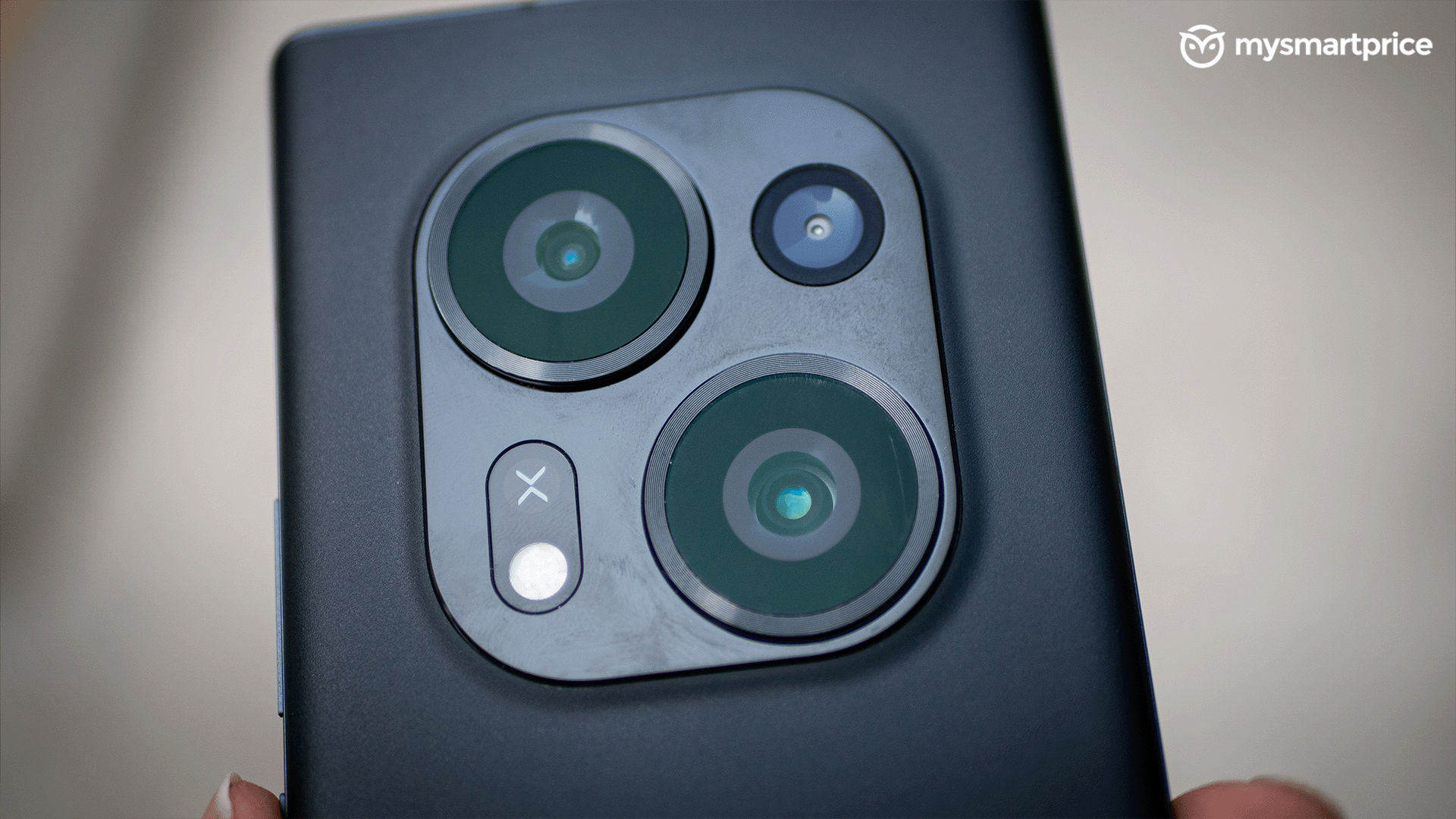 The front of the device holds in place a 32-megapixel camera for selfies. The camera app is easy to navigate around. The photo mode is called AI Cam, which helps in detecting the scene automatically. This works consistently. It has a 'Film' mode which stores a bunch of video templates such as 'Vintage', 'Family', 'Travel', and more. Besides this, it has a few video enhancement settings as well. It has a dedicated 'Super Night Mode' for both cameras but misses out on a pro mode.
The primary camera captures 16-megapixel binned images. We shot these samples in the peak winter season without proper sunlight. Photos shot in daylight were crisp and detailed. The colours were neutral, and we naturally prefer these over excessively saturated and punchy colours because this leaves room for more adjustments in the post.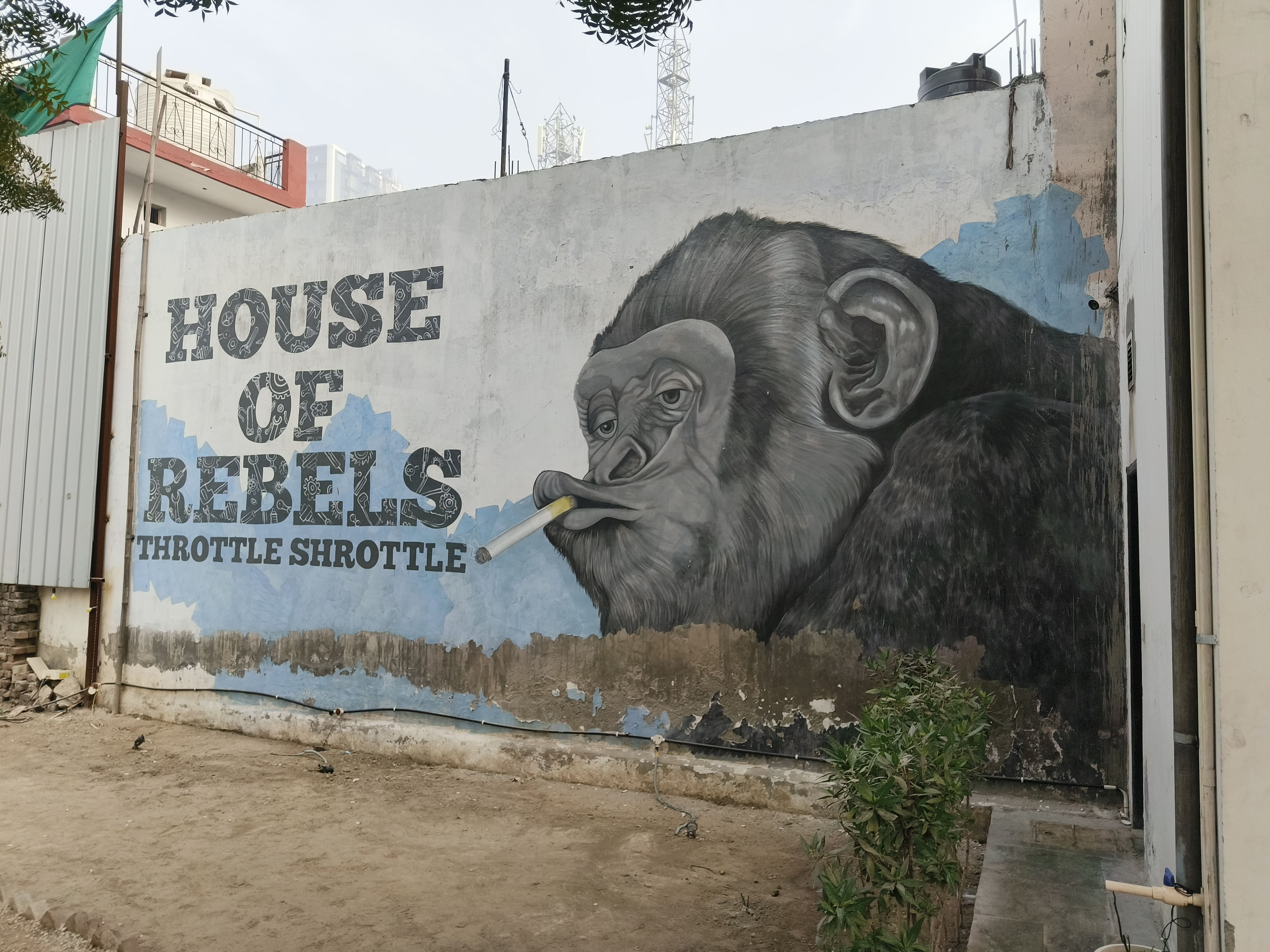 Images had a good amount of contrast, but the dynamic range was not consistent at times. In the images below, the Phantom X2 5G overexposed the light coming from the window. Photos clicked of human subjects indoors caused a yellow tint on the face, this was rare.
Portrait mode clicks good images with proper edge detection for human subjects, plants, as well as pets. It lets you choose the blur level before taking a shot. The Phantom X2 5G does not have a dedicated telephoto lens, but it allows you to zoom digitally to 10x. It holds some details at 2x, but the watercolour effect (lack of proper details) kicks in at 10x.
It has a dedicated 64-megapixel mode which shoots detailed images. Text, and other elements were legible even after zooming in to the photos. Switching to the 13-megapixel ultra-wide angle camera changed the colour temperature to warm. Details in the image were fine, but we noticed noise around the corners, even in daylight. Distortion was also evident. The ultra-wide angle camera is also capable of taking some good and detailed macro shots.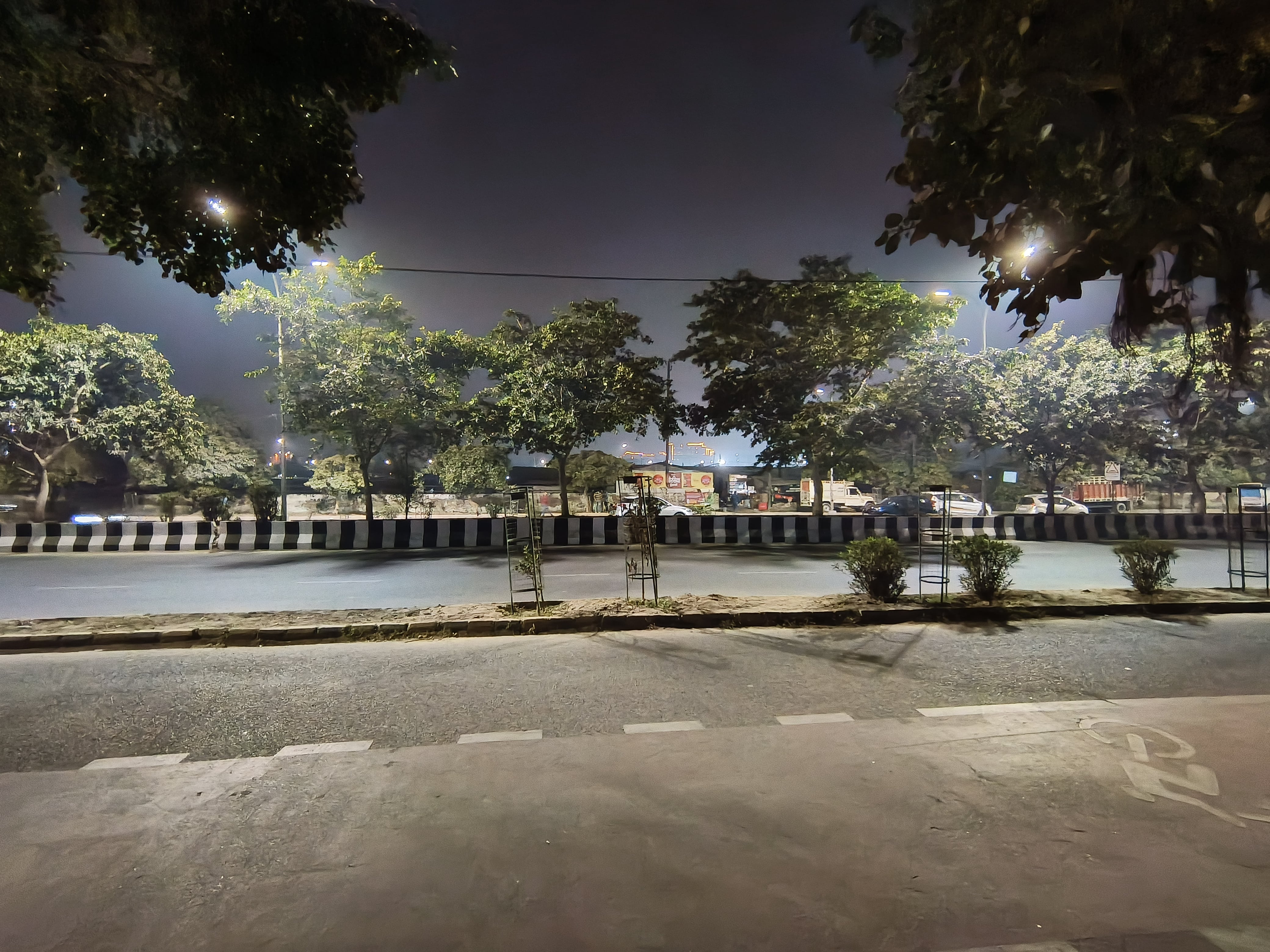 Low-light photos were surprisingly good, with a decent amount of details, but it tends to over sharpen the images. Bright light sources were often blown out in low-light shots. Photos clicked with the 13-megapixel shooter during the night were usable, but the edges had softer details.
It also had some artefacts, such as a purple tint next to light sources. Due to the AI Cam, night mode kicks in automatically when necessary. It also has a separate Super Night mode which uses a slower shutter speed to capture more light, as compared to the regular night mode. The differences aren't vast between the two.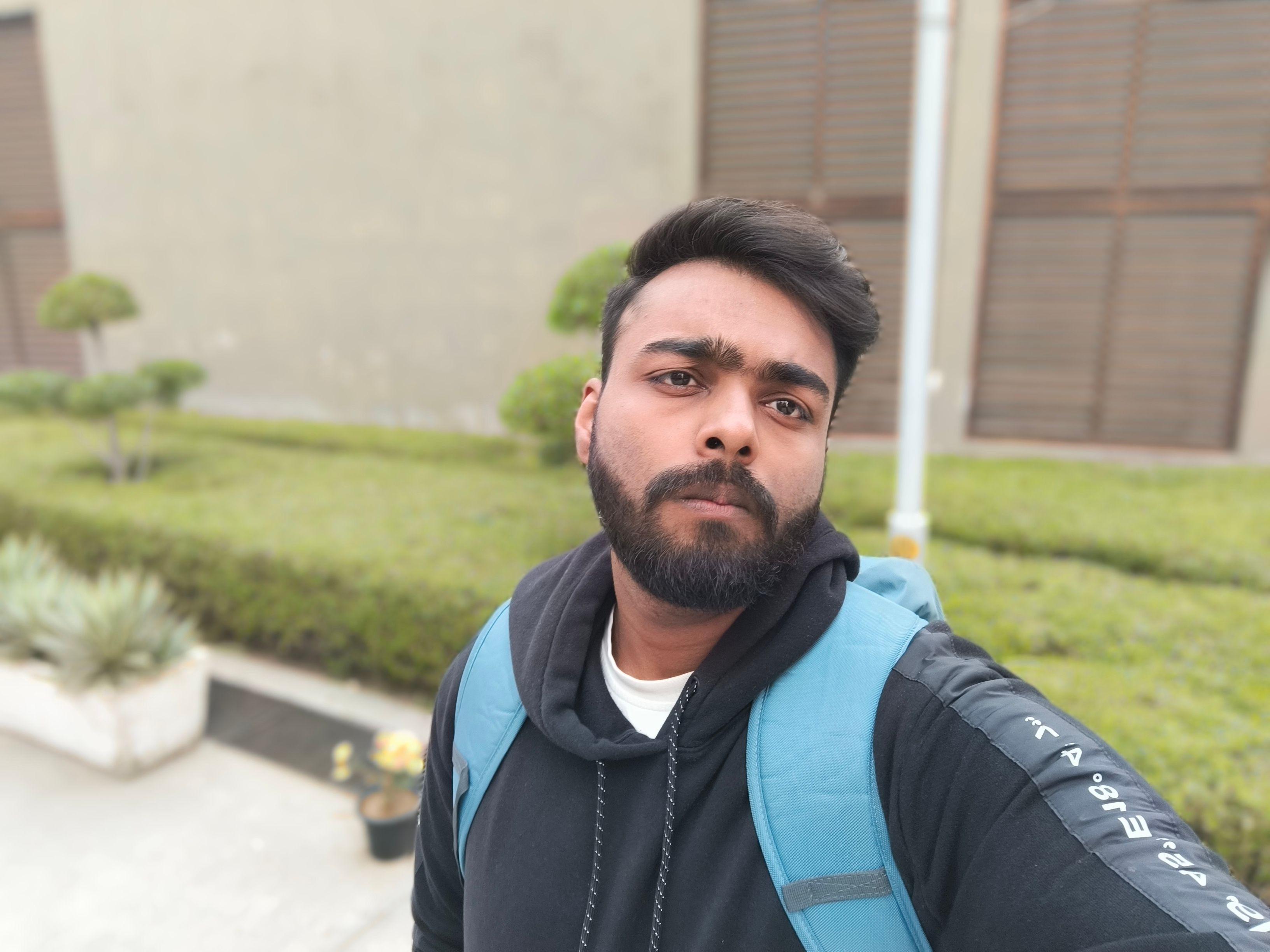 The 32-megapixel selfie camera does a good job of maintaining skin tones as well as details. Portrait mode is a hit or miss. A front-facing flash aided selfies at night. If you are into filters, it has a bunch of options in the camera app.
The Phantom X2 5G can shoot videos up to 4K 60fps with the primary camera, while the ultra-wide and front snapper is capped at 1080p. The phone does not let you switch between the lenses while recording videos. The cameras have EIS, and while the stabilisation is fine, we noticed a shimmer throughout the video output. The videos had good details and colours.
Tecno Phantom X2 5G Review: Good battery life with an average charger
The Phantom X2 5G is backed by a 5,160mAh battery, which goes head-to-head with the competition. But the 45W charger inside the box doesn't make the cut. Even more affordable offerings, like the Redmi Note 12 Pro Plus, have upped their ante.
We managed to get a screen time of over 7 hours, with gaming, camera usage, and content consumption — basically, a busy day. We really pushed the phone to its limits with our use, this should last more for people who do not use their phones as extensively as us.
Coming to the charging bit, the Phantom X2 5G took 30 minutes to reach 62 per cent. The device took an hour to hit the 90 per cent mark. It took a few more minutes to top up completely. We did not notice any heating during this period.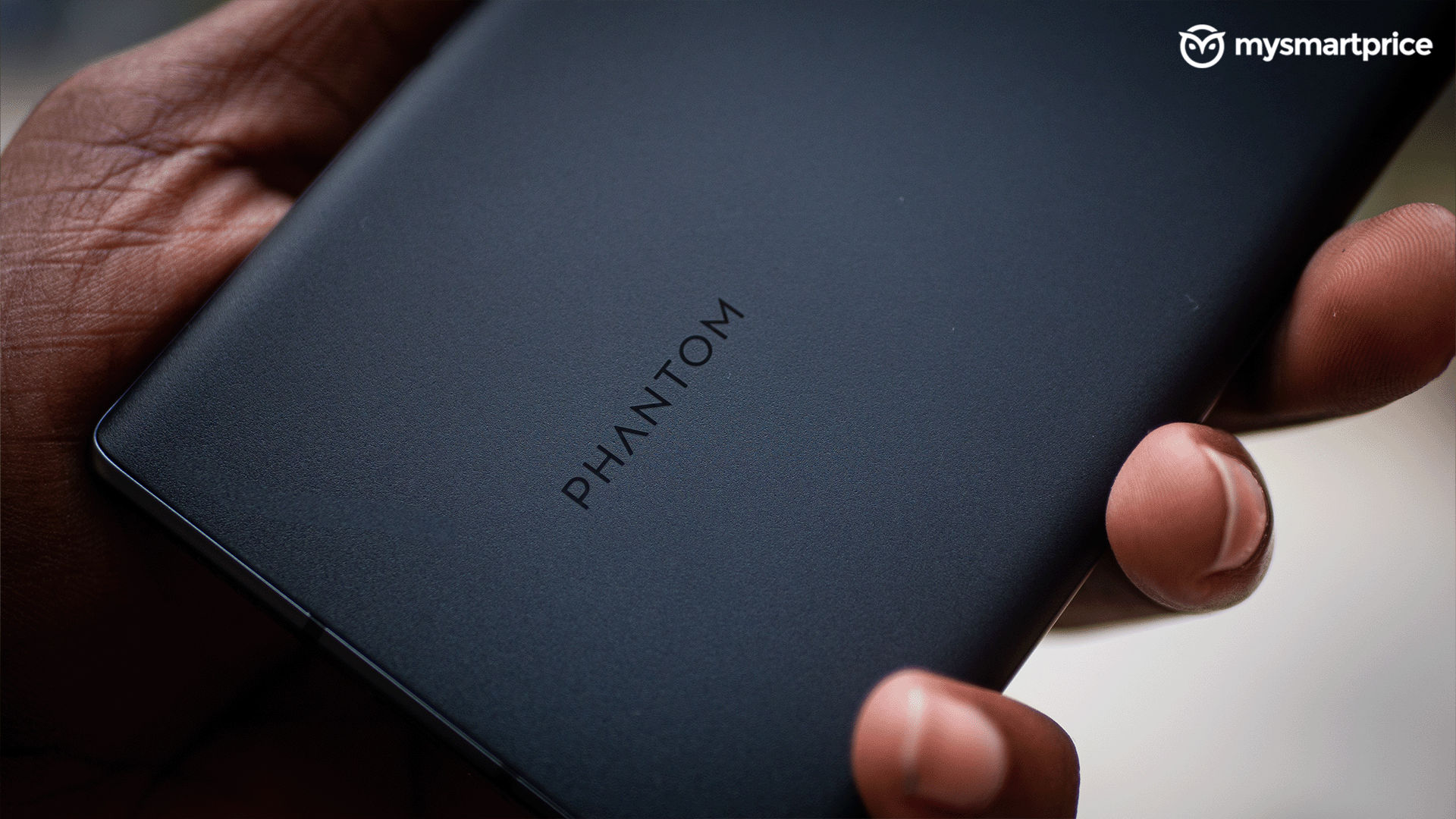 Tecno Phantom X2 5G Review: Verdict
The Phantom X2 5G opens up a new dimension for Tecno products in the Indian markets. On paper, the device seems like a good package, and that carries forward to our practical usage, however, with some inconsistencies. The curved AMOLED display is quite good for everyday usage, gaming, as well as watching content. While it has a questionable design choice, it sure is a device that will be etched in your minds forever — besides, the build quality is excellent. Tecno has optimised the MediaTek Dimensity 9000 well, to make it power efficient and also to draw a good performance out of it — which can be seen in its gaming abilities, as well as daily usage.
The device flies through everyday tasks. HiOS has a bit of a learning curve, and the present bloatware does not make it easier. It has a very competent set of cameras which takes some good photos, though the volatile HDR processing should be fixed. Looking past that, the cameras have a lot to offer, including the front snapper. The mentioned issues can be fixed with software updates.
But there are some things that cannot be fixed via software, like the lack of stereo speakers, an IP rating and a proper fast charger. So Tecno will have to go back to the drawing table and work things out in these areas.
The Phantom X2 5G, when compared to its competitors in the same price bracket, has new things to offer and provides good value for money. But considering this is Tecno's first foray into the flagship market, people might be a bit uncertain as of now. Nevertheless, the company should build its lineup even more in the coming years, starting with the Phantom X2 Pro 5G.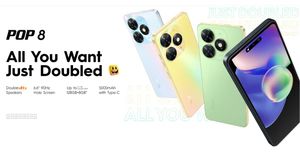 Smartphones Launching in August 2023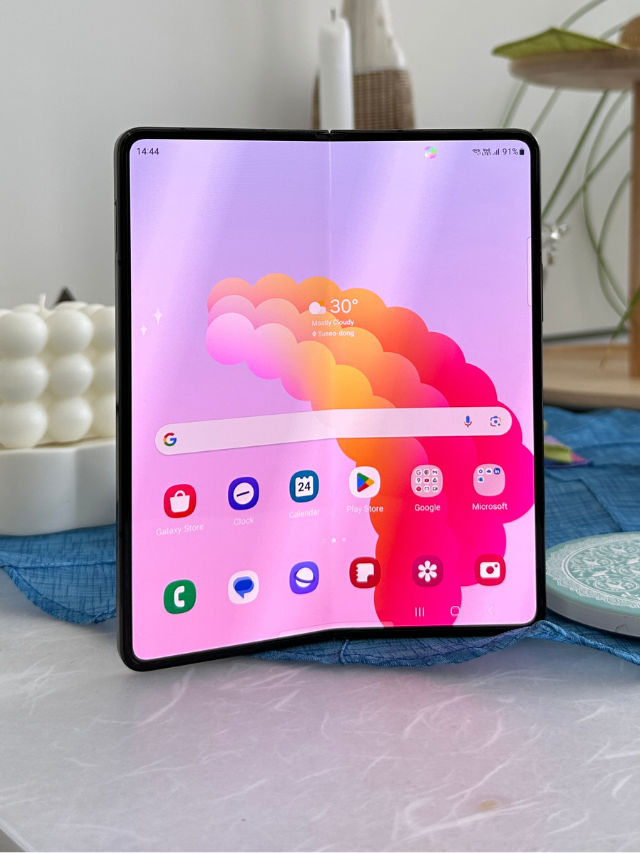 Samsung Galaxy Z Fold5 in Pictures: Know Price in India, Features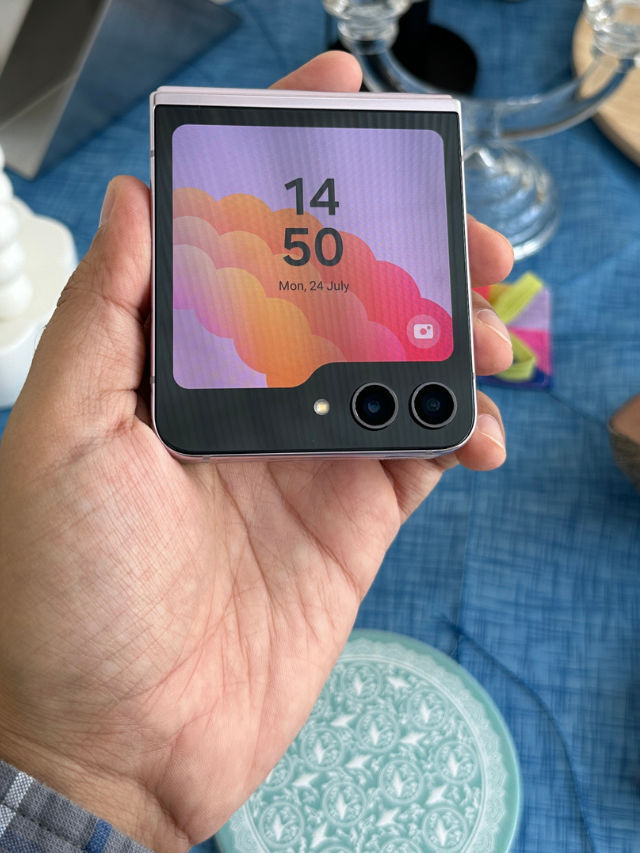 Samsung Galaxy Z Flip5 in Pictures: Know Price in India, Features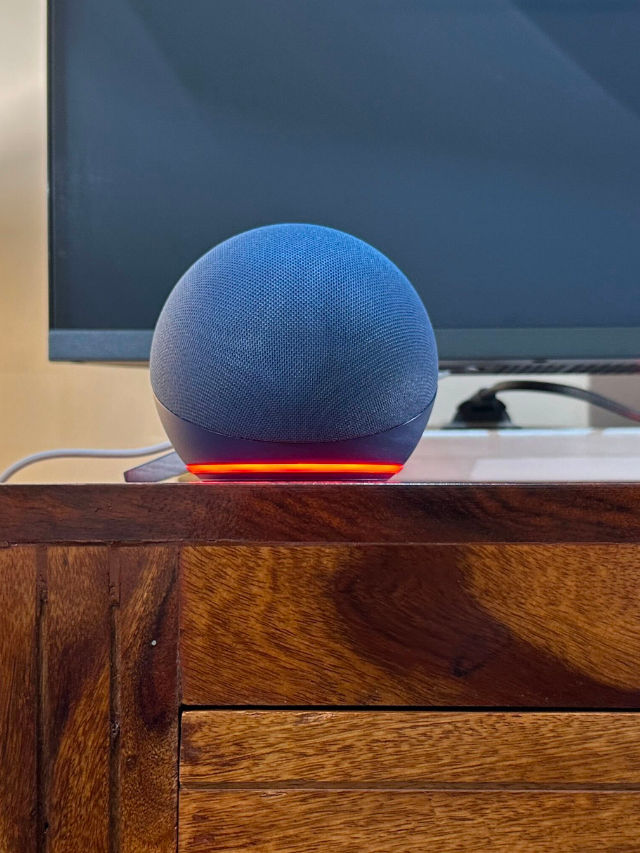 Amazon Echo Dot 5th Gen Review: Should You Buy in 10 Points?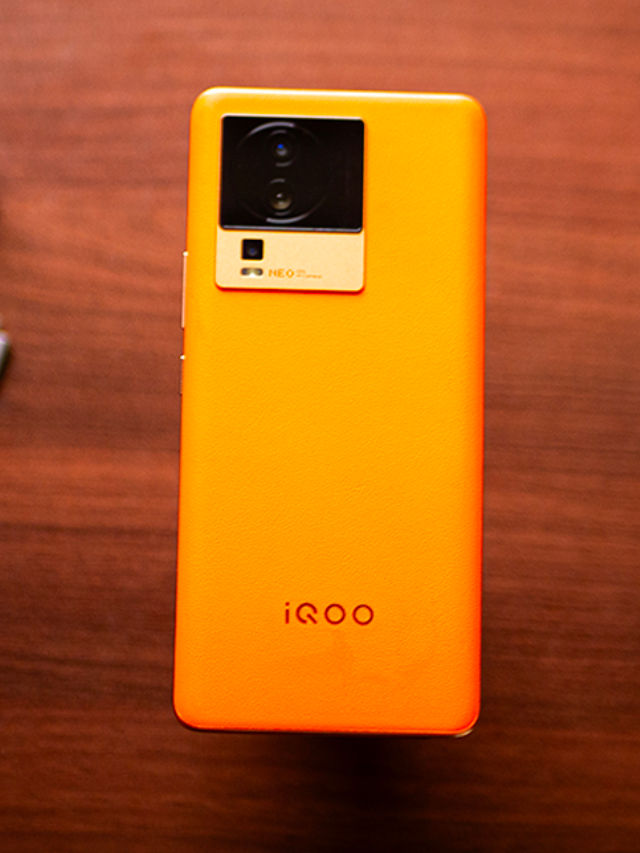 iQOO Neo 7 Pro Review: Should You Buy in 10 Points?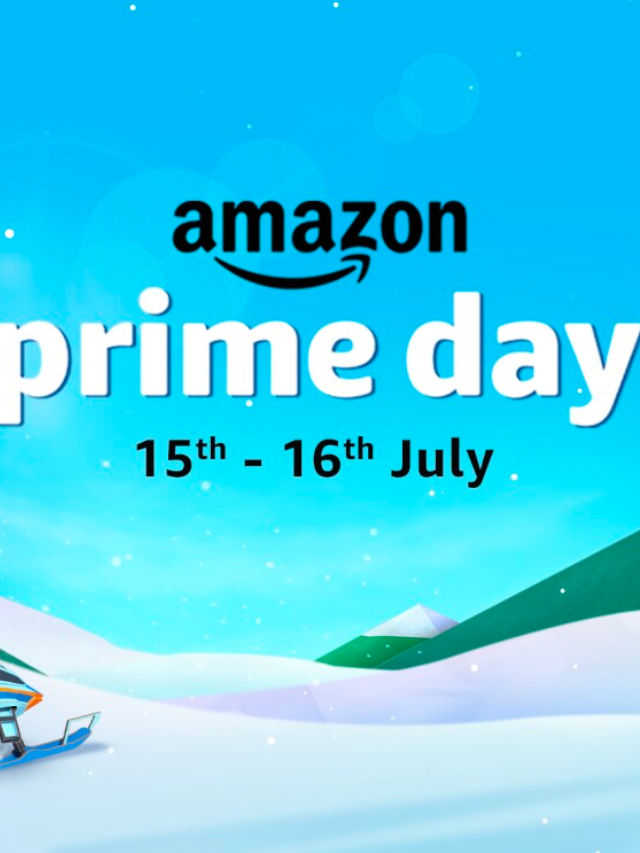 Amazon Prime Days Sale: Best Deals on Mobile Phones
Meet Our Team
About MySmartPrice
Terms of Use
MIssion Statement
Editorial Policy
Affiliate links on Android Authority may earn us a commission. Learn more.
TECNO PHANTOM X2 Series: Premium smartphones with revolutionary camera tech
PHANTOM X2 Pro 5G Eco-Friendly Edition
TECNO's PHANTOM X2 series landed just the other week. Sporting a selection of high-end features — from a powerhouse MediaTek Dimensity 9000 processor to blazing-fast memory and storage, through to super-quick charging, and a striking unibody double-curved design — the handsets aim to the brand's spirit of "Stop At Nothing."
But perhaps the standout highlight is found in the PHANTOM X2 Pro 5G's camera package. Building on essential camera features like Super Night and Beautification Mode, the PHANTOM X2 Pro 5G is the first smartphone with a retractable lens designed specifically for portrait photography.
This innovation can help take your smartphone photography game up another level; here's how.
What does a retractable portrait lens let you do?
Just like a professional-grade DSLR or mirrorless camera, the PHANTOM X2 Pro features an adjustable focal length lens. Based on a 2.5x optical zoom, the retractable lens has 65mm focal lengths, the latter being ideal for portrait photography.
You see, a camera's focal length is determining factor of two key portrait photography attributes. First, natural bokeh. Longer focal lengths create additional background compression, naturally softening and blurring the background to add depth to your pictures. This means you can achieve professional-looking portraits without the need for hit-and-miss software-applied blur. The PHANTOM X2 Pro boasts a shallow 18.9cm depth of field for more pronounced natural bokeh.
The second benefit is producing a natural face shape and a tighter crop for perfect framing. While wide-angle lenses are great for fitting more into your shot, they don't reproduce the world exactly as your eye sees it. For a more realistic field for view and face shape, a focal length between 50 and 80mm is considered ideal. The PHANTOM X2 Pro lands right in the sweet spot at 65mm, ensuring that your subjects look flatteringly realistic.
There's an added benefit here too: both 1x and 2.5x shooting modes make use of the PHANTOM X2 Pro's large 1/1.3-inch 50MP image sensor with 1.2µm-sized pixels and ƒ/1.49 aperture lens with 1.28µm-sized pixels. That powerful sensor will ensure that your snaps look great in low light, whether you're shooting landscapes or portraits. This makes the experience unlike other flagship smartphones, which typically resort to a separate, smaller image sensor for optical zoom.
PHANTOM X2 Pro 5G: Premium Photography, Premium Everything
Although the PHANTOM X2 Pro 5G's retractable portrait lens is innovative and eye-catching, this is a true premium device in every sense of the word. All this camera technology is powered by MediaTek's robust Dimensity 9000 processor and supported by 12GB of RAM under the hood. Combine this with a 5,160mAh battery with 45W rapid charging, and you've got a device that's ready for a photoshoot (or really anything) all day and at a moment's notice. And with 256GB of storage space, feel free to take as many full-res shots as you please.
But premium doesn't just mean high-end specs these days. We've come to expect more from our devices, and TECNO delivers in these capacities as well.
For example, TECNO has partnered with photographer Rankin to co-develop the PHANTOM X2 Pro 5G's "Master Filters." With multiple filters to choose from, creative photographers can tailor their images just to their liking. "The tech involved with this phone is extraordinary," said Rankin. "It's not just about taking good images quickly anymore, it's about creating something visually stunning that we can be really creative with." With this kind of technology and expert insight coming together, even the most inexperienced photographers will be able to capture beautiful, masterful images.
The PHANTOM X2 series piles on the photography features with a dedicated Super Night mode to reduce noise and capture enhanced shadow details with greater clarity. Excellent low-light capabilities extend to video too, thanks to the PHANTOM X2's Super Night algorithm, which reduces noise in high ISO scenarios. In addition, TECNO's self-developed Beautification Mode provides refined adjustments to facial features for up to three individuals in a picture. There's also a choice of make-up filters to further fine-tune the look of your portraits.
But there's more to TECNO's latest smartphones than excellent photography powered by top-of-the-line hardware. The PHANTOM X2 Series also comes packaged with a number of Smart Business features to take these devices from selfie snappers to workhorses.
The Smart Business suite includes a bevy of systems designed to make your life in the business world easier. The Translator feature allows you to turn on live subtitles for international online calls, and you can enable it to automatically translate messages in WhatsApp, Messenger, LINE, Twitter and more. With photo translation and face-to-face translation, you'll never be out of the loop again.
If you take a photo of a document, the Smart Business File Secretary will recognize it as such and convert any text into an editable file. Perspective correction and edge detection work together to make sure the documents you photograph are correctly formatted for later reference. You can even use this feature to scan multiple continuous documents, save and share PDF files, and, yes, there is document signature support.
In a nutshell, the PHANTOM X2 Pro 5G isn't just a hardware revelation, it's backed up by essential software features to put image quality even further.
PHANTOM X2 series: Redefining Premium
TECNO's PHANTOM X2 series has its sights firmly set on disrupting the premium flagship market. Innovative features in the photography space, including the PHANTOM X2 Pro 5G's retractable portrait camera and premium-tier hardware all around.
TECNO is also taking a stand in terms of responsibility for the communities in which it operates, raising the bar not just for what it means to have a premium-tier smartphone, but what it means to be a premium-tier company. For example, the brand's eco-conscious credentials have produced an Eco-Friendly Edition of the PHANTOM X2 Pro 5G with a back cover built from 14.4% recycled materials, resulting in a 38% reduction in carbon emissions for each device produced.
Combined with a top-tier display, performance, a unique unibody double-curved design, and AI-infused software features, the PHANTOM X2 series certainly brings a fresh perspective to the high-end smartphone market.
The TECNO PHANTOM X2 Pro 5G is a groundbreaking device that sets itself apart. Its stunning camera system features a retractable lens for professional-level portrait photography with natural bokeh and a flattering field of view, and its high-end specs and large image sensor make it a powerhouse for all types of photography, delivering exceptional performance and image quality. The PHANTOM X2 Pro 5G is a top choice not just for photographers and selfie-snappers, but also businesses and high-end users. With its versatility and top-of-the-line features, this premium device is not to be missed!
The PHANTOM X2 Series is slated to hit global markets from the end of December.
TECNO Phantom X2 Pro 5G review: the smartphone with extending camera lens
The first phone with an extending wide-aperture telephoto lens; the TECNO Phantom X2 Pro has some impressive bokeh, along with a flagship feature set.
The first extending phone lens has an awesome wide aperture
I'm sure you probably haven't heard much about the TECNO brand in North America, but they've been pretty active in other markets like Africa, the Middle East, South/Southeast Asia, and Latin America. The new TECNO Phantom X2 Pro 5G is their latest flagship Android smartphone and there's something really special about the camera array. You'll learn more about that in the rest of the review. Besides that big stand-out camera feature, the TECNO Phantom X2 Pro 5G has most of the other features you may want in a flagship premium smartphone as well.
What's in the Box
The packaging is quite premium as well. The Phantom X2 Pro 5G comes in a nice black box with a nice soft finish and a varnished stripe along with gold foil embossed logos.
Besides a 45W charging brick, USB-C charging/data cable, and wired earphones, the TECNO Phantom X2 Pro 5G also includes a nice white hard rubber case. What's more, the case has a big rim around the camera array that also has a hinge so that ic an act like a kickstand to hold the phone at an angle for watching movies and such. Kickstands like this on phones used to be much more common and it's great to see the feature return as part of an included protective cover.
The big kickstand rim around the camera array with the case on is great for protecting the camera lenses, not only when you lay the phone on a desk or table, but also while holding the phone. The ledge is easy to feel with your fingers so that you can be sure to avoid getting finger prints on the big lenses.
For internal specs, the TECNO Phantom X2 Pro 5G has a MediaTek Dimensity 9000 4nm ARMv9 octa-core CPU with bursts up to 3.05Ghz, with 12Gb of LPDDR5X DRAM and 256Gb of UFS3.1 flash storage space. It's also got a 5160mAh battery with a long duration mode and 45W fast charging. The screen is 6.8" AMOLED with 120Hz refresh rate and a 20:9 aspect ratio at 1080 x 2400 pixels with 9H hardness Corning Gorilla Glass Victus. The phone's dimensions are 164.6mm x 72.7mm x 8.9mm. We've also got support for a good number of 5G bands such as sub6 TDD: n38, n40, n41, n77, n78, n79, sub6 FDD: n1, n3, n8, n28, n71.
The top is flat with a single microphone hole. It looks like this is where the internal hardware is inserted into the phone's unibody double-curved metal frame design.
The bottom looks really smooth with rounded corners. The SIM card tray can take 2 Nano SIM cards. Of course there's USB-C here, too and a speaker grill. The speaker's sound isn't as premium or loud as other more expensive phones.
The left side is thin smooth and round with a couple segments for the antennae. The thinness of the edges can make holding the phone more slippery than something with a larger surface area and friction.
The right side is where the very thin power button and volume rocker buttons are. They're kind of hard to see even, but they protrude sharply so that it's easy to feel for them without having to look. The power button is colored red to make it a little more distinct which also matches the red ring around the camera on the back.
The shiny "Phantom" logo on the back looks great, and this matte black finish has a fine speckled texture to it that nicely avoids fingerprint grease blemishes and feel pretty nice to hold.
This is the extra cool part of the TECNO Phantom X2 Pro; the camera array, and more specifically, the extending wide aperture telephoto lens.
One thing I don't like so much about the TECNO camera is the camera software. While it's going to work fine for most people, it's missing some features that I personally really like such as RAW DNG output, manual controls, white balance controls, and burst shot timers. One reason I love RAW DNG output is that I can control things after the fact. TECNO's software applies noise reduction to the JPGs when there's low light and that reduces the quality of the image. I'd rather have the RAW image with noise that I can correct to my tastes after shooting. Lack of white balance control is frustrating too as sometimes the camera doesn't automatically set the color temperature to what I want.
Extending telephoto 2.5x camera
The extending lens has an f1.45 aperture and a 9.3mm telephoto focal length which equates to about a 65mm focal length in terms of 35mm full frame film cameras. Of course the f1.45 aperture is more like an f8 aperture in terms of depth of field when compared to a 35mm full frame camera lens, but that's still about 2 full stops wide than any of the other medium telephoto prime lenses that you'll find on other cameras.
The extending lens housing naturally lets you keep the phone pretty thin when the camera isn't in use. This also enables the longer focal length without periscope style mirrors and we can have a very wide aperture for a narrower depth of field and better low light sensitivity. The disadvantage to the extending lens is that there are moving parts here and I'm afraid something might break if too much dust or particle matter gets in there.
Above is a comparison between the 65mm equivalent TECNO Phantom X2 Pro extending lens camera on the left and my full frame 35mm Nikon with an 80mm f1.4 lens on the right. Obviously the Nikon is capable of a much narrower depth of field with smoother real bokeh, but the TECNO's wide aperture is still getting some decent bokeh that actually looks realistic... because it is real bokeh! This isn't a depth sensor trying to guess the edges of the subject and applying a blur filter to the background. This is real physics.
The TECNO's f1.5 aperture at 9mm focal length certainly doesn't translate to an f1.5 aperture at a 65mm equivalent lens focal length. It's more like an f8 aperture on a 35mm full frame sensor. Still that's better than any other phone out there with a comparable 2-3x telephoto lens! This is one or two full f-stops wider than most other phones with comparable focal lengths.
I was able to get a lot of great photos with the narrow depth of field in the 2.5x extending lens camera. If you click some of the above samples to zoom in, you'll see that the details around the edges of the subject remain in focus. It's not at all like the iPhone's fake portrait mode that smudges out the edges and erases details. You can actually see the little strands of hair overlaying the blurry background. It's beautiful!
Video with the extending telephoto lens
Another fun thing to do with the narrower depth of field in the 2.5x telephoto lens is shoot video. Real bokeh in video is much better looking than the simulated background blur other phones try to do. The wide aperture lens nicely and realistically blurs the background in videos and I love it. There's not much lens flare from the sun either.
The wide aperture telephoto lens works well for video in low light as well as long as you have just the right amount of light. In the above you can see the background nicely blurs out and so do the leaves moving around in the foreground. That's how real bokeh works and it looks great.
We even used the TECNO Phantom X2 Pro for some clips in a little Gossip Girl season 2 promotion.
Normal wide angle lens camera
The 1x camera has the usual wider focal length that you'll find on most other flagship phone cameras. This one is 50Mp with a 1/1.3" sensor size, but really it only outputs to 12Mp like most quad-bayer sensors. The "50 Mp" option in the camera software does give you a 50Mp file, but it doesn't look like it. It looks like an upsampled 12Mp file as there really isn't any more detail at all. You don't really get any better quality out of that option, it's just a larger file.
Take a look at some samples of the 1x camera/lens combo below:
Ultrawide angle lens camera
The 0.6x camera lens is only 13Mp and doesn't do nearly as well in low light as the 1x or 2.5x cameras, but that's ok, you can't have everything. It's a smaller camera too, so that's probably part of the reason. Still, I love having the ultrawide lens available and it's great for outdoors shots.
Take a look at some samples of the ultrawide camera/lens combo below:
Front facing camera
Of course we have a decent camera for selfies as well. It's technically a 32Mp sensor, but outputs only 8Mp. It's not spectacular especially in low light, but it usually gets the job done.
Take a look at some samples of the front facing camera below:
The TECNO Phantom X2 Pro 5G uses HiOS 12 on top of Android 12. HiOS is not my favorite flavor of Android for some specific reasons; you have to swipe the top left corner to see the notifications and the top right corner to access quick action controls. There shouldn't be any controls at the top edge of a phone with this large of a screen. It was fine when Android phones had 3.8" screens, but at this size it's extremely awkward to have to scoot your hand to the top in order to touch that edge; or have to use a second hand to poke at it. Putting controls within reach of a thumb while a hand is actually holding the phone would have been much smarter interaction design.
HiOS 12 also comes with a lot of bundled apps that might be considered questionable in North America at least. Things like Palm Store, AHA Games, Welife, Boomplay, Ella, Carlcare, XShare, Visha Player, and Hi Translate are not normally found on North American Android phones, but they are often bundled with phones meant for Latin American and African countries, and that is the market that this phone is meant for.
The TECNO Phantom X2 Pro has a large 5160 mAh battery that's plenty to last through the day depending on how heavily you're using the device. I like to increase efficiency by turning things off like haptic feedback, high refresh rates, screen brightness, and extraneous notifications. The Dimensity 9000 processor also has some good optimization capabilities to help with the battery life and the phone supports 45W fast charging.
The TECNO Phantom X2 Pro 5G will not be available in North America or Europe. It will only be sold in Asian, African, and Latin American countries. In Saudi Arabia where it is being announced on 12/7/2022, the PHANTOM X2 PRO / AD9 will cost 3499Sar (about 930.72 USD).
Pros & Cons
Extending 2.5x telephoto lens has a wide aperture for real bokeh
Beautifully designed body
Nice kickstand case included
Great 1x normal wide angle lens camera
Thin and comfortable form factor
Matte body doesn't attract fingerprints too much
Camera software doesn't provide RAW output or manual controls
Extending lens has moving parts that may get damaged accidentally
Not available globally
No wireless charging
This is the first time we've got a smartphone camera with a telephoto lens and wide aperture that actually gets a good amount of real narrow depth of field and nice bokeh without obviously fake software simulation. The TECNO Phantom X2 Pro's 2.5x extending lens is 1 to 2 full f-stops wider than other phones with similar focal lengths. While it's still a long ways away from what's possible on large dedicated full frame (or larger) cameras, getting real bokeh into a smartphone camera is an impressive feat, and I love shooting portraits with the Phantom X2 Pro! If only it could save RAW files like other flagship smartphones. The rest of the phone's features are pretty nice too. The Phantom X2 Pro is a nice entry into the competition as TECNO's flagship.
Special thanks for photo appearances by Angelina, Raquel, Rosy, Liga, and Val.
Electronics
Mobiles & Accessories
Smartphones & Basic Mobiles
Smartphones
With Exchange Up to 33,000.00 off You Pay Includes exchange service fee of Rs.
Exchange your old product, without exchange 36,999.00 51,999.00, 1 year extended warranty plan.
Peace of mind : Protect Your device today against any manufacturing defects, which could cost you 50-60% of the product price to repair. Also get convenience of doorstep repairs service.
Tenure and Validity of the service contract: The plan will start after the Brand warranty ends & will be active as per the plan period. Only valid if purchased along with the new product with a valid manufacturer's warranty. Not valid for refurbished/ renewed products. Any condition/act that voids the manufacturer's warranty would lead to termination of the plan.
What's included and What's excluded: All labor, spare parts, & transportation charges for repairing the mechanical defects & electric malfunctions of the phone will be covered as per the brand warranty. The plan does not cover Accidental or Liquid damages, Damage caused by unauthorized repairs, Accessories, Consumables, or parts that are not covered under the standard Brand warranty
Other benefits: Brand authorised service centre repairs. Only genuine spare parts are used. Free pick-up and drop. No hidden fees or one-time deductibles. Unlimited claims till invoice value
Delivery, Activation & How to claim: Delivery by e-mail only. No physical delivery. After ordering, for plan-related details, check 'Buyer/Seller messages' under Message Center at "amazon.in/msg" or check your Amazon regd email ID. You can raise a claim 24x7 through OneAssist app, website or helpline - 1800 123 3330
1 Year Screen Damage Protection Plan
This Screen Damage Protection Plan ("Plan") is offered by Acko Technology & Services Private Limited ("Acko")
Fixing a broken screen could cost more than 40% of the phone cost! Protect yourself from screen repair expense by buying the Plan now
This Plan provides convenient paperless, cashless repairs at select brand authorized Service Centres or avail free doorstep pick-up and drop (in select cities only)
What's covered: Accidental Screen damage. Not covered: Theft or loss, wear and tear, unauthorized repair of phone
Plan is applicable for Samsung, Mi, OnePlus, OPPO, Vivo, Realme, iQoo and Tecno phones only
2 Year Total Protection Plan
Pick & drop service with high quality parts & technicians or replacement if repair is not possible within 10 days.
Service valid from date of purchase till 2 years.
Service contract is email delivered and auto-activated if purchased along with product on Amazon
Wear and tear, theft, accessories and brand warranty exclusions are not covered; service contract is not valid if purchased standalone
To claim call 18005721144 or write to [email protected] or go to Amazon app >> Your Orders Section >> Find your Product order >> Click on "Get Product Support" > Schedule a service
Add to your order
Image Unavailable
To view this video download Flash Player
TECNO Phantom X2 5G Stardust Grey (8GB RAM,256GB Storage) | World's 1st 4nm Dimensity 9000 5G Processor | Dual Curved AMOLED Display | 64MP RGBW Camera
No Cost EMI
Partner offers, 7 days service centre replacement.
Free Delivery
1 Year Warranty
Amazon Delivered
Amazon may provide support via self-help guides or on call or at doorstep, as applicable.
If this issue is not resolved, please contact Tecno or visit the Service Centre.
Tecno will repair the product or provide a replacement or Defective certificate, as applicable. The time taken for resolution will be as per Tecno warranty policies.
Please check for nearest Brand service center in your location. For details click here
Returns will not be accepted if it is an Open Box Delivery order
Remote verification by image/video will be done by Amazon
Replacement verification
Replacement Instructions
Purchase options and add-ons
About this item.
World's 1st 4nm Dimensity 9000 5G Processor | 5G Bands with 3CC Carrier aggregation and dual SIM dual active 5G | Segment best overall One Million Antutu score for beasty performance
Extraordinary 64MP RGBW(G+P) OIS Ultra Clear Night Camera | accept 200% more light | Amazing Night Shot | 3D LUT | Wider P3 Color Gamut | Vivid Colors | Multiple Shooting Modes | 32MP Selfie camera
6.8" FHD+ Dual Curved AMOLED display for truly brilliant vision | 120Hz Refresh rate | 360Hz Touch Sampling rate | Super smooth touch resonse
8GB LPDDR5 RAM and UFS3.1 256GB ROM | MemFusion 2.1 RAM Extension upto 5GB to make the total RAM as 13GB | LPDDR5 RAM provide 1.5x faster speed than previous generation RAM
Loop Design Award 2022 for a superior design | 71° ergonomic golden grip angle design makes it easy to hold for longer duration | 5160mAh segment best Battery | 45W In-box Charger | Anti-oil ultra fast In-display Fingerprint Sensor | NFC
85% positive ratings from 50K+ customers
100K+ recent orders from this brand
6+ years on Amazon
Highly rated by customers for
Buy it with
Customers who viewed this item also viewed
What is in the box?
Smartphone,45W Power Adaptor, Taye-C Cable, SIM Ejector Tool
Looking for specific info?
Compare with similar items, from the manufacturer.
TECNO Phantom X2 5G Stardust Grey Mobile Phone Information
Technical details, additional information, customer reviews, reviews with images.
Submit a report
Harassment, profanity
Spam, advertisement, promotions
Given in exchange for cash, discounts
Sorry, there was an error
Sort reviews by Top reviews Most recent Top reviews
Top reviews from India
There was a problem filtering reviews right now. please try again later..
Press Releases
Amazon Science
Sell on Amazon
Sell under Amazon Accelerator
Protect and Build Your Brand
Amazon Global Selling
Become an Affiliate
Fulfilment by Amazon
Advertise Your Products
Amazon Pay on Merchants
COVID-19 and Amazon
Your Account
Returns Centre
100% Purchase Protection
Amazon App Download
Netherlands
United Arab Emirates
United Kingdom
United States
Conditions of Use & Sale
Privacy Notice
Interest-Based Ads

TECNO Phantom X2 and X2 Pro Review: Rise to Flagship Killer Status
TECNO launched the Phantom X2 series in the country early last week after its global launch last month . This is their second attempt at the premium smartphone market after launching the Phantom X in 2021 .
The Phantom series is TECNO's new sub-brand targeting the high-end market and the second-gen Phantom brings much-needed upgrades over its predecessor. We have a bigger battery, faster charging speeds, a better and bigger display, a new design and louder speakers and more importantly a flagship-worthy chipset.
The Phantom X2 series share most specs and design – the main differentiator is that the Pro version has a retractable portrait lens in the triple main camera setup.
TECNO went big, literally with their packaging as the phones come in a big slideout box full of accessories, phone, paperwork and back case with a stand.
View this post on Instagram A post shared by Martin Githinji (@daddiemarto)
In a period where flagship smartphones ditch the accessories and only ship the phone in a small box containing the charging cable and some documentation and a sim ejector tool.
It's delightful that you don't have to dig into your pocket to buy important accessories.
TECNO Phantom X2 series keeps the curved display from the Phantom X but is now bigger at 6.8″. It's an AMOLED screen in a 20:9 aspect ratio sporting a 120Hz refresh rate and P3 wide colour gamut. It is protected by Gorilla Glass Victus.
It's crisp and fast and almost bezel-less. The large screen real estate comes in clutch when consuming content from Netflix and YouTube. It's worth noting that it has Widevine L1 certification but lacks HDR support.
In terms of peak brightness, the Phantom X2 has 710 nits which is decent when you're out and about and need to check a few emails or scroll social media and browse a little.
The fast 120Hz refresh rate and 360Hz touch sampling rate makes gaming and interacting with the phone interface buttery smooth and no lag with the powerful chipset and RAM combo.
For biometrics, we get an optical under-display fingerprint reader and face unlock which is pretty fast.
At the bottom, we have the speaker, the charging port, the microphone and the dual nanoSIM card tray.
At the top, we have the secondary microphone.
On the right side is the power button with a red accent and volume buttons.
The highlight of the design is the back with a large central camera island which we'll talk about below. The included back case is textured and has a raised ring to protect the lenses. You'll note the Phantom X2 has an orange ring around the world's first retractable portrait lens.
Phantom X2 comes in Moonlight Silver and Stardust Gray with a plastic back.
The Pro comes in Stardust Grey and Mars Orange. TECNO went the eco way with the latter's cover that uses recycled materials from the ocean that are converted to microfibers. The company says that its use of recycled materials reduces its carbon emissions by 38%.
The design refresh is a nice addition and the obvious camera island placement makes the phone stand out more putting it in a level fit for other flagships. The phone sporting Gorilla Glass Victus makes sure the screen is well protected against scratches and eh occasional slight drop.
It's a bummer we don't get an IP68 water and dust rating for either phone.
Overall, the design choices are impressive with the Phantom X2 series.
PERFORMANCE
Both phones ship with more than capable chipsets – they rock the Dimensity 9000 5G(4nm) and Mali G710 MC10 GPU chipset paired with 8GB RAM and 12GB for the regular and Pro version respectively. You can expand either with up to 5GB of virtual RAM.
The regular and Pro have 256GB of UFS 3.1 onboard storage.
In terms of performance, you are taken care of with the Phantom X2 series. Everything flies with tasks from light to moderate and heavy and not just now but also in a few years.
The Phantom X2 series comes with Android 12 and HiOS 12 out of the box. TECNO has guaranteed that the Phantom X2 series will get upgraded to Android 13 in the first and second quarters this year, Android 14 and probably Android 15 when Google launches it.
HiOS 12 brings special functions like Lightning Muli-Window, MemFusion to increase RAM, Smart Pnale, Social Turbo, Video Assistant, App Twin, Kids Mode, MOL translation assistant and Peek Proof.
Most flagship and midrange phones that launched last year have already gotten updated to Android 13 and we hope TECNO changes their software update timelines to bring these much-needed upgrades sooner rather than later. This policy change would keep the Phantom X2 series in the same league as its flagship rivals when it comes to software support.
Both phones are 5G-enabled and they were clocking 240Mbps of speed at our usual testing spot.
BATTERY LIFE
The Phantom X2 series has a 5160mAh battery with support for 45W fast charging. The brick is included in the box together with the cable and type-C charging cable.
The Phantom X2 takes 20 minutes to go from empty to 54% and an hour to full charge.
The bigger battery is welcome as you can go up to two days on light use and heavy use will still leave you with around 30% to let you do some late-night browsing and social media scrolling.
You won't have to worry about running around with a charger to top up your phone during the day.
The Phantom X2 series rock a 32MP selfie camera located in the centre punch-hole cut-out.
We have a triple array at the back:
Phantom X2 Cameras:
13MP ultrawide
Phantom X2 Pro Cameras
50MP portrait
Video recording by the main cameras is capped at 4K 60fps for both too while selfie videos are limited to 1080p 60fps.
We took a ton of shots and I was overall impressed with the shots. The Phantom X2 series took consistent photos during the day and in lowlight scenarios.
Most of the photos came out well-detailed, with nice background separation, especially for portraits, sharpness and vibrancy.
You'll never go wrong when it comes to smartphone photography with the Phantom X2 series.
TECNO is becoming the flagship killer with the new Phantom sub-brand as seen with the X2 series that finally pack flagship grade features.
There's still room to improve but for the starting price of the phones, we can commend TECNO for pushing the boundaries in terms of design, battery, performance and cameras. The software update cycle needs to be more timely, especially for the Phantom X2 series and future Phantom devices.
The flagship market in the country is less saturated than the midrange and budget-level smartphone market. TECNO holds the upper budget and lower midrange smartphone with the Spark and the Camon series.
It is great that the flagship market in Kenya now has a new entrant to ruffle feathers and consumers now have more options to choose from.
Stay tuned for our upcoming comparison review.
Pricing and Availability
Pricing starts at Ksh 68,000 and Ksh 82,000 for the Phantom X2 and the Phantom X2 Pro respectively.
They're available at TECNO's stores, Safaricom's retail shops and online at Masoko.
RELATED ARTICLES MORE FROM AUTHOR
Best Flagship Smartphones to Buy in Kenya Right Now
Best TECNO Smartphones in Kenya and Where To Buy Them
TECNO Planning to Launch Phantom V Flip Later This Year
TECNO Unveils New Magic Skin for Its Smartphones
TECNO Phantom V Fold Officially Launched
TECNO Phantom X2 VS Samsung Galaxy S22 Comparison Review
Everything about this device is amazing.
Battery enough to last you a whole day.
The retractable lens is unique.
Comments are closed.
Latest News
Insurtech: Inclusivity Solutions Secures $1.5m Extension Round
President Ruto Pledges Review of Hustler Fund Credit Limits
History Made as Kenya Assembled Smartphone Unveiled, Cost is KES 7,499
President Ruto: Expect Maisha Namba in December
Bolt Rolls Back on Booking Fee Amidst License Renewal Concerns
AI and Employment: Job Market Defies Doomsday Predictions
Facebook Ads Library: Your Key to Competitive Advantage in Digital Marketing
Why Google's Knowledge Graph Update Brings Corporate and Personal Branding into SEO
Bitnob Becomes the First African Company to Integrate Universal Money Address (UMA)
Nairobi's Revenue Collection at Risk as NRS Remains Unavailable


EXCLUSIVE: TECNO Phantom X2 Flagship to feature huge motorised cameras
Tecno is following up the phantom x from last year with a new phantom x2 series expected soon.
Last year TECNO brought back the Phantom series after a small hiatus. The new Phantom X was pushed as a premium flagship sub-brand of the company. It was a huge step up in design and build, and really did feel like a serious competitor to upper mid-range flagships. Well, the company is now prepping a new Phantom X2 Series.
We don't know when the phone will launch officially. However, we know the following details from the exclusive render above:
The new Phantom X2 has 2 huge rear cameras
One of the larger cameras has a moving lens
The camera bump appears to be quite huge
The power button and volume rockers are on one side of the device
There's TECNO Phantom branding on the back of the device
From the render, cameras will be the main talking points of the upcoming Phantom X2 series. One of the two huge rear cameras is said to have a moving lens that protrudes outwards . It seems TECNO will be implementing a similar optical zoom feature as we've seen with good old cameras. It'll be interesting to see how this works.
Like last year's Phantom X, we can expect the phone to have a curved display. We can expect a good new processor from Mediatek. Perhaps even a 5G capable processor. According to Gizmochina , the phone will have a 5000mAh battery with a 45W charger.
There also may be two devices: a Phantom X2 and a Phantom X2 Pro. We don't know from the render whether this is the normal or Pro version. We also don't know what differences will be between the Pro and the normal versions. Perhaps 5G connectivity and extra lenses, or faster charging.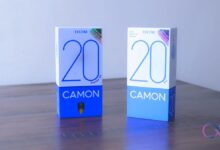 This will be TECNO's best phone to date, and it will be interesting to see how it will be received.
Apple Unveils M3 MacBook Pros in Scary Fast Could-Have-Been-An-Email Event
Kenya's first locally assembled devices are the familiar neon smartphones we've seen from safaricom, bolt kenya suspends booking fee amidst licensing dispute with ntsa, mfs africa and madagascar's mvola partner to enhance financial connectivity, visa spend clarity: ncba's game-changing solution for commercial clients, e-commerce in africa: an untapped goldmine for msmes, redmi 12 goes live in kenya for kes 20,799, kcb joins forces with mastercard to launch elite credit cards for premium clients, african crypto giant valr secures game-changing partnership with visa, drone spying concerns escalate for 53% of workers in meta region, xiaomi redmi a1+ is here to top the best under 10k segment in kenya, kcb to finance psv owners purchasing electric buses from basigo, leave a reply cancel reply.
Your email address will not be published. Required fields are marked *
This site uses Akismet to reduce spam. Learn how your comment data is processed .
Related Articles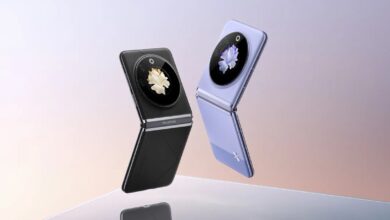 TECNO Gets it Right with the Outer Display of a Flip Phone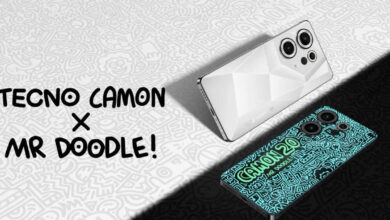 TECNO Unveils CAMON 20 Series Mr Doodle Edition: Where Art Meets Tech in Kenya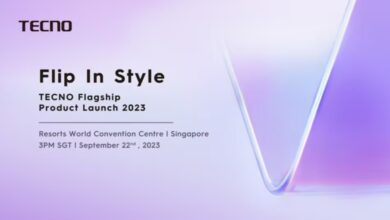 TECNO Flip Phone Launching Soon To Shake Up Samsung Pricing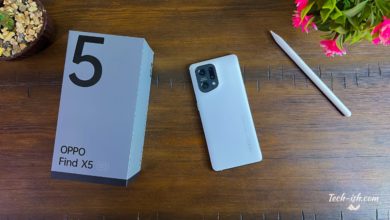 OPPO Dominates China's Smartphone Market and Ranks 4th Globally in H1 2023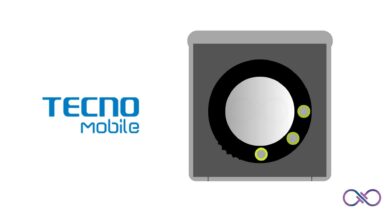 Anticipation Rises as TECNO Phantom V Flip/Yoga Details Leak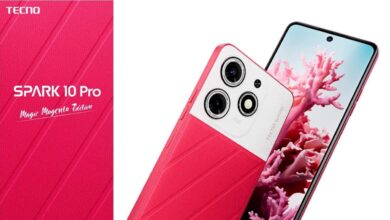 TECNO unveils Luminous Leather Spark 10 Pro Magic Magenta Edition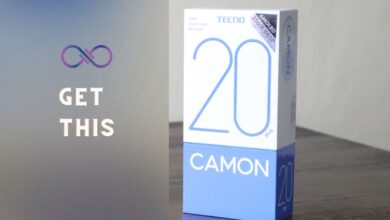 Giveaway Alert: TECNO Camon 20 Pro!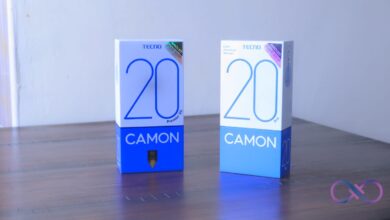 TECNO Camon 20 Premier Review; All the things to know!
Tecno introduces Universal Tone for perfect skin tones in every photo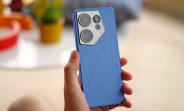 Post your comment
Comments (14)
Yordan 30 October 2023
Tecno Android
Tecno announced a new imaging technology called Universal Tone. Leveraging AI, it promises to enhance skin tones in photos so people from all colors are correctly captured.
The essence of Tecno Universal Tone is recognizing multiple faces in one photo, along with their facial complexities, and then applying appropriate filters that encompass a vast range of skin tones in order to eliminate bias within the image processing.
The technology combines three engines, according to the press release. The first is the Multi-Skin Tone Restoration Engine, which works with a database of frequently overlooked skin colors, and with a methodology, it creates an inclusive skin tone scale for precise representation. Then comes the local tuning engine, which considers the environment, lighting conditions, color temperature, and even geomorphological landscape to achieve a harmonious output with the surroundings.
The final step of the process is an "AI-powered computational portrait engine" that creates a personalized and localized portrait imaging experience, taking into consideration some localized aesthetic and cultural preferences. Simply put, the Tecno phone will know how people in its markets prefer to look in their photos, applying the correct color processing.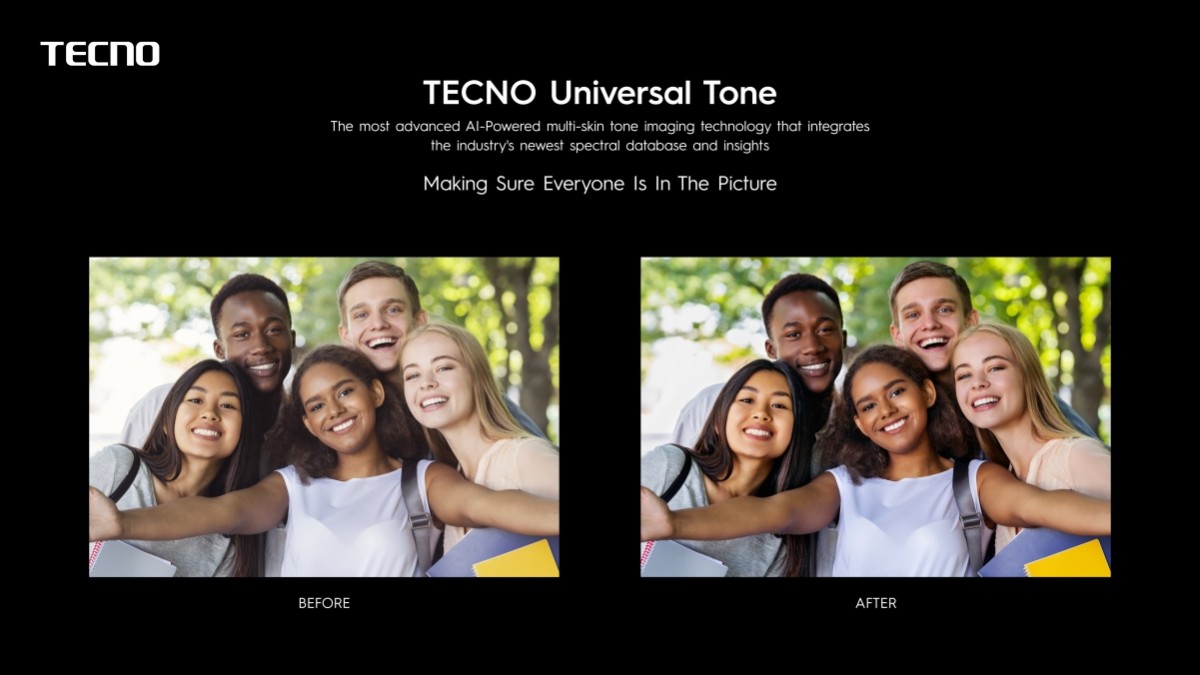 The end goal of Tecno is to have all people in a photo to be accurately identified and "beautifully optimized". The technology is said to allow users to feel truly represented and is a celebration of individuality and diversity. The company also said Universal Tone would deliver "true-to-life portraits," but we do have our doubts about how this would translate in real life with so much AI tinkering happening in the background.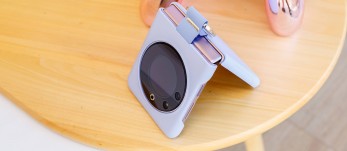 Reader comments
Very Bad mobile phone tecno
Tecno user 3 months
6 hours ago
Keeps auto rotating even if it's turned off. Battery back up is very poor. Tecno Camon 5G pro 5G
If left picture my true color level other picture is racist

Home News Reviews Compare Coverage Glossary FAQ RSS feed Youtube Facebook Twitter Instagram
© 2000-2023 GSMArena.com Mobile version Android app Tools Contact us Merch store Privacy Terms of use Change Ad Consent Do not sell my data