michaelnorman
Ghost island, chippewa flowage, wisconsin.
Photo by Al Denninger
Share this:
4 comments on " ghost island, chippewa flowage, wisconsin ".
In your book you mention a phantom on the old ghost road. It's still there, but in south Arboretum. I have seen it twice and got three pics of it. It likes the large service trail that parallels Seminole highway.
I wld like to know the name of the resort this haunted island is close to? My wife and I are looking to rent a cabin this summer for our anniversary and I remembered reading about the island in a book about how strange sounds emit from there and light are seen. We both are into the paranormal and I thought what a great idea maybe we cld go and maybe experience some of the sounds or see what was captured on those fishermen's camera. Anyhow any info wld be great.
Hi, Thanks for the note. It's Barb & Bill McMahon at Golden Fawn Lodge, 8774 N. Fawn Trail, Hayward, WI 54843. Not sure they still own it. Their website is goldenfawnlodge.com. Michael Norman
Thank you so much!!
Leave a Reply Cancel reply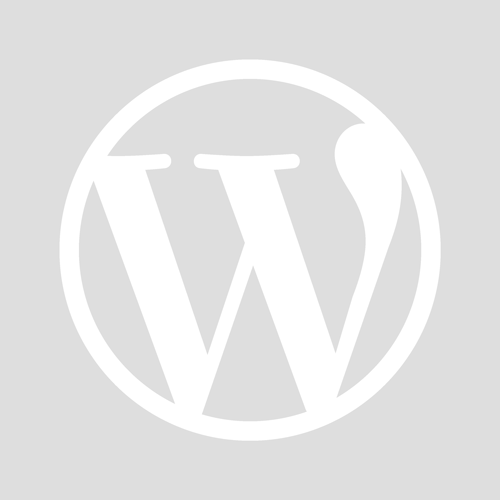 Already have a WordPress.com account? Log in now.
Follow Following
Copy shortlink
Report this content
View post in Reader
Manage subscriptions
Collapse this bar
Paddle Reports
Paddle Guides
5 ★ Paddles
4 ★ Paddles
3 ★ Paddles
2 ★ Paddles
1 ★ Paddles
Water Trail Guide
Apostle Islands
Bittersweet Lakes State Natural Area
Black River
Bois Brule River
Brunet Island State Park
Buckhorn State Park
Central Sands of the Wisconsin River
Chippewa Flowage
Chippewa River
East Branch of the Pecatonica River
East Fork of the Black River
Flambeau River
Goose Island County Park
Kickapoo River
Lake Michigan State Water Trail
Lake Superior Water Trail
Lower Wisconsin Riverway
Manitowish River
Mississippi River
Namekagon River
North Branch of the Oconto River
Northern Highland-American Legion State Forest
Peshtigo River
Peshtigo River State Forest
Popple River
Rock Island State Park
St. Croix River
Turtle-Flambeau Flowage
Upper Wisconsin River
Willow Flowage
Gear Reviews
Spreadshirt Shop
Threadless Shop
Canoe & Kayak Camping Wisconsin: Chippewa Flowage
The flowage, or "Big Chip" as it's known, is a 15,300-acre impoundment located east of Hayward which was created as a means for flood control and generating power. As Wisconsin's third-largest lake, the flowage is flatwater paddling of course, but with a maze of 200 islands, there's a lot to explore. The feeling of true wilderness is around every channel or boggy turn, with very little of the shoreline having been developed. Set beneath rolling hills and that special mix of northern hardwoods, birch and pine, it's simply captivating. Also, located this far north, a local doesn't have to tell you that the fishing is prime here – musky being the main trophy.
Paddling Style: Flatwater Paddling + River Paddling Difficulty: Beginner/Intermediate/Expert Best Suited For: Canoes + Kayaks
Camping Location: Lakeside Availability:  First-Come, First-Served Designated Sites Type: Rustic Paddle-in: Yes |  Walk-in: Yes Camping Fee:  Yes + No |  Camping Permit: No
The important thing to know about the flowage is that these are shared lands – the camping opportunities and the boat landings. The Wisconsin DNR manages eleven of the 18 campsites with one of them under U.S. Forest Service ownership. They are all available for free on a first-come, first-served basis with one exception – Cedar Tops West – which is reservable for those with disabilities by contacting the Hayward DNR Office . If it's not occupied, it can be used first come, first served. The other seven sites, situated on six different islands, are Lac Courte Oreilles (LCO) tribal-owned lands. Camping on these islands require a fee and are available by reservation.
All of these sites are remote, so share your plan with others and be prepared to practice pack-in, pack-out, Leave-No-Trace ethics. From time to time, campsites may close or be relocated to protect wildlife habitat or natural vegetation.
There are also six boat landings with varying degrees of facilities but are open to the public. Four are owned by the Wisconsin DNR, one by the Lac Courte Oreilles Tribe and one by the Town of Hayward.
Island Campground – No Fees:  Wisconsin DNR and USFS Sites | First Come, First Served 11 Sites. 1 Site, Cedar Tops West, is reservable by phone for those with disabilities. Facilities: Open-air latrine, picnic table and fire ring.
Island Camping – With Fees: LCO Sites | Call to Reserve a Site 6 Sites. All reservable. Facilities: Open-air latrine, picnic table and fire ring.
Paddling the Chippewa Flowage: The flowage is huge so even when there is heavy powerboat traffic it rarely feels crowded or too busy, even in the peak of summer (though it does affect the natural ambiance, so silent sport enthusiasts may be less than enthused). From the numerous islands and points to the bays, bogs and channels, there's much to discover along the tree-lined banks. Wildlife is common as deer, otter, bald eagles, osprey, loon, blue heron, mergansers and sometimes the occasional black bear or wolf inhabit the area. If you fish, bring a pole, because aside from musky, the flowage is stocked with walleye, northern pike, bass, crappie and panfish.
Essential Information: General Info: Wisconsin DNR General Camping Info: Wisconsin DNR General Paddling Info: Wisconsin DNR
Maps + Guides: Chippewa Flowage Brochure Chippewa Flowage Map
Photo Gallery:
You Might Also Like
Canoe and Kayak Camping Wisconsin Water Trail Guide
Canoe & Kayak Camping Wisconsin: Central Sands of the Wisconsin River
Canoe & Kayak Camping Wisconsin: Lower Wisconsin Riverway
No comments, leave a reply cancel reply.

Wisconsin / Where things go bump in the night
Share this:.
Click to share on Facebook (Opens in new window)
Click to share on Reddit (Opens in new window)
Click to share on Twitter (Opens in new window)
Click to print (Opens in new window)
Click to email a link to a friend (Opens in new window)
Click to share on LinkedIn (Opens in new window)
Click to share on Pinterest (Opens in new window)
Click to share on Tumblr (Opens in new window)
Submit to Stumbleupon (Opens in new window)
Today's Paper
It was an overcast October afternoon 18 years ago when Al Denninger, a fishing guide, took a client to catch muskie along the Chippewa Flowage near Hayward, Wis. As the anglers fished along the shore, Denninger suddenly saw the client's face turn white. Denninger looked up and saw why.
Floating along the shoreline of the island in front of them was what Denninger describes as "a huge Casper the Friendly Ghost." The apparition was floating against a stiff wind, about 10 feet off the water's surface, he said.
"I was overwhelmed by what I was seeing," recalled Denninger, of Rhinelander, Wis. Denninger managed to grab a Polaroid instant camera and take one shot of the phenomenon before the camera mysteriously stopped working. After about two minutes, the thing floated up in the air and vanished, he said.
As trees are turning skeletal this fall, what better time to tell ghost stories than as Halloween approaches?
Denninger was recounting that fall day near Hayward recently when he noted that it wasn't until afterward that he learned of the name locals had given to the spot where he had seen the phantom: Ghost Island.
"I really like that story," said Michael Norman, a retired journalism professor at the University of Wisconsin-River Falls who has written several books of ghost stories.
Norman researched Denninger's account and included it in a revised edition of "Haunted Wisconsin," a book he co-authored with the late Beth Scott. It was first published in 1980.
"People who stayed in a resort just across the bay would hear strange noises and see lights and things in the evening," Norman said of Ghost Island. "It was very, very strange."
The story of Ghost Island is one of many to come out of western Wisconsin.
"I think every locale has its ghost story or ghost legends," said Norman, who called these tales of hauntings, poltergeists and spirits "part of our culture … part of our history and who we are."
The following are a couple of the odd tales Norman researched and writes about in "Haunted Wisconsin."
Poltergeist Of St. Croix County / So many strange occurrences happened in the 1870s on the Lynch farm in the town of Cady that it became a tourist destination.
It started in the winter of 1871, when a hired hand was nearly struck twice by a flying ax that had seemingly been thrown by no one. The Lynch family then started finding clothing and other cloth that had mysteriously been cut.
During one incident, a neighbor and Richard Lynch responded to a scream from Lynch's wife and rushed into the house to find kitchen chairs jumping to the ceiling and cooking utensils flying through the air.
News of the strange occurrences began to spread, and people came from all over to catch a glimpse of what many believed to be a spirit. Meanwhile, whatever was happening in the Lynch home continued.
As household items flew through the air and were moved around, the children denied any involvement. One of the children, a 2-year-old girl, was found one day with her hair chopped off. A pair of scissors was found nearby but not any of the girl's hair.
Newspapermen visited the family to investigate the odd reports, which began to get national attention. Two publishers from a local paper reported seeing cups fly through the air. An egg and a potato masher also took flight. The newsmen thought it was "improbable, if not impossible" that any of the family members were causing the disturbances.
Others had doubts, however, including a reporter from the St. Paul Dispatch who spent a night in the Lynch home. He left with the belief that Richard Lynch's wife, bored and unhappy, had concocted the incidents with the aid of a daughter as a way to create some excitement.
Either way, the occurrences were so upsetting that the family split apart, and the spirit, or whatever it was, stopped acting.
Uncle Otto's Ghost / Uncle Otto, as he was called, died in 1958, after living many years with his family in Prescott, Wis. In his final years, blindness and frail health forced him to spend most of his time in his bedroom, where he often sat in a rocking chair singing German ballads he learned as a child.
One night, two years after Uncle Otto's death, his young nephew heard a sound coming from his uncle's room — feet in slippers shuffling over creaking floorboards. The boy opened the door to his uncle's room but saw no one. The next day at breakfast, the boy learned his mother had heard the sounds, too. The noises at night continued.
The boy found the door to Uncle Otto's room ajar one day and looked inside to see the chair rocking back and forth like someone had just stood up. The chair began to creak at night, and the sound of footsteps continued.
As financial problems began to befall the family over the next several years, the eerie sounds increased in frequency and intensity.
One night a few weeks before they moved out, family members heard the sound of splintering wood. They watched with shock as the door to Uncle Otto's room was torn from the frame and thrown into a hallway. No had been near the door.
Shortly before the family left the home, Uncle Otto's nephew was awakened to the sensation of someone gently caressing his face. After the feeling stopped, the nephew turned to his cat, which appeared to be watching someone walk across the room.
Andy Rathbun can be reached at 651-228-2121.
Haunting Wisconsin
Other spots in western Wisconsin said to be haunted:
Coulee Road, Hudson. Said to be haunted by the ghost of Paschal Aldrich, the son of Dr. Philip Aldrich — one of the city's first residents.
Mabel Tainter Theater, Menomonie. There have been reports of strange lights in the theater and sightings of a woman's ghost.
East Immanuel Lutheran Church, Amery. The church's bell has allegedly been heard ringing on its own.
Parker Mansion, River Falls. There have been reports of a strange presence in the home and claims that a poltergeist has moved around items in the house.
For information on Michael Norman's books on ghost stories, including "Haunted Wisconsin" and his latest book, "The Nearly Departed: Minnesota Ghost Stories & Legends," go to michaelnorman.us .
More in News
National News | 5 dead and 5 injured — names on a scrap of paper show impact of Gaza war on a Minnesota family
Local News | St. Paul cleaner Marsden loses MSP Airport bid, triggering 219 layoffs
World News | Palestinian death toll in West Bank surges as Israel pursues militants following Hamas rampage
Local News | Twin Cities Marathon refund information released by organizers
Local News | In St. Paul, Jewish groups rally for Palestinians and call for a ceasefire
SUBSCRIBER ONLY
Local news | historic courthouse in stillwater getting a major makeover.
VIDEO: Residents join forces to move 'floating island' with their boats
CHIPPEWA FLOWAGE, Wis. (KBJR/Gray News) - This week in Wisconsin, it was a group effort when community residents used their boats to move a giant floating bog on the Chippewa Flowage.
"It's one of the first things you look for when you come here in the morning: 'Where's the bog?'" Denny Reyes said, who owns The Landing Restaurant and Resort nearby.
KBJR reports the bog is several decades old and formed when the Chippewa River was dammed roughly 100 years ago.
As soil and plant matter combined, patches of peat began to float around the Chippewa Flowage. The fertile soil was the perfect habitat for plants and animals, and soon an entire ecosystem began to thrive on the bog.
However, for Reyes and other residents near the lake, the bog slowly floats into shore and blocks a nearby bridge regularly.
"It's almost every year. It takes a community effort, and you have to have the winds at your back to push," Reyes said.
With all of the animals that call it home, the state government considers it a protected habitat, meaning residents cannot break the bog up.
On Tuesday, 25 boats came together to push the bog away from the bridge, which is the only passage between the sides of the flowage.
Property owners in the community lent a helping hand, but the bog got stuck on a pile of rocks despite their efforts.
"When we move it, you got to get it in the right spot, or it can be back in a couple of days," homeowner Greg Kopke said.
The residents said if the blog moves back to the bridge, they will be ready to push it away once again.
Updates continue with the Lake Chippewa Flowage Resort Association.
Copyright 2022 KBJR via Gray Media Group, Inc. All rights reserved.
City orders risqué Halloween display to be taken down
Whitewater man accused of holding woman against her will caught near elementary school
DOJ: Armed suspect dead after shooting involving Watertown Police
Over 80 bucket trucks circle Wisconsin State Capitol
Couple welcomes rare 'spontaneous triplets'
Latest news.
Biden walks a tightrope with his support for Israel as his party's left urges restraint
Madison Ballet presents "Innovation"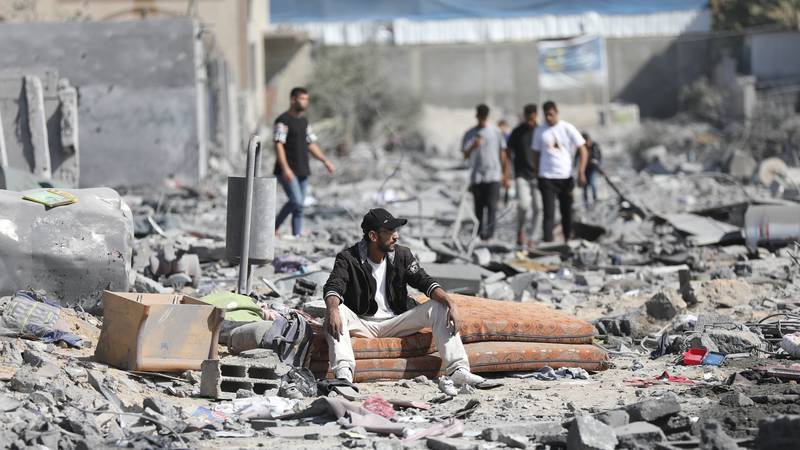 Israel strikes Gaza, Syria and West Bank as war against Hamas threatens to ignite other fronts
1 dead, 3 wounded in Arkansas shooting, police say
Madison Ballet presents "Innovation"
In this Book
Michael Norman
Published by: University of Wisconsin Press
Grab a cozy blanket, light a few flickering candles, and enjoy the unnerving tales of Haunted Wisconsin . Gathered from personal interviews with credible eyewitnesses, on-site explorations, historical archives, newspaper reports, and other sources, these scores of reports date from Wisconsin's early settlement days to recent inexplicable events. You'll read about Wisconsin's most famous haunted house, Summerwind; three Milwaukee men who encountered the beautiful ghost of National Avenue; a phantom basketball player; a spectral horse that signaled death in the pioneer era of the Wisconsin Dells; a poltergeist in St. Croix County who attracted a crowd of more than three hundred spectators; the Ridgeway Ghost who haunts the driftless valleys of southwestern Wisconsin; a swinging railroad lantern held by unseen hands; the Ghost Island of the Chippewa Flowage; and many others. Are ghosts real? That's for you to decide! Now available in a Third Edition with updates and several new accounts, Haunted Wisconsin remains a favorite collection of unexplained midwestern tales, enjoyed by readers of all ages.
Table of Contents
Title Page, Copyright, Dedication
Part I: The Haunted North
The Gmeiner Enigma
Another Voice
Ghost Island
The Lynch Affair
Confirmation
The Paulding Light Mystery
Do Not Disturb
A Flame in the Window
There Goes Mamie!
Don't Mess with Elmer
A Dream So Real
The Summoning
House of Chimes
The Girl in White
Spirits on the Land
The Coulee Road Ghost
A Quartet of Wisps
The Pendant
The Lady in Brown
pp. 105-108
Psychic Sisters
pp. 109-114
The Phantom Congregation
pp. 115-119
pp. 120-128
Part II: Southern Frights
pp. 129-147
The Music Box
pp. 131-135
Someone to Watch over Me
pp. 136-154
Wayfaring Strangers
pp. 155-159
Mrs. Courtney's Return
pp. 160-162
Voice on the Bridge
pp. 163-164
He Comes by Night
pp. 165-166
The Phantom Rider of Pumpkin Hollow
pp. 167-168
The Possession of Carl Seige
pp. 169-173
Murder on the Boardwalk
pp. 174-191
Footsteps in the Dark
pp. 175-176
The Hille Curse
pp. 177-183
pp. 184-191
Muffled Screams
pp. 192-194
Mrs. G's Boardinghouse
pp. 195-198
House of Evil
pp. 199-216
Face on the Bedroom Curtain
pp. 200-201
The Restless Servant Girl
pp. 202-203
pp. 204-207
Terror in the Night
pp. 208-213
The Legacy of Mary Buth Farm
pp. 214-216
The Strange Case of Henry James Brophy
pp. 217-221
Always Time for Ghosts
pp. 222-228
Arthur, the Impudent Ghost
pp. 229-232
pp. 233-235
The Ridgeway Ghost
pp. 236-248
Selected Bibliography
pp. 249-254
Index of Place Names
pp. 255-272
Additional Information
Project muse mission.
Project MUSE promotes the creation and dissemination of essential humanities and social science resources through collaboration with libraries, publishers, and scholars worldwide. Forged from a partnership between a university press and a library, Project MUSE is a trusted part of the academic and scholarly community it serves.
2715 North Charles Street Baltimore, Maryland, USA 21218
+1 (410) 516-6989 [email protected]
©2023 Project MUSE. Produced by Johns Hopkins University Press in collaboration with The Sheridan Libraries.
Now and Always, The Trusted Content Your Research Requires
Built on the Johns Hopkins University Campus
This website uses cookies to ensure you get the best experience on our website. Without cookies your experience may not be seamless.
Chippewa Flowage
Created in the 1920's by a dam on the Chippewa River, the Flowage is Wisconsin's largest wilderness lake. With more than 15,000 acres of water, a maximum depth of 92 feet, 140 islands, and over 200 miles of undeveloped shoreline, the Chippewa Flowage offers you a world of opportunity. Enjoy the thrill of a fighting musky, elusive walleye, crappie, numerous small- or largemouth bass, jumbo perch, and plentiful bluegill.
Chief Lake Lodge
715-945-3248.
Cabin rentals are available, with TV & air conditioning, and the convenience of a full-service restaurant open 7 days a week.
Timber Kove
715-462-3874.
We have thirteen beautiful, new, three-bedroom three-bath units. We also feature a swimming pool, private piers, and a playground!
Treeland Resorts
We are a friend of tourism.
We have 29 vacation homes and 10 deluxe motel suites to choose from. Bring your own boat or explore the "Big Chip" in a pontoon or fishing rig from our first rate marina.
O'Rourke Cabin
217-898-7832.
O'Rourke's private vacation home rental on beautiful Moores Bay is a two bedroom, two bath cabin that sleeps five.
The Landing
715-462-3626.
All of our 1-3 bedroom cabins have fireplaces and docks. There is a great restaurant on the premises, and camping w/ full hookups.
Fawn Cove Suites
609-669-3339.
Fawn Cove Suites offer three two-story vacation rental units on the beautiful Chippewa Flowage.
Chippewa Flowage Lake Homes
715-558-2759.
Our three, well-appointed vacation homes feature Northwoods décor, a private pier, and quick access to ATV routes and snowmobile trails.
Lake Chippewa Campground
715-462-3672.
Lake Chippewa Campground is located on an island, right in the heart of the Chippewa Flowage and its 17,000 acres of unspoiled wilderness.
715-558-5526
Our nine cabins range from 1-3 bedrooms, each with its own private piers. We also offer pontoon rentals and convenient ATV trail access.
Treeland Farm RV Park
We have 75 full-hookup sites and are open May 1-Oct. 15. A pool, outdoor movies, and walking trails are available at the campground.
Rhefresh Retreat
715-410-4030.
The Refresh Retreat is a relaxing getaway surrounded by scenic beauty, wildlife, and outdoor amenities for all seasons.
Daggetts Resort & Campground
715-945-2297.
Modern housekeeping cottages, TV in all units, screen porches, and a lodge with games, snacks, and a full liquor bar. Boat rentals available.
Johnson's Resort
715-462-3225.
Nine cabins, lodge with bar and restaurant, an ice cream parlor, and rentals of canoes, kayaks, fishing boats, and pontoons.
Indian Trail Resort
715-945-2665.
Our resort offers seven cottages with screen porches, a motel/bunkhouse, and a full liquor bar that serves pizza.
Deerfoot Lodge & Resort
715-462-3328.
Lake-view cabins are available year-round and range from one to four bedrooms. Hotel rooms are available for short-stays year-round,
Musky Tale Resort
715-462-3838.
We are a fishing resort on the beautiful and productive Chippewa Flowage offering cabins, seasonal RV sites and a lodge.
R & R Bayview Resort
715-462-3284.
We have eight cottages with private piers; a great bar and restaurant with the best breakfasts on the Flowage, a game room, and a playground.
Golden View Resort
715-558-1950.
Three lakeside cabins, each with two bedrooms and able to sleep 4. We also have a fish cleaning house and freezer space for your catch.
Too Bare Lodge
651-485-5102.
This secluded two-bedroom, two- bath year-round home is nestled among towering pines on Moores Bay, on the east side of the Chippewa Flowage.
Deer Run Resort
715-462-3276.
Two- and four-bedroom cabins with refrigerator, gas ranges, modern bath, gas or electric heat, bed linens, microwaves, and dishes.
Sisko's Pine Point Resort & Campground
715-462-3700.
Sisko's Pine Point Resort & Campground offers 8 cabins, a year-round vacation home, and seasonal campground located on the Chippewa Flowage.
Tiger Musky Resort
715-945-2555.
Choose from two-, three-, and four-bedroom newly remodeled cottages, some with two baths. Also have four RV sites with full hookups.
Shady Nook Resort
715-945-2265.
Six cabins can each sleep 4-6 people; woodsy camping sites offer electricity and can accommodate a tent, pickup camper, or pop-up.
Pat's Landing
715-945-2511.
We offer 19 rental condos, all with a clear view of Chief Lake on the Chippewa Flowage. We are on snowmobile and ATV trails.
KC's Cabin
815-245-4066, big musky resort, 715-462-3782, chippewa shores resort, 217-691-6508, sandy pines cove, 763-370-5901, sportsmans cabin 2, llc, 715-558-1460, dun rovin lodge, skilly's big chip lodge, 309-712-4767.
ALL MOSCOW TOURS
Getting Russian Visa
Top 10 Reasons To Go
Things To Do In Moscow
Sheremetyevo Airport
Domodedovo Airport
Vnukovo Airport
Airports Transfer
Layover in Moscow
Best Moscow Hotels
Best Moscow Hostels
Art in Moscow
Moscow Theatres
Moscow Parks
Free Attractions
Walking Routes
Sports in Moscow
Shopping in Moscow
The Moscow Metro
Moscow Public Transport
Taxi in Moscow
Driving in Moscow
Moscow Maps & Traffic
Facts about Moscow – City Factsheet
Expat Communities
Groceries in Moscow
Healthcare in Moscow
Blogs about Moscow
Flat Rentals
Moscow parks – leisure, nature and historical
Moscow is the most green megapolis in the world. There are over a hundred parks and green spaces like gardens, squares and boulevards. You will definitely bump into a few of them wherever you go. Whether you are interested in memorial, historic parks, parks of wildlife or you just want to have a calm break from the speedy city life – city parks have something special for everyone.
Moscow leisure parks
The leisure Moscow parks are undoubtedly the most popular and famous with the locals and travelers. Today such parks provide a great number of exciting entertainments for Muscovites and city guests, adults and children.
The Gorky Park
Gorky Park opened in 1928 and was the first holiday park in the Soviet Union with playgrounds, a sports stadium, exhibition halls and attractions for kids. Today it has a fresh, vibrant appearance. The park features bike rental stations, a comfortable business area with Wi-Fi, an outdoor movie theatre and a greenhouse where you can buy fresh greens such as basil and lettuce. To contemplate the sky and the stars, go to the observatory and look through the telescope while listening to fascinating stories from astronomers. Enjoy many sports in the park: volleyball, handball, football or a peaceful jog around the beautiful surroundings.
Zaryadye Park
Opened in September 2017, Zaryadye is the youngest on our list. Located just a few minutes away from Red Square, it includes various activities like the floating bridge with its thin V-form extension, an ice cave, also concert hall and an amphitheater. The entire territory of the park was divided into four zones of Russia: forest, steppe, tundra, and the floodplains.
Neskuchny Sad
By walking along the Moskva River's bank from the Gorky Park towards Vorobievy Gory (Sparrow Hills) you'll reach Neskuchny Sad («Not Boring» garden), a wonderful place in the Moscow center, one of Moscow's oldest parks, charming slice of wildlife. The park mostly consists of pristine forest, dotted with old summer pavilions, ponds and quaint little stone bridges. There are a lot of opportunities for different activities lots of children playground, a ping-pong and chess clubs, football fields and tennis courts, horse riding, tree climbing and having rest in one of the nice cafes.
Museon Park
Hermitage Garden
Hermitage Garden has always been known as an amusement, entertainment center with theatres, shows, cafes, summer pavilions, pergolas since 1830. Shalyapin, Sobinov, Nezhdanova – great Russian opera singers starred on the garden stage. Famous Russian composer Rakhmaninov conducted the orchestra. Sara Bernar, Maria Yermolova, outstanding actresses, played in the open air performances. Tolstoy and Lenin had a stroll in the garden. So lots of celebrities from different epoques liked it a lot and spent their time in Hermitage Garden. You can find here three theatres in the garden: Hermitage, Sphere and New Opera. During winter an ice rink works here and in summer a musical stage is assembled to host jazz and brass band festivals.
In Sokolniki Park visitors can play billiard, chess or draughts, table tennis, as well as go cycling, roller blading and swimming in the summer and ice skating or skiing in winter. Each season is highlighted by special memorable and bright events, for example, Summer Jazz Festival or Baby Fest (for future mums), open air beach disco parties, Ice Cream Day, International Clown Festival and many other shows and exhibitions. The park has an observatory, kids center and a co-working zone with free Wi-Fi which is really nice for spending high quality work time there.
Moscow nature parks
The nature parks are national reserves with the amazing forestry and incredible variety of animals and plants there. The breath of wildlife and the chance to be closer to the virgin nature excites both children and grownups. Hundreds of different species of animals can be found in Moscow nature parks. The richest woodlands with old and even ancient trees, like a 200 years pine-tree in the Elk Island National Nature Park, are the point of passionate interest for visitors.
Aptekarsky Ogorod
Aptekarsky Ogorod (Apothecary Garden)
Aptekarsky Ogorod (Apothecary Garden) is one of the oldest gardens in Moscow. It was founded in the XVIII century by Peter the First (great Russian emperor). A larch that he planted himself still grows in the garden, so it's more than 250 years old. At the time of its foundation, it was a garden with herbs and medicinal plants and was used as an educational center for doctors. Today there are the orangery with its tropical palms, the carp pond, and the immense trees that dot the landscape and turn wonderful golden shades in the autumn. Several restaurants and cafes work here making it a very nice spot for relaxation no matter what season it is. You can book a special tour or join the guided excursion group.
Losiny Ostrov
Losiny Ostrov (Elk Island Park)
Losiny Ostrov (Elk Island Park) is located at the north of Moscow. It covers 22 km from the west to the east and 10 km from the north to the south and it's one of the most beautiful national parks in Moscow. Two rivers, Yausa and Pechorka begin here. You can find lots of fields, ponds, meadows, streams in the park as well as elks. Here you can enjoy guided tours, available in English. You can choose a guided tour about flora and fauna of the area, you'll learn why elks are there, which animals are their neighbors. Or enjoy another excursion, which is totally devoted to historical past of ancient tribes once lived there, you'll know about old Russian mythology, rituals and traditions.
Serebyany Bor
Serebyany Bor (Silver Forest)
Serebyany Bor (Silver Forest) is a famous pine forest in the west of Moscow. The park has 230 forms of plant life, and is also home to watersports complex, providing a lot of activities for visitors. The layout of Serebryany Bor is unusual, as it is located on an artificial island between a meander in the Moscow River and a channel. There is an artificial lake, the Deep Gulf and picturesque Bezdonnoe (Bottomless) Lake in the depths of the forest. Serebryany Bor's beaches are the cleanest in the city and very popular among Muscovites. On weekends it is difficult to find a free spot here, especially because a whole range of services are offered to visitors, from simple deckchairs to catamaran and yacht rides. Driving is prohibited on the territory of the island so be ready to use trolleybus to reach the entrance.
Botanichesky Sad
Greenhouse of Botanical Garden
Main Botanical Garden of The Russian Academy of Sciences is the largest and most famous is Moscow. The garden is a real museum of nature with a very rich (more than 18000 types) collection of plants. The park was founded in 1945 at the place of the 17th century Apothecaries' Gardens. The garden's collection is turned into botanical expositions, made with use of modern receptions of landscape architecture. Here you can see a tree nursery, a shadow garden, hothouse complex, collection of flowers, a rosary, exposition of coastal plants, garden of continuous blossoming, Japanese garden and expositions of cultural plants and natural flora plants. The biggest part of Garden is the Tree nursery occupying the space of 75 hectares. About 2 thousand wood plants grow here. Another big exposition of the Garden is nature Flora, divided into six botanic-geographical collections: European part of Russia, Caucuses, Central Asia, Siberia and Far East. Pride of the Main Botanical Garden is the collection of tropical, coastal and water plants, which is considered as the best in Europe. The Japanese garden, a great model of Japanese landscape gardening art has a 13-level stone pagoda of the 18th century, stone Japanese lamps, ponds, falls and streams, tea lodges and more than 100 species of the most character Japan plants. It is especially decorative in spring, during Oriental cherry blossoming and in fall, when foliage blazes in crimson colors.
Moscow historic parks
Historic nature parks and estates once were the mansions of the Moscow aristocracy. At that far times the estates were outside the Moscow city limits, but after the city expansion and urbanization, they became easily accessible.
Kolomenskoye
Kolomenskoye Museum and Park
The chief attraction of the park is undoubtedly the stone Church of the Ascension of the Lord. It was constructed in 1532 by order of Tsar Vasily III to commemorate the birth of his son and heir, Ivan the Terrible. But there is a lot more to see in the park: the pretty Church of the Icon of Our Lady of Kazan – with its bright azure domes and plenty of gold. Further into the park there is a charming Church of the Beheading of St John the Baptist, built by Ivan the Terrible to mark his coronation.
Kuskovo Park
Kuskovo Park is one of the oldest country estates in Moscow. It was given to General Sheremetev by Peter the Great in 1715, but was left to fall into neglect before being plundered by Napoleon's troops in 1812. Nowadays the estate has been restored to its former glory and is a good example of Russian 18th Century imperial architecture. The palace is a fine and rare example of wooden neoclassicism. It was completed in 1775, and the rich interiors remain unchanged since 1779. It includes a room hung with exclusive exquisite Flemish tapestries, an abundance of silk wallpaper and an impressive collection of 18th century European and Russian paintings. The palace looks onto the lake, which is surrounded by smaller pavilions: pretty Italian, Dutch and Swiss Cottages, Blank's Hermitage and the old Orangery, where the State Ceramics Museum is located now, an extensive and absorbing collection of porcelain from the 18th century to the present day. On the other side of the lake is a large wood popular with local cyclists and joggers.
Our Private Tours in Moscow
Moscow metro & stalin skyscrapers private tour, soviet moscow historical & heritage private tour, layover in moscow tailor-made private tour, «day two» moscow private tour, whole day in moscow private tour, gastronomic moscow private tour, all-in-one moscow essential private tour, moscow art & design private tour, tour guide jobs →.
Every year we host more and more private tours in English, Russian and other languages for travelers from all over the world. They need best service, amazing stories and deep history knowledge. If you want to become our guide, please write us.
Contact Info
+7 495 166-72-69
119019 Moscow, Russia, Filippovskiy per. 7, 1
Mon - Sun 10.00 - 18.00
Bahasa Indonesia
Slovenščina
Science & Tech
Russian Kitchen
Cruising the Moskva River: A short guide to boat trips in Russia's capital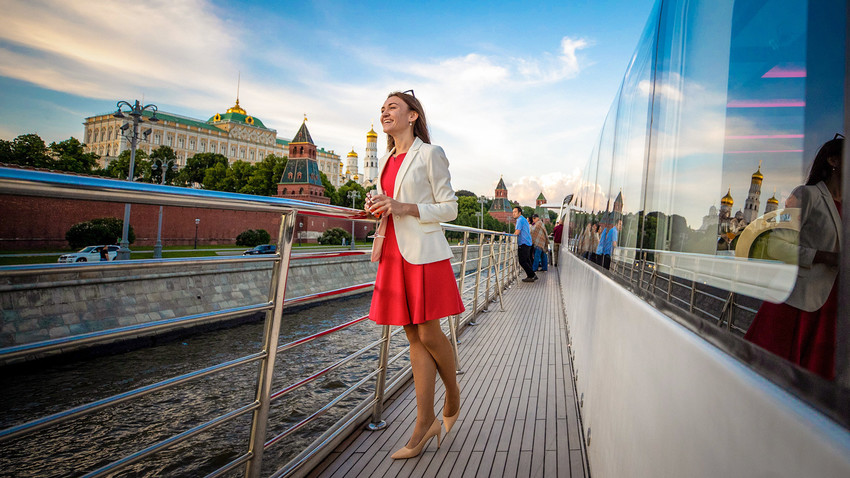 There's hardly a better way to absorb Moscow's atmosphere than on a ship sailing up and down the Moskva River. While complicated ticketing, loud music and chilling winds might dampen the anticipated fun, this checklist will help you to enjoy the scenic views and not fall into common tourist traps.
How to find the right boat?
There are plenty of boats and selecting the right one might be challenging. The size of the boat should be your main criteria.
Plenty of small boats cruise the Moskva River, and the most vivid one is this yellow Lay's-branded boat. Everyone who has ever visited Moscow probably has seen it.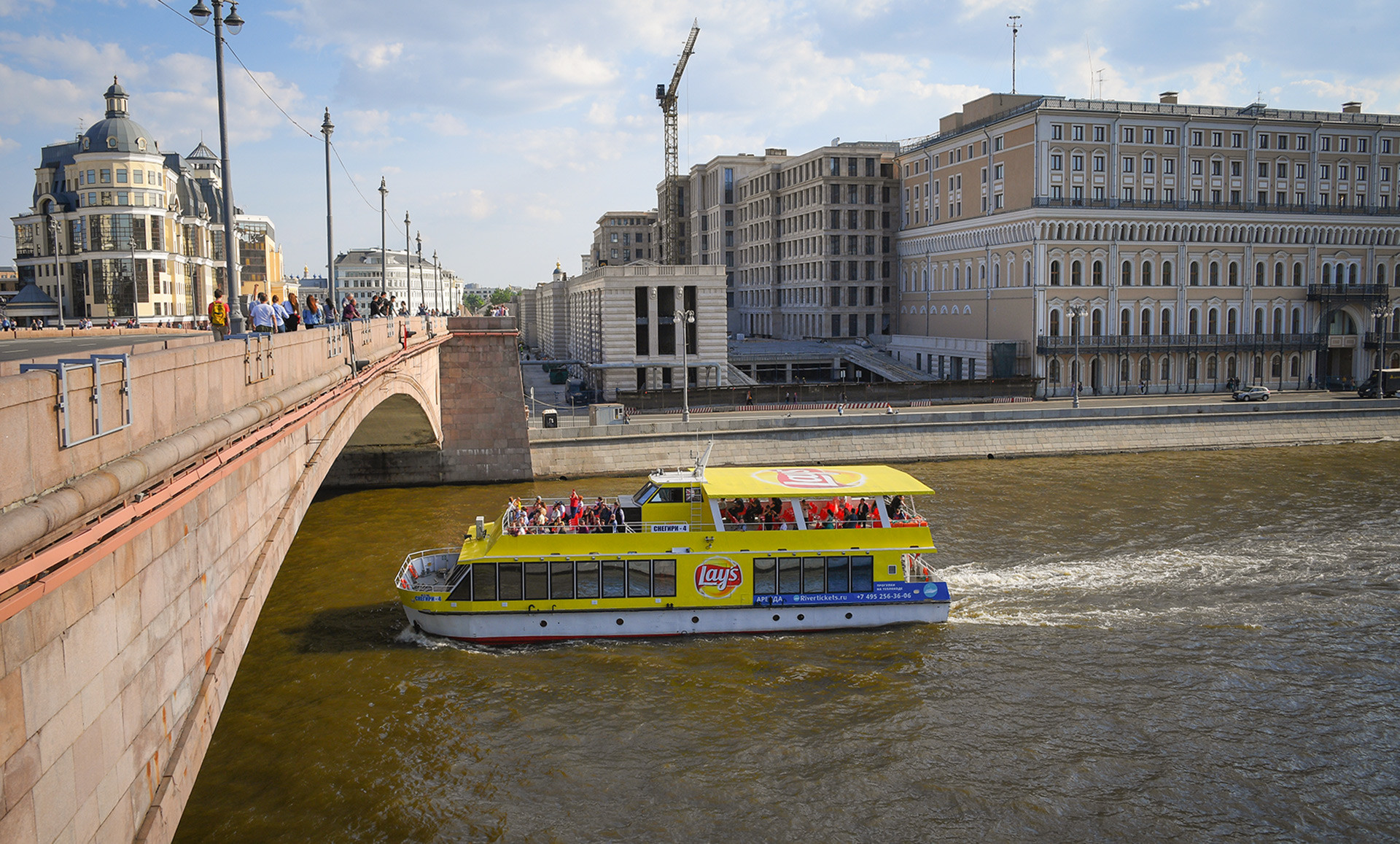 This option might leave a passenger disembarking partially deaf as the merciless Russian pop music blasts onboard. A free spirit, however, will find partying on such a vessel to be an unforgettable and authentic experience that's almost a metaphor for life in modern Russia: too loud, and sometimes too welcoming. Tickets start at $13 (800 rubles) per person.
Bigger boats offer smoother sailing and tend to attract foreign visitors because of their distinct Soviet aura. Indeed, many of the older vessels must have seen better days. They are still afloat, however, and getting aboard is a unique 'cultural' experience. Sometimes the crew might offer lunch or dinner to passengers, but this option must be purchased with the ticket. Here is one such option offering dinner for $24 (1,490 rubles).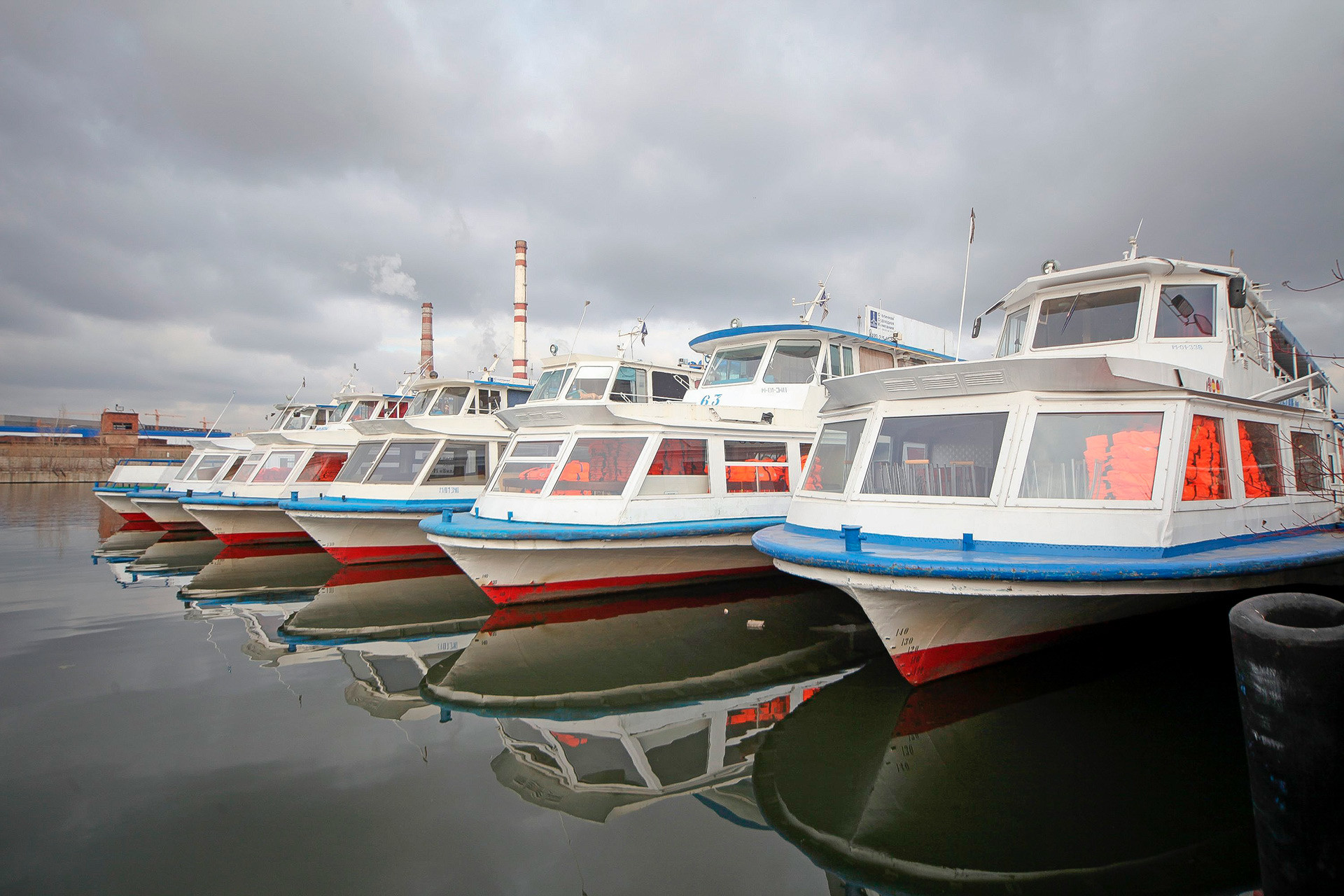 If you want to travel in style, consider Flotilla Radisson. These large, modern vessels are quite posh, with a cozy restaurant and an attentive crew at your service. Even though the selection of wines and food is modest, these vessels are still much better than other boats.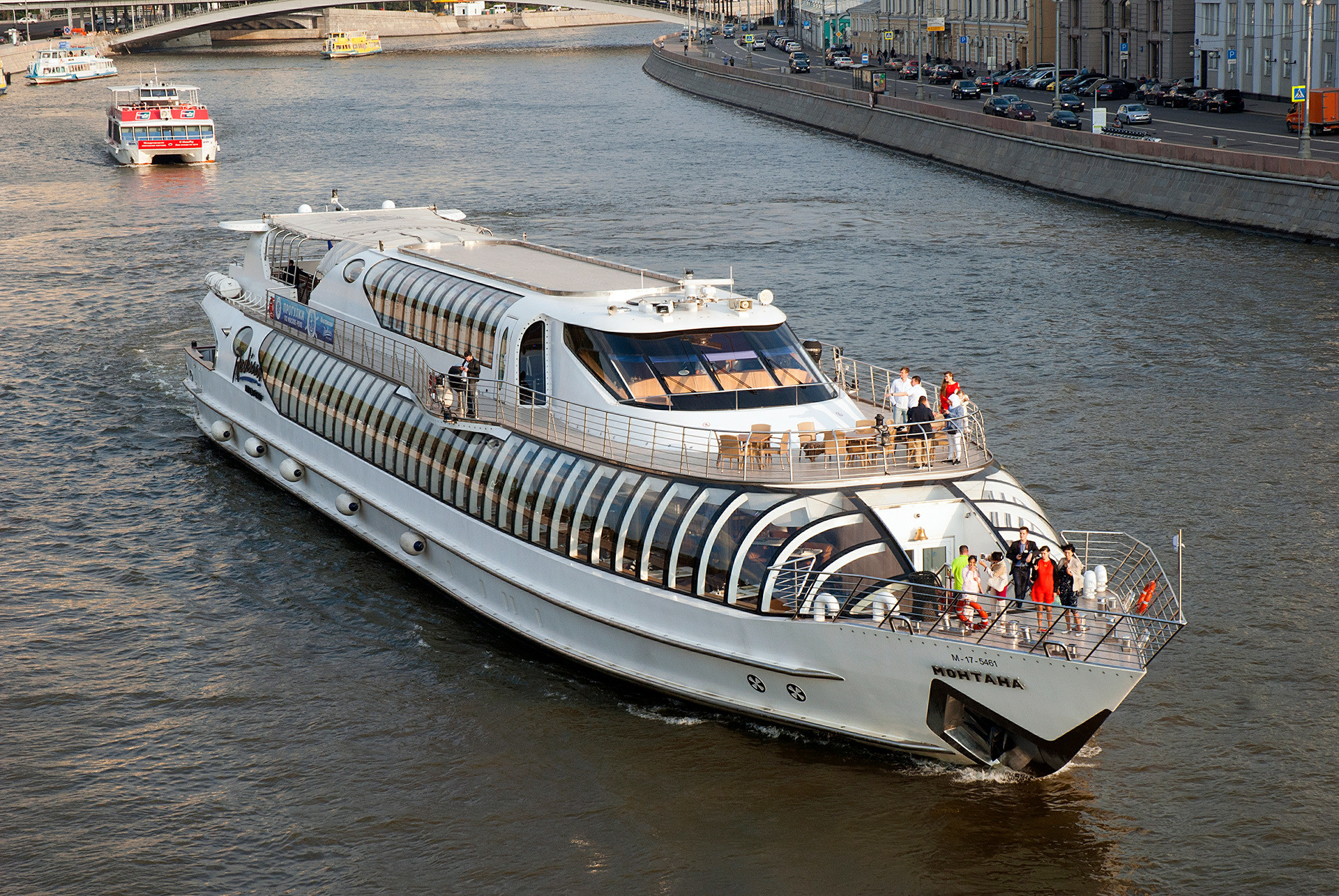 Surprisingly, the luxurious boats are priced rather modestly, and a single ticket goes for $17-$32 (1,100-2,000 rubles); also expect a reasonable restaurant bill on top.
How to buy tickets?
Women holding photos of ships promise huge discounts to "the young and beautiful," and give personal invitations for river tours. They sound and look nice, but there's a small catch: their ticket prices are usually more than those purchased online.
"We bought tickets from street hawkers for 900 rubles each, only to later discover that the other passengers bought their tickets twice as cheap!" wrote (in Russian) a disappointed Rostislav on a travel company website.
Nevertheless, buying from street hawkers has one considerable advantage: they personally escort you to the vessel so that you don't waste time looking for the boat on your own.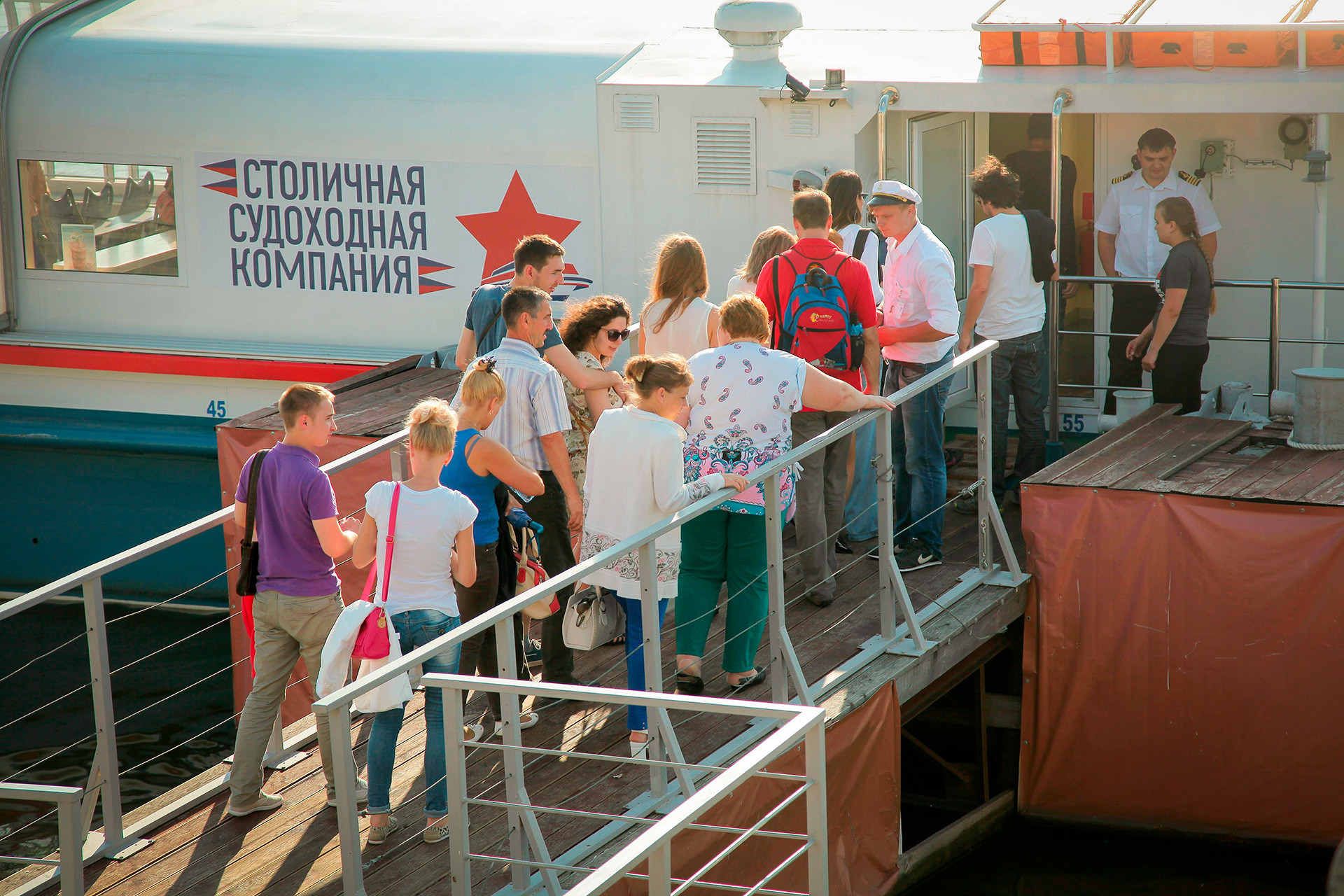 Prices start at $13 (800 rubles) for one ride, and for an additional $6.5 (400 rubles) you can purchase an unlimited number of tours on the same boat on any given day.
Flotilla Radisson has official ticket offices at Gorky Park and Hotel Ukraine, but they're often sold out.
Buying online is an option that might save some cash. Websites such as this offer considerable discounts for tickets sold online. On a busy Friday night an online purchase might be the only chance to get a ticket on a Flotilla Radisson boat.
This website (in Russian) offers multiple options for short river cruises in and around the city center, including offbeat options such as 'disco cruises' and 'children cruises.' This other website sells tickets online, but doesn't have an English version. The interface is intuitive, however.
Buying tickets online has its bad points, however. The most common is confusing which pier you should go to and missing your river tour.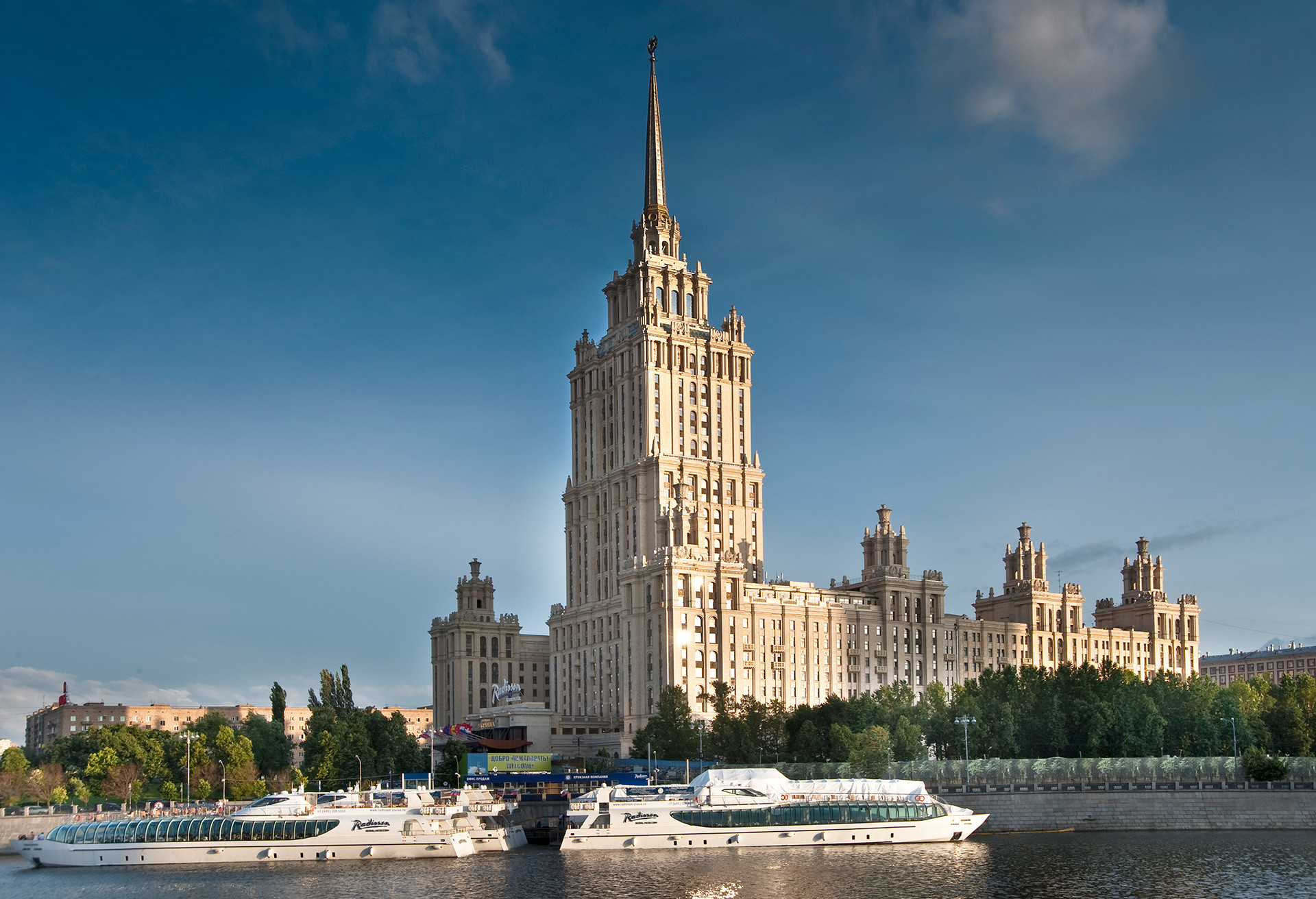 "I once bought tickets online to save with the discount that the website offered," said Igor Shvarkin from Moscow. "The pier was initially marked as 'Park Kultury,' but when I arrived it wasn't easy to find my boat because there were too many there. My guests had to walk a considerable distance before I finally found the vessel that accepted my tickets purchased online," said the man.
There are two main boarding piers in the city center: Hotel Ukraine and Park Kultury . Always take note of your particular berth when buying tickets online.
Where to sit onboard?
Even on a warm day, the headwind might be chilly for passengers on deck. Make sure you have warm clothes, or that the crew has blankets ready upon request.
The glass-encased hold makes the tour much more comfortable, but not at the expense of having an enjoyable experience.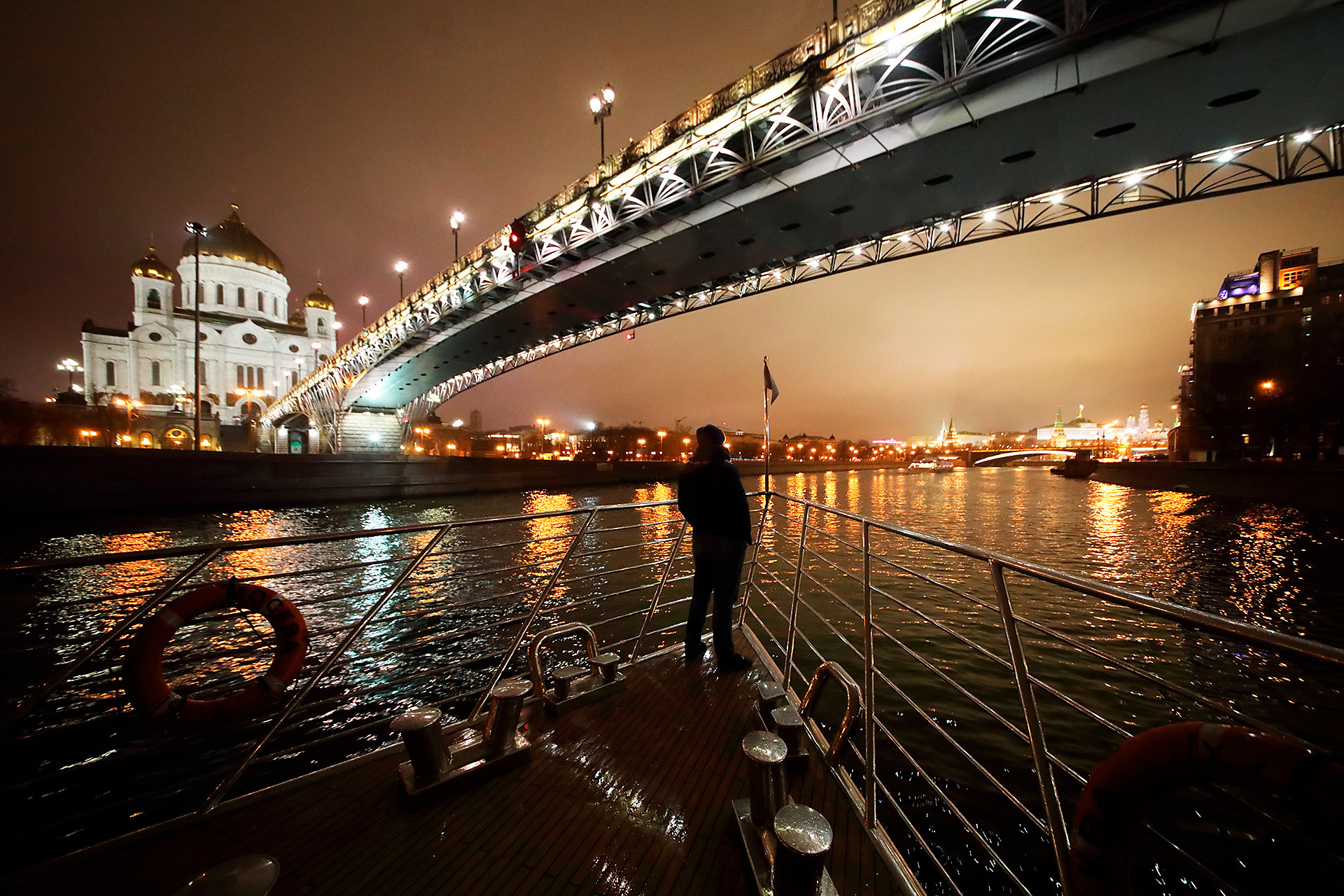 Getting off the boat requires preparation as well. Ideally, you should be able to disembark on any pier along the way. In reality, passengers never know where the boat's captain will make the next stop. Street hawkers often tell passengers in advance where they'll be able to disembark. If you buy tickets online then you'll have to research it yourself.
There's a chance that the captain won't make any stops at all and will take you back to where the tour began, which is the case with Flotilla Radisson. The safest option is to automatically expect that you'll return to the pier where you started.
If using any of Russia Beyond's content, partly or in full, always provide an active hyperlink to the original material.
to our newsletter!
Get the week's best stories straight to your inbox
What to do in Moscow City, if you're not mega-rich
Moscow after dusk: 10 places to drink, dance, and groove
5 things you must do in Moscow in 2018 between football matches (or without them)
Sandwiched between Moscow and St. Petersburg: How to spend a perfect weekend in Tver 
24 or 48 hours in Moscow: Where to go and what to do in 2019
This website uses cookies. Click here to find out more.