BROWSE ALL FANDOMS
Genshin Impact
Super Mario
How Do You Get Ghostly Robes in OSRS?
Ghostly Robes are obtained from the miniquest Curse of the Empty Lord , where you must seek out six different ghosts.
Each of them will give you a piece of the set, and give you a hint to find the next one.
Below we'll explain this entire process step-by-step.
Requirements
In order to start and complete this miniquest, you will need to:
Finish The Restless Ghost
Bring an Amulet of Ghostspeak
Begin the quest "Desert Treasure", until you get a Ring of Visibility, which requires 53 thieving (unboostable). If you've lost your Ring, you can speak to Rasolo near Baxtorian Falls to get it back.
There's a 1-in-3 chance you'll need 31 Prayer (unboostable). You'll know whether you need it or not in the beginning of the quest.
So let's start!
Don't forget, you'll need your Ring of Visibility and a Ghostspeak Amulet for all the steps .
You can bank the Ghostly pieces as you go, and you can drop trick them for duplicates if you want to.
Start – Valdez The Explorer
Valdez the Explorer (Mysterious Stranger) can be found outside Glarial's Tomb (The cave you can enter with Glarial's Pebble).
Speaking to him will give you a Ghostly Robe Top, and a hint on where to find the next ghost.
According to what he says, you'll have to follow a certain path of this guide. It's worth noting that ghosts will appear at all locations, but you'll need to go to the location assigned to you, in the correct order .
If the ghost hints about…
Pirates and a Shipwreck: Go to Path 1 below
Thief northeast of here: Go to Path 2 below (31 prayer required)
Thief southeast of here: Go to Path 3 below
Path 1 – Pirates And A Shipwreck
Path 2 – thief northeast of here, path 3 – thief southeast of here.
1A – Talk to Rennard in the far north of the Wilderness, between the Wilderness Agility Course and the Pirates' Hideout, next to the boat with Larran's Chest.
He'll give you the Ghostly Gloves.
Feel free to bank them in the Mage Arena bank!
1B – Kharrim can be found by the Chaos Altar hut, a bit further south, in level 38 Wilderness.
Note this is a PKing hotspot, so be wary of PKers!
Speaking to him will net you the Ghostly Boots. You won't come back to the Wilderness after this piece.
1C – Lennissa is inside the Entrana church (Don't worry, Ghostspeak Amulet and Ring of Visibility can be carried to Entrana).
After chatting, you'll get your Ghostly Bottoms. Two more to go!
1D – Dhalak is on the ground floor of Wizard's Tower, near Draynor Village.
He'll give you the Ghostly Hood after talking for a bit.
1E – Lastly, Viggora is on the 1st floor (not the ground floor) of Rogues' Castle, once again in deep Wilderness.
It's the same room where a Bronze Sq Shield spawns. He'll give you the Ghostly Cloak.
Congratulations on completing your Ghostly Robes set! If lost, you can go back to Valdez near Glarial's Tomb and he'll hand you a replacement of whatever pieces you've lost.
2A – Talk to Rennard in the Bandit Camp, inside the Wilderness.
This one can be a bit tricky; try to trap the bandits inside the food shop if you need to. He'll give you the Ghostly Robes.
You might want to bank them, although the next one is nearby.
2B – Kharrim is at the Graveyard of Shadows, east of the Bandit Camp and just north of Ferox Enclave.
Talk to him to get the Ghostly Boots.
You won't come back to the Wilderness after this piece.
2C – Lennissa is at Port Sarim, by the boat used to travel to Crandor in Dragon Slayer.
She'll give you the Ghostly Bottoms.
2D – Dhalak is upstairs in Edgeville Monastery, by the altar (needing 31 Prayer).
He'll hand you the Ghostly Hood after chatting.
2E – Viggora is on the 1st floor (not the ground floor) of the Slayer Tower in Canifis, near the Infernal Mages.
He'll hand you a Ghostly Cloak.
Congratulations on completing your Ghostly Robes set! If lost, you can go back to Valdez near Glarial's Tomb, and he'll hand you a replacement of whatever pieces you've lost.
3A – Talk to Rennard in the Desert Bandit Camp, inside the bar.
He'll hand you a pair of Ghostly Gloves.
3B – Kharrim is deep inside the Lava Maze (not down the ladders!) in the Wilderness. Bring a slash weapon!
He'll give you some Ghostly Boots.
3C – Lennissa is inside Tree Gnome Stronghold, barely south of the Gnomeball field.
She'll give you the Ghostly Bottoms after a small chat.
3D – Dhalak is upstairs in the Falador Party Room.
He'll give you the Ghostly Hood. One more to go!
3E – Viggora wanders in the north Earth Warrior spot of the Edgeville Dungeon. Be careful, this is inside the Wilderness! Earth Warriors will be aggressive so try to put Viggora between you and the Warriors if you're having trouble.
Talking to him will reward you with a Ghostly Cloak.
And after getting your Ghostly Robes you might also be interested in completing The General's Shadow : a separate miniquest that grants you the Shadow Sword , which is a matching weapon for the set.
Born in Argentina in '97, Been gaming since I was a kid, and met a lot of worlds I've grown to love. Big fan of JRPG's, Metroidvanias, and planning ahead. I'm a barefooter, a competitive Smash Bros player, and a bit too stubborn at times!
Stay Connected
Keep browsing, related posts.
You are using a really outdated version of Internet Explorer. Some features of our site may not work properly. Consider upgrading to a modern browser for a safer and more enjoyable Internet experience!
Welcome to Sal's Realm of RuneScape
Ghostly Robes
My Highscores
Submit an Update
Table of Contents
Start point, recommended, getting started, essential info.
Speak to the Mysterious Ghost outside Glarial's Tomb.
Skills: None.
Quests: Desert Treasure up to obtaining Ring of Visibility, The Restless Ghost
Items: 1x Ghostspeak Amulet , 1x Ring of Visibility
Quests: None.
Items: None.
Note:  You can get a Ring of Visibility from Rasolo, north of Ardougne, and a Ghostspeak Amulet from Father Urhney in Lumbridge Swamp.
Make sure you are wearing your Ring of Visibility and your Amulet of Ghostspeak. You can't see the ghosts without the ring, and even if it is on, they do not appear on minimap.
Outside of Glarial's Tomb north of Ardougne, you will find a Mysterious Ghost . He is cursed, and will talk about Armadyl's Staff. After he has told you his story, you will receive a Ghostly Robe Top. He will ask you to find another ghost, the thief Rennard.
From now on, each ghost that you must talk to are in order, and the location of the ghosts is different for everyone. If you speak to the correct ghost at the wrong location (you are given a location), it will not work.
Rennard the Thief can be found in several locations, including:
The Crashed Pirate Ship in Level 56 Wilderness.
Bandit Camp in the Wilderness.
Bandit Camp Bar in the Desert.
Once you find him and speak to him, he will give you a pair of Ghostly Gloves. Then he will ask you to find Kharrim the Messenger.
Kharrim the Messenger can be found in any of the following locations:
The Wilderness Graveyard of Shadows
Chaos Altar in Level 38 Wilderness.
End of the Lava Maze near the Lesser Demons.
After speaking to him, he will give you a pair of Ghostly Boots and ask you to find Lenissa the Spy.
Lenissa the Spy can be found at the following places:
In Port Sarim, near the boat from the Dragon Slayer Quest .
Upstairs of the Falador Party Hall.
The first floor of the Wizard's Tower, near the Bookshelf.
Inside the Entrana church building.
Near the Gnomeball Court
After speaking to her and listening to her story, you'll receive the Ghostly Robe Bottom. She will ask you to speak to her superior named Dhalak the Mage.
Dhalak the Mage can be found:
Upstairs in the Prayer Guild , near the Altar.
Inside the Falador Party Hall.
First Floor of the Wizard's Tower near the Bookshelf.
He will give you a Ghostly Hood and ask you to look for Viggora the Warrior.
Viggora the Warrior can be found at the following locations:
Paddewa, Edgeville Dungeon , near the Earth Warriors.
Second floor of the Rogue's Castle in the deep Wilderness.
Second floor of the Canifis Slayer Tower , just before the Infernal Mages.
After hearing his story, you'll receive a Ghostly Cloak from him! Congratulations, you've found all of the Ghost Robe pieces!
The Ghost Robes
Once you have an entire set, you'll look like this:
Yes, you're transparent and you can see right through yourself! The full set of robes provides 21 to your both your Magic Attack and Magic Defence bonuses. They give no other bonuses and are un-tradeable.
Like us? Share us!
Information
Privacy Policy
Interviews and Artwork
Screenshot Gallery
Archived Projects
News Archive
Poll Archive
Sal's Character Page
Get in Touch
Follow us on Twitter
Join us on Facebook
RSS Feed - Site News
Atom Feed - Site News
Community Forums
Support Our Site
Skill Training
Minigames/Activities
Distractions & Diversions
Cities & Locations
Monster Hunting
Lore and History
Old School RuneScape
Item Database
Skill Calculators & Planners
Special Calculators

Quest items
Members' items
Desert Treasure
Ghostly robe (bottom)
The ghostly robe is a piece of member's only armour . Players can obtain one after speaking to Lennissa during the Curse of the Empty Lord miniquest . The robe bottom, according to Lennissa, was a spare robe that she wore during one of her assignments.
There are no requirements to wear and, when worn with the other pieces, the player appears 'ghostlike' (i.e. see-through). Multiple pieces may be obtained through the drop trick .
1 Experience
2 Armour/Melee armour
3 Mage armor
How to Get Ghostly Robes in OSRS
The Ghostly Robes in OSRS are incredibly unique cosmetic items, providing minor Magic bonuses and making their wearer completely transparent. They are often sought after by completionists and those looking for specific cosmetic items.
The transparency effect is a fun novelty you can enjoy while adventuring throughout Gielinor, or show off to your friends in the costume room of your Player-owned House. This requires a magic wardrobe, however, and lets you save on the bank space.
If you would like to get the ghostly robes in Old School RuneScape, know there are a few requirements to be met and tasks to be completed. In this guide, I'll show you how to get Ghostly Robes in OSRS.
Necessary Items
Getting the Ghostly Robes in OSRS can be done in a few steps. First, you need to have started the quest 'The Restless Ghost' for access to the Ghostspeak Amulet. You also need to have started "Desert Treasure" for access to the Ring of Visibility.
Both the Ghostspeak Amulet (or Morytania Legs 2 or higher) and the Ring of Visibility are required to start the miniquest 'Curse of the Empty Lord', each step of which rewards you with part of the Ghostly Robe set. 
Curse of the Empty Lord
You can start Curse of the Empty Lord by equipping the Ghostspeak Amulet and the Ring of Visibility, and talking to Valdez the Explorer outside Glarial's Tomb, which is northwest of the Fishing Guild. You will have to follow one of three routes, depending on what he tells you.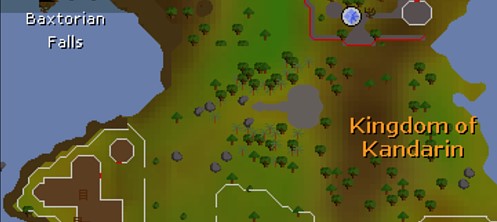 The route he will give you is determined randomly, and may require you to go to Entrana, or deep into the Wilderness. Pay attention to what he says to you, as this determines your route. If he talks about PIRATES AND A SHIPWRECK , follow route 1. If he talks about a thief being NORTHEAST , follow route 2. If he talks about a thief being SOUTHEAST , follow route 3.
You will need to speak to the same NPCs who will give you the same pieces of the Ghostly Robe set regardless of the route you're given. The only thing determined by your route is the location of these ghostly NPCs. They must also be spoken to in the order described.
Curse of the Empty Lord: Route 1
If following route 1, you first need to speak to Rennard, who is between the Wilderness Agility Course and the Pirates' Hideout, near a shipwrecked ship. This is in level 52 Wilderness, so be prepared for that. Listen to his story, and he will give you the Ghostly Gloves.
Then, speak to Kharrim, who is located at the Chaos Temple altar in level 38 Wilderness. Let him speak, and he will give you the Ghostly Boots.
Next, talk to Lennissa at the Church on Entrana . You must use the Ghostspeak Amulet instead of the Morytania Legs 2/3/4 for this step, as the legs are armor, and as such, are not allowed on Entrana. She will give you the Ghostly Robe Bottom after listening.
After Lennissa, talk to Dhalak, who is on the first floor of the Wizard's Tower near Draynor Village. Listen to him, and he will give you the Ghostly Hood.
Finally, speak to Viggora, who can be found upstairs on the second floor of the Rogue's Castle. This is in level 52-56 Wilderness again, so don't bring anything you're not willing to lose. He is near a bronze sq shield spawn and the Chaos Elemental, so this place is quite dangerous. After listening to Viggora, he will give you the Ghostly Cloak.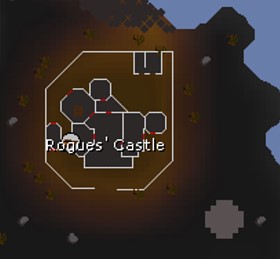 Curse of the Empty Lord: Route 2
If given route 2, you can find Rennard near the shops in the Wilderness Bandit Camp, in level 17-24 Wilderness. The bandits around may make it difficult to get through the conversation with him. If that's the case, try luring them into the food store and shutting the door on them.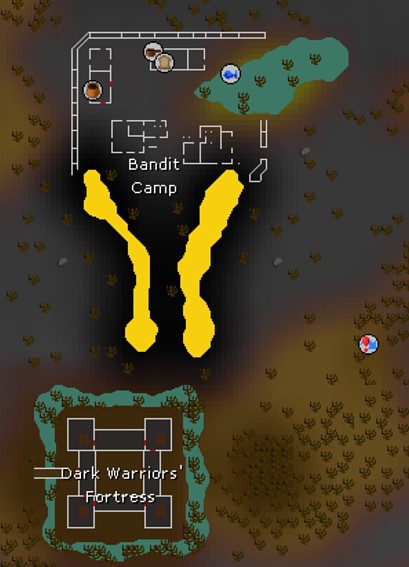 After speaking to Rennard, Kharrim will be located at the Graveyard of Shadows in level 18-21 Wilderness. Usually, he will be found near the southernmost tomb in the Graveyard.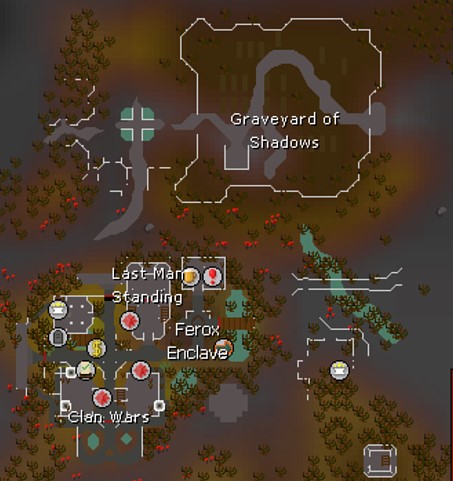 Once you've spoken to Kharrim, you can find Lennissa in Port Sarim, at the docks. She will be near the Lady Lumbridge ship, which is how you get to Crandor during 'Dragon Slayer I'.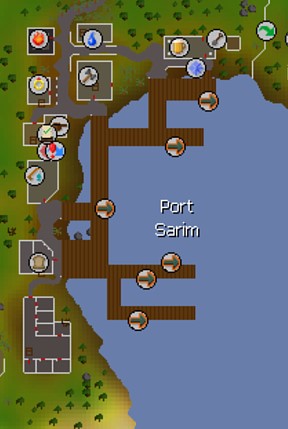 With Lennissa listened to, you will find Dhalak upstairs at the Edgeville Monastery. You need 31 Prayer to access this floor.
Finally, after listening to Dhalak's spiel, Viggora will be located on the second floor of the Slayer Tower near Canifis. He will be near the Infernal Mages, by the southeast stairwell. Consider bringing a nose peg or Slayer Helmet, as you will be near Aberrant Spectres.
Curse of the Empty Lord: Route 3
If you are given route number three, you can find Rennard on the western side of the Bandit Camp in the Kharidian Desert. Keep in mind that other players may be standing on top of him.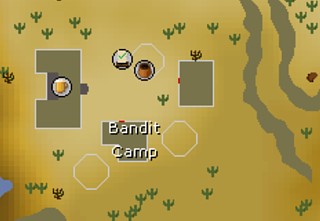 After speaking to Rennard, you can find Kharrim inside the fenced area at the end of the Lava Maze in level 40-45 Wilderness. You will need a knife or slash-based weapon in your inventory to cut through spider webs blocking your progress.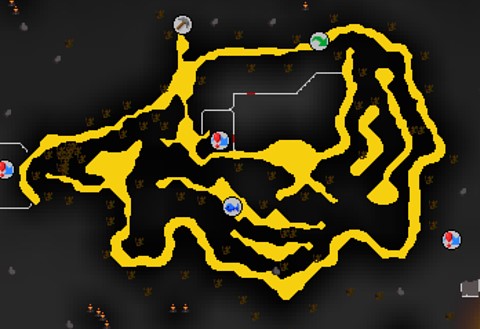 Once Kharrim has been listened to, Lennissa can be found in the Tree Gnome Stronghold, on the western side, just south of the Gnomeball Field's fence.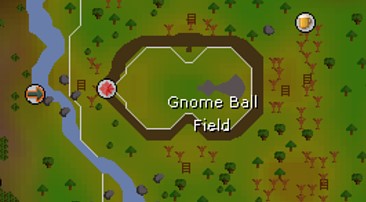 After Lennissa's listening has been completed, you will find Dhalak in the upstairs section of the Falador Party Room. He will be on the eastern side of the building.
Finally, Viggora will be in the northernmost room of the Edgeville Dungeon near the Earth Warriors. The Warriors are aggressive and may attack you, but trapping them with Viggora himself between you and the Warriors is possible.
If attempting to trap the Warriors, speak to Viggora and get through the first lines of dialogue as soon as possible. This prevents the Warriors from continuing to attack you until you've finished your conversation with the ghost.
Final Thoughts
Getting the Ghostly Robes in OSRS can be done in a few simple steps. First, you need to complete the quests 'Restless Ghost' and 'Desert Treasure' until you get the Ghostspeak Amulet and Ring of Visibility, respectively. 
From there, you'll need to speak to a number of ghostly spirits located throughout the world with these items equipped. Their locations are determined randomly, and you simply need to let them speak to obtain their Ghostly Robe set pieces.
Hit the button below and we'll send this post to your inbox!
Done! Go check your inbox!
What's the Best Magic Armor in OSRS?
OSRS Prayer Bonus Guide
How to Get Elite Void Equipment in OSRS
The Best Weapon for Tackling Gargoyles in OSRS
The Best Weapons for Training Strength in OSRS
What's the Best Dragon Weapon in OSRS?
OSRS Crossbow Guide: Everything You Need to Know
How to Get Graceful Clothing in OSRS
How to Switch to Ancients in OSRS
How to Get Ice Gloves in OSRS
OSRS Rings Guide
How to Get Arclight in OSRS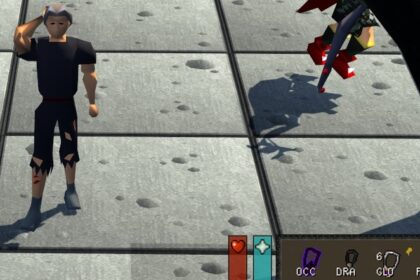 What's New?
Member List
User Tagging Statistics
Mark Forums Read
View Site Leaders
Advanced Search
Official RuneScape
[Guide] Ghost Robes
If this is your first visit, be sure to check out the FAQ by clicking the link above. You may have to register before you can post: click the register link above to proceed. To start viewing messages, select the forum that you want to visit from the selection below.
Thread: [Guide] Ghost Robes
Guide title: Ghost Robes Category: Real RuneScape > Guides Credits: ¥Elf¥ Items Needed: Ghost Speak Ammy (From Restless Ghost quest), Ring Of Visibility (From Desert Treasure) Start Point: Ouside Glarials Tomb , Ring and ammy MUST be equipped The 3 Routes, The Ghost there Will Send You On one of the following routes: 1. Route 1Glarial's Tomb - Ghostly Top 2. Little West Of Pirate Hut (Lvl 55 Wildy) - Ghostly Gloves 3. Altar In lvl 38 Wildy just below Ice Mountain - Ghostly Boots 4. Temple on Entrana - Ghostly Bottom 5. Wizard Tower south of Draynor - Ghostly Hood 6. 2nd Floor of Rogue Castle in 53 Wildy, he is in a little south room DONE 1. Route 2Glarial's Tomb: Go to the Wilderness Bandit Camp 2. Bandit Camp: Speak with ghost in center, he sends you to Carrallager. That's the Graveyard east of there, you can also teleport there with Ancient Magicks 3. Graveyard of Shadows: Speak with ghost by large grave 4. Port Sarim: By the ship used for Dragon Slayer 5. Prayer Guild: In the altar room this ghost mentions Viggora who's gone back to his castle in the evil lands 6. Slayer Castle: 2nd floor DONE 1. Route 3Glarial's Tomb 2. Bandit camp, in the bar, Al Kharid Desert 3. Lava Maze, Dungeon Entrance by Muddy Chest, Wilderness 4. Gnomeball, just south of hte gnomeball course in northwestern corner, Gnome Stronghold 5. Party Hall 2nd Floor, Seers Village 6. Earth Warriors, Top Section, Edgeville Dungeon, lvl 9 Wilderness DONE NOTE: Remember you can store this outfit in your house, if you have the complete set.. The Stats Ghostly Robe (top): + 5 Magic Attack and Defence Ghostly Robe (Bottom): +4 Magic Attack and Defence Ghostly Boots: +2 Magic Attack and Defence Ghostly Gloves: +2 Magic Attack and Defence Ghostly Cape +5 Magic Attack and Defence Ghostly Hat +3 Magic Attack and Defence
well,not really a guide again,but it has locations.and are you making all? cause this sounds like leeching from forums. (smile.gif?)
Just my guides i had on other forums
links,please?
Lolz! This is from www.runehq.com sad noob ***- ~pkz
nice ty i got my ghostly robes on my ownage pure
Private Messages
Subscriptions
Who's Online
Search Forums
Forums Home
Official Forum Rules
Knowledge Base
Suggestions
Forum Related Help
Archived Appeals
Miscellaneous
Report Staff
Archived Reports
Scam Reports
Shoutbox Reports
General Reports
Nominations
Respected Members
Administrator Notes
Reported Posts
Completed Donations Archive
Moderator to Moderator report(s)
Infractions
The Red Carpet
Literature & Language Arts
Television and Films
Informative Threads
Configuration
RuneScape Underground
Old School RS (2007)
Gold & Items
Freelance Middleman Services
Price Check
Pack Releases
Application Development
Website Development
Forum Games
User Tag List
Vacation Rentals
Restaurants
Things to do
Lobnya Tourism
Lobnya Hotels
Lobnya Bed and Breakfast
Lobnya Vacation Rentals
Flights to Lobnya
Lobnya Restaurants
Things to Do in Lobnya
Lobnya Travel Forum
Lobnya Photos
Lobnya Travel Guide
All Lobnya Hotels
Lobnya Hotel Deals
Hotels near Boutique-Hotel Mona
Boutique-Hotel Mona Rooms
Lobnya Hostels
Lobnya Family Hotels
Romantic Hotels in Lobnya
Lobnya Business Hotels
4-stars Hotels in Lobnya
Hotels near Cultural Center Krasnaya Polyana
Hotels near Moscow Defensive Line 1941
Hotels near Temple of Archangel Michael
Hotels near Povorot Mall
Hotels near Temple-Chapel of St. Matrona
Hotels near Mass Grave of Soldiers Zvonnitsa
Hotels near Memorial Complex Zenitka
Hotels near Monument Veteran 1943
Hotels near Lobnya History Museum
Hotels near Chamber Stage, Lobnya Drama Theater
Hotels near Cyber Arena Storm
Hotels near Monument to the Children Prisoners of Fascism
Hotels near Patefon
Hotels near Lobnya Park of Culture and Recreation
Hotels near Lobnya Station
Hotels near Belyy Rast Station
Hotels near Katuar Station
Hotels near Firsanovskaya Station
Hotels near Kolomna Station
Hotels near Bachmanovo Station
Hotels near Semenovskiy Station
Hotels near Golutvin Station
Hotels near 6 Km Station
Hotels near Iksha Station
Zhukovsky International Airport Hotels
Vnukovo Airport Hotels
Domodedovo Airport Hotels
Hotels near Moscow Institute of Physics and Technology
Temptation Cancun Resort
Hotel Riu Palace Cabo San Lucas
Beaches Turks & Caicos
Hotel Xcaret Mexico
Hard Rock Hotel & Casino Punta Cana
Grand Hyatt Baha Mar
Hotel Riu Republica
Flamingo Las Vegas
Excellence Riviera Cancun
Resorts Hedonism (Hedonism II Resort)
Wyndham Alltra Cancun
Luxor Hotel & Casino
Renaissance Wind Creek Aruba Resort
Hotel Riu Palace Punta Cana
Melia Punta Cana Beach Wellness Inclusive - Adults only
Popular All-Inclusive Resorts
Popular Beach Resorts
Popular Family Resorts
Popular All-Inclusive Hotels
Popular Hotels With Waterparks
Popular Honeymoon Resorts
Popular Luxury Resorts
Popular All-Inclusive Family Resorts
Popular Golf Resorts
Popular Spa Resorts
Popular Cheap Resorts
Travel Guides
GreenLeaders
Things to Do
Travel Stories
Rental Cars
Add a Place
Travel Forum
Travelers' Choice
Help Center
Europe
Russia
Central Russia
Moscow Oblast
Lobnya
Boutique-Hotel Mona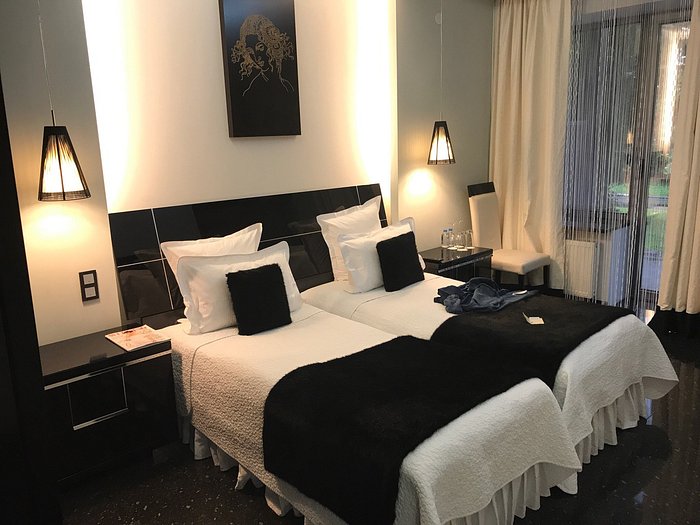 View prices for your travel dates

Excellent 104
Very Good 42
All languages ( 165 )
Russian ( 141 )
English ( 18 )
German ( 4 )
" Upper floor is great(even numbers) "
" Choose this one strictly for the hotel quality and charm, not for the surrounding area. "
Own or manage this property? Claim your listing for free to respond to reviews, update your profile and much more.
BOUTIQUE-HOTEL MONA - Prices & Reviews (Russia/Lobnya)
Popular Professionals
Design & Planning
Construction & Renovation
Finishes & Fixtures
Landscaping & Outdoor
Systems & Appliances
Interior Designers & Decorators
Architects & Building Designers
Design-Build Firms
Kitchen & Bathroom Designers
General Contractors
Kitchen & Bathroom Remodelers
Home Builders
Roofing & Gutters
Cabinets & Cabinetry
Tile & Stone
Hardwood Flooring Dealers
Landscape Contractors
Landscape Architects & Landscape Designers
Home Stagers
Swimming Pool Builders
Lighting Designers and Suppliers
3D Rendering
Sustainable Design
Basement Design
Architectural Design
Universal Design
Energy-Efficient Homes
Multigenerational Homes
House Plans
Home Remodeling
Home Additions
Green Building
Garage Building
New Home Construction
Basement Remodeling
Stair & Railing Contractors
Cabinetry & Cabinet Makers
Roofing & Gutter Contractors
Window Contractors
Exterior & Siding Contractors
Carpet Contractors
Carpet Installation
Flooring Contractors
Wood Floor Refinishing
Tile Installation
Custom Countertops
Quartz Countertops
Cabinet Refinishing
Custom Bathroom Vanities
Finish Carpentry
Cabinet Repair
Custom Windows
Window Treatment Services
Window Repair
Fireplace Contractors
Paint & Wall Covering Dealers
Door Contractors
Glass & Shower Door Contractors
Landscape Construction
Land Clearing
Garden & Landscape Supplies
Deck & Patio Builders
Deck Repair
Patio Design
Stone, Pavers, & Concrete
Paver Installation
Driveway & Paving Contractors
Driveway Repair
Asphalt Paving
Garage Door Repair
Fence Contractors
Fence Installation
Gate Repair
Pergola Construction
Spa & Pool Maintenance
Swimming Pool Contractors
Hot Tub Installation
HVAC Contractors
Electricians
Appliance Services
Solar Energy Contractors
Outdoor Lighting Installation
Landscape Lighting Installation
Outdoor Lighting & Audio/Visual Specialists
Home Theater & Home Automation Services
Handyman Services
Closet Designers
Professional Organizers
Furniture & Accessories Retailers
Furniture Repair & Upholstery Services
Specialty Contractors
Color Consulting
Wine Cellar Designers & Builders
Home Inspection
Custom Artists
Columbus, OH Painters
New York City, NY Landscapers
San Diego, CA Bathroom Remodelers
Minneapolis, MN Architects
Portland, OR Tile Installers
Kansas City, MO Flooring Contractors
Denver, CO Countertop Installers
San Francisco, CA New Home Builders
Rugs & Decor
Home Improvement
Kitchen & Tabletop
Bathroom Vanities
Bathroom Vanity Lighting
Bathroom Mirrors
Bathroom Fixtures
Nightstands & Bedside Tables
Kitchen & Dining
Bar Stools & Counter Stools
Dining Chairs
Dining Tables
Buffets and Sideboards
Kitchen Fixtures
Desks & Hutches
Office Chairs
Living Room
Armchairs & Accent Chairs
Coffee & Accent Tables
Sofas & Sectionals
Media Storage
Patio & Outdoor Furniture
Outdoor Lighting
Ceiling Lighting
Chandeliers
Pendant Lighting
Wall Sconces
Wall Mirrors
View All Products
Side & End Tables
Console Tables
Living Room Sets
Chaise Lounges
Ottomans & Poufs
Bedroom Furniture
Nightstands
Bedroom Sets
Dining Room Sets
Sideboards & Buffets
File Cabinets
Room Dividers
Furniture Sale
Trending in Furniture
View All Furniture
Bath Vanities
Single Vanities
Double Vanities
Small Vanities
Transitional Vanities
Modern Vanities
Houzz Curated Vanities
Best Selling Vanities
Bathroom Vanity Mirrors
Medicine Cabinets
Bathroom Faucets
Bathroom Sinks
Shower Doors
Showerheads & Body Sprays
Bathroom Accessories
Bathroom Storage
Trending in Bath
View All Bath
How to Choose a Bathroom Vanity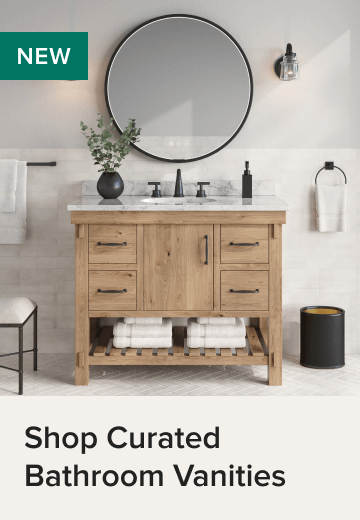 Patio Furniture
Outdoor Dining Furniture
Outdoor Lounge Furniture
Outdoor Chairs
Adirondack Chairs
Outdoor Bar Furniture
Outdoor Benches
Wall Lights & Sconces
Outdoor Flush-Mounts
Landscape Lighting
Outdoor Flood & Spot Lights
Outdoor Decor
Outdoor Rugs
Outdoor Cushions & Pillows
Patio Umbrellas
Lawn & Garden
Garden Statues & Yard Art
Planters & Pots
Outdoor Sale
Trending in Outdoor
View All Outdoor
8 x 10 Rugs
9 x 12 Rugs
Hall & Stair Runners
Home Decor & Accents
Pillows & Throws
Decorative Storage
Faux Florals
Wall Panels
Window Treatments
Curtain Rods
Blackout Curtains
Blinds & Shades
Rugs & Decor Sale
Trending in Rugs & Decor
View All Rugs & Decor
Pendant Lights
Flush-Mounts
Ceiling Fans
Track Lighting
Wall Lighting
Swing Arm Wall Lights
Display Lighting
Table Lamps
Floor Lamps
Lamp Shades
Lighting Sale
Trending in Lighting
View All Lighting
Bathroom Remodel
Kitchen Remodel
Kitchen Faucets
Kitchen Sinks
Major Kitchen Appliances
Cabinet Hardware
Backsplash Tile
Mosaic Tile
Wall & Floor Tile
Accent, Trim & Border Tile
Whole House Remodel
Heating & Cooling
Building Materials
Front Doors
Interior Doors
Home Improvement Sale
Trending in Home Improvement
View All Home Improvement
Cups & Glassware
Kitchen & Table Linens
Kitchen Storage and Org
Kitchen Islands & Carts
Food Containers & Canisters
Pantry & Cabinet Organizers
Kitchen Appliances
Gas & Electric Ranges
Range Hoods & Vents
Beer & Wine Refrigerators
Small Kitchen Appliances
Cookware & Bakeware
Tools & Gadgets
Kitchen & Tabletop Sale
Trending in Kitchen & Tabletop
View All Kitchen & Tabletop
Storage & Organization
Baby & Kids
Cleaning & Laundry
Pet Supplies
View all photos
Dining Room
Breakfast Nook
Family Room
Bed & Bath
Powder Room
Storage & Closet
Outdoor Kitchen
Bar & Wine
Wine Cellar
Home Office
Popular Design Ideas
Kitchen Backsplash
Deck Railing
Privacy Fence
Small Closet
Stories and Guides
Popular Stories
Renovation Cost Guides
Roof Replacement Cost Guide
Bathroom Remodel Cost Guide
Discussions
Design Dilemmas
Before & After
Houzz Research
View all pros
View all services
View all products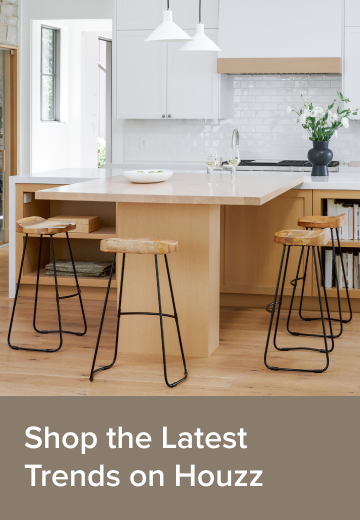 View all sales
Living Room Chairs
Dining Room Furniture
Coffee Tables
Home Office Furniture
Join as a Pro
Interior Design Software
Project Management
Custom Website
Lead Generation
Invoicing & Billing
Landscape Contractor Software
General Contractor Software
Remodeler Software
Builder Software
Roofer Software
Architect Software
Takeoff Software
Lumber & Framing Takeoffs
Steel Takeoffs
Concrete Takeoffs
Drywall Takeoffs
Insulation Takeoffs
Stories & Guides
LATEST FROM HOUZZ
HOUZZ DISCUSSIONS
SHOP KITCHEN & DINING
Kitchen & Dining Furniture
Sinks & Faucets
Kitchen Cabinets & Storage
Knobs & Pulls
Kitchen Knives
KITCHEN PHOTOS
FIND KITCHEN PROS
Bath Accessories
Bath Linens
BATH PHOTOS
FIND BATH PROS
SHOP BEDROOM
Beds & Headboards
Bedroom Decor
Closet Storage
Bedroom Vanities
BEDROOM PHOTOS
Kids' Room
FIND DESIGN PROS
SHOP LIVING
Fireplaces & Accessories
LIVING PHOTOS
SHOP OUTDOOR
Pool & Spa
Backyard Play
OUTDOOR PHOTOS
FIND LANDSCAPING PROS
SHOP LIGHTING
Bathroom & Vanity
Flush Mounts
Kitchen & Cabinet
Outdoor Wall Lights
Outdoor Hanging Lights
Kids' Lighting
Decorative Accents
Artificial Flowers & Plants
Decorative Objects
Screens & Room Dividers
Wall Shelves
About Houzz
Houzz Credit Cards
Privacy & Notice
Cookie Policy
Your Privacy Choices
Mobile Apps
Copyright & Trademark
For Professionals
Remodeling Software
Floor Planner
Contractor Leads
Trade Program
Buttons & Badges
Your Orders
Shipping & Delivery
Return Policy
Houzz Canada
Review Professionals
Suggested Professionals
Accessibility
Houzz Support
COUNTRY COUNTRY
Try removing a filter to see more results
BUSINESS SERVICES
Connect with us.