Eucalyptus Blue Mallee (Eucalyptus gamophylla) Coastal Moort Ghost Gum Eucalyptus infera Lemon-flowered Gum Red-bud Mallee Red-capped Gum River Red Gum
The Ghost Gum ( Corymbia aparrerinja ), formerly classified as Eucalyptus papuana , has also been described as Eucalyptus aparrerinja . The word aparrerinja comes from the Arrernte language to mean 'found around river red gums', although it is described by the Western Arrernte word for ghost gum, as ilwempe .
Whilst they can grow up to 20 metres in height, they tend to be smaller in statue, especially when growing on rocky hillsides, clinging to the edges, but still a very striking with its smooth white bark.
The tree has smooth bark, that is sometimes powdery, with white to cream-coloured bark. The bark may also have shades of pink, with the bark shedding in thin patches. It has lance-shaped or curved adult leaves and has white flowers, with flower buds in groups of three to seven. It has cup-shaped to cylindrical fruit.
Endemic to Central Australia, the Ghost Gum can be found from just across the border of Western Australia, through the south of the Northern Territory, north to Tennant Creek, Mount Isa and Barcaldine, Queensland.
The following Ghost Gum is considered to be over 200 years old. Located in Simpsons Gap, Tjoritja / West macDonnell National Park.
The Ghost gum with its brilliant white bark, are often seen growing by themselves against the landscape, looking glorious up high on rocky hillside. Whilst seemingly solitary, the most famous depiction of the ghost gum are the twin gums painted by famed Albert Namatjira.
Check out some of our other pages on Ghost Gums:
Ghost Gums — Alice Springs
Ghost Gum — Finke Gorge National Park
Ghost Gum — Olive Pink Botanic Garden
Scientific classification
Kingdom: Plantae
Phylum: Charophyta
Class: Equisetopsida
Subclass: Magnoliidae
Superorder: Rosanae
Order: Myrtales
Family: Myrtaceae
Genus: Corymbia
Species: Corymbia aparrerinja
Footnote & References
Ghost gum c1948, by Albert Namatjira, National Gallery of Australia, https://artsearch.nga.gov.au/detail.cfm?IRN=182062
A touch of light: Ilwempe Aperrtye, Twin Gums, by Mike Gillam, 6 October 2020, Alice Springs News, https://alicespringsnews.com.au/2020/10/06/a-touch-of-light-ilwempe-aperrtye-twin-gums/
Twin Ghost Gums (E. papuana) Trephina Valley, Northern Territory 1962 (picture), by John A. Tanner (photographer), TROVE, https://nla.gov.au/nla.obj-137829805/view
Ghost Gums; spirits of the desert, by Ian Fraser, talking naturally, Tuesday 7 January 2014, http://ianfrasertalkingnaturally.blogspot.com/2014/01/ghost-gums-spirits-of-desert.html
Flora Flora Index Acacia Annual Yellowtop Apple Bush (Pterocaulon sphacelatum) Australian Bluebell Australian Gossypium Banksia Batswing Coral Tree Billy Buttons Birdsville Indigo Blue Pincushion Bush Banana Callistemon Cape Honeysuckle Cassia fistula (Golden Shower) Cattle Bush Common Heath Crotalaria Desert Oaks Drumsticks Eremophila Eucalyptus False Shaggy Mane Ficus Flannel Cudweed (Actinobole uliginosum) Georges Indigo Goatshead Burr (Sclerolaena bicornis) Gossypium Golden Everlasting Goodenia Grass and Grasses Grass Trees Grevillea Grey Germander Hakea Kapok Bush (Aerva javanica) MacDonnell Ranges Cycad Maireana scleroptera Mexican Poppy Minnie Daisy Mistletoe Family Mountain Devil Nardoo Native Apricot Nicotiana megalosiphon subspecies sessilifolia Orange Spade Flower Orchidaceae Parakeelyas (Calandrinia) Perennial Yellow Top Pink Everlasting Pink Rock Wort Poached Egg Daisy Portulaca Proteaceae Ptilotus Quandong Resurrection Fern Rosy Dock Ruby Saltbush Solanum Spike Centaury Spinifex Storkbill (Erodum cygnorum) Striped Mint Bush Sturt's Desert Pea Sturt's Desert Rose Tall Saltbush Tangled Leschenaultia Tar Vine Tribulus eichlerianus Upside-down Plant Urodon dasyphylla Variable Daisy Waratah Wertabona Daisy White Cedar (Melia azedarach) White Indigo White Paper Daisy Wild Passionfruit Wild Stock Woolly Bush Woolly-Headed Burr Daisy Yellow-keeled Swainsona
Flora & Fauna Fauna Flora Related Topics Scientific Classification Backyard Wildlife Floral Emblems of Australia Wildflowers
Species Listing
GIS Map --> GIS Map
What's In Bloom
Heritage Trees
Arizona Great Trees
Oral History Brochure
UA Landscape History
Shantz Photo Collection
Concept Statement
Collections Policy
Tree Evaluation
Tree Care Plan
Volunteer Opportunities
Meet the Advisory Board
Membership and Donations
Gifts and Sponsorship
Corymbia papuana
Select which accessions to find:
1153 1155 1156 1157 4713 4714 4715 4716 4717 4718 4719 4720 4721 25247
All contents © 2012 Arizona Board of Regents. All rights reserved. The University of Arizona is an EEO/AA - M/W/D/V Employer. Facebook Page Login
Search for Plants
Let us help you find the perfect plants from our catalog.
Eucalyptus papuana (Ghost Gum)
This semi-weeping, evergreen Australian tree combines a powdery white trunk with large, light green lance-shaped leaves. This tree is not brittle, and the insignificant flowers produce very little litter. Plant in full sun and reflected heat exposures.
At a Glance Summary
Type : Tree Size (H x W) : 40ft x 25ft Flower Color : White Hardiness : Zone 9: 20˚F
  Download our .pdf guide
Back to Plant Database
Location Search
Name Search
Uses: Formerly E. papuana . Impressive looking eucalyptus synonymous with arid areas of Central Australia. Erect spreading tree with vivid smooth white bark. This ghost gum is often depicted in watercolours by Albert Namatjira and is an icon of the Australian landscape.
This plant is indigenous to the following botanical regions of South Australia.
:LE: Lake Eyre For detail on these regions refer to the user guide .
Height 8 - 15 m
Spread 8 - 15 m
Family Myrtaceae
Botanical Name Corymbia aparrerinja
Common Name Ghost Gum
Origin SA,Qld,NT,WA
Habit Upright,Spreading
Landscape Desert dunes, Plains
Soil Texture Loam, Sand
pH Acidic, Alkaline, Neutral
Tolerates Drought
Supplementary Watering Minimal
Flower Colour White
Flowering Time Spring, Summer
Foliage Green
Flower Type Eucalypt-type
Purpose Ornamental
Evergreen/Deciduous Evergreen
Trunk Smooth
Form Tall Tree (Usually exceeds 10m)
Ghost Gum (Eucalyptus papuana)
Please login to bookmark
Only fill in if you are not human
No account yet? Register
Plant Details
Very easy to grow and drought tolerant once established. Prune freely to maintain desired size and shape.
Water once a week.
Ordinary, well-drained soil.
Apply a balanced, slow-release fertilizer in spring.
Attracts Pollinators
Deer Resistant
Fast Growth
This Australian import is well-adapted to hot, dry conditions. The tree gets its name from the two-toned bark that is gray on the outside but peels away to reveal rusty-brown underneath. Produces attractive, puffy pink flowers over a long season.
Ghost Gum has been botanically reclassified to Corymbia aparrerinja, but references exist for both, Eucalyptus papuana and Corymbia aparrerinja. These two botanical names are referring to the same tree.
A good specimen, street tree, or planted as a border.
Ghost Gum (Eucalyptus papuana) Care Guide
Planting Guide
Watering Guide
Pruning Guide
Fertilizing Guide
Plant in spring or early fall to give plants the best start.
Choose a location that will allow roots to spread and branches to grow freely. Space plants far enough from building foundations, walls, and decks so that the growing foliage won't crowd the structure. Consider whether tall trees or shrubs will block windows or interfere with the roof or power lines.
To prepare the planting area dig a hole as deep as the root ball and three times as wide. After removing the soil, mix it with some compost or peat moss. This enriches the soil and loosens the existing dirt so that new roots can spread easily.
To remove the plant from the container, gently brace the base of the plant, tip it sideways and tap the outside of the pot to loosen. Rotate the container and continue to tap, loosening the soil until the plant pulls smoothly from the pot. The container can also be removed by carefully cutting it down the side.
Set the plant in the hole. If the root ball is wrapped in burlap fabric this must now be removed along with any string or wire securing the burlap. If roots are tightly packed gently rake them apart with your fingers.
Return the soil to the planting area packing it firmly around the root ball. Fill the hole until the soil line is just at the base of the plant, where the roots begin to flare out from the main stem.
Water the plant well then add a 2" (5cm) layer of mulch, such as shredded bark, around the planting area. Keep the mulch at least 4" (10cm) away from the trunk of the plant as this can keep the bark too moist and cause it to decay.
Depending on rainfall, new plants need to be watered weekly through the first growing season. A slow, one-hour trickle of water should do the job. During hot spells thoroughly soaking the ground up to 8" (20 cm) every few days is better than watering a little bit daily. Deep watering encourages roots to grow further into the ground resulting in a sturdier plant with more drought tolerance.
To check for soil moisture use your finger or a hand trowel to dig a small hole and examine the soil. If the first 2-4" (5-10cm) of soil is dry, it is time to water.
Monitor new plants through the first two years to make sure they are getting the moisture they need. After that they should be sturdy enough to survive on their own.
Pruning may be needed to remove dead branches, encourage bushier growth, promote more flowers, or maintain a specific size or shape.
Dead branches should be removed close to the trunk, flush with the bark. When pruning to control a plant's size or shape, cuts should be made just above a leaf bud and at a slight angle. This bud will be where the new growth sprouts.
Many shrubs can be regularly sheared to keep them shaped as a hedge, edging or formal foundation planting.
Always use sharp, clean tools when pruning. There are many tools available depending on the job. Hand shears, pruners, and loppers are ideal for most shrubs. Pole pruners and tree saws are better for large, mature shrubs or trees. If a tree is so large that it can't be safely pruned with a pole pruner, it is best to call in a professional tree service.
Established trees should be fertilized every 2-3 years. Feed in early spring when plants start growing.
Fertilizers are available in many forms: granulated, slow-release, liquid feeds, organic or synthetic. Determine which application method is best for the situation and select a product designed for trees and shrubs, or go with a nutritionally balanced, general-purpose formula such as 10-10-10.
Always follow the fertilizer package directions for application rates and scheduling. Over-fertilizing plants or applying at the wrong time during the growing season can result in plant injury.
Companion/Combination Plants
Desert Willow (Chilopsis linearis)
Broom, Silky Leaf Woodwaxen (Genista pilosa)
Honey Mesquite (Prosopis glandulosa)
Submit a comment cancel reply.
Your email address will not be published. Required fields are marked *
Save my name, email, and website in this browser for the next time I comment.
Submit Comment
Find more plants for your garden or home!
Pin it on pinterest.
Share this post with your friends!
Corymbia aparrerinja
'ghost gum'.
The iconic Ghost Gum with its beautiful white trunk is a large spreading tree to around 18 metre in height, although often smaller growing.
A symbol of Central Australia it is found in Western Australia and also Queensland. Albert Namatjira debited these trees in his watercolours, with many painting including the tree including scenes from the MacDonnell Range, Alice Springs and other areas.
The common name of 'Ghost Gum' related to the glow of the tree, against rocks and especially at night. That glow represents the presence of living spirits and also to early Aboriginal astronomy.
Perhaps the most famous individual Ghost Gum was the tree that was used as meeting place for striking shearers this became to be known as the 'Tree of Knowledge".
This is a Eucalyptus species that grows in rocky soils and along dry creek beds.
Other species are also commonly called Ghost Gums including Corymbia paractia or Cable Beach Ghost Gum which is found near Broome in Western Australia.
Eucalyptus victrix is known as the 'Little Ghost Gum' this one is widely grown in Western Australia.
Corymbia bella from the Northern Territory is another refried to as the Ghost Gum.
It is the smaller growing Eucalyptus victrix that is most commonly grown in gardens, firstly because it is smaller growing and secondly it is a species that will grow more readily outside its native range.
All species require a warm to hot climate, and very well drained soil to survive. Not widely offered for sale although they do make an outstanding feature tree in the right environment.
Skip to main content
Skip to footer
Our Breathing Planet
Unique and Amazing Places and Species
Ghost Gum Facts
This remarkable variety of flora most frequently goes by the somewhat intriguing common name of the Ghost Gum. It does, however, posses several other, less often used names. These include willow gum, cabbage gum, white gum, and the tropical gum.
Professionals, such as researchers, generally refer to it by the formal scientific name, though. Much like many such terms, however, that's rather hard fon non-professionals to pronounce. That's due to the fact that it's officially named the Corymbia aparrerinja.
The first serious scientific investigation of this natural marvel took place in 1925. This occurred due to the efforts of the Australian explorer, Herbert Basedow. He collected the first samples of the species, but no formal naming of the plant took place then.
It received its technical name due to the efforts of Ken Hill and Lawrie Johnson. This team of Australian botanists accomplishe the first formal recognition of the tree as a separate and distinct species. This scientifically noteworthy event occurred in 1995.
For the moment, the Ghost Gum appears to be maintaining a stable population base. This further seems to hold true throughout its admittedly small zone of habitation. Presently, the IUCN lists this marvel of evolution as Least Concern on its Red List.
The tree nevertheless should be considered as facing at least several potential threats to its existence. Habitat loss, due to human expansion, obviously forms a possible danger. Like most species, its greatest threat, though, probably comes from climate change .
Related Articles
Ghost Gum Physical Description
The Ghost Gum easily impresses and intrigues those fortunate enough to encounter it. It further does so for reasons that vary between individuals, though. Sheer size, however, rarely qualifies as one of those factors. That's because it's a moderate-sized Angiosperm.
More precisely, mature specimens of this tree attain a maximum known height of roughly 66 ft (20 m). The great majority of individuals, though, generally remain much shorter than this. The variation typically occurs due to differences in the local environmental conditions.
Its bark also develops as somewhat distinctive. This usually has a smooth texture. In color, it also displays a fascinating color scheme. This consists of either a cream-colored, off-white, or even pinkish shade. This outer covering also frequently sheds in short, thin patches.
Mature plants typically produce numerous leaves, arranged in an alternating pattern. These further possess a curved shape. Each ranges in length from 2 – 6.5 in (5 – 16.5 cm), and 0.3 – 1.25 in (0.7 – 3.2 cm) in width. This foliage also manifests a glossy green on each side.
The fascinating Ghost Gum also produces its buds in groups of either 3 or 7. These have a remarkable oval or pear-shape form. Each averages about 0.25 in (0.6 cm) in length and 0.2 in (0.5 cm) in width. When blooming occurs, these develop as a dazzling white in color.
Once the fruit appears, it usually has a slightly cylindrical shape. It remains comparatively small, however. This aspect of the flora averages roughly 0.35 – 05. in (0.9 – 1.3 cm) in length, and 0.3 – 0.35 in (0.7 – 0.9 cm) wide. The fruit also sometimes has a cup-shaped form.
Kingdom: Plantae
Phylyum: Angiosperm
Class: Eudicots
Order: Myrtales
Family: Myrtaceae
Genus: Corymbia
Species: C. aparrerinja
Ghost Gum Distribution, Habitat, and Ecology
Not surprisingly, the amazing Ghost Gum evolved as native to a region already renowned for its many extraordinary types of flora and fauna. That's because this particular Angiosperm developed as endemic to what now constitutes the always fascinating continent of Australia .
Yet, even there, this intriguing product of Nature only inhabits a small, specific portion of the area. The fabulous tree only makes its home in the central sections of the continent. For the moment, research indicates that it never appeared in any other sections of the region.
The specifically evolved plant further distinguishes itself from the majority of similar species in its choice of habitat. That's true since it makes its home in environments normally hostile to most types of trees. Its nature restricts it to particularly arid portions of the continent.
Yet its restrictive requirements do not end there. It appears in hard to reach locations and inhospitable environments. These typically consist of such locations as dry creek beds, rocky slopes, and red sand flats. This only serves to restrict its expansion possibilities.
The inspiring Ghost Gum produces its lovely white flowers in the summer season. It also distinguishes itself from many related species in the manner in which it achieves pollination. In its case, the action occurs via the activities of local bird species, rather than insects.
Species Sharing Its Range
Check out our other articles on 7 Intriguing Terrestrial Invertebrates , Swamp Dacrydium , Lake Como , New Guinea Crocodile , Asian Weaver Ant , European Honey Buzzard
Reader Interactions
Leave a reply cancel reply.
Your email address will not be published. Required fields are marked *
This site uses Akismet to reduce spam. Learn how your comment data is processed .
Get Instant Updates
Free wallpapers, green tips for you, write for us, our supporters.

Australian Native Plants
Custom Plant Lists
Hakea cinerea aka Ashy Hakea
Grevillea 'Poorinda Constance'
Page Level Navigation
Description
Description: View a list of all the categories associated with the plants arranged in a visual design where the size of each category is determined by the number of plants associated with that category.
[ view category cloud ]
Description: Select from the list of the most requested plant categories.
Drought Tolerant (once established)
Full Sun or Shade
Moderately Frost Tolerant
Did you know?
Hardenbergia , Acacia , Senna and Casuarinas have nitrogen-fixing nodules on their root systems to help provide nitrogen for other plants close to them?
Create New Plant List
Join Our Club
Join Our Team
Corner Country Outback Tour
Great Divide Iconic Landscapes Tour
Australia World Heritage Wilderness Tour
Big Rivers Outback Tour
Classic Outback Tour – Adelaide to Alice Springs
Central Australia – Red Centre Tour
Uniquely Australia National Parks Tour
Outback to Reef Tour
Tasmania National Parks Tour
Private Tours
Over 50's Holidays
Guided Walking Holidays
Top Destinations and Experiences
Family Business Journeys
Short Break Tours
Tour Comparison
Eco-friendly Travel
About Australia
Travel Guidance – FAQ's
Accomm. & Meals
Tour Transport
Seasons and Climate
Guided Walks
Tour Guides
Request Brochure

The Ghost Gum – Symbol of the Australian Bush and Spirit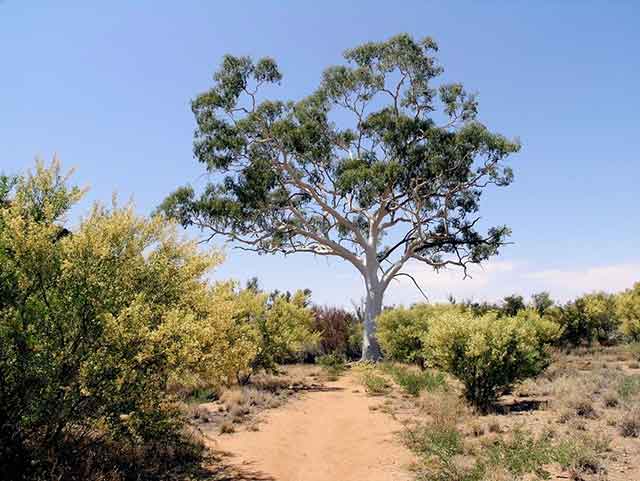 The Ghost Gum offers an impressive welcome to anyone who adventures beyond the Australian city.
If there is one iconic symbol reassuring true-blue Aussies they have arrived home from their global travels, it is the Eucalyptus or Gum Tree. For residents and travellers of the arid heartlands, it is the Ghost Gum , ranging prominently across rocky slopes, red sand plains and arid creek flats.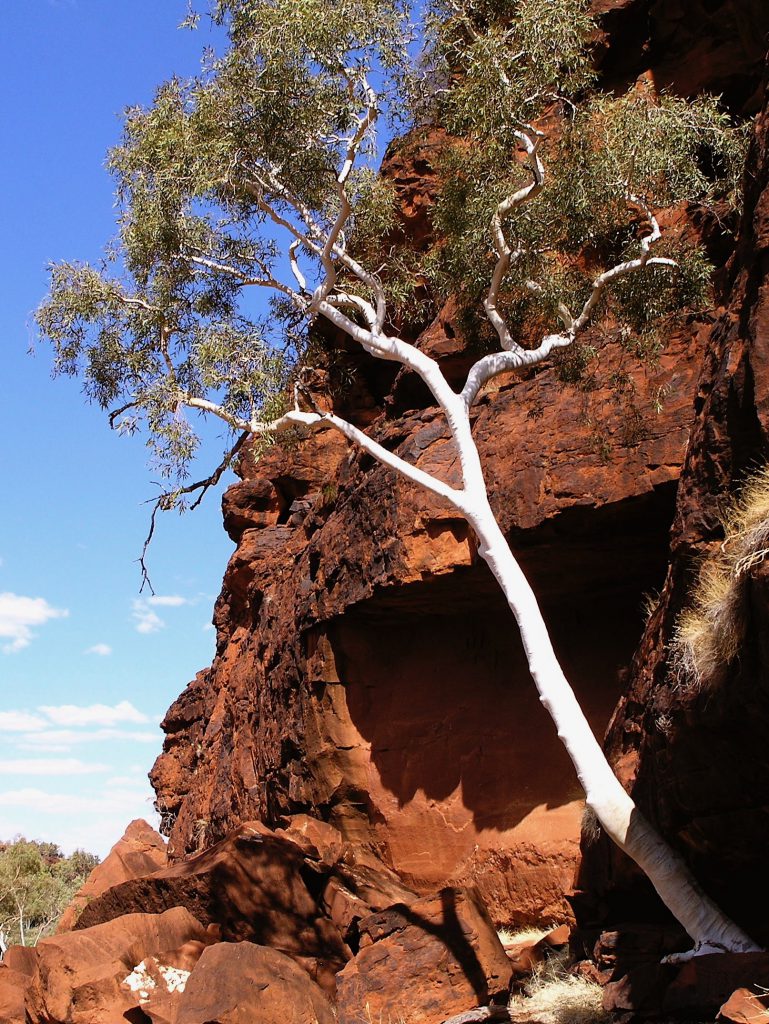 The Ghost Gum is a stand-out against the rich red gorges of Central Australia and outback heartlands
Standing gnarled and contorted from their struggle through periods of drought, their brilliant white bark , nature's sunscreen reflecting the heat of the day, is a photographers magnet, a stand-alone presence against brilliant blue skies, the rich red cliffs of gorges and ranges snaking across the inland.
But it is the bark of the tree glowing in a moonlit night which adds belief to the Ghost Gum name . It is the tenacity to find a toe-hold and enduring life in the most inhospitable crevice of a rock face that captures our guests attention and delivers indelible memories of all our heartland tours.
The Ghost Gum became a symbol of Australian spirit of political proportion in 1891. One ancient tree was the shaded meeting place of striking shearers in the main street of Barcaldine in Central Queensland, leading ultimately to the formation of the Australian labor Party . This "Tree of Knowledge" was eventually poisoned but its legend lives on in Barcaldine and the party.
Spiritual and medicinal companion to our First Peoples
The Ghost Gum, of which there are 24 species and subspecies, enjoys a deep respect and connection with our First Peoples . In season, the bark turns a powdery white, the dust used to whiten tribal headbands for ceremonial occasions.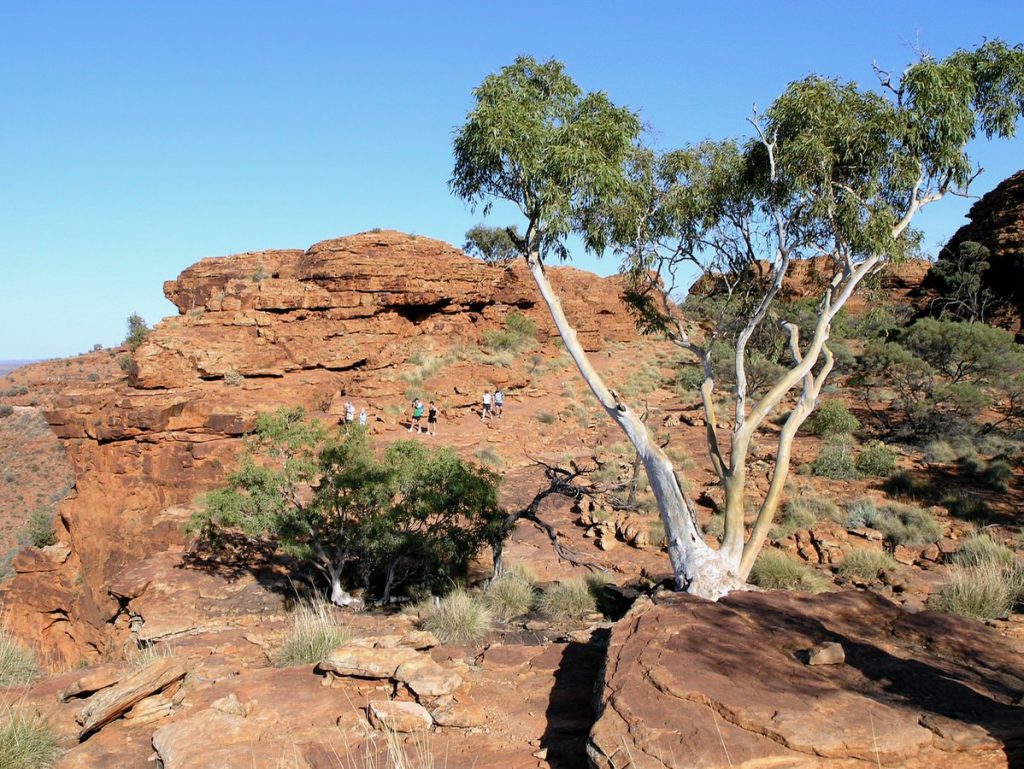 Typical arid country Ghost Gum admired on a Central Australia Nature Bound Tour
Generations believed and were taught the glow of the trees at night was evidence of the presence of living spirits and at least one story from Aboriginal astronomy emerged in the dreamtime indicating the Southern Cross was a Ghost Gum with two Sulphur-crested Cockatoos trying to roost on its branches.
Beyond the spiritual, the tree provided good firewood, even resistance to rain. Gum from the tree was used as a leech repellent and an antiseptic relief from burns. Properties and preparation from the bark were used to fight chest infections and sore eyes.
It stands to reason the Ghost Gum holds a special place in the life of Aboriginal people, one being celebrated Australian Albert Namatjira .
Inspiration to artist Albert Namatjira 1902-59
Albert Namatjira was a Western Arrernte artist in Central Australia who achieved international fame completing 2000 artworks, inspired by and mainly featuring majestic Ghost Gums set in the rugged geological landscape of his homeland.
He pioneered contemporary Aboriginal Art centred around "portraits" of Ghost Gums all in pastel water colours. In his short life he was raised in Christianity at the Hermannsburg Lutheran Mission , tutored in art, before returning to the bush and traditional culture.
He brought the beauty of Australia's outback to the world, including Royalty and in 1956 his portrait won the national Archibald Prize , arguably Australia's most celebrated art award.
Sadly, in December 2012, two of the Ghost Gums featured prominently in his best known works and on an Australian postage stamp, on the eve of their being heritage listed were destroyed under suspicious circumstances by fire.
On our Central Australia based tours we visit the humble home of Namatjira, his Ghost Gum landscapes and the Hermannsburg Mission site bringing his time and legacy to light.
Now a photographer's distraction and prize
Today, our tour guests happily snap images of Ghost Gums for their personal albums or that enduring impression of Australia in their home gallery.
Feature trees are located near the entry to Trephina Gorge in the East MacDonnell Ranges and hanging precariously off the cliff face of gorges in the West MacDonnell Ranges and Ormiston Gorge .
We are reminded of the connection that has existed between mankind and nature at the deepest spiritual and practical level over thousands of years while opening our minds to dreamtime wisdom , educational story telling and even Aboriginal Astronomy.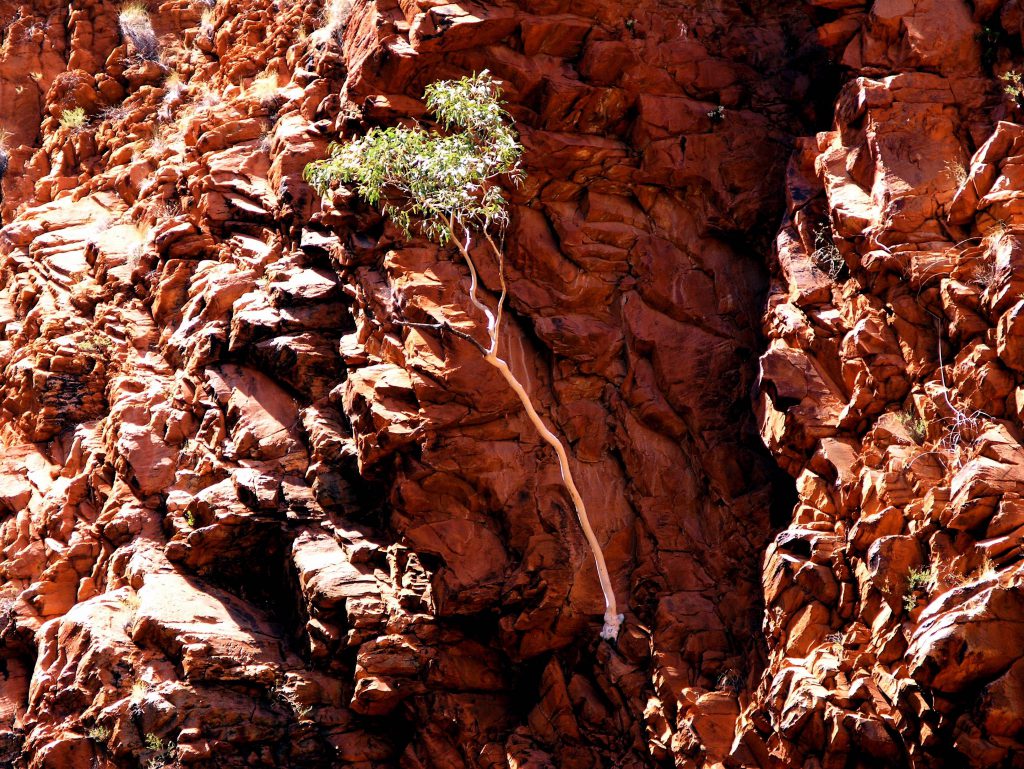 When you feel caught between a rock and a hard place then turn to this Ghost Gum for inspirational support
Magnificent Ghost Gums can be visited on our Flinders Ranges, Lake Eyre, Painted Desert, MacDonnell Ranges stunning Outback Tour .
If you have a classic image of a Ghost Gum, or a Ghost Gum story you would like to share with our blog readers then email it to us at Nature Bound Australia.
Stay Connected.   Subscribe now for informative online insights into nature and news of "off the beaten track" adventure holidays
You might also like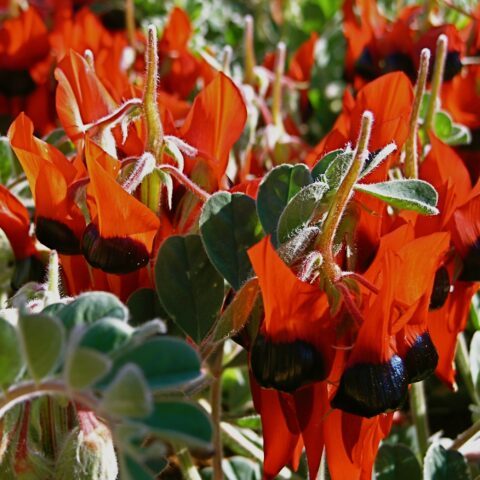 Desperation at Depot Glen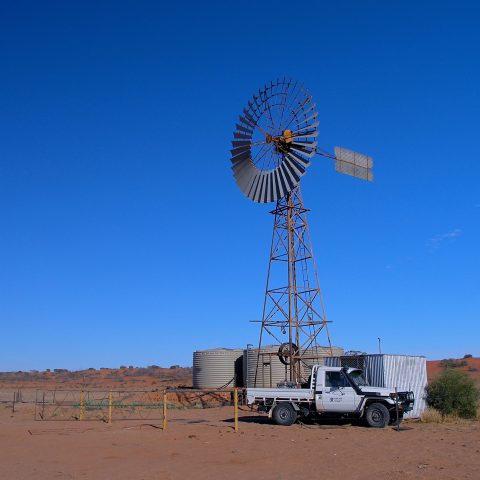 Secrets to life found in the Australia Corner Country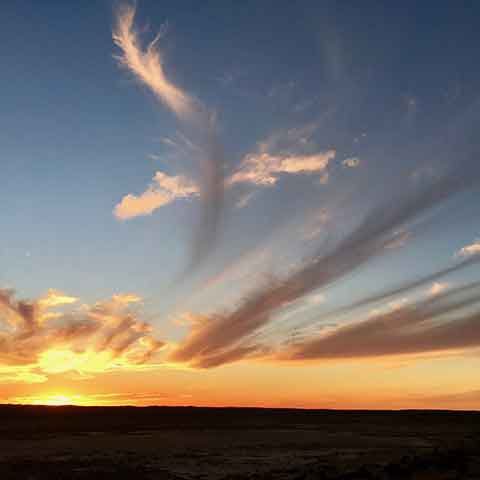 In search of the real Australia
Leave a reply cancel reply.
You must be logged in to post a comment.
Recent Posts
Quilpie – Home of the Stone Curlew
New England National Park and Great Eastern Escarpment
Girraween and Bald Rock National Parks
The Greater Blue Mountains World Heritage Area
Aboriginal Culture
Australian Wilderness
Central Australia
Connecting to Nature
Corner Country
Inspired By Nature Badge
Nature Bound in the News
The Outback
Tour Overviews
Travel Tips
Wonders of Nature
World Heritage
November 2022
October 2022
August 2021
February 2019
November 2018
October 2018
September 2018
August 2018
October 2017
August 2017
February 2010
November 2009
October 2009
September 2009
Adelaide to Alice Springs Classic Outback Tour
Central Australia - Red Centre Tour
Choose Your Style
Quick Links
Terms and Conditions
Travel Ethic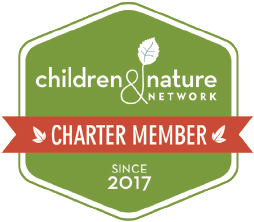 Copyright © 2009 - 2023 Nature Bound Australia. Site by Greenhat .
PO Box 1047 Paradise Point, Queensland 4216 Australia
Enter your email address to receive the latest news on feature tours, walking tips, new release Blog posts and connecting with nature
For our free online brochure please complete the following
* Required Fields
To really understand Australia you need to experience the continent's unique natural wonder.
If you imagine yourself being part of a small intimate group of like-minded travellers, undertaking guided walks and scenic outback tours giving you access to areas that most tourists can't get to, then Nature Bound Australia is for you
International edition
Australia edition
Europe edition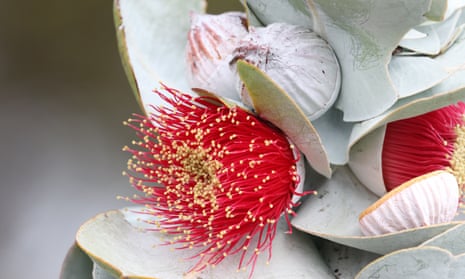 Eucalypt of the Year: 25 species from tall to small vie for top tree
Each year a shortlist is chosen from more than 900 species of the ubiquitous Australian plants
A s a teenager, Dean Nicolle dreamed of planting one of every eucalypt species in Australia. He took his parents to nurseries and requested that they buy "any eucalypt with a different name on it". Nicolle, a self-described "gum nut" who is now a botanist and ecologist, has been fascinated by plants since he was eight.
On a plot of land at Currency Creek, an hour's drive south of Adelaide, he set about creating his own arboretum. "The first plantings went in in 1992," he recalls.
Today, Nicolle's arboretum is comprehensive: it has more than 10,000 plants of more than 900 different species and subspecies of eucalypt.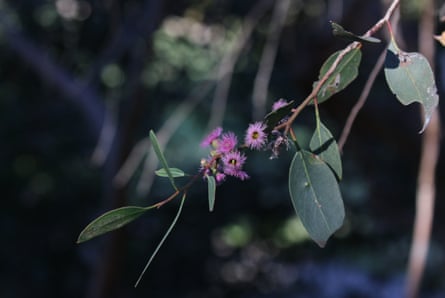 Eucalypts are golden, literally: trees in South Australia and Western Australia have been found to draw up water containing gold and deposit the metal on their leaves and branches. They are blue, too: forests of the plants release compounds called terpenoids into the air, scattering light to give the Blue Mountains its characteristic haze.
And eucalypt flowers can be almost every colour conceivable: there's the purple of the Port Lincoln mallee, the pale pink of the caesia (also known as the silver princess) and the fluorescent yellow of the book-leaf mallee.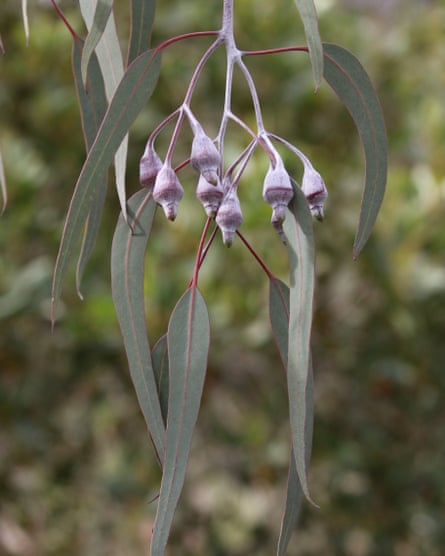 "Eucalypts have fed obsessions, trailed questions, and leaned against each other in a pyre of ideas and images," writes Ashley Hay in Gum: The Story of Eucalypts & their Champions , a new edition of which was published in November. "They have been grown, pulped, painted, written – and ignored."
Each year, 25 species are chosen by Eucalypt Australia, a charitable trust, for a public Eucalypt of the Year poll.
"It's primarily an awareness and education tool," says Linda Baird, chief executive of the organisation.
Nicolle, who consulted on the poll, says narrowing down the list for voting was a tough ask.
"That's really difficult when you're talking over 900 different species of eucalypts."
Voting in the 2022 competition opened this week. So which eucalypts have made the shortlist?
Not just the giants
Though the terms eucalypt, Eucalyptus and gum tree are often used interchangeably, they aren't synonymous. Eucalyptus is a genus – a scientific category – of eucalypt. In Australia, plants belonging to the Eucalyptus , Angophora and Corymbia genera are known as gum trees – so called for the sticky substance, called kino, that many of the plants produce.
Whether in John Williamson's twangy cover of Home Among the Gum Trees, or the ghost gums that feature prominently in the landscapes of Albert Namatjira, images of giant eucalypts loom large in the Australian consciousness.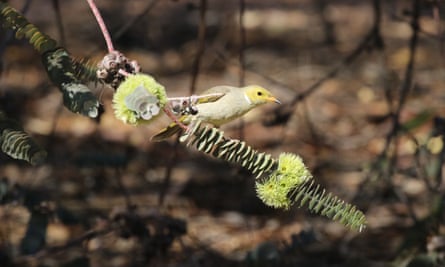 As well as the ghost gum – which is also called ilwempe by the Arrernte people – other towering species in contention for Eucalypt of the Year include the mountain ash, which grows up to 100 metres high and is one of the tallest flowering plants in the world. There's also the much-loved Sydney red gum, the lemon-scented gum and the messmate stringybark, a resilient species that gave rise to the term Eucalyptus .
But many eucalypts aren't trees at all. More than 300 species are shrubs, and some are even pot-plant sized. "Eucalypts grow everywhere from your ankles to 100 metres high," Baird says.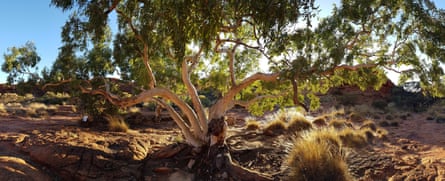 Of the smaller species featured in the voting list is the Mongarlowe mallee, the rarest eucalypt in Australia. There are only six individuals of the critically endangered species left – and they could be as old as 10,000 years.
Also known as the ice age gum, the Mongarlowe mallee is thought to be a relic of when conditions in Australia were wetter and cooler, Nicolle says.
Previous winners – river red gum, snow gum, red-capped gum/illyarrie and gimlet gum – are ineligible to win this year.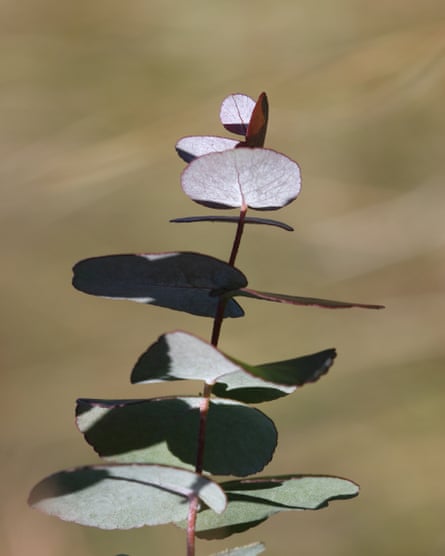 Existential threat
"Climate change would be by far the biggest threat to eucalypt species in general," Nicolle says. "Even though they occur over most of Australia and a lot of different climatic conditions – from the mountains down to the sea – most eucalypt species are quite restricted in distribution.
"They're only adapted to a very narrow climatic range, whether it be rainfall, soil type, temperature, or a combination of all those things."
One example featured on the voting list is the endangered Morrisby's gum. There are only a few thousand individuals found on two small hills near Hobart.
"Because the climate's been drying there, particularly the winter rainfall over the last decade, the trees have been put under a lot more water stress," Nicolle says. "Then you get other problems … they're more susceptible to insect attack and also predation from possums." As a result, mature trees start to die, without regeneration of new trees.
"[ Eucalyptus ] morrisbyi is just one example of that," Nicolle says. "But that's happening all over Australia, and particularly southern Australia, where winter rainfall is dropping off."
The increasing frequency of bushfires is also an existential threat. Drive through some regions that have burnt in recent years, and you might see charred trees fluffy with new green growth.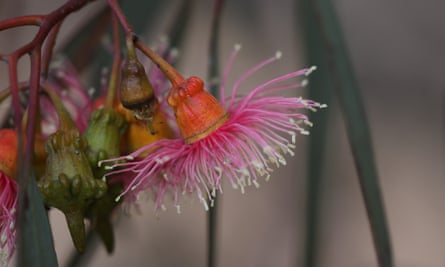 This occurs because some eucalypt species have epicormic buds that lie dormant beneath the bark. "There's a regulatory hormone in the crown [the top part of the tree], which stops the epicormic buds shooting normally," Baird says. Damage such as by fire results in extensive sprouting and revegetation.
"Then other places you go to, the trees are dead," Baird says. "They just don't have this ability."
Sign up to receive an email with the top stories from Guardian Australia every morning
Nicolle says: "There's about 80 species that are killed by fire, so they only regenerate by seed." This includes the mountain ash and the coral gum. For some species, regeneration to maturity takes decades.
"If you're getting fires more often than the trees can seed, grow up again and flower and seed again, then they become locally extinct in an area," he says.
Biodiversity benefits
Though eucalypts are evocative of the Australian bush, many species thrive in urban environments.
"People forget that there are a lot of smaller-growing species that are quite suitable for home gardens and for planning in parks," Nicolle says.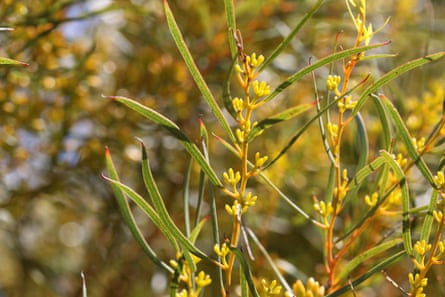 He would like to see smaller eucalypts such as the octopus mallee, the coral gum and the Moon Lagoon mallee planted more in cities, over popular exotic trees such as Manchurian pears, plane trees and flowering cherries.
"While all of those [trees] are good trees, none of them have the biodiversity benefits that some of these eucalypts have in attracting native wildlife."
Eucalypt of the Year voting is open until 20 March
Trees and forests
Endangered species
Conservation
Most viewed
Eucalypts: 10 things you may not know about an iconic Australian
Science Eucalypts: 10 things you may not know about an iconic Australian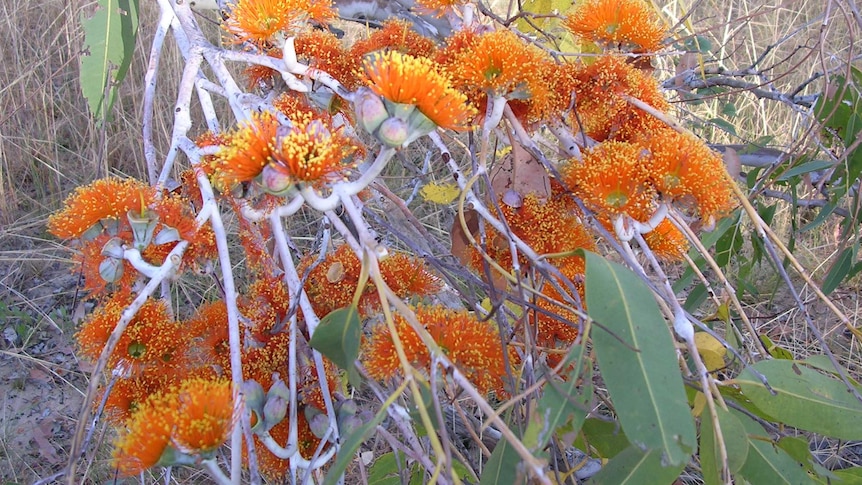 You'd be hard pressed to go more than 10 minutes without spotting a eucalyptus tree in Australia.
They dominate our landscapes from the bush to our backyards, paddocks, parks and pavements.
And they even have their own national day — on March 23.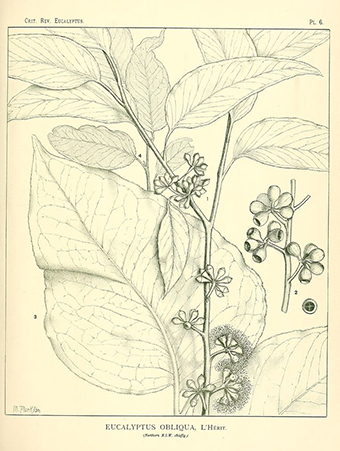 They are extraordinary plants and many people love them.
One of those people is botanist Pauline Ladiges.
The world expert has been studying this iconic group of plants for the past 55 years.
"The most interesting thing for me is the diversity of the whole eucalypt group and its extraordinarily ancient history," said Professor Ladiges from the University of Melbourne.
So how much do you know about this iconic plant? Let's take a closer look.
What's in a name?
The term eucalypt — meaning well (eu) covered (calyptos) — was first coined by French botanist Charles Louis L'Héritiert de Brutelle in 1788.
He examined the flower buds of a rough-barked tree from Tasmania's Bruny Island collected on James Cook's third voyage.
He named this species Eucalyptus obliqua. Commonly known as messmate, it is found right across south-east Australia.
The ancient fossil link to Gondwana
The roots of the eucalypt go back to when Australia was part of the supercontinent Gondwana.
The oldest known examples of eucalypt fossils are 52 million-year-old flowers, fruits and leaves found in Patagonia.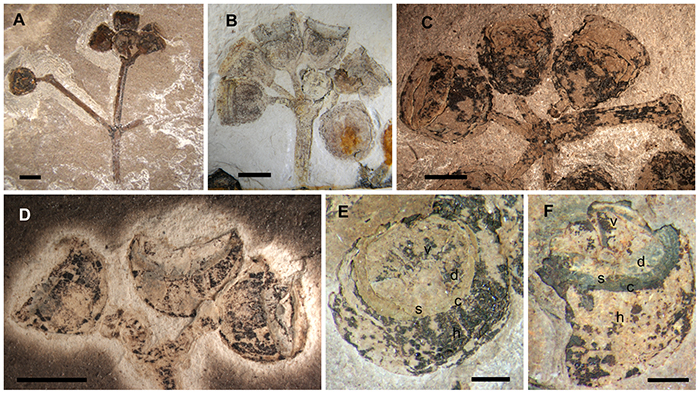 "There are some superb fossils that I don't think anyone doubts that have been described from South America," said Professor Ladiges.
"The eucalypt group has to go back beyond that [age] because the fossils are so recognisable.
"They just look like fruits off a tree down the road."
Sequencing of the eucalypt genome from the rose gum ( Eucalypt grandis ) — a species found in coastal areas of New South Wales and Queensland — indicates the group goes back at least 109 million years.
At that time, flowering trees were starting to take off and dinosaurs roamed the land.
A diverse Australasian
Today, botanists have identified around 900 species of eucalypts divided into three different groups: Eucalyptus, which make up the bulk of the species; Corymbia, the bloodwood eucalypts mainly found in the north; and Angophora.
Eucalypts come in all shapes and sizes and dominate the landscape from alpine regions to the outback and edges of rainforests.
There's the mighty mountain ash ( Eucalyptus regnans ), the world's tallest flowering tree ; the gnarly snow gum ( Eucalyptus pauciflora ); the multi-stemmed bull mallee ( Eucalyptus behriana ); the apple or cabbage ghost gum ( Corymbia flavescens ) found in northern Australia; and the twisted Sydney red gum ( Angophora costata ).
"The only place they don't really dominate is the very, very arid parts of Australia," Professor Ladiges said.
But while we think of eucalypts as being uniquely Australian, there are also a handful of species in New Guinea, Timor, Sulewesi and even one species — the rainbow gum ( Eucalyptus deglupta ) — on the Philippine island of Mindanao.
Bark up the right tree
One of the most distinctive features of eucalypts is their bark.
Some trees have smooth bark — as the tree grows it sheds old layers from its trunk or branches. The new bark underneath is often brightly coloured that fades over time.
There are also half-barked trees that have thick bark around their trunk but smooth limbs.
"In some areas where a fire might be more like a grass fire, a lower storey fire, you'll find trees there that only have rough bark at the base," Professor Ladiges said.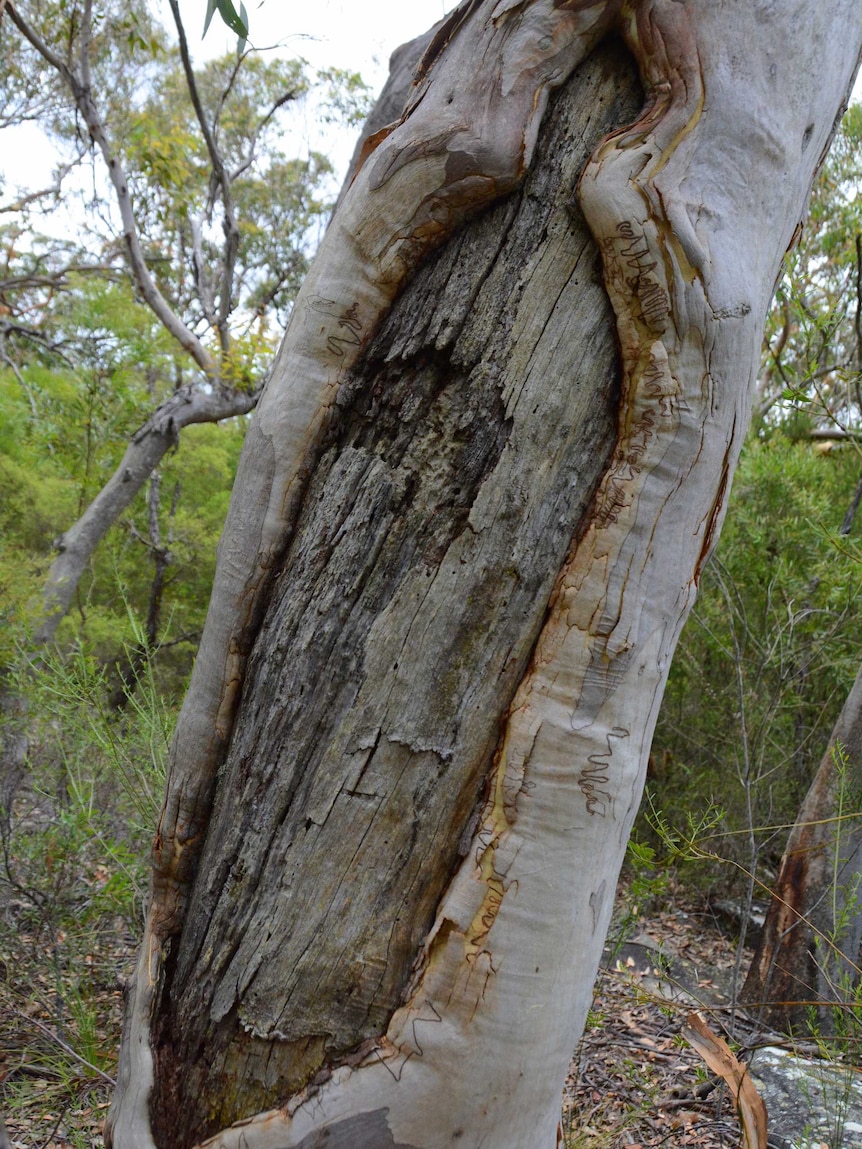 Other trees are completely covered in rough bark. The old layer of bark stays attached to the tree and forms a thick protective layer against fire. Rough barks can be a bit trickier to identify because the texture can take different forms.
If the bark has long stringy bark, it might a stringybark, if it has tough, blackened furrowed bark it might be an ironbark, and if it has really short fibres it might be a box or a peppermint.
But beware: not all trees with stringy bark are actually stringybarks, said Professor Ladiges.
There are about 30 species in eastern Australia that can be classified as stringybarks, but she said the word gets used for similar species that are not closely related.
The Darwin stringybark ( Eucalyptus tetradonta ) used in Aboriginal bark paintings in the Northern Territory is one of these false stringybarks.
Indigenous people across Australia also use bark to make canoes and shields.
In New South Wales, Victoria and Queensland there are a number of protected scarred trees. As the name suggests these trees bear scars from where the bark was cut away and sometimes engraved.
There's oil and gold in them thar leaves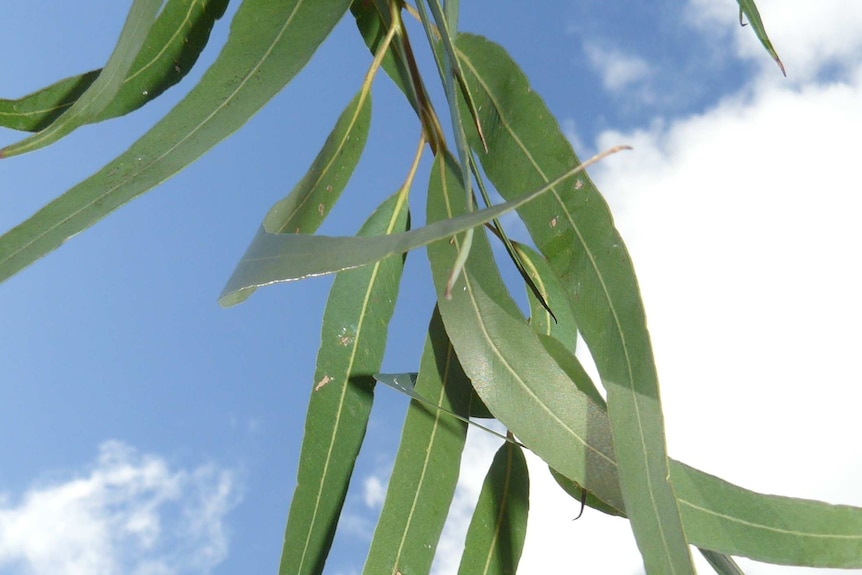 A eucalypt's leaves are packed with oil glands that produce the aromatic compounds that give us their distinctive scent.
"Some smell very strongly eucalyptus-like, some smell really like peppermints, and the lemon-scented gum has a more lemony smell," Professor Ladiges said.
These compounds help protect the tree from attack by pests.
"Oil glands make them unpalatable to insects, but then you get insects that adapt to eating those sorts of leaves," she said.
In 2013, biologists discovered that a yellowbox tree ( Eucalyptus mellidora ) in sheep paddock in New South Wales could change the smell of its leaves from one side to the other to protect itself against attack.
Scientists also discovered the leaves of trees in Kimberley contain microscopic traces of gold, using sophisticated imaging techniques.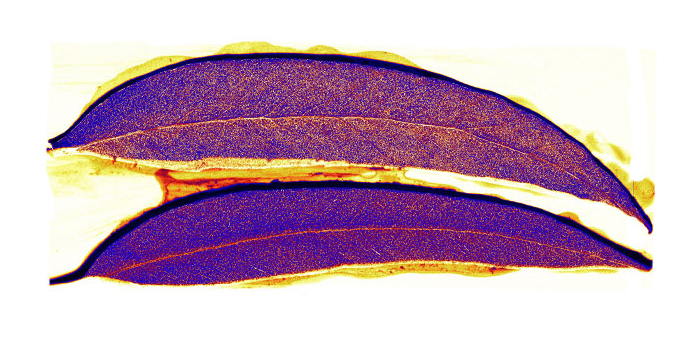 Eucalypt leaves also change over a tree's lifetime.
The leaves of a young sapling are held horizontally to maximise the surface area for gathering light. As the tree ages, the stalk of the leaf twists so that the leaf becomes vertical and is not exposed to as much radiation.
But it's not just the shape that changes, the structure changes, Professor Ladiges said.
"The anatomy inside changes. Instead of having an upper and lower surface both sides will have photosynthetic tissue," she said.
This enables the leaves to maximise photosynthesis and minimise exposure to heat.
"They also have a lot of thick-walled cells, a lot of fibres. So they are really, really tough."
They're fruits not nuts
It doesn't have the same ring to it, but Snugglepot and Cuddlepie are technically gum-fruit babies.
"People call them gumnuts but they're actually capsules which means that they open by valves at the top of the fruit. These valves dry up and open up and seeds drop out," Professor Ladiges said.
These hard, woody capsules have a thick wall, which is not destroyed by heat. The capsules open up after fire to release the undamaged seeds.
Professor Ladiges said the shape and number of these capsules is distinctive from species to species.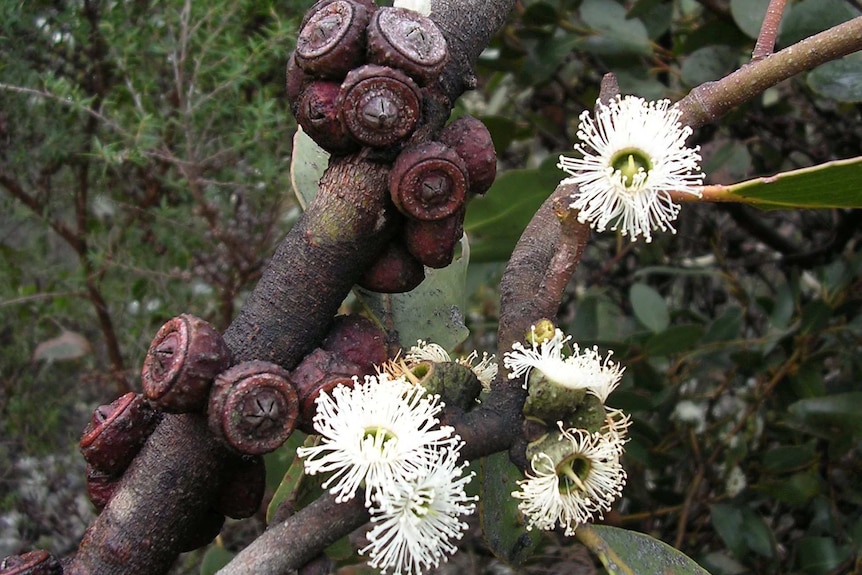 Reading the fire risk of the country
Features such as oil-filled leaves and bark that can easily shed make eucalypts highly flammable.
This ability to stoke a fire is part of their survival strategy, said Professor Ladiges.
"If a fire is hot but goes through fast it will do less damage than a really slow burning fire."
"The fact that that helps fire go through fast was clearly a selective advantage to the species because then their seeds wouldn't have been cooked."
Even if the tops of the trees are destroyed by fire, many species can re-sprout from buds under their bark or from a lignotuber at the base of the tree. But not all species can re-sprout.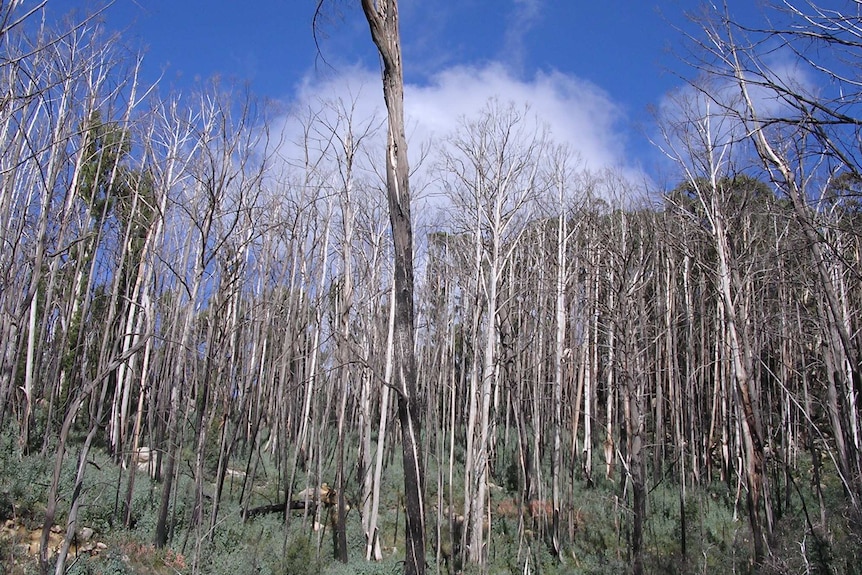 A handful of species only regenerate from seed, which makes them very vulnerable to frequent, high intensity fires.
These species include the mountain ash ( Eucalyptus regnans ) and alpine ash ( Eucalyptus delegatensis) in the Australian alps, and a group of species such as the salmon eucalypt (E. salmonophloia) in Western Australia's wheatbelt.
This article contains content that is no longer available.
"To certain degree you can read the fire risk of the country by what the eucalypts are doing because they're the ones that have been around for a long time and they've taken the bet," said David Bowman, an ecologist at the University of Tasmania.
"Should the tempo of fires suddenly increase when they're immature, then they run the risk of becoming locally extinct," Dr Bowman said.
This actually happened to alpine ash forests on the Australian mainland following the 2003, 2007, 2013, and 2014 fires.
"Some places got hit by three fires and [we] had to do aerial sowing [for the forests] to recover."
By gum, it's kino
Many species of eucalypts ooze thick, red resin known as kino.
Recent research based on two Queensland species, the lemon-scented gum ( Corymbia citriodora ) and cadaghi gum ( Eucalyptus torelliana ), has shown eucalypt resin has antibacterial properties .
Resin has been traditionally used by Indigenous Australians to treat cuts and wounds.
While the most famous eucalypt-muncher is the koala, kino is an important food source for the yellow-bellied glider ( Petaurus australis ), a small tree-dweller that lives in the forests of eastern Australia.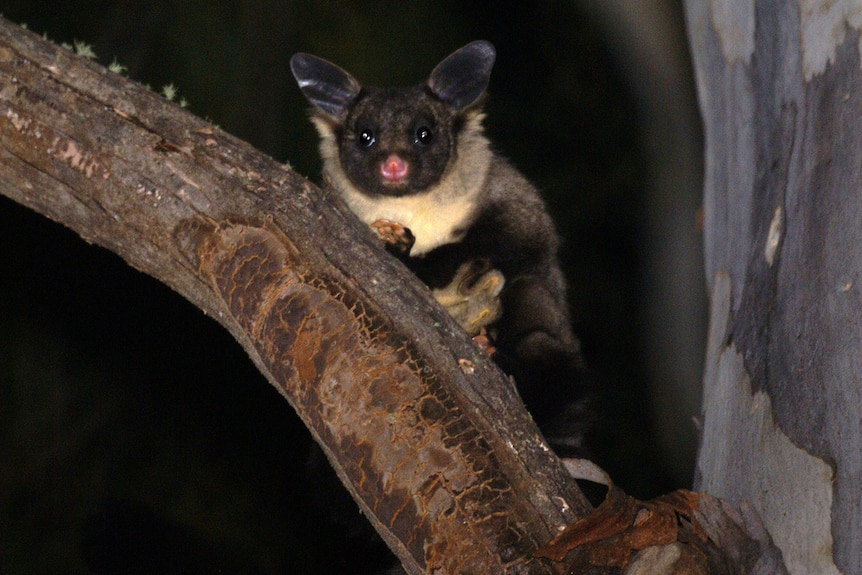 The gliders only tap some trees to get their food so they have to move around large home ranges to find the right trees, said ecologist David Lindenmayer of the Australian National University.
Once they've found the right tree, usually a smooth bark species, they cut a distinctive v-shape into it to extract the sap.
"It's a pretty miserable diet," Professor Lindemayer told RN's Offtrack .
"You have to do a lot of work to cut through the bark to get something that has low nutrient values."
Not only does the sap have properties like cyanide, shearing through the bark wears down the animals' teeth very quickly.
"Most yellow-bellied gliders won't last more than five or six years because basically their teeth are done," he said.
Summer and winter
Eucalypt flowers have evolved to attract specific pollinators.
Most eucalypts flower in summer, Professor Ladiges said.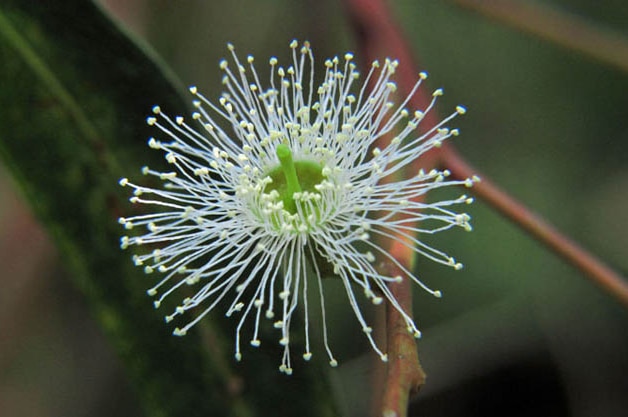 "If you went down the coast now in Victoria you'd have messmate ( Eucalyptus obliqua ) and manna gums ( Eucalyptus viminalis ) flowering. And they're basically pollinated by insects," she said.
While these species of eucalypts have pale coloured flowers, others such as the Darwin woollybutt ( Eucalyptus miniata ) and the large-fruited mallee ( Eucalyptus youngiana ) are more brightly coloured.
These species flower in winter and are pollinated by birds.
"The colour is the stamens — the male part of the flower."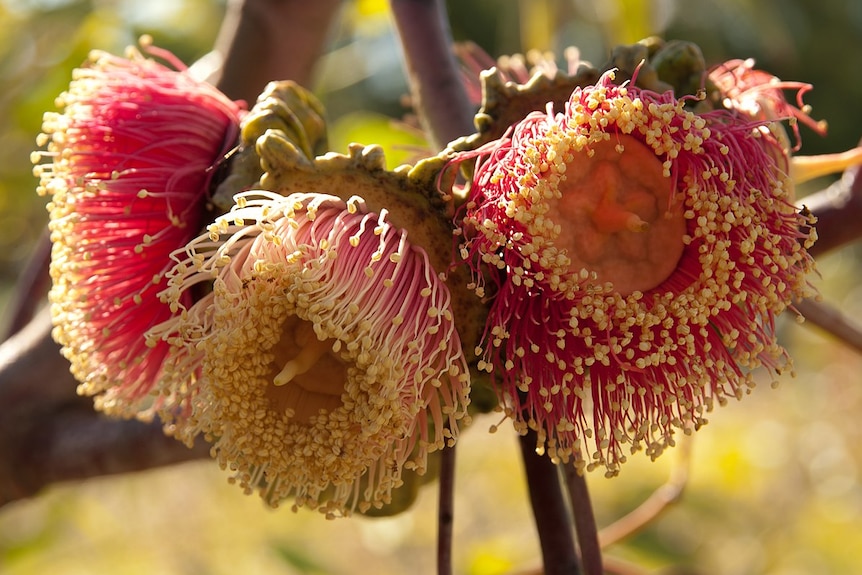 The flowering cycle also differs between species, with some flowering longer than others.
Some alpine ash eucalypts in the Australian alps are also starting to flower early in response to recurrent fires, Dr Bowman said.
What's that eucalypt?
There are so many different species the best way to identify different species is to get a field guide for the local area, Professor Ladiges said.
While it may not help you put a name to the plant sitting on the verge outside your house, it will help if you go bush.
"Once people start getting their eye in for the bark, the fruit and the juvenile leaves they're well on their way to identifying a plant."
So go out bush and get closer to this iconic — and extraordinarily ancient — Australian.
Botanical Science
Environment
Science and Technology
Profile Profile History
News Latest news Seasonal notes Testimonies Events & promotions
Project Gallery
Services & products Services Products
Plant facts All categories Australian Trees WA Trees Deciduous Trees Frangipani Exotic Evergreen Standard Deciduous Deciduous Fruiting Evergreen Fruiting Standard Evergreen Bamboo Architectual Semi-Deciduous
Plant finder
Contact us Contact us Links
Australian Trees
Corymbia aparrerinja 'ghost gum'.
Plant Group: Australian Trees Genus: Corymbia Species 'Var': aparrerinja Common Name: 'Ghost Gum'
Quick Facts:
Large evergreen tree with smooth white shedding bark. White flowers in Spring to Summer.
Note: Please check stock availability by contacting our office or refer to our Availability List on the Products page.
S tock is not always on display at our Gnangara Nursery. Please contact our office on 9405 4558 or [email protected] to confirm.
Height: 10m Width: 6m Rate of growth: Fast
White flowers in Spring to Summer
14 Stoney Rd, Gnangara WA 6077
Phone: (08) 9405 4558 Fax: (08) 9405 3759 Email: info at ellenbytreefarm dot com dot au
Display nursery
Ellenby Tree Farm invites you to visit the sales nursery in Gnangara and browse the display stock. With over 250 varieties of advanced trees, on 6 acres, it is Perth's largest display Nursery for advanced trees. 45, 100, 200, 400 litre as well as selected mature stock are available.
Take advantage of the contract growing for popular lines to guarantee supply.
Our display yard is open:
7am to 3.30pm - Monday to Friday 9.30am to 2.30pm - Saturday
© 2022, Ellenby Tree Farm.
Privacy policy
Terms & conditions
Site designed by Nomad Creative
Ghost Flower
Mohavea confertiflora.
Mojave and Sonoran deserts of southeastern California to southern Nevada and western Arizona.
Desert washes and rocky slopes below 2,500 feet.
Translucent, cream-colored to yellowish flowers bloom February through April. The 1-1/2 inch flower has pink-to-purple dots on the inside surface of 5 ragged lobes which form a cup. Lower petal has a reddish-purple spot with 2 bright yellow stamens curving upward over it.
Description
Like the snapdragon and penstemon, the ghost flower is a member of the figwort family (Scrophulariaceae). It is an erect annual which grows 4 to 16 inches high. It has long, hairy, light-green leaves that are elliptical to lanceolate, and grow up to 4 inches long.
The ghost flower derives its name from the ghostly translucency of its flowers.
-- A.R Royo
We have an online wildflower field guide that is designed to help you identify desert wildflowers by color, scientific name, region and common name. The pictures are sized to work on the iPod , iPhone , iPad and similar devices. With your iPod or phone you will easily be able to identify wildflowers while in the desert. Links for downloads are on the bottom of the Wildflower Field Guide page .
Photo tips: Most digital point-and-shoot cameras have a macro function - usually symbolized by the icon of a little flower. When you turn on that function, you allow your camera to get closer to the subject, looking into a flower for example. Or getting up close and personal with a bug. More on desert photography.
Mojave Desert Wildflowers - This book is the standard by which all other wildflower books are measured. The author, Jon Mark Stewart, has combined super photography with concise information. This book has an entire color page for each wildflower covered, with a discussion of the wildflower. 210 pages with 200 color photos. More...
What's Blooming Now - Check the Wildflower Reports
Related DesertUSA Pages
How to Turn Your Smartphone into a Survival Tool
26 Tips for Surviving in the Desert
Death by GPS
7 Smartphone Apps to Improve Your Camping Experience
Maps Parks and More
Desert Survival Skills
How to Keep Ice Cold in the Desert
Desert Rocks, Minerals & Geology Index
Preparing an Emergency Survival Kit
Get the Best Hotel and Motel Rates
Share this page on Facebook:
DesertUSA Newsletter -- We send articles on hiking, camping and places to explore, as well as animals, wildflower reports, plant information and much more. Sign up below or read more about the DesertUSA newsletter here . (It's Free.)
FREE DESERTUSA NEWSLETTER
Enter E-Mail address:
The Desert Environment The North American Deserts Desert Geological Terms
Enter Email:
Home | About | Contact Us | Feedback | Privacy | Site Outline | Advertising on DesertUSA | Hotels