Ghost Lab Ending, Explained

Did we just watch a ghost getting tormented by a human? 'Ghost Lab' is a horror film that flips the paranormal found-footage trope on its head and features a "ghost researcher" who just won't leave his subject alone. When their obsessive experiment about ghosts gets too extreme, two intrepid doctors must decide whether to forge ahead or give up. However, things are further complicated because one of them is dead! Part science project, part paranormal haunting, the movie holds true to its name and feels in itself like an interesting experiment. Let's try to understand it and see what we, like the protagonists, can learn from the ending. SPOILERS AHEAD
Ghost Lab Plot Synopsis
'Ghost Lab' opens with two men (whose faces are not seen) making a presentation to a large audience, claiming to change their beliefs forever. We are then transported to a hospital where Wee and Gla are young doctors. The latter keeps bringing up ghosts and does so when a nurse describes a gruesomely burnt man who was admitted to the hospital. However, Wee insists that there is no scientific backing for the existence of ghosts, and therefore, don't exist.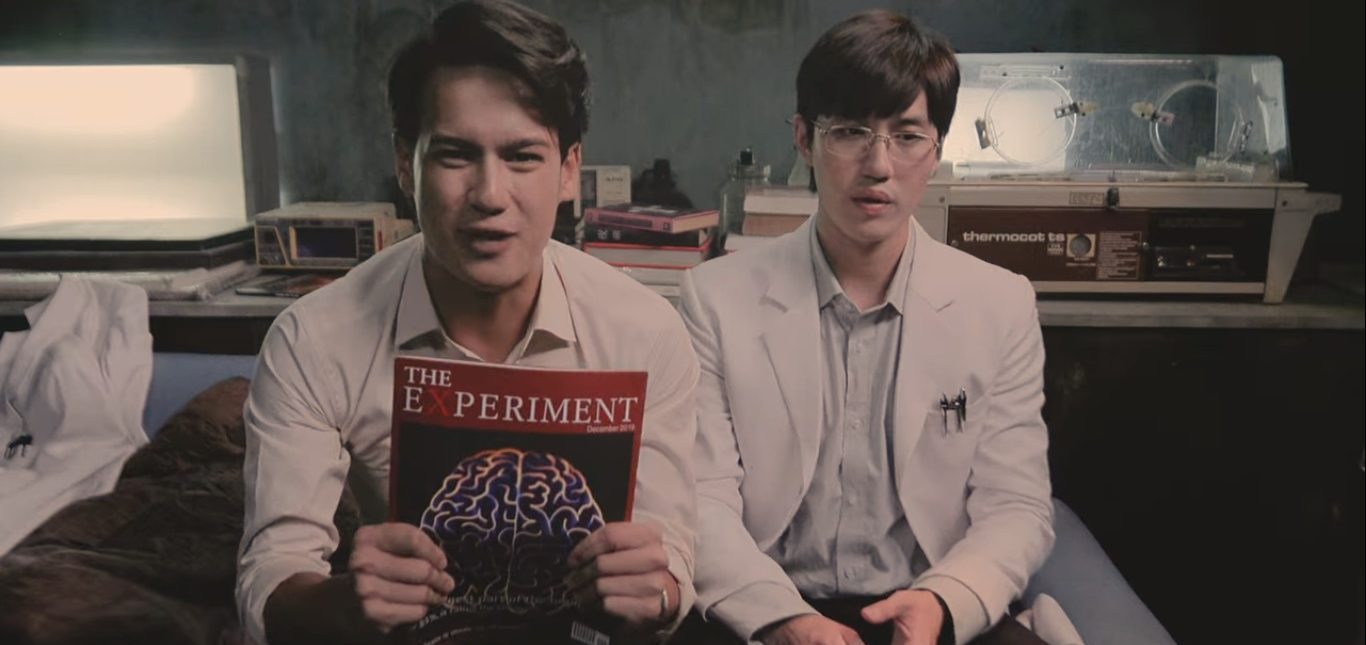 Soon after, while talking by the hospital vending machine, the two see the ghost of the burnt man. Gla is excited and reveals that he has been studying ghosts ever since he glimpsed the ghost of his father as a child. He then introduces Wee to the large body of research he has already done, and Wee agrees to join him in attempting to demystify the phenomenon of ghosts so they can be seen by everyone. Gla calls their research the Northern Lights Quest.
During their experiments, Wee's mother, who has been ill for many years, passes away. Shattered, Wee decides that the best way to advance the experiment is by killing himself so that they can have a live ghost test subject for their research. However, when he is unable to kill himself, Gla, in the spur of the moment, commits suicide.
Ghost Lab Ending: Why Does Gla Kill Himself?
A shattered Wee then spends the next 3 months waiting for any sign of contact from the other side from Gla. Haunted by guilt for the death of his friend, he attempts to end his life by suicide but is mysteriously saved. Excited, Wee realizes that it is Gla that saves him because ghosts can exert more force on their physical environment when they are worried. Gradually, Wee begins to torment Gla's spirit, trying to goad it to show itself. He does this by emotionally manipulating Gla's grieving mother and even drugging his girlfriend. Finally, Gla appears in his decaying body and kills Wee.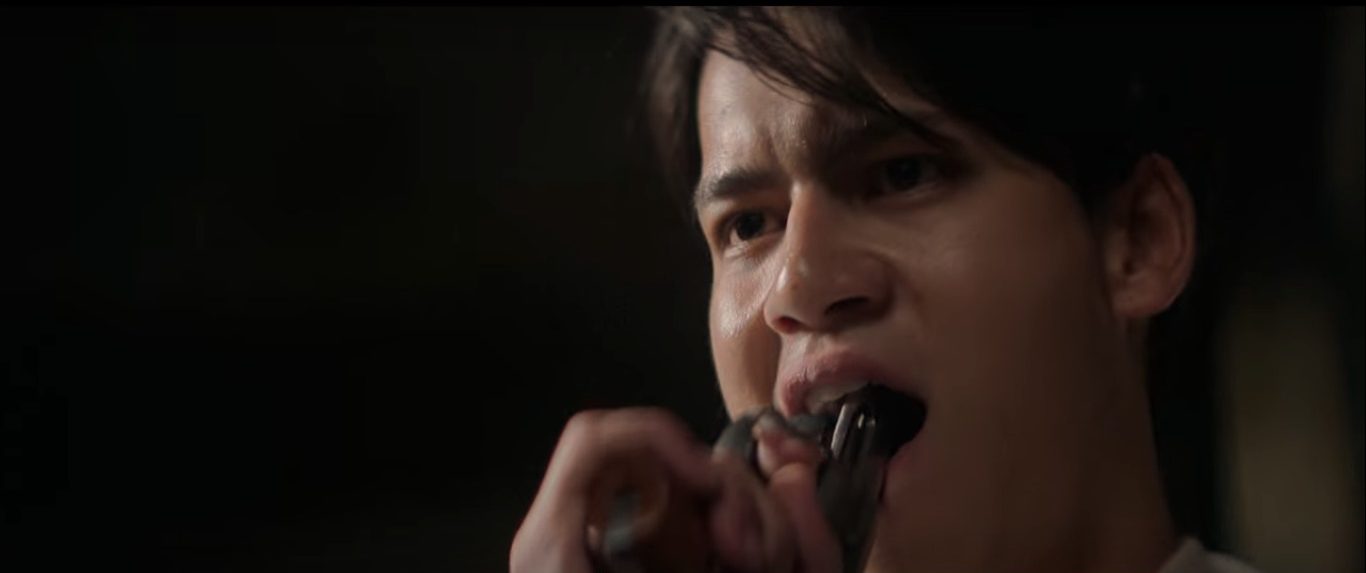 During his subsequent out-of-body experience, Wee meets a benevolent Gla, like the kind he used to know. Gla implores him to end the experiment, and after a time, Wee finally gives in and is returned to the realm of the living. In the closing scenes of 'Ghost Lab,' we see Wee delete his research and acknowledge that sometimes things end in a mess, but also that they did all learn something from it. We then see Gla as a benevolent, smiling spirit on the beach from his childhood, holding a reputed scientific journal with him and Wee on the cover. However, in real life, Wee's research is rejected by the publication.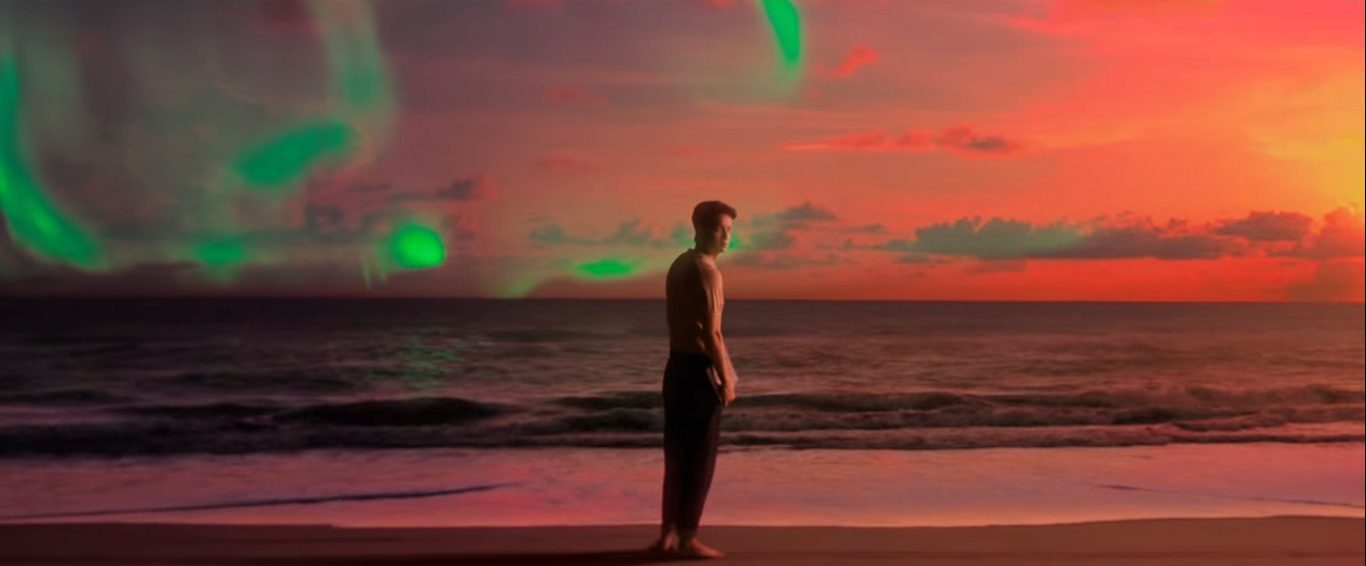 So did Gla kill himself for nothing? Even though the spirit of Gla eventually convinces Wee that they have learned something, and therefore his death is not in vain, the living Gla had a very different view of what he wanted to achieve. Ever since glimpsing his father's ghost as a young boy, he had been obsessed with seeing them. Perhaps most tellingly, we see Gla visit multiple famously haunted sites across the world and even dabble in dark magic himself, all to catch a glimpse of a ghost. Therefore, his dedication to his research into ghosts is unsurpassed.
However, he doesn't even consider death as an option to further the experiment until Wee suggests killing himself. At this point, Gla is wracked by shock and guilt since he was the one that introduced a now suicidal Wee to his experiment. Hence, the heavy burden of guilt also plays a significant role in Gla killing himself. This is also hinted at by how he looks almost relieved when Wee is unable to kill himself and promptly takes the gun and dies by suicide.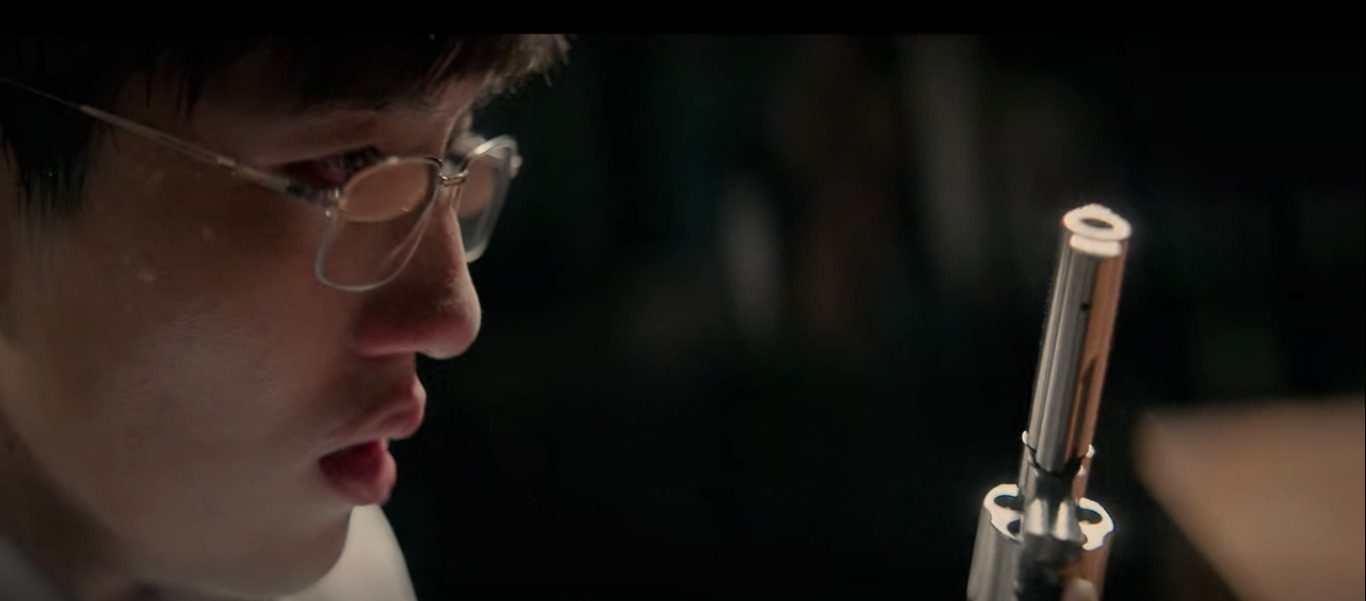 Therefore, it is not just the motivation to further his experiment but also to escape the guilt of his friend potentially killing himself that Gla quickly kills himself. Hence, it is also not an entirely selfless act. This is also why Wee is then so miserable and possibly goes down the dark path that he does, because now, apart from feeling guilty about not saving his mother, he also has to live with the fact that Gla killed himself because he was too weak to do so.
Does Gla's Girlfriend Find Out The Truth?
Gla's girlfriend Mai is unable to get over his death as she cannot fathom why he would kill himself without saying anything to her. She is wracked with sadness and guilt for not being aware of such a significant aspect of her boyfriend's life and demise. Therefore, Mai continues to question his death, much to the chagrin of Wee, who tries to dissuade her so he can continue his experiments in peace. However, when Gla sees how much Mai is suffering due to his death, he becomes obsessed with telling her the truth and even attacks Wee to get him to do so.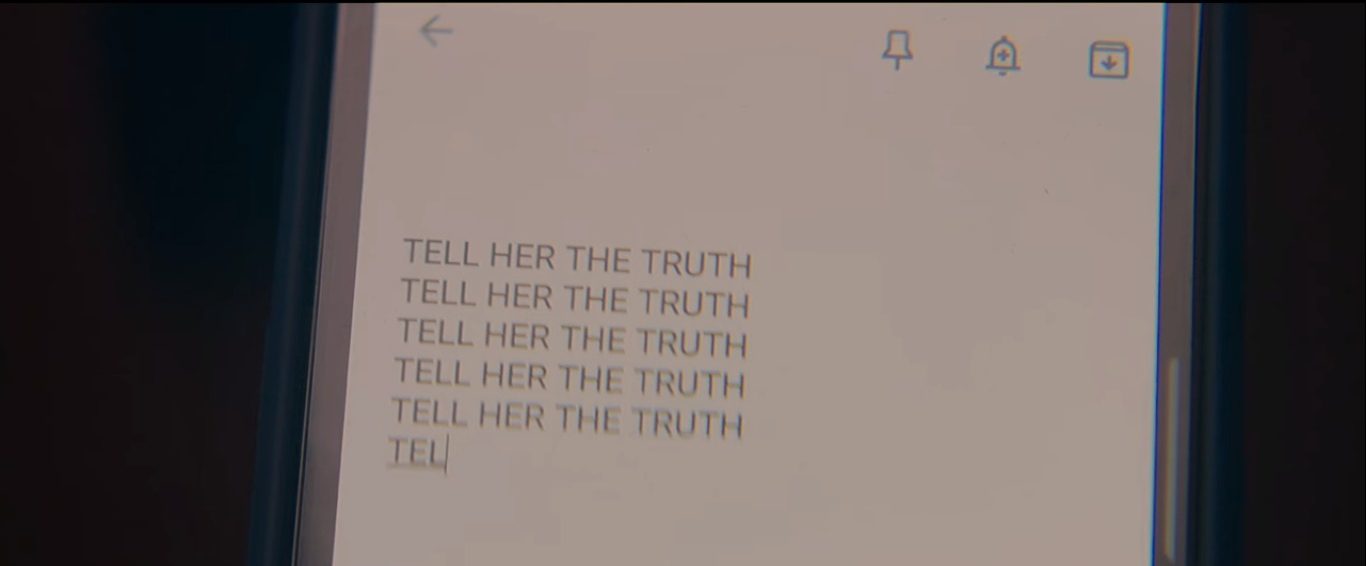 Despite the paranormal researcher's multiple attempts, his living counterpart does not allow his girlfriend to find out the truth. At the end, when Wee gives her Gla's laptop, it seems for a moment that she will finally get to learn about Gla's long-running experiment and get some semblance of an explanation about his death. Alas, a few moments later, we see Wee deleting the folder containing all their research. Therefore, Mai most likely never gets to learn the truth about the Northern Lights Quest or her boyfriend's associated death.
Why Doesn't Wee Die Despite Trying Multiple Times?
In a subtle poetic touch that possibly hints at the film's message, we see Wee attempting to kill himself on multiple occasions and not dying. It is he who introduces the idea of dying to further the experiment, however on both his successive attempts, Wee is first saved by the ghost of his mother and then by the ghost of his friend, Gla.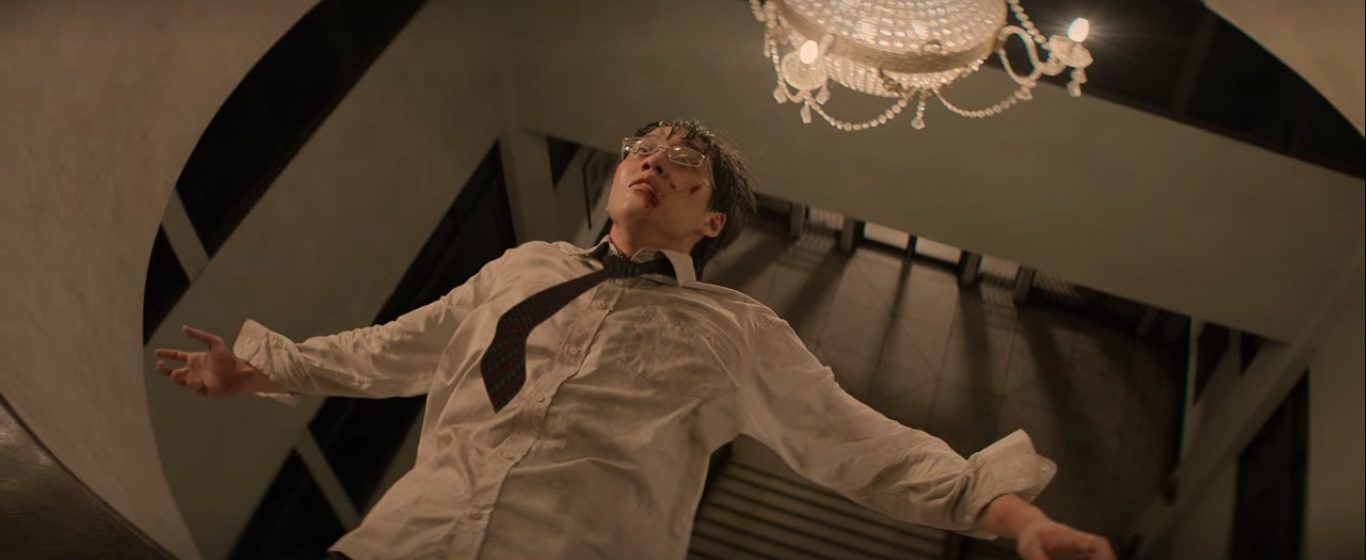 The character most haunted by guilt and who questions whether he has anything to live for, Wee, is the one who is forced to live while his friend Gla leaves his caring family and girlfriend behind and kills himself. Wee finally gets peace when he realizes that he must move on and remember that he learned something valuable. We see a rejuvenated and inspired Wee at the end of the movie, rid of his guilt and no longer living out his life in the hospital alongside his ailing mother. It seems as if the deaths of his mother and friend, and Wee's eventual acceptance of it, helps him reclaim his life.
What Are the Ghost Lab Experiments?
The Ghost Lab experiments, also known as the Northern Lights Quest, started many years ago as Gla's attempt to make ghosts visible to everyone. Once Wee joins Gla, the two attempt to use a scientific method of inquiry and undertake experiments. However, they realize that they need a ghost volunteer, which eventually results in Wee's plan for killing himself since he already has all the knowledge regarding the experiment and could continue to work on it from the other, paranormal side. The two also realize the need to categorize ghosts to classify them and separate them under ghosts of known and unknown people.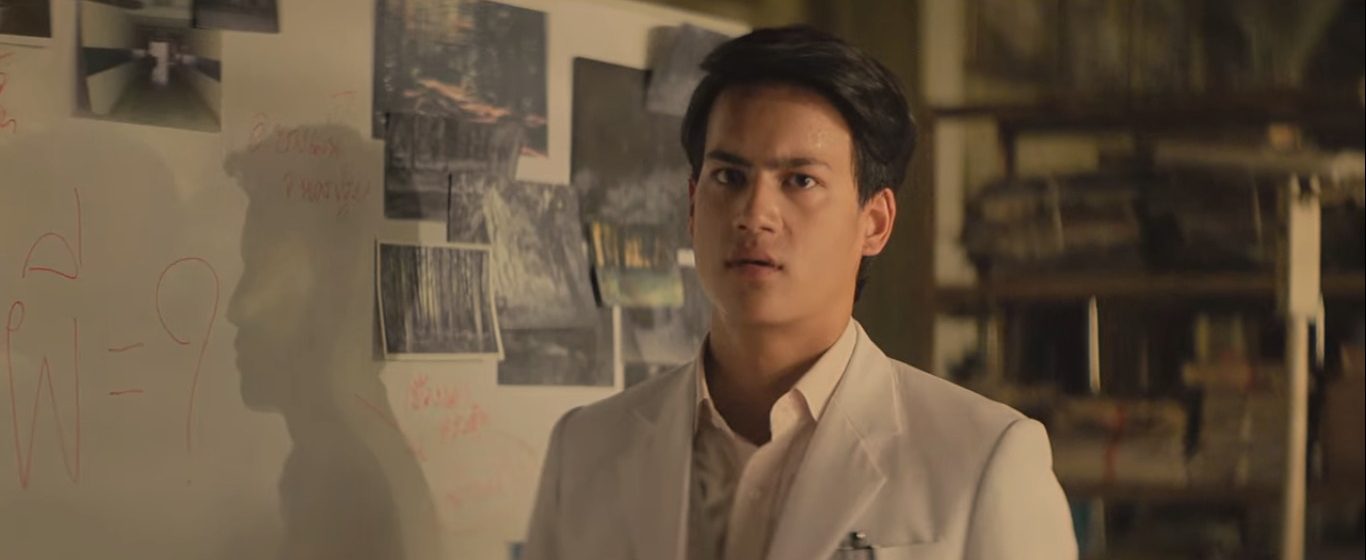 Wee's moment of inspiration that informs the direction his experimentation subsequently takes is when he compares ghosts to the wind. He realizes that, much like a storm that is made up of invisible wind, he has to imbibe the ghost with enough energy so that it can be seen and experienced. He then embarks on a campaign of tormenting his friend's ghost to extract more and more violent rebuttals until Gla's horrific ghost finally shows up in physical form. So agitated does Wee make Gla's spirit that it reclaims his body and attacks Wee as a rotting corpse.
In the end, we see the data from the Ghost Lab experiments deleted by Wee. His phone, which held footage of Gla's violence against him, also looks burnt and destroyed the last we see it. Though it seems the Northern Lights Quest is officially over, it's worth noting that Wee did send his findings to the scientific journal. This means that at least one copy of the Ghost Lab research still exists, and despite not being published, it might see the light of day sometime in the future and possibly inspire someone to continue the experiments.
Read More: Best Found Footage Horror Movies of All Time
SPONSORED LINKS
Movie Explainers
TV Explainers
About The Cinemaholic
The Ending Of Ghost Lab Explained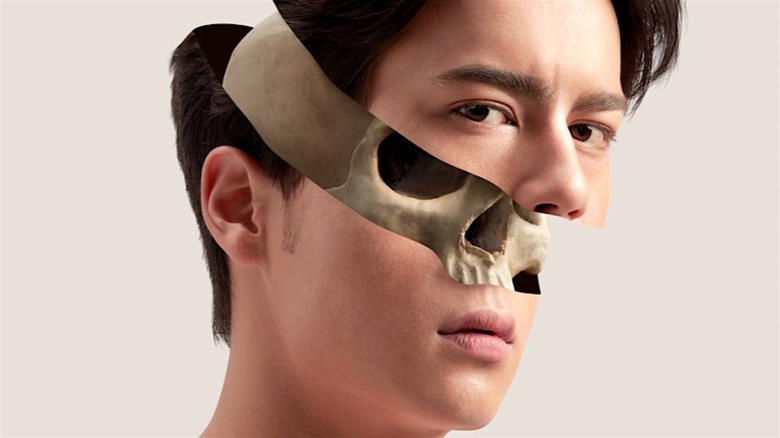 The following article discusses suicide, death, and sexual assault.
Released as a Netflix Original on May 26, 2021, the Thai horror film " Ghost Lab " follows Dr. Arjong "Gla" Soonyata (Paris Intarakomalyasut) and his colleague Dr. Cheewee "Wee" Prometheus (Thanapob Leeratanakachorn) in their quest to prove the existence of ghosts. After encountering the apparition of a deceased patient late one night, the two friends attempt to gather scientific evidence of the afterlife for publication.
Gla has been obsessed with the existence of spirits ever since he saw a vision of his late father as a child. Wee is far more skeptical, but is still committed to finding proof after seeing the spirit. Along the way, the pair encounter numerous supernatural incidents, but are unable to record any solid scientific evidence of their experiences.  
Wee then proposes that for their research to have any chance of success, they need the participation of a cooperative spirit. Wee, who's already distraught over the recent death of his mother, volunteers to take his own life and return to Gla to continue their work from the other side. Despite Gla's protests, Wee prepares for his death, but ultimately does not take his own life. To his shock, Gla then nonchalantly states, "Don't worry, I'll be back" and sacrifices himself for the experiment.
Here's what happens in "Ghost Lab," how it ends, and what it all means. 
If you or anyone you know is having suicidal thoughts, please call the National Suicide Prevention Lifeline​ at​ 1-800-273-TALK (8255)​.
Gla is willing to go to any lengths to find answers
Gla's all-consuming obsession with the afterlife is obvious from the very beginning of "Ghost Lab." Instead of fear, he expresses excitement upon encountering ghosts, and has been actively seeking them out for years. We see numerous examples of how his preoccupation with the dead overshadows Gla's concern for the living. He almost kills a patient by going into surgery exhausted after a night of ghost-hunting, he schemes to make a terminal woman fall in love with him in hopes that her spirit will haunt him, and his own death is an act meant to legitimize his research ambitions. When trying to convince Wee not to take his life, Gla doesn't offer his own out of concern for his friend; he does it because he wants to be the one who gains knowledge from the other side, exclaiming, "It's my f***ing right!"
Blind to the anguish his actions will cause his loved ones, Gla is singular in his goal and constantly chasing the adrenaline rush of otherworldly encounters. His motivations are plainly expressed when he states, "The door to the secrets of the universe is right in front of us. Nothing will stop me from trying to open it." And as it turns out, nothing does. 
After Gla's death, Wee is consumed by their research of the paranormal
Although Wee is devoted to the research he and Gla are doing, he initially doesn't compromise his personal relationships or ethics for his goals. It's the grief over his mother's death and not an infatuation with the paranormal that ultimately motivates him to suggest dying by suicide. Even when making this decision, Wee considers that no one would mourn him, he would be able to fulfill Gla's lifelong research, and he would get a chance to see his mother again. It isn't until he watches Gla take his life that Wee's interests in the paranormal become obsessive and unscrupulous. 
From this point on, Wee's fixation mirrors Gla's as their experimentation repeatedly compels him to compromise his ethics. After making contact with Gla's spirit, he discovers that strong emotional responses increase the ghost's abilities. Wee then goes about antagonizing Gla's grieving family, and even sexually assaults his girlfriend Mai (Nuttanicha Dungwattanawanich) in the name of science. Given the disregard Gla had for them while he was alive, to Wee, this behavior is in line with his friend's previous actions — putting his research above literally everything else.  
For Wee, completing their work at any cost is imperative because otherwise his friend's death would be meaningless. He rationalizes that only by achieving their goals does all their pain and suffering serve a greater purpose — otherwise, it would just be meaningless agony.
If you or anyone you know has been a victim of sexual assault, help is available. Visit the Rape, Abuse & Incest National Network website or contact RAINN's National Helpline at 1-800-656-HOPE (4673).
Some questions can never be answered
There are some things in life that have no concrete answers, like death. "Ghost Lab" demonstrates this throughout its narrative and especially in its conclusion. 
Even after Gla becomes a ghost, Wee isn't able to gather any tangible evidence for their research. Gla himself says that though he's now a spirit, he doesn't have any deeper understanding of the afterlife. It's only when Gla sees the agony of grief his loved ones are enduring that he finally realizes what he gave up in his search for unanswerable questions. While alive, Gla prioritized his obsessive fixation on the deceased above everything else, including his own survival. After death, he gains perspective and realizes that a person's final destination is far less important than the journey they take to get there.
Although Wee's research is ultimately rejected, he also realizes that the experiences of existence itself is how we derive meaning and purpose. Whether painful or not, as long as we're able to learn something through life's circumstances and grow from those ordeals, they are never meaningless.
Home » Streaming Service » Netflix
Ghost Lab (2021) review – boring to brilliant
This review of Netflix's newest Thai horror film, Ghost Lab (2021), contains no spoilers.
At nearly 2 hours in length,  Ghost Lab is 50 minutes too long and would benefit significantly if the first quarter got cut completely. However, once I got past the first half, the film improved considerably. Which, in turn, became a rewarding and exciting watch.
This story follows Wee ( Thanapob Leeratanakajorn ) and Dr. Arj-Ong ( Paris Intarakomalyasut) , two friends who work at a hospital. Both actors play the roles well, bringing life and depth to the film, which has a limited cast.
When Dr. Arj was younger, he believed that he saw his Dad's spirit and has grown obsessed with the theory ever since. Meanwhile, Wee works at the hospital purely to be closer to his ill mother. However, after experiencing a ghost encounter together, they soon find themselves embarked on a mission to prove that ghosts exist. Arj brings Wee to his Ghost Lab as they set about trying to prove ghosts exist. Their main problem? Ghosts are unable to be on camera.
The first 50 minutes of Netflix's Ghost Lab is, to be brutally honest, extremely boring. I found myself desperately hoping that something exciting would develop. And then, at around the 50-minute mark, something massive happened. I will be surprised if anyone will see it coming. It is at this point that the wild ride begins and I became fully invested in the film. The last 30 minutes are even better. With further thrills and a faster pace, the film becomes a crazy ride that is hard to predict as to what may happen next. This is when Ghost Lab is at its peak. Exciting, creepy, and nail-biting!
What did gain my interest through Ghost Lab are the moral questions it raised. Wee and Arj question whether they should trick a dying girl into falling in love with them. All so they can prove ghosts do exist. It's an interesting plot development that brings further depth to the characters.
Concluding with an emotional and haunting climax, Ghost Lab is a lot different than what I expected when I started watching the film. Despite my initial boredom, Ghost Lab improves with one massive twist, and it becomes hard to predict what will happen next.
Article by Jordan Lyon
Elite season 6, episode 2 recap - why does Cruz decide to come out?
The Bad Guys review – a waggish good time
Leave a reply.
Your email address will not be published. Required fields are marked *
Sign up to the newsletter
This website cannot be displayed as your browser is extremely out of date.
Please update your browser to one of the following: Chrome , Firefox , Edge
Ghost Lab Review–Netflix's Silly Experiment in Conjuring the Dead
Facebook Share on Facebook
Twitter Share on Twitter
Linkedin Share on LinkedIn
Flipboard Share on Flipboard
Reddit Share on Reddit
Pinterest Share on Pinterest
WhatsApp Share on WhatsApp
Email Share via Email
Starring Thanapob "Tor" Leeratanakachorn and Paris Intarakomalyasut
Written by Vasudhorn Piyaromna, Paween Purijitpanya, and Tossaphon Riantong
Directed by Paween Purijitpanya
Synopsis: After witnessing a haunting in their hospital, two doctors become dangerously obsessed with obtaining scientific proof that ghosts exist.
The thrust of Netflix's newest original Thai horror movie involves ghosts that simply do not want to be seen. The spirits of Paween Purijitpanya's Ghost Lab are obstinate, hazy, unclear, and wildly, distressingly discordant. It's fitting, then, that the spirit of Ghost Lab itself is so beholden to the arbitrary, pseudo-scientific constraints of its titular entities. With three credited writers, Ghost Lab is a trilogy unto itself, a haunted hospital where, one imagines, no ghosts were turned away.
Thanapob Leeratanakachorn stars as Wee, a dour shell of a man driven to medicine on account of his mother's nebulously defined chronic illness. He works alongside the sprightly Gla (Paris Intarakomalyasut), another doctor rendered in similar uncertainty– Gla is preeminently obsessed with the existence of ghosts because… he thinks he may have seen one once? The two of them, ostensibly the only two doctors in a hospital that apparently only treats Wee's mother, play Ghost Hunters: Thailand Edition, skulking about the dark, narrow corridors of Ratanarj hospital, scouring its halls and empty rooms for ghosts.
The first third of the movie is a slapdash, Flatliners retread, minus all the nuance and Hollywood star power but with considerably more ghostly shenanigans. The ghosts they encounter are loud, crispy, and evinced in music-video style quick cuts and lustrous lighting. Conjuring -lite scares merge with a heaping pile of sitcom humor, and in the early goings, the two-hour runtime feels more like a threat, less like a promise.
Though bafflingly arbitrary, the ghosts soon stop appearing. Though they remain a constant presence, Wee and Gla are suddenly incapable of seeing them. After weeks of failed developments on their Northern Lights Project– the name given to their ghost-hunting experiment they intend to submit to world-renowned journal (I kid you not), "The Experiment")– the Warren-wannabes nearly give up. Audiences, too, might feel the same way.
A strange thing then occurs, and the heart of Ghost Lab becomes clear. The ghosts might be invisible, but the movie's promise is suddenly seen. In their efforts to attract a stronger paranormal presence, Wee and Gla stumble (spiral) into a rabbit-hole of bad, hasty decisions, the consequences of which imbue Ghost Lab with some much-needed vitality. A movie about the dead suddenly becomes intoxicatingly, richly alive.
Though never scary, the enduring humanity of Ghost Lab is irresistible. Unsteady performances come into focus and genuine pathos (yes, Ghost Lab is at times a bonafide tearjerker) prove affecting. The fun of the latter half remains overbaked and inconsistent– one too many prognoses– but those elements are in service to a much clearer vision.
The violence swells– the music inexplicably does the same despite starting at already-decibel-shattering levels– and the sumptuous genre buffet is readily open for business.
Ghostly assaults are given new life– Ghost Lab has some of the most sensational paranormal choreography I've seen in quite some time– and the ticking-clock narrative is sufficiently tense. The twists hit hard and fast, and though little, if not all, of it would collapse under closer scrutiny, it's engaging, Hart to Hart style thrills with a dollop of ghosts on top.
Much like the beginning, however Ghost Lab trips over it ending. Though sufficiently dark, the ghosts of real life violence haunt the material, and the threats of menace feel too heavy for a movie of Ghost Lab's stature to handle with an appropriate degree of tact. The pathos wave breakers, too, finally crumble, inundating the last ten minutes with such cloying sentimentalism, audiences might find themselves looking for the spirit of Joel Osteen hidden somewhere in the frame.
Netflix's international genre offerings have been a mixed bag, though the likes of Red Dot , Don't Listen , and perhaps the superlative The Call , make the hunt for something good all the more worthwhile. Ghost Lab sits comfortably in the middle of the pack. With a shorter runtime and a tighter frame of focus, it could have been something truly sensational, a deeply felt story not just about ghosts, but of them. The ghosts of grief and family. Of longing and success. Ghost Lab is halfway there, the vague visage of a ghost that's almost there.
Ghost Lab could have used a little more scientific discipline when crafting its scares, but its heart is big and bold enough to overcome some paranormal dissonance.
Categorized: News Reviews
Vampire Prevention? Remains of Real Child Found Padlocked to Grave to Stop Reanimation [Horror IRL]
Horror Master James Wan Admits This Wholesome Disney Classic Is His Guilty Pleasure
A24 Horror: Everything We Know About A24's New Mystery Project 'Opus'
Creepy Series Based On A Stephen King Story Has Been Cancelled After Being Initially Renewed
'Child's Play 2' is the Gold Standard for Horror Sequels
Blumhouse Horror: Everything You Need To Know About New James Wan Thriller 'Night Swim'
Log in or sign up for Rotten Tomatoes
Trouble logging in?
By continuing, you agree to the Privacy Policy and the Terms and Policies , and to receive email from Rotten Tomatoes.
By creating an account, you agree to the Privacy Policy and the Terms and Policies , and to receive email from Rotten Tomatoes and to receive email from the Fandango Media Brands .
By creating an account, you agree to the Privacy Policy and the Terms and Policies , and to receive email from Rotten Tomatoes.
Email not verified
Let's keep in touch.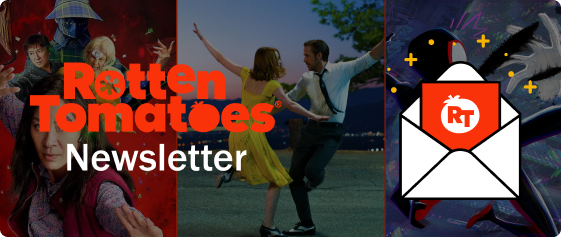 Sign up for the Rotten Tomatoes newsletter to get weekly updates on:
Upcoming Movies and TV shows
Trivia & Rotter Tomatoes Podcast
Media News + More
By clicking "Sign Me Up," you are agreeing to receive occasional emails and communications from Fandango Media (Fandango, Vudu, and Rotten Tomatoes) and consenting to Fandango's Privacy Policy and Terms and Policies . Please allow 10 business days for your account to reflect your preferences.
OK, got it!
Movies / TV
No results found.
What's the Tomatometer®?
Login/signup
Movies in theaters
Opening this week
Coming soon to theaters
Certified fresh movies
Movies at home
Netflix streaming
Amazon prime
Most popular streaming movies
What to Watch New
Certified fresh picks
The Holdovers Link to The Holdovers
Dream Scenario Link to Dream Scenario
Quiz Lady Link to Quiz Lady
New TV Tonight
Monarch: Legacy of Monsters: Season 1
Ghosts: Season 1
The Crown: Season 6
Scott Pilgrim Takes Off: Season 1
A Murder at the End of the World: Season 1
Beacon 23: Season 1
NCIS: Sydney: Season 1
Kennedy: Season 1
Most Popular TV on RT
Sex Education: Season 4
All the Light We Cannot See: Season 1
Blue Eye Samurai: Season 1
The Buccaneers: Season 1
Loki: Season 2
Black Cake: Season 1
The Fall of the House of Usher: Season 1
Bodies: Season 1
Ms. Marvel: Season 1
Invincible: Season 2
Top TV Shows
Certified Fresh TV
Most popular TV
Certified fresh pick
The Curse: Season 1 Link to The Curse: Season 1
All-Time Lists
Binge Guide
Comics on TV
Five Favorite Films
Video Interviews
Weekend Box Office
Weekly Ketchup
What to Watch
100 Best Christmas Movies of All Time – Classic Christmas Films
61 Best Concert Movies of All Time
What to Watch: In Theaters and On Streaming
RT25: Celebrating 25 Years of Rotten Tomatoes
TV Premiere Dates 2023
Loki Season 2 Finale: Where Do We Go from Here?
Trending on RT
Shop Rotten Tomatoes
RT is Wrong
New on Streaming
New Tomatometer Scores
2021, Mystery & thriller/Horror, 1h 57m
Where to watch Ghost Lab
Watch Ghost Lab with a subscription on Netflix.
Rate And Review
Super Reviewer
Rate this movie
Oof, that was Rotten.
Meh, it passed the time.
It's good – I'd recommend it.
So Fresh: Absolute Must See!
What did you think of the movie? (optional)
You're almost there! Just confirm how you got your ticket.
Step 2 of 2
How did you buy your ticket?
Let's get your review verified..
AMCTheatres.com or AMC App New
Cinemark Coming Soon
We won't be able to verify your ticket today, but it's great to know for the future.
Regal Coming Soon
Theater box office or somewhere else
By opting to have your ticket verified for this movie, you are allowing us to check the email address associated with your Rotten Tomatoes account against an email address associated with a Fandango ticket purchase for the same movie.
You're almost there! Just confirm how you got your ticket.
Ghost lab photos.
After witnessing a haunting in their hospital, two doctors become dangerously obsessed with obtaining scientific proof that ghosts exist.
Genre: Mystery & thriller, Horror
Original Language: Thai
Director: Paween Purijitpanya
Producer: Vanridee Pongsittisak , Paween Purijitpanya
Writer: Paween Purijitpanya , Vasudhorn Piyaromna , Tossaphon Riantong
Release Date (Streaming): May 26, 2021
Runtime: 1h 57m
Production Co: GDH 559
Cast & Crew
Thanapob Leeratanakajorn
Paris Intarakomalyasut
Nuttanicha Dungwattanawanich
Natthawut Jenmana
Suquan Bulakool
Wee's Mother
Ratchanee Siralerd
Paween Purijitpanya
Screenwriter
Vasudhorn Piyaromna
Tossaphon Riantong
Vanridee Pongsittisak
Paiboon Damrongchaitham
Executive Producer
Boosaba Daoruang
Jira Maligool
Jina Osothsilp
Pithai Smithsuth
Cinematographer
Piyatut Hemstapat
Original Music
Toey Jaruvaateekul
Production Design
Pawaret Wongaram
Costume Design
Critic Reviews for Ghost Lab
Audience reviews for ghost lab.
There are no featured reviews for Ghost Lab because the movie has not released yet ().
Movie & TV guides
Rotten Tomatoes: The Card Game
RT Podcasts: Rotten Tomatoes is Wrong
Rotten Tomatoes Gift Cards
What to Watch - In theaters & streaming
By providing your information, you agree to our Terms of Use and our Privacy Policy . We use vendors that may also process your information to help provide our services. This site is protected by reCAPTCHA Enterprise and the Google Privacy Policy and Terms of Service apply.
Handsome Doctors Hunt a Thai Hospital for Ghosts in Wild Netflix Horror-Comedy 'Ghost Lab'
David ehrlich.
Share on Facebook
Share to Flipboard
Share on LinkedIn
Show more sharing options
Submit to Reddit
Post to Tumblr
Print This Page
Share on WhatsApp
A slapdash and silly Netflix Original horror movie from Thailand, Pawan Purijitpanya's " Ghost Lab " is hardly poised to become an unexpected cult hit just because it's available to watch in so many homes across the world. And yet, for people who've grown numb to the predictable rhythms of jumpy Hollywood schlock, there's something faintly endearing about a vision of the afterlife as unpredictable as grief itself. Mourning someone isn't sad all the time — the process can swing from romantic to delusional to funny so fast, even the most disparate feelings smudge together — and "Ghost Lab" reflects that through such wild tonal shifts that even someone like Bong Joon Ho seems like he's coloring inside the lines by comparison. Purijitpanya isn't operating on quite the same level (or even in the same dimension), but credit where credit is due: Even dedicated horror junkies who might somehow be able guess where this story is going will still be surprised and bemused by how it gets there.
"Ghost Lab" kicks off as a clumsy horror comedy set in what seems like Bangkok's emptiest hospital (this movie has more genres than extras), where a pair of young residents have been drawn to the medical profession for their own morbid reasons. Wee (actor/model/pop star Thanapob "Tor" Leeratanakachorn) is the more serious-minded of the two; he became a doctor to care for his long-suffering mom, on her deathbed in the hospital's long-term care unit for the better part of the past decade. His puckish best friend Gla (Paris Intarakomalyasut) is a prankster who lives for the LOLs, but he's also hiding a dark streak that traces back to a paranormal encounter from his childhood.
These boys are both dumb-smart in a way that seems endemic to stories about power-mad teens and twenty-somethings — their convincingly brilliant minds generate nothing but harebrained ideas — and the melted cheese-rock guitar underscoring their first conversations makes it hard to imagine what kind of horror protagonists they'll become. The next thing you know, these doofuses come face-to-face with the charred ghost of a recent burn victim near the hospital vending machine, and while the apparition lunges at the camera like it's auditioning for the next James Wan movie, the hilariously melodramatic music that Purijitpanya chooses for the scene is enough to suggest that something bigger is afoot. Wee and Gla aren't freaked out so much as they're electrified: These men of science have always wanted to believe there's life after death, and now they're motivated to collect hard evidence.
We're off to the races from there, as our bumbling (yet fiercely dedicated) heroes turn some unused hospital space into the titular ghost lab, and launch into all sorts of giddy, faux-academic conversations about the nature of their experiment. Wee argues that the Large Hadron Collider at CERN didn't detect any ghosts, so it's stupid for two glorified med students to think they can find particles of proof. Gla counters that people thought mammals couldn't lay eggs until they discovered the platypus… BOOM.
"Ghost Lab" shares its characters backhanded determination to move beyond the shlock logic of ghost-hunting TV shows, and the first 30 minutes of Purijitpanya's film watch Wee and Gla poke around the darkest corners of the hospital as they try and discard all of the tactics used on A&E. Many of these bits are played for laughs ("That movie 'Shutter' is bullshit," one of the characters says after discovering that ghosts don't appear on camera), but it's jarring to see how fast "Ghost Lab" transitions from slapstick comedy to — say — a CCTV shot of a wheelchair rolling down an empty hallway. We're dropped into the middle of sequences that would be stretched over five minutes of cheap tension in the American telling of this story, and while Purijitpanya's crudeness results in a whiplash that makes the movie feel like it's pinballing between genres rather than mixing them together, the approach is mighty effective at keeping you on your toes and locked into the moment at hand.
And it's a good thing, too, because the "Ghost Lab" approach to storytelling results in a pretty grim prognosis. Most of the fun to be had with this movie — far too much of it, in fact — comes from the surprising heel turns the plot has in store, but let's just say that Wee and Gla eventually grow impatient with their experiment and decide to take a peek into the afterlife themselves. The horror-comedy of the first act crashes headlong into the operatic melodrama of the second, with fidgety scares replaced by frothy soap opera as the boys start having tear-streaked conversations about what's on the other side, and who among them should look.
Tor and Intarakomalyasut play their archetypes well enough to disguise how the playful man of faith and the clear-eyed rationalist gradually change places, but ham-fisted dialogue and in-your-face direction make it easy to grow restless as this 117-minute bit of disposable entertainment takes the long road from the speculative medicine of "Flatliners" to the paranormal melodrama of "Ghost" (while erratically touching on every possible reference between in point). The more outlandish "Ghost Lab" becomes, the more it seems like the kind of thing that Wee and Gla might've made fun of before they fell down the rabbit hole, and the movie's icky efforts to maintain its knowing edge over the competition — including some invisible man-style threats of rape — suggest that Purijitpanya is at the mercy of his material in much the same way as Wee and Gla lose control of their experiment.
Still, the volatile friction between the movie's wildly conflicting energies works as a curious backstop for this cautionary tale about not giving into grief and despair. No matter how grim things get (in life or in "Ghost Lab"), you never really know for sure what's going to happen next.
"Ghost Lab" is now streaming on Netflix.
Most Popular
You may also like.
After witnessing a haunting in their hospital, two doctors become dangerously obsessed with obtaining scientific proof that ghosts exist. After witnessing a haunting in their hospital, two doctors become dangerously obsessed with obtaining scientific proof that ghosts exist. After witnessing a haunting in their hospital, two doctors become dangerously obsessed with obtaining scientific proof that ghosts exist.
Paween Purijitpanya
Vasudhorn Piyaromna
Tossaphon Riantong
Thanapob Leeratanakachorn
Paris Intarakomalyasut
Nuttanicha Dungwattanawanich
39 User reviews
22 Critic reviews
See production info at IMDbPro
(as Thanapob Leeratanakajorn)
Wee's Mother
Gla's Mother
Gla's Sister
Senior Nurse
Gla (Young)
Wee (Young)
Gla's Father
Burn Victim Ghost
Security Guard
Hospital Director
All cast & crew
Production, box office & more at IMDbPro
More like this
Did you know
Trivia This is the first Netflix original film from the Thailand.
Crazy credits The title doesn't appear until around the 17-minute mark.
Connections References Shutter (2004)
User reviews 39
paul_haakonsen
Jul 7, 2021
How long is Ghost Lab? Powered by Alexa
May 26, 2021 (United States)
Official Netflix
Phòng Thí Nghiệm Ma
Bangkok, Thailand
See more company credits at IMDbPro
Technical specs
Runtime 1 hour 57 minutes
Dolby Digital
Related news
Contribute to this page.
See more gaps
Learn more about contributing
More to explore
Recently viewed
Star Wars Haslab The Ghost Ending Today – UPDATE – ALL UNLOCKED
By Tony_Bacala on September 6, 2023 at 11:33 am under Star Wars Toy News
PSA to anyone still thinking about backing the Haslab Ghost crowdfund over on Hasbro Pulse – today is the last day to do so.  The project ends in just over 12 hours, 11:59 PM Eastern today.  The project will move forward, the only question is will we get to 17k and unlock all the unlockables.  Right now, we have one more to go and that is for Zeb on the mural card back.  It's right around 16k, so 1000 to go in the next 12 hours.   If he unlocks, a mural 2 pack for Sabine and Chopper will be produced later as well.  Anyway, head on over and give it a backing if you dig it , then talk to us in a year or so when it actually shows up!
Update – Officially past 17k, all tiers unlocked!
Companies Hasbro Characters Kanan Jarrus General Hera Syndulla Ezra Bridger Zeb Orrelios Scale 3.75 Sub-Line Vintage Collection
Is 'Ghost Adventures' Coming To An End?
The first episode of  Ghost Adventures   aired on October 17, 2008. Now airing its 27th season on television and the team narrowing its focus to one region of the United States, many fans are wondering about the future of the popular ghost show. Is  Ghost Adventures coming to an end? Keep reading to find out.
Ghost Adventures  Popularity Over The Years
Ghost Adventures  has followed ghost hunter Zak Bagans and his team to various locations throughout the years. There have been paranormal events captured around the world throughout the Discovery show's history.
Image: YouTube/Discovery
Some of the most popular episodes include Season 10, Episode 4 "Island of Dolls," Season 13's Halloween Special "Route 666," and Season 3, Episode 3 "Poveglia Island."
"Route 666" occurred in Texas, while the other two took place outside the United States. "Island of Dolls" was located at a Mexico tourist attraction and "Poveglia Island" was set off the coast of Venice, Italy.
Each episode garners hundreds of thousands of views, but the show may be headed toward its end.
Is The Long-Running Ghost Show Coming To An End?
More recent episodes seem geographically focused on the American Southwest. Fans of the show took to Reddit   to discuss whether or not this means the end of the long-running ghost program.
"It just seems like they're gonna eventually run out of locations in that region and either stop the show or Zak will be forced to move more eastward to investigate for the sake of the show," the original poster wrote.
It is known that Zak Bagans does not fly. He will only travel to places where he can drive and it seems to be limiting where the show can go.
Image: YouTube/Entertainment Tonight
"Yep. It's crazy that he has a huge hit show and won't fly. They should make him fly. Hypnotize him, drug him, I don't care… just get him off the west coast," one fan commented.
Other people theorized that Zak wouldn't allow the other members of the team to lead  Ghost Adventures .  " Zak would never allow anyone but him to be the lead investigator. I wouldn't be surprised if the other three have signed contracts saying they can't have their own shows unless he's involved somehow," one person said. 
The overall consensus among fans is that Zak's refusal to fly and the focus on the Southwest U.S. will lead to the end of the show. However,  Ghost Adventures  continues to have 18.9 times the demand of the average show in the states.
You can watch the latest Ghost Adventures episodes   on Wednesdays at 10 p.m. EST on Discovery . It is available to stream on Discovery+. You can also rent or purchase episodes on Amazon, Vudu, Google Play, IVA, and iTunes.
What do you think about the future of  Ghost Adventures ? Is the show coming to an end? Let us know your thoughts in the comments.
Is 'Ghost Adventures' Coming To An End? - November 12, 2023
'Wheel Of Fortune' Contestant Exposes Pat Sajak's Off Camera Petty Side - November 10, 2023
'Today' Al Roker Reveals Being Close To Death - November 9, 2023
Leave a Reply Cancel reply
Your email address will not be published. Required fields are marked *